See Taylor Swift in Paris
Football Friday
Bobby Bones Show
KEAN 105 App
KEAN on Alexa
Take a Tour Through the Haunted Taylor County History Center
Share on Facebook
Share on Twitter
Do you believe in ghosts? The curators at the Taylor County History Center do and they aim to scare the living daylights out of you.
The Mesquite Story Tellers will be at the Taylor County History Center formerly known as the Buffalo Gap Historic Village. They'll be sharing tales of the ghosts that haunt the buildings there. One ghost story includes Texas Ranger Hill and his lonely wife.
At the famed 'Hill House' you'll witness flowers and greeting cards that get moved, shuffled and at times thrown on the floor with no explanation. Many have felt being shoved or pushed out of the tiny house.
This is not for the faint of heart, nor do I recommend it for small children. I've been there and I will admit there is something really strange at play in the Hill House.
Information
Ghost Tours at the Taylor County History Center
Taylor County History Center
133 William St, Buffalo Gap, TX
Dates and Times
Saturday, October 21st, 2017
8PM-11PM tours are every twenty minutes
$10 per person
Available at the gate
Call for group rates 325-572-3974
More From KEAN 105
Beware: Is Your Abilene House Haunted? Here's 5 Signs To Tell Beware: Is Your Abilene House Haunted? Here's 5 Signs To Tell
Hunt the Ghost of Marshall Tom Hill on the Anniversary of His Death at the Buffalo Gap Historic Village Hunt the Ghost of Marshall Tom Hill on the Anniversary of His Death at the Buffalo Gap Historic Village
Paramount Conjures 'Ghost' TV Series by 'Fringe' Writers, Because Of Course It Does Paramount Conjures 'Ghost' TV Series by 'Fringe' Writers, Because Of Course It Does
Go Here: Centralia — Abandoned Mine Fire and Ghost Town in Pennsylvania Go Here: Centralia — Abandoned Mine Fire and Ghost Town in Pennsylvania
Does This Picture Contain a Reflection or a Miracle? Does This Picture Contain a Reflection or a Miracle?
Got Some Extra Cash? Buy a Utah Ghost Town [VIDEO] — Dollars and Sense Got Some Extra Cash? Buy a Utah Ghost Town [VIDEO] — Dollars and Sense
Best Cities in Texas to Celebrate Thanksgiving and Some Other Fun Facts Best Cities in Texas to Celebrate Thanksgiving and Some Other Fun Facts
Ring In Holidays With Abilene Opera Association's Performance of Handel's "Messiah" Ring In Holidays With Abilene Opera Association's Performance of Handel's "Messiah"
Halloween Safety Tips: Protect Your Family With These Extra Steps Halloween Safety Tips: Protect Your Family With These Extra Steps
Buffalo Gap Historic Village hosts haunted history fundraiser
October 18, 2016 by Lauren Franco
The Buffalo Gap Historic Village is scaring crowds for its 5th annual haunted village tour.
The village consists of 18 different historic monuments from the Abilene and Buffalo Gap area as far as Snyder. Each building has stood for the last 50 years of the West Texas Frontier, 1875-1925, and each has reports of being haunted. The Buffalo Gap Historic Village will conduct two more haunted tours beginning at 8 p.m. Oct. 22 and 29. Admission is $10 per person.
The most haunted, the Hill house, was built in 1875 and belonged to Marshall Tom Hill, who lived with his wife and two kids, Belle and Terry. Site manager Heather Reed said after Marshall died, his daughter Belle lived in the house until she too passed away. She is said to still haunt the house.
"Pretty much on a daily basis, something happens, usually to our maintenance guy, only because he spends the most time in the building, and he's the one who's moving things," Reed said. "We have doors open and door shut. The most common is people find buttons in their pockets, or our maintenance guy will find buttons on his tools. People have been tapped on the shoulder inside. Never anything malicious, just a reminding you that they're still here."
Buffalo Gap Historic Village feature's spooky items. (photo by Lauren Franco)
Reed said that the goal of the haunted village is to bring members of the community out to experience history in a new and unique way.
"They're coming out for fun, but then they really get engaged because all of our stories are rooted in historical fact with the site," Reed said. "Then they become intrigued and we get to see them come back during the day and really experience it and love the site the way we have."
A team of about 10 volunteers helps every year, starting to make the tour their own through ideas and stories. Reed said the Haunted Village increases in quality every year as volunteers embrace the history and make the annual event a family tradition.
Mark Young, a member of the Mesquite storytellers, has been participating for three years. He said he initially came with a friend and his wife, and after experiencing the hauntings, knew that he had to be part of the Halloween event.
"It's a great place in the daylight. In the night it's a spooky place, and that just enhances the stories," Young said. "If you've ever tried to tell ghost stories anywhere else, the surrounding kind of can squash it. Here it just enhances it. So I do like that. There's no place out here at night that's not eerie."
Buffalo Gap Historic Village features spooky happenings. (photo by Lauren Franco)
Hardin Simmons University student Blake Rogers, who plays the part of a twisted doctor, said that volunteering at the village has helped him to realize he wants to teach college history after he graduates.
"A lot of college professors come over and teach over here," said Rogers, a freshman history major from Lockhart. "I could be a history teacher and also work at the village at the same time. It's not even really work; it's like getting your own private tour. And it's like you're helping the growth of buffalo gap as well."
One of several fundraisers for the Historic Village, the haunted village raises funds to buy more artifacts and keep the current ones in a good state. Reed said that the village has around 15,000 to 18,000 artifacts in storage that they have to keep preserved. Some of the buildings need renovation, but require millions of dollars in funds.
"This is the community's history," Reed said. "These are their artifacts; these are their ancestors. Our job is to preserve them for generations to come. The people who live here, it's their family's history, and we're in charge of protecting it."
About Lauren Franco
My name is Lauren and I'm the Editor in Chief of the Optimist this year. I'm an avid fan of romantic comedies, the First Amendment and national parks. More than anything, I'm passionate about storytelling via photographs, and love getting to know the heart of people through my lens.
Other Life:
Highland church of christ fundraises for missions during ultimate game night, study abroad: students think of oxford as new home, teaching kitchen class shows students how to make poke bowls.
Abilene Scene
Art, Culture & Happenings in Abilene, Texas!
Haunted Abilene
October 16, 2015 Leave a Comment
Leave a Reply Cancel reply
Your email address will not be published. Required fields are marked *
Save my name, email, and website in this browser for the next time I comment.
Recent Posts
Witness: black artists in texas, then and now, changing lives one smile at a time, oven risotto, what is the wctcog, book club with a twist.
3457 Curry Lane Abilene, TX 79606 325.673.4822 [email protected]
Privacy Policy
Cookie policy.
Texas Hill Country News
Spirits & Libations
Places to Eat
Hill Country Happenings
Places to Stay
Things To Do
Online Magazine
Caussey's Corner
Our Writers
Real Estate

Buffalo Gap Historic Village: Rural Texas Life, Heritage, & History Rolled in One

For many years, the town of Buffalo Gap was the only one in Taylor County, Texas. Located along the famous Dodge (or Western) Cattle Trail, its courthouse building was constructed in 1879, and still stands to this day. Now an integral component of the Buffalo Gap Historic Village , south of Abilene, it speaks of a time of prosperity for the town and the many residents that once inhabited it. Ironically, it was the development of Abilene, along with the railroad that bypassed Buffalo Gap, which signaled change for this tiny Texas town. In 1880, with a population of 1,200, Buffalo Gap had the courthouse and jail, a drugstore, a carriage and blacksmith shop, a hotel, a saloon, and three or four grocery stores. After it lost its county-seat status to Abilene in 1883, its numbers quickly dissipated; 600 in 1884, 300 by 1890, and fluctuating between 250 and 400 from 1925 to 1980.
Photo: Facebook/Taylor County History Center/Buffalo Gap Historic Village
Back in 1956, the old courthouse was purchased by Ernest Walter Wilson and turned into a museum showing Western and Native American artifacts. Before his death, he bought two additional Taylor County historical buildings and moved them near to the courthouse, subsequently creating the beginnings of the Buffalo Gap Historic Village. The property was eventually bought by Dr. R. Lee Rode who, with the help of his wife, expanded on the facility, purchasing additional historic structures from the area. By the time he retired from medical practice in 1999, he had determined to offer the village for sale, and it was purchased and kept intact by the Grady McWhiney Research Foundation with the assistance of the Taylor County Historical Foundation.
Operated as a nonprofit educational facility, the Buffalo Gap Historic Village now contains a souvenir shop and Texas history store, the Taylor County Courthouse and Jail, and the Marshal Tom Hill House (home of Abilene's first marshal). It also features the home of J.M. Knight (a former buffalo hunter), the Buffalo Gap Post Office, a bank including furnishings from the First State Bank of Buffalo Gap and a 20th-century print shop. A railway depot, doctor's office, and the Bourn Texaco Service Station are also period facilities in place in the town. The station was originally constructed in Winters as a Magnolia Oil service station, and the Bourn family (owner/operators) later changed it to a Texaco.
In January of this year, Taylor County commissioners voted unanimously to accept the transfer of ownership of the Buffalo Gap Historic Village to the county, through which a newly formed nonprofit organization presently operates the collection. Depicting rural Texas life from the 1880s to 1920s, county commissions believed that preserving the heritage of the Buffalo Gap Historic Village was a necessary thing, and too important to pass up. In an interview with the Abilene Reporter-News, Commissioner Chuck Statler identified, "The commissioners court felt that maintaining the history of Taylor County for future generations was a good opportunity for us. Being able to receive this property and make sure for the future that we can take care of the old courthouse and the old jail and some of those facilities is going to be important to maintain our heritage and our history for the citizens of Taylor County."
Abilene Reporter-News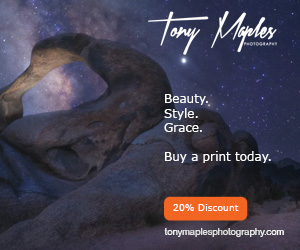 We are your resource for Hill Country travel, things to do, places to eat, places to stay, tourism, events, lodging, and we feature Texas Hill Country info of all manners. Our Texas Hill Country Facebook page is growing by over 1,000 fans per day! We also run the premiere real-estate site in the hill country at HillCountryRealestate.com . We are born and bred in The Hill Country, and we welcome you to our family. Join the discussion on our new social platform Texjas.com !
Latest News
Do you know the meaning of gtt left on abandoned homes, ride the fastest ziplines in all of texas, from texas to the tetons: tony maples, dr pepper jalapeno beef jerky is the most texan recipe there is, do you know what was named the official dog breed of texas, lubbock book festival: free, two-day event on the south plains.
Haunted Places in Buffalo Gap, Texas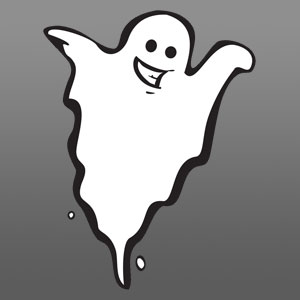 Weather Bureau Building
Abilene, texas.
Built in 1909, the town weather bureau used to own the historic building, until services were relocated to the local airport. The building is allegedly haunted by the former chief meteorologist, who fell down the staircase on a particularly stormy night whilst going to retrieve a chart from the ...
The Grace Museum
The old Grace Hotel was built in 1909 and was in disrepair by the 1960s and 1970s. It closed when its boiler went, and vandals took over the building. Since then it has been restored, but the ghosts from its past never left. Folks say the 3rd and 4th floors ...
Minter Mansion
This historic mansion is now an architectural firm. In recent times, employees began reporting paranormal activity, including a ghostly shade, faces peering out of the second floor of the building and a ghostly woman known as 'Annie'. The owner dug a little deeper into these reports, and found that ...
Wooten Hotel
The 1930's hotel is now closed to the general public, and has been converted to apartments. However, no one told the ghosts that haunt the historic building, as a string of recurring strange events have troubled residents for over a decade. The apparition of a woman in an old-fashioned ...
Paramount Theater
Orbs have been known to show up in photographs at this historic theatre, and footsteps have been heard ascending the main staircase when no one is around. (Submitted by Callum Swift)
Whitten Inn
Strange things are afoot at this inn. Witnesses say bathroom lights turn on and off by themselves, objects disappear and then reappear underneath the bed, and there are sudden malodorous smells in the early mornings. The culprit may be an apparition of a red-bearded man in green clothing, who has ...
Swenson House Art Gallery
A grey lady haunts this 1910 mansion. Witnesses have seen the figure descending the grand staircase before vanishing as suddenly as it appears. (Submitted by Callum Swift)
Travel Inn Abilene
The reasons for the haunting at this motel are unknown, but lights continually go and off late at night, and strange noises are heard, as well as objects being moved around. The apparition of a man in a green coat has been seen wandering the hallways and moving around the ...
Fort Phantom Hill
Fort Phantom Hill, built in the mid-1800s, was given such a spooky moniker simply because it didn't have a legal name. Interestingly, it was built in the wrong place: Instead of being built on Pecan Bayou as originally ordered, the general in charge mistakenly had it constructed in this barren ...
Anson Lights
Anson, texas.
The Anson Ghost Lights are found by turning right at Alsupps toward the graveyard just outside of town. Turn right down a dirt road that travels along the cemetery. Then, at the crossroads, turn the car around so it faces the main road, turn off the engine, and flash the ...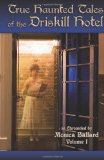 Anson Opera House
The 1907 opera house is haunted by a spirit that frequents the back dressing room. Actors claim to have heard ghostly footsteps in the vicinity of the room, and objects have been known to missing from the area and turn up later in inexplicable locations. (Submitted by Callum Swift)
Olde Park Hotel and Antiques
Ballinger, texas.
This 1880's hotel and antiques shop has been determined by a visiting psychic to be one of the most haunted in the state. Formerly a schoolhouse and a saloon, upwards of thirty spirits haunt the old building, including an older gentleman who frequents an armchair on the second floor, ...
Texas Grill - Gonzalez Restaurant
The bar and grill is famously haunted by the ghost of an outlaw known as 'Norton', who was gunned down by law enforcement officials. Objects have been known to move around of their own accord, cold spots are felt and a male apparition in a cowboy outfit has been ...
Old Stamford Inn
Stamford, texas.
The structure burned down and took the lives of five people within. It was rebuild and served a while as a nursing home at the end of it's days before it was abandoned in 1980. It is said that a man haunts the basement of the structure. (Submitted by Rebekah ...
Flatrock Park - Lake Brownwood
Brownwood, texas.
The lake is said to be haunted: Folks often have troubles with their boats, or have had their boats damaged by an unseen source, when trying to use the ramp. Also, several swimmers in this area have drowned. Locals blame a ghost who drowned in the Pecan Bayou before Lake ...
Baker Hotel
Colorado city, texas.
In the basement of this hotel lurk some unfortunate souls, apparitions, witnesses say, of the many employees who were killed when the location suffered a fire in the early 1900s. Reports say that although the hotel is no longer in operation, the building still stands.
Howard Johnson Inn - Econolodge
San angelo, texas.
Formerly Howard Johnson Inn but noe EconoLodge, this hotel is said to be very active with the spirit set. In a room at the end of the second floor, red eyes have been reported, and someone (or something) has been heard in that room when it was vacant. The apparition ...
SmokeStack Restaurant
Mingus, texas.
Housed in the 1890's Texas & Pacific Mercantile Building, this old-fashioned restaurant is rumoured to be haunted by a ghostly woman in a period dress. (Submitted by Callum Swift)
Lonesome Dove Inn
Archer city, texas.
Formerly a hospital, the 1927 bed and breakfast inn is named after a prize-winning novel written by a famous local author. The place is rumoured to be haunted by a number of spirits, including a playful male presence and a ghostly nurse forever tending to her patients. In the ...
This 1928 hotel wasn't restored till the late 1990's, but the refurbishment may have stirred up the resident ghost. Room #007 is a hotspot for paranormal activity, but who or what haunts the place is currently unclear. (Submitted by Callum Swift)
» Cemeteries near Buffalo Gap, TX » Find museums in Buffalo Gap, TX
Texas Brazos Trail Region
Texas Forest Trail Region
Texas Forts Trail Region
Texas Hill Country Trail Region
Texas Independence Trail Region
Texas Lakes Trail Region
Texas Mountain Trail Region
Texas Pecos Trail Region
Texas Plains Trail Region
Texas Tropical Trail Region
African American Heritage
American Indian Heritage
Asian Heritage
European Heritage
German Heritage
Hispanic Heritage
State Historic Sites
Arts and Culture
Courthouses
Cowboy Culture
Historic Businesses
Historic Downtowns
Historic Trails And Highways
National Monuments and Landmarks
Presidential History
Sacred Places
Scenic Drives
Email Newsletter
Historic Lodging
Mobile Tours
Printable Guides
Themed Excursions
Roadside Heritage
Submit Your Event
Taylor County History Center/Buffalo Gap Historic Village
Taylor County History Center/Buffalo Gap Historic Village 133 North William Street Buffalo Gap, TX 79508
The centerpiece of the Taylor County History Center/Buffalo Gap Historic Village is the 1879 structure that housed both the courthouse and jail for Taylor County. A doctor's office, barbershop, railroad depot, bank, post office, print shop, private homes, and the Nazarene Church are other highlights of this potpourri of buildings brought together to create the Village.
Preservation of a single historic structure can be difficult, and keeping this collection of buildings in good enough condition to operate as a public space poses its own set of challenges. As work on structural preservation and reconfiguration of the site develops, it is the stories told in these places that keep visitors engaged for a longer time that one could imagine. At the admission desk, pick up a sound wand, a device about the size of a cell phone. This device is full of stories related to the buildings and their former inhabitants. The stories are short, artfully written and told by some master storytellers. There is enough information presented for a visitor to spend several hours just listening to the audio, but coupled with the structures and their associated artifacts, a complete experience engages guests of all ages.
On-site Parking
Street Parking
See website
We only use cookies that are necessary for this site to function to provide you with the best experience. Learn More
Quick Search
Location map.
Scarecrow Festival displays artistic talents of Big Country students in Buffalo Gap
Salvador dali, chuck roach, frida kahlo and even vincent van gogh are gathered in buffalo gap, at least in effigy..
BUFFALO GAP – There wasn't much wind Wednesday as Scott Clowdus and Holly Woodard began setting out scarecrows at the Buffalo Gap Historic Village.
Clowdus, who is the executive director, and Woodard, the education director, sprinkled the scarecrows around the village grounds, securing them to fence posts, lamp posts or anything else stable enough to anchor them. With Saturday being the 4 th annual Scarecrow Festival, getting them out early gave Clowdus a chance to see how well they'll do outside.
There are about 35 scarecrows on display, some displayed inside on a table while the full-sized pieces are what Woodard and Clowdus were setting up. Each was designed by area students and represents a given artist.
AISD high school, middle school and elementary campuses, as well as Jim Ned's Buffalo Gap campus and Merkel ISD schools contributed to the display.
The styles of each reflect the artist being depicted. A Frida Kahlo representation featured a Dia de los Muertos theme, while Salvador Dali's scarecrow was topped by the artist's exaggerated pointy mustache and a poncho-like melting clock over his arms.
Still, some required an extra Zip Tie from Clowdus. He didn't want Van Gogh to become Van Gone.
"Saturday is the free festival day, we will open at 10 and close around five-ish," Clowdus said. "We'll have games, arts and crafts for the kids to do, a food truck and a caramel apple lady will be here."
Visitors who can't make it Saturday have until Wednesday to take in the scarecrows. At that point they'll be taken down and brought to downtown Abilene and the Center for Contemporary Arts, who is also a partner, for Thursday's ArtWalk.
The Buffalo Gap Historic Village is located at 133 William St., Buffalo Gap.
Welcome to the Willamette World News
World News Issues
Willamette World News
Language Learning Center
International Education
Current Article
Haunted kremlin.
By nkulande on Nov 13, 2009 in Russia
Trackback URL
Sorry, comments for this entry are closed at this time.
Recent Posts
The Open-Ended Issue
What to Watch on Russian TV (with a bonus list of Russian TV series with English subtitles at Hatfield Library)
Mate: More Than Just Tea
"Das gibt es doch gar nicht!" The Bielefeld Conspiracy
Nicaragua: A Hidden Paradise to Discover
Hip-Hop Dance Culture in Japan
A historic monument - Tomb of Unknown Soldier
Europe
Russia
Central Russia
Moscow
Moscow - Things to Do
Tomb of Unknown Soldier
This solemn monument stands along the western Kremlin walls by the Alexander Gardens. The monument... read more
I come here quite often but I love it most in winter. I always remember that it was in winter of... read more
A historic monument
This is a place I've seen in the news from time to time, and looked forward to seeing in person. It is a solemn monument with a lot of history, well worth a visit.
Set within the Alexandrovsky Park beside the Kremlin, this tomb with soldiers respectfully guarding either side looked very nice but the barrier was quite some distance from the tomb so I do not think you get the full benefit from this piece of sculpture.
Very cult place for Russian people. Perception is not unique. What is not to like, that around constantly rebuild the perthritory. This creates an atmosphere of a newborn.
This is really very special when countries remember there unknown soldiers. The guard is changed on the hour every hour and it is really worth while seeing this take place
We stood with many others peacefully in front of here. There are two guards and loads of other security around. The flame gives off heat which is nice when it's chilled weather.
We passed this on our way to Kremlin and it does make you stop and look. The perennial flame and the change of guards is an attraction.
Bahasa Indonesia
Slovenščina
Science & Tech
Russian Kitchen
5 Russian hotels haunted by ghosts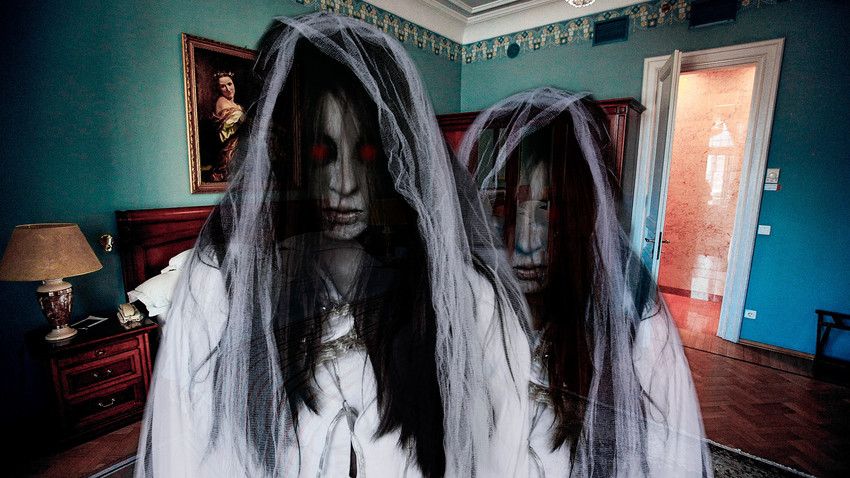 Paranormal activity isn't just something we see on TV - many people believe there are places where ghost sightings are real. Russia is no exception - Grigory Rasputin, Sergei Esenin and even Vladimir Lenin - are just some of the ghosts said to inhabit Russian hotels as well. Would you dare to spend a night there and check if these ghost stories are true?
1. Hotel National (Moscow)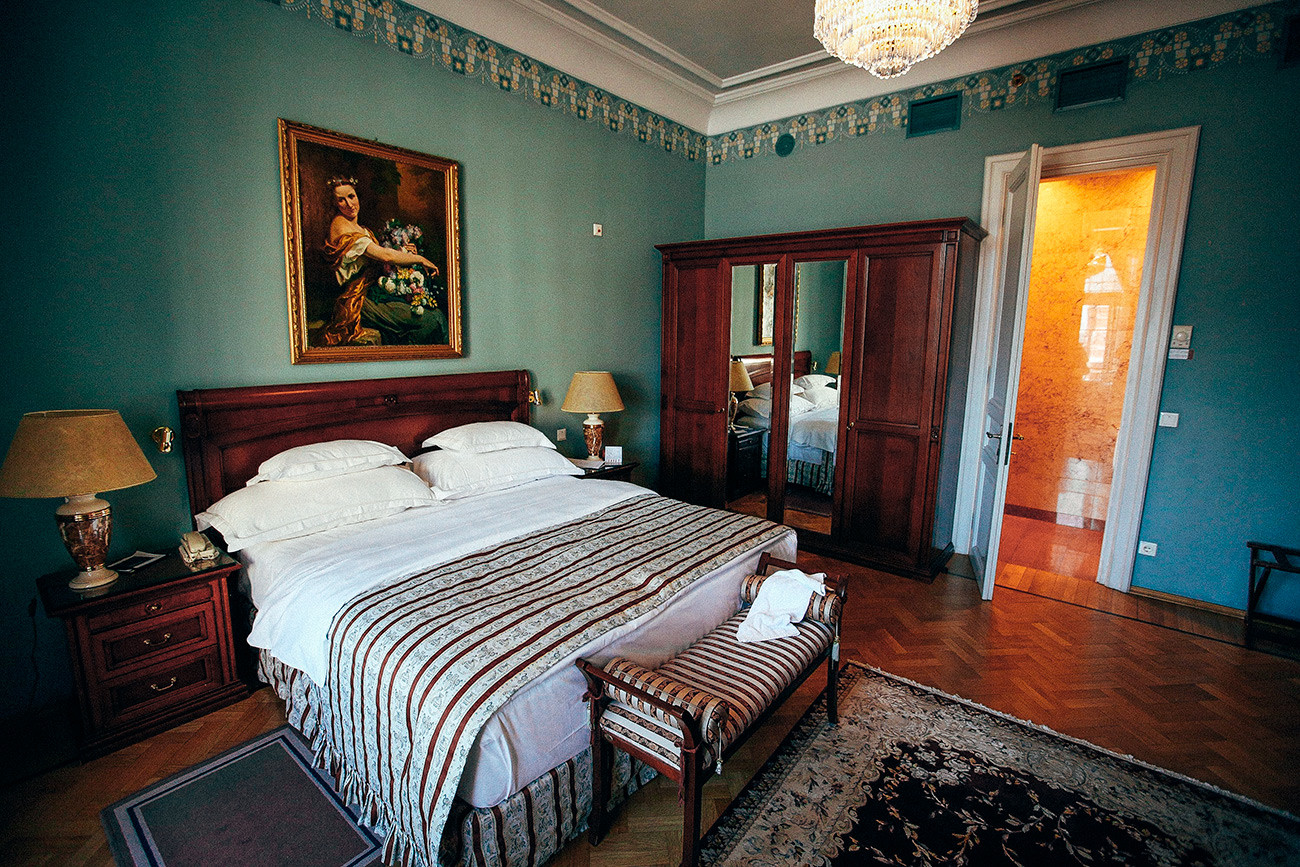 One of the most luxurious hotels in Moscow, Hotel National opened in 1903 and has hosted many well-known names over the years including prima ballerina Anna Pavlova, composer Nikolai Rimsky-Korsakov, French poet Anatole France, English writer Herbert Wells, and American pianist Van Cliburn. The leader of the Russian Revolution and the first head of the Soviet state, Vladimir Lenin, also lived here for a week with his wife - in room 107. According to rumors and the hotel staff's accounts, a figure of a man with a bald head and a beard is often seen at the hotel sipping tea, walking the corridors and turning the lights on and off - it seems the Soviet leader loved it here so much he didn't want to leave the place - even after his death!
2. Apartment Baltapart On Gorokhovaya (St. Petersburg)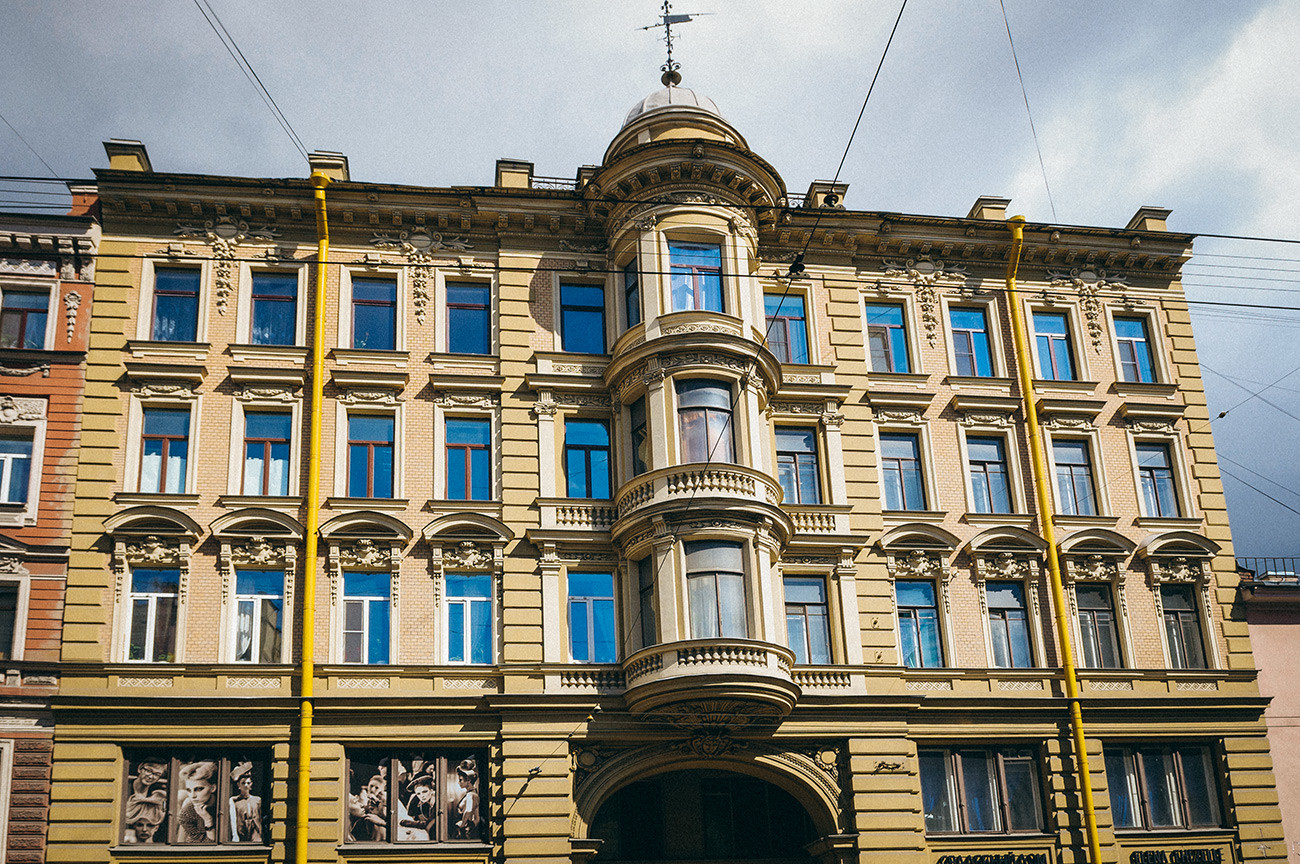 Want to get a glimpse of Grigory Rasputin , the famous mystic and friend of the last Romanovs? Try your luck at the hotel on Gorokhovaya 64 in St. Petersburg, a residential building that dates back to the early 20th century and has, at some point, hosted Rasputin on the third floor. Some of the guests share that they regularly see the white figure of Rasputin roaming around at night. Others think the ghost tends to visit those who are sad or in a bad mood. If he visits a man, he would stroke him on the back at night, or, if visiting a woman, he'd whisper something nice to comfort her.
3. Grand Hotel Europe (St. Petersburg)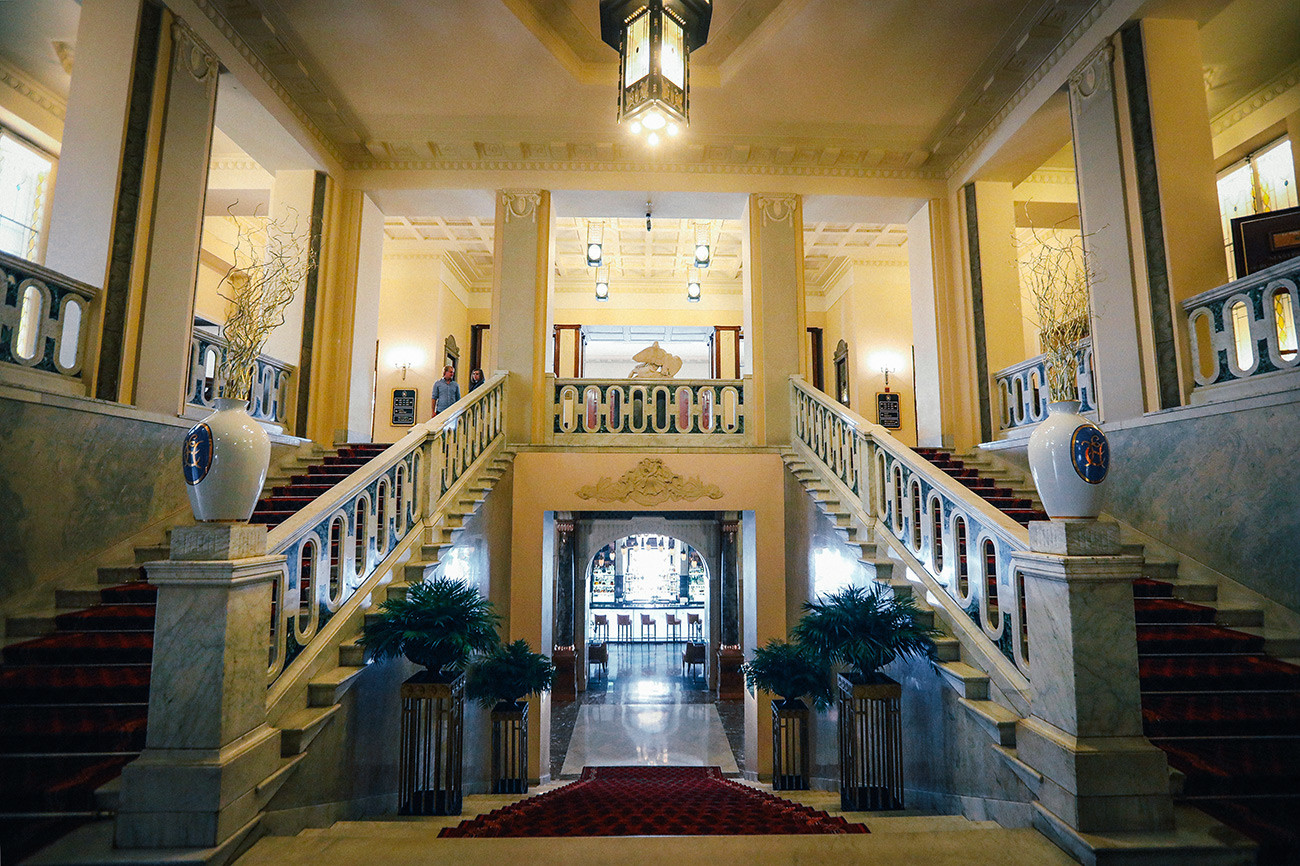 The five-star Grand Hotel Europe opened in 1875 on Arts Square in St. Petersburg. As the legend goes, it replaced an earlier inn situated on the same site - a lodge where since 1706 guests would hear and witness horrifying things like footsteps in the attic, moans, and squeaks. The story tells that once a brave resident went up to the attic once and saw a ghost of the killed officer Belyaev-Tolstoy - a thing that terrified the owner and prompted him to sell the inn. Later, the building was demolished and a new Grand Hotel Europe was built in its place, but it's believed that the ghost moved into the new hotel as well - there are stories of guests sometimes mistaking the ghost for a porter!
4. Angleterre Hotel (St. Petersburg)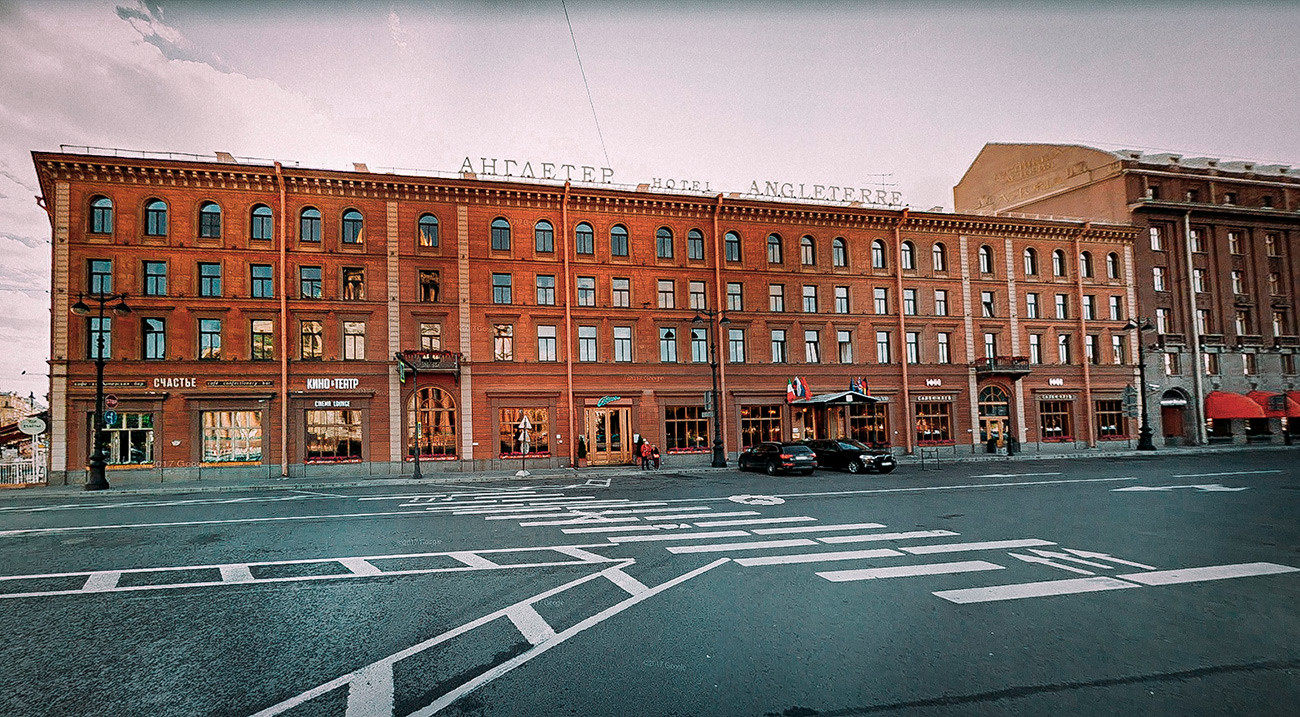 Another place believed to be inhabited by a ghost is the Angleterre Hotel in St. Petersburg - a place where the famous Russian poet Sergei Esenin was found dead in room No. 5 in 1925. Some believe he was suffering from depression and hung himself while others believe it was actually a murder and that suicide was a cover-up. Maybe that's why the soul of the poet has still not found its peace and is still seen within the hotel's walls.
5. Arkhangelskoye estate and sanatorium (Moscow region)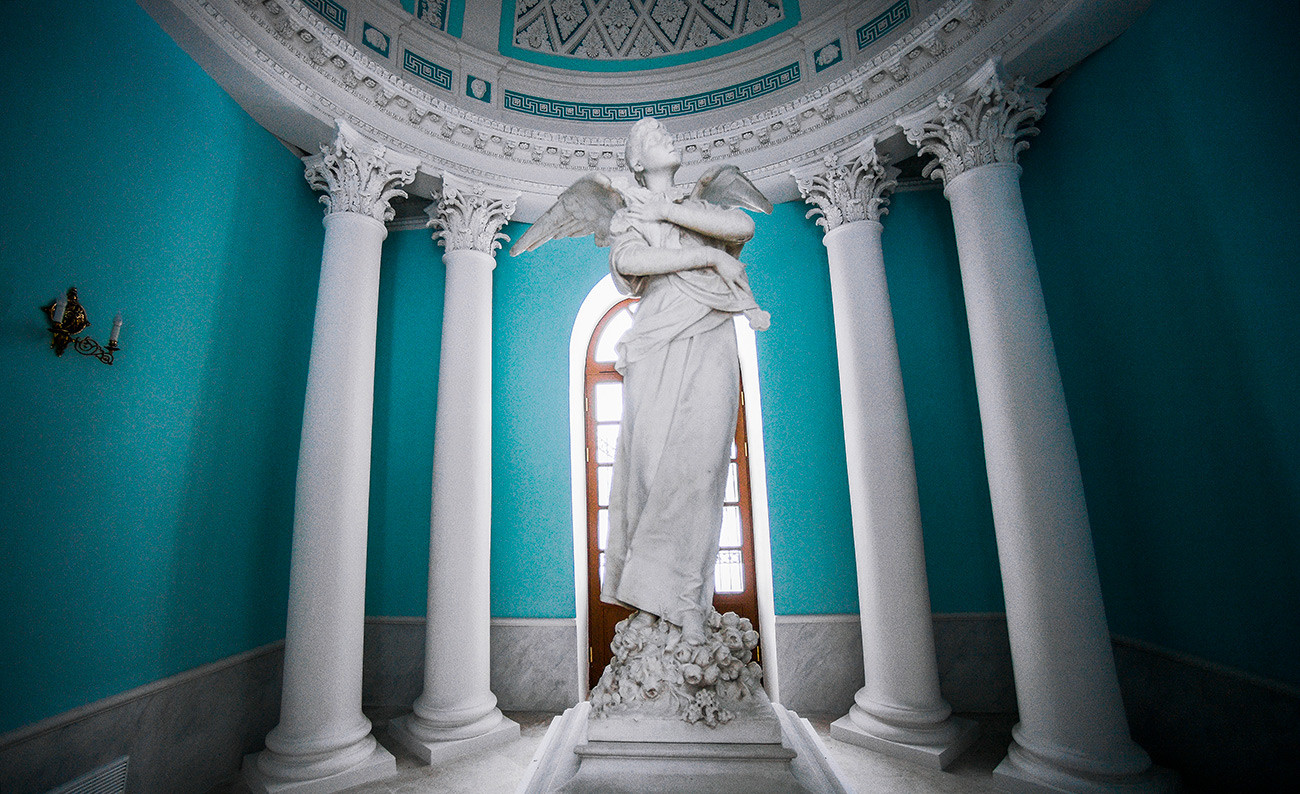 A monument in honor of Tatiana Yusupova in Arkhangelskoye.
The picturesque estate just outside of Moscow, Arkhangelskoye has seen many owners, including the Yusupov family, one of the wealthiest in the country. According to legend, the estate is inhabited by the ghost of Tatiana Yusupova, who died in 1888 at the age of 22 as a result of typhus. Her inconsolable father buried her here and ordered a marble angel to stand over her grave. After he died, the monument was moved to a nearby tea house and since then the ghost of Tatiana has been seen walking around the park searching for her father's present.
If using any of Russia Beyond's content, partly or in full, always provide an active hyperlink to the original material.
to our newsletter!
Get the week's best stories straight to your inbox
11 adventure ideas that will make you book a holiday in Russia in a heartbeat
7 best summer schools to master your Russian in the Motherland
Top 10 most unusual hotels in Russia (PHOTOS)
This website uses cookies. Click here to find out more.