(The Phantom of the Opera)
The Christines take their final bow
How 6 leading ladies helped make 'phantom' a broadway phenomenon.
The iconic Broadway character Christine Daaé has been played by 40 women over 35 years.
Sarah Brightman shaped the role when "The Phantom of the Opera" had its London premiere in 1986.
Sierra Boggess played Christine in Las Vegas, New York and London, appearing in the filmed 25th anniversary concert.
Sandra Joseph transformed into Christine for more than 1,000 shows over 10 years.
Ali Ewoldt, a Filipino American actress, was the first person of color to be cast as Christine in New York.
Julia Udine was one of the youngest Christines, first cast at age 19.
And Emilie Kouatchou became the first Black Christine in "Phantom's" Broadway history in 2021.
For 35 years, the man in the white mask has been synonymous with Broadway.
But as Andrew Lloyd Webber's "The Phantom of the Opera" nears its final curtain call in New York, ending a record-setting run, there's another character who deserves an encore.
"This is not 'Phantom of the Opera.' This is 'Christine of the Opera.' This is her show," says Emilie Kouatchou, one of the last women to play the sought-after female lead.
The role of Christine Daaé is a dream fulfilled for a budding soprano hoping to grace the stage of the Majestic Theatre on West 44th Street. It's a complex, complicated and demanding part. She is onstage for about two hours of the nearly 2½ hour show, and her lines are mostly sung.
Christine is a dancer and chorus girl who lost her father at a young age. She begins taking lessons from the mysterious Phantom, who she believes is her "Angel of Music" — someone her father warned her of years before.
Including alternates and excluding understudies, 40 women have played Christine over the years.
Some of the women auditioned multiple times. Some began their journeys in traveling companies or as understudies. Others were cast in their teens or early 20s.
For a few, it was their first Broadway role.
As with any show spanning more than three decades , the production, casting and message have become more relevant as our world — and society — has evolved. "The Phantom of the Opera" is largely about acceptance, and learning to reveal ourselves, without a physical or symbolic mask. (The musical is based on the 1910 novel by Gaston Leroux.)
"It really teaches love and empathy," says Julia Udine, who is currently a Christine alternate and performs three times a week.
We spoke with six women who have played the role on Broadway. They reflected on their connection to the character, how the role paved the way for their careers on- and offstage, and the legacy of "Phantom" in New York and the theater community.
Sarah Brightman
Sarah Brightman was the blueprint for Christine Daaé. Andrew Lloyd Webber , her husband at the time of the show's London premiere in 1986, wrote the role with her talents and her soprano skills at the front of his mind.
"My voice was very much in his ears," Brightman said. "To be a muse of a composer that's creating new things and wonderful things and very successful things — I think it was a beautiful thing."
Critics were generally energetic about the show's Broadway debut in 1988, with Brightman again in the lead, after its successful run in London.
Frank Rich of the New York Times characterized it as "a victory of dynamic stagecraft over musical kitsch." The Washington Post review called the music "almost mesmerizing, insistently boring into one's brain for hours afterward."
Sarah Brightman was the first Christine, in London and New York. Sarah Brightman photographed in London in April.
New York attendance in the show's debut year totaled more than 663,000 people, with a gross of $28,553,279.
The show's growth and success is not lost on Brightman, who described it as "a wonderful jewel within Broadway."
"As monumental as the role is to everybody else, I was a young person doing my best with all the talent I had to put this beautiful role in place," she said. "I feel very humbled by it."
Sierra Boggess
Like other musical successes, "The Phantom of the Opera" has sprouted six productions in the United States and dozens of tours internationally.
Sierra Boggess, who joined the Broadway production in 2013, played the role of Christine in Las Vegas, New York and London, where she appeared in the filmed 25th-anniversary concert.
"It's a role that I kept revisiting because it is so rich," Boggess said. "Every time I came back to it, I found more and more and more."
At its core, the musical is a love triangle . Christine is drawn to Erik (a.k.a. the Phantom), a composer who shields himself from society in a lair beneath the Paris Opera House. Born with a facial deformity (hence the mask), he has yet to experience kindness or love. He is a man of great talent and has traits that often borderline on the supernatural. He becomes Christine's mentor.
Sierra Boggess joined the Broadway production in 2013. Sierra Boggess photographed in New York in March.
But Christine is also drawn to Raoul, a childhood friend and more suitable mate. (We'll end the spoilers here.)
Boggess said she came to realize how "psychologically interesting" the "heightened love story" is. "We have this side of us as humans that's like, we can help somebody by loving them," she said. "I'm sure therapists would have a field day with that."
The more Boggess dove into the psychology of the story, the more she shifted how she played the role.
"Christine is badass and people should know that," she said.
Sandra Joseph
As a child, Sandra Joseph enjoyed performing but had a fear of the stage.
"When you don't have the courage to go after something you really love, then you live with regret and the sense of what might've been," she said. "So I promised myself at a very young age that I would move through this intense stage fright and keep trying to do this thing that I love."
Fast-forward to 1994. Joseph was 26 and 4½ years into her five-year plan to "make it big" in New York when she auditioned for Christine for the first time. Like many others, she didn't get the gig on her first pass. She would eventually begin her journey with the national tour as an understudy for Christine before — after two more auditions — she would land the part in New York.
Joseph would go on to play the role for 10 years and more than 1,000 shows.
"What I know for sure from standing on that stage so many times is the emotional connection that the story makes with the audience," she said.
John Cudia and Sandra Joseph in "The Phantom of the Opera." Sandra Joseph photographed in New York in March.
Nowadays, Joseph spreads the message of how to live an unmasked life in a one-woman show. Audiences are often delighted when she sprinkles in some of Christine's best musical moments throughout her talks. Joseph also wrote a book on the same subject.
"I was a 'Career Christine.' It was my perfect role, and there was nowhere to go from there that would have been better for me as an actress. I knew that," she said. "I could not have imagined that the gift 'Phantom' gave me would unlock all of these lessons."
Joseph fell in love with "The Phantom of the Opera" in more ways than one. In 2002, she married her co-star, Ron Bohmer, who played the Phantom in a national tour at the Kennedy Center.
Ali Ewoldt first saw "The Phantom of the Opera" when she was 10 years old. She and her father sat in a box on stage right, and it was there, she said, that she fell in love with the "premiere soprano role that all young sopranos would aspire to."
As an adult, Ewoldt would spend a decade auditioning for the role in different iterations of the tour and production.
"I have always been a soprano despite my best efforts as a child," she said. "There are very few leading-lady soprano roles that exist, and so I knew that Christine was a major aspiration and a dream role for me."
In 2016, Ewoldt finally sang "Think of Me" on the Majestic Theatre stage, auditioning in front of famed director Harold "Hal" Prince.
Ali Ewoldt fell in love with the role of Christine after seeing the show as a 10-year-old. Ali Ewoldt photographed in New York in March.
"I kind of let go of the idea of needing to book the job but really tried to take in that moment," Ewoldt said.
She got the part.
"It's so the way of the universe," she said. "It understands, somehow, this need when we decide that we're just doing it for the love instead of desperately trying to get a job is how we get the things that we want."
Ewoldt, who is Filipino American, was the first person of color to be cast in the role.
"The gift of that for me was getting the feedback of people who didn't realize that this was a role that was open to them," she said. "The world changes, and just because you haven't seen someone that looks like you or feels like you or has your abilities play a part — what we can do is show up and be the best versions of ourselves."
Julia Udine
Julia Udine auditioned for Christine for the new, restaged North American tour in 2013. She was 19 and would open — and stay — with the touring production before heading to Broadway to fill the leading role at age 21. She was the second-youngest woman to play the role in New York.
"Christine has been an integral part of my adult life," said Udine, now 29. "As she grows into a woman in the show, I was also growing into a woman in my life."
Udine, like Christine, is a dancer, and paired with her soprano capabilities, the role, she said, was "all of my 'things' wrapped up in one."
Julia Udine is part of the show's final cast. Julia Udine photographed in New York in March.
"She goes through so many ups, so many downs, and as an actress, it's really cathartic to play a role like that," Udine said. "It really challenges you in so many ways, and I think that any woman who has played the role of Christine feels that challenge nightly."
Udine said it is "surreal" to reflect on being a part of the show's final cast as a Christine alternate. Her last days on the "Phantom" stage are among the dwindling days of the production.
"It's been the heartbeat of New York City for so long," she said. "'Phantom' is Broadway."
Emilie Kouatchou
"I think I can be the first Black Christine."
These are the words Emilie Kouatchou uttered to a visiting casting director in her college years at the University of Michigan.
"I was very confident in my ability to take on this role," she said.
That confidence served Kouatchou well, and after a few attempts, she made her Broadway debut as a Christine alternate in October 2021. A few months later, she would take on the role full-time.
Emilie Kouatchou calls Christine "a beast of a role." Emilie Kouatchou photographed in New York in March.
"I'm getting to be powerful, and soft, and sexy, and feminine and masculine," Kouatchou said. "I think it's important for people to see someone who looks like me being able to be all of these things, because as Black women, we don't get to do that quite often. We really get boxed into a certain type of role."
The actress said the role has helped her grow as a person and as a performer. Calling Christine "a beast of a role," Kouatchou recalls thinking during an early rehearsal, "Wait, she sings all of this?"
Now, she will be onstage, playing Christine, when the curtain comes down on the final show.
"It's a dream to be on Broadway to represent and to shine and feel like I'm fulfilling a childhood dream," she said.
An earlier version of this story incorrectly said that Sierra Boggess played Christine in more cities than others in the role. She performed in three cities, with one show filmed for a 25th-anniversary special. The story has been corrected.
About this story
Story by Allie Caren. Editing by Amy Hitt and Nicki DeMarco. Photo editing by Lauren Bulbin and Maya Valentine. Photographs of Boggess, Ewoldt, Kouatchou, Joseph and Udine by Ssam Kim for The Washington Post. Photos of Brightman by Bekky Calver for The Washington Post. Copy editing by Jeremy Hester and Jordan Melendrez. Video editing by Allie Caren. Design and development by José L. Soto. Design editing by Eddie Alvarez. Archival clips and photos courtesy of "The Phantom of the Opera."

Join StageAgent today and unlock amazing theatre resources and opportunities.
The Phantom of the Opera
Christine Daaé
See more characters from Richard Stilgoe Andrew Lloyd Webber Charles Hart
Sample Materials
Suggested Audition Pieces
Related Products
Useful Articles
Key Information
Christine is the naive young ingenue of the Phantom. Having been
READ MORE - PRO MEMBERS ONLY
Join the StageAgent community to read our character analysis for Christine Daaé and unlock other amazing theatre resources!
Already a member? Log in
Upgrade to PRO to read our character analysis for Christine Daaé and unlock other amazing theatre resources!
Upgrade to StageAgent PRO
Other Characters From The Phantom of the Opera
The Phantom of the Opera - Musical
Vicomte Raoul de Chagny
Carolotta giudicelli.
View All Characters in The Phantom of the Opera
Featured Songs
Think of me, wishing you were somehow here again, auditioning for christine daaé based on his/her attributes, we recommend you consider these audition pieces.
THIS FEATURE IS ONLY AVAILABLE FOR PRO MEMBERS
Auditioning for Christine Daaé?
Upgrade to PRO Sign Up for PRO to view suggested audition pieces!
Suggested Monologues PRO only
Suggested songs pro only.
We only provide suggested audition monologues or songs for an individual character if our system finds content that matches a character's traits. Results may vary.
Click the keyword tags below to see more results.
*Our system only provides suggested monologues or songs for select characters if we have matching monologues and song information in our database.
Video Examples
More about Christine Daaé
Sign up today to unlock amazing theatre resources and opportunities.
Auditions & Jobs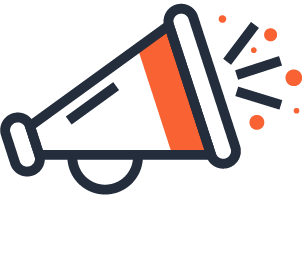 Simonas Search - Submit for NYC Appointments New York, NY
New York, NY
Stage Manager for All Of Me New York, NY
Kinky Boots New York, NY
Half-Price Tickets
Jan 19 - Nov 9
Welcome To Greendale
Brooklyn, NY
Oops! This page is only accessible by StageAgent Pro members.
Take your performing arts career to the next level.
Gain full access to show guides, character breakdowns, auditions, monologues and more!
or log in to your account
You need a Pro account to access this feature.
UPGRADE TO PRO
or or log in to your account
Israel At War
CBS News New York: Free 24/7 News
CBS New York App
CBSNews.com
First Alert Weather
Links & Numbers
#BetterTogether: Season Of Giving
Book Club with Mary Calvi
Watch CBS News
Emilie Kouatchou making history as the first Black Christine Daaé in Broadway's "Phantom of the Opera"
By Alice Gainer
Updated on: July 31, 2022 / 11:06 AM / CBS New York
NEW YORK -- The current leading lady of Broadway 's "Phantom of the Opera" is making history in the role.
After two-and-a-half years and hundreds of auditions, 25-year-old Emilie Kouatchou made her Broadway debut and made history as the first Black woman to step into the role of Christine Daaé in Broadway's longest running musical.
"I'm excited to be carrying this torch, and hopefully this will break more barriers and we have Christines of anything, any size, race, ethnicity," Kouatchou told CBS2's Alice Gainer. "I get a message, like, every night I do the show ... 'You're helping me pursue my dreams in theater.' If I can just help one person out, help inspire them, it means the world to me."
RELATED STORY: Emilie Kouatchou Makes History As First Black Leading Actress In 'Phantom Of The Opera'
The daughter of immigrants from Cameroon and oldest of three, Kouatchou began performing at the age of 9 after her mother enrolled her in community theater courses in Illinois.
"My first show was 'Oklahoma Jr.' and I had one line and I freakin' loved it," Kouatchou said.
She first saw "Phantom of the Opera" with her high school theater group.
"I have a distinct memory of seeing the mask at the end on the chair and the Phantom disappearing, and that image is burned in my brain," she said.
From there, it was the University of Michigan, where she learned the "Phantom" material, then off to New York City.
Kouatchou first began as understudy for the role of Christine in 2021 before stepping in full-time.
Broadway's newest star took CBS2 on stage to introduce one of the show's oldest stars -- the iconic chandelier.
Here is your Box 5 view of the chandelier rising over Broadway once again. #PhantomBroadway #PhantomIsBack pic.twitter.com/zuliOHWEP0 — The Phantom Of The Opera (@PhantomOpera) October 23, 2021
Kouatchou has about ten costume changes.
"I get sores and, like, my shoulders, I have to get massages every week," she said.
Her pre-show ritual involves a snack and music, and with just minutes until showtime, she seemingly has no nerves.
"The show is just so in my voice. I literally wake up and, like, I'm ready to go," Kouatchou said.
A dream that began nearly a thousand miles away is never far from her mind.
"Every day I have a moment where I'm like, when I'm on stage, I'm like, OK, and I look up and you can't really see that high because of the lights, but I know there are rows and rows of people, like, all these people are here to see me do my thing. No pressure," Kouatchou said.
"So many people have dreams and they're just dreams, they don't become a reality, and for you, it's happened," Gainer said.
"Yeah, I'm really lucky," Kouatchou said.
More like a whole lot of hard work and talent.
"You really can do anything you put your mind to ... and surround yourself with people that uplift you," Kouatchou said.
As for how she tops this role, Kouatchou says she wants to try and do everything.

Alice Gainer joined CBS2 as a reporter and anchor in January 2013. She covers breaking, feature and general assignment stories.
Featured Local Savings
A Coronation Anthem: In Conversation with Andrew Lloyd Webber
The captivating 'the point of no return' | the phantom of the opera, the mystical 'he's the wizard' (amber riley) | the wiz live, the beautiful 'beneath a moonless sky' | love never dies.
Musicals On Line
for Musical Theater lovers!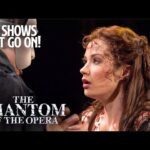 How do you solve a problem like 'Maria'… #shorts | The Sound of Music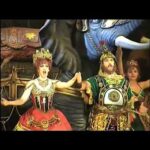 POTO Madrid (Spain) 2004 Full Show Bootleg – POTO in Spanish
The Phantom of the Opera: Character Descriptions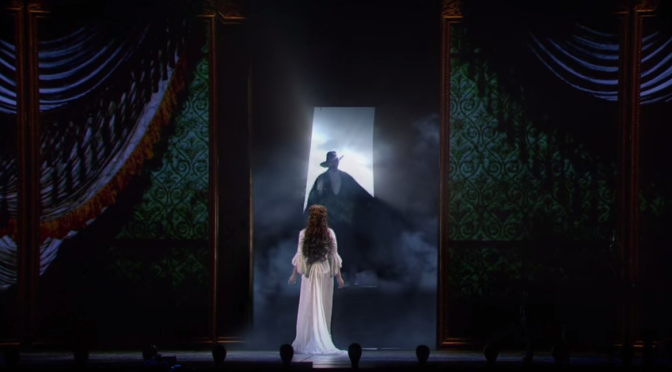 Seems like the race for the musical with the most number of revivals is on. With "Les Miserables" eventually relenting to a revival, the revival of "The Phantom of the Opera" is only appropriate.
Buzz surrounding about the first black actor to play the title role was met with initial skepticism. Regardless of who plays these roles that have etched an indelible mark on our memories, it would still be interesting to analyze the characters that we all could relate to at once.
The Phantom a.k.a. "OG"
In Andrew Lloyd Webber's version, the origins of "OG" was mentioned as from a freak show and was described as a genius and prodigy, at least according to Madame Giry. He eventually found the perfect voice to interpret his music in his ward, Christine Daae. The part that described him as a genius and prodigy turned out to be more applicable in creating mazes and traps within the opera itself in a way that even the perceived owners can't control. These skills at manipulating the acoustics and other parts of the opera gave him the reputation as "The Phantom of the Opera" as if he's just a ghost that everyone can hear and sense but could never see.
Christine Daae
Swedish soprano Christine Daae received her earliest music lessons from her father who was a violinist. Her father also constantly reminded her of her "Angel of Music", an entity that she never saw or met. This was mentioned in the song "Wishing You Were Somehow Here Again". After her childhood friend, Raoul, chided her for her "imagination", she then asked "OG" for his proof of existence.
A character that Webber initially created for his wife at the time, Sarah Brightman, it eventually became associated with other musical theater actresses that became angels of music.
Raoul, Vicomte de Chagny
Christine's childhood friend and eventual lover, he tried to win her love despite the seemingly indomitable rivalry looming at the background. He realized that it is not enough to be the opera's new patron and was steadfast in his love for Christine. He promised a better life for Christine as mentioned in the song "All I Ask of You".
Carlotta Giudicelli
The original prima donna of the opera house in the story, it was her walk-out from the stage that prompted Christine to be the new prima donna. It is obviously a move by OG to finally put his ward into leading lady status and finally headline operas. She is self-centered, vain and like hogging the spotlight to herself – this, despite blunt feedback by OG as mentioned in one of the letters that Madame Giry would deliver to the opera owners. Her voice was reduced to a frog's croak in one production where she snatched the lead role from Christine. This is where it was slightly suggested that OG's powers were beyond the supernatural.
Ubaldo Piangi
A tenor with pronunciation issues, Piangi comes across more as a tool for Carlotta to play around and make her look better on stage. Not that Carlotta is off-tune but she's a diva that needed someone to bully and that someone turned out to be Piangi. Piangi in return ends up becoming Carlotta's lackey to the point of parroting everything that Carlotta said. An easy pushover, he ended up becoming Raoul's pawn to entrap OG later in the story.
Madame Giry
The only character in the musical that may have an idea behind OG's real identity, Madame Giry was only to scared to tell more. This sealed the mystery shrouded in the character of OG. It seems like she was the only person who may have seen OG prior to wearing the mask and the tuxedo. Before Christine, only she had access to OG's lair. By her directions, Raoul found the way to OG's hideout.
Madame Giry's daughter and Christine's best friend. She is one of the resident dancers of the opera house.
Firmin and Andre
The new owners of the opera house, they eventually downplayed OG just like Raoul. While they don't mind having Christine headline their operas, being in good terms with Carlotta, they eventually relented to her whims. It was this professional conflict that pushed OG's territorial hold on the opera.
Unlike most musicals, the extra attraction that "The Phantom of the Opera" holds over its fanbase is the suspense element. Sure, there is a love triangle and some characters fall in love but it is the dangerous kind of love. The conflict that made it extra interesting is how Christine is frightened of OG but enamored with him just the same. Sometimes it seems like hypnosis like how Christine fainted in the middle of OG's "Music of the Night". But most of the time, it's useless to understand what made her fall for OG. It's neither good nor bad. It just is. It served as the main meat of the story.
To keep yourself updated with the latest articles from us, like our official Facebook page, MusicalsOnline.com , and follow us on Twitter @musicalnews . Thanks for reading.
Related News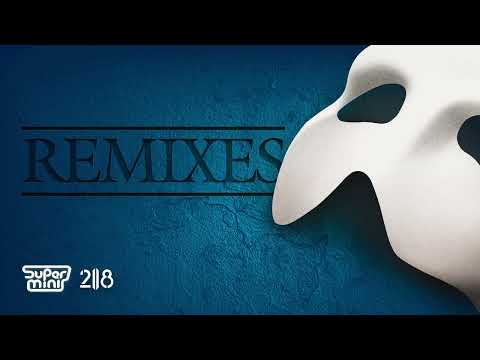 The Phantom of the Opera (Supermini & 2118 Remix)
#phantombroadway | the phantom of the opera.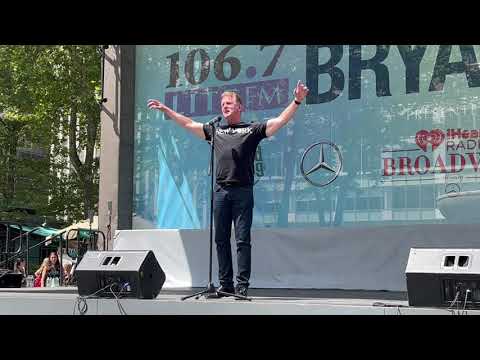 Music of the Night – Ted Keegan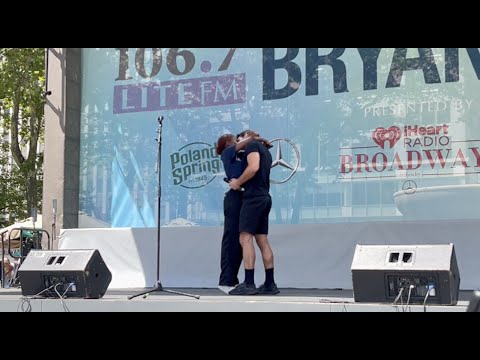 All I Ask of You – Emilie Kouatchou and John Riddle
Uh-oh, Javascript is required for this site.
Please enable Javascript and hit the button below!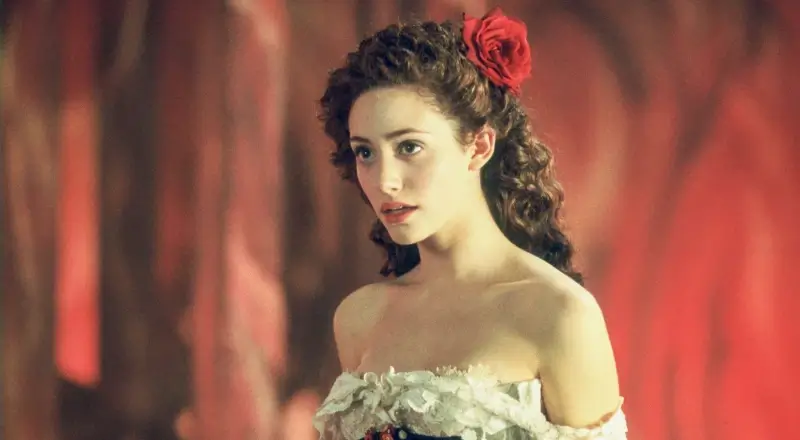 Christine Daae
Character analysis.
(Avoiding Spoilers)
Overview… an orphaned young singer who had lost her passion for singing. In fact, Christine only becomes a singer to honor her dead father. Though she initially impresses no one, one person hears the potential in her voice: an unseen "angel of music" who tutors Christine from behind the walls of the opera house where she now lives. When someone incapacitates the lead soprano, Christine takes her place and stuns everyone with her voice. Thus begins both a successful career and a tangled love life, for Christine has caught the attentions of both the Opera Ghost, her supposed "angel," and Raoul, the Viscount of Chagny.
Personality… kind, optimistic, and naïve. Because she believes her father sent her an "angel of music" from her favorite childhood fairy tale, Christine is unfazed when the Opera Ghost appears to her. However, the Ghost (aka the Phantom) can be quite ornery and dangerous if he doesn't get what he wants. And what he wants is Christine's love.
Recommendations
Fans of her also like:
Get to Know her in...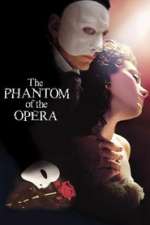 Deformed since birth, a bitter man known only as the Phantom lives in the sewers underneath the Paris Opera House. He falls in love with the obscure chorus singer Christine—privately tutoring her while terrorizing the rest of the opera house and demanding Christine be given lead roles. Things get worse when Christine meets back up with her childhood acquaintance Raoul.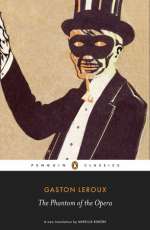 Rumors abound that a ghost stalks the dark passages and cellars of the Paris Opera House. No one has actually seen this Phantom, but Christine Daa&?eacute;, a beautiful and talented young singer, has heard his voice. He is her "Angel of Music," coaching her to sing as she never could before. When the handsome Viscount begins to court Christine, the mysterious Phantom-consumed by jealousy-rises up to seek revenge.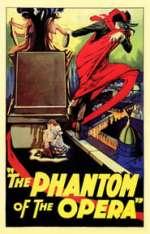 A grotesquely disfigured composer known as "The Phantom" haunts Paris' opera house, where he's secretly grooming Christine Daae to be an opera diva. Luring her to his remote underground lair, The Phantom declares his love. But Christine loves Raoul de Chagny and plans to elope with him. When The Phantom learns this, he abducts Christine.
A darker version of the classic Gaston Leroux novel. A young soprano becomes the obsession of a horribly disfigured composer who has plans for those oppose himself or the young singer.
Related Characters
To take advantage of all of CharacTour's features, you need your own personal account. Get entertainment recommendations for your unique personality and find out which of 5,500+ characters are most like you.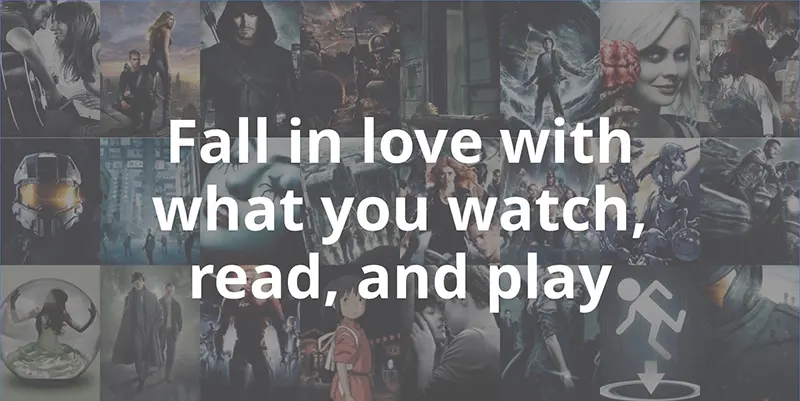 This website uses cookies . If you continue to use the site, your agreement will result in cookies being set.
'The Phantom of the Opera' tickets available through September 2024
Andrew Lloyd Webber's long-running musical continues in the West End, with Jon Robyns and Lily Kerhoas playing the Phantom and Christine.
Hear the music of the night! The Phantom of the Opera continues its West End run at His Majesty's Theatre , with performances now scheduled through 28 September 2024. Book The Phantom of the Opera tickets on London Theatre.
The long-running musical opened in 1986 and recently celebrated its 37th year in London's West End. Read more about The Phantom of the Opera in our complete guide.
Based on Gaston Leroux's 1910 novel of the same name, The Phantom of the Opera is set in the Paris Opera House and follows the story of a mysterious, disfigured man who hides in the depths of the theatre and a talented and beautiful young singer, who he tutors in secret.
Who is in the cast of The Phantom of the Opera ?
Currently starring in The Phantom of the Opera is Jon Robyns as The Phantom alongside Lily Kerhoas as Christine Daaé, Joe Griffiths-Brown as Raoul, Kelly Glyptis as Carlotta Giudicell, Matt Harrop as Monsieur Firmin, Adam Linstead as Monsieur André, David Kristopher-Brown as Ubaldo Piangi, Francesca Ellis as Madame Giry, and Maiya Hikasa as Meg Giry. At certain performances, the role of Christine Daaé will be played by Paige Blankson.
Hollie Aires, Federica Basile, Corina Clark, Michael Colbourne, Leonard Cook, Colleen Rose Curran, Lily De-La-Haye, Hywel Dowsell, Connor Ewing, Serina Faull, Florence Fowler, James Gant, Melanie Gowie, Eilish Harmon-Beglan, Yukina Hasebe, Samuel Haughton, Thomas Holdsworth, Jacob Hughes, Grace Hume, Tim Morgan, Eve Shanu-Wilson, Tim Southgate, Zoë Soleil Vallée, Jasmine Wallis, Victoria Ward, Ralph Watts, Simon Whitaker, and Andrew York complete the cast.
Book The Phantom of the Opera tickets on London Theatre.
Originally published on Oct 18, 2023 15:02
Screen Rant
10 best songs in the phantom of the opera (2004).
Joel Schumacher's 2004 film The Phantom of the Opera highlights the classic songs from the timeless Broadway play by Andrew Lloyd Webber.
The Phantom of the Opera   is synonymous with certain famous symbols and images: the rose with a black ribbon, the phantom's white mask, and a falling chandelier, to name a few. Besides these, and the grand spectacle of a Paris opera house, deep underground catacombs that make up the Phantom's lair, and a large mausoleum,  The Phantom of the Opera  is most acclaimed for its sweeping, soaring songs.
RELATED:  10 Best Movie Musicals Of All Time, According To The American Film Institute
The movie, which is based on the play by veteran Broadway artist Andrew Lloyd Webber (who also did Cats ), is a stunning extravaganza of music that's devastatingly romantic, and just plain devastating.
"I Remember/Stranger Than You Dreamt It"
After Christine Daae's introduction to the Phantom, she awakes from her faint-induced slumber to find herself in the Phantom's lair. She sings her portion "I Remember" that leads into his "Stranger Than You Dreamt It" after she peels the mask from his face in a moment of his weakness.
Christine's portion is full of an innocent curiosity and naiveté, which ultimately leads to her being hurt and scorned by the angel of music. Phantom's song is the first time viewers get a peek into the trauma of the opera ghost. Shackled to the underground labyrinth of the opera house, he refers to himself as a beast, a carcass, a monster, and believes he's in Hell, forever burning and yearning for Heaven's beauty. The instrumentals involve quick, successive sharp tones of orchestral strings. Though not present in the book,  the tune in this musical (based on the 1911 French novel)  is a memorable scene nonetheless.
"Wandering Child"
After her mournful song in the graveyard where her father is buried, Christine sits on the steps of her father's mausoleum to say her final goodbye. As she does, the angel of music appears again, hypnotizing her again into the Phantom's presence.
In another beautiful duet between Phantom and Christine, they start to draw near one another again, Christine "yearning for his guidance" and declaring her angel of music her protector and beholder of true beauty.  Phantom reminds her that he is the watchful presence that keeps her safe and cultivates her voice. The music swells and encompasses brass, winds, and strings, as she makes her way up the steps, and Phantom's voice is passionately mesmerizing.
"Prima Donna"
This song, which involves the whole cast (minus Phantom) sees the opera house players as they get ready for that night's opening play. After securing Carlotta once again and demoting Christine to a mute role, the artists prepare during song in which they all reflect on the situation they're in.
RELATED:  10 Facts About Joel Schumacher's The Phantom Of The Opera Film
"Prima Donna" reinforces the feminine divine of Carlotta and her leading soprano, while Raoul, Meg, and Madam Giry wonder what will happen to Christine, what misfortunes will occur when the Phantoms demands aren't met, and how a nation adores their artistic pleasures at the theatre. The musical accompaniment is smooth and sailing for much of the song, then comes to a loudly triumphant end.
"Masquerade"
The whole cast joins one another on-screen once again during this spectacular music number following a new year. The opera house is holding an exorbitant masquerade party full of costumes, drinks, dancing, and physical affection. It is one big party to greet a new year -- and simultaneously celebrating 3 months of being Phantom-free.
RELATED:  10 Things You Didn't Know About The Phantom Of The Opera
Perhaps the biggest of the film's operatic numbers due to the sheer size, magnitude, color, and musical force of "Masquerade", it is an unforgettable musical moment. The size of the orchestral instruments and everyone's voices add to the already magnificent and larger-than-life song where people must "guess the face" in a sea of yellows, blues, and reds, clowns, ghouls, and beasts.
"Think Of Me"
The first time the audience gets to her Christine Daae's voice is in her solo performance in "Think of Me" when she replaces Carlotta after she storms out in a huff.  Daae's entrance mimics the books' as she steps in to take her place on center stage.
The song, crystal-clear in its vocalization, and the light, springy, and sprightly music behind it makes this song one of the most memorable for the central character. The sound crescendos at the end produce a monumental effect on the audience as they listen to Christine's words of asking her lover to promise to remember her when their love has faded, much like the fruits and flowers of seasons do.
"Past The Point Of No Return"
In one of Phantom and Christine's sexiest duets, this song comes towards the end of the film at a pivotal moment in their relationship that literally takes them past the point of any return.
The song is hot and heavy with passion, and love, which is reflected in its lyrics, the props and set, and even the clothes they are wearing, a clearly perfect creative aura from director Joel Schumacher . The actors' voices are on full display as the song gradually comes to its louder close, and the images of their bodies, desires, and physical prowess for one another is unmatched when they sing of the flames consuming them.
"Wishing You Were Somehow Here Again"
In another of Christine's solo acts, the soprano ventures out to the gravesite where her father is buried to finally say goodbye to him.
The song is a heartbreaking one full of anguish and despair as Christine wrestles with the end of her affair with the angel of music. She is torn between wanting to maintain the relationship but realizing she can no longer be what is necessary to make him happy. She wants to break free and "try to forgive...give me the strength to try."
"All I Ask Of You"
The dizzyingly romantic duet between Christine and Raoul is a highlight of the budding relationship between the two lovers and childhood friends.
As they stand in the snow on the rooftop of the Paris opera house and sing of their love, devotion, and commitment to one another, it becomes increasingly harder for fans not to root for the two of them. It is a genuine show of sincere love and affection that culminates in a passionate kiss and the song that defines their relationship forever.
"The Music Of The Night"
Phantom takes the spotlight in his own song that he serenades to Christine after bringing her to his lair.
The solo performance from the opera ghost is one that follows on the heels of their famous duet together and that introduces Christine to the musical genius of the angel of music and his workspace. In a way that is almost intoxicating, Phantom seduces her with his world full of night, dreams, and music. He inspires her to let her spirit soar and succumb to the rich, full existence of his world.
"The Phantom Of The Opera"
The most famous duet in the production, this song comes just as Christine is seeing and physically meeting Phantom in person for the first time.
This rock-and-roll-influenced song from the film has a rougher, sexier edge to it than what theatergoers might be used to. Christine begins the setup describing how he visited her and now he's here, while he sings back to her how they are here, once again, singing their "strange" duet. By the end, their voices and spirits become one, and audiences see the beginning of the famous love story unfurl.
NEXT:  10 Best Movie Musicals Based On Books, According To IMDb
THE PHANTOM OF THE OPERA – Monologue (Christine)
A monologue from the novel by Gaston Leroux
NOTE: This monologue is reprinted from  The Phantom of the Opera . Gaston Leroux. Indianapolis: Bobbs-Merrill, 1911.
I had heard him for three months without seeing him. The first time I heard it, I thought, as you did, that that adorable voice was singing in another room.
I went out and looked everywhere; but, as you know, my dressing-room is very much by itself; and I could not find the voice outside my room,
whereas it went on steadily inside. And it not only sang, but it spoke to me and answered my questions,
like a real man's voice, with this difference, that it was as beautiful as the voice of an angel.
I had never got the Angel of Music whom my poor father had promised to send me as soon as he was dead.
I thought that it had finally come, and from that time onward, the voice and I became great friends.
It asked leave to give me lessons every day. I agreed and never failed to keep the appointment which it gave me in my dressing-room.
You have no idea, though you have heard the voice, of what those lessons were like. We were accompanied by a music which I do not know:
it was behind the wall and wonderfully accurate. The voice seemed to understand mine exactly, to know precisely where my father had left off teaching me.
In a few weeks' time, I hardly knew myself when I sang. I was even frightened. I seemed to dread a sort of witchcraft behind it.
My progress, by the voice's own order, was kept a secret. It was a curious thing, but, outside the dressing-room, I sang with my ordinary,
every-day voice and nobody noticed anything. I did all that the voice asked. It said, `Wait and see: we shall astonish Paris!'
And I waited and lived on in a sort of ecstatic dream. It was then that I saw you for the first time one evening, in the house.
I was so glad that I never thought of concealing my delight when I reached my dressing-room. Unfortunately, the voice was there before me and soon noticed,
by my air, that something had happened. It asked what was the matter and I saw no reason for keeping our story secret or concealing the place which you filled in my heart.
Then the voice was silent. I called to it, but it did not reply; I begged and entreated, but in vain. I was terrified lest it had gone for good.
I wish to Heaven it had! The next day, I went back to my dressing-room in a very pensive frame of mind.
The voice was there, spoke to me with great sadness and told me plainly that, if I must bestow my heart on earth,
there was nothing for the voice to do but to go back to Heaven. And it said this with such an accent of HUMAN sorrow that I ought then and there to have suspected
and begun to believe that I was the victim of my deluded senses. But my faith in the voice, with which the memory of my father was so closely intermingled,
remained undisturbed. I feared nothing so much as that I might never hear it again; I had thought about my love for you and realized all the useless danger of it;
and I did not even know if you remembered me. Whatever happened, your position in society forbade me to contemplate the possibility of ever marrying you;
and I swore to the voice that you were no more than a brother to me nor ever would be and that my heart was incapable of any earthly love.
Meanwhile, the hours during which the voice taught me were spent in a divine frenzy, until, at last, the voice said to me,
`You can now, Christine Daae, give to men a little of the music of Heaven.' I don't know how it was that Carlotta did not come to the theater that night nor why I was called upon to sing in her stead;
but I sang with a rapture I had never known before and I felt for a moment as if my soul were leaving my body!
I felt myself fainting, I closed my eyes. When I opened them, you were by my side. But the voice was there also, Raoul!
I was afraid for your sake and again I would not recognize you and began to laugh when you reminded me that you had picked up my scarf in the sea!…
Alas, there is no deceiving the voice!…The voice recognized you and the voice was jealous!… But I was no longer mistress of myself: I had become his thing!
You remember the terrible evening when Carlotta thought that she had been turned into a toad on the stage
and when the house was suddenly plunged in darkness through the chandelier crashing to the floor?
There were killed and wounded that night and the whole theater rang with terrified screams. My first thought was for you and the voice.
I was at once easy, where you were concerned, for I had seen you in your brother's box and I knew that you were not in danger.
But the voice had told me that it would be at the performance and I was really afraid for it, just as if it had been an ordinary person who was capable of dying.
I thought to myself, `The chandelier may have come down upon the voice.' I was then on the stage and was nearly running into the house,
to look for the voice among the killed and wounded, when I thought that, if the voice was safe, it would be sure to be in my dressing-room and I rushed to my room.
The voice was not there. I locked my door and, with tears in my eyes, besought it, if it were still alive, to manifest itself to me.
The voice did not reply, but suddenly I heard a long, beautiful wail which I knew well. It is the plaint of Lazarus when, at the sound of the Redeemer's voice,
he begins to open his eyes and see the light of day. And then the voice began to sing the leading phrase, "Come!
And believe in me! Whoso believes in me shall live! Walk! Whoso hath believed in me shall never die!…'
I can not tell you the effect which that music had upon me. It seemed to command me, personally, to come, to stand up and come to it.
It retreated and I followed. `Come! And believe in me!' I believed in it, I came….I came and– this was the extraordinary thing–
my dressing-room, as I moved, seemed to lengthen out…to lengthen out….Evidently, it must have been an effect of mirrors…
for I had the mirror in front of me….And, suddenly, I was outside the room without knowing how! I was not dreaming, I was outside my room.
Suddenly, there was no mirror before me and no dressing-room. I was in a dark passage, I was frightened and I cried out.
It was quite dark, but for a faint red glimmer at a distant corner of the wall. I cried out. My voice was the only sound, for the singing and the violin had stopped.
And, suddenly, a hand was laid on mine…or rather a stone-cold, bony thing that seized my wrist and did not let go.
I cried out again. An arm took me round the waist and supported me. I struggled for a little while and then gave up the attempt.
I was dragged toward the little red light and then I saw that I was in the hands of a man wrapped in a large cloak and wearing a mask that hid his whole face.
I made one last effort; my limbs stiffened, my mouth opened to scream, but a hand closed it, a hand which I felt on my lips, on my skin…a hand that smelt of death.
Then I fainted away.
Read the play here
Leave a Reply Cancel reply
Your email address will not be published. Required fields are marked *
Save my name, email, and website in this browser for the next time I comment.
The Phantom of the Opera
Gaston leroux, everything you need for every book you read., christine's father quotes in the phantom of the opera.

The Angel was never seen but could be heard by those who were meant to hear. This often happened when you least expected it, when you were sad and down-hearted. Then your ears would suddenly hear celestial harmonies, a divine voice, which you would remember for ever. Those who had been visited by the Angel were stirred. They experienced a thrill unknown to other mortals and henceforth could not touch an instrument or open their mouths to sing without producing sounds that put all other musicians to shame. The people who knew nothing about the angelic visitation called them geniuses.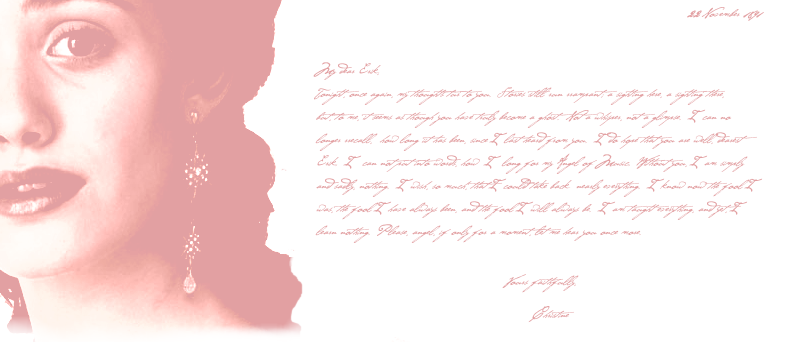 Phantom Fanlistings
The Collective
The Phantom of the Opera
Music of the Night
Miscellaneous
Phantom Links

The Phantom of the Opera (1910)
The Phantom of the Opera (1925)
The Phantom of the Opera (1962)
The Phantom of the Opera (Andrew Lloyd Webber)
The Phantom of the Opera (1990)
The Phantom of the Opera (Rosen & Schierhorn)
The Phantom of the Opera (2004)
Love Never Dies
Edit source
View history
And it was here that he said, "When I am in heaven, my child, I will send him to you." Well, Raoul, my father is in heaven, and I have been visited by the Angel of Music. - Christine Daaé, The Phantom of the Opera (2004)
Christine is a protagonist in The Phantom of the Opera . She is a young but talented singer, the love interest of both Raoul de Chagny and The Phantom , and the daughter of Gustave Daaé . Her surname changes throughout the adaptations, but is most commonly Daaé.
1.1 The Phantom of the Opera (1910)
1.2 The Phantom of the Opera (1925)
1.3 The Phantom of the Opera (1962)
1.4 The Phantom of the Opera (Andrew Lloyd Webber)
1.5 The Phantom of the Opera (1990 Miniseries)
1.6 The Phantom of the Opera (Rosen & Schierhorn)
1.7 The Phantom of the Opera (2004)
1.8 Love Never Dies
Biography [ ]
The phantom of the opera (1910) [ ].
In The Phantom of the Opera (1910) , Christine Daaé  was born just outside of Uppsala, Sweden. Her mother died when she was 6 years old, and she was brought up by her father , who the novel refers to as "Daddy Daaé." They traveled to fairs where he played the violin and she sang. There, they were discovered by Professor Valérius , who took them to Gothenburg and Paris and provided for Christine's education. Christine was extremely close to her father, who told her Scandinavian fairy tales. A story featuring an "Angel of Music" was her favorite. Christine's father passed away a few years after her mother, leaving her grief-stricken despite the loving care of her "adopted" mother, Madame Valérius .
Later, she entered the Paris Conservatory and trained for four years to become a professional singer to honor her dead father and please Madame Valérius, but lost all passion for singing. When Christine arrived at the Opera Garnier , she became one of the numerous singers at the Palais de Garnier. Although considered by many to have a voice "sounding like a rusty hinge" due to her lack of passion for singing, one person found the beauty still hidden in her tone: Erik , known and feared as the mysterious opera ghost.
Erik began to tutor Christine, and he tells her that he is the Angel of Music that her father had spoken of. Christine believes him, and he is able to inspire her soul back into her voice. Christine first debuts at a gala at the opera when the singer Carlotta falls ill and she is asked to take her place.
The Phantom of the Opera (1925) [ ]
In The Phantom of the Opera (1925) , Christine Daaé is played by Mary Philbin. Christine's role in the film remained mostly the same to the novel. The biggest departure came from her relationship with Erik. Christine was more afraid and disgusted by him, never showing him much pity or empathy. She was more open with her affections with Raoul, and confided in him more.
The original cut of the film showed more of her empathy and care to Erik, but the scenes were removed due to audience reactions.
The Phantom of the Opera (1962) [ ]
In The Phantom of the Opera (1962) , Christine Charles is played by Heather Sears. She auditioned for and was given the role of lead soprano for Lord Ambrose d'Arcy's opera by Harry Hunter, the opera house's producer, after sabotage at the opera house scared away the former lead soprano, and the two fell in love.
Later in the film, Christine kidnapped by the Phantom , who reveals he was formerly a former music professor named Petrie, and that while trying to publish his compositions, including the opera being put on by the opera house, his works had been stolen by d'Arcy. In an attempt to recover his works, his face was disfigured by etching acid, causing him to hide in the opera house, with his only goals being to hear his work performed, believing that he could help Christine do the leading role justice.
The Phantom of the Opera (Andrew Lloyd Webber) [ ]
In The Phantom of the Opera (Andrew Lloyd Webber) , Christine Daaé was originated by Sarah Brightman, as Webber had written the part for her. Her characterization is fairly close to the novel's, though some of that depends on the actress playing her. The musical frequently portrays Christine as loving both Raoul and Erik (only called "the Phantom" in the musical), but in different ways. She shares a sweet comfortable bond with Raoul, and a passionate creative loyalty to the Phantom, tainted by his psychological manipulation of her. 
The Phantom of the Opera (1990 Miniseries) [ ]
In The Phantom of the Opera (1990 Miniseries) , based on The American Musical Sensation , Christine Daaé's story is changed dramatically. We don't know anything about her father or her mother, and Christine doesn't know anyone named Raoul. Instead, Phillippe de Chagny invites her to the Opera House to sing after hearing her at a fair. Christine first begins by working in the costume department, and it is when she is wandering the stage alone that Erik first hears her sing. Instead of coming to her as "The Angel of Music" in her dressing room, he approaches her in person to offer music lessons. Phillippe becomes Christine's other love interest instead of Raoul, and Christine in turn finds that she loves Erik as well. In this adaptation, Erik dies of a gunshot wound, right in front of Christine, who in return accepts him for who he truly was.
The Phantom of the Opera (Rosen & Schierhorn) [ ]
In The Phantom of the Opera (Rosen & Schierhorn) , Christine Daaé was portrayed by Elizabeth Walsh. She played the same role that she did in the original novel, with some tweaks. At the end of the story, Christine was given the choice between Erik and Raoul, with no other caveats. She chose Raoul and eloped with him, leaving Erik behind to find another girl to tutor.
The Phantom of the Opera (2004) [ ]
In The Phantom of the Opera (2004) , Christine Daaé is played by Emmy Rossum. Her characterization remained mostly the same, compared to her stage counterpart. However, she was aged down to 16 years old.
When the film was first being developed, Sarah Brightman was considered for the part but she and Webber divorced before it could be made, and Emmy Rossum was given the role instead.
Love Never Dies [ ]
Christine Daaé returns to the POTO universe in Love Never Dies . Set ten years after the events of POTO (ALW), Christine goes to Coney Island, with Raoul and her son Gustave , after receiving a request to sing at an amusement park, Phantasma, from the owner Mr. Y. Once Christine arrives, she meets her old friend from the Opera Populaire, Meg Giry , who is now the lead singer at Phantasma. Then Christine learns that Mr. Y is none other than the Phantom, and we learn that Gustave is actually his son, not Raoul's. Soon, Meg gets jealous of Christine when she learns that the Phantom prefers her. In the end, she kidnaps Gustave and threatens to drown him in front of everybody. The Phantom attempts to take the gun that Meg is using to threaten them away, and Meg shoots Christine in all of the confusion. The Phantom rushes to the dying Christine, and she tells him of her undying love for him. After Christine dies, the Phantom hands her body over to Raoul. Gustave then embraces the Phantom, acknowledging him as his father.
Gallery [ ]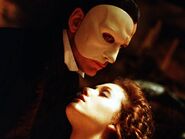 2 Raoul de Chagny
3 The Phantom