Skip to primary navigation
Skip to main content
Skip to primary sidebar
Pixie Dust & Posies
Entertain with Magic
Haunted Mansion Dinner
Welcome foolish mortals! We invite you to a Haunted Mansion dinner party. Get all the recipes, a full menu, spooky DIY decor ideas, and free printables. Your guests will never forget their night in the Haunted Mansion. Hurry back!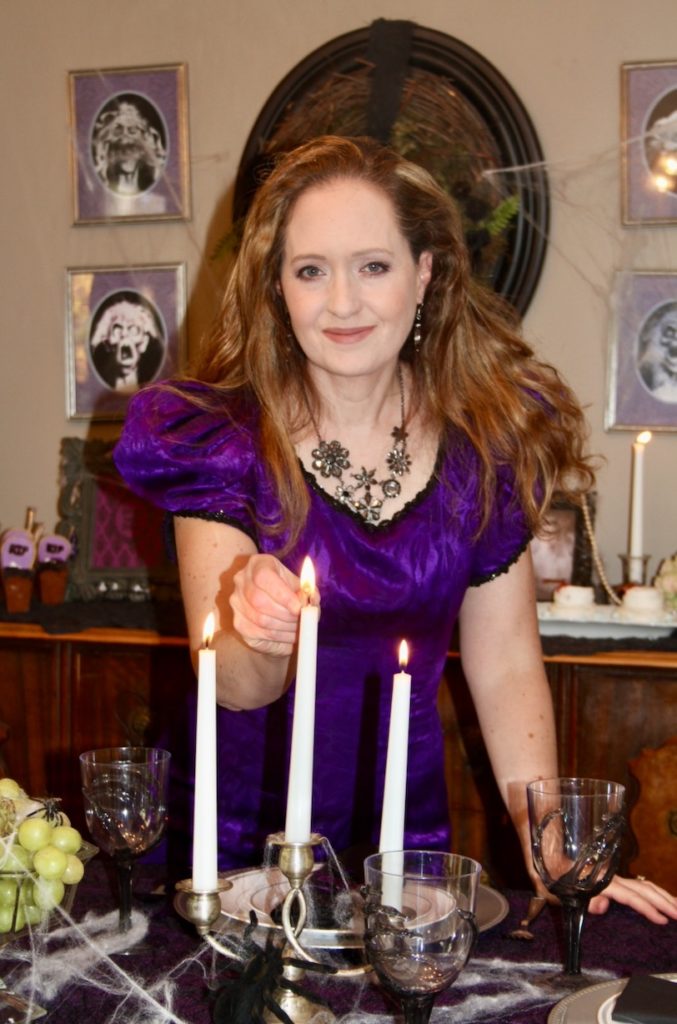 About the Haunted Mansion
The Haunted Mansion is a Disney parks dark ride attraction placing riders inside a haunted mansion with "999 happy haunts". Riders experience a haunted house filled with ghostly residents who have taken full possession of the premises. The attraction inspired the 2003 movie entitled "The Haunted Mansion" and a 2021 movie starring the Muppets called "Muppets' Haunted Mansion."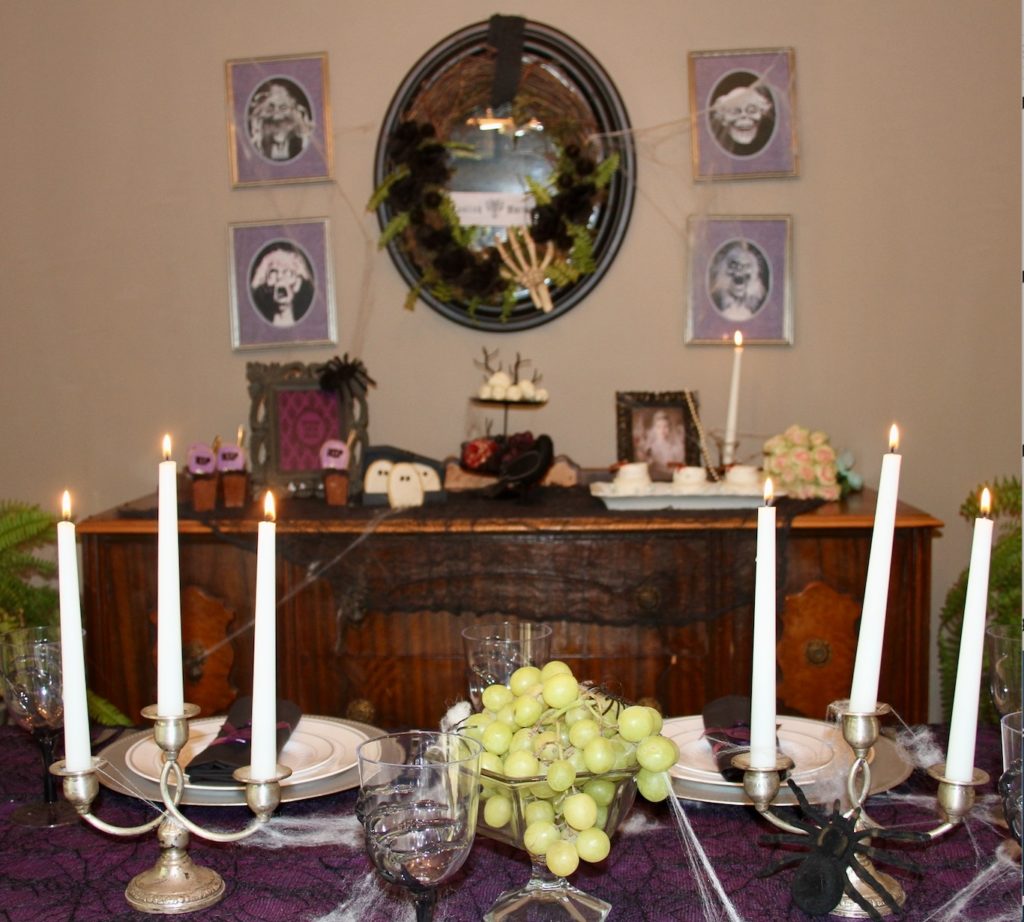 the Tablescape & Decor
We decked out our dining room in Haunted Mansion style for this party. Above our buffet we displayed prints of the Haunted Mansion family portraits along with a Haunted Mansion themed grapevine wreath. We created the wreath for just $12 using inexpensive materials from Joann Fabrics and Dollar Tree.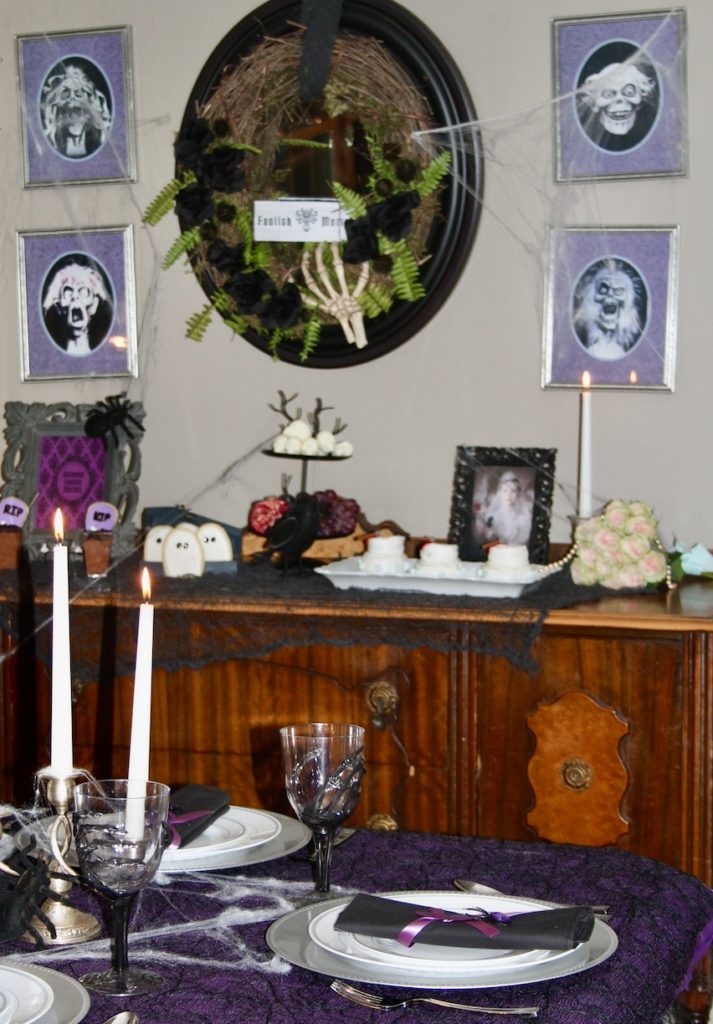 Our serving buffet housed a host of haunted desserts: graveyard mousse, ghost host cookies, white chocolate skulls, and Haunted Mansion wedding cakes. We displayed a framed Welcome Foolish Mortals printable which you may download for free here . 
Constance Hatchaway presided over the buffet with her wedding bouquet, a string of pearls, and a single candle. Cobwebs, spiders, and a raven added to the spooky vibe.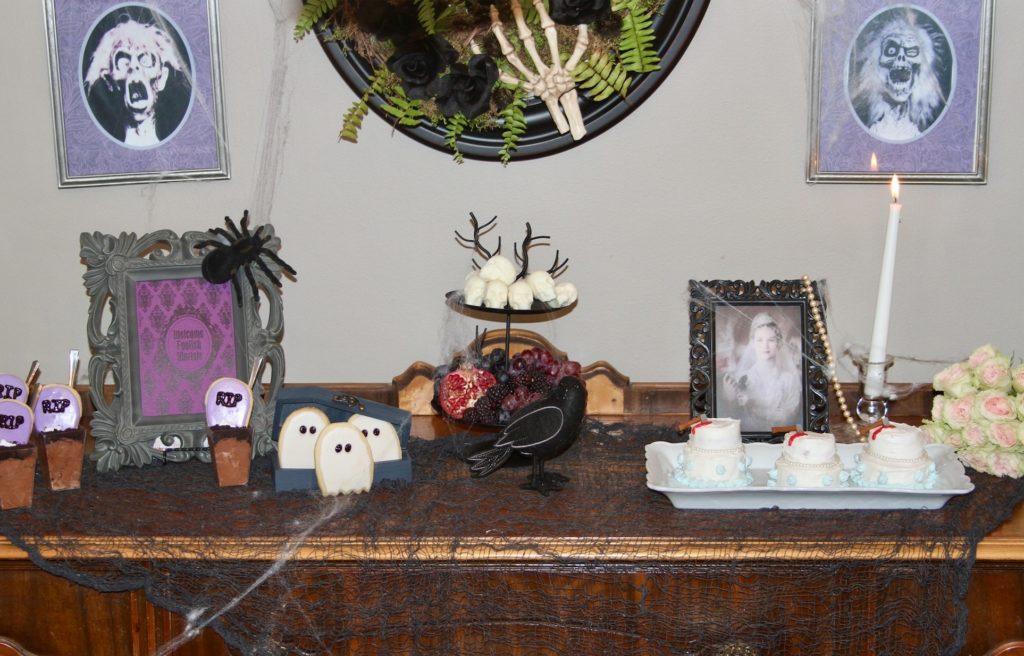 Our table was dressed in an inexpensive purple table covering topped with black spider web lace . We displayed two antique silver candleabras with white tapers and a bowl of grapes. If you look closely, you may notice that the grapes are home to a family of spiders. Eeeek!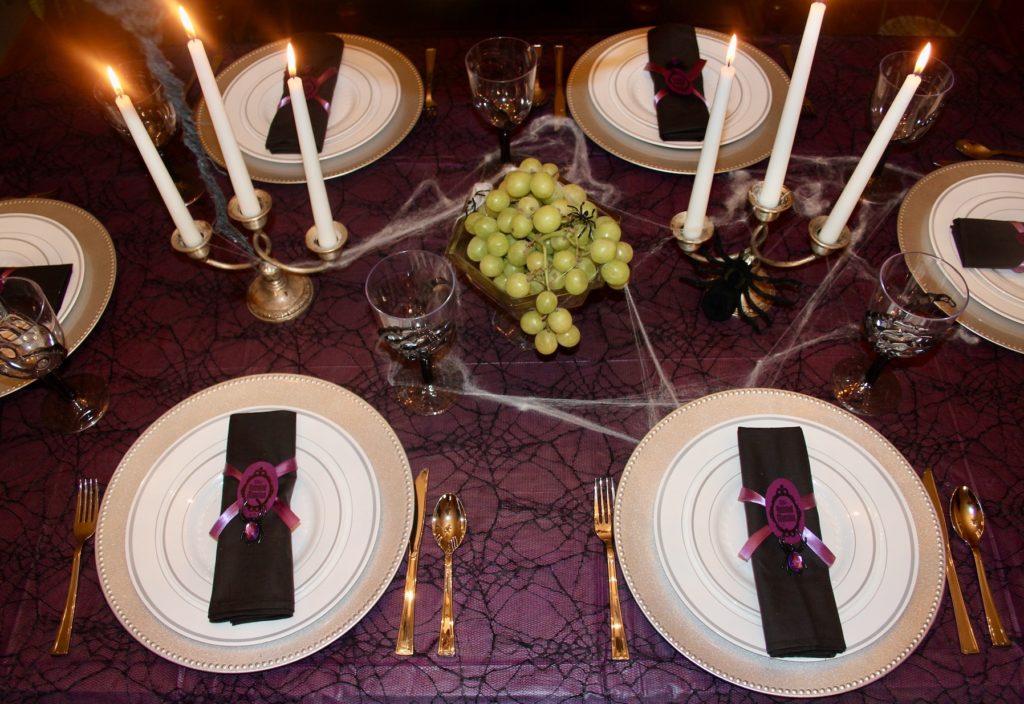 We kept entertaining simple for this dinner by using Masterpiece heavy weight plastic tableware by Tableluxe paired with their Reflections flatware .  We nested each place setting on a silver charger and flanked it with a creepy skeleton hand wine glass .
We displayed a black cloth napkin tied with  purple satin ribbon  and a Haunted Mansion printable tag on top of each setting. We added a  purple jeweled spider ring  for each guest as a take home favor.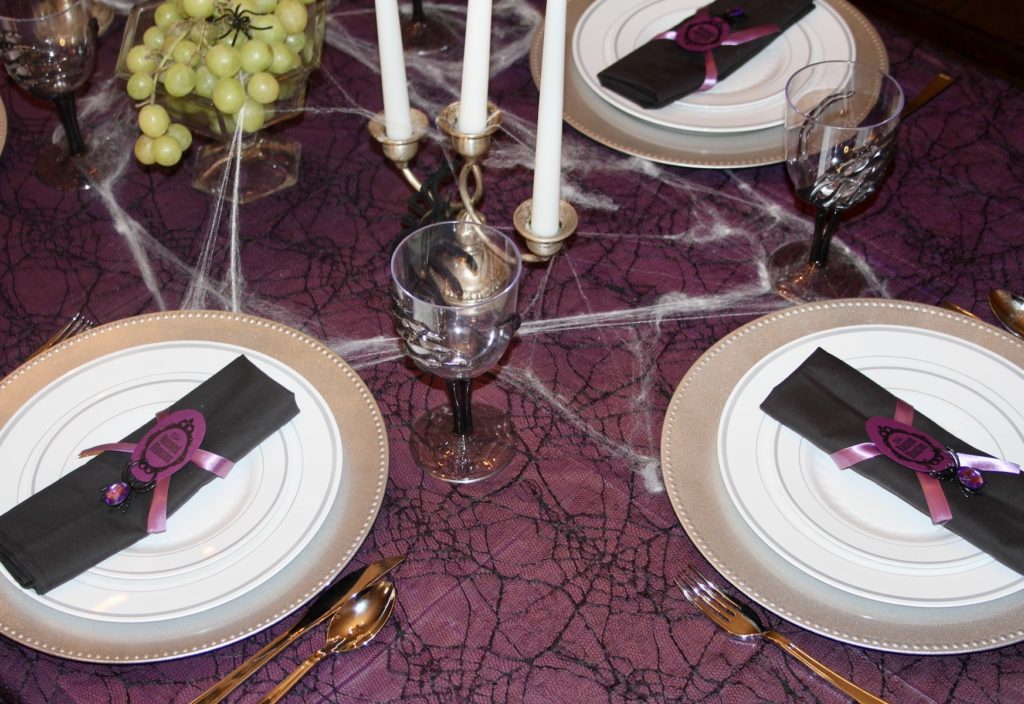 We're so glad you've joined us for dinner! Tonight's menu features dishes inspired by The Haunted Mansion's icons – Madame Leota, the Ghost Host, and the infamous Constance Hatchaway. We hope you enjoy! Get links to all the recipes below.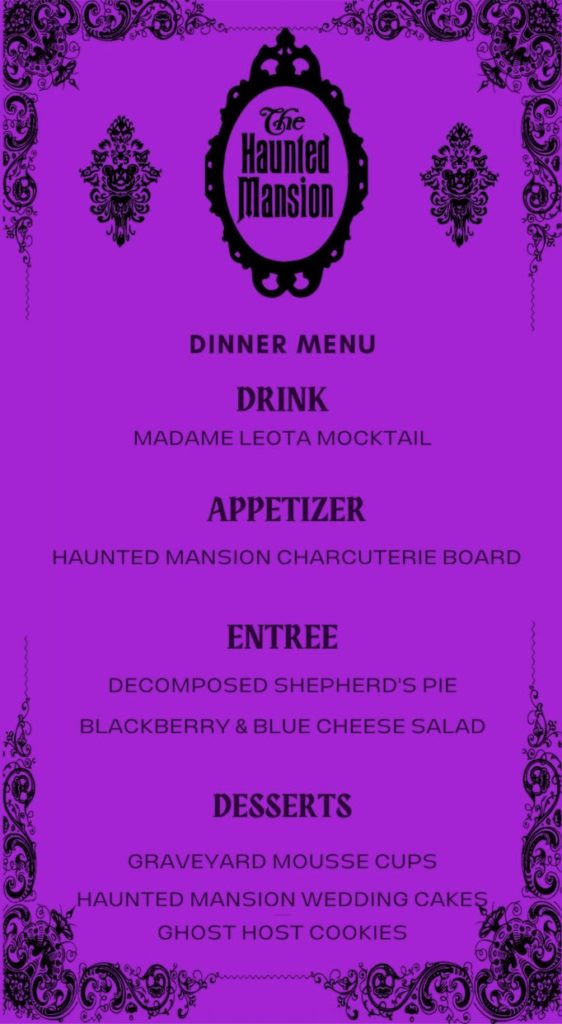 Madame Leota Mocktail
This Haunted Mansion inspired mocktail magically glows green. Made with a combination of Granny Smith apple syrup, Sprite, and lemonade it offers the perfect combination of sweet and tart. Add a bit of dry ice and you'll awaken the spirits! Get our recipe here.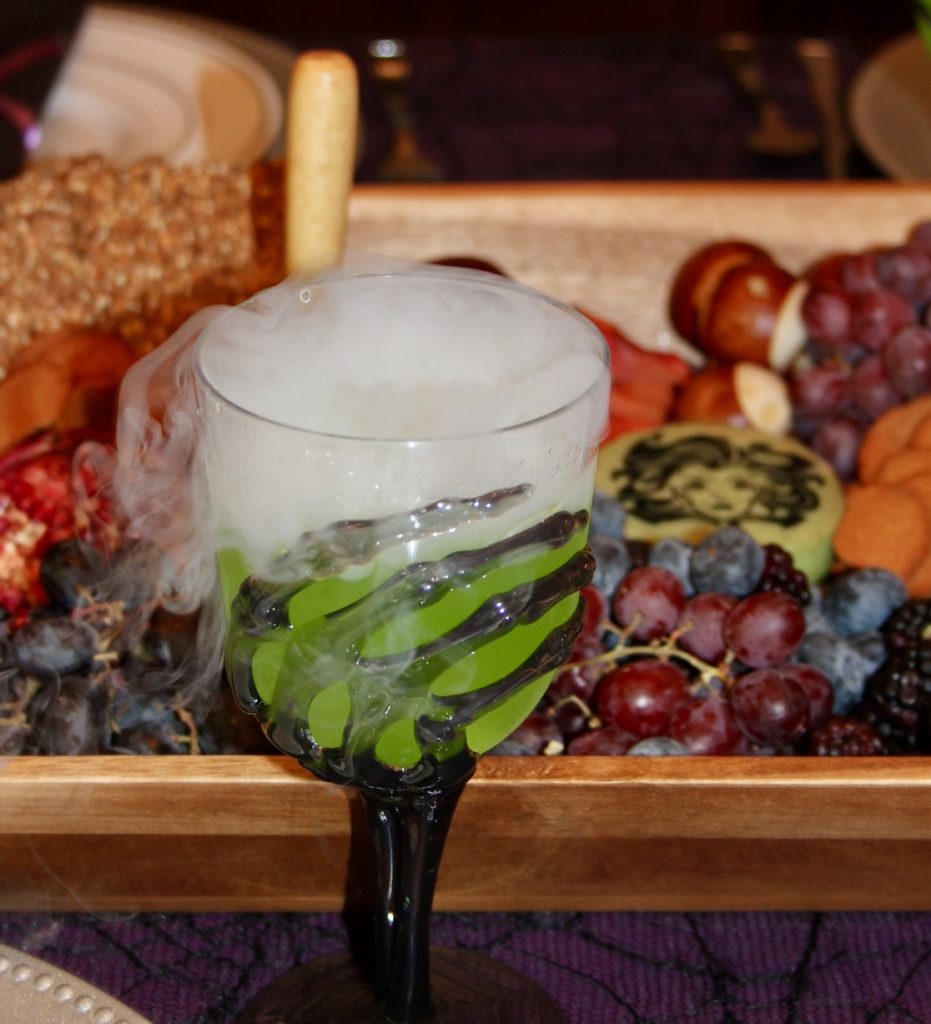 Haunted Mansion Charcuterie Board
Charcuterie boards offer something for everyone! This board features Sage Derby cheese cut into a crystal ball shape with an image of Madame Leota. Vanilla blueberry chevre, brie cut into a coffin shape, and an assortment of fruits, breads, and crackers round out the board. Get our tutorial for creating your own Madame Leota Charcuterie Board here.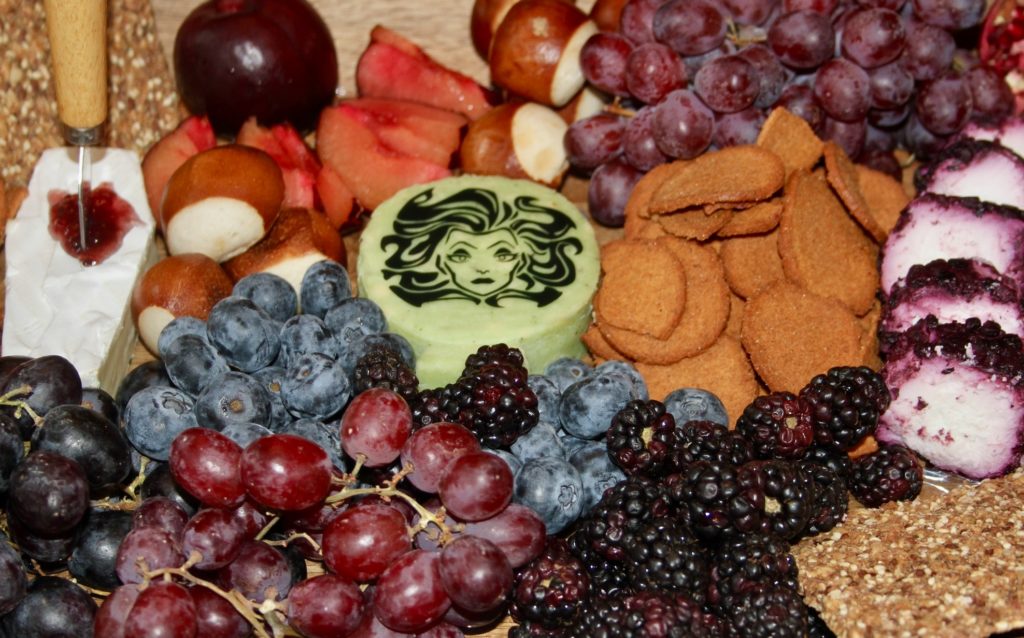 decomposed shepherd's pie
Blackberry blue cheese salad.
Aren't these individual "decomposed" shepherd's pies creepy! It was my dad's idea to serve these in miniature coffins . Brilliant! We love Martha Stewart's recipes for Vegetarian Shepherd's Pie and Buttermilk Mashed Potatoes . The Blackberry Blue Cheese Salad is our own recipe and was also featured on our Disney Villain's dinner.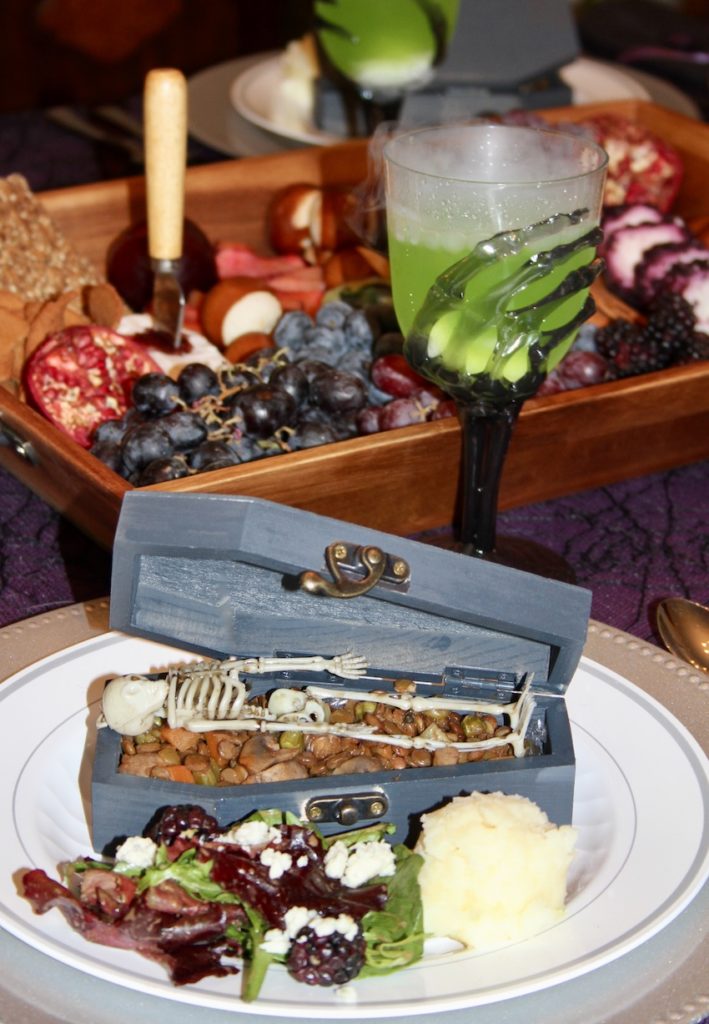 Graveyard Mousse Cups
These rich and decadent chocolate mousse cups are topped with Oreo crumbles, a candy bone, and a delicious tombstone cookie in Haunted Mansion's signature purple and black color scheme. Eerily enticing! Get our recipe here.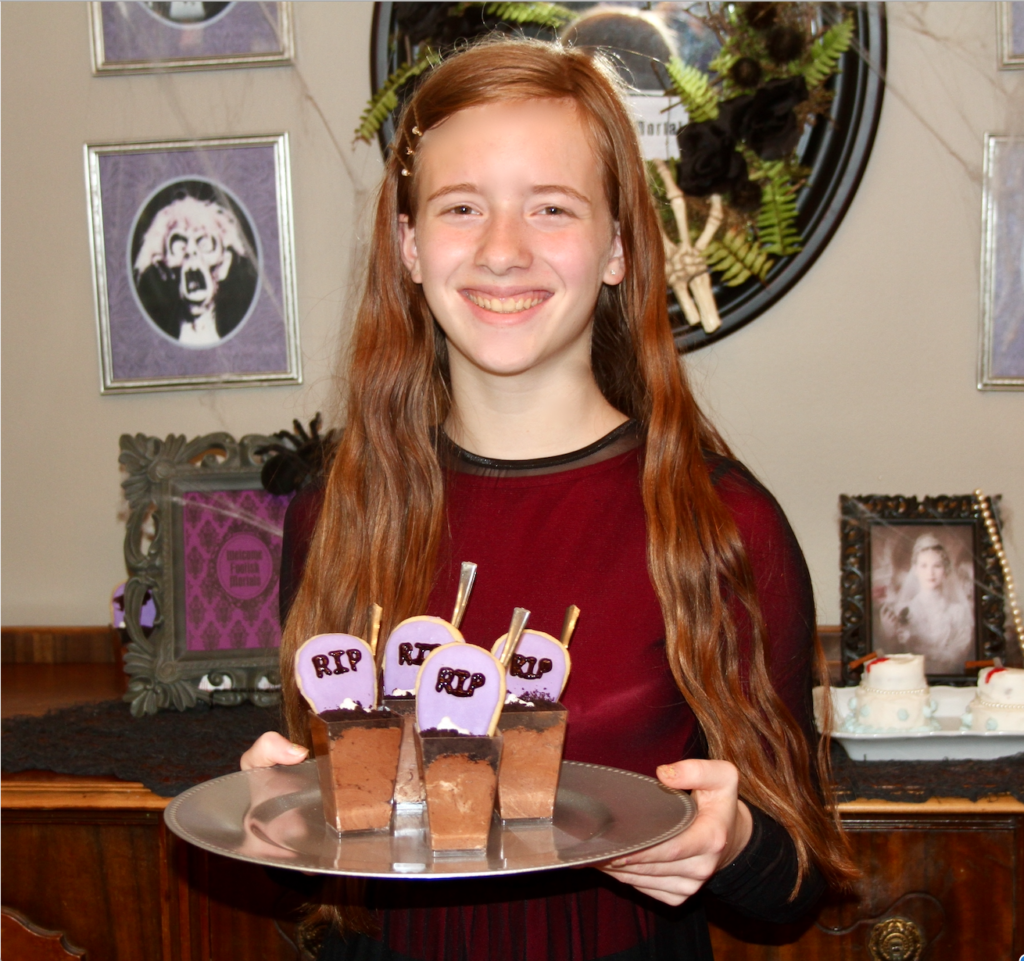 Haunted Mansion Wedding Cakes
These miniature Haunted Mansion inspired wedding cakes are nothing short of decadent! Red velvet cake is enveloped in fluffy white buttercream frosting. The cakes are adorned with pearls, blue flowers, a candy hatchet and blood (a.k.a. red gel icing). We served these with blackberry sorbet and a white chocolate skull. We think Constance would approve! Get our tutorial here.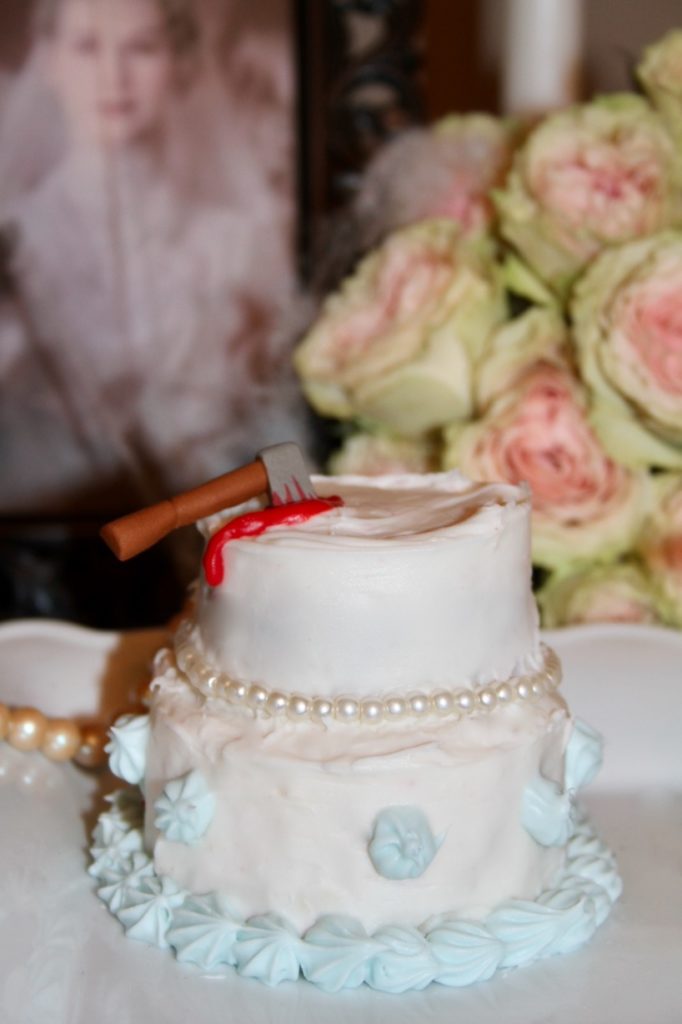 Ghost Host Cookies
A Haunted Mansion dinner wouldn't be complete without Ghost Host cookies! These light and tasty sugar cookies are topped with classic royal icing and served in a miniature wooden coffin. Get our Ghost Host Cookie recipe here.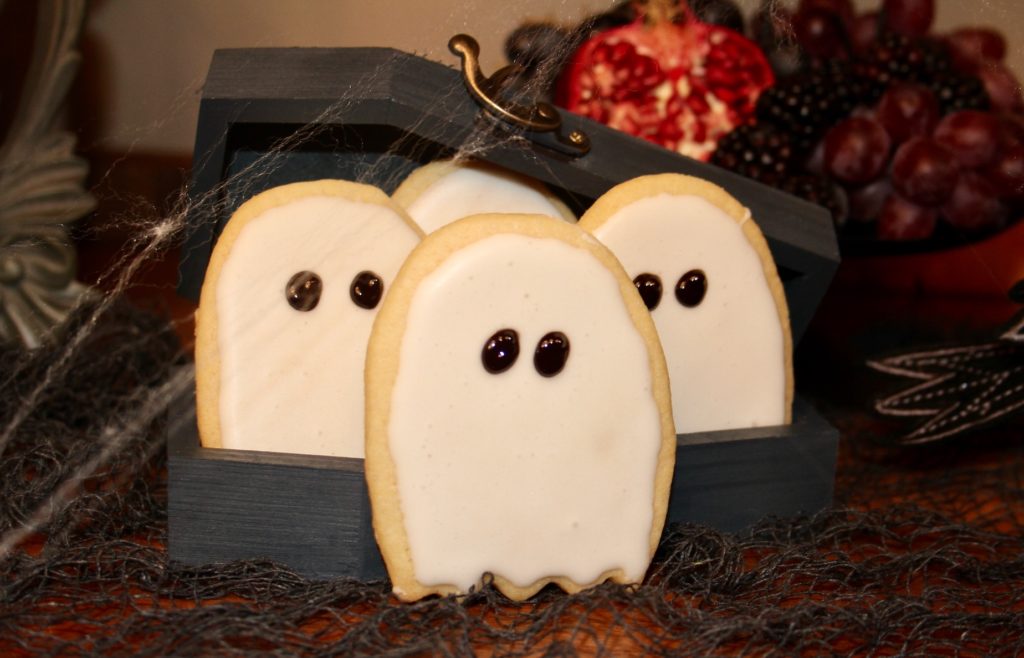 For more inspiration  check out our Pinterest boards .
Please be sure to follow us on  Facebook ,   Instagram , and  Pinterest .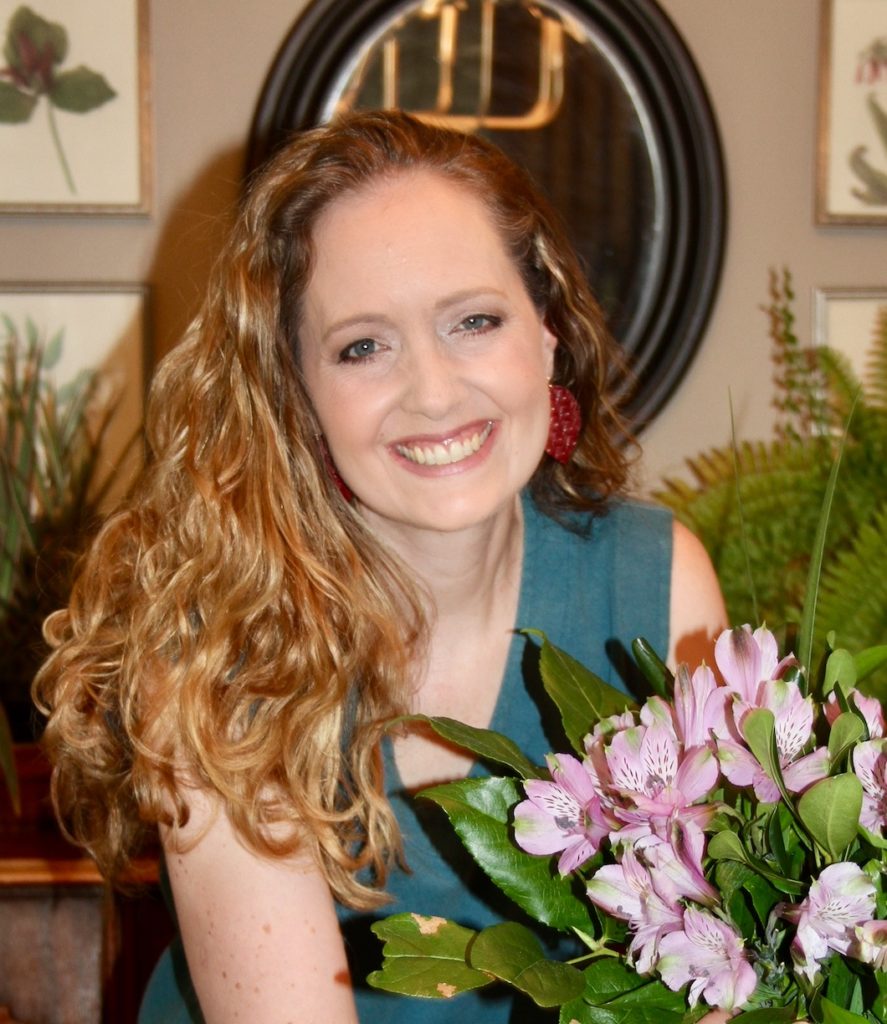 pin for later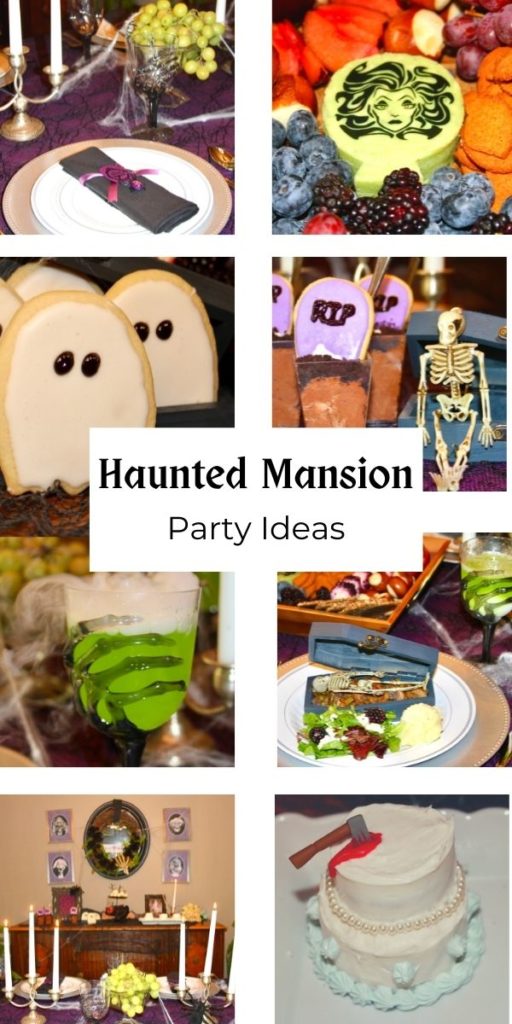 related posts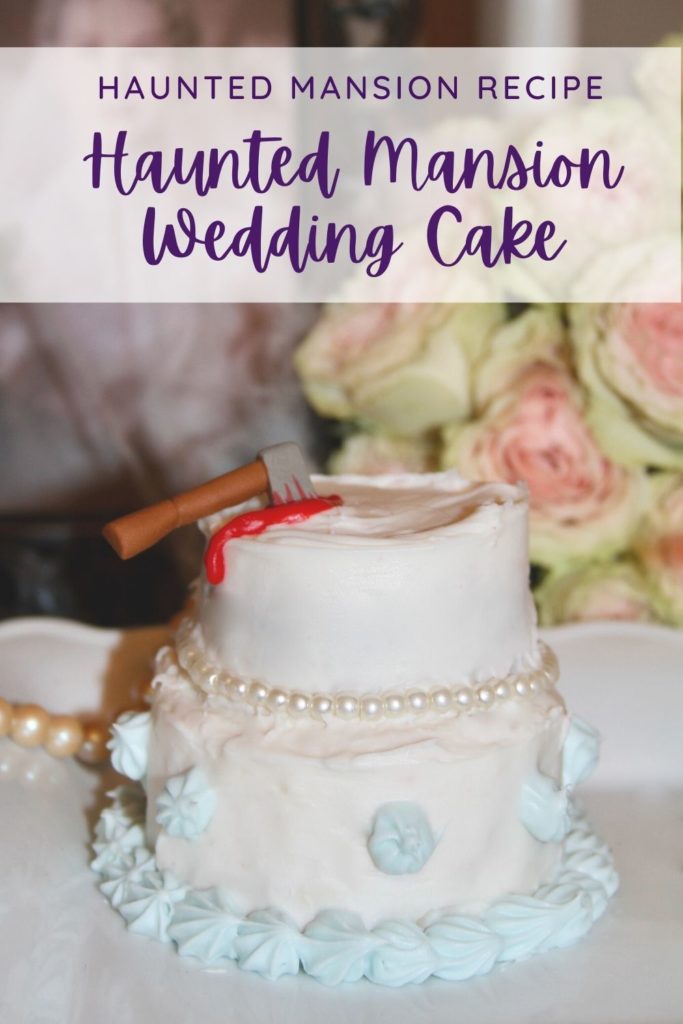 Let's stay in touch!
GET EXCLUSIVE CONTENT, CURATED ENTERTAINING TIPS, AND SO MUCH MORE!
We don't spam! Read our privacy policy for more info.
Check your inbox or spam folder to confirm your subscription.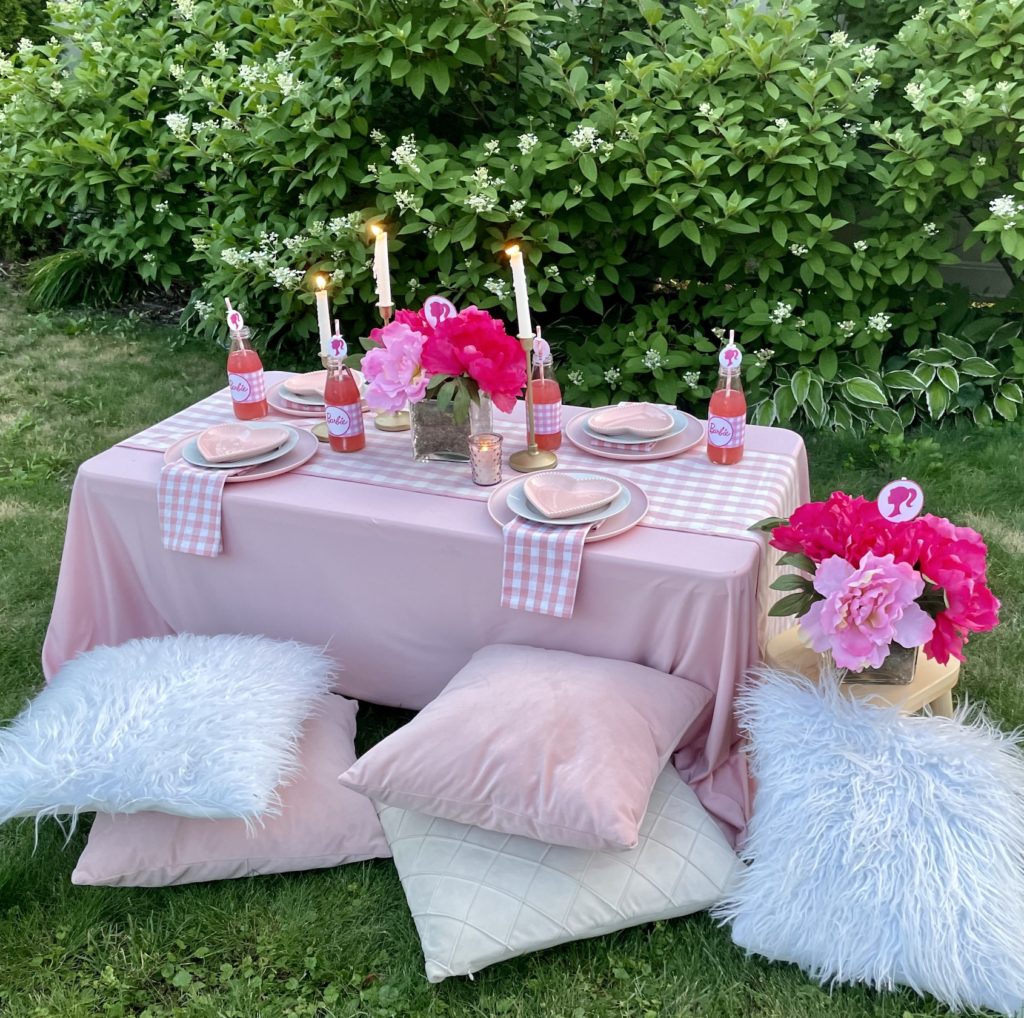 Latest 'grams


ALL The Disney Black Friday and Cyber Monday Deals For 2020!
Disney Gift Guides
Disney How-to Guides
Accessories
Memorabilia
Music and Movies
Host a Haunted Mansion Halloween Party
Anybody can throw some orange and black plates on a table and call it a Halloween Party, but why not give your Fellow Foolish Mortals a night they won't forget with a Halloween Party with a little Haunted Mansion flair ?
Here's how to let go of the orange and add some purple and green !
1. Conjure Up Your Guests!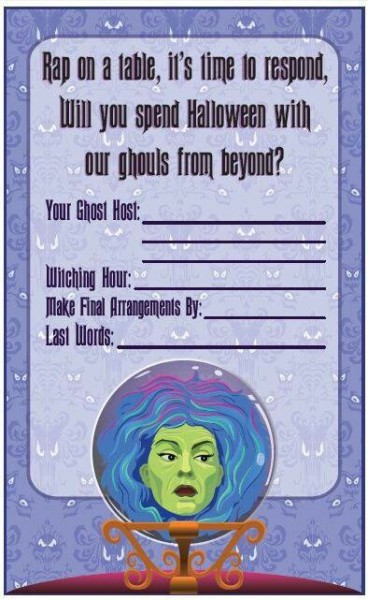 cardstock – we found a good deal on white cardstock here
a good pair of sharp scissors
some good smudge-proof pens
2. Dead On Arrival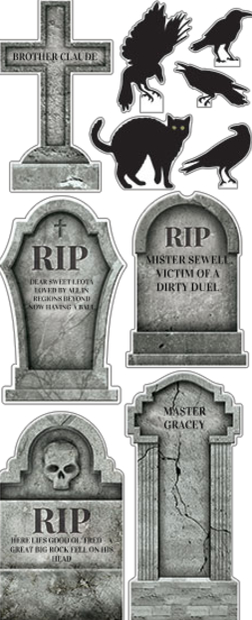 Here Lies Good Ole' Fred/A Great Big Rock Fell On His Head
Dear Sweet Leota/Beloved By All/In Regions Beyond Now/Having a Ball
Mister Sewell/Victim of a Dirty Duel
Add your faves to the mix for a spooky fun front-yard party entrance!
3. Room For One More?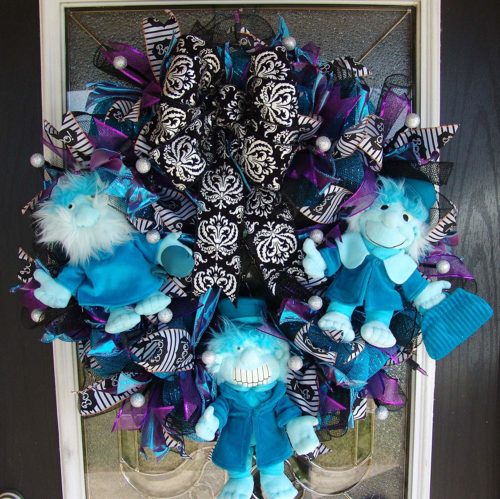 Or if you feel like gettin' crafty, here are a few tricks to help you create one like the one Jen from Epbot created (sneak a peek right here) :
grapevine wreath
black spray paint
small, wooden coffin
black gauze (you can get it at a dollar-only store)
porcelain doll head (thrift store, perhaps?)
clear, glass ornament, large enough to fit the doll head (or you can just take the easy route and buy this Light-Up Madame Leota Ornament !)
use this Haunted Mansion font  to create the signs, then tape them to  white craft foam
LED lights for the doll's eyes and coffin
4. Gather in the Center of the Room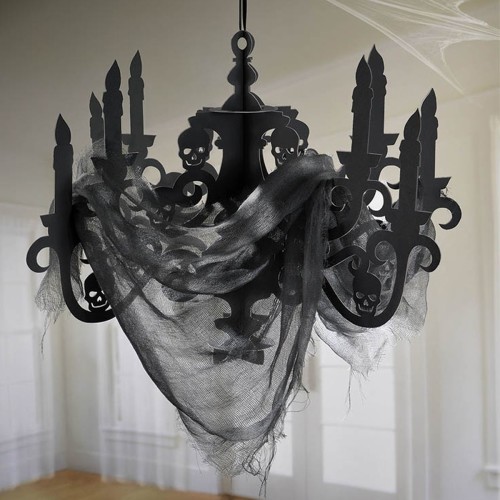 5. Let Them Eat Snake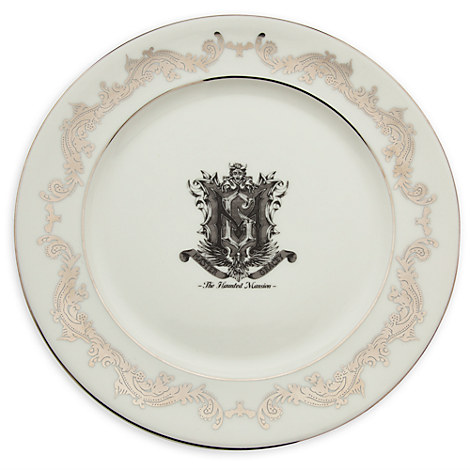 …or guzzle it like you mean it from this Red Wine Goblet !
So many other Haunted Mansion Fun Finds for your table at Disney Store !
6. Sweets Are Poisonous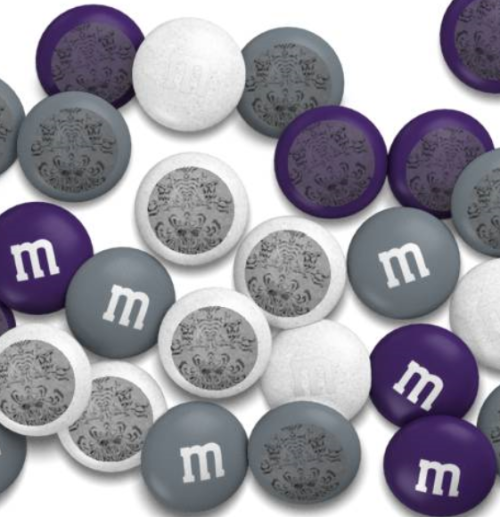 head over to the M&Ms website
click "Create Yours"
choose up to three colors – we chose purple, silver, and pearl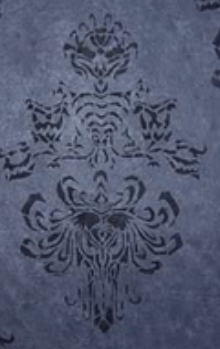 then click "Add Image", then "Choose File".
(then, you know, choose the wallpaper file you just downloaded)
select your packaging, and you're done!
7. Dress To Kill
There you have it! Best Wishes for a Frightfully Good Party, Hosts and Hostesses! For more ideas and inspiration, be sure to check out the rest of our How-To Guides and explore the other wicked good finds at  MickeyFix.com !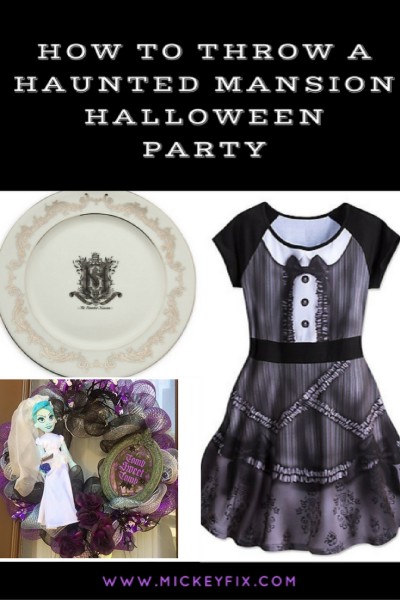 Stay In Touch

Disney How-To and Craft Guides!
Disney gift guides.
Greatest Disney Christmas Tree Ornaments
Must-Have Disney Handbags
Festive Disney Christmas Villages
Top 10 Disney iPhone Cases
Top 10 Star Wars Must Haves
10 Awesome T-Shirts for Your Disney Fan
Most Awesome Star Wars T-Shirts
More Great Disney Gifts for Mom
Totally Cool Disney Back to School Stuff
World's Greatest Disney Halloween Costumes
Favorite Haunted Mansion Goodies
Awesome Disney Jewelry
Disney Frozen Gift Guide!!!
Best Disney Gifts for Mom
Best Disney Gifts for Dad
All Disney Gift Guides
Recent Posts
Haunted Mansion Shower Curtain
Cinderella Castle iPhone Case & Cover
Disney "Mickey Mouse Animation Magic" Spinning Lamp
Disney's Villainous Board Game
Disney Le Creuset Cooking Set
Recent Comments
Jen on Disney Illuminated Christmas Village
Jen on Snow White and the Seven Dwarfs Bookends
Simon Farnell on Snow White and the Seven Dwarfs Bookends
Diane jasmin on Disney Illuminated Christmas Village
Jen on Disney's Villainous Board Game
October 2020
September 2019
September 2018
August 2018
February 2018
January 2018
December 2017
November 2017
October 2017
September 2017
August 2017
February 2017
January 2017
December 2016
November 2016
October 2016
September 2016
August 2016
February 2016
January 2016
December 2015
November 2015
October 2015
September 2015
August 2015
February 2015
January 2015
December 2014
November 2014
October 2014
September 2014
August 2014
February 2014
January 2014
December 2013
November 2013
October 2013
September 2013
August 2013
February 2013
January 2013
December 2012
November 2012
October 2012
September 2012
August 2012
Get Great Disney Offers In Your Inbox!
Sign up for our mailing list and we'll let you know when there are special sales and tell you about amazing merchandise.
13 Disney Nights of Halloween | Throw a Haunted Mansion Themed Party
It's October, and that means kids of all ages are getting excited for Halloween! For the next 12 nights, we'll be sharing some Haunted Mansion-themed Halloween party ideas with you. This year, all of our nights are centered around Disney's iconic ride with each post focusing on one particular detail the party
The Haunted Mansion in Magic Kingdom is one of our favorite attractions. This beloved home of 999 happy haunts is the perfect inspiration for a fun Halloween party. We'll be showing you how to pick the perfect costumes, plan a hauntingly ghoulish feast and set the scene for your party.
The Haunted Mansion:
The Haunted Mansion first opened in Disneyland in 1969. Since then, guests have been treated to spooky spooks with eerie eyes only as Disney can do it. From the architecture and selection of trees surrounding the mansion, to the interior lighting, decor, and special effects, Disney didn't miss a detail.
It's no wonder that you can find a version of this spooky attraction at every Disney Destination around the world. It's a ghostly good time for the whole family, and the perfect inspiration for any Halloween party.
This will be your road map to throwing an awesome Haunted Mansion inspired Halloween Party. The links will become active as the posts go live.
Invitations
Outdoor Decorations
Indoor Decorations
Food Ideas – Frightful Finger Foods
Gravestone Cookie Pops
Food Ideas – Devilishly Delightful Desserts
" Hurry Back " to check out all the great ideas!!
Sharing is caring!
By using this form you agree with the storage and handling of your data by this website. *
This site uses Akismet to reduce spam. Learn how your comment data is processed .
Monday 5th of September 2016
You never finished adding the rest of the links!