Electric Rolls-Royce Phantom review
We try the electric version of the phantom, the new rolls-royce 102ex.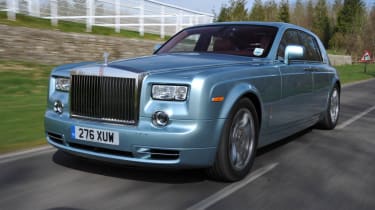 Electric Rolls is swift...
...but silent
The 102EX is a Rolls-Royce Phantom with a 96-cell lithium-ion battery pack under the bonnet, two 194bhp electric motors just ahead of the back wheels and a mission to show Rolls-Royce customers what the future could be like. It's a development test bed one year in the making, it was revealed at the 2011 Geneva motor show and we've driven it. 
Technical highlights 
US company UQM makes the motors and their control system, Dundee-based Axeon makes the battery pack (the biggest yet seen in a road car), the gearbox is by Xtrac and Lotus put it all together to detailed specifications devised by Rolls-Royce . Weight rises by 200kg over the already corpulent V12-engined Phantom, but each motor produces 295lb ft of torque to help shift the mass. 
Three charging units sit on top of the battery pack, one for each phase of an industrial three-phase electricity supply. Using that, 102EX (Rolls-Royce's other name for the Phantom Experimental Electric) can be fully recharged in eight hours. Otherwise it's a normal single-phase domestic supply and a 24-hour wait from flat to full. It's ultra-convenient, though, if you use the built-in charging plate underneath. You position 102EX above another plate set in the floor and connected to the mains (LEDs guide you in) and electrons then leap the five-inch gap with a surprising 92 per cent efficiency. Electricity costs are about 7p per mile.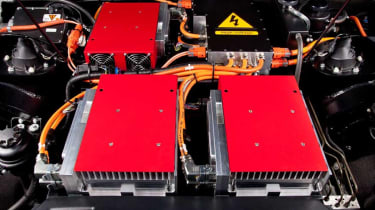 What's it like to drive? 
Very swift, very silent. Rolls-Royce claims 'under eight seconds' to 60mph, but 102EX squirts away from a junction with even more vigour than a regular Phantom. It won't exceed 100mph, mainly to preserve the range, but even so it seems 125 miles is as far as you can expect to travel in one hit. And that's with the air-con and heating off. Cabin heat is provided by a kettle-like immersion heater because the powertrain, cooled by the standard Phantom radiator which is overspecified for the task, doesn't generate enough heat on its own. Regenerative braking is set at a level slightly higher than a normal Phantom's engine braking, but if you press the Low button (which normally locks out the higher gears) the effect is increased. It's a good traffic mode.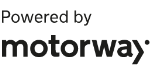 More reviews
Rr phantom coupe, rolls-royce phantom.
The usual power reserve meter becomes in 102EX a power usage (and replenishment) meter. It moves in tiny, precise jerks showing exactly what is happening; the engineers think the motion should be smoothed to give a Rolls-Royce elegance, but it's more useful and interesting as it is. Any Rolls-Royce is quiet but this is something else. There's nothing beyond a distant swish of air and road, and a light whine if you're sitting in the back. It's quite surreal, as is the ease with which you can hustle this giant car. The suspension is unchanged from standard, so the extra weight has the effect of stiffening the air suspension making the ride occasionally restless by R-R standards. It also sharpens the steering, making this Phantom easier to place. One other oddity is that there is neither a forward creep nor anything to stop you running back when you release the brake. This will be fixed before Rolls-Royce owners and other interested parties try 102EX.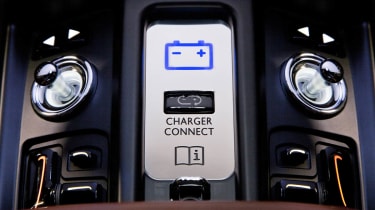 How does it compare? 
With what? There's nothing else like 102EX at the moment. A regular Phantom comes closest, which obviously costs much more to run but can perform the inter-city role impossible for the electric version. 
Anything else I need to know? 
It's just an experiment, and there's no notion of possible pricing, but 102EX could spawn a production car. It also gets customers ready for future Rolls-Royces with hybrid or even fuel-cell power. Rolls-Royce did float the idea of a refined diesel to its customers, incidentally. The answer was a resounding 'No!'
More on Phantom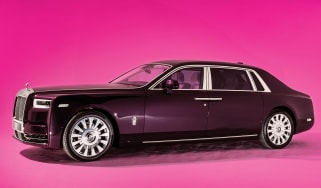 New Rolls-Royce Phantom delivers super-luxury masterclass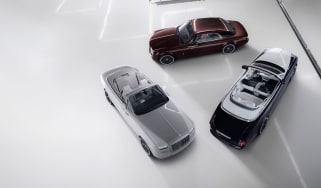 Run-out special edition of Rolls-Royce Phantom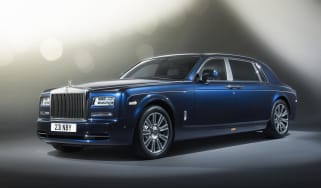 Rolls-Royce Phantom Limelight shows exclusivity at its best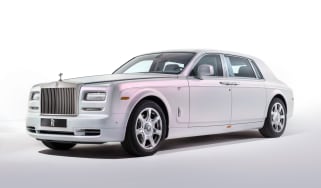 Rolls Royce Phantom Serenity unveiled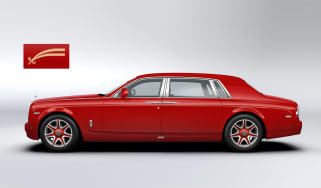 Bespoke Rolls-Royce Phantoms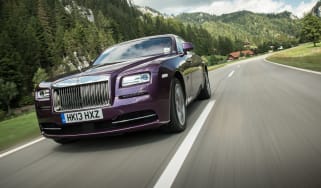 Rolls-Royce Wraith Drophead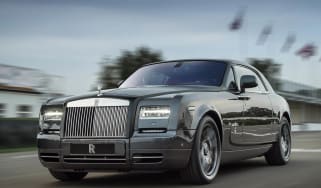 Rolls-Royce Phantom Chicane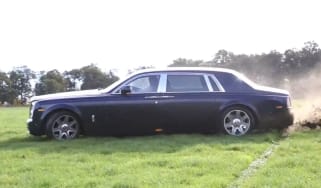 Rolls-Royce Phantom drift video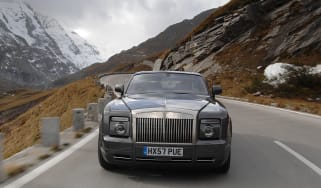 R-R Phantom Coupe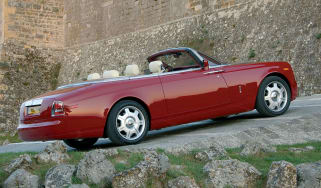 Ooh, an electric 1929 Rolls Royce Phantom II? Yes, please
Electrogenic showcases its latest modern-electric-meets-classic-stunner creation
The talented lot from Electrogenic have been at it again, this time electrifying a Rolls Royce . And not just any Rolls: a superb 1929 Phantom II classic. Set to be showcased at the fancy Salon Privé event this weekend , the motor is a million miles from the gas guzzler of yore.
Electrogenic has taken the ginormous 7.7-litre pushrod straight six engine out of the Phantom II and replaced it with a 150kW electric motor sitting between the chassis rails. It's powered by a 93kWh battery, sitting under the bonnet.
The Oxfordshire-based brand has a reputation for creating 'drop in' EV conversion solutions (and don't forget its infamous commitment to preserving character in its cars). Yet this particular project was tricky to get off the ground after being commissioned by a private collector. 
Steve Drummond, Director of Electrogenic, said: "It has been an immensely complicated and rewarding project, carried out over the course of 18 months by our team of sector-leading engineers, programmers and fabricators… It's been technically challenging – from initially exploring the feasibility of the project and technical specifications, to then developing different rendered options for how we would integrate the EV componentry. This included options for how the batteries should be displayed under the bonnet."
You might like
US GP: what time does the race start? And when is the sprint race?
Zeekr 001 review: a budget alternative to the Porsche Taycan Sport Turismo?
Tough Mudder: will LR Defender owners welcome the new Ineos Grenadier?
Watch Mercedes crash test an EQS SUV into an EQA
There are certain hallmark quirks of a Rolls build – such as the centralised chassis lubrication system that creates the smooth drive, and the braking system – which Electrogenic tells us challenged its efforts to sympathetically re-engineer the Phantom to be all-electric. 
Shifting that engine and transmission out of the engine bay left, as you'd expect, a great void in which to sit the batteries. In typical Electrogenic fashion, there's a sculpted aluminium cowling over the batteries so when the Phantom's bonnet's raised, the innards of the car are still as impressive as they ever were.
READ MORE Electrogenic has given a 1962 Jaguar E-Type a full electric powertrain
The Phantom now has an LED state of charge (SoC) gauge and a swathe of other EV-focussed meters, which we are assured have been 'creatively re-worked'. Among the contemporary conveniences is a high-end multi-speaker audio system, which boasts Bluetooth connectivity and a sub under the rear seat for aural delights.
While Electrogenic hasn't managed to reduce the two-tonne kerb weight of the thing, the Phantom II has around 150 miles of real-world driving range and a 'power-harvesting' regenerative braking system - which involves hitting the 'regen doubler' downhill to maximise those miles. Fun.
Drummond also said: "This is undoubtedly the most complex classic car EV conversion yet attempted, the stunning results really are a testament to the world-leading talents of our team.   "While it sounds like we've carried out a great deal of modifications – and we have – I'm particularly proud of the fact that, as with all Electrogenic conversions, nothing has been drilled or cut on the car. All the parts can be reassembled, and the car returned to its original state, if required."
Top Gear Newsletter
Thank you for subscribing to our newsletter. Look out for your regular round-up of news, reviews and offers in your inbox.
Get all the latest news, reviews and exclusives, direct to your inbox.
Naysayers, does that put your mind at ease?
Next article
These are the top 10 best-selling cars in the UK in 2023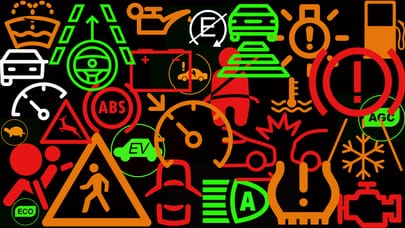 Here's what all those dashboard warning lights mean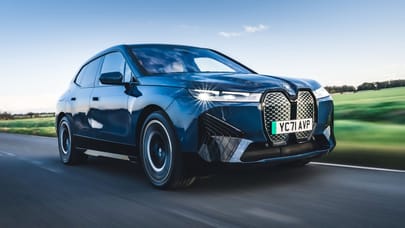 Top Gear's top 20 electric cars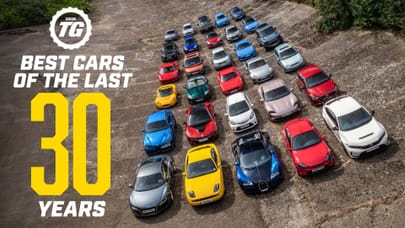 Video: Top Gear's best cars of the last 30 years
More from top gear.
Trending this week
Peugeot is asking £20,400 for its hypercar-inspired* 208 facelift, fail of the century #106: the ssangyong rodius, here are the best luxury saloons you can buy in 2023, subscribe to the top gear newsletter.
By clicking subscribe, you agree to receive news, promotions and offers by email from Top Gear and BBC Studios. Your information will be used in accordance with our privacy policy .
Sorry, something went wrong
Try BBC Top Gear Magazine