What Guitars Do Ghost Use? A Ghoulish Guide…
What guitars do Ghost use? In this guide we'll look at what Tobias Forge uses to record Ghost albums and what his nameless ghouls use when they're playing live – there's some excellent gear coming!
Ghost's new album, IMPERA, is now out and the band, as ever, is pushing forward into new territory. In my review of Ghost's IMPERA , I called it a "classic rock" album – meant in the nicest possible way – because to my ear, it sounds like a combination of Journey, REO, and Rush. It's a heady mix to be sure.
Ghost is a bit of an odd band to cover in a gear roundup, however, because it doesn't really work like other bands. All the music is written and recorded by Tobias Forge and a selection of session musicians and then, when the band is on the road, touring, Forge does vocals and the nameless ghouls play the music.
First, we'll look at the guitars that Tobias Forge uses to write and record Ghost records. After this, we'll take a look at the guitars used by his two nameless ghouls that play rhythm and lead guitar when the band is touring. By the end, you'll know what Tobias Forge uses and what the nameless ghouls use when playing live.
What Guitars Do Ghost Use?
In a live situation, Ghost's two guitarists – affectionately known as the Omega Ghoul and Fire Ghoul – from 2016 onwards have used Hagström Fantomen Custom guitars. This is a guitar designed in collaboration with Ghost and, while it is based on the Gibson RD Standard, it packs in plenty of unique features and embellishments per Ghost's wishes and requirements.
Ghost's guitarist can also be seen using a modified Gibson RD Standard in plenty of live videos online too. Again, the Gibson RD Standard is a beautiful-looking guitar. But in order to extract the best possible tone from it, both guitarists switched out the Gibson pickups for a set of Seymour Duncan pickups . They also added a coil-tap switch as well to get the overall sound and tone where it needed to be for live situations.
But it doesn't end there. When they're not playing live, the Nameless Ghouls do have additional guitars that they use. In an interview with ToneDeaf , one of the band's guitarists – his name isn't given – explains that his daily driver, the guitar he writes on at home and plays most, is a Gibson SG Standard . In black, obviously.
Our guitars differ between what we're touring with and what we're recording with. At home, all the music is written on my guitar here at home, which is a regular black Gibson SG, which is highly regular. But that's my go-to guitar, that's my favourite guitar. And usually when we go into the studio, there's nothing wrong with that guitar, but it tends to detune a bit too quickly. I've changed the screws on it, but in the studio you want something reliable. In the studio we tend to use one set of things and live we use Gibson RDs and those are really good for the live thing. Also, just for the coloration of the sound, we want to use different guitars in the studio. A Nameless Ghoul
It should probably be noted that the quote above is from an interview before the band started using Hagström Fantomen Custom guitars . At this point, both guitarists – at least in a live situation and in the studio – were using Gibson RD Standard guitars with Seymour Duncan pickups .
Designed by Ghost in collaboration with Meshuggah's Martin Hagström who helped dial in the pickup's tone and output. It features a unique body design, a 25.5"-scale mahogany neck, a 3-way switch, and a thin neck for faster playing. It is a stunning guitar and well worth the asking price.
Unique double-cutaway solid mahogany body
25.5"-scale mahogany neck, 22-fret Resinator fingerboard
Dual Lundgren-designed Alnico V humbuckers with coil tap, 3-way switch
Tune-o-matic bridge with roller saddles, stopbar tailpiece, die-cast tuners
What Guitars Does Tobias Forge Use?
Tobias Forge writes all of Ghost's music. Like Trent Rezner of NIN, Ghost starts and ends with Forge. When the band plays live, he adopts his stage persona – currently Papa Emeritus IV – and undertakes vocal duties. But Forge does write all the guitar parts and composes all the additional music as well.
So what guitars does Tobias Forge use? Forge has been in quite a few bands before he founded Ghost . As a veteran of the Swedish metal scene since the early 1990s, Forge has accumulated a raft of guitars. As of right now, Forge tends to use Fender and Gibson guitars when writing and recording Ghost material, as you'd expect – he now has more than enough money to buy in the good stuff.
As of 2022, here's a complete rundown of Tobias Forge's guitar collection :
Gibson Les Paul Gold top P-90 w Bigsby VOS
Gibson Explorer Electric Guitar
Fender Precision Bass
Fender Telecaster
Gibson 20th Anniversary 1957 Les Paul Custom Black Beauty
1970s Fender Stratocaster
Fernandes Stratocaster
Gibson SG Standard Electric Guitar
Plenty of Ghost songs, some of its best, in fact, use acoustic guitars, and, again, Forge is a big fan of Gibson in this context. Forge has been seen using a Gibson acoustic – likely a J-185 EC Modern – as well as a PRS SE Limited Edition A50E acoustic guitar which at just $899 is one of the best sounding acoustics you can get for under $1000 these days.
Ghost also use D Standard as their main tuning ; this is a whole step down from standard tuning and is a key part of their guitar sound. D Standard sounds lower and heavier than Standard tuning which is why it is so popular with metal bands like Ghost. You can check out all the different types of guitar tuning used by modern guitarists and bands inside our Alternative Guitar Tunings Resource Center .
Pin It on Pinterest
Nameless Ghoul
Amplifiers 12
Effects pedals 16, bass guitars 9, drum sets 1, drumsticks 2, keyboards and synthesizers 6, studio equipment 8, music accessories 10, drum hardware 1.
Gibson RD Artist Electric Guitar
Solid Body Electric Guitars
The Nameless Ghouls of Ghost have been known to carry Gibson RD's since the early days. The German branch of Gibson Guitar Corporation has interviewed the Nameless Ghouls and learned that Fire Ghoul's guitar carri...
Submitted about 8 years ago
Hagström Fantomen Custom
"When the Hagstrom Fantomen first reached the market in 2016 it immediately became a sensation, recognized as the guitar built in collaboration together with the Swedish band "Ghost". Many players since its release have fallen in love, not only with the stunningly good-looking design of the Fanto...
Submitted over 3 years ago
Gibson RD Standard Exclusive Electric Guitar
Omega Ghoul, also known and symbolised as Aether, is frequently seen playing a black Gibson RD Standard. Like his brother, Fire Ghoul, he switched the pickups to Seymour Duncans and added a coil-tap switch.
Submitted almost 8 years ago
Gibson SG Standard
From an interview with Tonedeaf:
"Our guitars differ between what we're touring with and what we're recording with. At home, all the music is written on my guitar here at home, which is a regular black Gibson SG, which is highly regular. But that's my go-to guitar, th...
Dunlop Tortex Triangle Guitar Picks 1.0mm
Picks & Pick Holders
Matte black custom Dunlop pick with triangle inlay and ghost logo embossed
Submitted over 7 years ago
Hagström Fantomen Electric Guitar
Since March 24th 2017 both Fire and Aether have been using a white and black Hagstrom Fantomen respectively. The white Fantomen can easily be spotted at 1:22 and 3:15 in the embedded video. On the Hagstrom website the Fantomen is also being advertised as Ghost's new guitar. A post on Ghost's Inst...
Submitted over 6 years ago
Pigtronix FAT Drive
Overdrive Effects Pedals
From Pigtronix' website , this is a photo of Water Ghoul's pedalboard. The Fat Drive is on the top left.
Orange Amplifiers AD200B 200W Tube Bass Amp Head
Bass Amplifier Heads
Taken from the Download Festival, 2012. Water Ghoul performs here and just behind him, he has an Orange OR100 Amp Head that he uses.
Original source .
Pigtronix Disnortion
Multi Effects Pedals
In this video, Graeme (the audio technician for Ghost), along with a Nameless Ghoul discuss some equipment that the band uses. Graeme mentions as well that for the bass rack, a Pigtronix Disnortion is plugged in for "growl and attack", giving it the signature Ghost sound.
Marshall JCM900 4100 100-Watt Dual Reverb Guitar Amp Head
Guitar Amplifier Heads
at 2:18, i think this is the amp used by a ghoul
Submitted over 4 years ago
MXR M234 Analog Chorus
Chorus Effects Pedals
From Pigtronix' website , this is a photo of Water Ghoul's pedalboard. MXR Analog Chorus is on the top far left corner.
Orange Rockerverb MKII Head
at 10:10, the amp can be seen clearly as well as 0:07
Orange Rocker 15 Terror
at 2:36, the amp can be seen to the left of stage
Electro-Harmonix Micro POG Polyphonic Octave Generator
Harmonizer & Octave Effects Pedals
the guitarist use this on a image
Hagström Viking Deluxe Baritone Guitar
Semi-Hollowbody Electric Guitars
Seen played on stage by a Nameless Ghoul since the Rats! on the Road tour of 2018
Submitted over 5 years ago
Gibson J-35 Reissue
Acoustic-Electric Guitars
In this performance by Ghost during the Unholy/Unplugged Tour, the Nameless Ghoul on the right can be seen playing Gibson J-35. It's especially apparent at the beginning of "Jigolo Har Megiddo".
MXR M169 Carbon Copy
Delay Effects Pedals
From Pigtronix' website , this is a photo of Water Ghoul's pedalboard. Carbon Copy is on the bottom left side.
Electro-Harmonix POG2 Polyphonic Octave Generator
From Pigtronix' website , this is a photo of Water Ghoul's pedalboard. The POG2 is on the top centre of the board.
Orange Amplifiers OR50 Tube Guitar Amp Head
at the start of the video, the amp can be seen next to a ghoul on the left of the stage
Fender Offset Telecaster
At 0:49 you can see one of the nameless ghouls play an offset tele
Submitted about 4 years ago
Peterson StroboStomp HD
Pedal Tuners
At 9:20, The guitar tech states the Fire ghoul uses this tuner
Fender American Standard Jaguar Bass
Electric Basses
In this performance of "Elizabeth" at Hellfest, Water Ghoul can be seen playing an American Standard Jaguar Bass, especially apparent at 1:13.
Fender American Special Precision Bass (Duplicate)
Shot of a white P bass at the 0:29 mark.
Fender American Special Precision Bass
Water Ghoul has been seen many times playing an American Special Precision Bass by Fender. For example, he plays this bass during the Deezer Sessions .
Orange OBC410 4x10'' 600-Watt Bass Speaker Cabinet
Bass Amplifier Cabinets
Taken from the Download Festival, 2012. Water Ghoul performs here and just behind him, he has an Orange OR100 Amp Head that he uses. Below that is the OBC410 bass cabinet.
Original source ....
Orange Thunderverb 200W
at 2:07, you can see the black on the top of the control graphics extends about twice as far as the switches. This happens on the Thunderverb series of amps. It's tough to tell whether it would be a 50 or 200. (The Rockerverb series black color only extends about 1.5x as far as the switches.)
Tama Starclassic Performer B/B Piano Black
He use this Drum without 10' Tom
Fender Jazz Bass
The most recent lineup of ghouls in 2017 sported new Hagstrom RD models along side of the water ghouls new Fender Jazz Bass
Ernie Ball Skinny Top Heavy Bottom Slinky Guitar Strings (1...
Ether (rhythm guitar) uses skinny top heavy bottom
Dunlop Tortex Standard 1.14mm Guitar Picks
At 10:14, The guitar tech states the Fire ghoul uses these picks
This is a community-built gear list for Nameless Ghoul.
Find relevant music gear like microphones, guitar rig, amplifier setup, effects pedalboard, bass guitar rig, shells, heads, cymbals, hardware, drumsticks, pianos, keyboards, synths, and other instruments and add it to Nameless Ghoul .
The best places to look for gear usage are typically on the artist's social media , YouTube, live performance images , and interviews.
To receive email updates when Nameless Ghoul is seen with new gear follow the artist .
Similar artists
Gear Guides
11 Best Distortion Pedals for Guitar: Metal, Classic Rock, and Beyond
Michael Pierce & Giulio Chiarenza
Updated October 2023
The Top 11 Overdrive Pedals - 2023 Edition
Updated August 2023
5 Best Online Guitar Lessons Websites in 2023
8 Best Looper Pedals for Guitar: 2023 Gear Guide
Nameless Ghoul's contributors
Nameless ghoul's followers.
Ghost Amp Settings & Gear Guide (Guitars, Amps & Pedals)
Ghost's incendiary live shows, catchy tunes, and wholehearted (if somewhat tongue-in-cheek) embrace of the theatrical has made the Swedish band into bona fide metal festival superstars.
Ghost is the brainchild of Tobias Forge, a veteran of Sweden's metal underworld. Before hitting the big time with Ghost, Forge played with death metal band Repugnant and glam metal band Crashdiet.
Blending the seemingly disparate influences of these two sides of the heavy metal coin gave birth to Ghost.
Forge, usually performing under the name Papa Emeritus, has been Ghost's primary songwriter and the face of the band since their launch in the late 2000s.
Although Tobias Forge is the sole (officially) named member of the band and their primary songwriter, he rarely plays guitar for Ghost. Instead, he leaves that task to his ultra-theatrical backing band, the Nameless Ghouls.
In this article, I'm going to take a deep dive into the gear used by the Nameless Ghouls of Ghost live and in the studio.
I'll include affordable smaller-scale alternatives to their gear for guitar players looking to capture some of the Ghost mystique in their bedroom or on a smaller stage.
Table of Contents
Treble: 7-8
Ghost pedals.
The main Ghost guitar is the oddly-shaped Gibson RD. This guitar was launched in 1977, only to be discontinued in 1982. Later reissues have come and gone, but it's most likely that Ghost's RD Artist is an original from the late 70s.
The Gibson RD was an attempt to appeal to guitar players with an interest in synthesizers. Accordingly, it featured onboard effects, including compression and both treble and bass boosts.
The Nameless Ghouls' Gibson RD has Seymour Duncan pickups installed with a coil-tap switch.
The other Gibson in the Ghost arsenal is the far more familiar SG. The Gibson SG Standard has long been a hard rock mainstay thanks to its upper-fretboard accessibility and two powerful humbuckers.
The Nameless Ghouls, being Swedes, are also quite partial to Hagstrom guitars. The Hagstrom Fantomen , which looks not unlike the Gibson RD or Firebird, is their model of choice.
The Fantomen was actually designed in collaboration with Ghost, and production models are virtually identical to those played by the band themselves.
Guitar players looking to capture the Ghost tone would do well to start with a Gibson-style guitar. The Epiphone SG Standard is one affordable option.
I would also recommend replacing the stock pickups with Seymour Duncan pickups. Specifically, I recommend the Seymour Duncan 59 humbucker set .
Bear in mind that the Gibson SG is more commonly heard than seen when it comes to Ghost. It's not a common onstage guitar, as the band prefers their RD models live.
The SG is all over Ghost's albums, however, and is a major part of their recorded sound.
Ghost play almost all of their music in D standard tuning (D-G-C-F-A-d), a whole step down from E standard.
To facilitate this, and maintain good intonation, you may want to set your guitar up with strings a gauge heavier than you typically use.
The Nameless Ghouls lean towards classic British-sounding amps for their crushing sound.
In the studio, they generally blend Marshall, Orange, and Fender amps to get a broad range of tones.
Live, however, like most bands of their ilk, Ghost are devotees of Marshall and Orange amplification.
The Nameless Ghouls used a variety of Marshalls, including Plexi and JCM800 models.
These don't exactly come cheap, so guitar players looking for a more wallet-friendly alternative may want to consider a smaller combo amp.
The Marshall Studio Classic 20C is a more affordable option for an authentic-sounding vintage saturated Marshall tone. It's based heavily on the old-school JCM800s that fuelled the sound of 80s metal.
For more tonal diversity, the Marshall DSL40CR is about half the price. Its tone isn't as close to that of the JCM800, but it provides plenty of classic Marshall grunt.
Orange amps have a very distinctive tone, so if you're looking to capture that element of the Ghost sound, I highly recommend the Orange Dark Terror . This lunchbox-sized amp is built for high-gain tones.
An even smaller option for the Orange tone is the Terror Stamp , a pedal-sized amplifier with 20 watts of power.
Ghost Amp Settings
The Ghost sound has plenty of grint and crunch but is not fizzy or fuzzy. I recommend the below settings as a starting point, from which point you can tweak the amp as you see fit.
Most of the Ghost guitar tone comes from driving an old-school tube amp such as an Orange or a Marshall. Volume, gain, and midrange are the keys to this kind of tone.
Tube amps need volume to deliver crunch. Start at 5 and turn up if you need to.
You want enough gain to drive your amplifier, but not so much that you lose not clarity.
Ghost's guitar tone is not overly warm or muddy. Bass at 4 lets the other frequencies shine.
Most of the expression and articulation in the Ghost tone comes from the mids. This is a fairly standard setup for rock guitar.
Depending on how dark the voice of your amp and guitar is, be prepared to compensate with more treble. This gives your playing more definition.
The main pedal used by the Nameless Ghouls is the most important of all: the Peterson tuner to ensure that the guitar is always tuned to perfection.
While it is not strictly a guitar pedal, these days the Nameless Ghouls use the AXE-FX in their live rig. This amp modeling unit is used in place of an actual guitar amplifier for the more rigorous requirements of their bigger tours.
Otherwise, the guitar players in the band avoid using too many pedals live. Instead, they rely on the interplay between guitar and amplifier to deliver their guitar tones.
The guitar players from Ghost use Dunlop Tortex 1.14 guitar picks. These are customized by the Nameless Ghouls' guitar tech with a box cutter, used to carve lines into the surface of the pick to allow extra grip.
Closing Thoughts
The guide above should get you close to Ghost's crushing, powerful guitar tone. A detuned  humbucker-equipped guitar and an overdriven tube amp will get you most of the way to nailing the earworm riff from "Square Hammer" in no time.
About Liam Whelan
Liam Whelan was raised in Sydney, Australia, where he went to university for long enough to realize he strongly prefers playing guitar in a rock band to writing essays. Liam spends most of his life sipping strong coffee, playing guitar, and driving from one gig to the next. He still nurses a deep conviction that Eddie Van Halen is the greatest of all time, and that Liverpool FC will reclaim the English Premier League title.
Leave a Comment Cancel reply
Ghost's Nameless Ghoul talks picking Papas, playing Gibson RD guitars and new album Meliora
"We do act a little differently than a lot of bands"
Introduction
Back in May, late-night TV viewers catching a VH1 showing of the comedy classic Caddyshack must have thought that their remotes accidentally clicked over to cable access when a strange and mysterious commercial aired, announcing, of all things, the return of the masked band Ghost.
In the spot, the mostly unseen Swedish metallers are seated at a table while getting a lecture from a stern, elderly female authority figure who chastises the band for their failings: "No churches overthrown. No governments toppled. No world leaders converted to the cause. You're terrible salesmen. It's a disgrace." (She does preface her condemnations with some positives: "Two albums, one gold - these are respectable numbers.")
At the end of her speech, the woman presents the band with new masks before introducing their new frontman, Papa Emeritus III, whom she notes is "three months younger" than his brother and predecessor, the recently retired Papa Emeritus II ("a wounded, bitter old man - he's washed up").
"She was a feisty one," says the band's lead guitarist, chief songwriter and all-around head Nameless Ghoul (for the uninitiated, all the members of Ghost are called Nameless Ghouls). "She's kind of like one of those big wigs who doesn't deal with the small merkins that often. For us, it was like seeing a big merkin in action. She gave us our marching orders."
Hostile action
Ghost's 2013 breakthrough album was called Infestissumam, the Latin word for 'hostile'. On August 21, the band releases Meliora, Latin for 'better' (or more specifically, 'the eternal pursuit for something better'), and fans can take the title literally, as the record is yet another creative giant leap forward for the group, mixing up in various and fascinating ways '70s-era psychedelic and prog rock, unhinged doom metal and classic AOR balladry - all of it informed by a pronounced, sophisticated pop consciousness that yields ear candy-like hooks that last for days.
The Nameless Ghoul sat down with MusicRadar recently to talk about the new album, picking new Papas and why it took the band eight years to record one of their best songs.
Ghost's Meliora can be pre-ordered at the Official Ghost Store .
Picking Papas
Is there any kind of special audition process for picking a new papa emeritus.
"Fortunately for us, we don't have to do auditions where you put people through the paces. We just expect somebody to be on time, in tune and somewhat glad. Usually we don't see much of our Papas - 'cause they're hanging out with the mamas. [Laughs] They tend to appear as we go on stage and disappear just as quickly. We don't socialize or fraternise that much, which is cool. I don't know him very well, really. He's very new to me."
The fact that the various Papas are 'emeritus', does that mean that they never really go away?
"Well, that's the ironic thing. 'Emeritus' in the tradition of popes means that you're dead - you never get that title until after you've died. Benedictus was the first pope in something like 400 years who was named 'emeritus' while he's still alive. He got to retire with that title. So our Papa Emerituses get to retire, but they're still here."
Let's talk guitars. Are you still working with the Gibson RD model?
"Still using them, yes, especially on a live basis. When we're recording in the studio, we tend to mix it up a little, just because it feels good to play with slightly older guitars. Also, a Flying V sounds different from a Les Paul, and a Les Paul sounds different from an SG, and so on. So we flip-flop between different models.
"But yes, on a live basis, we're definitely an RD band. We really like that model. It wasn't very popular to begin with, and when we started using them, we thought, 'Oh, well, everybody's gonna play them now.' Not because they saw us using them, but that's just the way those things happen - you're part of a wave of a trend. It's like when you hear Nicki Minaj on the radio, and the next day she's everywhere and everybody's talking about her. But that hasn't happened with the RDs, oddly enough. We're still the only ones playing them."
Producing Meliora
Why didn't you work with producer nick raskulinecz again, and how did you choose klas åhlund to do the new record.
"We really liked working with Nick, and had my wallet been bigger, I would have flown him in for an entire recording - just for the laughs. So Nick had to stay home while we recorded with someone else. We chose to work with Klas Åhlund - he's Swedish, obviously - who until recently was known for his pop stuff. That's what people worldwide know him for, I should say, but here in Sweden we know him for being a very eclectic demon producer. His band Teddybears turned into a dance music hit-driven band, but they started out as grindcore. Despite all the pop that he's doing, underneath that is a big rock guy.
"We write rock music with a big pop sensibility, and Klas writes pop music with a big rock sensibility, so we knew this could be a good match. As it turned out, he wanted to do a rock record - the timing was perfect. He's a guitar shredder, actually. His two major idols are Uli Jon Roth and Ritchie Blackmore."
A lot of the best producers are very diverse. Look at Rick Rubin: You've got Slayer and Johnny Cash.
"Exactly. And Adele and ZZ Top. There you go."
Ghost stories
Let's talk about some of the new songs. i was surprised to learn that you wanted cirice to have no chorus, yet it's your lead track - and it has a strong chorus..
"Yeah, it's funny how that turned out. We spent a lot of time pre-producing the record, and for us it's like writing a script for a movie - you don't want to write new scenes when you've started shooting. With Cirice, I had the definite idea for a doomy track that was potentially going to be a nine-minute instrumental. Actually, it was called Devil Church/Cirice, and Devil Church was the opening. It was supposed to be dark, dark, just absolutely horrible. [laughs] A very dark song.
"As it happens so many times, Klas said, 'I don't know if this is good enough. Can you work on it for an hour while I step out for a bit?' He wanted us to see if there was something more in the riff that we didn't have yet. So he went out, and we started playing around with things, and all a sudden the chorus came out of nowhere. He came back and said, 'OK, do you have the verse?' I said, 'I do have the verse... and I also have a chorus.' The song just kind of took off from there.
"It's funny, though, because Klas said, 'What have you done to our dark song without a chorus? You've turned it into this completely adult-oriented rock anthem.' But it's better as a six-minute track without the opener than what we were going to do, progging the shit out of it. And we still put Devil Church somewhere else on the album, so it's there. We got everything."
He Is - that's a beautiful song. The track was written a while ago, back in 2007. Did you feel as though the band wasn't quite ready to record it until now or that your audience wasn't ready to absorb it?
"I think there's a hint of both things, but mainly I think it was because I wasn't quite sure how to wrap my head around it. When you're a rock band, it's always a little hard to play softly. Even songs like November Rain or Nothing Else Matters are hard to play - you've got to take your pulse down to be able to approach a different kind of energy level. So that was on my mind.
"We gave the song a try on Infestissumam, but there was a point in pre-production when we kept adding and subtracting and fucking fiddling with it, and we overemphasized the ghastly aspects of it. I think because we're Ghost and we thought it had to sound like us, we just assumed that it needed all of these spiderwebs or something. Super-compensating all of that shit just didn't work, so we put the song away.
"We knew that we liked it, and we knew that it would eventually find its place. When we started the pre-production for this album, we just threw it in the mix. The producer was like, 'Oh, that's great. That's definitely the given song on the record.' We decided to do it the way it was, and it worked."
I think the solo on that song is the best you've ever played. It's magnificent.
"Oh, well, thank you. It's not tapping, but it's a tapping-like technique. There are so many elements to the song that are exactly what was on the original demo - and that was us basically winging it. 'Here's a solo that we'll definitely change at some point.' Fast-forward seven or eight years later and you're like, 'Maybe we shouldn't change it.'"
You guys have toured with bands like Mastodon, Avenged Sevenfold, Opeth... Do they behave differently around you than they might with other bands?
"Hmm, I don't know. I know what you mean - we can be... mysterious. I think there's something to that, sure. People have the tendency to be very respectful of us, but you'll always have that asshole, somebody who's showing off to his buddies because maybe they're not fans of the band. That's the exception, not the norm.
"We do act a little differently than a lot of bands, I guess. We don't run around backstage tweeting, Instagraming and taking pictures of every band we see. That's the modern way of doing things, and we don't really do that. To a lot of senior bands, maybe we come off like we're, you know, different.
"I'm not the most social person around, and perhaps I can come off a little stand-offish - just because I don't run around asking everybody for picks and things like that. There's always that high-school corridor element to bands on tour, and sometimes it's just not possible to say hello to other guys: 'Oh, hi, I'm sorry we weren't introduced before.' You can go weeks without actually meeting people you're on tour with.
"With some bands, it's very much a family operation. Iron Maiden has people in their crew who have been there since 1980, '84. In that family, they even have family members who work for the band. We've toured with them a lot in Europe, and it always feels like a home situation with them. They're a British band with an all-British crew, and our crew is mostly British, so we gelled with them very quickly.
"Our anonymity might keep us from being rock stars in some ways, but in other ways we feel like we are rock stars. Sometimes when you're the opener for a big arena band, it can be intimidating. You feel like the new guy at work: You're 18 and everybody else is 35. But that goes away quickly. If you do your job well, you get a second chance, and then you get a third chance. I can't complain about how we've been treated. It's all good."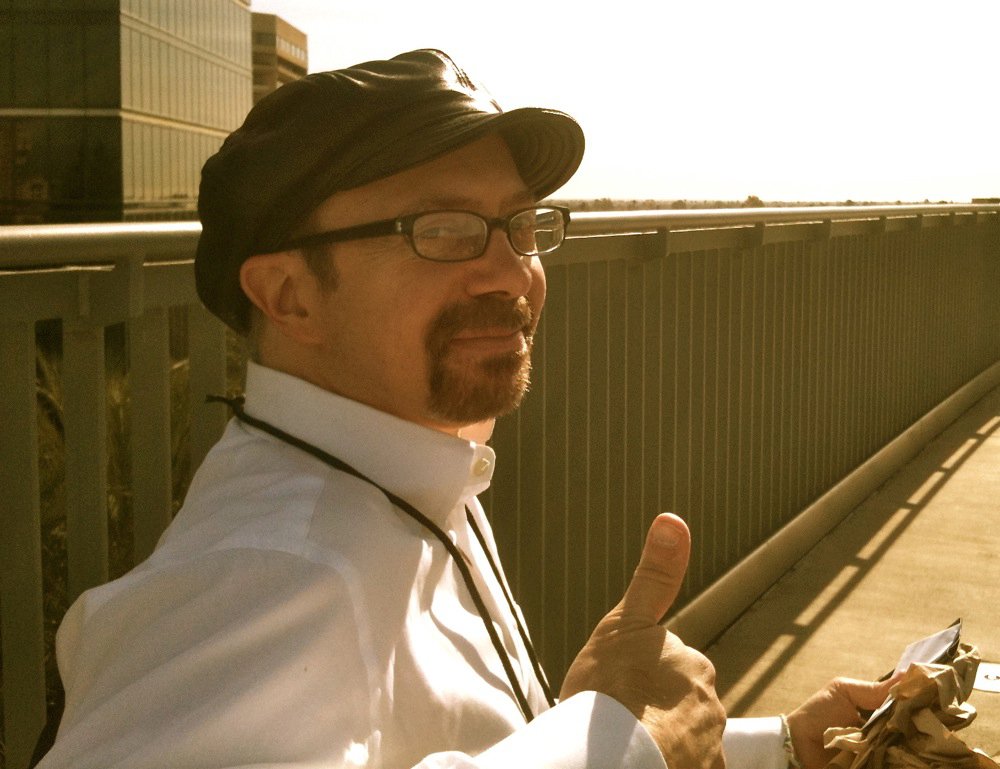 Joe is a freelance journalist who has, over the past few decades, interviewed hundreds of guitarists for Guitar World , Guitar Player , MusicRadar and Classic Rock . He is also a former editor of Guitar World , contributing writer for Guitar Aficionado and VP of A&R for Island Records. He's an enthusiastic guitarist, but he's nowhere near the likes of the people he interviews. Surprisingly, his skills are more suited to the drums. If you need a drummer for your Beatles tribute band, look him up.
The Beatles - Now and Then: FabFilter's Pro-Q plugin becomes an unexpected star of new short film that tells the story of the band's last ever song
Andertons' Black Friday Price Promise means you don't need to wait until the end of November to make a music gear saving
"Nothing much happens for the first eight or ten hours. Just trust that it's going to work out." Classic Brian Eno interview reveals how he really produced ambient music
Most Popular
By Si Truss 1 November 2023
By Ben Rogerson 1 November 2023
By Rob Laing 1 November 2023
By Andy Jones 1 November 2023
By Matt Mullen 1 November 2023
By Andy Price 1 November 2023
By Leigh Fuge 1 November 2023