International edition
Australia edition
Europe edition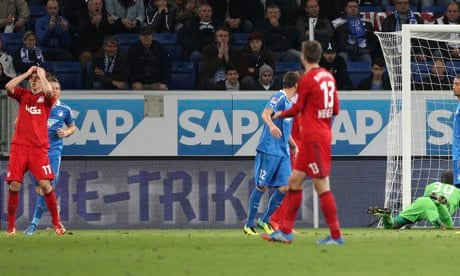 Bayer Leverkusen 'ghost goal' could prompt Germany to draw the line
It's not quite true that history had never been made in Sinsheim before. Older readers of this column will undoubtedly recall that the Prussian king Frederick the Great (18) was caught in the town during his attempted flight to England with his favourite page, Keith (13), in 1730. But Friday's Bundesliga game between Hoffenheim and Bayer Leverkusen at the Rhein-Neckar-Stadion seemed somehow bigger than that. It will go down in the annals of German football for the ghostliest ghost goal ever – "Phantom-Tor" is the technical term – and maybe, just maybe, as the game that pushed everybody over the line, if you pardon the pun, towards goal technology.
Here's what happened. Leverkusen were 1-0 up in the 68th minute when the national manager, Joachim Löw, was caught sitting in the stands, looking away from the game with mixture of boredom and slight revulsion. A Bayer corner came in from the left, Stefan Kiessling came across his man is classic striker mode at the near post and hit the side-netting with his header. He then turned around, hands on his head in disappointment.
But by now, some team-mates were cheering. And the TSG keeper Koen Casteels was picking the ball out of the net. The referee, Felix Brych, had awarded a goal. Replays showed that the ball had indeed hit the side-netting but at the very spot where a string had come loose. So it went in from the outside. Kiessling sheepishly raised his arms.
Brych was later called over to inspect the faulty net but the goal stood. Hoffenheim were awarded a penalty – Roberto Firmino missed – before Sven Schipplock made it 2-1. Cue pandemonium after the final whistle. "We could be happy that it was Hoffenheim v Leverkusen," said the Bayer midfielder Stefan Reinartz, "we probably wouldn't have made it out in one piece in any other stadium."
Curiously, the Hoffenheim players had offered only minimal protest in the immediate aftermath of the goal – were they already thinking about a replay? – but Kiessling's behaviour was later called into question in very strong terms. "His whole body language suggests that he clearly saw that it went wide," said the former Hoffenheim coach Ralf Rangnick. "I think he missed a great chance to do something for fair play." Kiessling had been asked about his version of events by Brych and replied that he "wasn't sure".
Bild helpfully hired the services of a lipreader, Judith Göller, who looked at a conversation between the Leverkusen press officer Dirk Mesch and the striker. "He told Kiessling: 'You have to say that you didn't see it'," Göller said. Mesch confirmed the accuracy of that version but added that he had simply told Kiessling to tell the truth. "We both hadn't seen it," Mesch said.
In days gone by, the fourth official would have been able to have a sneaky peek at a monitor but screens were banned from the touchline after a number of coaches had repeatedly argued with each other over the right to hold the remote control. (Only joking. They were banned from the grounds after too many managers had illicitly watched replays).
Bayer's sporting director, Rudi Völler, defended his player: "All those know-it-alls who are now having a pop at him should look in the mirror and sweep in front of their own courtyard. I don't know of a more decent player than him. He's never dived."
Völler joked about the Hoffenheim benefactor neglecting to invest in the nets but went on to offer Hoffenheim to replay the last 22 minutes only. "Impossible," was the German FA's reply.
The DFB vice-chairman Dr Rainer Koch said that Hoffenheim's appeal would be decided next week, with the help of Fifa. In the past, the German FA has ordered replays in similar circumstances but Fifa was not best pleased. They want the referee's decision to be final at all times.
Eleven out of 18 Bundesliga officials told Kicker magazine that they want goalline technology to come in as soon as possible. The DFL, however, look set to stick with its decision to introduce such measures in 2015-16 at the earliest. Their argument is a typical German one, you might say. "We find the current fault tolerance of three centimetres too high," said the DFL chief executive Andreas Rettig.
Results: Hoffenheim 1-2 Leverkusen, Bayern 4-1 Mainz, Bremen 0-0 Freiburg, Braunschweig 2-3 Schalke, Dortmund 1-0 Hannover, Frankfurt 1-1 Nürnberg, Hertha BSC 1-0 Gladbach, Hamburg 3-3 Stuttgart, Augsburg 1-2 Wolfsburg.
Bayer Leverkusen
1899 Hoffenheim
Most viewed
CNN values your feedback
Bayer leverkusen's 'ghost' goal victory in bundesliga allowed to stand.
Bundesliga 'ghost' goal result stands
Story highlights.
Hoffenheim fail in bid to get Bundesliga match against Bayer Leverkusen replayed
Hoffenheim lost the home match 2-1
Second Leverkusen goal from Stefan Kiessling controversially awarded
DFB said it had 'no alternative' but to let the result stand
Hoffenheim have failed in their bid to get their 2-1 Bundesliga home defeat to Bayer Leverkusen replayed despite the controversial 'ghost' goal scored by visiting striker Stefan Kiessling.
The German Football Association (DFB) said Monday the result would stand but have given Hoffenheim one week to appeal the decision.
High flying Leverkusen were winning the ninth round match on October 18 by a single goal in the 70th minute when Kiessling headed a corner just wide of the home goal.
German international striker Kiessling was seen with his head in his hands, apparently acknowledging a bad miss, but the ball found its way into the net through a hole in the side netting.
It was enough to convince referee Felix Brych that the effort was legitimate and to the dismay of all concerned he awarded the goal.
Read: Leverkusen beat Hoffenheim after controversial goal
Leverkusen, pushing Bayern Munich and Borussia Dortmund hard at the top of the standings, eventually claimed three valuable points in a 2-1 win, but it has come at a cost.
Kiessling, bidding for a regular place up front in the German international team for the World Cup in Brazil, has been subjected to much criticism and there have been renewed demands for FIFA to introduce video technology to help referees in such situations.
After a 90-minute hearing in Frankfurt, the head of the DFB tribunal, Judge Hans E. Lorenz said they had been left with "no alternative" but to uphold the original result.
"The question isn't whether this judgment satisfies us from a sporting perspective," he said in a statement on the DBF website.
"From a legal point of view, there is no alternative. There are no grounds for the appeal. The factual decision may have been incorrect, but it is irrevocable."
Read: Bayern stay top thanks to super Mario
Hoffenheim cited an incident in a match between Bayern and Nuremberg in 1994 when Bayern's Thomas Helmer scored a similar 'ghost' goal in a 2-1 win.
That game was replayed and Bavarian giants Bayern cruised to a 5-0 win.
Bayer Leverkusen are tied on points with Dortmund after a 2-1 win over Augsburg at the weekend, a point behind reigning champions Bayern, while Hoffenheim remain in mid table.
Kiessling has six goals for the season, including his effort against Hoffenheim, one behind the leading tally.
Fixtures & Results
60 Years of Bundesliga
Table predictor
US Barfinder
Broadcasters
Fantasy Manager
Choose language English
Display Mode
DFB reject Hoffenheim appeal
Frankfurt/Main – The Bundesliga Matchday 9 encounter between 1899 Hoffenheim and Bayer 04 Leverkusen will not be replayed in spite of the 'phantom' goal scored by Stefan Kießling.
"No alternative"
The DFB (German FA) sports tribunal rejected Hoffenheim's appeal against the 2-1 scoreline in a 90-minute hearing in Frankfurt am Main on Monday. The result of 2-1 to Leverkusen stands. "The question isn't whether this judgement satisfies us from a sporting perspective," said Judge Hans E. Lorenz. "From a legal point of view, there is no alternative. There are no grounds for the appeal. The referee's decision may have been incorrect, but it is irrevocable." On 18 October, Bayer striker Kießling headed the ball wide of the post with the score at 1-0 to the visitors. However, the ball ended up in the goal after entering through a hole in the netting. Referee Dr. Felix Brych awarded the goal.
Want more Bundesliga Action?
Related news.
UPCOMING GAMES
TV SCHEDULES
HOW TO WATCH
Controversial 'Ghost Goal' Sends Bayer Leverkusen Top of the Bundesliga [VIDEO]: Nightly Soccer Report
by Christopher Harris February 07, 2022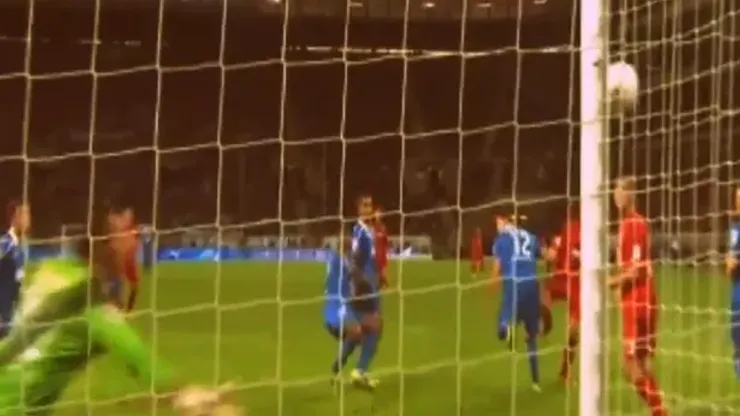 A controversial goal scored by Bayer Leverkusen's Stefan Kiessling sent the German club top of the Bundesliga tonight, but incredibly the winning goal scored by Kiessling shouldn't have been awarded since the ball never went into the back of the net.
Watch the video below to see how Kiessling's header appeared to go into the back of the net, but then watch the replays to uncover what really happened.
BT Sport commentator Jonathan Pearce, at first, thought the ball went into the back of the net, but co-commentator Kevin Kilbane noticed that the ball didn't go in.
With the goal, Leverkusen beat Hoffenheim 2-1 and leapfrogged Bayern Munich to go top of the table. Despite Kiessling saying to the referee that the ball didn't go into the back of the net, the referee awarded the goal.
Here are tonight's world soccer news headlines:
Controversial 'ghost goal' sends Bayer Leverkusen top of the Bundesliga — The Guardian
BT Sport's commentators discuss Stefan Kiessling's Phantom Goal, player appears to admit to ref it didn't go in — 101GG
Premier League
Brek Shea sees red card in Stoke City u-21 win against Reading — Stoke City
Andros Townsend signs an extension to his Tottenham contract — Haringey Independent
Manchester United dealing with injury bug as RVP may miss out again — Pro Soccer Talk
Malky Mackay defends Moody but new Vincent Tan revelations rock Cardiff — The Guardian
Arsenal's Abou Diaby to undergo cruciate knee ligament surgery and is out until March — The Mirror
Hillsborough investigation: Reinforcements to be brought from other forces to quiz police who attended 1989 tragedy — Independent
Liverpool's Jordan Henderson: I feel I belong here at Anfield now — Telegraph
The night Jeremy Goss helped Norwich shock Bayern Munich — BBC Sport
Marouane Fellaini set to postpone surgery on his injured wrist until after the World Cup next year — Telegraph
Mauricio Pochettino continues to pull off balancing act at Southampton — The Guardian
Premier League Supporters: The dramatic rise of Southampton FC and their fans — Pro Soccer Talk
Iago Aspas ruled out until December for Liverpool with torn thigh muscle injury — The Mail
BBC scraps plan to expand iPlayer app globally, citing competition from Netflix and Amazon — GigaOm
International soccer
Brendan Rodgers believes dull coaches are holding back English players — The Guardian
One Direction favourites to provide England's official song for Brazil — The Independent
Jose Mourinho questions John Terry's decision to quit England — BBC Sport
Schellas Hyndman to step down as FC Dallas head coach — Pro Soccer Talk
MLS reveals 2013 playoff dates – Not playing on international date — The Original Winger
Gareth Bale fit and ready to play against Malaga on Saturday as he returns to full fitness — Independent
Real Madrid to play a friendly against PSG in Doha on 2 January — Real Madrid
Football League
Nottingham Forest manager Billy Davies signs new contract — The Mail
Diego Maradona served with £33m tax bill by Italian authorities — The Guardian
Benitez: "We lacked goals, but we were better than Roma" — Rafa Benitez
The Nightly Soccer Report is tomorrow's news today. It's often tomorrow morning's worldwide newspaper headlines that are published the night before. We do all the work for you, combing the Internet and aggregating the news for you. Read The Nightly Soccer Report on World Soccer Talk every night before bed, so you can stay on top of all the news that matters.
200+ Channels With Sports & News
Starting price: $33/mo. for fubo Latino Package
Watch Premier League, Women's World Cup, Euro 2024 & Gold Cup
The New Home of MLS
Price: $14.99/mo. for MLS Season Pass
Watch every MLS game including playoffs & Leagues Cup
Many Sports & ESPN Originals
Price: $9.99/mo. (or get ESPN+, Hulu & Disney+ for $12.99/mo.)
Features Bundesliga, LaLiga, Championship, & FA Cup
2,000+ soccer games per year
Price: $5.99/mo
Features Champions League, Serie A, Europa League & Brasileirāo
175 Premier League Games & PL TV
Starting price: $5.99/mo. for Peacock Premium
Watch 175 exclusive EPL games per season
Related Topics
EDITORS' PICKS
Brighton fights to earn first europa league point at marseille, seattle sounders tv schedule, portland timbers tv schedule, real salt lake tv schedule.