Papa Emeritus
Appearance [ ]
Papa I's mask is the only one that was not custom made, instead being a premade foam mask called Walter Grey #103 .
Papa I wore two costumes during the Opus Eponymous era. The first costume was a red and black chasuble with upside down crosses and a mitre with the black Grucifix . For the second costume, during the end of the Opus era, his chasuble was white and black with gold grucifixes on the front.
History [ ]
Papa I made his live debut the 23rd of October 2010 during the Hammer Of Doom festival in Würzburg, Germany.
On December 15, 2012 during a special live show at the band's hometown of Linköping, Sweden, Papa I retired and was replaced by Papa Emeritus II.
In March 2018, he, alongside his brothers Papa Emeritus II and Papa Emeritus III , were killed by Papa Nihil , Sister Imperator , and the clergy. They were embalmed and put on display for Ghost's Prequelle and IMPERA touring cycles as part of the Veneration of Relics .
Gallery [ ]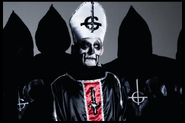 Like all Papas, he was played by frontman and founding member Tobias Forge .
1 Nameless Ghouls
2 Papa Emeritus IV
3 Nameless Ghoul (Sodo)
Ghost: the definitive guide to every member of their crazy universe
From Papa Emeritus I to IV to Papa Nihil, Sister Imperator and beyond, here's everything you need to know about Ghost's colourful cast of characters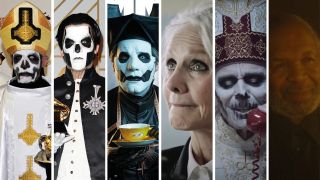 Ghost have long been shrouded in mysterious shenanigans. As well as the largely anonymous Nameless Ghouls that make up the bulk of the band, with each passing album, Ghost mastermind Tobias Forge has introduced a ghastly lead character to front the fold, starting back in 2010 with Papa Emeritus I for debut album Opus Eponymous . After Papas II and III followed for Infestissumam and Meliora respectively, for 2018's Prequelle , there was no numbered Papa to be found – just a Cardinal and another, newly introduced ancient figure known as Papa Nihil.
The plot has only thickened since then, with Cardinal Copia being upgraded to a Papa all of his own for the Impera era and even more strange and spooky characters being introduced into the Ghost canon. Here's our definitive guide to all of them so far.
Papa Emeritus I
AKA: The first one. Years Of Service: 2010-2012. Notes: Papa Emeritus I was the OG Ghost frontman and could usually be found stalking back and forth on stages wielding his trusty thurible (that's that big, swinging incense burner thingy he used to have). The original, certainly, but arguably not the best.
Papa Emeritus II
AKA: The scary one. Years Of Service: 2013-2015. Notes: With a far ghastlier looking visage than his predecessor, Papa Emeritus II was also the first Papa to ditch the makeup when he fronted a special, three-song Ghost set for an Australian website in 2014. Though we're still not convinced that was his real face, either.
Papa Emeritus III
AKA: The dandy. Years Of Service: 2015-2017. Notes: Allegedly the younger brother of Papa Emeritus II, Papa Emeritus III brought a new energy to Ghost, shrugging off his Papal robes mid-set for a snazzy suited-and-booted look that came with a host of sexually-charged stage moves. Oooh, the cad. It set a a new precedent for the dynamics of how Ghost shows would usually operate (let's just say the costume change count has only gone up since then). Papa III was eventually and unceremoniously killed off, along with his two predecessors, his decapitated head appearing on the cover of Metal Hammer in 2018. Oh dear.
AKA: The old one. Years Of Service: 1969-2020 alive, 2020-2022 as a spooky spirit Notes: Making his live debut seconds after Papa III was dragged off stage in Sweden in late 2017, Papa 0 looked older than time itself (er, no offense). His role was seemingly to mentor younger Papas and Papas-in-waiting, not least a newly arrived Cardinal who seemed to have more than just professional connections to the old-timer. Papa 0 could also, it would appear, bust out a mean saxophone solo, but that sadly wasn't enough to save him when he was rudely offed live onstage in Mexico in 2020. Then resurrected in 2022 to play sax again. This band's health insurance renewal rates must be through the roof, quite frankly.
Cardinal Copia
AKA: The one that wasn't a Papa (but is now). Years Of Service: 2018-2020. Notes: Providing a combo breaker by eschewing the corpsepaint and having a decidedly less pope-y fashion sense, Cardinal Copia was the lovably daft Papa-in-waiting that brought an extra flash of sass to the Ghost camp. Tobias Forge once suggested to us that, unlike previous Ghost frontmen, Cardi C might actually stick around for a few records - and he was half-right. In March 2020, on stage in Mexico, The Cardinal was surrounded by The Clergy and transformed into Papa Emeritus IV. A new dawn beckoned...
Papa Emeritus IV
AKA: The grandest Papa yet Years Of Service: 2020-present Notes: The upgraded Cardinal is currently serving as the fourth Papa Emeritus, and if Ghost's latest live show is anything to go by, he may be the most extravagant one yet. Packing dazzling robes, a fancy new hat (or three) and a fine array of new stage costumes, he's perfectly set to lead what looks to be Ghost's most over the top and bombastic era ever. But what happens when The Clergy grow tired of him and decide it's time for a freshen-up? Could Ghost's current hero buck the trend and leave the fold with his head and body intact? Could a serving Papa IV become Papa V? Or is he doomed to join his predecessors in death? Only time will tell.
The Nameless Ghouls
AKA: The band. Years Of Service: 2010-Present. Notes: Less individuals and more a mass of souls represented onstage by mysterious, anonymous figures. They seem to grow in number with each passing album cycle, and get their own revamp to go alongside each newly introduced (or upgraded) frontman. Currently, The Nameless Ghouls are rocking a badass steampunk look. We approve.
Sister Imperator
AKA: The matriarch. Years Of Service: 1969-Present (at least) Notes: A figurehead behind the scenes, the mysterious Sister Imperator has appeared in a number of videos put out by Ghost in recent years, and she seems to have a particular (motherly) affinity for The Cardinal/Papa IV. We got to see both Sister Imperator and Papa Nihil in their younger incarnations during Ghost's Kiss The Go-Goat era.
Mr. Saltarian
First introduced in Chapter 10 of Ghost's ongoing video series, Mr. Saltarian is yet another mysterious religious figure with definite but somewhat murky connections to The Clergy. With poor Papa IV's future seemingly up in the air as of Ghost's most recent Chapters, it seems that Mr. Saltarian may have a part to play in the increasingly paranoid frontman's ultimate fate.
AKA: The main event. Years Of Service: 2010-Present. Notes: The mysterious cult from which these strange beings all stepped forth, The Clergy is the centre point for everything that Ghost is, was and shall be. They remain anonymous, omnipotent and powerful. Which is metal as fuck, to be fair.
Father Jim Defroque
AKA: The Bad Boy Priest Years Of Service: [unknown]-Present Notes: Introduced in a half-hour special on YouTube entitled "Jesus Talk With Father Jim Defroque" released on Easter Sunday 2023, at first it appeared the Pastor was the antithesis of our favourite Satanic Swedes and a true man of the cloth as he disapprovingly dissected lyrics from bands including Ministry, Soundgarden and Green Day (all Jesus themed, naturally).
It wasn't long before Father Defroque's true colours came out, however: suspicious sniffs throughout his YouTube special turned into a full bender during the Jesus He Knows Me video featuring copious amounts of blow, guns and erm, a questionable haircare regimen. How does he fit in with the wider Ghost lore? Well, we guess we'll find out pretty soon...
Metal Hammer Newsletter
Sign up below to get the latest from Metal Hammer, plus exclusive special offers, direct to your inbox!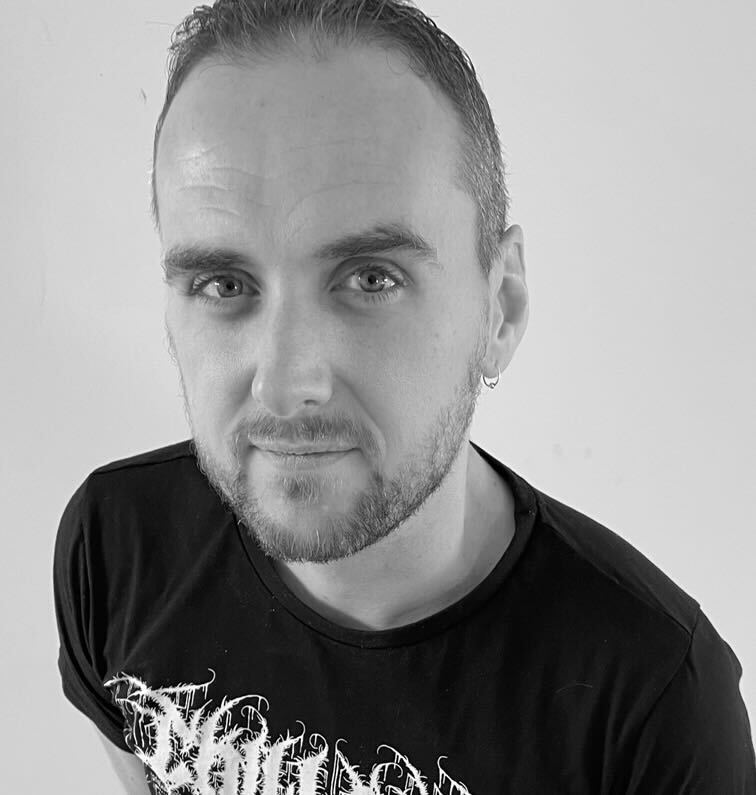 Merlin moved into his role as Executive Editor of Louder in early 2022, following over ten years working at Metal Hammer. While there, he served as Online Editor and Deputy Editor, before being promoted to Editor in 2016. Before joining Metal Hammer, Merlin worked as Associate Editor at Terrorizer Magazine and has previously written for the likes of Classic Rock, Rock Sound, eFestivals and others. Across his career he has interviewed legends including Ozzy Osbourne, Lemmy, Metallica, Iron Maiden (including getting a trip on Ed Force One courtesy of Bruce Dickinson), Guns N' Roses, KISS, Slipknot, System Of A Down and Meat Loaf. He is also probably responsible for 90% of all nu metal-related content making it onto the site.
"I learned that any innocent little comment can be twisted to make it seem something that it isn't": Mike Portnoy on his departure from Dream Theater
"I am overwhelmed with joy to be returning home and reuniting with my brothers!" Dream Theater announce the return of Mike Portnoy to the band after 13 years
10 rock anthems only played live once
Most Popular
By Holly Wright 24 October 2023
By Scott Munro 24 October 2023
By Matt Mills 24 October 2023
By Chris Wheatley 24 October 2023
By Fraser Lewry 24 October 2023
By Tom Bryant 23 October 2023
By Vicky Greer 23 October 2023
By Paul Brannigan 23 October 2023
By Dannii Leivers 23 October 2023
By Matt Mills 23 October 2023
By Will Marshall 23 October 2023
miss mephistopheles
Satan is a lady, your ultimate guide to the band ghost: history, character explanations & more.
If you follow me on any form of social media, you're probably well aware of how much I adore the band Ghost. I mean, at any given opportunity  I will discuss the brilliance of the puppet master, Tobias Forge, then go on a long probably-manic-sounding rant about why he, Tobias, deserves all the recognition in the world. However, since I am involved in majority of the Ghost forums online: tumblr, reddit, instagram, twitter, etc..I was living in this "Ghost bubble" that involved the belief that the entire world has a general understanding of things like " Tobias and the Cardinal are one-in-the-same" ; "Ghost is a satirical band", and so forth.
That was until I met the "band", and had to regularly explain to people who the "Creepy man holding me" is, I realized that the general population has no understanding of what/who Ghost is, which I find to be problematic. Therefore, I have taken it upon myself to write an in-depth guide on the band.
Ps: I will break this up into sections by album and then wrap up with my thoughts at the end; so it's easy for anyone that's just here to read about the albums and history of Ghost to find what they're looking for without too many of my annoying personal comments, you're welcome.
Who & What is Ghost?
Ghost is a occult-rock-act that formed 13-years-ago (2006) in the small town of Linköping, Sweden. Contrary to popular belief, Ghost is not a "band". Ghost is a one-piece act with hired musicians that are typically replaced faster than the frontman character (love you tobe). Ghost is simply Tobias Forge , the frontman for all different eras of Ghost, and former "Mary Goore" of Swedish death metal band Repugnant (also former lead singer of Subvision and bassist of Magna Carta Cartel).
Ghost is most known for their occult/black-metal theatrics and their captivating stage performances — and before black-metal fans start preparing to burn my flat down: NO, Ghost doesn't produce black metal music. The foundation of Ghost is this: A devil-pope and his servants (the Nameless Ghouls, and now Ghoulettes); that is the recurring theme of all, but one (their latest), albums and eras simplified. The most distinct feature of Ghost is their "uniforms"; The nameless ghouls wear identical masks and garments, while Tobias, concealed his identity under a full prosthetic mask and makeup that would create his demonic popes that have changed with every era of the band, thus far.
Papa Emeritus I (2008 – 2012)
Papa Emeritus II (2012 – 2015)
Papa Emeritus III (2015 – 2018)
Cardinal Copia (2018 – Current)
Despite the fact that the Nameless Ghouls were supposed to be nameless , fans began appointing nicknames to what is now known as the "original ghouls" (the ones who will later sue Tobias l-o-l).
Lead Guitar = Fire Ghoul
Bass = Water Ghoul
Rythym Guitar = Aether Ghoul (who later was called Omega and "stompy")
Keyboards = Air Ghoul
Drums = Earth Ghoul
The names came from the symbols that were labelled on their costumes; once the "original" lineup of Ghouls were fired from the band (2017); The new set of ghouls also picked up nicknames (which, honestly, I stopped paying attention to)
Up until late 2018, anonymity was the most compelling part of Ghost; a lot of people were initially drawn to Ghost for the mystery that came with this clandestine band singing rhythmic but heavy tunes about Satan and Hell. No one knew who they were, no one knew where they came from, but they couldn't look away from the "spooky" show. However, a few months ago Tobias "unmasked" himself on a Swedish radio show, and confirmed what all the more intense (*cough* me *cough*) already knew; Tobias Forge IS Ghost. The reason? Well, no one really knows what made him take the plunge, other than Tobias saying that the "mystery" could only stay alive for so long in this day and age of camera phones and instant communication, therefore  he would rather do the "outing" than have it be announced elsewhere.
But even I, as a big fan, was confused to how he chose to unravel it. He confirmed his identity on Swedish radio, then did American interviews in costume (but not Ghost costume) and then walked the Grammy's red carpet as Tobias Forge? People speculate that the expedited progress of him "unravelling the layers" has something to do with that pesky lawsuit by the previous Ghouls (Which I'm not going to talk about, so if you want to read that go on reddit.com/r/ghostbc then search tobias lawsuit and you can find a whole bunch of useless information on that).. But I guess we won't really know for sure.
Brief Explanation of the Ghost Storyline
For the first three albums, Tobias took on different incarnations and characters of Papa Emeritus. So far we have had a Papa Emeritus I, II & III. With their latest album we have also been introduced to Papa Nihil (aka Papa Zero) who is basically the devil-pope manager (also the Father of all the Papa's (Which, btw is not played by Tobias).
Papa Emeritus I fronted Ghost from 2008-2012, then in December of 2012 Ghost debuted "Secular Haze", as well Papa Emeritus II, as announcement for their sophomore album of "Infestissumam", in their hometown of Linköping. Three years later, in 2015, Papa II introduced the audience to his "younger brother", Papa Emeritus III, that would takeover the duties of trying to overthrow the Church and Government, as he [Papa II] had been fired for not succeeding in that goal not performing his duty of overthrowing the churches, this was the start of the Meliora era, which is what really made Ghost break into the hard-rock/metal scene.
In September of 2017, in Gothenburg (Göteborg), Sweden Papa Emeritus III was dragged off stage by two men, the men then escorted Papa Nihil introducing that the next chapter, and current era, will begin…
Fun fact: You can actually visit the dead Papa's at the "Veneration of Relics" when you purchase Meet and Greet passes for the current tour.
It was not until January of 2018 when we, the fans, learned of the release of Prequelle and were informed by the Clergy (which is basically the Ghost HQ) that we will not see a return of a Papa, at least not yet. In April of 2018, Ghost debuted Cardinal Copia to a private audience at a secret acoustic show, confirming to the fans that Ghost is no longer "controlled" by a Papa. The Cardinal is the first "frontman" and member of the Clergy to not be in the Nihil lineage. The Cardinal was brought in by Sister Imperator, who holds high title in the Clergy (however, still it still hasn't been revealed what her true purpose is in the Clergy – there has been hints that she is the mum of the Papa Emeritus'), to step in as the frontman of Ghost due to the fact that the Emeritus lineage is now all dead, and Papa Nihil is too old to "hit the stage" so-to-speak.
Papa Nihil is seen to be unsure of the Cardinal, despite the fact that Sister imperator insists that Ghost needs "a new leader with youth, stamina and sexual charisma", to which Nihil reluctantly agrees to simply because he wants to continue the Ghost mission of spreading the message of Satan.
Conclusively, where the band is right now is: The Cardinal is still fronting Ghost and touring the fourth and latest album Prequelle that was released in 2018. Tobias has recently declared that the fifth album and fifth era of Ghost will still be fronted by the Cardinal, which is rare for Ghost to keep the same character, and this is because Tobias shares that there is a chance that the Cardinal will graduate into a Papa!
The Albums & Their Concepts
This is starting to sound more like a soap-opera than a music act isn't it? Let's get to the real reason why this band holds my heart, the music. The music is actually a controversial topic with Ghost,  as a lot of "metalheads" tend to reject the idea of letting Ghost sit in the Metal genre; and a lot of elitists like to call Ghost "Scooby-doo chase music"…whatever the hell that even means. Part of the fun of being a fan of this band is that you always get new content; whether it be the music, the characters, the costumes, the plot, etc. To me, Ghost doesn't fall in a genre and that's why they are so damn special! One thing forsure is that you can't judge them by their appearance, and you definitely can never guess what kind of songs they'll release next.
Opus Eponymous (2010)
Back in 2006, when Tobias was still in his band Subvision (which includes members that will become some of the 'original' Nameless Ghouls), he wrote the song "Stand By Him" then got together with former Repugnant bandmate to record the song. By 2008, Tobias, and what would soon be a Nameless Ghoul, written and record "Stand By Him", "Prime Mover" and "Death Knell", and it was in this process the two decided to continue this satanically-thematics, but in a "theater band" format due to the fact they felt that their appearances would not be taken seriously with the songs. Using Tobias' love for horror films, and the traditions of Scandinavian black metal, he came up with the original concept of cloaked members for the "Nameless Ghouls", while he donned the character of "Papa Emeritus" in Papal regalia and corpse-paint-esque face paint.
Fun fact: Tobias offered the role of front man to several other Swedish musicians, because he wanted a more "behind the scenes" role of writing lyrics and music, and to only play guitar on stage. However, since too many people rejected the idea of being a "devil pope" Tobias had to do it himself, et voila, the rest is history!
March of 2010, Tobias posted the first three Ghost songs (as mentioned previously) to MySpace and in no more than two days, he was approached by record labels and managers! Ghost then proceeded to finish their album in Linköping and released their first single "Elizabeth" in June of 2010, then released Opus Eponymous in October of 2010.
The album reached number 50 Sverigetopplistan (The swedish version billboard charts), and already started to create a lot of buzz with their debut album, as Opus is everything you imagine a band like Ghost to create in terms of music. It's ominous, heavy, satanic and still manages to get your body grooving with those melodic hooks. Opus, is also the setting stone of Ghost's concept albums and is the foundation for where we are now in terms of "story line"
Thematically, Opus sets the band up to "unleash" the antichrist into the world, as the objective of the album is the "ritual and conception of the antichrist" and it isn't until the sophomore album of Infestissumam, where we actually get the antichrist.
Infestissumam (2012)
In February of 2012, "Special Ghoul" (which is Tobias dressed as a Nameless Ghoul when he does interviews, because the Papas didn't do interviews) announced that the band has completed writing and recording their second album. As mentioned previously, in December of 2012, in Linköping, Sweden the band played "Secular Haze" and their ABBA cover of "I'm a Marionette" before introducing Papa Emeritus II, announcing that he [Papa II] will be taking over the band as he [Papa I] has been fired from the Clergy.
This is the same time when Ghost faced a lot of backlash from the US, legally. First, they had to temporarily become Ghost B.C. in the US to avoid legal issues. Then, the US release date of Infestissumam had been pushed back due to the fact that no US manufacturing company wanted to press the albums due to the Blasphemous artwork on the deluxe CDs, companies complaining that it was "basically a 16th century Orgy". Alas, Ghost decided to change the album cover to prevent further delay, and reserved the "deluxe cover" for all European copies and vinyl copies in the US.
Infestissumam is the album that really made Ghost the "touring" band, as the band toured consecutively for two years straight (which is later exprssed by former Ghouls in the law-suit the begining of their discomfort with Tobias' direcction of the band). It was also with this album, that provided a lot of exposure to big American & English that allowed the band to pick up a large fan-base quite quickly!
In April of 2013 they played Coachella, then in July they played Lolla Chicago; which is actually quite significant considering in 2012 the band Ghost was still in their "scary" and more "intimidating phase".  In late 2013, they opened for Iron Maiden & Slayer, then Avenged Sevenfold & Deftones, and ended 2013 with opening for Alice in Chains in Europe.
In November 2013, Ghost released their cover-heavy EP If You Have Ghost which was produced by Dave Grohl. (Dave has also admitted to drumming for Ghost in costume a few times!)
In terms of Infestissumam's theme, this is the album in which the antichrist is finally born! The Clergy celebrates and prepares the anticipated movement of unleashing the antichrsit into the world, so they can take over the world. Musically, you can already tell that Ghost started to grow financially, in terms of production value, but you can also hear that Tobias found a footing for Ghost and their sound. He took out a lot of the straight "heavy metal" elements and watered it down with melodic, pop-touches. Which in no means is bad, in fact to me, it's actually perfect that this is album is a huge shift to their first album becuase it fits the thematics of the "birth of the antichrist" because this album is also the birth of "Ghost as we know it"
Meliora (2015)
In May of 2015, it was announced that Papa Emeritus II was fired for failing as a the role of leading antichrist pope for Ghost, due to not successfully overthrowing Churches of all religions, nor succeeding over the Governments of the world (how ambitious, eh?). While the buzz of the hype was still strong, Ghost released the single "Cirice" as a  free download on the band's official site as a sneak peek for Meliora, which was later released in August of 2015.
Meliora is truly the "breakthrough" album for Ghost in terms of international mainstream success, stage production, and thematic concepts; once Meliora hit the shelves, there was no turning back for Tobias and Ghost, as it truly made Ghost one of the biggest heavy rock bands of the decade. According to Tobias, though, all this success did not come with a cheap price, or a lack of effort. Tobias worked along swedish producer Klas Åhlund who is more well-known for producing pop music. He [Tobias] later reflects that  Klas' pop expertise had been the perfect missing touch that Ghost was missing for crafting the perfect "dark ABBA record" and sound that Ghost is now known to be.
Not only is this album huge in terms of sound, but as well as in theme. Meliora is about the antichrist and succeeding his title of the "almighty one" overthrowing God. As Tobias explained it (as Special Ghoul):  "The lyrics deal with the void that happens when there is no god, when there is no one there to help you. But even then, there will always be some f*cker there to give you guidance. And the band is basically portrayed as the religious party that comes in there with a guiding hand. We offer the one place in the world that is spiritual". He continues with, " the backdrop that we wanted to paint in front of which we're playing these songs, is supposed to be, a super-urban, metropolitan, pre-apocalyptic, dystopian futuristic image" which actually also reflects modern society.
To me, this album proved Tobias' brilliance in mastering a the skill of creating concept album. There is so many little details he thought of, from technicalities of the costumes, to the colour choices of the artwork, connections to their fourth album, that we as fans didn't even know at the time. Not to mention with having their biggest budget yet, Tobias was able to finally bring his dream of a doomy-clerical-rock album to life, and clearly Tobias vision payed off as the band won a Grammy for Cirice under the category of "Best Metal Performance" in 2016.
Prequelle (2018)
Prequelle is the fourth and most recent studio album by Ghost, and is the first album with Tobias' identity being public information. Since the public "kidnapping" of Papa Emeritus III in 2017 at their Göteborg show, fans had high expectations and anticipation for this record; building a lot of pressure on Tobias, as it is the first album where he could be personally criticized for the work of Ghost.
Tobias had Prequelle planned for years, he apparently started planning this album before Meliora, which is why it [Prequelle] seamlessly connects its predecessor. Prequelle is the plague after the apocalypse, literally. Tobias describes the album as "survival through a tumultuous time of your existence basically being threatened",  which, despite it keeping to the medieval theme of Meliora, it also reflects modern day issues of "the world is in sh*t, so you might as well hand it over to the antichrist".
Tobias went into this album to revolve around the concepts of "death and doom", which is why the central theme of Prequelle is the Plague and the Black Death, but he said it was important to balance it out with "mortality issues" such as memento mori and "seize the day" because the other half survived. These themes described also manifest personal issues in Tobias' life at the time of recording Prequelle, as this album was written and recorded while he was in the process of battling a lawsuit back home in sweden with the former Ghouls (and longtime friends). Therefore the theme of "memento mori", as Tobias put it, isn't just in regards to the characters he created, but for himself as well.
Despite the album's two Grammy nominations, this album received mixed reviews all across the board. On average, critics gave this album a 4.5 stars out of 5, whereas fans, on average, gave this album as 3 stars out of 5. Why? Most likely due its pop-centric tones. Previously, Ghost albums had pop-aspects but were still heavily hard-rock. However, this is what Tobias wanted, he wants Ghost to grow as an arena rock band, he wants to sell out stadiums and big tours, and he especially wants the radio-play, which is what he got with singles "rats" and "dance macabre".
Now that all eye and attention are on Ghost (this is a reference to their song Faith), Tobias had the monetary tools, as well as the, popularity tools, he needed to make Ghost this "hair metal"/"arena rock" band he envisioned Ghost to be 10 years ago back in Linköping, Sweden. It has the perfect mixture of pop, metal, hard-rock and well, even "dark ABBA", and it proves that Ghost is never what you expect them to be. With prequelle, Ghost embarked on their first ever arena show and even managed to sell out the Globen in Stockholm and played to a vast audience of 14,000 people! (and your girl was obviously at the show).
Moreover, one cannot ignore the the the special touches on this album, that Tobias went the extra length to add. From his daughter Minou Forge singing "ashes" on the opening track of the album, as well as proving the creative thought process that he [Tobias] very attentively created to fit the time-period details, such as Cardinal's appearance with the bubonic plague symptoms of the "racoon eyes". Tobias, once again, knoced it out of the park, and personally, I cannot wait to see where he takes Ghost next.
Conclusion & My Experience Meeting 'Ghost'
Conclusively, it's safe to say how much of a clever man Tobias Forge is, and how hard he worked to build this empire that is Ghost. Although I have only been a fan for 3 years, I became quickly sucked in to the world of Ghost that I opened this article with.
Ghost, and their music, has truly been my saving grace since the first day I stumbled across the video of their acoustic performance of "Jiglo Har Megiddo" at siriusxm, back in 2015. Emmersing myself in this universe Tobias has built has truly been a safe outlet and escape for some major struggles I deal with on a daily basis; which conveniently, is the main purpose of Ghost and its themes. Tobias wanted to create music, and a show, where people could gather for ~3 hours and forget the crazy f*cked up world that was waiting for everyone outside the venue.
Since discovering Ghost, all I've wanted is to be able to experience this "escape" of a show, however, Ghost hasn't been to the Northwest since 2014, and I therefore hadn't had a chance to see them live. Well , that was until I decided to say f*ck it and planned a trip to Stockholm to watch Ghost perform their biggest show to date, it was also their first show in Sweden in a while, and it was honestly the most wonderful experience of my life.
Not only did I get the opportunity to watch Ghost and be in the second row, I got to meet the Cardinal, aka the man who inspires me on a daily basis to keep writing (this is reference to how Tobias kept working at a Swedish phone company to be able to support his wife and kids, all the while working on Ghost, in hopes that one day Ghost would take off). Meeting the Cardinal/Tobias is all thanks to you guys, team interwebs, I got to meet the brilliant man (in character) and tell him all about how much he inspires me, and I even got to plug my blog to him.
To make this short and sweet: Tobias, aka the Cardinal, was the most humble and attentive musician I've yet to meet. I lost count of the amount of times he said "thank you for commuting all the way to Stockholm", he grabbed my hands and made sure to listen to every word I was saying, and when I gave him my business card to tell him that he inspired me to keep my outlandish dream of being a music writer alive, he apologize perfusively for not being able to read it properly (due to his mask and contacts). He hugged me twice and gave me multiple squeezes out of sincerty, he then promised the he would see me soon in my hometown.
Lo-and-Behold the promise has been kept and I will be seeing Ghost again this September, although not meet and greet again because I couldn't afford it, I'll be doing VIP GA and I will be bringing a big sign that says "thank you".
There are not enough thank you's that could be typed by my fingers or spoken from my lips for the man that is Tobias Forge. I am so grateful for his music and his dedication to his craft.
I hope this post was informative on the technicalities, but also on why I think Ghost is such a great band that deserves all the recognition and more.
Until next time Interwebs 🕸
Contact email: [email protected]
Enjoyed my writing? help me keep at it by donating to my paypal: [email protected]
Share this:
26 thoughts on " your ultimate guide to the band ghost: history, character explanations & more ".
This is great. I've been a casual listener of Ghost and tbh at first I couldn't understand why they were so popular. But now I get it. It's that mythology and intrigue that's been built around it, highlighted by the melodic, poppy metal. Great post!
Like Liked by 1 person
Thank you so much for reading! I hope you give their music more of a chance 🌟
Hey Darya! A dear friend who turned me on to Ghost sent me your article. Thank you for writing it, it helps new fans like me get even deeper into the myth and music of Ghost. I am a professional writer, and I want to encourage you to proofread your articles. Make it a habit! It will make the difference between a good article and a fantastic one. You are an excellent storyteller and your passion shows. Just polish it up a bit and the sky is the limit! Enjoy the show in September, I missed it when he was in Austin but will look into traveling 🙂
Ghostly yours, Claudia
Thank you so much Claudia! You are 100% right, I get excited and publish my articles before proofreading them..which even makes me cringe at times. However, I will definitely be making it more of a habit to proof-read a few times before publishing (maybe even get some friends to proof read), again, thank you for reading! Hope you do end up catching Ghost 🤘🏽
I really like some of their music although I've not listened to all of it. It seems weird to me that they play Ghost's music on the metal channels when they really don't sound all that metal to me. But what do I know? Lol. It's so cool that you got to meet them!! ❤
hahah I'm glad you enjoy some of their tunes!! thank you so much ! xx
Thank you for your lovely post and insight into the working of Ghost. I discovered this joy in 2017 after my husband died suddenly from a heart attack. It was a time when I appreciated looking forward to something new and fresh; something in which I could immerse myself. My daughter took me to my first ritual for my birthday this past November in San Jose, CA. I have tickets for the Seattle ritual in September as I live nearby. I am happy you had the opportunity to meet Tobias. His kindness, honesty, wisdom and vulnerability are so refreshing. The music is transcendent and surrounds me with joy and hope each day; maybe someday I can share my gratefulness to him too.
I'm so sorry to hear about your husband, but I find it so beautiful that you've been able to find solace in music, especially Ghost. Although I have yet to experience something as heartbreaking, I feel the same about Tobias and his music, the excitememnt of it brings me so much peace and happiness. thank you so much for not only reading but also taking the time to share.
I just started listening to them about 2 years ago. I am a huge fan. I had no idea they have been out as long as they have and i hadn't heard of them. I will be attending the spokane show up in the nosebleed seats but i dont care, ive got binoculars, lol. Great piece on the band!
Thanks so much for reading!! you'll have a great time no matter where yout sit! 🙂 ps: I'm thinking of attending that show too, I'm not too far from there!
I stumbled upon a Ghost Song (Faith, to be specific) and I really found myself enjoying it.. I'm not a massive fan of metal music (the sauciest I get is In Flames), so I really didn't know anything about Ghost. This article is perfect for peeps who want a crash course on the history of Ghost. Your passion for the music medium really shines through as well. Thank you!
Thank you so much!! I'm glad the article helped! 🙂
Pingback: The Sountrack for the 2020 Apocalypse: My Most Anticipated Records of The Year – miss mephistopheles
Great article! I remember searching for new Black Metal bands on Youtube and then i saw a recommendation of Ghost and in the thumbnail i could see Papa I and i said "a black pope? I have to watch these guys" the show started with that song from the movie "Eyes Wide Shut" and that really set mood for me, then Papa I comes out and "Conclavi con Dio" starts to play and that sound was so good that i was amazed and after they finish the song they started with "Elizabeth" which was even better, i've been a fan since then. I'm looking forward to see what kind of music Tobias brings to us in the Papa IV era.
I'm a recent convert to Ghost and have been obsessed with learning everything I can. This article is extremely helpful!
Thanks for reading!! 🙂
Pingback: SATANIC PANIC: The Best Occult Themed Rock and Metal Albums – miss mephistopheles
I first got excited about Ghost in about 2014 when I heard Ritual on a metal hammer cd comp. Infestissumam was the first album I bought and I first saw them live in Melbourne Australia 2015 with Papa II up front. Also saw them with Cardi C in 2019. I have 2 Ghost tattoos. Ghost are probably the only band I listen to on an almost daily basis. I just love everything Tobias has done under the name Ghost. I've converted quite a few friends and even my own kids lol Hell Satan!😈 NEMA 🖤👻💀🤘
I love that!! Thanks for sharing & reading 🖤✨
Excellent article btw!
I am kind of new to ghost I've heard of them thru the years but never sat down and listened. I finally sat down, I love this band. Thank you for this well written article. I am so drawn to this music its crazy
Yay I'm so glad the article helped! Welcome to the fun world of ghost 🙂
Hi! I just finished reading your article and it has helped so much! I've recently started getting into their music and was curious cause I had heard there was some lore but wasn't sure what it was. I've also been wanting to be more spontaneous in my adult life and actually got tickets to see them in August after I started getting into them more. Wish me luck!
Pingback: Thông tin thêm về band – Ổ Sìn Của Xuan Dieu
OK I am that person I had to find out more about ghost because I heard the chorus of Mary on a cross. I consider myself pretty edgy when it comes to music and not a massive metal type fan but the song was just too good to ignore and then find out more about the 'band' and let's be honest confusing history. Now after reading this I have context and understanding. So I thank you and over the next few months I shall be delving into their music more and more.
thanks so much for reading! glad it helped 🙂
Leave a Reply Cancel reply
Already have a WordPress.com account? Log in now.
Follow Following
Copy shortlink
Report this content
View post in Reader
Manage subscriptions
Collapse this bar
A guide to all of Ghost's guises through the years
Every incarnation of the Swedish rockers
Mimicking the iconography of the Catholic church but with a satanic edge, over the past 12 years Swedish occultist rockers Ghost have unveiled a series of striking guises thanks to proper horrorshow make-up and costumes.
Band frontman and lynchpin Tobias Forge has gone under a variety of character incarnations as his various Papa Emeritus characters, and in 2018 he was reborn as a completely different leader called Cardinal Copia.
And it's not just Tobias Forge – the leader is also flanked by a band of identical and highly enigmatic Nameless Ghouls in matching outfits who provide extra intrigue.
Planet Rock takes a look at every incarnation of Ghost since they burst to the fore in 2010 with their debut album 'Opus Eponymous' through to present day.
Ghost's different guises through the years:
Ghost's papa emeritus i.
Tobias Forge's Papa Emeritus, later known as Papa Emeritus I, was the Ghost frontman from 2008 to 2012 during the cycle for the band's debut album 'Opus Eponymous.' Pictured is Papa Emeritus backstage at Download Festival 2011. This is the first of two Papa Emeritus looks and features a red and black chasuble with upside-down crosses and a mitre with the black crucifix.
Papa Emeritus I – aka Tobias Forge – in his imperious live glory at Download Festival 2011. Ghost performed on the third stage (then known as the Pepsi Max Stage) on the Saturday.
A Ghost Nameless Ghoul
A blank-faced Nameless Ghoul dressed in black robes in 2011 during Ghost's European tour.
Towards the end of the 'Opus Eponymous' touring cycle in 2012, Papa Emeritus was tweaked significantly. Tobias Forge now wore white robes and mitre featuring an upside-down gold crucifix.
In keeping with their leader's image change, the Nameless Ghouls also wore all-white costumes with new Bauta masks.
Ghost's Papa Emeritus I and his Nameless Ghouls
Ghost leader Papa Emeritus I and his Nameless Ghouls band mates flaunt their new all-white guise in 2012.
Ghost's Papa Emeritus II
In late 2012, Ghost welcomed their second frontman Papa Emeritus II. Featuring more realistic skull face paint than his predecessor, Tobias Forge's second Papa wore black and green robes on stage with a silver and white mitre.
In keeping with the all-new Papa Emeritus II, the Nameless Ghouls also wore all black with Bauta masks.
A close-up at Papa Emeritus II's proper horrorshow face at Lollapalooza 2013.
Papa Emeritus II at Rock in Rio Festival, September 2013.
Ghost's Papa Emeritus II 'unmasked'
The identity of Papa Emeritus II himself Tobias Forge was still shrouded in mystery in 2014. However, for a 'Papaganda' interview with Vice magazine that year, Forge hilariously 'unmasked' himself as a bald Telly Savalas-like businessman with shades and a moustache. For some unbeknownst reason he also spoke in Italian. Comedy gold.
Ghost's Papa Emeritus III
Coinciding with Ghost's third studio album 'Meliora', in 2015 Tobias Forge unveiled his third Papa to the world - Papa Emeritus III.
Tobias Forge tweaked his make-up for Ghost's Papa Emeritus III. His papal gown was pure black with a white mitre featuring a gold inverted cross.
Ghost's Nameless Ghouls wore chilling silver devil masks for the 'Meliora' era.
A close-up of one of Ghost's Nameless Ghouls in 2015.
In early 2016, Tobias Forge introduced a second more stripped back version of Papa Emeritus III. Appearing at certain events and performances, the look featured a different outfit, white gloves and no mitre. Only the trademark make-up remained the same.
Ghost's Papa Nihil
On 30th September 2017, Ghost leader Papa Emeritus III was killed off on stage at Gothenburg venue Liseberg and his apparent elderly replacement Papa Zero (later known as Papa Nihil) shuffled on stage with a walking stick and breathing equipment. Ultimately, however, Papa Nihil wasn't the band's new frontman - he was actually the band's anointer (and a killer saxophonist to boot). However, in 2019, a young version of Papa Nihil appeared as Ghost's frontman in the 'Kiss the Go-Goat' music video, which was set in the 1960s.
Ghost's Sister Imperator
Sister Imperator is the head of the satanic clergy of Ghost and is the former lover of Papa Nihil. She was first introduced in the Meliora cycle and the 'older' version of Sister Imperator has been played by two actresses.
Ghost's Cardinal Copia
In April 2018, Papa Nihil anointed Cardinal Copia as Ghost's new frontman to mark the 'Prequelle' era of the band. Unlike his three predecessors, Cardinal Copia wasn't part of the Papa Emeritus lineage.
Wearing a latex mask, a variety of sharp suits and gloves, Tobias Forge was a lot more agile on stage as Cardinal Copia.
Ghost's Cardinal Copia and his Nameless Ghouls
A publicity shot of Ghost leader Cardinal Copia and his Nameless Ghouls in 2018.
Ghost's Tobias Forge unmasked
A rare photo of an Tobias Forge without his mask at the 2019 Grammy Awards in Los Angeles.
A Nameless Ghoul in a black devil mask on stage in 2019.
A young version of Sister Imperator in Ghost's retro 'Kiss the Go-Goat' music video in 2019. She's played by actress Liz Fenning.
Ghost's Papa Emeritus IV
On March 3rd 2020, at the last show of the Pale Tour Named Death, Cardinal Copia was anointed as Papa Emeritus IV. Note the subtle change to his face makeup. Pictured is Papa Emeritus IV in a publicity shot for Ghost's 'Impera' album in 2022.
Ghost's Nameless Ghouls
The 2022 incarnation of the Nameless Ghouls sees them don Star Wars-esque steampunk helmets and military uniforms.
Tobias Forge's 'stripped back' version of Papa Emeritus IV on stage in North America in February 2022.
Ghost guitarist Chris Catalyst
Following the final arena date of Ghost's European Imperatour in Hungary on 18th May, English guitarist Chris Catalyst shared a group photo backstage of the entire Ghost crew including himself standing next to Tobias Forge. Outing himself as a Nameless Ghoul, he wrote: "Amaaaazing tour with our wonderful Ghost family," Catalyst wrote. "I suppose that's that particular cat out of the bag. So great to be doing this again. Playing this fantastic music with these brilliant people makes me run out of superlatives. X"
Ghost guitarist Chris Catalyst masked.
22 Iron Maiden songs inspired by books
16 rock stars who paint
How to listen to Planet Rock:
Listen to Planet Rock on DAB nationwide, on our free app, online, via your smart speaker ("Play Planet Rock") and on Freesat, Sky, and Virgin Media TV.
Ghost: The True Story of Death, Religion and Rock & Roll Behind Metal's Strangest Band
"I have a hard time explaining what could have been. I just know that I was put in a situation where I felt that it was the time to do this because I have no choice anyway."
Tobias Forge is talking about the fact that he's speaking with Revolver as Tobias Forge. He's sitting in the upstairs lounge at a Los Angeles photography studio. He's wearing jeans and a leather jacket. He's sipping coffee. In the past, this scene would look very different. Forge would only be wearing street clothes if he were being interviewed over the phone. If we were talking in person — as we are now — he'd be wearing the full facemask and tailored tunic of a "Nameless Ghoul," the interchangeable stage moniker he gives to all of the musicians who play with him in Sweden's Grammy-winning occult-rock act Ghost.
Forge doesn't even look like a dude who might be in a band, much less a band like Ghost. He's got short hair. He's clean-shaven. He's well manicured. He's exceedingly polite. He speaks with a Swedish accent and could easily pass for a grad student at UCLA, albeit a particularly pale one. You'd never know that he's secretly into Satan. You'd never know the truth.
As Ghost's vocalist, songwriter and all-around mastermind, Forge dreamed up a successive string of satanic popes — Papa Emeritus I, II and III — one for each of the band's first three albums. The characters appeared onstage in skull makeup and three-cornered papal mitre, singing odes to Lucifer and songs about zombie queens, about imaginary schoolgirls with psychic powers, and about very real Hungarian countesses who bathed in the blood of virgins. But Papa never gave interviews. For press purposes, Forge would pose as a Nameless Ghoul instead. And now, on Ghost's fourth and latest album, Prequelle , a "new" frontman has emerged: Cardinal Copia.
Confused yet? Well, that's because it's supposed to be confusing — or at least misleading. For the first seven years of the band's public existence, Forge did everything in his power to preserve his anonymity. Obfuscation, denial and misdirection were the orders of the day. He was — and is — the rarest of rock stars: Rather than craving the spotlight, he actively avoided it. "It goes against the idea of being a person onstage: wanting not to be seen," he observes. "And that proved to be more or less impossible. So that makes the story a little different because we weren't building our brand on the indulgence of sort of masturbating in the personal cult."
But now some former Nameless Ghouls have filed a lawsuit. They're suing Forge for money they say he owes them. Naturally, his real name appears in the legal documents. As a result, Forge's astonishing run of anonymity has come to a close. His hand has been forced. He's been outed. But the devil, as usual, is in the details. "Once the spotlight is cast on you, you can either step out of it and hope it won't follow you, or you have to speak," Forge acknowledges. "But you have to do something because people are watching. And I definitely know that I'm too far from the shore that I started off from to not realize the severity of the situation. I felt like if this is as good as I think it is and what I've made people believe — and what people in turn have made me believe that it is, it should stand for a little bit of remodeling."
The "it" he refers to is Ghost. And the remodeling is extensive, cosmetically speaking. As of last year, Forge has an entirely new cast of Nameless Ghouls. Papa Emeritus III, singer on 2015's Meliora and 2016's Popestar EP, is no more. Cardinal Copia is the new frontman. Of course, Forge is the Cardinal. And he still writes all of Ghost's songs. But while many fans have suspected this for some time, now they know . "If there is anyone who's sort of questioning the new stance, [ Ghost ] is still based on the same modus operandi," he says. "The only difference is, I've sort of mentioned my name."
In the spirit of full disclosure: I've known Tobias Forge since April of 2013. That was when my band, Ides of Gemini, was the support act on Ghost's second North American tour. In those days, very few people knew the true identities of the group's members. As part of the tour arrangement, my bandmates and I had to sign a contract agreeing not to take photos of any member of Ghost while they were out of costume.
Of course, the band's fans signed no such agreement. Which makes what I witnessed on that tour all the more fascinating. On most nights, fans would wait by Ghost's tour bus after the show to meet the band and shag autographs. Forge and his bandmates would stroll out of the venue in their regular clothes, fully acknowledging that they were the men behind the masks. They'd shake hands, sign records and chitchat. Not once did I see a fan reach for a phone or a camera to snap a photo. Not once in an entire month, in 22 cities across the U.S. and Canada. And yet the social media age was well underway. The general public did not hesitate to post close-ups of the soggy burrito they ate for lunch, much less photos of an encounter with a prominent musician. But the folks who came to those gigs had no desire to expose anyone. They didn't want to demystify the show they had just seen. They wanted to share the fantasy.
Forge has a theory about this phenomenon. While other groups that came up during the early days of social media relied on those platforms not only for promoting the band itself, but for promoting the members individually, Ghost short-circuited this process by not allowing the individual members to publicly acknowledge they were even in the group. "[ Usually ] you have a band and then you have four or five members who are posting photos of everything that they're doing, and that combined creates this public image of the band," he explains. "And since that was obviously an absolute no-no with Ghost — still is — and we were overcompensating with an image, people started focusing on the image [ instead ]. And I guess they were appreciating the fact that we were creating this forum in which they could, in a slightly old-school way, imagine things rather than having it sort of smeared in your face the way that you would if you were a fan of a sentence-for-a-name band where you know everything [ and ] there's no secrets whatsoever."
PAPA COMES ALIVE
Ghost was born in 2006, when Forge wrote a song called "Stand by Him." A chugging, melodic paean to Satan that fused the metallic guitars of Mercyful Fate with the sunny vocal harmonies of Blue Öyster Cult and high liturgical atmosphere, it was unlike anything he'd written in the past. He called his friend Gustaf Lindström to help him record it. The two had played together in the short-lived death-metal outfit Repugnant, which at one point included future members of In Solitude and Tribulation. "Stand by Him" would later appear with English lyrics on Ghost's 2010 debut, Opus Eponymous , but at this early stage its words were in Swedish. "It sounded great, but I didn't really know what it was," Forge recalls. "Occult rock is now obviously a very common term but at that point [ the song ] just felt oddly attractive. I told Gustaf, 'If I can write two more like this, we can definitely call it something and do something with it.'"
In early 2008, the duo hit the studio to record the first three Ghost songs: "Stand by Him," "Prime Mover" and "Death Knell." "I write everything on drums and bass [ as well as guitar ], so I'd already sort of figured the songs out," Forge explains. "We had a drum station, a bass station, a guitar station and a vocal station and just circled around. At the end of that weekend, we had three songs recorded."
Immediately obvious: The material's satanic lyrics and vintage horror-movie vibe were at odds with Forge's choirboy looks. "This definitely does not sound like two dudes that look like you and I," Forge remembers telling Lindström. "With my other projects, I was definitely missing that horror aspect. For me, this needs to be a theater band. And if we're gonna do a theater band, we should be anonymous. It was completely juxtaposed to normal rock showmanship, I guess. It was very clear to me that we cannot just get a band together and rehearse and then go out and play live. We needed to maybe get a whole record recorded and release something and then maybe we could play at Roadburn."
He already had the band name. "We gotta call this Ghost," Forge recalls. "That was more or less simultaneous to the recording."
There was a snag, though: Forge had no desire to be the singer. He wanted to play guitar. "Even when I was a kid, I always sort of identified myself with Keith Richards and Slash more than the singers of the bands," he says. "And even though I absolutely adore Mick Jagger in 1982, the way he looked and the way he performed, I wanted more to be the guitar player who was cool and smoked a cigarette without coughing. And so I was like, 'These are just demos with my vocals.' They were gonna be guide vocals."
Forge's first choice for the vocalist position was Messiah Marcolin, former singer for Swedish doom masters Candlemass. But Marcolin turned him down. Forge then approached Mats Levén, a veteran Swedish vocalist who did a brief stint in guitar wizard Yngwie Malmsteen's band and has since become the latest singer of Candlemass. But Levén passed, as well. So did Christer Göransson of Mindless Sinner, Eighties metal heroes from Forge's hometown of Linköping, Sweden. ("He said, 'I have my own band and this seems a little bit goofy,'" Forge recalls.) So did JB Christoffersson of Grand Magus. Forge became Ghost's singer by default.
At the time, Forge was in his late twenties. He was married, with twin infant daughters. He worked at a call center for a Swedish mobile phone company. Ghost was his sixth band. "You can regard my life and say that not a whole lot happened before that," he says. "I had two kids and a social life and [ getting married ] was a big step in life, but career-wise and [ in terms of ] fulfilling yourself and touring goals, it was definitely 29 years of what felt like non-activity."
Then he posted the Ghost demos on MySpace. "This page we had was all very, very clandestine," he recalls. "I think it said 'Ghost,' but from what I remember, it was a picture of a cathedral in the moonlight and it just said 'satanic doom' or something like that — very, very simple. I really tried to narrow down the demographics so it was people [ who ] were into bands that I sort of figured that we were, in one way or form, similar to. That was anything from Blue Öyster Cult to Pentagram to Saint Vitus and that whole doom scene — Candlemass, obviously — Angel Witch, Demon … You know, anybody that liked dark rock with some sort of melody in it."
Within two days of posting the tracks, Forge was being contacted by record labels and managers from around the globe. "We went from absolutely nothing, a complete unknown — maybe 10 people in the world knew about it before that — and 48 hours later the band was already being approached by all kinds of people," he enthuses. "My career trajectory changed more in those 24 to 48 hours than I had ever experienced in my life."
Ghost premiered on March 12th, 2010. That's when Forge posted the first songs online. It's also the day his brother Sebastian died. "I didn't know at the time, but he had a heart disease that was, there's an elegant word for it that I don't remember, but apparently there's a condition where your [ heart ] muscles basically stiffen up," he explains. "So unfortunately, he passed away literally on the day Ghost went public. That night, my whole life changed."
A PORTRAIT OF THE ARTIST AS A YOUNG SATANIST
Tobias Forge is standing in a church. He's six or seven years old. He's with his mom. She works in a gallery. She appreciates art. She wants her son to appreciate art, too. "She was always very keen on taking me to churches," he explains. "She might say now in older age that she's sort of borderline religious, but back then it was just treating churches like museums."
One particular church in Linköping stood out. It was built in the 1500s. It was Catholic. It was creepy. "It had that evil feel, with a lot of old, scary paintings and big stained-glass windows and all that stuff I've sort of carried forth with me," Forge says. "It felt like a magical place. On the other hand, I think it triggered a lot of the opposition that made me, in my adolescence, so unquestionably throw my hands into the hands of Satan."
Of course, there were other triggers, as well — namely a wicked stepmother and an ill-tempered schoolteacher. "I didn't see my stepmother very often, maybe every other weekend," Forge explains. "I understand now that I was the kid that [ my father ] had from a previous relationship and I was an irritation in their new family, but she just happened to be religious, as well. And she was very strict. And sometimes she sort of did that in the name of Christ, which did not paint me a very nice picture of Christian people."
The schoolteacher was even worse. Forge was in her classroom for the first and second grades. She was in her sixties, bordering on retirement, and she regarded the era of corporal punishment in schools as a lost golden age. "She was very sour, very strict, very mean," Forge laments. "Had it not been for the fact that it was illegal, she would have definitely hit us. She was a no-bullshit sort of woman, but completely without humor. There was no charm whatsoever. What I remember is that she imposed a lot of religion classes on us — more than I think was according to the curriculum. She just represented this sanctimonious authority that I hated. And that in combination with the alienation I felt every other weekend going to [ my stepmother's ] home that was also sort of infiltrated by religion definitely made me run headfirst into the arms of the devil."
Luckily, Forge's older brother, Sebastian, was there to provide some rock & roll rebellion. "When I was three or four, my brother gave me a few records that I guess he bought for himself," he explains. "A Siouxsie and the Banshees record, a Kim Wilde record, a Rainbow record and a Kiss record. That was Love Gun and I was like, 'Whoa!' And he just said, 'Uh, you can have it.' Technically it was just staying in my room, you know, so it wasn't going far. He was very cool."
Forge says his childhood revolved around his mother and brother. But Sebastian was 13 years older. When Sebastian moved out at age 19, Forge essentially became an only child. "I've always spent a lot of time in my imaginary world with records and films and in books and papers and magazines," he says. "And maybe it goes without saying, but there was very little censorship in our home. There was a little bit of a guiding hand or someone explaining the horror film I'd seen on TV. It was like an explanation of what we're seeing: 'It's fake. That's not real blood.' So from very early on I had a very deep fascination with cinema."
By now, it's 1987. Forge is just six years old. But the key components of Ghost are already starting to converge. Rock bands wearing makeup? Check. Horror flicks? Check. A fascination with Christian symbols and architecture? Check. An ever-increasing sense of religion as a control mechanism? Double check. But you can thank his big brother for making the final connection between rock music and Satan — with an assist from Nikki Sixx. "Sebastian also gave me Shout at the Devil by Mötley Crüe," Forge explains. "That was a record that actually scared me. I loved it, but I found it very, very terrifying — especially the intro. A little bit later, I also started liking the Rolling Stones a lot, and with their discography you had 'Sympathy for the Devil' and Their Satanic Majesties Request ."
Wide-eyed screenings of a few of the Eighties' most entertaining satanic-panic movies followed, as did trips to the sci-fi bookstore in Stockholm, where Forge purchased a copy of the dubious black-magic grimoire, Necronomicon . By fifth grade, he was drawing upside-down crosses on his notebooks like the card-carrying hesher he had become. But he traces most of it back to Sebastian, who provided him with the building blocks for Ghost at a ridiculously early age. "My brother had an immense impact on me," he concedes. "He had a massive music interest, he always rented films. He had a lot of friends who were also in bands and so there was a great influx of teenage culture in our house. When I was three, he was 16, so I was exposed to a lot of things that you might not normally be exposed to when you're three years old. He was very kind and very caretaking and, I guess because of the vast age difference, he didn't object to me being around."
When Sebastian passed away unexpectedly on the exact day Tobias posted the first Ghost songs online, Forge felt a distinct transference of energy. "Ever since then, it's hard not to feel that there might have been some sort of universal trade-off, like he was just giving me a big push in the back and it hasn't stopped since," he ventures. "To take one loss and then you accumulate the worth of that and sort of bake it into, like, a power bun. You remember in Back to the Future III when he has those logs of wood that he spiked with some sort of shit that makes the locomotive move faster? So far it feels like that's how I've been able to sort of redirect. It's like a mental aikido."
RATTUS NORVEGICUS
If there's a recurring theme on Ghost's new album, it's rats — of both the long-tailed rodent and human-garbage varieties. Prequelle songs like "See the Light" and, uh, "Rats" feature Forge singing about the toothy little fuckers that carried the Black Plague through Europe during medieval times. But he's also talking about the proverbial rats of the here and now: politicians with the power to kick off the apocalypse, nuclear or otherwise. "I think that there's a similarity between today and what went on in the 1340s and 1350s in the sense that it feels like our world is just about to end," he says. "On a brighter note, that has happened many times. It happens as we speak: I mean, if you ask someone who is from Aleppo, he or she will probably tell you that his or her world just disintegrated. So the end of the world happens every now and then in someplace. But between Donald Trump, Vladimir Putin, North Korea, ISIS, the world economy, China and all these things, there's an overall sort of feeling that we don't know what's gonna happen."
That uncertainty is only exacerbated by the widespread regression of human discourse via social media. "For many, many years in modern life we prided ourselves on greater morals and being smarter than we were in the Middle Ages," Forge explains. "But I think that online mannerisms are very close to open-square stonings many hundreds of years ago when people were fucking barbarians."
He points specifically to online bullying. "Twenty years ago, before the internet and before social media, if you were a kid who was bullied, at least you had the luxury of being able to shut the door and leave the bullies outside," he says. "It was something that took place in the confines of school or [ on ] the way home from school. If you were spoken of in negative terms, it might not reach you, whereas now you cannot hide. You're constantly in the spotlight, open to anyone's spite. And I don't think that that's necessarily a good power to hand over to man."
Ultimately, then, the rats are us. "Rats are a disease-spreading enemy in great numbers that come from all over, that surround you," Forge offers. "Rats come from the sewer. They can come up from your toilet. They can come up through your sink. They're in your walls, if you're unlucky."
He's sure it's all leading somewhere, but Forge doesn't claim to have a crystal ball. "We're at a point where something needs to shift, but I don't have the answer," he concludes. "I don't think the world will implode or disintegrate, but I think that it needs to shift somehow. And it will."
There's another aspect to Prequelle that might not be immediately apparent: the age-old story of the master and the apprentice, of the older generation passing the torch to the younger. "That's why we have a new guy," Forge explains. "The Cardinal is not the boss. He's just the toastmaster. A cardinal is junior to a pope figure. We still have Papa Emeritus [ Zero, a.k.a. Papa Nihil ] but he's passing on. He needs to teach the Cardinal to become a pope, to earn his skull paint."
Forge says it was always the plan for Ghost to have a succession of Papas. Each one has a built-in term limit — kinda like presidents. "And then there was gonna be a moment in time where you have to sort of chew through a little bit of an underdog person that you might not like," he says with a laugh. "So we end up with this character that I'm not even fond of myself. He's new and he is an imposter and he hasn't proven himself yet. But if he does, he will become Papa IV."
As for the previous Papas, Ghost revealed in an April video that they'd been slain to make way for Copia; their bodies have been on display for VIP ticket-holders on the band's trek in support of Prequelle . "They're gonna be put back in use now on tour," Forge says playfully, "but slightly less animated than before."
It's all part of his grand plan. "Obviously Ghost and everything that comes with it is based very much on a rock fan perspective," he says. "It's my way of trying to procreate with rock history. I've achieved so many things now that 10 or 15 years ago were inconceivable. And I'm not at all talking about monetary gain. I'm talking about just merging with the night, like with a dream of whatever it was that I encountered as a child. That's still the thing I'm trying to capture."
Did PAPA EMERITUS IV play his final GHOST...
TOBIAS FORGE confirms GHOST are making a...
GHOST's TOBIAS FORGE picks favorite rising...
20 Greatest Comebacks in Heavy-Music History
25 Essential Thrash Albums
20 Essential Nu-Metal Albums
15 Essential Grunge Albums
Hail to the Kings: M. Shadows Interviews Hetfield and Ulrich
How Lamb of God Came Back After Randy Blythe's Arrest and Imprisonment
Florida Death Metal's Gory Rise, Groundbreaking Reign: The Definitive Oral History
Injuries, Pressure, Ciphers: Inside Alice in Chains' 'The Devil Put Dinosaurs Here'