Featured [more]
Information
Halloween Ghost Rubber Duck
Is is just a sheet on a rubber duck, or is this a duck who has not accepted his passing?
Dimensions: Bill to Tail: 2" W: 1.9" H: 2" Squeaker: No Sealed: No Swims upright: No Material: Vinyl Age recommendation: 3-99
One (1) Halloween Ghost Rubber Duck per unit.
Model: A4FE25/3027.1HalloweenGhost
Shipping Weight: 0.055lbs
16 Units in Stock
Notifications
This product was added to our catalog on Sunday 24 September, 2006.
Customers who bought this product also purchased...
Canadian Dollar
Mexican Peso
British Pound
Most Popular
Online Support
507 Main Street Chatham, MA
Ghost Rubber Duck
Write a review.
Create New Wish List
Description
If you have goals, you have to work for them. Our bodybuilder rubber duck knows this all too well and trains hard every day in the gym to keep his muscles and especially his six-pack. However, he turns all of this into a passion for sports and above all into a healthy and powerful body. Stemming weights is also his hobby and not just his job, but don't worry: he doesn't miss Cheat Day either, and occasionally treats himself to delicacies. Balance is very important.
Approximate Size: 3 W x 3.5 H x 3.5 L
1 Review Hide Reviews Show Reviews
Posted by rhonda l hayes on Oct 5th 2022
great gift idea for all ages
Related Products
Customers also viewed.
Small Ducks
Halloween Gift Bundle Small Rubber Ducks
Veterans Gift Bundle Small Rubber Ducks
Moltorcycle Gift Bundle Small Rubber Ducks
+ 1 reviews
Mardi Gras Bundle Small Rubber Ducks
Bauhaus Rubber Duck (Elegant Packaging)
Easter Bunny Rubber Duck (Chocolate Scented) by TUBBZ Collectibles
Bat Rubber Duck
Official Trolls Rainbow Troll (Yellow with Rainbow Hair) TUBBZ Cosplaying Duck Collectable
Skeleton Rubber Duck
Halloween Costume Gift Bundle Small Rubber Ducks
Scream Rubber Duck
Daffodil Rubber Duck (Elegant Packaging)
Frankeistein Rubber Duck
Jaws Bruce Rubber Duck by TUBBZ Collectibles
Subscribe to our newsletter, signup 10% off.
Register for our newsletter and you will receive email coupon to be redeemed at check out!
Where We Are Located
507 Main Street, Chatham, Ma 02633
Store Hours
Monday 10:00 am to 5:00 pm
Tuesday 10:00 am to 5:00 pm
Wednesday 10:00 am to 5:00 pm
Thursday 10:00 am to 5:00 pm
Friday 10:00 am to 7:00 pm
Saturday 10:00 am to 7:00 pm
Sunday 10:00 am to 7:00 pm
Worlds Largest Rubber Duck Shop
Check out the worlds largest rubber duck shop, it truely must be seen to be believed! Nothing says Americana better than a classic bath time buddy like a rubber ducky in your tubby! So bring a smile by gifting someone a classic rubber duck that keeps on giving. Our unique concept store located in the heart of Chatham, Cape Cod is become a destination for vistors from all over the world. Over 1000 styles of rubber ducks to choose! Read More »
Worldwide delivery starts at €7,50
Fast worldwide delivery
Service Hotline: +49 2405 4066580
Personal advice
The protection of your data is important to us!
Choose cookies & services according to your individual needs: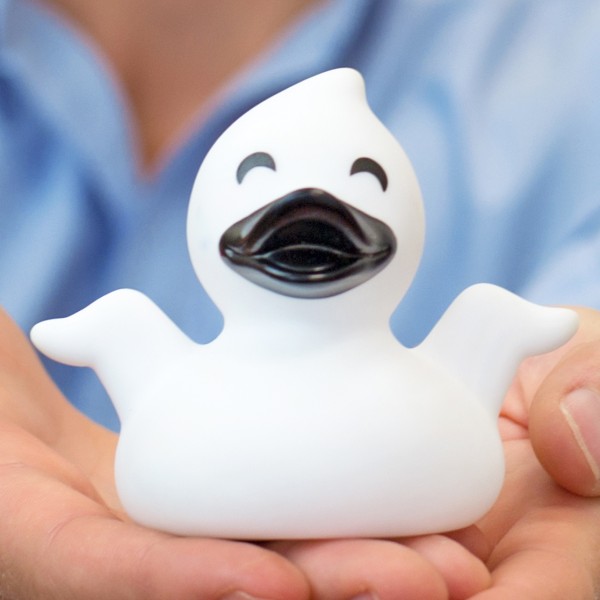 Ghost duck - design by LILALU
Delivery time approx. 1-3 workdays*
incl.VAT zzgl. shipping costs and without decoration
Boo! This ghost duck with its outspread wings makes you shiver, though it is really innocuous and even cute. Nice present for those who like frightening others a little bit.
Do you have any questions concerning this product?
Following is fun: