12 Pop Singers Who Didn't Actually Sing on Their Hit Songs
Here are all the times pop singers' vocals weren't 100 percent their own or were sung by someone else.
Apr. 20 2020, Updated 3:12 p.m. ET
These days, most people are pretty wise about how the music industry works. People don't expect pop singers like Britney Spears or Selena Gomez to write their albums, and yes, we all know their vocals are heavily edited in the studio and we rarely hear them sing live. But although we continue to lower our bar for pop stars, the one thing we expect is that they at least sing on their own records. Unfortunately, it appears a few singers can't even do that. From background vocalists singing half the record to choruses being sung by other people, here are all the times your faves' vocals were allegedly not 100 percent their own.
1. Jennifer Lopez: "Play"
Although Jennifer sings on the track, the entire chorus is actually sung by Christina Milian, who wrote the song before she was famous. After Christina found her own fame with "AM to PM," many fans noticed that the voice in "Play" sounded an awful lot like Christina's. "Oh yeah, I sing on the chorus," Christina admitted in 2016. "But I think that's a known thing." It's true that Christina is credited as a background vocalist on the track, but in the music video and in performances, Jennifer mimes to Christina's vocals, which is a little odd.
2. Jennifer Lopez: "Ain't It Funny (Remix)" / "I'm Real"
Jennifer strikes again, this time with two 2001 singles she recorded with rapper Ja Rule. However, similarly to "Play," "Ain't It Funny (Remix)" was originally written by Ashanti before she was famous. Just like Christina, her vocals were left on the track and it's actually her voice you hear on the chorus, not Jennifer's. Same goes for Jennifer's track, "I'm Real."
When Ashanti was asked in 2002 if she was the "ghost voice" of J.Lo, she cackled for a good second before diplomatically saying , "I [demoed] the record for her, which is done a lot in the music industry, and they left my background vocals on there."
However, in 2014, she was a bit more candid about the whole experience. "Ja Rule wrote ['I'm Real']," she told Blogxilla . "I wrote 'Ain't It Funny.' I demoed the record for her before I was signed to Murder Inc, and they kept my hook and some of the backgrounds and ad libs and stuff like that. It was bittersweet because I was really excited that it was J. Lo, but I was so mad a t Irv [Gotti] . 'YOU KNOW I WANTED THAT RECORD!' I was so mad but I was happy at the same time because it was J. Lo."
3. Jennifer Lopez: "Jenny From the Block"
For whatever reason, Jennifer just doesn't like singing her own choruses. Her 2002 single was originally demoed by vocalist Natasha Ramos. However, if you listen to Natasha's version of the song , the chorus sounds exactly the same as J.Lo's , which is kind of ironic considering the entire song is about "being real."
4. TLC: "No Scrubs" / "Creep"
Any fan of TLC's will know that the band never had a "lead vocalist." Some tracks featured Rozonda "Chili" Thomas heavily, while others were mostly Tionne "T-Boz" Watkins. However, two of their biggest hits, "Creep" and "No Scrubs," didn't have all three members on it. T-Boz didn't sing on "No Scrubs" at all , and Chili didn't sing on "Creep."
In fact, many fans have alleged that most of TLC's songs are actually just layered vocals by background vocalist Debra Killings. VH-1 declared back in 2013, "Debra Killings should be cited as the fourth member of TLC."
5. Britney Spears: "Britney Jean"
Although none of this has ever been confirmed, it is rumored that most of the tracks featured on 2013's Britney Jean were actually sung by her background vocalist, Myah Marie. Myah denied everything and mysteriously disappeared off the face of the internet. However, the demo tracks she recorded for Britney are all over YouTube , prompting fans to come up with their own theories.
6. Selena Gomez: "Same Old Love"
Her hit 2015 track was written and composed by indie pop singer Charli XCX , and it was originally supposed to be her song. However, for whatever reason, the track was handed to Selena, but many eagle-eared fans have noticed that the chorus sounds just like Charli's voice. Considering Charli is credited as a background vocalist, it's likely parts of the original demo version were left on Selena's track. It's really obvious when you listen to Selena perform the track live . Her real voice on the chorus sounds starkly different.
7. Zac Efron: 'High School Musical'
Zac is hardly the first actor to lip-sync in a musical (the most famous example is Audrey Hepburn), but when news broke that he didn't use his real singing voice in the first High School Musical movie, teenage girls everywhere were crushed. However, he redeemed himself when he used his real singing voice in the sequels. As for why he lip-synced in the first movie? Apparently, he struggled to reach the high notes.
8. Nicki Minaj: "Super Bass"
Know who Ester Dean is? Well, you should. She helped co-write "Super Bass" and sang the catchy chorus. However, if you ask most people, they think it's Nicki singing, "Boom, badoom, boom, boom, badoom, boom, bass." The song was originally released as "Super Bass (featuring Ester Dean)" at first, but once the single became a hit, Ester Dean's name was suspiciously taken off the title. She's still credited as a background vocalist, but her contribution to the track was definitely downplayed.
9. Michael Jackson: "'Monster," "'Hollywood Tonight," and "Breaking News"
A lawsuit filed in 2014 alleged that Michael didn't sing on three songs on the posthumous album that was released a year after his death. The woman who filed the suit claimed a sound-alike singer was used instead, and she accused Sony of fraud for releasing tracks that actually weren't sung by Michael. Even Michael's own sister LaToya told TMZ that "it didn't sound like him." As of 2018, the lawsuit is still pending.
10. Oasis: "Live Forever"
This is another claim that hasn't quite been confirmed, but according to message board rumors, the falsetto voice that sings, "You and I are gonna live forever" in Oasis' 1994 track isn't Liam or Noel's. Instead, the voice belongs to their producer, Owen Morris. "The only thing I remember of interest about ['Live Forever'] was that officially that high bit wasn't either Noel or Liam – it was actually me and Marcus [Russell, Oasis's manager]," Owen is quoted as saying on Oasis' Definitely Maybe DVD. However, many fans refuse to believe Owen, and some even claim that the producer was just joking. So although we can't confirm or deny this, you can check out the song for yourself and come to your own conclusion.
11. Black Box: "I Don't Know Anybody Else"
OK, let's take things way back. Black Box's singles "Everybody Everybody" and "I Don't Know Anybody Else" were staples of the early '90s club scene, and you've probably heard their music in the background of movies (like Sister Act ). However, there was a huge controversy surrounding the band that most people don't even know about. For one, the "singer" of the group didn't actually sing any of their songs. The woman was a French model the band hired to lip-sync tracks that were actually sung by Martha Wash. As Martha told Rolling Stone in 2014, she was paid a flat fee to demo a bunch of songs for the band. Except, she had no idea the band was planning to steal her vocals and use a skinny model to lip-sync to her voice.
The switcharoo was largely unnoticed — except for the few unlucky fans who saw Black Box live. The model's real singing voice was so comedically awful, in one particular performance (above), her mic had to be mercilessly cut off.
As for Martha, she later successfully sued and won. As a result, today, all record labels are now forced to assign proper vocal credit for albums and music videos.
12. Milli Vanilli: "Girl You Know It's True"
And of course, no listicle about "fake singing" can be complete without the duo that pioneered it. Back in 1990, Milli Vanilli won a Grammy for Best New Artist, but the group had to give the award back when it was discovered that the members didn't actually sing any of their songs. After immense backlash and several failed comeback albums, member Rob Pilatus died in 1998 of an alleged drug overdose.
It's a tragic story, but also a reminder that pop music is shady business.
Every Single Time Beyoncé Was Accused of Stealing From Other Artists
7 Singers Whose Hit Songs Turned Into Their Worst Nightmares
These Throwback Pop Culture Moments Would've Been a Bigger Deal If They Happened Today
Latest Entertainment News and Updates
ABOUT Distractify
Privacy Policy
Terms of Use
CONNECT with Distractify
Link to Facebook
Link to Instagram
Contact us by Email

Opt-out of personalized ads
© Copyright 2023 Distractify. Distractify is a registered trademark. All Rights Reserved. People may receive compensation for some links to products and services on this website. Offers may be subject to change without notice.

Entertainment & News
Career & Money
Health & Wellness
Love Quotes
Expert Advice
Radical Acceptance
search articles
find an expert
sign up for newsletter
Entertainment And News
Amber Riley Says She Acted As A 'Ghost Singer' For 'Big' Artists Who Can't Hit Their Notes — Fans Have Theories
Riley isn't naming who she was hired to "imitate" in the studio, but fans are on the case..
By John Sundholm — Written on Dec 07, 2022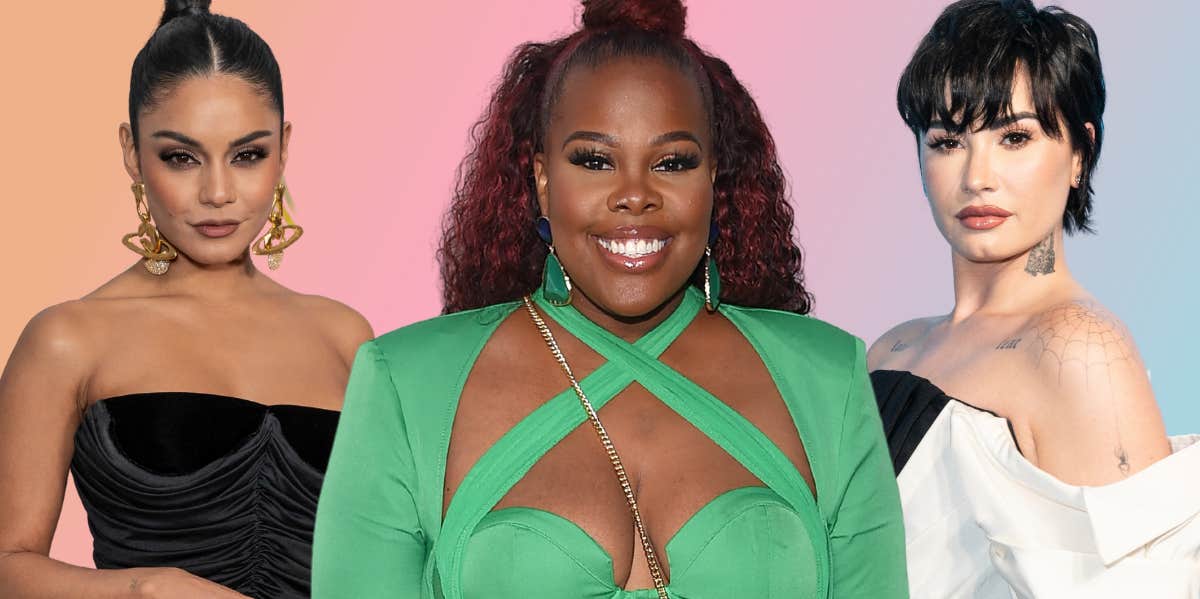 Actor and singer Amber Riley is known the world over for her powerful singing voice — and it turns out that voice may have been… let's say "borrowed" by other big-name artists on their hit songs.
During an appearance this week on "The Jennifer Hudson Show" following her big win on "The Masked Singer," Riley opened up about cutting her teeth in the music industry as a "ghost singer" back before "Glee" made her famous.
It seems that when certain artists couldn't quite hit their notes, Riley was one of the go-to vocalists called in to give stars' singing a bit of extra oomph.
And for fans, it all makes sense because many swear they've heard Riley's on the radio over the years where other artists' vocals are supposed to be.
RELATED:  Why Jennifer Lopez's Nanny Allegedly Quit After Just One Week Of Working With Her Two Kids
Which artists has Amber Riley acted as a 'ghost singer' for?
Riley didn't name names but her fans, who have grown familiar with her voice due to her own success, have some guesses.
The practice is an open secret in the music industry, but still under the radar enough that even Hudson herself claimed to have never heard of it.
Like many vocalists, before she was famous Riley worked regularly singing demos—early versions of songs that songwriters hope to sell to other artists to record themselves.
But it seems Riley's demos often became the finished versions after she was asked to "imitate" big-name singers—a practice known as "ghost singing."
RELATED:  Britney Spears' Former Makeup Artist Reveals The Moment That Her Fame Began To Take Its Toll
Riley says her voice was used by 'big name' singers who couldn't hit their own notes.
Asked to explain by Hudson, Riley said:
"Producers used to come and have me…do demos, but sometimes some artists couldn't do what I did in the demo, and they would have me come and imitate that artist to kinda fix vocals… It's like a ghostwriter."
Hudson then mentioned the common practice in music of sometimes blending demo artists' voices with lead vocals, and using demo artists to sing back-up on songs.
But Riley was quick to explain that what she provided was often much more than that.
"They used to try to like lie and be like 'oh it's just a background.' No it's not. It's lead. Like I know my voice when I heard it."
Even a veteran like Hudson who's attained the coveted EGOT—the rare feat of winning an Emmy, Grammy, Oscar and Tony Award—was so surprised she couldn't help but wag her finger and shake her head at the sketchiness. 
RELATED:  Mariah Carey Opens Up About Abusive First Marriage — 9 Dark Details About Her Relationship With Tommy Mottola
Fans suspect Amber Riley sang on some of Demi Lovato's songs.
Chief among them, pop star Demi Lovato . As one fan put it, "I know Demi Lovato can sing but I def think Demi Lovato was getting 'fixed' by Amber's vocals."
Of course, Lovato's pipes are undeniable, but in some live performances… well, they don't quite live up to Riley's standards, as another music fan pointed out:
"[O]nce these artists go live, they cannot hide. I remember Lovato screeching her way through some notes and getting visibly frustrated with the fact that she couldn't hit 'em. It wasn't you, honey!"
Shady, but when you're right, you're right. 
TikTokers had lots of theories too. 
RELATED:  Britney Spears Reveals Her 'Real Voice' In New Song — Inside The Theory That She Was Forced To Use Fake Baby Voice
After a clip of Riley telling her story to Hudson went viral on the platform, one user commented that "there are times where I can clearly hear Amber Riley in certain songs and I would be confused when it's not her! It makes sense!"
And several others were sure they knew who the culprits are. One called out of Vanessa Hudgens, commenting, "I knew that was her hitting the low notes for Vanessa Hudgens in ['High School Musical']."
Others name-checked everyone from Britney Spears to Rihanna as possible culprits.
But one theory, in particular, had TikTokers shook. A user pointed out that "you can hear amber clear as a bell" in Brandy's "Right Here (Departed)." The user claimed, "Idk if I'm trippin but I swear I can hear her, 1:30 start there!"
RELATED:  Eminem's Former Bodyguard Reveals Why The Rapper Is 'Terrified' Of His Ex-Wife
And lots of other TikTokers couldn't believe their ears. One reported that "You can hear her throughout the whole song," and another found the similarity so uncanny she couldn't help but go full all-caps about it. 
"I JUST WENT AND LISTENED OHMYGAWD YOU'RE RIGHT! ALL MY LIFE"
As Riley and many others pointed out, "ghost singing" is a common practice in the music industry, and scores of big-name artists are rumored to have started out the same way Riley says she did, including Mariah Carey  who was allegedly a ghost vocalist on Soul II Soul's song "Keep on Moving" and "Back to Life."
RELATED:  4 Reasons Why 'Glee' Star Chris Colfer Won't See Lea Michele In 'Funny Girl'
Bebe Rexha claims she sings the high notes in Rihanna's "Monster."
In 2017, Bebe Rexha shaded Rihanna  for supposedly using Rexha's vocals in "Monster" because she "can't hit those high notes."
But perhaps no artist is as legendary for using other singers' vocals than Jennifer Lopez .
She's known to have used demo vocals by Christina Milian, Ashanti and Natasha Ramos on three of her biggest signature hits, including "Play" and, ironically, "Jenny From the Block," and "I'm Real."
Only J.Lo could pull off such a trick on tracks about how genuine she is.
In the end, it's all worked out for Riley after a star-making turn on "Glee," a major Broadway career, and now as the winner of "The Masked Singer." Seems having actual pipes pays off in the end.
RELATED: 8 Strict Rules Rihanna Makes Her Assistants Follow
John Sundholm is a news and entertainment writer who covers pop culture, social justice and human interest topics.
International edition
Australia edition
Europe edition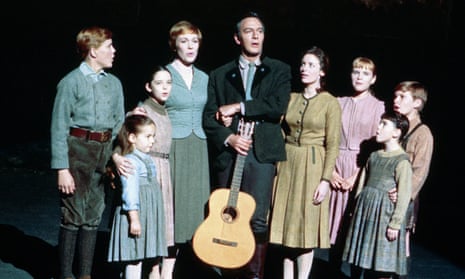 From Audrey Hepburn to Zac Efron: a brief history of dubbed singing in Hollywood
Christopher Plummer isn't the only star to discover his voice replaced in the movie's final cut
Christopher Plummer's singing voice included in rerelease of Sound of Music soundtrack
C hristopher Plummer was far from the only Hollywood star to discover his or her singing parts had been junked in favour of someone more mellifluous. Playback singers, or "ghost singers", were once widely (if secretly) used to dub tuneless actors – and they haven't quite disappeared. Here are some of the most notorious examples.
Rita Hayworth in Gilda (1946)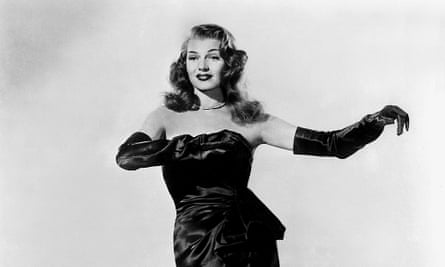 "Put the blame on Mame," croons Rita Hayworth 's sultry casino singer in the film noir, though we can in fact blame Anita Ellis, a Canadian singer who dubbed all her songs in the movie.
Debbie Reynolds in Singin' in the Rain (1952)

Some cheek this, given that the plot of the classic musical revolves around a ghost singer who isn't given credit for her performances. In truth, on several songs it wasn't 19-year-old Debbie Reynolds who was ghosting for Jean Hagen's movie star Lina Lamont, but the (uncredited) singer Betty Noyes.
Marilyn Monroe in Gentlemen Prefer Blondes (1953)
Monroe may have wowed audiences singing Diamonds Are a Girl's Best Friend , but it was playback singer extraordinaire Marni Nixon – who would go on to be nicknamed the "ghostess with the mostest" – who was hitting the high notes on her behalf. She can also be heard singing Deborah Kerr 's parts in The King and I three years later.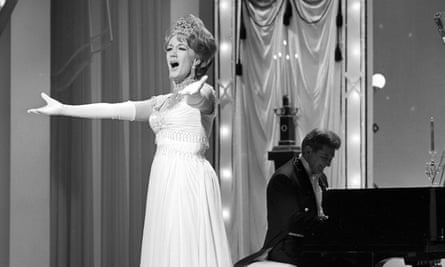 Leslie Caron in Gigi (1958)
While the soundtrack is arguably best remembered for Maurice Chevalier's highly questionable Thank Heaven for Little Girls, Leslie Caron also had a number of songs as Gigi, voiced by Betty Wand (who also sang some of Rita Moreno's parts in West Side Story).
Natalie Wood in West Side Story (1961)
Though Wood was not told throughout the filming of Bernstein's musically tricky score, the intention was always to replace her singing parts with Marni Nixon. It led to a tricky atmosphere on set, Nixon said ; Wood was understandably furious when she found out.
Audrey Hepburn in My Fair Lady (1964)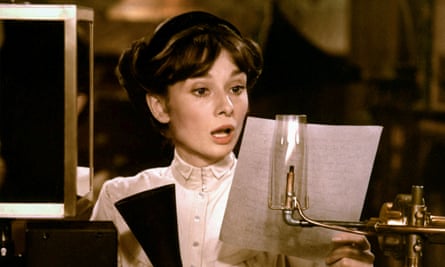 Nixon again, singing all of Hepburn's parts , and helping the movie win a best picture Oscar (as West Side Story had also done). "In the case of Audrey Hepburn, she was very smart and could say: 'I know this is not good enough,'" Nixon said later .
Peggy Wood in The Sound of Music (1965)
Plummer wasn't the only actor dubbed out of The Sound of Music: it is not Peggy Wood singing Climb Ev'ry Mountain , but Margery McKay. Notably, though, the film includes a rare on-screen appearance by Nixon as Sister Sophia ( that's her singing "a will o' the wisp" in How Do You Solve a Problem Like Maria?).
Zac Efron in High School Musical (2006)
Perhaps surprisingly, ghost singers haven't quite died off yet. It may come as a shock to some millennials to learn that it wasn't the preteen heart-throb Efron singing in most of High School Musical , but Drew Seeley. Efron sang on the sequels , though. "That was a very huge point for me," he said . "I had to put my foot down and fight to get my voice on these tracks."
The Sound of Music
My Fair Lady
Debbie Reynolds
Marilyn Monroe
West Side Story
Most viewed
Today's news
Skullduggery podcast
Conspiracyland
My Portfolio
Personal finance
Daily Fantasy
Horse Racing
GameChannel
Team apparel and gear
Shop BreakingT Shirts
Entertainment
Style and beauty
Privacy Dashboard
Grammy-winning metal band Ghost addresses 'satanic' accusations: 'There are other music styles that promote a way worse lifestyle'
The swedish shock-rock saviors' flamboyant frontman believes that "dark music, everything from gothic to death metal and black metal and hardcore" is a source of celebration and even salvation..
Oops! Something went wrong. Please try again later. More content below
Over the past decade, bombastic, theatric, operatic metal Swedes have become unlikely mainstream rock stars. They won the Grammy for Best Metal Performance in 2016 and have scored three nominations since then, most recently for "Call Me Little Sunshine" off their 2022 studio LP, Impera. That ambitious 12-song cycle — despite being a seemingly willfully uncommercial concept album about "demigod worship" and "the unescapable fails and falls of empires" after the Black Plague, and boasting Aleister Crowley-inspired cover art — managed to yield the band's first Hot 100 single, "Mary on a Cross," and debut at No. 2 on the Billboard 200. Impera also won two big fan-voted honors, Favorite Rock Album at the American Music Awards and Best Rock Album of the Year at the iHeart Radio Music Awards. And among Ghost's biggest fans is Def Leppard's Joe Elliott, who in a torch-passing moment contributed guest vocals to a new version of the Impera anthem " Spillways " earlier this year.
But not everyone's a fan. "We obviously are a polarizing band," Ghost's fearless leader Tobias Forge — alternately known as the diabolical priest character Papa Emeritus or Papa's panda-eyed successors, Cardinal Copia and now the Impera -era Papa Emeritus IV — tells Yahoo Entertainment.
Although Ghost's over-the-top, presumably tongue-in-greasepainted-cheek satanic imagery has always drawn detractors, as their fame has grown, so have protests targeting the band — including a bizarre one that took place in Midland, Texas, and made international headlines, during Ghost's "A Pale Tour Named Death" U.S. arena trek.
In November 2018, Larry Long, the pastor of the Fellowship Community Church, said Midland needed to be protected from the supposedly devil-worshiping group, warning a local CBS affiliate, "This kind of band will bring spiritual influences into this area. We're concerned about it, because we believe the devil is real, just as we believe God is real. … I think if [young fans are] singing along to those lyrics, who knows what in the world they're opening their hearts and lives up to?"
Ghost's Midland show went on as planned — and of course, the church's stunt only raised Ghost's profile in the United States. "At the end of the day, what [the Fellowship Community Church] caused was more tickets sold. So, thank you very much," Forge chuckles.
Still, although Forge says such outrage is "to an extent, amusing," he adds, "To a greater extent, I think it's sad . … I find it saddening thinking that there are people who don't know f***ing bad from good and shit from Shinola. I find it saddening that people would choose to stand out in the cold [protesting Ghost], thinking that they're making a difference. I think it's sad that people are wasting their time thinking that we're bad for people, when actually what we're really trying to do is make people happy and make people feel good about themselves when they come to our show and have a good time."
Although certain PMRC-baiting shock-rockers that paved the way for Ghost — Ozzy Osbourne, AC/DC, Judas Priest — have been accused of encouraging suicidal or homicidal tendencies among impressionable fans, Forge believes that "dark music, everything from gothic to death metal and black metal and hardcore" can, on the contrary, be a source of celebration and even salvation.
"There are definitely rock fans over the years that have done negative things toward each other and or towards themselves, but I don't think that's because of the music . That's because they were in a bad place in their lives," the good Papa stresses. "Actually, it might have even been the music that made them live so long, that kept them going. Hard rock, in general, does not promote that you should harm anyone. I definitely think there are other music styles that promote a way worse lifestyle, that you could look upon as being more negative. [Pop] music styles that promote a way of living that their fans will never have — when music is all about 'making it' and wearing 'bling-bling' and 'all them bitches,' and the idea that without that stuff you're nothing — that is a bad influence for your fans. At least with most gothic or hard rock music, it's about feeling good about yourself."
Forge instead sees Ghost as following in tradition of "the big shock-rock bands of 1984" that his much older, punk-rocker brother introduced him to when he was growing up in a liberal, pop-culture-savvy home in Linköping, Sweden. "The artists I immediately grasped onto were when I was 3 years old," Forge recalls. "[Mötley Crüe's] Shout at the Devil , [Twisted Sister's] Stay Hungry , KISS, stuff like that. My brother was so nice and just passed those records on to me, like, 'Here, you'll like this more.' I played them all the time. Then it just blossomed from there."
Now Ghost is being heralded as the imagination-sparking band serving the same purpose for today's rock-starved youth. "I do believe that there is a glimmer of hope in what we do with regards to the fact that there are a lot of kids coming to our shows. We are the first band that they see live. That is a really good thing, thinking long-term," Forge muses. "I don't mind being that glimmer of hope. I do believe that the more exposure we get, the more time that we spend in people's ears, I hope that the interest in analog rock will be kept alive or awoken or might find a way into kids of today. I guess we could be a little bit [for today's young fans] what KISS was in the '70s."
That being said, Forge is reluctant to accept the pro-Ghost media's proclamations that Ghost are the reigning saviors of rock 'n' roll. "I'd love for the mainstream music climate to steer back towards rock, and I'm sure it will at some point. But does that mean there will be image-driven shock-rock bands, as far as a movement? I don't know," he says. "I do believe that the rock bands that will be big in the future are the ones that are being formed by kids, the 18-year-olds, today, right now. They are the ones that will rock the future, because that's how it always is. The bands that will be big in five or 10 years, when there might be a big domination of rock again, will be bands that we most likely don't know as of right now."
But those bands, as Forge hints, may very well be Ghost disciples, because today's kids, despite the handwringing of concerned conservatives like Long, are loving Ghost's epic live shows on their current "Re-Imperatour" — in which a Pope-robed Papa IV, flanked by Victorian-jacketed, steampunk-helmeted, and occasionally keytar-wielding Nameless Ghouls, performs dystopian anthems like "Imperium," "Rats," "From the Pinnacle to the Pit," "Year Zero," "Mummy Dust," and "Dance Macabre" in a rock 'n' roll church bedecked with inverted crosses.
As the tour climaxes next week with two shows at Los Angeles's Forum , the nearby Grammy Museum will even launch the Ghost Devotional Pop-Up for the band's especially faithful flock — complete with confession booth where fans are encouraged to "bare their souls about why they think Ghost are the best rock band in the world!" Ghost's imagery and themes may be alarming to some, but it seems the rock kids understand.
"The biggest misconception [about Ghost] is that the lyrical content is being provocative because it's about God. And it's not. It's not about God at all," insists Forge. "It's about man , mankind. I use language and analogy to make it seem that it is about other things, but the songs are usually, they are about very real things. Sometimes I think it's almost laughable to the point of annoying that protesters are just picking up on the literal meaning.
"There are many misconceptions about who I am or how I think, and of course it's annoying. But that is just part of being in a band nowadays. If I didn't want any of this, I shouldn't be in a band. But I want to do this. I want to rock."
Read more from Yahoo Entertainment:
'I think they really do worship the devil': Texas pastor leads community in prayer ahead of heavy metal concert
Paul Stanley and Gene Simmons remember KISS's failed, 'delusional' concept album 'Music From "The Elder"': 'We sold six copies'
Bassist Rudy Sarzo remembers Ozzy Osbourne's bat-biting, 40 years later
How Rob Zombie grew up to be 'Alice Cooper, Steven Spielberg, Bela Lugosi, and Stan Lee'
The 'sleazier, more extreme Village People': How KISS associates Skatt Bros. created the ultimate hard-rock Pride anthem
Follow Lyndsey on Facebook , X , Instagram , Amazon
Recommended Stories
Arkansas state university student alandria maddox wins homecoming queen and makes history as first black woman drum major.
"Alandria Maddox is an exceptional student and an integral part of the drum majors that lead the Sound of the Natural State." The post Arkansas State University student Alandria Maddox wins homecoming queen and makes history as first Black woman drum major appeared first on In The Know.
I write about kitchen gear for a living, and this is the stainless steel cleaner I use
I can't wait to impress holiday guests with my dazzling, streak-free appliances.
The 5 boot trends everyone will be wearing this fall and winter
Add a pair to your shoe collection. The post The 5 boot trends everyone will be wearing this fall and winter appeared first on In The Know.
25 body washes that smell so good they basically double as perfume
It's so easy to turn your mildewy shower into a luxe spa experience at a tropical resort.
Spurs' Victor Wembanyama nails Halloween costume, shows off Slender Man ahead of wild win over Suns
Victor Wembanyama enjoyed his first Halloween since entering the NBA, and picked the the perfect costume.
'The Simpsons' may have dropped another prediction — and if it comes true, the world may one day tweet again
With its impressive record of writing zingers that come to pass, "The Simpsons" makes a bold prediction about Elon Musk and that poor little blue bird.
Nicolas Cage says his Superman cameo in 'The Flash' looked nothing like what he filmed, calls AI 'inhumane'
"Dream Scenario" actor details his three-hour experience on set of DC's troubled release, which featured various digitally created cameos.
Liz Phair recalls breaking into 'cold sweats' a week before revolutionary, sexually explicit 'Exile in Guyville' release: 'Oh, f***, what have I done?'
The voice-of-a-generation artist has no regrets 30 years later, but admits when she realized her parents would hear her landmark debut, particularly "Flower," she wanted to stop it from coming out.
Texas A&M's Shemar Turner ejected for punching Ole Miss player in the groin
Turner blocked a field goal that was returned for a TD before his ejection.
2023 Dodge Challenger Black Ghost Road Test: Homage to a ghostly legend
A road test review of the 2023 Dodge Challenger Black Ghost muscle car coupe with V8 power and throwback 1970s design cues.
Studies in American Indian Literatures
"Resting in Peace, Not in Pieces": The Concerns of the Living Dead in Anna Lee Walters's Ghost Singer
Rebecca Tillett
University of Nebraska Press
Volume 17, Number 3, Fall 2005
10.1353/ail.2005.0077
View Citation
Additional Information
Project MUSE Mission
Project MUSE promotes the creation and dissemination of essential humanities and social science resources through collaboration with libraries, publishers, and scholars worldwide. Forged from a partnership between a university press and a library, Project MUSE is a trusted part of the academic and scholarly community it serves.
2715 North Charles Street Baltimore, Maryland, USA 21218
+1 (410) 516-6989 [email protected]
©2023 Project MUSE. Produced by Johns Hopkins University Press in collaboration with The Sheridan Libraries.
Now and Always, The Trusted Content Your Research Requires
Built on the Johns Hopkins University Campus
This website uses cookies to ensure you get the best experience on our website. Without cookies your experience may not be seamless.
Every Member Of Ghost Explained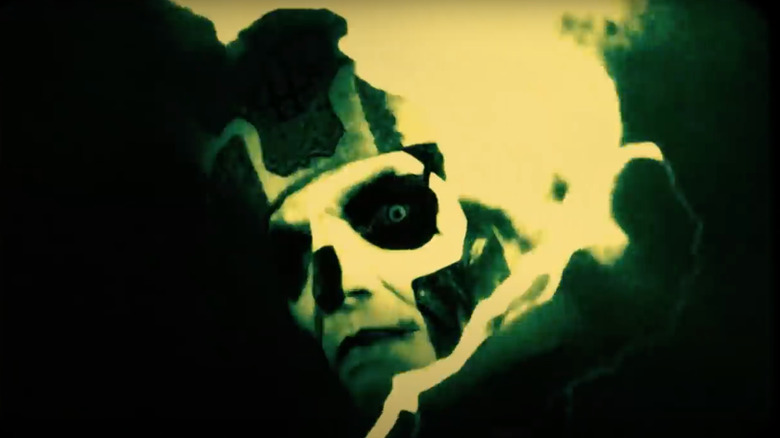 Ghost is not just a metal band — they are an entire phantasmagoria, haunted by the lore and rumors dreamed up by their lead singer and mastermind, Tobias Forge. 
Forge, who grew up in Linköping, Sweden, took on his brother's obsession with rock and amassed an enviable collection of metal magazines before he was 10 (via Los Angeles Times ). He got into the underground metal scene in his teens. He looks back at that time as having been deeply immersed in death metal and black metal, but those genres were hardly his only inspirations. As Total Guitar says, he was inspired by everything from Black Sabbath to Blue Oyster Cult and even ABBA (they are part of his Swedish heritage, after all).
Ghost started out with an inverse Pope who worshipped the devil and was often surrounded by his Nameless Ghouls. That Pope, Papa Emeritus I, was mysteriously killed off only to be replaced by his successor, Papa Emeritus II. The inevitable happened again: Forge (the only one behind those corpselike faces) buried the Papas for a while and performed as Cardinal Copia, who was eventually anointed as another Satanic Pope. But listen closely, because the lyrics are far from a musical black mass.
"The lyrics are not about God. They're about man," Forge told the Los Angeles Times. "We are, at the end of the day, an occult, pop, satanic sort of rock 'n' roll band meant to entertain a group of people who are already down with that stuff."
Papa Emeritus I (2010-2012)
Papa Emeritus I was the first demonic Pope character of Ghost who emerged with their premiere album "Opus Eponymous." It was the moment church went metal.
The skull-esque makeup, mitre, and robes adorned with upside-down crosses — which all the Papa iterations would wear in one form or another — were the brainchild of lead singer Tobias Forge. The Los Angeles Times observes that Forge had a different approach to occult metal as opposed to the expected chorus of screams and swears and explosive guitar riffs. He delivers the lyrics of a black sermon with a hypnotically melodic voice. Ghost first formed in 2006, and the release of "Opus Eponymous" in 2010 saw the emergence of the first of a line of anti-Popes blessing (or should it be damning?) the stage (via  Ghost Cult Magazine ).
The vestments of Papa Emeritus I are mostly black, crowned with a silver mitre and slashed with red panels glittering with the repeated Cross of Saint Peter. Watch Forge perform as Papa I singing "Death Knell"  at a 2011 concert, and it is clear he goes beyond just throwing on a costume to embodying the character — though the costume is a spectacle in itself. His hand motions appear to be leading a blasphemous mass as he walks solemnly across the stage.
Papa Emeritus II (2013-2015)
As "Opus Eponymous" gave way to the band's second album, "Infestissumam," Papa Emeritus I was overthrown by Papa Emeritus II. The successor to Emeritus I appeared with an even ghastlier face and more elaborate vestments that were almost completely black, with the only flashes of heavenly light coming from his silver mitre and ornamental inverted crosses. According to  Seattle Weekly , "Infestissumam" is an album devoted to the mythical birth of Satan. This disturbed some printers to the point that they actually refused to print the album art for the deluxe edition, which features — among other unholy things — a throwback to the 16th century in the form of a massive Renaissance orgy. It was because of this that the release ended up being delayed.
Forge was still anonymous at this point — as anonymous as the Nameless Ghouls who made up the rest of the band. In the middle of 2014, one of the Ghouls leaked the impending replacement of Papa Emeritus II to Louder  as the "Infestissumam" cycle came to a close and teased possible candidates for the Papacy. The Ghoul in question was referring only to the character and not Forge himself, but remember that Forge still cloaked himself in anonymity during this era. Deepening the mystery was the mention of the band considering candidates when the only ones to be considered were coming into being in Forge's imagination. Blabbermouth.net  gave away that Papa Emeritus II was last seen, appropriately enough, holding up a coffin lid on the cover of Sweden Rock Magazine.
Papa Emeritus III (2015-2017)
Papa Emeritus III is actually supposed to be the younger brother of Emeritus II, born only three months later — how that works out biologically remains a mystery (via  Louder ). This Papa's skull face is more abstract, and his papal robes are slashed with purple, a slightly less nightmarish departure from his predecessor. Metal Insider announced the transformation in 2015 when Ghost supposedly recruited Papa III for their latest album, "Meliora." When Forge still went unidentified, the band wanted fans to believe that each Papa was a new singer rather than a different persona their only lead singer conjured up.
Another Nameless Ghoul told Loudwire that the succession of Papas was not unlike different actors playing the same role. That same Ghoul went on to say that the imagery and music of Ghost are inextricably linked. The band had no visuals when they put out their first EP, but their ghoulish image soon followed. In another Loudwire interview, Forge himself admitted that he had a reason for killing off previous Papas. While they all succeeded, and he never had a favorite, he needed to keep his audience (and himself) engaged somehow. "If we just continued with Papa to Papa to Papa to Papa, that would grow very boring," he said.
The Papa characters vanished temporarily after Papa III's "death" (though they are briefly seen as corpses in the "Chapter Three: Back on the Road" video). In a move that almost seems sacrilegious, the next frontman of the band was a mere cardinal.
Papa Nihil (2017-2020 and 2022-present)
Also known as Papa Emeritus Zero, Papa Nihil is the most ancient Papa character, and he first appeared at a Gothenburg concert and announced, "The Middle Ages begin now."
Papa Nihil has the sunken face of a mummy and the gilded robes of an archangel. He always seems to be on his last breath, shambling onstage with a walking stick in one hand and an oxygen mask over his mouth, according to Kerrang . This Papa is a central character in Ghost's promo videos from his wheezing entrance in "Chapter One: New Blood," where he insists his bloodline goes back generations upon generations, to his remembered '60s youth in "Chapter Eight: Kiss the Go-Goat".
The videos unravel Nihil's backstory, revealing that he was once a rocker in '60s Los Angeles. As Kerrang also remembers, the band supposedly played their first gig — to promote their new EP "Seven Inches of Satanic Panic" (released by Galaxy Recordings) — at the Whiskey-A-Go-Go Bar right on the Sunset Strip. "Seven Inches" was Ghost's actual 2019 vinyl record, which his aging fingers revealed at the end of "Chapter Eight," as he claimed it was time to rerelease the EP that gave his band their big break in 1969. He appears on the cover as a psychedelic nightmare.
Inevitably, Papa Nihil went on to die like the others, but unlike them, he was eventually resurrected. Planet Radio named him as the band's official anointer and saxophonist.
Cardinal Copia (2018-2020)
The poster ghoul for the album "Prequelle" wasn't an undead Pope but a cardinal sans white face paint, though still rocking the look of blackened eye sockets. Cardinal Copia has no relation to the exalted bloodline of the Papas. This is something Papa Nihil keeps endlessly complaining about starting in "Chapter One: New Blood."
As Loudwire observed, the video "Chapter Seven: New World Redro" is an homage to Stephen King's "The Shining." Papa Nihil repeatedly types, "All work and no play makes Papa a bad dad," while Cardinal Copia navigates the clergy headquarters — already a shadowy mausoleum — on a tricycle and runs into the same sorts of terrors Danny Torrance encounters in the movie. Notably, there is a pair of twin girls who walk on either side of Papa Nihil in some of the videos. They channel those creepy twins that beckoned Danny to come play with them by having them materialize in front of the Cardinal and try to get him to join in a ghostly game of Red Rover before they suddenly vanish.
Forge started rumors that Cardinal Copia could survive for more than one tour, as he told Australia's "The Music" podcast (via Loudwire ) in 2019. "Right now, if everything goes according to plan, we're hoping for Cardi to be strong enough and cool enough to possibly do something that none of the previous ones have done, and that's basically to do two cycles," he explained.
Papa Emeritus IV (2020-present)
Turned out Cardinal Copia escaped the fate of death to be reanointed as Papa Emeritus IV. No wonder he inherited Cardinal Copia's eye makeup.
Though Tobias Forge previously said he wasn't going to create any more Papas, he morphed Cardinal Copia into one. The unholy anointing happened during a 2020 concert in Mexico City, which also marked Forge's 40th birthday (via Revolver ). The transformation is captured in Ghost's "Life Eternal" video, in which a clip of Cardinal Copia somberly walking down the hall of the Clergy's mausoleum headquarters gives way to legions of adoring fans with and without makeup and masks (and sometimes mitres). The video ends in an explosion of smoke and confetti that makes way for the newly mitred Papa.
Papa Emeritus IV is the flashiest Papa character yet, with jewel-encrusted vestments decked out in gold thread. He went from Cardinal to Pope to usher in the era of Ghost's latest album, "Impera", according to Distorted Sound Magazine . Kerrang announced an epic crossover when Iron Maiden made this Papa a character on their "Legacy of the Beast" mobile game. Forge himself is a Maiden fan — something he focused on in a 2018 interview with Loudwire  — and has even toured with them. "There's a lot of cross-pollination between Iron Maiden and Ghost nowadays," he told the outlet. "They have been extremely important for my whole reason wanting to be here and the reason why I've gotten to the place where I am now."
Omega (Martin Persner, 2010-2016)
Ever wonder who those spooky masked figures behind Papa (or Cardinal Copia, depending on the era) are? The Nameless Ghouls of Ghost had their identities set aside for more emphasis on the music and the mythos that Forge created for the Ghost universe. Ghouls have come and gone — but at least some have been revealed.
Guitarist Martin Persner was one iteration of the Nameless Ghoul known as Omega, according to Metal Injection . The former bandmate of Forge's — who played alongside him in Magna Carta Cartel pre-Ghost — was also the first Nameless Ghoul to reveal his human form. Initially, there was skepticism surrounding whether he was telling the truth since his face always remained hidden behind some sort of mask. But the rings he wears in the video announcing his parting ways with the band in 2017 are the same as those Omega wore up until then.
"I wrote some songs [for Ghost], but mostly it was [Tobias's] own songs, and I would come along, maybe, and say, 'Oh, it should be like...' and we would fight — as always," he told GoetiaMedia . Why Persner gave up Ghost may always be a mystery. He gave a cryptic response when asked the question, telling GoetiaMedia that he would rather not talk about it because it was too personal and only let on that "something horrible happened."  Loudwire found out that Persner resurrected Magna Carta Cartel and has been with them since his exit from Ghost.
Aether (Chris Catalyst)
Chris Catalyst is the face behind the Nameless Ghoul, otherwise known as Aether. The former Sisters of Mercy guitarist, who has also played with bands such as Terrorvision, Ugly Kid Joe, and Ginger Wildheart, recently unmasked himself on Twitter after Ghost's European Imperatour (via  Planet Radio ). "Amazing tour with our wonderful Ghost family," he tweeted. "I supposed that's that particular cat out of the bag."
The entire band is unmasked in the group photo he tweeted (along with the members of supporting acts Twin Temple and Uncle Acid and the Deadbeats). If you really zoom in, you can see him flashing a peace sign over Tobias Forge's right shoulder. The face to the left of Forge is thought to be guitarist Per Eriksson, formerly of Katatonia and Bloodbath, whose Ghoul alias would be Fire if he really is one of these creatures. There has been no confession from him yet.
Some ex-Ghouls left the band with a lawsuit, as Blabbermouth reveals. In 2017, four of them sued Forge after being fired because they believed he was breaking a partnership agreement by withholding their share of the profits. It was this lawsuit that gave away Forge's identity after years of going incognito behind heavy stage makeup. Some of the Ghouls in question — Air and Water — eventually formed the cyberpunk band Priest.
When the Colorado Springs Independent (via Blabbermouth ) asked Forge whether he could have dodged that lawsuit by making the Ghouls' identities known, he said he believed so.
The Ghoulettes (2018-present)
The Nameless Ghouls were all male until 2016, when two Ghoulettes were introduced to the band. As MetalSucks remembers, the identity of the first Ghoulette slipped when a finger tattoo identified her as bassist Megan Thomas of all-female Led Zeppelin tribute band Lez Zeppelin, who had also been missing from concerts for no apparent reason. How long she stayed on with Ghost is unknown. As of 2018, the PRP noted that another Ghoulette had joined the lineup because of a telltale mask style.
The Ghouls started out as faceless and genderless beings in hooded black robes. When Papa Emeritus I swapped out his black vestments for ghastly white, the Ghouls did the same, with masks that covered their entire faces except for two eerie eye holes (via Planet Radio ). With the rise of Papa Emeritus II, they were back in black, with black leather masks covering all but their eyes. The Ghouls backing Papa Emeritus III wore mouthless horned demon face masks. It was the shinier versions of these chrome masks that appeared in 2018, which had female versions that featured longer molded "hair."
Ghoulettes now touring with Ghost are thought to be Cirrus and Sunshine — aka Laura Scarbourough of Diamond Kobra — and musical theatre performer Sophie Amelkin  (per  Planet Radio ). Their suspected identities haven't been officially confirmed or denied. Forge's inspiration for the current post-apocalyptic Ghoul masks were the (once again genderless) Tusken Raiders of "Star Wars," as he told Revolver . He was into the dead look.
Sister Imperator (2016-present)
Supposed nun Sister Imperator is the forbidden lover of Papa Nihil in Ghost lore — whatever vows these members of the clergy took evidently did not involve chastity. Sister is the only main character who does not play with the band. Her main role is to build mystery and anticipation in Ghost's music videos and series of promo videos, and according to Revolver , Forge uses her to do just that and still leave fans wondering at the end. She is first seen in "Chapter One: New Blood,"  when she announces to a curmudgeonly Papa Nihil that fresh blood is needed in the Clergy, and that fresh blood later turns out to be Cardinal Copia. Whether he actually belongs there is something they continue arguing about.
Nihil and Sister argue even through her lengthy stay in the hospital after nearly being crushed in a car accident in "Chapter Four: The Accident,"  in which the hearse she drives is sidetracked and goes up in flames. In "Chapter Five: The Call,"  a completely bandaged Sister makes her best attempt to dial him on a rotary phone, and they proceed to review the "Omen" movies. Alternative Press noticed that Sister was flaunting a stunningly new look after the bandages were removed.
The sexual tension between Nihil and Sister is obvious in the videos they appear in, coming to a climax in a Valentine's Day video clip . ( Metal Hammer  confirms suspicions that they are recreating the infamous "horny pottery" scene from the movie "Ghost.")
The Clergy (2010-present)
Shrouded in mystery, the Clergy are supposed to be the larger (fictional) cult from which Ghost spawned. They are never seen, but always heard on social media. Metal Hammer  describes them as beyond powerful but never actually appearing anywhere. While the Papas, Sister, and Cardinal Copia are regarded as clergy since they are supposed to be nuns and priests, they are still not the Clergy, who are supposedly some higher power. The Clergy surrounded Cardinal Copia when he was reanointed to become Papa Emeritus IV. They can also decide when it is time to kill off the latest Papa — or potentially morph him into something else.
The Clergy members are most visible through their announcements. Ghost's social media posts and YouTube videos often open with "[MESSAGE FROM THE CLERGY]" — and of course, an omnipotent power like them would use all caps to get the importance of the message across. This is always followed by "we wish to inform you" before the announcement is made (via  Twitter ). But who are they? What we do know is that Sister Imperator is the head, according to Revolver . So she is both clergy and Clergy.
Even after all the reveals, Ghost continues to be shrouded in mystery, and there are some things that may never crawl out of the inner sanctum.
Tobias Forge on GHOST in 2023: "There's going to be a change. Good change."
2022 was a massive year for Ghost — so massive, in fact, that we named the Swedish occult-rock troupe Revolver' s Band of the Year and crowned their latest LP, Impera , the Album of the Year . Which only sets the stage for a very big 2023.
In a new interview with Metal Hammer , Ghost mastermind Tobias Forge teased the band's plans for the year ahead and hinted an unspecified "change" that's about to take place with the group.
First, he laid out a big-picture view of Ghost's touring plans. "We're doing a lot of touring again," Forge said. "On previous album cycles we've done four legs in America and two or three in Europe and repeated. 
"We're going to go into every territory next year, but there's going to be one European tour, one American tour. We are going to do a little bit of everywhere. There'll be a little bit of something up in upper Asia, on the far end there — a very well-established country with a lot of pop cultural fascination, and the home of videogames. And there's going to be something in the Oceania world, and there might be something south of Panama, and there might be something slightly north of Panama. It feels pretty solid."
Exciting stuff, but then Forge dropped the most tantalizing breadcrumb. "We're going to come out with a little bit of change before that — good change," he said, cryptically. "We're not going to go silent. Some things are public, other things not in public view, but there are a lot of things brewing."
Asked of Ghost's next album, he offered, "Everything I'm doing now is for the next record. I have a vague idea what that will be like and a vague idea of the title and the color scheme."
When Revolver spoke to Forge late last year, he confirmed that he was already beginning to map out the follow-up to Impera . "I've already started planning, or at least outlined a few things that I want to do differently," he revealed. "That can also be from a completely practical point of view. It doesn't necessarily mean that, "Oh, I hate this record — now I'm going to write a grindcore record." It's just that there's always something that you want to improve..."
Did PAPA EMERITUS IV play his final GHOST...
TOBIAS FORGE confirms GHOST are making a...
GHOST's TOBIAS FORGE picks favorite rising...
CONVERGE's Jacob Bannon breaks down favorite songs on 'Axe to Fall'
METALLICA 'Kill 'Em All': 10 wild stories behind all-time thrash classic
Staind's Mike Mushok: My 5 Favorite Songs to Play Live
MAYNARD JAMES KEENAN picks best A PERFECT CIRCLE song for introducing new fans
Underoath Albums Ranked: From Worst to Best
LAJON WITHERSPOON picks SEVENDUST song he's proudest of
15 great albums turning 20 in 2023
Kerry King angry at SLAYER's "premature" retirement
Mixing & Mastering Engineers, Producers & Songwriters who worked with Ghost
Alphabetical
Electric Pop
Folk / Acoustic
Heavy Metal
R&B-Soul
Singer-Songwriter
Tropical / Dancehall
SoundBetter Deal
Search by profile name
Recommended
Recently Reviewed
Producer / Mixer / Engineer
Hey! Been a professional mixer for 25+ years, now also specialized in Dolby Atmos for music. What I hear all the time from my clients is that they like my sense of creating depth, warmth and feel to their mixes. My mix room is now at the legendary Atlantis Studios Stockholm with fantastic vintage outboard and echo chamber(famous from ABBA)
Hellacopters
Def Leppard
The Hellacopters
Mixer. Stereo | Dolby Atmos
Joseph J Chudyk is a Grammy nominated and multi-platinum and mixer having worked with Elle King, Miranda Lambert, Kane Brown, Mitchell Tenpenny, Jason Aldean, Teddy Swims, Ghost, IDK, Crowder, MXPX, Nathaniel Rateliff, Joe Pug, The National Reserve with members from the likes of Gregory Alan Isakov, Jeff Beck, Polar Bear Club, Air Dubai, OneRepubli
Nathaniel Rateliff
Arctic Monkeys
City and Colour
Mek Beats, Write,Mix n Masteri
Joel Juju Lindsay is a young Jamaican Entrepreneur ,record producer, music composer, studio engineer, Web Developer,Online Marketer and also a Graphic artist etc... He owns and operates Juju Music Production and Publishing.........I take great pride in my work with music, It's my passion, job, hobby and life. If you want your mixes to sound as good
artiste such as Vybes Kartel
Port more Empire
GHOST PRODUCER Top100 Beatport
normally our clients arrive in the top 100 Beatport FOR OUR WORK #1 spot on Beatport and have had many TOP TEN records there. I work in all styles and genres with superb chart topping quality. INDIE DANCE/DARK DISCO, AFRO HOUSE , DEEP HOUSE , JACKING HOUSE , MELODIC HOUSE & TECHNO , ACID, EDM and more! all of my work is RADIO READY QUALITY
Beatport Top 100
Indie Dance
Amelie Lens
Remote Mixing & Mastering
!! Mixing & Mastering engineer from France !! Specialized in remote working
Audio Engineering | Producer
An experienced design and audio professional with 8+ years of professional recording experience in the music industry.
Alan Parsons
Lynyrd Skynyrd
Music Producer
Ghostwriter for Pop/K-Pop Session Musician
Get started for free.
Need help? Check out our Music production glossary.
World-class music and production talent at your fingertips
Browse Curated Pros
Search by credits or 'sounds like' and check out audio samples and verified reviews of top pros.
Get Free Proposals
Contact pros directly with your project details and receive handcrafted proposals and budgets in a flash.
Make Amazing Music
Fund and work on your project through our secure platform. Payment is only released when work is complete.
Female Singers
Mixing Engineers
Mastering Engineers
Male Singers
Songwriters
Beat Makers