Ghostwire: Tokyo has up to 10 graphics modes - so which is best?
The Digital Foundry verdict on the PS5 version.
Ghostwire: Tokyo sees acclaimed Japanese developer Tango Gameworks striking out in new directions. For one, it's an actual next-gen/current-gen exclusive - it's only available on PlayStation 5 and PC, tapping into cutting-edge features like hardware-accelerated ray tracing. Secondly, the developer has shifted away from its internal STEM engine, based on idTech, instead favouring Unreal Engine 4. On balance, it's an excellent move - Epic's technology merged with this developer's unique vision delivers a beautiful game. In today's coverage, we'll be looking exclusively at PlayStation 5 before moving onto PC in a separate piece - and there's certainly much to cover. While there are six 'official' graphics modes to choose from, there are actually an unofficial ten in total.
First up, I wanted to share some impressions about the game overall. The shift to Unreal Engine 4 surprised me, but not as much as the core design itself which sees the surprisingly evocative and detailed world Tango Gameworks has created focused on a concept that is very much Far Cry-like in nature. Yes, there's a main mission path to follow, but it's also a game rich in side missions and other explorable elements, backed by an Ubi-style icon-packed map that overwhelms. It's not to my tastes but I'm aware that many love this style of experience.
In another shift from the studio's prior The Evil Within titles, it's a first-person game with much to commend it in terms of its game mechanics - and I loved its first-person animations, enhanced with superb motion blur. However, an area I really hope can be improved is in controller response, which feels muddy and slow. Ghostwire: Tokyo has received criticism for input lag issues, but I'm not sure that's necessarily the case, more that the analogue sticks are poorly tuned in terms of their acceleration/deceleration curves. Customisation is available in a feature-rich menu system, but it's still not enough to get the interface into a comfortably responsive state.
Moving on to the game's visual make-up, Ghostwire: Tokyo is built around a rain-soaked cityscape that is tailor-made for hardware RT reflections - and that's exactly what you get in the game's quality mode, which provides stunning reflections that aren't just limited to puddles: more diffuse reflections are also present on rougher materials. The only drawback here is that reflections mapped onto transparent surfaces - such as glass - fall back to screen-space reflections, or cube-maps. Hardware RT is also deployed on shadows too, but very selectively: some objects use RT, others do not.
Generally, it's the same on PC, where the same choice of hardware RT effects is in place, albeit at a higher precision. In this sense, PS5 is 'lower than low' in terms of quality presets, but it still looks excellent, to the point where PC users are missing out by not having access to the console solution that would add further scalability. This applies to Unreal Engine's SSGI - a screen-space-based global illumination solution that uses software ray tracing. Again, it's present on both versions but PS5 gets a lower precision effect, presumably in the service of improved performance.
I talked earlier about the six (!) different rendering modes, which actually result in ten different options to choose from once 60Hz and 120Hz display options are factored in. Ultimately, it's very straightforward. Ghostwire: Tokyo has quality and performance modes, along with HFR (high frame-rate) variants. In the HFR modes, the user can choose to engage v-sync or turn it off completely. These extra options are designed for 120Hz screens, but here's where the other four 'unofficial' modes kick in: you can turn off 120Hz support on the PS5 dashboard and force the console to run HFR capped at 60fps instead.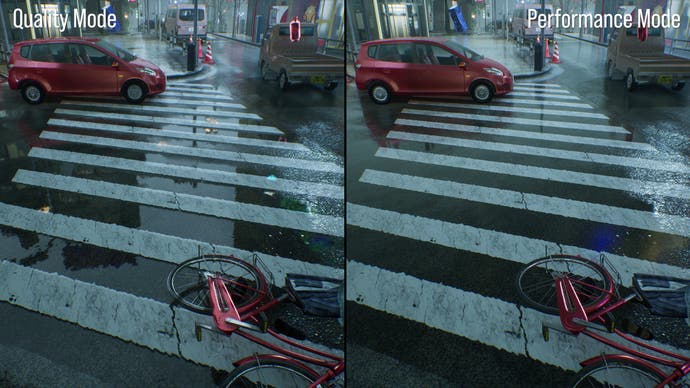 Let's break down these modes in more detail. It starts with the 60Hz quality mode, which runs at 30fps and delivers the highest resolution along with hardware RT effects. Pixel-counting on this game is challenging to say the least owing to the heavy post-processing, but it seems to deliver an 1800p image. It looks stunning, but there's a key problem - inconsistent frame-pacing meaning that the locked 33.3ms frame persistence we would want is not present - there's 16.7ms and 50ms frame-times too, adding unwanted judder and actually making Ghostwire: Tokyo run slower than it actually does. For this reason, I can't recommend this mode unless this sort of thing does not bother you.
Next up is the 60Hz performance mode. Again, pixel-counting is challenging but results suggest a static resolution in the circa 1440p area (seemingly using AMD FSR to upscale back to 2160p), with ray tracing effects disabled. Dynamic resolution scaling may be in effect but if it is, I would expect better performance than we get - it's very unstable and rarely locks to 60 frames per second. The nature of the dips beneath 60fps makes this a title where PS5's upcoming variable refresh rate (VRR) display support could really make a profound difference to the fluidity of the game.
Two modes down, four/eight to go! HFR is primarily designed for 120Hz displays, unlocking frame-rate to allow the game to run faster than 60fps. HFR quality mode retains hardware RT support, operates at what looks like 1080p resolution and seems to hover around 60-70fps but can dip beneath. HFR performance mode keeps the same resolution, but removes RT, meaning that frame-rates are typically north of 60fps in all but the most exceptional circumstances. Both HFR modes have the choice of v-sync on or off: the former lowers overall performance, the latter increases it at the expense of truly hideous screen-tearing.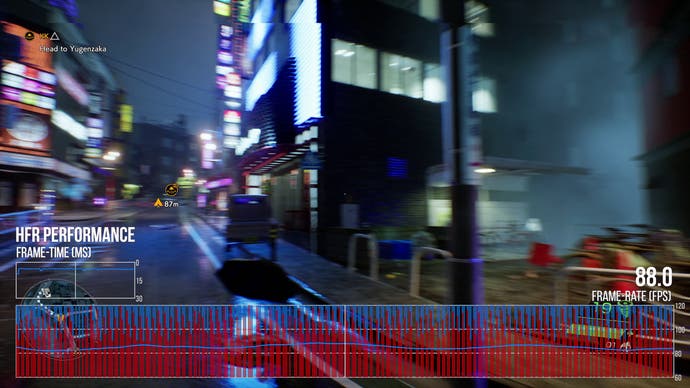 Then there's the unofficial HFR options, which you access by disabling 120Hz support on the PS5 dashboard. This caps these modes to 60fps and provides the tightest lock to that performance level you're likely to get. Again, ignore the v-sync off option - it's really ugly - and stick to v-sync on. Despite the removal of RT features and the lower resolution, HFR performance mode capped to 60fps is the smoothest experience of the lot but for the best balance overall, I'd recommend the HFR quality mode but only when your PS5 console is not producing a 120Hz output - which means disabling that on the front-end of the console if you have a 120Hz screen. If the range of resolutions and modes sounds bewildering, it is. Tango Gameworks could change it very easily to a much simpler, more explanatory set of options.
In summary, there's much to commend Ghostwire: Tokyo - but I do feel more work needs to be done. Controller response needs to be looked at, while the game's 30fps cap implementation really should be fixed: as we understand it, this problem was solved in UE4 years ago, so why it presents as it does in Ghostwire: Tokyo is a bit of a mystery. The 60Hz performance mode isn't very stable and seems to be waiting for VRR to happen when perhaps a dynamic resolution scaling system should be introduced (or ranges adjusted if it is in there already). The game isn't quite what I was expecting but it's clearly a quality release - it just needs a little more technical polish to allow the gameplay to shine.
Digital Foundry | To what extent does Forza Motorsport on PC improve over consoles?
Feature | This War of Mine dev's clone survival game The Alters is a curious blend
Digital Foundry | Forza Motorsport tech review: a pleasing upgrade for series veterans
Supporters | Five of the Best: Cars
Digital Foundry | AMD's HYPR-RX tested: an easy way to cut latency and boost frame-rates?
Feature | WarioWare: Move It! takes the series back to Smooth Moves
Feature | Composing nostalgia: how Sea of Stars revisits the past through music
Feature | Weather is no longer the primary threat in Frostpunk 2 - people are
Buy things with globes on them
And other lovely Eurogamer merch in our official store!
Ghostwire: Tokyo Graphics Modes Explained: Performance, Quality, or HFR?
Which graphics mode should you choose.
Ghostwire: Tokyo is a visual feast at every turn; a game this good-looking deserves to be played in the best graphics mode. Luckily for you, there are several graphics modes to choose from. At any point in the game, you can simply press the options button on your controller, open your settings menu , go to graphics, and choose whichever one you need. Here is your guide to choosing the best graphics mode in Ghostwire: Tokyo.
Graphics Mode Options in Ghostwire: Tokyo
There are technically three graphics modes in Ghostwire: Tokyo: Quality, Performance, and HFR. While the Quality and Performance Modes are each their own mode, there are four separate HFR graphics modes to choose from. Here are the graphics modes in Ghostwire: Tokyo:
Quality Mode : A high-fidelity rendering mode with ray tracing enabled. 30 FPS limit.
Performance Mode : A high-framerate mode designed for the smoothest gameplay. 60 FPS limit.
HFR (High Framerate) : A mode with an uncapped Framerate and tweaks to graphic quality that allows for an even higher-framerate experience.
Typical in games nowadays are the Quality and Performance Modes. Nothing is too different about these two modes from other games, but they do perform differently in Ghostwire: Tokyo. While both graphics modes look stunning, the Performance Mode is a much better option . The 30 vs. 60 FPS makes a huge difference in this very fast-paced game and the visual clarity difference is hard to spot between the Quality and Performance graphics Modes.
The big change that Ghostwire: Tokyo brings is the HFR Mode. As stated previously, this is a High Framerate mode that uncaps the framerate while making the graphics look as best as they can. The HFR Quality Mode is the best of both worlds when it comes to framerate and quality. While you should only pick this option if your PC can handle it, every PS5 can definitely take it. Picking HFR Performance is a bit overkill since the HFR already uncaps the framerate. This option can end up making the surroundings look blurry.
The last two graphics modes available in Ghostwire: Tokyo are the HFR Quality and Performance VSync Modes . These modes are specifically for PC players who are experiencing a break in framerate across their monitor. If that's the case for you, VSync is a great option. And, if anything doesn't look right or goes wrong with any of the HFR Modes, you can always rely on the Performance Mode . For more tips and tricks to help you on your way through Tokyo, check out our other Ghostwire: Tokyo guides .
Ghostwire: Tokyo is available March 25, 2022, on PlayStation 5 and PC.
About The Author
From his early days of blog-style music, movie, and game reviews to working as the Esports Writer at Coastline Community College, Noah Nelson now works fulltime as a Staff Writer for Attack of the Fanboy and PC Invasion. He has been helping gamers everywhere with Destiny 2 god rolls, Warzone 2 DMZ missions, and collectibles in any indie game for over a year and a half. His Bachelor's Degree in English Rhetoric and Composition with a minor in Journalism from CSULB has shaped him to be a strong writer and editor. His fondest gaming memory is playing Sly Cooper 2 after begging his mom (for hours) to play it before his birthday and he still cries myself to sleep remembering the time he accidentally saved over his 99% completion save file in Kingdom Hearts 2.
More Stories by Noah Nelson
Attack of the Fanboy / GAME GUIDES / Ghostwire: Tokyo Graphics Modes Explained: Performance, Quality, or HFR?
All Interactive Maps and Locations
Shibuya Map
How to optimize settings on ps5.
Ghostwire: Tokyo features enhanced visuals on the PS5 version of the game, though some players have noted that this can come at the expense of input lag or visuals not appearing in 4K. This page includes information on how to optimize your Ghostwire: Tokyo experience while playing on PS5.
How to Fix Ghostwire: Tokyo's Input Lag
Video Guide for Fixing Ghostwire: Toyko Settings on PS5
If you're not familiar with input lag, it's essentially the time it takes for controller inputs to happen on screen. It is possible that Ghostwire: Toyko's default settings just feel slower for many players. Check out the following instructions for the best settings for smooth, lag-free gameplay.
In your PS5 video settings, there's an option to Enable 120hz Output, if you have a monitor or TV that supports it. Usually, most people keep this set to automatic, that way if a game you're playing supports it, rare as they are, you'll be able to play at even higher framerates. However for Ghostwire: Tokyo, if you have this setting on automatic, when you launch the game it'll drop your resolution down to 1080p. It doesn't matter if your PS5 is set to 4K, and it also doesn't matter what graphics options you select in the game itself; if youre 120hz output is set to automatic, you'll be playing at 1080p whether you like it or not.
If playing on a gaming monitor, you won't have to worry - but many standard 4K TV's don't support 120 hz - and usually have a 4K display that runs at 60hz. The box your TV came in might say it has 120hz "smooth motion", but this isn't really 120hz, it's that simulated setting you have to turn off so your blu-rays don't look like a daytime soap opera. So, check the manufacturer's website to see if your TV actually supports 120hz. If it doesn't, then click this option to off, since you're not seeing its benefits and you're losing out on the 4K visuals.
For the In-game Settings, the default visual settings are set to quality, which caps the game at 30fps. Visually it looks fine, but it may not feel great for some users. So if you're looking for a smoother gameplay experience that both looks smoother and feels better, then here's what you need to tweak:
First off, Ghostwire Tokyo has SIX graphics options. If you're looking for a visually smooth experience, you're going to want to select either HFR - Performance Mode, or HFR Performance Mode (vSYNC). The difference here harks back to the 120hz option. If you play HFR Performance without vsync, you're likely to see some screen tearing because the game is now running at a higher frame rate than your TV can display, but, even so, this is the option that may feel better for you. If you don't mind just a TAD of input lag and you want screen tearing completely gone, pop over to vsync mode, which will then caps the framerate to 60fps. Again, it'll add a tiny bit of input lag, but it's manageable and will likely become less apparent the longer you play.
How to Fix Aiming Acceleration
So, HFR performance mode fixes the visual choppiness, but you may find issues with aiming. If you do, that's because of aim acceleration.
To fix this, crank the camera acceleration all the way to max. This is going to give you a more responsive feel, but because there's no more ramping up, the sensitivity is probably going to feel real slow. This is more on how sensitive you like your aiming to be, (we recommend 35 for both x and y axis). Just like aim acceleration, the deceleration also needs to be turned all the way up. This is essentially making it where the moment you move your stick, it starts moving, and the moment you stop moving your stick, it also stops.
And that's it, if you felt problems with the default controls and settings, you should now be experiencing a much smoother and satisfying way to play Ghostwire Tokyo on PS5.
Up Next: Activities
Top guide sections.
Walkthrough
Side Missions
Collectibles
Jizo Statue Locations
Was this guide helpful?
In this guide.
Ghostwire Tokyo PS5 vs PC Comparison Shows How Ray Tracing Makes This Game Shine
With reviews now dropping, one of the first Ghostwire Tokyo PS5 vs PC comparisons shows the graphical differences between the PC and PlayStation 5 versions.
We already mentioned how Tango Gameworks' new IP looks quite good on PC with ray tracing and going by this new comparison video from 'ElAnalistaDebits' this also applies to the PS5 version of the game, albeit the quality of NVIDIA's rendering technique is higher on PC than it is on Sony's next-gen console. The reflections in this action-adventure really add to the aesthetic of the game, and although the amount of features and detail is somewhat lower on PS5, Ghostwire Tokyo is quite the looker on Sony's console as well.
Related Story FSR 2.0 Added to Ghostwire: Tokyo with Tsukimi Update
On PS5, the game offers a total of six display modes, including a quality mode with ray tracing at 30FPS, an HFR quality mode with ray tracing, an HFR Vsync quality mode with a locked framerate and ray tracing, a performance mode without ray tracing and 60FPS, an HFR performance mode in 1080p with an unlocked framerate without ray tracing and without vsync, and an HFR VSync performance mode in 1080p with an unlocked framerate with vsync without ray tracing. You can check out the comparison video down below:
- DLSS continues to improve, displaying quality almost indistinguishable from native 4K on PC. I consider it essential if we want to play with RT on PC. - Modes without Vsync, as expected, have constant tearing. I would never recommend playing in these display modes on a console that doesn't have VRR to avoid tearing. - HFR modes can reach 120fps, but quite anecdotally. In general, the framerate is quite irregular in these modes. - Quality mode suffers from some stuttering issues and adds some input-lag. - Rarely have I seen a game apply ray-tracing with such a successful artistic context (at least in the reflections). Tokyo looks beautiful with RT. - To measure performance on PC, a 3050, 3060 Ti, 3070 Ti and 3080 have been used with all settings at maximum. - The HFR Quality mode presents a Ray-Tracing and shadows of lower quality with respect to the standard quality mode. HFR Performance mode also loses quality in the shadows. - In general, the RT on PC has more resolution in reflections compared to PS5. - Ray-Tracing in Quality modes on PS5 and PC is applied to reflections (on certain materials) and shadows cast by specific light sources. - Translucent reflections (glass, showcases, car windows, etc.) are not ray-traced. Ray-traced shadows do not follow a logical pattern. You can find an asset with shadow generated by RT (2:04) and a couple of meters later, that same asset without RT (11:14). - PS5 uses the SSGI system for ambient occlusion, which creates unwanted effects when moving the camera (particularly indoors). Luckily, on PC we can choose between SSGI and SSAO. - The main character does not cast a shadow or reflect on any surface. - The FOV is not modifiable in any version.
Ghostwire Tokyo launches later this week for PC and PlayStation 5. Be sure to read our very own review in case you're still in doubt whether this is the game for you .
Deal of the Day
Further Reading
Amazon Prime Day Offers Deals on Elden Ring and Dying Light 2, and More than 30 Free Games
NVIDIA Reflex Support to be Added to 4 Games; GeForce RTX Bundle Announced, Includes Ghostwire Tokyo and DOOM Eternal
Borderlands 3 is Free for the Next Week as Part of the Epic Games Store Mega Sale
First Ghostwire Tokyo PC Mods Add Wider FoV, Remove Film Grain and Chromatic Aberration
Trending stories, iphone 15 rumored to be using cheaper batteries that degrade faster due to having only 600 charge cycles, apple's ceo tim cook owns more than half a billion dollars of stock after share sale, cyberpunk 2077 quest designer comments on starfield's criticism: "bethesda is doing what it is known for", pixel 8 is up to 11% slower than pixel 8 pro in geekbench 6 despite having the same tensor g3, tests reveal both suffer from overheating, samsung's 3nm gaa process needs a 70 percent yield to win orders from qualcomm, claims report, company's foundry currently struggling, popular discussions, intel core i5-14600k stock & 5.7 ghz overclock cpu benchmarks leak out, leaked intel promos confirm everything we already knew about 14th gen raptor lake refresh cpus, intel says meteor lake & raptor lake cpus have very similar p-core & e-core architectures, intel 4 brings efficiency improvements, nvidia gtc 2024 scheduled for 18th march: ceo jensen keynote & blackwell ai/hpc gpus expected, nvidia to introduce new geforce rtx 3050 6 gb gpus in 2024: 70w tgp with cut-down specs & lower prices.
We cover everything gaming! News, reviews, previews, hardware reviews, videos, and more!
Home > News
Ghostwire tokyo features 6 graphical modes on ps5.
For PS5 gamers out there wishing there was a bit more options outside of the standard performance and quality modes most games ship with, you'll be happy to learn that Ghostwire Tokyo is launching with a total of six graphical and performance modes.
This was confirmed to us in our recent hands-on session from the first two chapters of the game. Curious what modes you can play on at launch? Down below you'll find the full list of available performance and fidelity modes that you can select from.
Quality Mode
With quality mode, you can expect Ghostwire Tokyo to run at a capped 30fps at 4K* resolution. Additional features such as Ray-tracing reflections are enabled, as well as other graphical improvements. This is the mode recommended for those who prefer quality above performance.
Performance Mode
With performance mode, Ghostwire Tokyo will run at a capped 60fps. This comes at the cost of resolution, as well as the loss of real time Ray-tracing in favor for spatial reflection along with other graphical details. This mode is ideal for those who favor performance above all else, and are looking for a near locked 60fps experience.
High Frame-Rate Quality Mode
Using 30fps as its baseline, High Frame-Rate quality mode is like quality mode, only with the removal of the frame cap. This means you should expect to see performance running between 40-50fps generally. 
As good as that may sound, I actually don't recommend playing with this mode for one very good reason, that being screen tearing. HFR Quality Mode suffers severely from screen tears during gameplay that it was instantly noticeable upon turning this mode on. Sadly, that same screen tearing mode also appeared in the performance variation of this mode.
High Frame-Rate Performance Mode
Like performance mode, High Frame-Rate performance mode in Ghostwire Tokyo targets 60fps as the baseline, but is able to go higher since it's uncapped. From our testing, we generally saw performance hitting above 60FPS, however dips from those higher counts were noticeable. And like the HFR quality mode, HFR performance also suffered from severe screen tearing. 
Note: Tango Gameworks has acknowledged to us around the screen tearing issues surrounding HFR quality and HFR Performance modes. We do know a patch will be released prior to launch to address some issues, so this may change.
High Frame-Rate Quality Mode With V-Sync/High Frame-Rate Performance Mode With V-Sync
The final two modes are the same as HFR quality and HFR performance only with V-Sync enabled. These are actually the modes I recommend as testing showed that those screen tearing issues were essentially absent. Now HFR performance mode with V-Sync still saw some dip spikes, but at least the screen tearing was mostly gone. 
Of the two modes, however, I do recommend opting for HFR quality with V-sync as it felt like the better experience overall. It's comparable to Resident Evil Village 45fps RT mode, or even to that of both Spider-Man and Ratchet and Clank performance RT modes. You do sacrifice a bit of the image quality as we assume the resolution is targeting lower than 4K, but that is really hard to tell during actual gameplay.
And there you have it, all the available performance and quality modes in Ghostwire Tokyo. 
Top Games and Upcoming Releases
Alan Wake 2
Forza Motorsport
Marvel's Spider-Man 2
Metal Gear Solid: Master Collection Vol. 1
Graphics Comparisons
Ghostwire: Tokyo – Quality, Performance, and Other Graphical Modes Revealed
High frame-rate options for quality and performance mode, with and without v-sync, are also available for players to choose..
Posted By Ravi Sinha | On 15th, Mar. 2022
Several publications have gone hands-on with Ghostwire: Tokyo's first two chapters (check out our preview here ). In addition to learning more about the mechanics and gameplay, new details have been provided on the different graphics modes. According to MP1st , there are six modes in total – Quality, Performance, High Frame-Rate Quality, High Frame-Rate Performance, High Frame-Rate Quality with V-Sync enabled and High Frame-Rate Performance with V-Sync enabled.
First up is Quality Mode which runs at 4K resolution and 30 FPS with ray traced reflections and other visual improvements enabled. Performance Mode runs at a capped 60 FPS with a lower resolution and spatial reflection in place of ray tracing. High Frame-Rate Quality Mode is essentially an uncapped version of Quality Mode and typical runs between 40 to 50 FPS.
The site recommends against this and High Frame-Rate Performance (which can go higher than 60 FPS) due to screen tearing. Tango Gameworks has acknowledged these issues though so perhaps they'll be addressed with the day one patch. Using the V-Sync options for both modes does eliminate screen tearing though there will still some frame dips. High Frame-Rate Quality Mode with V-Sync was recommended due to resembling Resident Evil Village's 45 FPS ray tracing mode and the Performance Ray Tracing Modes of Marvel's Spider-Man and Ratchet and Clank .
Ghostwire: Tokyo is out on March 25th for PS5 and PC, though Deluxe Edition owners on console receive access on March 22nd.
Games You May Like
Ghostwire: tokyo.
Publisher: Bethesda Softworks
Developer: Tango Gameworks
Platforms: PS5, PC, Xbox Series X
Publisher: Big Ant Studios
Developer: Big Ant Studios
Platforms: PS5, Xbox Series X, PS4, Xbox One, Nintendo Switch, PC
Publisher: Epic Games
Developer: Remedy Entertainment
Platforms: PS5, Xbox Series X, PC
Amazing Articles You Might Want To Check Out!
Share your thoughts below ( always follow our comments policy ), keep on reading.
The Witcher Trilogy and Cyberpunk 2077 Have Collectively Sold Over 100 Million Units
CD Projekt RED confirms its four flagship releases so far have sold over 100 million units put together.
Call of Duty: Modern Warfare 3 Trailer Showcases Open World Zombies
The first official gameplay trailer for Call of Duty: Modern Warfare 3's new and expanded Zombies mode is here...
Telltale Games Confirms Layoffs "Due to Current Market Conditions"
The developer says The Wolf Among Us 2 is "still in production", though it hasn't shared any further details.
Silent Hill: Ascension Officially Launches on October 31
The interactive streaming series will be available on iOS, Android, and PC, Genvid Entertainment and Konami ha...
CD Projekt RED Hasn't Decided Yet if Cyberpunk 2 Will be First-Person
But quest director Paweł Sasko feels that "the first-person perspective is the main characteristic for Cyberp...
CD Projekt RED Says it Has More Projects Planned with Cyberpunk: Edgerunners Studio
"There are plans we'd rather keep quiet until there is something to speak about, until there is really somet...

What graphics mode should you choose on PlayStation 5 in Ghostwire: Tokyo?
So many options!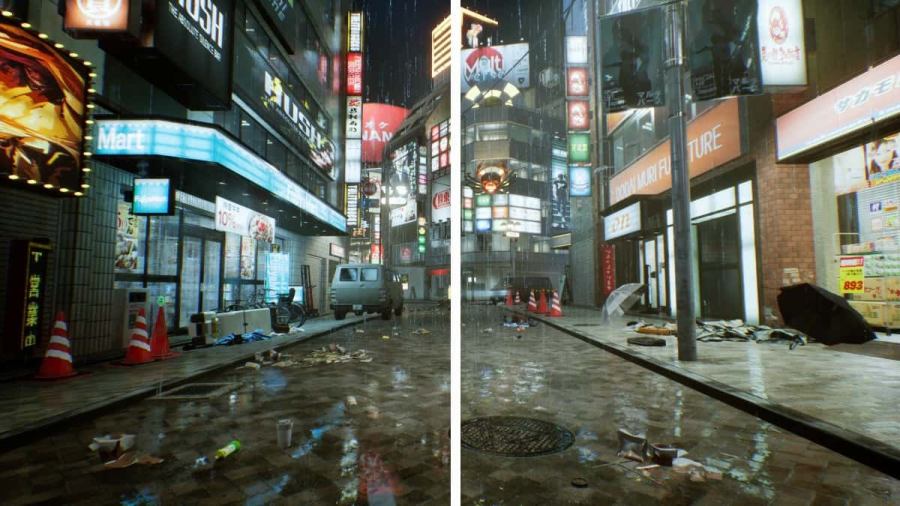 Ghostwire: Tokyo is the latest game from Tango Gameworks, and it takes full advantage of the PlayStation 5 console. The game offers multiple graphics modes to choose from, with each one focusing on something different. With all these options, players may be wondering what graphics mode to play in on PlayStation 5.
What is the best graphics mode for PS5
The best graphics mode will be largely dependent—if not wholly dependent—on  your own personal preference . If you want the game to look its absolute best and running at 4K with ray-tracing, then Quality Mode is for you. On the flip side, if visual fidelity isn't of the utmost importance to you and you prefer smoother gameplay, then Performace Mode will fit your needs.
HFR Mode  is an interesting alternative to the typical two graphics modes. It acts as a middle ground between the two familiar modes. The  HFR Quality Mode  can help to get you more FPS without such a drastic visual sacrifice, and the  HFR Performance Mode  will throw visual quality out the window as it provides the highest FPS it can. However, we have experienced  terrible screen tearing issues  with these modes, making them hard to play. The VSync alternatives to these two modes do seem to reduce screen tear ever so slightly.
Being a fast-paced action game, Performace Mode will be the best option for most players , as the smooth gameplay will help to make the game feel more polished from that standpoint. However, this game is a very gorgeous one, and if you can get used to the 30 FPS gameplay, the Quality Mode will provide you with a truly next-gen looking game.
Related: What difficulty should I choose in Ghostwire: Tokyo
How to change the graphics mode
On PS5, the graphics mode is set to Quality Mode by default. To change the graphics mode, you will need to open the  Options menu  and navigate to the  Graphics tab . You will see the setting on this tab to switch the Graphics Mode.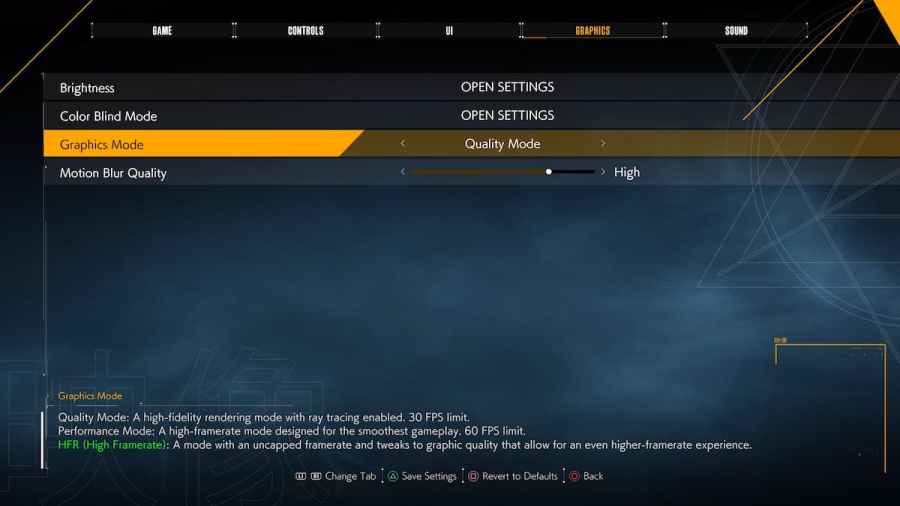 You can choose between six options : Quality Mode, Performance Mode, HFR Quality Mode, HFR Performance Mode, HFR Quality Mode (VSync), and HFR Performance Mode (VSync). The details of the graphics modes are as follows:
Quality Mode - The high-fidelity option that has ray tracing enabled and provides a better overall visual quality with a 30 FPS limit.
Performance Mode - The smoothest gameplay experience with a 60 FPS limit. Focuses on providing a higher framerate while sacrificing visual quality.
HFR Modes (High Framerate) - These modes will take off the framerate caps, allowing the FPS to push beyond its target. This slightly lowers the overall visual quality in both Quality and Performance Modes. However, there have been reports of screen tearing in these modes, so be aware of that risk.
For more Ghostwire: Tokyo guides, check out Should you choose Japanese or English audio language in Ghostwire: Tokyo right here on Pro Game Guides.
About the Author
More Stories by Mason Moses
Write a comment, cancel reply.
Comments are on moderation and will be approved in a timely manner. Please read the following rules before commenting:
All comments must be on topic and add something of substance to the post
No swearing or inappropriate words
No asking or begging for anything free
Do not attempt to start a poll in the comments
Comments in all CAPS will be removed
We reserve the right to remove a comment for any reason
Do not impersonate a staff member or influencer
Save my nickname and email in this browser for the next time I comment.
This site is protected by reCAPTCHA and the Google Privacy Policy and Terms of Service apply.
Comics/Manga
DC Universe
Marvel Cinematic Universe
Contact the Editorial Staff
User Agreement
Privacy Policy
Cookie Policy
Ghostwire Tokyo: Comparing the Graphics Performance on PS5 and PC
Here's how ghostwire: tokyo performs graphically on the ps5 and pc.
Ghostwire Tokyo is a game where players witness the beauty of Tokyo first-hand through the eyes of Akita. The developers have put in breathtaking elements of the city making the players feel they themselves are actually free-running through the streets of Tokyo.
Along with that supernatural powers have taken over the city, and players will get immersed in horrors and destructions along with warped realities. In a game of such calibre and potential, the players should experience it at the highest graphical settings available. Ghostwire Tokyo release date has been set as March 25th, 2022, and players should be prepared with their platform and graphical settings sometime before that.
Ghostwire: Tokyo PS5 and PC Graphics Comparison
Many players have been wondering about the best platform to experience Ghostwire Tokyo, whether they should choose the PlayStation 5 or a PC. There are graphics configurations that players can choose on both platforms, these configurations depend on the player's preference, whether it is resolution, fps or ray-tracing. Check out the graphics settings for Ghostwire Tokyo PlayStation and PC below:
PlayStation 5
The Ghostwire: Tokyo PlayStation 5 consists of 2 Graphics modes, Quality and Performance and two variants for each. The first variant is the High Frame Rate (HFR) variant, which boosts the frame rate cap for both modes. The second variant will have the HFR capabilities along with Vsync, Vsync helps in the synchronisation of frame rate and refresh rate which in turn reduces the probability of screen tearing.
Quality Mode : highest graphical settings, ray-tracing capabilities, 30 FPS restriction.
Performance Mode : smoothest gameplay settings, 60 FPS restriction.
HFR Quality Mode : enhanced graphical settings, goes higher than 30 FPS and restricted at 50 FPS.
HFR Performance Mode : enhanced fluidity, runs at higher than 60 FPS.
HFR Quality VSync Mode : all capabilities of HFR Quality mode and has VSync enabled.
HFR Perf. VSync Mode : all capabilities of HFR Performance mode and has VSync enabled.
The PC variant of the game is preferred by the players as they have complete control over the graphical settings of the game, which is possible in most PC games. The PC players will complete control over the fidelity, fluidity and ray-tracing capabilities of the game. The better graphics card the players have, the higher they can set the settings for resolution, fps and ray tracing.
PC players will also have controls under the ray tracing feature which will allow them to further tweak the graphical settings. PC players do not have to go by a specific graphical mode such as the console players, they can completely control each setting according to their tastes and preferences in gameplay, and can also change them however they want.
Check out the official minimum and recommended PC requirements for Ghostwire Tokyo PC version from their Steam page below:
Requires a 64-bit processor and operating system
OS: 64-BIT WINDOWS 10 VERSION 1909 OR HIGHER
Processor: CORE I7 4770K @ 3.5GHZ OR AMD RYZEN 5 2600
Memory: 12 GB RAM
Graphics: NVIDIA GTX 1060 OR AMD RX 5500 XT (VRAM 6 GB OR HIGHER)
DirectX: Version 12
Storage: 20 GB available space
Additional Notes: SSD Storage Recommended
Recommended:
Processor: CORE I7 6700 @ 3.4GHZ OR AMD RYZEN 5 2600
Memory: 16 GB RAM
Graphics: NVIDIA GTX 1080 OR AMD RX 5600 XT (VRAM 6 GB OR HIGHER)
Additional notes: SSD Storage recommended.
Check out the video and screenshot comparison of Ghostwire Tokyo in the video below by ElAnalistaDeBits
Ghostwire: Tokyo
Amazon Prime Gaming Free Games for October 2023 Features Ghostwire Tokyo
Humble Choice June 2023 brings 8 Free Titles Including Ghostwire Tokyo
How to Celebrate Pride Month and Support the LGBTQIA+ Community
Game Updates
Upcoming Games
Assassin's Creed Mirage
EA Sports FC 24
Dead by Daylight
Forza Motorsport
Marvel Snap
All six Ghostwire Tokyo PS5 graphics modes - Which is best?
Releasing on 25th March for PC and PlayStation 5 (PS5), Ghostwire: Tokyo is the latest title from Tango Game Works, published by Bethesda. We can't wait to jump into the world and explore this horrifying, unique and twisted version of Tokyo, following the game's main story mystery and completing as much side content as we can. While all the graphics options for Ghostwire: Tokyo have not been revealed, we do have the PlayStation 5 (PS5) graphics modes to share.
Here's what you need to know about all six graphics modes in Ghostwire: Tokyo on PS5, and which ones we think will be the best.
All Ghostwire: Tokyo graphics modes detailed
Tango Game Works is pulling out all the stops in terms of graphics modes for Ghostwire: Tokyo on the PS5.
How long to beat Ghostwire Tokyo - Story and side content
Ghostwire Tokyo PC system requirements and file size
GhostWire Tokyo release date confirmed; gameplay details leaked
While most titles have only a couple of graphics modes, for example, Quality and Performance, the Ghostwire: Tokyo developers have gone the extra mile, even adding specific options for those with VSync displays.
As per GameInformer and VideoGamesCronicles , you can read about the graphics modes in Ghostwire: Tokyo below as explained by the outlets.
Quality Mode - A high-fidelity rendering mode with Ray Tracing enabled. Capped at 30 fps.
Performance Mode -The high-framerate mode capped at a 60 fps limit.
High Framerate Quality - Quality Mode but with an uncapped framerate. Ranges between 30 to 50 fps during gameplay.
High Framerate Performance - Performance mode with uncapped framerate that can go over 60 fps.
High Framerate Quality (VSync): Same as High Framerate Quality but with Vsync enabled.
High Framerate Performance (VSync): Same as High Framerate Performance but with Vsync enabled.
That's a lot of options to choose from, but which one will be the best?
Which Ghostwire: Tokyo graphics mode is best
There's honestly no telling which Ghostwire: Tokyo graphics mode will be the best. Those who want to most graphically intense experience should choose Quality Mode, while the Vsync option "High Framerate Quality" should allow for a smooth experience if you have the monitor.
Alternatively, the Performance Mode should be the best choice for those who want the smoothest experience possible, made even better if you have a Vsync display with the "High Framerate Performance (VSync)" mode.
Whatever mode you end up choosing, Ghostwire: Tokyo looks fantastic. Check out the pre-launch trailer to whet your appetite.
So there you have it, all six graphics modes for Ghostwire: Tokyo on PS5. While it is difficult to tell which one is best at the time of writing, we do think if you have a Vsync display, one of those two modes would work best.
Despite this initial prediction, we recommend PS5 players test out all the graphics modes available in Ghostwire: Tokyo to see which one they like the most.
Featured image courtesy of Bethesda.
Written by Wessel Minnie
Wessel is a former member of Bravado Gaming , a top South African esports organization, and a former editor at GLITCHED.online . He can also be found on HLTV discussing everything CS:GO esports. When he's not writing or editing, Wessel is not-so-patiently waiting for the release of Counter-Strike 2 , pondering over the best Diablo 4 builds for each class, or venturing into the Lands Between of Elden Ring for the umpteenth time. He loves ARPGs and any SoulsBorne title he can get his mitts on, but feel free to email or drop him a message on social media with any interesting gaming-related topics you think he might enjoy.
Follow me on:
We may earn a commission if you buy something through the affiliate text links or affiliate image links on Seeking Tech.
How to fix Ghostwire Tokyo screen tearing issues on Xbox Series X and S
When playing the Xbox Series X and Xbox Series S versions of Ghostwire Tokyo, you may notice that there is a lot of screen tearing or ripping. To see how you can get rid of this graphical issue, you can take a look at this troubleshooting article from Seeking Tech.
1. For the first potential fix, you can try changing the graphics mode in Ghostwire Tokyo by taking the following steps:
Start by opening the Options menu. If you are currently playing this first-person action-adventure title, you can get there by pressing the Menu button to pause the game. From there, you should be able to head to Options.
In Options, use the LB and RB buttons until you get to the Graphics tab.
On the Graphics tab, move the cursor to Graphics Mode.
If your television or monitor display has a maximum refresh rate of 60 Hz, make sure you set Graphics Mode to Performance Mode.
If your display is capable of 120 Hz refresh rate, then you should change Graphics Mode to either HFR Quality Mode (VSYNC) or HFR Performance Mode (VSYNC). Out of these two, we recommend going with HFR Performance Mode (VSYNC) if you want to eliminate as much of the screen tearing as possible.
2. If your TV or monitor supports Variable Refresh Rate, then you should make sure you enable this feature from its menu.
Afterwards, head to the Settings menu of your Xbox Series X or Xbox Series S (you can get there by pressing the Xbox logo button on the controller and then selecting Settings from the Profile & System tab).
In Settings, select General > TV & display options > Video modes. Finally, make sure that Allow Variable Refresh Rate is selected in the General – Video Modes menu.
3. You should also make sure that you have the latest patch for Ghostwire Tokyo installed as a new update may help fix the screen tearing.
To manually check if there is a new update available for this first-person action-adventure game, press the Xbox logo button and then move the cursor to the Ghostwire Tokyo icon. Afterwards, press the Menu button on the controller and then select Manage Game and Add-Ons. In the Manage – Ghostwire Tokyo screen, select Updates.
If there is a new update available, make sure you download and install it onto your Series X or Series S.
Related posts:
How to turn off Ghostwire Tokyo film grain, chromatic aberration and motion blur
How to fix Ghostwire Tokyo HDR issues on Xbox Series X and S
How to prevent motion sickness when playing Ghostwire Tokyo
Ghostwire: Tokyo Achievements
Ghostwire: Tokyo News
Walkthrough
Ghostwire: Tokyo update adds Xbox Series S HFR performance mode and more
Ghostwire: tokyo's first major xbox update has arrived, bringing with it some enhancements that should improve the game's overall performance when running on xbox series x|s., ghostwire: tokyo spider's thread update patch 1.
We've added various optimizations to improve overall game performance, particularly on Xbox consoles — including an HFR Performance Graphics Mode for Xbox Series S, which should result in a smoother experience when enabled. You can find this new setting under Options > Graphics.
In the Spider's Thread Update, we added an art gallery near the Shibuya Scramble Crossing to display the winning entries in our Ghostwire: Tokyo Photo Mode Contest. In this update, we've expanded the underground gallery include works from the Tango Gameworks Concept Artists, such as the seasonal artwork that you might have seen on our social media channels, and concept art for the Spider's Thread Update!
Look forward to more uses of this space in the future!
Fixed various stability concerns
Addressed concerns with conflicting keybinds (PC)
"Fear for the Children" side mission: Corrected a potential blocker when loading a save created after the Media Room
Fixed an issue that could prevent the Middle School Kappa from spawning
Fixed an issue where the Infernal Tsuchigumo's collision could remain after being defeated, preventing the player from progressing
Miscellaneous minor bug fixes
Oblivion and Fallout 3 remasters, Dishonored 3, and more leak via court documents
Ghostwire: Tokyo joins Xbox Game Pass today
Ghostwire: Tokyo achievement list is worth 1,180G
New Xbox games — April 10th to 16th
Game Pass adds five more Xbox games soon, including Minecraft Legends