Make a Mark Studios
How to Draw a Haunted House!
I don't know about you… but I'm a huge fan of spooky things! I find I can really let my imagination run wild when I'm drawing the macabre, eerie, and supernatural. In this activity, artists are guided step by step to draw their own mix 'n match haunted house. This post includes a video tutorial , and photos for inspirations.
* Hey educators! Scroll below to NEWLY ADDED purchase this ready-for-class instructional lesson .* 
This drawing can be created with a variety of art materials. Some suggestions include:
Creating a shaded pencil drawing
Drawing on black paper and adding pastel for color ( I recommend using Canson XL Series Black Drawing Paper ) #sponsored
Drawing on paper with a pencil, then trace lines with sharpie and add color with a material of your choice.
Rendering your haunted house digitally! Check out this list of FREE web-based drawing programs to use.
Student work examples:
My middle school art students recently completed this project. Prior to starting the drawing, my students explored the key characteristics of Gothic and Victorian architecture. I also introduced them to information about career opportunities in architecture.
They did a wonderful on this project! I was impressed with the engagement, attention to detail, and variety of solutions.
Choose a house style, or mix and match to create your own creative house. Houses are made up of basic shapes (squares, rectangles and triangles). Don't worry about the lines being perfectly straight. Having some "wonky" lines adds a lot personality to your haunted house, and gives it that eerie mood.
Choose a door to add to your house. Get creative by adding your own details to your door, like a spider web in the corner, a detailed wood frame, lights, mailboxes, address numbers, wooden boards to keep visitors out, and more!
STEP THREE:
Add some windows to your house. There are so many creative styles you can choose from. Explore mix and matching, adding shutters, curtains, things in the windows (like a candle or a cat).
This part is fun! Personalize your haunted house with some spooky objects to add detail. Get creative with the spaces IN your haunted house, AROUND your haunted house, and in the sky that surrounds your house.
Add some texture to the surfaces in your haunted house. Some options include wood grain, brick, cobble stone, shattered glass, shingles, and textures found in nature (like grass).
Add color using an art medium of your choice! Here are two examples done with different art medium.
* Hey teachers!* Below is a recently added option to purchase this lesson- which features a full slideshow presentation with project goals, artist history connections… printable PDF drawing guides…. and a specific grading rubric . Once purchased, the presentation will be emailed to you promptly. This is also available on my TPT site 🙂 Click here to check it out.
Video tutorial:
Thanks for checking out this blog post. I would love to see your creations if you use these steps to create your own haunted house. Feel free to tag me on Instagram and possibly get featured in this site! Also, please follow Make a Mark Studios on Facebook to keep up with the latest posts! Thanks in advance!
-Stephanie Villiotis , creator of Make a Mark Studios
Share this:
Create a spooky scene with this haunted house drawing tutorial
Try our magazines – get 6 issues from just £9.99!
Grab a pencil and master this easy haunted house drawing! Follow our step-by-step tutorial or download the completed version for your free haunted house colouring page
Share on Facebook
Share on Twitter
Share on Pinterest
Share on Whatsapp
Share on Tumblr
Email to a friend
This competition is now closed
By Holly Spanner
Published: October 24, 2022 at 12:51 pm
The leaves are turning to autumn gold, the smell of pumpkin spice is in the air and we're more than ready for a spooky art project !
In this easy haunted house drawing tutorial, we'll show you how to draw your own haunted house and guide you through each step. We'll begin by planning out the basic shape and proportions of the house, before adding detail to finish.
This fantasy house sits atop a spooky hill with a winding path leading to the front door. This haunted house drawing comes complete with (easy to draw) ghosts, a creaky tree and even the odd spider or two.
Younger kids may find it tricky to draw their own haunted house, but there's no need for them to miss out on all the fun. We've created a free haunted house colouring sheet for them to colour in!
Top tips for your own haunted house drawing
Take inspiration from real-life houses and churches: Look at some older Victorian properties as gothic architecture had a major revival at that time, culminating in the middle of the 19th Century.
Think about your angle: If you're a beginner, draw your haunted house at eye-level (like you're looking at the house straight-on). This technique eliminates the need for complicated perspectives and proportions.
How to draw accurately: If you're aiming for precision, hold the pencil near the tip as this will give you more control.
Practise your haunted house drawing: Don't be afraid to try out different compositions before you settle on the final design for your haunted house drawing. Draw without the worry that it will be seen by anyone else. Choose your favourite composition to develop into your final design.
Less is more: When adding details like brickwork, keep it simple – you don't need to draw every single brick (although you can if you want to). Adding the occasional brick here and there is enough to suggest overall brick construction without going overboard.
Add spooky silhouettes: If you choose to draw a creature in front of the moon (we've gone for a bat), then you don't need to add detail as they would be seen in silhouette.
Experiment with different paper: For example, using white pencils (or chalk) onto coloured paper will give your haunted house a ghostly appearance!
Haunted house drawing materials
Before you start your haunted house drawing, you'll need some art supplies! Here are some of our recommended materials to buy…
Black paper sketchbook
If you want to take your haunted house drawing to the next level, why not sketch it out using light-coloured pencil crayons (or gel pens) onto a dark background?
This helps create a ghostly look to your work, which is ideal when you're drawing spooky ghosts or abandoned houses. Your drawing will really stand out on the page! You might even like to recreate your haunted house using chalks or pastels.
This black paper sketchbook is perfect for all of your spooky drawing ideas! Try creating your own pumpkin drawing, doodling spider webs or sketching a picture of a creepy witch!
Sketching pencils
A good set of sketching pencils will last for years, so it's worth getting a set that contains all the standard graphite hardness. A 5H pencil will draw a very fine, light line (the 'H' in the name denotes 'hard) while a 5B pencil will draw a much darker, softer line (the 'B' in this case stands for 'black'). An HB pencil is therefore in the middle; a 'hard black' pencil – or, in other words, 'medium hard'.
The darkness of the line comes down to the amount of graphite in the pencil; in the H-pencils there is less graphite and more filler material, while in the B-pencils there is more graphite than filler material.
Halloween pencil case
Keep all your sketching materials organised in this cute Halloween pencil case. Adorned with pumpkins, black cats, cobwebs and bats, it's made from high quality canvas and has a smooth zipper for snag-free access.
This adorable pencil case has a large capacity and can hold a collection of around 80 pens and pencils. It opens wide at the top for easy access, and you can clearly see what you've got. Being made from canvas means that it's hard wearing and durable, ideal if it's going to be tossed around in a school bag.
This is the latest iPad to hit the shelves – it's the 2022 iPad air. It comes in at a much more affordable price point than the iPad pro, and it's ideal for digital drawing.
This is because the 2022 model of iPad air now has the new M1 chip, so in terms of performance that makes it equal to the 2021 iPad Pro. But at around £200-£500 cheaper, it's a strong contender for those keen to get into digital art, or just catch up on all your favourite TV craft shows. Make sure you check out our pick of the best drawing apps for iPads before you get started.
Apple pencil
If you have an iPad, the 2nd generation Apple Pencil is a must-have when it comes to iPad accessories. Digital drawing becomes easier, and it's more like working with a real pencil. The 2nd gen model has also had several upgrades when compared to the original. A double tap on the Apple pencil allows you to quickly and intuitively switch between different tools, which is very useful when alternating between sketching and colouring, or when working on different layers.
The first-generation Apple pencil charged by taking the cap off and inserting the whole pencil into the charging port at the bottom of the Pad. The 2nd generation however is a little less cumbersome, as it magnetically attaches to the iPad Pro, charging wirelessly.
Ready to start our easy haunted house drawing lesson? Read on to find out how…
You Will Need
Drawing pencils
Colouring pencils
Eraser , we'd recommend a mouldable eraser
Total time:
Sketching a light outline of your haunted house, position your house on a hill.
All the best haunted houses sit atop a spooky hill, so let's begin by sketching out a rough hill shape at the bottom of your page.
Plan out the shape of your haunted house by adding a rectangle on top of the curve. Make it slightly smaller at the bottom than at the top.
Use shapes to build your haunted house
Add three more rectangles to the shape of your house, one to the left and two to the right. Make them as tall (or short) as you like. Tall, skinny rectangles will give you a tower, while shorter blocks give you a more traditional house shape.
Add some roofs to your structure. Keep them fairly simple at this stage – use shapes like triangles and trapezoids.
Sketch chimneys and a winding path
Plan where you want your chimneys to be and add an arched doorway in the front of the building.
For the path leading up to the door, draw in some wiggly lines that extend from the door to the bottom of the hill. Draw the lines roughly parallel to each other, gradually making them further apart as you get to the bottom of the page. This helps create depth.
Set the scene with extra details
Draw two diagonal lines, on either side of the path you drew in the previous step. By extending these lines from the side of the path, instead of either side of the hill, gives the impression of an eroded hilltop.
Draw in some arched windows, a circular window in the top of the tower and a small door to the right. For balance, keep the windows a similar shape to the main door, just a little smaller.
Hang a moon in the sky
Sketch out the shape of a crescent moon in the sky. Another option is to draw a huge, full moon behind the entire house.
In front of the moon, sketch out a large 'V' shape. This will be a bat later on!
Build your house with bricks
Next, plan out the bricks that form the edges to the building. Alternate them in size so that you have a longer one followed by a shorter one.
No haunted house is complete without ghosts, so sketch in some balloon-shaped ghosts, tapering their 'tails' into a point. Position them so they're coming out of the chimneys, doors or windows.
Add a crooked tree to your haunting scene
Roughly plan out the shape of a spooky tree. Position it wherever you have a little space left on your hilltop, which in our case is to the right.
For these next steps, we've lightened the construction lines to help you see the detail more clearly.
Working with the main shape of the building, start to go over the construction lines to finalise them. Don't use a ruler; keep your lines a little uneven and add a wiggle here and there to suggest bricks. Start with the outside of the building and the roofs.
Create a creepy doorway
Since the position of the door is the element that informs us on the positioning of the path, it's a good idea to get this done early on. Go over the outline of the door and add two horizontal cross supports.
Next, draw in some vertical lines (behind the horizontal cross supports) to give the impression of an old, wooden door. Add in a circular door knocker, and some nails to keep the boards in place.
Make an entrance
Working your way around the door, draw in some stones. Make them rounded at the edges and slightly uneven.
Draw in some steps, extending from the door down to the path. Make the vertical sections of the steps shorter, and the horizontal part (the part you would stand on) slightly longer.
Draw a crumbling path
Go over the lines of your path, using uneven, sometimes broken lines. Don't be afraid to make the edges wiggly – it helps give the impression that the edges of the path are crumbling away.
Using the hilltop curve as a guide, sketch in some tufts of grass. On the right-hand side of the path, angle them towards the right away from the house and on the left, angle them towards the left.
Add texture with clumps of grass
Add in a few more tufts of grass at random intervals along either side of the path. Next, draw in some wiggly, broken lines extending from the path down the hillside.
Make a rough path
Using loose, random patterns, draw in some loose stones (small circles) and scuffs (short, wiggly lines) along the path. This helps give it the impression that it is old and disused.
Draw in the two chimney pots and give the top of the tower a spire.
Work on your windows
Working on the windows, add some leadwork inside the window frames using a series of curves.
Create window frames for your windows by adding a rounded brick at the base of the window, and a thin perimeter line around the outsides.
Finishing the round window
For the circular window at the top of the tower, divide it into quarters and draw a perimeter line around the outside. Add two vertical lines to the small door on the right-hand side, as well as a doorknob and hinges.
Go over the bricks on the edges of the haunted house.
Put tiles on the roof
Next, fill in the roofs by adding some tiles. Start at the top, and working on one line at a time, draw scallop shapes all the way down. Make the tiles slightly rounded at the corners.
Continue until all the roofs have tiles on them.
How to draw a pumpkin
Looking for more spooky art ideas? Set the scene for Halloween with our easy pumpkin drawing tutorial.
Draw a hint of brickwork
You don't need to draw every brick that makes up the haunted house, sometimes it's better to just 'suggest' something. With this in mind, draw two patches of bricks on your haunted house and leave the edges open.
To add a little age to your spooky house, draw in some random vertical lines (that look like flattened versions of the letter 'T') all over.
Complete your scary ghosts
Go over the lines of your ghost. We've opted for two, but you can add as many as you like. Colour in the eyes and mouths of your ghosts.
Make a bat soar beside the moon
Draw some ovals on the moon to create some craters.
Using the large V shape as a guide, draw a simple bat. If you don't feel confident drawing your own, you can find another bat template in our papercraft section that you can trace. Colour the bat in black.
Make your house look empty and eerie
Across one of the windows, draw two rectangles. This adds to the illusion that the haunted house is abandoned (by mortals).
Grow a twisted tree
Roughly draw out the shape of a crooked tree. We're coming into winter, so leave the branches bare. Colour the tree in black.
Draw sinister spider webs
Draw in some spider webs in the gaps between the branches. Add a simple spider hanging from one of the branches.
Add another spider hanging down from the boarded-up room. That's all the detail done!
Bring your house to life with spooky shading
Take your haunted house to another dimension.
All that's left is to colour in your haunted house drawing. We're using grayscale, but feel free to use any colour you like. Start with the boards across the windows – colour them in, then add some fine lines on top to indicate woodgrain.
Add some light shading to the roof, door and bricks. Very lightly, also shade in the moon.
Create a shady effect
Add in some shading to the hill. Look at where the light from the moon is coming from and use lighter shading in those areas closer to the moon, and darker shading in those areas further away from the moon. Colour in the windows using a dark colour.
Add frightening finishing touches
Add in a bit more shading along the windowsills and inside the craters on the moon.
Add some shading along the sides of the ghosts that face away from the moon.
Make the lines vanish and reveal your finished drawing!
Finally, erase your construction lines and admire your haunted house drawing!
Creating a spooky scene with a haunted house drawing
Drawing your own haunted house is straightforward once you've planned out the composition. It's a fantasy building, so it can be as quirky or spooky as you like!
Once you're happy with the composition, you'll need to finish off your drawing with some creepy details. A few crumbly bricks on the main building, some loose rocks on the path and a couple of ghoulish spirits popping out the windows will do the trick.
Keep it simple and colour your haunted house in grayscale, or give it some pizazz by using bright Halloween colours, like purples, greens and orange.
Get your home ready for Halloween!
If you're thinking about dressing your own home as a real-life haunted house, then starting with the front door is a great way to do just that. We've pulled together our favourite Halloween door decorations that you can make yourself with just a little know-how. The spookier, the better!
Holly Spanner
Social networks.
Staff Writer, BBC Science Focus
Holly is the staff writer at BBC Science Focus, and specialises in astronomy. Before joining the team she was a geoenvironmental consultant and holds an MSc in Geoscience (distinction) from UCL.
BONUS £10 Amazon.co.uk Gift Card when you subscribe ! Choose your favourite magazine today.
Daily deals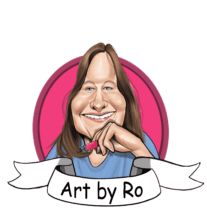 The place where hobby artists grow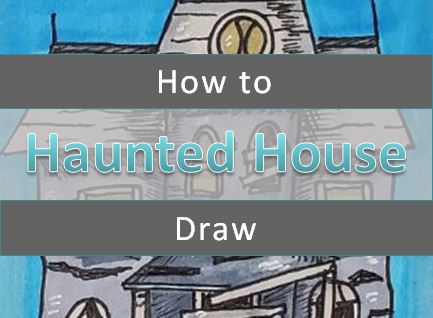 How to Draw a Haunted House Step by Step with Pictures
How to draw a haunted house | art tutorial.
Drawing and creating art is a skill that everyone can learn. And it should be fun and relaxing. The more you enjoy your creative time, the more you'll want to work on your artwork. And the more your draw and create art, the better you will get.
Let's gather up some supplies and get ready to have some fun.
* Some of the links in this post may be affiliate links. This means I receive small commissions for purchases made through these links at no extra cost to you.
Art Supplies
Thin black marker
Paper or cardstock
Click Eraser , Pink Pearl Eraser
White Gelly Roll pen
Free Guide – How to Improve Your Drawing Skills
How to Draw a Haunted House
Learning how to draw a haunted house is really easy if you break things down into simple shapes and steps. And we like to keep things as easy as possible.
There are lots of different haunted houses to look at for inspiration or to use as a reference. The one we'll be drawing today shouldn't be too difficult for a beginner. But you can make your haunted house as complicated as you want to make it.
Step 1: Basic Shapes
We'll start by drawing out some basic shapes. Begin by drawing a rectangle. This will be the center section of your haunted house.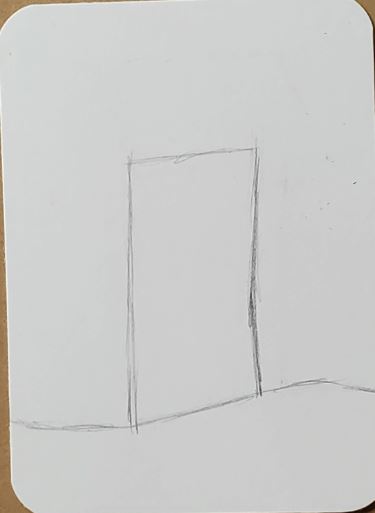 You can add a hill or some ground at the bottom.
Next you'll want to draw the roof for that section. Notice how the bottom edge of the roof is wider than the rectangle shape. And that it gets more narrow at the top of the roof.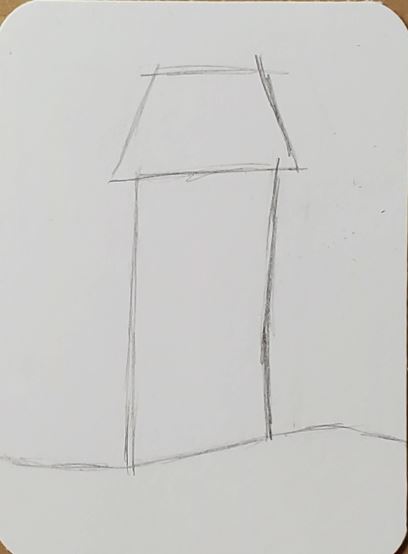 Now draw a triangle shape for the porch roof. You can draw your porch the same width as the main section of your house. Or you can make is slightly wider.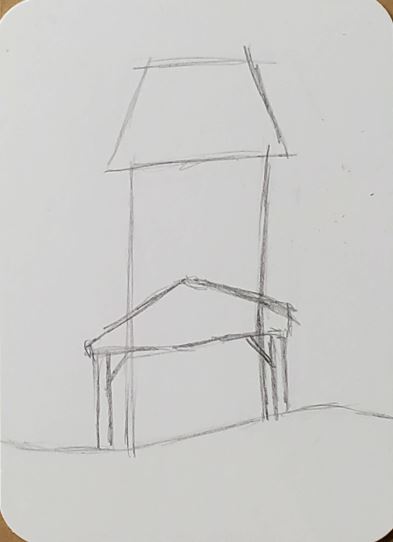 Add a couple of posts to hold the roof up. 
Step 2: Add Details
You can start adding in some windows now. Or add them in later. It's up to you. There are many different ways to draw your windows. You can make them round, rectangular, or arched. And I'm sure there's other ways as well.
Next, add another section to the left side of your haunted house.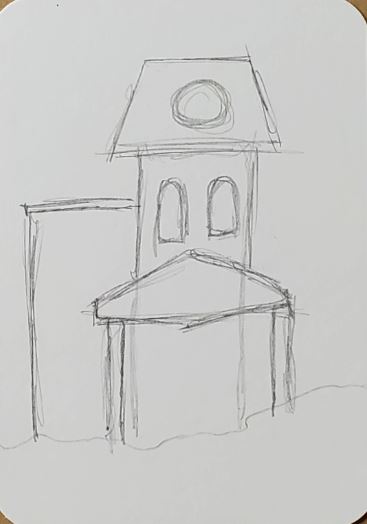 Draw a roof that is similar in shape to the main roof you drew earlier. And again, add in some windows.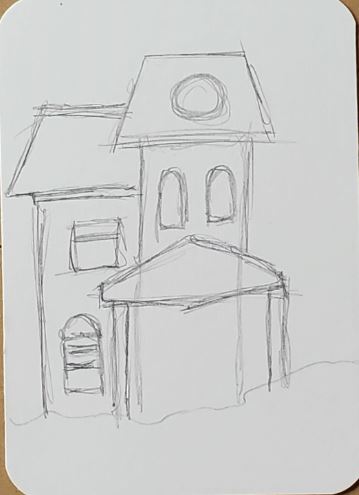 Do the same thing for the other side of the house.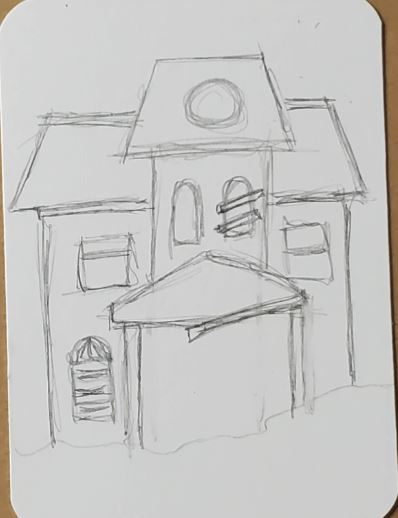 Start adding in more details like boards for the windows, frames, shingles, lightning rods, and whatever else you think will look good on your haunted house.
When drawing the different parts of your haunted house you can make things a bit crooked. It will help your house look older and a bit more haunted.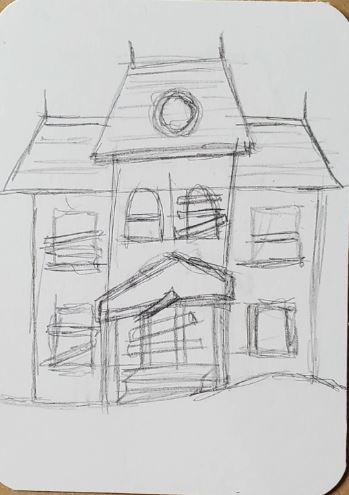 Haunted House Outline
Making a haunted house outline is really easy. Simply trace over the pencil lines you want to keep with a black pen or marker. I'm using a PITT Artist Pen for my drawings today. But there are other pens that work just as well.
You can make your lines thick or thin. Or you could use a variety of line weights for you outline. Just do whatever fits with your artistic style.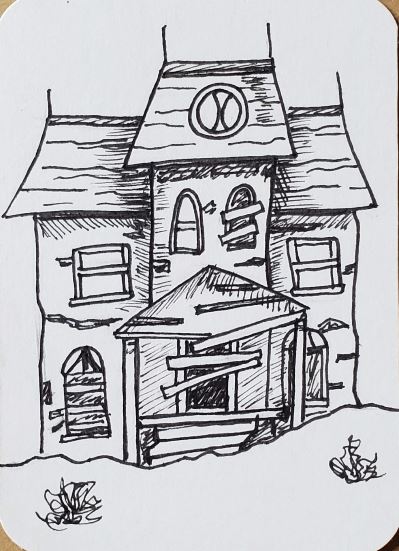 You can add in some shading and texture as well. Adding some blemishes to your haunted house will give it more character and make it look more interesting.
Now is also a good time to drawing anything you want to add to your background. When you're finished making your haunted house outline you can use an eraser to clean up your drawing and remove and pencil lines.
How to Draw a Haunted House with Markers
L earning how to draw a haunted house with markers is easier than what you might think. And there's only a few things you need to keep in mind.
First, if you want to be able to blend your colors together you need to use alcohol based markers. Bic, Sharpie, and Copic for example. As well as many others.
Second, you need to work while the colors are still wet or they won't mix together. This isn't a big deal. Just make sure you work on a section at a time.
Third, you need to use colors that are similar to each other if you want to create a smooth transition of color. If your markers are too different they will leave a harder edge.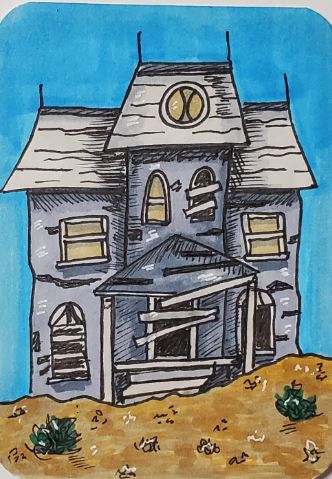 Regardless of what medium you use, be sure to layer your colors to keep them from looking flat.
I used grays, browns, and blue for my artwork today. You can make the areas under the roofs darker to show the shadow from the overhang. And add some darker areas in the windows between the boards.
Use a white Gelly Roll pen for the highlights.
And don't be afraid to experiment with the colors you're using.
Haunted House Silhouette Drawing
You can use the same process to make a haunted house silhouette drawing. Just begin with some basic shapes. Then draw out all of your details. Then outline your drawing.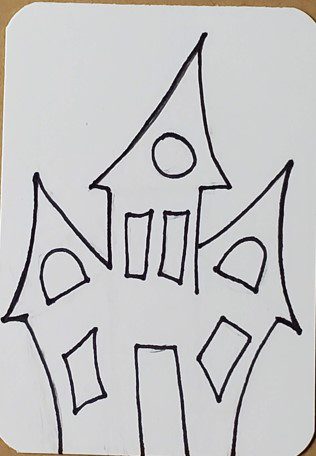 Fill in your haunted house shape with solid black using a marker. Finish up your haunted house silhouette drawing by adding a background.
Add some bats and trees to the background to make it a bit more interesting.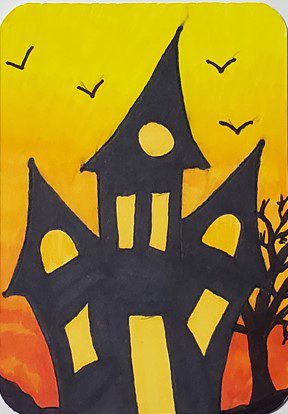 Final Thoughts & Next Steps
Now that you've learned how to draw a haunted house, what should you do next? The answer to this is easy… draw more.
Do as many haunted house drawings as you can without getting bored. A good way to do this is by using Artist Trading Cards for your drawings. Give yourself a week to do 7 drawings and see what you come up with.
If you need help on what to do to improve your drawings and artwork, download our FREE Guide .
More Posts Like How to Draw A Haunted House
Learn to Draw a Raven
How to Draw Skulls
Cactus Drawing Tutorial
How to Draw Spooky Trees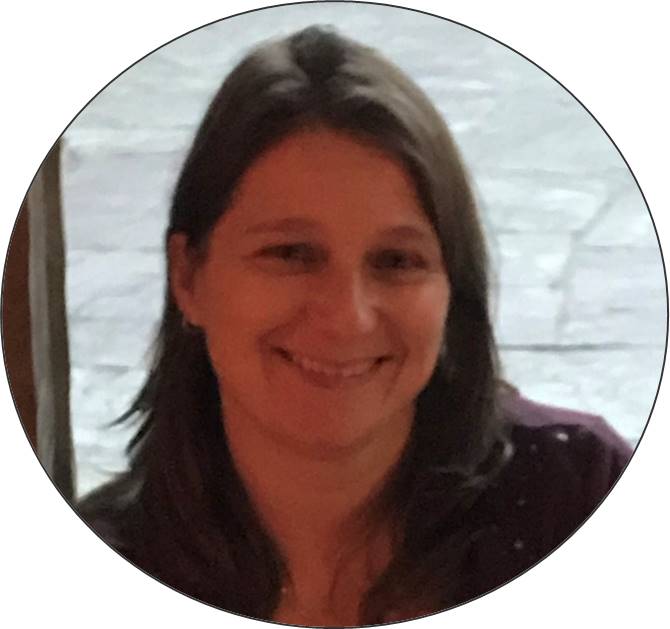 Roshanda is an art education blogger who is on a mission to coach and encourage as many aspiring artists as possible through the use of her blog. Learn more about her on the About Me page and connect with her on Facebook , Twitter , and Instagram .
Leave a Comment Cancel Reply
Your email address will not be published. Required fields are marked *
Privacy Overview
We're sorry, but Freepik doesn't work properly without JavaScript enabled. FAQ Contact
Notifications
Go back Remove
No notifications to show yet You'll see useful information here soon. Stay tuned!
Downloads 0/60 What is this?
My collections
My subscription
Find out what's new on Freepik and get notified about the latest content updates and feature releases.
cartoon haunted house
haunted house background
haunted house clip art
haunted house coloring
halloween drawing
happy halloween drawings
vampire drawing
witch drawing
zombie drawing
skeleton drawing
Haunted House Drawing Images
Add to collection
Save to Pinterest

haunted house
halloween house
happy halloween
halloween night
Halloween inspiration
christmas handdrawn
christmas town
christmas concept
halloween background
spooky background
ghost house
horror house
scary house

How to Draw a Haunted House Tutorial Video and Haunted House Coloring Page
Below you'll find an easy step-by-step tutorial for how to draw a haunted house and a haunted coloring page. there are several styles to choose from, because choices are always fun, when it comes to drawing..
Haunted House Drawing
Haunted House Tutorial Video
Haunted houses come in all shapes and sizes, of course, but if students really want to make them look scary, I have a few tips for drawing your best haunted house. * The more unbalanced and pieced-together looking the house is, the better. They need to be the opposite of neat and orderly. That's why this house has an overall funky and irregular shape to it. * They need to be dull and boring in color. Given that the neglect is often part of the story, the more blah the colors, the better." * The creepy details will make for an interesting story. Why is one light on and none of the others? Is there a black cat staring back at me? And did I really just see a ghost in that window? * The spooky season has a lot to offer, when it comes to creativity. That's the fun part to embrace, if you ask me.
Join "The Daily Draw" below to get this free download!
Download this Haunted House Lesson for FREE when you join "The Daily Draw"
Find out why over 40,000 creatives enjoy finding my latest drawing inspiration in their inbox … almost every day. Why spend hours searching when the ideas can come to you?
Join now, download this tutorial, and you may get a new one as soon as tomorrow.
Already subscribed? No worries, you won't receive duplicate emails. (That wouldn't be very creative, now would it?)
Unsubscribe or move to a weekly email anytime, via a link at the bottom of each email.
Haunted House Coloring Page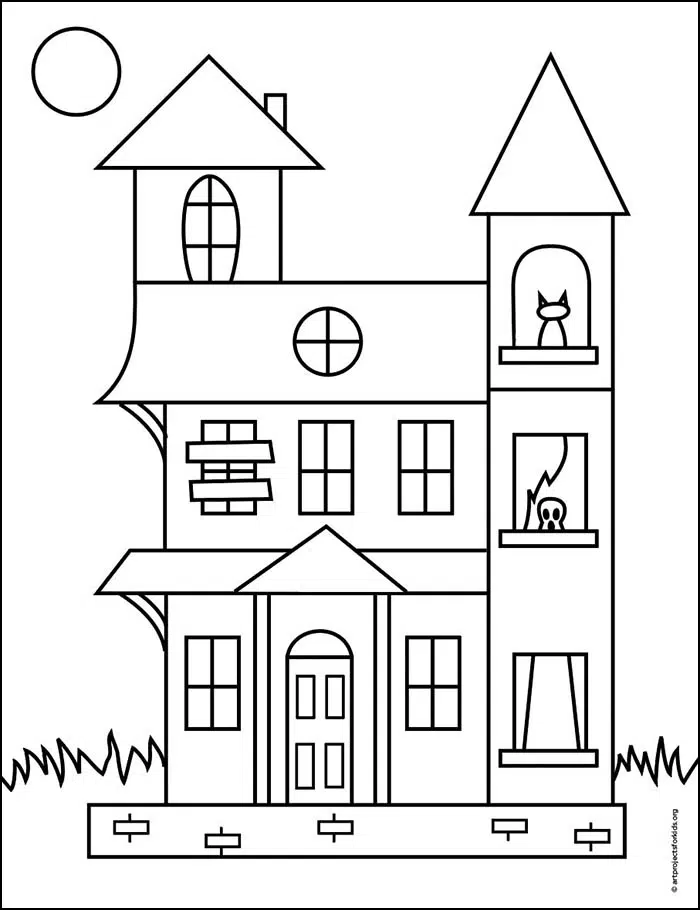 Materials for Haunted House Drawing
Drawing Paper . This is the good stuff you can buy in bulk for a good price.
Pencils. I like how this brand always makes nice dark lines.
Black Marker. A permanent marker will give you a dark black color.
Crayons . The larger packs are nice for more color choices.
Note: All of the above are Amazon affiliate links.
Time needed: 45 minutes
Step by Step Directions
Already subscribed? Thanks, then use the button below
Another Haunted House Drawing Project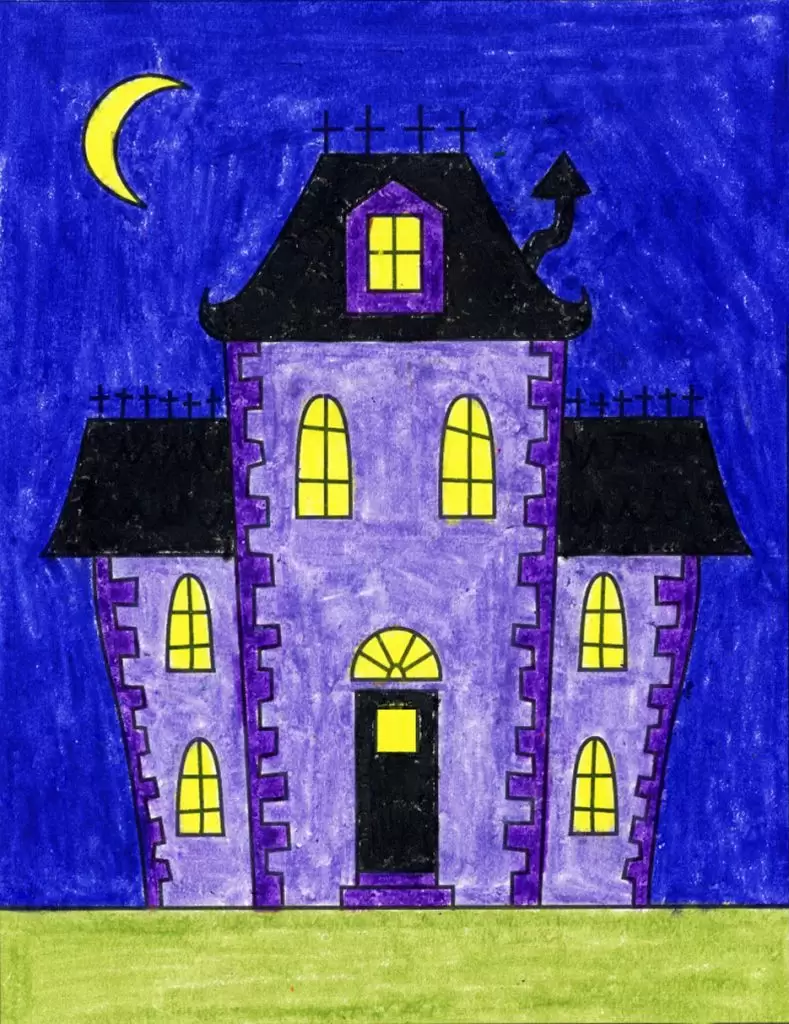 Here's another style of haunted house to draw. It has a kind of Victorian look to it, which can bring another kind of vibe to your haunted house drawing projects.
How to Paint a Haunted House
One More Haunted House Art Project
Similar Posts
Easy How to Draw a Horse Tutorial Video and Horse Coloring Page
Easy How to Draw Anna from Frozen and Anna Coloring Page
Easy How to Draw a Hundertwasser Art Project and Coloring Page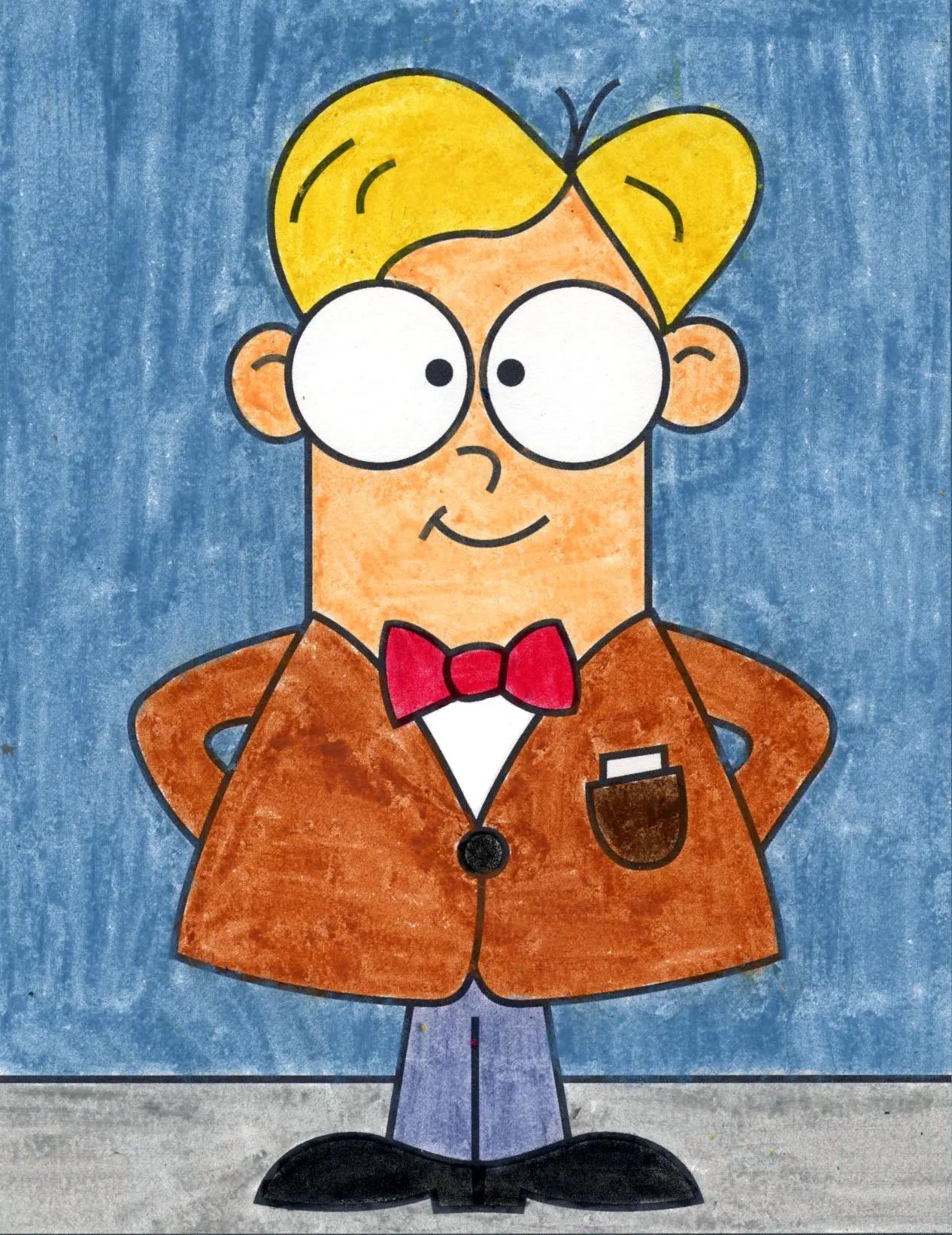 How to Draw a Cartoon Professor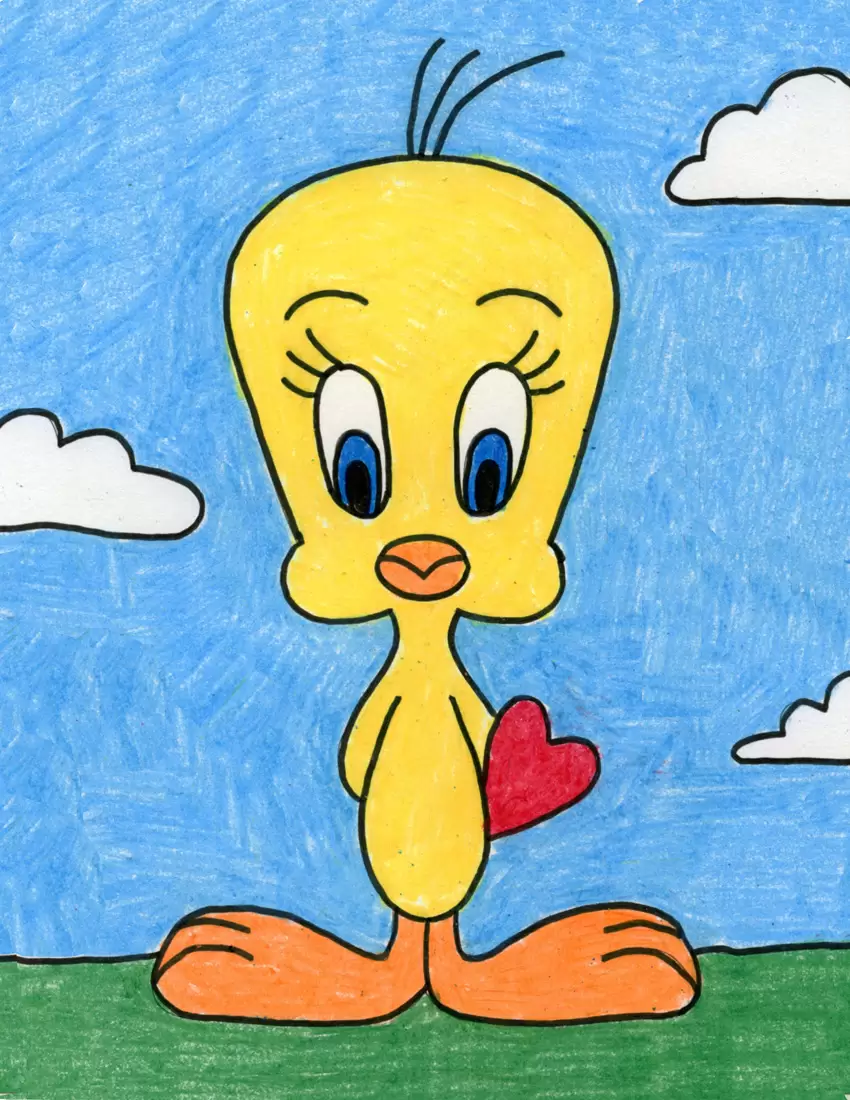 Easy How to Draw Tweety Bird Tutorial and a Tweety Bird Coloring Page
Easy How to Draw a Princess Tutorial
Leave a reply.
You must be logged in to post a comment.
Privacy Overview
Haunted Mansion Stretching Room Portraits (Disney Parks)
in Disneyland Resort , Walt Disney World
Filled with grim grinning ghosts, singing busts, wall-to-wall creeps, hot and cold running chills, and of course, the Ghost Host, the Haunted Mansion draws in Disney Guests as they visit the 999 happy haunts at both Walt Disney World and Disneyland.
One of the most iconic aspects of the Haunted Mansion is the stretching room, which acts as the pre-show and sets the tone for Guests as they enter the mansion. But as with any Disney Parks attraction, the backstory and small hidden details are what interests many. So what exactly is the backstory to the stretching room? Who is featured in the stretching room portraits?
Here is a complete guide to everything you should know about the stretching room and the portraits prior to your next visit to the Haunted Mansion.
Haunted Mansion Stretching Room
The Haunted Mansion is a popular attraction located in both Magic Kingdom and Disneyland. The popular dark ride takes Guests through a mansion of haunted characters while riding aboard a Doom Buggy. But prior to entering the Doom Buggy, Guests will be immersed into the storyline thanks to the pre-show, also known as the stretching room.
What is the Haunted Mansion stretching room?
"Our tour begins here in this gallery, here where you see paintings of some of our guests as they appeared in their corruptible mortal state. Kindly step all the way in, please, and make room for everyone. There's no turning back now."
When visiting Haunted Mansion, prior to boarding your Doom Buggy, you will enter the stretching room — filled with the iconic portraits and gargoyles as the Ghost Host welcomes you into the Mansion. Once this scene is over, Guests leave and head to the loading area to take the tour of the Haunted Mansion.
What can be seen inside the stretching room?
The stretching room is filled with iconic gargoyles, "wall to wall creeps" and, of course, the four stretching room portraits.
Should Disney remove the hanging body scene from Haunted Mansion?
The stretching room in Haunted Mansion has been gathering a lot of conversation due to the hanging body scene. On a Reddit thread, one Disney fan sparked the conversation of this scene which takes place in the stretching room inside the Haunted Mansion at both Magic Kingdom in Walt Disney World and in New Orleans Square in Disneyland Park:
No seriously. If we're talking about the most overtly offensive scene in a Park attraction that could pretty easily be changed, it's this scene in the stretching room. You all know it. The one where the ghost host says "Of course, there's always my way" and flashes to a hanging body. Why is this problematic? A) It trivializes Suicide as a joke. B) It's gruesome C) It features a noose, which ties in to lynching. I'm not joking here. I do think this should at least be up for consideration, as it would only take a small script rework and a removal of the lighting flash that makes the body visible.
Fans quickly came to its defense saying that is is an iconic part of the rid e and they would hate to see it go. And though Disney has heard these complaints, they confirmed that the scene will remain unchanged, for now.
Haunted Mansion Stretching Room Portraits
How many stretching room portraits are there?
There are a total of four stretching room portraits, which you can see in the photo above. When the Haunted Mansion room stretches, the walls reveal the rest of the portrait, such as the alligator or the tombstone as seen in the two middle portraits above.
Who is included in the stretching room portraits?
There are a few fan theories regarding the backstory for the stretching room portraits, but per Haunted Mansion Fandom , The Ghost Gallery was the unofficial backstory created by Walt Disney World Cast Members. This. backstory states that the four portraits are titled The Dynamite Gentleman, The Tightrope Walker, The Black Widow, and The Quicksand Men.
Here is a bit more about each portrait, according to Haunted Mansion Fandom :
The Dynamite Gentleman : This character was given the name of Ambassador Edward Gracey, a wealthy diplomat in Burma who was the paternal uncle to the mansion's Ghost Host (made into a composite character with Master Gracey), George Gracey Jr. Edward died during a revolutionary attack in Rangoon where the embassy he was in got blown up.
The Tightrope Walker : The Tightrope Walker is given the name of Mistress Lillian Gracey (née O'Malley) and is identified as the Ghost Host's first wife. Lillian was born into a wealthy and doting family but ran away from home at the age of 15 to pursue a relationship with her true love, who was a circus performer. Before she could reunite with him, Lillian's lover died in a freak accident involving a lion and Lillian joined the circus as a tightrope walker as it made her feel closer to her lost love. Despite still being consumed by grief, Lillian married the wealthy George Gracey Jr. only for him to frequently cheat on her with his clairvoyant Madame Leota who killed Lillian out of jealousy by convincing the woman to do a tightrope act for the family then summoning an alligator to kill her.
The Black Widow : The black widow was made into the Ghost Host's mother Mary Gracey née Gilbert who was manipulated into marrying his father George Gracey Sr., who was a lackluster lover and absent husband that left his wife to effectively be a single parent. Eventually Mary sent George Jr. away to Yale and George Sr. returned to their home. George Sr. revealed to Mary that he had cheated on her with a woman named Mrs. Patterson, which Mary happily took as an opportunity to murder her husband with a hatchet and legally get away with it by claiming it was a crime of passion. Using her inheritance, Mary fled the country to never be heard from again, leaving George Jr. as the new master of the Gracey Estate.
The Quicksand Men : Each of the three quicksand men in this story is revealed to be an illegitimate member of the Gracey Family who was kept around as a servant by the Ghost Host but who prior to that worked as a cast member at the same circus as Lillian O'Malley. The man on top was the mansion's liveryman Daniel Patterson and was the illegitimate half-brother of the Ghost Host, born to the Host's late father and his mistress. The man in the middle was mansion handyman Asa Gilbert who was the half-brother of the Ghost Host's mother, the Black Widow, who had chased him away with death threats. The man at the bottom was mansion gardner Eddie Foster, the illegitimate son of the Ghost Host's uncle Ambassador Edward Gracey. All three men were in love with Mistress Gracey and after her death they all became melancholy. George Jr.'s illegitimate daughter with Madame Leota, Little Leota, attempted to seduce the men, but after they rebuked her affections she tricked them into getting trapped in the mansion's "quicksand" pit where they all died.
More on Haunted Mansion
The spirited Haunted Mansion adventure will be guided by the "disembodied voice of the Ghost Host" as he is your private tour guide "through the cadaverous realm of an eerie haunted estate, home to ghosts, ghouls and supernatural surprises."  Beware of hitchhiking ghosts!
Disney World describes this attraction  as:
The disembodied voice of the Ghost Host is your private guide through the cadaverous realm of an eerie haunted estate, home to ghosts, ghouls and supernatural surprises. Glide past a casket-filled conservatory, Madame Leota's chilling séance room and a ghostly graveyard of singing specters as you attempt to find your way out. Beware of hitchhikers—these phantom pranksters may follow you home. Happy haunting!
The  official description of the Disneyland ride  reads:
Dearly depart into a foreboding estate, drag your body to the dead center of the Portrait Chamber and watch as the walls begin to stretch before your eyes. Climb into your waiting Doom Buggy and embark on a shivering journey into an unearthly realm. The disembodied voice of the Ghost Host is your private guide through the cadaverous dwelling—home to grinning ghosts and other spectral surprises. Glide past a rattling casket in the conservatory. Head off to Madame Leota's spooky séance room. Float by the Grand Ballroom and its waltzing apparitions. Take a spin through a cemetery where the spirited residents regale you with song. Beware of lurking hitchhikers—these phantom pranksters may try to follow you home!
Ready to visit the Disney Parks and ride Haunted Mansion?
If you need help planning your next Walt Disney World or Disneyland vacation to experience the stretching room at Haunted Mansion, the Authorized Planners at Academy Travel have you covered! Academy Travel has earned the highest designation that Disney can bestow upon a travel agency, EarMarked Diamond.
As long as you book your trip with an Authorized Disney Vacation Planner you can rest assured that you will be working with an agency that Disney has vetted and is willing to associate their brand with that agency due to the knowledge and service level you will find at that particular agency.
Ready to find out what your dream vacation will cost?  Click here to get a free no-obligation quote .
EXPLORE Tech Help Pro About Us Random Article Quizzes Request a New Article Community Dashboard This Or That Game Popular Categories Arts and Entertainment Artwork Books Movies Computers and Electronics Computers Phone Skills Technology Hacks Health Men's Health Mental Health Women's Health Relationships Dating Love Relationship Issues Hobbies and Crafts Crafts Drawing Games Education & Communication Communication Skills Personal Development Studying Personal Care and Style Fashion Hair Care Personal Hygiene Youth Personal Care School Stuff Dating All Categories Arts and Entertainment Finance and Business Home and Garden Relationship Quizzes Cars & Other Vehicles Food and Entertaining Personal Care and Style Sports and Fitness Computers and Electronics Health Pets and Animals Travel Education & Communication Hobbies and Crafts Philosophy and Religion Work World Family Life Holidays and Traditions Relationships Youth
EDIT Edit this Article
PRO Courses Guides New Tech Help Pro Expert Videos About wikiHow Pro Upgrade Sign In
Browse Articles
Learn Something New
Quizzes Hot
This Or That Game New
Train Your Brain
Explore More
Support wikiHow
About wikiHow
Log in / Sign up
Hobbies and Crafts
Learning to Draw
How to Draw a Haunted House
Last Updated: May 19, 2023
wikiHow is a "wiki," similar to Wikipedia, which means that many of our articles are co-written by multiple authors. To create this article, 26 people, some anonymous, worked to edit and improve it over time. This article has been viewed 191,275 times. Learn more...
Any house may be haunted, or you may not believe that ghosts exist to haunt any building at all. You can draw any type of house you like and add spooky touches to make it look haunted, or, you can follow the steps below to draw either or both of two somewhat stereotypical haunted houses. Get started at step number one below.
A Traditional Haunted House
A Cartoon Haunted House
Community Q&A
Video . By using this service, some information may be shared with YouTube.
Other wikiHows
About This Article
To draw a haunted house, first draw 2 overlapping trapezoids with one oriented horizontally and the other oriented vertically. Then, draw horizontal trapezoids along the tops of these trapezoids to make the roof. Use simple polygons, like rectangles and triangles, to draw the front porch and door of the house, and then draw irregularly-shaped windows. Add a chimney to the top roof of the house, and make it slightly crooked. If you want to make the house even creepier, add some twisted, dead trees on either side! For tips on making a cartoon-style haunted house and adding color, scroll down! Did this summary help you? Yes No
Did this article help you?
You Might Also Like
Featured Articles
Trending Articles
Watch Articles
Terms of Use
Privacy Policy
Do Not Sell or Share My Info
Not Selling Info
Get all the best how-tos!
Sign up for wikiHow's weekly email newsletter

How to Draw A Haunted House – A Step by Step Guide
Haunted house drawing in just 8 easy steps.

There's something about spooky things and the paranormal that is fascinating to many people.
Whether it's a scary movie or a spooky Halloween party , many people are obsessed with all things ghostly!
Nothing signifies the thought of spooky ghosts more than a haunted house, and around Halloween time many want to learn how to draw a haunted house themselves.
If you would like to get into the spooky spirit with your own haunted abode, then be sure to read on!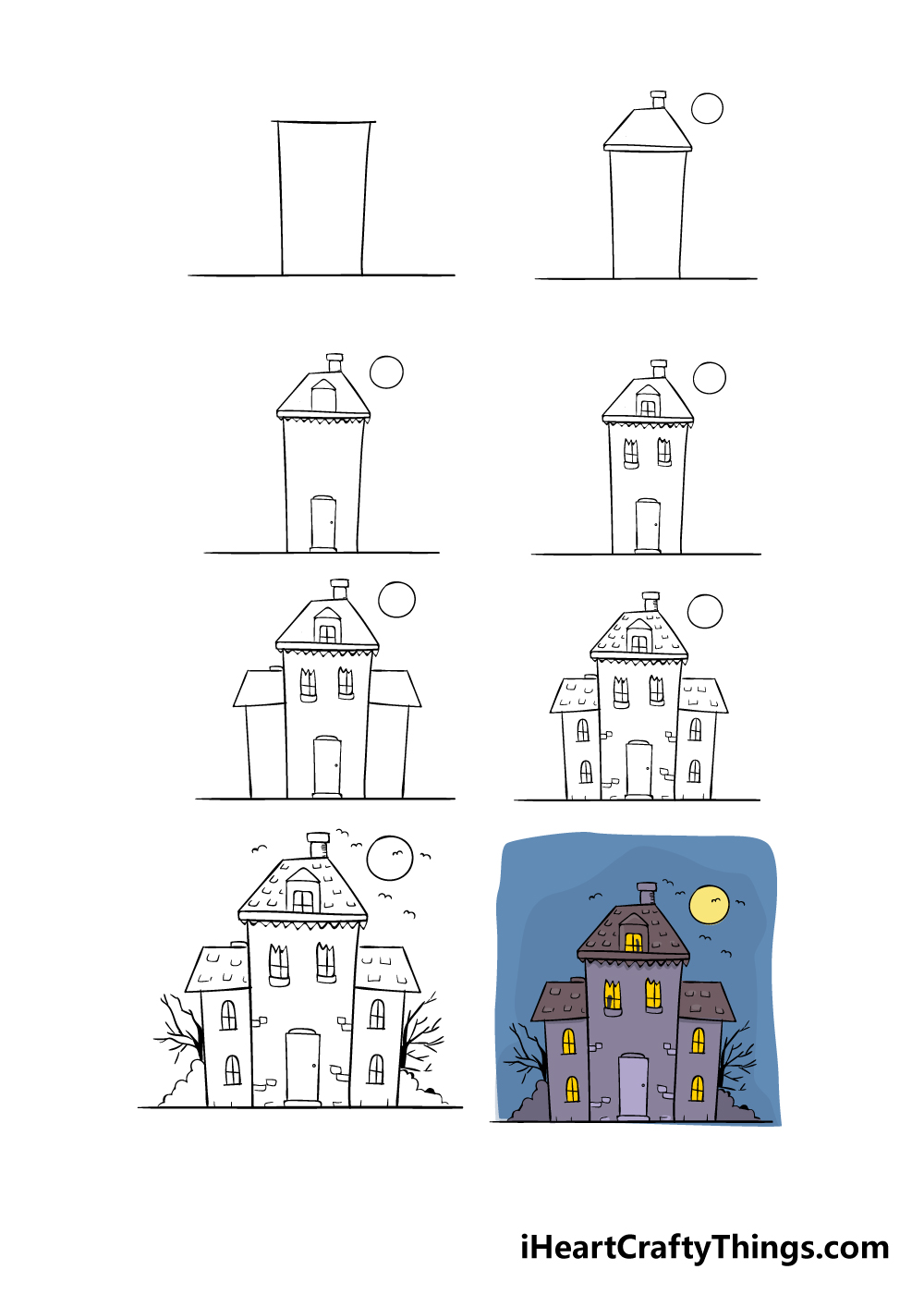 How to Draw A Haunted House – Let's Get Started!
For this first step of our guide on how to draw a haunted house, you will need a ruler along with your favorite drawing tool.
Once you have those ready, you can draw a horizontal line that will form the base of your haunted house.
Then, draw two vertical lines that are very slightly diagonally leaning outward. Finally, use a line over the top of these lines for the top of the house.
This top line should extend a little bit past the vertical lines, as seen in our reference image.
Step 2 – Next, draw a roof and the moon
You will be adding a roof in this step of your haunted house drawing. To do this, first draw a long, thin rectangle along the top of the house.
Then, draw two more straight lines going diagonally inwards on top of that rectangle. You can then draw a short horizontal line connecting these two.
Then, we shall be adding a chimney on top. This will be drawn with two short vertical lines with a small rectangle on top of them.
The last thing to do in this step is to draw a circle above the right-hand side of the house to make a spooky moon for your image.
Step 3 – Now, draw some house details and a front door
For this next step of our guide on how to draw a haunted house, we shall be adding a front door and some details to the house.
The door is pretty simple, and you can draw it with a fairly basic rectangle. Then, you can draw some simple shapes above and below the door for some extra detailing.
Then, draw a row of small triangular shapes underneath the roof for some spooky detailing.
Finally, you can draw a square with a triangle on top of it inside the roof outline.
Step 4 – Next, draw some windows
For most house drawings you would use simple rectangles and squares for windows, but that won't cut it for your haunted house drawing!
The windows inside the house will be rectangular in shape, but the top lines of the windows will be drawn with jagged lines.
Then, you can draw another window inside the section you drew into the roof in the previous step.
Step 5 – Draw some side sections of your haunted house drawing now
We will continue to build onto your house in this step of our guide on how to draw a haunted house.
Using your ruler, you can draw some vertical lines for walls and then add a similar roof to the one you drew for the main house using your ruler.
Step 6 – Next, draw some scary details
The goal of this haunted house drawing is to have it look as scary and haunted as possible, so we shall start adding these kinds of details for this step!
First, you can draw some small rectangle shapes throughout the house to make it look a bit more dilapidated.
For these rectangles, you may want to draw them free-hand and make them look more irregular.
Then, draw some rough square shapes without top lines into the roof to further create this effect!
Step 7 – Finish off the drawing with some more spooky details
Before you start adding some color to your haunted house drawing, you can first add some final details.
First, use some curvy lines around the moon to make the appearance of bats in the night sky. Then, draw some gangly black trees with some bushes at their base at the side of the house.
Which other details will you add to your haunted house?
Step 8 – Now finish off your haunted house drawing with some color
A big aspect of you can create some atmosphere for your haunted house will be with the colors that you use.
For that reason, we shall close off this guide on how to draw a haunted house with some colors! As you can see in our reference image, we used some more muted purples, greys and blues to color our picture in.
We also added some dashes of brighter color with yellow for the moon and windows.
The art mediums you use will also be helpful with creating a mood for your image. If I were coloring this in, I would use some watercolor paints for a more muted and moody look to the image.
If you use a brighter art medium it will also look great, though!
5 Tips To Make Your Haunted House Drawing Even Better!
Get ready to scare up some great artwork with these tips for your haunted house sketch!
For this haunted house drawing, we kept the windows pretty blank, but you could add some details to them. One of the best ways to do this would be by adding some spooky faces looking out!
These details could also be as simple as adding cracks or cobwebs onto the windows. What other scary details can you think of?
This drawing of a haunted house already looks quite atmospheric, but you could make it look even more so! There are some easy and effective ways you could do this.
In scary settings, you will often see layers of clouds obscuring the moon. That would be great to add to this drawing! You could also make the moon look larger and more imposing for another idea.
What other weather effects could you add?
We kept the focus on the house itself for this haunted house sketch, but you could extend the design a bit. One place to start would be by drawing a twisty path coming from the front door.
That way you could also draw a spooky front yard that could even have some gravestones in it! If you have the space on your page, don't be afraid to extend the house as much as you please.
This haunted house we have created would also make a great picture for a spooky Halloween card. You could do this by drawing the house on some hard cardboard and then folding it over.
Then, you could add some text, write a message inside and then have your card ready for whoever you would like to give it to!
You can also make your haunted house drawing even spookier with the right art tools and mediums. One fun idea would be to use a light wash of white paint.
If used in the right places, this would make it look like there is a blanket of mist covering the base of the house. Don't be shy about experimenting with colors and art tools!
Your Haunted House Drawing is Complete!
We really hope that this step-by-step guide on how to draw a haunted house wasn't too scary for you to take on!
Our goal with this guide was to show you how you can create a very effective haunted house drawing with some fairly simple linework and detailing.
We hope that this guide showed you how easy and fun it can be to create this image!
Now that you have mastered this guide, you're ready to create an amazing picture for Halloween or to have a spooky fun time no matter the time of year!
You could even add more elements like some ghosts and werewolves to the image for some extra scary fun.
We hope that you will join us for more drawing fun on our website! We have tons of awesome drawing guides like this one for you to enjoy.
We upload new guides very often as well, so be sure to check in often to never miss out.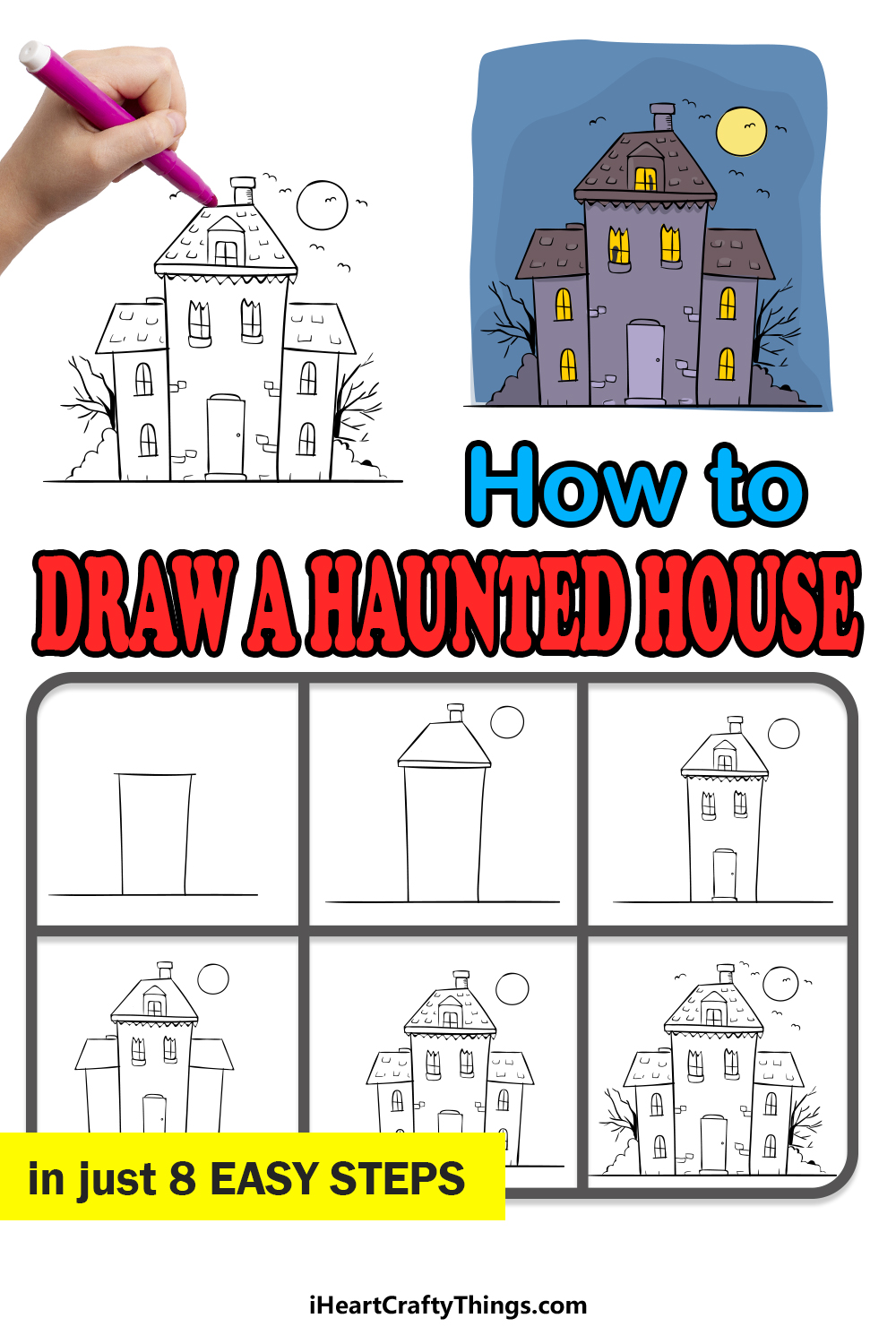 How to Draw A Flying Bird – A Step by Step Guide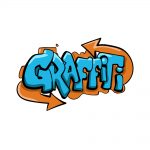 How to Draw Graffiti – A Step by Step Guide
© 2023 iHeartCraftyThings
Designing a Fright Attraction from the Inside Out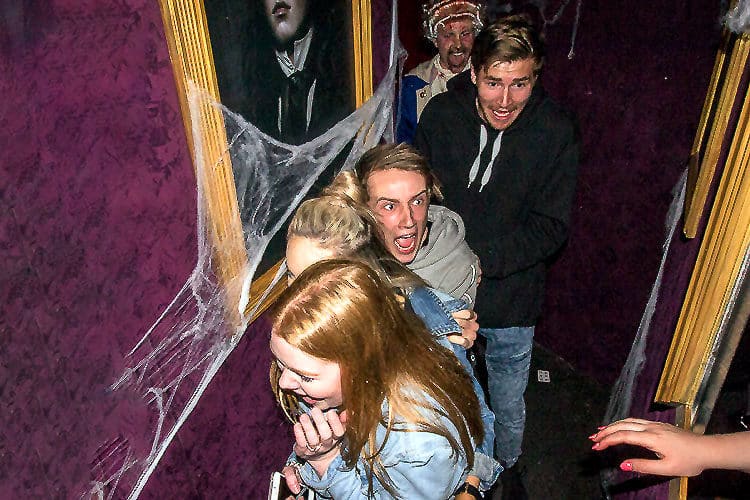 A basic overview of the fright attraction design process!
By leonard pickel, hauntreprneurs.com attraction design and consulting.
My background is architecture, and I design attractions using the architectural principle that "form ever follows function." Meaning that the purpose of a building (or any object) should dictate its shape. In haunted attraction design,  scaring people  is the function. Therefore, the design should help to increase the effectiveness of the scares. The form (shape and decoration) of the room and the rest of the attraction should flow from the scares. Rather than deciding on the room first and  what the actor will do  to startle the patrons last, good attraction design starts with what will scare the guests and uses the attraction design to maximize the effectiveness of the scares. 
The following describes how to design your fright attraction to serve its primary purpose—to scare the living crap out of your guests. You can't scare everyone, but you can profitably entertain them.
Key takeaways:
Design your haunt for the hardest person to scare, keep the guest guessing.
Structure Your Design around Story
Design Your Haunt for Maximum Capacity and High Throughput
Scare the whole group forward, darkness and claustrophobia are your friends, shorten the sight lines and figure out where to hide the monsters, design the room around the scare, mix up the scares.
Pace Your Scares and Control the Guests' Attention
Give Your Guests a Break
Maximize the travel distance, watch this session.
The video recording of this session is available free on HAuNT Connect .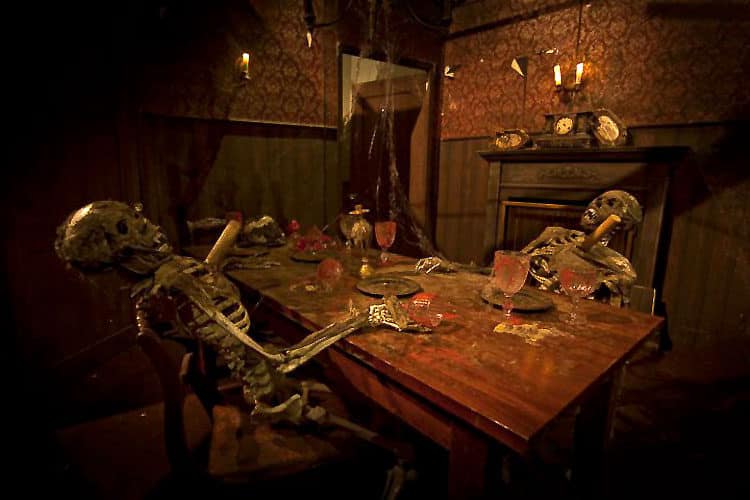 People emerge from a haunted attraction with usually one of two complaints—it wasn't long enough (because they wanted to experience the fear longer than they could), or it wasn't scary enough. We may not be able to do much about the first, given various physical constraints, but it's our job to address the second. To do this, we first need to know, "Who's the hardest person to scare?"
I believe the most difficult person to scare in a haunted attraction is a 21-year-old white male. He's attending with a date, or his buddies, and cannot afford to be seen screaming like a 14-year-old girl. If I can scare him, then the rest of the crowd is a piece of cake. That 21-year-old guy will not be afraid of a bathtub full of mannequin parts splattered with red paint. To scare him, you've got to do the unexpected. You've got to do something he's not expecting—a sudden movement, a sudden appearance of a prop, an actor popping out of nowhere, a sudden sound, or the presence of imminent danger. That's what scares people.
Engaging people's imagination is a huge asset in haunted attraction design. People aren't afraid of the dark; they're afraid of what might be in the dark. Making use of darkness and the unknown is a brilliant opportunity to build up the anticipation of what may be about to happen. Some of the most effective scares use  misdirection . Show your guests something they think will scare them, and then scare them from a different direction.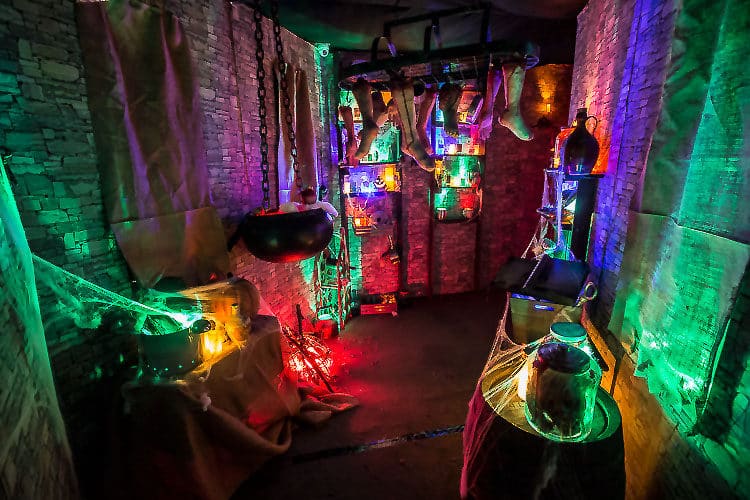 Use Your Story to Form the Structure of Your Design
As haunters, we're in the entertainment business. A haunted attraction is like a horror movie or play in which guests walk from scene to scene, and, like any movie, we're telling our patrons a story. Your attraction needs a storyline to entertain. A story adds entertainment value to the experience and gives people something to read on your website. However, the primary function of the story is to serve as a map for the attraction designer. The story is how the designer gets from the beginning to the end of the experience logically, without getting lost or going off track. A well-developed story inhibits the shotgun room-design approach seen in many attractions in which there's an alien creature next to a clown next to the Frankenstein monster.
A storyline establishes the nature of the evil that patrons will face. It locks in the time period, the location where the story takes place and provides the attraction designer direction. It also prevents impulsively buying that cool Frankenstein prop, awesome clown costume, and amazing alien prop, and cramming them in the same haunt when they don't fit together.
If you design a haunted house to accommodate 200 or 300 people an hour, and you push that to 400 or 500 people to handle the crowds, the show quality will suffer. It won't be as effective as originally intended. However, if you design your haunted house to handle a constant line and still scare every patron, then, when you need it for few hours on a busy Saturday night late in the season, the capacity is there. In architecture, we always design to the worst-case scenario. So, design your attraction for maximum capacity while keeping high experience quality. Give them a show, but give it to them on the run!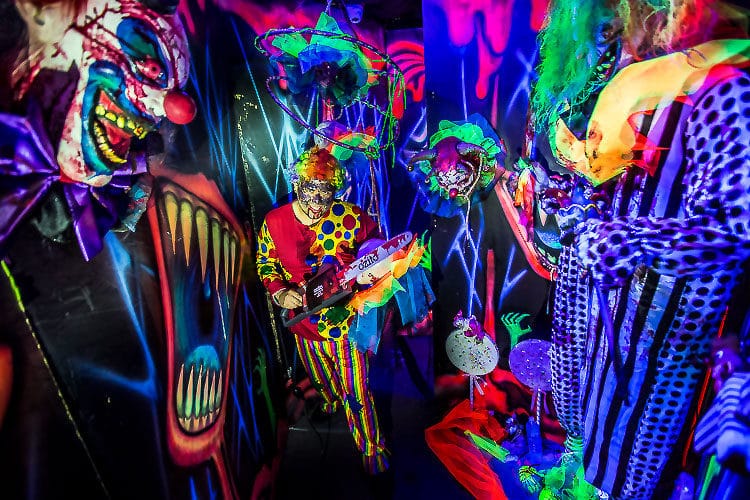 The ability to provide a quality experience at high capacity requires the haunt designer to sacrifice the "skit"-based room design. This is the room concept where people enter a room, are stopped by an actor, the actor performs a skit, and some scare gets them moving again. It's almost impossible to stop frightened people in a haunted house and, if you get them stopped, it's almost impossible to get them moving again.
In the same way, actors speaking dialogue in your haunt will wreck your capacity. If you have a storyline piece or history of the attraction that you want your guests to know about, relay this while they're moving. Have an actor talk to guests in the queue line or in a room that patrons flow through. Keep guests moving throughout the attraction.
To maximize your capacity, the scare itself should force guests forward. Scare from the back, the top, the bottom, and from both sides, but never, ever from the front. Scaring the first person in line backward will lower your capacity. To maximize throughput, scare the guests forward, almost chasing them through the attraction. This approach also allows the designer to scare the whole group. Some scares should be designated to target the middle and end of the group. Make sure the scares are timed and located so that everybody in the group gets the same number of startles.
I learned that, for a right-handed person, a scare is more effective if it comes from the left side, so I place my weaker scares on the left until near the end of the attraction, and then I have my best scares on the left.
Architects use the shape of a room to make people feel comfortable in the space. As a haunt designer, I break all of those rules to make people feel uncomfortable. A small, dark space is unnerving to most people, and you can create this architecturally with a very narrow, very high-ceilinged hallway. A very wide hallway with a low ceiling can also create a feeling of claustrophobia. Darkness is the haunt designer's friend. Lower light levels mean the scene requires less detail. Light what you want people to see, and let the rest fade to black!
I realize that plywood comes in 4-foot by 8-foot sheets and that most residential houses are built with 8-foot-tall walls, but they also have a ceiling at 8 feet. A haunted attraction with 8-foot walls and no ceiling has a clipped-off feeling, and, many times, the patron can see lighting and effects over the top of the walls. This decreases the suspension of disbelief we need guests to have before they can be frightened. These days, I specify a 10-foot-tall wall panel (12-foot-tall walls are even better). If you raise that 8-foot wall up just two feet, there's less chance of the patrons seeing into other rooms of the haunt. The walls fade to black at the top. Light fixtures are out of reach and disappear into the void, and taller walls give the hall or room a more realistic feeling.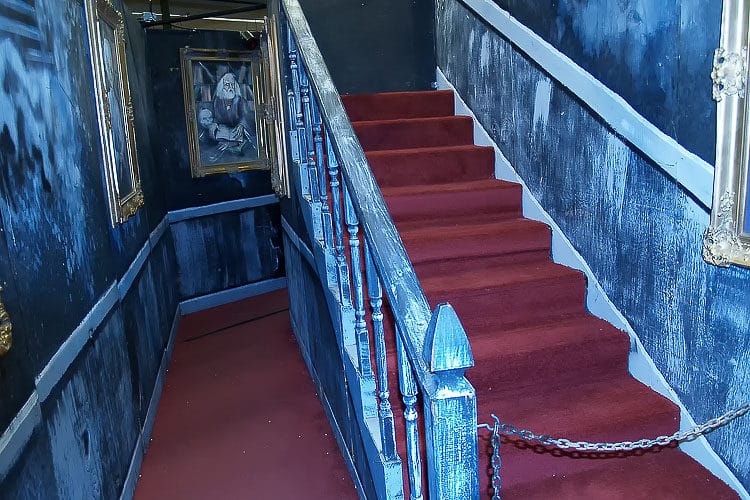 It's almost impossible for an actor standing in the open to scare people. Remember, we're trying to do the unexpected. Designing a place for your actor to hide within the architecture of the room is essential for fright effectiveness and high capacity. The actor needs to be able to pop out and startle the group, hide again quickly, and be ready for the next group.
Long, straight hallways are killers for your capacity. The shorter your sightline, the closer your groups can be to each other without being able to see what's happening to the group ahead of them. Interrupting the sight line with twisting turning pathways and stuff hanging in the patrons' faces will hide hallway scares. Placing tall props or furniture in the rooms both creates the best pathway for the scare and can also hide the scare from the next group. Use furniture and set pieces to create a winding pathway, and make sure you put something between the actors and the guests to protect both from accidental interaction.
When guests enter the room, you don't want them to know exactly where the exit is. Block the view of the room exit with props or set pieces, so patrons don't just bolt through the room. Make them visually search for where to go, giving your actors a better chance to create a great scare.
Shortening the sightline and hiding the actors is challenging in a haunted trail. Make sure the pathway is constantly snaking through the woods around trees and bushes with no straight views. Planting quick-growing plants, adding camo-netting, and a shack or outhouse can help cut down the sightlines and provide hidden scare locations for actors.
The first decision to make for each room is what the actor will do to scare people in that room. Then, place the scare so that the pathway has the best approach to enhance the effectiveness of the scare. Do you want guests walking directly at the scare, or do you want them to walk past it? Is the scare more effective in a hallway, or just around the corner? Use the props and set pieces in the room to steer guests toward the scare in the most effective direction. Once the pathway and scare are maximized for effectiveness, only then do you draw the walls around the outside of the space and determine the size and shape of each room. Once you have the shape and size of all the rooms, you arrange these into your floor plan in a logical order with your best scare last and the next-to-best scare first.
I also try to locate the exit of the attraction right next to the queue line, so the people waiting to go in can watch the people coming out. I place my best scare last, so people are hurrying out of the attraction. This design heightens the excitement of people about to enter the attraction and increases the anticipation about what they're about to experience.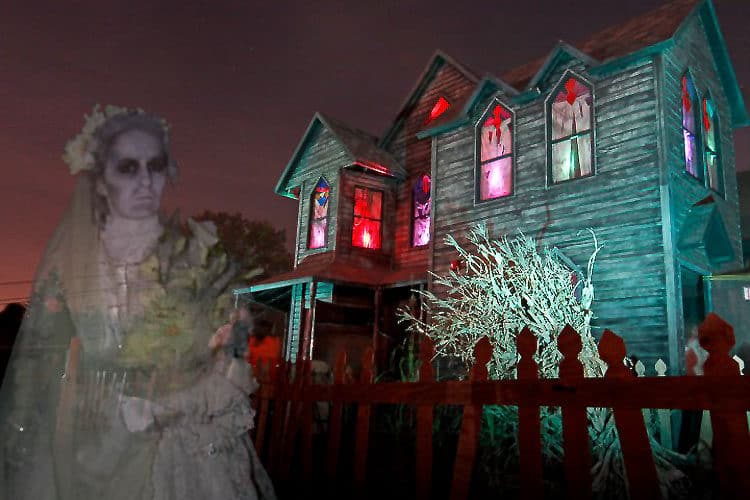 Few startle scares are available for fright attractions. Pop-out scares, like crash doors or shutters; sliding panels or drop panels; slap-down, curtain burst, and camouflage scares like the dot room or camo-monster. This is the color palette we use to paint the experience, so make sure you have each of these in your attraction. Rotate them, disguise them differently, and place the scares, so they come from different directions targeting different parts of the group.
Pace Your Scares and Control the Guests' Attention
I always design in a short piece of dark hallway between each room. This cuts down the sightline from room to room and lets patrons reset before the next scare. These hallways are longer at the beginning of the attraction and shorter toward the end to speed up scares and throughput. 
Some scares are more effective when the guests are looking right at the action, whereas others are best when the patron is looking away, as in a misdirection scare— Control where people are looking in your attraction using light and sound. A spotlight on a prop in an otherwise darkened room will direct the guests' attention to the prop or create noise in a dark corner, and people will look in that direction. These tactics can direct attention toward or away from the scare for the best effect.
Don't be afraid to add humor to your haunt. Within an attraction, scare after scare after scare creates a diminishing return on the effect that startles have on the patrons. Try to include sight gags or the actor saying something funny to break up the monotony. If you give patrons a chance to laugh at their situation, the next great scare will be even more effective. Even Alfred Hitchcock used a funny scene in the middle of his scary films to give viewers a chance to catch their breath before building up to the horrific climax.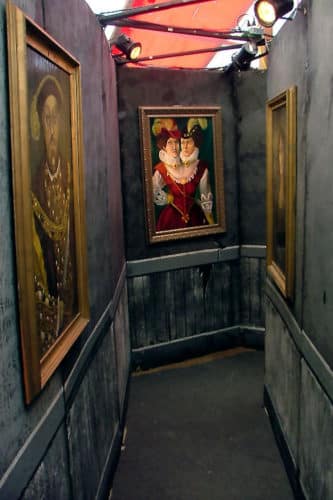 Without taking an average from a large sampling of attendees, you can't measure a haunt by how long it takes to go through. Some people take off running at the first scare, while others creep along too frightened even to move. So, the only way to measure one haunted house against another is the length of the linear pathway that patrons take through it. Maximizing this travel distance is how you make your fright experience longer.
Think of your attraction design like a "daisy," with the yellow center being where air, electrical, actors, and special effects are located and the white petals representing the pathway the attendees travel from scare to scare. This allows you to maximize the patron travel distance while minimizing the electrical and air line runs to the rooms. This daisy design is even more economical when used for a haunted hayride or haunted trail.
If you design your scares to be effective on a 21-year-old white male, it will terrify everyone else! Use the patrons' own imaginations and fears when designing the room concepts. Use darkness and claustrophobia to build anticipation, and use misdirection to keep patrons guessing where the scare will come from. We create the best attraction designs around a storyline that establishes location, time frame, and the evil that patrons are about to encounter. Use this storyline as a map to keep the design from confusing guests with illogical room connections and themes that don't fit together.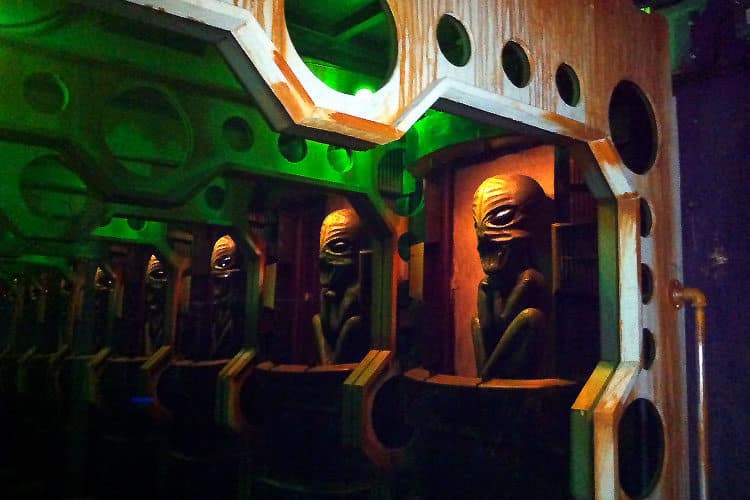 First, decide what the actor will do to scare patrons in each room, then design the room around the scare using furniture, props, and other scenic pieces to create the pathway for guests to walk toward or past the scare for best effect. Use twisting pathways to cut your sightlines and keep patrons from seeing the scares ahead of them, allowing groups to be closer together and increasing the capacity. Design for the worst situation—a constant line of people moving through the attraction. You won't need that throughput all the time, but when you do, it will be there and will still give the guests a show on the run.
Scare everyone who goes through the attraction, including people in the back and middle of the groups, and vary the types of scares, but always scare them forward, never backward. Place the scares and create room designs to accelerate the patrons through the attraction, but give your guests a chance to relax a bit with some funny sight gags before you build for the final big scare.
Once you've come up with a pathway plan that works, start over from scratch. Come up with several different designs while working toward the most logical room design order, best acceleration of scare factor, and best use of decreasing pathway between rooms while maximizing the travel distance. Regard nothing as sacred until the whole plan gels into the final version. Remember that no plan is perfect, and each element is a tradeoff. The best design is the one that solves for each factor equally well.  
About HAuNT Connect
HAuNT Connect is a FREE online community to connect the haunted attractions industry at large. Featuring live education and webinars by industry experts, vendor showrooms with products, virtual meeting opportunities to discuss and source products for your attraction, peer-to-peer networking, idea sharing, and more. Register here .

Copyright © 2023 – Haunted Attraction Network
Apple podcasts
Amazon Music
iHeartRadio
Google Podcasts
Podcast Addict
NEWSLETTER SIGN UP
Signup to our newsletter.
Disney Treasure
First-Ever Haunted Mansion Bar Coming to the Disney Treasure in 2024
by Jacqueline Logan , Public Relations Manager
I have some eerie news for you just in time for Halloween ! Happy haunts will soon materialize on the high seas at the Haunted Mansion Parlor, the world's first Haunted Mansion-inspired bar on Disney Cruise Line's newest ship, the Disney Treasure !
From inspired craft cocktails and an exclusive onboard merchandise collection to nostalgic décor and beloved characters, the Haunted Mansion Parlor will immerse guests in the next chapter of the Haunted Mansion saga, bringing this fan-favorite lore to life in a whole new way. The one-of-a-kind experience will be a swinging wake unlike any other, that of a jovial captain who entered the ghostly realm after a disastrous dinner with his beloved fiancé.
View this post on Instagram A post shared by Disney Cruise Line (@disneycruiseline)
Thematic Décor
The design of the Haunted Mansion Parlor will resemble a first-class drawing room of a classic cruise liner from the golden age, invoking inspiration from the original Haunted Mansion with a nautical twist. Complete with nostalgic tributes to Haunted Mansion attractions around the world, fans will recognize the iconic wallpaper and the distinctive purple armchair tucked in the corner.
You will also encounter a few legendary characters from the original Disney Parks attraction, as well as some new seafaring arrivals, in a portrait gallery depicting the Disney Treasure's own ghostly residents.
All-New Disney Cruise Line Haunted Mansion-Inspired Merchandise
Onboard the Disney Treasure, an exclusive new merchandise collection that will offer an array of haunted homewares and sinister souvenirs!
The Haunted Mansion Parlor Music Box will be a keepsake inspired by an eerie music box that will be found inside the Haunted Mansion Parlor. As the rumors go, this mysterious box belonged to the captain's bride-to-be and only opens in the presence of malevolent spirits.
Inspired by the old grandfather clock from the original Disney Parks attraction, the Haunted Mansion Parlor clock will evoke the nostalgic allure of the Haunted Mansion.
And, a ghost may even follow you home on your voyage… The Haunted Mansion Parlor Mirror will offer a frightening surprise when the hitchhiking ghosts mysteriously appear in the frame.
Deliciously Chilling Drinks
Get ready to indulge in a tempting selection of ghostly cocktails that capture the true spirit of The Haunted Mansion! And the team has put together a frighteningly fun set of recipes for you to make these chilling concoctions from the comfort of your home.
Sympathetic Libations
Want the perfect zero-proof cocktail? Look no further than the Sympathetic Libations, which will invite you to sip on sour cherry and blood orange flavors in a specialty tiki mug.
Ghoulish Delight
If you have a sweet tooth, you'll love the Ghoulish Delight , which will combine decadent ube fudge, oat milk and tapioca pearls into a glittery purple concoction, garnished with a gummy eyeball.
Signature Beverage
A ghostly twist on a classic margarita, presented to guests amidst a swirl of flavored smoke, will be another signature drink at the Haunted Mansion Parlor. Topped with a lemon salt foam, this tequila-based cocktail will contain a secret message, only to be revealed by black light.
The Haunted Mansion Parlor is one of several Disney Parks-inspired venues that will debut onboard the Disney Treasure. The exciting lineup will also include Skipper Society, a lounge inspired by the Jungle Cruise parks attraction, and Periscope Pub, which is inspired by the 20,000 Leagues Under the Sea legacy parks attraction.
Stay tuned here on the Disney Parks Blog and on @DisneyParks social channels to learn more about the Haunted Mansion Parlor. You can experience the Disney Treasure for yourself when it sets sail in 2024 by heading to DisneyCruise.com to book your cruise.
Hurry baaccckkkk!
Destinations: Disney Treasure
I thought I was looking forward to my cruise before. The next 500+ days cannot pass fast enough!
This is so cool! And something similar to it needs to happen at WDW!
I was already excited that this ship incorporated Coco and the Jungle Cruise but this just seals the deal. I can't wait to set sail ❤️
Love it … my cruise cannot come fast enough! only 500+ days to go 🙂
Wish there was an alternative to cherry syrup to get the color, I don't do cherry flavor.
I may be a little scared to vacation on a cruise ship, but this just might have given me the courage to go!
I will spend all my cruise time in this bar, for sure!!!
Related Stories
Learn all the new details about disney cruise line's newest ship, the disney treasure.
by Melanie Hager , Public Relations Manager, Disney Cruise Line
In Case You Missed It: Here's Our Grand Reveal of the Disney Treasure, Disney Cruise Line's Newest Ship!
Disney treasure: latest updates from newest disney cruise line ship debuting 2024.
by Disney Cruise Line
Other Stories by
'Coco' Star Anthony González Reacts to Disney Treasure's Upcoming Plaza de Coco Restaurant
10 disney treasure secrets disney parks fans will love, sign up to get interesting news and updates delivered to your inbox from the disney parks blog.
By submitting this form, you are granting Disney Parks Blog permission to email you. You can revoke permission to mail your email address at any time using the unsubscribe link, found at the bottom of every email. We take your privacy seriously. For more information on our data collection and use practices, please read our Privacy Policy .
By providing my email address I'd like to receive updates, special offers, and other information via electronic messages and postal mail from Disney Destinations, LLC and other members of The Walt Disney Family of Companies.
You can withdraw your consent for these messages at any time. For more information on our data collection and use practices, and managing your preferences, please read our privacy policy .
Getting Results.
Newsletters
WEATHER ALERT
A warning and 2 advisories in effect for 4 regions in the area
Disney cruise line reveals 'haunted mansion' bar coming to the high seas, parlor to debut on the disney treasure.
Landon McReynolds , Producer
CELEBRATION, Fla. – Disney Cruise Line has unveiled a chilling addition coming to the Disney Treasure .
Beginning in Dec. 2024, guests on board the brand new ship will get the chance to step into the Haunted Mansion Parlor, a brand-new bar that takes inspiration from the iconic Disney Parks attraction, The Haunted Mansion .
[EXCLUSIVE: Become a News 6 Insider (it's FREE) | PINIT! Share your photos ]
This spooky establishment will allow brave guests to enjoy craft cocktails amidst 999 cheerful spirits for the very first time.
"The one-of-a-kind experience will invite guests to partake in the next chapter of the Haunted Mansion, focused on the story of a jovial captain who entered the ghostly realm after a disastrous dinner with his beloved fiancé. A custom musical arrangement inspired by the attraction's original score arranged and adapted by composer Shruti Kumar and Walt Disney Imagineering will set the stage for an ever-escalating anthology of illusions that immerses guests into the mysterious lore of the Haunted Mansion," Disney Cruise Line explained in a news release.
Famous characters from Haunted Mansion attractions across Disney Parks worldwide, along with new seafaring arrivals, will engage guests in mysterious encounters. Disney said the bar will stay true to the nostalgic art style of the original 1969 Disney Parks classic, and the parlor will blend humor with Disney's unique brand of eerie storytelling.
The design of the Haunted Mansion Parlor will evoke the atmosphere of a luxurious drawing room from the golden age of cruise liners, with a nautical twist inspired by the original Haunted Mansion. The lounge will feature tributes to Disney Parks attractions, including iconic purple wallpaper framed by wooden finishes, a mantel clock above a welcoming fireplace, and a distinctive purple armchair tucked in the corner. Guests will also have the opportunity to meet new spectral faces in a portrait gallery, depicting the Disney Treasure's own ghostly residents.
See a video rendering of the new bar in the video above.
The Haunted Mansion Parlor will offer a selection of ghostly cocktails that capture the essence of The Haunted Mansion including:
Sympathetic Libations : A non-alcoholic cocktail featuring the harmonious blend of blood orange and sour cherry flavors, served in a specialty mug
Ghoulish Delight : A delectable ube-flavored treat incorporating ube fudge, oat milk, tapioca pearls, and garnished with a gummy eyeball and ube glitter
Signature beverage : A mysterious twist on a classic margarita, presented amidst flavored smoke, with a lemon salt foam and a hidden message revealed only under black light
The new bar venue will also introduce a range of haunted homewares and spooky souvenirs to the shops on board the Disney Treasure:
Haunted Mansion Parlor Music Box: A keepsake inspired by the eerie music box that plays inside the Haunted Mansion Parlor, believed to belong to the captain's bride-to-be
Haunted Parlor Mantle Clock: This clock, reminiscent of the one in the original Disney Parks attraction, will loom over the fireplace, provoking mysterious occurrences when it strikes 13
Haunted Mansion Parlor Sculpted Mug: Featuring the octopus design from the bar's entrance, this mug will be adorned with an aura of intrigue and sea life accents, including a Mickey Mouse-shaped barnacle
Haunted Mansion Parlor Mirror: Guests can take home a piece of the magic with this mirror, which reveals a ghoulish surprise as hitchhiking ghosts mysteriously appear
Click here to learn more about some of the other experiences on board the Disney Treasure.
For those interested in learning more about Disney Cruise Line or booking a Disney Treasure vacation, please visit disneycruise.com , call Disney Cruise Line at 888-325-2500, or get in touch with a travel agent.
Use the form below to sign up for the ClickOrlando.com In the Loop: Theme Park Scoops newsletter, sent every Friday morning.
Copyright 2023 by WKMG ClickOrlando - All rights reserved.
RELATED STORIES
Disney cruise line hosts grand reveal for disney treasure. here is what we know.
Get ready to charter a new course for adventure – the Disney Treasure is on the horizon.
'Moana' Broadway-style show coming to Disney Treasure
Disney Cruise Line's newest ship is ready to take you on a new Broadway-style adventure.
Peter Pan and Captain Hook sculptures to be on stern of all-new Disney Treasure
The company said its sixth ship is scheduled for delivery in 2024, paving the way for new experiences that immerse guests in some of the company's most legendary stories.
About the Author:
Landon mcreynolds.
Landon joined News 6 in 2017. He grew up in Southern Illinois and graduated from Southern Illinois University with a bachelors degree in TV and digital media. When he is not at work you can catch him at one of Orlando's theme parks or the beach. Before working at News 6 he worked for stations in Miami and Fort Myers.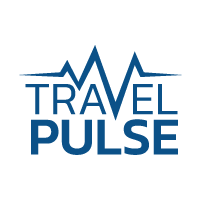 TravelPulse
Disney's New Cruise Ship to Have First-Ever Bar Inspired by The Haunted Mansion
Posted: October 24, 2023 | Last updated: October 24, 2023
Disney Cruise Line's upcoming Disney Treasure ship will feature a spooky first for the fun cruise line: an all-new bar experience inspired by the Disney Parks attraction, The Haunted Mansion. 
The Haunted Mansion Parlor will feature a storyline about a captain who became a ghost due to mysterious circumstances. 
A new musician arrangement adapted from The Haunted Mansion's original score was created by composer Shruti Kumar and Walt Disney Imagineering to offer an immersive experience. 
The bar will offer a style that takes travelers back in time, designed to resemble a first-class drawing room on a classic cruise line. A portrait gallery will feature new ghostly residents that make the bar their home.
Drinks are inspired by the haunted vibes, like a blood orange and sour cherry-flavored zero-proof cocktail called Sympathetic Libations. The Ghoulish Delight features ube as its main flavor, with ube fudge, oat milk and tapioca pearls. 
There will also be merchandise for super-fans of the spooky attraction to enjoy, like the Haunted Mansion Parlor Music Box, a Haunted Parlor Mantle Clock and a sculpted mug.
The Disney Treasure is the second ship in the Wish-class series and will debut in December, 2024. 
More for You
Former US Rep. Mark Walker drops North Carolina gubernatorial bid to run for Congress
Rashida Tlaib Faces Punishment
I moved my family from California to Texas 2 years ago. A friend warned me we would hate it — 6 months later, other families followed us.
Lucky streak to begin for these Zodiac signs at the end of October
An Irish name is one of the most 'scientifically beautiful' in the world
NYU student, criticized and lost job offer for Israel-Hamas remarks, speaks out
Toyota Chairman Says People Are Finally Seeing Reality on EVs
Multi-Millionaire Senate Candidate Pushes the Bounds of Election Laws
China's Middle East Warship Flotilla Compared to US Carrier Strike Groups
7 Astrological Signs that Make the Best Lovers
The Best Potluck Desserts No One Thinks to Bring
Researchers discovered a hidden Antarctic landscape under a layer of ice over a mile thick that shows how different the continent looked millions of years ago
Can Trump Legally Run For President After Jan. 6 Riot? Trial Moves Forward After Colorado Judge Refuses To Dismiss Case
Senate passes Kennedy amendment protecting veterans' Second Amendment rights
Fact Check: Video Shows Turkey Moving a Warship Toward Gaza To Defend Palestinians?
Daily horoscope today: October 26, 2023 astrological predictions for your star sign
Trump Scrambles to Return More Than $200 Million in Donor Money as His 'Truth' Network Fails Amid Legal Battles
The 1950s Cake Recipes You Need to Make Today
13 Small Habits That Actually Reveal a Lot About Your Personality
US And China Confrontation Moves One Step Closer
National Geographic content straight to your inbox—sign up for our popular newsletters here
The mysterious California mansion that spawned a haunted house craze
More than a hundred rooms. Stairs leading nowhere. A maze of empty corridors. The eerie Winchester House was one of the first to draw tourists seeking spine-chilling thrills.
Soon after the death of Sarah Winchester in San Jose, California , in 1922, the new owners opened her mansion as an attraction for tourists drawn to tales of the bizarre. Winchester was the heir to the gun manufacturer's fortune, and rumors swirled around her constant home building and renovation. She constructed elaborate extra rooms (more than a hundred), stairs that led nowhere, and empty corridors that turned the house into a bewildering maze.
Was her fortune cursed? Did Winchester build a labyrinth to confound vengeful spirits? Were there séances held in the mansion every night?
The answer was no to most of these questions, but once the famous magician Harry Houdini visited and told the owners to market it as the "Winchester Mystery House," its commercial career was secure. It has just celebrated its centenary and is still a popular attraction in the San Francisco Bay Area. You can take the " Walk with Spirits " tour, attend a séance, or—new this fall—immerse yourself in creepy " Unhinged Housewarming " evenings.
The mansion was one of the inspirations for Shirley Jackson 's classic 1959 novel The Haunting of Hill House — a key gothic novel that portrays a house as a reserve of malignant energy. The famous opening paragraph tells us that the house "stood by itself against its hills, holding darkness within." In the novel a group of paranormal investigators stay in the house, which they only belatedly realize is feeding off disturbed psychic powers that are conjuring murderous, long buried resentments.
Ever since the book's success—and thanks to Stephen King novels, "true" paranormal TV shows, and found-footage films such as Paranormal Activity —we've become attuned to the idea of the Bad Place, the house where past traumas or atrocities have leaked into the atmosphere and then gotten stuck on repeat.
Here's how Jackson's book continues to inspire haunted house tourism, and where you can visit other evocative Bad Places.
The legacy of Hill House
In the preface to her bestseller, Jackson confessed the idea for her ghost story had been taken from a bizarre true-life inquiry by the London-based Society for Psychical Research in 1897. The Society (which still exists) formed a Haunted House Committee and sent the dubious "psychic sensitive" Ada Goodrich-Freer to investigate claims of haunting at Ballechin House in Scotland . The book of the investigation, given aristocratic endorsement by the Marquis of Bute, caused all sorts of ructions in the Letters pages of the London Times, with many condemning the naivety of the investigators .
( Ghost stories scare up new life at these historic hotels .)
Jackson's novel was filmed in 1963, to great effect, as The Haunting . Director Robert Wise used Ettington Park Hall in Warwickshire in the United Kingdom for the unnerving exteriors. The Hall was the ancient estate of the Shirley family, stretching back to the Domesday Book , but it was rebuilt in the 19th century in the neo-Gothic style, all pointed arches and polychromatic brickwork. Some claim the Hall actually is haunted , being such an old family pile in Shakespeare country. An elderly Victorian ghost totters around at twilight, while "Lady Emma" is said to glide through the corridors at night. However, as a current 4-star hotel popular with wedding parties, it now doesn't play up that angle.
Also inspired by Jackson's book, the 1973 film The Legend of Hell House featured the sharp-angled, baroque details of Blenheim Palace in Oxfordshire. The palace was built by the architect and playwright Sir John Vanbrugh for the British hero the Duke of Marlborough , who had won a famous victory at the Battle of Blenheim in 1704. The grand house was the birthplace of the first Duke's most famous descendant, and another war hero, Winston Churchill .
For the recent Netflix series , freely adapted from The Haunting of Hill House , director Mike Flanagan used the Gothic exterior of Bisham Manor in Lagrange, Georgia . This mansion, in private hands, does look suitably Gothic, but is actually less than 30 years old.
Vampire castles and other Gothic spaces
For the more adventurous admirer of Gothic novels and haunted houses, Bran Castle in Transylvania, Romania , claims to be the inspiration for the brooding opening section of Bram Stoker 's 1897 novel Dracula . Stoker never visited the region, but constructed the vampire's den from travel books, conversations with his brother who had journeyed in the Balkans, and his fevered imagination.
( Inside the fortress known as 'Dracula's castle.' )
Bran Castle welcomes tourists, unlike the Villa Diodati on the waterfront of Lake Geneva in Cologny, Switzerland . This was the site where, in 1816, the Romantic poets Lord Byron and Percy Shelley and their entourage tried to scare themselves silly by telling ghost stories during a particularly violent thunderstorm. The meeting was to prompt the teenage Mary Shelley to write Frankenstein and Byron's much put-upon doctor, John William Polidori , to pen " The Vampyre ." Villa Diodati is privately owned, and security fences keep the curious out.
It is not only family manors or rambling country mansions that inspire Gothic vibes. For a time, Detroit 's abandoned factories stood in as symbols of a whole industrial economic and social order coming to an end. No wonder this landscape features in recent horror films, such as It Follows (2013), Don't Breathe (2016), or Barbarian (2022).
We also seem to be spooked by the husks of prisons or asylums—those sprawling institutions whose ruins haunt us with the death of a certain optimistic belief that a spell of institutional treatment might improve people. The last of these so-called "monster asylums"—such as the Willard Asylum for the Chronic Insane in Ovid, New York —shut down in the 1990s.
( These are the most haunted places in the U.S. )
Sigmund Freud , the founder of psychoanalysis, sometimes turned to the house as a metaphor for the human psyche, a place with lots of secrets locked away in basements or forgotten bedrooms. An avid reader of Gothic stories, Freud argued that the Gothic inspired feelings of the unheimlich. Often translated as "uncanny," the original German means unhomely, and this gets at precisely what unnerves us about haunted house tales: the irruption of something horrifying or unholy in precisely the location we always thought was the safest space.
The Gothic runs and re-runs this anxiety on an endless loop, trying to shore up our sense of home, knowing all the while that the unhomely always lurks in the shadows of dusty rooms, the creak of staircases, or along the vistas of empty corridors.
Read This Next
This mysterious son of a 'witch' founded glasgow, the essential guide to visiting estonia, can tourism help protect the iconic mont-saint-michel, new museum reckons with charleston's role in the slave trade.
Wildlife Watch
Environment
History & Culture
History & Culture
History Magazine
Mind, Body, Wonder
Paid Content for Advertiser
Terms of Use
Privacy Policy
Your US State Privacy Rights
Children's Online Privacy Policy
Interest-Based Ads
About Nielsen Measurement
Do Not Sell or Share My Personal Information
Nat Geo Home
Attend a Live Event
Book a Trip
Inspire Your Kids
Shop Nat Geo
Visit the D.C. Museum
Learn About Our Impact
Support Our Mission
Advertise With Us
Customer Service
Renew Subscription
Manage Your Subscription
Work at Nat Geo
Sign Up for Our Newsletters
Contribute to Protect the Planet
Copyright © 1996-2015 National Geographic Society Copyright © 2015-2023 National Geographic Partners, LLC. All rights reserved
Accessibility links
Skip to content
Accessibility Help
The spooky, seven-figure business of Halloween haunted houses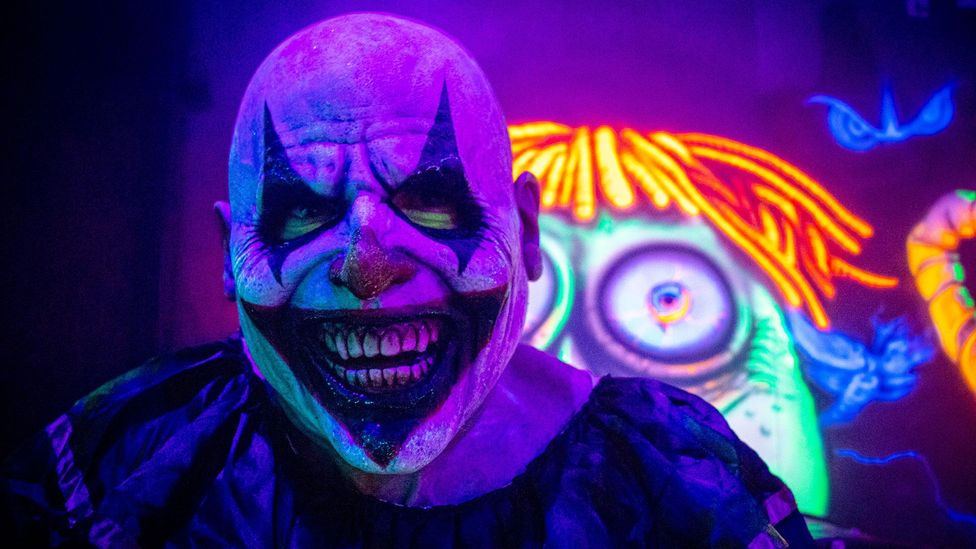 Once upon a time, you could have a haunted house up and running in a day's time. Fill a bowl with grapes and call them eyeballs, add room-temperature spaghetti – those are guts – string up a few ghostly figures, crank the fog machines, lower the lights and plan a few jump scares. While it's still possible to have a spooky time on a shoestring, haunted houses are increasingly looking less like tents in primary school gyms, and more like the big-budget spectacles of theme parks, film and television productions. 
"Many of the top haunted houses in the country have digital show controls and animated props that are pneumatic or electric," says Chris Stafford, the CEO of haunted house production company Thirteenth Floor Entertainment Group, which runs 18 different haunts across the US, and even employs its own director of technology. "We're not [staging] anything nowadays that's not a seven-figure number," says Stafford. 
Along with these major productions, even local charity haunts in storied town landmarks as well as mom-and-pop farms spooking out their barns are spending five- to six-figures to stand up their attractions.
Halloween celebrations are becoming more common, especially in Europe – yet international markets don't hold a candle to the US, where the holiday is sold as whole-family fun, says Tom Arnold , a professor of finance at the University of Richmond's Robins School of Business. One of the US's biggest consumer holidays is supported by a massive haunted house industry, and entertainers are spending more and more each year. 
The cost of running a haunted house
There's a long list of must-haves to run a haunted house – and these add up quickly.
First, companies need a location to host the event (if you don't already own a spot, prepare to sign a long-term lease or build your own). Next, a storyline for the spooky scenario (there are writers and consultants for that). The labour and materials to outfit your haunt with the latest lighting, tech and special effects (consider shelling out for creepy smells) will run thousands, alongside the wages for the engineers and specialists to bring it all up to code, makeup artists, costumes, prosthetics, actors, security personnel and staff (often highly specialised) to run the event. Visitors, too, must have a place to park, and maybe even transportation to bus them in. Don't forget marketing, concessions, food and alcohol, licenses and insurance.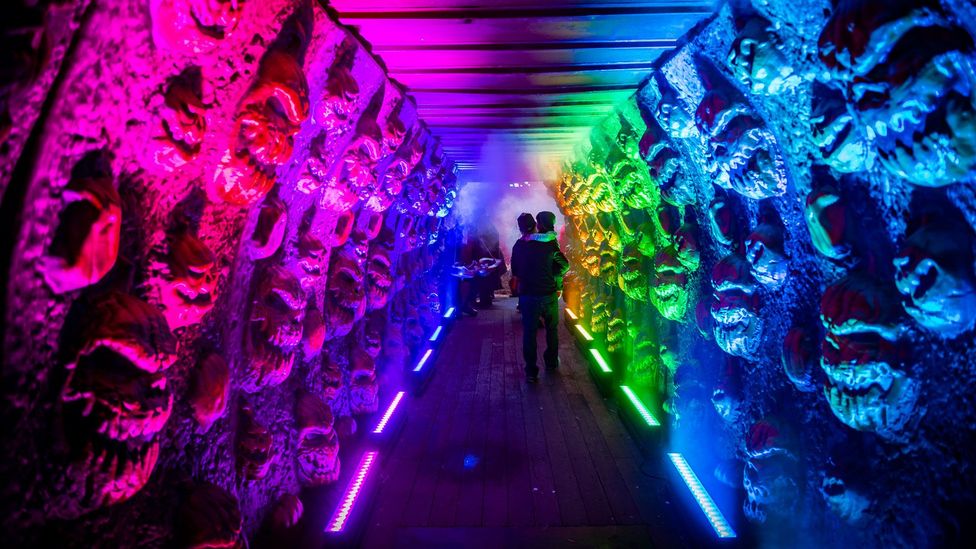 Thirteenth Floor Entertainment Group runs Shaqtoberfest in Long Beach, California (Credit: Courtesy of Thirteenth Floor Entertainment Group)
When Jim Lorenzo, who owns Blood Manor in New York City, built his first haunted house in the early 2000s, it cost about $125,000 (£103,000). When he refreshed it a few years ago, it cost $1m (£824,000) – and Lorenzo works within existing buildings. Blood Manor keeps 125 to 135 people on staff during the Halloween season, with 60 to 95 working on any given night, including security, makeup artists, wardrobe, actors, airbrush artists, sound engineers, retail and other back-of-house folks that make the operation go. The haunt, a favourite among Manhattanites, grosses between $800,000 and $900,000 per season.
Small businesses are investing large sums, too. Michael Phillips, who owns Phillips Farms in Cary, North Carolina, says its Halloween attractions – including the Field of Lost Souls and ultra-creepy Gore House – usually take $25,000 to $50,000 to mount. He needs 70 or more people to put on the show, which sees 1,500 to 2,000 people come through every night. 
Even a charity attraction, like Scare for a Cure in central Texas, spends roughly $20,000 to create their volunteer-run haunted house, says president Susan Prat. Its biggest expenses are feeding their volunteers and the cost of insurance for the whole operation. They send about 2,000 visitors through every year, and raise roughly $50,000 (£41,000) for cancer research and other local charities.
'They've turned into three-ring circuses'  
Most companies and organisations prep year-round for their events, but haunted houses are ultimately a seasonal enterprise. Relying on making all their revenue during a short window can be risky ­– losing even a few days can damage the business.
"We're profitable, but we're very conscientious of our expenses. We book a lot of business, but it is risky," says Blood Manor's Lorenzo. His haunted house was forced to close for five days during Hurricane Sandy, and that made a dent in business. Covid-19, too, was a blow. "We have some years that we do very well, and we have some years that we struggle to get by." 
For the 2023 season, there's still plenty of money to be had –  the National Retail Foundation expects Halloween revenue to top $12bn , and the draw of spending on the holiday is irresistible – but the outlook for this season is hazy.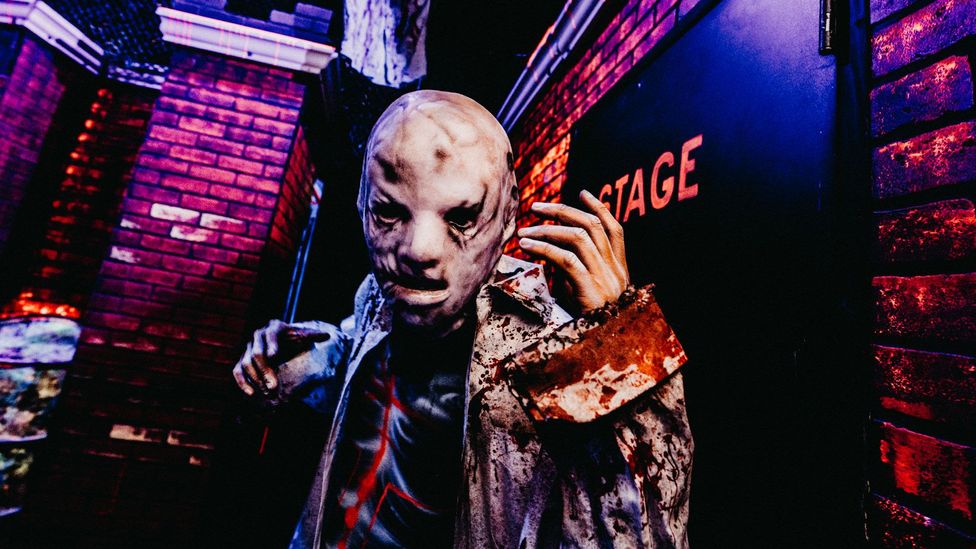 Blood Manor in New York City is a favourite among Manhattanites (Credit: Union Square Advertising)
Larry Kirchner, founder and CEO of immersive experiences company Blacklight Attractions, worries that inflation could scare people away. Where once owners charged a flat fee at the door, say $25 (£21) paid in cash, most are now ticketed digitally, and with taxes and service fees, those prices can increase substantially. In fact, Blacklight recently tried to raise prices on its Halloween events, but visitors were abandoning their carts once extras were calculated. Lorenzo, too, believes safety concerns amid threats of violence related to the Israel Gaza war could keep some people at home.
Yet it may not be as grim as all that. Marley Toben, a one-time haunted house actor and long-time lover of all things spooky, says she's willing to travel and pay for the best experiences. Toben estimates the farthest she's driven for a haunted house is about an hour and a half. How much would she pay? "Seventy-five dollars for a good one. If they charge more, my mind says they're worth more."
Plus, despite being seasonal businesses, that season is getting longer. Though they used to run only in the month of October, Halloween celebrations now stretch six-to-eight weeks. The Universal Orlando theme park opened its Halloween Horror Nights on 1 September this year. Spooky celebrations are also finding their way into other holidays; many of Thirteenth Floor's locations host events all year, like Krampus Christmas, bloody Valentine's Day and halfway-to-Halloween in the summer.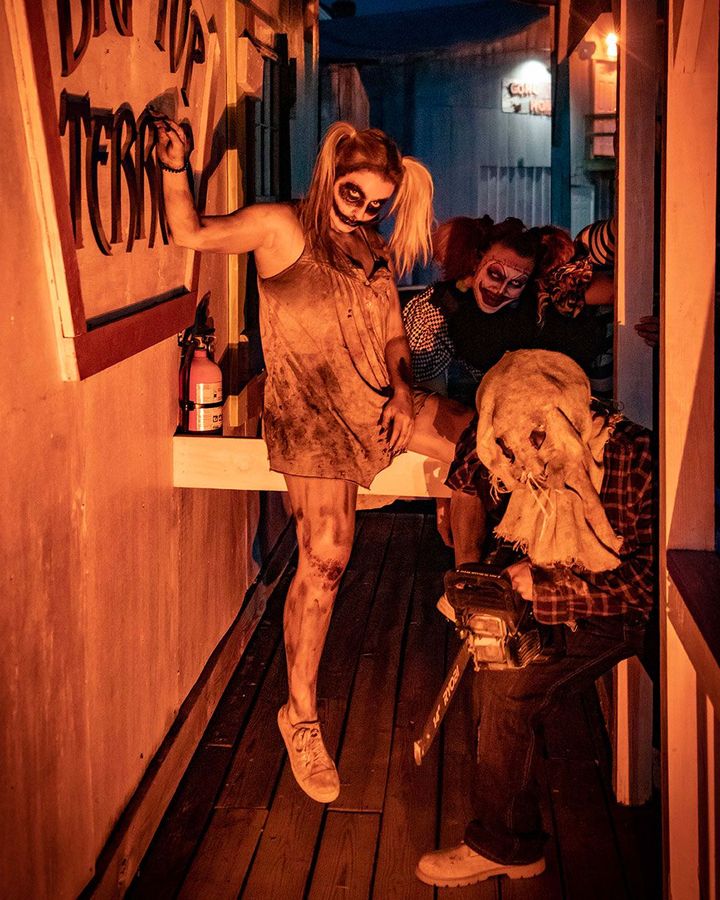 Big Top Terror is among the attractions at Phillips Farms in Cary, North Carolina (Credit: Courtesy of Phillips Farms)
The past 20 years have been mind-blowing, says Jennifer Thaler, who runs the haunted house industry's biggest trade show, called TransWorld. "You go to a haunted house now and it's an evening, you're not just walking through a haunt. They've turned into three-ring circuses."
As the holiday grows, so does competition, notes Kirchner, of Blacklight Attractions. "You have people building haunted houses in their subdivisions. You have haunted pop-up bars. You have people opening up elaborate pumpkin patches. Zoos do Halloween. Theme parks do Halloween. It's all over the place."
Whatever happens this season, most companies already have their eyes set on the future – one that, for many, may look even bigger. This includes the relatively small-scale Phillips Farms. Halloween visitors used to be middle and high schoolers, but now the adults are coming in droves, says Phillips. So, next January, they'll bring in their haunted house consultant from Florida to brainstorm for an expansion, and by spring, they'll start construction on a new building – an addition to the haunted farm. The buildout will run them between $80,000 and $200,000.
Next year could be one of their biggest seasons yet, says Phillips. "When it comes to us as a team as a whole, we can pretty much do anything you can imagine."