Email Login
Subscribe to CE (It's free)
CE in the News
Apologetics & Education
Art & Culture
Culture of Life
Food & Travel
The Blessed Virgin Mary
Marriage & Family
Prayer & Spirituality
Spiritual Warfare
Proclamation on Holy Love Ministries Will Test Hearts and Obedience
Finally, the Church has spoken authoritatively on Holy Love Ministries and its 83-acre site of Maranatha Spring and Shrine in Ohio. Despite all the usual Catholic trappings — chapel, statues, rosaries and religious bookstore, not to mention the throngs from across the country and globe — the purported visions by Maureen Sweeney-Kyle have been condemned. Bishop Richard Lennon, head of the Cleveland Catholic Diocese, has issued a decree to clergy and laity of the diocese that Holy Love Ministries of Lorain County is officially off limits.
According to The Morning Journal newspaper of Ohio, Bishop Lennon's decree was issued Nov. 11, 2009:
"Having been directed by the Holy See (in Rome) to act definitively in the matter of the alleged apparitions … and having reviewed the theological content of the alleged apparitions to Maureen Sweeney-Kyle and having consulted an expert in this matter, I … declare that the alleged apparitions and locations … are not supernatural in origin." Lennon's decree states he "forbid members of the clergy of any ecclesiastical jurisdiction" to celebrate the sacraments on the site of Holy Love Ministries.
Rogue Apparitions
People have been going to this shrine since the early 1990's, drawn by founder Sweeney-Kyle's claim that Jesus and the Blessed Virgin Mary and a host of saints are appearing to her with messages. On the surface, everything about the site appears to be Catholic, but they are not Catholic. They say so themselves. Therefore, this official proclamation by the Bishop will be of little regard to Sweeny-Kyle, or her husband Don Kyle, the director of Holy Love Ministries.
The Journal reported that Kyle responded to Lennon's decree by stating :
"We at Holy Love ministries are, and always have been, an ecumenical ministry. We have no affiliation with the Diocese of Cleveland. We are sorry that the bishop has taken this position. As it has always been, all people of all faiths are welcome to join us in prayer and the peace that Heaven offers at this site."
This, fellow Catholics, should have been the red flag that immediately exposed the apparitions long before an official proclamation. When in the history of the Catholic Church have approved apparitions consisted of a Blessed Mother going freestyle outside the Church? When has Jesus rejected His own authority — that of the Catholic Church? The final Church proclamation comes as no surprise.
In 2005 an article in The Plain Dealer newspaper of Cleveland, OH reported on this ministry and its many suspicious claims:
"The ministry was formed around 1986, meeting in homes of followers or a few welcoming churches. Then came a time of upheaval. Sweeney insisted that the Virgin Mary's messages demanded that she be given a new title, one recognized by the Catholic Church, that of "Our Lady Protectress of the Faith." The Cleveland Catholic Diocese turned down this request. And soon the lengthy messages that Sweeney dictated into a tape recorder began denouncing the Catholic Church; others commented on political details of the day. Several members of Sweeney's small ministry became disillusioned and left."
The ministry changed locations and names several times and Sweeney-Kyle even changed husbands, divorcing and then remarrying two years later. The organization has been at odds with the Catholic Church almost from the start. It sought approval through official channels for several years, but instead, in 1999, the Catholic diocese issued a statement urging extreme caution. At that point, Holy Love Ministries took an "ecumenical" approach. Yet, as an ecumenical ministry it found time and space in many of its printed materials to rail against the Church. Would Jesus and His Blessed Mother and the saints choose Sweeney-Kyle to give the Catholic Church a tongue-lashing? No way.
Obedience or Defection?
The question now is, will those that were enthralled with this Shrine, accept Church authority or continue to follow a ministry that has officially been condemned?
I myself have visited a couple apparition sites that proved to be false. I understand this sort of devotion although I'm much more cautious these days. Yet, if everyone had awaited an official pronouncement from the Church, the 60,000 people that witnessed the Miracle of the Sun in Fatima, Portugal would have stayed home that day. Nor would there have been the initial miracles to report at Lourdes, France if people did not flock to the miraculous spring. (Oh, and by the way, Holy Love Ministries has one of those miraculous springs. They had them at a couple of their locations.)
It's not wrong to go to a site where purported apparitions are occurring. Catholics must keep their heads on straight and not wander from Church teachings, but praying at an apparition site is not wrong.
However, once the Church has condemned a site and declared it off limits to clergy and laity, it's a different ball game. Then, it becomes a matter of obeying Catholic authority or thinking you know better. "The one who listens to you listens to me and the one who rejects you rejects me; and he who rejects me, rejects the one who sent me," Luke 10:16.
Either we accept the authority of the Church, or we reject it. Those at Holy Love Ministries have openly rejected it. The question now is how will the many followers respond to the Bishop's decree? I fear that many, enthralled by what they believe to be a miraculous site, will disregard the Church.
The Snares of the Devil
I used to wonder why the devil would have a hand in false apparitions when they inspired so many faithful Catholics to increase their prayer life and devotion to God and the Blessed Mother. What would the devil get out of the deal? This, my friends, is what he gets out of it: There will be a number of people who believed they were healed or their faith brought to life through Holy Love Ministries that, like a rebellious adolescents, will respond, " We don't have to listen to the Church ."
Consider the options the devil has available to trap faithful Catholics? Such people will not be attracted to obvious evil. So, instead, the devil uses a Catholic facade to lure them in. Then, when God's authority on earth — the Church — speaks against the fraud, a number of otherwise good Catholics get caught in the trap.
In November of 2006, I wrote an article for Catholic exchange exposing the Holy Love site. ( https://catholicexchange.com/2006/11/06/94475/ ) After an angry backlash of emails telling me how wrong I was, I promised never to write about alleged apparitions again. In addition, there are a number of followers in the area where I live who were irritated by my observations. My life is stressful enough without stirring up such pots, I reasoned. I am proving, however, that we should never say never . After the Bishop's decree, I felt compelled to appeal to all Holy Love followers, to accept the fact that the Church has the authority to condemn this site. Jesus told us that the gates of hell would not prevail against his Church and he promised to send the Paraclete to keep the Church free from error.
"If he refuses to listen to them, tell the church. If he refuses to listen even to the church, then treat him as you would a Gentile or a tax collector. Amen, I say to you, whatever you bind on earth shall be bound in heaven, and whatever you loose on earth shall be loosed in heaven" (Matt. 18: 17-18).
"I have much more to tell you, but you cannot bear it now. But when he comes, the Spirit of truth, he will guide you to all truth" (John 16:12-13).
If Jesus were giving messages on "all truth" to individuals, the result would not be thousands of denominations going in different directions. He speaks through His Church. The Church has spoken on Holy Love Ministries.
What of the many miracles and increased devotion so many experienced at the site? I did not save all the impassioned emails I received three years ago, but I did find similar comments on a site discussing Holy Love. One woman credited her father's conversion from a Sunday church grumbler to attending Mass and saying the rosary daily — even two years after his visit to the site. Another person said that her fallen-away Catholic friend that once ridiculed the site became a believer. Someone said that such compelling evidence of positive fruits proves this is from God. No, it does not. That is why we have the Church, so that we don't get led astray by what looks good on the surface.
The Church, guided by the Holy Spirit, always looks below the surface because all that glitters isn't gold and regardless of how many people visit or how many statues are erected or rosaries said, it does not constitute proof.
I once read that people bring their own holiness to these sites. They pray and love God. God answers prayers. All this is holy in nature but is not proof of authenticity of purported apparitions. Too often, after apparitions are condemned people feel betrayed and give up on God and the Church. Then, all their gains are lost. Or, disappointment leads them to reject Church authority thinking that they are right and the Church is wrong.
Rather than allow such disappointment to derail them, they can instead take a big step closer to God. By giving their disappointment to God and continuing to walk with him, they acknowledge that his Church is bigger than a single ministry or the claims of any purported visionary.
The past prayers and experiences of Holy Love followers were very real. If people were inspired or received what they believe to be miracles at this site, then praise be to God! God can use all things for good. But now the line has been drawn. People can follow Sweeny-Kyle or the Church, but not both.
By Patti Maguire Armstrong
Patti Maguire Armstrong is a TV talk show host of  Ladies of Another View  and an award-winning author and magazines and newspaper journalist. She was managing editor and co-author of Ascension Press' bestselling  Amazing Grace  series. Her latest books are  Holy Hacks: Everyday Ways to Live Your Faith & Get to Heaven  and  Big Hearted: Inspiring Stories from Everyday Families . She has a B.A. in social work and M.A. in public administration and worked in both those fields before staying home to work as a freelance writer. Patti and her husband, Mark, live in North Dakota, where they raised their 10 children. Read her blog at  PattiMaguireArmstrong.com .
Subscribe to CE (It's free)
More on catholic exchange.
St. Marguerite d'Youville: "Tower of Trust in God"
The Catholic Way of Finding Happiness
"For Everything There is a Season:" Reflections on the Changing Seasons
Go to Catholic Exchange homepage
Adeodatus | The Renewal of Catholic Education feat. Dr. Alex Lessard
The Vocation of Consecrated Virginity | feat. Mary Beth Bracy
Modern Miracles at Lourdes | feat. Marlene Watkins
Most shared.
© Copyright 2023 Catholic Exchange. All rights reserved.
Catholic Exchange is a project of Sophia Institute Press .
Advertise on Catholic Exchange Design by Perceptions Studio .
Privacy Policy
Design by Perceptions Studio .
Books and Art
Catechetics
Dating & Singles
Faith & Spirituality
Health & Spirituality
Marriage & Family
Media & Culture
Money & Economics
Lives of Saints
Same Sex Attraction
Science and Discovery
Hours and Calendar
HOURS (4/10/23 – 11/5/23): * Front Gate: 9 AM – 8 PM  For Map click HERE * Rear Gate: 9 AM – 7 PM * Welcome Center: 10 AM – 5 PM * Gift Shop: Sat.-Sun. 12 PM – 4 PM | M-F 11 AM – 4 PM * Chapel: 1 PM – 8 PM;  closes after 7 PM Prayer Service . To join via Livestream click HERE
Click Here for Next Event Schedule
* NOTE: Holiday hours may vary – see Calendar  HERE *
Quick Links
Novena for the U.S.A. – pray 6/26 to 7/4
Event Flyer OR Event Schedule
Submit  a Prayer Request
Messages By Topic
Blessings You Can Receive NOW / Graces & Blessings
Latest Message OR Search Messages
Receive Messages
Noteworthy Messages
Prayers & Devotions
Topical Studies & Other Valuable Resources
Triple Blessing & Free Triple Blessing Card
Ten Commandments – Nuances & Depth
Monthly Newsletters (of Messages)
Livestream / Livestream Archives
News & Events
Pilgrimage Information (Guidelines, Buses, Hotels, FAQs, etc.)
Map of Maranatha Spring & Shrine
Photo Gallery OR Submit a Photo
Read Testimonies OR Submit Your Testimony
Support the Mission
Rosary of the Unborn
Listen to the Nuances & Depth of the Ten Commandments Explained
IMPORTANT REMINDERS FROM GOD THE FATHER
"Children, I come to you today, to dictate to you this prayer which I desire you recite each morning at the beginning of your day."
"Heavenly Father, today, I surrender to You my heart. Help me to be Your instrument in the world. Cover me with the Precious Blood of Your Divine Son. Guard me against all evil. Protect me from any evil plan Satan may have for me today. Clothe me in Your Divine Will. Amen." 
"This prayer is peace-giving if you mean what you say in your heart." ( 1/31/2022)
"Spiritually cover yourselves with My Son's Precious Blood when you begin the day and throughout the day as you continue on the path of Truth." (3/29/2022)
"Always cover your heart each morning with the Precious Blood of My Son and pray for St. Joseph, Terror of Demons, to protect you." (10/3/2022)
Noteworthy Message
God the Father June 25, 2021
"The motive in the heart when My Name or My Son's Name is used, needs to be one of reverence, homage and respect. During these evil times, there is very little respect or reverence in hearts for Me."
Skip to primary navigation
Skip to main content

An Ecumenical Ministry & Shrine

About Maureen Sweeney-Kyle and the apparitions of Jesus and Blessed Mother.
About the Visionary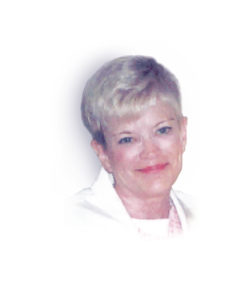 Maureen Sweeney-Kyle was born on December 12, 1940, on the Feast of Our Lady of Guadalupe. She resides with her husband, Don Kyle, at the site of the miraculous Maranatha Spring and Shrine. Our Lady first appeared to Maureen in January 1985 at St. Brendan Catholic Church in North Olmsted, Ohio, dressed in light pink and a smoky-lavender color.
I was at Adoration at a neighbourhood Church and Our Lady was suddenly just standing to the side of the Monstrance – She never puts Her back to Jesus in the Blessed Sacrament. She had a large beaded rosary in Her hands and I thought, 'Am I the only one seeing Her?' People were getting up and leaving or coming in and not paying any attention. All of a sudden, the fifty Hail Mary beads turned into the shapes of the fifty states (of the United States). Then She left. I didn't know why She was there, but I thought, 'Maybe She wants me to pray for the country.' Interview with Maureen Sweeney-Kyle in July 2006
I appeared to you (Maureen) first with the Rosary of States. It was an appeal to pray for your country. Years later, the Rosary of States broke when I returned to you (on July 13, 1997) in the same vision. The states slipped off and landed in a smoldering pile at My feet. This represented God's Justice. Message from Our Lady given on March 24, 1998
Dear children, you are engaged in war – spiritual and physical war. Your weapon is this." She holds up the Rosary of States. Then it changes into the Rosary of the Unborn.* Message from Our Lady given on August 21, 2016
* Our Lady first appeared to Maureen with the Rosary of the Unborn on October 7, 1997.
Spiritual Directors
Over the years, Maureen has been guided by several spiritual directors and spiritual advisors who have been experts in Marian Theology.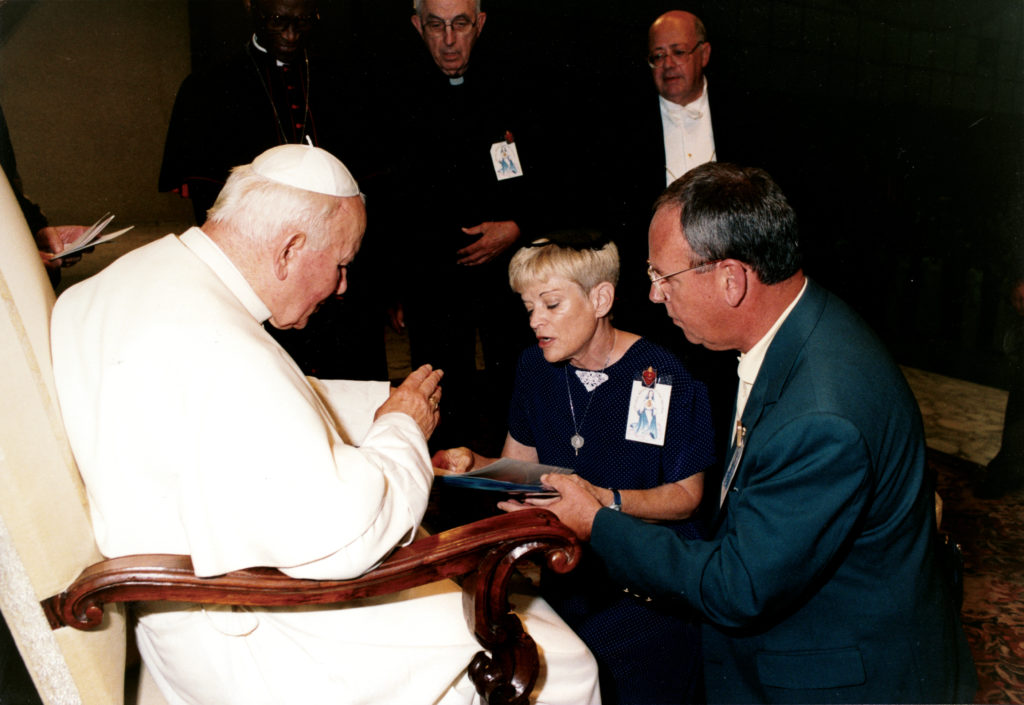 On the joyful occasion of the visit by the visionary, Maureen Sweeney-Kyle, with Pope John Paul II in August of 1999. Maureen's husband, Don Kyle, Archbishop Gabriel Ganaka* of Nigeria, and Rev. Frank Kenney (Maureen's Spiritual Director from 1994-2004) accompanied her on the visit.
* Archbishop Gabriel Gonsum Ganaka (1937-1999) was from Jos, Nigeria, and was one of Maureen's spiritual advisors in 1998-1999. He passed away in November of 1999 and his cause for Sainthood was begun in March of 2007.
Catholicism
Religious Catalogue
Give Monthly
1-800-447-3986
See of Peter
Daily Mass and Readings
Seasons and Feast Days
Traditional Latin Mass
Prayer Requests
EWTN News Nightly
EWTN Pro-Life Weekly
EWTN News In Depth
The World Over
National Catholic Register
Catholic News Agency
Weekly Schedule
Channel Finder
Listen Live
Audio Archive
Monthly Schedules
Galaxy 15 Transmission Plan
SW Frequency Guide
SW Monitoring Form
Frequently Asked Questions
EWTN Religious Catalogue
My Giving Account
Ways to Give
Mother Angelica
Online Learning Series
EWTN Everywhere
Media Missionaries
Privacy Policy
International Satellite Feeds
On Holy Love Ministries
On 9 July 2019, Bishop Nelson J. Perez issued a memorandum affirming that the provisions of Bishop Lennon's decree still hold.
Affirmation of Decree of Bishop Richard G. Lennon On Holy Love Ministries
The Most Reverend Nelson F. Perez Bishop of Cleveland
Recently questions have arisen regarding the participation of the faithful at the center operated by the group known as "Holy Love Ministries." Bishop Nelson J. Perez, Bishop of Cleveland, affirms the provisions of the decree issued by Bishop Richard G. Lennon, 11 November 2009, which in response to directions given by the Holy See, stated, among other things, that the so-called Confraternity of the United Hearts of Jesus and Mary is not an approved association of the Catholic faithful, the alleged apparitions and locutions are not of a supernatural nature, the sacraments are not to be celebrated at the site of Holy Love Ministries, and the Catholic faithful are admonished to cease gathering for spiritual, liturgical, religious, or devotional purposes at the site of Holy Love Ministries.
Bishop Perez's memorandum (including a copy of Bishop Lennon's letter and decree)
Prayer and Fasting for Peace
Today, Oct. 17, the ordinaries of the Holy Land are calling for a day of prayer and fasting for peace.
New to the Faith
Catholic charities, ways to give, clergy directory.
Phone: 216-696-6525
Toll Free: 1-800-869-6525
Address: 1404 East 9th Street, Cleveland, OH 44114
Our Bishops
Our History
Our Parishes
Our Schools
Catholic Directory
Staff Directory
Share this Page
Diocesan Memorandum
Papal Blessings
Sacramental and canonical guidelines
Parish boundaries
Particular Law for the Diocese of Cleveland
Mass offerings ('stipends') (June 1, 2001)
The Sacrament of Confirmation (Aug. 3, 2021)
Decrees pertaining to Mass attendance for COVID-19
Rescinding the dispensation from the obligation to attend Mass  (May 18, 2021)
The extension of the obligation to attend Mass up to and including May 31, 2020 (Pentecost) - April 28, 2020
Decrees regarding the extension of the suspension of Mass and the obligation to attend Mass - April 3, 2020   Suspension of Mass  |  Dispensation from Sunday Obligation
Suspending Public Worship issued on March 17, 2020
Dispense from the obligation to attend Sunday Mass on March 14, 15, 21, 22, 28, 29, 2020
Decree – Holy Love Ministries / Decreto – Ministerios del Santo Amor / 법령 – 거룩한 사랑의 선교회
On July 9, 2019, Bishop Perez affirmed the the provisions of the decree issued by Bishop Lennon on November 11, 2009. The so-called 'Confraternity of the United Hearts of Jesus and Mary' is not an approved association of the Catholic faithful, the alleged apparitions and locutions are not of a supernatural nature, the sacraments are not to be celebrated at the site of Holy Love Ministries, and the Catholic faithful are admonished to cease gathering for spiritual, liturgical, religious, or devotional purposes at the site of Holy Love Ministries.
Holy Love Decree and Letters: ENGLISH | SPANISH | KOREAN
Find a parish to call home
Achieve academic excellence.
Subscribe! Sign up to receive news & updates
Child & Youth Protection
Our promise to protect, our pledge to heal.
To report an abuse, please contact local law enforcement and:
Kathleen McComb , Victim Assistance Coordinator
Response Services – 216-334-2999
Canonical Services
Catechetical Formation
Catholic Education
Clergy & Religious
Communications
Facilities Services
Human Resources
Mission Office
Moderator of the Curia
Parish Life
Parish Locator
Parish Directory
School Locator
School Directory
News of the Diocese
In Remembrance
Clergy Assignments
Northeast Ohio Catholic
Diocesan Memo
Accreditation, live stream mass.
Catholic Diocese of Cleveland © 2023
Subscribe! Sign up to receive news & updates.
Photo Gallery