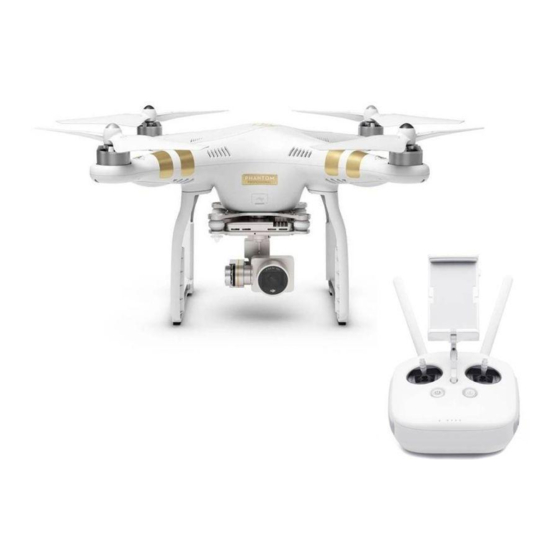 DJI Manuales
PHANTOM 3 Standard
Manual del usuario
DJI PHANTOM 3 Standard Manual Del Usuario
Manual del usuario (59 páginas)
Guia de inicio rapido (11 páginas)
página de 53 Ir / 53
Tabla de contenido
Uso de este manual.
Aplicación DJI GO
Perfil del Producto
Introducción
Principales Características
Preparación de la Aeronave y el Controlador Remoto
Diagrama de la Aeronave
Diagrama del Controlador Remoto
Controlador de Vuelo
Modos de Vuelo
Indicadores LED
Regreso al Punto de Origen (RTH)
RTH Inteligente
RTH por Batería Baja
RTH de Seguridad
Datos de Vuelo
Montaje y Desmontaje de las Hélices
Batería de Vuelo Inteligente
Controlador Remoto
Controles y Funcionamiento
Cámara y Gimbal
Condiciones de Vuelo
Límites de Vuelo y Zonas de Exclusión Aérea
Lista de Comprobación Previa al Vuelo
Calibración de la Brújula
Despegue y Aterrizaje Automáticos
Arranque y Parada de Los Motores
Prueba de Vuelo
Preguntas Frecuentes
Especificaciones
Control de Orientación Inteligente (IOC)
Enlaces rápidos
Manuales relacionados para dji phantom 3 standard.
Resumen de contenidos para DJI PHANTOM 3 Standard
Página 1 PHANTOM 3 STANDARD Manual del usuario V1.0 2015.12...
Página 2: Uso De Este Manual
Página 3: tabla de contenido.
Página 4 Límites de vuelo y zonas de exclusión aérea Lista de comprobación previa al vuelo Calibración de la brújula Despegue y aterrizaje automáticos Arranque y parada de los motores Prueba de vuelo Preguntas frecuentes Apéndice Especificaciones Control de orientación inteligente (IOC) © 2015 DJI. All Rights Reserved.
Página 5: Perfil Del Producto
Página 6: introducción, página 7: preparación de la aeronave y el controlador remoto, página 8: diagrama de la aeronave, página 9: aeronave, página 10: controlador de vuelo, página 11: regreso al punto de origen (rth), página 12: rth por batería baja, página 13: rth de seguridad.
Página 14 Manual del usuario del Phantom 3 Standard Fijación de las hélices 1. Retire las pegatinas de advertencia de los motores antes de acoplar las hélices. 2. Monte las tuercas negras de la hélice en los motores con los puntos negros y gírelas hacia la izquierda para fijarlas.
Página 15: Batería De Vuelo Inteligente
Página 16 Manual del usuario del Phantom 3 Standard Uso de la batería LED1 LED2 LED3 LED4 Botón de encendido (LED incorporado) Indicadores de nivel de batería Encendido y apagado de la batería Pulse el botón de encendido una vez, vuelva a pulsarlo y manténgalo así durante 2 segundos.
Página 17 Por debajo del 20 % Cuando la vida útil de la batería alcanza el 0 %, debe sustituirse la batería de vuelo inteligente. Para obtener más información acerca de la batería, inicie la aplicación DJI GO y toque en Camera View.
Página 18 Manual del usuario del Phantom 3 Standard Carga de la batería de vuelo inteligente 1. Conecte el cargador de la batería a una fuente de alimentación adecuada (100-240 V y 50/60 Hz). 2. Abra la tapa de protección del cargador de la batería y conéctela a la batería de vuelo inteligente. Si el nivel de carga de la batería está...
Página 19 Compruebe el nivel de carga de la batería en la aplicación DJI GO. Rápida : vuele el Phantom 3 Standard en el exterior hasta que quede menos del 8 % de carga restante en la batería o hasta que la batería ya no se pueda encender.
Página 20: Controlador Remoto
Página 21: perfil.
Página 22 Manual del usuario del Phantom 3 Standard Funcionamiento del controlador remoto El controlador remoto está configurado de forma predeterminada en el modo 2. Posición de punto muerto: la palanca de control está libre y en posición central. Aeronave Controlador Funcionamiento Indica la dirección del...
Página 23 Manual del usuario del Phantom 3 Standard Mueva el interruptor S1 hacia atrás y hacia adelante varias veces para recuperar el control de la aeronave durante el RTH de seguridad. Mueva el interruptor S1 hacia atrás y hacia adelante más de 3 veces para calibrar la brújula de la aeronave.
Página 24 Manual del usuario del Phantom 3 Standard Vinculación del controlador remoto El Phantom 3 Standard está vinculado de forma predeterminada con el controlador remoto, y solo es necesario repetir la vinculación si el controlador remoto se sustituye por uno nuevo. Consulte la figura que se muestra a continuación para localizar el botón de vinculación.
Página 25 "12341234". 4. Inicie la aplicación DJI GO y acceda a la página "Camera View". Una señal de vídeo de la cámara de la aeronave indica que la aeronave ha establecido la conexión con la transmisión de vídeo WiFi correctamente.
Página 26 H.S: 14.2 select a network. Consulte Aplicación DJI GO en la página 32 para obtener más información sobre cómo cambiar el SSID y la contraseña de la transmisión de vídeo WiFi. Restablecimiento de la transmisión de vídeo WiFi Encienda el controlador remoto, gire el selector del gimbal totalmente a la derecha y mueva el interruptor S2 hacia delante y hacia atrás al menos tres veces.
Página 27: Cámara Y Gimbal
Página 28: cámara, página 29: gimbal.
Página 30 El gimbal volverá a funcionar correctamente una vez que se seque. Kit anticaída El Phantom 3 Standard viene con dos pasadores anticaída que ayudan a fijar el gimbal y la cámara a la aeronave. Para instalar pasadores adicionales, siga estos pasos: Empuje el pasador anticaída a través del amortiguador y el centro del anillo.
Página 31 Aplicación DJI GO Esta sección presenta las cuatro páginas principales de la aplicación DJI GO. © 2015 DJI. All Rights Reserved.
Página 32: Equipment
Página 33 Manual del usuario del Phantom 3 Standard [1] Modo de vuelo : el modo de vuelo actual se muestra junto a este icono. Tóquelo para entrar en la configuración principal del controlador, donde puede configurar los parámetros que afectan al comportamiento de vuelo.
Página 34 Manual del usuario del Phantom 3 Standard Obturador (Vídeo) : toque este botón para iniciar o detener la grabación de vídeo. Reproducción : Toque este botón para reproducir fotos y vídeos de la tarjeta MicroSD. Configuración de la cámara : tóquelo para establecer los valores de ISO, velocidad del obturador y exposición automática.
Página 35: Library
Página 36 Vuelo En esta sección se describen las prácticas de vuelo seguras y las restricciones de vuelo. © 2015 DJI. All Rights Reserved.
Página 37: Condiciones De Vuelo
Página 38 Zonas de exclusión aérea Todas las zonas de exclusión aérea se indican en el sitio web oficial de DJI en http://flysafe.dji.com/no-fly. Las zonas de exclusión aérea se dividen en aeropuertos y zonas restringidas. Los aeropuertos incluyen los principales aeropuertos y campos de vuelo en los que las aeronaves tripuladas operan a baja altura.
Página 39 Warning Zone Free Zone Zona de exclusión aérea: zonas introducidas por DJI con vuelo restringido para ayudar al piloto a volar con seguridad y legalmente. Zona de exclusión aérea: zona dentro de una zona de exclusión aérea, en la que la aeronave se inhibe de cualquier tipo de vuelo.
Página 40 Manual del usuario del Phantom 3 Standard Señal GPS fuerte Verde parpadeante Indicador de Advertencia de la aplicación DJI Zona Restricciones estado de la aeronave Warning: You are in a no-fly zone. Los motores no arrancan. Takeoff prohibited. Si la aeronave pierde la señal...
Página 41: Lista De Comprobación Previa Al Vuelo
Página 42: despegue y aterrizaje automáticos, página 43: arranque y parada de los motores.
Página 44 Consejos para fotografías aéreas 1. Repase la lista de comprobación previa al vuelo antes de cada vuelo. 2. Seleccione el modo de funcionamiento deseado del gimbal en la aplicación DJI GO. 3. Grabe vídeo mientras vuela en modo P siempre que sea posible.
Página 45 Preguntas frecuentes En esta sección trataremos de responder a todas sus preguntas. © 2015 DJI. All Rights Reserved.
Página 46: Preguntas Frecuentes
Página 47 ¿Puedo quitar la cámara y conectar la mía? No. La cámara que viene con el Phantom 3 Standard es fija. Si se intenta extraer, sustituir o modificar la cámara, se puede dañar el producto y esto anulará la garantía.
Página 48 ¿Cómo puedo restaurar un archivo de vídeo si la alimentación se desactiva durante la grabación? Inserte la tarjeta MicroSD en la cámara y encienda el Phantom 3 Standard. Espere aproximadamente 30 segundos para que se recupere el archivo de vídeo.
Página 49 Apéndice Toda la información adicional que necesita saber. © 2015 DJI. All Rights Reserved.
Página 50: Apéndice
Página 51 Manual del usuario del Phantom 3 Standard Controlador remoto Frecuencia de funcionamiento 5,725 GHz - 5,825 GHz, 922,7 MHz - 927,7 MHz(Japón) FCC: 1000 m; CE: 500 m Distancia máxima de transmisión (al aire libre y sin obstáculos, altitud de la aeronave a 120 m/400 pies) Temperatura de funcionamiento De 0°...
Página 52: Control De Orientación Inteligente (Ioc)
Página 53 The content is subject to change. Download the latest version from http://www.dji.com/product/phantom-3-standard If you have any questions about this document, please contact DJI by sending a message to [email protected]. © 2015 DJI. All Rights Reserved.
Renombrar el marcador
Eliminar marcador, eliminar de mis manuales, cargar el manual.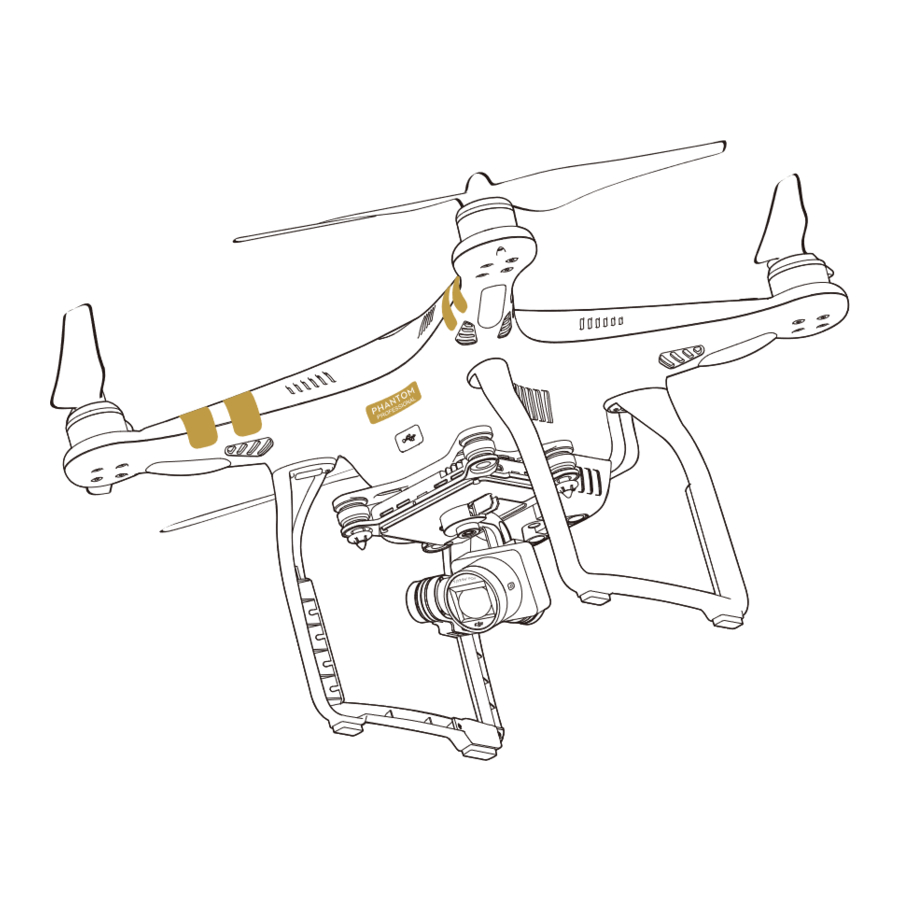 dji Manuals
PHANTOM 3 PROFESSIONAL
Quick start manual
DJI Phantom 3 Professional Quick Start Guide
User manual (58 pages)
Advanced manual (16 pages)
Quick start manual (8 pages)
Advertisement
Remote Controller
Specifications, preparing your phantom 3 professional before flying, dji phantom 3 pro, quick start guide, setup & how to fly video, download manual.
2 Remote Controller
4 Specifications
5 Preparing Your Phantom 3 Professional Before Flying
7.1 DJI Phantom 3 Pro, Quick Start Guide, Setup & How To Fly Video
8.1 References
8.2 Download manual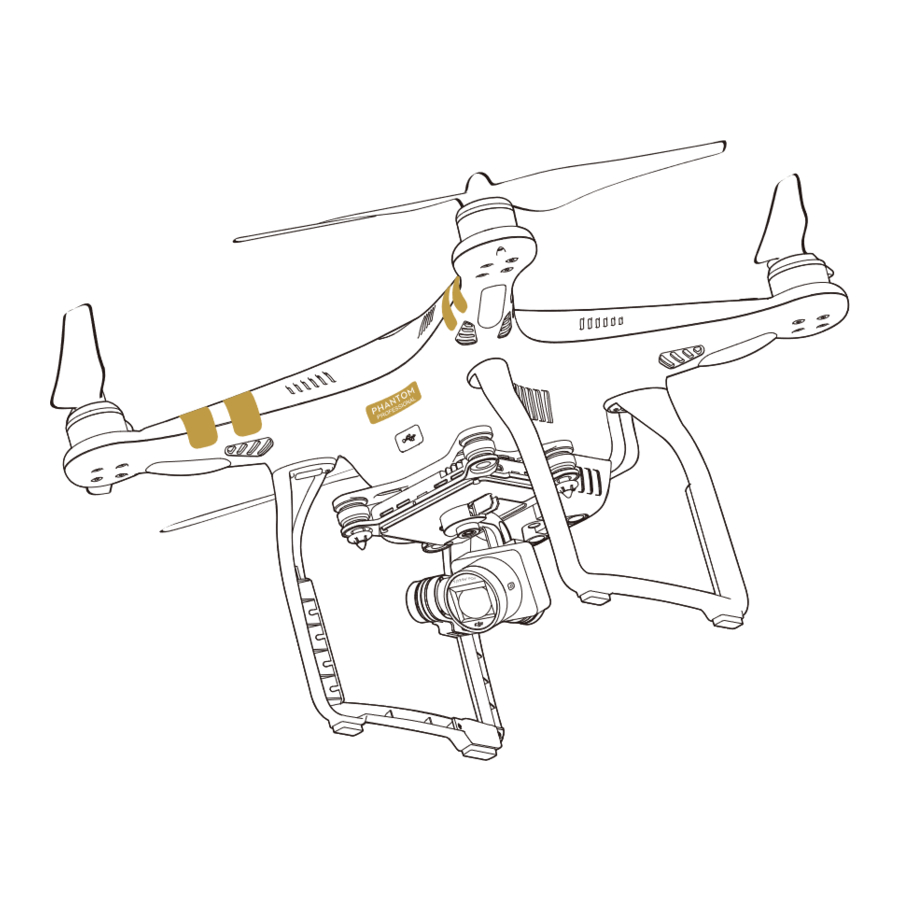 The Phantom 3 Professional's camera records video at up to 4K and captures 12 megapixel photos.
Review the diagram below for a full list of your Phantom 3 Professional's parts.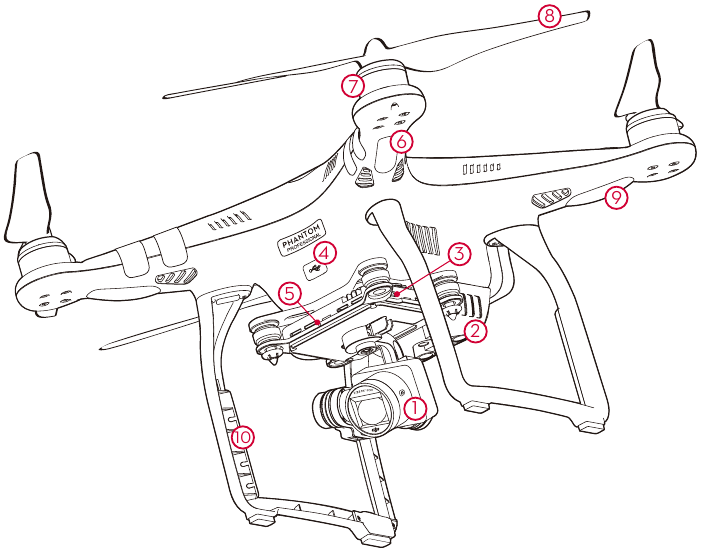 Gimbal and Camera
Vision Positioning System
Camera Micro SD Card Slot
Aircraft Micro USB Port
Camera Status Indicator
Aircraft Status Indicators
Intelligent Flight Battery
Power Button
Battery Level Indicators
Link Button
Camera Micro USB Port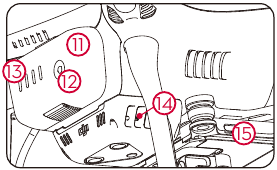 This powerful Remote Controller allows you to pilot and maneuver your Phantom 3 Professional at distances over 16,400 feet (5 km)* away, while putting selected camera controls at your fingertips.
Built into your Remote Controller is a rechargeable LiPo battery and DJI Lightbridge, which when paired with a compatible mobile device gives you a live HD view from the Phantom's camera.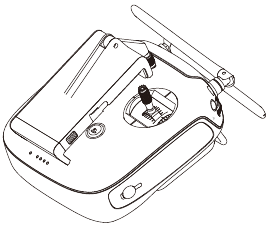 Return to Home (RTH) Button
Control Sticks
Battery Level LEDs
Mobile Device Holder
Small Device Positioning Tabs (such as mobile phone)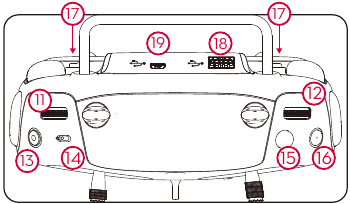 Gimbal Dial
Camera Settings Dial
Video Recording Button
Flight Mode Switch
Shutter Button
Playback Button
C1/C2 Buttons (Customizable)
Micro USB Port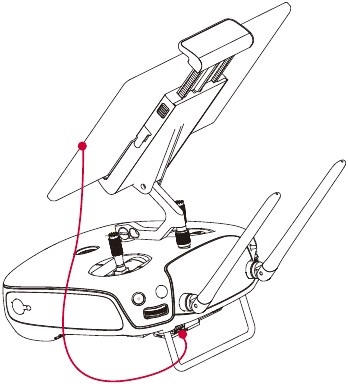 * This maximum transmission distance was tested in a lab environment and is for reference only. The maximum operating distance may vary depending on conditions in your immediate surroundings.
DJI encourages you to enjoy flying your Phantom 3 Professional in a safe, responsible, and smart way. To do this, it is important to understand some basic flight guidelines, both for your protection and for the safety of those around you.
Fly in Open Areas: Always fly in locations that are free and clear of buildings, trees, power lines, and other obstacles. Do not fly above or near people or animals.
Maintain Control at All Times: Even when using DJI autopilot functions such as Auto-Takeoff, Auto-Landing, and Auto-Return to Home, always keep your hands on the Remote Controller and maintain control of your aircraft when it is in flight.
Maintain Line of Sight: Keep your aircraft in sight at all times, and avoid flying behind buildings or other obstacles that may block your view.
Monitor Your Altitude: For the safety of full-sized aircraft and other air traffic, always fly at altitudes less than 400 feet (120 meters) above ground level, or in line with your local laws and regulations.
Visit http://flysafe.dji.com/no-fly for more information on critical safety features such as No-Fly Zones.

Calibrating the Compass: Only calibrate the compass when the DJI GO app or the status indicator prompt you to do so. Observe the following rules when calibrating your compass:
DO NOT calibrate your compass where there is a chance of strong magnetic interference, such as magnetite, parking structures, and steel reinforcements underground.
DO NOT carry ferromagnetic materials with you during calibration such as cellular phones.
The DJI GO app will prompt you to resolve the compass issue if the compass is affected by strong interference after calibration is complete. Follow the prompted instructions to resolve the compass issue.
Environmental Considerations:
Do not fly in severe weather conditions. This includes high winds (speeds of 22 mph or 10 m/s or more), snow, rain, and fog.
Only fly in open areas. Tall buildings and steel structures may affect the accuracy of the on-board compass and GPS signal.
Avoid obstacles, crowds, high-voltage power lines, trees, and bodies of water.
Minimize electromagnetic interference by avoiding areas with high levels of electromagnetism, including mobile phone base stations, radio transmission towers, or Wi-Fi hotspots.
Aircraft and battery performance are subject to environmental factors such as air density and temperature. Be very careful when flying 19,600 feet (6 km) or more above sea level, as battery and aircraft performance may not be at peak efficiency.
The Phantom 3 Professional cannot operate in P Mode or use GPS at polar latitudes. Only ATTI Mode and the Vision Positioning system will be operational.
P Mode: In this mode, the Phantom 3 Professional can use GPS and the Vision Positioning system, allowing it to hover accurately in position indoors and out. When GPS is available, a Home Point will be locked so that the Phantom 3 Professional can Return to Home if the Remote Controller signal is lost.

There are three states in P mode: P-GPS: GPS works best when outdoors and in a wide open area. Your Phantom 3 Professional uses GPS to hover in place when there is a strong GPS signal. P-OPTI: If GPS is not available, the aircraft can use the Vision Positioning system to hover accurately. P-ATTI: Neither GPS nor the Vision Positioning system are available. The aircraft will only use its barometer for altitude and other on-board sensors for attitude stabilization. Note that the Vision Positioning system may not work properly when the Phantom 3 Professional is flying over water, over surfaces without a clear pattern, or in a low-light environment.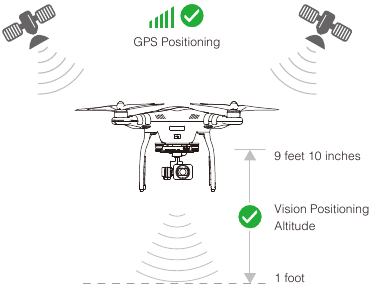 Return to Home: When there is a strong GPS signal, the aircraft will be able to record a Home Point and return to that Home Point when required. The Home Point location is recorded when the GPS signal icon in the DJI GO app is either yellow or green. The aircraft will return to the Home Point automatically in the following scenarios (all require a strong GPS signal): Smart RTH: When the RTH button on the Remote Controller or in the DJI GO app is pressed. Low-Battery RTH: A notification will appear in the DJI GO app requesting the pilot to take action when the battery level falls under a certain level. Failsafe RTH: When the Remote Controller's signal is lost.

Aircraft Weight (Including Battery) 1280 g Max Ascent Speed 5 m/s Max Descent Speed 3 m/s Max Speed 16 m/s (ATTI mode, no wind) Max Service Ceiling Above Sea Level 19685 feet (6000 m) (Software altitude limit: 400 feet above takeoff point) Max Flight Time Approximately 23 minutes Operating Temperature Range 0°C to 40°C GPS GPS/GLONASS
Gimbal Controllable Range Pitch: − 90° to +30°
Vision Positioning Velocity Range <8 m/s (Altitude 2 m) Altitude Range 30 cm-300 cm Operating Range 30 cm-300 cm Operating Environment Surface with clear pattern and adequate lighting (Lux > 15)
Camera Sensor Sony EXMOR 1/2.3" Effective pixels: 12.4 M (total pixels: 12.76 M) Lens FOV (Field Of View) 94° 20 mm (35 mm format equivalent) f/2.8 ISO Range 100-3200 (video) 100-1600 (photo) Electronic Shutter Speed 8 s-1/8000 s Image Max Size 4000x3000 Still Photography Modes Single shot Burst shooting: 3/5/7 frames Auto Exposure Bracketing (AEB): 3/5 bracketed frames at 0.7EV Bias Time-lapse Video Recording Modes UHD: 4K (4096×2160) 24/25p, 4K (3840×2160) 24/25/30p FHD: 1920×1080 24/25/30/48/50/60p HD: 1280×720 24/25/30/48/50/60p Max Bitrate of Video Storage 60 Mbps Supported File Systems FAT32 (≤ 32 GB); exFAT (> 32 GB) Photo JPEG, DNG (RAW) Video MP4/MOV (MPEG-4 AVC/H.264) Supported SD Card Types Micro SD, Max capacity: 64GB. Class 10 or UHS-1 rating required Operating Temperature Range 0°C to 40°C
Remote Controller Operating Frequency 2.400 GHz-2.483 GHz Max Transmission Distance FCC Compliant: 16,400 feet (5 km);CE Compliant: 11.483 feet (3.5 km) (unobstructed, free of interference) Video Output Port USB Operating Temperature Range 0°C to 40°C Battery 6000 mAh LiPo 2S Mobile Device Holder Tablets and smartphones Transmitter Power (EIRP) FCC: 20 dbm; CE:16 dbm Working Voltage 1.2 A @7.4 V
Charger Voltage 17.4 V Rated Power 100 W
Intelligent Flight Battery(PH3-4480 mAh-15.2 V ) Capacity 4480 mAh Voltage 15.2 V Battery Type LiPo 4S Energy 68 Wh Net Weight 365 g Operating Temperature -10°C to 40°C Max Charging Power 100 W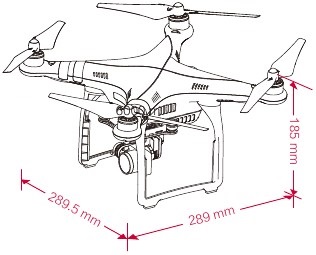 This Quick Start Guide is subject to change without prior notice.

FCC ID:SS3-WM3231503 FCC ID: SS3-GL3001501 This device complies with part 15 of the FCC Rules. Operation is subject to the following two conditions: (1) This device may not cause harmful interference, and (2) this device must accept any interference received, including interference that may cause undesired operation.
Read the User Manual and watch the video tutorials in the DJI GO app or on the official DJI website ( www.dji.com ), and read the following documents included in the box before using your Phantom 3 Professional for the first time: Phantom 3 Professional Quick Start Guide, Phantom 3 Safety Guidelines and Disclaimer, Phantom 3 Intelligent Flight Battery Safety Guidelines, In the Box.

Only use the official DJI Phantom 3 Professional charger. Remove the Intelligent Flight Battery from the aircraft before charging.
It is recommended that you turn off the Intelligent Flight Battery or Remote Controller before charging.
Connect the charger to a suitable power source (100-240V 50/60Hz).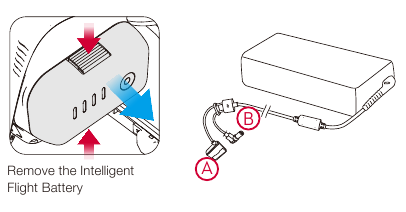 Press the button on the side of the Mobile Device Holder to release the clamp.
Place your mobile device into the clamp and adjust it so that the mobile device is held securely in place.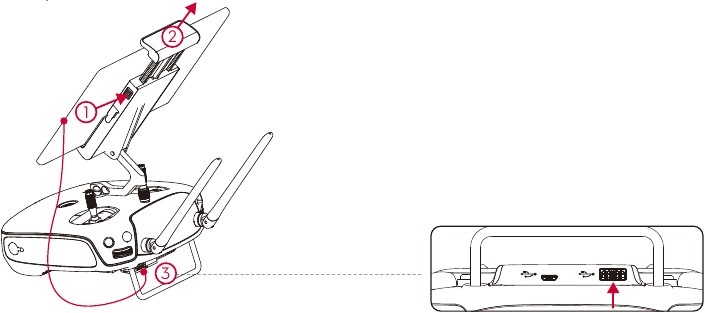 Tighten the propellers with both hands before each flight.
If you wish to record photos or videos, insert a Micro SD card into the Camera's Micro SD Card Slot.
The Flight Mode Switch is locked in P Mode by default. Refer to the User Manual to learn how to unlock the switch and change to other modes.
When not in P mode, the Phantom 3 Professional will only maintain altitude, not position, and will drift with wind or user input. Return to Home is not available in F mode.

Auto Takeoff and Landing: Your Phantom 3 Professional can automatically takeoff and land at the tap of a button in the Camera screen of the DJI GO app.

Manual Takeoff and Landing (Stick configurations are for MODE 2):

Never stop the motors mid-flight, otherwise the aircraft will crash. Only stop the motors when on the ground or as required in emergency situations to reduce the risk of damage or injury.
You cannot takeoff if the Intelligent Flight Battery is not sufficiently charged and the Critical Low Battery Warning is active.
The Intelligent Flight Battery must warm up if the outside temperature is low. A warning will appear in the DJI GO app in this scenario.
Once spinning, the rotating propellers can be dangerous. Do not start the motors when there are people nearby and always fly in a wide-open area.
Power off your Phantom 3 Professional before switching off the Remote Controller after landing.
Return to Home: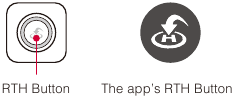 The DJI GO app will warn you if your Phantom 3 Professional's battery level falls under a certain level. This warning threshold can be set in the app. The aircraft will land immediately if the battery power reaches a critical level and the Critical Low Battery Level Warning appears.
Failsafe: The Phanto m 3 Professional will enter Return to Home Mode if the signal to the Remote Controller is lost.

Remote Controller Status LED

Camera Controls
Adjust the camera parameters using the Camera Settings Dial on the Remote Controller or through the DJI GO app. Press the Shutter Button or Video Recording Button to capture photos or record videos.
Adjust the gimbal's tilt using the Gimbal Dial.
Download photos and videos from the Micro SD card to your mobile device through the DJI GO app. You can also use a SD-card reader to export files to your computer.
For more information: http://www.dji.com/phantom3

© 2015 DJI. All Rights Reserved Designed by DJI. Printed in China.
Documents / Resources

Here you can download full pdf version of manual, it may contain additional safety instructions, warranty information, FCC rules, etc.
Download DJI Phantom 3 Professional Quick Start Guide
Related Manuals for dji PHANTOM 3
Table of Contents
Delete from my manuals.
Click the green button to print the entire article. To print the original version of the document - click the blue one.
Upload manual
Cambia de navegador
Internet Explorer ya no es compatible. Se recomienda utilizar otros navegadores.
Centro de descargas
DJI Pilot PE
Tello EDU APP
Plataforma AG
DJI GS Pro (iPad)
DJI Virtual Flight
DJI Assistant 2 (serie de drones de consumo)
DJI Assistant 2 para Mavic
DJI Assistant 2 para la Serie DJI Inspire
DJI Assistant 2 para la Serie DJI FPV
DJI Assistant 2 (Enterprise Series)
DJI Assistant 2 (Ronin Series)
DJI Assistant 2 for MG
DJI Assistant 2
DJI Assistant 2 para Phantom
DJI Assistant 2 For Battery Station
DJI Assistant 2 For AeroScope
DJI Assistant 2 For Autopilot
A2 Assistant Software
Ace One Assistant Software
Ace Waypoint Assistant Software
DJI Lightbridge Assistant Software
DJI Pro Assistant For Ronin
DT7 / DR16 Assistant Software
DJI ESC Assistant
DJI ESC Assistant (for e2000)
DJI Focus Assistant Software
iOSD Assistant Software
AGRAS MG-1 Assistant Software (For Flight Controller)
Naza-H Assistant Software
Naza-M Assistant Software
Naza-M Lite Assistant Software
Naza-M v2 Assistant Software
Phantom 2 Assistant Software
Ronin/Ronin-M/Ronin-MX Assistant Software
Wookong-H Assistant Software
Wookong-M Assistant Software
Zenmuse H3-2D Assistant Software
Zenmuse H3-3D Assistant Software
Zenmuse H4-3D Assistant Software
Zenmuse Z15 Assistant Software
Zenmuse Z15-5D/5D-III-HD/BMPCC/GH3/GH4-HD Assistant Software
Zenmuse Z15-A7 Assistant Software
LOG mode Transcoding Tool
Phantom 3 dlog to srgb 3dlut.
Phantom 4 Dlog 3DLUT
Inspire 1/Zenmuse X5R Dlog to sRGB 3DLUT
Linear to D-Log LUT
D-Log to Rec.709 LUT
Zenmuse X9 D-Log to Rec.709 LUT
Zenmuse X9 D-Log to Rec.2020 HLG LUT
DJI Mavic 3 D-Log to Rec.709 vivid LUT
DJI OSMO Action 4 D-Log M to Rec.709 vivid LUT
DJI Air 3 DJI D-Log M to Rec.709
DJI Mavic 3 D-Log M to Rec.709 LUT
DJI Mini 4 Pro DJI D-Log M to Rec.709
DJI OSMO Pocket 3 D-Log M to Rec.709
2.4G Bluetooth DataLink Installer
Charging Hub Upgrader
MG Smart Charging Hub Update Kit
DJI Camera Exporter
DJI CineLight
DJI DNG Cleaner
DJI Media Maker
DJI WIN Driver Installer
FlightHub Basic/Advanced PC Software
Guidance Assistant Software and Driver Installer
DJI Flight Simulator
FlightHub Enterprise Software
Arduino IDE
DJI Education Hub
Mind+ Graphical and Code programming Software
DJI Decrypt Tool
DJI Thermal Analysis Tool
DJI Thermal Analysis Tool 2.1
DJI Thermal Analysis Tool 3.0
DJI Thermal SDK
DJI Mavic 3 Pro
DJI Mavic 3 Classic
DJI Mavic 3
Serie DJI Mavic 3 Enterprise
Mavic 2 Enterprise Advanced
Mavic 2 Enterprise
Mavic Pro Platinum
DJI Mavic 3M
Mavic Air 2
DJI Mini 4 Pro
DJI Mini 3 Pro
DJI Mini SE
DJI Mini 2 SE
DJI Goggles Integra
DJI Goggles 2
DJI Inspire 3
Inspire 1 Pro/Raw
DJI RC Motion 2
Phantom 4 Pro V2.0
Phantom 4 Pro
Phantom 4 Advanced
Phantom 4 RTK
Phantom 3 4K
Phantom 3 SE
Phantom 3 Pro
Phantom 3 Advanced
Phantom 3 Standard
Phantom 2 Vision+
Phantom 2 Vision
Phantom 2
Phantom FC40
Phantom 1
DJI O3 Air Unit
Sistema DJI FPV
DJI Goggles RE
DJI Goggles
RoboMaster S1
RoboMaster EP
RoboMaster TT
Osmo Pocket 3
Osmo Action 4
Osmo Mobile 6
Osmo Mobile SE
Osmo Action 3
DJI Action 2
DJI OM 4 SE
DJI Pocket 2
Osmo Action
Osmo Mobile 3
Osmo Pocket
Osmo Mobile 2
Osmo Mobile
Osmo Pro y Raw
Matrice 350 RTK
Matrice Serie 30
Matrice 300 RTK
Serie Matrice 200 V2
Serie Matrice 200
MATRICE 600 Pro
Matrice 600
Matrice 100
Zenmuse H20N
SERIE ZENMUSE H20
Zenmuse Z30
Zenmuse X5S
Zenmuse X5R
Zenmuse X4S
Zenmuse XT2
Zenmuse Z15-BMPCC
Zenmuse Z15-5D
Zenmuse Z15-5D III (HD)
Zenmuse Z15-GH4 (HD)
Zenmuse Z15-GH3
Zenmuse Z15
Zenmuse H3-3D
Zenmuse H3-2D
Zenmuse H4-3D
Zenmuse Z15-A7
DJI RS 3 Mini
DJI RS 3 Pro
DJI Ronin 4D
DJI Ronin-SC
Ronin Thumb Controller
Naza-M Lite
Ace Waypoint
P4 Multispectral
Tuned Propulsion System
Kit ARF Flame Wheel
E1200 Standard
Takyon Z318 y Z420
Takyon Z425-M y Z415-M
Takyon Z14120
Takyon Z660
Takyon Z650
PC Ground Station
iPad Ground Station
Intelligent Flight Modes
Datalink Pro
DJI Lightbridge 2
DJI Lightbridge
DJI Smart Controller
iOSD MARK II
S800 Retractable Landing Skid
Estación de Baterías de DJI
Master Wheels
Control remoto Cendence
DJI Transmission
No se encontró ningún resultado
Calidad de grabación en 4K en un dron asequible y fácil de transportar.
Aplicaciones, captura y comparte cada momento épico. compatible con la serie phantom 3 y la serie osmo, entre otros..
Requiere iOS 8.0 o superior.
Compatible con
iPhone 5s, iPhone SE, iPhone 6, iPhone 6 Plus, iPhone 6s, iPhone 6s Plus, iPhone 7, iPhone 7 Plus,iPod touch 6,iPad Pro, iPad Air, iPad Air Wi-Fi + Cellular, iPad mini 2, iPad mini 2 Wi-Fi + Cellular, iPad Air 2, iPad Air 2 Wi-Fi + Cellular, iPad mini 3, iPad mini 3 Wi-Fi + Cellular, iPad mini 4, and iPad mini 4 Wi-Fi + Cellular. This app is optimized for iPhone 7, iPhone 7 Plus.
Requiere Android 4.1.2 o superior.
LG V20, VIVO X9, OPPO R11, Google Pixel, Nexus 6P, Huawei P9, Huawei MATE 9, Samsung Galaxy Tab S2, Samsung Galaxy S5, Samsung Galaxy S6 Edge, Samsung Galaxy S6, Samsung Galaxy S7, Samsung Galaxy S7 Edge, Samsung Galaxy S8, Samsung Galaxy S8+, Samsung Galaxy Note 8, Samsung Galaxy Note 5, MI 6, MI5.
*Compatible con dispositivos adicionales. Pruebas y desarrollo en proceso.
Una aplicación imprescindible para usuarios de DJI. Consigue productos oficiales en cuanto salen al mercado, con seguimiento del envío en todo momento. Prueba aquí Virtual Flight: practica antes de volar. Gestiona cómodamente tus dispositivos: consulta en cualquier momento tu garantía y la cobertura Care.
Requiere iOS 12.0 o superior.
iPhone 14 Pro Max、iPhone 14 Pro、iPhone 14、iPhone 13 Pro Max、iPhone 13 Pro、iPhone 13、iPhone 12 Pro Max、iPhone 12 Pro、iPhone 12、iPhone 11 Pro max、iPhone 11 Pro、iPhone 11、iPhone SE 2020、iPhone XS max、iPhone XS、iPhone XR、iPhone X、iPhone 8 Plus、iPhone 8.
Requiere Android 7.0 o superior.
Samsung Galaxy S21,Samsung Galaxy S20,Samsung Galaxy S10+,Samsung Galaxy S10,Samsung Galaxy Note20,Samsung Galaxy Note10+ ,Samsung Galaxy Note9,HUAWEI Mate40 Pro,HUAWEI Mate30 Pro,HUAWEI P40 Pro,HUAWEI P30 Pro,HUAWEI P30,Honor 50 Pro,Mi 11,Mi 10,Mi MIX 4,Redmi Note 10,OPPO Find X3,OPPO Reno 4,vivo NEX 3,OnePlus 9 Pro,OnePlus 9,Pixel 6,Pixel 4,Pixel 3 XL
Phantom 3 Professional - Notas de lanzamiento 2017-07-06
Phantom 3 Professional - Manual de usuario 1.8 2017-07-06
Phantom 3 (Serie) - Control remoto - Notas de lanzamiento 2016-10-13
Phantom 3 Intelligent Flight Battery Heater User Manual 2016-06-17
Phantom 3 Professional - Guía de inicio rápido 1.2 2016-04-19
Phantom 3 (Serie) - Renuncia de responsabilidad y directrices de seguridad 1.4 2016-02-05
Phantom 3 (Serie) - Protectores para hélices - Guía de instalación 2015-12-17
Phantom 3 Professional - Contenido del embalaje 2015-09-01
Phantom 3 (Serie) - Centro de carga - Manual de usuario 1.0 2015-09-01
Phantom 3 - Batería de Vuelo Inteligente - Directrices de seguridad 1.0 2015-09-01
Phantom 3 - Firmware 1.11.20 2017-07-06
Phantom 3 - Firmware Guía de actualización 1.4 2015-11-06