Byredo Mojave Ghost — Full Review in 2023
Although Byredo Mojave Ghost was launched in 2014, I recently managed to get my hands on it, and it definitely matched my expectations.
An interesting fact is that the inspiration for Mojave Ghost was actually Mojave Desert (North America) and since the name itself promised a lot, the high expectations were set right at the beginning as the story was similar to L'Air du Desert Marocain, where Andy Tauer created the fragrance with a scent of Marocain desert.
Byredo is a Swedish perfume production company that released Mojave Ghost in 2014 a floral-oriented unisex fragrance that definitely stood out with its perfect blend and smooth scent.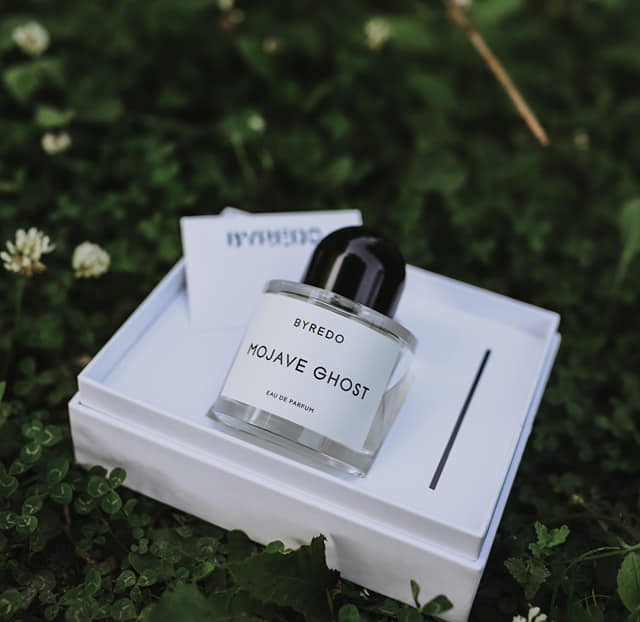 What does it actually smell like, how does it perform, and is it actually worth it? Let's see in a detailed review.
What Does Byredo Mojave Ghost Smell Like?
How long does byredo mojave ghost last, when to wear byredo mojave ghost, how many sprays of byredo mojave ghost is enough, where to buy byredo mojave ghost, summary — is byredo mojave ghost worth it.
Byredo Mojave Ghost smells like a floral-sweet scent with a combination of woodiness and ambrette — this fragrance leaves a unique trace of bright and addicting aroma. It's a unisex fragrance with linear projection and calming effect.
The main component of this alluring fragrance is actually sapodilla, the fruit from Central America, and the magnolia flower that can be found in heart notes. Woody notes can also be sensed but definitely in a less strong volume.
According to Byredo, concentration of Mojave Ghost is eau de parfum (EDP) and the notes are:
Heart notes:
Base notes:
Chantilly Musk
Crisp Amber
Byredo described Mojave Ghost very poetically: "Mojave Ghost is a woody composition inspired by the soulful beauty of the Mojave Desert. In this xeric wilderness, rare are the plants that dare to blossom. With a light and graceful character top notes of musky Ambrette combine with fresh Jamaican Nesberry. Powdery Violet then unfurls to reveal Sandalwood. Finally, warm Chantilly Musk rounds out a base of crisp Amber and Cedar wood, leaving the raw spirit of Mojave Ghost to linger on the skin."
…and truth be told, that's pretty much what Mojave Ghost is like.
What made this fragrance so special is the brightness and lightness that it carries along the way. The sweet notes, such as sapodilla, magnolia, and violet, give this perfume a flowery effect that is very easily validated right with the first spray. Even though sapodilla is not mentioned in the notes pyramid, it can clearly be sensed.
The significant difference that separates Mojave Ghost from other flowery scents is a momentous touch of woodiness (especially coming from cedarwood) that is not so strong, but it is still present and it fills up the missing flick of this alluring fragrance.
Violet, from heart notes, can also be noticed, and even though this fragrance has a lot of "girly" tones, the whole composition is so heavenly blended that you cannot say it's not for men. I tested it personally for over a month, and it's most certainly a unisex fragrance that fits both genders very well.
Because of the amber, this fragrance will stick very close to your skin, and as earlier said, it's very linear.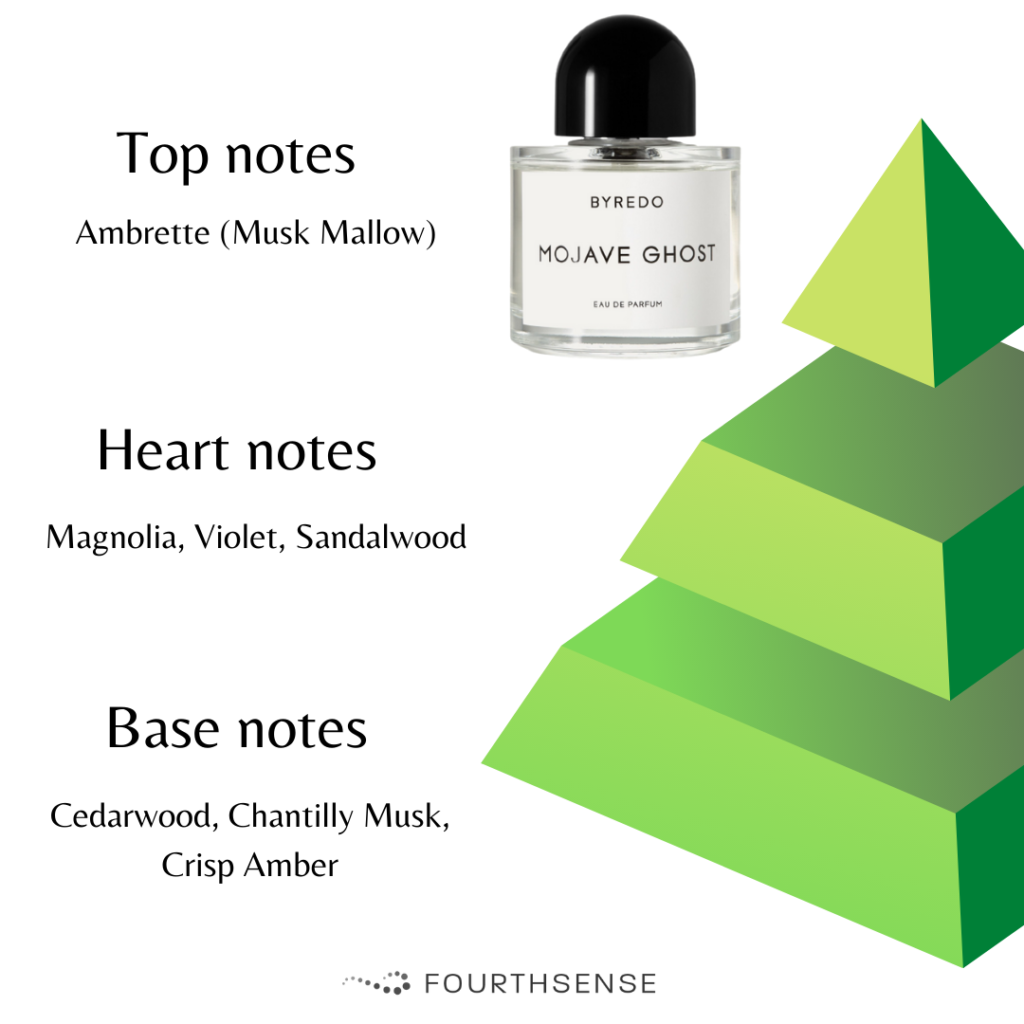 Basically, what you get in the first 15 minutes, you will have for the rest of the time that fragrance stays on your skin.
The initial smell that feels so bright and airy leaves you with a sense of calmness — it's a light and well-rounded scent and can serve as your daily go-to fragrance.
The only change that I noticed is a little touch of muskiness at the edge of disappearing, so if you wear it long enough, you will probably smell it as well.
Mojave Ghost it's not a sharp and not in-your-face type of fragrance, but as the name indicates, it leaves traces of uniqueness that will follow your every step.
To be honest, I cannot compare this scent to any other fragrance I know, so if you want to smell unique, Byredo Mojave Ghost will most certainly serve the purpose.
Mojave Ghost usually lasts around 7 hours with 2-3 hours of solid projections and sillage.
Byredo isn't known for eternal longevity in their fragrances, which Mojave Ghost proves. Depending on the situation when and where you want to wear it, you may be required to apply it multiple times over hours.
However, even though longevity, in general, is around 7 hours, people will be able to smell it around you for about 3-4 hours , right after projections expires. After that time, Byredo Mojave Ghost becomes a very closed and private scent, that only the ones closest to you that come to whisper sweet nothing will be able to sense it.
The reason why Mojave Ghost closes after a few hours is the amber note that by default is the note that sits very close to you.
Projection is fair and as we said, you will get no more than 2-3 hours of it, which is completely fine as this is not the type of fragrance that is meant to be noticed by everyone.
With that being said, the silage is pretty moderate, maybe even weak , and Byredo Mojave Ghost definitely isn't the perfume you want to wear when looking for attention.
Getting the most out of your fragrance is something you should definitely learn, so I'd recommend checking out our guide on the best ways to increase the longevity and performance of your perfume .
If you are someone who likes intimate, bright, and airy scents, then Byredo Mojave Ghost will do the job perfectly.
Mojave Ghost is a fragrance that is best to wear during spring and summer, so preferably for warmer, brighter days. It's a great daytime fragrance that can be a perfect choice for office, and coffee breaks, but also vacation days.
Because of its calming and non-offensive texture, this fragrance has pretty wide versatility.
I like to wear it during my work-free days, but it is also a great choice for the office as well since it's very intimate and will not bother anyone.
Byredo Mojave Ghost is a scent that should be used during summer and spring because flowery and sweet notes just fit perfectly in high temperatures. It's definitely not the fragrance for fall and winter, and colder days in general, as lower temperatures won't let it open and perform properly.
The scent of Byredo Mojave Ghost gives a bit more adult feeling, and it definitely doesn't fit teenagers, high-schoolers, or younger people in general. The scent itself asks a wearer to be a bit more mature.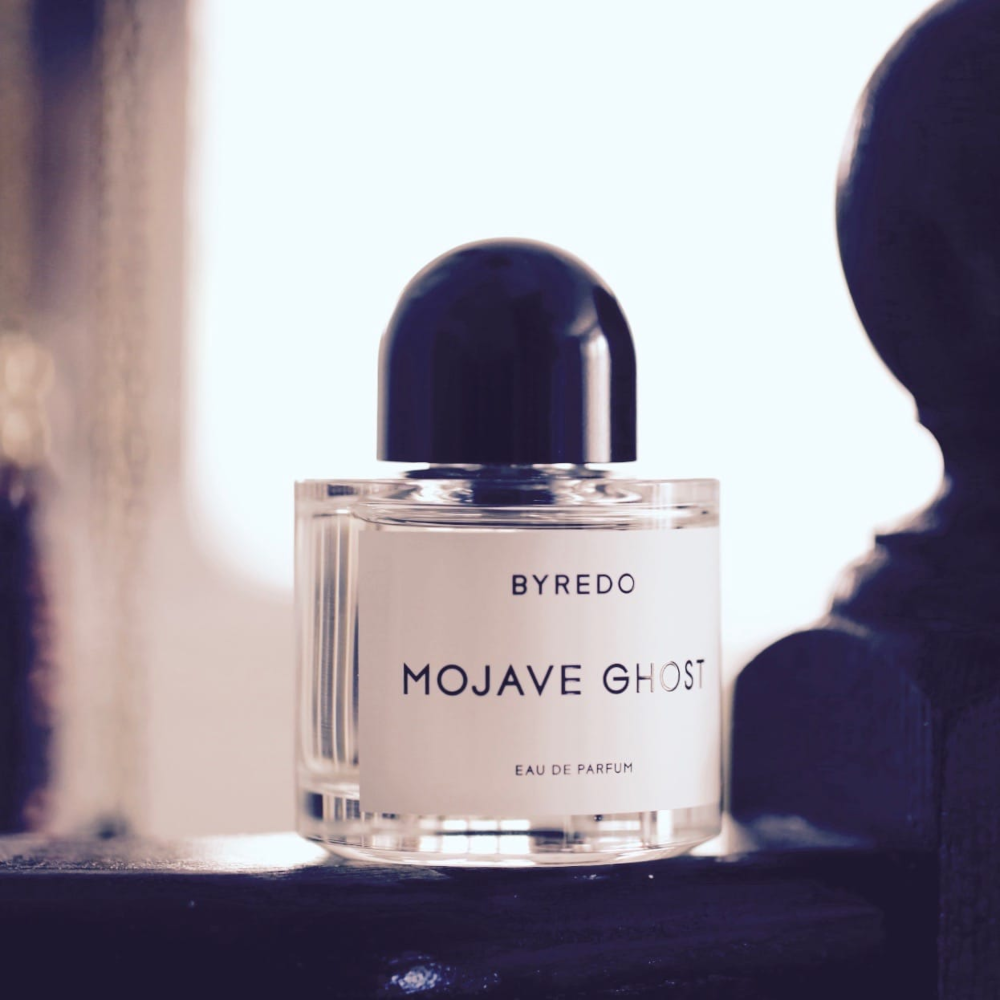 When applying Byredo Mojave Ghost it's best to use 3 to 4 sprays since this fragrance can be overused. Too many sprays will not allow it to open and perform properly, so in the case of Mojave Ghost, less is more.
Fragrance can massively change if you apply it multiple times on the same spot.
If you want proper opening and performance then be careful with Mojave Ghost since this fragrance may get an unpleasant creamy note when it's over-applied.
So, to get the best out of Mojave Ghost you should go with a few sprays: 2 behind your ears and 2 sprays in the dips of the collarbone.
Do not get confused since even if you apply more sprays, you will not get better projection and silage. That is a very common mistake many people do, but if you want to learn how to avoid all application mistakes and where to spray your perfume exactly, check our guide here .
To be sure what works best for you, try it for yourself since every skin reacts differently to perfume.
The best place to get Mojave Ghost is the local perfumery which is an authorized reseller of the Byredo brand. When it comes to online shoppers, you can get it from Byredo's official website, Amazon, FragranceX, and FragranceNet.
As I always recommend, to make sure that Byredo Mojave Ghost (or any other fragrance as well) is a perfect choice for you, you should visit some local perfumery that is an authorized reseller of Byredo. That way you will gain the advantage of testing it on your skin before making a decision instead of risk making a bad blind buy.
If you're buying online (and you love blind buys just as I do), then I'd advise making a purchase from trusted sources – I personally get all my fragrances from FragranceNet and they've been amazing with their discounts, and shipping times.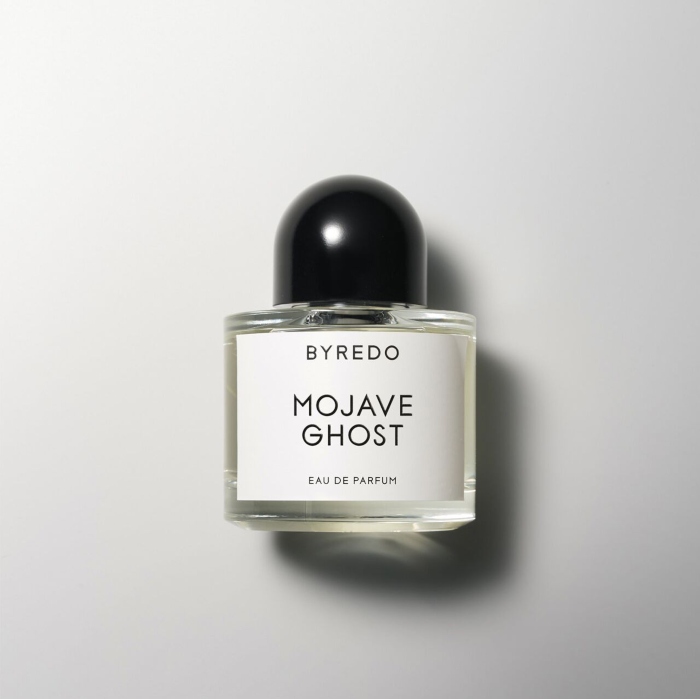 Besides that, few other trustworthy sources where you can buy Mojave Ghost are:
You can rest assured that you will get the original bottle of Mojave Ghost if you order from any of these sources. However, you may find differences in prices which is okay considering that all 4 sources have different shipping policies.
FragranceX and FragranceNet are known fragrance discounters, but I personally purchased almost all my fragrances from them, and I never got a fake.
Speaking of fakes, always be aware when buying online, as perfumes and fragrances are often the subject of copycats and scammers. With these sources you can be safe you will get what you paid for and sleep peacefully, knowing you were not scammed!
White, simple, elegant, and clean are the words that fit the best description of Byredo Mojave Ghost packaging. As with every other fragrance from this collection, Mojave Ghost follows the collective appearance and it looks great.
Mojave Ghost comes in white cardboard that consists of the name of the fragrance, the name of the brand and the brand logo as well.
Once the cardboard is removed, you get a simple, white box that just screams elegant. The box has the name and the type of the fragrance, logos, and also two, stylish stickers on both sides that need to be removed in order to open the box.
As I said, every fragrance from that collection follows the theme, so Mojave Ghost comes in a transparent box, with a black cap and white label.
The atomizer has an engraved B letter on the top of it, and it does a pretty good job as well.
It comes in two sizes:
The entire packaging reminds me of the simplicity Frederic Malle fragrances have. All in all, the bottle and packaging of this perfume are beautiful, and if you are like me and you love to have your fragrance represented on the shelf, you won't be disappointed.
Considering the price, structure, story, and scent itself, Byredo Mojave Ghost is definitely worth having in the arsenal when warmer spring and summer days arrive.
Mojave Ghost is a masterpiece in its own way. The smell you get from only a few sprays leaves a unique and interesting trace on your body and it cannot be compared with any other scents out there.
This sweet, bright, and fruity fragrance represents an intimate composition that evokes calmness and makes you feel relaxed and light.
It's a unisex mixture that can be pulled off by any man or woman with great taste and a love for airy perfumes.
Since the name suggests a lot, this fragrance will follow you throughout your long journeys and even though it will not pop out from everywhere, the pleasant smell will stay close to your skin to remind you how delightful you smelled the whole day.
It may not be a dominant and striking type of perfume but it has distinctive magic to it that can easily become your everyday go-to fragrance.
Did you try Mojave Ghost or any other fragrance from Byredo?
What do you think of it?
Let's talk in the comments!
How useful was this post?
Click on a star to rate it!
Average rating 4 / 5. Vote count: 1
No votes so far! Be the first to rate this post.
We are sorry that this post was not useful for you!
Let us improve this post!
Tell us how we can improve this post?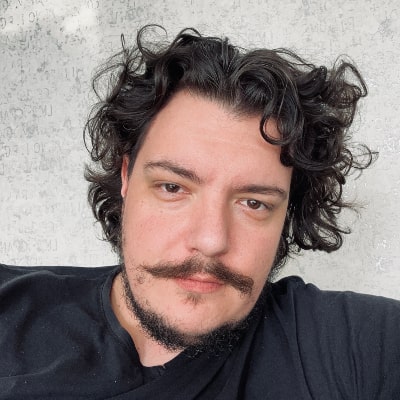 Vladan X is a founder of Fourth Sense and fragrance expert. He reviews only fragrances he owns personally, and his collection currently counts between 100 and 150 fragrances. Even though Vladan reviewed hundreds of perfumes he still didn't find the one he would call "signature" fragrance. He's still searching for that one, and in the meantime, he writes the best in-depth fragrance reviews internet has ever seen! You can read more about Vladan X here !
Leave a Comment Cancel reply
Save my name, email, and website in this browser for the next time I comment.

Sign In Sign In
Wishlist Wishlist
Cart 0 Items 0
Eau de Parfum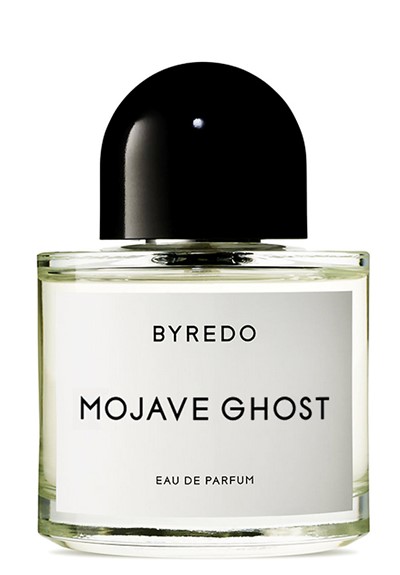 Mojave Ghost
Product Details
Reviews (22)
Add to wishlist
22 REVIEWS -->
In the xeric wilderness of the mojave desert, trees and vegetation more ancient than many civilizations defy conditions that prey on human vulnerability. The ghost flower is a rare species that dares to blossom above this baked, hard ground. Despite its arid surroundings and inability to produce nectar, the ghost flower, or mohavea confertiflora, maintains its perfect, majestic beauty and thrives year after year. In an astonishing feat of ingenuity, the flower uses mimicry to attract the pollinators of a neighboring plant species by developing markings that resemble those of a female bee, therefore attracting it and duping the male bee into following suit. This moving human-like behavior and captivating tale of survival lies in the foundation that inspired 'mojave ghost', an homage to this most bewitching flower. Mojave Ghost opens with a familiar yet mysterious fruit note, like a pear grown on another planet. Languid and almost buttery ambrette and sandalwood facets smooth and stretch these slices of fruit into a golden desert sunset, with petals of violet and magnolia basking in its diminishing light. Warm woods and ambergris remain on the skin for hours, prolonging a magic desert twilight.
Ambrette, sapodilla, violet, sandalwood, magnolia, ambergris, and cedar.

Newest Reviews
Oldest Reviews
Customer Rating (High to Low)
Customer Rating (Low to High)
©2023 Luckyscent Inc. All Rights Reserved.
Privacy Policy
Cookie Policy
SPEND £75 GET 15% OFF - SHOP NOW
SPEND £100 & GET 20% OFF - SHOP NOW
SPEND £50 & GET 10% OFF - SHOP NOW
Choose 2 free samples at checkout
Select Size
In Stock Sizes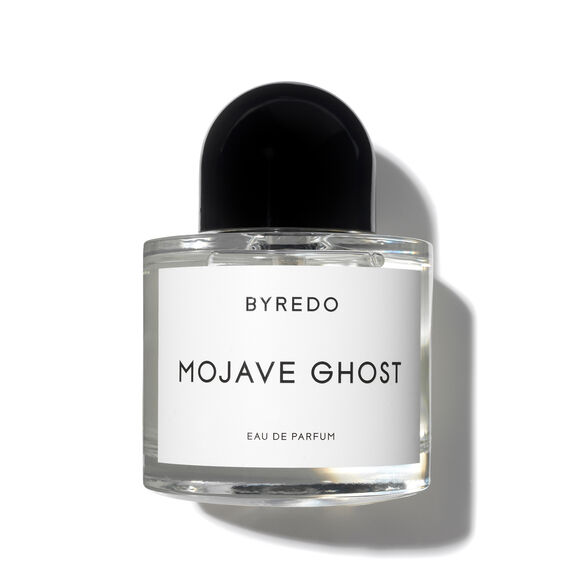 Shop the look
Enter your email address to receive an alert when this is back in stock
Thanks! You will be notified.
Perfect pairing, byredo mojave ghost eau de parfum 50ml, find in store.
Enter a postcode to find your nearest store.
Sign up to our complimentary loyalty programme, NDULGE and make shopping with us even more rewarding.
Earn 1 point for every you spend
For every 100 points earned, receive a reward to spend on your next purchase (in-store and online)
As part of our community you'll enjoy exclusive privileges such as a birthday gift every year and event invitations. Plus, enjoy unlimited double points in your first month.
Earn 1 point for every £1 spent When you sign up to NDULGE
Complimentary Samples Choose 2 free samples at checkout
Free UK Standard Delivery On all orders over £25
100% Satisfaction Guaranteed Not happy? Send it back for free
Description
Allure and enthral with Byredo Mojave Ghost Eau de Parfum, a tantalising scent that utilises the exotic scent of the ghost flower, from the Mojave Desert.
The ghost flower is a rare genus that grows in the wilderness of the desert with an intense aroma. Byredo Mojave Ghost Eau de Parfum begins to embody this beguiling plant with top notes of ambrette that deepen and intensify with violet, magnolia and sandalwood for a coalescing of woodiness and floral aromas. Base notes are formed with a bewitching mix of crisp amber, chantilly musk and cedarwood, forming a picture of the illustrious ghost flower.
High-quality raw ingredients have been utilised in this creation to make a perfume that lasts the distance as well as being gentle on the skin. Although distinctly floral, this scent reacts with the natural notes of the skin and can amplify both masculine and feminine properties.
Key Benefits
Gender-neutral scent
High-quality raw ingredients
Fine mist application
Easily layered
Lasting scent
Paraben-free
SKU# UK300026786
ingredients
Product benefits, delivery and returns.
STANDARD DELIVERY - £4 Free when you spend £25. Delivered in 2-4 working days
PRIORITY STANDARD DELIVERY - £4.5 Free when you spend £75. Order before 4pm. Delivered in 2 working days
NEXT DAY DELIVERY - £5 Order before 4pm.
CLICK & COLLECT - FREE Collect your order from one of our stores within 3-5 working days.
INTERNATIONAL We ship worldwide! Find out more here for shipping or here for returns.
RETURNS Buy with confidence thanks to Space NK's 100% Satisfaction Guarantee Unopened product can be returned for a full refund or exchange within 28 days of purchase with proof of purchase. Opened or used products that you are not completely satisfied with can be returned for an exchange within 28 days of purchase with proof of purchase.
About Byredo
182 Reviews
Summary of Customer Ratings & Reviews
Location: Dorset
Not as good as I was hopping
I had a sample of 2 fragrance's from this brand and I couldn't remember which one I liked the best. I read the ingredients and thought perhaps it was this one that I liked. Unfortunately, I don't think it was the one that I like the best. It has a very gentle floral smell and upon applying this product the smell is quite nice and light, but unfortunately the smell did not last and evaporated very quickly. I feel you may need a good few sprays of this fragrance to get a little more lasting power. Even though it is a nice fragrance for the price, I would have expected it to last a lot longer on the skin.
Recommends this product: Yes
Nothing like I have ever smelled before, finally a fragrance that not every second person has, as sick and tired of everyone having the same perfumes..For me it's like a special scent by which you can be remembered..Lovely design and packaging..Love it, my number 1 favourite!
Location: London
Age: Under 30
Best smelling perfume
Absolutely love the smell, not too overpowering, it is a light fragrance with a classic and expensive smelling character to it. I would buy this again and again! It's a little more expensive than other brands, but you don't need to put much on so it should last a while!
Reviews: 74
This is far too similar to narciso for her edt ( the black bottle) for me to pursue this. Not that I like that scent either. Neither are my style. But mojave Ghost in particular does not evoke any emotion for me. It's not unique and feels dated. It's also a little top sweet for me. Not my style.
Lovely scent
The perfume smells lovely and has a lasting power too. I was trying the fragrance from this brand for the first time so didn't know what to expect. Its not too overpowering so its perfect for everyday wear. I highly recommend it if you are looking to try something new
My review of Mojave Ghost Eau de Parfum
If you have an NDULGE account you can receive 10 Ndulge points per review, for a maximum of 10 reviews per month. Please see here for further information about your reviews and NDULGE points.
You may receive emails regarding this submission. Any emails will include the ability to opt-out of future communications.
Terms and Conditions
These Terms of Use govern your conduct associated with the Customer Stories service offered by Space NK (the "CRR Service"). To the extent of any conflict between Space NK's Privacy Policy and these Terms of Use, these Terms of Use shall control with respect to the CRR Service.
By submitting any content to Space NK, you represent and warrant that:
you are the sole author and owner of the intellectual property rights thereto;
all "moral rights" that you may have in such content have been voluntarily waived by you;
all content that you post is accurate;
you are at least 13 years old;
use of the content you supply does not violate these Terms of Use and will not cause injury to any person or entity.
You further agree and warrant that you shall not submit any content:
that is known by you to be false, inaccurate or misleading;
that infringes any third party's copyright, patent, trademark, trade secret or other proprietary rights or rights of publicity or privacy;
that violates any law, statute, ordinance or regulation (including, but not limited to, those governing export control, consumer protection, unfair competition, anti-discrimination or false advertising);
that is, or may reasonably be considered to be, defamatory, libellous, hateful, racially or religiously biased or offensive, unlawfully threatening or unlawfully harassing to any individual, partnership or corporation;
that is, or may reasonably be considered to be submitted in extreme volumes and as such be deemed as 'spam';
for which you were compensated or granted any consideration by any third party;
that includes any information that references other websites, addresses, email addresses, contact information or phone numbers;
that contains any computer viruses, worms or other potentially damaging computer programs or files.
You agree to indemnify and hold Space NK (and its officers, directors, agents, subsidiaries, joint ventures, employees and third-party service providers, including but not limited to Bazaarvoice, Inc.), harmless from all claims, demands, and damages (actual and consequential) of every kind and nature, known and unknown including reasonable attorneys' fees, arising out of a breach of your representations and warranties set forth above, or your violation of any law or the rights of a third party.
For any content that you submit, you grant Space NK a perpetual, irrevocable, royalty-free, transferable right and license to use, copy, modify, delete in its entirety, adapt, publish, translate, create derivative works from and/or sell and/or distribute such content and/or incorporate such content into any form, medium or technology throughout the world without compensation to you.
All content that you submit may be used at Space NK's sole discretion. Space NK reserves the right to change, condense or delete any content on Space NK's website that Space NK deems, in its sole discretion, to violate the content guidelines or any other provision of these Terms of Use. Space NK does not guarantee that you will have any recourse through Space NK to edit or delete any content you have submitted. Ratings and written comments are generally posted within two to four business days. However, Space NK reserves the right to remove or to refuse to post any submission for any reason. You acknowledge that you, not Space NK, are responsible for the contents of your submission. None of the content that you submit shall be subject to any obligation of confidence on the part of Space NK, its agents, subsidiaries, affiliates, partners or third party service providers and their respective directors, officers and employees.
By submitting your email address in connection with your rating and review, you agree that Space NK and its third party service providers may use your email address to contact you about the status of your review and other administrative purposes.
Your review was submitted!
You authenticated your review, we were unable to authenticate your review, please try again., upload error..
There was an issue with uploading photos, please try again later. Please ensure images are at least 100px wide and 100px tall.
Your beauty wishlists
Save Mojave Ghost Eau de Parfum to a list
This product already belongs to this list
Your shopping bag
Your shopping bag is empty, sub total 0.0.
Byredo Mojave Ghost Review.
*this post contains affiliate links*, the byredo mojave ghost fragrance is one of their best-sellers so i wanted to have a quick chat about it and why it's a scent i have worn for so many years. i think fragrance is such a magical thing and can really lift and change our moods in an instant. it can provoke memories, nostalgia and take us to a place far from reality….if only for a moment mojave ghost is one of he most popular byredo fragrances so let's see if this is the one for you., a niche, unisex, clean & elegant fragrance. mojave ghost is a woody composition inspired by the soulful beauty of the mojave desert., about byredo:.
Before we talk about the Mojave Ghost fragrance , let's explore Byredo as a brand . Byredo is a European luxury brand founded in Stockholm in 2006 by Ben Gorham, with an ambition to translate memories and emotions into products and experiences. They are know for their fragrances and have a line of bodycare, leather goods, accessories and more recently makeup too (VERY intrigued by this, yet to try) . Byredo conceives objects using the highest quality materials available, and high-end design details to fuel a renewed approach to modern luxury. Byredo is currently sold in more than 40 countries.
You can read my overview of my favourite Byredo fragrances right here . This includes Rose of No Man's Land, Gypsy Water, Mojave Ghost, Black Saffron, Super Cedar and Bal D'Afrique.
I have used and owned Byredo fragrances for around 8 years now and they really are some of my favourite scents in my collection. I love the chic and understated packaging, I love so many of the unique scents, the quality, and they are luxurious and a real treat to wear. If I see Byredo in someone's bathroom I immediately think they must know their stuff when it comes to fragrance.
Byredo Mojave Ghost.
Launched in 2014, mojave ghost is a woody composition inspired by the soulful beauty of the mojave desert. in this xeric wilderness, rare are the plants that dare to blossom..
'With a light and graceful character top notes of musky Ambrette combine with fresh Jamaican Nesberry. Powdery Violet then unfurls to reveal Sandalwood. Finally warm Chantilly Musk rounds out a base of crisp Amber and Cedar wood, leaving the raw spirit of Mojave Ghost to linger on the skin.'
I think this is one of the 'easiest' Byredo Fragrances to wear ; it's up there with Bal D'Afrique in terms of…. it's just kind of nice for anyone and everyone and most people tend to think it smells pretty damn good. It's not 'out there', it won't divide opinion, it won't blow anyone's socks off : this is a beautiful and gentle scent that is perfect for understated occasions. If I have no idea what an occasion calls for, and my mind is a bit of a blur…. Mojave Ghost will always be a good option.
What does Byredo Mojave Ghost Smell Like?
Bright, airy, calm. It is subtle and understated . It is a floral-woody scent and definitely a unisex one. Everyone and everyone can wear this fragrance…it's a people pleaser, it's delicate and it's fresh.
Notes include:
Top: Ambrette, Nesberry
Heart: Magnolia, Sandalwood, Violet
Base: Cedarwood, Musks, Vetiver
Does Byredo Mojave Ghost last well?
Byredo Mojave Ghost is a subtle fragrance. It's not one to reach for if you want it to be dominant or instantly striking : it is subtle and beautiful but it's also light and airy. Because of this , you may not think it last well as once sprayed on, it's not one I can smell on myself all day : you get subtle flashes and wafts but it's not strong. I think with a lot of the Byredo scents, they are best layered and topped up if you want that stronger , more over-powering kind of wear. It's definitely personal preference.
I personally like to wear this in more spring-summer times as I just think it suits those seasons better because of the fresh, floral vibe to it.
Byredo Mojave Ghost Cheaper Dupe?
I am yet to find one BUT I have heard on the grapevine that are some fragrances that are similar to the Byredo Mojave Ghost ; perhaps not dupes / identical but along the same kind of vibe. These include Chanel Chance Eau Tendre , Marc Jacobs Eau So Fresh and Poirer D'Un Soir by Miller Harris. I am not familiar with these fragrances personally so I cannot give my input on this but they could be worth checking out if you are on the hunt for a Byredo Mojave Ghost dupe!
Is Byredo Mojave Ghost worth the money?!
Yep I think so! Byredo is a niche, luxury fragrance house . The quality of ingredients they use are of the highest quality, the packaging they come in is hefty and reflective of the price. Not every fucker in the bar is going to be wearing it.
Where to buy Byredo Mojave Ghost?
Byredo is currently sold in over 40 countries. You can buy Byredo here in the UK and a fair few luxury outlets and online. Online you can head to the Byredo website , Space NK, Liberty's and Selfridges. To get to see these in the flesh, have a sniff and explore – then again, head to a Space NK or if you are in London you have Liberty's, Selfridges, Harrods' etc – all the fancy stores basically.
I hope you found my review of the Byredo Mojave Ghost fragrance useful! I think this is one of the easiest Byredo scents to wear : it is an every-occasion kind of fragrance, for anyone and everyone AND it's a safe bet to purchase someone as a gift.
Browse all things byredo.
You may also enjoy:
Byredo super cedar review., best in beauty : october round-up including ren, …, top tips for buying the perfect fragrance …, diptyque orphéon eau de parfum review..