Cookie banner
We use cookies and other tracking technologies to improve your browsing experience on our site, show personalized content and targeted ads, analyze site traffic, and understand where our audiences come from. To learn more or opt-out, read our Cookie Policy . Please also read our Privacy Notice and Terms of Use , which became effective December 20, 2019.
By choosing I Accept , you consent to our use of cookies and other tracking technologies.
Share this story
Here Are the Hottest New Restaurants in the East Bay, November 2023
15 Scintillating Chinese Restaurants in San Francisco
Here Are the Hottest New Restaurants in San Francisco, November 2023
8 Haunted Bay Area Restaurants and the Ghost Stories Behind Them
These are some of the Bay Area's best haunts
Share this on Facebook
Share this on Twitter
Share All sharing options
Share All sharing options for: 8 Haunted Bay Area Restaurants and the Ghost Stories Behind Them
We all have our favorite haunts in the Bay Area, those restaurants that serve the same comfort foods that mom used to make or elicit fond memories of meals shared with friends. While some Bay Area restaurants are known for their ever-changing menus and unique ambiance, others serve ghostly apparitions alongside lunch and dinner entrees. If you're looking for a spooky dining experience this Halloween season, look no further than these eight Bay Area restaurants.
Health experts consider dining out to be a high-risk activity for the unvaccinated; it may pose a risk for the vaccinated, especially in areas with substantial COVID transmission.
Union Hotel Restaurant & Bar
Take a trip back to California's Gold Rush era when you step inside the Union Hotel Restaurant & Bar in Benicia. This three-story hotel and restaurant, which opened in 1852, is a hub of alleged supernatural activity. Once a rowdy saloon, the bar now features elegant stained-glass windows commemorating Benicia's years as the state's capitol. Order a cocktail or martini, while dining on flavored fare including pomodoro pasta or their beef stew with creamy polenta, and hear stories of the hotel's resident spirit, known as "Crying Mary." She's rumored to haunt the venue, continuing to mourn the loss of her lover. 
View this post on Instagram A post shared by Hella Haunted (@hellahauntedpod)
Sweeney's Grill And Bar
While guests come to Sweeney's to indulge in traditional Italian fare, they often linger, hoping to catch a glimpse of the venue's resident spirit. In the early 1900s, the restaurant operated as a saloon and locals claim the owner's ghost can often be seen sitting at the bar and politely leaving an 11-cent tip for the staff. Known for steaks, seafood, and classic Italian dishes, Sweeney's is housed in a historic building, offering an elegant dining room, a lavish outdoor patio, and the possibility of a friendly ghost sighting. 
John's Grill
This iconic downtown San Francisco steakhouse was a favorite of the Maltese Falcon author Dashiell Hammett. Some guests claim Hammett's spirit still frequents the historic restaurant, where he wrote his bestselling novel. The extensive menu features Sam Spade's Lamb Chops, named for Hammett's famous private investigator and served with baked potato and sliced tomatoes, just the way the fictional Spade liked to order it. Seafood, pasta, salads, and sandwiches round out the menu.
Also featured in:
18 Classic Restaurants Every San Franciscan Must Try
15 Great Steakhouses in San Francisco
1400 Bar & Grill
Libations aren't the only spirits served at this historic Alameda restaurant. Built in 1879, the building was once Croll's Gardens and Hotel, a venue frequented by soldiers at the nearby Alameda Naval Air Station who were about to be deployed to combat zones. Some swear their departed souls continue to make cameo appearances at their once-favorite gathering place, accounting for the sounds of mysterious laughter and ghostly apparitions in uniform seen late at night. With a cozy ambiance featuring live music, a full bar, and daily specials like cioppino, and shepherd's pie, you can't blame the spirits for returning.
Blue Agave Club
Once a private Victorian-era home, this Mexican restaurant opened in 1997 and is known for its upscale cuisine, extensive tequila selection (including a signature blue agave tequila margarita), and host of ghostly spirits. The restaurant was featured on the television show 20/20 , when the owner and staff reported strange noises and ghostly apparitions. With seasonal favorites, such as the chiles en nogada, the Blue Agave Club works hard to maintain its reputation for preparing vegetarian enchiladas and enjococado (made from a 100-year-old family recipe) on top of serving a clientele that may include ghosts from Pleasanton's haunted past.
View this post on Instagram A post shared by Blue Agave Club (@blueagaveclub)
Gay Nineties Pizza Co
This charming restaurant in downtown Pleasanton is the place to go if you crave a slice of paranormal with your pizza. Built in 1864, the upper floor of the pizzeria once housed a brothel, and both staff and patrons have reported seeing a full-figured woman, known as the Blue Lady, peeking out of the building's second-story window. Order one of the sourdough specialty pizzas, or a jumbo cheese ravioli dish, and take a seat in the restaurant's mirror booth where the legendary spirit once scrawled "Boo. " Despite numerous attempts to erase the message, it remains as much of a staple as the restaurant's salads, pizza, and pasta entrees.
View this post on Instagram A post shared by Scott L. (@sracer4095)
Sign up for the newsletter Eater SF
Sign up for our newsletter.
Thanks for signing up!
Check your inbox for a welcome email.
Oops. Something went wrong. Please enter a valid email and try again.
Moss Beach Distillery
Magnificent views of the Pacific Ocean aren't the only reason to visit this historic restaurant. Once a popular 1920s speakeasy, frequented by silent film stars and other local celebrities, Moss Beach Distillery also has an alleged haunted past. Rumor has it that a mysterious "lady in blue" was killed during the Prohibition era while walking on the beach with her lover, and her spirit continues to roam the premises. Visitors travel from around the world to experience this restaurant's stunning patio views and California coastal cuisine including shrimp alfredo and seafood sliders — while also hoping to catch a glimpse of the resident ghost.
The Grandview Restaurant
Set high atop Mount Hamilton, this classic Italian-American steakhouse is known for stunning patio views of the South Bay, plus hand-cut pasta, prime rib, filet mignon, and Maine lobster. Yet locals have also reported ghostly sightings, including a mysterious young girl playing on the balcony and lights that flicker for no apparent reason. A popular venue for both special occasions and group events, the historic Grandview originally served as a roadhouse in the late 1800s for those visiting the Lick Observatory by stagecoach. While the original structure has been rebuilt and remodeled, the Grandview retains the same elegant ambiance of years past.
Where to Eat While Visiting Lake Geneva, Wisconsin
More in Maps
Related maps, follow eater sf online:.
Follow Eater SF on Twitter
Follow Eater SF on Facebook
Follow Eater SF on Youtube
Follow Eater SF on Instagram
Site search
Los Angeles
New Orleans
Philadelphia
Portland, OR
San Francisco
Twin Cities
Washington DC
Neighborhoods
Ghost & Haunting
UFO & Extraterrestrial
Monsters & Cryptozoology
Dark Stories
Blue Lady Ghost of Moss Beach Distillery
by Mr. James England, June 2016 – Updated July 2019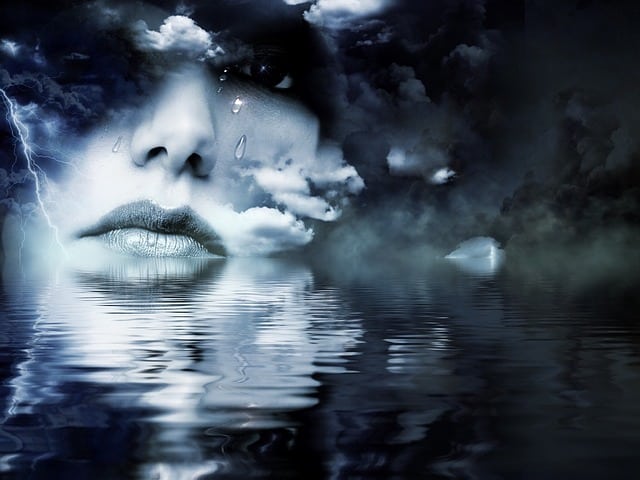 The Tragic Love Story Behind the Blue Lady Ghost
High on a cliff in San Mateo near Half Moon Bay, a restaurant called the Moss Beach Distillery sits overlooking the ocean. It is a very popular restaurant, and diners flock to the establishment for good food, good wine, and spirits…especially the ghostly kind. You see, although the establishment has a fascinating history all its own, it is most famous for one of the most notable unsolved mysteries in California. This is the story about the Blue Lady ghost.

The home of The Blue Lady ghost. Left: Frank's Place during Prohibition. Right: Moss Beach Distillery on the cliffs.
Real Paranorms
Join our emailing list to keep up to date with the latest.
History of Moss Beach Distillery
Moss Beach Distillery dates back to 1927 when Frank Torres built the restaurant bar. He named it Frank's Place and turned it into a speakeasy (a place that illicitly sold alcohol) during the prohibition era. It was frequented by some very influential people of the times, and it was a place for a variety of underground criminal activities. Politicians, gangsters and silent film stars ranked among Frank's clientele.
This proved very advantageous to Frank. You see, Frank's Place was used as a drop spot for Canadian rum runners. They landed on the beach below, hoisted the rum up to the cliff, where it was loaded into vehicles for delivery to other illegal establishments up and down the coast. Frank's connections provided protection for the operation and his nightclub was never raided, even though others in the area were not so fortunate. But rum was not the only spirit in Frank's place.
Mary Ellen Loved Wearing Blue Dresses
The restaurant is rumored to be haunted by the Blue Lady ghost. Supposedly, she is the spirit of Mary Ellen, a beautiful woman who loved to wear blue dresses. The Blue Lady story goes that around 70 years ago Mary Ellen, a married woman with a young son, fell in love with a piano man, John Contina. John and Mary Ellen carried on an illicit love affair for quite some time. They would rendezvous at a hotel right next door to the Moss Beach Distillery and take romantic walks on the beach below during their passionate encounters. The affair ended when Mary Ellen was tragically killed.
There are conflicting stories regarding the way in which she died. One account says that someone attacked her while out on a walk with John at night. She was stabbed repeatedly, and John was also attacked, but survived. Another story goes that Mary's jealous husband found out about the affair and took up a fight with John in which Mary was stabbed. Subsequently, John disappeared and then washed up dead on the beach. The second account of Mary's death reports that she died in a car accident during a bad storm.
To add to the drama, John was supposedly having an affair with another woman at the same time as Mary. This woman, Anna Philbrick, jumped off the cliffs and drowned after she discovered John was involved with another woman.
Parapsychologists indicate that such emotionally charged tragedies often lead to hauntings. This seems to be the case at the Moss Beach Distillery.
Blue Lady Ghost Haunting at Moss Beach
Some of the reported activity attributed to the Blue Lady ghost include, objects moving on their own, whispered voices and taps on the shoulder when people are alone. A couple who once owned the place said that they were locked out of their rooms on several occasions and furniture would inexplicably move around.
Some female patrons have claimed that their earrings disappeared. Those earrings would later reappear along with a bunch of others that had been previously reported missing. There are a large number of stories from children who say they have seen the lady in the blue dress. One really crazy story that employees tell has to do with the computerized cash register. For reasons that no one, including the computer tech, could explain, all the dates in the system changed to 1927, the year Frank built the place. Other employees claim to have heard her whispers, been physically touched by the spirit, or called via cell phone.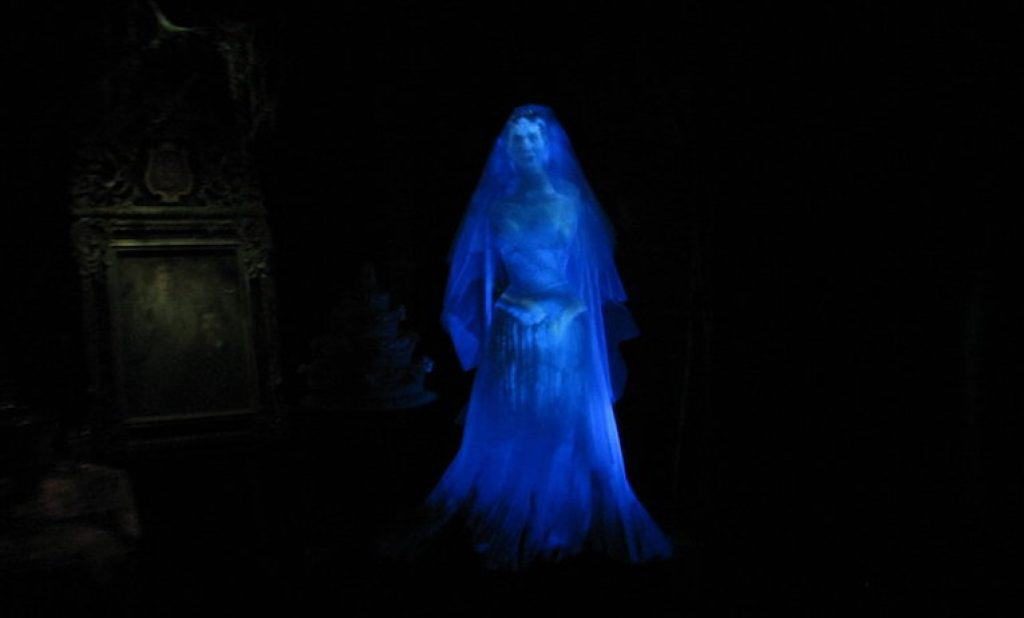 The Blue Lady ghost continues to be a popular attraction of the Moss Beach Distillery.
A few years ago, a popular paranormal show conducted an investigation at the Moss Beach Distillery. They discovered many contrived paranormal effects that were the work of the most recent owner. It appears that the restaurant intentionally plays up the hauntings to create a dining experience somewhat like a Disneyland attraction.
Although this has cast some doubt with the skeptical, many personal stories still abound. The number of people who have had strange experiences lend for a very intriguing, if not convincing, narration. Who can resist a Shakespearean tale of tragic love affairs, broken hearts, murder, suicide, and ghosts?
Sources: mossbeachdistillery.com Haunted Bay  Half Moon Bay Patch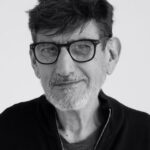 Mr. James England

Czech Republic
Philippines
Cryptids and Creatures
Haunted Locations
Haunted Objects
Horror and Film
Paranormal Games
UFO Sightings
The Blue Lady of Moss Beach Distillery
Moss Beach Distillery
Peering through thick fog, overlooking the Pacific Ocean from a rocky perch sits the Moss Beach Distillery. A historical building that became an institution within Northern California during prohibition, the Moss Beach Distillery has stood proudly since 1927.
Located in the sleepy town of Moss Beach just outside of Half Moon Bay and a short drive from San Francisco, the Moss Beach Distillery is a popular ocean side restaurant today. Towards the beginning of its life it served as a well attended speak easy known as Frank's Roadhouse. The establishment was the perfect location for such a business, sitting on cliffs which overlook the beach where shipments of illicit alcohol would arrive for distribution to San Francisco.
The 1930s allowed the Moss Beach Distillery to gain an important clientele of figures including powerful politicians, film stars and one mysterious guest who refused to leave even after death.
Moss Beach Distillery's Ghost Story
The Moss Beach Distillery is well known as a great place to eat and drink with a view, yet it is also known for its resident ghost. A beautiful young woman known to most as 'The Blue Lady,' has haunted the establishment since her tragic death.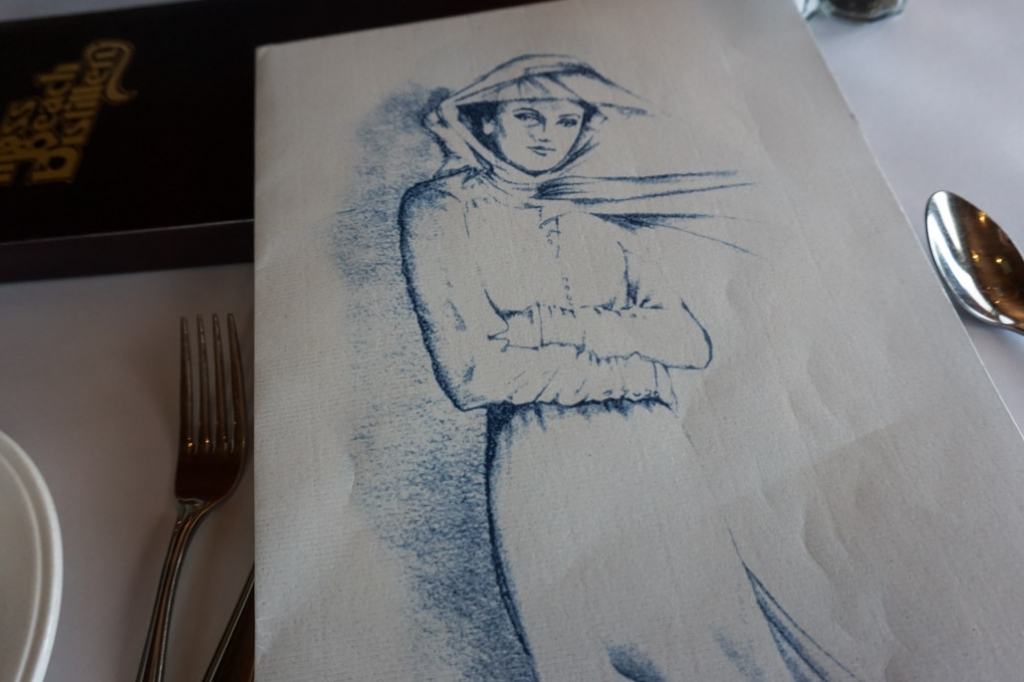 Her story starts in the 1930s when she frequented the Moss Beach Distillery. It was there she fell in love with the club's resident piano player. The two enjoyed each others company, spending nights together at the club's hotel and the nearby beach. Unfortunately their romance was not that of a perfect fairytale – the woman was married to another man. The most frequently recounted end to this story states that the woman's husband attacked the couple one night as they walked along the sandy beach beneath the Moss Beach Distillery. The woman was stabbed to death, her lover sustained non-fatal injuries and the husband was never seen again.
Other versions of the story tell how the woman died nearby in a car accident and others describe a fight breaking out within the Moss Beach Distillery, that lead to the couple being murdered on the beach nearby. Another story speaks of a love triangle between the piano player and yet another woman leading the Blue Lade to commit suicide by jumping from the nearby cliffs.
What ever back story is correct does not change the beliefs of many that the Moss Beach Distillery is haunted by the Blue Lady. Staff and guests have described many instances of unexplainable interactions with what is thought to be the spirit of this murdered woman, still pining for the lover she was torn from so abruptly.
Over the course of many years countless individuals, including many children, have claimed to see the ghostly apparition of a woman in a flowing blue dress, sometimes torn and bloodied and other times clean and proper. This ghost has been reported all throughout the Moss Beach Distillery, as well as the bluff extending over the ocean in front of the restaurant and the nearby beach. The Blue Lady has gradually found other methods of making her presence known to patrons and staff of the Moss Beach Distillery. These include sensations that something is close by and hearing a disembodied voice, which has called out to staff members by name. The interactions have even been of a physical nature with some reports of being touched and tapped by an unseen force existing. This has grown to manifest into frequent poltergeist behavior. Chairs, check books, wine glasses and doors have all been mysteriously moved right in front of the eyes of witnesses.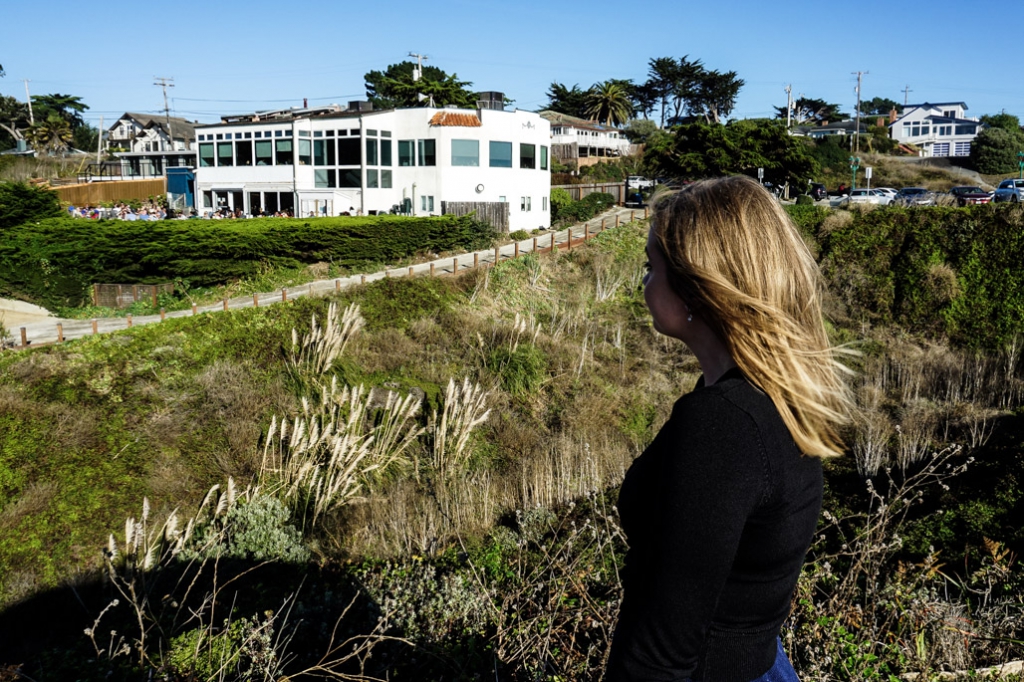 It is quite obvious that the Moss Beach Distillery is a magnet for paranormal activity. This is all without mentioning the many random phone calls the establishment receives with no one on the other end, the documented strange light anomalies and the tales of female diners who have reported single lost earrings only for staff to find them in a pile days later.
Visiting The Haunted Moss Beach Distillery
The Moss Beach Distillery is a hidden gem for foodies and anyone with an appreciation for a good cocktail. Just outside San Francisco, one can remove themselves from the hustle and bustle of city life and spend a quiet moment overlooking the Pacific Ocean and its beautiful coastline. The Moss Beach Distillery is one of my favorite spots in Northern California and it's not hard to understand why it has a resident ghost attached and refusing to leave. I recommend trying the Blue Lady cocktail and then taking the trail and stairs to the beach below.
If you enjoyed this read and are interested in checking out other Northern California haunts along the coast, check out these haunted lighthouses .
Thanks for reading!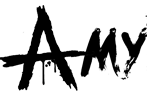 Click to share on Facebook (Opens in new window)
Click to share on Reddit (Opens in new window)
Click to share on Twitter (Opens in new window)
Click to share on Pinterest (Opens in new window)
Amy is a world traveller and explorer of creepy locations. She has visited some of the most famously haunted places around the world in search of evidence of the paranormal. Follow Amy's Journey:
Comments (2)
I had a strange experience here. My wife and I have lived in the bay area our entire lives and love finding little gems. We would often drive past signs for the Distillery on Hwy1 making our way to eateries/restaurants or any number of beaches. For years we would tell ourselves, "we need to go check that place out."
One lazy and gorgeous summer day, we decided to make the MB Distillery a destination. The drive down Hwy1 after Pacifica was business as usual – scenic and gorgeous. We were giddy with excitement as we approached the big sign off the highway and made that right turn into a quaint road with, at first, a typical coastal suburban feel until a noticeable village feel becomes apparent. We thought it had a romantic appeal and thought, "this could be a nice little place to live – to be both close and far enough away from modernity."
Upon pulling into the parking lot, the views are stupendous. We took a moment to catch our breath before walking into the entryway. The place was busy but far from the usual hectic crowds in the city. We immediately sat at the bar and ordered some beers while chatting with the bartender. She recommended I take my drinks downstairs and enjoy the outside patio where you can soak up the sun and have food and drink delivered to you on comfy chairs.
We walked downstairs and noticed it was a run down section with a few tables. To the right were the bathrooms and what looked to be a perfectly fine kitchen area which was not in use. To the left were the doors to the patio. The patio had approximately 9 people fully enjoying their time in the sun. We found 2 chairs and started to enjoy the experience like everyone else. When we finally got acclimated, I asked my wife, "Isn't it weird that the servers take orders down here in the patio but the restaurant doesn't utilize their downstairs kitchen?" Servers would have to climb the stairs and bring down food/drinks.
I didn't think much else about it. However, nature called….time to use the bathroom. I walked back into the downstairs area and through the hallway to the bathroom. As I was "handling my business" as they say, I felt a breath on my neck. I dismissed it as maybe a slip of air and just kept staring straight at the wall. Suddenly, I got this creepy feeling like I'm being watched so I turned my head left at the entry way but no one was there. I turned my head back again to stare at the wall but this time….someone tapped my shoulder! (2 taps) I turned my head left and right – nothing, no one. I zipped up and searched the bathroom – nothing, no one. Suddenly, I heard a faint voice and footsteps – couldn't make out what was said. I quickly moved into the hallway and looked left and right.
At this point, I resolved that there must be a worker/staff member down here in this kitchen area. I continued into the kitchen area only to find that it seemed to be used as a storage area for extra furniture. I politely but firmly shouted, "hello? Is anyone here?" No response. I did this 3 more times at various parts of the space. No response. I quickly went back to the bathroom, washed my hands, and decided I am freaking myself out of proportion.
Maybe I'm a bonehead but I didn't bother to even consider that it was a paranormal experience. I never really took much stock in such things. I decided on a whim to look up the MB Distillery only to have the shivers crawling up my spine repeatedly – one story after another….and here I am now a believer.
Wow, that's interesting. You know, I think we're so conditioned to assume any noise or happening is caused by something explainable, that we sometimes overlook actual unexplained things that happen around us. Thanks for sharing.
Leave a Reply Cancel reply
Join the crypt, thank you for sign up, related places, haunted places near you.

Nearby Communities
San Bruno, CA
Millbrae, CA
South San Francisco, CA
Burlingame-Hillsborough, CA
Half Moon Bay, CA
San Mateo, CA
Belmont, CA
Foster City, CA
San Francisco, CA
San Carlos, CA
State Edition
National edition.
Top National News
See All Communities
Community Corner
Moss beach ghost story: the blue lady, employees at the legendary restaurant share their ghost stories about the woman who keeps on searching for her lost lover all these years..
Christa Bigue , Patch Staff
It was late on a foggy Christmas Eve at The Moss Beach Distillery , and Melissa Vega and her coworkers were ready to go home after working a busy night waiting on holiday revelers.
But there was still work to be done.
Closing the restaurant down for the night wasn't Vega's favorite task, especially when she had to go into the dry storage room on the bottom level of the restaurant to restock wine bottles.
Find out what's happening in Pacifica with free, real-time updates from Patch.
She always had an overwhelming feeling down there that someone else was in the room with her, even though she was the only one there. Usually she would take a coworker with her.
But tonight was different.
Everyone just wanted to go home for the holiday, to be with his or her family and friends. So they divvied up the work, hoping to get everything done for closing as quickly as possible.
Vega went downstairs to the storage room, the part of the restaurant that used to be a speakeasy where rum runners and sold illegal booze to thirsty clients during the years. She opened the door to the small, narrow room and turned on the light.
Bending down in front of the shelves, she began pulling the wine bottles off the bottom shelf. As she worked, a strange feeling of fear crept up and over her back, tingling her head and arms.
"It felt like someone was in this tiny room with me," she said. "I was still for a moment, wondering why I felt so uncomfortable, when all of a sudden I felt a stroke on the back of my head and neck. It felt as if someone was stroking my head and neck telling me that everything was okay." 
She screamed out, "Stop!"
She knew whom she was talking to.
It was the Blue Lady, the legendary ghost trapped within the confines of the Moss Beach restaurant and outside patio area on the bluffs, trying to recapture the romance and excitement of the speakeasy years. She's teased and spooked other coworkers and even restaurant patrons, but always left Vega alone up until that one Christmas Eve night.
"I had been working at the Distillery for about four years at that time, and the Blue Lady had left me alone up until then, probably because she was respecting the fact that I am pretty scared of ghosts and the afterlife in general," Vega said. "It was as if the Blue Lady was trying to comfort me because I was so scared to be down there by myself. Nevertheless, it scared me even more. She has always been very respectful as far as backing down and letting me be for a long stretch of time after that."
Still, for the 14 years she's worked at the Moss Beach Distillery as a waitress, then bartender, and now as the restaurant's sales and marketing manager, Vega always has the overwhelming feeling that someone else is in the room with her even though she's the only one there.
"Many of my experiences happen when we are closing down late at night," said Vega.
One night, she was tapped on the shoulder and moved out of the way, thinking it was another employee needing to get by. When she turned around, nobody was there.
"It is a very weird feeling because you're like, 'I know I felt a tap, but why is there no one there?' It can be very unnerving, but not malicious at all," said Vega.
The story of the Blue Lady began more than 70 years ago. According to Coastside legend, a beautiful, young woman met a handsome dangerous man by chance and fell in love with him. This sophisticated ladies' man was, say some, a piano player in the bar. The naive young woman, always dressed in blue, was already married to another but her unsuspecting husband never knew of the illicit affair. She made many trips to the restaurant to be with her lover.
The beautiful lady in blue was reportedly killed — stabbed to death — while walking on the beach below the restaurant with her lover. He was assaulted, but survived. The husband was never seen again.
Since then, many strange events have been documented that can not be explained, such as mysterious phone calls with no caller, levitating checkbooks, locked rooms from the inside without any other means of entry, women diners losing one earring (with several of the earrings found in one place weeks later), unexplained dates being tampered with in the restaurant's computer system, sightings by small children, sightings of a ghostly man sitting in the restaurant's office, and unexplained images of a lady in a wide-brimmed hat captured in photographs.
Susan Broderick, the Moss Beach Distillery's bookkeeper for nine years, remembers a few years ago when she was working late in the accounting office downstairs.
She was the only person in the office working late that night. She needed to back up her accounting module, and she could only do that on the computer next to hers as it was the only networked computer in her office with the ability to do this. 
She suddenly heard her printer turn on and start printing.
"I did not click on any 'print' commands, and there was no reason for the printer at my desk to turn on and print anything. It was a very spooky moment for me," said Broderick. "I had no idea what was gong on." 
She walked back to her desk and picked up the piece of paper that had just finished printing.
It was a picture of a tiny heart. That's all that was on the page.
"It surprised me so much that I cut that little heart out of that piece of paper and taped it to my computer monitor," said Broderick. "I left it there for many years. I often wonder if it was our Blue Lady keeping me company late that night."
The restaurant's floor manager, Debbie Goldfarb, also has a story.
"I was sitting at the hostess stand and seriously recounting ghost stories with another manager," Goldfarb said. "We were not just talking about our restaurant, but about other hauntings we had experienced. As we spoke, a clipboard which hangs from a nail not more than three feet from where we were sitting began to swing back and forth clanking the Mardi Gras beads that were hanging behind it. There had been no earthquake. Absolutely nothing perceptible had happened to make the clipboard move."
It's incidents like this that make Vega a believer.
"They just don't pay me enough to be a liar," she said.
There is a spiritual energy level, she believes, that some people can open themselves up to. It took her four years at the restaurant before experiencing it.
She was always apprehensive about ghosts and the afterlife and still has fear around it, but when it comes to the Blue Lady, "I understand how respectful she is, and I talk to her and she will respect you," said Vega.
But when it's late at night and the energy level slows down at the restaurant, the Blue Lady gets restless.
"It's here at the Distillery when things get quiet at night," said Vega, "and especially downstairs, that you feel the Blue Lady is with you, perhaps searching for her lover."
For more news about Pacifica and surrounding areas, including the San Mateo County Coastside, follow us on Twitter and "like" us on Facebook .
Get more local news delivered straight to your inbox. Sign up for free Patch newsletters and alerts.
The rules of replying:
Be respectful. This is a space for friendly local discussions. No racist, discriminatory, vulgar or threatening language will be tolerated.
Be transparent. Use your real name, and back up your claims.
Keep it local and relevant. Make sure your replies stay on topic.
Review the Patch Community Guidelines.
More from Pacifica
Pacifica resident listed among smc death notices oct. 24-31.
Pacifica Resident Listed Among SMC Death Notices Oct. 17-23
Pacifica Residents Listed Among SMC Death Notices Oct. 9-16
Contact me or Submit a Story
Obiwan's ghosts & paranormal.
Serving You Spirits Since 1994
Buy My Books (and support the website)
Moss beach distillery (half moon bay, ca).
From:  [email protected] To:  [email protected] Subject: Reader Submission Date: Friday, April 05, 2002 5:05 PM yourname: Juliet Warren
Ghost Of Half-Moon Bay
(This story is true to my knowledge, but the details may be a little fuzzy)
There is a story of a woman who haunts a restaurant called Moss Beach Distillery in Half-Moon Bay, California. It was a bar (hence the name) back in the 1920s, and the lady was a waitress/singer and her boyfriend was the piano player. One day a drifter came in and took a liking to the young woman. The boyfriend noticed the flirting going on and challenged the drifter to a duel. They went out on the beach with their guns raised. Unfortunately the woman ran between them to stop it just as the guns went off and she was killed. Ever since she has haunted the bar-turned-restaurant and became known as the Ghost Of Half-Moon Bay.
There have been many sightings over the years, and the police force, tired of getting so many reports, finally sent two of their men to investigate. They have dinner and drinks their, wait until the restaurant closes, and nothing happens. They dismiss the whole thing as an old wives tale and drive away. As they drive along they pass a girl in a white dress with what appeared to be red blood stains down the front of her dress. They check in the rearview mirror and nobody is there. Feeling a little spooked they drive on and a few minutes later the steering wheel is jerked by itself to the right. The policemens' car now topples down a hill. Luckily, the policemen are both okay, but as they walk away from the wreck, they see a woman in a white dress standing on the hill. They ran to the nearest building which happened to be a firestation and told their tale.
How do I know this story is true? My father is a fireman who was at the station when the policemen came.
Moss Beach Distillery (2)
From:  [email protected] To:  [email protected] Subject: Moss Beach Distillery Date: Sunday, January 04, 2004 1:30 AM
Hello, my name is Ashley, and I happen to have done quite a bit of research on this particular haunting.
The Blue Lady is believed to be (by many, many of us "sensitives") Mary Ellen Morley, whose death certificate says that she died November 5, 1919 in a fatal automobile crash, the cause of death a fractured skull. In my introductions with her while she was looking for her child she appeared to have on a bluish white gown and covered with bloodstains down the front. She is actually a quite pleasant woman. There is also another girl, Anna or Hanna, who claims she was a servant in the bordello/hotel "Marine View Hotel" that in the early 1900's occupied the parking lot of the now Moss Beach Distillery. There is also a very dark man there by the name of Jean or John, a very uncomfortable force who does not like strangers. All of these entities have told me their names at different times I have visited the Distillery, Mary Ellen being very courteous. Just my own validation of the story and what I have sensed there, in case anyone wants to visit and call them by their "names" to try to contact them, or at least know how to handle them when they meet unexpectedly. Anna or Hanna has a white sheath/petiicoat on with seaweed on her, and John or Jean wears a nice tailored suit.
Thanks, Ashley Henry
Moss Beach Distillery (3)
From: "Chris Garcia" ( [email protected] ) To:  [email protected] Subject: Moss Beach Distillery Story Date: Tuesday, September 30, 2003 6:05 PM
Hey, I wanted to drop a line about an experience I had at the Moss Beach DIstillery back in 1998. It was January 2nd (we stayed in the Zaballa House in Half Moon Bay on New Year's Day) and we went for lunch at the MBD to complete our haunted places holiday. We were about done with lunch and I went to the restroom. it was pretty early so we were one of 4 or so people eating. When I got into the restroom, it was empty. I went to one of the stalls and just as I closed the door the tap on one fo the faucets went on. I heard no footsteps but I wasn't really too freaked because maybe it was an autofaucet and it went off for some reason.
After I leave the stall, I open the door and as soon as I open the door, the sound of the faucet stops. I'm a little more weirded out now, so I go to wash my hands. Before I do, the water goes back on and I run out of the restroom and rinse my hands in the waterfountain in the hallway.
Leave a Reply Cancel reply
Your email address will not be published. Required fields are marked *
Moss Beach Distillery
This restaurant on a cliff overlooking the Pacific Ocean was originally built in 1927 as a speakeasy, but turned into a restaurant in 1933. It is said to be haunted by the Blue Lady, who folks say died near the restaurant. The story has been seen on TV's Unsolved Mysteries. In 2008, TV's Ghost Hunters revealed that the restaurant owners had rigged hanging lights to sway and a face to appear in a mirror in the ladies' restroom, among other spooky tricks. The owner reportedly admitted to the rigged hoaxes, but stated that real paranormal activity has been experienced here since the 1930s.
If you've had a paranormal experience here, or have any additional information about this location, please let us know!
Related Videos
Rate this Haunted Place
What do you think? Is this place really haunted? Voice your opinion here! Click "thumbs up" if you think its haunted, or "thumbs down" if you think its all just a tall tale.
Geographic Information
Please note: It is your responsibility to acquire appropriate permissions before investigating any location listed on this site. Private property should be respected at all times, as should all posted signs concerning trespassing, hours of operation and other local regulations. Many "ghost hunters" have been arrested because they failed to contact property owners and/or local authorities ahead of time.
Share Your Experiences
Comments (3).
The fact the owners have rigged this place for effect pretty much invalidates any experience here. After finding the set ups listed above the Ghost hunters shut down operations. It is unclear if they found everything but just the stuff they did find should make any one doubt an experience here.
Pt. Pleasant cemetery in elk grove california . And it's surrounding homes, my Grandmother's in particular, has had some of the most terrifying things seen by 7 of my friends and mother at one of the most worst haunting of the century old home. Myself and 6 others were visiting me while I wad house sitting for my gma. My cat was hissing and growling for what I thought was no reason, as myself and my friend entered the home he started screaming get her off of me, mind you I never told any one about this evil poltergeist that takes form of a mid 20s Indian looking woman who wears her hair down and a white long nightgown and I have seen and felt her cold hate moving things in the home…so, my friend Aaron enters the home and he is screaming get her off of me, as I am watching me and my sister call this sinister ghost Mary, she was standing behind him I couldn't say anything, the rest if myvfriends, and mom ran in to see him taking his shirt off, as I told him to do trying to not mention the ghost so nobody would think I was crazy thinking I was still the only one of 3 she ever showed herself to, I told Aaron that maybe his shirt had something scratching him….but after he took his shirt of everyone started screaming "what the *is that? A letter y was slowly and painfully pushed out of his chest and abdomen skin from the inside like a dull razor first down then up, as my other friends saw this and the figure describing Mary to the exact, I didn't know what to do do i grabbed him and my mom pRaye I covered him as much as I could with my body, we asked if he was a believer in Christ, he said he just wore the cross, he accepted Jesuspect right then and there , my other friends drove off and sworn to never return, which they haven't it been near 13 years since thus incident, aaron still bares the scar of the letter y carved in him ,inside out, blood came out ever so slow from the skin that was raised and cut slowly. We felt it,her, the poltergeist Mary turn to a freezing temperature and head in the direction of the pt. Pleasant methodist cemetary, aaron told alot of ppl about this incredible paranormal experience, but every one except those who saw her or felt her believed him not! HD don't talk about it ..we told him later that it was not just him mary has haunted that homeland cemetary area for as long as I could remember, but became violent a few weeks prior. A boyfriend of my sisters stayed while we house sat, he laid on the spare bed as we were all getting ready to call it a night I went into the bathroom and could feel a cold pushing feeling pass through me giving ne what felt like pure evil and what sounded like a thousand ppl talking in a whisper at once, I shook it off and finished getting ready for bed and my sister screamdd, I ran into the spare room and her bf Joe was about a good 3 inches pushed into the mattress with Mary on top, ….again praying we casted her out in Jesus bame. We asked Joe if he was ojay, he said what the hell was that,curse words added. …we said nothing we just asked what he thought just happened he said he felt cold and thought a window was open when he suddenly felt himself being pressed down and held down by somebody something cold with a female voice, he said she whispered "you're mine ", he also is still a Friend and no amount of money he would ever return there. I just had my first actual personal encounter with her a few months back while visiting my grandma and her caretaker. I made no mention of this to the caretaker who is very religious, I figured she would think I watched to many movies, which I dont, I don't watch any thing over pg. She told me of some thing, a spirit in the house, not just a ghost a evil spirit, I asked without telling her I knew anything, she described her as a black haired lady in her 20s that wears a old style flowing night gown, she said she was in bed after her prayer time, when something held her fine so strong she could hardly reach her Bible…she lit candles and blessed the house, I then told her of the strange prior incidents. We looked into it a bit and it seems that it might be, the house that is, built over an indian burial ground. The next night o had one last aweful experience, I layer down to sleep on the couch when I closed my eyes I felt my heart stop, I could feel her squeeze my heart, I barely caught my breath ,sat up screaming and crying ,I realized it was now 3 am. SHE DID NOT Show me her normal mary face pale and fairly pretty, s h e wanted me scared I think,, her face was that of a screaming skinless face. This is about all I could handle, we called in 2 pastors to bless the house, and salt and all these things I felt so crazy…but it is there, gone for now though. She left toward the cemetery direction. Idk what it is or why she it is there, but I wish someone could put this on video. …it's freaky . so, just wondering if anyone in that area of old historical franklin and hood Franklin to pt. Pleasant cemetery has had any of these things happen around there????,
I was walking along the harbor which is very close to the restaurant on afternoon with my dog who was a puppy at the time. It was very foggy out and not a soul around. Rocco was doing his doggy duties and I was turning around to pick up after him when I heard in my ear a lady's voice saying puppy. I could feel the breath. Scared me so we left. I wish I would of hung out.
Share Your Comments Cancel comment
Your email address will not be published. Required fields are marked *
Your Comments Have a photograph taken from this location? Use the "Browse" or "Choose File" button below to select an image to upload along with your comment.
Disclaimer: The stories posted here are user-submitted and are, in the nature of "ghost stories," largely unverifiable. HauntedPlaces.org makes no claims that any of the statements posted here are factually accurate. The vast majority of information provided on this web site is anecdotal, and as such, should be viewed in the same light as local folklore and urban legends.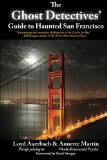 RoadsideAmerica.com Your Online Guide to Offbeat Tourist Attractions
Attraction:
Moss Beach, California : Blue Lady Ghost at Moss Beach Distillery
Dead woman dressed in blue still shimmers up and down the corridors of distillery.
Results 1 to 2 of 2...
Visitor Tips and News About Blue Lady Ghost at Moss Beach Distillery
Reports and tips from RoadsideAmerica.com visitors and Roadside America mobile tipsters . Some tips may not be verified. Submit your own tip .
Just north of Half Moon Bay, California, on Highway 1, on the bluffs overlooking the Pacific Ocean, is the Moss Beach Distillery, home of the infamous ghost, "The Blue Lady." During Prohibition the building was known as Frank's Place, and was home to an assortment of rumrunners, gamblers and ladies of the night. Apparently one lady who always dressed in blue never left, and is often seen by guests as she roams the halls and rooms.
My friends and I visited this place because we heard it was haunted. The only thing scary were the menu prices. The "Blue Lady" was profiled on "Unsolved Mysteries" in the 90s and now the owners have outfitted the place with "illusions" to entertain the crowds. Bar lamps swing, knocks can be heard, and a mysterious blue face will appear in the bathroom mirror. It would be funny if they didn't take themselves so seriously. Local "paranormal investigators" appear occasionally to talk to the ghosts and it's featured on several ghost hunting web sites, including "Sightings." However, none of these mention that the place is rigged with tricks.
Nearby Offbeat Places
Latest Tips Across Roadside America
Catch up on the latest discoveries from the road .
Explore Thousands of Oddball Tourist Attractions!
Unique destinations in the U.S. and Canada are our special obsession. Use our attraction recommendation and maps to plan your next road trip.
Create Your Own Bizarre Road Trips! ... Try My Sights
Mobile Apps
California Latest Tips and Stories
Mark Twain Frog Cairn , Angels Camp, California
Mercer Caverns , Murphys, California
Tallest Artwork in San Francisco , San Francisco, California
Feature: Los Angeles Pet Memorial Park , Calabasas, California
Golf N' Stuff Family Fun Center , Norwalk, California
Latest Visitor Tips
Sight of the Week
Fake King Tut Tomb , Las Vegas, Nevada (Oct 30-Nov 5, 2023)
SotW Archive
USA and Canada Tips and Stories
Neon Pegasus , Dallas, Texas
Big Neon Red Pegasus , Dallas, Texas
Feature: Fake King Tut Tomb , Las Vegas, Nevada
Gilbert the T-Rex , Empire, Michigan
Golden Boy: AT&T's Embarrassing Mascot , Dallas, Texas
More Sightings
Favorite Quirky City Sights
Bakersfield Attractions
Eureka Attractions
Hollywood Attractions
Los Angeles Attractions
Sacramento Attractions
San Bernardino Attractions
San Diego Attractions
San Francisco Attractions
Santa Cruz Attractions
Miscellaneous
Submit a Tip
Privacy Policy
Terms and Conditions
Trip Planning Caution : RoadsideAmerica.com offers maps, directions and attraction details as a convenience, providing all information as is. Attraction status, hours and prices change without notice; call ahead!
Credits, Media/Business Inquiries © Copyright 1996-2023 Doug Kirby, Ken Smith, Mike Wilkins. All rights reserved. No portion of this document may be reproduced, copied or revised without written permission of the authors.
Our Privacy Policy
Author Events
True Crime and Crime-fighters in History
The Making of a Psychopath
Coping with Christmas
The Four Horsemen of the Apocalypse
Gender Differences in Relationships
Misterio Press Bookstore
True Ghost Stories (an encore)
by Kassandra Lamb (on behalf of the group) ~ Four years ago, we asked our authors if they knew any true ghost stories about sightings of ghosts or other kinds of hauntings. We got more than we bargained for. This post was too good to only put up once, so re-running it this year. Some of these stories will give you chills!
Halloween Hauntings: True Ghost Stories
For once, we're not letting our imaginations write the stories. These are true ghost stories we have heard that have happened to real people whose judgement, for the most part, is usually sound.
First up is Gilian Baker, with a story from her daughter's college…
When our daughter announced she wanted to go to Ohio University, we didn't realize we were sending her off to one of the most haunted campuses in the world! OU is located in Athens, Ohio, and there are many stories of hauntings in the small college town.
But the one I'm going to share occurred/occurs right on campus—in one of the dorm buildings.
The story goes that, in the 1970s, a girl living in Wilson Hall, room 428, died violently after practicing various forms of the occult, including attempting to contact the dead. Those who knew her said she tapped into the energy of the room to practice astral projection and that she was enthralled by sorcery.
The college continued to assign students to room 428 in Wilson Hall after her death. But they were forced to declare it "uninhabitable" after a series of complaints about hearing strange noises and footsteps, not to mention objects moving by themselves and/or flying across the room to smash against the wall.
To this day…
The room is the only one on campus that is sealed off and goes unused, even for storage. Students and town residents continue to report sightings of a girl standing at the window of room 428.
If that weren't enough, Wilson Hall was built on top of an early cemetery of the Athens Lunatic Asylum, itself haunted.
"Let's build a dorm on top of a cemetery," they said.
"It'll be fun," they said.
Next up is Kirsten Weiss, our resident expert on all things paranormal, with a story from her sister…
My sister Alice, who doesn't believe in ghosts, seems to constantly attract them. One took a nap with her last August , and she lived in a college apartment which was stuffed with spooks.
Human-shaped shadows were often spotted climbing the stairs. And once, while she was alone in the apartment and about to take a shower, a white, child-sized hand holding a purple mirror reached under the bathroom door. She spent the next thirty minutes perched like a Notre Dame gargoyle atop the toilet seat, waiting for one of her roommates to return. No hand – child-sized or otherwise – could have fit between the door and the floor.
One Halloween, she and a friend sat around a table, a pumpkin centerpiece between them. A shadow flitted across the pumpkin, and the pumpkin rolled over.
"That didn't just happen," her non-believer friend said.
"But did you see—"
"It didn't happen!"
In 2015, I visited California and was able to meet up with Kirsten and Vinnie Hansen .
We had lunch at the moss beach distillery, where they have a resident ghost..
Sadly, we didn't catch sight of her but here's her story…
In the 1940's, a young married woman fell in love with a handsome ladies' man (some versions of the story say that he was a piano player in the bar). Always dressed in blue, she came to the restaurant many times to meet her lover.
One day, while walking with her lover on the beach below, they were assaulted. He was injured but survived; she was killed.
She has haunted the restaurant ever since, looking for her lover.
Although most actual sightings have been by children (their filters are much less critical), she is mostly known for her pranks, such as levitating checkbooks off the table, locking empty rooms from the inside, and stealing one earring each from female patrons and then they all show up in one place a week later.
(I did lose an earring that day, but I'm not sure it was at the restaurant.)
The Blue Lady has been featured on Unsolved Mysteries and Ghost Hunters .
Which brings us to our greatest ghost story enthusiast, Shannon Esposito, who loves shows like Ghost Hunters .
Her story comes from her mother….
This photo was taken at the Nemacolin Castle in Brownsville, Pa. by my mom, Carol. They only let eight people go through the tour at one time, so there were only a few people in the room with her when she snapped this shot.
When Carol looked at her photos later and spotted the man in the mirror in this one, she didn't believe what she was seeing. She called the castle and asked if they had a mannequin in a period costume in that room. They said they didn't and asked her to bring her camera in to see the photo for themselves.
After viewing the photo, they had Carol stand in the doorway, where she was when she took that particular shot. The weirdest part was the team tried to take photos from that spot and their batteries drained twice before they could get a photo.
Finally, they were able to take several photos with people of different heights to determine how tall he was. Their conclusion was, by the angle and reflection of the man, he had to have been standing in the doorway next to Carol… and looking right at her.
And last but not least, I have a ghost story of my own.
My grandmother died when I was sixteen. My older brother was her favorite, but I didn't really mind, because she was very loving toward both of us.
Shortly after she died, my brother and his girlfriend moved into my grandmother's house, which was sitting vacant.
I was not that fond of Sally (not her real name). She was a bit of a flake. But I believed this story when she told it, because she herself didn't even realize the significance of it.
A little background info:
My grandmother grew up in an era when women did not admit they were sexually attracted to any man. But she had a huge crush on Clark Gable. Whenever she would see him in a movie, she would sigh and say, "That man can put his slippers under my bed any day of the week." This was quite a risque statement for her.
So Sally moves into Grandma's house with my brother, and a few weeks later she says to him, "Why do you keep moving my slippers across the room at night?"
"What do you mean?" he said. "I haven't touched them."
"You must have. I put my slippers under the edge of the bed every night, and every morning they are over by the door."
There were a few other odd things reported while Sally lived there, and she said she actually saw my grandmother in the attic one day.
We weren't sure we believed that, but there was no denying that Grandma was showing her disapproval by moving Sally's slippers.
Sally moved out, and a year after that, my brother married someone else. They lived in my grandmother's house for a few years, but we never "heard" from Grandma again. We assumed she was pleased with her new granddaughter-in-law and was able to move on.
How about you? Do you know any true ghost stories? Please share!
Posted by Kassandra Lamb on behalf of the whole misterio crew.
Misterio press produces an array of quality crime fiction. We post here twice a month, usually on Tuesdays, to alert you to new releases, to entertain, and to inform.
Please follow us (via email, upper right sidebar) so you don't miss out on new books and other interesting or fun stuff! (We will not lend, sell nor otherwise bend, spindle or mutilate your e-mail address. 😉 )
To see our Privacy Policy click HERE.
Share this:
You might also like.
Add some Betsy to your Fourth!
2 tasty off-week tidbits: the writer's in charge, right and how not to write a police procedural.
kathleen kendler
have stayed in many haunted places but alas we've never seen any evidence. My husband watches Ghost Hunters and I just laugh at their antics. There is no proof on that show and you can never make out what they determine the spirits are saying. Thanks for the contest.
Kassandra Lamb
You're welcome, Kathleen. I have pretty much the same reaction to Ghost Hunters, even though I'm not a disbeliever where ghosts are concerned (not since the levitating slippers incident with Grandma!)
I do have a true ghost story Kassandra. One night I had just gone to bed and got comfortable then I heard something so since I was laying on my side, I looked over my shoulder to see what was making the noise and it was then I saw the outline of the ghost hovering over my Kitty Cat storage box then I turned back over then looked over my shoulder just to see the ghost disappear. Fun Fact: I live in a house that's 106 years old.
Oh, yes, in a house that old, I'd be surprised if it didn't have ghosts!
Leave a Reply Cancel Reply
Notify me of follow-up comments by email.
Notify me of new posts by email.
This site uses Akismet to reduce spam. Learn how your comment data is processed .
The Haunted California Bar With a Killer View—and Criminal Past
Stephen Saks Photography/Alamy Stock Photo
The view would be enough to bring most to sidle up to the bar at Moss Beach Distillery, but the history is also hard to beat.
Paul Rimple
I t is not the celebrity ghost that brings us up to the Moss Beach Distillery near Half Moon Bay. The cliffside view alone is worth the 50-mile drive from Santa Cruz, a seaside city not lacking in inspiring vistas. The kitchen offers a well-executed northern California surf 'n' turf of fried artichokes, fish tacos, seafood sliders, pastas and more that put other local eateries to shame. Then there's the intimate art deco bar and its tuck 'n' roll swivel stools occupied by chatty locals in flannel shirts and hoodies, and the curious ceiling fresco of a matador spiking a bull. The place is laid-back panache, a legendary northern California bar and grill that doesn't need a ghost to put it on the map, but has one all the same.
The Blue Lady is a local personality featured in stacks of newsprint and television, most notably a 1992 Unsolved Mysteries episode hosted by Robert Stack, renowned for his portrayal of Elliot Ness , Chicago's "untouchable" whiskey barrel-smashing G-man. There are several versions of her story, all of which take place during Prohibition and involve a love triangle between her, a piano player, and her husband, and ends in the flapper's violent death.
Crimes of passion make for good tales, although there is no historical record of such a murder at Moss Beach. There were, however, many other crimes committed in the area during the roaring '20s, when small-time racketeers became criminal syndicates and the Moss Beach Distillery was the cat's pajamas of local roadhouses known then as Frank's Place.
Before Prohibition , San Mateo County (San Francisco's southern peninsula) was a rural stretch of wild coast scattered with artichoke and Brussel sprout farms while pines and sequoias were lumbered in the mountains above. Plans to turn beachside Half Moon Bay areas into resorts petered out when a coastline railway project was canned, leaving city-dwellers some 30 miles away with only the precarious Pedro Mountain Road as a direct link.
The 18th Amendment, which in 1919 outlawed the manufacture, sale, or transportation of liquors, turned these sleepy communities into playgrounds of vice as rumrunners and bootleggers exploited the isolation and hidden coves along the coast for clandestine deliveries of alcohol while entrepreneurs took advantage of the handy supply of smuggled booze and opened beachside speakeasies. South Bay mobster Sam Termini considered San Mateo County the most corrupt in the state.
The Coast Guard only had two steam cutters to patrol the central California coast, which one state senator called a "smuggler's paradise." Most booze came down from Vancouver, though in his book Rum War at Sea , Coast Guard Commander Malcolm Willoughby wrote of a British steamer from Scotland loaded with 25,000 cases of Scotch that anchored outside Half Moon Bay for seven months while contact boats hauled liquor off and supplies back on. He noted that when "a particular official on duty found it profitable to be unobserving," 15,000 cases cruised through the Golden Gate unmolested.
"The dope is that half the booze put ashore by the Pacific rum fleet is put ashore in Half Moon Bay," Dashiell Hammett wrote in his 1924 story, "The Girl With The Silver Eyes." Hammett, a notorious boozer, would know. He spent much of the Prohibition era writing about the adventures of the Continental Op from his San Francisco home on 891 Post Street and was a patron of Frank's Place, which he fictionalized in the story as the White Shack.
"It's a tough hole. Run by 'Tin Star Joplin', an ex-yegg who invested his winnings in the place when Prohibition made the roadhouse game good. He makes more money now than he ever heard of in his piking safe-ripping days. Retailing liquor is a side-line with him; his real profit comes from acting as a relay station for the booze that comes through Half Moon Bay for points beyond…"
The story may not be Hammett's finest but writing in the New Yorker , Claudia Roth Pierpont asserts that it laid the foundations for film noir in which "the Op confronts head on the destruction a woman can wreak." The silver-eyed femme fatale was responsible for two deaths: one in the White Shack parking lot and the other on the road leaving it—a brutal death where a local snitch puts himself in front of the Op's car to protect the beautiful dame and ends up roadkill. If the Moss Beach Distillery is the perfect scene for neo-noir, it's probably because its real history could have come right off the pages of hard-boiled fiction.
Frank Torres left his native Peru at the tender age of 14 and worked in galleys across the seven seas, honing the cooking skills he would someday be recognized for. Eventually, he disembarked in San Francisco where he cooked in several restaurants throughout the city. After being fined $300 for selling alcohol in 1923, he moved down to Moss Beach, married a native East Coaster named Fanny Lea, and got into the "the roadhouse game" as co-proprietor of the Marine View Tavern. In 1927, he opened his own joint next door, Frank's Place, on the bluff above the crashing waves. Food and drinks were served upstairs, a roulette wheel and slot machines were played downstairs. Fanny was rumored to run the bordello in adjacent cabins.
Smugglers used the beach below Frank's to shuttle booze off speedy skiffs through the protection of night and fog. Frank stored his supply in a garage while the remaining cases went to San Francisco, considered the second wettest city in the country after New York. Local historian, June Morrall, noted an incident a day before New Year's 1926 when smugglers unloaded a shipment of 4,000 cases of liquor on Moss Beach to much celebration. They had paid $3,000 for information about an 18-agent raid that would occur hundreds of miles away in Weed that day.
Among noteworthy speakeasies in the Half Moon Bay area were the Patroni House, Montara Family Club, Ocean Beach Hotel and Chateau LaFayette–all of which were no strangers to raids. In 1921, police confiscated $50,000 ($745,000 in today's value) worth of alcohol at the Mori Point Inn, one of the largest busts in the county. Torres, however, never worried about raids. Local and state politicians were regular patrons, including the Sheriff of San Mateo county and Colonel George White of the Prohibition Agency, who guaranteed whiskey would be returned in the event of a raid. William Randolph Hearst knocked drinks back at Frank's, as did Charlie Chaplin, Mary Pickford, Fatty Arbuckle and other Hollywood elites.
Frank's Place went legit after repeal of Prohibition in 1933 and maintained an excellent reputation for its fare, being featured in food writer Ruth Thompson's 1937 book, Eating Around San Francisco . Torres, she noted, "led a life of romance and adventure which makes the lives of ordinary stay-at-homes quite pale beside it." Frank retired in the 1940s, passing the business to his son Vic who ran it until his death of a heart attack in 1964.
The roadhouse changed hands several times and became the Moss Beach Distillery in the 1970s. Current owner, John Barbour, has maintained the integrity of what is now a historical landmark, having gone so far as to persuade the Torres family to sell him three original hand-painted stained glass pieces Vic had commissioned in the 1940s from San Francisco artist Otto Dressler. He also painted the Haberdasher Coat of Arms at the Hostess stand. Little is known about the matador and bull on the ceiling. It was discovered in 1974 when the owner removed a canvas of dolphins, harps and clovers and had it restored. Supposedly, Frank Torres had once intended to build a bullfighting ring on the premises.
The Blue Lady made her first public appearance in a 1981 San Francisco Examiner interview with new owners, according to journalist Katie Dowd of SFGATE . While ghostly pranks, like trick mirrors, hidden speakers and self-ringing phones have since been revealed, some people insist the place is indeed haunted. During remodeling in the 1970s, a contractor staying in a downstairs room saw an apparition that frightened him so much he bolted back to southern California and never returned to finish the job.
Haunted or not, the Blue Lady isn't as much a bogeywoman as she is a medium to the likes of Sweet Georgia Brown, Gin Rickeys, and Model Ts. She is a local mascot of an era when eggs and dames knocked on the door of the Moss Beach Distillery back when it was a juice joint and said behind their hands, "tell 'em Joe sent me."
Got a tip? Send it to The Daily Beast  here .