11 Abandoned Old West Boom Towns
Emerson College
The New School
Sustainable Fashion
Art & Media
"Ghost town" is a nebulous term generally used to describe a census-designated place where residents have packed their bags and gotten the heck out, either en masse or gradually over time, for one reason or another: natural and manmade disasters, political unrest, economic blight .
Most of us think of ghost towns as dusty, deserted mining outposts scattered across the American West — formerly lively, lawless frontier boomtowns with whiskey-slinging saloons, one-room jailhouses and rickety wooden boardwalks. We think of the classic ghost town, hoary clichés and all.
Today, hordes of visitors flock to the remains of these mining camps that have long gone bust. Each is unique. A majority of them consist of nothing more than a few crumbling buildings in the middle of nowhere. Many are state-owned attractions that focus on historic preservation; others are quasi-theme parks with staged gunfights and trinket shops. And, yes, a few of these forsaken towns are home to dearly departed residents who refuse to leave even though the living opted to decamp decades earlier.
With an eye toward preserving the past, we've rounded up nearly a dozen of America's most haunting, most authentic and most photogenic Old West mining outposts. So queue up your favorite Ennio Morricone soundtrack , grab a cold bottle of sarsaparilla, and join us for a virtual ghost town tour.
Considering hundreds upon hundreds of late 19th-century ghost towns still stand across the West, we may not mention your favorite. If so, tell us about it in the comments section.
Animas Forks, Colorado
High in the Colorado Rockies (elevation 11,200 feet) about 12 miles northeast of the mining outpost turned tourism machine known as Silverton, Animas Forks is a ghost town for ghost town purists. It's remote, it's somewhat hard to reach, it's well-preserved (but not in a kitschy, Knott's Berry Farm kind of way), and it has been abandoned for a long time — since the early 1920s, to be exact.
The story of Animas Forks is similar to other Western boomtowns: Prospectors set up shop in the 1870s and in the next years the mining camp's population rapidly swelled, as did amenities. At one point, Animas Forks was the bustling home to saloons, assay offices, stores, boarding houses, a mill and several hundred residents who decamped each winter for less frigid Silverton and returned each spring. Fifty years later, it was all gone.
Today, under the stewardship of the Bureau of Land Management, Animas Fork is just one of many spectacular sights — waterfalls, mountain meadows, bighorn sheep — along the Alpine Loop, an unpaved, 65-mile backcountry byway much of which must be traversed in a four-wheel drive vehicle.
Bannack, Montana
Considered one of the best-preserved ghost towns in Montana, the gold rush boomtown of Bannack is popular with hikers, living history enthusiasts and paranormal researchers. Yep, a ghost town believed to be swarming with ghosts.
Established in 1862 along Grasshopper Creek, Bannack, now a state park listed as a National Historic Landmark, struggled with its fair share of chaos, corruption and cold-blooded murder. Unbeknown to the denizens of Bannack, town Sheriff Henry Plummer was also a hardened criminal (guess they didn't check his references). With the assistance of a ruthless gang of highwaymen, Plummer orchestrated hundreds of robberies and murders across his territory. Vigilantes quickly figured out why the sheriff wasn't able to detain the marauding bandits, and he was captured and lynched along with his henchmen.
Plummer and his cronies, however, are thought to be still kicking around town. A favorite haunt is said to be Skinner's Saloon where, coincidentally, Plummer was hanged from the gallows out back. Next door to the saloon, the Hotel Meade is another of Bannack's "active" buildings (cold spots, weird vibes, the sounds of crying children, etc.). The apparition of a young drowning victim, Dorothy Dunn, has been spotted there on numerous occasions over the years.
Bodie, California
Situated in the eastern Sierras at an elevation of more than 8,000 feet, the long abandoned boomtown of Bodie was almost California's official state ghost town. However, boosters of another ghost town, Calico, protested a 2002 bill that would have given all the glory to Bodie.
Calling Bodie "the real deal," the bill's author, Assemblyman Tim Leslie (R- Tahoe City), went on to refer to Calico as a "shooting gallery and snow cone ghost town experience." Ouch. In 2005, both Bodie and Calico were named state ghost towns: Calico as the official state silver rush ghost town and Bodie as the official state gold rush ghost town. Everyone wins!
So what makes Bodie so special? Nothing — and that's the point. Bodie doesn't really have to try. It just is. While Calico built itself up as a living history tourist attraction, Bodie went the opposite direction. It went nowhere.
The town, a state historical park administered by a nonprofit preservation foundation , gets by on its own decrepitude and disintegration — a state of "arrested decay." Everything in the 100 or so remaining buildings stays unaltered, untouched (visitors are asked to refrain from taking any "souvenirs" with them). It's an eerie, unnerving and extremely photogenic place that, appropriately, is accessed by traveling down a bumpy dirt road.
It's also a place that was once quite the big deal. Rowdy, violent and bursting at the seams at its peak in the early 1880s, Bodie was a stereotypical Old West town, complete with a red light district, a Chinatown, a saloon on every corner and a population of nearly 10,000.
But in true boomtown fashion, Bodie entered a prolonged period of economic decline and never rebounded (a couple of major fires didn't help). By the 1920s, the population hovered around 100; in 1942, the post office closed and Bodie was abandoned. Today, the town's only full-time residents are park rangers who will gladly take you on a guided tour of their home — a genuine California ghost town.
Calico, California
If you've ever stepped foot in Calico, a restored 1881 silver mining outpost in the Mojave Desert, and found it uncannily resembling a theme park — more Anaheim than "The Hills Have Eyes" — there's good reason for that.
The town was purchased in its entirely in the 1950s by Walter Knott, who began building a replica ghost town at his family berry farm in Orange County, California, a decade earlier. The Old West themed roadside attraction, just down the highway from a 160 acre orange grove that would later become Disneyland, eventually blossomed into a full-fledged amusement park known as Knott's Berry Farm.
Despite its slightly Hollywood backlot vibe, Calico is an entirely different creature from Knott's Berry Farm and operates as a San Bernardino County park. Many of the mine camp's original adobe and wood structures — carefully restored by Knott before he donated the town to the county — still stand, including two saloons, a mercantile and the post office. Other buildings are "authentic-looking" additions built to replace beyond-repair structures.
That being said, although Calico is a California Historical Landmark, those seeking a more authentic California ghost town experience (read: no pottery shops and saloons that serve pizza by the slice) may prefer Bodie in Mono County.
Daily admission to Calico Ghost Town is $8 for adults. This doesn't include the myriad activities in the park: gold panning, excursions on a vintage narrow-gauge railway, horseback rides and tours of the Silver King Mine. Pro tip: Refrain from eating a buffalo cheeseburger immediately before descending into the mine. You'll thank us later.
Rhyolite, Nevada
With populations rarely topping a couple hundred, most gold rush settlements went bust before they could truly get big. The town of Rhyolite , on the fringe of Death Valley National Park in Nevada's Bullfrog Hills, is a notable exception. As many as 5,000 people, most working in the nearby Montgomery Shoshone Mine, resided in the now-forsaken town during its peak around 1907 to 1908.
Aside from a relatively significant population, Rhyolite is also exceptional for the speed with which the bustling community (heck, it even had an opera house) went belly up. In 1911, only seven years after the town was established, the mine closed after a period of slow decline. The post office was shuttered a couple of years later; electricity was terminated a couple of years after that. By 1920, the population hovered near zero. Many of Rhyolite's buildings were razed and any salvageable materials were used to construct structures in other towns. Some buildings were completely relocated.
But Rhyolite never really died per se. In the 1920s, the abandoned burg transitioned into a hotspot for movie productions; the town site is frequently used as a filming location to this day. Although modern day Rhyolite, overseen by the Bureau of Land Management, mainly consists of crumbling ruins, a few mostly intact structures still stand, including Tom Kelly's Bottle House, the train station and a mercantile. Despite its remote desert locale, Rhyolite is hard to miss.
Ruby, Arizona
Say what you will about Arizona, but the Grand Canyon State boasts remarkable variety in the ghost town department. You've got kitschy rebuilt frontier towns where you can watch a gunfight re-enactment, buy homemade fudge and bribe the kids into dressing up for old-timey photos (Goldfield); creepy-cool mining outposts turned artist enclaves that were forsaken and then repopulated with an emphasis on digging for tourist dollars instead of minerals (Jerome); and really out-of-the-way ghost towns where you'd be hard pressed to find a trinket shop peddling turquoise jewelry, let along a single permanent resident.
Regarded as one of the best preserved ghost towns in Arizona, the once bustling mining camp of Ruby falls under that last category. About 70 miles southeast of Tucson near the Mexican border in the Coronado National Forest, Ruby was the site of a string of bloody double homicides in the early 1920s. After several decades of prosperity, the town ceased to exist in 1941. Ruby was fenced off by private owners after its abandonment and made inaccessible to the public. In the late 1960s, it was colonized by hippies.
These days, the town is managed by the nonprofit Ruby Mines Restoration Project and can be explored during established visiting hours (subject to an entry fee). Still-standing buildings include a jailhouse and a school. Getting to Ruby isn't exactly a leisurely drive; border patrol activity and a massive colony of Mexican free-tailed bats keep many more skittish visitors at bay. But for ghost town aficionados, historic preservation buffs and adventurous Instagrammers, Ruby is well worth the detour.
St. Elmo, Colorado
Down a lonely gravel road deep in Colorado's Sawatch Range, historic St. Elmo is regarded as one of the Centennial State's best-preserved gold rush ghost towns. Although some might complain that the town isn't totally abandoned (which is true) and is just a touch too similar to a film set ("If you want to see a ghost town that looks like it's in miniature but isn't or looks like an antique doll house but isn't, go to St. Elmo," writes Ghosttowns.com .), there's no denying the town's ramshackle charms.
Founded in 1880 as Forest City, St. Elmo began to fizzle in the early 1920s. Area old-timers like to say that when the train made its last stop in 1922, most of the remaining population of the once prosperous mining outpost hopped aboard and never looked back. Mail service was terminated in the early 1950s because, well, the postmaster died. In 1958, St. Elmo's last batty straggler, Annabelle "Dirty Annie" Stark, was sent to live in a nursing home.
Today, a few businesses remain in the area, including a general store that sells snacks and assorted bric-a-brac to tourists and ATV enthusiasts. Dirty Annie is still spotted lurking around on occasion, too. And then there's the matter of chipmunks. Before hitting up St. Elmo, visitors must stock up on sunflower seeds and prepare to distribute them liberally. That is, unless they want to incur the wrath of a small army of adorable striped rodents accustomed to being hand-fed and scampering up the arms of humans. St. Elmo: "Come for the old buildings; stay for the frisky wildlife."
South Pass City, Wyoming
A popular pit stop for hikers to take an, um, "lode" off along the Continental Divide National Scenic Trail, South Pass City is one of Wyoming's most highly trafficked Old West ghost towns. The community's historic core, South Pass City State Historic Site, is presented with a careful balance of "let it be" authenticity (abandoned buildings aplenty) and hokey frontier-themed family fun (panning for gold). Like any decent ghost town, South Pass City is miles from civilization down a lonely dirt road.
Founded in 1867 during a major gold rush at the nearby Carissa mine, South Pass City followed the classic 19th century boomtown trajectory. It blew up quickly, fizzled hard and then experienced a series of minor booms in the next years, none big enough to restore the town to its former glory. Still, a small population remained. By the late 1940s, the most dogged old-timers had decided to throw in their proverbial towels, pack their bags and leave for somewhere new — somewhere the weather was less harsh and the drinking less hard.
Despite its tiny size and transitory nature, South Pass City did manage to play a significant role in American history. In 1869, William H. Bright, a saloon owner who represented South Pass City in Wyoming's first territorial legislature, introduced a women's suffrage clause to the territorial constitution. Later that year, Wyoming became the first U.S. territory to recognize a woman's right to vote when the territorial governor approved the constitution.
In 1870, one of the town's new arrivals, Esther Hobart Morris, was appointed justice of the peace in the small and rowdy mining outpost, making her the first woman to hold political office in the U.S., much to the chagrin of her frequently drunk and disorderly husband. Morris' predecessor had resigned in outrage after the passage of the suffrage bill the year before.
Courtland, Gleeson and Pearce, Arizona
Sure, you'd be hard-pressed to locate a pulse during a couple of key periods in Tombstone, Arizona's colorful 135-year history. Today, however, the vital signs of America's most notorious mining outpost (aka, "The Town Too Tough to Die") are decidedly healthy. Just ask the roughly 1,500 happy folks who call it home.
Just a quick drive outside the tourist-clogged town, however, are three real-deal abandoned boomtowns that weren't blessed with the same luck as their well-preserved, whiskey-soaked neighbor. Leaving the ice cream parlors and old-timey photo joints of Tombstone behind, travel along a dirt road that winds through the southeast Arizona desert until you come across the crumbling remnants and handful of restored historic structures belonging the 19th century mining settlements of Courtland, Pearce and Gleeson.
Each of the three pit stops that constitute the Arizona Ghost Town Trail vary in degrees of ghost town. Courtland is the most desolate and dilapidated; the other two towns are slightly more welcoming. Gleeson has an Instragram-perfect refurbished jail and Pearce is home to a general store and church that are listed on the National Register of Historic Places.
8 Dreamlike Abandoned Places Being Reclaimed by Nature
7 Modern-Day Ghost Towns
10 Small Towns With Big Personalities
8 of North America's Loneliest Roads
15 Awe-Inspiring National Forests in the United States
11 Preservation Success Stories
10 Streets That Helped Shape America
15 of the Most Remote Places on Earth
14 Fabulous Funiculars From Around the Globe
National Monuments Designated By President Obama
Photos Highlight the Powerful Images Found in Nature
10 Must-See Treasures Outside of Yellowstone
10 of the Coolest Small Towns in America
10 Beautiful and Deserted Roads in the US
10 Best Street Markets in the World
Best of Green Awards 2021: Sustainable Travel
By clicking "Accept All Cookies", you agree to the storing of cookies on your device to enhance site navigation, analyze site usage, and assist in our marketing efforts.

Love Exploring
NC's Creepy Ghost Town In The Sky Where No One Will Visit Ever Again
Posted: October 23, 2023 | Last updated: October 23, 2023
Spooky shots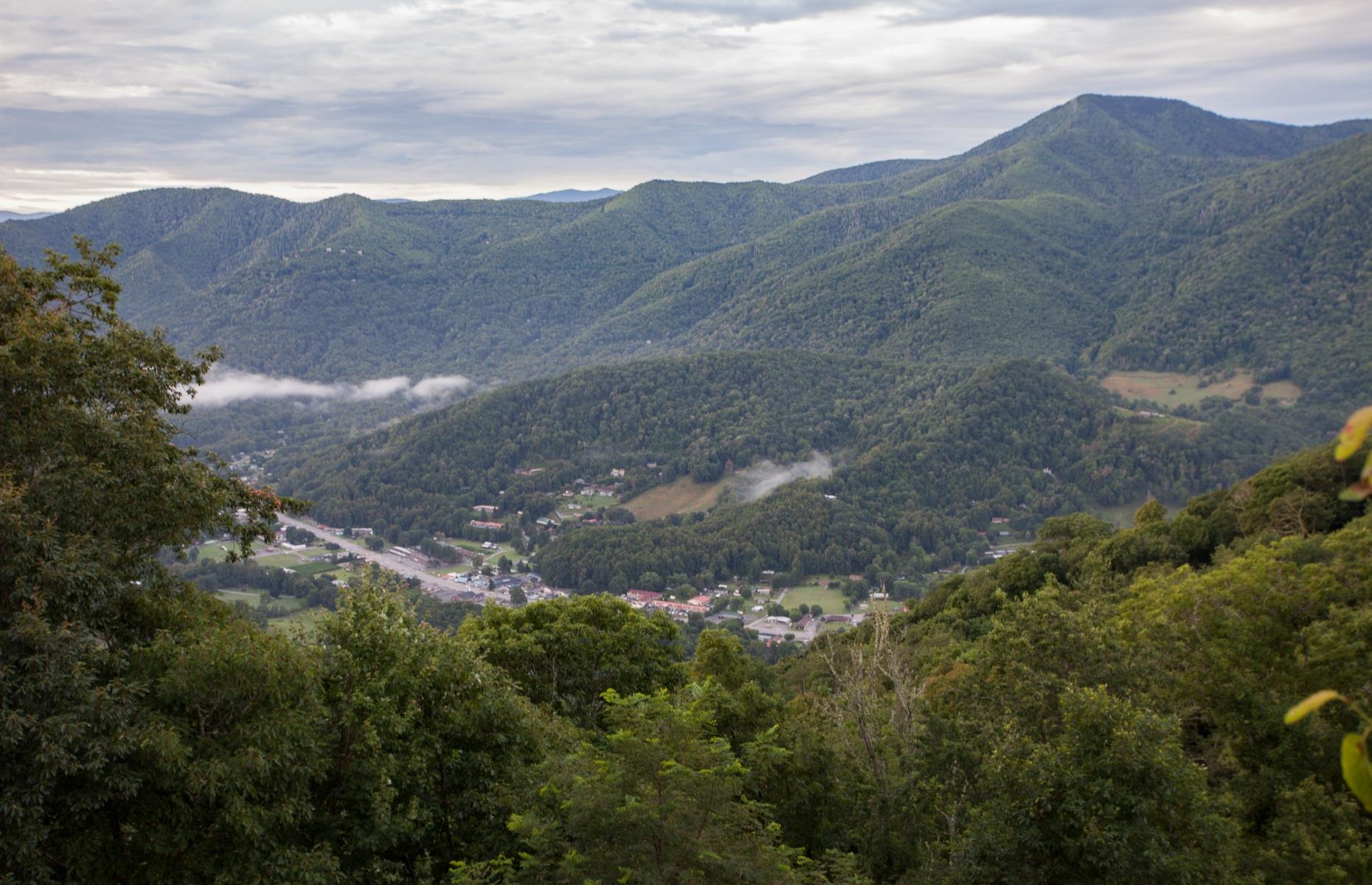 From vision to reality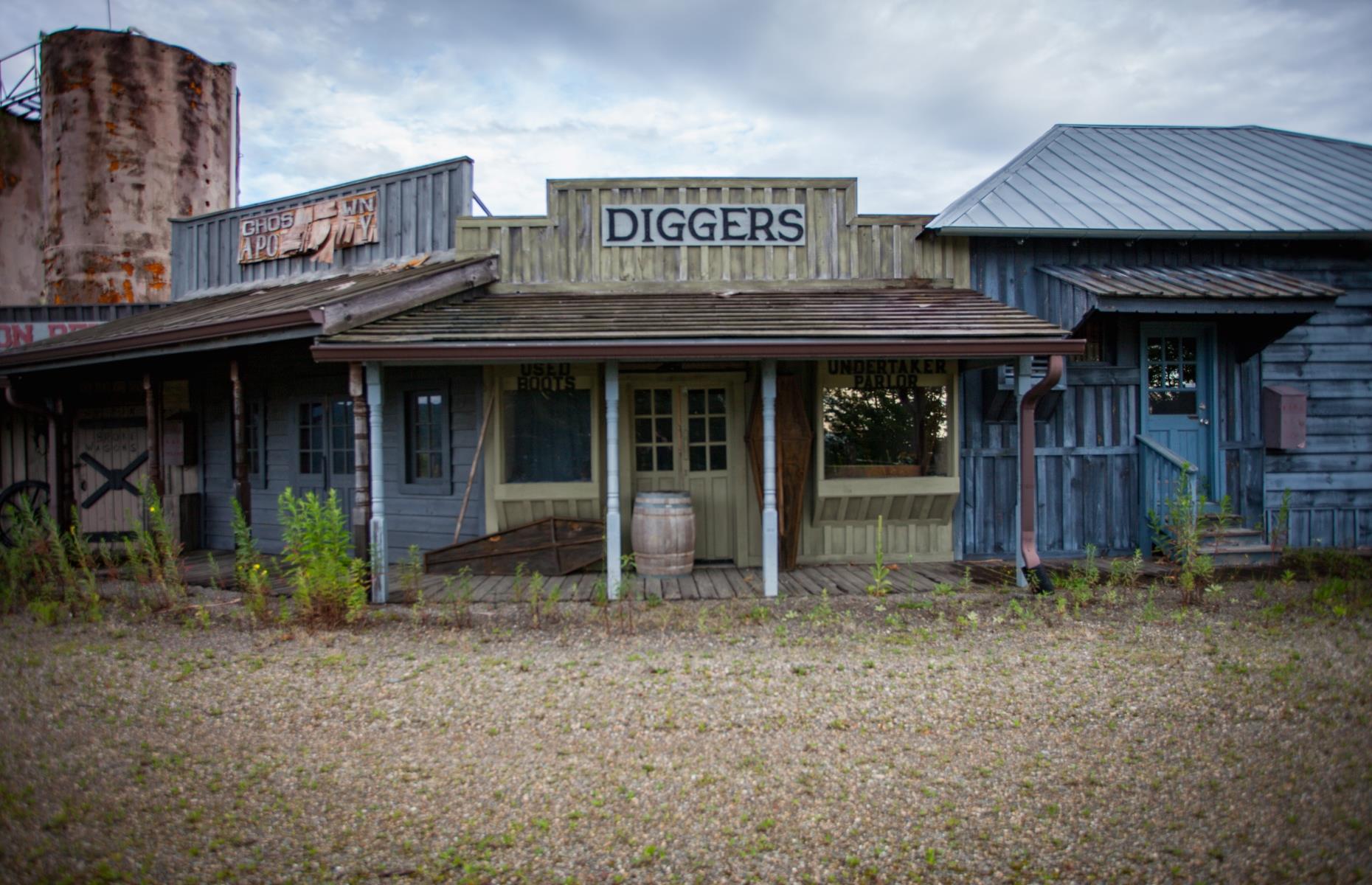 A huge investment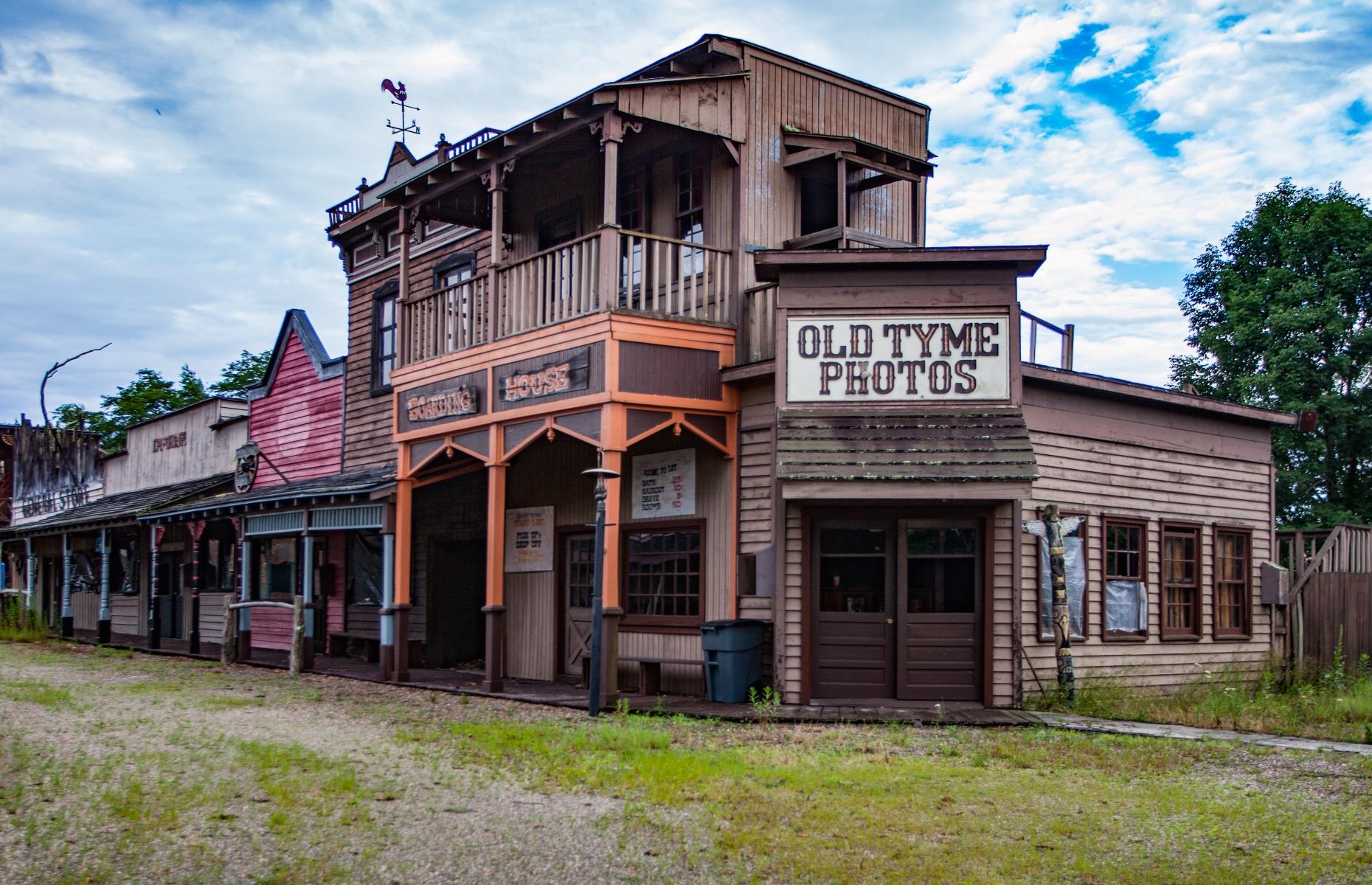 Welcome to Ghost Town in the Sky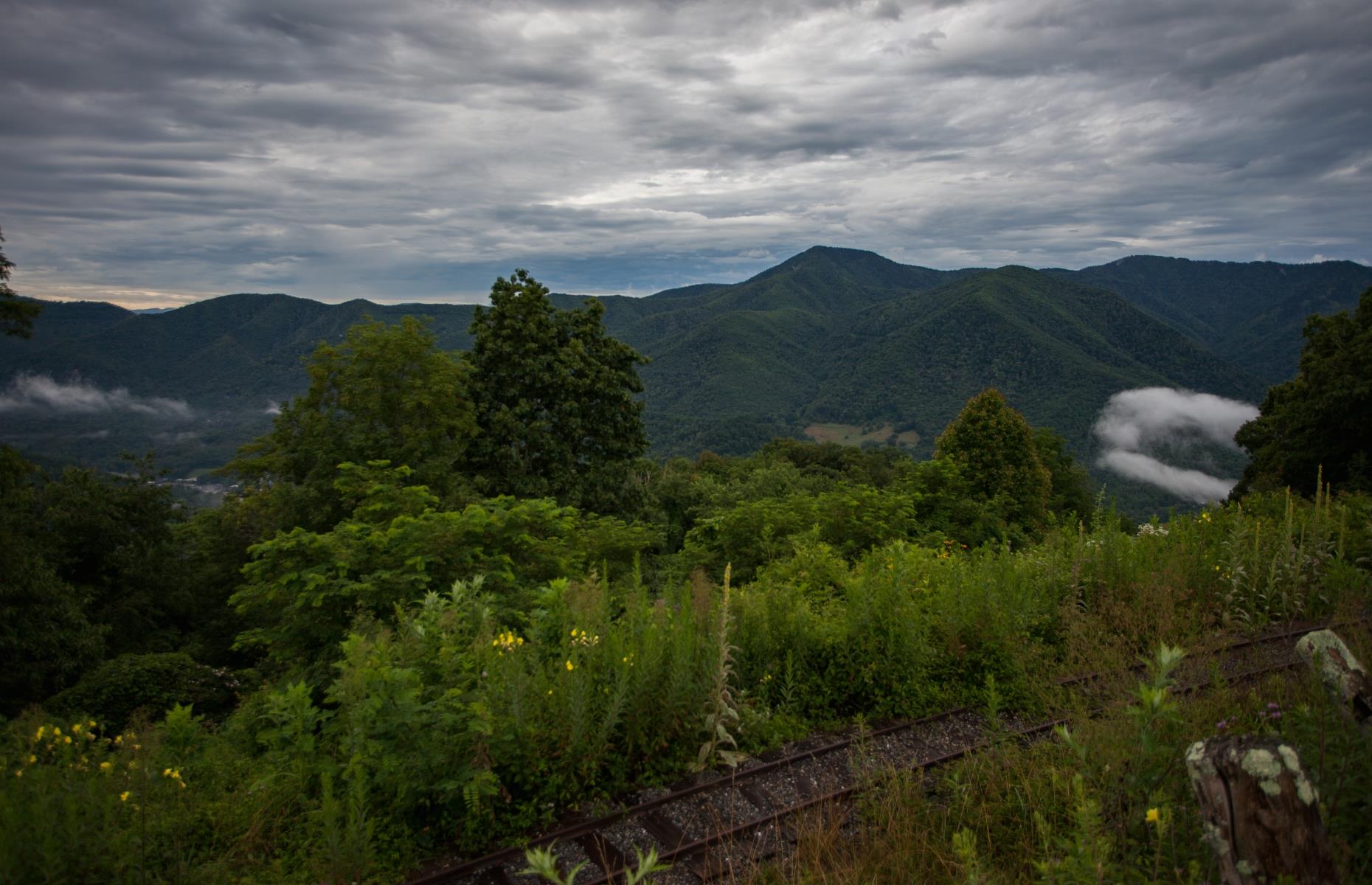 Stunning scenery
To visit the park, passengers had to board a double incline railway to the top of Buck Mountain. The exciting journey included multiple slopes towards the peak, varying from 30 to 77 degrees in steepness, and afforded picturesque views overlooking Maggie Valley.
Love this? Follow us on Facebook for more travel inspiration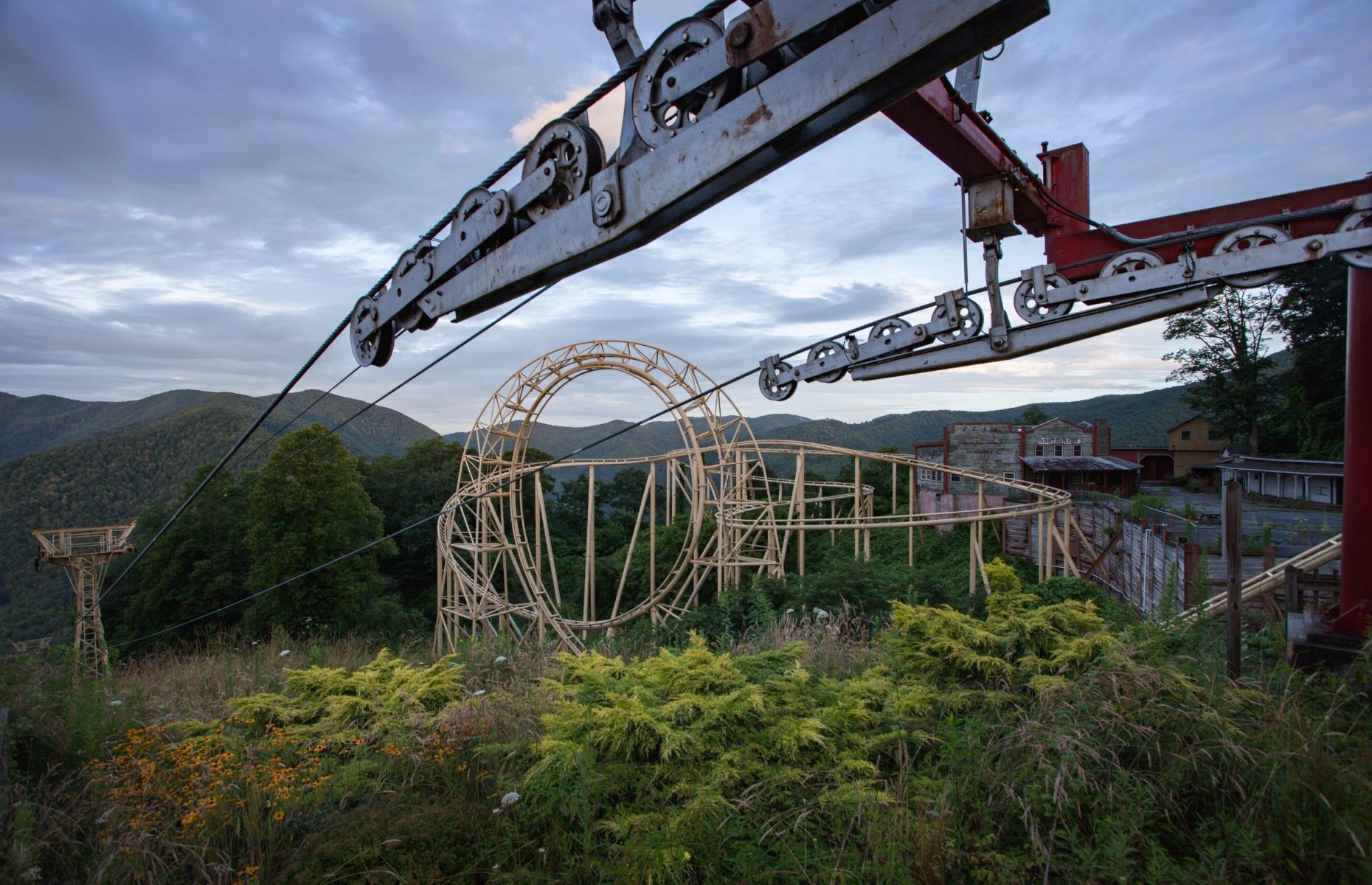 Chairlift up the mountain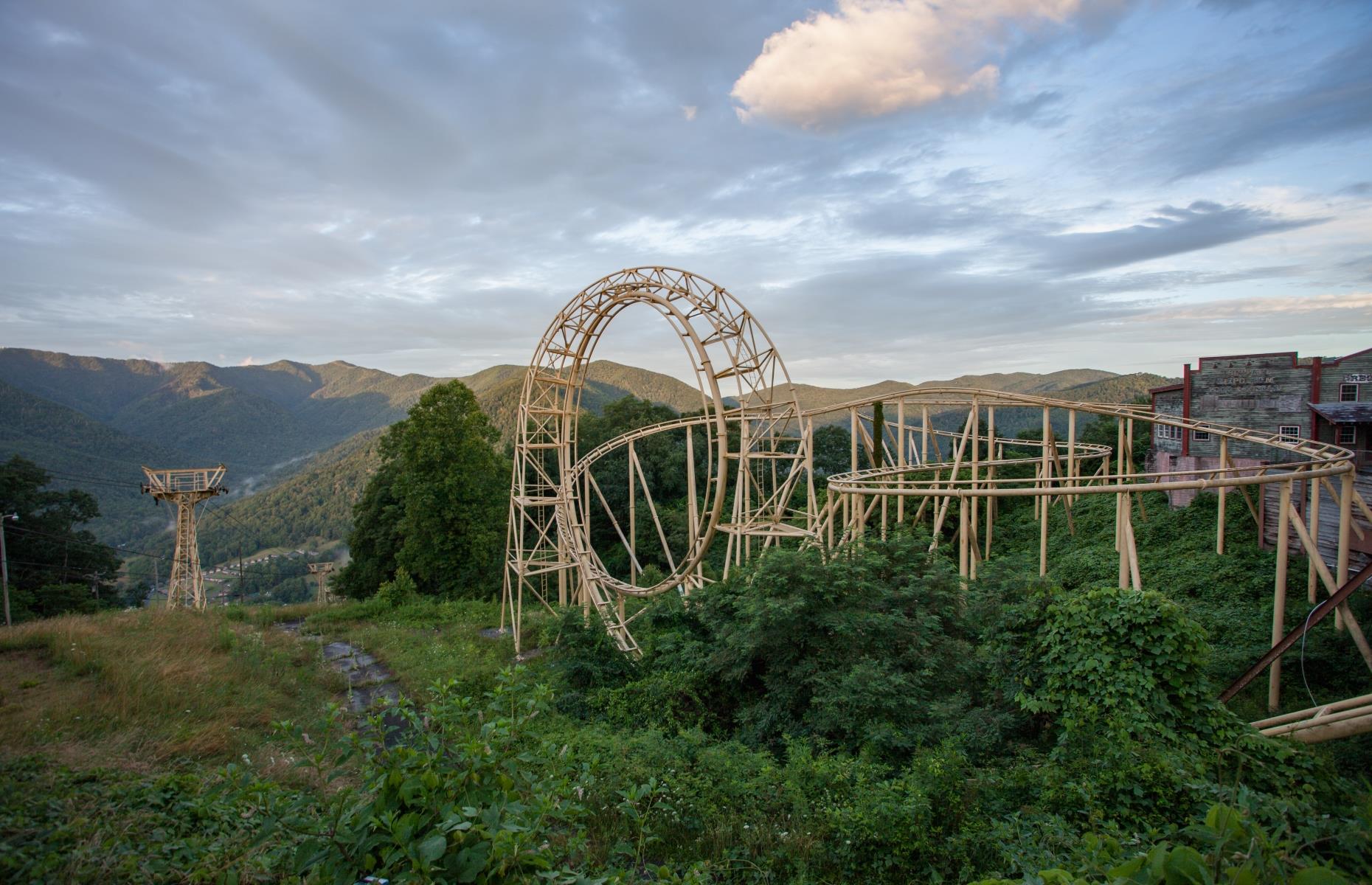 Long way to the top
A sprawling park
Ghost Town comprised of several different towns located at different heights of the mountain. They included Mining Town, Mountain Town, Indian Village and Old West. Pictured are the buildings located on the main street of Old West which are still pretty well preserved. In fact, live shoot-outs were staged every hour in the middle of this street. Visitors would line up on the sidewalk for the best view of all the action. More recently, the abandoned Western town has been used as a location for a number of films such as  Dean Teaster's Ghost Town  (2007),  Mandie and the Secret Tunnel (2008) and Ringside Rosary  (2010).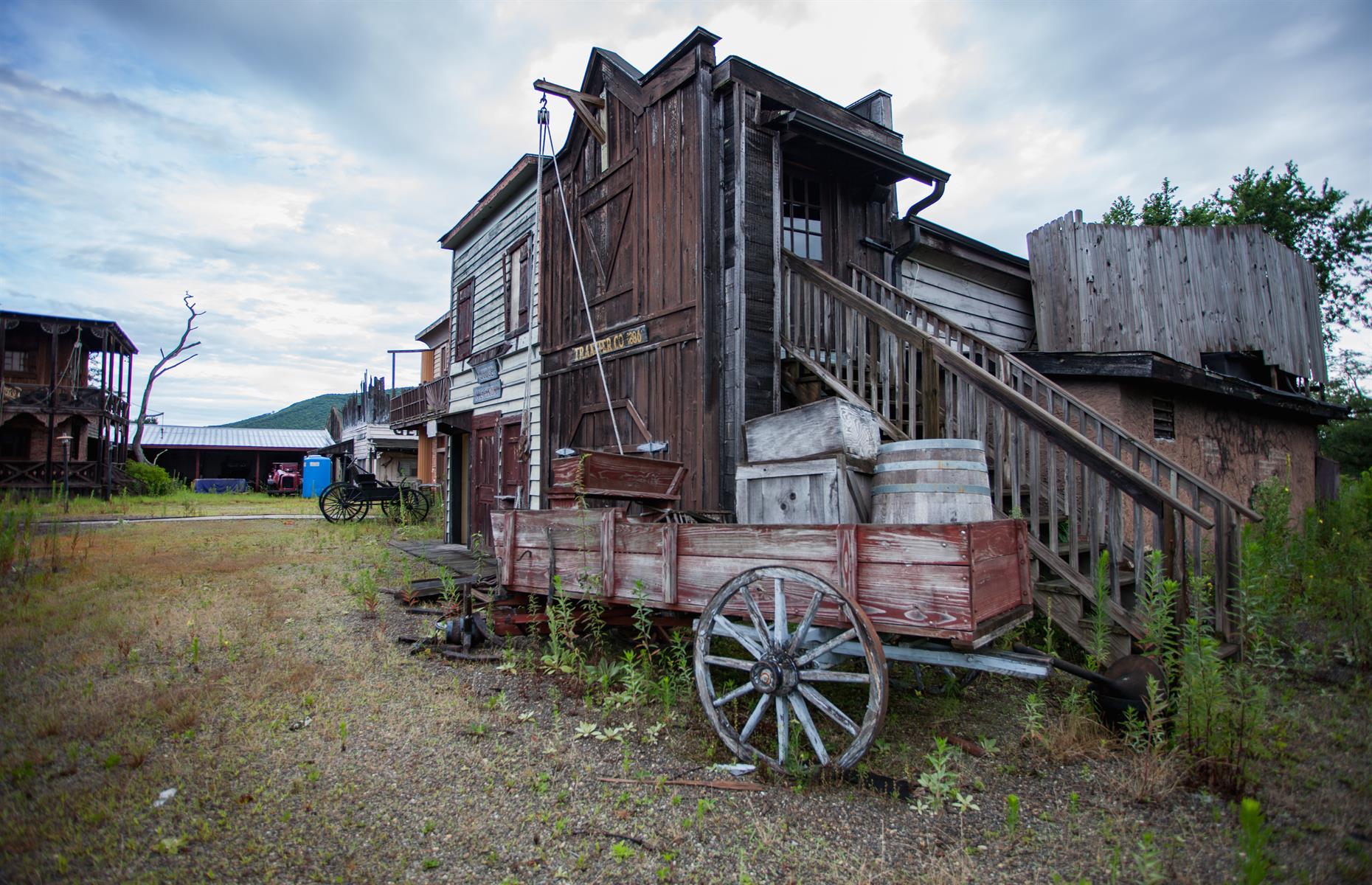 Peak popularity during the 1970s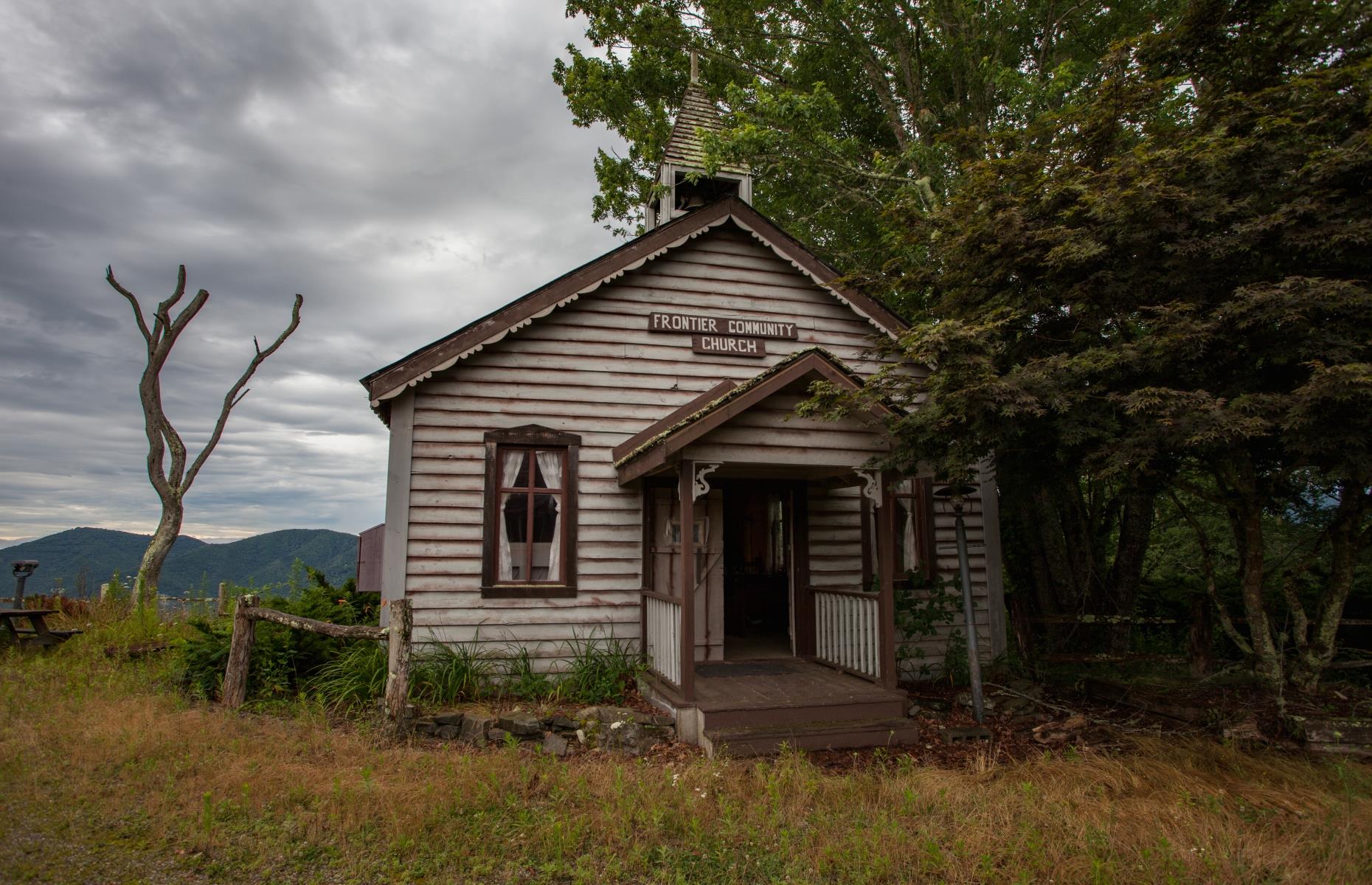 Old West had it all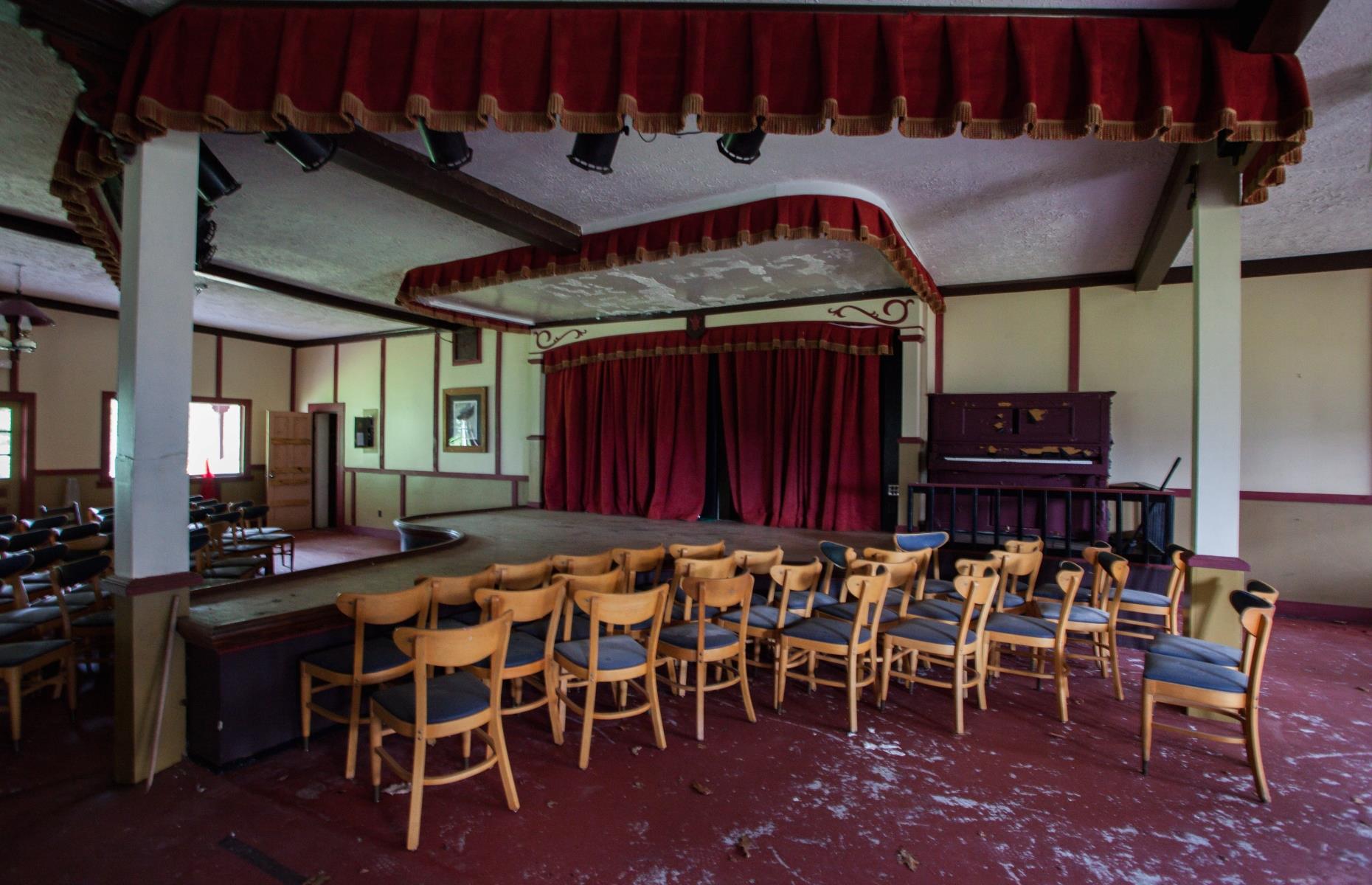 Wild West-style entertainment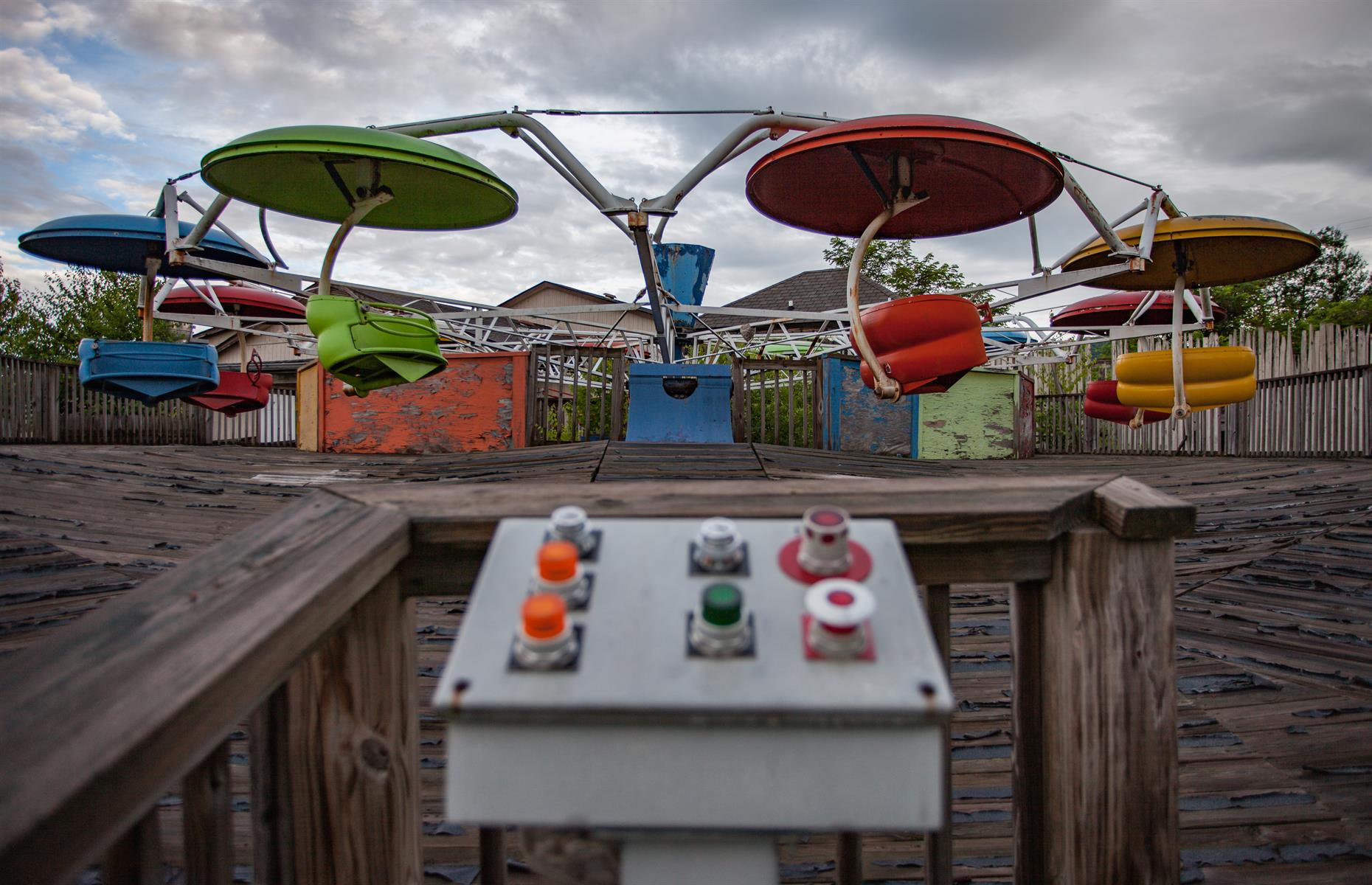 Brimming with attractions
Ghost Town also had its fair share of amusement rides which were added over the years. They included the park's famous Red Devil coaster (later re-named Cliffhanger), Casino, bumper cars and Sea Dragon.
Discover America's most jaw-dropping roller coasters only for the brave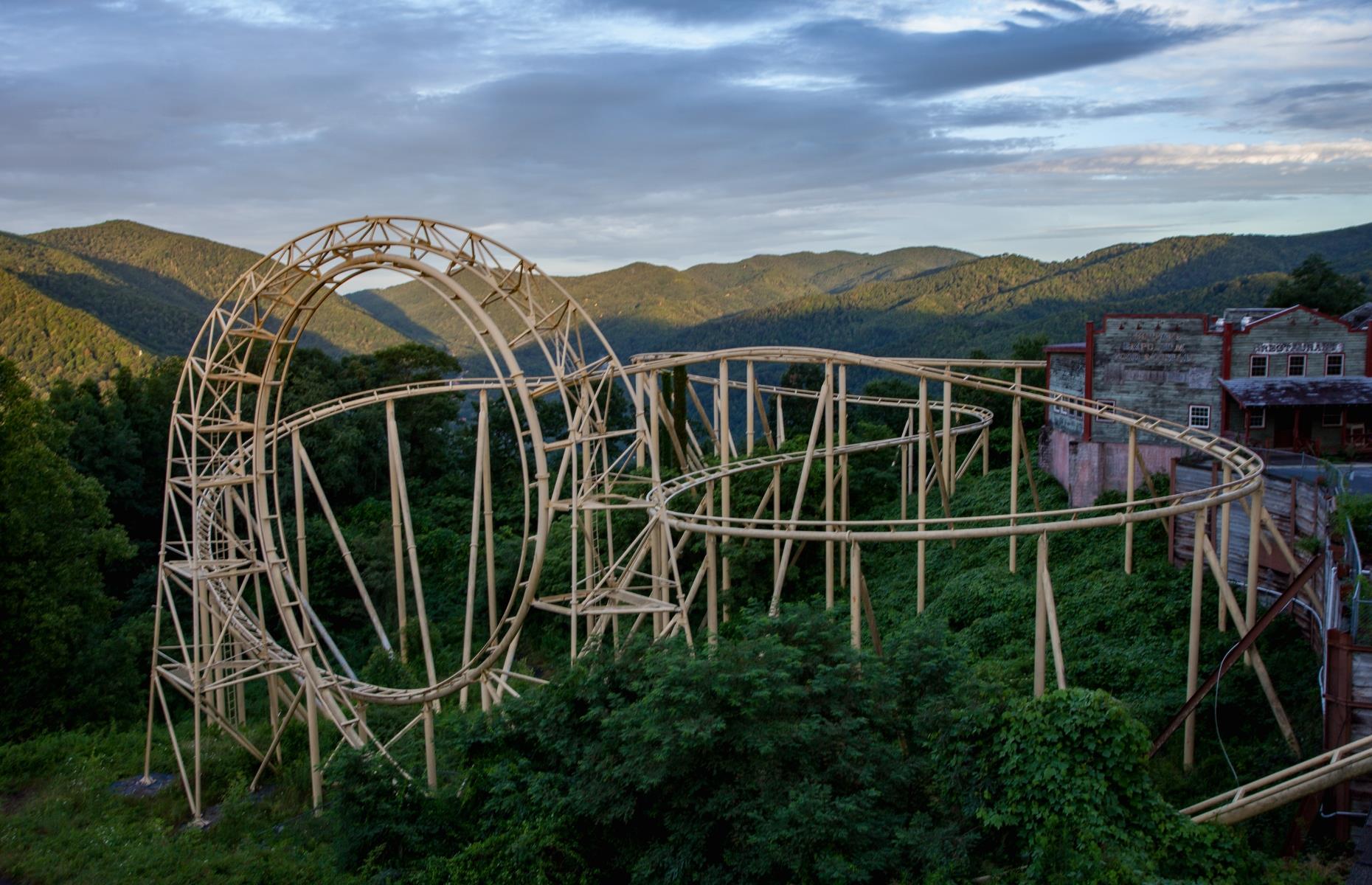 The Red Devil coaster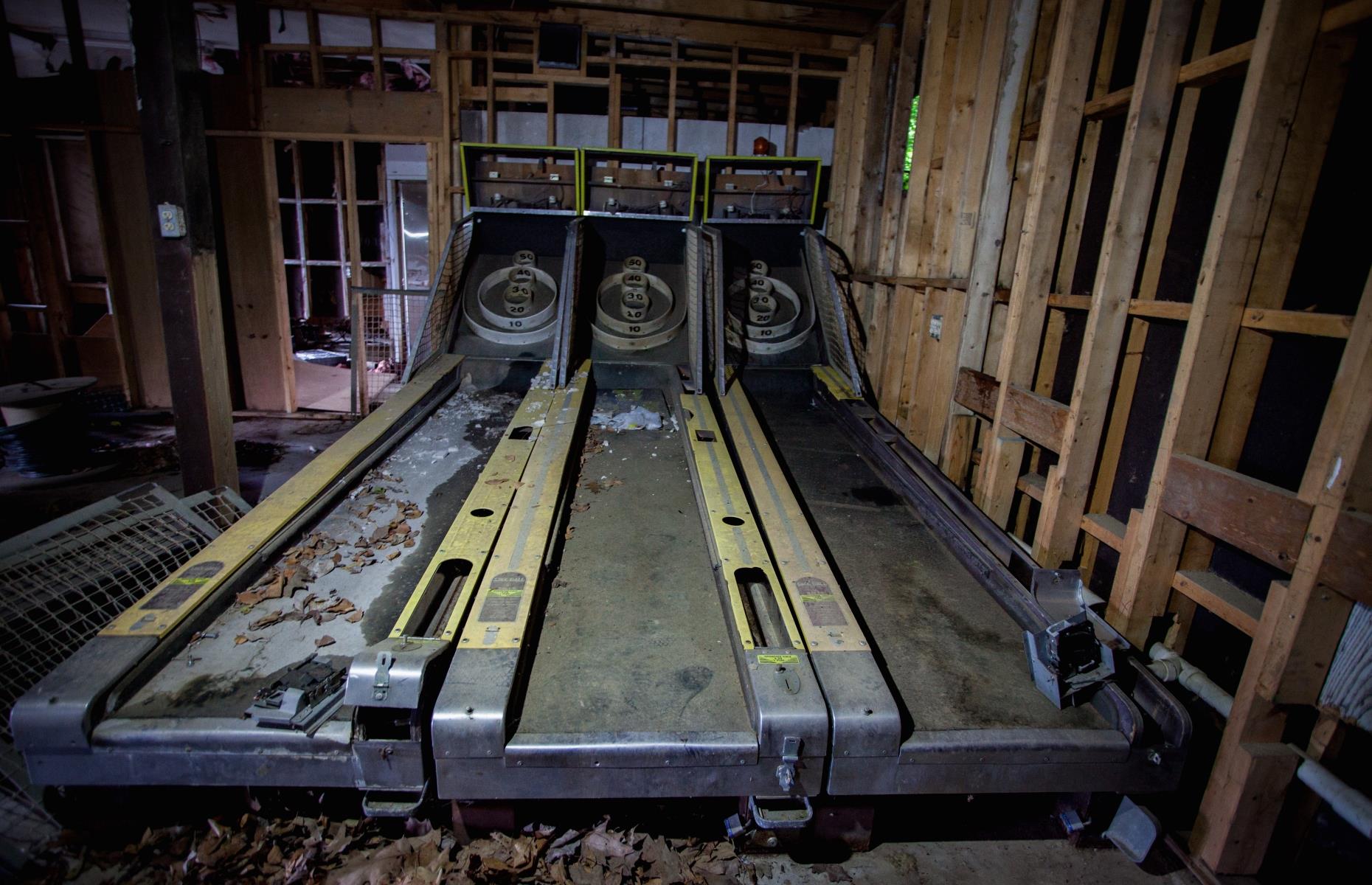 Things started to go wrong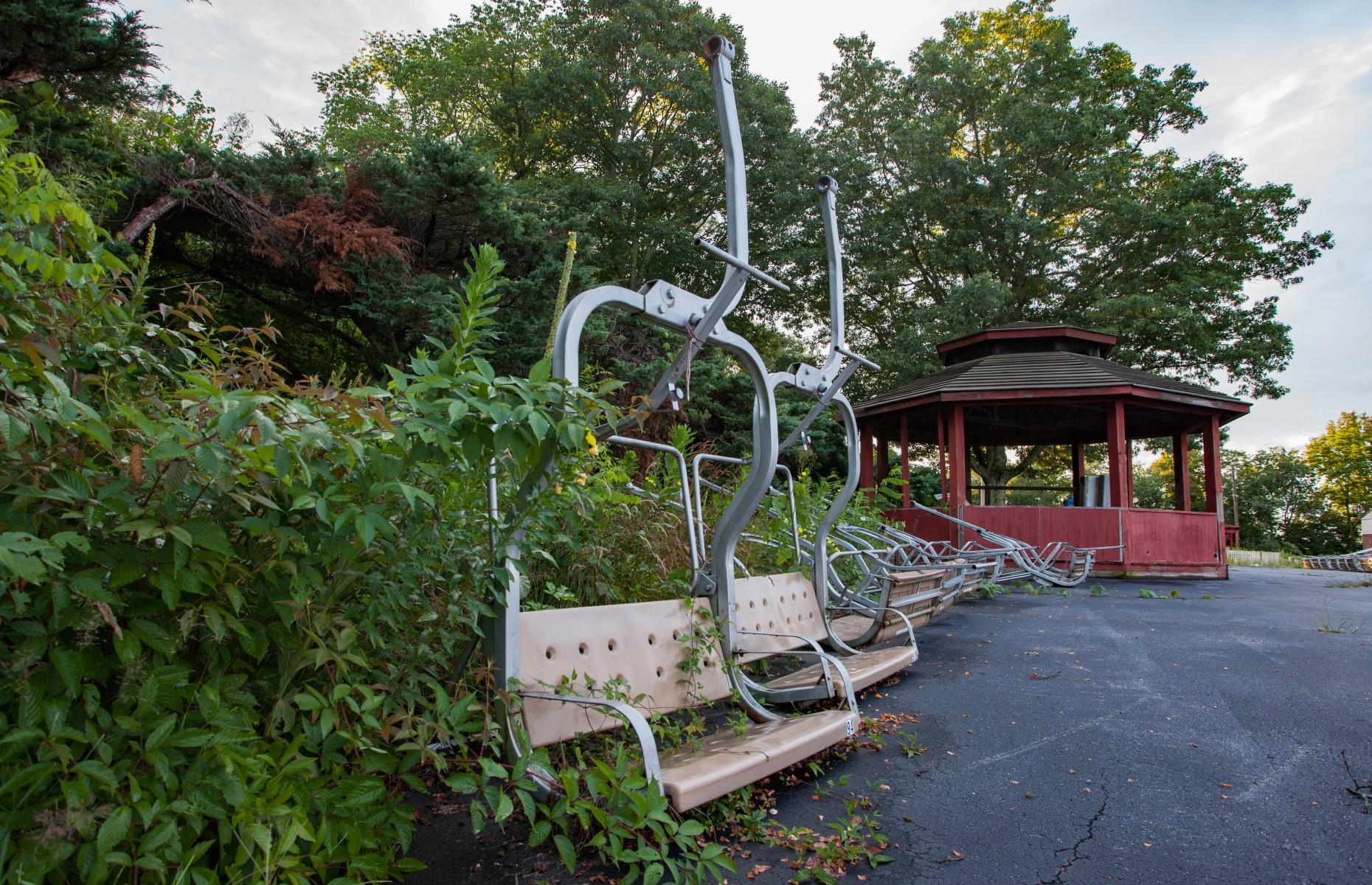 The end to Coburn's ownership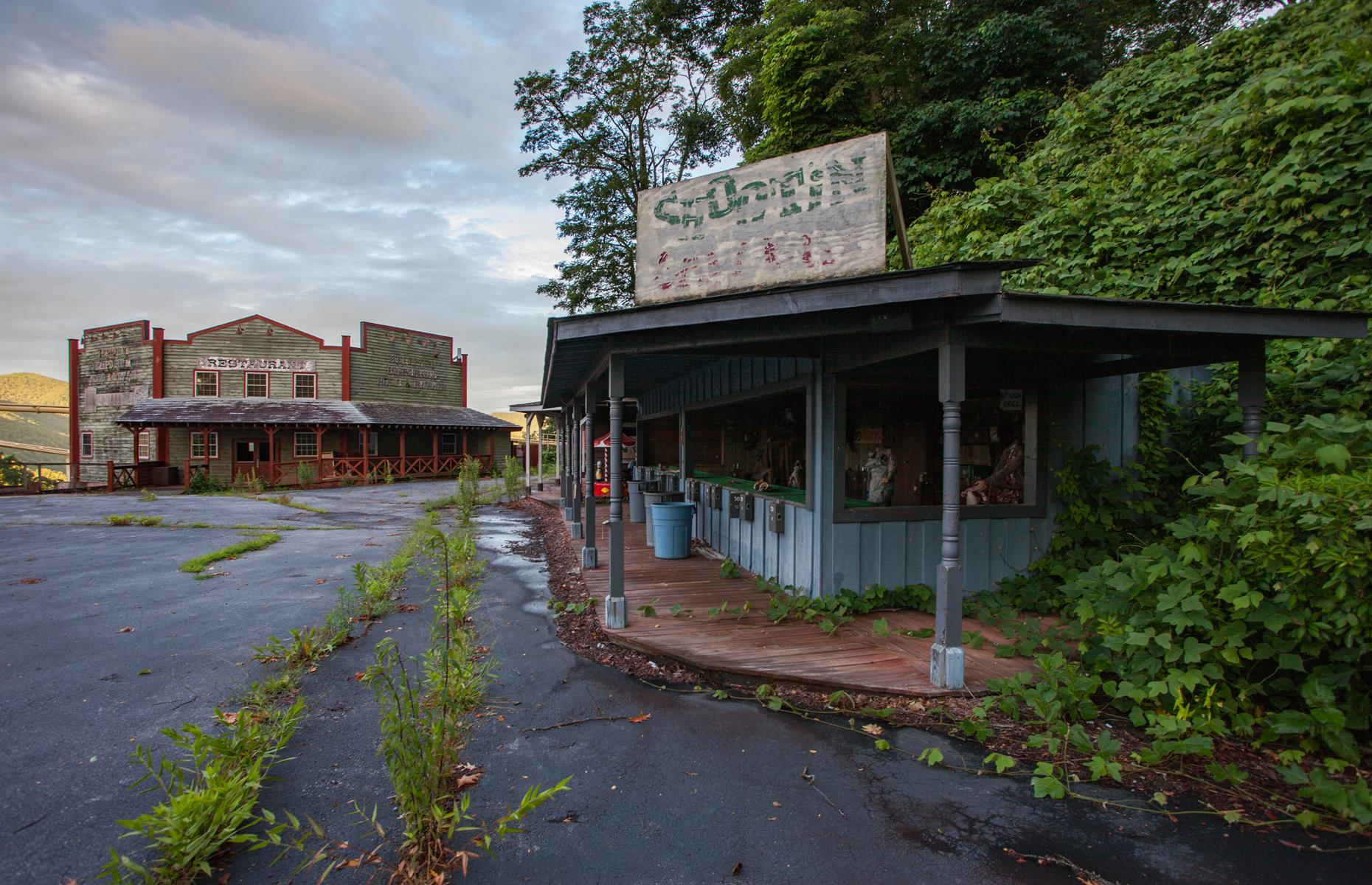 Closed for business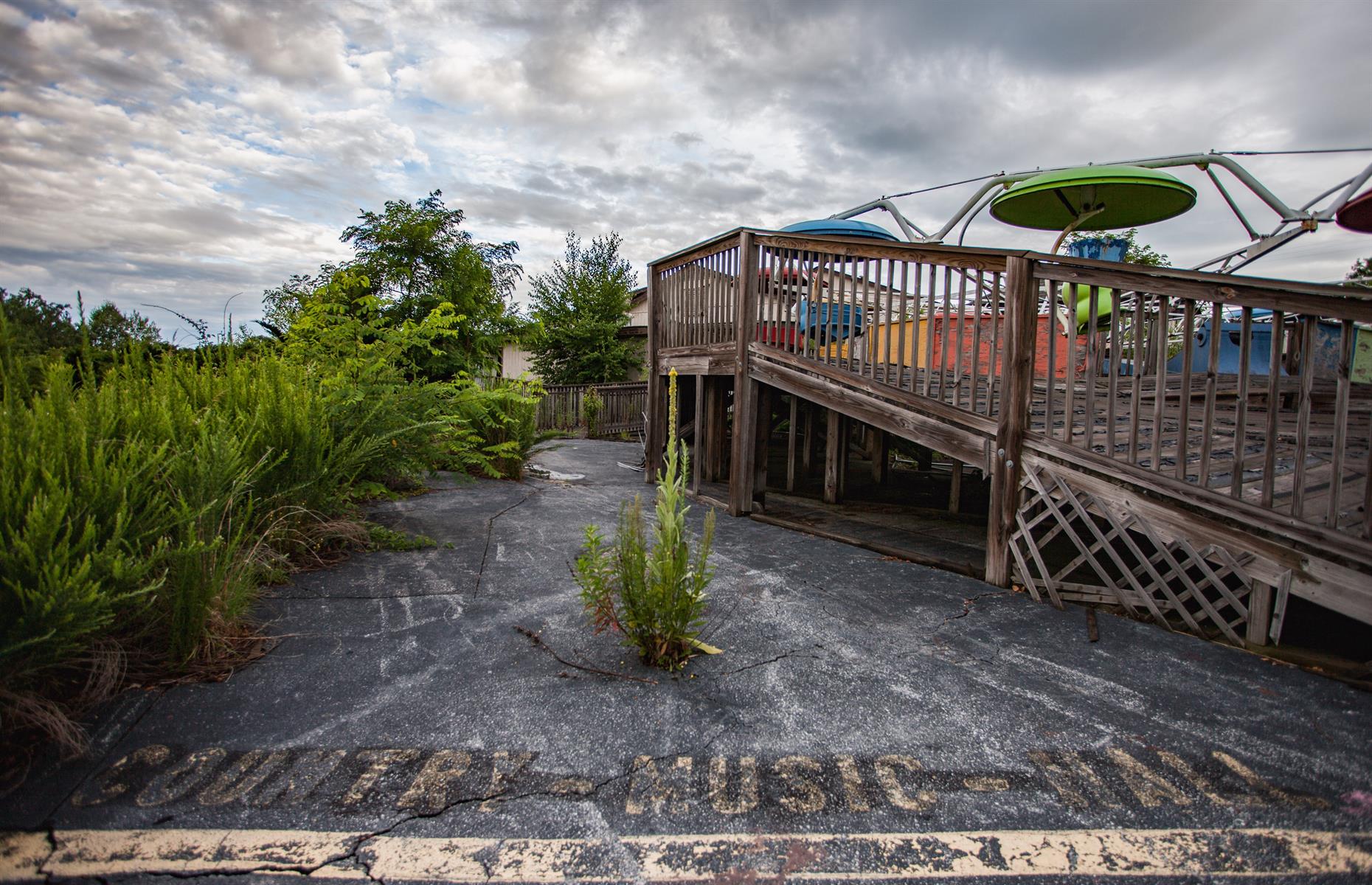 The park reopens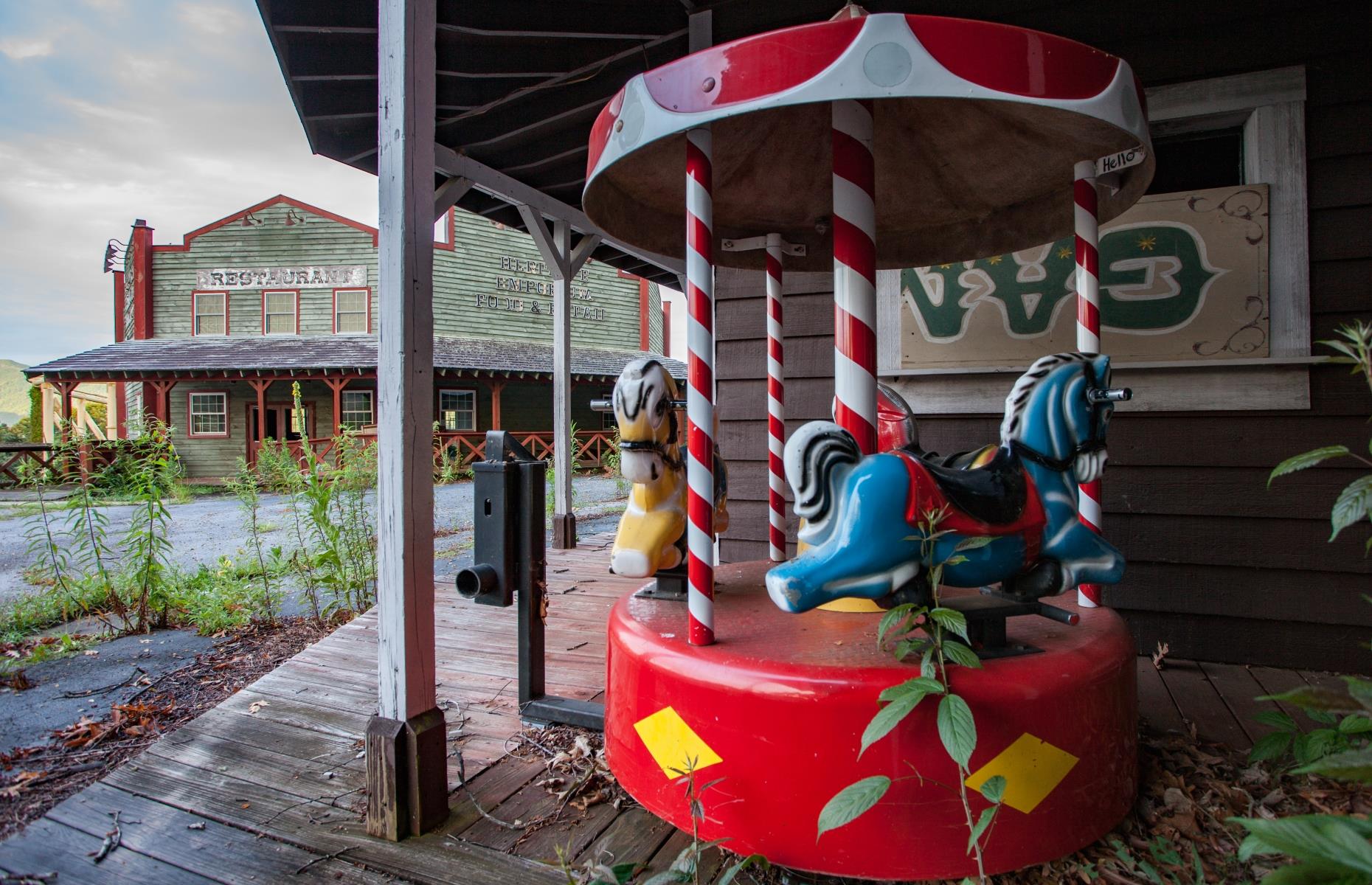 New additions to Ghost Town
A brand new area called Heritage Town Square opened in an attempt to attract more visitors and families. Located at the chairlift terminus, the spot included a themed restaurant.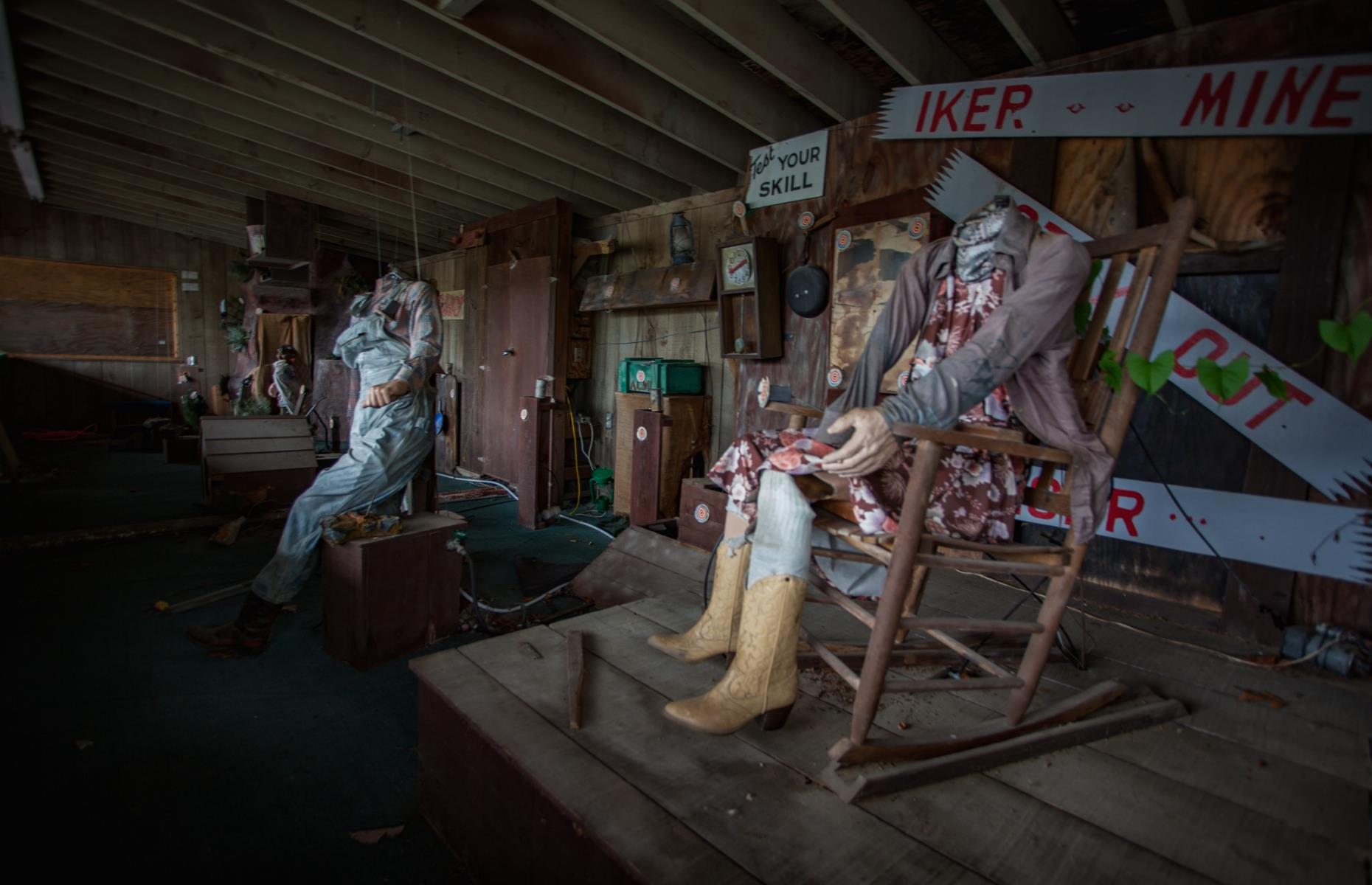 Shooting gallery in the Heritage Town Square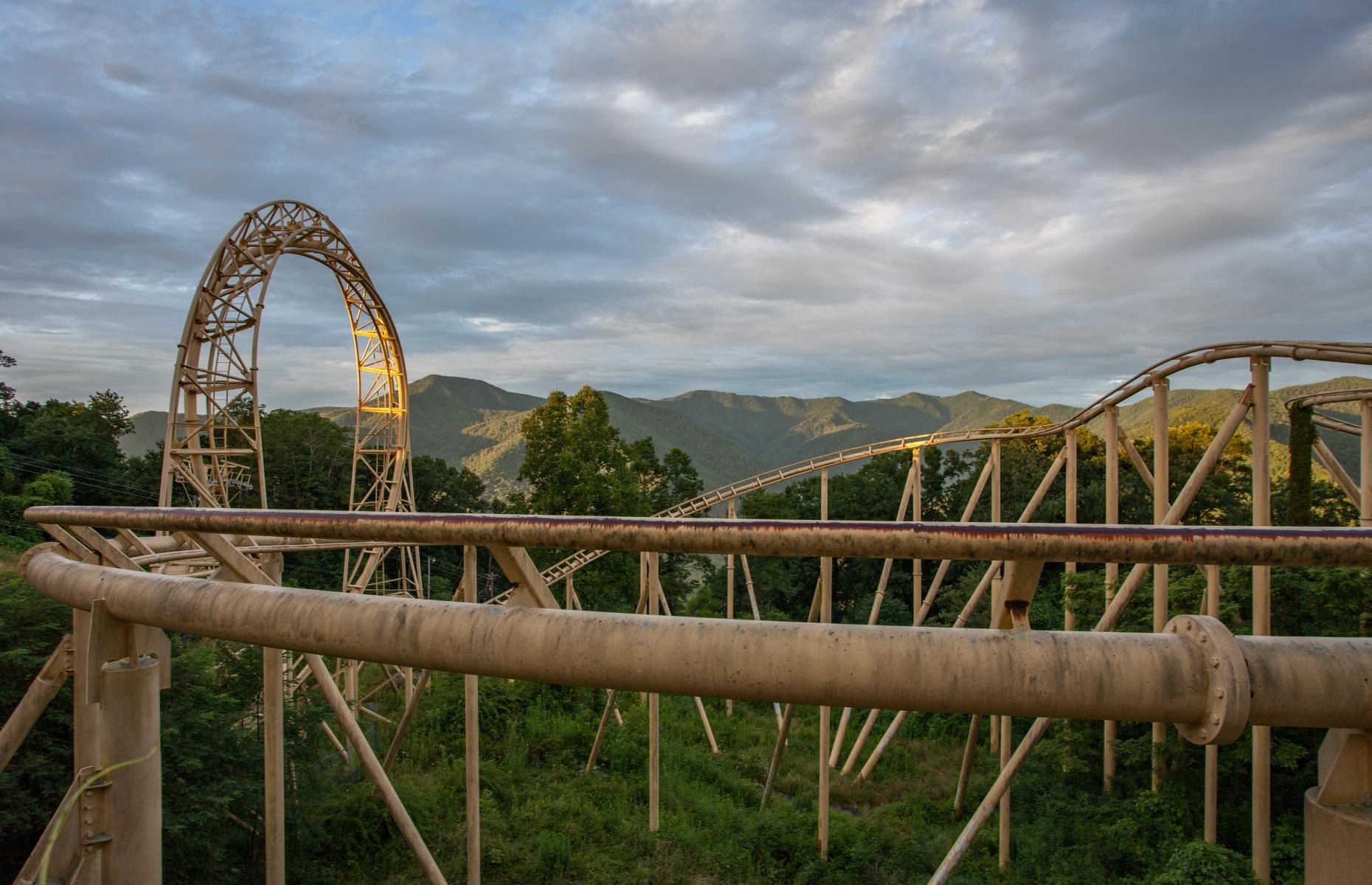 The Red Devil becomes the Cliffhanger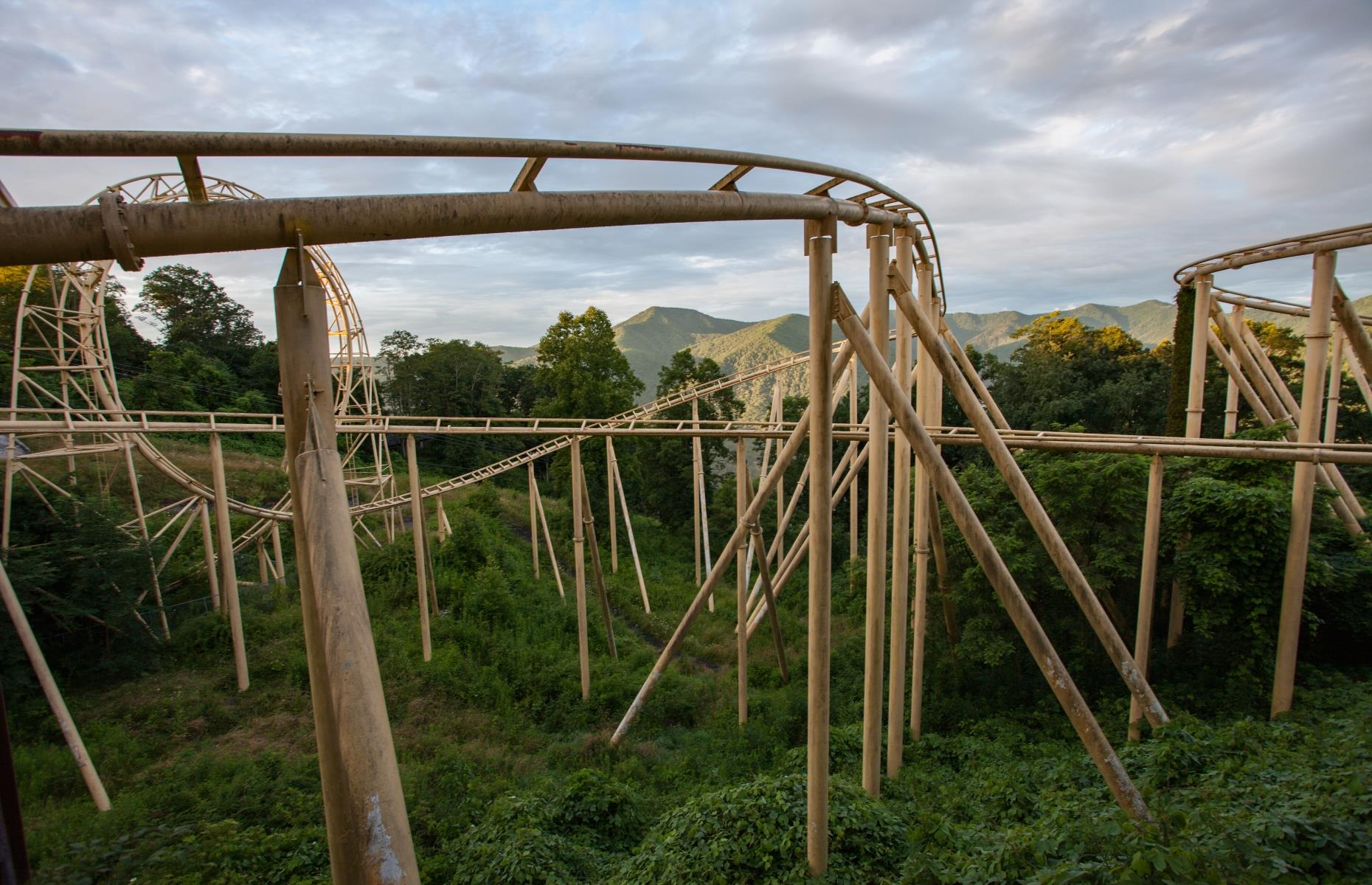 A series of unfortunate events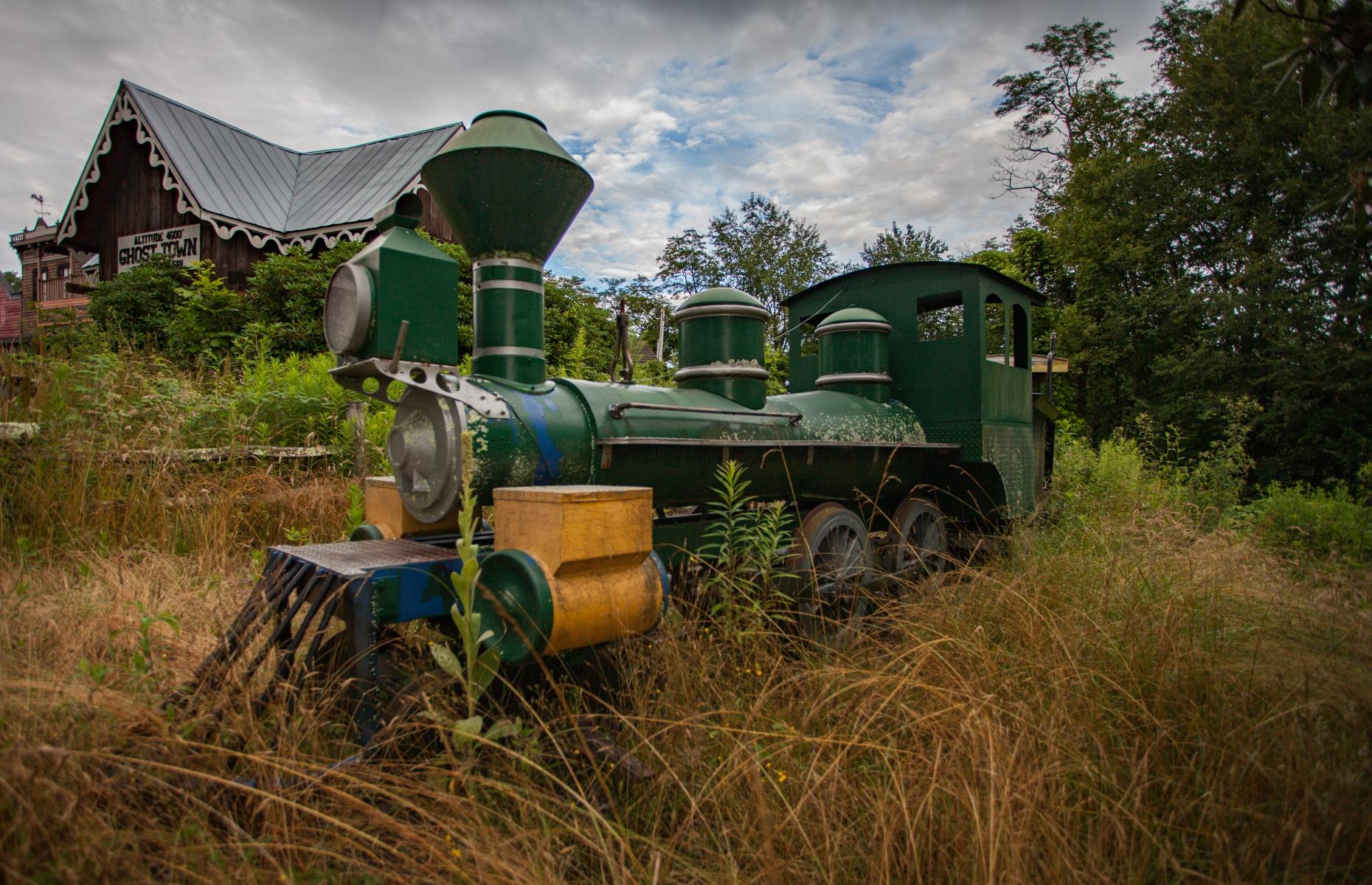 Ghost train goes bust
The Ghost Town train was another attraction that didn't reopen in 2007. Today the engine and carriages are slowly being taken over by nature. 
Take a look at more ruins where Mother Nature ran riot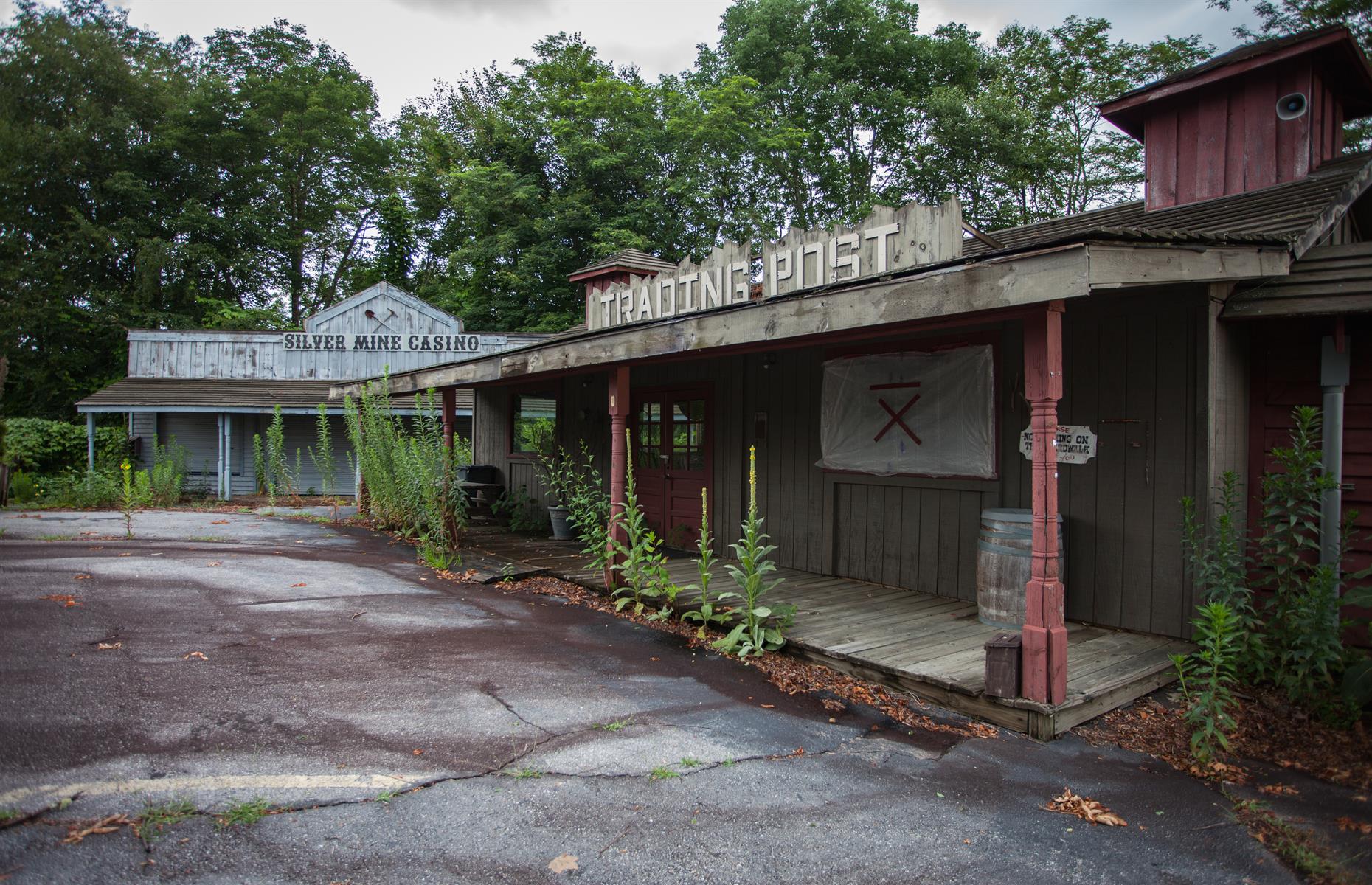 Things went from bad to worse
Sadly, ticket sales in 2008 were " sluggish " and, combined with the effects of the economic recession, the park went into debt. In early 2009, Ghost Town's owners failed to secure any further funding and declared bankruptcy.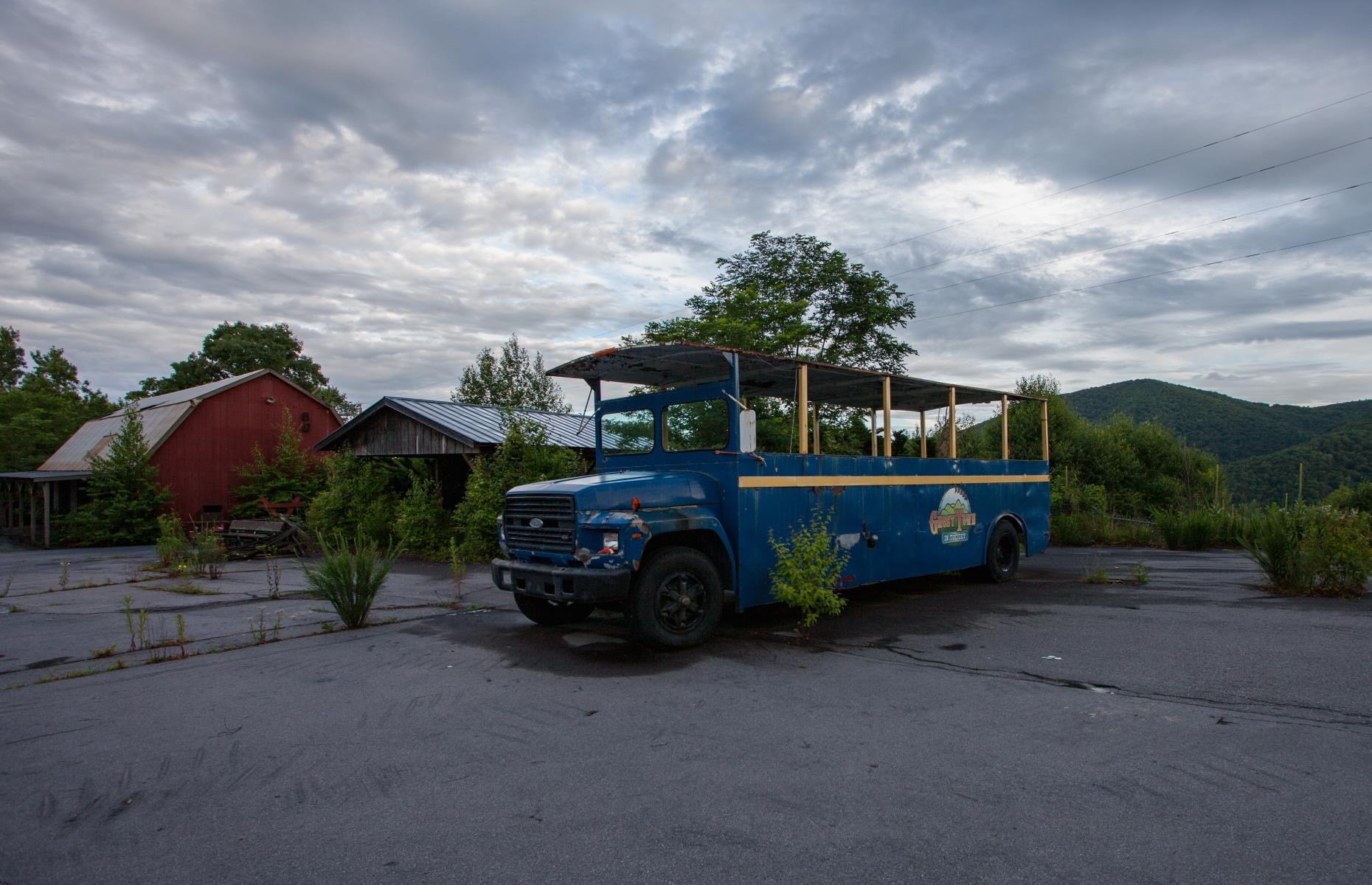 The downward spiral continued
Despite strong fears that the park wouldn't reopen for the 2009 season, the owners were able to secure help from a private business owner. Ghost Town opened in May but suffered another poor few months. Smoky Mountain News reported that it failed to cover its operating costs and workers didn't receive their last weeks of pay.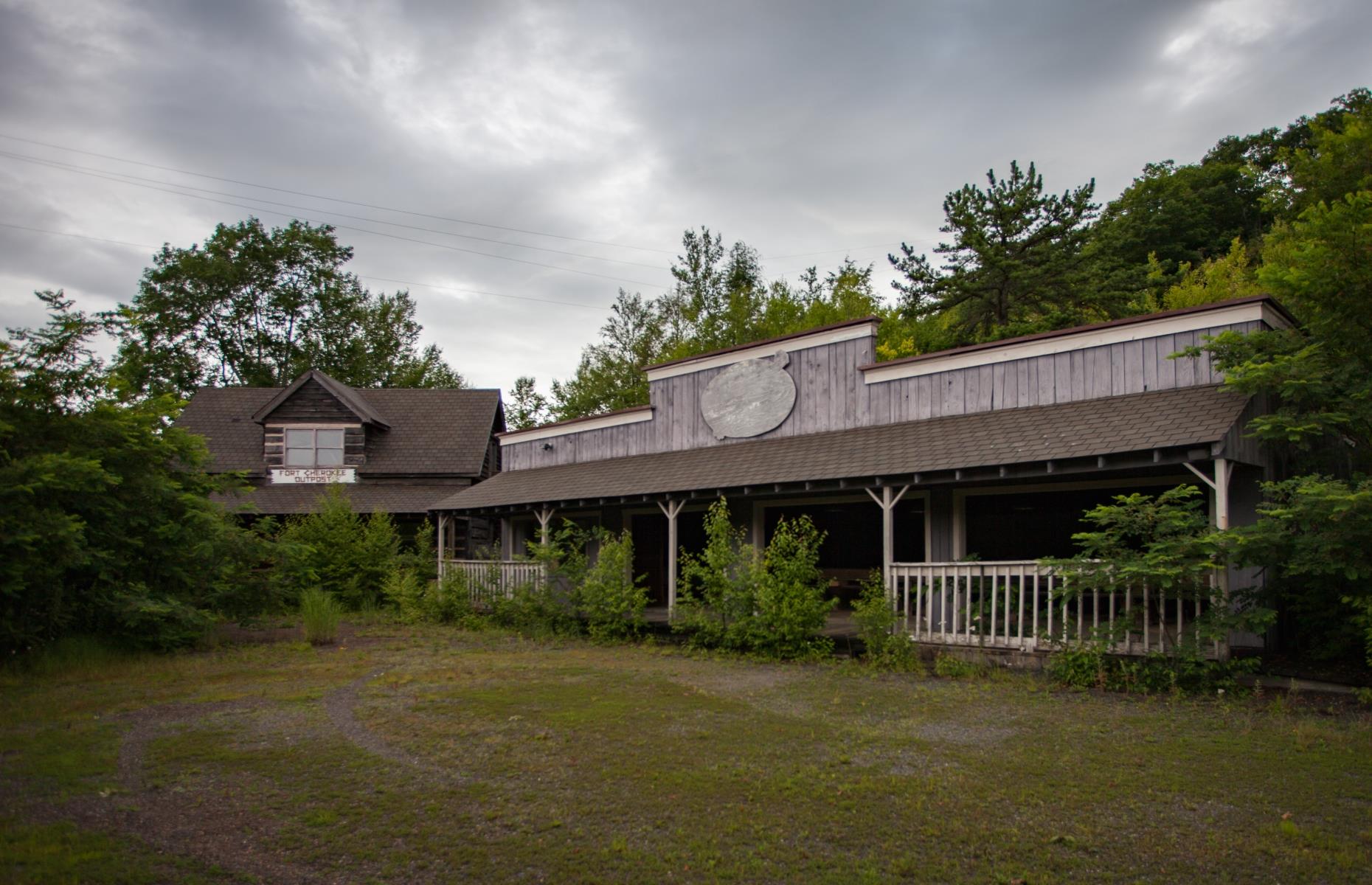 Mudslide hits Maggie Valley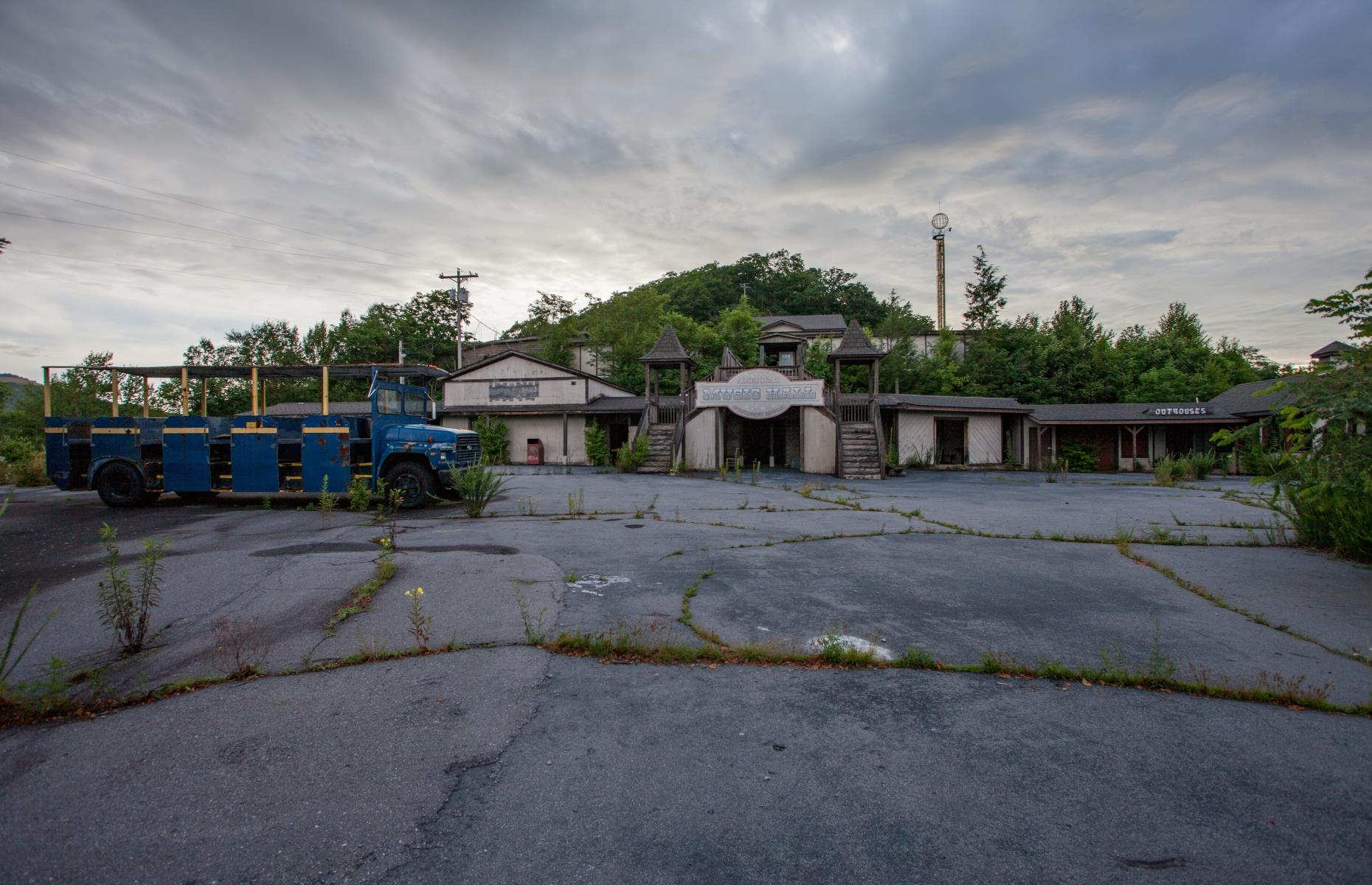 Another (partial) reopening
Two years later, businesswoman Alaska Presley bought the Ghost Town property at auction for $2.5 million. Unsurprisingly, the park required repairs that cost millions of dollars and over the next few years, parts of Ghost Town opened sporadically, some areas only temporarily.  Take a look inside more of America's abandoned theme parks .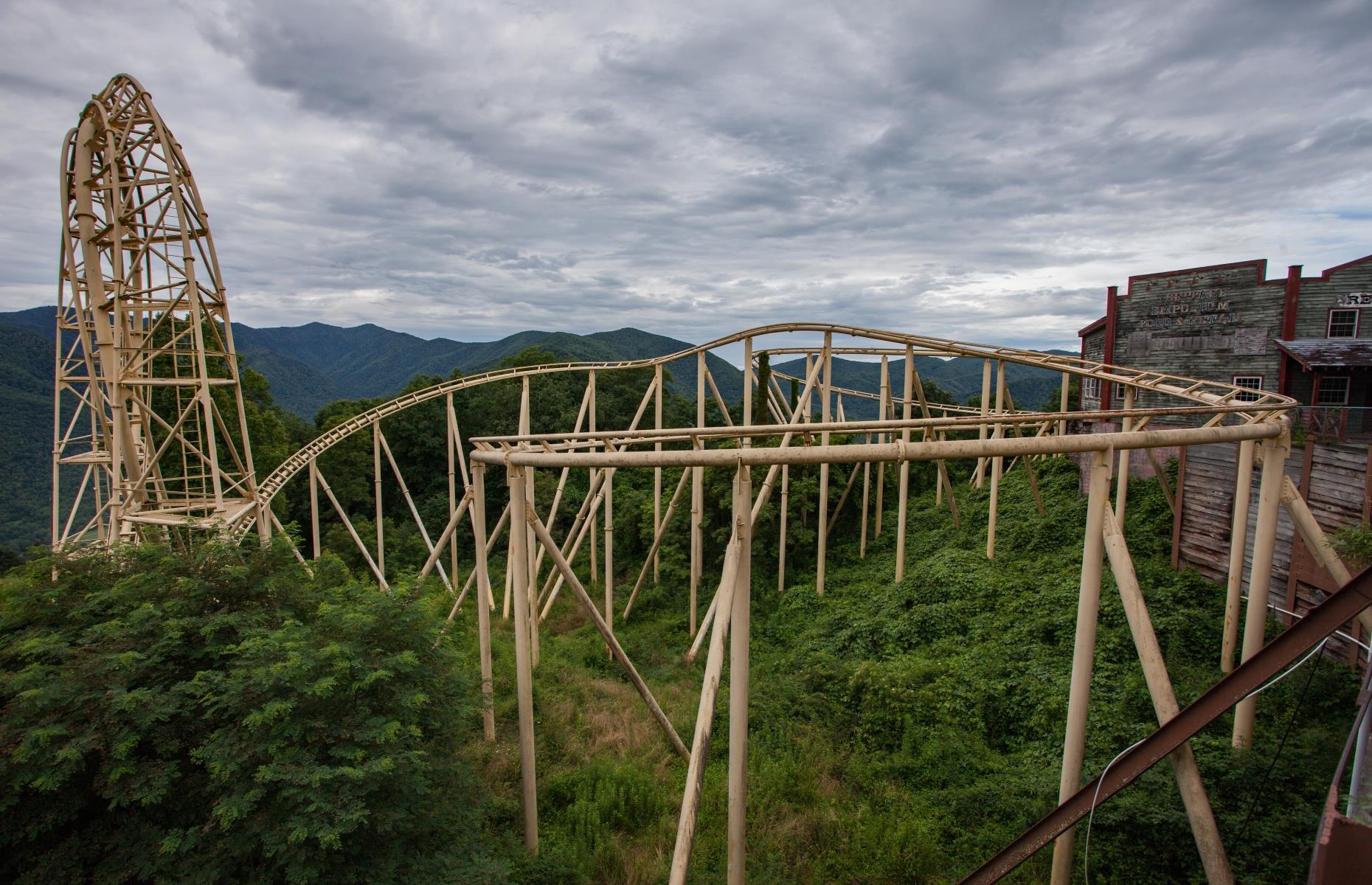 What does the future hold for Ghost Town?
The park closed for good in 2016 and Presley decided to sell up. While there were hopes for a new buyer, a company called Ghost Town Adventures, to refurbish and reopen the park in 2019, those plans were shelved. Smoky Mountain News reported that the park is once again under contract, but this has not been confirmed. Only time will tell whether the park will be restored to its glory days.
Now take a look at American tourist attractions that no longer exist
More for You
25 Most Dangerous Cities In The U.S. Ranked
Trump Ex-'Fixer' Michael Cohen Admits To Lying Under Oath In Testy Fraud Trial Testimony
Rashida Tlaib Faces Punishment
I moved my family from California to Texas 2 years ago. A friend warned me we would hate it — 6 months later, other families followed us.
NYU student, criticized and lost job offer for Israel-Hamas remarks, speaks out
Toyota Chairman Says People Are Finally Seeing Reality on EVs
The Best Potluck Desserts No One Thinks to Bring
Senate strikes down GOP anti-shutdown amendment creating permanent stopgap
China's Middle East Warship Flotilla Compared to US Carrier Strike Groups
Biden admin greenlights plan to reduce western states' vital water supply: 'Equitable future'
Jim Jordan didn't flunk bar exam; Hakeem Jeffries was not Rhodes scholar | Fact check
Russia launched its biggest attack in months. Huge tank losses show it isn't learning from its many defeats, expert says
The country that owns the most gold in the world—and see the rest of the top 10
New hires are considering quitting within the first 6 months because of these 3 onboarding issues
Fact Check: Video Shows Turkey Moving a Warship Toward Gaza To Defend Palestinians?
US And China Confrontation Moves One Step Closer
NYC Mayor Warns of 'Draconian' Steps If Migrant Flow Continues
Senate passes Kennedy amendment protecting veterans' Second Amendment rights
The Only Major Actors Still Alive From Cheers
Can Trump Legally Run For President After Jan. 6 Riot? Trial Moves Forward After Colorado Judge Refuses To Dismiss Case
Wild West Ghost Towns: 25 Images Of Forgotten Places In The Desert
No one bothered to come back and rebuild after the gold mines were destroyed.
They are called ghost towns for only one reason, no money. If money is there, and other resources required for human survival like water, contemporary communities will develop. In the 19 th century, during the gold rush, towns developed in the west around the gold mines. A ghost town is a term used to describe towns that failed to stand the test of time and died off the same time the gold mines stopped producing gold. Some of them were abandoned en masse, while in others people left gradually until no one was left.
There are also some of these ghost towns that were abandoned after a natural disaster like floods and earthquake. No one bothered to come back and rebuild after the gold mines were destroyed.
The world is full of ghost towns, but the Wild West ghost towns of America have a different taste. Thousands of people visit these towns every day. Each of them has a special feature. With some having only a door frame of a house left standing, while in others you find a single ancient car parked in the middle of nowhere.
Here are 25 Wild West forgotten ghost towns that you can still safely visit. Of course, if you don't mind a few spooks here and there.
25 Ballarat Ghost Town
Located at the foot of Mount Panamint, Ballarat served as a supply, as well a recreational center for Panamint and Death Valley between 1897 and 1917. You cannot imagine any lonely and empty place in the old west than this old town. The weather is extreme in Ballarat, with summer temperatures rising as high as 120°c, and winter going as low as below freezing point. It is a beautiful place to visit, from the rugged and steep Panamint to the Argus Range to the west.
24 Calico Ghost Town
Prospectors flocked in Calico back in 1800 in pursuit of its mineral wealth. After silver was discovered in the area, Calico became one of the fastest growing, and wealthiest districts in the state. One year later, business was booming. The town would produce silver and borax worth millions of dollars. Its population had grown to over 1200 people. In 1890, silver dropped to 63 cents, from $1.31, and that was the beginning of the end of Calico. It officially became a ghost of its glorious town in 1907.
23 Rhyolite Ghost Town
This is one of the towns that had a very short glory of at most seven years. Located on your way to Death Valley, the town enjoyed a brief boom and subsequent bust between 1900 and 1907, thanks to the discovery of gold mines in the area. Charles M. Schwab invested in the town's infrastructure, and soon the town had water and power supply, and also a railroad. After the earthquake of 1906, and the financial panic year of 1907, Rhyolite died off and became a ghost. That was after the local miners left in pursuit of greener pastures.
22 Bodie Ghost Town
Bodie was founded in 1859 by W.S Body, who discovered the deposits of gold at nearby hills. This Wild West town was a big one; at its peak, it had up to 10,000 people. The activities that kept the town booming started to decline in the early 20 th century, and by 1940 all the glory was gone. The mining was officially shut down. In the modern days, Bodie is a State Historic Park, with more or less 100 abandoned houses.
21 Cahawba Ghost Town
Also spelled as Cahaba, Cahawba was the first permanent capital in Alabama, which became a flood hazard. It is found at the conflux of two huge rivers. It lost its glory of being a capital in 1826, before becoming a distribution point for cotton, and a prison site for state soldiers. That continued for a short period, and after the civil war, Cahawba became a center for freed slaves. Floods continued to wreak havoc in the town, and by the early 20 th century, Cahawba began its journey to becoming Alabama's best-known ghost town.
20 Garlock Ghost Town
This town was founded by Eugene Garlock at the fall of 1895 when he introduced an 8-stamp milling machine. The mill was the very first one in the town and was later joined, and swamped by many other mills around the area. All the mills were steam driven, except the first one of Eugene Garlock. Before becoming a ghost town, Garlock had grown to have a constable, a school, a couple of bars, a laundry shop, two hotels, and a dentist's and a doctor's office.
19 Pioneertown Ghost Town
Pioneertown was born in 1946 as a result of Hollywood movie stars building a permanent Wild West set in the desert. Among the stars who came to this high desert to stay included the cowboy stars led by Roy Rogers. After buying 13 acres of dry land, they built a complete set with a false facade Old West Mane Street, Pioneertown served as a filming location for over 50 movies and TV series. Currently, the ghost town is experiencing a young in flux, driving the old folks out of the town.
18 Animas Forks
Animas Forks is located high on the Colorado Rockies 11,200 feet above seas level, 12 miles northeast of Silverton mining outpost. It is indeed a ghost town; extremely remote, and hard to reach. You must be a real ghost town purist to make it here. It's also well preserved. The first prospectors set up shops in the 1870s, which was followed by a host of other social amenities including saloons, offices and boarding houses. The town was fully decamped in the 1920s and has since remained abandoned.
17 Nelson Ghost Town
Imagine in one hour you're enjoying the pretty view of Las Vegas, and in the other hour, you're in the middle of nowhere. In 45 minutes, to be precise, you'll have arrived in the Nelson Ghost town. It is located at the ending of a winding road and beautified by a lot of cacti. The town was discovered in 1775 by Spanish settlers who first name Eldorado. It is quite peaceful as a ghost town, unlike the lawlessness and unending violence during its glory days. You can tour the mines, or troll the ruins.
16 Amboy Ghost Town
This ghost town that is commonly referred to as "not dead yet" is located at Santa Fe railroad in between Arizona's Kingman, and California's Barstow towns. It was founded in the days of locomotives, although nowadays the train doesn't stop. Amboy has been used as filming locations in a few Hollywood movies, with the stars accessing the place on private choppers. You can drive to Amboy on the once famous route 66. The completion of the interstate highway made Route 66 obsolete, and this was the main reason Amboy town died.
15 South Pass City Ghost Town
South Pass City is among the most frequented Old West ghost town, thanks to the massive number of hikers who stop here to take a rest. The town was founded in 1867 during a huge gold rush in Carissa mines. It followed a familiar trend by boomtowns that were on the rise in the 19 th century. It rose really quickly and cracked real soon. And it was no more. A series of minor booms that followed later were not strong enough to revive its lost glory.
14 Goldstone Ghost Town
Gold was discovered in this town in the early 1880s. However, it was until 1915 that Goldstone became a boomtown. Gold was found in Redfield mines that rose from $1,600 to $3,000 per ton. The gold town became a magnet, and soon it started flocking with people, with a daily mail delivery and a lodging house. A town housing 150 men already. Today the town has transformed to more of a site than a ghost town. It is now a deep space network for NASA, with just a few foundations, and rubble scattered here and there.
13 Thurmond, West Virginia
This town is a quick reminder of when America ran on coal. It thrived as a boomtown in the Appalachian region and was the greatest town along the Chesapeake & Ohio Railway line. Local bank accounts started to overflow thanks to the area coal fields that brought in more revenue than any other area along the railway. In the early 20 th century, the town had grown to two banks, a movie theater, and other essential amenities. Thurmond fell when diesel replaced coal was, and it soon became a ghost town.
12 Ibex Ghost Town
Ibex Ghost Town came up as a result of copper and silver discovery in the area. Frank Denning and Stanley Miller made the findings in 1881 at Ibex springs. The two young miners named this place the Ibex, a name attributed to mountain goats found in Europe. Located at the southeastern end of the Death Valley national park, Ibex Ghost Town is not easily seen by an average visitor. And it is one of the ghost towns you should visit before it dies forever.
11 Gold Point
Gold Point was once a booming silver mining camp. The town had 125 homes, pretty good number of bars, a post office, and a bakery. In the modern days, a ghost enthusiast Herb Robbins has, after purchasing this ancient place, refurbished it to one of the best travel destinations in the west. There are some restored mine cabins used as night lodgings, old saloons decorated with western artifacts, and also hiking opportunities in the nearby mining ruins.
10 St. Elmo
Located in the Sawatch Range deep in Colorado, St. Elmo is said to be one of the oldest gold rush ghost towns that are well preserved by the Centennial State. The town looks so much of a special-effect location created for a movie, all the way from the lonely gravel road that leads here, to the town itself. Most of the area residents left with the train's last stop in St. Elmo in 1920, and they never looked back.
The Daggett town, now a ghost town was founded in the 1960s, 15 years before Waterman filed a claim of silver discovery 6 miles to the north on the mountains of Calico, also called the town of Calico. The town came to life after the silver discovery and the construction of the Mojave Daggett railway in 1882. It was called Calico Junction and later renamed to Daggett in 1883 to avoid confusion between the Town of Calico and Calico Junction. The town began to fall when mining operations shifted to Lila C in Death Valley after borax was discovered there.
8 Vulture Mine
Vulture mine is said is to have been the best yielding gold mine in the state of Arizona. Located at the outskirts of Wickenburg, Vulture mine produced millions of dollars in gold between 1863, and 1942. It closed down in 1942, transforming the once a famous gold town into a ghost town. Now the ghost town has been converted to travel destination by a private investor, and it is open on Saturdays, at a fee.
7 Courtland, Gleeson, and Pearce
Just a quick drive along a dirt road from the well preserved Arizona's tombstone, winding through the southeastern desert of Arizona, you'll come across these three real-abandoned ghost towns of Courtland, Gleeson, and Pearce. The crumbling remnants of once very successful mining spots from the 19 th century constitute to Arizona's trail of ghost towns. Each of them varies with their degree of ghostly, with Courtland being the most desolate. The other two are a little welcoming and are all registered with the National Register of Historic Places.
If having ghost towns in your state is an achievement, then Arizona needs an award. Ruby is highly regarded as one the most preserved ghost town in the state of Arizona. It is also said to be among the fastest growing towns of its era. It is located in the Coronado National Forest, 70 miles southeast of Tucson near the Mexican border. This town is known for the string of double homicides of the 1920s, which reportedly led to the most extensive manhunt in southwest history. Ruby ceased to exist in 1941 after years of success. In the modern days, you can visit ruby at designated visiting hours at a fee.
Legends of America
Traveling through american history, destinations & legends since 2003., ghost towns reveal hidden tales of old west.
By Gary Speer
Two of the most photographed buildings in Montana include Gillian Hall on the left and the Fraternity hall on  the right. Both buildings form Montana's smallest state park today. Photo Kathy Weiser-Alexander, 2008.
Ghost towns , from mining camps to windblown prairie farms and settlements, hide tales of days gone by throughout the  Old West .
Forgotten hamlets and abandoned villages abound throughout America, but the rapid nature of settlement and migration throughout the West make the region a treasure trove of these shadows of the past. More and more enthusiasts of the history of the region make it their business to explore these lost bits of life in the 1800s and early 1900s. The ghost towns tell tales not often found in today's growing Western towns and cities.
During it's heyday, the West rarely used the term "ghost town" to describe itself — these were growing settlements and camps of emigrants coming westward for a multitude of reasons.
Those placed known now as ghost towns were often boom towns back then. Ghost towns became best known, with that term being used for them, in the 20th Century, chiefly referring to abandoned mining camps and mining towns. Those communities came into being mostly in "boom" fashion as people flocked to the gold fields and crowded into gulches around streams to pan for gold or silver. When the precious metals were gone, or if a disaster such as fire or flood struck, the towns were gone. In other cases, ghost towns came about because small towns or villages were hit by long term droughts, or simply wore out their resources — or people just decided to move on looking for better living conditions.
Such towns and deserted ruins of towns are located throughout the West, many of them in the mountains or on rivers and streams where they reached the Plains near mountain ranges — that's where the gold was.
Silent buildings stand on the prairie in Okaton, South Dakota, July, 2006, Kathy Weiser. Click for prints & products.
There also are small farming communities that have become ghost towns. Closely related, there are many homesteads and farms with ruins that can be explored for a glimpse of everyday life in the 1800's. (If you find and choose to explore any abandoned town or farm, be mindful of private property and property rights that might apply.) My own grandparents and some great-uncles and great-aunts homesteaded land in the southeastern corner of  Colorado . As a child, I can remember being taken by my parents to see the old homestead, which included a sod house and barn which were still standing from the early 1900's.
Ghost towns and old farmsteads hold a great fascination for hikers, campers, and other adventuresome tourists in the West. Some of these towns have been revived as travel destinations, with restored 19th Century buildings and show places.  Central City ,  Cripple Creek , Black Hawk, and other towns in Colorado thrive as tourist destinations, making great profits and reviving as towns because of their efforts to connect with their colorful pasts.
Still other mining camps and villages went through the boom and bust cycles of the region but maintained their populations and identities up to the present. Instead of becoming ghost towns, places like  Leadville , Colorado, and other towns had the resources and transportation (railroads, freight lines, highways, etc.) it took to thrive as contemporary mountain and desert towns.
Harrison Avenue, Leadville, Colorado, Kathy Weiser
Leadville, for example, was founded as a silver and lead mining boom town; millions of dollars and famous mining moguls rose and fell in the town's past. Yet today, Leadville is a thriving town of some 2,200 people. It offers all the fun and history of a mining and "Wild West" town without so much of the glitzy tourism — it remains a real place, and is by no means a ghost town.
If you have the opportunity and time for it, you can spend many a fascinating vacation roaming through the treasures and history of ghost towns of America which abound throughout the West. Take a trip and see for yourself. Let these places reveal their hidden tales of the Old West to you!.
© Gary Speer, 2010, updated December 2020.
About the Author:   Gary Speer is a longtime writer and former newspaper copy editor who focuses on writing tips, Internet marketing, blogging, and a variety of topics related to outdoor living, collecting, and lots of fun things!
Article Source: Ezine
See our Ghost Town Photo Galleries HERE
Ghost Towns of the American West
Ancient Cities of Native Americans
Forts Across the American West
What is a Ghost Town?
Cemeteries – Outdoor Museums of the Forgotten Past
Emerging Ghost Towns of the Plains
The Sadness of Old Buildings
Knott's Berry Farm Theme Park in California
Knott's Berry Farm
What began as a roadside berry stand and Chicken Dinner Restaurant in the 1920s has evolved into one of Southern California's most popular theme park destinations, attracting more than five million visitors each year. Knott's Berry Farm offers a unique combination of world-class thrill rides with traditional family favorite attractions and shows. A day at Knott's Berry Farm means taking on mammoth coasters, as well as witnessing Old Western adventures and enjoying a hug from the world's most loveable beagle – Snoopy! At Knott's, fun is always in season, with dozens of thrilling rides, shows, and attractions in four exciting themed areas.
Old West Ghost Town
The Knott's Berry Farm Ghost Town is the heart and soul of the Park. This 1880s Old West Boom Town features cowboys, gunfights, can-can dancers, stagecoaches, a steam train, and panning for real gold. Ghost Town is the home of re-themed, Calico River Rapids, a white-water river excursion where rafters will encounter a variety of wild surprises such as roaring rapids, indigenous wildlife, and whimsical homesteaders. More Ghost Town thrills are found at Silver Bullet, a western-themed steel inverted roller coaster that suspends riders beneath the track and climbs to a height of 146 feet (45m), and at GhostRider, the tallest, fastest, longest wooden roller coaster on the west coast. Original favorites such as the Timber Mountain Log Ride and Calico Mine Ride, round out this spectacular area with iconic lifelike animatronics and spectacular special effects. In addition to thrilling rides, Ghost Town also features one of a kind shows for the whole family. The Calico Saloon welcomes visitors in to live entertainment, while the bartender serves up tall, cool sarsaparilla and boysenberry beer. No visit to Ghost Town is complete without witnessing a showdown between the local gunslingers at the Wild West Stunt Show, which sends guests on a rip-roarin' visit to the West when it really was wild.
Camp Snoopy
Knott's Camp Snoopy was the first-ever theme park area designed just for kids and remains one of the most beloved children's playlands anywhere. Home of Charles M. Schulz' Peanuts characters, the six-acre kid's area features design elements that reflect a day at summer camp in the California High Sierras.
Featuring over 15 kid-friendly attractions, Camp Snoopy favorites include Charlie Brown's Kite Flyers, which takes campers on a highflying adventure above the land's winding paths and babbling streams, Pig Pen's Mud Buggies that send tykes on an adventurously bumpy ride in a pint-sized off-road vehicle, and Linus Launcher which soars up, up and away in a hang glide vehicle fit for two.
For bigger kids, the modern Camp Snoopy classic, Sierra Sidewinder cannot be missed. This innovative coaster sends riders through dips and turns all while rotating on its axis! Camp Snoopy also hosts kid-friendly entertainment at The Camp Snoopy Theatre, which showcases a variety of seasonal performances starring Snoopy, Charlie Brown, along with the whole PEANUTS Gang.
Fiesta Village
Fiesta Village pays tribute to California's Hispanic roots in a beautifully themed area containing Mexican-style architecture, food, and eye-catching works of art. Thrills are in no short supply in Fiesta Village, which features park favorites such as Montezooma's Revenge®, a shuttle coaster that sends daring riders forward AND backward through a looped track, and La Revolución, which swings riders an astounding 64 feet (20m) in the air. Sol Spin brings hair-raising thrills to Fiesta Village by sending brave guests on a topsy-turvy spinning adventure over six stories high as they rotate in all directions in one of the ride's six spinning floorless gondolas. Fiesta Village is also the prowling grounds of Knott's Jaguar!, a 3-minute long coaster that journeys through Knott's mysterious Mayan temple.
The Boardwalk
Knott's Boardwalk pays tribute to the celebrated Southern California beach lifestyle and is home to California's first dive coaster, HangTime. The infinity coaster towers 150 feet over the Boardwalk area, containing gravity-defying inversions, mid-air suspensions, and a beyond vertical drop- the steepest in California. The Boardwalks also features Coast Rider, a family coaster, Surfside Gliders, on which riders pilot their own two-person aircraft for a scenic view of Boardwalk Bay, and the classic Pacific Scrambler. Boardwalk is also where you'll find thrill-seeker favorite, Xcelerator, which sends daredevils screaming 0-80 mph in just 2.3 seconds! Other gravity-defying thrills include adrenaline-rushing fun on Supreme Scream®. Located in the Boardwalk, the 2,100 seat Charles M. Schultz Theatre hosts live stage extravaganzas throughout the year, each with special effects, elaborate costumes, and breathtaking choreographed performances with the PEANUTS gang.
Explore Knott's Berry Farm
Knott's Berry Farm Attractions
From the big thrills of Silver Bullet and Xcelerator to the little thrills of Camp Snoopy, Knott's Berry Farm has the kind of fun you are looking for in a place where the fun never ends!
Special Events
No matter the time of year, there is always something unique and exciting happening at Knott's Berry Farm with our many Seasons of Fun events.
California Marketplace
Stroll through the quaint collection of shops with their treats and treasures, but your visit to the marketplace won't be complete until you've stopped in at the recently renovated Mrs. Knott's Chicken Dinner Restaurant. After all, it was Mrs. Knott's Fried Chicken that started it all!
Scare-lovers can tour Haunted Ghost Town at Heritage Ranch in Encinitas
ENCINITAS, Calif. (CNS) - The Heritage Ranch and Ovation Theatre will Friday open The Haunted Ghost Town , bringing attendees back to the Old West.
The second annual haunted trail will "transport visitors back to the Gold Rush era -- a time when some folks would do anything for a chance at striking it rich -- to explore the doomed mining town of Bitter Gulch and come face to face with the souls who remain trapped there forever," a statement from the ranch reads.
Nightly tours of the town will be offered Oct. 20-22 and Oct. 27-30 with less scary experiences suitable for young children offered from 5 to 6:30 p.m. followed by a scarier event recommended for ages 12 and older from 7 to 9 p.m., with the last entry at 8:45 p.m. Refreshments inspired by the Gold Rush era will be available for purchase.
"We're thrilled to offer San Diegans a uniquely haunting experience that transports them to another time, captures their imaginations, and gives them a good old-fashioned fright," said Artistic Director Scott Gregory, who develops a new story for The Haunted Ghost Town each year. "We've combined local history, captivating storytelling, creepy effects, and fun scares to create an immersive haunt like no other. Get ready to be haunted."
Set among restored historic buildings, this experience combines authentic details, storytelling based on local legends and the dark history of the Gold Rush and performances by professionally trained actors in period- specific costumes.
The Haunted Ghost Town is located at 450 Quail Gardens Drive in Encinitas. Admission is $12 for children ages 10 and under, and $22 for adults. Tickets are available at Events.com .
Copyright 2023, City News Service, Inc.
Sign up for the Breaking News Newsletter and receive up to date information.
Now signed up to receive the breaking news newsletter..
Click Here for Story Time Info
Skip to primary navigation
Skip to main content
Adventurer At Heart
Travel Inspiration for Adventurers
The Ultimate Guide to Arizona Old West Ghost Towns
Explore Arizona's old west ghost towns to see a glimpse into the desert's past. At one time this area was booming with mining towns. We have compiled some of our favorite areas to experience Arizona's old western influence and ghost towns by the areas they are located in.
This post may contain affiliate links. Please read my disclosure policy.
I love visiting historical sights and buildings because I get to imagine what it must have been like to live there years ago. The old west was dusty, wild and they didn't have air conditioning. If you want to learn how the natives cooled off with no AC check out Wupatki Native American Indian Ruins ,
Arizona is part of the Old West, also called the Wild West and The American Frontier. You can find old western towns across the state of Arizona.
Are there any Old Western Towns in Arizona? What about Ghost Towns?
Arizona's old west towns are still populated, some are just not as populated as they once were at their peak. Many are still considered "ghostly" due to their history.
Yes, there are still many old west towns in Arizona you can visit today.
13 Arizona Old West Ghost Towns
Let's take a road trip to some of the coolest old western towns in Arizona.
Rawhide Western Tow n
Goldfield Ghost Town
Tortilla Flat
Wickenburg (Vulture City)
Old Tucson Studios
Arizona's old west ghost towns.
The following old western towns are near the city of Phoenix .
Rawhide- Recreated Old West Town
Rawhide is a convenient spot in the city to experience a recreated old west town. Bring the whole family for a day of fun at Rawhide.
Experience what life was like in Arizona in the 1880's with mock shoot-outs, pan for gold, go on a stagecoach ride, a burro ride, a train ride or pet the animals at the petting zoo.
It is free to enter the old west town, and you need to purchase ticket for the attractions, so you can purchase a wrist band or pick attractions a la carte'. Great family fun activity in Phoenix.
Arizona Old West Goldfield Ghost Town
A visit to Goldfield Ghost Town is a great way to start your old west trip. Located on on the Apache Trail .
Visit a 1890's ghost town  located in the same spot as an authentic town once stood.
Read More about Goldfield Ghost Town …
Tortilla Flat is located along the historic Apache Trail. It is a reconstructed stagecoach stop with a general store, a saloon, a tiny museum, restaurant all along a wooden boardwalk. One of the few places that sells prickly pear ice cream. Read More about Tortilla Flat …
Wickenburg Arizona Old West Town
True West Magazine ranked this town in the Top Ten True Western Towns. Wickenburg prides itself in staying true to their old western roots.
They have several annual "western" events including The Gold Rush Days & Rodeo, Bluegrass Festival & Fiddle Championship, and the Cowboy Poetry Gathering. If you're here drive out to see Vulture City. Read More about Wickenburg. ..
The following old west and ghostly towns are in Southern Arizona.
Ok, Old Tucson Studios isn't really an old west town, but it is a cool replica of Tucson in the 1860's. The studio was originally created in the late 1930's for movie sets. In the 1960's it was restored and reopened as both a film studio and a tourist attraction.
Today you can see old movie memorabilia, buildings from movie sets, watch stuntman shows.
The Tough Too Tough To Die: Tombstone
Tombstone is most famous for the gunfight at OK Corral between the Earp brothers and the McLaury brothers. Tombstone is an old west town that was once booming because of all of the silver in the mines. It is also the location of "The World's Largest Rose." Read More about Tombstone …
The Boom & Bust Town of Clifton
The mining town of Clifton is a cool piece of Arizona boom and bust history. It was once a lively copper mining town, but visiting Clifton now is like taking a step back in time. Read More about Clifton …
The following old West Ghost Towns in North Central Arizona.
The "ghostly" town of jerome.
Jerome was once known as a bustling rowdy copper mining town. Today it is a tiny vertical town with wonderful views of the Verde Valley. There are museums and many historical buildings to explore.
Jerome's population dwindled down to as few as 50 people after the mines closed in the early 1950's. Today it is a popular tourist destination where you can experience the old west mining town and take in the gorgeous views. Read More about Jerome. ..
Prescott Arizona an Old West Town
The oldest rodeo is held annually in Prescott. In addition, if you're looking to see cowboys and bull riding visit Prescott the week of July 4th to be part of a tradition since 1888. Read More about Prescott …
You can find a few old western Arizona ghost towns in the northern part of the state, including:
An old mining camp-chloride ghost town.
Chloride is an old mining camp ghost town near Kingman. Chloride is the oldest mining town in Arizona. Due to the popularity in mining, more than 5,000 residents called Chloride home at it's peak. Read More about Chloride …
Old West Ghost Towns Route 66 Arizona
Oatman is a cool town located off the classic Route 66. Wild burros hang out on the wooden boardwalks downtown. If you want a true old west feeling, a trip to Oatman should be on your list. Read More about Oatman …
A silver mining town from the late 1800's, Hackberry is a cool historical ghost town is along Arizona's Route 66 .
Take a road trip to see remnants of Arizona's old west past.
Where are the Cowboys in Arizona?
Are there any cowboys left.
Visitors often ask, where are the cowboys in Arizona? The best places to see cowboys in Arizona are at bull riding events and horse shows. Wild horses still live here and if you're lucky you can often see them in the Tonto National Forest or near the Salt River.
Cave Creek and Wickenburg are towns near Phoenix that have definitely retained their old west flair. If you're wanting to see cowboys or girls in Arizona, we know a few places you may want to check out.
Bull Riding
Buffalo Chip Saloon in Cave Creek has live bull riding every Wednesday and Friday night.
Hogs and Horses in Cave Creek often has Wild West Shows and live bull riding as well.
The Roadrunner Restaurant and Saloon in New River has live bull riding every Saturday night.
If you want an authentic old western experience, stop by the Hitching Post in Apache Junction. Every Thursday and Saturday night they have live bull riding.
Horse Shows
Scottsdale Arabian Horse Show is an internationally renowned annual event in Scottsdale. This event has over 25 demonstrations and shows and thousands of Arabian horse lovers converge upon Westworld in February.
This post uses affiliate links. If you purchase after clicking an affiliate link we may receive small commission at no cost to you. As an Amazon Associate I earn from qualifying purchases. All opinions remain our own.
Explore more
https://adventureratheart.com/site-map/
8 Abandoned Ghost Towns You Can Visit in Ontario
1. Balaclava
Established: 1859
Dissolved: 1960s
Known For: Sawmill and lumber town
Where: Renfrew County, Eastern Ontario
This lumber town was once bustling during the height of the production in the late 1800s. Located in Renfrew County, which is in Eastern Ontario, this town has been long since abandoned after its dissolution nearly 100 years later in the 1960s. This small town was once home to a sawmill, a blacksmith shop, general store and a hotel.
The sawmill was water-powered and was the last to operate in Ontario. What remains for urban explorers are a few buildings, a dam, silo and intact sawmill that will transport you back into the 19th Century.
Although it is technically classified as a ghost town, there has been some new construction in the surrounding area.
Established: 1837
Dissolved: 1905
Known For: Lumber transportation
Where: near the Ruthven Park National Historic Site
This abandoned town is only a few minutes north of the community of Cayuga of Haldimand County, located by the Grand River, and was founded by David I. Thompson who was elected to parliament in 1841. At its height it contained mills, a distillery, a pail factory, two inns, and a Catholic church, which allowed the town to flourish to over 300 residents by 1870.
After the railway arrived in 1854, canal shipping took a steep drop. Without railway access, Indiana's industries gradually fell silent. The Thompson residence Ruthven Mansion (pictured above) still stands today and is open for tours during scheduled hours and for special events.
This is one for the casual ghost hunters of Ontario, or anyone looking to explore a bit of spooky history. The bedrooms of the mansion itself have had multiple reports of a young girl wandering the halls, as well as shadowy figures moving about the multiple graveyards.
3. Falkenburg
Established: 1854
Dissolved: 1938
Known For: The main site for the construction of the Muskoka Road in the Muskoka region.
Where: just north of Falkenburg Station
This town once thrived as one of the first locations on the Muskoka Road which was a branch of the Ontario Road Colonization Program which began in 1854 in an attempt to encourage settlement in underdeveloped areas in Ontario and to connect roads to supply centres within the lumber industry.
Due to the immense popularity of the lumber industry, Falkenburg thrived for many years, taking advantage of the wider roads used for stagecoaches. The first settlers managed to open a post office in 1872, later came two hotels, a general store, an Anglican Church, and even a schoolhouse.
Due to its location, Falkenburg appeared unstoppable. But the arrival of railways and a new station a short distance away from the town eventually removed the area's importance, forcing residents to depart and its popularity to vanish.
Established: 1894
Dissolved: 1966
Known For: Lumber mill, close to Maple Train Station.
Where: Swords, ON
This is yet another ghost town located in the district of Muskoka. And like many of the areas on our list, it thrived during the lumber boom in the late 1800s. The Sword family operated the general store and provided for locals getting off at the train station, which was closeby and aided in the towns briefly flourishing times.
The original name was Maple Lake Station but was changed in 1925 to avoid confusion with another Maple Station. Due to the constant flow of people, the Swords were able to build a post office and a schoolhouse before lumbering started declining in the 1930s. The schoolhouse dragged on until the late 1950s, as the did the post office, finally closing its doors in 1966.
The schoolhouse has since been restored as a beautiful community centre, and the general store sits weathered but still standing.
5. Vroomanton
Established: 1820
Dissolved: 1942
Known For: Farming
Where: Vroomanton, ON
This town was founded by Colonel James Vrooman, who was awarded the land after he served in the War of 1812. After establishing a grist mill, the Vrooman's were able to install a sawmill, a schoolhouse, and eventually thrived as a large farming village.
At the height of its population, Vroomanton had about 200 residents. But once the railway industry started flourishing, stations were built in nearby towns such as Sunderland, which began to thrive. Residents began to move away and follow where they could be employed.
Presently, an old wooden barn still stands, despite standing slightly rickety. A cemetery with a few gravestones remains, and the church has been replaced from a Methodist Church to a United Church.
6. Newfoundout
Established: 1914
Dissolved: 1948
Known For: A settlement without services or amenities.
Where: Newfoundout, ON
This settlement is located on the Opeongo Road in Renfrew County and was never actually established as a village or town. 13 families resided along the rocky hills and chose to farm along with the land for proper sustenance.
The closest schools, churches and post office were located along Opeongo Road. The families were able to tough it out until the 1940s when farming simply would not suffice. The area is still used today for farming and cattle grazing, while the remains of a handful of log cabins sit like skeletons along the road.
7. Burchell Lake
Established: 1959
Dissolved: 1967
Known For: Mining
Where: ON-802 off Trans-Canada Hwy
This little town only existed for a mere decade, but still has multiple houses standing for those urban explorers near the Thunder Bay area. It had almost 400 residents at its peak. The mine was mainly known for mining copper, but when the value of copper fell by 1967, the site had to shut down.
This location is easily accessible, with a number of cottages surrounding it. This includes a dozen houses, a gas station, a school, and a recreational school that is collapsed. Stunning imagery can be found of an original baseball cage outside the recreation hall, surrounding street lamps and an original fire hydrant.
8. Allan Mills
Established: Early 1800s
Dissolved: 1890s
Known For: Mining and mill town
Where: Allans Mills, ON
This town is one of the most well-preserved ghost towns that you are going to find in Ontario. It was once a thriving mining and mill town, named after William Allan, who was responsible for building the original saw and grist mills. It eventually added a small school, a general store, and a post office. It lost residents once the mill was rendered unusable from fire damage.
It is mainly referred to as a hamlet, rather than a town, due to its small size. It is a 10 km drive just outside Perth, Ontario, and is completely worth the brief detour for those photographically inclined. 
Ghost towns that have been built around/over
Cooper's falls.
Established: 1864
Dissolved: Late 1960s 
Where: Coopers Falls
This town was initially settled by Thomas and Emma Cooper, who acted as some of the main suppliers of wood in the region for lumber trade. The Cooper's were from England, arriving on a steamship with three young children. They built their own and eventually aided in the construction of a general store, churches, a cheese factory, a blacksmith shop, and a lumber mill.
Of course, once the lumber mill closed down, the town began to deteriorate. Several of the buildings still stand, and although they are dilapidated and the town is generally considered abandoned, around 14 residents still live just off the main roadway. 
Established: 1870s
Dissolved: 1960
Known For: Lumber and farming community
Where: Germania Rd, Bracebridge
This town was founded by multiple early settlers, many of whom originated from Germany, hence the name. The population increased fast with the construction of a schoolhouse, a church, two general stores, a post office, and later on, a shingle mill.
Germania is located in the Muskoka region, which has a short growing season and did not do well for the farming residents of the town. In the later 1900s, the town began to rely on their lumber production, which eventually lost its grip in popularity in the early 20th century.
There were supposedly a number of unnatural deaths that occurred in Germania during its height of success. Because of this, the town is often explored for paranormal activity.
Share this post
Was this article helpful.

Stay up to date
Get Cansumer's independent reviews, expert advice, and intensively researched deals to help keep you informed, safe and connected, for free.
25 Fun Things to Do in Kelowna with Kids
20 Best Things to Do in Kelowna, BC
13+ Best Things to do in Niagara Falls, ON
Leave a comment Cancel reply
I do not think that there are any real ghost towns left. As a paranormal investigator, I have visited many of these alleged ghost towns just to be disappointed. I am yet to find a truly abandon town in Ontario.
Allans Mills is all private property with residents living on site.
Swords is a waste of time. 1 building which is fenced off. Not worth going to at all.
My son and i checked out Germania and Coopers falls and boy what a disappointment. These are not ghost towns at all. There are new homes built there and what is left of the old towns is not worth it. Try visiting the places first before you mark them as ghost towns or abandoned towns. Don't waste your time and visiting these two.
A good thing to do, is google maps the location, throw it on satellite view and that'll show you if its abandonded and/or lived in, and you'll see newer houses, cars, stores etc built if that's the case.
Ghost Towns
12 Ghost Towns in Arizona with Wild & Woolly Histories
By D.T. Christensen Last updated October 20, 2023
Arizona's boom-and-bust mining history left hundreds of ghost towns in its wake. Here's a look at some of the most interesting ones still around today.
Since 1872, more than one million mining claims have been registered in Arizona, and that's not including the thousands of years indigenous peoples mined the state for turquoise, copper and other minerals.
Needless to say, mining is at the heart of Arizona's history — as a region, territory and state — and a century-plus of mining ambitions left ghost towns scattered throughout the Copper State.
Many abandoned towns are concentrated in key areas where precious minerals were once found in abundance: in Yavapai County, where more than 20 ghost towns lie within 25 miles of Prescott, and in southern Arizona, where towns like Tombstone, Bisbee and Ruby once thrived.
Each of these ghost towns has unique stories and timelines — some were gone within a few years, and others survived into the 21st century as revamped tourist destinations. Some were visited by presidents, and others were backdrops for famous personalities and events in Western history.
A Note About Exploring Arizona Ghost Towns
Many ghost towns in Arizona are open to the public and safe to visit. Others, especially more obscure spots, are remote and often located near old mining operations.
If you're hunting for out-of-the-way ghost towns, keep an eye out for abandoned mine shafts and other pitfalls around old mining camps. According to the Arizona State Mine Inspector , which offers info on safely navigating mine land, there are some 100,000 abandoned mine openings in the state, and it's not always obvious where they are.
Over the years, several people have died after falling into old mine shafts, so it's worth keeping an eye out while you explore the backroads and hills of Arizona.
Ghost Towns in Southern Arizona
Honorable mentions : Paradise, Agua Caliente, Fairbank, Castle Dome City, Charleston, Cochise, Contention City, Gleeson, Pearce, Total Wreck, Millville
1. Dos Cabezas
Named for two prominent peaks in the Dos Cabezas Mountains to the north, this camp was one of Arizona's longest tenured mining towns. By the late 1870s it had a post office and typical mining camp merchants — and a number of hopeful frontier families.
"The town of Dos Cabezas has twenty four houses and the population in the district numbers about 175 men and 125 women and children," reported The Arizona Citizen in February 1880. "There is a good two-story hotel, presided over by Jos. Maley, whose good cheer is the delight of all travelers."
Mines in and around the Dos Cabezas mountains supported the town, which grew to hundreds of residents within a few years. The town maintained law and order but had its share of mining camp scrapes.
In May 1879, a young man named Meyers was killed by Pat Cannon, a "quite generally known" person in the Arizona Territory, who gave Meyers a "heavy blow with a gun barrel, fracturing his skull and resulting fatally," reported The Arizona Citizen .
While many mining camps died after a few years, Dos Cabezas survived well into the 20th century, even thriving when a nearby copper mine was established in 1907. Dos Cabezas didn't really become a ghost town until the 1960s, when the mines were no longer productive and most residents moved on.
Today, there's a well-maintained pioneers cemetery in Dos Cabezas, as well as adobe ruins and old mines. For ghost town seekers looking to spend the night, there's a pleasant bed and breakfast on Highway 186.
Related read : 15 Native American Ruins in Arizona that Offer a Historic Glimpse into the Past
Deep in the Oro Blanco Mountains just a few miles north of the Mexican border, Ruby is a storied ghost town with a violent past: in a 1965 issue of Frontier Times , writer James A. Long described Ruby as "an open invitation to trouble with renegades, gun-smugglers and murderers."
Before it was Ruby, it was Montana Camp, a small but lively community sprung up near the Montana Mine in the 1870s. Julius F. Andrews took over the local camp store in 1895, applied for a post office and when it was granted in 1912, renamed the town Ruby after his wife, Lillie B. Ruby.
The following year, Andrews sold the store and post office to Philip M. Clarke, who built a new store and post office some 400 yards away, on the hill of a "padre's grave."
The local Mexican population believed the store to be cursed, and in February 1920, two Canadian brothers hired as shopkeepers for Clarke — Alex and John Frazier — were attacked in the store. Alex was murdered at the scene, and John died from his injuries the following month.
Local law enforcement had no leads, and the working theory was that Mexican bandits had looted the store and fled across the border, something that was not uncommon in that region.
Just over a year later, in August 1921, the new owners of the store, Frank and Myrtle Pearson, were ambushed by "seven armed Mexicans," according to Frank's sister Irene. The bandits killed Frank, forced Myrtle to open the store's safe before killing her, and as they left, knocked out five of Myrtle's gold front teeth.
Yet again, there were few leads in the case, but one day, Arizona Ranger Oliver Parmer got wind of an outlaw trying to cash in gold teeth at a cantina in Sasabe, Mexico. Eventually, Arizona officials and Mexican law enforcement took in Manuel Martinez and Placido Silvas for the murders.
Martinez was sentenced to death and Silvas to life in prison, but before their sentences were fulfilled, the duo escaped while being transported to the Florence prison. After they were caught in the desert some 40 miles away, Martinez was hung, and Silvas spent the rest of his days behind bars.
Back in Ruby, the Montana Mine employed about 300 men at its peak and population estimates ranged between 1,200 and 2,000, including women and children. Despite its remote location, Ruby prospered for a time, but by the 1930s, a lack of water limited mining operations. The Montana Mine finally shut down in 1941.
Today, Ruby is on private property, but you can get a permit for a day tour or overnight camping trip — check out the caretaker's website for more information.
3. Tombstone
In some respects, Tombstone is hardly a ghost town: each year, hundreds of thousands of tourists flock to "The Town too Tough to Die" to catch a glimpse of Old West history.
But like most mining camps in Southern Arizona, Tombstone had humble origins. Back in 1877, prospector Ed Schieffelin, on his march from California to Camp Huachuca with the cavalry, scoped out the San Pedro Valley and thought it looked like the kind of place you'd find silver. He may have been right, but for years prospectors avoided the area because of local Apache bands.
Schieffelin took his chances in the desert, and when he was told he'd only find his own tombstone, he used that moniker to name one of his first claims (the other was Graveyard, though it didn't produce like his Tombstone claim).
Several other claims in the area quickly produced more silver, and in short order Tombstone became one of the most bustling camps in the West. The mines in the region would produce upwards of $80 million in silver bullion through the 1880s. By 1882, more than 7,000 residents could get liquored up at some 150 saloons and restaurants around town, and it was as rowdy as it sounds.
In the mid-1880s, the mines around Tombstone began to flood, and eventually production ceased. Less than one thousands residents stuck around by the turn of the century, but a few decades later, as Western nostalgia ramped up, Tombstone reinvented itself as a tourist destination for history buffs around the country.
Naturally, the gunfight at the O.K. Corral is Tombstone's main claim to fame, but plenty of colorful characters and events took place in town over the last part of the 19th century.
Today, Tombstone retains the sepia-toned vibe visitors often picture in ghost towns, but at its peak, it was a colorful, metropolitan community that rivaled San Francisco in terms of style and flair.
"If you look at clothes left from that period, if you look at wallpaper samples and paint samples and books, people have very wild use of color, they use lime green and purples and very jarring color schemes," said Tombstone movie production designer Catherine Hardwicke in John Farkis's book The Making of Tombstone .
Despite its touristy air, Tombstone retains much of its pioneer past: in 1962, the Tombstone Historic District was named a National Historic Landmark District and today preserves several key buildings and artifacts from its heyday.
If you're a fan of Tombstone the movie, check out our favorite Tombstone quotes , what Doc Holliday meant by " I'm your huckleberry ," and see how much of Tombstone is a true story .
Related read : 6 Tombstone Filming Locations You Can Still Visit Today
Bisbee's reinvention, like Tombstone's, saved it from the fate most Arizona ghost towns faced, and today it's a lively artistic community home to an eclectic mix of residents and local businesses.
In 1877, an army expedition in the Mule Mountains found mineral deposits that would eventually become the mines around Bisbee, including the Copper Queen Mine. Over the next decades, millions of pounds of silver and copper would be dug from the mines (as well as some gold), and Phelps Dodge didn't officially cease mining operations until 1975.
Bisbee had its share of frontier shenanigans, and because it was close to Tombstone and the "Cowboys" of Cochise County, residents of Bisbee were sometimes the target of their mayhem. On December 8, 1883, six outlaws rode into a Bisbee general store, robbed the place and killed five people within just minutes.
"Besides the carnival of blood instituted by the gang, they robbed the store mentioned of about $3,000 in money," reported the Arizona Weekly Star . "The entire transaction occurred in the space of five minutes. The reports of the rifles were followed by the immediate departure of the bandits, and before the citizens could realize the danger that was upon them they had rode far out into the night."
Five of the men would be caught and hung, and the sixth — John Heath, leader of the group — was taken by a mob and lynched in February 1884.
By the 1970s, the arts and tourism took place of mining operations, and Bisbee became an under-the-radar haven for local creatives. Visitors today can still tour the Copper Queen Mine and explore the town's historic roots at the Bisbee Mining & Historical Museum .
Ghost Towns in Central Arizona
Honorable mentions : Clifton, Goldfield, Gillett(e), Ehrenberg, Silver King, Weaver
When Al Sieber supposedly staked an unofficial claim on Mingus Mountain back in the 1860s, it was hardly the first mining foray in the area: Sinagua people had mined various minerals there for more than one thousand years, and evidence suggests Spanish explorers explored the area in the 16th century.
Things didn't really take off for the mines around Jerome until the early 1880s, but when they did, blossoming operations catapulted the hillside camp into one of Arizona's largest towns.
Life in Jerome was fraught with peril: mining made the ground unstable, fires ran rampant in the late 19th century, and the market for copper swung wildly year to year. But the town managed to stick around well in the 20th century, and in the 1930s, Jerome had some of the nicest mining town amenities in Arizona, including a modern hospital and well-appointed digs, including the Jerome Grand Hotel. William Andrews Clark, owner of United Verde Copper Company, was for a brief time the richest man in the world because of the amount of ore his mines produced.
In the early 1900s, it was also one of the few mining camps that relied on electricity and railways to transport ore, making it one of the more efficient operations in the Territory. At one point, the Verde Mining District employed more than 800 men and was the largest copper producer in Arizona.
Mining wrapped up in the 1950s, but the dwindling population was rekindled by the same Western nostalgia that brought tourists to towns like Bisbee and Tombstone. In Jerome, visitors flocked to the "sliding" buildings that moved due to dynamite explosions over the years, and today many of these old buildings are found many yards from where they were originally built.
Like many mining camps, Jerome had its seedy underbelly, and in fact, there was a "tenderloin district" where brothels and madams prospered. The most famous of these was "Belgian" Jennie Bauters, who was shot by a jealous lover on September 3, 1905.
Legend has it that Jennie was the richest woman in the Arizona Territory at the time of her death, and today you can still visit Jennie's Place in Jerome, one of the few historical buildings that survived the fires that plagued the town in the late 19th century.
Related read : 8 Interesting Facts About the Arizona Rangers
In 1875, two prospectors working on Cottonwood Creek in the Bradshaw Mountains established the Tip Top silver mine, and for a few years it was a bustling camp in Yavapai County.
"On my arrival at the Tip-top mine, I found the liveliest mining camp in Arizona, with Gen. Gillette in command," wrote C.E. Hitchcock in a 1877 edition of The Weekly Arizona Miner .
A post office opened there in 1879, and at its peak Tip Top housed between 200 and 500 residents, six saloons, a hotel, restaurant, a number of merchants, and even a school. Ore was first processed at nearby Gillett, but a stamp mill and assay office were eventually founded on-site.
Unlike some of the more rowdy mining camps in Arizona, Tip Top was relatively low key, but did have its moments of violence. In 1879, James Miles, a Tip Top resident, was arrested for the murder of a man named Shannon, a Texan working in the area.
"Yesterday being pay-day he visited Tip Top, partook rather freely of the flowing bowl, met Miles at the saloon of Johnny Bostwick, had trouble with him, and finally struck him in the face with his hand when Miles pulled a revolver and Shannon was shot through the breast killing him almost instantly," reported The Weekly Arizona Miner .
Tip Top stuck around until 1895, when the post office closed and the mine played out. Today, there are ruins and foundations around the mine, but as of 2020, the road to Tip Top was closed to the public.
7. Vulture City
When 44-year-old, Austrian-born Henry Wickenburg staked his claim for the Vulture Mine in 1863, he likely didn't know it'd go down as the "Comstock of Arizona," and the richest gold mine in Arizona history.
Wickenburg supposedly discovered the quartz ledge when he was out looking for his lost burro, and spotted a vulture circling overhead. When he got to the bird, he looked down and to his amazement, spotted gold right on the ground.
"Nuggets of all sizes littered the desert next to the quartz outcrop," wrote Kent J. Keller in a 1991 issue of True West magazine. "In about an hour, Wickenburg, picked up nearly a flour-sack full of gold nuggets."
From 1863 to 1867, the Vulture Mine produced more than $20 million in gold and silver, and grew Vulture City — about 14 miles south of Wickenburg — into a raucous mining camp. At one point, it was home to 1,500 miners and their families.
In its heyday, the mine was a popular spot for local prospectors, even attracting Jacob Waltz, the "Lost Dutchman" to its operations. Some theorize that the gold Waltz "found" in the Superstitions was actually ore taken from his time at the Vulture Mine.
Vulture City and nearby Wickenburg both grew into sizable communities, but by the 1880s, the Vulture Mine played out and was sold to a New York-based mining company. They continued working the mines, while Wickenburg farmed and ranched on the nearby Hassayampa River.
On May 14, 1905, Wickenburg was found shot to death, likely by suicide, though some suspected he was murdered. The Vulture Mine was finally closed in 1942 when the government enforced a moratorium on gold mining in order to focus on war efforts.
Today, you can tour the remains of Vulture City, where you'll see a handful of buildings, as well as the "Hanging Tree," an ironwood tree 18 men were allegedly hung from over the years for "high grading," or stealing gold ore from the mine.
Related read : 15 Western-Inspired Things to do in Prescott, Arizona
8. Congress
In May 1901, President William McKinley visited Congress during a six-week tour of the West shortly after his second term began. It may seem a strange destination now, but at the time, Congress was touted as one of the next premier gold mines after Tombstone and other operations around the Territory had begun to falter.
McKinley's three-hour tour included a walk into a mine shaft and a photo with Arizona's signature saguaro cactus, then the 25th president of the U.S. headed back to Phoenix for more media opps.
Congress was established in 1884, but didn't take off until the late '80s, when Diamond Joe Reynolds sunk his financial resources into the area. By the time the president visited in 1900, there were 30 active mines around Congress, and the train station connecting the town to Phoenix — Congress Junction, some three miles away — had also become a popular stop in the region.
If you've driven from Phoenix to Prescott through Congress (instead of taking I-17), you've likely noticed how dry and rocky the community is. This was fine for mining operations, but living comfortably in that part of the desert was another matter. Residents back then — about 500 people in 1905 — all had to get their water from the same, small source.
"All water for the camp was obtained from a small spigot in front of the company's store in 'Mill Town,'" wrote James and Barbara Sherman in Ghost Towns of Arizona . "Each family had a fifty-gallon whisky barrel which could be rolled up the hill to the faucet, filled with water, then allowed to roll down the hill by its own weight."
The mines — which would produce more than $8 million in gold — and post office all closed by the 1930s, and Congress Junction, the town's railroad stop, became what is now known as Congress, where a handful of businesses and residents still remain.
Ghost Towns in Northern Arizona
Named after Olive Oatman , the young woman kidnapped by Tolkepaya Yavapai in February 1851, Oatman is a former mining camp located on historic route 66 in the Black Mountains of northern Arizona.
Like Jerome and Bisbee, the town's become a quirky stop on Western road trips: visitors come to see burros wandering the dusty streets between the few historical buildings left standing, including the Oatman Hotel (formerly the Durlin Hotel).
Mining in the area dates back to the 1860s, and in the early 1900s, a number of profitable mines put Oatman on the map. The region produced more than $13 million in gold in its few decades of operation.
The mines shut down in the 1920s and most folks left by the 1950s, when I-40 was routed around Oatman, cutting out most of its passing tourists. Today, resident burros outnumber the humans living here — no doubt part of its timeless appeal as a route 66 pit stop.
Related read : Skeleton Cave: Exploring the Salt River Cave Massacre Site
10. Chloride
Arizona's first incorporated town and oldest still-inhabited mining town is just north of Kingman, on the western flank of the Cerbat Mountains. It's a small, kitschy road stop now, but beginning in the 1860s, it was a profitable mining district that produced silver — including silver chloride, the town's namesake mineral — zinc, lead, gold and turquoise.
Their post office opened in 1871 and is the oldest operating P.O. in Arizona, though there aren't a whole lot of people around to send letters these days. At its peak, Chloride had about 75 nearby mines and was home to an estimated 2,000 to 5,000 people, but like most boomtowns, the mines played out within a few decades.
In the 1920s, famous Western author Louis L'Amour sought work at the Tennessee Mine, one of Chloride's best producers up until the 1940s. But while he was in town, a fire ripped through the main drag.
"We had come over, thinking of trying for a job at the Tennessee Mine, but the town caught fire and I found myself sloshing water over some very hot roofs," L'Amour wrote in his memoir, Education of a Wandering Man . "The water was passed up to me from below, and taken from barrels kept for the purpose along the streets. There weren't enough barrels and we lost a good fight."
If you drive through Chloride today, check out the historic museum, Shep's Miners Inn , some of the old buildings still standing, and the murals painted by artist Roy Purcell east of town.
11. Two Guns
There's no other way to put it: the history of Two Guns is batshit crazy, though it's less of a ghost town than a ghost "pit stop" along I-40, about halfway between Flagstaff and Winslow.
Long before it was a midcentury tourist trap, the area around Two Guns and nearby Canyon Diablo was home to various indigenous groups, including Navajo and Apache, who would often skirmish in the region that bordered both tribes' homelands.
According to legend, in one 1878 battle, a group of Apache raiders on the run from Navajo holed up in a cave in Canyon Diablo. Upon discovering the Apache, the Navajo group trapped their enemies in the cave, blocking the entrances and lighting desert brush on fire to suffocate the warriors inside. Apache who attempted to flee were shot down on sight.
"In a wild rage the Navajos poured a stream of bullets into the cave mouth but of course hit no enemy," wrote Gladwell Richardson in Two Guns, Arizona . "Again the passageway was refurbished with flammable material and kept burning furiously like the pits of hell. At first not too much smoke poured up through the cracks but finally it drifted against the starlit sky unabated. The last desperate measure of the Apaches to escape death by asphyxiation had failed."
In the early 1880s, the Atlantic and Pacific Railroad came through just north of Two Guns, in Canyon Diablo, and for a time the railroad workers created a makeshift town that was just as wild and murderous as anywhere else on the frontier. Railroad workers waiting for the line to reorganize its financing had plenty of entertainment in the desert, including 14 saloons and a number of brothels and gambling halls.
In the 1920s, the spot now known as Two Guns was purchased by Earle and Louise Cundiff, who built a store, restaurant and gas station right off the highway. A few years later, the Cundiffs leased some of the land to Harry E. Miller, who had even more ambitious plans for the highway stop. Among other ventures, Miller built a zoo, complete with mountain lions and Gila monsters.
"He has a Gila monster farm, an interesting and rapidly growing zoo of southwestern animal and reptile life, and plans soon to put in a moving picture plant, to show along with the movies, slides advertising the more scenic points around Flagstaff," reported The Coconino Sun in March 1925.
The following year, Miller and Earle Cundiff got into an argument over the terms of their lease, and Miller shot and killed Cundiff. Miller was acquitted and moved on, and Louise Cundiff would later open a new, improved gas station and zoo.
Strange but true.
For a few decades small roadside businesses lingered at Two Guns, but by the 1960s there weren't enough tourists stopping to support the Cundiffs' grand vision. A fire in 1971 destroyed the service station, and today there's all sorts of wild graffiti on the ruins of the nearby KOA and other buildings.
If you have the time, it's well worth reading Richardson's full account of Two Guns, especially if you're heading out to the area on a classic route 66 road trip.
Related read : 10 Fascinating Facts About Jack Swilling, the Founder of Phoenix
12. Goldroad
Just a few miles north of Oatman on historic route 66 lies Goldroad, a low-grade gold mine that produced more than $7 million in the early 1900s. Gold mining in the area dates back to the 1860s, but it wasn't until prospector Jose Jerez went out looking for his burro — much like Henry Wickenburg — that he stumbled upon the claim that would become Goldroad Mine, around 1899.
At its peak, Goldroad was home to about 400 residents, mostly miners housed near the mines. Today, there are numerous mines throughout the area, and one recent visitor said he stopped at the main Goldroad Mine, which is still in production, to take photos. "Just drive safe throughout his road. It has a huge history of lives lost along the stretch from the mine all the way to Cool Springs Station."
If you're on that stretch of historic route 66, you can stop at Sitgreaves Pass View Point just before Goldroad for sweeping views of the surrounding desert.
What to Read Next
7 Facts about Johnny Ringo You Won't Learn from Movies
10 Famous Guns of the Old West, from Revolvers to Rifles
20 Wild West Towns Where You Can Still Experience the Frontier
8 Murderous Facts about John Wesley Hardin
17 Old West Insults, from Greenhorns to Bluebellies and Everything in Between
References & Further Reading
OldWest.org strives to use accurate sources and references in its research, and to include materials from multiple viewpoints and angles when possible.
Austin, N. (2020). Arizona Ghost Towns: 50 of the State's Best Places to Get a Glimpse of the Old West . Arizona Highways Books.
Heatwole, T. (1991). Ghost Towns and Historical Haunts in Arizona . American Traveler Press.
Hinckley, J., & James, K. (2010). Ghost Towns of the Southwest: Your Guide to the Historic Mining Camps and Ghost Towns of Arizona and New Mexico . Voyageur Press.
Richardson, G. (1968). Two Guns, Arizona . Blue Feather Press.
Sherman, J. E., & co-author, S. B. H. (1988). Ghost Towns of Arizona . University of Oklahoma Press.
Tatterson, S. (2018). Abandoned Arizona: Ghost Towns and Legends . Arcadia Publishing.
Varney, P. (2010). Arizona Ghost Towns and Mining Camps: A Travel Guide to History . Arizona Highways Books.
by D.T. Christensen
D.T. Christensen is the founder of OldWest.org, a history website committed to sharing and preserving stories of the American West. He was born and raised in Phoenix, Arizona, studied journalism at Northern Arizona University, and also writes for Territory Supply and True Crime Time .
Discussion (0)
Leave a reply cancel reply.
Your email address will not be published. Required fields are marked *
Related Posts
Chisholm Trail: The West's Greatest Cattle Route
The Chisholm Trail is renowned for cattle, cowboys, chuck wagons, and nearly everything iconic about the Old West.…
9 Reasons Why Fort Bridger was the Worst Fort on the Oregon Trail
Between the early 1840s and the end of the 1860s, more than 400,000 settlers traversed the 2,170-mile Oregon…
7 Tantalizing Stories of Lost Treasure in Oregon
Even if all you had to go on was what you learned in movies, you probably know that…
10 Places to See Native American Pictographs & Petroglyphs in the West
Humans have been creating rock art since paleolithic times. The oldest known of which (so far) is cave…
When it comes to Old West towns, most people think of empty dirt streets filled with tumbleweeds and…
Advertisement
Investigate the remnants of these 11 us ghost towns, share this article.
Walking down the street of Rhyolite, Nevada, facades of empty buildings loom over me. Nobody is here but my husband and me — and some wild burros giving me the stink eye. A creepy feeling comes over me as I stand in this empty town that was once full of thousands of gold miners with dollar signs in their eyes. Now, the lights and power have been off for over a century.
The Merriam-Webster dictionary defines a  ghost town  as "a once-flourishing town wholly or nearly deserted usually as a result of the exhaustion of some natural resource." Lots of people like me feel the lure of these empty places, which are most common in the spacious western United States. Make the most of Halloween season by exploring these 11 ghost towns in all their spooky glory.
1 Rhyolite, Nevada
Rhyolite's bottle house. / Photo by Teresa Bergen
Just outside  Death Valley National Park , Rhyolite is one of the best ghost towns I've ever visited. Many buildings are still at least partially standing, including a three-story bank and the old jail. There's a fabulous house made from old bottles and an intact train depot. Watch out for the wild burros.
2 Shaniko, Oregon
Photo by Analise Schallig
Once known as the Wool Capital of the World, Shaniko was shipping over 2,000 tons of wool and a million bushels of wheat in 1903. But after rail lines changed, this north-central Oregon town was bypassed. Water issues prevent large-scale tourism, but many people visit each year to look at the jail, wooden water tower, school, post office, and other Old West-style buildings. And this year, the  Shaniko Hotel  reopened, letting guests step back in time to spend a night in the early 1900s.
3 Bodie, California
Photo by CALChux
This gold rush town on the western slopes of the Sierra Nevada dates back to 1859. It boomed to a population of about 10,000 people and 2,000 structures but started to bust in 1881. Now,  Bodie  is designated a national historic site and a state historic park, which rangers preserve in a state of "arrested decay." There's still lots to see here.
4 Cisco, Utah
Photo by Teresa Bergen
In 1924, people discovered natural gas, oil, and turquoise near this Utah town. But freeways left Cisco behind, and it was officially abandoned in the 1990s. However, artist Eileen Muza has given  Cisco  a new lease on life. She bought the ghost town in 2015 and has been turning the ruins into artwork. I was excited to visit Cisco, but once I arrived, I felt totally creeped out — like I was being watched from multiple directions — and had to leave.
5 Randsburg, California
Randsburg is sometimes called "a living ghost town" because it's semi-inhabited and semi-deserted. In the town's heyday, miners extracted 60 million dollars worth of gold from  Randsburg . Now, if you're lucky, the saloon might be open, and you can get a sandwich or drink.
6 Antelope, Oregon
With a population of about 46 and lots of old buildings, Antelope is an almost-ghost town. This north-central Oregon town feels like it's in the middle of nowhere. Also, Antelope was the nearest town to  Bhagwan Shree Rajneesh's  infamous 1980s commune. Cult members even got Antelope's name changed to Rajneesh for a few years.
7 Old Shasta City, California
Photo courtesy of visitredding.com.
Old Shasta,  located in  Shasta State Historic Park  just outside  Redding , was a bustling gold town in the 1850s. Today, its ruins and informative signage make it a top place for ghost town travel. Rumor has it that ghosts haunt the preserved remains of the jail and courthouse.
8 Jerome, Arizona
Photo by Mike McBey
This former copper mining town sprang up in 1916 and went bust in 1953. A few people stuck around to promote it as a ghost town. Now, it's part ghost town, part regular town of nearly 500 people. Visit and stay overnight in the  Jerome Grand Hotel . You can also find  espresso  and award-winning wine — pretty classy for a ghost town.
9 Bisbee, Arizona
Inside the Queen Bee Mine. / Photo by An Pham, courtesy of Visit Arizona
With nearly 5,000 people, Bisbee bills itself as a living ghost town. If you like to balance exploring the ruins of mines with shopping in boutiques and art galleries, Bisbee is a good destination. Take a ghost tour, visit a haunted pub, or have the ghosts come to you by staying in the 1902  Copper Queen Hotel . Best of all, you can go underground and tour the former Copper Queen Mine.
10 Clayton, Idaho
At last count, less than 10 people still lived in  Clayton , which averaged more than a million pounds of lead and silver production per year at the beginning of the 1900s. If you like off-roading, rent an ATV from  Polaris Adventures  for a self-guided tour of the surrounding area.
11 Animas Forks, Colorado
Photo by robert thigpen
Twelve miles from Silverton, at 11,200 feet in the San Juan Mountains, you'll find the ruins of a mining community dating back to the 1870s. The high altitude made it difficult to live here. In 1884, 25 feet of snow fell during a 23-day blizzard. Residents dug tunnels to travel between buildings. To reach the town, you'll need a jeep or other off-road vehicle.  Polaris Adventures  in Silverton can help you make arrangements.
We occasionally recommend interesting products and services. If you make a purchase by clicking one of the links, we may earn an affiliate fee. Outdoors Wire operates independently, though, and this doesn't influence our coverage.
Most Popular
10 luxurious us hot springs resorts you'll really want to visit, race around the world in these 30 destination half-marathons, what you should know about joshua tree's most haunting landmark, 23 of the best places to see cherry blossom trees bloom in the us, follow a butterfly boardwalk to the monarch habitat at natural bridges, koala facts that will change how you think of these cute animals, 8 things to know before visiting a japanese onsen.
Please enter an email address.
Thanks for signing up.
Please check your email for a confirmation.
Something went wrong.
A Haunting in Manhattan
Lizzie and Kaitlyn try to find ghosts, but all they see is Anderson Cooper's apartment.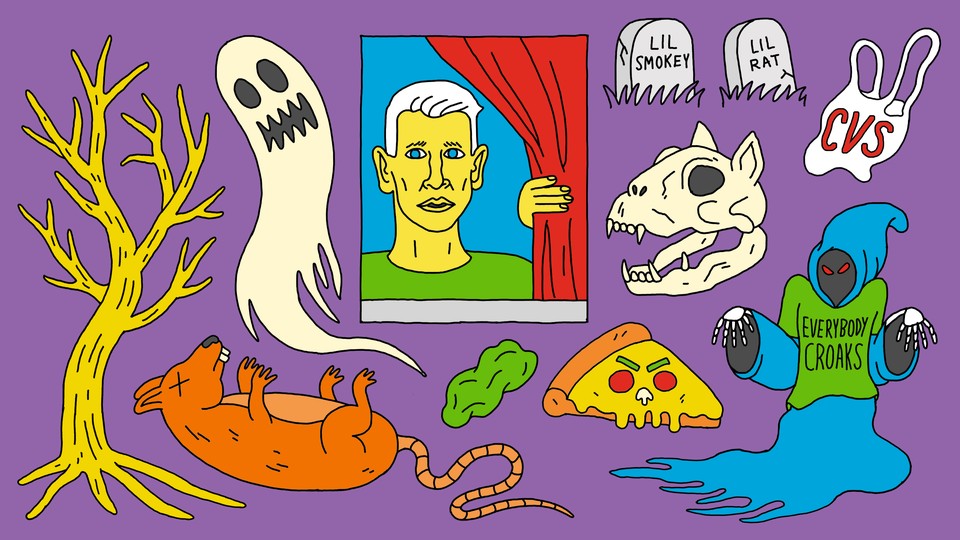 Sign up for Kaitlyn and Lizzie's newsletter here .
Lizzie: What am I most afraid of? Being the last to die. Dying. Being put into one of those freezing morgue drawers while I'm still alive. Cottage cheese. Sometimes Matt hides in the dark and jumps out when I least expect it. My heart stops!
Not ghosts. I'm not afraid of ghosts. Probably because their task lists aren't really that scary. In Beetlejuice , the ghosts just want to stop their house from having a new design scheme. In The Amityville Horror , it's basically the same thing. Ghosts are kind of like anti-house-flippers.
Last week, Kaitlyn, Nathan, and I went on a ghost tour of the West Village. It was sort of like apartment hunting, except the broker listed everyone who'd died at each apartment, and you weren't allowed to go inside anywhere. Kaitlyn had done a West Village ghost tour several years prior, so she was kind of an expert on the whole thing.
Kaitlyn: I told Lizzie that I was down to repeat my West-Village-ghost-tour experience because the first outing had lacked a little something. Or a few things. It was a second date lacking in all romantic chemistry; the tour lacked participants aside from the two of us. The tour guide was also lacking in her memory of most of the basic facts of every ghost story she was supposed to tell. She was, however, wearing a cape. And she was very nice.
Gosh, that evening was such a challenge. But this one, I thought, would make things right: I would learn all about the ghosts in my favorite city in the world, and I would get to do it with my friend Liz.
To be clear, I'm not afraid of ghosts either, and I am saying that to bait one into revealing itself to me, which would be incredible. To me, the scariest things are bedbugs, the ocean, and the thought of anybody being mean to one of my sisters. And dying.
Lizzie: Here's something scary: Before the ghost tour, I ate what I think might be the worst slice of pizza I've ever had in New York. It was at one of those tiny, narrow places—just a door at one end and pizza at the other. The lights inside were blinding. The pizza was so hot that when the guy handed it to me, a majority of the cheese slid off the slice and congealed on the paper plate. The crust tasted like nothing. Really, I should've known that this was a bad idea when I saw an ingredient list for the dough taped to the cash register: coconut oil, potato starch … Now that I'm revisiting this experience, I'm having a real-time sinking feeling that the pizza was gluten free. If your pizza is gluten free, it should be more obvious!
I met Kaitlyn at our tour's designated meeting place, and our tour guide came over to introduce himself and say that we'd be heading out soon. Nathan showed up just as we were leaving, and he looked at our guide with a flicker of recognition. They knew each other! (From college, we found out later.) We soon learned that this was our guide's first tour. I'm not sure if Nathan's familiar presence was a comforting one to him. There were six of us in total, plus the guide: me, Kaitlyn, Nathan, a couple, and a woman who we would later learn worked at the ghost-tour company and seemed to be scoring our guide's performance.
Kaitlyn: Liz was really upset about her pizza. We talked about it for a while. I told her that sometimes, when I get a classic New York slice, I tell the guy, "You don't have to heat it up!" This helps with avoiding third-degree burns inside my mouth. It also makes me look absolutely crazed for pizza, unable to wait 30 seconds for it to be brought above room temperature. It's a trade-off, like anything, but it's only you who has to live with a floppy roof-of-mouth blister for several days after a cheese incident. I don't have any advice about the possible gluten-free element she's adding now.
Anyway, if I can offer some more detail about the people that Lizzie identified: Our guide was a former soccer teammate of Nathan's who had recently moved to New York for acting school. His supervisor was wearing a T-shirt that said Everybody Croaks , and the couple were certainly tourists. The guy was carrying a small CVS bag, which signaled "forgot my toothbrush on this trip," and the woman at one point said, "Oh, I want to go to a thrift store tomorrow." She thought Lizzie and I were being rude, because we were taking notes on our phones, which can look a lot like texting incessantly. Nathan noticed her pointed looks in our direction and let us know. That's why we have far more detailed notes for the first half of the tour than for the second half, when we pivoted away from our responsibilities as journalists in order to prioritize signaling our perfect politeness to a total stranger.
The first stop on the tour was a plaque having to do with Edgar Allan Poe, and the second was a 19th-century firehouse on 3rd Street, which is supposedly haunted by a man named Schwartz whose wife cheated on him, leading him to jump off the roof. The firehouse is now a private residence owned by Wolf Blitzer, our guide told us. "Wolf Blitzer?" I typed into my Notes app (before learning that I was offending somebody by doing this). I was 100 percent sure that the firehouse was owned by Anderson Cooper the last time I took this tour, but I reasoned that anything could have changed in the 400 years that have passed since I was 22.
Well, tragically, our guide was soon forced by his note cards to correct himself and inform us all that the firehouse was actually owned by Anderson Cooper. After he said this, we all took another long look through the huge windows on the front of the building, none of which have curtains. We were more interested in glimpses of Anderson Cooper's lighting fixtures and personal belongings than we had been in Wolf Blitzer's. I was also interested in how much the house cost, which, according to public property records, was $4.3 million in 2009.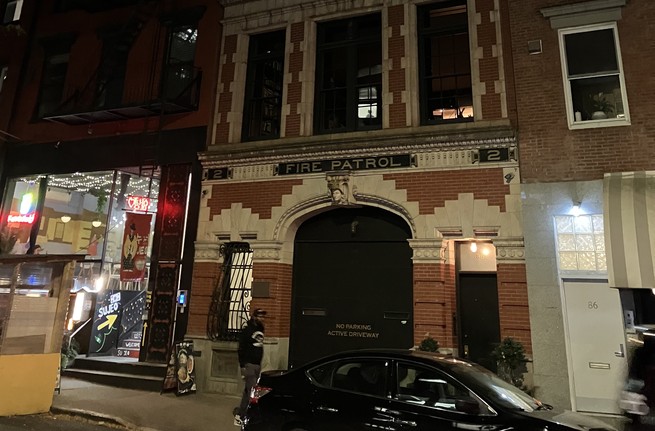 Lizzie: After Anderson Cooper's haunted apartment, we strolled over to Washington Square Park, where we learned that the arch is hollow (and probably full of spirits). "Does anyone know what a potter's field is?" our tour guide asked. Kaitlyn's hand shot up. She knew the answer: It's basically a giant burial site. Our guide told us that about 20,000 people were buried in the park in the late-18th and early-19th centuries, and that, if you dig deep enough, you might hit bone.
I recognize that some creative license is required when you're trying to scare adults in the West Village on a Wednesday night, but I think the bones would be gone by now, right? I can't Google "how long does it take bone to disintegrate," because it could be used against me in a murder trial.
While all of this was happening, Ghostbusters: Afterlife was playing on a giant screen within throwing distance, so our guide's stories were punctuated by loud blasts and indecipherable dialogue. As we stood there, a man walked by and yelled, "New movie tomorrow: the stranger on your back! The stranger on your back!" It was, if not unsettling, not fully settling either.
Kaitlyn: That guy was a freak, which I loved. Ever since Stomp closed, I have been looking for a new way to experience " the rhythm of New York ," and this ghost tour was it! You get everything. You get people shouting things that make no sense. You get a guy biking on the sidewalk, laughing to himself. You get another guy blasting a Major Lazer song out of his van while he attempts to parallel park where you are currently walking.
Returning to the potter's-field question, I just want to set something straight: Lizzie accused me of having learned this information from my previous ghost tour, but that's wrong—I knew it before that. (She also wondered if the term is a reference to Mr. Potter's crummy housing development in It's a Wonderful Life . It's vice versa .) As the tour went on, I felt myself kind of wishing that our guide would ask more questions that I could answer. It just goes to show that you're always the person you were in high school.
Moving on! In the park, our guide showed us an enormous tree, known as "The Hangman's Elm." Many had died there, but the tree was flourishing. "The blood must be good for it," Lizzie said, shrugging. Then the guide told us that Stanford White, the guy who'd designed the Washington Square Arch, was murdered by an oil heir on the roof of Madison Square Garden in front of hundreds of people, inspiring a movie called, appropriately, Rooftop Murder . (The full story behind this incident turned out to be a little grosser than our guide felt the need to share during a fun outing. Thank you for your restraint.) On our way out of the park, we passed a woman wearing a sweatshirt that read Kim Is My Lawyer , presumably referring to Kim Kardashian.
Lizzie: We kept walking, sometimes making what felt like wrong turns. But what's more straight-out-of-a-horror-movie than making a wrong turn? At one point, our guide started to jaywalk and then thought better of it, leading us instead to the safety of a crosswalk: "We don't need to create any more spirits tonight." One-half of the couple on our tour said, "I'm surprised more people don't die on these streets every day."
Kaitlyn: We stopped by Aaron Burr's house and talked a bit about his bummer of a life. More exciting was a house on Gay Street , once lived in by the Prohibition-era mayor Jimmy Walker, who ran a speakeasy there called the Pirate's Den. (Can anybody imagine having a comically corrupt mayor who is obsessed with clubbing?) The ghost element of this story was that the house was later lived in by the guy who created the scary pulp-fiction character "The Shadow" and seemingly willed it to actual life through his obsessive derangement—at least according to a puppeteer who lived there after him and was afraid that this was the case.
The lot next to the house was vacant. The guide told us that this was because an architect had been remodeling the building and accidentally destroyed its physical integrity while doing so. What! How does that happen? Nathan thought that maybe the guy put a water slide in the middle of it.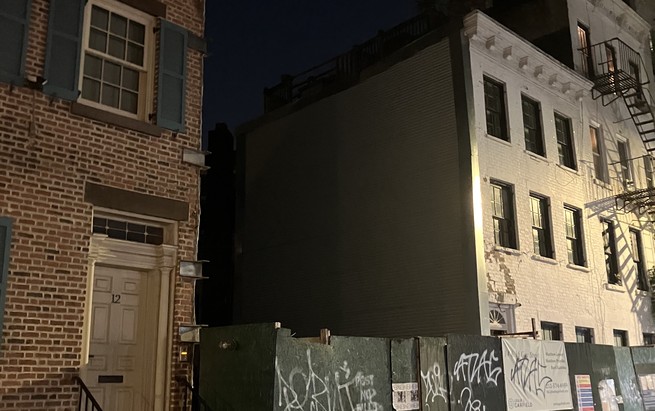 Lizzie: Our last stop on the tour was my favorite, and I'll tell you why. The building was known as "The House of Death," and, as an example of the many terrifying and unexplainable happenings within its walls, our guide told us this: One morning, the family woke up and found a shriveled grape on their table. A clear sign of spirit activity. A shriveled grape! I could feel my pulse quicken.
After the grape story, the tour came to a close. The group quickly splintered. We had a lot to think about, such as How related was Edgar Allan Poe to his wife? and When does a shriveled grape become a raisin?
Kaitlyn: And Does Anderson Cooper enjoy that people stop in front of his house and peer into his windows every night throughout the month of October? Also, does he mind how noisy that block is? Actually, does that affect the property value?
As we ambled back to the subway, I also thought about how there must be ghosts all over this town. The West Village has no unique claim on haunting. I mean, forget the 20,000 people buried in Washington Square; there are 1 million people buried under the new park on Hart Island, in the Bronx. There are, famously, more dead people in Queens than living ones! And the Brooklyn apartment I live in is 100 years old—surely some previous tenant isn't enamored with our Ikea bookshelves?
Lizzie: On the way home, I almost stepped on a dead rat, paws up, on its back, in the middle of the sidewalk. If I were to be haunted by the ghost of anything, it would be a rat.
Kaitlyn: Actually, if Lizzie were going to be haunted by the ghost of anything, I think it would probably be the feral cat she and Matt once named Lil Smokey and were feeding pieces of hot dog for a while.
Did someone forward you this newsletter? Sign up here.