God of War Ragnarok Walkthrough & Guides Wiki
Walkthrough
Tips and Tricks
How to Beat Flame Phantom: Boss Fight Guide
★ God of War Ragnarok is out now in all regions! ┗ Walkthrough | Bosses | Realms | Items ★ Check out our best Tips and Tricks guides to get started! ┗ Best Skills | Best Armor | Beginners Guide ★ Locations for all Collectibles found in God of War Ragnarok! ┗ Nornir Chests | Ravens | Idunn Apples | Artifacts
The Flame Phantom is a main story boss in God of War Ragnarok (GoW Ragnarok). Read on to learn about its attack patterns, rewards, and the best tips and strategies for how to beat the Flame Phantom!
List of Contents
How to Beat Flame Phantom
Flame phantom attack patterns.
Flame Phantom Overview
Information, rewarded resources, rewarded runic attacks, flame phantom location, location summary.
The Summoning Quest Walkthrough
Always Close the Gap
After getting hit multiple times, the Flame Phantom tends to reposition far away from Kratos . Close the distance with the Flame Phantom as much as possible when it runs away to maximize your damage uptime and force it to use its more predictable melee attacks .
Attack the Core to Build Up Stun
To make the Flame Phantom vulnerable, build up its stun meter by attacking its purple runic core . We recommend throwing the Leviathan Axe from afar or dealing damage with the Blades of Chaos at midrange to quickly fill up the boss's stun meter.
Hit the Glowing Core to Force Staggers
After the Flame Phantom performs certain attacks, its runic core begins to glow and becomes an active weak spot for a short period. Hitting this glowing core staggers the boss instantly , so stay vigilant and always hit this weak spot when it comes out.
Destroy the Runic Springs
Expose the Third Hidden Runic Spring
In contrast to the Frost Phantom fight, a third Runic Spring hides behind a stone pillar on the left side of the arena. Throw and detonate a Draupnir Spear toward the pillar's glowing weak spot to expose the Runic Spring and destroy it to remove the last third of the boss's health bar .
Utilize Atreus's Attacks
Maintain your damage output and stun build-up while closing the gap toward the Flame Phantom by utilizing Atreus' arrows and Runic Summons . You can also weave Atreus' shots between melee attacks while the boss is staggered to further enhance your damage output during the fight.
Sweeping Attack Combo
The Flame Phantom performs a long-range horizontal sweep with one of its tendrils before following it up with a vertical overhead slam . Block or parry each sweeping attack as it comes out to effectively deal with this combo.
Later in the fight, the Flame Phantom can continue this combo with a Magma Shockwave and an unblockable Twin Lava Slam , so prepare to block and dodge these follow-up attacks when they occur.
Heavy Magma Sweep
The Flame Phantom winds up one of its tendrils before sweeping it across the area in front of it, shooting out clusters of magma that inflict Burn and breaking Kratos' guard on impact.
To deal with this attack up close, react to the yellow ring indicator and parry the sweeping tendril to leave the Flame Phantom open for a counterattack. At farther ranges, dodge out of each magma cluster's path to avoid taking heavy Burn damage.
Twin Lava Slam
The Flame Phantom lifts one of its tendrils before using it to perform two unblockable overhead slams , inflicting Burn on hit and leaving lingering flames on the ground.
React to this attack's red ring indicator and dodge sideways to avoid each incoming slam, then reposition away from the lingering flames to avoid taking unnecessary damage.
Lava Geysers
The Flame Phantom causes lava geysers to well up around Kratos' position, detonating them after a short delay . Immediately dodge backward out of their radius to avoid getting hurt.
Later in the fight, the Flame Phantom modifies this attack and spawns clusters of lava geysers instead, increasing their effective radius . Prepare to dodge a farther distance when this attack variant occurs.
Magma Shockwave
The Flame Phantom takes on a distinct circular shape before firing a wide-reaching magma shockwave toward Kratos, dealing moderate damage on hit. Block this attack using Kratos' shield to avoid getting hit.
The Flame Phantom imbues runic energy into the ground before letting out an unblockable lava quake in a small area around it, causing Burn build-up and dealing heavy damage. To deal with this attack, react to its red ring indicator and dodge away from the quake's radius.
The Flame Phantom takes on a wave-shaped form , increasing in size before performing an unblockable body slam . This unblockable attack covers a wide area , so react to its red ring indicator and immediately roll out of its path to avoid getting hurt.
God of War Ragnarok Related Guides
Main Bosses
Optional bosses.
We at Game8 thank you for your support.
In order for us to make the best articles possible, share your corrections, opinions, and thoughts about 「How to Beat Flame Phantom: Boss Fight Guide | God of War Ragnarok (GoW Ragnarok)」 with us!
When reporting a problem, please be as specific as possible in providing details such as what conditions the problem occurred under and what kind of effects it had.
Do you want to send this information?
Walkthrough Menu
God of War Ragnarok Top Page
Story Walkthrough
Main Quests Walkthrough
Surviving Fimbulwinter
The Quest for Tyr
Old Friends
Groa's Secret
The Lost Sanctuary
The Reckoning
The Runaway
Into the Fire
The Word of Fate
Forging Destiny
Unleashing Hel
Creatures of Prophecy
Unlocking the Mask
Hunting for Solace
The Summoning
The Realms at War
Favors (Side Quests)
List of All Favors
The Eyes of Odin
Secret of the Sands
Path of Destruction
A Viking Funeral
In Service To Asgard
Last Remnants of Asgard
Across the Realms
The Broken Prison
Song of the Sands
The Crucible: Trials of Muspelheim
Fit for a King
Nine Realms in Bloom
Born From Fire
Guiding Light
Animal Instincts
Sigrun's Curse
A Stag for All Seasons
The Elven Sanctum
Cure for the Dead
The Desert Door
Freyr's Gift
Trail of the Dead
Spirit of Rebellion
The Lost Treasure
Garden for the Dead
The Weight of Chains
Conscience for the Dead
Casualty of War: The Toy
Casualty of War: The Brooch
Casualty of War: The Hourglass
Casualty of War: The Scroll
Casualty of War: The Stein
Freya's Missing Peace
Scent of Survival
For Vanaheim!
Return of the River
The Mysterious Orb
What Lies Below
In the Dead of Night
Beginner's Guide
Difficulty Settings Explained
How to Heal and Increase Max Health
Best Settings for Graphics and Performance
Stats Explained: All Stats and How They Work
How to Upgrade Equipment
Leveling Guide: How to Raise Your Level
How to Parry
Best Skills
Best Weapon Attachments
Best Runic Attacks
Best Relics
Best Enchantments
How to Farm XP
All Status Effects Explained
How to Farm Hacksilver
What Does Killing Bugs Do?
How to Use Quick Turn
How to Get Idunn Apples
How to Get Horns of Blood Mead
How to Transmog Gear
How to Unlock the Compass
Ragnarok Ending Explained: Does Kratos Die?
How to Unstuck Yourself in Yggdrasil
Tavern Glitch: How to Fix the Dwarf Bug
Does God of War Ragnarok Have New Game Plus?
How to Skip Cutscenes
How to Break Cracked Ground and Floors
How to Recover Lost Items
How to Fast Travel
Invasive Species: All Crater Hunts Guide
How to Fully Repair Amulet of Yggdrasil
Full Gulfa Trophy Guide
List of Bosses
Story Bosses
The Huntress
Vanadis (Freya)
Forest Ancient
Frost Phantom
Frost Ancient
Flame Phantom
Hrist and Mist
The Hateful
The Corpse Eater
List of All Items
All Collectibles
All Artifact Locations
All Nornir Chest Locations
All Yggdrasil's Dew Locations
All Legendary Chest Locations
All Flowers Location
All Book Locations
All Things Left Behind Artifact Locations
All Stolen Treasures Artifact Locations
All Family Crests Artifact Locations
All Tributes to Freyr Artifact Locations
Beastiary Guide: List of All Enemies
List of Weapons
Leviathan Axe
Draupnir Spear
All Shields
Guardian Shield
Stone Wall Shield
Dauntless Shield
Shatter Star Shield
Onslaught Shield
List of All Armor
List of All Armor Sets
List of All Kratos Armor
List of All Atreus Armor
List of All Freya Armor
List of All Equipment
All Leviathan Axe Attachments
All Blades of Chaos Attachments
All Shield Attachments
All Enchantments
List of All Skills
All Leviathan Axe Skills
All Blades of Chaos Skills
All Atreus Skills
Runic Attacks
All Runic Attacks
All Leviathan Axe Runic Attacks
All Blades of Chaos Runic Attacks
All Draupnir Spear Runic Attacks
All Sword Runic Summons
All Bow Runic Summons and Abilities
Realms and Regions
All Realms and Regions
Svartalfheim
List of All Characters
Main Characters
Side characters, antagonists, patch notes.
All Patch Notes
Day 1 Patch Notes (v.2.00)
Update 2.01 Patch Notes
Update 2.02 Patch Notes
Update 2.03 Patch Notes
Update 2.04 Patch Notes
News and Game Info
Does God of War Ragnarok Have Cheats?
Does God of War Ragnarok Have Multiplayer?
How to Unlock Photo Mode
How Long to Beat Ragnarok?
Ragnarok Full Story and Plot Summary
Trophy Guide and List of Trophies
How to Preload and Start Date
New Features and Game Mechanics
Is God of War Ragnarok on PS4?
Release Date Countdown
All Available Platforms
All Editions and Where to Buy
Pre-Order Guide and Bonuses
List of All Official Trailers
Limited Edition DualSense Controller
Is God of War: Ragnarok a Sequel?
Cast and List of Voice Actors
Does God of War Ragnarok Have Cross-Save?
Is God of War Ragnarok Coming to Xbox?
Does God of War Ragnarok Have DLC?
Other God of War Wikis
God of War (2018)
1 Sword Locations and List of Swords
2 Niflheim's Justice: Information,...
3 How to Get Hel's Touch: Effects,...
4 How to Get Vindsvalr's Windstorm...
5 What Does Killing Bugs Do?
We could not find the message board you were looking for.
Gaming News
Super Mario Bros Wonder Review
Total War: PHARAOH Review
Ghostrunner 2 Review
Assassin's Creed Mirage Cat with AC Logo Pattern a Purrfe...
More Gaming News
Popular Games
Genshin Impact Walkthrough & Guides Wiki
Starfield Walkthrough & Guides Wiki
Honkai: Star Rail Walkthrough & Guides Wiki
Pokemon Scarlet and Violet (SV) Walkthrough & Guides Wiki
Baldur's Gate 3 Walkthrough & Guides Wiki
Monster Hunter Rise: Sunbreak Walkthrough & Guides Wiki
Pokemon UNITE Walkthrough & Guides Wiki
The Legend of Zelda: Tears of the Kingdom Walkthrough & Guides Wiki
Fire Emblem Heroes (FEH) Walkthrough & Guides Wiki
Diablo 4 (D4) Walkthrough & Guides Wiki
Recommended Games
Super Smash Bros. Ultimate Walkthrough & Guides Wiki
Pokemon Legends: Arceus Walkthrough & Guides Wiki
The Legend of Zelda: Breath of the Wild Walkthrough & Guides Wiki
New Pokemon Snap Walkthrough & Guides Wiki
Hyrule Warriors: Age of Calamity Walkthrough & Guides Wiki
FF7 Remake Walkthrough & Guides Wiki
Elden Ring Walkthrough & Guides Wiki
All rights reserved
©2022 Sony Interactive Entertainment LLC. God of War is a registered trademark of Sony Interactive Entertainment LLC and related companies in the U.S. and other countries. "PlayStation Family Mark", "PlayStation", "PlayStation Studios logo", "PS4", and "PS5" are registered trademarks or trademarks of Sony Interactive Entertainment Inc. Sony Interactive Entertainment Privacy Policy & EULA The copyrights of videos of games used in our content and other intellectual property rights belong to the provider of the game. The contents we provide on this site were created personally by members of the Game8 editorial department. We refuse the right to reuse or repost content taken without our permission such as data or images to other sites.
God of War Ragnarok's Phantoms Strike A Fine Balance Between Combat and Exploration
God of War Ragnarok's Phantoms are mostly corporeal and require players to pay attention to their surroundings just as much as fighting the enemy.
PLEASE NOTE: This Article Contains SPOILERS for God of War Ragnarok. God of War Ragnarok is a massive epic that takes players across all of the nine Norse realms. In this sequel to 2018's God of War , Kratos and Atreus must deal with the fallout of their actions while finding their place in the world. The game fills all its levels with more stories to tell, collectibles to gather, and enemies to fight.
God of War Ragnarok ' s enemy variety is quite possibly the most diverse the franchise has ever seen. While some foes bleed into more than a single realm, each location for the most part has enemies that are unique to it. The same goes for bosses - most of which require players to employ certain tactics to defeat them. Most of God of War Ragnarok 's enemies only need players to attack them until their health drops to zero, but Phantoms demand good map knowledge in addition to a firm grasp of the game's combat skills to conquer them.
RELATED: God of War Ragnarok vs. Elden Ring: Which Will Win the Most Awards at TGA 2022
God of War Ragnarok: Finding Fate
Players experience their first encounter with a Phantom somewhere around the game's midway point. With Atreus having run off to Asgard , Kratos decides to search for the Norns - the Norse Fates who oversee the destinies of gods and men. Eager to learn of a way to reach his son, Kratos asks for guidance from his recently reacquired ally Freya on how to reach these elusive deities. Their search takes them to Midgard, where they find a series of hidden passages filled with enemies that block their path to the Norns' ever-shifting abode. One of the enemies Kratos and Freya encounter is the Frost Phantom - a strong creature that serves as a boss at the tail end of their mission.
A Phantom is a creature that is created by the presence of multiple Runic Springs in a certain area. Their physiology is mostly corporeal; rendering the monsters almost completely invincible save for the Runic Core that serves as their "eye." Unlike Wisps which are also created by Runic Springs, Phantoms are giant creatures that can easily kill players with their wide array of physical and magical attacks.
Defeating A Phantom Requires Strength and Cunning
Upon first encountering a Phantom most players might think that its weak spot is its Runic Core. This is only partially correct. While the Runic Core is the only place on a Phantom's body where it can be attacked, doing so only causes the Phantom's stun build-up gauge to fill up. To truly put an end to the monster, players must first successfully stun it before attacking the many Runic Springs dotted around the arena. These giant glowing totems can be found in the open or hidden in conspicuous places - forcing the players to draw upon their problem-solving skills rather than their knowledge of God of War Ragnarok 's combat system . Successfully destroying Runic Springs deals a significant amount of damage to a Phantom, whereupon it retaliates by collecting itself and starting the combat phase once again.
This back-and-forth between combat and puzzle-solving is what makes fighting Phantoms so unique and cathartic. Players open up the encounter by dodging or blocking a Phantom's attacks while attacking its Runic Core. Once the stun gauge is full, they must then search and destroy the Runic Springs in the arena. Good map knowledge plays just as important a role as combat mastery as players can easily shave off the time it takes to defeat a Phantom by properly allocating their time on the Runic Springs. If players know where all the Runic Springs are, they can maximize the Phantom's stun duration by attacking multiple Runic Springs before it resumes its combat phase.
There are a few more Phantom fights in addition to the Frost Phantom but all of them follow the same combat-puzzle-solving pattern. Since players fight these foes in different arenas, they must adapt to their surroundings and quickly find the Runic Springs to defeat the Phantoms as soon as possible. This is on top of the specific elements these Phantoms carry, all of which play their role in the fights. God of War Ragnarok 's enemy variety is extremely varied, but Phantoms carry with them a sense of fulfillment that lovers of combat and exploration will enjoy.
MORE: God of War Ragnarok: Every Realm (& How to Unlock Them)
How To Defeat Frost Phantom In God Of War: Ragnarok
The Frost Phantom is a primordial, magical creature that you will face as a mini-boss in the latter chapters of...
The Frost Phantom is a primordial, magical creature that you will face as a mini-boss in the latter chapters of God of War: Ragnarok.
These ancient creatures use frost magic to draw energy from nearby Runic Springs . They are completely immune to all sorts of damage and the only way to defeat a Frost Phantom is to first take out its source of energy—Runic Springs.
The following guide will tell you more about what kind of attacks the Frost Phantom does and you can build its stun meter in God of War: Ragnarok.
Where to find the Frost Phantom
You will encounter The Frost Phantom while heading toward the Norns in Midgard during The World of Fate chapter. When you enter a clearing on the way, free the second Hafgufas near the reddish rocks to spawn The Frost Phantom.
Best strategy to defeat the Frost Phantom
First of all, as the name indicated, Frost Phantom is made of frost and takes no stun damage from the Leviathan Axe. You must use either Blade of Chaos or your Spears to fill the stun bar as soon as the phantom does a ground slam, which is unblockable.
From here on, most of the phantom's attacks revolve around dashing into you. These are blockable, but we recommend that you avoid dodging them altogether.
You probably have fought a Flame Phantom before, and you know that you deal health damage to the phantom by damaging its core, but the same is not true for the Frost Phantom.
Once you stun the Frost Phantom, don't go on attacking the core. Instead, you can find three purple pillars around the area where you encounter the boss. You should target these pillars to deplete Frost Phantom's health.
You can attack them with a spear, axe, or even arrows to damage them. Mostly, you can break only one of the three pillars every time you stun Frost Phantom, but you can try damaging a second so that it breaks faster the next time you stun Frost Phantom.
Keep in mind that your best chance to attack the pillar is when the stun bar is filled. During the fight, Frost Phantom will be stunned for short durations, allowing you to keep attacking to fulfill the stun meter.
After you break the first pillar , the phantom gains a few new attacks. Most noticeably, Frost Phantom summons frost crystals that explode after a short time. But you can completely block the damage from these.
After you destroy the last pillar , Frost Phantom will appear again, but this time, the stun meter is almost complete from the get-go. Here, a few attacks will be sufficient to stun the phantom for the last time, allowing you to go in for the kill animation.
For the last time, one of the pillars is on the ground just behind the cliff. If you land a few hits on the second pillar, you can use melee attacks to break the third pillar fast enough, allowing you to kill the phantom in just two stuns.
Frost Phantom's rewards and loot
500x Kratos XP
500x Freya XP
Chaos Flame (Weapon Upgrade)
25x Shattered Rune
25x Bonded Leather
3x Honed Metal
3x Stonewood
3x Dwarven Steel
1x Jewel of Yggdrasil (Weapon Upgrade)
" class="share-link facebook">
" class="share-link twitter">
&title= " class="share-link redit">
&title= " class="share-link linkdin">
SegmentNext Team account where we publish collaboratively written game guides, features, and thought pieces.
DualShockers
God of war ragnarok: how to beat the flame phantom.
Phantoms make for tough enemies that can't just be defeated by swinging your axe at them.
Quick Links
Fighting the phantom, destroying the pillars.
God of War Ragnarok is out now, and it's a triumphant sequel in just about every way imaginable. Whether you love a good story, tight gameplay mechanics, memorable characters , or fantastical locations , this game has it all. While there are many reasons to love this game, boss fights remain a standout feature of the franchise.
RELATED: How Long Does It Take To Beat God Of War Ragnarok
Whether it's a big story boss or a creature you encounter out in the world, these moments are meant to keep you on your toes and delight you with a healthy degree of challenge and fun. Here we'll be talking about the Flame Phantom. So, if you're looking for help defeating this blazing enemy, you've come to the right place.
Attacking this enemy is fairly simple. You need to continually aim for the creature's eye (the ball with the runic symbol on it) until it becomes staggered. Once it's staggered, you want to move into melee range and really focus your attacks on that eye again. This will build on the Flame Phantoms stun meter. Once the meter is full, the Flame Phantom will retreat, giving you an opening to attack the pillars keeping it alive.
Parry The Yellow Rings
The Flame Phantom will occasionally swipe at you and perform attacks accompanied by a yellow ring. These attacks, if blocked, will knock your shield aside and leave you open to more attacks. Instead of blocking, you want to try parrying at just the right time. If you're not confident in your ability to parry, you can also try dodging these attacks by rolling away.
Look Out For The Red Rings
The Flame Phantom has a few tricks up its sleeve in the way of attacks that can't be blocked. For these, you'll need to dodge out of the way. Sometimes these attacks will come in the form of a massive slam. Other times it will involve lava erupting where you're standing . Either way, these attacks will be accompanied by a red ring to let you know that the next attack needs to be dodged instead of blocked.
RELATED: God Of War Ragnarok: Best Skills, Ranked
Once the Flame Phantom has retreated, and you're able to attack the three pillars, do so as quickly as you can. These pillars are tied to the creature's health bar, so taking them out is the only way to truly damage the Flame Phantom. In this fight, you'll be able to take out one pillar with melee attacks and the other two will require ranged attacks . You won't be able to take out all three in one sweep, so you'll need to do a bit of rinse and repeat during this fight until you've taken out all three pillars.
Finish The Job
Once you've taken out the third pillar, the Flame Phantom will appear for a final time. Fill its stun meter again to perform the R3 attack that will finish it off. Once you've done that, the fight is over!
NEXT: God Of War Ragnarok: Most Brutal Takedowns, Ranked
God of War Ragnarok: How to Beat the Flame Phantom
The pillar is hidden behind a wall.
Like its predecessor, God of War Ragnarok boasts challenging bosses that will have you dying quite frequently. These bosses can be made easier by crafting the best armor sets , collecting Idunn Apples , or mastering your playstyle combat. Toward the end of the game, players will encounter the Flame Phantom, which players can't kill unless they find a hidden pillar. This guide will help stop the struggle and walk you through how to quickly kill this Flame Phantom so you can progress further into the end game.
Strategy to Kill the Flame Phantom
This fight is similar to the Frost Phantom players encountered earlier in the main story. The same premise is present here: you must destroy three pillars to damage the boss. This time is trickier, as the last pillar is hidden but continue reading, and we will explain how to find it.
Find the Third Pillar First
The first thing you want to do when the boss fight begins is to go over to the left of the area, where you will see a crack in the wall . Throw your spear at this crack, and use your exploding ability to reveal a pillar you will need to destroy later.
Stun the Flame Phantom
Now, to attack the Flame Phantom, you will want to utilize Atreus Sigil arrows as much as possible while also attacking the glowing orb with Kratos. Dodge and block his attacks when you see the red and yellow circle accordingly and find an opening to attack when you feel the moment is right. The goal is to fill the meter under the Phantom's health bar, and once it is filled, the enemy will be stunned to the floor.
When the enemy is stunned, you want to run over to one of the pillars and destroy it with one of your weapons. Destroying each will significantly damage the Phantom's health bar, and if you are quick enough, you could destroy two pillars before the enemy gets back up.
Once the enemy is up, you will want to repeat the process until you have officially destroyed all three pillars. After beating the pillars, hit R3 on the Flame Phantom to have Kratos finish the beast, officially killing it.
God of War Ragnarok is available now on PlayStation 5 and PlayStation 4.
- This article was updated on November 14th, 2022
About The Author
Christian has been a writer of Attack of the Fanboy for a year and has covered Shadows of Rose, Wild Hearts, Remnant 2, Lies of P, and more; his favorite genre is Survival Horror. He has a business degree but felt the need to take his love for video games to the gaming community. Outside of writing, you can find him listening to all types of podcasts, especially Always Sunny Podcast and Morbid True Crime.
More Stories by Christian Bognar
Attack of the Fanboy / GAME GUIDES / God of War Ragnarok: How to Beat the Flame Phantom
God of War Ragnarok Expansion Hinted at by Another Known Insider
By Zarmena Khan
A known insider has added some weight to rumors of Santa Monica Studio working on God of War Ragnarok DLC or an expansion of sorts. Speculations of a Ragnarok-related release have been making rounds since March when Tyr voice actor Ben Prendergast teased another appearance of his character .
Santa Monica Studio previously hinted that it has no plans for God of War Ragnarok sequel, DLC, or expansion
In August, insider The Snitch (not to be confused with the original Snitch, who had an impeccable record) claimed that Ragnarok's DLC is in the works and is about 60% through development. Many dismissed the claim, but now ViewerAnon — mostly known for their credible movie leaks — has hinted that Ragnarok is indeed getting some sort of an expansion.
In response to a tweet discussing the future of game development and standalone expansions à la Uncharted: The Lost Legacy , ViewerAnon suggested that we'll see more "half sequels" going forward to fill in the gaps between major releases, and referenced God of War Ragnarok.
IGN's bang-on here – this is how you cut the gap between releases while also maybe letting greener teams work on the half-sequel with established tools and support. Santa Monica Studio's working on new GOD OF WAR stuff and I wonder whether it will be RAGNAROK DLC or a half-sequel https://t.co/MxXUyNUvKT — ViewerAnon (@ViewerAnon) October 5, 2023
We now have three instances where a Ragnarok expansion was hinted at, but as always, take all rumors with a grain of salt. Santa Monica Studio has previously dismissed suggestions of a sequel or DLC.
Zarmena is a senior editor at PSLS. She has been with the site since 2014.
Share article
PS5 Receives Its First Price Increase in the US
Ubisoft Says It's 'On the Right Path' Following the Arrest of Former Executives
Dragon Ball Xenoverse 2 Teases Big Announcement
PlayStation Store Update Worldwide – October 10, 2023
High on Life's High On Knife DLC Mocks God of War Puzzle Hints
PlayStation Writer Addresses People Who Want Her Fired for Streaming Starfield
God of War Studio's New Game Could Be an RPG
PS Plus Double Discounts Sale Going Live on PS Store
Everything We Know About a God of War: Ragnarok PC Release
Father-son bonding.
God of War: Ragnarok launched in November 2022 to all the fanfare you'd expect from a single-player Sony exclusive . Despite its glowing reviews and massive sales, the expectation among fans is that the game would follow in the footsteps of 2018's God of War and find its way to PC eventually.
So now we're in a position where the precedent suggests one thing, but a lack of confirmation suggests another. However, there is ample evidence that a God of War: Ragnarok PC port will happen — but the real question is when?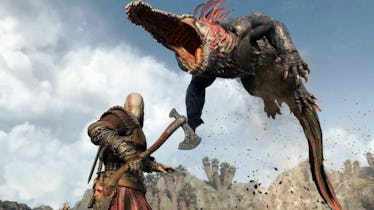 Leapin' lizards! God of War: Ragnarok coming to PC?
Will God of War: Ragnarok Have a PC Release?
If we're looking solely at Sony history, then the answer is yes. Sony has been clear about its intent to bring its first-party games to PC and has already seen success with PC releases of God of War, Spider-Man, Horizon: Zero Dawn, Days Gone, and The Last of Us: Remastered. We haven't had an official announcement yet, but the trends suggest Sony is committed to PC releases.
There's also a bit of circumstantial evidence that supports the case, too. Jetpack Interactive partnered with Sony to port 2018's God of War to PC, and their LinkedIn page currently boasts that it "continues to work with Sony Santa Monica on the God of War franchise." Obviously, this could refer to ongoing work for the 2018 port, but it seems like a long-term partnership has developed around the PC version of the IP.
When Is The God of War: Ragnarok PC Release?
So assuming Sony will release God of War: Ragnarok on Steam, when will it be available to players? There are a lot of potential timelines here, especially since we have no formal announcement. CEO Jim Ryan suggested in an interview with Famitsu in May 2023 that they have a timeline for PC launches based on what they've heard from fans.
"We are increasing the number of PS5-exclusive titles and staggering the release of the PC version. I often have the opportunity to ask game fans for their opinions, and when I ask them about the time lag, they say that selling the PC version two or three years after the release of the PS version is accepted favorably," he said.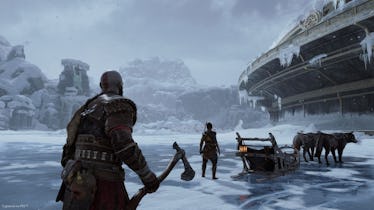 Are ya winning son?
That would put a God of War : Ragnarok PC release window sometime between 2024-2025. This would actually be a touch sooner than the wait for the 2018 God of War port. That game launched on PS4 and PS5 in April 2018, and hit PCs in January 2022 so just shy of four years. Some fans have latched onto an interview with Hermen Hulst, Head of PlayStation Studios, who said in October 2022 that "going forward we'll see at least a year" between console and PC releases. A God of War: Ragnarok PC release in November/December 2023 feels awfully sudden given the lack of a formal announcement. There's also one other thing to consider …
Is There DLC for God of War: Ragnarok?
One variable that could impact the PC release for God of War: Ragnarok would be DLC. Famously, the 2018 God of War did not have any DLC so it would be new territory for Sony Santa Monica; however, a recent leak suggest it's happening.
Noted insider The Snitch, who famously predicted the Rise of Ronin announcement, recently took to Twitch to tease a report about a forthcoming DLc for God of War: Ragnarok . According to The Snitch, the DLC is only about 60 percent complete and, with no formal announcement yet, could still be years away.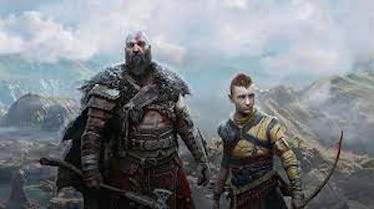 Kratos and Atreus, seen here before modders do weird shit with their eyes and stuff.
Why does this matter? The DLC could force one of two things to happen to a PC release. Sony could hold the PC release until after the DLC launches for PS5, giving fans ample time to make the purchase and maximize console sales. Conversely, Sony could use the DLC as a springboard for a PC release and offer up a "definitive version" style package on Steam. Regardless, if Sony Santa Monica is developing DLC it will most definitely push back a PC release date and make that launch even more complicated.
What Are The God of War: Ragnarok PC Specs?
Since we don't have an official announcement yet, all we can do is look to the 2022 PC release of God of War for guidance. Here's what Sony recommended for that launch:
Requires a 64-bit processor and operating system
OS: Windows 10 64-bit
Processor: Intel i5-2500k (4 core 3.3 GHz) or AMD Ryzen 3 1200 (4 core 3.1 GHz)
Memory: 8 GB RAM
Graphics: NVIDIA GTX 960 (4 GB) or AMD R9 290X (4 GB)
DirectX: Version 11
Storage: 70 GB available space
Additional Notes: DirectX feature level 11_1 required.
RECOMMENDED:
Processor: Intel i5-6600k (4 core 3.5 GHz) or AMD Ryzen 5 2400 G (4 core 3.6 GHz)
Graphics: NVIDIA GTX 1060 (6 GB) or AMD RX 570 (4 GB)
Additional Notes: DirectX feature level 11_1 required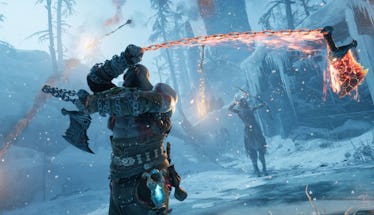 It don't mean a thing if it ain't got that swing.
We'll be sure to update this page whenever there's an update on the God of War: Ragnarok PC release. For now, your best bet is to keep your eyes on social media for any surprise updates, especially around events like The Game Awards on December 7, or November 9, the God of War: Ragnarok release date anniversary.
God of War: Ragnarok is available now on PS5. You can read our review here .
Cookie banner
We use cookies and other tracking technologies to improve your browsing experience on our site, show personalized content and targeted ads, analyze site traffic, and understand where our audiences come from. To learn more or opt-out, read our Cookie Policy . Please also read our Privacy Notice and Terms of Use , which became effective December 20, 2019.
By choosing I Accept , you consent to our use of cookies and other tracking technologies.
Share this story
Share this on Twitter
Share this on Facebook
Share this on Reddit
Share this on Pocket
Share this on Email
God of War Ragnarök guides and walkthroughs
Can't find that last Odin's Raven? Stuck on that Nornir Chest? Let us help
All Stories
13 tips to know before playing God of War Ragnarök
What's new about God of War Ragnarök
PSA: God of War Ragnarök is mean to animals
God of War Ragnarök tech analysis: Which visual mode should you play?
The accessibility settings you should try from the start
God of War Ragnarök Svartalfheim 100% completion guide
God of War Ragnarök Alfheim 100% completion guide
God of War Ragnarök Vanaheim collectibles guide
God of War Ragnarök Midgard 100% completion guide
Full God of War Ragnarök trophy list
Where to find every Odin's Raven
Where to find every Artifact
Where to find every Nornir Chest
God of War Ragnarök's best armor (and where to get it)
Don't sleep on God of War Ragnarök's powerful mod tokens
Should you go to Alfheim or Niflheim first?
Can you turn off Atreus and Mimir's puzzle hints?
Where to find the second Muspelheim seed
How to change the look of Kratos' armor
God of War Ragarnök's first great side quest is easy to miss
Why it's worth finding the Wishing Well
The God of War plot up to God of War Ragnarök
God of War Ragnarök full chapter list and story progress
How God of War Ragnarök's characters compare to actual Norse myth
God of War Ragarnök full casting list
Even gods need some help from time to time, a fact you'll learn within minutes of starting God of War Ragnarök . Throughout Santa Monica Studio's latest magnum opus, you'll steer Kratos and his son, Atreus, on an adventure across the nine realms of classic Norse mythology. As with its predecessor — 2018's God of War for the PlayStation 4 — Ragnarök is positively packed with puzzles to complete and collectibles to find.
If you played God of War (2018), you'll know this means taking out a small army of pesky Odin's Ravens . You'll know it means uncovering glowing Artifacts and buried treasure maps. And you'll also know — sorry to say — it means solving puzzles affiliated with those locked Nornir Chests , which buff Kratos' stats. We've got guides highlighting where to find all of these (and more), in addition to explainers about settings, skills, side-quests, and other things you should know before starting.
Of course, if you're more interested in the game's story than its gameplay, we've summarized all the events of the God of War series up to the start of Ragnarök . We've even got a guide comparing the God of War Ragnarök cast to the actual Norse myths that inspired them.
Ragnarök , which puts on capstone on the series' duology in the Norse realms, is a pretty hefty game. It is statistically unreasonable to expect anyone to hit the credits immediately after launch, and as such, these guides are only partially complete — covering up through the end of the first two major explorable areas. We'll be updating these guides regularly over the coming days, as players make it through more of the grind. And, of course, we'll do our best to clearly mark spoilers in every post, so you're never caught off guard while hunting for a hidden object or chest.
All Interactive Maps and Locations
Sindri's House Map
Vanaheim map, alfheim map, muspelheim map, midgard map, svartalfheim map, jötunheim map, helheim map, niflheim map, how to defeat the flame phantom.
The Flame Phantom is a boss you'll encounter in God of War Ragnarok during the sixteenth chapter, The Summoning . Featuring several unique and challenging attacks, the Flame Phantom relies on the player to stun and stagger the boss in order to deal damage. In this Boss Guide , you will learn all the best tips, tricks, and strategies you need to know to defeat the Flame Phantom with ease.
Tips and Strategies for Defeating the Flame Phantom
Much like the Frost Phantom that you faced during The Word of Fate , the Flame Phantom features all the same attacks and moves, but just with flames. Now, the fight with the Flame Phantom is a little longer, as you'll need to find and destroy all three springs that will appear upon successfully filling the creature's stagger bar.
Once you've filled the core's stun bar, you'll need to destroy the purple glowing Springs that'll appear in the area. Unlike the Frost Phantom, all Springs will be available immediately, so you'll need to down the Phantom at least three times in order to clear them.
Spring Three: Northeast, behind a breakable wall.
Upon breaking each spring, the Flame Phantom will become weaker.
If you need a bit of a recap, along with some handy tips and tricks, here's what you need to know about defeating the Flame Phantom.
It's crucial to your success to attack the Flame Phantom's core at every opportunity. The more you can stagger the Phantom, the quicker you'll be able to stun the creature, ending the battle.
When staggering the Phantom, it'll only be downed for a short period, so you'll want to ensure you constantly recall your Leviathan Axe as quickly as possible after each attack. This way, you'll always have your Axe ready and available when the Phantom is staggered.
The Phantom's attacks are pretty forgiving in the AoE department, as you'll find that you often have time to toss your Axe at the core before having to dodge out of the way to avoid any incoming attacks.
Standing close to the Flame Phantom will offer no advantages and will make you vulnerable to quick melee attacks that are challenging to block. In addition, many of the Phantom's attacks are performed while it is raised in the air, meaning you'll not have access to attack its core with melee.
If you need health, you'll find plenty of Healthstones scattered about the area's outskirts, often beside fallen enemies.
While the best time to target the Flame Phantom's core is when it's glowing, which occurs when it's performing an attack, don't hesitate to throw your Axe at its standard core, as every bit of stagger damage will ultimately help stun the creature faster.
If you're struggling with health, don't be afraid to run away from its attacks, as most revolve around targeting your last known location.
Along with the tips above, we've also covered the creature's entire attack patterns, providing an insight into what you can expect, as well as some tips on how to best counter incoming attacks.
The Flame Phantom's Attacks
Tail Swipe Attack (Block Break) - When standing within melee range, the Phantom will swing its tail toward you in a quick swiping motion.
Orb Toss Attack (Blockable) - When crouching, the Phantom will toss orbs out to your location, indicated by glowing circles on the ground.
Tidal Wave Attack (Unblockable) - Rearing up into the air, the Phantom will form a tidal wave shape, which will see it crashing down into the ground for a significant unblockable AoE attack. Thankfully, this attack can be partially blocked by either of the two stone Springs in the area.
Slam Attack - After dealing melee damage to the Phantom after briefly being stunned, it'll perform a slam attack that will see it crashing down into the ground, creating a small AoE shockwave. The glowing rings around the boss indicate the AoE of this attack.
Shock Wave - Rearing up, the Phantom will crash into the ground, sending a wave of damage your way. You'll need to ensure you're backing up as quickly as possible -- the AoE for this attack is quite large, so you'll need to be very far away to avoid taking damage.
After destroying all the Springs, the Flame Phantom will rise, and you'll need to target its core once more before you can perform the finishing move (R3).
Upon defeating the Flame Phantom, you will receive a Healthstone, Ragestone, Shattered Runes, the Vindsvalr's Windstorm Heavy Runic, Luminous Alloy, Bonded Leather, Petrified Bone, and a Frozen Flame weapon upgrade.
To continue following our walkthrough, see our The Summoning guide for more.
Looking for even more God of War Ragnarok Guides ? Why not check out...
Complete Walkthrough Guide
Essential Combat and Exploration Tips and Tricks
The Best Skills and Armor to Get First
Berserker Gravestones - Boss Battle Guides
Up Next: How to Defeat the Soul Eater
Top guide sections.
Beginner's Guide - Tips for Getting Started
Walkthrough
Tips and Tricks
Was this guide helpful?