Advertisement
Valorant fan creates a real-life version of the Phantom
Apr 13, 2021
A Valorant fan has taken his love for Phantom to a whole new level by creating a real-life version of the rifle. 
Reddit user Tinch0n has put his creativity to good use and brought Valorant's powerful rifle to life in his 3D creation. Tinch0n revealed his work of art in a time-lapse video, showcasing the entire process and hard work that went into this incredible piece. 
The creator revealed that his project took 50 hours over the span of one month to complete. Tinc0n singlehandedly designed, spray painted and put together over a dozen 3D components to devise his model. The insane detailing of default Phantom skin nothing short of perfect. 
To achieve a realistic look, Tinch0n spent hours developing a blueprint that looked exactly like the Phantom in Valorant. The designer replicated every scratch, cut, and bone of the weapon to make sure that it looks and feels like the virtual Phantom. 3D printed parts of the gun were later abutted together and painted to match the dull black rifle. 
His hard work paid off as the end product was a spot-on replica of Phantom. The incredible similarity didn't miss the eye of Valorant's Premium Content Art Lead Sean Marino, who acknowledged T0nchin's work. 
"Holy crap this is incredible!! I love how you went even far enough to paint the scratches and everything that are on the original gun! Amazing job overall," he said .
The designer received an overwhelming response from the Valorant community, who requested more realistic recreations of their favorite weapons. Tinch0n revealed that he's already working on a Killjoy Turret and plans to create a real-life version of Vandal next. 
Is Phantom better than Vandal? 
Available for 2900 creds, Phantom is one of the highly picked weapons in Valorant due to its firing rate. The weapon is incredibly effective for aggressive plays, especially for duelist like Raze, who like to burst into sites dancing on top of satchels. However, Vandal's insane one-tap potential in long-range is keeping it in tight competition with Phantom. 
Valorant's extensive arsenal features two primary rifles that come for the same price but differ widely in firing rate. Vandal works the best for the one-tap army, but if you like your sprays both in close and long-range duels, Phantom is your best bet. Many Valorant players choose Phantom for its high accuracy and fire rate, making it a fan-favorite rifle. 
The best fightsticks to buy in 2023
A month-long review of the Cloud III gaming headset from HyperX
The absolute best gaming CPUs to buy in 2023
Recommended
The music levels in Super Mario Bros. Wonder explained
Oct 25, 2023
New Nintendo Community Tournament Guidelines are troubling for Smash esports
"F is for friends who say F Nintendo"
Oct 24, 2023
The Fallout TV show has an official release date
Oct 23, 2023
Call of Duty
League of Legends
Mobile Legends
Counter-Strike 2
Genshin Impact
Street Fighter
Partner with us
We are dying to take home this real-life Zedd Spectrum Phantom
Start the party with this Phantom.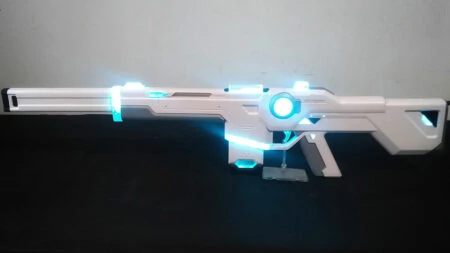 Have you ever wanted to know what the Spectrum Phantom skin from Zedd's one-of-a-kind Valorant collection would look like in real life? Well, this talented Filipino crafter just built a life-sized replica of the weapon from scratch.
Amado Carl Hernandez shared with ONE Esports how he got his start creating cosplay props, and why he decided to make the Spectrum Phantom skin.
Filipino crafter Amado got his start making cosplay props
As someone who grew up playing various console games, Amado spent a lot of time exploring RPGs and JRPGs. He then transitioned to playing PC game titles like Counter-Strike, Warcraft, and Dota , which reinforced his passion for gaming.
Amado began his journey as a crafter in 2008 by making weapons out of just wood and paper. "I really love making weapons and props, especially from video games," he shared. "There is really something about video game weapon design that makes me want to see them come to life."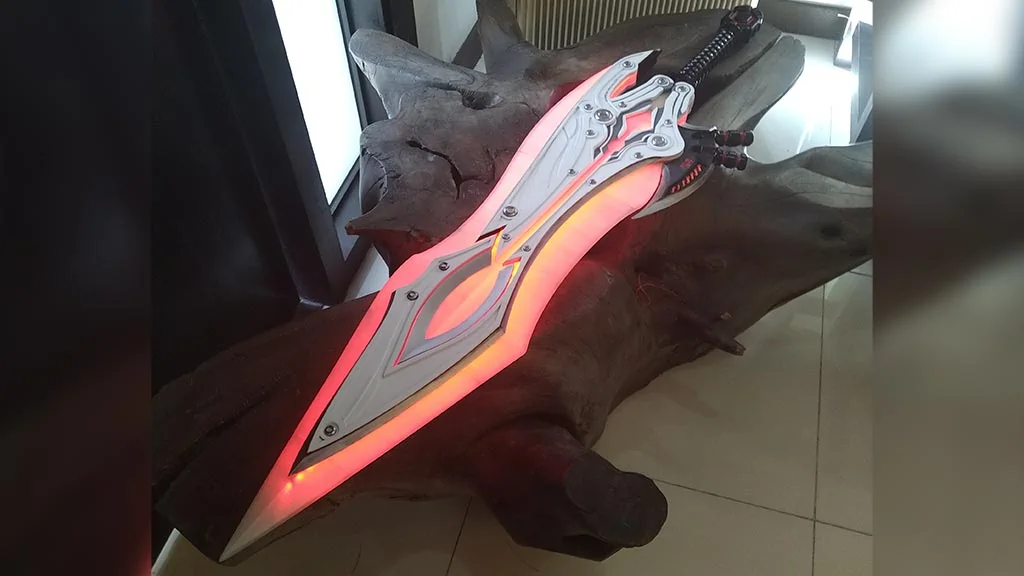 If you're a huge Final Fantasy fan like Amado, you should check out the Crimson Saber he crafted from Final Fantasy Brave Exvius . It was a project that was commissioned by Square Enix and was a dream come true for the talented Filipino crafter.
Only 500 Masters Reykjavík Aurora-01 hoodies will be available worldwide
TenZ shows girlfriend Kyedae no mercy in 2v5 Valorant showmatch
How Amado created the replica of the Spectrum Phantom skin
The Spectrum Phantom project started when none other than Team Secret's Riley "Witz" Go commissioned Amado to create a replica of the skin. You may remember Witz as the exuberant showman who entertained fans with his iconic Filipino dance moves during Valorant Champions 2021 .
Amado was intrigued by the color-shifting nature of the collection, which was the result of a collaboration between Riot Games and popular Russian-German DJ Zedd .
"I really love challenges and at the time it was something that hadn't been done yet," said Amado.
The process to bring the Spectrum Phantom skin to life was long and painstaking. Amado first modeled everything in Autodesk Fusion 360, which took a total of 36 hours. He then 3D printed the designs using fused deposition modeling (FDM) and stereolithography (SLA), an even lengthier process that spanned an entire week.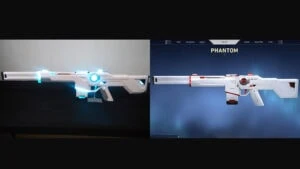 Finally, Amado finished the weapon with a layer of acrylic paint, which took another four days to achieve the most accurate look.
The Zedd Spectrum Phantom skin also comes with a remote-controlled RGB LED light that shifts colors, similar to its in-game counterpart.
To see more of Amado's work, you can visit his official Facebook page .
We love @PlayVALORANT , we're big fans of @Zedd , and we're so hyped about Spectrum that we remixed it up! ???? #VALORANT pic.twitter.com/JyWt9LVG7q — ONE Esports (@ONEEsports) September 9, 2021
READ MORE: Bounty Hunter agent abilities leak reveals Valorant's most fearsome initiator yet
ESPORTS NEWS
Subscribe to our monthly newsletter and get top-performing articles delivered right to your inbox.
Your data is managed in accordance with our privacy policy
Sign up for a free ONE Esports account and start engaging with other fans!
You'll also receive a monthly newsletter and other goodies!
What are the Valorant guns in real life?
Table of Contents
1 What are the Valorant guns in real life?
2 Is the classic from Valorant a real gun?
3 Are Bulldogs burst?
4 Is a frenzy a real gun?
5 Did they nerf the FiNN LMG?
6 Is the Bulldog Full Auto Valorant?
7 How do you buy guns in valorant?
8 Is the valorant heavy machine gun worth it?
What are Valorant Guns like IRL?
The Vandal: A modern AK variant (duh).
The Phantom: The Phantom is a carbon-copy suppressed SCAR-L variant.
The Guardian: Definitely is a futurized M1 Garand.
The Classic: It seems is a slightly futurized FN-9 handgun, judging from its distinctive grip.
Is the classic from Valorant a real gun?
The Classic's design seems to be based on the Beretta PX4 Storm, with the angled slide bevel and partially skeletonized hammer being unique characteristics shared by both pistol. The Classic and the Spectre both deal the same amounts of damage.
What gun is the vandal in real life?
The general design is influenced by the Kalashnikov USA AK Alpha, considering the shape of the slanted edges of the magazine well and magazine release, the trigger guard, the charging handle, the handguard, the gas block and the flash hider.
Is Phantom a real gun?
The Phantom is a fully automatic rifle that sits at 2,900 Credits. The Phantom is typically seen in gun rounds due to its larger price tag than SMGs or other rifles. The ADS is great for holding down sites and further decreasing its recoil and spread to make it a extremely accurate fully automatic rifle.
Are Bulldogs burst?
The Bulldog is a fully-automatic rifle, and is the cheapest of the three fully automatic rifles in the game. Its magazine holds 24 bullets. It also has a 3 round burst, unlike other rifles, which can be good for close quarters.
Is a frenzy a real gun?
The Frenzy is a fully automatic pistol with a low cost and capacity.
Do silencers do anything in Valorant?
What do suppressors do in Valorant? While silencers are completely attached to their weapons in Valorant, they still have an impact on gameplay. Unsilenced weapons create a bullet trail when fired, creating a visual indicator from the bullet's impact to its source.
Is the FiNN LMG a real gun?
The FiNN is actually based on the real-life gun known as the Stoner 96, which was designed to have less recoil than other machine guns.
Did they nerf the FiNN LMG?
The LMG has been nerfed a few times since, slipping down the popularity rankings. NRG content creator IceManIsaac highlighted the LMG in his most recent video, suggesting that it shouldn't be underrated for too much longer as he believes it's the "most overpowered" weapon around right now.
Is the Bulldog Full Auto Valorant?
The Bulldog is a fully-automatic rifle, and is the cheapest of the three fully automatic rifles in the game. Its magazine holds 24 bullets. It has a good fire rate, and a alternate fire of 3 round bursts. It is a 2 tap to the head and 5 to the body or legs.
What is burst fire in Valorant?
Bursting in Valorant is for those who have a good crosshair placement but not so much in movement. Rifles like Bulldog and pistols like frenzy are perfect for bursting. Bursting is an in-between style of Tapping and spraying.
How many weapons are there in valorant?
Every agent has access to the same guns and shields in their shop. There are currently seventeen total guns in Valorant. There are five sidearms, two SMGs, two shotguns, four rifles, two snipers, and two heavy machine guns. There are two type of armor shields: light shields and heavy shields.
How do you buy guns in valorant?
During the buy phase, players can sell their sidearm or primary, request a teammate to buy a gun for them if they're low on funds, announce that they have extra funds to purchase for a teammate, or tell their team to save their money for the round. The sidearms in Valorant all offer their own niche functions for first round buys and save rounds.
Is the valorant heavy machine gun worth it?
Valorant's AWP, the OP is worth its price if you have solid aim as it will automatically kill with head or body shots. Heavy machine guns provide a lot of sustained firepower in exchange for loss of accuracy. They also excel at killing through walls with high penetration.
How does the buy phase work in valorant?
Valorant has a buy phase at the beginning of each round, similar to CS:GO. Every agent has access to the same guns and shields in their shop. There are currently seventeen total guns in Valorant.
Privacy Overview

METAL GEAR SOLID V: THE PHANTOM PAIN

Metal Gear Solid V: The Phantom Pain
Metal Gear Solid V: The Phantom Pain is a 2015 third-person stealth-action open-world game developed by Kojima Productions and published by Konami, and is the direct follow on to the short first "episode" of the story, Metal Gear Solid V: Ground Zeroes . Set in 1984, a decade after Metal Gear Solid: Peace Walker , the story begins after the destruction of the old Mother Base facility by a team from the mysterious Cipher organisation's strike unit, XOF. Big Boss has been in a coma for nine years and much has changed, but, awakening as XOF assaults the hospital he is recovering in, he must come up with a plan to get his revenge on Cipher.
As well as the singleplayer campaign, the game features an online competitive "FOB mode" where players can invade Forward Operating Bases belonging to each other and steal resources and troops. While it was not present at launch, patches have also added a new version of Metal Gear Online .
The following weapons appear in the video game Metal Gear Solid V: The Phantom Pain :
For weapons relating to its sister game, see Metal Gear Solid V: Ground Zeroes .
2.1 "WU Silent Pistol"
2.2.1 AM D114 CB
2.2.2 AM D114LB-45
2.2.3 Adamska Special
2.2.4 Water Pistol
2.2.5 Action shots
2.3 "Burkov"
2.4 "Geist P3"
2.5 "Uragan-5"
2.6 "Tornado-6"
2.7 "Windurger S333/S362/S324LB"
2.8 Leuchtpistole
3.1 "Sz.-336"
3.2 "MACHT 37"
3.3 "Ze'ev"
3.4 "G44-9"
4.1 "S1000 Shotgun"
4.2 Double-barrel shotgun
4.3 Sawn-off Shotgun
4.4 "Kabarga-83"
4.5 "Bullhorn SG"
5.1 "AM MRS-4"
5.2 "AM MRS-4R"
5.3 Mare's Leg lever-action rifle
5.4 "SVG-76"
5.5 "SVG-76U"
5.6 "SVG-67U"
5.7 "UN-ARC"
6.1 "AM MRS-71/73"
6.2 "Bambetov SV"
6.3 "Brennan LRS-46"
6.4 "Serval AMR-7"
6.5 "Broughton M-2000D"
6.6 "Renov-ICKX SR"
7.1 "UN AAM"
7.2 "ALM 48"
7.3 "LPG-61"
7.4 "PG-76"
7.5 "PG-67"
7.6 "AM MRS-4LS"
7.7 "UN-ARC-HB"
7.8 "G44MG"
8.1 "DGL103"
8.3 "Isando RGL-220"
8.4 "Hail MGR-4"
8.5 "CGM 25"
8.6 "FB R-Launcher"
8.7 "Grom-11"
8.8 "Honey Bee" / "Killer Bee"
9.1 Shipunov 2A42
9.2 Rheinmetall MK 20 Rh 202
9.3 M134 Minigun
9.4 M61 Vulcan
9.5 "VOL-GA K12"
9.6 "HMG-3 Wingate"
10.1 M18A1 Claymore
10.2 M67 Hand Grenade
10.3 M18 Smoke Grenade
The Phantom Pain expands on the gameplay systems of Peace Walker , extending some and simplifying others. The game takes place in an Assassin's Creed -style continuous open world rather than a series of short missions, with two main map hubs in Afghanistan and Africa (specifically an "Angola-Zaire border region"). The loadout system is similar to that of Peace Walker , with the player character only able to equip a small number of firearms at a time; like Ground Zeroes it is further restricted by the three slots for firearms being set up by class, with two being primary weapons (the player character's back and hip} and one a secondary weapon (their leg holster). Sniper rifles, machine guns, shields and launchers go on the back slot, assault and battle rifles, grenade launchers and shotguns on the hip, and pistols and SMGs on the leg. Additional non-firearm items can be equipped in one of two radial menus, one of which is for support weapons such as mines and grenades and the other for equipment. There is now also a "tool" category including the binoculars, iDroid, analyser and Fulton devices, which do not require equip slots and do not need to be selected to be used.
As before, the gameplay systems centre on a large offshore facility called "Mother Base," this time a platform in the Seychelles, which is used as justification for the various in-game systems. The player can recruit additional troops for the new mercenary unit, "Diamond Dogs," by either accepting volunteers or using the rather comical "Fulton Recovery" mechanic to kidnap enemy soldiers by launching them into the sky using magic balloons, though these now require clear air above the extraction target to be used unless the late-game "Wormhole Fulton" device has been researched. In addition, upgrades allow the Fulton device to be used to extract larger objects such as resource containers, emplaced weapons and vehicles.
While the player character is able to pick up weapons used by enemies in the game world, this does not add them to the player's inventory permanently; to select new weapons from the loadout screen, they must be developed via the R&D department using points acquired by the Combat Team (as well as numerous other means). All weapons have a minimum level for at least one of the various Mother Base teams, before which they cannot be developed. Unlike Peace Walker , blueprints for weapons are generally only required to produce later versions, not to begin development. Certain high-level weapons also require staff with specific skills be part of the R&D team.
Like Ground Zeroes , The Phantom Pain uses fictional "frankengun" hybrids for most of the player-usable weaponry, much as Resident Evil 6 did. This appears to have been done so that the game's R&D tech tree could feature weapons which were clear upgrades to each other, and for parts commonality in the weapon customisation system. Weapons are sorted by a tree structure where similar weapons can be upgraded linearly (ranked from 1 to 6 originally, now 1 to 11), producing better guns of fundamentally the same type. Distinctly different types are typically offshoots with their own rank.
Resource management is more complex, with the money-substitute Gross Military Product (GMP) points being augmented by physical resources such as metals and fuel which must be gathered, and plants which must be found in the game world. Resources can be found in processed or unprocessed states; processed material is added to Mother Base's current stockpile, while unprocessed material (found as large shipping containers) must be processed first by the Base Development department, which also generates further unprocessed resources at regular intervals. The ammunition manufacturing system in Peace Walker (which manufactured ammo so quickly that running out was never an issue) is replaced with a system of charging the player for equipping weapons as well as researching them; all weapons cost GMP to equip, while high-end weapons require additional resources as well. For example, a rocket launcher may require fuel resources, or a tranquilizer gun a specific amount of soporific digitalis plants.
Side-missions now all take place in the game world; as before these include vehicle battles, though these are now battles against regular tanks and infantry rather than protracted endurance matches with battleship-strength super-vehicles supported by entire platoons. Presumably because it would be difficult to allow the player to use them in the open world, it is no longer possible to capture helicopters. As before, captured vehicles can be used in a side-mission battle mode, though this mode ("Deployment") is more restrictive than before, with very specific requirements on what combinations of units can be used for each battle, some requiring the use of a particular vehicle but otherwise not allowing them to be used at all. As before, the rewards in this mode use a random drop mechanic, but generally if a blueprint is one of the rewards its drop rate will be 100%.
At any time in the game world, the player can use the support function to request ammunition supplies, new weapons or equipment, or an entire pre-set loadout. Unlike Peace Walker , it is also possible to request vehicles be dropped as support, including tanks. The player can also select one of several "buddy" characters to assist them, and switch between them using the support system.
Weapon customisation is not initially available and requires recovering a "legendary gunsmith," found in a mission unlocked about a fifth of the way through the game. Following this, any parts on weapons the player has researched can be swapped between them, with restrictions based on the class of weapon involved and whether it has fixed parts or the right attachment points. Underbarrel weapons must be researched as separate standalones which have the relevant ability; they can then be attached to a gun with an appropriate mounting point.
Suppressors still work similarly to Peace Walker with a weapon only getting one suppressor which will wear out over time; this can now be manually detached to save its lifespan, however. The suppressor will automatically detach with a loud snapping sound when it wears out; it can be restored by finding (very rare) suppressor pickups in the game world, or by calling for a support drop which will include suppressors for all weapons that have them. There are three possible grades of suppressor durability, with the normal two "low" and "medium," higher-level weapons allowing use of the latter. A handful of weapons have level three suppressors that do not degrade.
Initally the weapon tech trees stopped at Rank 6 for all weapons; patches have since added weapons at the final two tiers. Several Rank 9 weapons were added on December 17th 2015. Later patches introduced even higher level weapons: as of April 2017, some weapons go up to level 11.
"WU Silent Pistol"
The "WU Silent Pistol" [Windurger No.2 Silent Pistol] tranquilizer gun is shown passing over to Phantom Pain. Its permanent suppressor and "ghost ring" sight is only accessible at level 5, and earlier versions without it heavily resemble the AMC Auto Mag Pistol with the addition of a polymer frame and tritium glow-in-the-dark night sights. The gun is the equivalent of the M9 from MGS2, Mk.22 Mod 0 featured in MGS3, Portable Ops & Peace Walker , and the Ruger Mk. II from MGS4, and as in those games is manually operated. A lethal version is available, though the weapon retains its slide-lock mechanism and therefore does not fire in semi-auto. An unsuppressed, golden version is available with the Collector's Edition of the game. It is also possible to develop a lethal version.
The "AM D114" pistol [Arms Material Delta-114 Combat Pistol] is the game's substitute for the Colt M1911A1 , that has been featured throughout the MGS series, starting with 2004's Metal Gear Solid 3: Snake Eater . Aesthetically, it appears to be inspired by the CZ 75 , Browning Hi-Power , and Smith & Wesson Model 39 - while it ultimately ends up looking a lot like a FÉG Model 45 ACK/GKK. The gun is chambered in .45 ACP, sports the slide inside the frame design of the CZ 75 and its derivatives, has BO-MAR style target sights, and a checkered front strap. Normally chambered in .45 ACP, the armor piercing-variants are chambered in 9mm.
AM D114LB-45
Adamska Special
Water Pistol
Action shots
Substitute for the Makarov PM pistol featured in previous installments. It is the standard sidearm for the Soviet Forces operating in Afghanistan. Appears to be a mix of the Makarov with a huge design influence from the Heckler & Koch P9S . A tranquilizer version can also be developed, and is the first semi-automatic tranquiliser handgun in the series.
A 9mm polymer-framed handgun substituting for the Glock 18 from MGS2 & 4. The Geist P3 appears to be a hybrid of the Heckler & Koch USP and Springfield Armory XD pistols. Has the lowest impact force compared to all other pistols, but has decent penetration and the highest rate of fire. Initially a semi-automatic like the Glock 17 , at level 3, a select fire switch is added to the frame, converting the Geist P3 into a three-round burst machine pistol like the Beretta 93R . Grade 6 adds a custom O-Ring barrel, which functions as a compensator and enables easier control. Geist means "Ghost" in German.
The "Uragan-5 Pistol" [BTS Instrument Design Bureau Uragan-5 Pistol] is a 5-round revolver that uses both lethal and non-lethal shotgun rounds; rather ridiculously it is a 12 gauge, which would raise some questions about why anyone would want to fire such a device more than once. It utilizes the low bore six-o-clock chamber design of Mateba revolvers, with the hexagonal cylinder design of the Chiappa Rhino series, and a break-action design similar to the MP-412 REX . A break action design on such a weapon would be highly impractical, as the high power of shotgun shells would stress the frame immensely and likely damage it since break-action designs by necessity have weaker overall frames.
Visual design aside, the weapon's concept (Russian made special-purpose shotshell revolver) appears to be taken from the KBP Design Bureau's "Udar" development program, its fruits being the U-94 and OTs-20 - even if they were chambered in a much more rational (and proprietary) 12.7mm/32ga short.
"Tornado-6"
The Tornado-6 is the weapon of choice for Revolver Ocelot in-game, replacing the Single Action Army he wielded in previous games. The Tornado-6 appears to be a altered model of the Uragan-5 (Uragan even means 'hurricane' in Russian, though the weapon is probably named after "Tornado" Yoshida, the mocap actor for Ocelot's gun-twirling in MGS3 ).
"Windurger S333/S362/S324LB"
A .44 calibre revolver with design cues taken from the Dan Wesson revolvers , and Colt Python . It substitutes the Smith & Wesson Model 19 from Peace Walker . A special version of this revolver with olive-drab grips is available in the Collector's version of the game. A long barreled version known as the S324LB is also available. There are 3 distinct variants; the standard S333 which can come in snub and standard barrel variants, the S362 which does slightly more damage but is otherwise identical and the S324LB which is a long barrel version.
Leuchtpistole
The "Zorn Kampf Pistole" is a substitute for the K. Pistol from Peace Walker , and is more or less an unaltered Leuchtpistole (without even the white Z that identifies the Kampfpistole) fitted with a Sturmpistole indirect fire sight as in that game.
Submachine Guns
The "Sz.-336 SMG" [Sodomka zbrojovka Type 336 Submachine Gun] returns from Metal Gear Solid: Ground Zeroes . It substitutes for the Sa. Vz.61 Skorpion featured in MGS3 and MGSPW. Like most weapons in the game, it appears to be made up of parts from various real firearms, such as a hybrid receiver of the Sa 23 SMG and Uzi , the Uzi's iron sights and the wire-stock and bolt of a Skorpion . The overall shape and design of the submachine gun also resembles the Alka Model 93, which happens to have parts derived from the Skorpion and the MAC 10 & 11.
In-game, it fires 7.65mm ammunition, a change from Ground Zero's version of the Sz.-336, which was chambered in 9mm. Several XOF troopers are seen wielding it while storming the hospital premises in the prologue of the game.
The "MACHT 37" [Maschinen Taktische Pistole 37] , is the game's substitute for the MP5 featured in Peace Walker and some of the previous games. West German 9mm sub-machine gun, its design is influenced by the likes of Walther MPL /K and Heckler & Koch MP5 . Aesthetically it ends up looking a lot like the H&K MP2000 prototype (an attempted lower-cost MP5 replacement that was something of Heckler & Koch SMG refinement and basis for Heckler & Koch UMP ). The overall profile of the weapon also resembles the Hungarian KGP-9 submachine gun.
A compact version called the MACHT 37K is also available. Both versions borrow design elements from the MP5 series, such as the matte black finish, iron sights, retractable stock or PDW-style folding stock. At level 2, it gains a foregrip attachment that resembles the vertical foregrip of the Heckler & Koch MP5K .
An Israeli 9mm machine pistol based heavily on the Micro Uzi with design elements from the Cobra LDP such as the barrel jacket and front slope, this weapon comes with a suppressor and 31-round magazine. Lethal and non-lethal versions are available; the non-lethal version is called the "Riot SMG" and features a suppressor based on the Sionics Two-Stage Sound Suppressor used by the MAC-10 , and is loaded with rubber bullets. Ze'ev means "wolf" in Hebrew.
A 9mm conversion of the G44 rifle. The new barrel makes it look even more similar to the FAMAS , though it also shows the Steyr AUG -like profile of the stock. Oddly, this weapon's magazine part (called "9-mag") has the same stats as the MACHT 37 magazine but gives a much larger pool of reserve ammunition.
"S1000 Shotgun"
Naked Snake uses the fictional "S1000 Shotgun", modeled after the Remington 870 with an extended forend resembling that of the Heckler & Koch FABARM FP6 while on Ocelot's white horse (yes, a white horse), against a fiery apparition resembling Colonel Volgin on an equally fiery apparition resembling a winged unicorn. The basic version has a capacity of 4 rounds and later becomes magazine-fed and gains a suppressor which appears to be modelled after a shotgun rifle grenade launching cup, while other branches of the tech tree include a 6-round version with an extended barrel and magazine tube and a 3-round "shorty" version which can be developed into an underbarrel variant. Interestingly, this variant has no forend and is instead modified as a bolt-action weapon, an idea presumably taken from the M26 MASS .
Double-barrel shotgun
The Rasp shotgun is a single-trigger 12 Gauge Double Barreled Shotgun of indeterminate model much like the "Twin Barrel" from prior games, which can be developed into a ludicrous variety of different configurations including: a sawed-off version, long barrels, variants that can equip scopes and side mounts and models designed to fire slugs and less-lethal "air shock" rounds.
Sawn-off Shotgun
A gold-plated version of the game's "Rasp SBS" is a pre-order bonus. A normal version of the weapon can also be developed as part of the Rasp shotgun's tech tree.
"Kabarga-83"
A semi-automatic shotgun based off of the Vepr-12 . It is presumably the games' equivalent to the Saiga 12 featured in Metal Gear Solid 4 .
"Bullhorn SG"
A bullpup pump-action shotgun based on the Mossberg 590 Bullpup from the 1980's, with design elements from the Kel-Tec KSG such as the stock and flat-top. Holds 8 shells in a tube magazine.
The FAL -style rifle known as the "MRS-4", returns from Metal Gear Solid: Ground Zeroes . It is part of the fictional AM-69 rifle series in the game (now seemingly changed to MRS rifle series), and draws design influences from the Beretta SCP-70/90 , the Imbel MD 97 , the FN FNC , the SR 88, the Daewoo K2 , and the Gwinn Firearms Bushmaster Rifle, standing in for a AR-15 -style carbine or FN FNC. It features a FN Para style stock, FAL-style side charging handle, cylindrical forearm with attached tactical torch, removable suppressor, and utilizes STANAG 5.56x45mm magazines.
When an optic is selected, it is mounted to a riser, resembling a Beretta SCP-70/90 carrying handle. A level 1 MRS-4 with no mods is one of the "designated" weapons for the player character during cutscenes, even if they are not actually carrying one.
"AM MRS-4R"
The SAR-80 style "AM-69" from Metal Gear Solid: Ground Zeroes is renamed the "AM MRS-4R" in Phantom Pain . It is part of a fictional series of rifles similar to the AR-15 series, which includes the MRS-4 (M4 Carbine), MRS-4R (M16) and MRS-71 (one of the various AR-15 derived DMRs). They utilize features of the FN FAL such as the long hand guard with 3 vent holes, Daewoo K2 , and the SAR-80 to which they most closely resemble. Equipping an optic mounts it to a riser just in front of the rear sight, making it resemble an M16A2 carrying handle with top rail mount.
Mare's Leg lever-action rifle
Skull Face continues to carry his "Mare's Leg" lever-action rifle from Ground Zeroes in The Phantom Pain ; it appears to be based on a lever-action Winchester rifle, and is not usable in gameplay.
It is however, shortly usable in an interactive cutscene with Skullface when he drops the gun, where Big Boss somehow shoots a grand total of 10 rounds before its emptied without any indication he reloaded, an unlikely capacity for a cut-down rifle this short.
[Gryzov Assault Rifle 76] . Chambered in 5.56mm, the SVG rifle series is a fictionalized substitute for the AK-74 , though chambered in 5.56mm instead of 5.45mm (giving it a resemblance to the AK-101 in that regard). The weapon itself is heavily modeled after the Norinco Type 81 with its long, sleek receiver and triangular receiver cover with the balklite magazines and receiver cover ribbing of the AK-74. Its handguard also appears to be modeled after the AEK-series one. The "76" designation suggests that it was adopted by the Soviets in 1976, much like how the AK-74 was adopted in 1974; the fact that the AK-47-like version is called SVG-67 suggests it took the Soviets a remarkably long time to issue an assault rifle in the game's universe, despite an AK-47 type rifle appearing in MGS3 in 1964. Strangely, as the player progresses in the game, Soviet soldiers instead switch to carrying the SVG-67 rifle and the 76 becomes far rarer.
The name appears to have been derived from that of the SVT-40 (SVT = "Samozaryadnaya Vintovka Tokareva," "self-loading rifle of Tokarev"), substituting the fictional designer Gryzov for Tokarev. This is a little odd since it is a designation that would normally be used to describe a semi-automatic rifle, lacking the "avtomat" ("automatic device") label used by the real-life AK series. Though it is possible to imagine reasons for this, no reason for it is given by the game. In earlier versions of the game, the Development menu incorrectly referred to the rifle as "Gryzov Assault Rifle 77". The mistake has since been patched.
A shortened carbine version of the SVG-76 is available. Called the "SVG-76U", it takes the role of the AKS-74U featured in Metal Gear Solid 2 , but features a longer gas block and folding stock from the AMD-65 .
A shortened carbine version of the SVG-67 is available as the "SVG-76U". Its name and appearance are based on the AKMSU, but features a longer gas block and folding stock from the AMD-65 . Like the SVG-76U standing in for MGS2's AKS-74U, the SVG-67U stands in for the AMD-65 featured in MGS3 and Peace Walker .
[UN Automatic Rifle for Combat] . The apparent ubiquitous battle rifle of the game, its design is influenced mainly by the FN FAL (stock and grip, apparent in the non-lethal version shown in one of 2015 gameplay demos), SIG SG 542 (charging handle on ejection port), and G3 -esque diopter sights and magazine well. All three battle rifles were used in African wars during the 1980's. XOF (Skull Face's men) are seen with a UN-ARC(s) with stocks similiar to the SIG SG 550 . It also has a nonlethal variant which fires rubber bullets, designated with a blue barrel, a carbine version with a folding stock similar to the FAL paratrooper, and a light machine gun version.
An advanced bullpup rifle with an in-built scope, based on various bullpup rifles from the 80s. It supplants the G11 and Steyr AUG featured in Metal Gear Solid: Peace Walker , and the FAMAS featured in Metal Gear Solid . In-game, the G44 is an advanced rifle used only by the Parasite Unit, who can summon the weapon in a manner that is never really explained and fire it one-handed.
Visually, the G44 consists of the trigger-unit and pistol grip of the Heckler & Koch G11 , the carry handle similar to the FAMAS , and the stock and magazine layout of the Steyr AUG .
Sniper Rifles
"am mrs-71/73".
A designated marksman variant of the fictional MRS rifle series, this weapon substitutes the Heckler & Koch PSG-1 from MGS1 & 2 and is modeled heavily on the Heckler & Koch MSG90 with the heavy barrel from the former. The MRS-71 is a 7.62mm variant, while the higher-level MRS-73 is a 5.56mm variant; curiously the benefit of this version is better shot groupings. For some reason the tranquiliser version, MRS-73 NL, uses a magazine labelled as .308.
"Bambetov SV"
A fictional Russian semiautomatic rifle based on the PSL Sniper Rifle with some design elements taken from the SIG SG 550 SR . The weapon's caliber is treated oddly; it is described as a 7.62mm in the options, but its 8-round magazine is listed as .308 in the customize menu; this name is used for sniper rifles (the same is used for the MRS-71's 20-rounder) while the battle rifle magazines (which can also be used by sniper rifles) are listed as 7.62mm. The ".308" caliber has a huge boost in penetration but much lower overall ammunition capacity.
"Brennan LRS-46"
A fictional bolt-action .50 caliber sniper modeled after the Accuracy International AW50 , but with a much bulkier handguard.
The Sniper Quiet use a more powerful customized variant called the "Sinful Butterfly".
"Serval AMR-7"
A branch off the "Brennan LRS-46" development line is a semi-automatic version called the "Serval AMR-7," which appears to be principally based on the Gepard GM6 Lynx (which it is rather transparently named after, servals being a medium-sized wild cat species) and Mechem NTW-20 .
"Broughton M-2000D"
A bolt action rifle chambered in 7.62mm, that has elements from "early Cold-War Sniper Rifles" like Winchester Model 70 and Remington Model 700 - featured in Ground Zeroes . In The Phantom Pain , it can be equipped with a more modern chassis, resembling that of the PGM sniper rifle series .
"Renov-ICKX SR"
A bolt-action rifle chambered in 7.62mm, this rifle appears to be based on a Czechoslovakian vz. 54 Sniper Rifle , which itself is a variation of the Mosin-Nagant Rifle , although the Renov's action is more Mauser than Mosin. Like the Broughton M2000-D, it can be placed in a more modern chassis, which some gun owners do to their Mosin-Nagants in real life; the chassis resembles that of the Blaser R93 Sniper Rifle .
The beautiful silent sniper Quiet uses a unique "Renov-ICKX" as her weapon of choice with customizations not available to the player, which include a unique chassis, a stainless steel barrel and receiver, a custom match trigger, a different scope and mount system, slam pads on the magazines, and is fitted with a unique "Broughton" scope. She has two variants of the rifle: a lethal variant known as the "Wicked Butterfly" and a non-lethal variant known as the "Guilty Butterfly." Her non-lethal version is significantly more powerful than the one available to the player, being able to knock off soldiers' helmets, which none of the normal tranquillizer rifles are capable of doing. Her rifles also have a green laser sight visible only to the player that indicates who she is targeting, after she is recruited, replacing a red one used during her boss battle.
The same version, fitted with a more sophisticated scope, is also used by the Skull snipers encountered in mission 28.
Machine Guns
The UN AAM [UN Modular Automatic Weapon] is a fictional LMG chambered in 5.56mm based off of the FN Minimi and FN MAG . It replaces the Stoner 63 from Snake Eater and Peace Walker . Its never explained why the weapon is designated AAM instead of MAW, which would be more logical for Modular Automatic Weapon. But it might be related to the fact that the name is in French like the real life counterpart MAG so "AAM" would mean "Arme Automatique Modulaire".
[Aberdeen Lighter Machine Gun Type 48]. A possible reference to the Aberdeen Proving Ground facility. A GPMG chambered in 7.62mm. Obviously modeled off of the M60 Machine Gun from Peace Walker , but with minor differences such as a boxier stock.
The LPG-61 [Gryzov Light Machine Gun-61] , is a fictional Russian GPMG heavily based off the PKM Machine Gun , a weapon previously used in Peace Walker , is often carried by Soviet troops in Afghanistan. The LPG-61 fires 7.62mm ammunition from a 150-round belt. Why it is referred to as LPG, and not PG as is standard Soviet naming conventions is never explained by the game.
The "PG-76" is the SVG rifle series' equivalent of the RPK-74 , though it is not named RPG-76, likely in order to avoid confusion with the RPG-7 rocket launcher.
The "PG-67" is the SVG rifle series' equivalent of the RPK featured in Peace Walker .
"AM MRS-4LS"
The "MRS-4LS" is the AM rifle series' equivalent of the Diemaco/Colt Canada C7/C7A1 LSW with the addition of a RPK -style stock.
"UN-ARC-HB"
The light-support variant of the UN-ARC, which is based on the heavy-barrel FAL variants sometimes used as light support weapons.
An LSW version of the G44. The way the extended barrel protrudes from the shroud makes it more reminiscent of the G11 's magazine and fits the role of bullpup IARs such as the Steyr AUG HBAR , though the vented handguard of the top-level model makes it loosely resemble the L86 LSW of the SA80 series.
A break-action, single-shot 40mm grenade launcher based on the HK79 with a stand-alone stock based on the KAC Stand-alone M203 . The two main research chains are for an underbarrel version with high-level versions able to fire different ammo types (as in Peace Walker , there is no switching of types, each instead being counted as a different type of gun) or a long-barrel standalone-only variant which can later be modified to fire RPGs (!), though in practical terms this just extends grenade range with no new effect for firing them.
The "Fakel-46" grenade launcher is more or less exactly the same as a GP-25 grenade launcher . One chain of research results in an underbarrel version and various new round types, while the other for the "Fakel G-33" results in progressively sillier multi-barrel models. While there is a real-life multi-barreled GP-styled launcher called the Avalanche MSGL manufactured by Arsenal, this is a revolver-style grenade launcher with a spring-operated rotary cylinder, resembling an RG-6 grenade launcher with no barrel.
"Isando RGL-220"
A fictional 6-shot 40mm grenade launcher heavily based on the Russian RG-6 grenade launcher with design elements from the MGL-140 grenade launcher.
"Hail MGR-4"
A fictional magazine-fed grenade launcher with a conventional layout. At level 4, the magazine capacity is increased to ten rounds and a 20-round drum magazine becomes available at level 6. It comes with a computerised rangefinding scope (which appears to actually be an AN/PVS-10 sniper night optic with two extra battery covers added). It is probably based on the non-bullpup GL module of early XM29 OICW variants (a forerunner to the Heckler & Koch XM25 featured in Metal Gear Solid 4 ), with aspects of the prototype carbine version of the Howa Type 89 used in the Japan Ground Self-Defense Force's Advanced Combat Infantry Equipment System, especially the stock. The barrel and handguard seems to be based on that of the Heckler & Koch CAWS seen in Peace Walker .
The highest-level version can mount underbarrel accessories, but only a foregrip; it is conceivable that a version which could be built as an over / under combination weapon was planned, though the later-added level 8 version can still only use a foregrip.
A fictional launcher resembling a cross between the M47 Dragon and FGM-148 Javelin , the CGM (Cluster Guided Missile) launcher is a very videogamey disposable multi-lock rocket launcher. Functioning as a sophisticated "cluster" missile launcher, it launches a single missile that splits into up to eight separate projectiles, vastly increasing its damage potential.
"FB R-Launcher"
Returning from Metal Gear Solid: Ground Zeroes , the [Falkenberg Multi-Role Rocket Launcher] is a breech-loading 84mm recoilless rifle. In overall design and appearance it most resembles the Carl Gustav M3 , but many of the individual details have been remixed and smashed together from other first-world bazookas, both contemporary and futuristic. It carries on the Peace Walker Gustav's legacy with special-purpose rounds that only the Falkenberg can develop.
Standing in for the RPG-7, this fictional Soviet rocket launcher visually takes after the Panzerschreck and Panzerfaust 3 . Compared to the first-world dumbfire launcher, the Grom-11 is always faster to reload, cheaper to field and easier to develop. It also keeps pace in damage and has a deeper ammo reserve until the western ☆5 finally puts it in second place. Grom means "thunder" in Russian and other Slavic languages.
"Honey Bee" / "Killer Bee"
During the mission "Where do the Bees Sleep?" the player character is tasked with retrieving a prototype MANPADS called "Honey Bee" which is a hybrid of the FIM-43 Redeye and the M134 training set for the FIM-92 Stinger . The weapon's name, as well as being an obvious reference to US Stingers being sent to Afghanistan, comes from it using a dual IR / UV seeker designed to throw off countermeasures, which is a feature of the FIM-92B, and refers to the ability of bees to see ultraviolet light. Mother Base can later develop their own version, the "Killer Bee," though this requires a member of staff with the Missile Guidance Specialist skill.
Rheinmetall MK 20 Rh 202
Mounted in a modified German Marder IFV turret on Western-supplied LAVs, renamed as "Stout IFV."
M134 Minigun
A pair of M134 Miniguns with flash suppressors are mounted on rather overcomplicated articulated arms on the sides of the fuselage of the UTH-66 Blackfoot, callsign "Pequod" (Big Boss's transport helicopter and not particularly subtle Moby Dick reference), the apparent purpose of which is to allow them to double as both door guns and forward-firing fixed armament that allows "Pequod" to be called in as an ersatz gunship. A minigun can also be developed as a primary weapon for the "D-Walker" mech that Big Boss acquires partway through the story. Ammunition is stored in a large green drum similar to its configuration in Peace Walker .
Returning from Ground Zeroes , M61 Vulcans in M167 VADS installations can be found in the Africa map; the game dubs these "M276 AA Gatling Gun."
"VOL-GA K12"
A stationary HMG mounted on a tripod and on Russian tanks. Its appearance is similar to that of the DShKM .
"HMG-3 Wingate"
The "HMG-3 Wingate" is a stationary HMG mounted on a tripod and on US-supplied tanks and heavy LAVs. Its appearance is similar to that of the Browning M2 .
The Afghanistan map features Soviet AA guns called "Zhizdra-45s" based on the ZU-23 .
M18A1 Claymore
The M18A1 Claymore can be developed; as ever in Metal Gear Solid it is incorrectly shown as proximity detonated. Some side ops are dedicated to disarming them, and later in the game minefields will start to appear on the approaches to enemy strongholds. A Deployment mission can be done to temporarily prevent them from spawning. As usual they show up bright if thermal goggles are used; as well as this, D-Dog will automatically identify mines if they are present, as will the Intelligence Department if their level is high enough.
Like in Peace Walker enemy Claymores are not disarmed and retrieved by crawling over them; instead, they must be approached from the rear, whereupon an action prompt will appear to pick them up. Presumably this has been retained because it is more realistic, since it is now possible to move while prone and so crawling over them to pick them up as in previous Metal Gear games would be an option.
The December 2015 update added a level 9 weapon using the Claymore model called the E-RB WH. Gen. This "wormhole generator" can be placed anywhere by the player and functions as a portable fast travel point when activated.
M67 Hand Grenade
M67 Hand Grenades can built at Motherbase.
M18 Smoke Grenade
M18 Smoke Grenades can be developed to be used by the player character; upgrades increase the duration of smoke and the number that can be carried. They are also present on NPC soldiers and two are shown on the chest rig of the Battle Dress suit.
Metal Gear Series
Japanese Produced/Filmed
Third-Person Shooter
Science-Fiction
Navigation menu
The Vandal is a Rifle that is a primary weapon in VALORANT .
2.1 Primary Fire TTK
2.2 Alternate Fire TTK
2.3 Spread values
3 Update History
Summary [ ]
The Vandal is a high-cost automatic rifle. One of VALORANT' s best general-purpose weapons, it is most effective at picking off individual targets at longer ranges due to having no falloff, allowing it to kill any enemy with a single headshot at all ranges.
Compared to VALORANT' s other general-purpose rifle, the Phantom , the Vandal is guaranteed to instantly kill an enemy with one bullet to the head whereas the Phantom's damage falloff results in it requiring multiple bullets at medium to long range to get headshot kills. However, the Phantom's higher fire rate and accuracy make it better at taking on multiple enemies at short to medium ranges over the Vandal.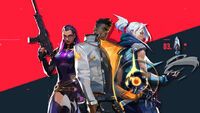 12 June 2020
Headshot multiplier: x4
Leg shot multiplier: x0.85
Primary Fire TTK [ ]
Alternate fire ttk [ ], spread values [ ], update history [ ].

Tap Efficiency determines the rate that inaccuracy is accrued when re-firing prior to waiting for the complete duration of a weapon's respective Gun Recovery Time. The higher the Tap Efficiency, the lower the rate of inaccuracy accrual

"Fixed an issue where the Gun Recovery Time was higher than intended"
"This was intended to be the case and now properly matches the crouch benefits of other rifles "
During the Beta, the weapon's full name was the AR-762 Vandal (Assault Rifle).
The "762" designation suggests it is chambered in .30 caliber ammunition, such as 7.62x39mm or the larger 7.62x51mm NATO , but most likely a derivative of 7.62x39. Note the significant curvature of the Vandal's magazine, which matches the proven design in the wide majority of 7.62x39 magazines .
The Vandal's design take references from several rifles based on the Kalashnikov platform. The general design is influenced by the Kalashnikov USA AK Alpha , considering the shape of the slanted edges of the magazine well and magazine release, the trigger guard, the charging handle, the handguard, the gas block and the flash hider. The pistol grip, dust cover and stock adapter were inspired by the IWI Galil ACE chambered in 7.62x39, the Stock inspired by the Magpul UBR stock , and the rear sight and front sight merged with the gas block are based on the AKS-74U . The muzzle brake is also highly reminiscent of that seen on a standard AK-74.
↑ File:Weapon lengths.png
3 Weapon Skins

All Game Guides
Genshin Impact
Call of Duty
Final Fantasy
Blox Fruits Codes
Blade Ball Codes
Fruit Battlegrounds Codes
Haze Piece Codes
King Legacy Codes
Shindo Life Codes
Anime Champions Simulator Codes
Peroxide Codes
General Game Codes
Genshin Impact Codes
All Fortnite Guides and Cosmetics
Fortnite Skins List
Fortnite Item Shop
Fortnite Leaked Skins & Cosmetics List
Fortnite Rarest Skins
Fortnite Rarest Emotes
Best guns in Roblox Phantom Forces
Check out PGG's picks for the best guns here!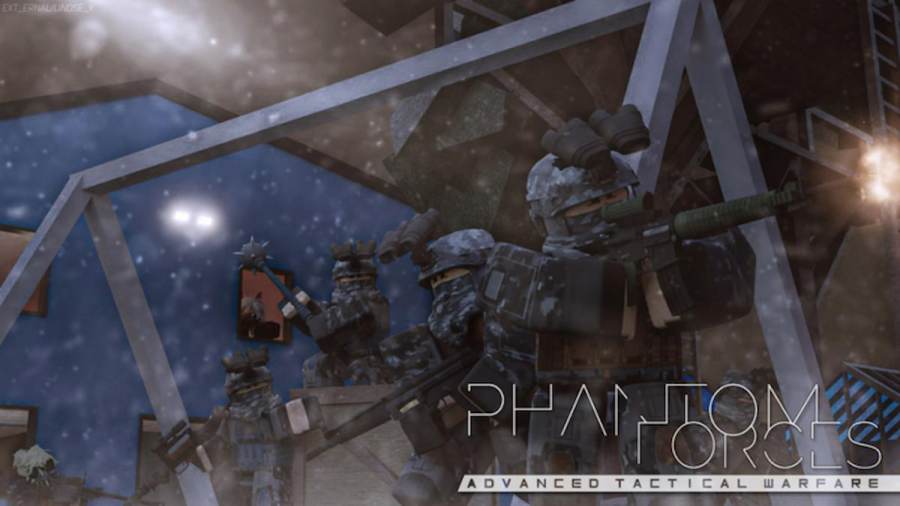 In an experience with over 150 unique weapons, it can be hard to pick out the best ones—which is why we've done it for you! This quick list will pinpoint the best options from each weapon type in the Roblox FPS  Phantom Forces , along with a brief overview of their stats. Keep in mind, however, that these are just our picks, and what works best for us might not work best for you—it's all dependent on play style and personal preference!
Best assault rifles
Very high damage at close range, high damage at medium range, and decent damage at long range
Good bullet penetration
Decent range capabilities
High recoil and drift, can be hard to control if used fully automatic
Slower rate of fire when compared to other assault rifles
Slightly lower time to kill (TTK) when compared to other assault rifles
Low recoil when used consistently
Fastest tactical reload time in its class
Highest muzzle velocity in its class
Good range when compared to other assault rifles
Common ammunition type
High, possibly obstructing muzzle flash
First shot recoil
High minimum damage amount
Very low recoil
Slightly obstructive iron sights
Slightly longer reload time when compared to other assault rifles
High damage at all ranges
Low ammo consumption rate
Mild vertical recoil
Below-average muzzle velocity when compared to other assault rifles
Very high horizontal recoil
Below average TTK when compared to other assault rifles
Good hip-fire accuracy and stability
Good damage at close range with the ability to three-shot kill (3SK)
Decent rate of fire
High horizontal recoil
Low minimum damage
Slightly longer reload time
Short TTK when compared to other PDWs with the ability to 2SK
Extremely low vertical recoil
Fast reload time
Low ammunition consumption rate
Unobstructed iron sights
Slightly above average magazine capacity
Slow rate of fire when compared to other PDWs
Short damage drop-off range
Fully-automatic only
Slightly high horizontal recoil
Very high damage in close combat
Very high rate of fire
Fast movement speed
Selectable aiming mode
Short TTK when compared to all other PDWs
Short headshot range
Obstructive iron sights
High vertical and horizontal recoil
Low minimum and maximum range
High damage when compared to all Phantom Forces weapons
Low horizontal and vertical recoil
2SK headshot capabilities
Below-average muzzle velocity when compared to other PDWs
Low magazine capacity when compared to other PDWs
Slow rate of fire
High damage in all ranges
Fast rate of fire
Above average magazine capacity
Decent range
Good middle ground PDW
Slightly high horizontal and vertical recoil
Highest base damage in its class
Short TTK in close combat, utilizes a torso multiplier
Decently long damage range when compared to other PDWs
Very slow rate of fire when compared to other PDWs
Slightly obstructive iron sights with a high muzzle flash
Low muzzle velocity
Very good bullet penetration
High ammunition reserve
Large magazine capacity
Impressive close combat abilities for its class
Long reload time
Extremely high horizontal recoil that makes the gun hard to control
Slow mobility when compared to other LMGs
Slow ADS speed
Good damage range
Very fast rate of fire for a burst gun
Fastest reload time in its class
High muzzle flash
Poor bullet penetration
High ammunition consumption rate
Lowest overall damage in its class
Highest damage in its class
Decent hip fire accuracy and stability
High vertical recoil
Low mobility
Decently long damage range
Very low gun recoil
Large magazine capacity and ammunition reserve
High camera recoil
Fastest rate of fire in its class
Mild recoil, but controllable
Massive ammo reserve at 300 bullets, the best out of every Phantom Forces gun
Slow walkspeed
Highly obstructing muzzle flash
Small magazines
Related: Best Roblox aimbot scripts for FPS
Best sniper rifles
Extremely high damage with a 1SK to the torso or head at any range
Guaranteed 1SK anywhere within 50 studs
High muzzle velocity
Long steady hand time
Lowest rate of fire out of all guns in Phantom Forces
Relatively easy to learn and use, good sniper for both beginners and veterans
Decently high rate of fire for its class
Extremely high damage in close combat
Highest default muzzle velocity of all guns in Phantom Forces
Slow walk speed
Decent muzzle velocity
Good steady hand time
1SK to any part of the body in close combat
Very fast tactical reload
Large ammo reserve
Small magazine capacity when compared to other sniper rifles
Slow movement speed
Semi-automatic capability removes the need to stop ADS-ing after a bullet is fired
1SK to the head at all ranges, 1SK to the torso at close to medium range
Long recoil recovery time after shooting
Suppressor lessens the chance of 1SKs
Best bullet penetration of all guns in Phantom Forces
1SK to the head and torso at all ranges
Second highest muzzle velocity in its class
Small ammo reserve
Extremely high horizontal and vertical recoil
Longest reload time of all snipers
Best carbines
Good hip-fire stability and accuracy
High first shot recoil
High horizontal and vertical recoil
Below average TTK when compared to other carbines
High damage at all ranges when compared to other carbines
Decent bullet penetration
Small magazine capacity for an automatic weapon
Low horizontal recoil
Above average rate of fire when compared to other carbines
High damage in close combat, decent damage at medium range
Very high first shot recoil
Very low damage at long range
Pre-integrated vertical grip
Decent minimum damage
Decent reload speed
Long damage drop-off range
Slow TTK in close combat
No reload cancel
Below average minimum damage when compared to other carbines
Decent range for its class
Good all around carbine option
Due to Phantom Forces having such few DMRs, we will be picking the top three instead of five.
Low horizontal and vertical recoil with a fast recoil recovery speed
Second largest magazine capacity in its class
Small ammunition reserve
Decent magazine capacity
High rate of fire when compared to other DMRs
High damage in close combat
Decently fast reload time
Below average range when compared to other DMRs
Loses accuracy upon rapid firing
1SK and 3SK capabilities to the head and torso at close and medium range
Extremely high muzzle velocity
Largest ammo reserve of its class
Smallest magazine capacity of its class
Slow reload time
Related: Arsenal Codes | Roblox (January 2022)
Best battle rifles
Due to Phantom Forces having such few battle rifles, we will be picking the top three instead of five.
High damage at close and medium range
Fastest reload time of all other battle rifles
Extremely short TTK
Extremely stable and accurate hip fire
Can be automatic or burst
High recoil when ADS-ing
High ammo consumption rate
Slowest muzzle velocity of all other battle rifles
Small magazine capacity
Fast reload time compared to other battle rifles
Long damage range
Uncommon ammunition type
1SK to the head at all ranges, 1SK to the torso at close range
Fast ADS speed
Fast rate of fire when compared to weapons that do similar amounts of damage
Can continue firing while reloading
Very low muzzle velocity
Slowest rate of fire of all battle rifles
Best shotguns
Due to Phantom Forces having such few shotguns, we will be picking the top three instead of five.
High damage
Tight pellet spread
Slugs enables a 1SK to the head at all ranges and a 1SK to the torso in close combat
Slug rounds make it more difficult to hit ranged enemies
Has instant-burst capabilities
Very high damage per pellet
Fast ADS speed when compared to all other shotguns
Highest maximum damage of its class
Second highest velocity of its class
Slug enables a 1SK to the head at all ranges
Only two bullets per magazine, constant reloads
Cannot attach suppressers
Requires a steady hand and good aim to be used efficiently
Decently tight pellet spread
Fasted reload time of its class
Slightly obstructed iron sights
Best pistols
Largest magazine capacity of its
High damage range when compared to other pistols
Low vertical recoil
Highest muzzle velocity of its class
Obstructive recoil animation
In order to get a 3SK, all shots must land on the torso
High damage in close combat, decent damage at medium and longe range
High damage range
Small base magazine capacity
1SK to the head in close combat
Fastest reload time of its class
Above-average muzzle velocity
Recoil is irrelevant due to the gun being single shot
Fastest ADS speed of all guns in Phantom Forces
Very low base damage
Low damage at all ranges when compared to other pistols
Very high damage, 1SK to the head in close combat
Decent damage range
Low rate of fire
Uncommon ammo type
Very short damage drop-off range
Best machine pistols
Due to Phantom Forces having such few machine pistols, we will be picking the top three instead of five.
Short TTK, one burst kill in close combat
Low accuracy
Very short TTK, 3SK in close combat
Very high hip fire accuracy and stability
Very high horizontal and vertical recoil
High damage in close combat, high damage at medium range, decent damage at long range
Short TTK, 3SK in close combat
Low maximum damage range
Best revolvers
Due to Phantom Forces having such few revolvers, we will be picking the top three instead of five.
High damage in close combat, 1SK to the head
Decent reload time
Slow recoil recovery speed
Steep damage drop-off range
High damage at all ranges, 1SK to the head in close combat, 2SK to the torso + head at long range
Fast recoil recovery speed
Tight hip fire spread
Extremely high horizontal and vertical recoil while ADS-ing
Works as a pistol/shotgun combo
Highest per-pellet damage out of all shotgun
Second highest rate of fire out of all shotguns
Small magazine capacity, four pellets per shot
Very slow recoil recovery speed
That's our picks for the best guns in Phantom Forces! What are your favorites? Let us know in the comments below!
Looking for more Roblox content including guides, news articles, and best-of lists like this one? Check out the Roblox section of Pro Game Guides often for more!
About the Author
More Stories by Grace Doyle
Cancel reply.
Comments are on moderation and will be approved in a timely manner. Please read the following rules before commenting:
All comments must be on topic and add something of substance to the post
No swearing or inappropriate words
No asking or begging for anything free
Do not attempt to start a poll in the comments
Comments in all CAPS will be removed
We reserve the right to remove a comment for any reason
Do not impersonate a staff member or influencer
Save my nickname and email in this browser for the next time I comment.
This site is protected by reCAPTCHA and the Google Privacy Policy and Terms of Service apply.