Nike Phantom GX – Review
An all new phantom.
Nike is back with a highly anticipated update to the Phantom line. The Phantom GT has been out for several years now, and the design of the boot has remained unchanged for a while. Just in time for the 2022 World Cup, Nike swooped in and delivered a football boot that's different to anything we've seen before. In this review, we'll cover all of the features of the new Nike Phantom GX to see if it's a good choice for you.
The Nike Phantom GX is set for a wide release in the coming months, and you'll soon be able to pick up a pair at World Soccer Shop . If you plan on getting a new pair of boots, use code FINISH10 at checkout to get 10 percent off your order. Now, let's get into our review of the new Phantom GX!
Sleek Two-Piece Upper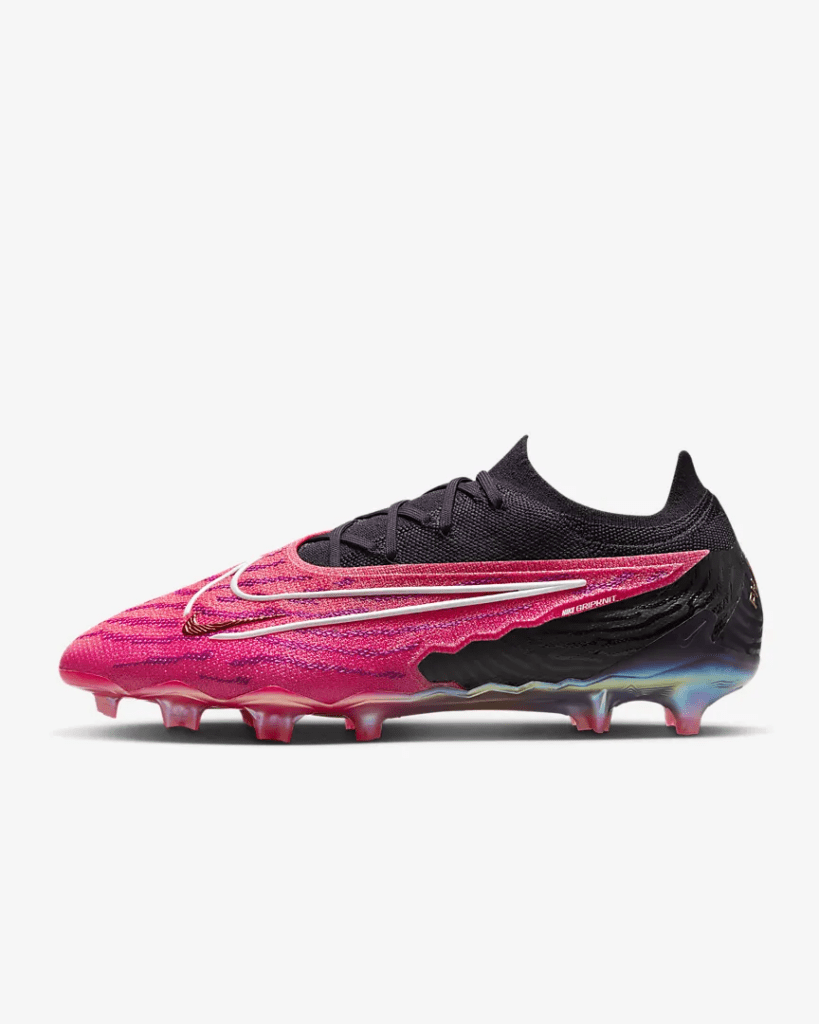 One of the first things you'll notice about the Phantom GX is that the upper is split into two distinct sections. There is a classic Nike Flyknit inner layer that extends through the tongue, followed by a new outer layer called Gripknit.
This makes for a design that's unlike anything that we've seen so far from the Phantom series. The two layers overlap slightly, as the Gripknit provides a partial covering to the lacing system. Aesthetically, the Phantom GX seems to be more similar to the original Hypervenom compared to the more recent Phantom GT. I personally think this design is sleek and refreshing. Nike has also done a great job on the launch colorway, featuring a blend of hyper pink and black.
Nike Gripknit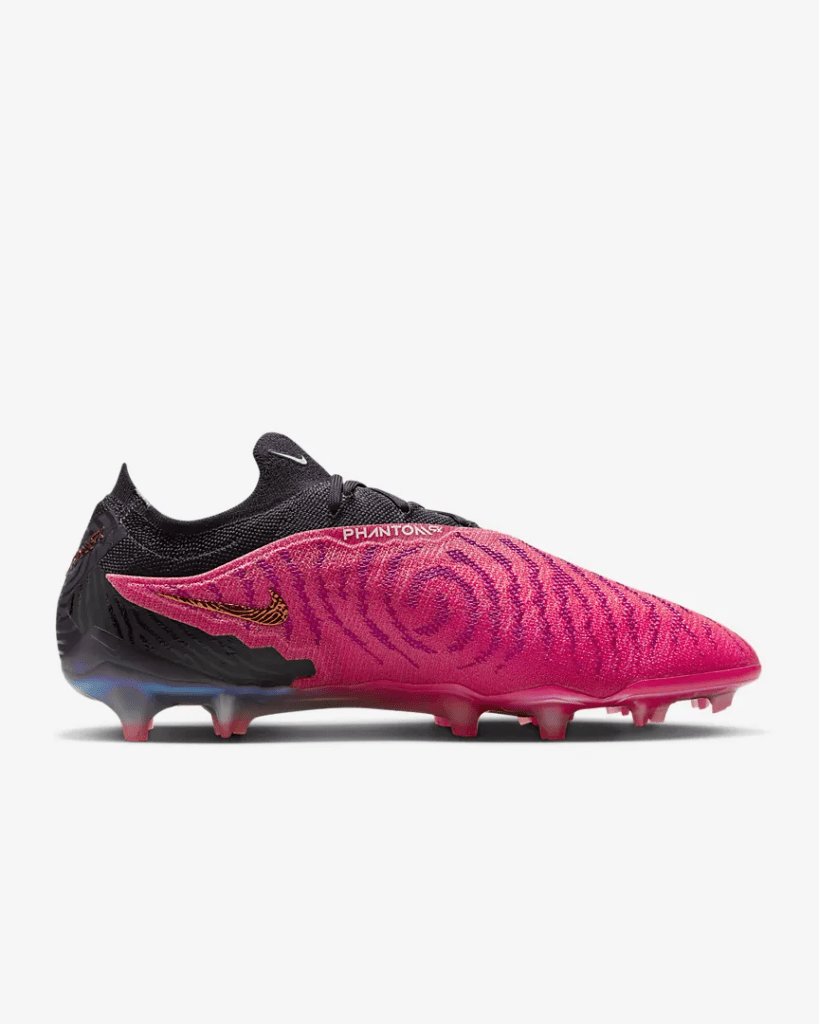 From a technological standpoint, the Gripknit material is Nike's main advancement in the Phantom GX. This new material is pliable, soft, and it wraps the foot tightly. It has a look and feel that's similar to the upper on the Hypervenom 1, but with even more traction.
The Gripknit upper has a sticky, web-like coating to it. This new upper takes a little getting used to on the field, but it still provides noticeable benefits. When playing in both dry and wet conditions, the Gripknit upper gives you ample traction on the ball. You can feel the difference when you need to make a close first touch or dribble in tight spaces.
In addition to the added grip, this new upper is also really comfortable on feet. It stretches more than its predecessor, giving you a lot of freedom while running.
Fit and Feel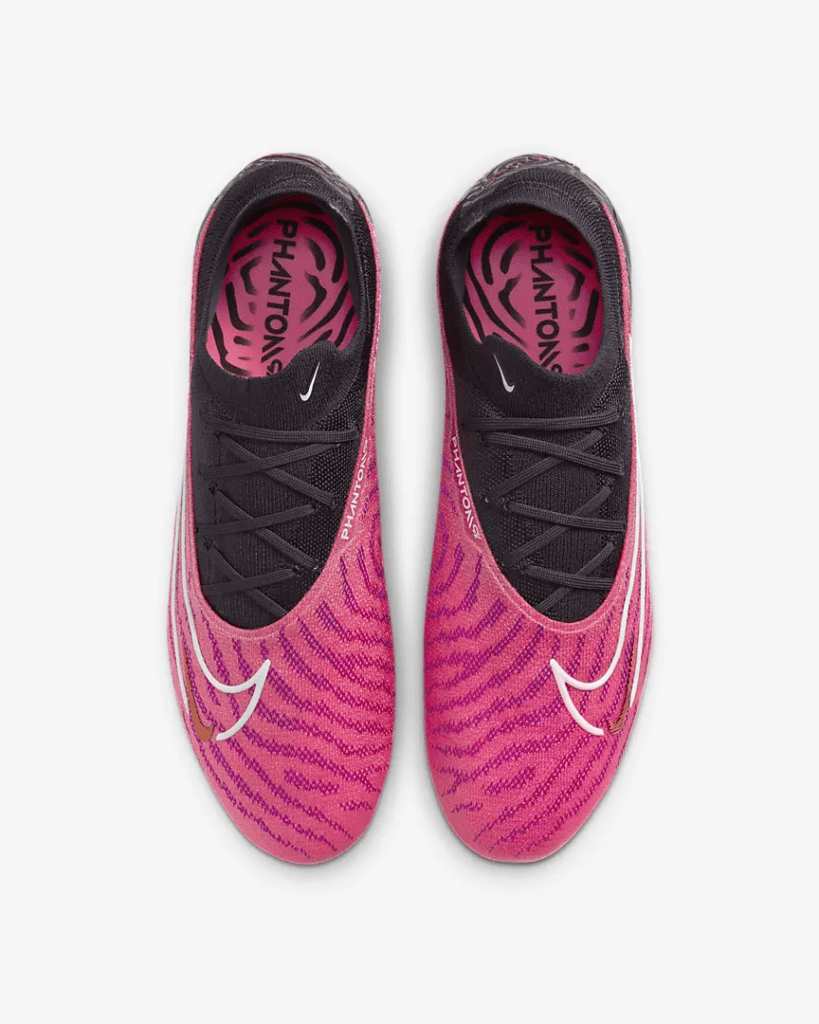 The fit and feel of the Phantom GX is the best that Nike have ever delivered in the Phantom series. You really get a sock-like sensation from the Flyknit inner lining of the boots. Despite being flexible, the upper still wraps your foot tightly to provide solid lockdown.
Nike have also removed part of the heel counter that was found in their previous model. This helps alleviate pressure points at the back of the boot and provide a more comfortable experience.
Due to the stretch provided by the upper, The Phantom GX is a solid option for players with wide feet . So if the Mercurial Vapor 15 is a bit too narrow for you, then this boot may be the perfect solution. Just to note, the Phantom GX runs slightly long. However I still recommend ordering true to size to get the best fit.
Tri-Star Sole Plate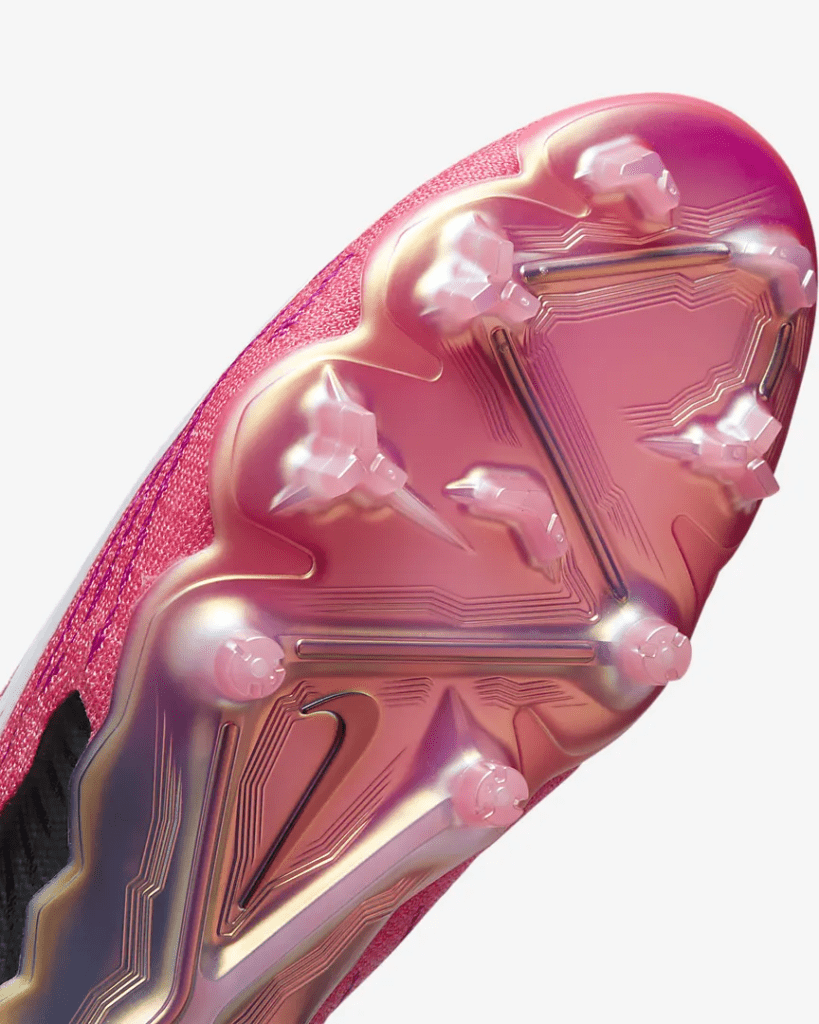 The Phantom GX boasts a brand new sole plate with a completely fresh design. Nike boasts that this sole plate has the highest number and biggest variety of studs on any boot they've ever made. It's true that this boot has a unique combination of conical, chevron, and tri-star shaped studs. Nike also suggests that the placement of the studs was inspired by how players move on the field.
Despite having all of these different studs, it's hard to notice any major difference with this new sole plate. It provides more than enough traction on the field, but I do wish that it was slightly more rigid. It doesn't have quite the same snap compared to the carbitex sole plate on the Adidas X Speedportal .
High Cut Phantom DF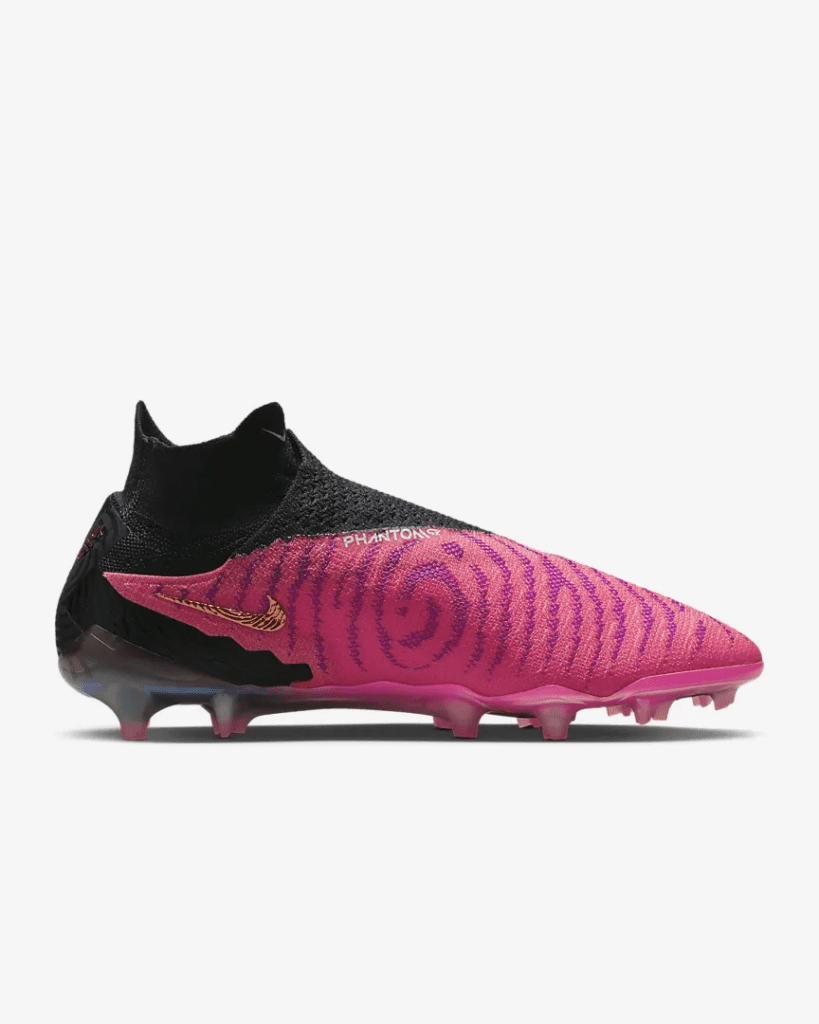 Similar to previous models, you can also get the Nike Phantom in a high cut dynamic fit (DF) variation. The Phantom DF is similar in almost every way to the Phantom GX. The key difference being that the DF has an extended flyknit collar that wraps around the ankle. This collar is similar to what you'll find on the Mercurial Superfly 9 .
The Phantom DF also has a more narrow heel compared to the Phantom GX. This provides a slightly more secure feeling on feet, and it also increases the overall lockdown of the boot. Another sleek addition to the Phantom DF is the Ghost lace cover (shown below).
Ghost Lace Cover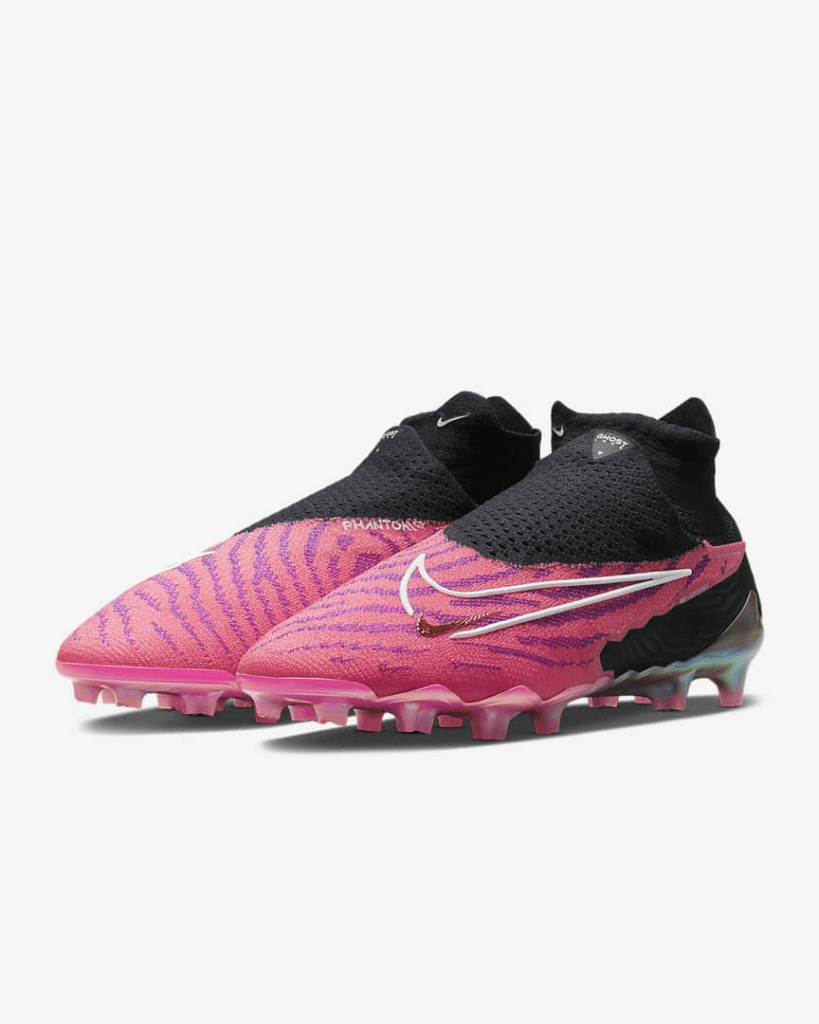 From a distance, the Ghost lace cover may give the impression that the Phantom DF is a laceless football boot. However, this cover is simply there to provide a smooth surface across the top of the upper.
This lace cover has some pros and cons. It feels great to have a clean striking surface all the way through the midfoot, but the cover does create some accessibility issues. For example, it can be slightly annoying to tie and adjust your laces once you've put on your boots, since you have to constantly get under the cover. However, you get used to this pretty quickly.
Final Thoughts
The Nike Phantom GX is the best upgrade to the Phantom series in years. Nike have done a great job executing their vision with the new Gripknit upper. They've also created a really comfortable football boot, which is the most important feature for a lot of players. This boot is good enough to compete with the Mercurial Vapor 15 , and it should definitely be on your radar if you're on the market for a high end boot.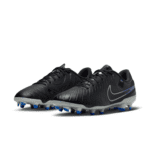 Similar Posts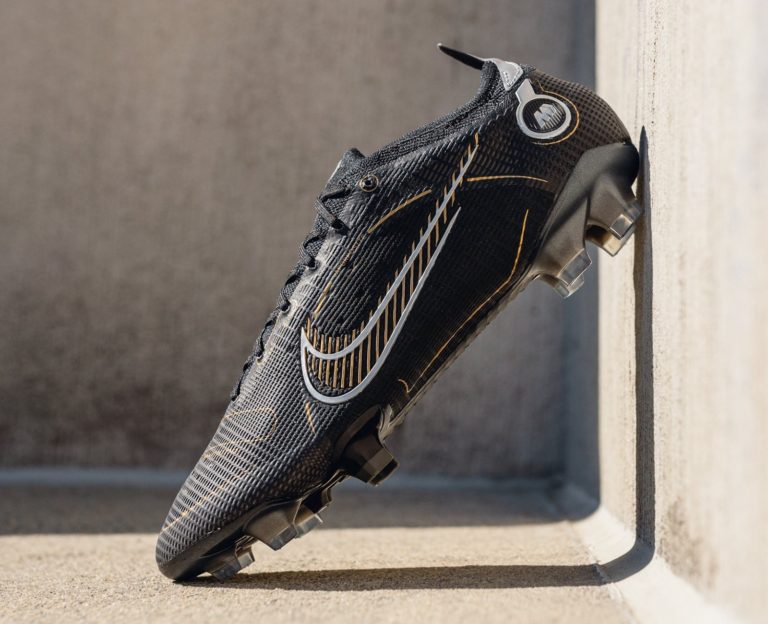 Best Football Boots for Narrow Feet
Best Football Boots for Narrow Feet Everyone knows that it's important to get the right fit when buying football boots. When your boots feel comfortable, you'll be able to play to the best of your ability on the field. However, getting the right fit isn't always easy. This is especially true for players who have … Read more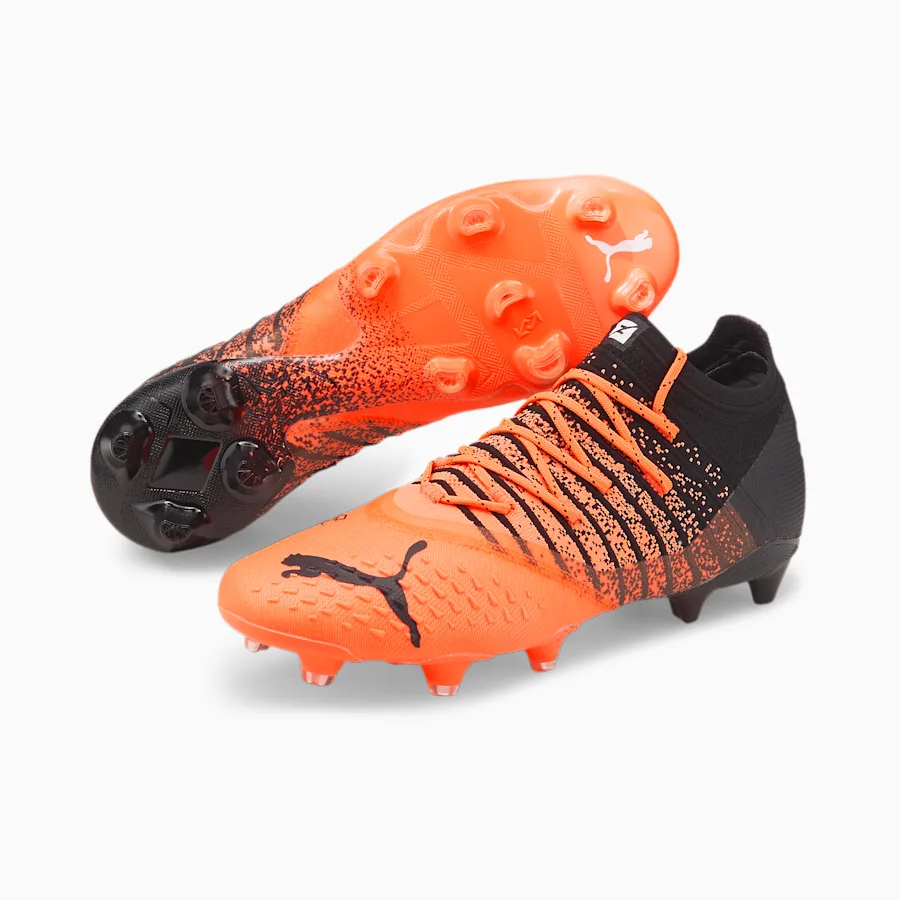 Best Puma Football Boots of 2022
Best Puma Football Boots of 2022 Puma has really been working under the radar in recent years. The Company was created by Rudolph Dassler in 1948, while his brother went on to create the well renowned Adidas. In modern day football, Nike and Adidas seem to take most of the market share regarding football boots. … Read more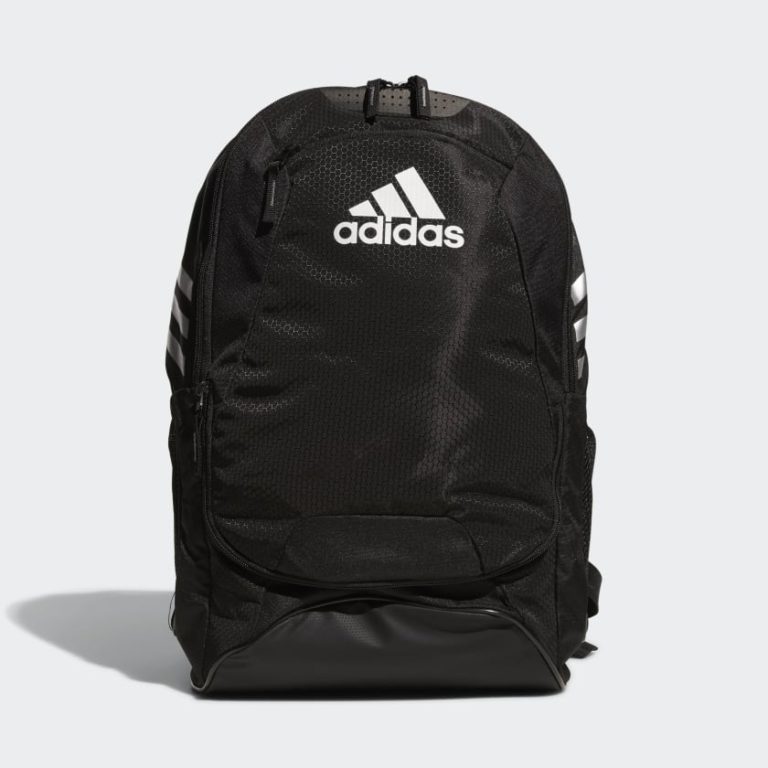 Best Football Backpacks of 2022
Best Football Backpacks of 2022 Anyone that's been playing football for a while knows how quickly you can accumulate gear. It's important to have a bag that can easily transport your boots, balls, cones, water, and any other equipment you may have. A great bag will ensure that you arrive to the field prepared for … Read more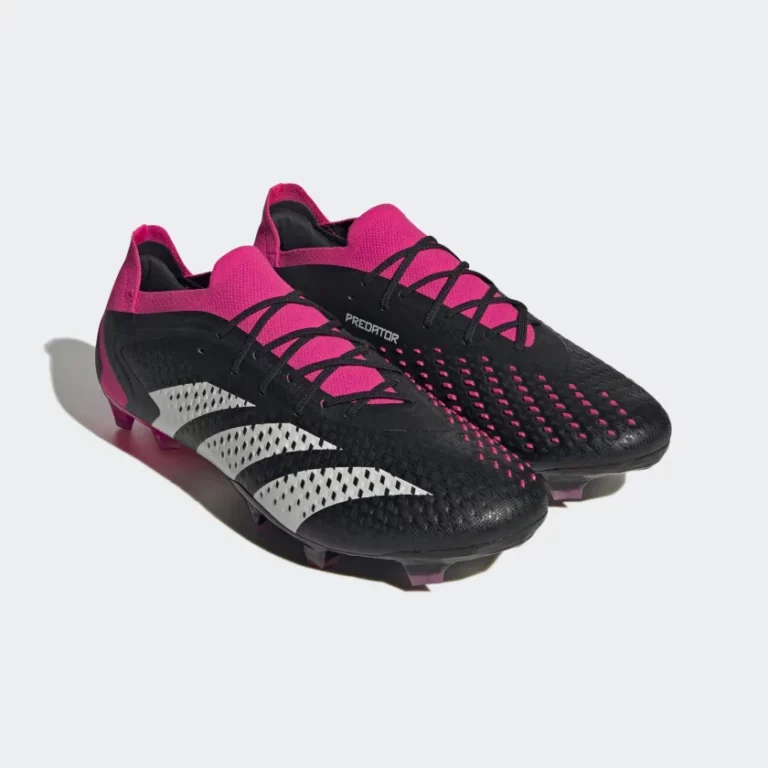 Adidas Predator Accuracy – Review
A New Look Predator Adidas have reinvented their famous predator football boot once again. This time around, they've done an amazing job. The all new Predator Accuracy gets almost everything right. For many players, the previous Adidas Predator Edge wasn't their favorite choice. Although it had unique rubber elements to give you tons of traction, … Read more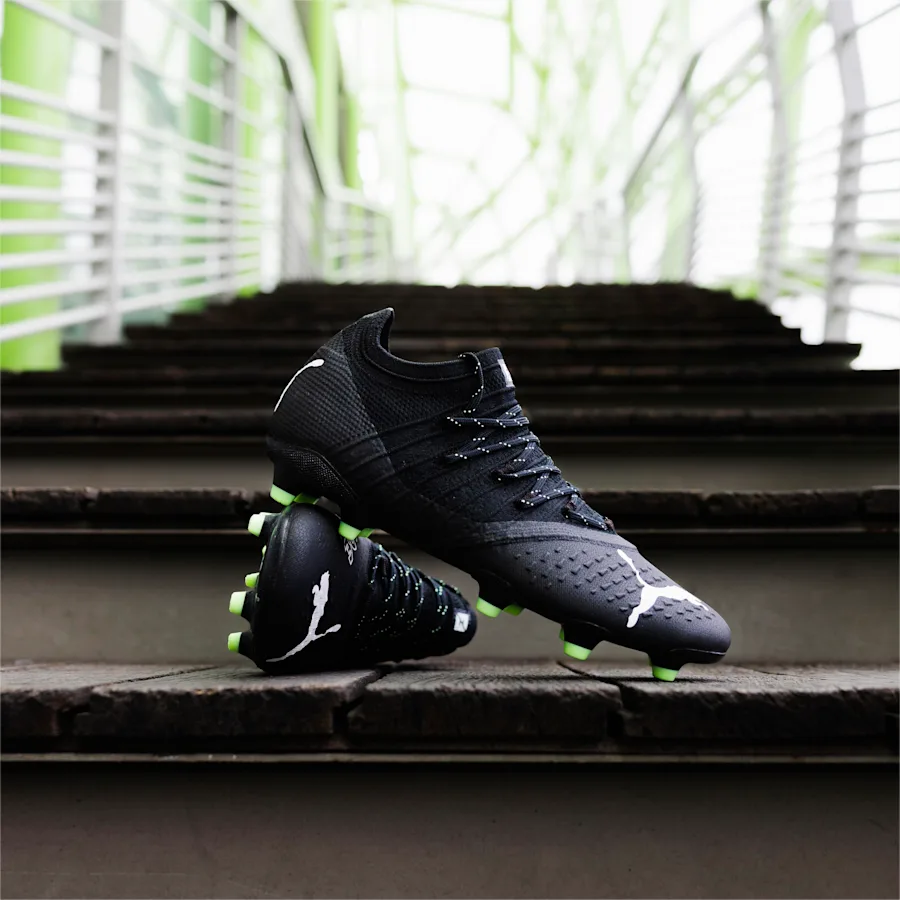 Puma Future Z 1.3 – Review
Puma Future Z 1.3 Review Puma is back with a fresh update to their Future Z football boot line. With the Future Z 1.3, Puma is looking to improve upon what is already a great boot in the Future Z 1.2. With this new model, they may have done just that. In this review, we'll … Read more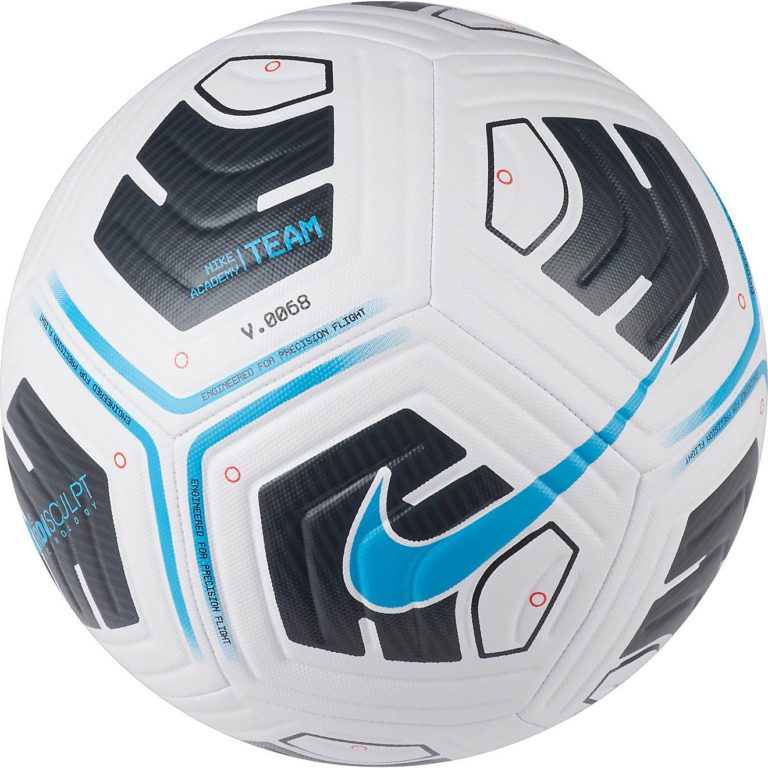 Best Soccer Balls of 2022
If you're serious about your training, it's important to have the best soccer balls you can find. With so many variations, there's a ball that suits every player and every budget. In this list, I've selected four balls at various price points. Getting a great ball doesn't mean you have to spend a lot of … Read more
Nike Reviews
Adidas Reviews
Puma Reviews
Mizuno Reviews
Soccer Ball Review
Football Kits

A milder Nike PhantomVSN
I've always thought the Nike PhantomVSN was one of Nike's underrated great innovations. Quadfit provided comfort and amazing fit. I loved the Ghost laces that ensured you never had your laces come undone while providing a clean striking zone.
Wasn't so keen on the inner sock but that gravelly textured upper was divine in providing a lot of grip without having you modify your technique on the ball.
I thought it looked wicked too but the price point made it out of reach for most who were slightly interested (approximately $50 more than a Superfly).
With the launch of the Nike Phantom GX, the boot looked every single bit like the VSN from 5 years ago. I was going to be reunited with one of my all time favourites, or so I thought.
Exploring the Phantom series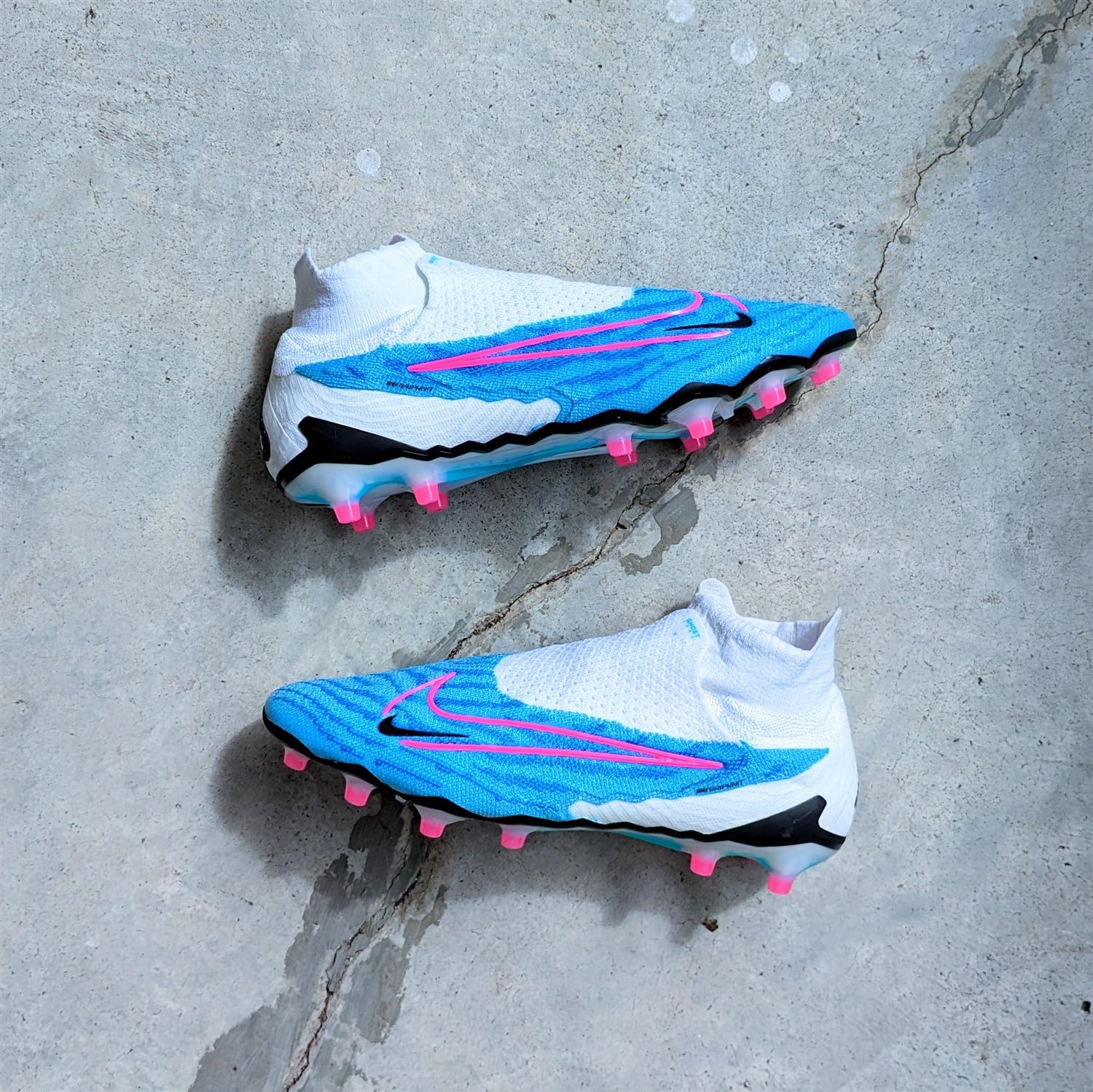 Since the Nike PhantomVSN, the Nike Phantom series was all about grip and control. The VSN 1 and 2 featured a highly textured and coarse upper to provide friction on contact with the ball.
It was succeeded by 2 generations of the Nike Phantom GT (though both generations were almost identical). They too had a textured upper but any form of grip was highly non-existent. The fit was uncomfortable which consigned our pair to the storage unit as one of the worst Nike boots in recent years.
With the Nike Phantom GX, it bears the look of the PhantomVSN 1. The boot is built with 2 layers – an inner compressive sock and an outer knitted layer which promises grip around the fore and mid-foot. But there are some subtle changes under the hood.
That inner sock layer is comfortable and stretchy and feels more premium this time around vs the VSN. The outer layer is where it gets more interesting. Nike developed Gripknit yarns which they claim " is soft and pliable but has a grippy sensation that footballers love. It also offers unique weatherization benefits: The way the Gripknit yarn is melted and coated, it protects the knit from getting wet without having to add extra coating materials (skins) for weatherization, allowing the player to have a better boot-to-ball connection. "
You'll notice swirly designs on that yarn which looks like a fingerprint. The fingerprint was a source of inspiration for providing grip and contact.
Having got ourselves the high cuts, Ghost Laces are back where the upper layer covers the entire lace area to give you a clean strike surface and to keep your laces tied and secure.
The Nike Phantom GX looks sleek and a visual step up from its Phantom predecessors of the last few years.
The Nike Phantom GX is really tough to put on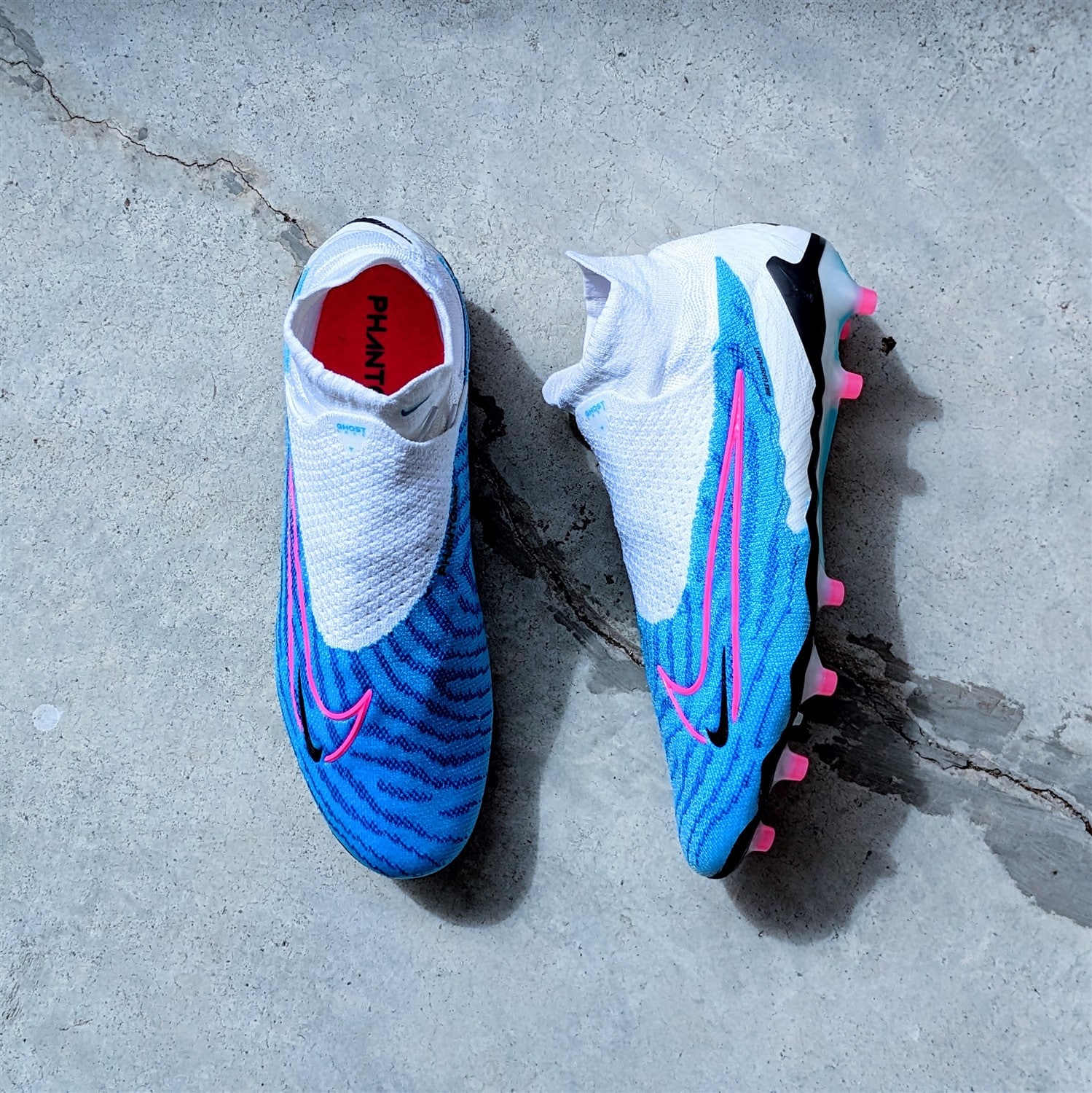 You can't imagine the battles I had with the Nike Phantom GX when it came to putting it on. A few minutes on the floor, a shoe horn and several expletives later, my feet slipped into the boot. If the experience were any tougher, I would have turned into one of Cinderella's step sisters trying on the glass slipper.
It did get easier to put on with more wears as the mouth got seasoned to my size but the thought of battling with the boot again just puts me off. This, for me, is reason enough for you to go with the lower cuts instead of the high.
Sizing wise, I went half size down which may explain slightly the struggles I had wearing it. The reason I went half size down is that the boot is slightly long with a bit of excess around the side of the big toe. Going half a size down reduces these 2 spacing issues. The heel and midfoot fit really well and they accommodated my moderately wide feet too.
Minimal grip with the Nikegrip yarn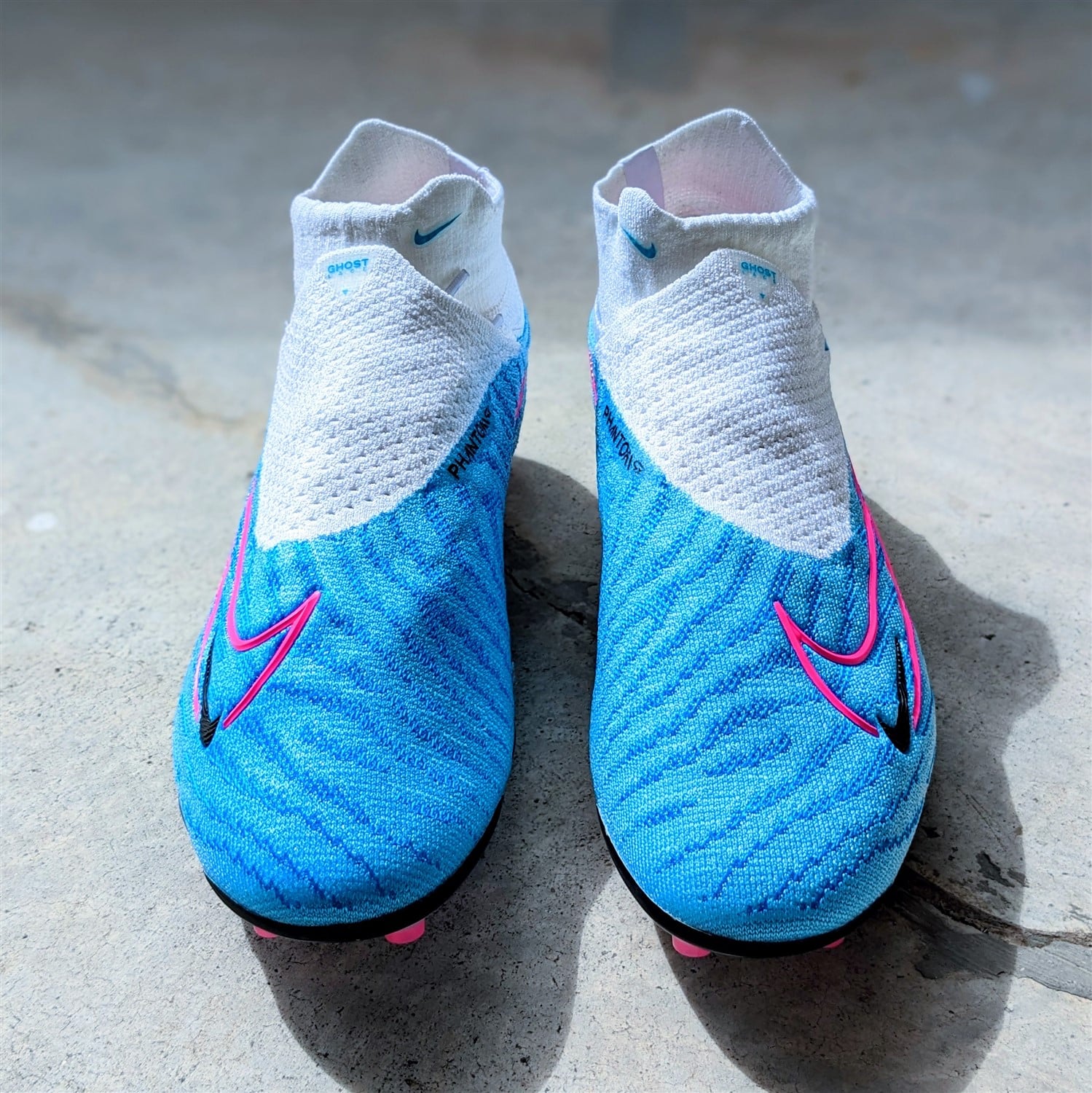 As someone who adored the PhantomVSN, I loved that the touch on the ball didn't feel too different on the Nike Phantom GX. You get a close but slightly padded touch that comes from having 2 thin knitted layers between the ball and your feet.
The lockdown from having those 2 layers is also solid when you twist and turn to receive the ball from all angles. Playing my usual role as a goalpoacher, I was often tasked to make dynamic movements. From checking in and out to bamboozle my defender to diagonal sprints to connect with a through ball, the Phantom GX kept my feet tightly cocooned like a warm hug.
In terms of the grip, I was a little disappointed with the Nikegrip yarn. On a spectrum from 1-10, I'd put the adidas Predator 20.1 as a 10 for being the grippiest boot I've ever worn due to tall those rubber fins. Though it did force me to change my technique to accommodate all that grip. My favourite PhantomVSN was a 7.5 – a lot of grip but you didn't need to modify your technique for when making contact with the ball. It was perfect.
The Nike Phantom GX, however, is a 2 at best. It's not very grippy to the touch. In fact, I think Nike has oversold it. It does provide a slightly waxy sensation when you touch it but if you're expecting grip like the other two boots I mentioned, you're going to be disappointed.
Incidentally, I scored quite a few goals in them though. The grip doesn't stand out when making those passes or strikes but they act like drive assist technology in cars. It doesn't make you a better technician on the ball but it just guides you along to polish out any rough edges you have with your technique.
You still have to rely on your technique but it just ensures a tiny bit more friction during contact.
Somewhat AG-friendly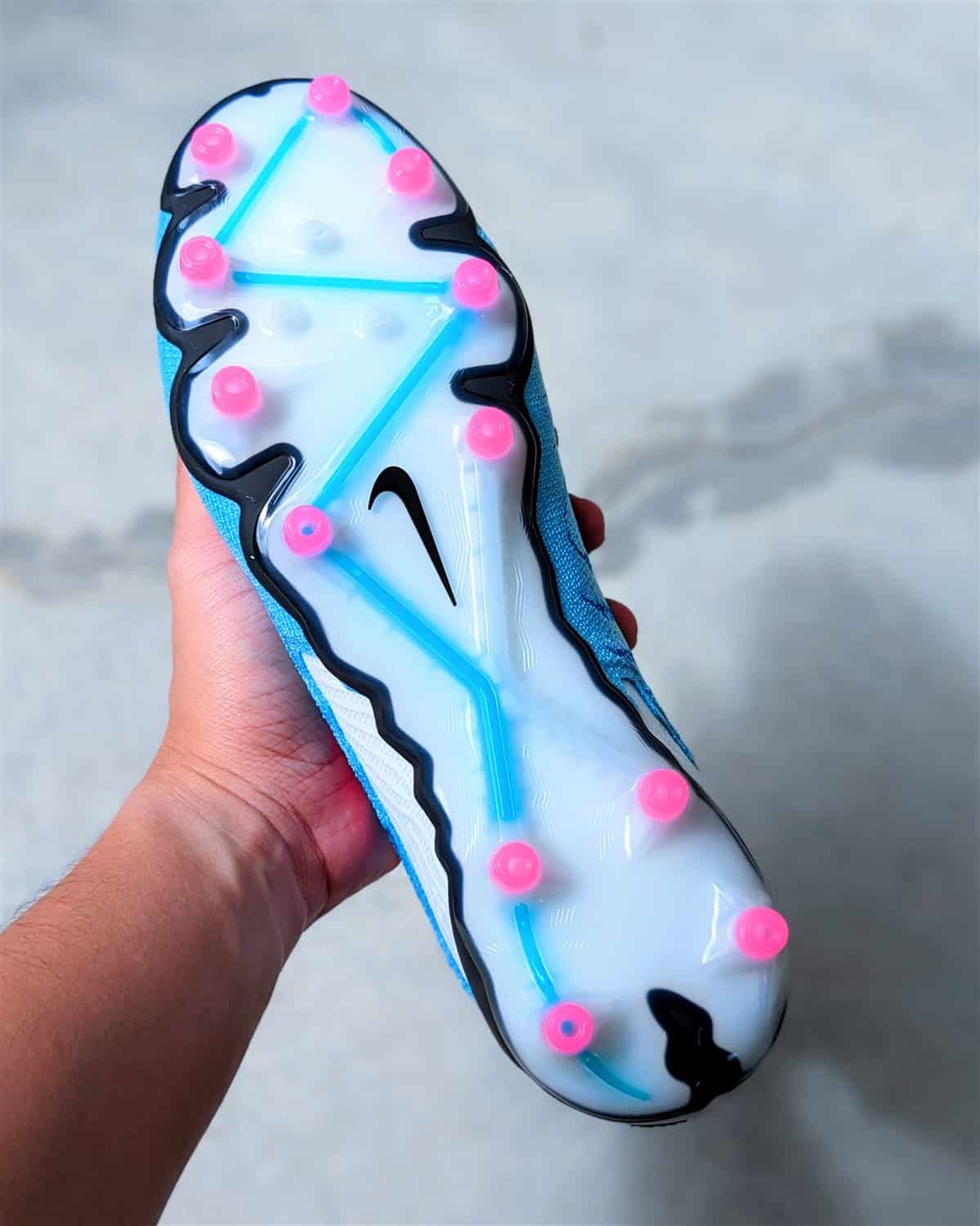 Considering we almost exclusive play on artificial pitches in Singapore, I had to get myself a pair with an AG soleplate from our friends at Tokyo Football . The AG soleplate carries some similar designs that the mass FG sole has, namely the "X" structure around the midfoot. In theory, it is meant to help with agility – flexing when you make those pivots and changes in direction. I didn't feel too much of that.
The FG studs have a mix of conical and aggressive angular studs though the AGs have an 8×4 distribution of hollow conical studs to help with ease of movement and stud pressure on artificial grounds which are shallower and harder.
This works in theory but the AG studs are pretty long for AG and would only work on much thicker and denser AG grounds. If you're playing on shallow AG, you might want to give this a miss as you may be overcome with stud pressure as I did. There were no issues with manouvrebility, just massive soreness if you play on shallow surfaces.
Phantom Grip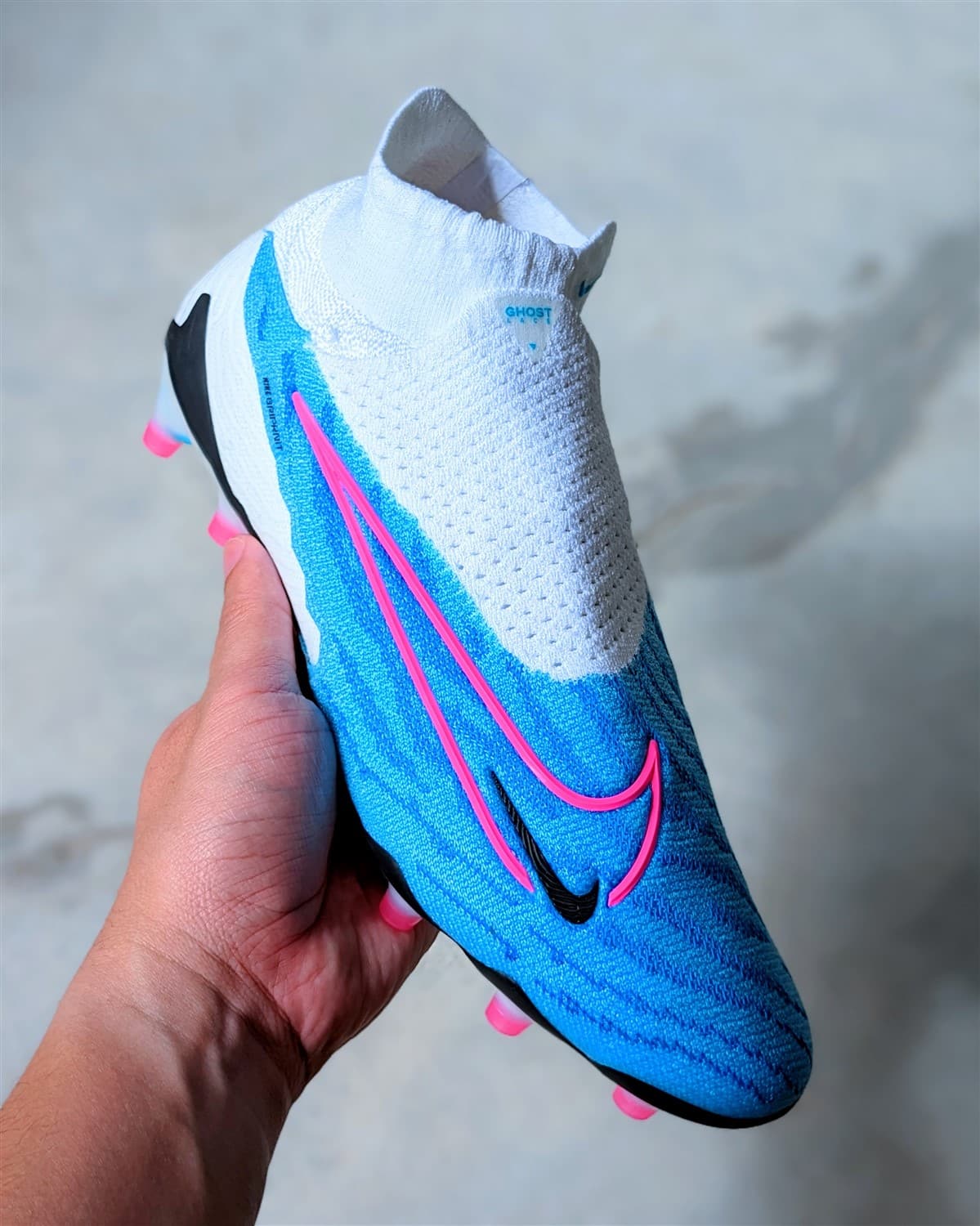 I am torn about the Nike Phantom GX. It is an improvement on the Phantom GT due to the comfort and feel of the boot. But I have been pining for the PhantomVSN and this isn't entirely it. The GX is a VSN with a better quality sock but less grip. I didn't care so much for the sock but I really wanted to believe in the grip.
You can't advertise "Nikegrip" without delivering on what was promised.
Overall it still is a good boot though I'd recommend the low cuts for ease of entry. If you've never owned the PhantomVSN (majority of players never did, I'm sure), then the Phantom GX might be a good option for you.
But for me whose heart was captured by the VSN, you might be better off dusting off your VSN and donning them in your next game. I know I will.

Nice to hear your thoughts on boots that are critically acclaimed. I found these to be amazing all around, the grip isnt intense but noticeable enough esp for dribbling and wet conditions. Shame you didn't like them, however I never tried the VSNs so I cannot relate to you on that. Curious to know your experience with the durability so far, I've worn the AG's twice and noticed some separation on the gripknit already, very poor from nike. Ciao
Yikes, separation sounds real bad! Do get a refund if you can.
LEAVE A REPLY Cancel reply
Save my name, email, and website in this browser for the next time I comment.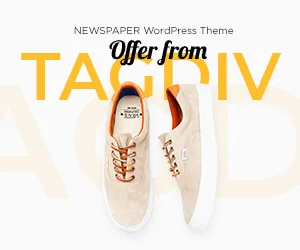 Latest Post
Nike tiempo legend 10 review: nike ctr in disguise, lila tan: more than just a pretty face, adidas x crazyfast.1 review: comfort and a clean touch, best football boots for comfort, asics x-fly pro 2 review: peak k-leather, what football boots is neymar wearing – boot history, what football boots is cristiano ronaldo wearing – boot history, what football boots are mo salah wearing – boot history, adidas x speedflow .1 first impressions: a balanced speed boot, nike tiempo legend 9 leaked.
We try on every football boot to recommend you the best football boots for your feet. No matter your preference, we aim to help you choose the right boot every time.
Privacy Policy
Boothype © Copyright 2021. All rights reserved. Links on our site direct you to our e-commerce partners. Any purchase at their sites, after clicking on our link, will earn us a commission.
Stay Connected
Nike Drop The Next Generation Phantom GX
Taking the quarter finals of the 2022 World Cup as the perfect platform, Nike launch the next generation Phantom GX, with England players set to wear it in their huge match against France on Saturday.
There's a disruptive launch, then there's a disruptive launch , and Nike show how it's done with the unveiling of the new Phantom GX, which arrives in the middle of not just any old tournament, but the World Cup. With fan focus firmly on the remaining eight teams, who're set to duke it out in the quarter finals this weekend, Nike have seen the perfect opportunity to do something unprecedented, launching a new generation of its Phantom silo. Not a bad way to announce yourself to the world…
We got our first look at what we now know is the Phantom GX earlier this week when Jack Grealish, Mason Mount and Eric Dier were spotted wearing them in an England training session , and they were soon joined by Harry Kane and Phil Foden when they returned to regular training, all but confirming that this boot will be worn in the Three Lions' game against France. Not only is this one hell of a way to launch a new boot, it also speaks of the quality of the Phantom GX itself that the players are willing – nay, eager – to switch into it. And yeah, we said nay, what of it?
The Phantom GX obviously picks up where the Phantom GT II leaves off, it being designed for both creators and finishers. It's all about accuracy, whether that be picking out that key pass or the bottom corner. But it wouldn't be a generational update if there weren't some upgrades, and the GX has some significant ones.
To start with there's the control and precision aspects; they're key callout of the Phantom line, and so a lot of focus and time has gone into its improvement – two years to be exact – and it comes in the form of the boot's major new innovation: the Gripknit Upper. Nike Gripknit technology is a huge step for the brand, and it's said that it will revolutionise the football footwear landscape. A bold statement if ever there were one.
The material itself – a natural evolution of Nike's knit technology and visible on the launch edition in a bold "Hyper Pink" look – is a mix of high-tenacity yarns with a treatment to create Gripknit. The result is perfect interaction with the ball, offering just the right amount of stick – sticky enough to gain extra control while not being too sticky. It works in a similar way to your fingerprints, and you'll instantly notice that when looking at the upper's design aesthetics. Also of note is the fact that the Gripknit Upper travels further up the forefoot than usual, covering the lower section of the laces to provide a greater strike zone.
And it doesn't just stop there with the upper. The Phantom line has a nice back catalogue that includes the Phantom VNM and VSN, and the GT, and so it's able to cherry pick the key elements that work from those previous generations, tweaking their performance to perfection. One such feature is the Ghost Lacing system that was last seen on the Phantom VSN, and it will make an appearance for the Phantom GX on the DF version, providing an even greater difference between the collared and non-collared options. This lace cover provides a larger and cleaner striking zone and it's the closest Nike have got to making a laceless boot.
Then on the underside, the soleplate features a new stud formation to help with manoeuvrability – getting out of those tight spaces and accelerating away when you do. For this Nike has opted for a mixture of star and conical studs; the stars are designed for improved traction to accelerate fast on the first three steps, while the conical studs are made for spin moves and turning on the spot. 
There's no doubt that the Phantom GX is set to have a huge impact, both on boot design going forward and the action on the pitch. For now, there's no need for any huge marketing campaigns – Nike are happy to sit back and let the boot do the talking, starting with the World Cup quarter finals.
The Nike Phantom GX will be available at prodirectsport.com/soccer from Thursday, 15 December.
Related Articles
Nike release phantom gx in a stealthy new blackout look.
Football Boots | 16 January 2023
Nike Drop The Phantom GX 'Link'
Football Boots | 6 March 2023
Nike Drop The Limited Edition Phantom GX 'Blaze'
Football Boots | 6 February 2023
Nike Drop The Phantom GT II 'Shockwave'
Football Boots | 18 October 2021
England Players Switch Into Next Gen Nike Phantom
Boot Spotting | 5 December 2022
Nike & Pro:Direct To Launch Limited Numbers Of Haaland's First Player Edition Phantom GX Boots
Football Boots | 12 June 2023
Thomas Delaney Trains In Next-Gen Nike Phantom GT 2
Boot Spotting | 6 May 2021
Nike Drop The 'Blueprint' Phantom GT II
Football Boots | 24 February 2022
Nike Launch The Phantom GT
Football Boots | 3 August 2020
Nike Launch The All-New Phantom Luna
Football Boots | 7 June 2023
Nike Launch The Phantom GT Scorpion
Football Boots | 30 October 2020
Nike Drop A Second Colourway For The Nike Phantom Ultra Venom
Football Boots | 14 October 2022
Nike Phantom London Tournament - East
News | 2 August 2018
Nike Launch The Phantom Fire Pack
Football Boots | 21 October 2019
Closer Look At The Nike Phantom Luna
Football Boots | 28 June 2023
Nike Officially Unveil The Phantom x Skepta
Football Boots | 13 May 2021
Nike Present Harry Kane With Special Phantom GX
Football Boots | 27 March 2023
Nike Launch The Phantom Ultra Venom
Football Boots | 16 September 2022
Mason Greenwood Trains In Unreleased Nike Phantom GT Colourway
Boot Spotting | 29 April 2021
Nike Release Special Edition Hypervenom GX
Football Boots | 12 October 2017
Derby Shoes
Monk Strap Shoes
Espadrilles
Walking Shoes
Running Shoes
Womens Boots
Driving Shoes
Wedding Shoes
Privacy Policy
Web Stories
Sign in / Join
Nike Phantom GX Review REVEALED: Can These Cleats Make You a LEGEND on the Field?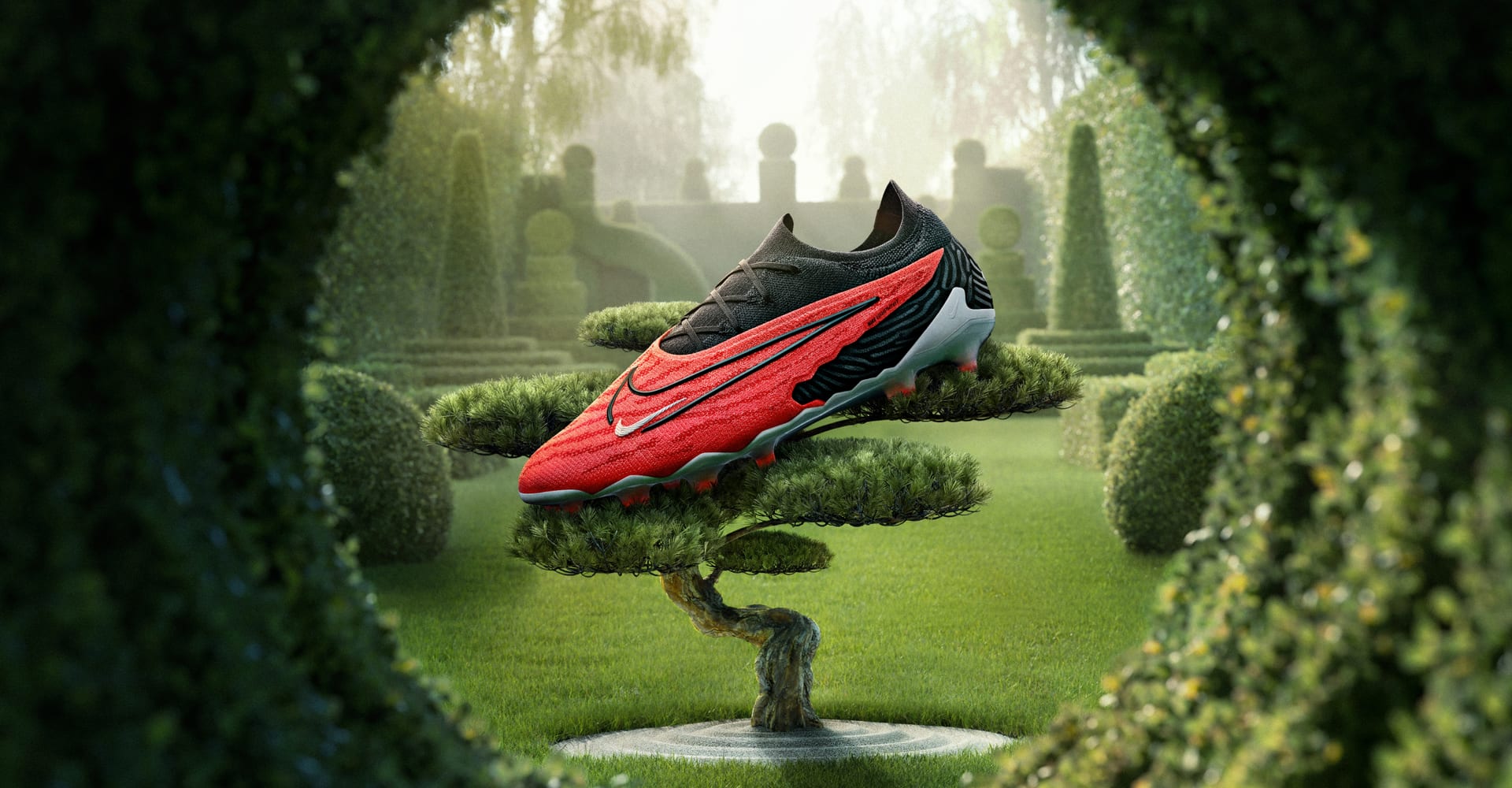 Table of Contents
Discover if the Nike Phantom GX Cleats can transform you into a field legend. Read our in-depth review to uncover the performance and style of these game-changing boots.
Step onto the field with confidence and style by wearing the Nike Phantom GX Elite Firm-Ground Football Boot. These revolutionary cleats are designed to help you reach legendary status on the pitch. With Nike Gripknit technology, you'll experience better touch and enhanced precision during striking and close control.
These boots are not only high-performance, but they also boast an intuitive design and exceptional fit. No need to worry about discomfort or breaking them in – they feel perfect from the first time you slip them on. With their eye-catching bright crimson, white, university red, and black color scheme, you'll not only stand out on the field but also feel like a true legend. Don't settle for average, choose the Nike Phantom GX Elite and take your game to the next level.

Why Choose the Nike Phantom GX Elite Firm-Ground Football Boot?
When it comes to football, every player dreams of reaching legendary status on the field. With the Nike Phantom GX Elite Firm-Ground Football Boot, that dream becomes a possibility. These boots are designed to give you the edge you need to outperform your opponents and become a true legend of the game.
The Nike Phantom GX Elite incorporates revolutionary Nike Gripknit technology, which enhances your touch and precision during striking and close control. Scientific research has shown that this technology can significantly improve a player's ability to control the ball, resulting in more accurate passes and shots on goal. Additionally, the boots' exceptional fit and intuitive design ensure maximum comfort and performance from the moment you put them on.
Don't just take our word for it – professional athletes and passionate football players alike have endorsed the Nike Phantom GX Elite. Their testimonials speak to the high-quality craftsmanship and outstanding performance of these boots. With such rave reviews, it's clear that the Nike Phantom GX Elite is a game-changer in the world of football footwear.
Features and Benefits
Enhanced touch and precision.
The Nike Phantom GX Elite features Nike Gripknit technology, which provides better touch and enhanced precision during striking and close control. This means you'll have better control over the ball, allowing you to make more accurate passes and shots on goal.
Exceptional Comfort and Fit
Crafted with high-level quality, the Phantom GX Elite feels broken in from the first time you put them on. The boots mold to your feet, providing a comfortable fit that allows for maximum agility and performance on the field.
Stylish Design
In addition to their superior performance, the Nike Phantom GX Elite boasts a bold and stylish look. With a bright crimson, white, university red, and black color scheme, these boots will make you stand out on the field.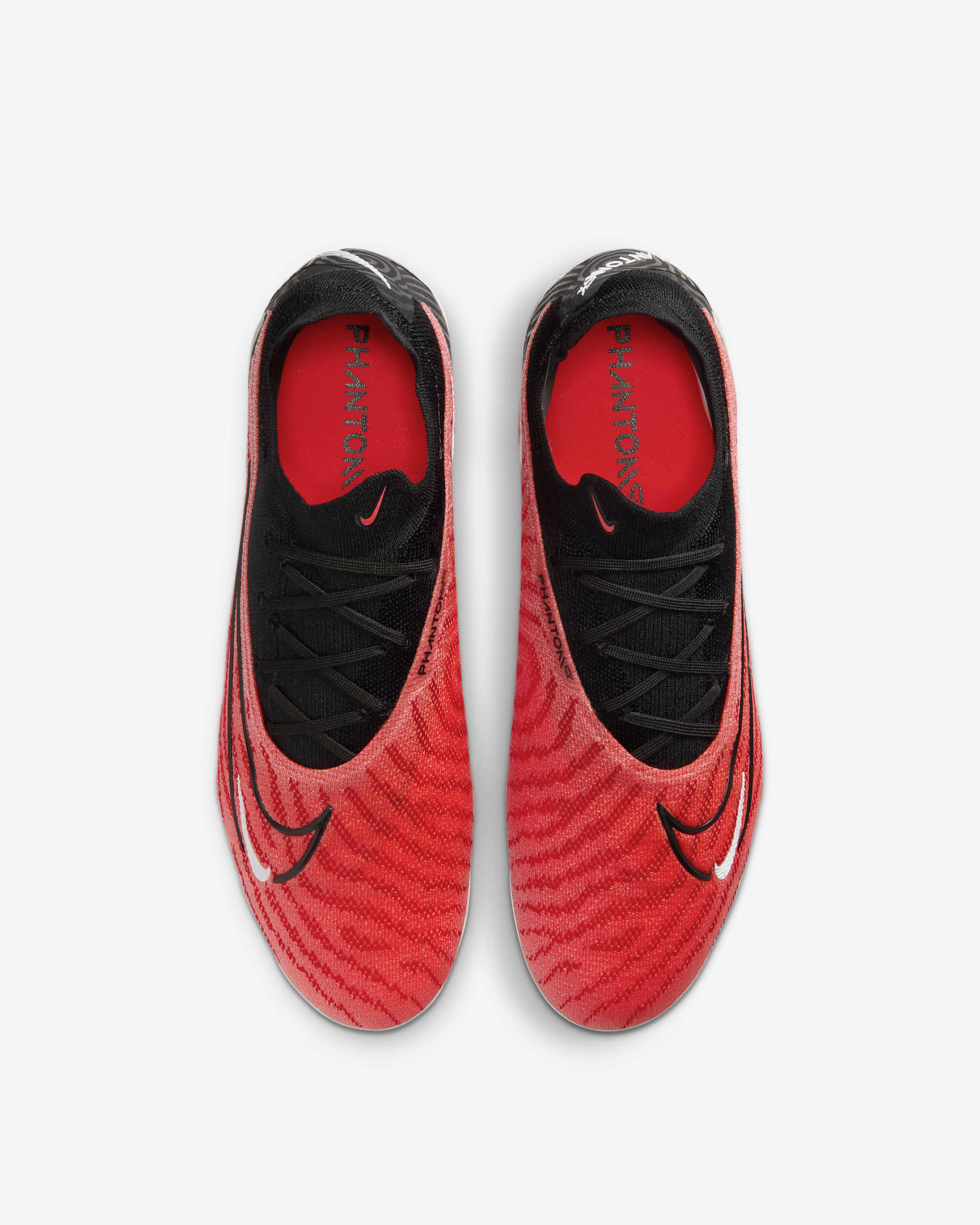 Product Quality
Nike is known for its commitment to quality, and the Phantom GX Elite is no exception. These boots are designed to withstand the demands of professional athletes and passionate football players. With the use of high-quality materials and meticulous craftsmanship, Nike ensures that every pair of Phantom GX Elite boots exceeds expectations in terms of durability, performance, and comfort.
What It's Used For
Enhanced performance.
The Nike Phantom GX Elite is designed to enhance your performance on the football field. Whether you're a professional athlete or a passionate football player, these boots will give you the edge you need to outperform your opponents. The enhanced touch and precision provided by Nike Gripknit technology will help you take your game to the next level.
Training Sessions
The Phantom GX Elite is not only suitable for game day; it is also a valuable asset during training sessions. The enhanced control and comfort ensure that you can make the most out of your practice sessions and sharpen your skills.
Competitive Matches
When the pressure is on during competitive matches, you need boots that can help you perform at your best. The Nike Phantom GX Elite is designed to handle the intensity of competitive matches, providing the comfort, control, and performance you need to excel on the field.
All-Weather Conditions
No matter the weather conditions, the Nike Phantom GX Elite performs exceptionally well. Whether it's a wet or dry field, these boots will provide the grip and control you need to navigate through various playing surfaces.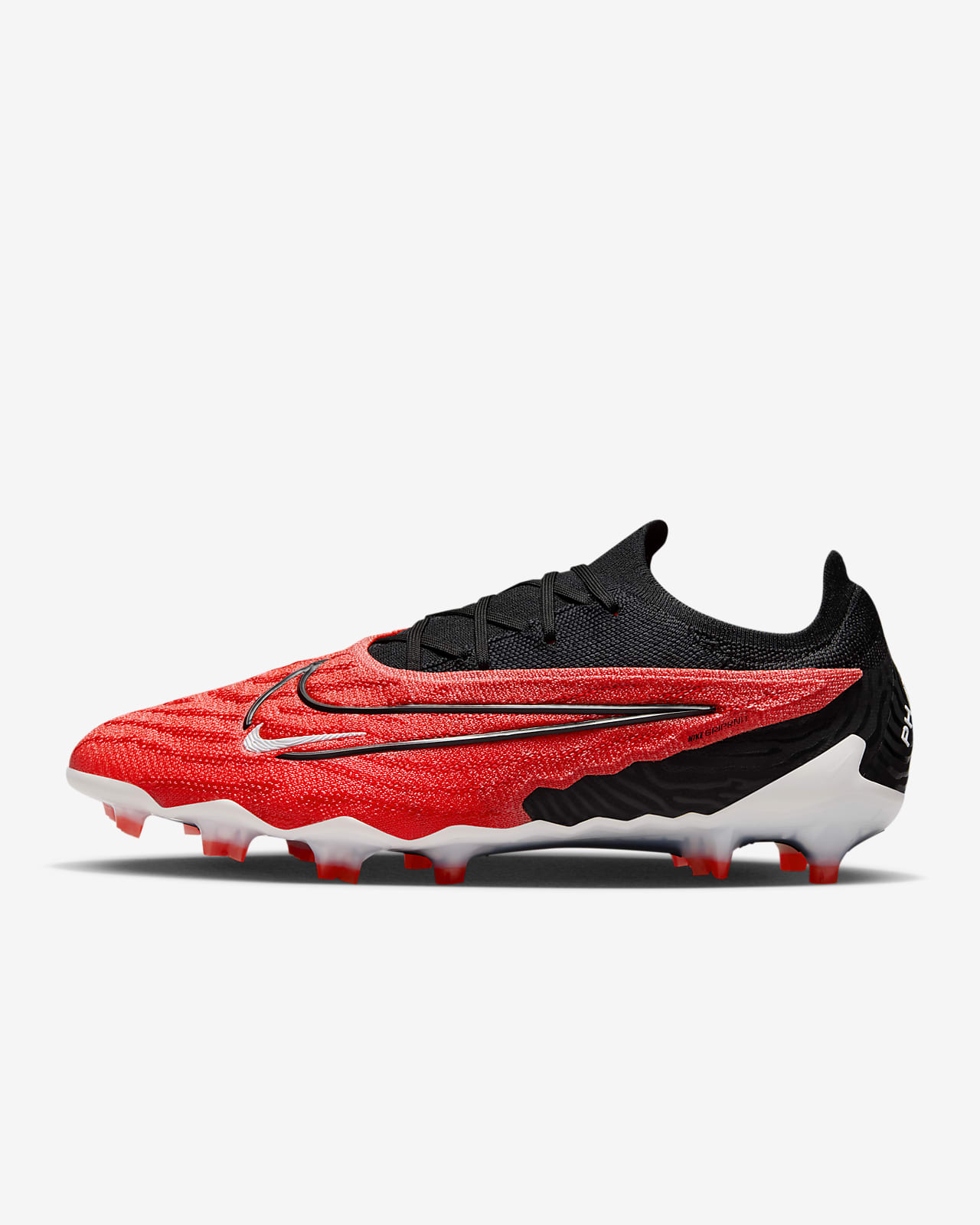 Product Specifications
Who needs the nike phantom gx elite.
Whether you're a professional athlete or a passionate football player, the Nike Phantom GX Elite is a must-have. These boots are designed for those who strive for greatness on the field and want to take their game to legendary status. Regardless of your skill level, the Nike Phantom GX Elite will enhance your performance and give you the competitive edge you need to excel on the football field.
Pros and Cons
Revolutionary Nike Gripknit technology enhances touch and precision.
Exceptional fit and comfort ensure maximum performance.
Bold and stylish design makes a statement on the field.
Endorsed by professional athletes and passionate football players.
Higher price point compared to other football boots on the market.
Limited availability in certain sizes.
FAQ's
Yes, the intuitive design of the boots ensures a comfortable fit for players with wide feet.
The Nike Phantom GX Elite is designed for use on firm-ground surfaces. While they can be used on artificial turf, it is recommended to use them on natural grass for optimal performance.
Yes, you can clean the boots using a damp cloth and mild soap. Avoid using any harsh cleaning products or machine washing them.
What Customers Are Saying
Customers who have purchased the Nike Phantom GX Elite have been overwhelmingly positive about their experience with these boots. Many praise the enhanced touch and precision provided by Nike Gripknit technology, stating that their passes and shots have improved significantly. The exceptional comfort and fit of the boots have also been commended, with customers noting that they feel broken in from the first wear. Overall, customers have been impressed with the performance, quality, and style of the Nike Phantom GX Elite.
Overall Value
The Nike Phantom GX Elite Firm-Ground Football Boot offers excellent value for those looking to elevate their game. With its revolutionary Nike Gripknit technology, exceptional fit, and stylish design, these boots provide the tools needed to become a legend on the football field. While they may come at a higher price point compared to other football boots on the market, the performance and quality delivered by the Nike Phantom GX Elite make them a worthwhile investment for serious players.
Tips and Tricks For Best Results
Make sure to properly break in your Nike Phantom GX Elite boots before competitive matches or important training sessions to ensure maximum comfort and performance.
Clean your boots regularly to maintain their condition and prolong their lifespan.
Consider using boot bags or protective cases when traveling to keep your Nike Phantom GX Elite boots in top shape.
Pair your boots with compatible Nike football accessories, such as socks and shin guards, for a complete and cohesive look.
Final Thoughts
Product summary.
The Nike Phantom GX Elite Firm-Ground Football Boot is a game-changer for those striving for greatness on the football field. With its revolutionary Nike Gripknit technology, exceptional fit, and stylish design, these boots provide the tools needed to outperform your opponents and become a legend. The high-quality craftsmanship and endorsement from professional athletes and passionate football players further solidify the Nike Phantom GX Elite's reputation as a top-tier football boot.
Final Recommendation
If you're serious about football and want boots that can make a real difference in your performance, look no further than the Nike Phantom GX Elite. These boots provide enhanced touch and precision, exceptional comfort and fit, and a bold and stylish look. Choose the Nike Phantom GX Elite Firm-Ground Football Boot and elevate your game to legendary status.
RELATED ARTICLES MORE FROM AUTHOR
Timberland men's anti-fatigue hiking waterproof leather mt. maddsen boot review, timberland men's 6′ premium full grain boot review: is it really the best boot on the market, timberland men's 6-inch premium waterproof boot review: everything you need to know, recent posts, adidas showtheway 2.0 review: pros, cons, and your path to fitness success, adidas ozrah review: are these sneakers the epitome of style and comfort, adidas strutter review: the secret to affordable sneaker luxury, adidas continental 80 review: pros, cons, and a style revolution unveiled.
Order Status
Dispatch and Delivery
Size Charts
Privacy Policy
Terms of Sale
Terms of Use
Send Us Feedback
Popular Search Terms
Top Suggestions
Get Ready for Cold and Rainy Weather Shop
Nike Members get free delivery and free 30-day returns. Learn More Join Us
Nike Phantom GX Elite
Firm-ground football boot.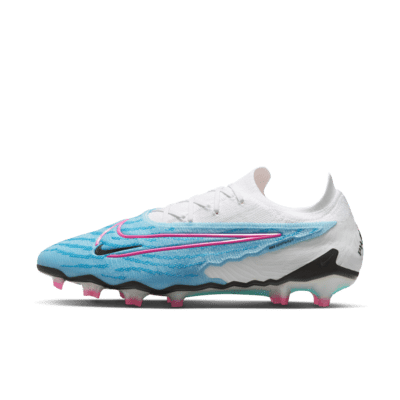 Obsessed with perfecting your craft? We design Elite boots for you and the world's biggest stars to give you high-level quality, because you demand greatness from yourself and your footwear. Made with revolutionary Nike Gripknit, this boot provides better touch in an intuitive design that helps enhance your precision both when striking and during close control.
Colour Shown: Baltic Blue/White/Laser Blue/Pink Blast
Style: DC9968-446
Free Delivery and Returns
Free standard delivery with your Nike Membership.
You can return your order for any reason, free of charge, within 30 days. Some exclusions apply.
Reviews (41)
Write a Review
Beautiful cleats
Mattrud98 - 14 Sept 2023
These are my first higher end clear and it has been worth every penny!!!
Aaron464214655 - 17 Aug 2023
Love these cleats, they felt broken in the first time I put them on. Did not hurt my feet one bit. 10/10
Great cleats
gakjung - 15 Aug 2023
[This review was collected as part of a promotion.] Great cleats. My son loves it! Good for wide feet.
More Reviews
Complete the Look
descriptions off , selected
undefined settings , opens undefined settings dialog
captions and subtitles off , selected
This is a modal window.
Beginning of dialog window. Escape will cancel and close the window.
End of dialog window.
More Grip. More Precision.
European Champion midfielder Ella Toone knows, precision means putting the ball where you want, when you want. It means making the cuts you want to make on the pitch to create magic and score goals. The Phantom GX is designed for precision to help you play the game your way.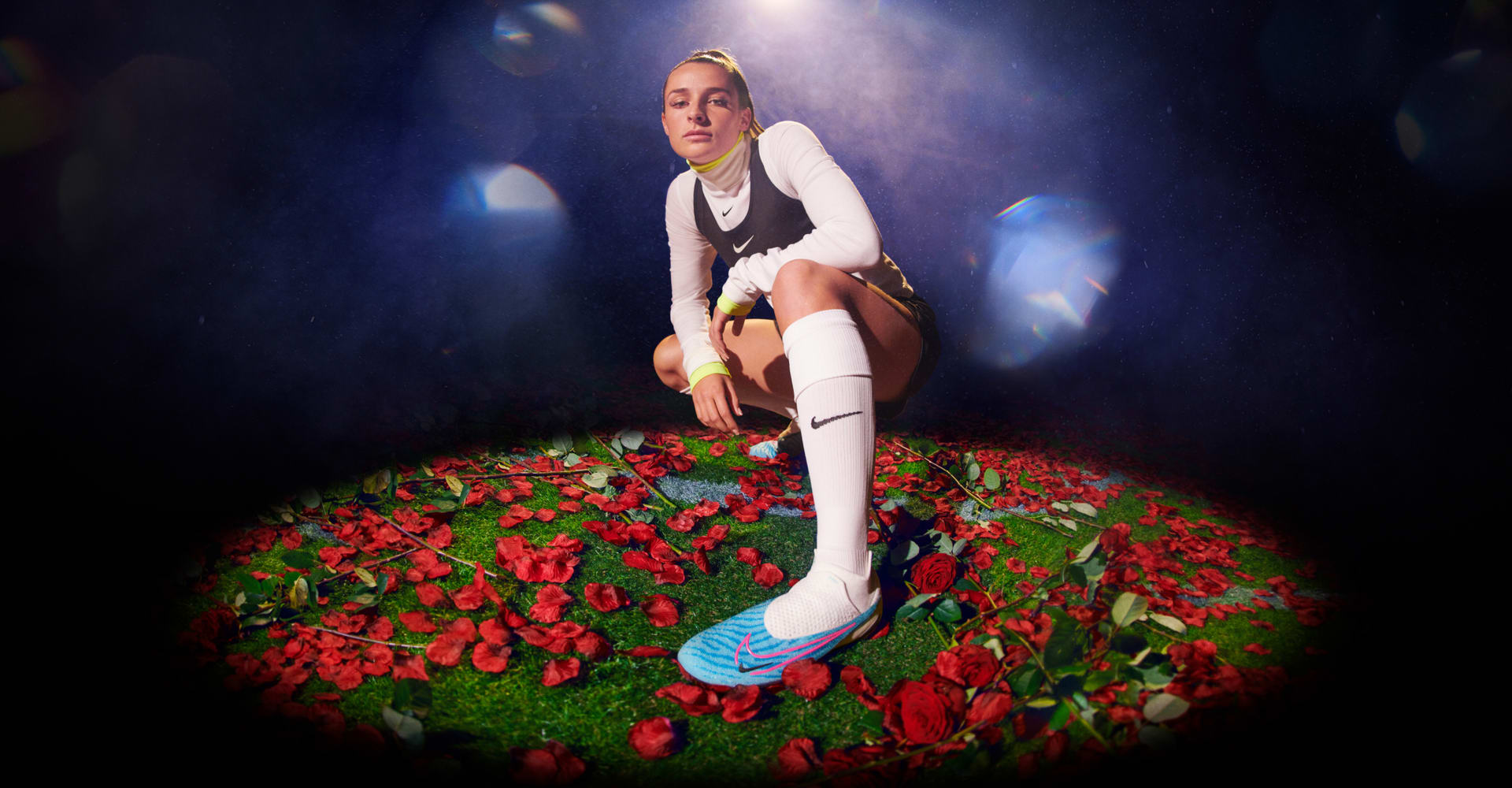 "Precision is really important. You want the ball to stick to you. More grip on the boot helps players like me get on the ball and keep it close".
-Ella Toone, European Champion Midfielder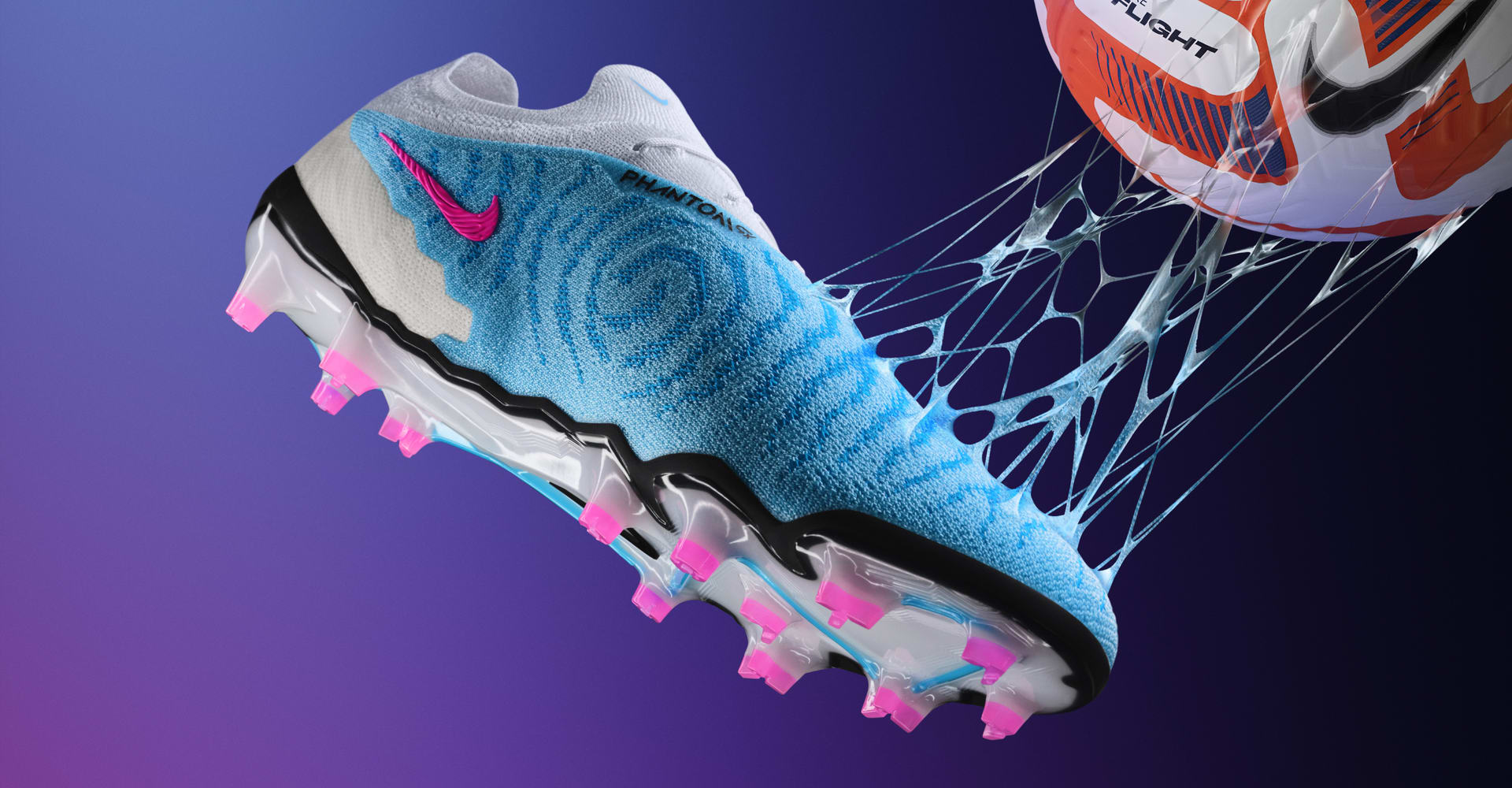 Stick Out with Gripknit.
Ball control in tight spaces is key to making your mark on the game. Which is why the Phantom GX uses a brand-new technology called Nike Gripknit. A combination of two types of yarn in a thumbprint texture creates a slightly sticky surface that helps grip the ball when passing, dribbling and shooting so you can stick out in key matches.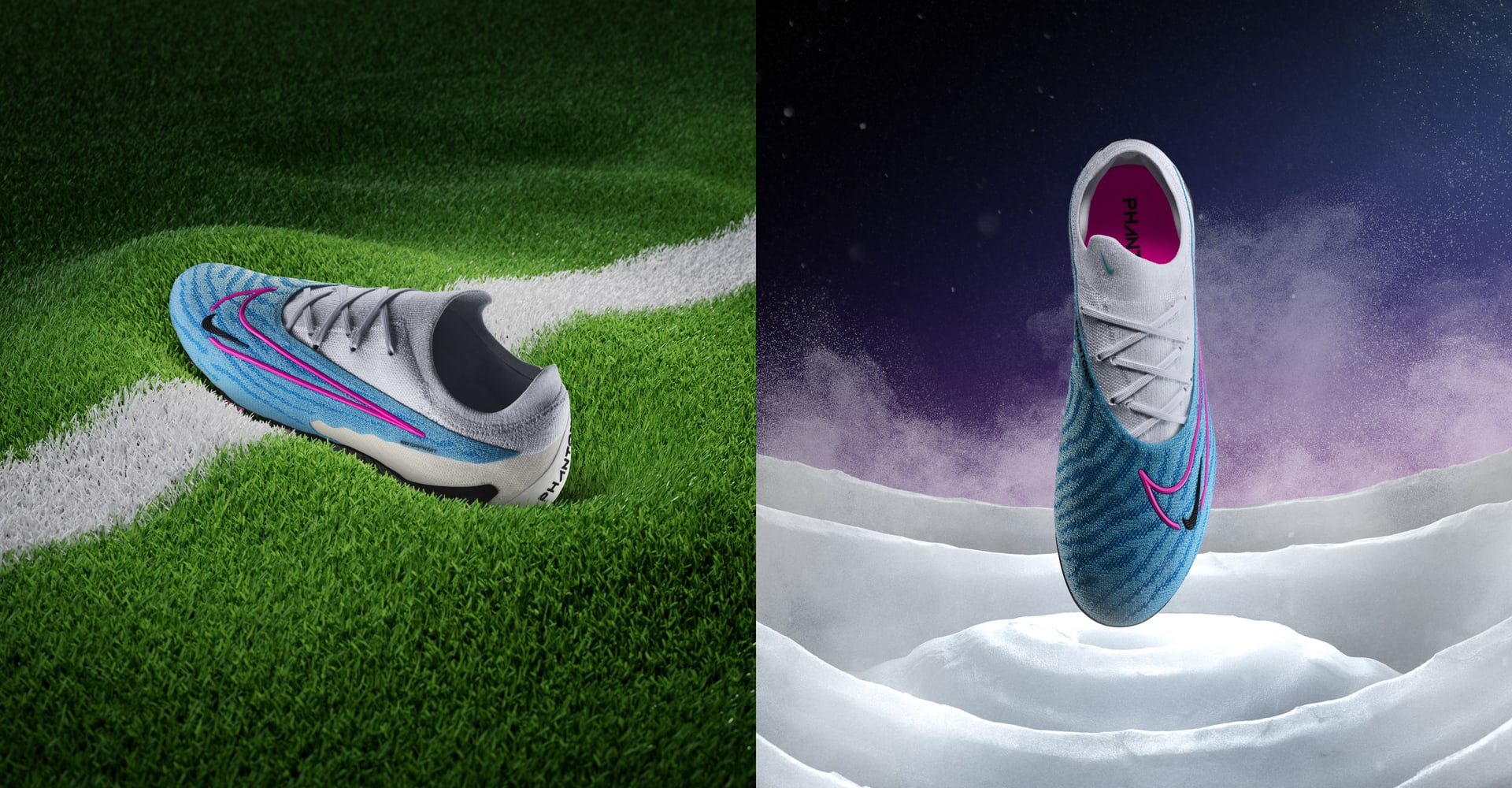 Comfort and Consistency.
Nike Gripknit is integrated into the upper and designed to provide consistent ball feel and control whether it's raining or shining, because precision doesn't change with the weather. It also means additional layers aren't needed. The result is a comfortable, close-fitting boot that moves easily with your foot and flexes as you step.
Enhanced Touch
Nike Gripknit is a sticky material that provides better touch to the ball. It takes up most of the upper, including the first 2 laces, covering the most common strike zones of the foot. It moulds to the shape of your foot and gives you equal grip in wet or dry conditions.
Contoured for Comfort
Asymmetry in the collar and heel provides comfort. Soft elements in the heel make for an easy break-in process and help reduce irritation and pressure without compromising stability and structure.
Traction for the Pitch
Tri-star studs work with forefoot flex grooves to provide optimal traction and help unlock change of direction. See the lines on the outsole? They match your typical on-pitch movements, which push forwards then zigzag before a strike.
Product Details
For use on slightly wet, short-grass pitches
Cushioned insole
Not intended for use as Personal Protective Equipment (PPE)
All You need to know about the new Nike Phantom GX Football Boots
Footballers are incredibly specific when it comes to their boots – whether that's superstitions, comfort or familiarity when in form – so when Nike players switch into the new Phantom GX mid-way through a World Cup you know that this new-generation boot is something special. An evolution of the Phantom GT II, the Phantom GX will arrive as a boot that is fine-tuned for perfect precision on pitch. Created for the laser-guided through balls of the number 10 while adding an injection of power and accuracy for the number 9s on the end of those passes. The Phantom GX doesn't just take the handbrake off any parking-the-bus tactics, it dismantles the bus and sells it for scrap. The Phantom GX comes with a number of significant tech updates which we'll run you through here. Let's go...
Gripknit Upper
Built For Precision
Improved Agility
For The Creators
When's it out, nike phantom gx launch - sign up now.
Welcome, Login to your account.
Recover your password.
A password will be e-mailed to you.
††† feat. Chino Moreno of Deftones and Shaun Lopez Announce New Music
Brock's 2 Cents – OCTOBER 2022
ZERO THEOREM unleash Violent Idols mix of Threat
KK's PRIEST Announce Album 'Sermons of the Sinner'
ASTORIA STATE Deliver Hard-Hitting Anthem 'Nobody Knows'
SAVAGE AFTER MIDNIGHT Drop New Track 'Remedy' featuring DANNY WORSNOP
RED FANG Announce New Album 'Arrows' Out June 4; Title Video Out Now
A SOUND OF THUNDER Acousticize Black Sabbath's 'Too Late'
TETRARCH Reveal Blisteringly Heavy New Single "Negative Noise"
JINJER Announce Rescheduled North American Headline Tour with Suicide Silence

Album Review: PHANTOM ELITE – Titanium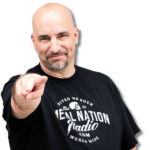 Phantom Elite – Titanium
Label: Frontiers Records
Release Date: January 22, 2021
P hantom Elite was born from Trillium guitarist/composer Sander Gommans' side project, HDK. The former After Forever alum put together a group of musicians for live HDK performances, including Brazilian vocalist Marina La Torraca (Exit Eden, Avantasia). This would lead to Phantom Elite's debut album, Wasteland in 2018. Gommans and La Torraca reunite for the band's sophomore effort, Titanium . The album also features new members Max van Esch (guitars, bass) and Joeri Warmerdam (drums), with keyboard contributions by Koen Stam. The band's sound is a contemporary mix of symphonic and progressive melodic metal with electronica embellishments.
PRE-ORDER TITANIUM
While Gommans does not perform as part of the band, his fingerprints are all over the songwriting and production on Titanium . Combined with his songcraft and La Torraca's extraordinary vocal prowess, Phantom Elite has put together an incredible record filled with an abundance of big riffs and epic melodies which all kicks off with the album opener, "Conjure Rains." After a short build, the track takes off with a fervor. There is an Arabian undercurrent here and something of a Lacuna Coil vibe. The latter due in part La Torraca's vocal delivery which has a Cristina Scabbia sensibility. The entire song just sounds huge and sets up the rest of the record quite nicely.
"The Race" has more of a bouncy vibe to it, but no less propulsive. Marina showcases a different side of her vocal range on this one. Joeri Warmerdam throws in some well-placed blast beats and the guitar solo from Max van Esch is spot on. This is followed by the album's first single, "Diamonds and Dark" which opens with a poignant piano interlude before unleashing a maelstrom of metal epicness. This one fits more into the band's symphonic wheelhouse through a modern prism stylistically. The pre-chorus has a mammoth somewhat operatic choral vocal, and La Torraca balances some soaring highs and fantastic vibrato with some perfectly balanced lower-register moments adding to the drama.
Stef Rikken cameos on the raucous, "Worst Part of Me," serving up growls and harsh vocals to counterpoint La Torraca's beautiful clean vocals. "Glass Crown" has a huge hooky melody, a swarming buzz like riff, and more of an accessible somewhat poppish metal bent.
Phantom Elite take a heavier more aggressive approach for the progressive beast that is the album's title track. At 7 ½ minutes, "Titanium" is the record's longest and sonically most expansive track. The song has more of that Arabian hue to it and van Esch gets into some real Satriani/Vai style fretwork in the song's latter half. The track moves between frenetic and almost melancholic moments with La Torraca giving an oft emotive performance.
The amazingly talented Amanda Sommerville , Marina's cohort in crime in their sister band, Exit Eden , drops in for a cameo on "Silver Lining." The song is a punchy and driving atmospheric rocker. The combination of vocal styles meshes brilliantly. Sommerville, who is married to Gommans, also lends her voice to the album's final track, "Eyes Wide Open."
From top to bottom, Phantom Elite has delivered a stunning and divinely produced album. Titanium is packed with plenty of addictive tracks that mix bombastic and cinematic flourishes with somber and wistful moments. La Torraca's voice is exceptional throughout and Warmerdam is on fire behind the drums. There are some djenty moments, but they are never overdone, and Max van Esch—where has this guy been hiding? He elevates every track with his fret performances on both instruments.  The symphonic grandiloquence of Titanium meshes in impeccable unity with each songs' progressive leanings. While the band's debut, Wasteland was a solid and promising affair, Titanium takes everything to a new level. Fans of European symphonic metal will likely hear shades of bands like Epica, Amaranthe , and Delain here, so they should love this record, However, Phantom Elite has created its own signature style that goes well beyond those boundaries. We have all been waiting for 2020 to go away, and Titanium is one more reason to look forward to 2021 with renewed enthusiasm.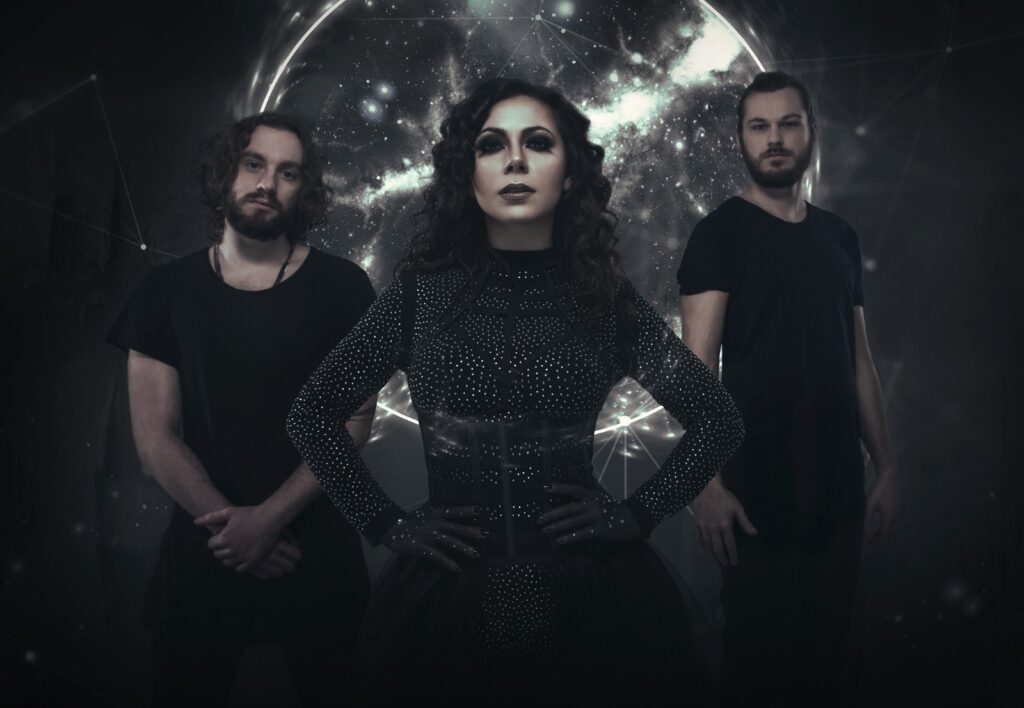 I bought the debut KISS record on my 10th birthday in 1974. That was the beginning of the end, so to speak. I began my journalism career in high school, writing music reviews for the school paper. Years later, I would begin writing for a local music magazine in San Francisco, and eventually become its editor. In 2008, I started writing for and eventually bought Metalholic Magazine, and a decade later I have merged it into Metal Nation. Now you're all screwed =) United We Rock!
Brock's 2 Cents – NOVEMBER 2020
BODOM AFTER MIDNIGHT Featuring Alexi Laiho, Signs with Napalm
Album Review: BONGINATOR – Intergalactic Gorebong of Deathpot
Album Review: RPWL – Crime Scene
Album Review: AUGUST BURNS RED – Death Below
Album Review: ELVENKING – Reader Of The Runes-Rapture
Your email address will not be published.
Save my name, email, and website in this browser for the next time I comment.
Album Review: BONGINATOR – Intergalactic Gorebong of…
Video Premiere
Album Reviews
Concert Reviews
2017 Rankings
2018 Rankings
2019 Rankings
2020 Rankings
Nike Phantom GX Elite DF FG Blaze Limited Edition Review
More in latest reviews:.
The Nike Phantom GX Elite DF FG Blaze Limited Edition retails for $295.00. Take a look at some of the discounts below with our exclusive coupon codes.
To see more pictures and video of the New Nike Phantom GX Elite DF FG soccer-football boots click the link above.
Related posts:
Nike Phantom GX Elite FG Limited Edition Review
Nike Phantom GX Elite SG-PRO Anti-Clog Shadow Pack Review
Nike Phantom GX Elite DF SG-PRO Anti-Clog Blast Pack Review
Nike Phantom GT Elite 3D Limited Edition Review
Nike Phantom GT 2 Elite Lucent Pack Review
Deals of the Day Email Signup
Email address:
Vacation Rentals
Restaurants
Things to do
Elektrostal Tourism
Elektrostal Hotels
Elektrostal Bed and Breakfast
Elektrostal Vacation Rentals
Flights to Elektrostal
Elektrostal Restaurants
Things to Do in Elektrostal
Elektrostal Travel Forum
Elektrostal Photos
Elektrostal Map
Elektrostal Travel Guide
All Elektrostal Hotels
Elektrostal Hotel Deals
Elektrostal Hostels
Elektrostal Family Hotels
Elektrostal Business Hotels
Elektrostal Spa Resorts
3-stars Hotels in Elektrostal
Elektrostal Hotels with Game room
Elektrostal Hotels with Banquet hall
Hotels near Museum of Labor Glory
Hotels near Viki Cinema
Hotels near Galereya Kino
Hotels near Statue of Lenin
Hotels near Park of Culture and Leisure
Hotels near Electrostal History and Art Museum
Hotels near Banya
Hotels near Museum and Exhibition Center
Hotels near SmokyGrove
Hotels near Papa Lounge Bar
Hotels near Elektrostal Station
Hotels near Metallurg Station
Hotels near Fryazevo Station
Hotels near Khrapunovo Station
Hotels near Pavlovskiy Posad Station
Hotels near Kovrigino Station
Hotels near Elektrogorsk Station
Hotels near Zakharovo Station
Hotels near Noginsk Station
Hotels near Red Army Station
Zhukovsky International Airport Hotels
Vnukovo Airport Hotels
Domodedovo Airport Hotels
Earthly Paradise Bird Nest Resort
Moon Palace The Grand - Cancun
Secrets Cap Cana Resort & Spa
Melia Punta Cana Beach Wellness Inclusive - Adults only
Secrets Maroma Beach Riviera Cancun
Hilton Tulum Riviera Maya All-Inclusive Resort
Wyndham Alltra Cancun
Secrets Akumal Riviera Maya
Dreams Macao Beach Punta Cana
Renaissance Wind Creek Aruba Resort
Jules Undersea Lodge
Moon Palace Jamaica
Hilton Rose Hall Resort & Spa
Excellence Playa Mujeres
Aulani A Disney Resort & Spa
Popular All-Inclusive Resorts
Popular Beach Resorts
Popular Family Resorts
Popular All-Inclusive Hotels
Popular Hotels With Waterparks
Popular Honeymoon Resorts
Popular Luxury Resorts
Popular All-Inclusive Family Resorts
Popular Golf Resorts
Popular Spa Resorts
Popular Cheap Resorts
Travel Guides
GreenLeaders
Elektrostal
Things to Do
Travel Stories
Rental Cars
Add a Place
Travel Forum
Travelers' Choice
Help Center
Europe
Russia
Central Russia
Moscow Oblast
Elektrostal
Yantar Hotel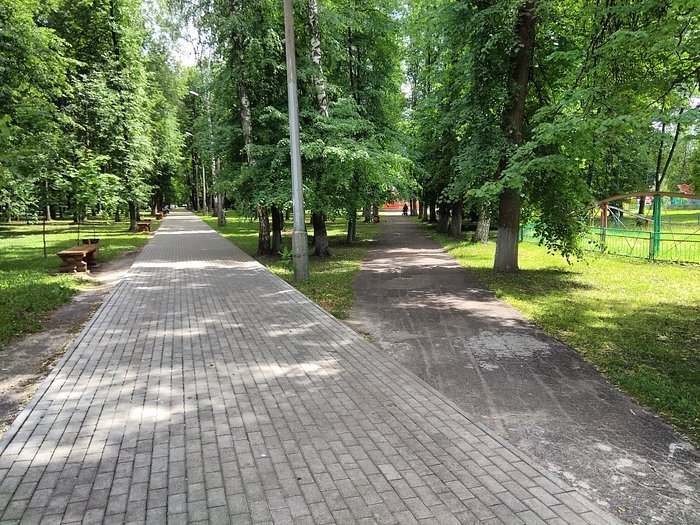 View prices for your travel dates
Own or manage this property? Claim your listing for free to respond to reviews, update your profile and much more.
YANTAR HOTEL - Reviews (Elektrostal, Russia)