7 Ways to Check and Remove Shadowban on Your Twitter Account
Are you observing a sudden drop in your tweet's engagement? Is it getting fewer likes, comments, and retweets than usual? It might be due to an active shadowban on your Twitter account. We have discussed ways to check and remove Shadowban from your Twitter account in this read. Meanwhile, you can also learn to fix can't see who liked your Tweet .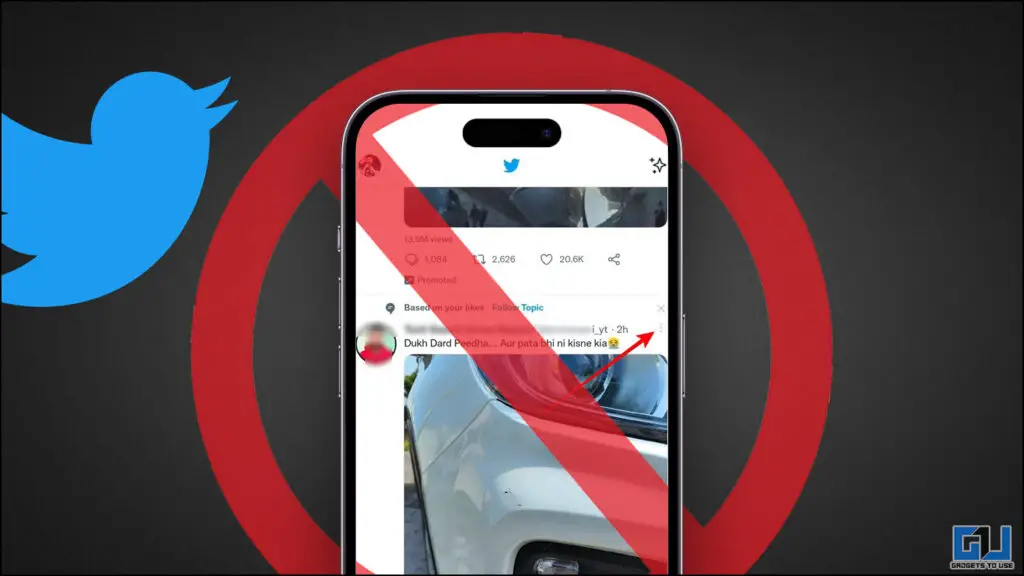 What is a Shadowban on Twitter?
Table of Contents
Shadowbanning on Twitter is an act of limiting and restricting the visibility of your tweets or account due to some breach of the community guidelines or user policies. In most cases, the user is not notified of an active shadowban but remains completely invisible to others.
An active shadowban can cause the following changes to your Twitter account:
Your tweets or the entire profile remain invisible to everyone, including your followers. They won't be able to view your posts when searched in the search bar.
Your replies to someone else's tweet stay invisible and are not displayed below the corresponding tweets.
All notifications of your actions on Twitter shall remain suppressed, i.e., your followers will not receive any alerts for your likes, posts, or retweets.
With that being said, let's look at the three types of common shadowbans faced by users on Twitter.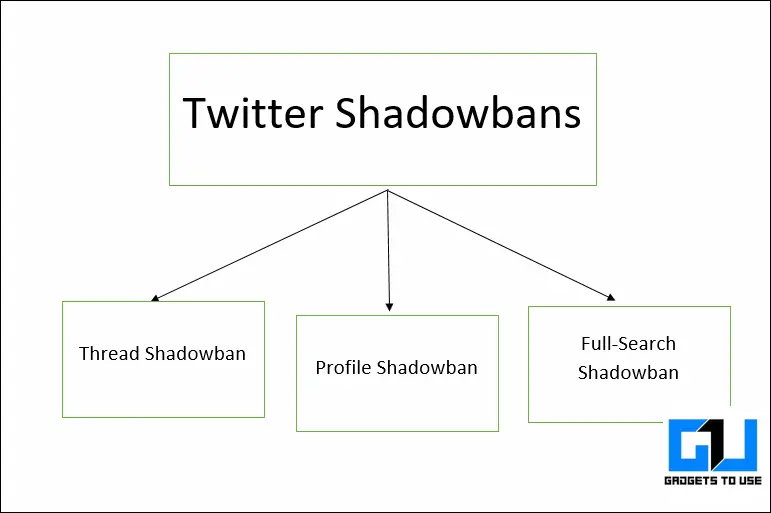 Thread Shadowban: This kind of shadowban limits the visibility of your comments on Twitter threads/tweets.
Profile Shadowban: This shadowban restricts your profile visibility on Twitter and prevents other users from finding your profile by searching.
Full-Search Shadowban: This type of shadowban blocks you entirely, and you shall remain invisible to everyone on the platform.
Reasons Behind Your Shadowbanned Twitter Account
While there could be several possible explanations behind an active shadowban on your Twitter account, some of the prominent ones are as follows:
You've been tweeting too frequently, which made the Twitter algorithm consider you a bot.
You might have been using trending hashtags on your unrelated posts to increase your post engagement.
Your tweets might have exhibited spam behavior if you post tweets based on promotions or sales too often.
You might have been involved in growing your followers inorganically by repeatedly following and unfollowing them.
If your Twitter account does not have a confirmed email address.
There's no profile picture on your Twitter account.
You try to sign up for multiple accounts simultaneously.
Unnatural Follower and Following ratio.
Any behavior that indicates a coordinated attack.
How to Check Shadowban on Your Twitter Account
If you suspect that you might have been shadowbanned on Twitter, you can verify it by checking these three effective methods.
Online Tools to Check if Twitter Account is Shadowbanned
One of the easiest ways to check if your Twitter account is shadow banned or not is to use some free third-party tools. One such tool is Yuzurisa. Here's how to use it.
1 . Open a new tab in your web browser and access the Shadowban Test website .
2. Enter your Twitter username in the search bar and click on the Check button to test your account for an active shadowban.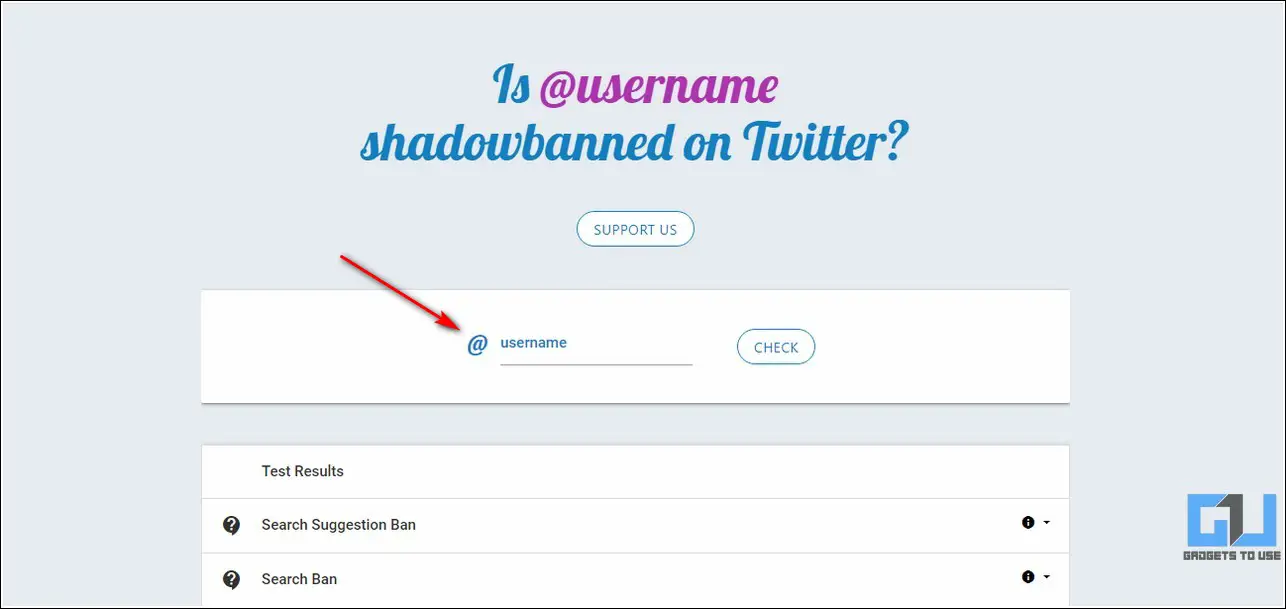 3. Wait for a few seconds to check the results. If you find an active shadowban here, you can expand the corresponding ban to know more details about it.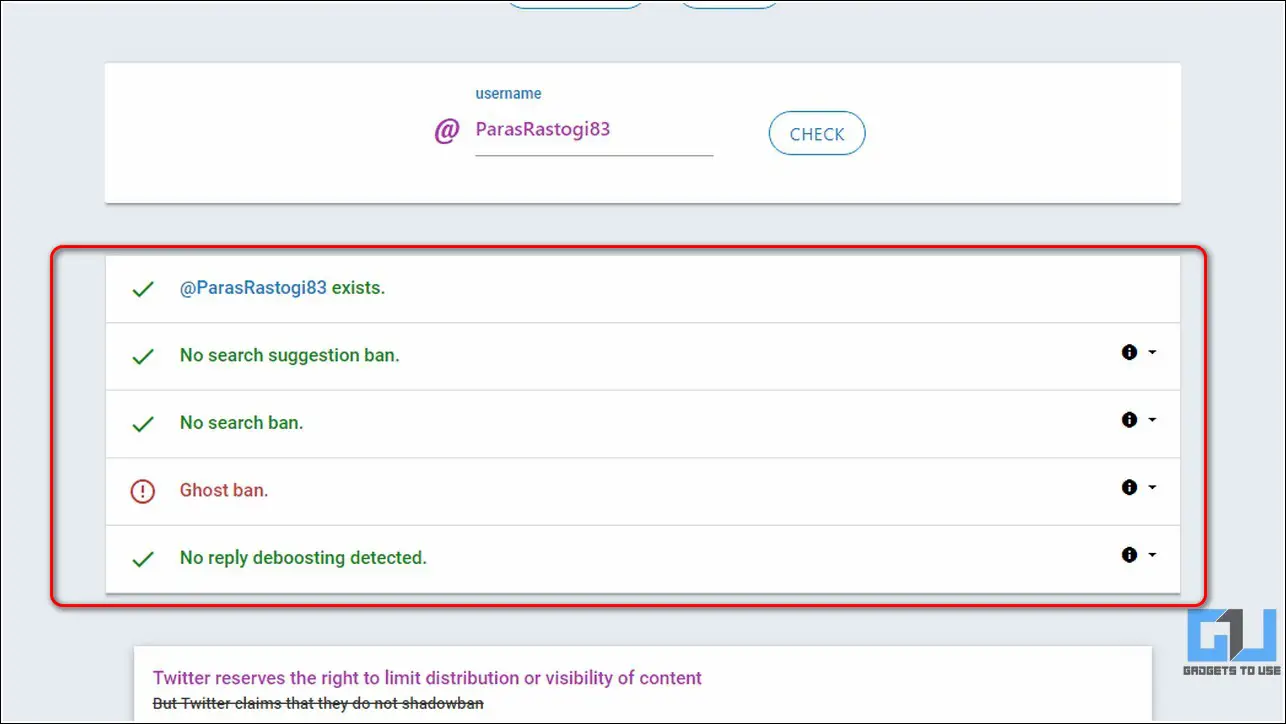 Go Incognito and Search for Your Profile on Twitter
Another interesting method to check and determine an active shadowban on your Twitter account is through incognito browsing .
1. Open the incognito mode on your web browser. In the case of Google Chrome, you can launch it instantly by pressing the Ctrl+Shift+N hotkey.
2. Access the Twitter search page and type your username in the search bar. Hit the enter key to generate the search results.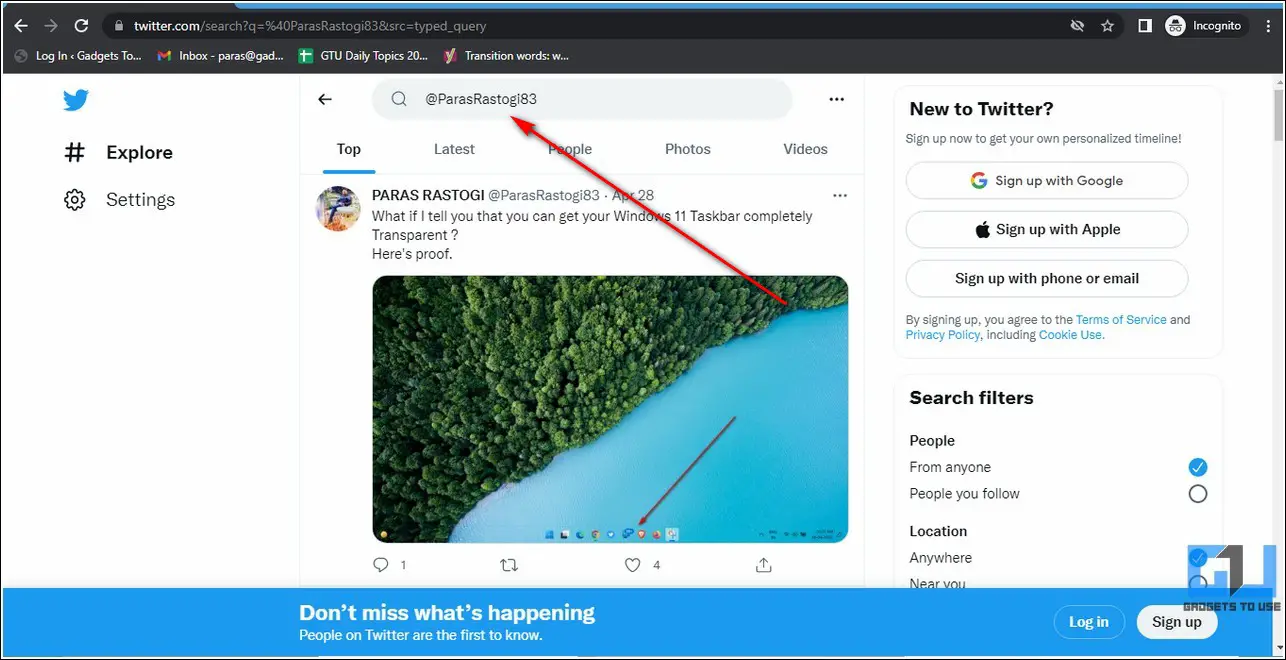 3. If you can't find your tweets, replies, or profile account in the search results, you are most likely to have an active shadowban.
Check Your Tweet Engagement for a Sudden Drop
Another easy method to verify the presence of a shadowban on your Twitter account is by checking the tweet engagement . If you're an influencer and have an active shadowban, you will notice a significant decrease in your tweet's engagement.
You can check this by following these simple steps.
1. Open your Twitter profile and locate your recent tweet. Tap on the Analytics icon to view post impressions, engagements, and interactions.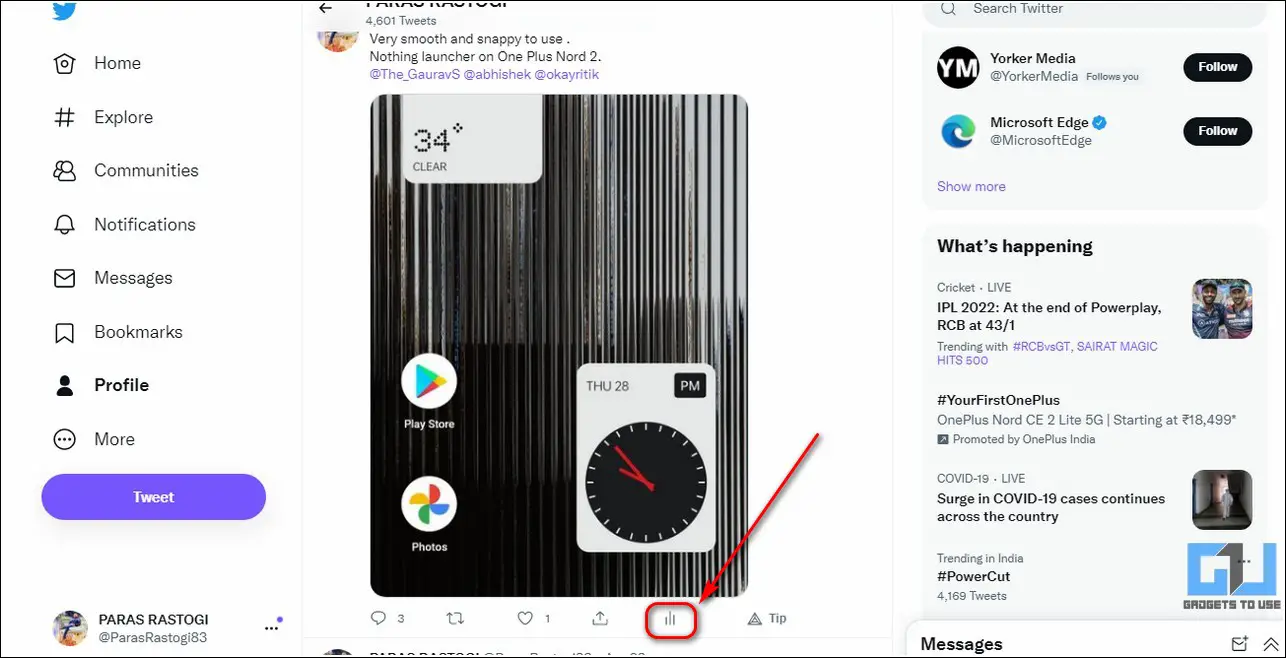 2. Compare the analytics with other recent posts to notice any sudden drop in tweet interactions.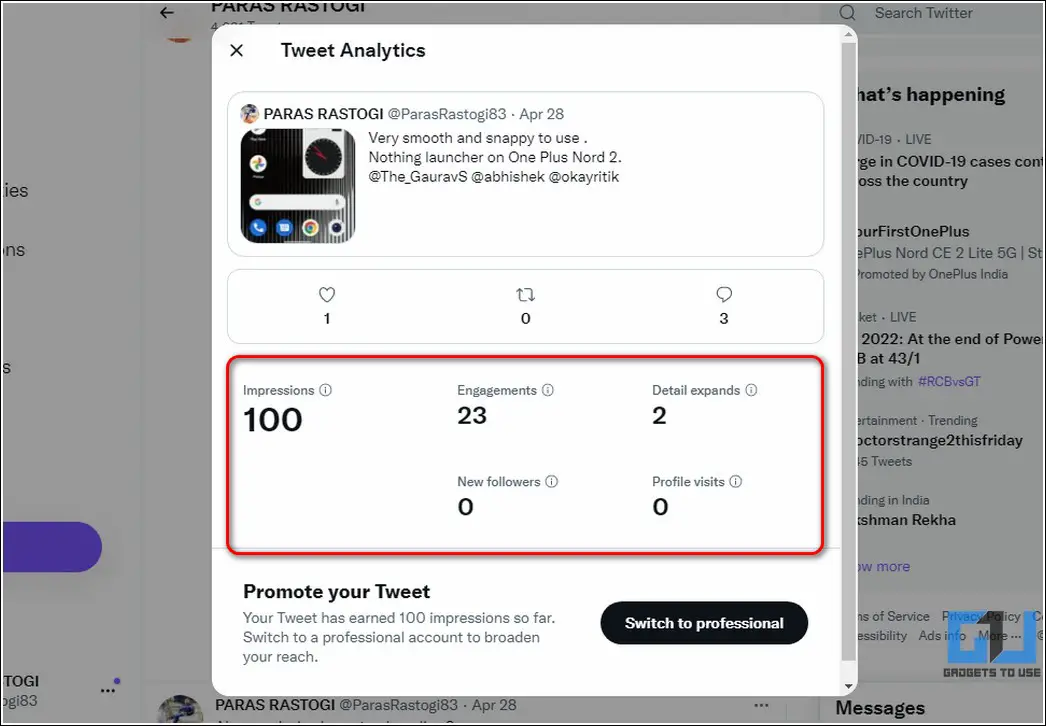 How to Reduce or Remove Twitter Shadowban
Now that you've successfully detected the presence of an active shadowban on your Twitter account, here's how you can remove or reduce its impact.
Take a Break from Twitter & Avoid Tweeting
The simplest and most effective method to remove shadowban from your account is to take a break from Twitter and avoid posting any new tweets for some time. Any new tweet in this period is likely to contribute to an increased duration of shadowban. You need to lay low for at least 72 hours to remove any active ban on your profile.
Remove existing Irrelevant Tweets and Comments
To avoid shadowban on your account in the future, you need to review and remove all existing irrelevant comments and tweets that might have contributed to spam. Additionally, you should delete all such replies to posts that might look inappropriate such as promotional/sales, irrelevant advertisements, trolling, etc.
Avoid Creating a new Twitter Account and Update Existing Account
Creating a new Twitter account during the shadowban period is most likely to be a bad idea as it might result in a complete ban of both Twitter accounts. However, you can reduce the impact of the active ban by updating your profile picture and details with real data instead of a promotional or fake one.
Reach out to the Twitter Support Team
If you believe that you've been mistakenly marked for a shadowban or it hasn't been lifted after 72 hours, then you should contact the Twitter support team for a resolution.
FAQs Around Shadowbanning on Twitter
Q: how long does shadowban last on twitter.
A: In most cases, a Twitter shadowban lasts for at least 72 hours . However, repeated violations during the shadowban period might extend its duration.
Q: How Do I Check if I've Been Shadowbanned on Twitter?
A: You can test and verify the presence of an active shadowban with the help of the above-mentioned methods.
Q: Why Is No One Seeing My Tweets?
A: It might be due to an active shadowban on your Twitter account. You can reduce its impact by following the methods listed above.
Q: How Do I Get Rid of Shadowban on My Twitter Account?
A: While there's no official way to get rid of the shadowban, you can try to limit and restrict your Twitter usage for some time.
Q: Why Is Twitter Not Showing All of Your Posts?
A: It might be due to a possible technical glitch or an active shadowban present on your Twitter account.
Q. Why Do I Keep Getting Shadowbanned on Twitter?
A: Repetitive community violations such as spam, promotional replies, trolling, or frequent tweeting can lead you to shadowbanning. You should take special care to avoid it as much as possible, especially during the shadowban period.
Wrapping Up: Keep Those Tweets Flowing
So, that's all about the shadowban on Twitter and ways to check and reduce it. If this quick read has helped you fix and restore your Tweet engagement, then hit the Like button and share this read among your friends to make them aware of it. Stay tuned for more informative guides.
You might be interested in:
10 Tricky Ways to Search Anything and Everything on Twitter
4 Ways to Schedule Tweets on Twitter Web to Save Time
How to Create Your Own Twitter Community in 3 Simple Steps
You can also follow us for instant tech news at Google News or for tips and tricks, smartphones & gadgets reviews, join GadgetsToUse Telegram Group or for the latest review videos subscribe GadgetsToUse YouTube Channel.
Paras Rastogi
Being an Ardent Tech-Enthusiast, Paras is super passionate about new gadgets and technologies since childhood. His passion has developed him to write tech blogs that allow him to help people and make their digital lives easier. When he is not working, you can find him on Twitter.
Related Topics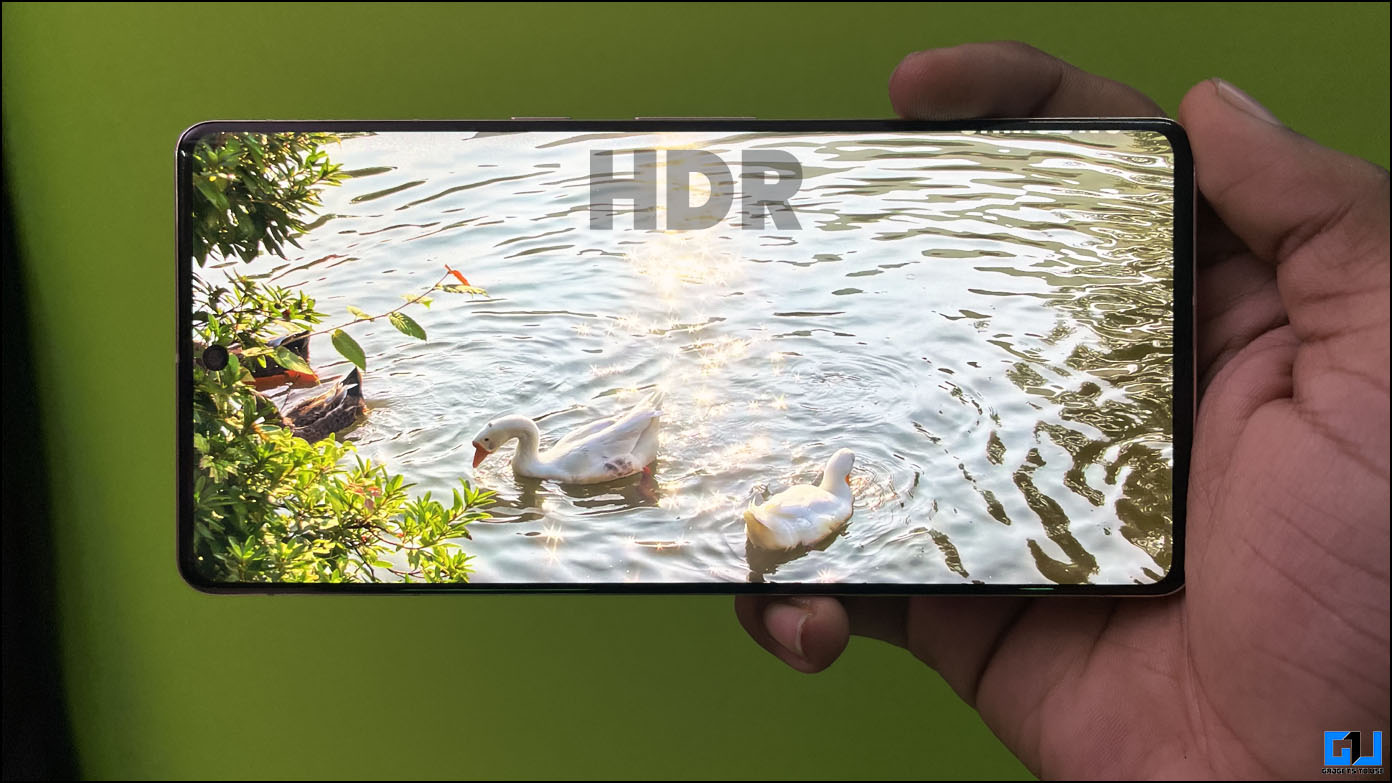 3 Ways to Disable Extreme Brightness for HDR YouTube Videos on Your Phone
…  Read More » 3 Ways to Disable Extreme Brightness for HDR YouTube Videos on Your Phone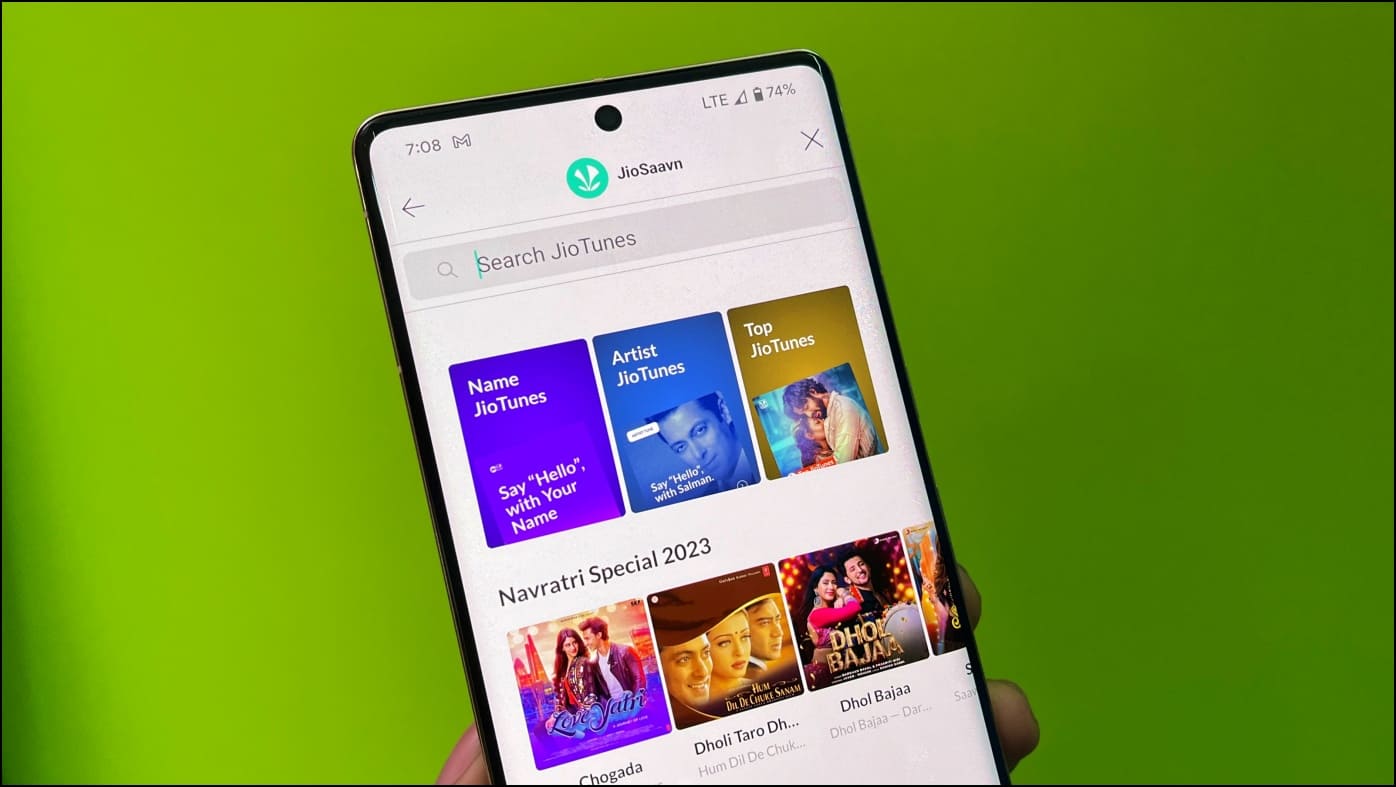 5 Ways to Set a Caller Tune on Your Jio Number
…  Read More » 5 Ways to Set a Caller Tune on Your Jio Number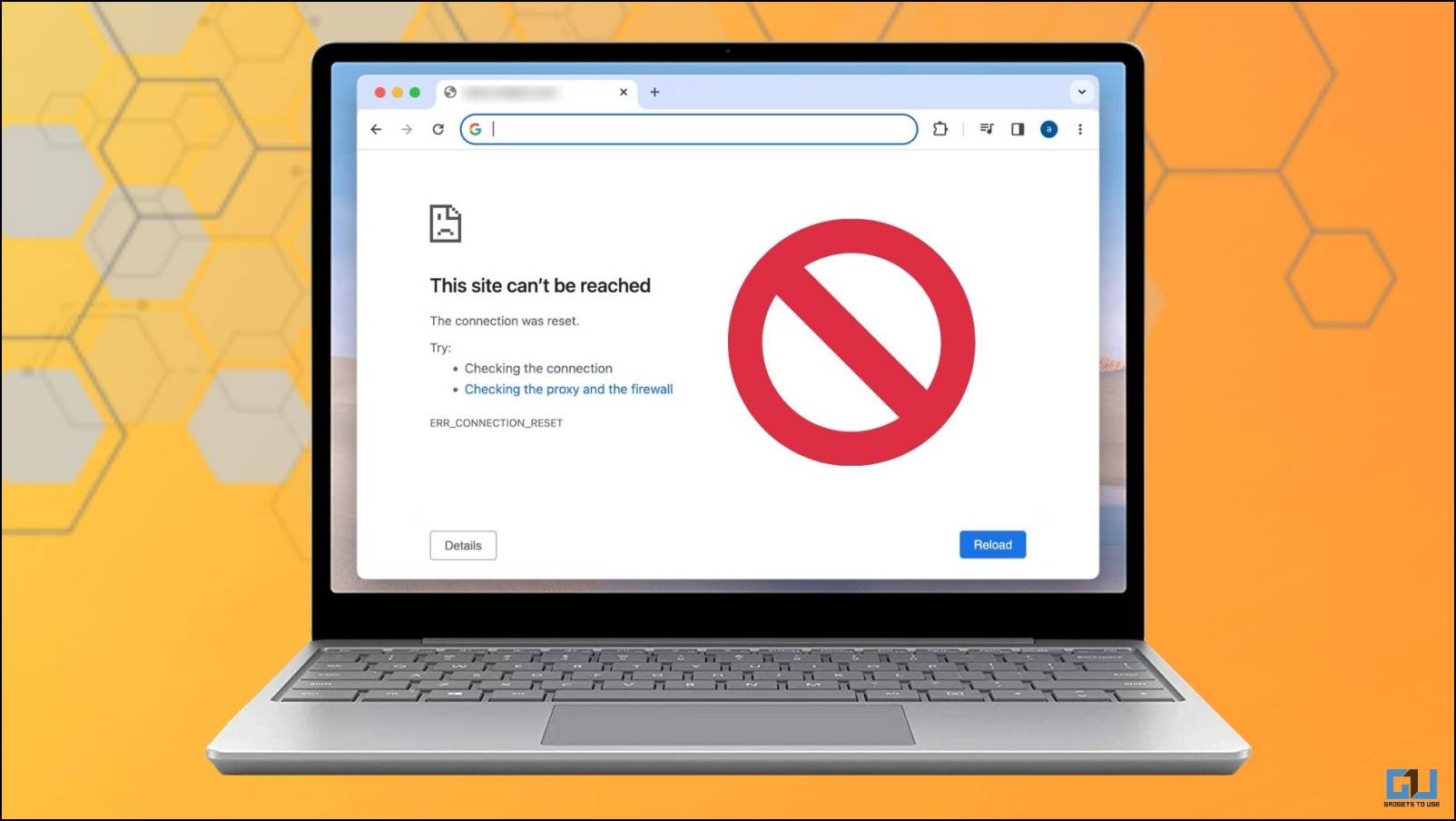 8 Ways to Access Any Blocked Site in India for Free Without VPN
…  Read More » 8 Ways to Access Any Blocked Site in India for Free Without VPN

Twitter Ghost Ban: How the Shadowban Works and How to Get Rid of It
In the ever-changing world of social media, Twitter is a great place for people to share their ideas, have conversations, and find out what is going on in the world. With millions of users and a lot of content being shared every day, it can be hard for the platform to keep its users safe and healthy. One of the ways Twitter does this is by using the Ghost Ban , which is also known as a Shadowban. This practice, which is often misunderstood, can have big effects on users, so it is important to know what it is, what it is for, and how it affects Twitter's huge ecosystem.
The Inner Workings of Twitter Ghost Ban
Twitter is a social networking site where people can send and read short messages called "tweets." Since its launch in 2006, the platform has changed a lot. One of the most important changes has been the addition of an algorithm that picks the content that shows up on users' feeds. The main goal of this algorithm is to make sure that users see interesting and relevant content.
When deciding which tweets to show in a user's timeline, the algorithm takes into account a number of things, such as:
Recency: More recent tweets are given more weight than older ones.
Engagement: Tweets with more engagement (likes, retweets, replies, etc.) are more likely to be shown.
Relationships: The algorithm takes into account the connections between users and gives more weight to tweets from accounts that a user interacts with often or is close to.
Interests: Content in a user's timeline is more likely to match their interests or topics they follow.
Behavior: The algorithm learns from how users act and changes the content it shows them based on how they have acted and what they like.
These things help make each user's experience unique and make sure that their timeline is full of information that is most important and interesting to them.
Reasons for Getting Shadowbanned
Shadowbanning is a method that some social media sites, like Twitter, use to make a user's content less visible without the user's knowledge. This usually happens when a user breaks the rules of the platform or does something harmful or suspicious. Here are some of the most common reasons why Twitter users get shadowbanned:
Spam-like behavior: Users who often post promotional content without being asked, send duplicate messages, or follow and unfollow a lot of people may be shadowbanned.
Abuse or harassment: You can get a shadowban for targeted harassment, hate speech, or any kind of abusive behavior.
Inappropriate content: Sharing explicit or offensive content, such as graphic violence, adult content, or information about illegal activities, can lead to a shadowban.
Automation and bot activity: A shadowban can happen if you use automated tools or bots to make or manage your account, post content, or interact with other users.
Sudden rise in the number of followers or engagements: Unusual jumps in the number of followers or engagements, especially if they were bought or got in an unnatural way, can raise suspicion and lead to a shadowban.
Effects of Shadowban on Your Account
Getting shadowbanned on Twitter can hurt your account in several ways, such as:
Limited visibility in search results: Your tweets and profile might not show up in search results, making it harder for other people to find your content and account.
Fewer impressions and engagement: Since users can not see as much of your content, fewer people will see your tweets, which will lead to fewer likes, retweets, and replies.
Followers may not be able to see your tweets in their timelines: This is one of the most important effects of a shadowban. Over time, this can make people less interested and cause them to stop following you.
Identifying if your Account is Shadowbanned
Let us talk about how you can tell if you have been shadowbanned and what online tools you can use to check your shadowban status .
Signs and Symptoms
Reduced engagement and impressions
Disappearance from search results and conversations
Follower complaints about not seeing your tweets
Online Tools to Check for Shadowban Status
Some of the popular shadowban test websites include:
shadowban.eu (for Twitter)
triberr.com (for Instagram)
You can also use advanced search techniques on the platform to see if you have been shadowbanned. You can do this by following these steps:
Sign out of your account or use a window that does not show your history.
Go to the platform's search page and use relevant keywords and hashtags to look for your username or content.
Check to see if your account and content show up in a search. If they don't, it could mean you have been shadowbanned.
How to Get Rid of a Twitter Ghost Ban
With UnbanMeNow, resolving a Twitter shadowban becomes a simple task. Follow this comprehensive guide to accomplish it:
Choose the Platform: Begin by visiting the UnbanMeNow website and selecting the platform you require assistance with, which in this instance is Instagram. After picking Instagram, press the "Unban Me Now!" button to initiate the procedure.
Submit Basic Details: You will need to provide basic information linked to your account, such as your full legal name, email address, and platform username. This data is essential for UnbanMeNow to locate your account and determine the issue. Click next to proceed.
Explain Your Ban: In this step, provide further details about your shadowban. Describe the events leading up to the ban, why you believe you were shadowbanned, and any measures you have taken to rectify the problem.
Identify Your Predicament: UnbanMeNow offers a variety of predicament scenarios to choose from. Select the one most suitable for your situation, which will help UnbanMeNow tailor the document to your needs. After making your selection, you will need to consent to the use of your data by checking the boxes in accordance with UnbanMeNow's Data Privacy Policy. Additionally, confirm the accuracy of the information you provided. Click on the "Create Document" button once you have agreed to the Data Privacy Policy. UnbanMeNow will then generate a document outlining your case and the reasons your ban should be lifted.
Successfully Remove the Shadowban: Lastly, download the document by clicking the "Download document" button and submit it. Once submitted, all that remains is to wait. UnbanMeNow assures that your shadowban will be removed within a few hours after the document's submission.
Wrapping Up
The Twitter Ghost Ban, also called a "Shadowban," is a controversial and often misunderstood way that the platform hides or hides the content of some users. By looking at how it works, we can see that its main goal is to stop spam, bad behavior, and false information from spreading. But Twitter's lack of openness and clear communication about this practice has left users confused and frustrated.
To avoid a Ghost Ban, users should focus on following Twitter's rules and keeping a positive, interesting presence on the site. This means not sending spam, treating other users with respect, and sharing accurate information. By doing this, users can not only protect themselves from the effects of a Shadowban, but they can also help make the internet a healthier and more positive place.
People Also Asked
Many of our users have asked us about the mysterious and often misunderstood idea of a "ghost ban" on Twitter. Users are interested and worried about this trend because they want to know what it means and how it works. To help ease these worries, we have made a list of the most frequently asked questions about the ghost ban on Twitter. Our goal is to give short, clear answers that shed light on this often-discussed topic. These are the questions that our users have asked us about the Twitter ghost ban:
How long does a ghost ban typically last?
The length of a ghost ban can vary by platform and by the reason for the ban. There is no set amount of time, as it could be a few hours, a few days, or even weeks. In some cases, the ban could be lifted if the user does something to fix the problem, like taking down offensive content or following the platform's rules.
What is the difference between a ghost ban and a shadow ban?
Both a ghost ban and a shadow ban limit the visibility and reach of a user's content without them knowing about it. But there are a few things that are different:
Ghost Ban: In a ghost ban, everyone but the user can not see the user's content. They can still post, but other users can not see what they write. This makes it look like they are not using the platform at all.
Shadow Ban: In a shadow ban, a user's content can only be seen by a small number of people. Their posts might not show up in search results, on hashtags, or on the main feed of the platform. Shadowbanned users may still be visible to their followers, but their overall reach and engagement are reduced.
Can verified accounts be ghost banned on Twitter?
Yes, verified accounts on Twitter can be ghost banned if they break the platform's rules or do things that are against the platform's rules. No matter if an account is verified or not, if it breaks Twitter's rules, it could get a ghost ban or a shadow ban, among other things. But it is important to keep in mind that Twitter's rules and algorithms can change over time, so the exact rules for bans and restrictions can also change.
Leave a Comment Cancel Reply
Your email address will not be published. Required fields are marked *
Save my name, email, and website in this browser for the next time I comment.
Please enter an answer in digits: ten + 9 =
Latest News
Transfer News
Premier League
Champions League
What is ghost ban on Twitter?
Twitter's ghost ban is making users worried! But, what exactly is it and is there a way to identify if an account is getting ghost banned?
For the unversed, Twitter's ghost ban has recently been in discussion among users as many have shared that the visibility of their accounts has either decreased or vanished.
To show users that the microblogging platform is working on fixing it, CEO Elon Musk has promised a future solution as well. Read about that in the story below.
TRENDING : WHO IS AARON RUPAR? ELON MUSK'S TWITTER SUSPENDS JOURNALIST'S ACCOUNT
On Twitter, a ghost ban, also known as a shadow ban, means partially getting blocked as the microblogging platform can deliberately make someone's content undiscoverable to everyone except the person who posted it, without letting the original poster know, the official blog of the social media site says.
The ghost ban does not stop the users from posting or taking part in any other activity, but users may notice their account losing engagement. It also hinders the account's growth as the chances of being discovered by new accounts lessen significantly.
According to Shadowban Yuzurisa , a ghost ban "comprises a search ban while threads are completely ripped apart by hiding reply tweets of the affected user to others.
"Everything will look perfectly normal to the affected user but many others will not be able to see the reply tweets of the affected user at all. Reasons for this ban include behavior like excessive tweeting or following. Again, this type of ban seems to be temporally limited for active accounts."
READ NEX T: Where to buy New Heights Podcast merch and prices revealed
Ahhh…. Isn't that nice. Not really surprised. I could tell #GhostBan pic.twitter.com/EaDjB9FFUG — Uncle Ted's Garage 🎧 (@TheRealTeddyBee) December 17, 2022
Web tools to check if you are ghost banned
WikiHow lists two web-based tools to find out if your content is limited by Twitter – HiSubwayOnline and Shadowban IO . The outlet describes them as shadowban tools.
You can also look for the below signs to find out if you may have been shadowbanned. Firstly, open an incognito window on your browser and while you're signed out of Twitter:
Search your tweets on the site to see if they are appearing publicly. If they don't, there's a chance you have been shadowbanned.
Search your username from the search bar. If you find your account, you're probably not shadowbanned.
Check if your replies under a tweet are visible for non-followers. If they're not, there is a chance you've been shadowbanned.
Users complain of being ghost banned
The best part about Twitter has been how easy it is for you to connect with anyone in the world who has an interest similar to yours. From music stans to news enthusiasts, Twitter is currently the home of over 368 million users worldwide, Statista notes .
But, nobody who has a publicly discoverable account will enjoy getting shadowbanned, and that is what some users are complaining about.
Sharing the result from an apparent shadow ban checker, a user posted:
Is anyone else experiencing Ghost Ban? pic.twitter.com/StTKjgdzEG — eugene (@Democracy1stE) December 16, 2022
Another shared:
Didnt think I'd see the day that insta was less restrictive than twitter. Full ghost ban for nothing here, clean unrestricted status there now. Maybe time to move on to @0xDecaArt and insta, a combination of both would probably compliment eachother. pic.twitter.com/usBwTDav4O — Shych1vette 🌐 (@shych1vette) December 16, 2022
Twitter is working on a new shadowban software
According to Musk, Twitter is working on a new software to help users understand if their account is shadowbanned and how to appeal the decision.
Musk tweeted: "Twitter is working on a software update that will show your true account status, so you know clearly if you've been shadowbanned, the reason why and how to appeal."
Twitter is working on a software update that will show your true account status, so you know clearly if you've been shadowbanned, the reason why and how to appeal — Elon Musk (@elonmusk) December 9, 2022
For more trending stories, follow HITCNews .
MORE: 27 creative Instagram Notes ideas to roll with your mood all day
Related Topics
Related posts, more in trending.
PC accesories
PC Components
Audio Systems
Home Theatre
Point & Shoot
Video Cameras
Smart Wearables
Advertise With Us
Privacy Policy
Contact Us / TIp Us
Write For Us
Google News
Samsung Galaxy SmartTag 2 now available in India: Price in India and availability
Apple tv+, apple news+ and apple arcade prices surged in the us and more regions, garena free fire redeem codes today 26 october 2023: here is how to claim them, smartphones that will come with a snapdragon 8 gen 3 chipset, top 10 apps to download first on oneplus open, iqoo 12 series to use snapdragon 8 gen 3 soc, china launch confirmed for november 7 and india soon, logitech pebble 2 keyboard and mouse review: attractive, snappy, and a whole lot of fun, sony wf-1000xm5 review: setting the benchmark yet again, cmf watch pro review: a 'nothing' special rather than nothing special, how to use google photos' best take feature in google pixel 8 smartphones, best ways to find your lost apple watch series 9, how to scan qr code to send money from gpay to any contact in india, apple event: apple set to host "scary fast" event on october 30, logitech g pro x superlight 2 gaming mouse for professional gamers launched in india, truke clarity five tws review: great sound quality, sppl reveals deals and discounts on kodak hd led tvs ahead of amazon gif and flipkart bbd sale, the all-new gopro hero 12 black action camera launched in india, sony india announces exciting discounts & offers to celebrate independence day, sony zv-e1 full-frame vlog camera launched in india, how to cut your hair on your own 5 best videos we found on the internet to cut your own hair, top 5 photography youtube channel to follow, top must-have gadgets and tech for vlogging, outlook pst repair tool at its best: meet your saviour "stellar repair for outlook", best 9 android keyboard apps for everyday use, how to check and remove a shadowban on twitter 7 easy methods.
Not getting any engagement on your tweets? Your account may have been shadowbanned.
A shadowban is Twitter's way of limiting the reach of an account without banning it outright. When a person gets shadowbanned on Twitter, their tweets and replies are no longer visible on their followers' feeds. The only way to access the tweets is by searching for the shadowbanned account. In some cases, Twitter may also restrict the account from appearing in searches. Once an account gets shadowbanned, the user does not receive any formal notification for it. Usually, shadowbans are handed out when Twitter suspects an account to be a bot or when the user violates the Terms of Service (ToS). In this article, we bring you the top 7 easy methods to check and remove a shadowban on Twitter.
Read Also: Watch movies online: Top 5 Places to Rent Movies Online
Table of Contents
How to check for a shadowban on Twitter
As we mentioned earlier, Twitter does not notify users when placing a shadowban on their account. If you suspect your posts aren't reaching your audience, there are a few steps you can take to confirm if your account has been shadowbanned. Here are some of them.
Check your Tweet engagements
Since shadowbanning limits the reach of your tweets, a sudden drop in your tweet engagements may point towards an outward restriction of your account. Go through your tweets and notice if there has been a drop in interactions (comments, likes, and retweets) and engagements (impressions, profile clicks) over a period of time. Twitter's new view count feature is also very helpful in determining the reach of your account. To check the engagement metrics of a particular tweet , click on it and select 'View Tweet Activity'. If you notice a sharp decline in engagement, chances are your account has been shadowbanned.
Search for your account from the incognito window
Switch to the incognito tab and make an alt account on Twitter . Look up your username in Twitter's search bar. If your profile does not show up in the results, it means Twitter is actively shadowbanning your account. Sometimes, your profile may show up but the tweets may not be visible. This is also a sign of a shadowban.
Use a Shadowban Test website
There are several third-party test websites that will perform a test on your Twitter account to check whether it has received a shadowban or not. Go to https://hisubway.online/shadowban/ and enter your username in the search field. The website will perform a few tests and will return the relevant results. 
How to remove a shadowban on Twitter
Once you've confirmed that Twitter has placed a shadowban on your account, there are some steps you can take to ensure it is reversed in due time. Here's what you can do.
Remove the posts that could have gotten you shadowbanned
Go through your tweets and find out the posts that may have gotten you shadowbanned. Twitter usually shadowbans accounts that post spam, mass follow other accounts, or engage in hateful conduct. Removing any objectionable content from your profile is the first step towards reversing a shadow ban.
Lay low for a while
Once you've removed the objectionable content from your profile , lay low and let Twitter assess the situation. Avoid making any objectionable tweets that may compound the ban. Do not tag other people in your tweets in a manner that may be construed as harassment. Typically, a shadowban takes around 3 days to resolve. Your account will be restored to normalcy soon after.
Do not bypass the ban by making another profile
T rying to bypass the shadowban by making another account or posting through someone else's account may result in a permaban (permanent ban). Your best course of action is to reduce your Twitter activity until the ban is reversed.
Contact Twitter support
If you think there was a misunderstanding on Twitter's end in shadowbanning your account, you can try contacting the Twitter Support team. This is not uncommon, as Twitter tries to restrict bots on its platform . If you posted a lot of content in a very short duration of time, the algorithm may have mistaken you for a bot and handed you a shadowban. This issue can be easily resolved by contacting the Twitter Support team.
Frequently Asked Questions (FAQs)
How do i know for sure that i have been shadowbanned on twitter.
Go to https://hisubway.online/shadowban/ and search for your Twitter handle to know for sure if you have been shadowbanned on the platform. The website performs a diagnosis check on your profile and lets you know whether your tweets are being actively suppressed from being exposed to a wider audience.
How long does a Twitter shadowban last?
A shadowban on Twitter typically lasts for 3 days.
How do I get rid of a shadowban on Twitter?
Delete all the objectionable tweets that may have caused Twitter to impose a shadowban on your profile. Under any circumstance, do not create a secondary account as it may result in a permaban.
Read Also: Redmi Note 12 Pro Review: Powerful performance at a reasonable price
Conclusion 
These are the top 7 methods to check and remove a shadowban on Twitter. Once the shadowban has been removed, you will see the engagement metrics of your Tweets go up again. Repeat offences and multiple bans in quick succession can also lead to your account getting permabanned.
For the latest gadget and tech news , and gadget reviews , follow us on Twitter , Facebook and Instagram . For newest tech & gadget videos subscribe to our YouTube Channel . You can also stay up to date using the Gadget Bridge Android App . You can find the latest car and bike news here .
________________________________________________ For the latest  gadget and tech news , and  gadget reviews , follow us on  Twitter ,  Facebook  and  Instagram . For the newest tech & gadget videos  subscribe to our  YouTube Channel . You can also stay up to date using the  Gadget Bridge Android App . You can find the latest  car and bike news here .
We are a humble media site trying to survive! As you know we are not placing any article, even the feature stories behind any paywall or subscription model. Help us stay afloat, support with whatever you can!
check twitter shadowban
remove twitter shadowban
twitter shadowban
LEAVE A REPLY Cancel reply
Save my name, email, and website in this browser for the next time I comment.
Samsung Galaxy SmartTag 2 now available in India: Price in India...
Tech At Your Fingertips! Contact us for Advertising opportunities -
Contact us: contact @yamedianetworks.com
© 2015-2023 - Gadget Bridge | Ya Media Networks
You cannot copy content of this page
Shadowban on Twitter: What Is It & How To Get Unshadowbanned
Despite Social Media Giants such as Tiktok , Twitter, and Instagram's refusal to disclose that they are shadowbanning, it is common knowledge that they are preventing spammers, trolls, and bots from using their platforms.
Social media platforms encourage users to create engaging information that is relevant and intriguing. Unfortunately, a significant portion of the submissions and tweets are spam or automated. As a result, these platforms have been obligated to create and use algorithms and AI approaches to eradicate this sort of material – and bloggers, in particular, are frequently slipping into this trap due to their repetitious behaviors. Shadowbanning is also suspected of being utilized to obscure some political tweets.
Does Twitter Have a Shadowban?
While there is some speculation around whether shadowbanning is fact or fiction, that is usually reserved for other social media platforms such as Instagram and Tiktok . Twitter, on the other hand, released a statement in 2020 which had the following clause:
We may also remove or refuse to distribute any content on the services, limit distribution or visibility of any content on the service, suspend or terminate users, and reclaim usernames without liability to you
In short, they came out and said that they would limit the number of people your Twitter account reaches if you're found to breach any of their community guidelines. Even though Twitter does not explicitly go out and term this action as a shadowban, this is effectively what a shadowban is.
Twitter has the power to censure your posts and make them disappear from their community without any official notification. They will effectively block or "shadowban" you without you finding out, which means that people won't be able to see what you post on the site. The reason for this? Twitter does it because they suspect someone of spamming or breaking its policies (whatever those maybe).
Generally, shadowbanning on Twitter is bucketed under three broad categories:
Twitter uses Thread shadowbans or Ghost Shadowbans to prevent other users from viewing your tweet comments. It includes a search prohibition, as well as threads being entirely pulled apart by hiding the impacted user's reply tweets to others. Everything will appear normal to the affected person, but many others will be unable to view the afflicted user's reply tweets at all.
In a Search Suggestion shadowban, accounts don't show up in search suggestions and search results when the account is not logged in.
Under the Search ban , Twitter removes all (or simply the most recent) of your tweets from search results, even if they contain the same search terms used. Regardless of whether the quality filter is turned on or off, this form of ban causes your tweets to be completely hidden from search results. Hashtags are included in this behavior. For active accounts, it appears that this type of ban is only temporary.
Twitter also tends to Deboost Replies as a spam-prevention tactic. If Twitter's signals indicate that an account is likely to engage in harmful conduct, the replies are hidden behind a barrier and only loaded when the "show more replies" button is pressed. Twitter does not hide the tweets of accounts you follow, therefore this behavior is personalized.
Top Reasons Why Your Account Might Have Been Shadowbanned on Twitter
Like most Social Media platforms and Communities, Twitter has its own set of rules that outline exactly what and what is not expected from Twitter users and community members. If you follow these religiously, you can likely keep your account from being shadowbanned. Here are some things that might lead to Twitter limiting your reach.
1. You've Been Trolling Other Users
Twitter takes its community guidelines very seriously. They want to create an environment of constructive debate and frown upon aggressive harassment. Any behavior that would be considered impolite in real life will not be tolerated on Twitter.
Your account will be muted and banned if you are continuously getting into disputes or harassing other users. This raises an alarm for Twitter.
2. You've Been Spamming
Make sure you're not over-posting the same information if you're attempting to advertise anything fresh for your company or your brand. You also don't want to use numerous accounts to send the same message.
It's crucial to double-check that third-party apps you link to your Twitter account don't automatically retweet to your timeline. Social media apps, in general, are extremely cognizant of the bot problem, and their algorithms are becoming more and more sophisticated as they crack down on accounts that they believe to be bot-controlled and spammy. Uncheck any options that grant the app access to automatically tweet on your account in the app's settings.
3. The Old Follow, Unfollow Trick
Churning is a term used to describe the process of following and then proceeding to unfollow a large number of people within a small time frame. This method became a popular tool that was used by users to gain a following. They will request to follow a large number of accounts, and if they are not followed back, they will unfollow. Some bots will do this for you in large quantities. This might result in your Twitter account being permanently suspended.
How Can You Check If Your Account Has Been Shadowbanned By Twitter
For starters , if you're noticing a huge drop in engagement and reach, and your interactions have dropped to zero, chances are you have probably been placed under a shadowban. While this is one signal, there is no official way to figure out whether your account is under a shadowban or not. However, there are some other tactics you can employ to get an idea of the status of your account.
One method for the Twitter shadowban test is to log out of your account, then run a Twitter search for your username. You can do this by logging into your Twitter account, go to the Explore page and search for your username by typing: "from: username". If you are unable to see your tweets or recent feed posts, you might have been shadowbanned.
You can also use external, third-party software and applications that have designed automated tests to check if an account has been shadowbanned. One such website, shadowban.eu is a great place to start.
Fortunately, removing a shadowban is quick and painless. In most situations, Twitter becomes available again within 48-72 hours . And, based on previous experience, it's better to leave your account alone till then.
How To Get Unshadowbanned
Do you suspect that Twitter has limited your reach and placed your account under a shadowban? To remove your account from being under a shadowban on Twitter, you can follow some simple steps to restore your reach and visibility to pre shadowban levels.
1. Review your activity and remove problematic posts
This might not be the easiest task as you would have to figure out exactly which post resulted in the ban. Still, you may start by turning off any traffic-generating bots or automated tweets. Delete any spam comments, tweets, or links you've left behind.
It's a good idea to clean out your Twitter account of any potentially harmful social media behavior. You can do this by reviewing Twitter's policies and removing anything that stands in violation of their rules.
2. Lay low for some time
A lot of times, shadowbans are temporary. You can refrain from tweeting and interacting for some time while you're in your shadowban period. Check back periodically to see if your engagement and reach have changed, but otherwise, keep your activity to a minimum.
3. Contact Twitter Support
If you've successfully reviewed community guidelines, done a Twitter page, and have abstained from using Twitter for some time, but still suspect that your account might be under suspicion, then the only thing left to do is to contact support.
Don't mention the words "shadowban", but simply let them know exactly what you believe the problem is (it could be reduced engagement, or your tweets not showing up under relevant hashtags). Twitter support will get back to you with any additional information, and unflag your account if they deem your content to be appropriate.
If you're under a shadowban and unsure of what to do, it's preferable to leave your account alone for a few days. Once a shadowban has begun, there is no way to appeal or terminate it, and spamming further during that period may result in a new ban once the first one has expired. That means you may start a new ban every day, rendering your tweets inaccessible until your account has had time to calm down.
Sign up for more like this.
Twitter Shadowban: What Is It, how to check and remove?
Are you dealing with a Twitter Shadowban ? Cases of Twitter shadowbans can be annoying, especially if you can't figure out how you can rectify the problem. Suddenly, you notice that your account is almost invisible. Less engagement, social activity, almost zero retweets, likes, and comments. This can be a stumbling block if you are a social media influencer. With all these going on, it is normal to throw in the million-dollar question, "am I shadowbanned?" Has Twitter censored my account, limiting its visibility? You might find yourself going as far as trying to figure out if your account is under a cyber-attack.
It isn't a time to be scared, there's no cause for alarm. Many active users on Twitter at some point can have their account shadowbanned. I have also been there. But should you fold your arms and watch your Twitter account remain crippled?
Here is the good news! This article helps you to understand Twitter Shadowban and how you can fix it.
What Is Shadowbanning?
Shadowbanning is the act of suppressing your posts on your social media handle. Preventing your posts to reach your target audience. Shadowbans don't come with notice from the social media platform on why your posts are hidden or banned. When your posts are shadowbanned, they become invisible to everyone. You are the only person left to view your posts.
Most times, the victims of Twitter shadowban are unaware of their shadowban. For instance, on 25th July 2018, a story from Vice made rounds on the media. This pulled waves that Twitter was shadowbanning certain leaders of the Republican Party. The alleged victims included the Party chairperson, Ronna McDaniel amongst others.
The story caused a great uproar on the news. It is important for people to understand why Twitter is limiting accounts. This system also determines the position of each profile on the drop-down search bar.
Twitter maintains a stand that shadowbans are not what the public thinks they are. They are deliberate actions of the algorithm to promote healthy conversations. This also includes limiting the reach of troll-like behaviors and updates. Twitter Shadowban helps curtail the spread of aggressive language and plagiarized texts.
To a reasonable extent, aTwitter Shadowban reduces issues of spamming on the network. Twitter gets to limit other users from seeing your account. It also prevents users from seeing your profile in the search options. Including banning all your tweets from search results.
Shadowbanning is annoying for every Twitter user.
Am I Shadowbanned: How to check if you are shadowbanned on Twitter
With all that may be happening to your Twitter account, I believe you will be asking yourself; Am I shadowbanned?
The first step to getting out of shadowban is to run a Twitter Shadowban check on your account. With a Twitter Shadowban tester/checker, you'll know the status of your Twitter account. If your Twitter account is shadowbanned or not.
Follow these 3 steps, to run a quick Twitter Shadowban check on your account.
1. Visit twitter using an incognito or private browser mode
Depending on which browser that you are using, you can visit Twitter using an incognito mode. Look for options that activate the incognito mode and surf the net like a ghost. This will help you visit Twitter without leaving your digital footprints.
2. Visit the Twitter Explore page
Twitter explore works like the Twitter Search box when you are logged in. Go to the Twitter explore page, via www.Twitter.com/explore. Or, you can easily type "Twitter Search" on your browser for quicker access.
3. Scroll down to the search box and run a check on your account using your username
Type your username into the search box and run a check. If you can see your posts and replies, then you are not shadowbanned. You are shadowbanned if you can't see your account, posts, and replies. Don't use your Twitter link here as that will directly lead to your account and you wouldn't know if your account is shadowbanned.
Or, you can run a quick check using a Twitter Shadowban Tester tool. Visit https://shadowban.eu , input your username and click check.
This tool will run a quick check on your Twitter account. Results will be provided on the status of your Twitter account. These results come in the following forms;
1. If your account exists 2. Is on suspension, 3. Has a ghost ban, 4. Affected by reply deboosting, 5. Has a search ban, 6. A search suggestion ban.
If you have an all green signal on all categories, then your account is safe.
What to do if you are shadowbanned
What is the next thing to do after discovering that your Twitter account is shadowbanned? You might become anxious upon learning your Twitter account is blocked this way. It is normal to start throwing questions like; how long does Twitter Shadowban last? What exactly did I do to deserve a shadowban?
Your behaviour during your shadowban period has a lot of roles to play. It will determine if the ban will be extended or lifted.
Twitter Shadowbans usually last for 2-3 days. I suggest that you take a break from any social activity that may need your Twitter account. Leave your Twitter account alone. Petitions don't help you lift the ban. Tweeting too frequently could worsen the situation. You could earn yourself an extra day of shadowban if you continue tweeting.
You must completely stop tweeting and start looking out for ways to lift the ban.
If your shadowban exceeds 72 hours, inform the Twitter support team. It's not a bad idea to ask help.
You can also use your shadowban period to seek proactive ways to lift the ban.
How to Remove Shadowban
Follow these simple steps to remove a shadowban from your Twitter account.
1. Don't Tweet
Do not make the mistake of Tweeting during your shadowban period. Take a break and let your account be.
2. Clear all social activity that you feel might have caused the shadowban
This might be difficult to do as you are not informed of which post attracted the ban. Still, you can begin with stopping any bots or automated tweets you use for Traffic. Delete all spam comments, tweets, and links that you have dropped. Clearing your Twitter account of any implicating social activity is a good step to take.
Clear your Twitter of anything that might go against Twitter policies.
3. Check if you have picked the wrong interests
Your Twitter data is another area that can attract a shadowban. You should begin with going through the boxes that you ticked as your interest. Find out if there are any of your interests that are worthy of suspicion.
4. Contact the Twitter support team
They placed the ban; they can help you lift it.
The Twitter support team helps users rectify issues about their accounts. These include issues about account suspension down to shadowbanning. The Twitter support team can help you clear all restrictions on your account. This includes if you can give them reasons for doing so.
A twitter agent should help you lift the shadowban if it lasts longer than 72 hours.
What should you do when your shadowban is lifted?
You just have to stay clear of whatever might have earned you a shadowban.
· Avoid getting your account reported · Don't tweet like a bot · Don't spam other users with links and unwarranted replies · Avoid trolls and online fights
Staying clear of a shadowban is a deliberate action. You can choose to stay clear of Twitter's bans if you stick to obeying their terms of use.
How do you avoid getting shadowbanned?
There are a lot of factors that Twitter considers before serving as a shadowban. Always make sure you base yourself on Social media tips / best practices . Understanding some of these rules will help you figure out the safety of your account. If your account is standing close to a shadowban, and how you can avoid getting shadowbanned.
Verify that you are a human being
Your social activity will be limited if there is no identity verification. This happens if the Twitter algorithm suspects that your account is managed by a bot. You can begin by confirming your email address and uploading a profile picture. These little steps will limit your chances of getting shadowbanned.
Apply moderation in all you do
We understand that you are a digital marketer and you need to get more traffic for your website. Some need their Twitter account to drive traffic for digital marketing . Using Twitter to drive organic traffic or sell your products and services might be risky. You can earn a shadowban if done wrongly.
Keep your activities as simple and you can to avoid other Twitter users from blocking you. Many blocks or reports on your account could attract a shadowban.
Be smart, stay away from online confrontations
It is normal to fight for what you stand for; a club, a movement, your hobby. These actions might become too confrontational. You'll have Twitter AI misinterpreting your plain actions as a troll.
Whatever you do on Twitter, make sure that your replies and tweets are gentle. Engage other users in mild conversational tones. The more polite you sound, the safer your account is.
So what is a shadowban and how to remove it?
Twitter shadowbanning can be frustrating for every Twitter user. It's worse if you aren't aware of what you did wrong.
Unfortunately, you can't negotiate or reason with the Twitter AI. No platform will offer you an opportunity to explain that you were banned wrongly and that's the same with Twitch. In case you get banned, you can check out how to get unbanned tutorial for Twitch You can only decide to become more careful. Prevent your account from attracting a second shadowban by sticking to Twitter policies. You can go as far as studying the accounts of successful Twitter users. Observe the structure of their tweets and replicate the same pattern. Understand what Twitter AI shuns and avoid them. Twitter algorithms don't like, you can easily avoid shadowbans.
You may also like
The 9 best social media scheduling tools to save time in 2023.
Have you been hunting for the best social media scheduling tools to grow your business in 2023? You've come to the right place. Managing social media tasks takes skills, time, and effort from your team. A solid...
What is SnapTik? How to use SnapTik for TikTok video's
If you are active on TikTok, a creator, influencer, brand marketing or even just an enthusiastic user, you may have hear of Snaptik. But what is SnapTik? What does it do? and what are the benefits of SnapTik over other...
Popular posts
Email Marketing Tests to Grow Your Business and Blog
How to Write Email with Military Precision
Why you should invest in email marketing
120 rules for doing email marketing by the book
What is Mailchimp and why do you need it?
9 Best drag and drop email template builders in 2023
Recent posts.
11 Best Free SMTP Servers in 2023: Send Emails on a Budget
How to Build a High-Converting Email Marketing Funnel in 5 Steps
Email Marketing vs. Marketing Automation: Choosing the Right Path for Your Business
The 4 Best Screen Recording Software in 2023 (Free & Paid)
60+ Sexy Words to Spice Up Your Writing
Industry news
GetResponse Review 2023 – Is this the best tool for you?
99+ Best Free Outlook Email Templates for 2023
How Much Does Email Marketing Cost? Pricing Guide 2023
The 26 Best AI Writing Tools in 2023 (Tested & Reviewed)
What is My SMTP Server? Find your email server's SMTP info
Sellfy Review 2023: The Best Ecommerce Tool for Creators?
9 Best Email Newsletter Software for You (2023)
10 best Amazon SES Alternatives: transactional email services
Testing & Optimization
Email Design
Marketing Automation
List growth
Latest Articles
Email Marketing Services
Email Template Builders
SMTP Servers
ActiveCampaign
GetResponse
Twitter Shadowban: How to Detect if Your Account Has Limited Visibility
Many social media platforms keep their algorithm criteria off the record. However, Twitter has been fairly open about what it is willing to do in order to keep Twitter a positive experience for its community. But if you think Twitter is limiting the distribution or visibility of your content you may have fallen prey to a Twitter shadowban or ghost ban.
One of the most frequent topics in social media discussion is the shadowban . Each social media network has its own set of rules and algorithms that determine what shows up on a user's feed. However, there continues to be an air of mystery around how this works, especially when a network's algorithm is always changing.
Being shadowbanned takes away your chance to reach your customers and potential customers on Twitter. You become less relevant. Your digital marketing strategy takes a massive hit when you're no longer front and center on user's feeds.
Keep reading for the ins and outs of the Twitter shadowban and how to avoid it. The best way to stay on Twitter's good side is to be informed and proactive. You've got this!
What Is a Twitter Shadowban?
In 2020, Twitter updated its terms and service to include this:
"We may also remove or refuse to distribute any content on the services, limit distribution or visibility of any content on the service, suspend or terminate users, and reclaim usernames without liability to you".
Twitter will deny the existence of a shadowban but its terms of service seems to describe one. It just doesn't identify with that term. If the visibility of any content is limited, that can mean you are ghost banned.
With a shadowban you may experience the following:
Your profile doesn't show in a people search or as a search suggestion.
Your tweets are not seen by your followers on their main feed or in their list of followers.
Your actions are not showing up in people's notifications. For example, if you follow someone, they won't be notified.
Your replies are not displayed beneath the corresponding tweets.
There are a few things that can affect the ranking of your tweets on Twitter. Twitter explains that it ranks tweets on both feeds and search results. So to know exactly if you are shadowbanned can be tricky.
The more popular your tweets are, the higher they will rank. This is why politicians and celebrities are ranked so high. Twitter has been very clear that they will rank bad-faith actors lower who seem to manipulate or divide conversation.
To avoid a shadowban or simply a low ranking on the algorithm you need to keep in mind a few things, but it is not out of your control.
How to Avoid a Twitter Shadowban
Why would Twitter be limiting the distribution or visibility of user's tweets? Twitter wants to hold a good reputation for good content. If someone goes into Twitter and they are shown offensive or spam content, they may decide Twitter is not for them.
Similarly, if people see information that is not true or fake news, Twitter can gain a reputation for nonsense. This is why Twitter will limit bad-faith actors.
Signals Twitter uses to determine bad faith actors:
If you don't have a profile image
If you haven't confirmed your email address
How recently your account was created
Who you follow and who you retweet
Who mutes or blocks you, follows you and retweets you
To test to see if you are shadowbanned you can always log out of your account and then search your own username on Twitter. You can also use shadowban.eu to test out your username.
Twitter's goal is to receive fewer abuse reports and spam reports. The number of reports lets them know if their user experience is staying positive.
Following The Twitter Rules is essential to staying on Twitter. However, some behaviors on Twitter are in the grey zone. This is when you end up with a shadowban. The following behaviors are likely to get your account flagged and shadowbanned.
Spam Behavior
If you are trying to promote something new for your business, make sure you aren't over-posting the same content. It's understandable you're excited about a new launch, but don't let that launch cross the line and become spam. You also don't want to be posting the same message across multiple accounts.
If you connect your Twitter account to third-party apps, it's important to double-check that they will not retweet automatically to your timeline. Go into the app's settings and uncheck any selections that give the app permission to tweet on your account automatically.
Following and Unfollowing Many Accounts
This is sometimes referred to as churning. Users will use this strategy to build a following. They will request to follow many accounts and then if they don't follow them back, they unfollow. There are some bots that do this for you in huge amounts. This can get your account entirely banned from Twitter.
Hashtag Trend Hijacking
When a hashtag is trending, users might decide to use it in their content in order to show up on the trending searches. However, when your content is completely unrelated to the trending topic and you still use the hashtag, this is considered hashtag trend hijacking and can result in a Twitter shadowban.
This can also happen if you are using trending text without the hashtag but also without relevant content. You only want your content to show up for people who want to see it. If you're using irrelevant text and hashtags to get attention, you can be sure that will be negative attention.
Harassing Other Users
In addition to staying on Twitter's good side, you also want to stay on other users' good sides. Any behavior that would not be socially acceptable in real life is not going to do you any favors on Twitter.
If you are constantly getting into arguments or giving other users a hard time, your account will get muted and blocked by them. This puts up a red flag for Twitter to come along and limit the visibility of your content and profile.
The best way to avoid a shadowban is to be a person on Twitter that people like. Don't try to get around the algorithm or grow a following unauthentically. Keep other people in mind and you will have positive results. If you're adding positive experiences to Twitter users, they won't want to shadowban you. So carry on with your fantastic content and don't give anyone a reason to move you out of the spotlight.
G&B Joins IZEA Talent Partner Program
You may also like.
April 14, 2023 in Entrepreneurship , Other , Social Media
Do you think Twitter has throttled your organic reach? They might have!
They do this with something called a Twitter Shadowban , and in this blog post, I'm going to answer the most common questions you might have like...
How to tell if your Twitter has been shadowbanned
What is a Twitter shadowban?
Why would a Twitter account become shadowbanned?
Am I shadowbanned on Twitter? How do I find out?
How long does a Twitter shadowban last?
How can I avoid having my Twitter account shadowbanned in the future?
I'll also share my personal story with Twitter banning my Twitter account entirely several years ago and how you can avoid the mistake I made.
Let's get into it. Here's everything you need to know about shadow banning and twitter in 2022 and beyond.
How Can I Tell If My Twitter Account Is Shadowbanned?
Unfortunately, there isn't a "Twitter shadowban tester" type of software out there anymore (the big ones like https://shadowban.eu/ have been closed), but this method will show you if you're shadowbanned or not.
Step #1 Log out of Your Twitter Account
Step #2 In an Incognito Window, Open the Twitter Explore Page
While still logged out and while using an incognito browser tab, type in https://twitter.com/explore.
Step #3 Search for Your Username
Use this format "from:username" and replace "username" with the Twitter username that you want to check.
Step #4 Check Carefully to See if You Appear
If you find tweets from yourself, you aren't shadowbanned. If you can't see any tweets, you are shadowbanned.
There isn't a magic "twitter shadowban test", but this technique should work for you.
If you want to learn a little more about Shadowbans on Twitter, read on...
What is a Shadowban on Twitter?
A shadowban (also called stealth banning or ghost banning ) is a term that is often used to describe when a social media company limits the organic reach of a user's account. This sort of thing occurs on every platform(Facebook, TikTok , etc.)
These can lead to a significant drop in the accounts organic reach and impact the reach and visibility of other tweets composed going forward.
Twitter shadowbans (ghost bans) are almost always a result of some violation of the Twitter community guidelines or user policies. They can be detected through algorithms and AI or by being reported by other Twitter users.
There are three common types of Twitter Shadowbans.
Thread shadowbans in which Twitter limits other users from seeing your comments to tweets.
Search suggestion shadowbans in which Twitter blocks other users from seeing your profile in their search results.
Full search bans in which Twitter bans all your tweets or all recent tweets from the search results.
These sorts of bans happen on Twitter as well as every other major social media networks like Facebook, TikTok , Instagram and YouTube. Heck, even the "free speech social network," Frank Speech does it 🙂
These soft bans are the punishments for bad faith actors who are conducting themselves in ways detrimental to the social media platform and its user base.
Being shadowbanned on Twitter can feel like Twitter has made your tweets invisible overnight. Your tweets may or may not appear in search results (referred to as a search suggestion ban or just search ban) and you can experience a full search suggesting ban.
The difference between a Twitter shadowban and a Twitter account suspension is that shadowbans don't restrict your ability to continue tweeting like suspensions do, but they do limit distribution of the tweets you make.
Essentially, other Twitter users aren't seeing your tweets as often as normal or if you were not in the state of a shadowban.
Twitter shadowbans (ghost bans) can also lead to a full account suspension which means you'll need to completely stop tweeting.
A huge difference between a shadowban and a full blown suspension is that Twitter doesn't alert users that their reach is being throttled. If you've been suspended, you will get a notice and it is impossible to miss.
What Causes a Twitter Shadowban?
Here are the common causes of Twitter shadowbans.
Twitter Shadowban Cause #1: Harassing Other Twitter Users
It's an unfortunate reality that an online community built on social media can become a place of hostility and conflict. Religious ideologues, differing political viewpoints and other divisive issues lead to flared tempers, aggressive language, name calling and in extreme examples, even threats of violence.
Just as in real life, it's almost always better to take the high road and not engage in any hostile conversations. This is especially true if Twitter is part of your business and livelihood.
Simply block accounts if you can't resist the urge to engage with them. Failing to do this can lead your account to be ghost banned or even an official ban from the platform all together.
Just walk away so you don't lose your account through a hostile public conversation. Healthy conversations are all that you should engage in if your account's visibility matters to you.
If someone is harassing you, report them to the Twitter support team. The Twitter support team is dedicated to helping prevent harassment so be sure to contact Twitter any time this sort of thing happens.
Twitter Shadowban Cause #2: Hashtag Trend Hijacking
Google wants to rank tweets based on organic Twitter data. Manipulating irrelevant hashtags and riding trends that aren't relevant is not something Twitter condones.
This leads to other Twitter users seeing content that isn't what they were looking for and damages the social media platform.
A classic example of a massive Twitter account accidentally (hopefully anyway) hijacking a hashtag was this dumpster fire from @DiGiornoPizza in 2014.
Image credit to https://setup.us/blog/hashtag-hijacking
The hashtag #WhyIStayed was used to bring awareness to domestic violence. DiGiorno's pizza should have stayed several oceans away from this topic and we can only assume that this was the result of a careless intern versus an intentional hashtag hijacking or reduction of the movement to stop domestic violence.
Unfortunately, the twitter algorithm doesn't see intent behind tweets like this. That is for them to explain later. Also, when you enrage a mass amount of Twitter users at once like this, you're bound to receive a huge influx of user reported violations.
So, don't try to hijack the popularity of someone else's tweet. Sure, you can leverage a trend but only if it fits. That is, afterall, the point of hashtags. Just be careful to understand the meaning of hashtags before using them.
Put more simply, only engage with relevant content.
Yes, it might lead to better engagement upfront, but it is unlikely to pay off in the long run.
Twitter Shadowban Cause #3: Spam behavior
You can't spam people on Twitter with your content or links . This should go without saying, but many users adopt a "traffic at all costs," approach.
Although spamming seems relatively straightforward, there are many other methods that could be considered as spam that don't simply involve a user posting sales or self-promotional content across many hashtags, threads and comments.
Be very careful when using any sort of automation tools as well. These can come off as rapid tweeting. Some businesses schedule their promotional tweets and if there isn't enough time set between them, they can trigger Twitter's spam algorithm which could lead to a Twitter shadowbanning. Too many links at one time or in quick succession can trigger these as well. Sharing the same content multiple times might seem wise, but if you share the same content too often, it can be interpreted as spam. More traffic might seem great up front, but it can lead to a new ban of your account.
Also, Twitter can easily identify spam accounts and associate them to your main account. This is especially true if the same users (IP addresses) are accessing multiple accounts. A user's accessing of multiple accounts is a dead giveaway that something is likely spammy. Ensure that users accessing accounts are limited to one account.
If something you tweeted triggered a full ghost ban, the digital marketer in you will be kicking himself.
Another dead giveaway of spam accounts is the profile picture, especially on a new account. If your profile image is a clear advertisement for a product that isn't related to what you tweet about, it becomes readily apparent that you're attempting to spam your product. This can lead to Twitter partially blocking your account (since it's not as eggregious as traditional spam) or it can lead to comment ghosting, which is a limitation on how much you can comment on other tweets.
Twitter Shadowban Cause #4: Following and Unfollowing Many Accounts to Artificially Grow Your Follower Count
The follow/unfollow method is a common, black hat approach to growing followers. This is how I had my own Twitter account suspended. I hired a company called Outride Social that is now (obviously) out of business who promised to grow the channel organically through white hat tactics. Their tactics were not at all white hat. They simply found my target audience and sent them all direct messages and followed them. When people followed back, they'd unfollow them and move on to do the same thing to other accounts.
Whether it's true or not, the amount of followers someone on Twitter has, the more trust people give them. Twitter doesn't like when people fake their clout with these tactics.
What To Do If You're Shadowbanned
First, do NOT attempt to create a new account if your existing account has been shadowbanned. This will likely lead to the full suspension of both twitter accounts.
The best thing to do is simply wait 72 hours to see if the ban is lifted. If the ban is not lifted within this 3 day window, it is time to contact the Twitter Support team. Simply let them know the situation, what you believe caused the shadowban and what you'll do to prevent it going forward (assuming it was a legitimate banning, sometimes things are flagged by accident).
How Long Does a Twitter Shadowban Last?
The length of a shadowban depends on the severity of the cause, but the average duration is about 2-3 days. Tweets threatening violences, for example, will be longer than a user sharing the same text multiple tweets in a row.
How to Avoid Getting Shadowbanned on Twitter
Do the opposite of everything mentioned previously 🙂
Don't engage in confrontation, aggressive behavior or cyber bullying
Don't spam content or links
Don't hijack hashtags
Don't engage in follow/unfollow account growth tactics
Put simply, just follow the rules. If you're doing something that seems grey hat, stop doing it.
Also, be sure to identify the specific tweet or actions that lead to your suspension in the past. You know how bad it felt to be completely invisible.
Elon Musk ShadowBan Update
When I first published this article, we were completely on our own with diagnosing if and why our Twitter accounts were shadowbanned. On December 8th, new Twitter CEO Elon Musk announced that Twitter is working on an update that would show if an account is shadowbanned as well as information on how to appeal it.
I will continue to update this article as new information comes out, but this development is potentially great news for all Twitter users.
Hopefully this was helpful! Be sure to leave a comment if you have additional questions regarding Twitter shadowbans!
Curious what Twitter themselves have to say about Shadow Banning? Check out this blog post they wrote "setting the record straight."
How to Use AHREFs Keyword Explorer for Keyword Research in 2023
Master the art of doodle graphics in your content in 2023, constant-content review from a content buyer perspective | is it legit, invideo exposed | we tested the new web based video creation software, how amazon fba selling works | explained in under 2 minutes, best facebook groups for entrepreneurs in 2024 | you can actually benefit from these.
I'm shadow banned since about 2 month's.I've contacted Twitter , which was difficult because there is no selection I can make regarding shadow banning. So I had to search for a point where I write some text.It took about 30min to receive my answer and it was only generic bla, bla.No reason given why I was shadow banned (I've not received a complained from Twitter about anything).No reason for how long the shadow ban will last.I assume the reason was down voting from a bunch of trolls who are following me and continuously down voting me. That seems to cause a permanent ban. Also I've not given a phone number in my profile to twitter, because I want to stay anonymous. That may also be a factor.
Twatter is run by radical left liberals who censor opinions they don't agree with. They can and will suspend you for anything they choose with zero explanation. Something else twatter does, is keep other users from seeing your replies. Your personal tweets may be seen just fine, but enter say a conversation about RoeVWade and you may wonder "why isn't anyone responding or liking?Open an incognito window and search your comments via twatter search and they won't be there. These mods are the same people you see burning down police stations and looting Targets.Their time is almost up. 🇺🇲
I love how you say "Don't engage in confrontation, aggressive behavior or cyber bullying". Yet when I view a tweet from a conservative person. The replies are filled with garbage hate, confrontation, aggressive behavior and bullying. Then I click on view more posts to view more of the same hate. Finally, I get to where I click view more posts even those that may contain offensive content and I miraculously start seeing some normal replies that simply agree with the original tweet. I hope to god Musk takes that trash twitter over and removes the biased BS algorithms they use to promote those with the same radical left view points they have.
It would be fine if Twitter only shadow banned for the reasons you give. None of those apply to me. My tweets are not inflammatory, even if not compared to massive number of tweets I see that are. I can only conclude that they conflict with the ideology of those doing the shadow banning. If Twitter wants to keep ideas it doesn't like from being seen, they should at least have the integrity to do it directly and not conceal it from those they censor.
I've been shadowbanned and I have absolutely no violations of the kind you list. Nothing gets me out of the hole. Many blue checks follow me and that does me no good either. The truth is, they simply don't like me because I complain about being shadowbanned for no reason other than my conservative politics. I'm in a catch 22.
You are fantastic
While shadowbanned – can you still tweet? This happens to an account of mine often – I know it's because of hashtag use – a lot in a short amount of time – but it always lifts in 24 hours. I'm wondering if tweeting within those 24 hours, hashtag free would be kosher?
Accounts also get shadow banned because twitter objects to progressive politics.
I *think* you don't have to log out to check – you will be logged out in an incognito window even if you're logged in in your usual window.
Comments are closed.
Student Stuff
Personal Stories
Distract Me
Universities
What Is Ghost Ban On Twitter And How To Check If You Have One
Lots of users are reporting issues with their accounts being shadowbanned on Twitter. With promises of fixes from Elon Musk, what is a ghost ban on Twitter and how can you check if you've been affected?
The term shadowbanned is particularly new, but lots of users are using 'ghost ban' instead. It comes after people on Twitter are finding their engagement has dropped and they cannot find their accounts. We explain what is a ghost ban on Twitter and how you know if you've been shadowbanned.
What Is A Ghost Ban On Twitter?
Having a ghost ban is the same as being shadowbanned, it's just a slightly different phrasing. It means that your account and your content has a partial block, meaning anything you tweet will not be as accessible as usual. Sometimes it's as big an issue as your content being completely unavailable to anyone apart from you.
Those who have a ghost ban will find that they will still be able to tweet, retweet, favourite and more — it just won't be seen by any of your followers or even publicly.
Here is a definition provided by HiSubwayOnline :
"[Ghost ban] comprises a search ban while threads are completely ripped apart by hiding reply tweets of the affected user to others. Everything will look perfectly normal to the affected user but many others will not be able to see reply tweets of the affected user at all. Reasons for this ban include behavior like excessive tweeting or following. Again, this type of ban seems to be temporally limited for active accounts."
MORE : What Do The Different Twitter Verification Ticks Mean After New Gold Version?
On the Twitter blog , they define shadowbanning as "deliberately making someone's content undiscoverable to everyone except the person who posted it, unbeknownst to the original poster."
Crucially, reasons are often not given as to why a user has a ghost ban on Twitter. However, the blog does go on to say that Twitter does not shadowban its users.
However, new CEO Elon Musk clearly recognises that there are issues surrounding ghost bans on the social media site after tweeting the following last week (December 9).
Twitter is working on a software update that will show your true account status, so you know clearly if you've been shadowbanned, the reason why and how to appeal — Elon Musk (@elonmusk) December 9, 2022
There is no more information on when the software update with the feature will be available, but it will be a welcome relief for those in the dark about the status of their account.
How To Check If You Are Shadowbanned
With no official way yet of knowing if you have a ghost ban on Twitter or not, people have been asking 'am I shadowbanned?' in the hopes of finding an answer. However, there are a few ways you can check if you have a ghost ban on Twitter.
Firstly, if you have noticed your engagement drop dramatically then this is usually a sign of being shadowbanned. If when you search your username nothing comes up, then this is another typical sign.
MORE : Who Owns Hive Social? Fans Swarm Over As App Rivals Twitter
You can also use tools such as HiSubwayOnline to check the status of your account. All you need to do is enter your username and it will check for you. It also specifies if you have a ghost ban or not, with users reporting that the site is telling them that their page is visible but that they still have a ghost ban.
gm to everyone except this ghost ban pic.twitter.com/QJJHpuOMHP — bruh 🇺🇲 (@bruhlencia9a) December 16, 2022
There is always a chance that things like engagement from your followers have just dropped a little. Try not to immediately presume the worse. Give it some time before thinking that you have a ghost ban on Twitter. That being said, there does seem to big a. bigger issue, with lots of accounts reporting a ghost ban.
Hopefully, along with the new software update, Musk can try and put a stop to so many accounts being shadowbanned.
Related Topics
Related posts, more in viral.
EXPLORE Tech Help Pro About Us Random Article Quizzes Request a New Article Community Dashboard This Or That Game Popular Categories Arts and Entertainment Artwork Books Movies Computers and Electronics Computers Phone Skills Technology Hacks Health Men's Health Mental Health Women's Health Relationships Dating Love Relationship Issues Hobbies and Crafts Crafts Drawing Games Education & Communication Communication Skills Personal Development Studying Personal Care and Style Fashion Hair Care Personal Hygiene Youth Personal Care School Stuff Dating All Categories Arts and Entertainment Finance and Business Home and Garden Relationship Quizzes Cars & Other Vehicles Food and Entertaining Personal Care and Style Sports and Fitness Computers and Electronics Health Pets and Animals Travel Education & Communication Hobbies and Crafts Philosophy and Religion Work World Family Life Holidays and Traditions Relationships Youth
EDIT Edit this Article
PRO Courses Guides New Tech Help Pro Expert Videos About wikiHow Pro Upgrade Sign In
Browse Articles
Learn Something New
Quizzes Hot
This Or That Game New
Train Your Brain
Explore More
Support wikiHow
About wikiHow
Log in / Sign up
Computers and Electronics
Social Media
Social Networking Services
Am I Shadowbanned on Twitter? Here's How to Check
Last Updated: August 22, 2023 Fact Checked
Try a Shadowban Checking Tool
Look for signs of a shadowban, why was i shadowbanned, what should i do if i'm shadowbanned.
This article was co-authored by wikiHow staff writer, Rain Kengly . Rain Kengly is a wikiHow Technology Writer. As a storytelling enthusiast with a penchant for technology, they hope to create long-lasting connections with readers from all around the globe. Rain graduated from San Francisco State University with a BA in Cinema. There are 8 references cited in this article, which can be found at the bottom of the page. This article has been fact-checked, ensuring the accuracy of any cited facts and confirming the authority of its sources. This article has been viewed 696,076 times. Learn more...
Are you worried that you're shadowbanned on X (formerly known as Twitter)? When X downranks, hides, or blocks your content from search, you'll usually notice a dramatic decrease in engagement. If you think you've been shadowbanned by the platform X, this wikiHow article will teach you what to look for and simple tests to try. We'll also help you restore your account back to normal.
Things You Should Know
If you're shadowbanned on X, your account and posts may be hidden from other users.
To check if you're shadowbanned, use a web-based tool to detect the presence of specific bangs or deboosting methods.
Contact X support at @Support, or wait 24-72 hours to see if things change. Avoid spammy content and automated services.
https://hisubway.online/shadowban checks for search and search suggestion bans, ghost bans, and reply deboosting.
https://shadowban.yuzurisa.com/ can detect the presence of search and search suggestion bans, ghost bans, and reply deboosting.
Since you can't view Twitter without an account currently, you'll need to log into an alternate account . You can also ask a friend to follow these steps.
You'll only be able to check for shadowbans if your tweets are public. [2] X Research source
X might resort to this type of shadowban even if you're able to find your tweets in search.
This phenomenon is also known as "deboosting" or "downtiering."
Repeatedly post the same links or tweets.
Use trending topics or hashtags to share irrelevant content.
Use automated bots to send tweets or post similar messages based on keywords.
Post the same content from multiple accounts.
Mass following and unfollowing of users.
Community Q&A
Do not share spam links or violating or abusive content on X. Read the X rules to ensure you're following all guidelines. Thanks Helpful 0 Not Helpful 0
You Might Also Like
↑ https://help.twitter.com/en/using-twitter/revoke-twitter-access-on-ios-app
↑ https://help.twitter.com/en/safety-and-security/public-and-protected-tweets
↑ https://www.reddit.com/r/Twitter/comments/p1ggm4/rtwitter_attempts_to_solve_twitters_shadowban/
↑ https://blog.twitter.com/en_us/topics/company/2020/bot-or-not
↑ https://blog.twitter.com/en_us/topics/company/2018/Setting-the-record-straight-on-shadow-banning
↑ https://help.twitter.com/en/rules-and-policies/twitter-search-policies
↑ https://help.twitter.com/en/rules-and-policies/hateful-conduct-policy
↑ https://help.twitter.com/en/forms
About This Article
1. Try a shadowban checking tool like Hisubway.online or Shadowban.io. 2. Log out of Twitter and search for your own tweets on the Explore page. 3. Find out if your tweet replies show up for non-followers. Did this summary help you? Yes No
Is this article up to date?
Featured Articles
Trending Articles
Watch Articles
Terms of Use
Privacy Policy
Do Not Sell or Share My Info
Not Selling Info
wikiHow Tech Help:
Tech troubles got you down? We've got the tips you need

Twitter Shadowban: All you need to know to stay safe!
Do you think that you have a notable drop in Twitter engagement ? Do you wonder why friends and loved ones have stopped liking, commenting and retweeting your tweets? Well, there is a chance that you are facing a Twitter shadowban.
This phrase has been becoming increasingly popular, although you may have heard it referred to as stealth banning or ghost banning. So, does Twitter shadowban?
Actually, the answer is both yes and no. In 2018, in a blog post , Twitter had claimed that they don't "shadowban based on political viewpoints or ideology" but they "rank tweets and search results," and they also take into consideration of "bad-faith actors who intend to manipulate or detract from the healthy conversation."
On the other hand, since January 2020, in their Terms of Service , they stated that "… may also remove or refuse to distribute any content on the services, limit distribution or visibility of any content on the service…."
With all of this going on, it's only natural to ask the knotty question: "am I shadowbanned on Twitter?" Has Twitter banned or restricted my account's visibility? You could even go to the trouble of attempting to figure out whether your account is being hacked.
Even though it is impossible to give you a definitive answer, we can help you figure out how to tell if you are shadowbanned on Twitter and get out of shadowban Twitter.

But before we dive into Twitter shadowban's details, we first need to understand what Twitter shadowban exactly means?
What is shadow banning on Twitter?
The act of concealing your postings on social media platforms is known as shadowbanning. When you are shadow-banned on any social media platform, it keeps your posts from reaching their target audience.
The social media platforms don't notify you why your posts are hidden when you are shadowbanned. If you are shadowbanned, your posts become invisible to anyone; you are the only one who can see what you've shared.
Twitter began working in the direction of maintaining "healthy conversations" in 2018. They primarily intended to solve the issue of "trolls" and their misuse of Twitter's public spaces, especially actions that distract from the public discussion.
Consequently, they launched their new regulations, which incorporated social and behavioral scientists' expertise in identifying frequent indications of " unhealthy Twitter conversations. "
So, when you face a Twitter shadowban, you don't receive any notification about it, and you can continue tweeting, retweeting, replying and liking as usual. But unfortunately, until the Twitter shadowban is removed, no one can see any of your activities.
The following are some of the factors that might lead to a Twitter shadowban:
-      Using language that is harsh, hostile, or insulting to others.
-      Being new on Twitter. In conjunction with any of the other signals, accounts that are less than a year old are more likely to face Twitter shadowban.
-      Replying to tweets with the same content or graphics.
-      Using uncertified automation tools to reply to tweets with the same content.
-      Having a suspicious follower/following ratio and less than 500 followers.
-      Spamming and rapid tweeting.
-      Overusing generic hashtags in your tweets.
-      Overtweeting for a contest or a giveaway.
So, to avoid facing a Twitter shadowban, what you need to do is increasing the credibility of your profile. Thankfully, the ultimate Twitter management tool , Circleboom , can help you to have a trustworthy Twitter profile as you can;
-      Detect fake, inactive, overactive, spammer and egghead accounts and clean up your followers and following lists.
-       Delete tweets , retweets , Twitter likes and replies with certain hashtags or keywords to make sure that you are not overusing certain generic wordings.
-      M anage your Twitter account professionally with great insights to increase your followers.
-       Monitor your followers and friends regularly to maintain a good follower/following ratio.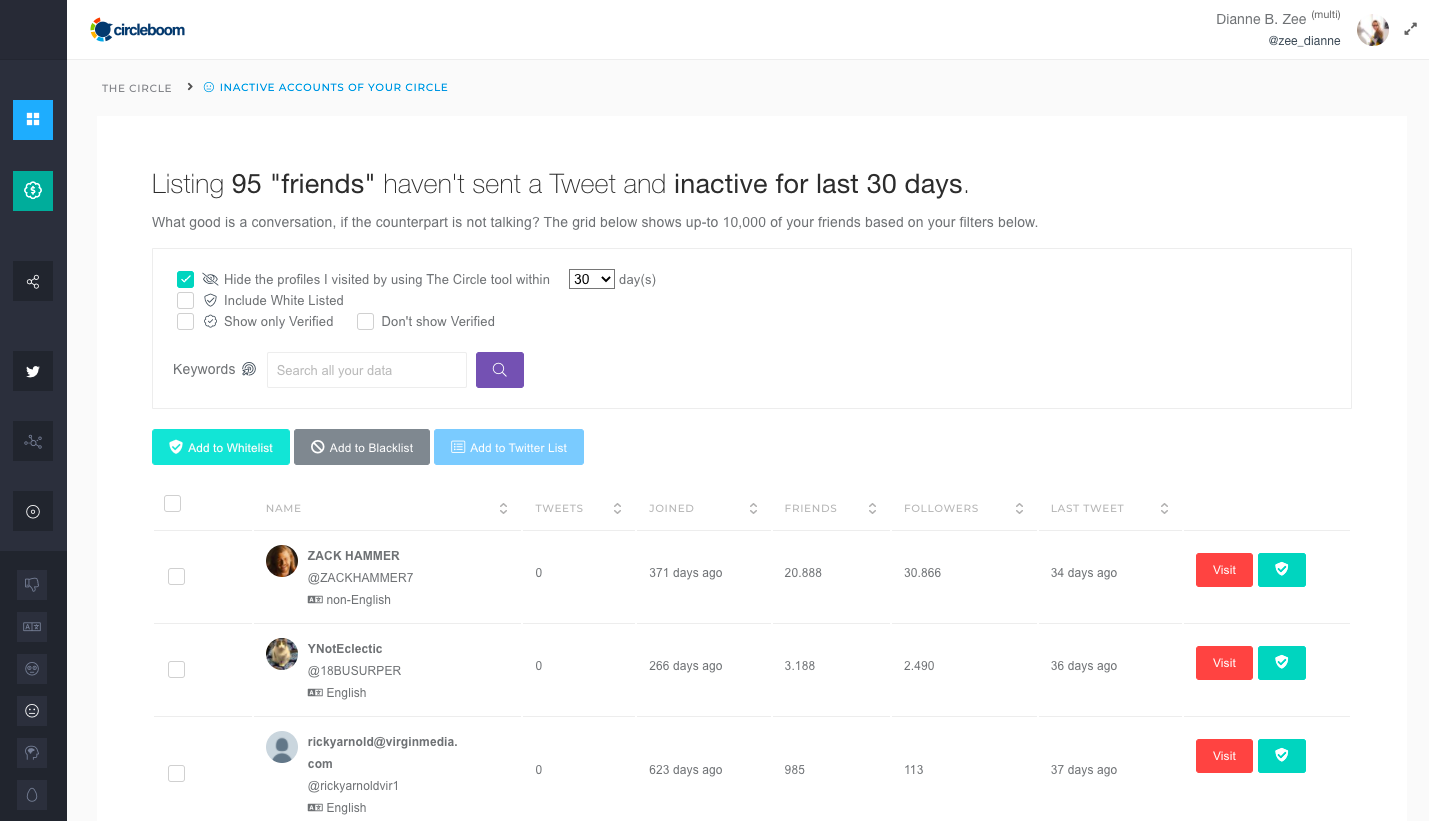 Also, as you investigate spammers, fake, inactive and overactive accounts, you can check how many friends these accounts have and when they joined Twitter on Circleboom . This information can help you to figure out their credibility.
How to tell if you are shadow-banned on Twitter?
You might not even realize that whatever you tweeted triggered the Twitter shadowban algorithm if you aren't aware of it. Although Twitter does not inform you, there are a few red flags to check for if you suspect anything is amiss.
If you face a Twitter shadowban, you will still be able to tweet, retweet, reply and like as nothing has ever changed. The simplest way to figure out Twitter shadowban is to check your engagement figures.
As usual, if you are not receiving any engagement action, it can be a hint for a shadowban on Twitter. As things get a little bit suspicious with your engagement figures, you can check out the factors that lead to Twitter shadowban.
How to check shadowban on Twitter?
The easiest way to find out if you face a Twitter shadowban is by logging out of your Twitter account and searching for your username or a hashtag linked with one of your up-to-date tweets.
If you can't see your username or the specific tweet, you might be dealing with a shadowban on Twitter.
You can also search for your username or tweets in incognito or private browser mode. As you don't leave any digital footprints in incognito mode, you can easily check whether you receive any shadowban on Twitter.
How to get out of shadowban Twitter?
What should you do now that you've discovered your Twitter account has been shadowbanned?
When you find that your Twitter account has been restricted in this way, you may get concerned. It's natural for people to wonder how long the Twitter shadowban will continue or what might have caused this shadowban, exactly?
If you are certain that you face a shadowban on Twitter, don't get panicked right away! Your actions during Twitter shadowban basically determine the duration of this period. If you follow the right steps, the Twitter shadowban can easily be lifted.
Take a social media break for a couple of days
Usually, shadowban on Twitter last for 48 to 72 hours. The best thing you can do is have a social media break and refrain from any social media activity on Twitter.
Excessive tweeting may aggravate the problem. If you keep tweeting, the Twitter shadowban may be prolonged.
Enhance your credibility
If you don't want to be considered spam, fake, inactive or overactive accounts, you should avoid engaging with them. With Circleboom , you can easily detect these unwanted accounts from your following and followers lists with just a few clicks.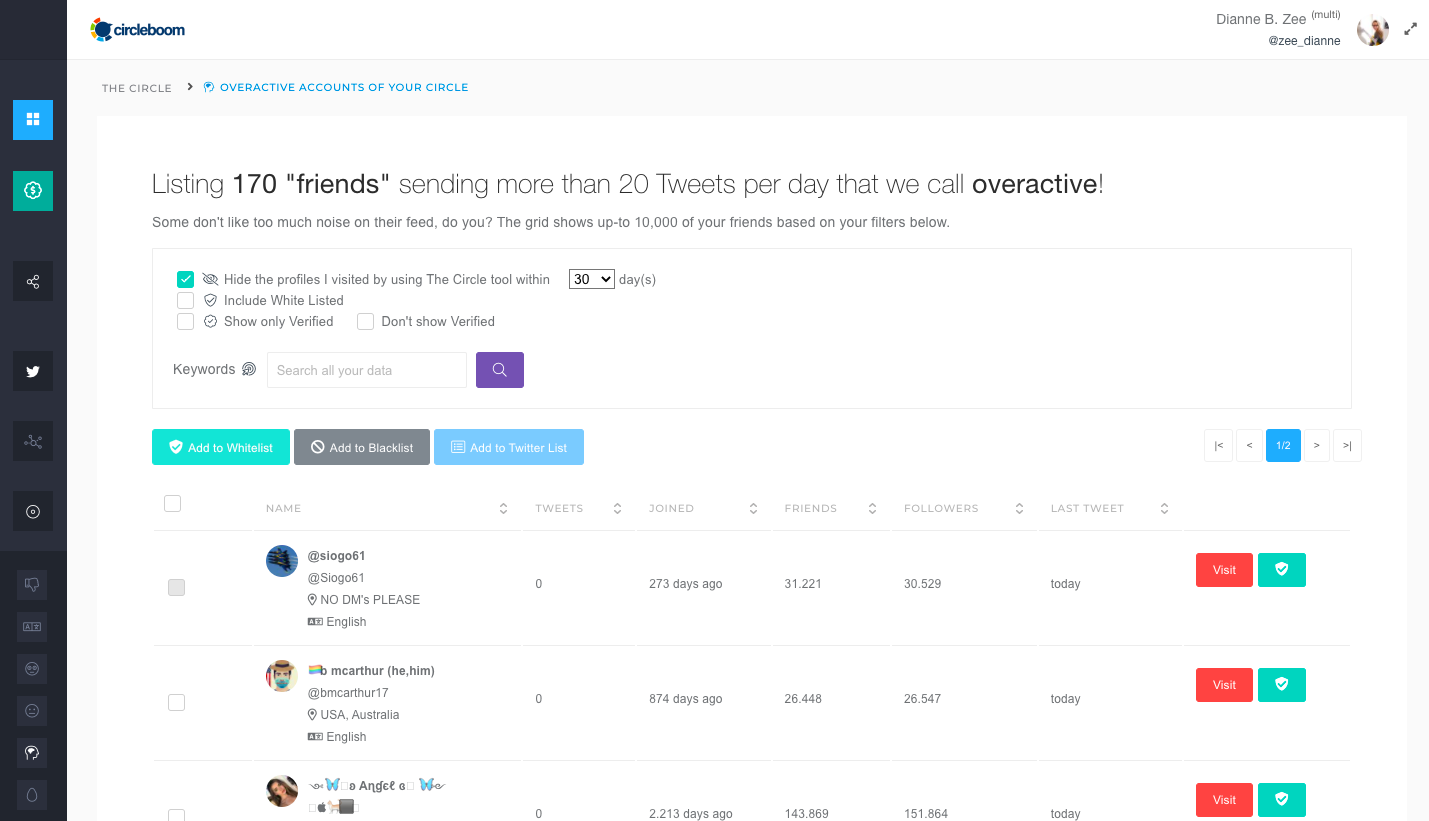 As you clear these accounts, you will also have a better follower/following ratio, eventually increasing your credibility on Twitter.
Clean your tweets, retweets and replies
The content of your tweets, retweets and replies have a lot to do with Twitter shadowban. If you have overused generic hashtags or replied with identical tweets to various posts, these might be the reasons for your shadowban on Twitter.
If you use Twitter actively, it might be hard to detect those tweets, retweets and replies easily. You need to spare a lot of time to go through your timeline to find the ones causing the Twitter shadowban.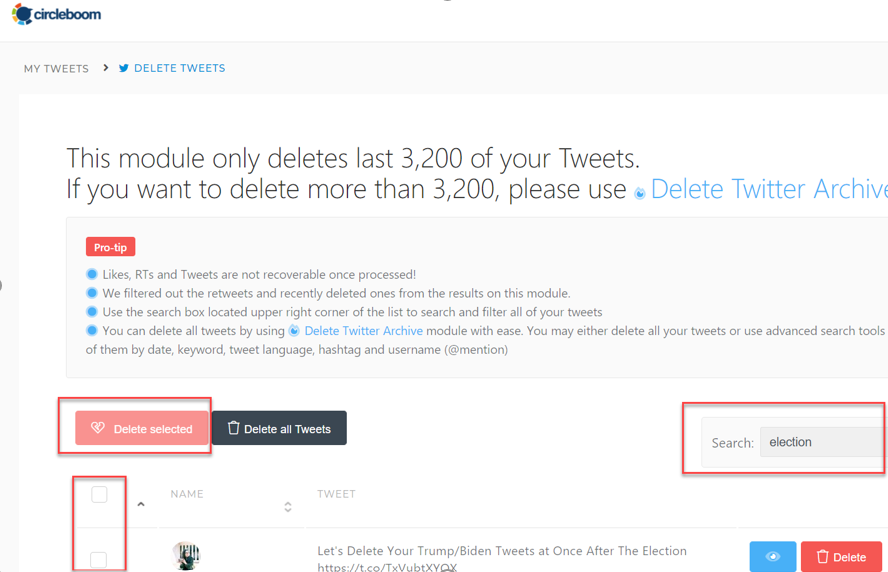 With Circleboom , you can easily filter your tweets, retweets and replies by searching for a specific keyword or hashtag. Then, you can delete them altogether or select the ones you think that cause the shadowban on Twitter and clear them.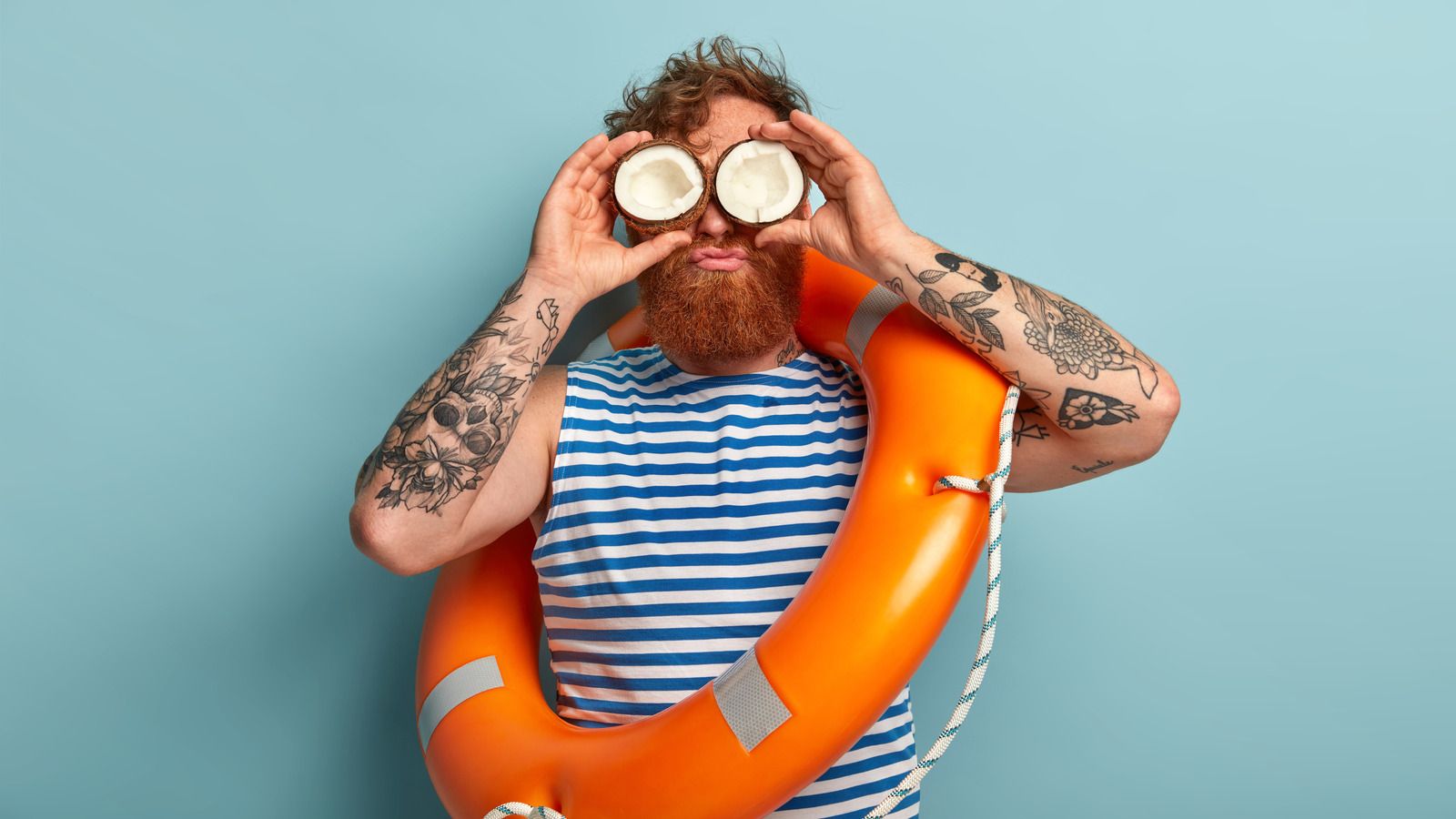 Seek assistance
In general, Twitter shadowban lasts for 2-3 days. If your shadowban on Twitter lasts longer than 72 hours, contact Twitter's support staff through email. It is always a good idea to seek support if you think that there is a misunderstanding.
Wrapping Up
It is surely really annoying to face a Twitter shadowban for every user. It is even more frustrating if you don't know what you have done wrong.
Sadly, you won't be able to reason or bargain with Twitter's algorithm. You can get in touch with the Twitter support team if you think that there is a misunderstanding.
But you can always be more cautious in your actions on Twitter. With Circleboom , you can improve your credibility on the platform by getting rid of the unwanted accounts in your following and followers lists to have a better follower/following ratio.
Also, you can investigate your tweets, retweets and replies whether there are some overused hashtags or content with Circleboom's keyword search tool to avoid Twitter shadowban.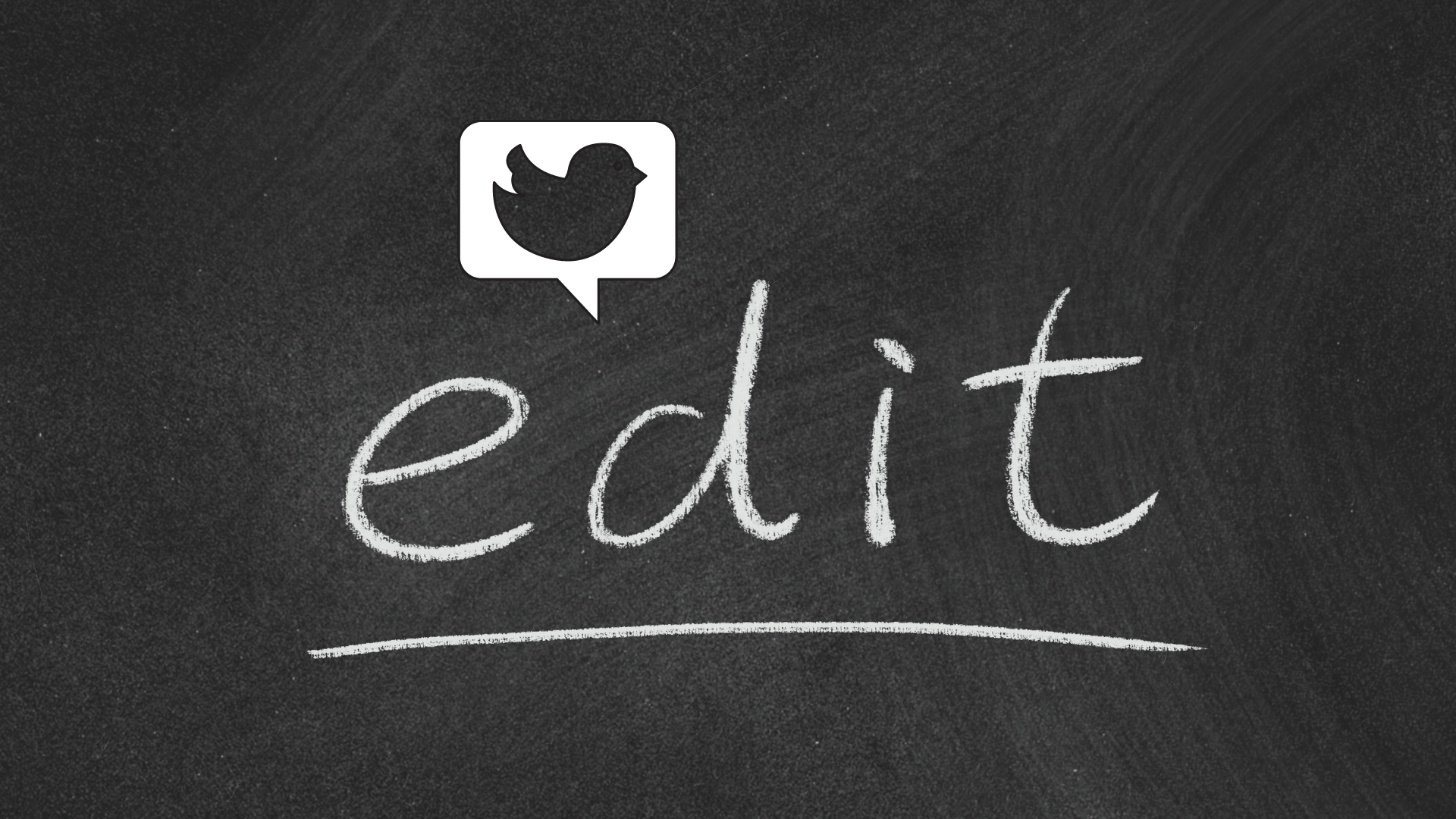 Zeynep Morelli
Digital marketer & social media enthusiast focusing on content and brand marketing.
You Might Be Interested In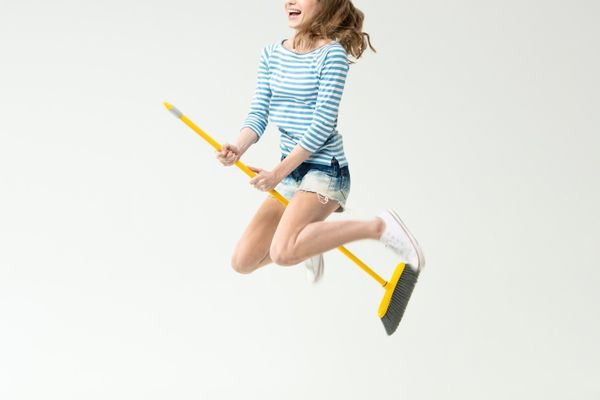 The Twitter Cleaner: Clean your tweets, retweets, replies and likes in a click!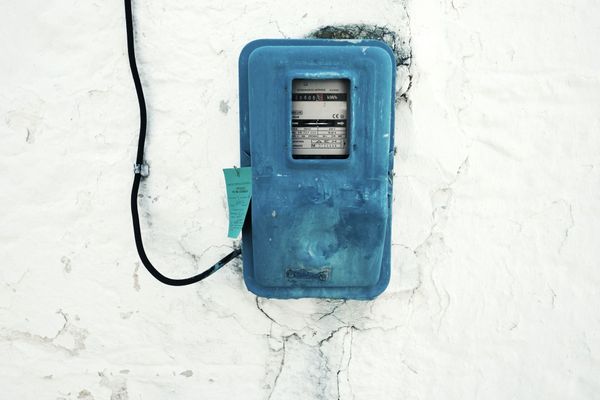 How can I change my account's tweet count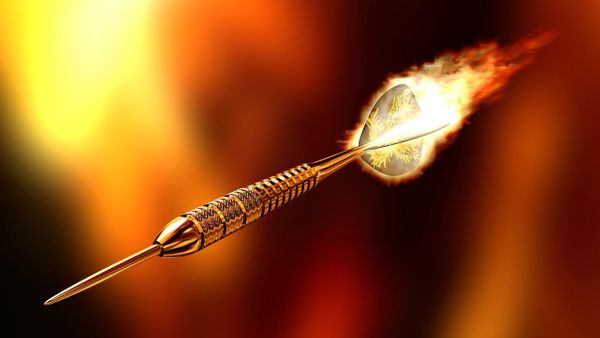 How to Grow your Twitter Follower with Your Target Audience
How to Check if your Twitter Account is Shadow Banned?
Twitter is one of the most popular social media platforms and also one of the most popular banning platforms. In case you are worried about the chances of your Twitter account getting banned, you can check that with few easy tricks.
After the 2016 presidential elections, Twitter started getting backlash from the press for allowing a toxic environment on its platform. To stop this, Twitter started to promote the concept of healthy conversations and introduced Shadowbanning by analyzing sentiments in the Tweets .
What is shadow banning?
To be clear, the shadowban is not as bad as getting banned permanently, they both are totally different. Shadowban stops a few functions of your account temporarily when you have done something that Twitter doesn't like. Banning by shadowban will be so subtle that most people even won't notice it. Here are the functions that will stop working when your account is shadowbanned.
1. Search Ban
This ban causes your tweets to be hidden from the search results including hashtags. Your tweets will not be visible irrespective of quality filter turned on or off. Mostly your Tweets will also be not be suggested to many people. Anyhow, this is a temporary ban and occurs quite a lot of times for many people.
2. Search Suggestion Ban
This is kind of a lite version to search ban . Your account will be shown in the search normally for the people who interact normally and they don't find any difference. But for others, your tweets may not be suggested and also cannot find them in search results including hashtags.
3. Ghost Ban
This is previously called Thread banning. Anyhow, this ban makes your replies not visible to anyone showing the text "This tweet is unavailable" . If you have seen this message before, it means their account is most probably Ghostbanned. But the main account holder cannot find any of such problems hence signifying the name Ghost Ban.
4. Reply Deboosting
This is a bit similar to Ghost Ban, but instead of stopping to view the Tweet completely, Reply Debooting hides the replies behind a barrier and only loads them when "Show more replies" is clicked . Sometimes, one or a few of your replies might get into this section, but that doesn't mean your account is Reply Deboosted. If most of your replies are getting into show more replies section even without any false language or copyright content, then your account might be in the Reply Deboosting Ban.
How to check whether your account is Shadow Banned?
There is a tool called Shadowban.eu where you can provide your username and it shows which shadowban is on your account. Your account might not have any bans on it or may have few bans on it. Or luckily if your account has all the 4 bans, that just means, your account is only visible to you but not for anyone else. Here are a few examples of the test results.
Related:  How to Protect and Filter your Twitter DMs
So, How to find whether your Twitter account will get permanently Banned?
ShadowBan is like a warning sign from Twitter that your Twitter account is going to be banned. They might be temporary bans twitter implemented for security reasons and normally will get removed with the next 3 – 7 days. But if your account is getting shadowbanned quite often and even getting banned without you tweeting anything, it is a clear sign that your account has a good number of signs to get banned.
Also Read:  Best Twitter Client Apps for Windows for Twitteratis
Ravi Teja KNTS
Tech Enthusiast & Cinephile by Nature | Writing about technology for 3+ years on TechWiser| Currently interested in AI, PWAs, Cloud, Ecosystems & Esthetics. But I keep changing my mind faster than Google's Messaging apps.
You may also like
8 fixes for youtube autoplay not working, how to translate instagram story, caption, comments and..., best way to listen to music together for..., youtube music podcasts vs google podcasts: worthy switch, 9 fixes for emails stuck in outlook outbox, how to change passcode for my eyes only..., how to find or change facebook username on..., how to close unused tabs automatically on chrome,..., how to lock screen on youtube videos on..., how to enable end-to-end encryption on instagram.
Hispanic Heritage Month
LGBTQ History
On the Road
Twitter Shadowban 101: Everything you need to know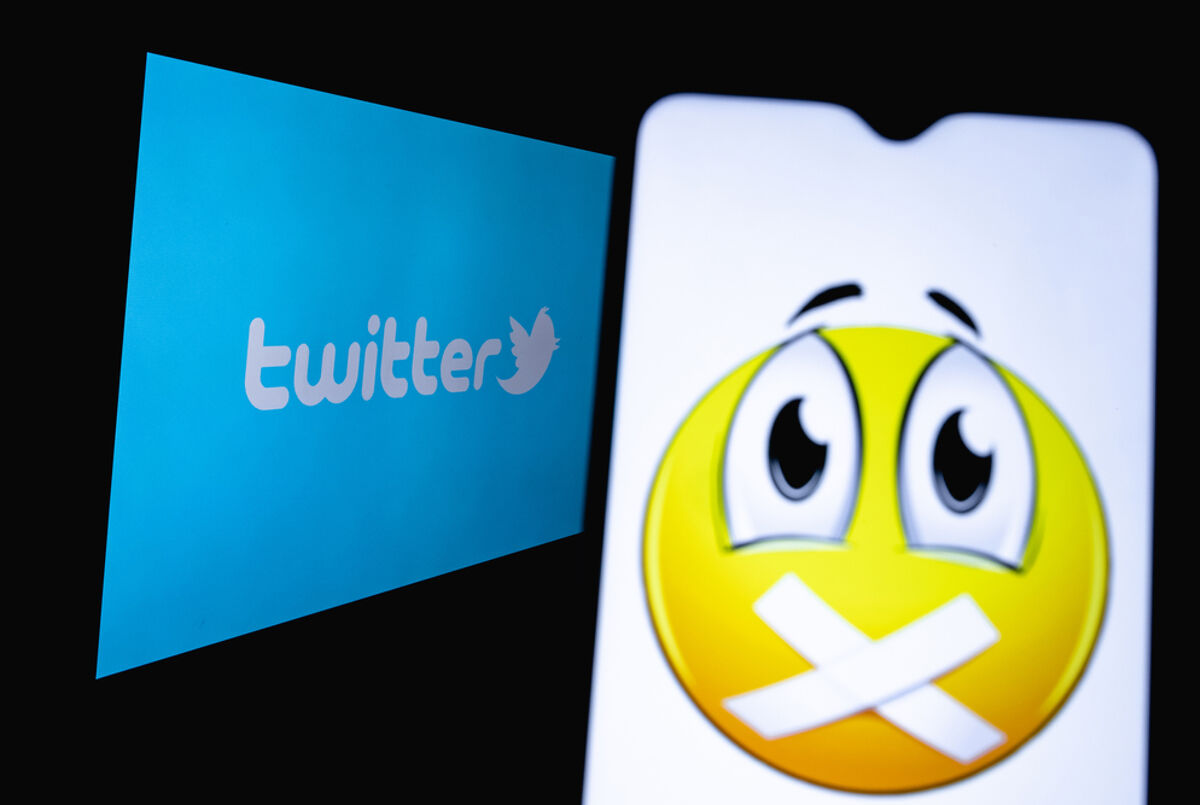 Tap tap tap. You posted a very long thread for your 10,000 followers on Twitter and expected countless engagements as per usual. However, there's not a single notification from your phone. What could have happened? You trawled the internet and social media for answers and stumbled on a possible issue: the Twitter shadow ban.
What Is A Twitter Shadowban?
Twitter shadow banning (also known as ghost banning or stealth banning) is when your posts, comments, or other types of content are partly or wholly concealed from everyone, without your knowledge. Unlike an official ban, you can still post tweets and whatnot, however, the Twitter ghost ban renders your tweets invisible to your audience.
Related: Twitter bans Donald Trump & takes down his account after years of antagonism
Get the Daily Brief The news you care about, reported on by the people who care about you: Subscribe to our Newsletter
Does Shadowbanning Actually Happen?
Officially,  Twitter denies  shadowbanning. Instead, they claim to have algorithms that rank tweets and search results accordingly. Other tweets of a similar nature might drown your content; hence, they might not be visible immediately. You might also be considered a "bad faith actor" and your tweets will be ranked lower. Some possible factors in categorizing bad faith actors are:
Unverified Identity (unconfirmed email and no profile image)
Recently Created Account
Who The Account Follows and Retweets
Who Follows, Retweets, Blocks, or Mutes The Account
Twitter might deny employing shadowbans, but dozens of anecdotal evidence from Twitter users suggest otherwise. For example,  Vice News  reported a Twitter shadowban on some prominent members of the US Republican Party because of their political viewpoints. More recently, the findings in this research further back up the existence of a Twitter shadowban.
What Are The Forms Of Twitter Shadowbans?
You might be asking yourself, "Am I shadowbanned on Twitter?". See below if you are affected by the most common types of shadowbanning:
Search Suggestion Ban  – A username or a particular hashtag does not appear in the search bar. Usually, auto-suggest completes your name or hashtag, but if you have a Twitter shadowban, these will not appear in the search box.
Decrease in Follower Engagement  – There is a significant drop in your content's likes, replies, or retweets compared to the usual. If you're getting a hundred likes in a day, then suddenly it drops down to 10 or less, you might have a Twitter shadowban.
Blocked Features  – You might not be able to like posts or reply to other users. Other accounts cannot also tag your username in their posts if you have a Twitter shadowban.
Related: Six months after Twitter ban, Milo Yiannopoulos nets $250k book deal
How To Know If You're Shadowbanned On Twitter?
Because there are no notifications in a Twitter shadowban, here's how to tell if you're shadowbanned on Twitter. Perform this Twitter shadowban test to check if your account has been shadow banned.
Log out of your Twitter account and open an incognito or private window in your browser.
Visit the  Twitter Explore Page
Go to the Search Bar and type "from: username." Change "username" to your Twitter username.
If your account or tweets do not show in the results, you will likely have a Twitter shadowban.
Another way to check for a Twitter shadowban is through a shadowban checker like this  site , which claims to use a series of five tests to determine if you're shadow banned or not. Just input your username, and it will generate a graph that shows whether you and any of your recent 33 contacts have a Twitter shadowban.
How Do You Fix Your Shadowban?
If you think you have a Twitter shadowban, there are several steps you can take to remove it.
Avoid Tweeting
Take a break from tweeting while your ban is active. Something simple as this might be the Twitter shadowban fix you're looking for. Let your account rest and periodically use the Twitter shadowban tests listed above to check if you're still shadowbanned. Use other social media platforms if the need arises.
Remove Any Social Activity That Might Be Related To The Shadowban
Since there are no indicators that show you which post or activity caused your shadowban, it is recommended to stop any automated tweets or bots you use to generate traffic. Do not spam people. Look over your past activities and remove any spam links or comments you might have posted. Delete anything in your Twitter that might go against their policies, such as certain tweets with inappropriate content.
Check If You Chose Any Suspicious Interests
Twitter's algorithm also monitors your interests, so that might be what caused you to get a Twitter shadowban. Check your interests and unfollow those that are suspicious.
You can see your interests on the Twitter website by clicking on the meatballs menu (the three dots below the profile icon) then clicking on "Topics." You can check your interests via the mobile app by going to "Settings and Privacy" → "Privacy and Safety" → "Content You See" → "Topics."
Contact The Twitter Support Team
A Twitter shadowban usually lasts for 48 to 72 hours. If you find yourself still under a shadowban after three days, contact Twitter to help you remove it. Just inform them of the situation, tell them what you think might have caused the shadowban, and tell them the steps you will take to prevent future issues.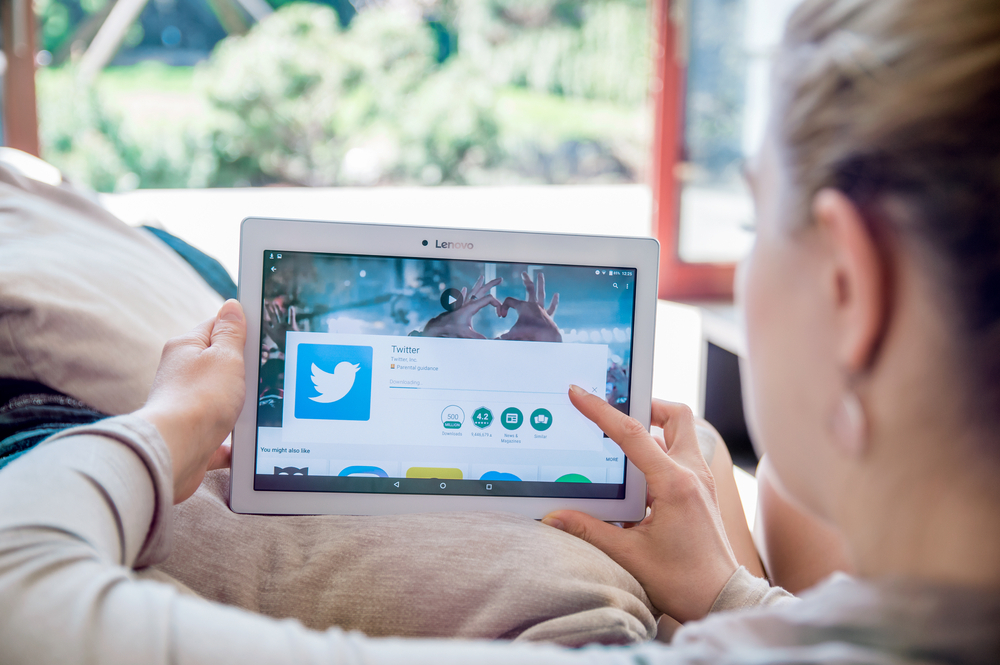 How Do You Avoid Getting Shadowbanned?
Be human – do not act like a bot.
Bot-like behavior dramatically increases your chances of being shadowbanned on Twitter. A simple way to prevent this is to make sure to complete your Twitter profile and verify your identity by confirming your email address and uploading a profile image.
Secondly, avoid spamming links and content. If tweeting is part of your digital marketing strategy or ad campaign, it is understandable to want to promote your products. However, it's wise to exercise some caution because spammy tweets can lead to other members muting or blocking your account which may inflict a Twitter shadowban. Moreover, it's best to generate your content organically for better engagement and avoid repeatedly posting the same content. Lastly, it would be best if you do not hijack Twitter hashtags for unrelated purposes. Tweet only relevant content.
Another frowned-upon behavior is engaging in follow/unfollow tactics to grow your account. For example, an account with way more following vs followers – unless it is a celebrity or a verified account – is suspicious and can lead to a Twitter shadowbanning. On the other hand, you following hundreds of accounts but with only a handful of followers can also be tagged suspicious.
Stay Away From Online Confrontations
With anonymity and a broad audience on social media networks, especially on Twitter, there's bound to be some friction between the people in the space. However, if you want to avoid getting a shadowban on Twitter or other social media platforms, it's best to avoid any confrontational and aggressive language. Do not join in online arguments or troll other users, and do not partake in cyberbullying. Remember, Twitter can ban you based on the reports of multiple accounts.
If you cannot simply avoid replying or commenting, do so in a respectful and gentle tone. The more polite you are, the lesser chances of your account getting a Twitter shadowban. Better yet, engage in healthy conversation with the public.
Getting a Twitter shadowban on your account can be a stressful situation, since you might not even know when or why you got banned. But as long as you do not engage in spam behavior and avoid trolling and confrontations, you should not be at risk for Twitter shadowbans.
Latest Stories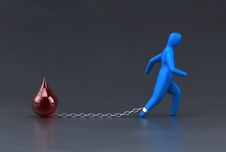 Trans sex worker & ACLU sue Tennessee over HIV criminalization law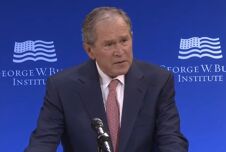 Bush Institute warns GOP that ending critical HIV program could cost millions of lives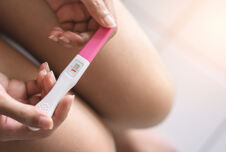 Medical group expands definition of "infertility" to include same-sex couples
Pence family bunny and lgbtq icon marlon bundo has died, organizations you can support in dr. martin luther king jr.'s honor, more in life.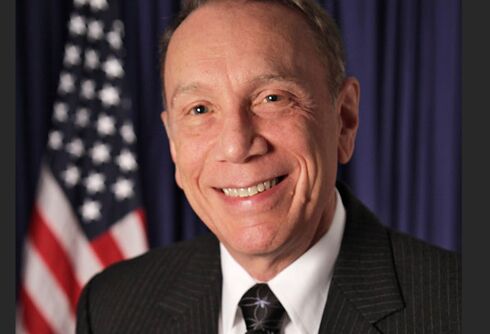 We'll learn how to win: HRC's first president says history proves LGBTQ+ folks can take on the right
"There is little doubt in my mind that we will overcome this," said Victor Basile. "How much time that takes, I don't know."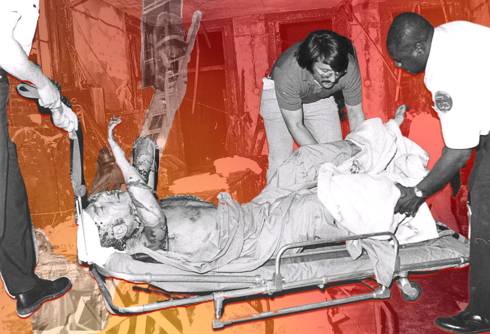 'Bury them in fruit jars.' A gay mass murder and the cover-up that followed
Fifty years after the deadly fire at New Orleans' Up Stairs Lounge, new perspectives consider the atrocities that occurred after the blaze.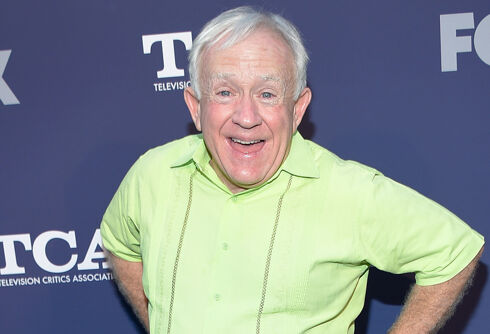 Leslie Jordan's Walk of Stars ceremony revealed a touching goodbye recorded before his death
One year after the beloved actor's death, he spoke to his friends and family for a final time.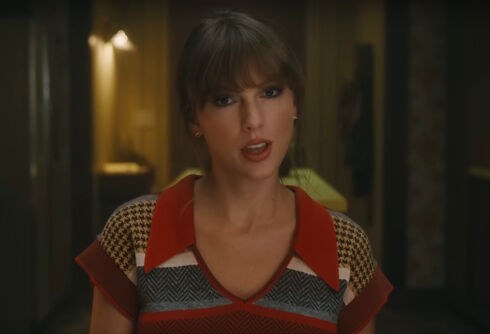 Taylor Swift's queer fans raise money for an LGBTQ+ cause just to spite her ex Matty Healy
It started out as a joke but now they've raised a considerable amount of money.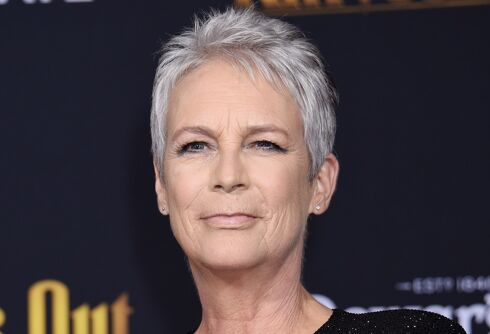 Jamie Lee Curtis's daughter reveals how she came out as trans to her parents
"I realized around the age of 16 when a high school friend of mine asked me what my gender was…"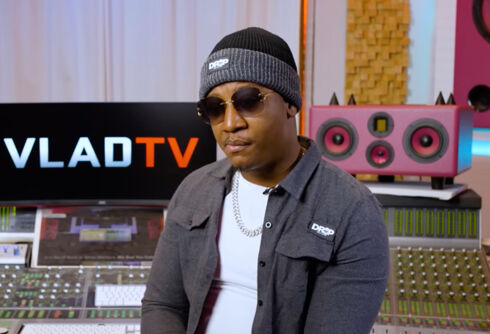 Rapper won't perform for LGBTQ+ people because he's afraid of men's "lustful eyes" & "nipples out"
He also claimed that LGBTQ+ people are "pushing this lifestyle" on kids.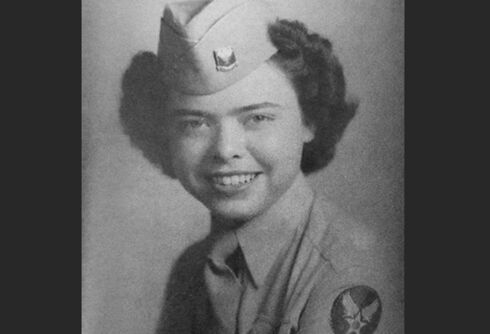 A lesbian WWII vet was renowned for standing up to Eisenhower. Was it all a lie?
Johnnie Phelps may have fabricated the story, but she was still a pioneering lesbian advocate.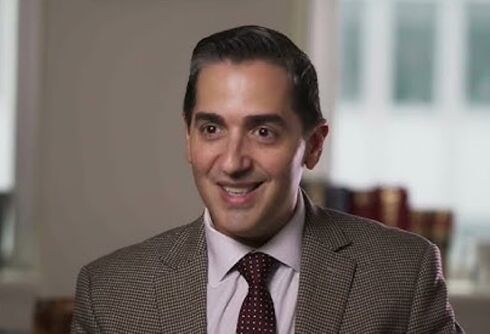 The Hispanic Federation's first out gay president fights for LGBTQ+ Latinx lives
In an exclusive LGBTQ Nation interview, Frankie Miranda describes how he's prioritizing queer community issues leading into the 2024 elections.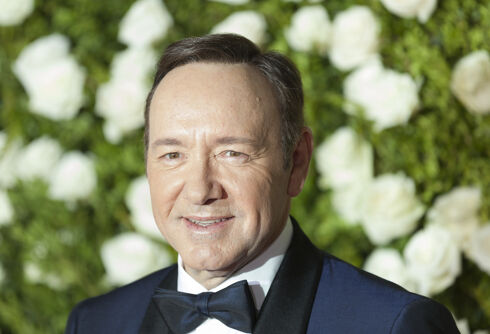 Kevin Spacey receives standing ovation for monologue on cancel culture
The actor, who has been accused of sexual assault and harassment, performed a Shakespearean monologue about a wealthy man betrayed by his friends.
Get the Daily Brief
Privacy Overview
New York Proposes Background Checks For 3-D Printers: Latest Crackdown Effort On 'Ghost Guns'
Share to Facebook
Share to Twitter
Share to Linkedin
A New York state senator has proposed requiring criminal background checks for anyone who wants to buy certain 3-D printers, which could be used to create untraceable "ghost guns."
Parts that were created using a 3-D printer at ABC Imaging in Washington, DC, on August 1, 2018.
The bill , sponsored by Jenifer Rajkumar, would require would-be buyers of certain 3-D printers to undergo a criminal history background check and, if the check reveals anything that would prevent a buyer from legally possessing a gun, the sale would be barred.
The new law wouldn't apply to all 3-D printers, but would impact those that could be used to create usable firearms or pieces—printers can be used to make night vision parts, grips, magazines, holsters and other components out of strong plastic, durable rubber or even metal.
The bill comes after the Manhattan district attorney and state legislators introduced a separate piece of legislation that would outlaw the manufacturing of 3-D-printed guns and gun parts all together, and make it a misdemeanor to share the blueprints needed to 3-D print such items.
Alvin Bragg, the Manhattan DA, said in a press release the state's police departments are seizing more 3-D-printed parts and weapons than ever before, and there's no way to trace the weapons back to their original source if the makers don't follow gun tracing laws.
Cody Wilson, 25, and the world's first lethal firearm fabricated with a 3-D printer in April of ... [+] 2013.
Crucial Quote
"Technology has made it possible for anyone with a few hundred dollars to create dangerous weapons and firearms in the comfort of their own home," Bragg said.
25,785. That's how many ghost guns the U.S. Department of Justice recovered in domestic seizures in 2022.
Surprising Fact
The District of Columbia and several other states said in a brief that more than 19,000 self-made guns were recovered by law enforcement in 2021—up from the 1,700 self-made guns recovered in 2016.
Key Background
Guns made by 3-D printers are a type of ghost gun—guns that are assembled from different parts and are untraceable, without serial numbers. Such firearms have been the target of increasing regulations under the Biden administration, which last year passed a series of new laws to ban the manufacturing of ghost guns and reclassify the kits sold to make guns at home as firearms themselves. The Supreme Court earlier this week said the regulations are legal for the second time. Open source firm Defense Distributed released the first blueprints for an at-home, 3-D printable firearm for a gun called "The Liberator" in 2013. Founder Cody Wilson fired the first 3-D printed gun at a private range in Austin and released the designs the next day, which were downloaded by 100,000 people within two days, according to the Victoria and Albert Museum, which has three Liberators in its collection. Two days later, the government ordered him to remove the plans under International Traffic in Arms Regulations, but Wilson wasn't breaking any laws in the production of the guns themselves. It's still legal to manufacture a firearm for personal use, but laws require any guns be detectable by a metal detector and, as of last year, they all must have a serial number to cut down on the number of unmarked and hard-to-trace ghost guns.
The gun lobby and several conservative groups have argued vehemently against Biden's new regulations by claiming they violate existing laws and the Second Amendment. Gun manufacturers most recently challenged the rules requiring any disassembled gun parts also be serialized, but the Supreme Court ruled against them on Monday.
Further Reading
Editorial Standards
Reprints & Permissions