Revenant Caves
The Revenant Caves , also known as the Forinthry Dungeon , are a set of caverns found in the Wilderness . Accessible to members only, it is an extremely dangerous cave that ranges from level 17 to 40 Wilderness and is mostly a multicombat area ; only the exits and the nearby area are Single-way combat .
The caves serve as a refuge for dragons , all kinds of demons , and even the vicious revenants . There are two entrances—one in level 17 Wilderness, east of Bandit Camp and Dark Warriors' Fortress , and the other in level 40 Wilderness, south-east of the Lava Maze .
Players doing Wilderness Slayer assignments may find the caves useful as all the monsters are potential tasks. Players who wield the Amulet of avarice will find that all drops from the cavern's inhabitants will also be in noted form at the cost of being permanently skulled while it is equipped.
A dwarf multicannon can be placed in the dungeon, but not in the revenants area.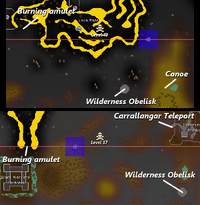 Revenant Caves entrance locations
WARNING: The entire area counts as the Wilderness. Players will be able to attack you here.
2.1 Revenants
3.1 Revenants
To get to the caves, players will have to traverse the Wilderness . Aside from simply walking there, there are some other options:
Revenant cave teleport , which teleports the player to the level 40 entrance.
Burning amulet , can take players to the level 17 Wilderness entrance via the Bandit Camp option, or the level 40 entrance via the Lava Maze option.
Wilderness Obelisks can take players to both entrances.
Carrallangar Teleport , or the equivalent teleport tablet , takes players to the Graveyard of Shadows , close to the level 17 entrance.
Canoeing to the Wilderness will take players close to the level 40 entrance.
Dungeon features [ ]
The dungeon complex is very large, containing a very large amount of monsters that can be found elsewhere in the Wilderness , and revenants , which are exclusively found inside the dungeon. Monsters are kept in individual rooms, though there are several areas which are free of monsters. The entrances to the dungeon are single-way combat , but the rest of the dungeon is multi-way combat , so do not bring items you are not willing to lose.
Like the Catacombs of Kourend , the monsters in the dungeon are stronger than those that would be found elsewhere.
There are five shortcuts around the dungeon, requiring various Agility levels to use.
The shortcut between the two green dragon chambers requires 65 Agility.
The shortcut between the greater demon chamber and tunnels to the black demon chamber, along with the two shortcuts in the ankou room, require 75 Agility.
The shortcut between the greater demon and revenant chambers requires 89 Agility.
Revenants [ ]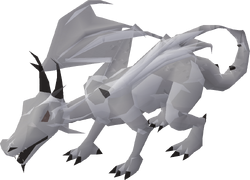 Revenants are monsters that were slain during an unknown age (presumably, the God Wars ). Extremely vengeful spirits, they are the main attraction of the dungeon. Revenants use all three forms of combat, using a combat style that the player is weak against as their primary attacks, and will adapt to any changes the player does. They are also capable of healing themselves when their health falls below 50%.
Revenants drop various resources, equipment and several unique items. Revenants always drop Revenant ether , which is used to charge the Bracelet of ethereum . This bracelet protects the player against a revenant's attacks at the cost of 1 charge per attack. It is carried at the player's own risk, as it is always lost on death with all charges regardless of the player's item protection settings. They also drop Ancient artefacts that can be sold to the Emblem trader wandering the caves for a hefty amount of coins. Revenants also drop ancient crystals , four of which are required to build an obelisk in the Superior garden of a player-owned house .
Inhabitants [ ]
The Revenant Caves contains the following monsters . For clarity, the revenants' table are separate from the non-revenants.
Revenants were originally the replacement for player killers between 11 December 2007 and 1 February 2011 in what has become known now as RuneScape 3 . They could attack players depending on their combat level and depth in the Wilderness (just as PKers can today) as well as heal themselves, teleblock and freeze players.
Cyclops • Dark beast • Demon • Dragon • Goblin • Hellhound • Hobgoblin • Imp • Knight • Ork • Pyrefiend
Ankou • Green dragon • Black dragon • Black demon • Ice giants • Lesser demon • Greater demon • Hellhound
1 Mage armor
2 Treasure Trails/Guide/Coordinates
3 Experience
Remember me Not recommended on shared computers
Sign in anonymously
Forgot your password?
[July 20th, 2018] Revenant caves, new promotions, and much more!
By Ryan , July 21, 2018 in Updates
Recommended Posts
Ryan    862.
Content updates:
Wilderness teleport interface (250,000 coin fee)
Portals within the cursed cavern
Uncommon drop by revenants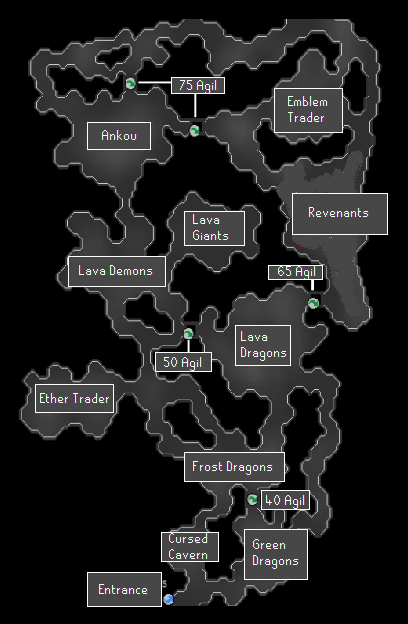 Used for charging the bracelet of ethereum (see below)
Revenant cave teleport (250 ether)
Bracelet of ethereum uncharged (1,000 ether)
Cursed shards (1,000 ether)
Alternatively, they are used for exchanging ancient artifacts into cash (see below)
Exchange (with ether) for coins
Each tier will exchange for a higher amount
Your bracelet will lose a charge from each attack by a revenant
While the charged bracelet is equipped, revenants will no longer aggro you
The (charged) bracelet is always lost on death, and all of the ether stored in it will be dropped to the killer
You can "toggle-absorption", which will automatically take ether drops from your revenant kills to charge your bracelet
And much more, check out the in-game drop table!
The wilderness level increases every 8 steps north
The cave also includes Lava giants, a new exclusive monster!
Note :  You can also exit the cavern from a wilderness obelisk located next to the ether trader
The alternative method of access without an orb (climbing down the ladder at lava maze) is still available
The "cursed portal" is no longer near Mage bank (moved to the revenant cave)
You can still also teleport home for 100 blood money
Escape portals have generally been reduced
Skilling exchanges in the cursed cavern are now slightly more rewarding
We have a brand new, much more responsive highscores!
Check it out at  https://runex.io/highscores/
Accessed when using the  ::donate  command, or clicking the donation panel button on your minimap
With this new interface you will be able to modify quantities and purchase different types of bonds at once
This should also help issues with players who are logged in the site with their alts (and therefore purchase bonds for the wrong account)
Opens for a variety of different boxes and chests
Opens for two random (tier I or tier II) past promo items
Additionally includes two bonds between $20-45 each
Rare chance for a raid mystery box
Saradomin owl
Zamorak hawk
Guthix raptor
Jungle demon pet
Lava demon pet
Opens for two random (tier II) past promo items
Two bonds between $20-45 each
Jungle titan pet
Lava giant pet
Afflicted mummy pet (enflames)
Vesta's spirit pet
Statius's spirit pet
Morrigan's spirit pet
Zuriel's spirit
Shadow zulrah pet
Shadow corporeal beast pet
Shadow vorkath pet
When in combat, the player with PID over the other will have hit delays 1 tick lower/faster than their opponent
PID resets every 60 seconds, which means this hit delay allowance can cycle between players during long fights
For the time being, this change has not been applied to the duel arena, where PID/combat will still remain as it was
These changes are included in both PvP and PvM combat
Slightly reduced elite void equipment bonuses
The summer event has been disabled, we hope you enjoyed it!
Simply left-click the gems to spend your remaining currency
Your rewards will be delivered to your account shortly after this update's launch
#1: Lesbihonest
#5: Psychokreame
#7: Tricky spit
#8: Zfireshots
#9: Scaping
Bug fixes and gameplay tweaks:
A new ladder has been added to the center of the zone
This should hopefully help issues with crowded bossing during periods of high activity
Fixed kalphite queen instance
Fixed issues with GWD bosses aggro
Added a ice blitz/barrage freeze timer overlay
This also includes the infernal max cape
Scholar's blessing item protection value has been increased
Efficiency blessing item protection value has been increased
Fixed issues with boss and minion aggro
Lava feather exchange is now slightly more rewarding
Fixed verac's attack combat type
Fixed Roger's property
Share this post
Link to post, share on other sites, iron logic    910.
Love the revenants! 
Glad to see the donation exclusive pets are untradable.
1 Thing i'd like to see would be an increase in the agility requirements for the revenant cave shortcuts. 
Dragon Paws    64
Levi    109
Vise    171
Ralph    207
4 minutes ago, Ryan said: Elite void equipment Slightly reduced elite void equipment bonuses   
Rip elite void users.
zFireshots    28
"Mercy" shittiest addition i've ever seen, change back please
Lesbians    7
Make Me Quit    1
Equave    14
2 hours ago, Ryan said: Mercy Fixed Roger's property   
I JUST SPIT MY FUCKIN DRINK
Lovely, looking forward to try it out.
Reformed Guy    2
WHY HAVENT YOU FIXED TORSO E ENCHANT RATE LMAOOO
War God    0
Yay even more loot you can't actually take back with you out of the wilderness. No runex update is complete without more donation incentives! 
Maybe try fixing existing problems first?
Duke Silver    1
slightly reduced?, more like completely nerfed to the ground.
save your runex pts, and your rune coins boys, evoid is not worth getting anymore.
twitch    92
On 7/21/2018 at 12:31 AM, Ralph said: On 7/21/2018 at 12:25 AM, Ryan said: Elite void equipment Slightly reduced elite void equipment bonuses   
Rip elite void users. 
I got sad for sure.
Nice update - I just think it would be nice to have less wilderness updates, or teleport-scroll-based updates. 
Death Fury    20
Awesome update man! Cant wait to see more. 
Existing user? Sign In
All Activity

We will serve you as industrious as bees.

Products Category
RS 2007 Miniquests
RS 2007 Minigames
RS 2007 Infernal Cape
RS 2007 Powerleveling
RS 2007 Pest Control Points
RS 2007 Nightmare Points
RS 2007 Barbarian Assault Honour Points
RS 2007 Soul Wars Zeal Tokens
RS 2007 Boss Kills
Join our community
Trustpilot Reviews

RSbee offers various kinds of RS services, including rs 07 quest, account, items, skill power leveling, and so on, along with 24 hours online support. We sincerely thank everyone for your support and trust. We strive to keep improving our site and service to repay all of our customers.
Why Choose RSBee? Customers' needs and satisfaction first! - It's our unshakable mantra. Wherever you are, and whatever you need, RSBee will fulfill all your requirements and expectations.
1. No Personal Information Asked Don't worry about the security of your personal information on our site. RSBee will never ask for your personal information.
2. Low Price Guarantee RSBee strives to provide RS 2007 services for players, and we firmly believe that you can get the best service and the low price (osrs gold) on our site.
3. The Easiest Buying Guarantee Buying has never been so simple! The only thing you need to do is place an order and pay for it. If you choose the gold payment, just leave the gold for your order in your inventory. Leave the rest to us.
4. 100% Satisfaction Guarantee We offer 24 hours service every day. You can buy all services at any time! Please feel free to contact us by online chat if you have any questions.
>> About RSBee
10/06/23 - Scar Essence Mine - Will You Spend Your OSRS Gold on Runic Extracts Scar essence mine is a place that is full of Amalgamations. You can mine these Amalgamations for Tainted essence chunks. Then, deposit the chunks into any Ventriculus opening around. Withdraw Runic extracts from the extract orifice after putting some OSRS gold coins into Hagus' coffer. You will craft more runes while the correct Runic extracts are in your inventory. Requirements You have started the Desert Treasure II and had the golem output...
09/24/23 - We Have Changed the Default Price to US Dollars We have changed the default prices of all OSRS game services to US Dollars. If this change causes any inconvenience to you, please understand us. However, you can still pay for all services other than coins via OSRS gold. Why Changed? We have decided to change the payment method from the OSRS gold coins to US dollars for the following reasons. 1. Many customers want to pay for services in US dollars...
Home / news / OSRS Money Making Method Guide - Killing Revenants
OSRS Money Making Method Guide - Killing Revenants
Warning: It's a high-risk money making method! Beware of the PKers!
Revenants are ghostly versions of certain monsters (from level 7 to level 397) you can find in OSRS. They live in Revenant Caves, a set of singles-plus combat (other players can attack you when you are fighting with monsters) caverns in levels 19 to 34 Wilderness. It's one of the best money making methods for low-level and mid-level players.
Requirements
There are no quest or skill requirements, but you must pay 100,000 gold coins before entering the caves. You don't need to pay for it again if you don't die to other players. Once some player kills you within the caves, the killer will take it as a drop. Then you must pay another 100,000 coins for the entering fee.
Note: You don't need to bring coins in your inventory. It will be taken from your bank.
You can kill them with Melee or Ranged - 60+ Attack & Strength and 50+ Ranged are recommended.
Gear Setup & Inventory
Please note that only bring items you can afford to lose because there is a risk of death.
For using Melee:
Helm of neitiznot if using a whip or Dwarven helmet if using a crush weapon
Salve amulet (e) or Amulet of glory
Cape of legends (completion of the Legends' Quest) or Mythical cape (after the OSRS quest Dragon Slayer II)
Black d'hide body and chaps
Abyssal whip or Viggora's chainmace
Dragon defender
Bracelet of ethereum - Highly recommended
Rune boots or Dragon boots
Ring of dueling or Explorer's ring
For using Ranged:
Snakeskin bandana or Archer helm
Amulet of avarice (become skulled once you wear it) or Amulet of glory
Ava's device
Black d'hide body & chaps
Craw's bow, Magic bow, or Rune crossbow
Book of law if using a crossbow
Diamond bolts (e) or Rune arrows
Snakeskin boots
Bring a Super combat potion or a Ranging potion, a Stamina potion, the Loot bag, the Royal seed pot, some Prayer potions, and the rest are food.
Getting There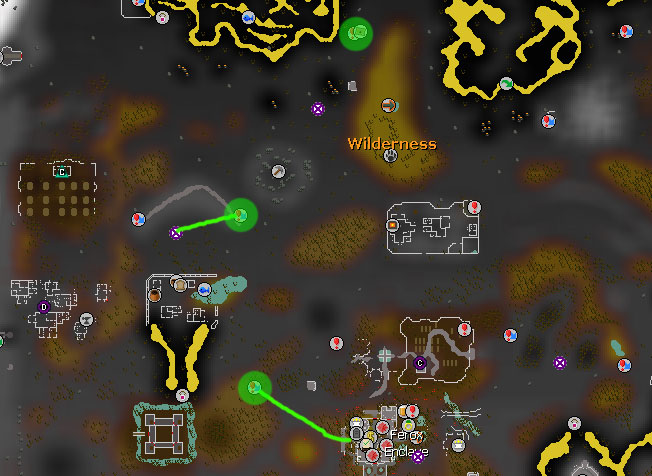 The quickest method to get there is to use the Revenant cave teleport. It brings you directly to the north entrance at 40 Wilderness.
Or you can teleport to Ferox Enclave with the Ring of dueling. Go through the west entrance and run toward the northwest.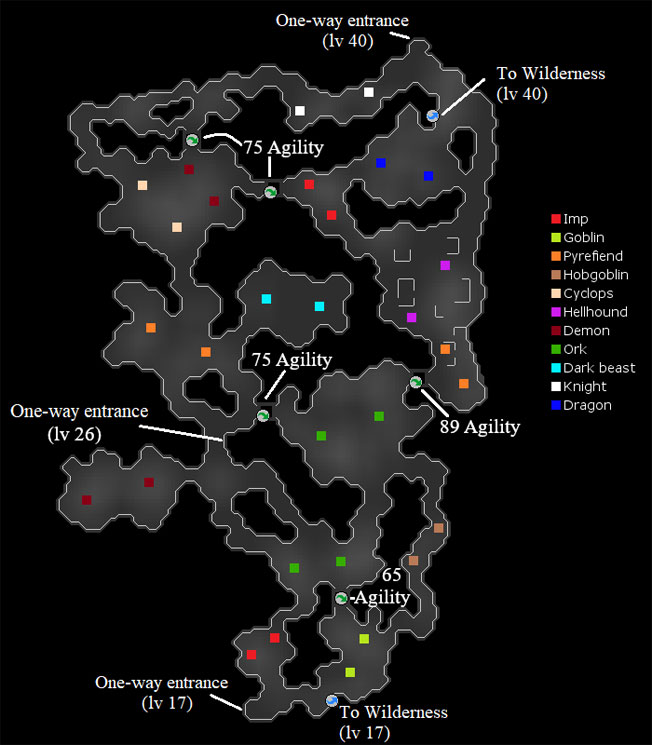 All Revenants use all three attacks. If you are using a charged Bracelet of ethereum, don't worry about it. The bracelet can protect you by reducing 75% of the damage from revenants.
All Revenants have the same loot table with different drop rates. You can increase the drop rates by being skulled (high risk of death).
Revenant imp: level 7, 10 Hitpoints
Revenant goblin: level 15, 14 Hitpoints
Revenant pyrefiend: level 52, 48 Hitpoints
Revenant hobgoblin: level 60, 72 Hitpoints
Revenant cyclops: level 82, 110 Hitpoints
Revenant hellhound: level 90, 80 Hitpoints
Revenant demon: level 98, 80 Hitpoints
Revenant ork: level 105, 105 Hitpoints
Revenant dark beast: level 120, 140 Hitpoints
Revenant knight: level 126, 143 Hitpoints
Revenant dragon: level 135, 155 Hitpoints
Revenant maledictus (boss): level 397, 1250 Hitpoints
Loot and Profits
Amulet of avarice, Craw's bow (u), Thammaron's sceptre (u), Viggora's chainmace (u), Ancient statuettes, Rune and Dragon items, raw materials, runes, Blighted items
How much you can make depends on your skill level, from hundreds of thousands to millions.
Keep in mind: The Ancient statuette will always drop on death. Once you get an Ancient statuette drop, go and bank it.
Good luck to you all!
The RSBee Team
1. OSRS Bounty Hunter Minigame Rewards Preview
2. OSRS Crack the Clue 3 Solutions: Step 10 to Step 11
3. The 12th Golden Gnome Award - Vote for Your Favorite Creators
4. How to Unlock & Use the Lovakengj Minecart Network
5. OSRS New Prayer Book: The Ruinous Powers

We will serve you as industrious as bees, offering 24 hours service every day.
OSRS Services
07 RS Quest Help
07 RS Account
07 RS Minigame
07 RS Skill Leveling
07 RS Firecape
Testimonial