You must have javascript enabled in your browser settings in order to visit this site.
Master System
Turbografx-16
Turbografx CD
PC Engine CD
Atari Jaguar
Neo Geo Pocket
Login/Register
Facebook Connect
Great to have you back!
New here? Create a new Account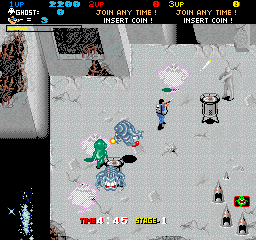 The Real Ghostbusters (US 3 Players)
You may be interested in:.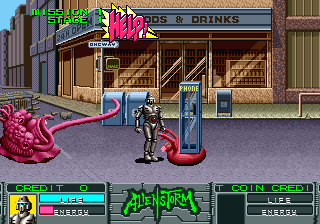 Alien Storm (set 1, Japan Rev B, 2 Players, FD1094 317-0146)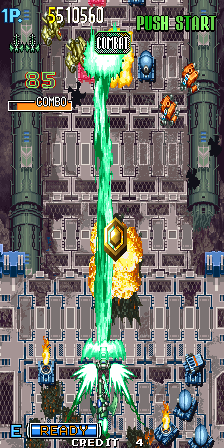 Bee Storm - DoDonPachi II (V101, World)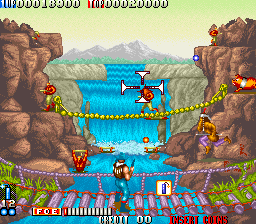 Blood Bros. (set 2)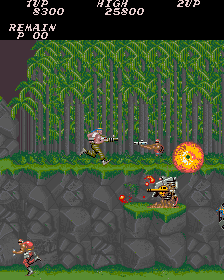 Contra (US, Set 1)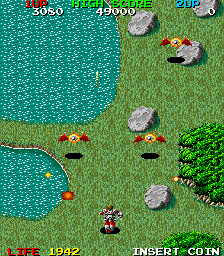 Extermination (World)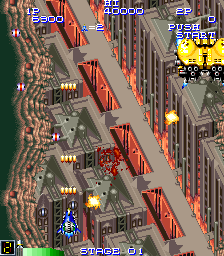 Final Star Force (US)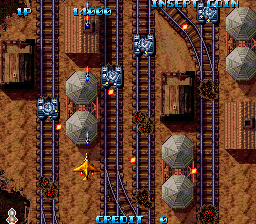 Fire Hawk (horizontal)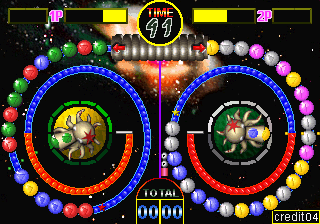 Funny Bubble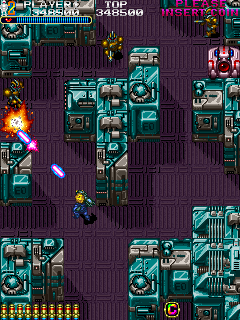 Out Zone (older set)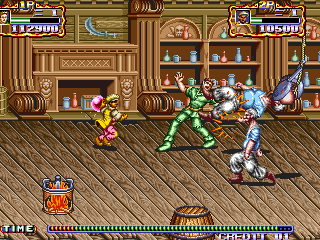 Peter Pan (bootleg of Hook) [Bootleg, Imperfect graphics]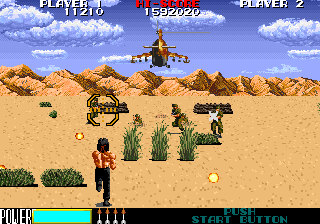 Rambo III (Europe, Proti?)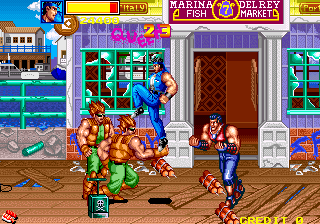 Silent Dragon (World)
Privacy Policy
2023 © RetroGames.cc Online Emulator
Real Ghostbusters, The (Arcade)
Posted by Kurt Kalata on April 28, 2019
The Real Ghostbusters / Meikyuu Hunter G - Arcade, Amiga, Atari ST, Commodore 64, ZX Spectrum, Amstrad CPC (1987)
Based on the iconic 1984 comedy movie Ghostbusters , David Crane's computer game wasn't the first licensed game, but it was one of the first really good ones. Half action game, half simulation, it put you in the role of running the Ghostbusters as a business, gaining money and buying weapons, all while chasing down and zapping nasties. While this game was relatively famous, being ported to the Atari 2600, Nintendo Entertainment System, and Sega Master System, its follow-up is much less well regarded.
The Real Ghostbusters arcade game was developed not by David Crane, but rather by Data East. It's a more straightforward run-and-gun action game more suitable to the arcade than the first Ghostbusters title, though it's not as well known since it was never ported to consoles, only European computers. As the title, cover, and cabinet art indicate, it's technically a tie-in with The Real Ghostbusters cartoon series, which began airing in 1987. However, there's no indication of this within the arcade game, as none of the characters actually look like any of the Ghostbusters.
The Real Ghostbusters
Data East's game is an oddity because it's actually a reskinned version of a different Japanese arcade game, Meikyuu Hunter G , which translates to "Labyrinth Hunter G". Despite some very overt similarities, there are still numerous differences between them.
Unlike most run-and-guns at the time, where the goal was simply to charge forward in a straight line, the levels here are more non-linear, as you need to move left and right to find the path to the exit. They're not exactly mazes, though, and even if you come across a dead end, you can create a bridge or a ladder by shooting some of the scenery. After defeating the boss, of which there are sometimes several you fight at the same time, you get a key and unlock the door to the next stage. There is no life meter, and one hit will kill you.
The main difference between The Real Ghostbusters and Meikyuu Hunter G lies with the weapon system. In Meikyuu Hunter G , your standard weapon is a gun, which is ineffectual against almost everything. There are a few different weapon power-ups, but they're infrequent, and disappear very quickly when revealed, making them hard to obtain. The second button fires a cavalcade of bullets in a circle, damaging everything around you. If you hold down both buttons, you'll activate a laser beam. This is more useful than your main gun, but unfortunately its energy is very limited.
In The Real Ghostbusters , you're still equipped with a gun, though there are no more extra power-ups. Instead, your laser beam is assigned to the second button, and you have much more energy, making it far more useful. It's also been upgraded so it looks and acts more like the proton beams from the movie, plus there's a new power-up which strengthens it even further. A later revision replaces your main gun with the circle fire weapon of Meikyuu Hunter G , and you only use the weak gun when you run out of proton pack energy. In Ghostbusters , Slimer also appears as a power-up, who floats around your character and hurts enemies. There's also a three-player version of Ghostbusters , whereas Meikyuu Hunter G is two-player only.
Killing an enemy with either weapon will release them from their corporeal body, turning them into ghosts. These are harmless, but the only way to capture them is by using the proton beam. (It's not exactly accurate to the movie.) At the end of each level there's a short cinema of your team loading the captured ghosts into a containment unit, granting extra points.
As for the visuals, most of the tiles are the same, and while the levels look similar, they actually have different layouts. Ghostbusters also ends after ten levels, with a quick ending scene, while Meikyuu Hunter G has eight levels that repeat infinitely and get progressively harder. The main character sprites look almost identical, except in Ghostbusters , they also carry around the proton pack. While some of the enemies are the same, including the white-hooded guys that look awfully like Klan members, many of them have been redrawn for Ghostbusters . The new ones have a more comical look that fit in tone with the movie. There's only a single boring song that plays in Meikyuu Hunter G . In Ghostbusters this has been replaced with Ray Parker's famous theme, which is well rendered, but grows mindnumbing after hearing it for so many loops.
Meikyuu Hunter G
It's hard to tell whether Data East developed this game as a Ghostbusters tie-in and then stripped its license for the Japanese release, or if they took some random game and slapped the license onto it. It's probably the latter case, because Ghostbusters is definitely a more refined game. It's not exactly exciting, but Meikyuu Hunter G is downright not fun, as you're constantly overwhelmed by enemies, whereas Ghostbusters is at least playable on the virtue of giving you more powerful weapons.
The Real Ghostbusters was ported to many home computers, published by Activision. The Amiga and Atari ST versions look okay, but have choppy animation and some annoying sound effects. The Commodore 64 version is smoother, but the hit detection is iffy. The Amstrad CPC version has some bad colors and is quite choppy, while the ZX Spectrum is a little smoother and more playable, while being less garish.
Screenshot Comparisons
Ghostbusters (Arcade)
Meikyuu Hunter G (Arcade)
Commodore 64
Amstrad CPC
ZX Spectrum
Related Articles at HG101:
Tag: Action: Top-Down View , Activision , Amstrad CPC , Arcade , Atari ST , Commodore 64 , Commodore Amiga , Data East , Licensed: TV / Movie , Localization Identity Crisis , ZX Spectrum
All Reviews
Game Series
Anime / Film Review
500-Word Indies
Dark Age of JRPGs
Your Weekly Kusoge
Japanese Obscurities
Trivia Tidbits
Submission Guidelines
Consoles 16 Titles
Arcade 7 Titles
Handheld 11 Titles
Computers 18 Titles
Super Mario World [USA] Super Nintendo
Super Mario 64 [USA] Nintendo 64
Pokémon : Edición Rojo Fuego [Spain] Nintendo Gameboy Advance
Pokémon : Edición Esmeralda [Spain] Nintendo Gameboy Advance
GOD OF WAR 2 Playstation 2
Mario Kart 64 [USA] Nintendo 64
DEF JAM FIGHT FOR NY Playstation 2
FINAL FANTASY X Playstation 2
GOD OF WAR Playstation 2
GRAN TURISMO 4 Playstation 2
NEED FOR SPEED UNDERGROUND Playstation 2
SILENT HILL 3 Playstation 2
999 : Nine Hours Nine Persons Nine Doors [USA] Nintendo DS
Pokémon Conquest Nintendo DS
The Legend Of Zelda - Phantom Hourglass [Europe] Nintendo DS
Pokémon : Kristall-Edition [Germany] Nintendo Gameboy Color
Resident Evil 3 : Nemesis (Clone) Playstation
Super Metroid [USA] Super Nintendo
Donkey Kong Country [USA] Super Nintendo
Risk [USA] Sega Genesis/MegaDrive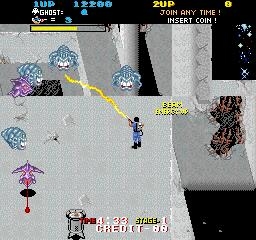 THE REAL GHOSTBUSTERS [USA]
File Name ghostb.zip
File Size : 407,25 kb
Similar Games Year : 1987
Genre : Shooter
Download : 4706
Similar Games





The Real Ghostbusters - Full Arcade Playthrough
The Real Ghostbusters was an arcade game based on the cartoon series of the same name released by Data East in 1987. Show more
Notice: This video may have been edited to shorten its length. Not all deaths and continues may have been shown. This is not a game speed run video. Nor is it a look at my big Wang gaming skills Just me playing and enjoying a video game as intended
Thank you Enjoy the video
E-mail: [email protected]
If you would like to help the channel don't forget to Like, Share, and Subscribe or you can donate to help keep the light on.
PayPal: https://paypal.me/Retrospectreviews
Habibi Bros.
Biden israeli confused | hph #195.
Kim Iversen
Idf or hamas a look at the evidence. both blame each other after 500 civilians were killed in hospital strike..
Laura Loomer
Loomer unleashed ep1: 45 gets gagged as fbi says trump supporters are the new terrorists.
Glenn Greenwald
Gaza's devastating humanitarian crisis worsens. the us & israel revive war on terror framework: dissenters labeled "pro-hamas." and is the us establishment pro-israel or pro-palestine | system update #164.
RealAmericasVoice
America first warehouse special with david zere and kash patel.
Blueface Smashed Megan Thee Stallion?? Funny Marco got violated by G Herbo? 6ix9ine Denied Bail!
🔴MIZKIF TOP TIER STREAM CLIP HERE 🔴
Shamer with Seamus Coughlin
Discussing film and hollywood with christian toto.
Redacted News
Breaking u.s. pushing for war against iran using israel as bait | redacted with clayton morris.
Revenge of the Cis
Episode 1251: keep ya head up.
Registration
How to play games on your PC
How play SNES games

For playing our games you need install emulator to your computer
The real ghostbusters - mame.
This game Armored is tested and working perfectly with our emulator version MAME64ui , you can download from section emulators .
NOTICE!!! I always check the game files myself before I put them on the website, to see whether they work or not. The basic idea behind this project is to provide people both with a working emulator and games they can run on it at the same time. Unlike some other sites that offer you hundreds of games but none of them really work, I can guarantee you that all the games presented here work like a charm. All you have to do is to use the correct version of MAME emulator, both of which are also available on our website . Whether the game is supposed to run under 32bit or 64bit MAME is always explicitely stated in the game's description.
A quick guide for you:
step 1: download the game and put the downloaded archive to the 'roms' folder within your MAME root directory step 2: after launching the emulator, press F5 to refresh the game database step 3: double click on the game's title in the list to start the emulation
step 4: once the game starts, press '5' on your keyboard (the one above your regular keys, not the one on the numpad) to activate the 'coin trigger' and then press '1' (again, not on the numpad) to start 'player one' game. (note: these can be both remapped through the MAME settings tab, where you can also find mapping for the second player controls).
And since I spent my free time on this website, bringing you all these fully functional games, so that you too can have some retro themed fun, any comments will be much appreciated.
Have fun! Your Gbit.
Description of The Real Ghostbusters ROM - MAME
Control The Real Ghostbusters ROM - MAME
OLD PC GAMES For Dosbox
MAME GAMES (roms) for PC
OLD ATARI ARCADE GAMES
MAME GAMES (ROMS) FOR ANDROID MOBILE PHONE
The Punisher - MAME
Galaga - MAME
The Simpsons - MAME
The King of Fighters 2002 - MAME
Sunset Riders - MAME
Out Run - MAME
Killer Instinct 2 - MAME
Tekken 3 - MAME
Teenage Mutant Ninja Turtles - MAME
Shinobi - MAME
Ghosts'n Goblins - MAME
Captain Commando - MAME
Cadillacs and Dinosaurs - MAME
Ms. Pac-Man - MAME
Donkey Kong - MAME
Double Dragon - MAME
X-Men Vs. Street Fighter- MAME
Metal Slug 1 - Super Vehicle 001 - MAME
Spider-Man The Video Game - MAME
Marvel vs Capcom - Clash of Super Heroes - MAME
The largest information site about KRATOM . Just follow kratom link. Best e-shop with premium quality kratom is Nejlepsikratom.cz
Are you looking for a quality kratom ? So look for " kratom prodej ". With us you will find the best kratom of all.
We will keep fighting for all libraries - stand with us!
Internet Archive Audio
This Just In
Grateful Dead
Old Time Radio
78 RPMs and Cylinder Recordings
Audio Books & Poetry
Computers, Technology and Science
Music, Arts & Culture
News & Public Affairs
Spirituality & Religion
Radio News Archive
Flickr Commons
Occupy Wall Street Flickr
NASA Images
Solar System Collection
Ames Research Center
All Software
Old School Emulation
MS-DOS Games
Historical Software
Classic PC Games
Software Library
Kodi Archive and Support File
Vintage Software
CD-ROM Software
CD-ROM Software Library
Software Sites
Tucows Software Library
Shareware CD-ROMs
Software Capsules Compilation
CD-ROM Images
ZX Spectrum
DOOM Level CD
Smithsonian Libraries
FEDLINK (US)
Lincoln Collection
American Libraries
Canadian Libraries
Universal Library
Project Gutenberg
Children's Library
Biodiversity Heritage Library
Books by Language
Additional Collections
Prelinger Archives
Democracy Now!
Occupy Wall Street
TV NSA Clip Library
Animation & Cartoons
Arts & Music
Computers & Technology
Cultural & Academic Films
Ephemeral Films
Sports Videos
Videogame Videos
Youth Media
Search the history of over 835 billion web pages on the Internet.
Mobile Apps
Wayback Machine (iOS)
Wayback Machine (Android)
Browser Extensions
Archive-it subscription.
Explore the Collections
Build Collections
Save Page Now
Capture a web page as it appears now for use as a trusted citation in the future.
Please enter a valid web address
Donate Donate icon An illustration of a heart shape
The Real Ghostbusters - Complete Series
Video item preview, share or embed this item, flag this item for.
Graphic Violence
Explicit Sexual Content
Hate Speech
Misinformation/Disinformation
Marketing/Phishing/Advertising
Misleading/Inaccurate/Missing Metadata
plus-circle Add Review comment Reviews
19,565 Views
253 Favorites
DOWNLOAD OPTIONS
In collections.
Uploaded by vemriko on July 13, 2022
SIMILAR ITEMS (based on metadata)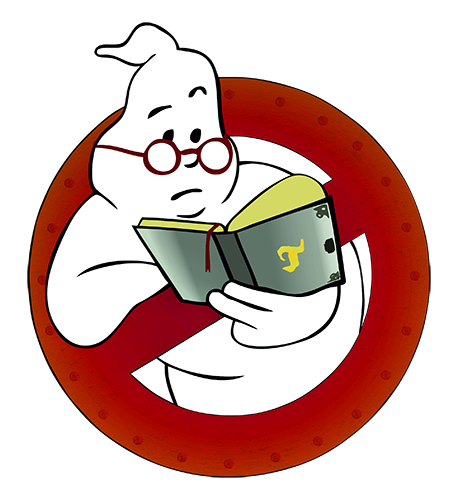 The Real Ghostbusters: Electronic Arcade Game
The Real Ghostbusters: Electronic Arcade Game is a handheld video game released in 1988 by Remco. It seems to be the rarest of the seven items Real Ghostbusters related that Remco released. Sometimes it is confused with it's Electronic Pinball Game counterpart, also by Remco.
1 Listed Features
3 External Links
Listed Features [ ]
These are listed on the box.
Loud Realistic Sound Effects (Can Be Switched Off)
4 Way Joy Stick
Left And Right Firing Buttons
Automatic Scoring System
Flashing Game Action Lights
4 Automatic Skill Levels
Bonus Scoring
Multi Directional Figure Movement
Gameplay [ ]
In the game, the player is Peter and you battle ghosts on a platform above a coffin. The player can throw projects at ghosts in the air, hit ghosts on the sides the the platform with his proton thrower, and can kick enemies climbing up the platform. Peter can also crouch in the coffin for a few seconds or jump to avoid enemies. If the play is defeated, he appears laying in the coffin.
External Links [ ]
Phelan Porteous: MMZ: The Real Ghostbusters Electronic Arcade -Review of the item
Gallery [ ]

PlayStation 3
PlayStation 4
PlayStation 5
Xbox Series
More Systems
The Real GhostBusters
Arcade games amiga commodore 64 amstrad cpc atari st sinclair zx81/spectrum, description.
The Real GhostBusters is an Action game, developed and published by Data East, which was released in 1987.
User Ratings