Video Games
Designer Toys
Misc. Figures
Toy Companies
All Articles
AFR Vintage Action Figure Guides
Price Guides
Advertising
Sign up for our newsletter for the latest news and updates!
Vintage Ghostbusters Action Figures Guide
The movie Ghostbusters was released in theatres in the summer of 1984 in the USA and later that winter for most of the rest of the world.
Since it was a sleeper hit starring comedians from Saturday Night Live with no planned merchandising opportunities beyond T-Shirts the world was caught by surprise, especially the children and it took two years for toys and a cartoon to emerge.
The Best + Biggest Action Figure Database in the World!!
60,000+ Action Figures
Release Dates
Video Library
eBooks + Guides
Historical $$ Values
Learn more (click)
Recent updates
A collapsible table:.
"E" Checklists
"D" Checklists
2023 Comic-Con Listings
PureArts Collectibles Price Guide
Action Figure Checklists for "C"
Funko ReAction Figures Price Guide
Indiana Jones Price Guide
Teenage Mutant Ninja Turtles TMNT Price Guide
Teenage Mutant Ninja Turtles TMNT Checklist
DC Super Powers Collection Price Guide
Super7 Action Figure Price Guide
ThreeZero Action Figure Price Guide
Why the Real Ghostbusters?
During the movies development Filmation filed a suit against Columbia Pictures for copyright infringement so the name was retitled to "The Real Ghostnusters" in order tto settle the court case and as a fingers up to Filmation.
These figures were first released in 1987 and ran through to 1991 and were based on the first two Ghostbusters movies and the TV Animated series.
The line proved to be popular then and remains so now with MOC figures becoming extremely difficult to find and likely to be more so when the new movie is released.
The only batch that has been largely neglected by collectors was the Classic Monsters, released in 1989 that didn't really have any connection to the movie or the rest of the toy line.
Probably the most difficult of the figures to acquire are the Ecto-Glow Heroes which were released in 1991 at the tail end of the lines popularity and just before its cancellation so had a very limited release.
Kenner Ghostbusters Action Figures
Kenner, who had handled Star Wars created a line of action figures released for Christmas 1986,  a few months after the first season of The Real Ghostbusters began airing.
Fans and collectors of the Kenner action figures will find many familiar hallmarks in their Ghostbusters line, including soft detail, five points of articulation; legs, arms and neck, fun accessories, repurposed sculpting, and some increasingly more garish and outlandish ideas nearer the end.
Wave 1, which was released in the winter of 1986 and hit general shelves in early '87 included the original four Ghostbusters in their animated style.
Now there were rarely any movie-related use of the actor's licenses in these toys so pretty much everything stemmed from either the cartoon or what the folks at Kenner could make up.
The initial wave of Ghostbusters figures featured the four busters in their classic overalls. These were some of the biggest selling and most fondly remembered of the whole line. Each came with a companion ghost made in translucent, rubbery plastic ready to be busted.
The proton packs were simple, molded blue and chunky and each was connected to their neutrino wand with a piece of yellow string.
In development meetings when making the animated Ghostbusters show, rather than just giving the busters matching beige or grey uniforms they had individual colours, brown, beige, turquoise and a dark grey-green. Likewise their neutrino wands were flexible plastic in four different colours to represent the many hues of the light streams we saw onscreen, in yellow, orange, peach and green. Their eyes were also painted different colours and Egon was given yellow hair and Ray lighter chestnut, to differentiate from the otherwise unanimous dark brown and black hair. 
But few successful action toy lines don't have baddies, for the goodies to fight, and in this case Kenner had carte blanche to go wild on their ghostly creations.
Once The Green Ghost (later named Slimer) and Mr Stay Puft had been released with the first wave a smorgasbord of original creations followed them, beginning in the summer of '87, nearly all of them exclusive to the toy line rather than replicating ghosts from the animated show. 
Each of them had some kind of wacky action feature: Bug-Eye, as you might expect had a large eye that popped out of his soft, rubbery, Boglin-style body, attached to a piece of string. Bad-to-the-Bone was a skeleton with a ribcage that could trap a buster and eyes that protruded from his screaming skull, H2 Ghost was a doubly troublesome watery phantom who split apart to reveal a pair of ghosts to trap. 
A second wave, which was released with additions from wave 2, was released sometime in the spring of 1987 with three additional figures that weren't featured on the cards: GhostZapper, Plush Ghost; Stay Puft Marshmallow Man  and Plush Ghost; Green Ghost (aka: Slimer) . This was followed by a third wave for the Christmas season of 1987.
The Action Ghost "Green Ghost", Slimer, was incorrectly printed in the first and second waves with item number #81020 but it was given the correct item number on the third pressing.
Wave 1 (Winter 1986)
•             Peter Venkman
•             Egon Spengler
•             Ray Stantz
•             Winston Zeddmore
•             Green Ghost
•             Stay Puft Marshmallow Man
•             GhostZapper Not Shown on card.
•             Plush Ghost: Stay Puft Marshmallow Man Not Shown on card.
•             Plush Ghost: Green Ghost (aka: Slimer) Not Shown on card.
Series 2 or Wave 2, released sometime in the spring of 1987, introduced, to the delight of children and exasperation of parents everywhere; Ecto-Plazm.
Turns out kids love slime and this jelly-like, bright and colourful, distinctive-smelling ooze was provided in sealed tubs which would allow you to slime your figures and get most of it back into storage, possibly with some extra fluff, possibly leaving ectoplasmic residue on the carpet and in the case of one young boy possibly being smuggled home from a generous friend's house loose inside his sock. That didn't work out too well for me or my exasperated slime-hating mother.
As well as introducing the goop into action figure playtime,  Kenner also released a range of ghosts with action features that made use of the stuff with Banshee Bomber dumping a load from his mouth, Squisher ejecting copious quantities from his nose and Sludge Bucket blowing a large Ecto-Bubble. Ecto-Plazm is fondly remembered by many thirtysomethings as the ideal fusion of substance and context for a toy. The Ninja Turtles ooze was too runny by comparison and again… my mother was not happy with what I did with it.
That year also saw the release of an accompanying line of dress up and role play busting gear including a child-size proton pack with a foam ghost catching beam, a Nerf-style Ghost Popper, a Ghost Zapper which projected ghosts on the wall whilst making an annoying zapping noise that in no way resembled the ones in the movies or cartoon, and a rather well sculpted ghost trap.
Vehicles were also on the way with ECTO-1 fairly faithfully reproduced alongside the flying ECTO-2 from the cartoon and the piece de resistance of any GB fan's collection, the firehouse playset.
Wave 2 (Summer 1987)
•             Action Ghost: Bug-Eye
•             Action Ghost: H2 Ghost
•             Action Ghost: Bad-To-The-Bone
•             Squisher (Gooper Ghost)
•             Banshee Bomber (Gooper Ghost)
•             Sludge Bucket (Gooper Ghost)
•             Ghost Zapper (Dress Up)
•             Ghost Popper (Dress Up)
•             Ecto-Plazm (Purple)
•             ECTO-1 (Vehicle)
The third series/wave was likely first released to fulfill layaway orders in the Christmas season of 1987. The first public promotion for the wave didn't happen until mid-January of 1988.
Initially Fright Feature Janine Melnitz was not released as she wasn't listed on back of card. She was later released in the fourth wave.
The three Mini Ghost toy sets were released with the assortment number of "80400" mistakenly printed on the front of the card as the item number. All three also share the same bar code on the back. The Canada line printed the corrected item numbers.
The Fright Features Heroes in this set are the most common of all the Hero sets released as they were released in all major foreign markets toy lines, including being the exclusive hero line for Brazil's Caça-Fantasmas line released by Estrela.
Wave 3 (Early 1988)
•             Peter Venkman (Fright Feature)
•             Egon Spengler (Fright Feature)
•             Ray Stantz (Fright Feature)
•             Winston Zeddmore (Fright Feature)
•             Mini Shooters
•             Mini Goopers
•             Mini Traps
•             Ecto-Plazm (Red/Blue/Purple)
•             Fire House (Playset)
•             Proton Pack (Roleplay)
More ghost variations came in Wave 4 in the spring of '88 with Granny Gross the haunted old lady, Tombstone Tackle the haunted football player, Mail Fraud the haunted mailman, and the following year Fearsome Flush the haunted toilet (yeah) to name but a few. 
Janine saw a release for the first time as a add on toy to the Fright Line from wave three. Along with Haunted Humans, there was two ghosts released that ended up with two printings with errors.
Haunted Humans saw a sequel of sorts in Kenner's Beetlejuice line with Neighborhood Nasties group of four figures in late 1990.
Wave 4 (Spring 1988)
•             Janine Melnitz (Fright Feature)
•             Terror Trash (Haunted Human)
•             Granny Gross (Haunted Human)
•             Mail Fraud (Haunted Human)
•             Tombstone Tackle (Haunted Human)
•             X-Cop (Haunted Human)
•             Hart-Hat Horror (Haunted Human)
•             Brain Blaster (Action Ghost)
•             Pull Speed Ahead (Action Ghost)
•             Green Ghost (Gooper)
•             Highway Hunter (Vehicle)
•             ECTO-2 (Vehicle)
Wave 5 took a bizarre change of direction with the inclusion of the Universal monsters; Dracula, Frankenstein's Monster, The Wolfman, a Zombie, and the possibly ill-considered Quasimodo, who really is just an unfortunate man born with deformities. Each had an action feature that showed off their ferocity and in the case of The Mummy an arm that fell off
Wave 5 (Early 1989)
•             Frankenstein's Monster (Monsters)
•             The Mummy (Monsters)
•             Wolfman (Monsters)
•             Dracula (Monsters)
•             Quasimodo (Monsters)
•             Zombie (Monsters)
•             Peter Venkman (Screaming Hero)
•             Egon Spengler (Screaming Hero)
•             Ray Stantz (Screaming Hero)
•             Winston Zeddmore (Screaming Hero)
•             Janine Melnitz (Screaming Hero)
•             Wicked Wheelie (Vehicle)
•             Air Sickness (Vehicle)
•             Ghost Spooker (Roleplay)
Wave six is often merged on many sites with waves five or seven, however going by packaging cards it was clearly released during the spring/summer of 1989.
This wave is assumed to have been released late spring around May, much like wave four and two. It is unclear why they didn't release this as part of wave seven a few months later, but one of the toys released in the wave didn't appear on the back card until the next wave card.
Wave 6 (Spring 1989)
• Finger Pop Fiends
• Green Ghost with proton Pack (Slimer)
• Fearsome Flush
• ECTO-Popper & ECTO Goggles (Roleplay)
• Nutrona Blaster (Roleplay)
• Water Zapper (Roleplay)
Wave 7 was a fairly small release, later in 1989, which basically introduced a new group of heroes called Super Fright as well as a new Ecto-3 vehicle and a new Ghost Trap.
Wave 7 (Summer 1989)
• Peter Venkman (Super Fright Features)
• Egon Spengler (Super Fright Features)
• Ray Stantz (Super Fright Features)
• Winston Zeddmore (Super Fright Features)
• Janine Melnitz (Super Fright Features)
• ECTO-3 (Vehicle)
• Ghost Trap (Roleplay)
The next wave continued to expand the Heroes groups with the Power Packs theme in Wave 8. This was also the first series to use the classic mold designs since the first group of Heroes, it was also the only line that had a classic version of Janine Melnitz.
This wave was the first line to see Louis Tully in the line-up, and was apparently added as he was not part of the original line-up as suggested in promo pictures on the back of the cards for the other five toys in the line for the American and Canada releases.
There was also a set of three Gobblin' Goblins that were themed on different body parts, such as Terrible Teeth, Terror Tongue and Nasty Neck!
Wave 8 (Winter 1989)
•             Peter Venkman (Power Pack Heroes)
•             Egon Spengler (Power Pack Heroes)
•             Ray Stantz (Power Pack Heroes)
•             Winston Zeddmore (Power Pack Heroes)
•             Janine Melnitz (Power Pack Heroes)
•             Louis Tully (Power Pack Heroes)
•             Terror Tongue (Gobblin' Goblins)
•             Nasty Neck (Gobblin' Goblins)
•             Terror Teeth (Gobblin' Goblins)
•             Ghost Sweeper (Vehicle)
•             ECTO-500 (Vehicle)
The pen-ultimate release of Wave 9 came in the spring of 1989 introducing the Slimed Heroes. Like the previous Wave these figures featured the classic mold designs, and also reused the proton pack designs. This was also the first line, other than the Classic Heroes, not to include a Janine Melnitz in the line-up. This wave also had problems with the of the plastic colours.
This line also included an Ecto-1A vehicle which as loosely based on Ecto-1a from the Ghostbusters II movie, even though the car didn't appear in this form in The Real Ghostbusters cartoon series. However, it's only difference from the Ecto-1 was the stickers.
Jocsa which was a company that re-released Real Ghostbusters toys for Argentina made an exclusive line of Slimed Heroes, which had water squirting from the proton gun to change the color of the ghost instead of the Ghostbuster.
Wave 9 (Spring 1990)
• Peter Venkman (Slimed Heroes)
• Egon Spengler (Slimed Heroes)
• Ray Stantz (Slimed Heroes)
• Winston Zeddmore (Slimed Heroes)
• Louis Tully (Slimed Heroes)
• ECTO 1A: Ghostbusters 2 (Vehicle)
• ECTO Charger Pack (Roleplay)
• Rapid Fire ECTO Blaster (Roleplay)
• Ghost Grab-A-Meter (Roleplay)
The real blow came when the second Ghostbusters movie emerged. The toy line was doing well enough, but Turtlemania was just around the corner and ultimately despite the show, the poorly received Ghostbusters 2 movie in 1989 could not compete with the imminent ubiquity of the mutant brothers.
The original movie raked in an unexpected $295 million at the box office on a $30m budget and has maintained a 97% freshness rating on Rotten Tomatoes, widely agreed upon as one of the greatest comedies of all time. Its sequel managed a lowly 50% although it didn't fare too badly at the box office, making $215m from a $37m budget, mostly based on people hoping to recapture the magic from five years previously. It did not, though the much maligned sequel still has its fans.
The summer after Ghostbusters II saw the release of the tenth and final wave with the Ecto-Glow heroes being released in lower numbers than the previous waves and thus hard to find mint on card. It would still be a year of warming pegs before the Real Ghostbusters animated show would air its final episode.
Wave 10 was exclusively sold in America and was the last group released by Kenner. Note, that Jocsa of Argentina released it's own exclusive group of toys which reused the classic mold like this group and the two group before it.
Wave 10 (Summer 1990)
·          Peter Venkman (Ecto-Glow Heroes)
·          Egon Spengler (Ecto-Glow Heroes)
·          Ray Stantz (Ecto-Glow Heroes)
·          Winston Zeddmore (Ecto-Glow Heroes)
·          Louis Tully (Ecto-Glow Heroes)
·          ECTO Bomber (Roleplay)
·          ECTO Headphones with Radar Blaster (Roleplay)
·          Ghost Nabber (Roleplay)  
Ghostbusters Foreign Market Releases
The Real Ghostbusters released by Kenner Canada were exactly the same as the American line, however they didn't produce all the same toys, as a result the backs of the cards were different, also the cards were bilingual with both English and French language on them, in the same style as the Canadian Star Wars figures.
In Mexico, although made by Kenner, the figures were relabeled as being made by Auriken. The figures themselves were the same as the American Kenner figures and were mostly imported directly from Kenner.
The Brazillian line was called Caça-Fantasmas and was made by Estrela. The cards for this line were produced in Portuguese and only featured the Fright Feature line and some of the Classic ghosts.
Also, the No Ghost logo was slightly different as the Brazillian logo had the head of the ghost leaning left with a shoulder/back being very visible on the right.
In 1992, Josca released a line of The Real Ghostbusters Toys in Argentina, which were mainly related to the Animated Series.
This release was licensed from Kenner rather than being imported and it seems that most, if not all of the material that they used was handed down production stuff, including art and promo pictures from Kenner.
It seems highly likely, that due to this, that this was the last reprint line for the Kenner toy line.
In the UK the toy line and figures themselves were pretty much identical to the American releases, however much of the promotional work: such as logos for lines, color schemes, and the arrangement of toys shown on back of cards, were altered from the American versions.
Also the figures ran from 1987-1990 in the UK with only one wave of figures being produced each year, unlike the  American line were several waves were produced each year.
There were, therefore, only four waves released in the UK and the tenth wave,  which was mainly the five Ecto-Glow Hero figures was never released.
The Real Ghostbuster Toy Line released in Belgium, the Netherlands, and France was a reprint of the toys directly copied from the UK counterpart and translated into both French and Dutch. 
The German line, produced by S.O.S Fantômes, like the Dutch and French lines were also a direct copy of the UK toys with German translations.
In Italy, they were produced by Gli Acchiappafantasmi and again were a direct copy of the UK toys but with Italian translations.
It's also worth noting that all the lines based on the UK line had the Lion seal and yellow bar code on the back of the cards.
Another point of interest is that some of the toys from America, Canada, and the UK lines were also imported to Portugal and Australia, and these can be identified by the import stickers.
Unreleased Ghostbusters Toys
• Nutrona Blaster In development in wave 1/wave 2
• Ecto Glow Copter
• Firetruck
• Egon's Lab
• Backpack Heroes: Egon Spengler
• Backpack Heroes: Ray Stantz
• Backpack Heroes: Peter Venkman
• Backpack Heroes: Winston Zeddmore
• Ghost Blaster
• Slimerizer
• 15" Backpack Heroes: Egon Spengler (Prototype)
• Play-Doh SetEdit
During its launch year Kenner  also released a Real Ghostbusters Themed set in it's Play-Doh line.
Kenner Ghostbusters Conclusion
It is strange to think that the closer the 80s got to 1990 the more neon colours began to creep into our fashion, our art and our toys, but this is exactly what happened, with exactly the same results. A sense of cheapening that few preferred to the original colour schemes. Kenner also made the decision to have the busters exhibit the same action features as the ghosts themselves, with screaming heads, spinning heads, heads that disappeared inside their stomachs, spinning legs and other supremely cartoonish movements which made the sculpting eerie and unlovable, more resembling mannequins from a ghost train or the stars of a new Five Nights at Freddy's game. That's great for your ghosts but keep messing with the main design and you lose sight of the heroes themselves.
All in all, six variations of the initial four were introduced: Fright Features, Screaming Heroes, Super Fright Features, Power Pack Heroes, Slimed Heroes and Ecto-Glow Heroes. Several figures of Janine Melnitz and Louis Tully were also released within these later lines.
Six years later in 1997 Extreme Ghostbusters attempted to revitalize the franchise with a forty-episode animated show and tie-in toy line from Hasbro, who had since bought out Kenner.
This was an attempt to pass the torch onto a new generation. This was a difficult prospect as the kids who had previously loved the movies and animated shows were in their teens and twenties, mostly too young to have appropriately aged children of their own so at best it fell to considerably younger brothers and sisters who had no nostalgia for the originals.
In short it was too soon and imploded. Later a well-timed Transformers movie would show the world exactly how you relaunch.
In terms of collecting on the secondary market the most sought after and valuable appear to be mint, carded versions of the original four as well as sealed, boxed roleplay toys like the proton pack and of course ECTO-1 and the fire house, with an amazingly high price paid for sealed tubs of Ecto-Plazm. At the other end of the scale are thousands of the wacky ghosts and screaming heroes listed above loose and in very played with condition. Interestingly mint, carded versions of the Extreme Ghostbusters line command a respectable price, due to few being saved in boxed condition and the fact that they have to hit a very specific nostalgia button.
The license would lie dormant for many more years, only to emerge for the adult collector's market, detailed in the next few pages.
Vintage Ghostbusters Action Figures Sale!
More ghostbusters pages.
Figure Realm
Kenner Collector
Ghostbusters Vault 
Recent Articles
Mego Star Trek Action Figures: A Look Back at the Iconic Toy Line
Feb 01, 23 12:37 AM
Baseball Action Figures: A History of Sports Figures
Jan 23, 23 11:08 PM
NHL Action Figures Guide
Jan 15, 23 10:53 PM
NBA Basketball Action Figures Guide
Jan 15, 23 09:07 PM
NFL Action Figures Guide
Jan 15, 23 09:06 PM
The Mattel Toy Company Story
Dec 26, 22 02:58 AM
The Justice League of America
Dec 20, 22 01:17 AM
The NECA Toy Company
Dec 13, 22 02:41 AM
 Online Store
Movie Figures
Video Gaming Figures
Comic Book Figures
Sports Figures
Other Figures
PLEASE NOTE: All prices and values quoted on this site were correct at the time of publication based on the average value across several online and offline auction sites etc. The prices quoted ARE NOT an offer or solicitation to buy any figures at these prices.
Share the Love!
Would you prefer to share this page with others by linking to it?
Click on the HTML link code below.
Copy and paste it, adding a note of your own, into your blog, a Web page, forums, a blog comment, your Facebook account, or anywhere that someone would find this page valuable.
Contact Me    |   About Me   |   Privacy Policy
The following websites, magazines and books are some of the sources I have used to research the material on this site as well as many of the images etc:  Wikipedia    |   MegoMuseum    |   FigureRealm    |   RebbleScum    |   Mego Action Figure Toys by John Bonavita    |   Toyfare Magazine    |   Official Price Guide to Action Figures by Stuart W. Wells III and Jim Main
Copyright© 2004- | All Rights Reserved.
© Copyright and Copy Colin Dorman   www.action-figure-resource.com
Please send any communication to:  Colin Dorman , ACS Barnley House, 51–53 Sterte Ave West, Poole Dorset BH15 2AJ, United Kingdom 
Tel: +44 1202080082 (if calling from the UK you must dial the full number but NOT +44)
All trademarks and registered trademarks, whether or not so identified, are acknowledged to be the property of their respective owners. The use of a trademark does not imply that such use has been authorised, endorsed or sponsored by the trademark owner.

Just added to your cart
FREE UK SHIPPING WHEN YOU SPEND £35+ HOW COOL IS THAT! CHECK OUT OUR YOUTUBE @TOYSCAVENGER
Collection: The Real Ghostbusters
Here you can find Vintage The Real Ghostbusters Action Figures by Kenner Toys from the 80s.  The Kenner line of Real Ghostbusters action figures was the most known of the Ghostbusters toy lines and hit shelves in January of 1987. It continued being made and sold until the spring of 1991. The series had ten waves of toys (based on card rearrangements) with at least one more planned that never made it to the shelves. Recently after the release of Ghostbusters:  Afterlife there has been a resurgence in Ghostbuster figures, Hasbro have released several new waves in the fright features style, and also reissued the classic line on a modern card back.
Choosing a selection results in a full page refresh.
Press the space key then arrow keys to make a selection.

News Archive
Reviews Archive
Figure Flashback
Affiliate FAQ
Con Archive
One Sixth Warriors
Advertising
REVIEW: Hasbro Ghostbusters Kenner Classics Wave 2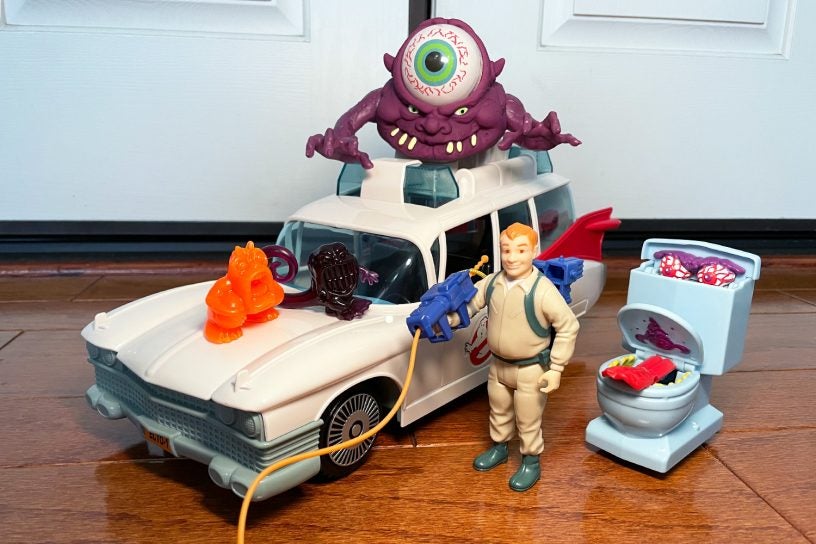 Read Next →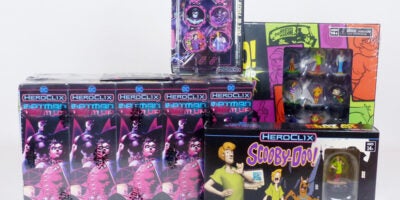 REVIEW: WizKids Games DC HeroClix Batman Team-Up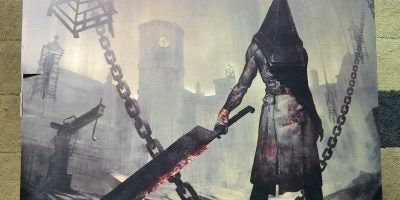 REVIEW: Gecco Dead By Daylight X Silent Hill THE EXECUTIONER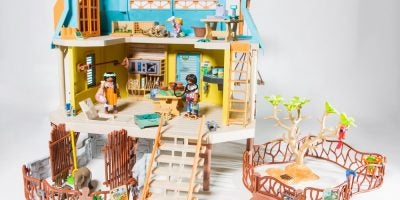 REVIEW: Playmobil Wiltopia
-Photos and review by David Yeh
-Bug-Eyed Ghost, Fearsome Flush, and ECTO-1 provided for review courtesy of Hasbro
There really was something special about the '80s, with an influx of the greatest toy lines ever created competing for retail space and our hard gifted dollars. The Real Ghostbusters , based on the cartoon spinoff of the popular film was right smack in the middle of that period and had its own popular line of toys made by Kenner.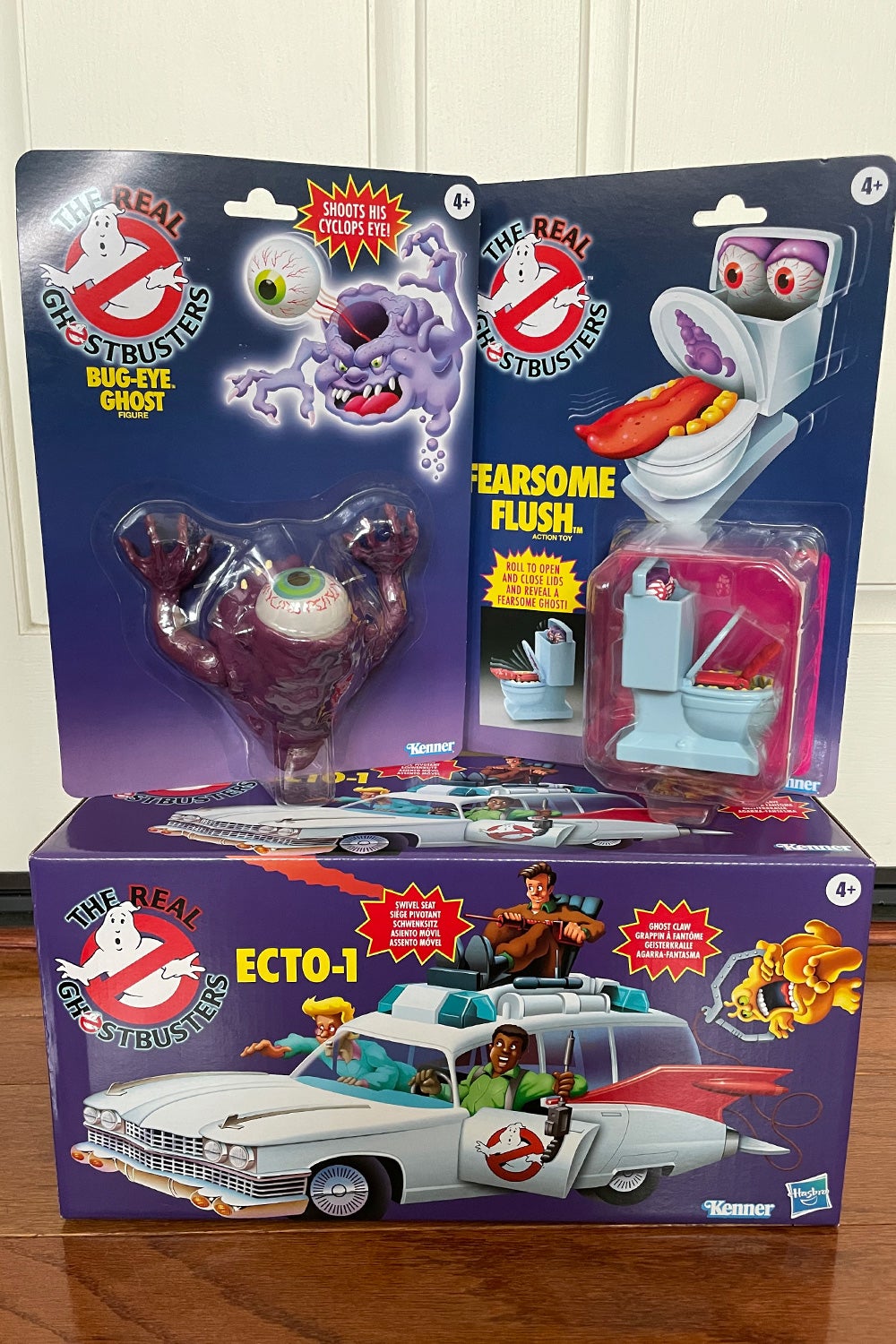 Hasbro , now the owner of all things Kenner, has been celebrating the 35th anniversary of the cartoon series and its toys with the release of GHOSTBUSTERS KENNER CLASSICS , a nostalgic revisit of the familiar toys from the good old days. Wave 1 already came out with the main core Ghostbusters characters and Slimer ghost figure, but Hasbro is now ready with Wave Two , delivering three familiar favorites: The Bug-Eye Ghost , Fearsome Flush Ghost , and the iconic Ecto-1 vehicle. I have to admit that I didn't collect these toys when I was younger but I did look at them when exploring those toy aisles and remember fondly the toy commercials.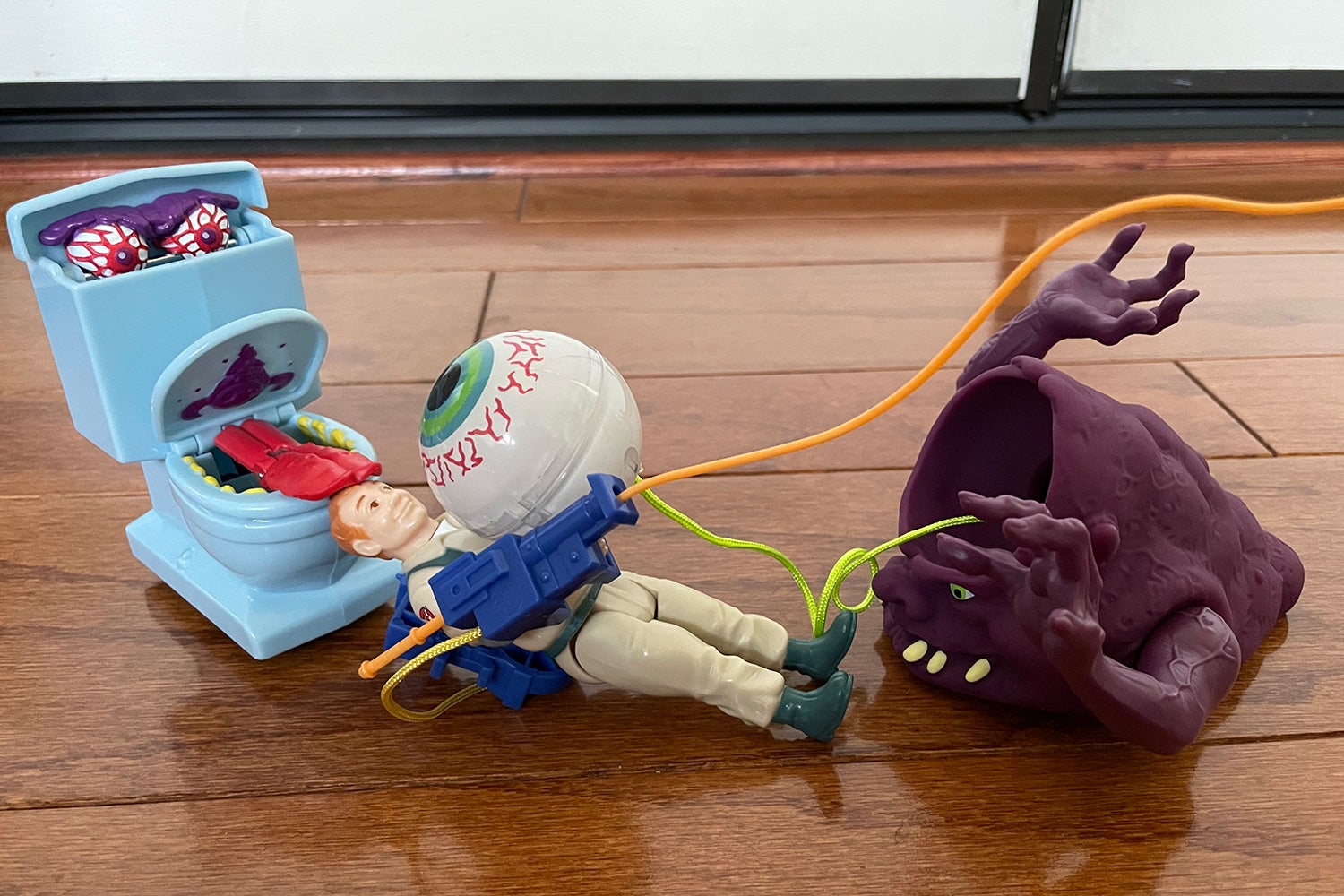 BUG-EYE GHOST and FEARSOME FLUSH GHOST
What catches the eye the quickest is the retro packaging that faithfully recreates the toys of the mid-80s. It's simplistic but pops, and a reminder of what really works compared to the extremely busy packaging of today's toys. Both Bug-Eye Ghost and Fearsome Flush come carded without any bells or whistles. What you see is what you get!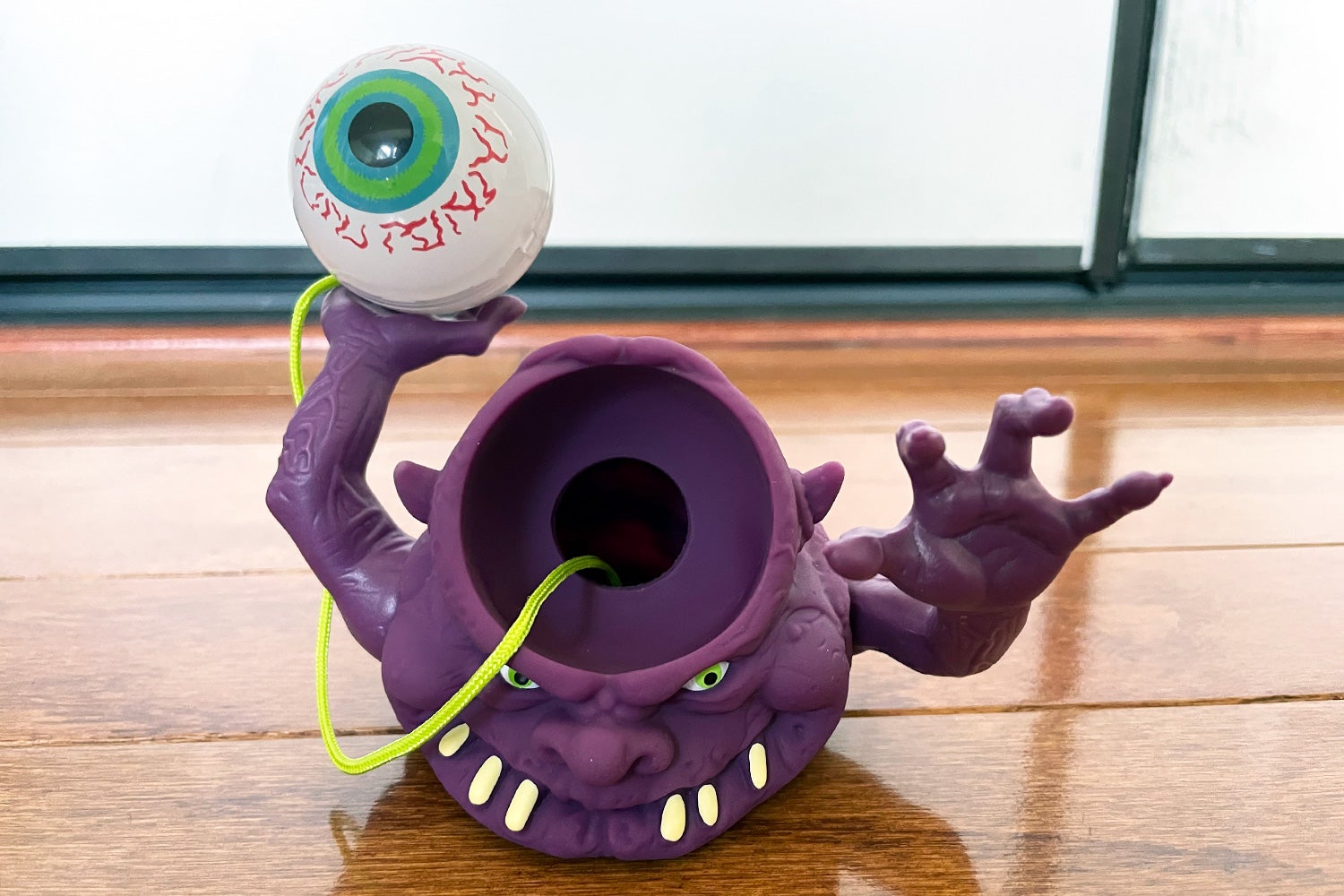 Bug-Eye Ghost is simple enough, hit his back and his giant eyeball pops out, attached with a string. The eyeball itself is larger than the vintage one, but it's essentially a pretty close replica. Bug-Eye has articulation in his arms and that's it, but he can hold his own eyeball!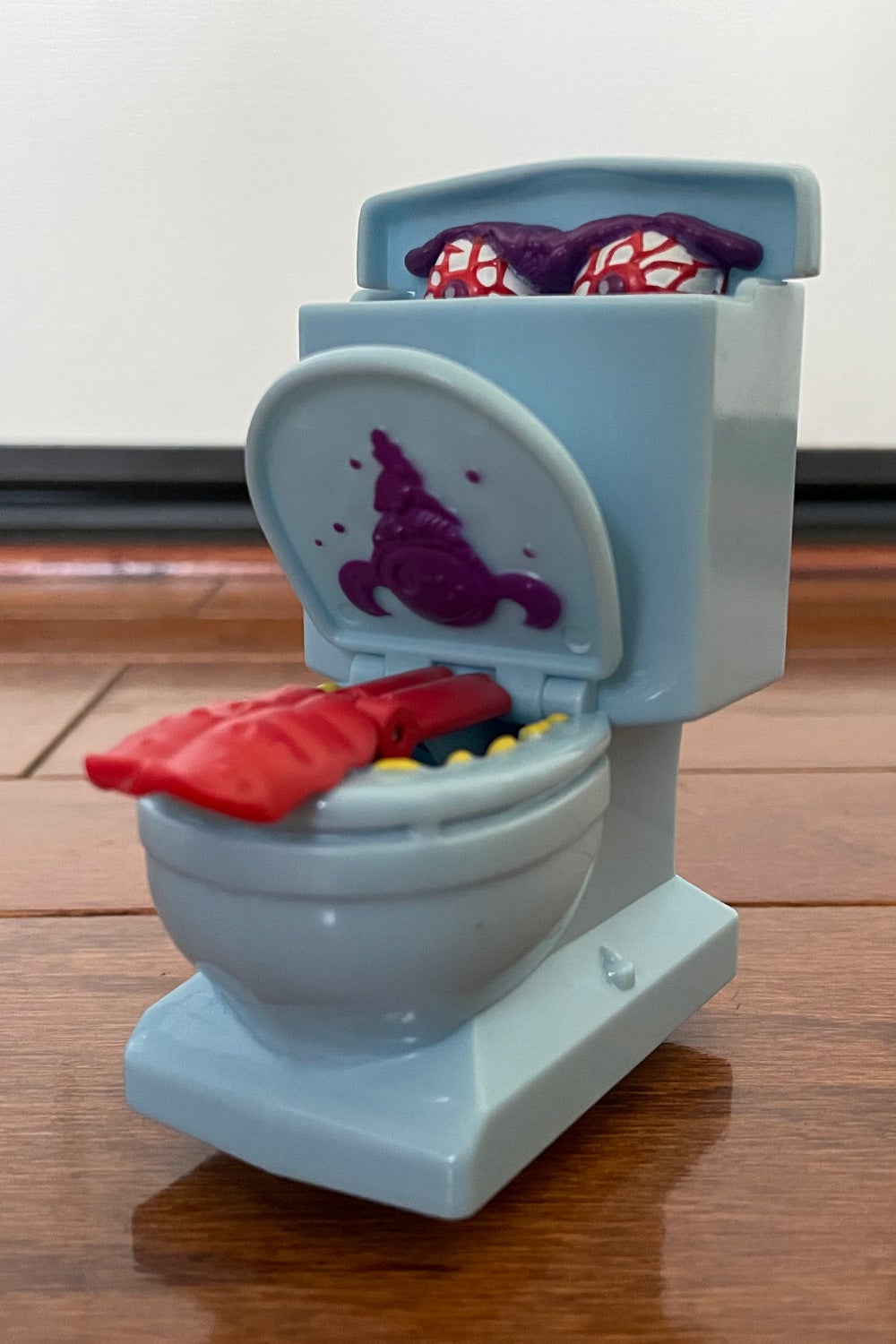 Fearsome Flush is maybe the toy that I remember the most, being a toilet and all. It works the same as it always did, roll him along the surface and his lids open up to reveal a ghost!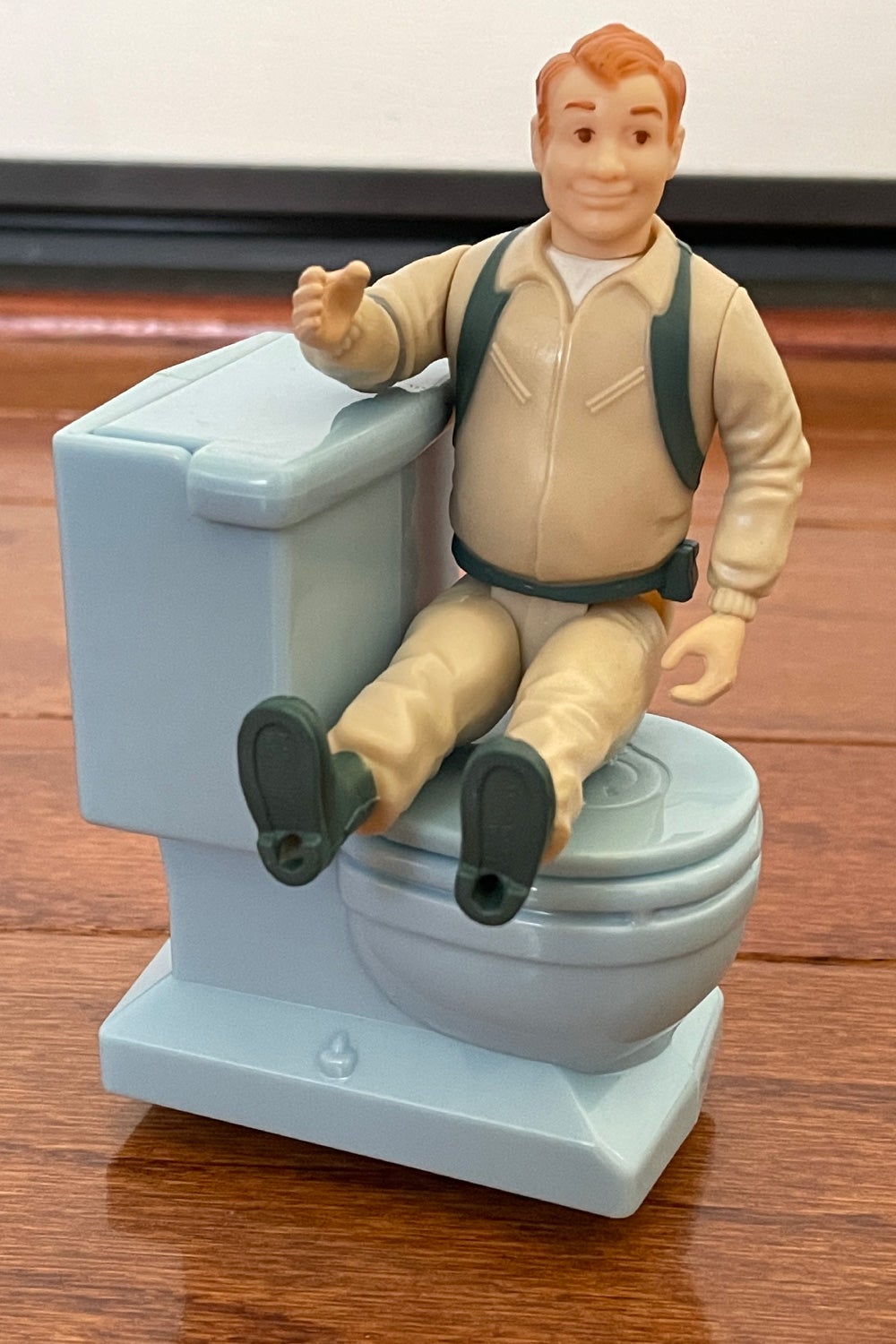 The one issue I have with Fearsome Flush is that it doesn't have a lot of weight in the rear, so having a Ghostbuster sit on the seat causes it to tip over. Beyond that issue, this is precisely the toy as I remember it.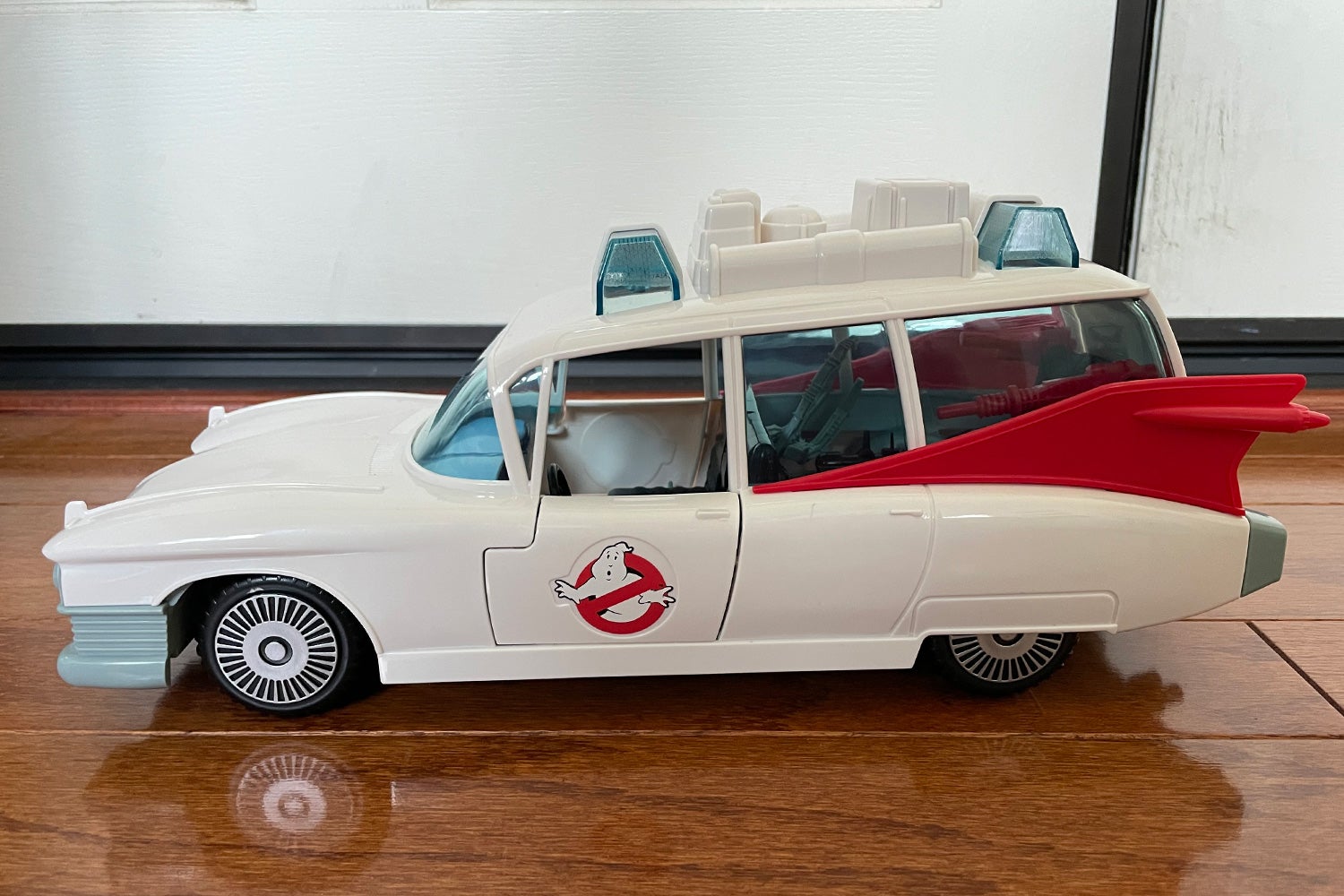 The Ghostbusters have one of the most iconic movie vehicles around, and the inclusion of this really brings back some memories. This version isn't that different from the original and essentially feels as it did. Any changes are fairly minor.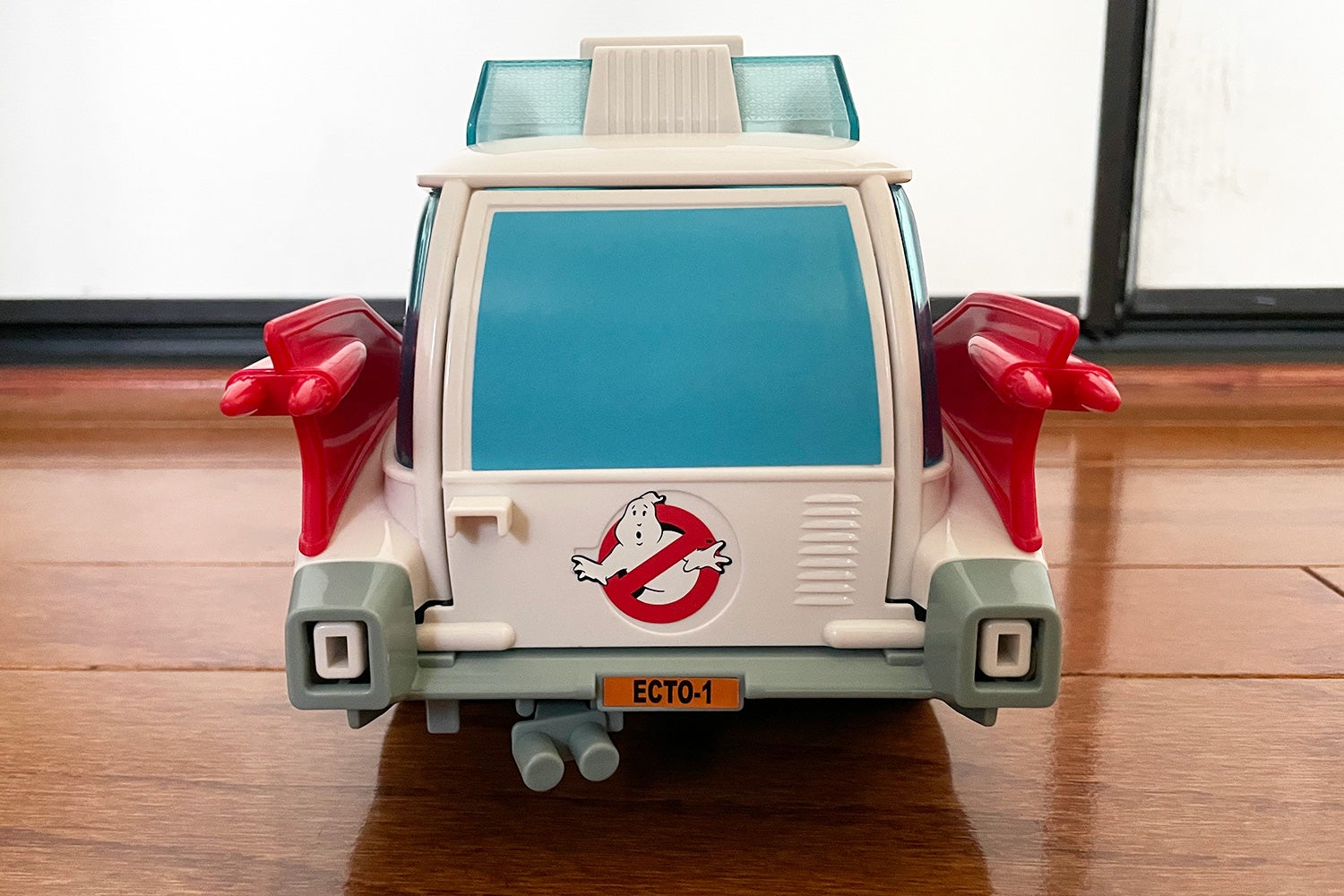 There is a sticker sheet for the Ecto-1 and maybe let my photos be an example for you on what NOT to do. A lot of toys of the past gave you a lot of wiggle room for your decals but this Ecto-1 is pretty precise, so your placement of the decals needs to be as well.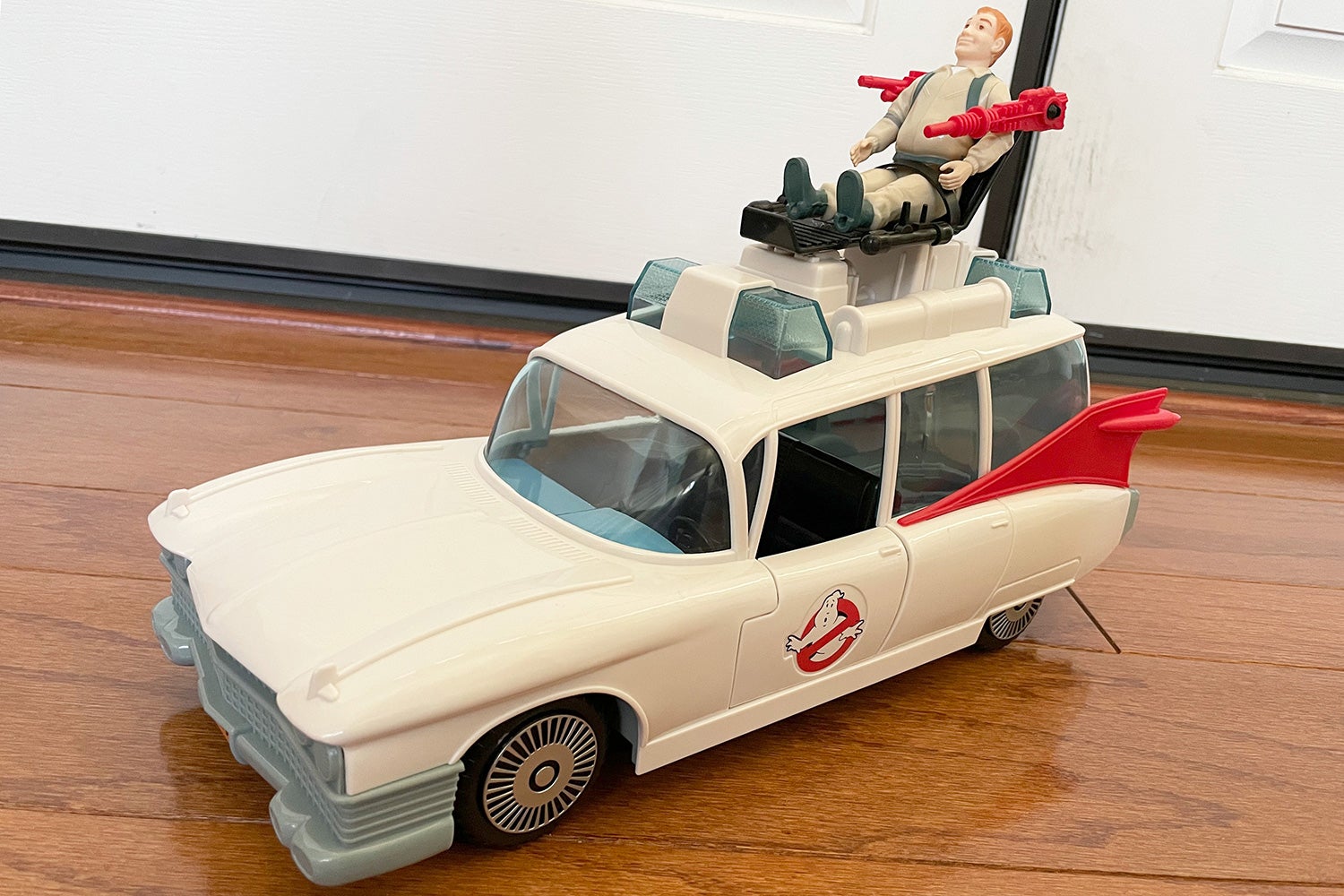 The front two doors open up and can seat two figures, and a third removable chair can be used in the trunk or on top of the car.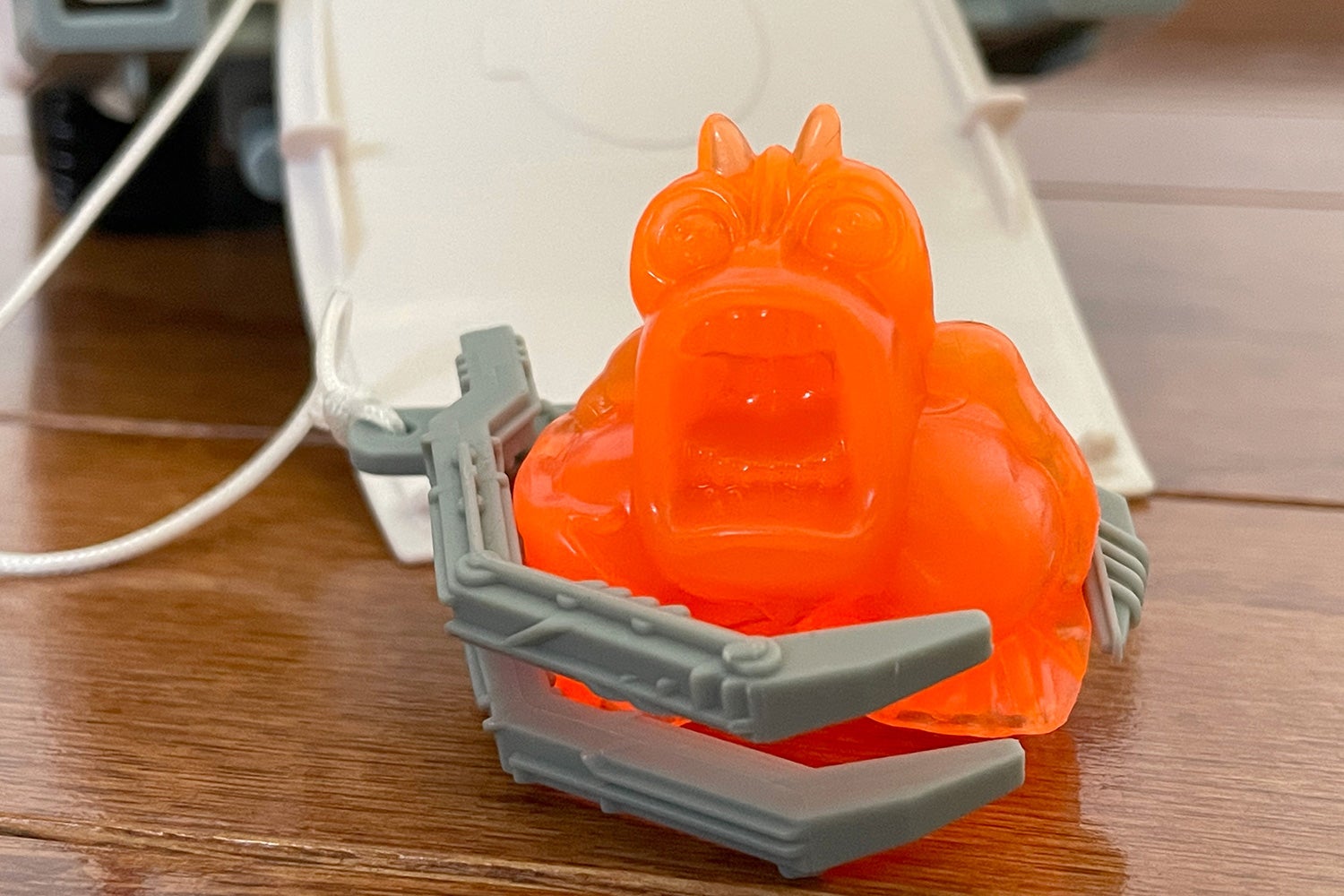 The Ghost Claw feature helps the Ghostbusters with an assist in snatching the smaller ghost varieties. The included orange ghost fits that bill. First, you'll need to adjust one of the switches on the bottom of the car to allow the rope to be used. Pushing the vehicle along helps retract that claw back into the car.
If I had a complaint about the ECTO-1, it would be that the trunk door doesn't want to stay closed. There isn't a clasp or anything that secures the door in place, so it just falls open with any movement at all.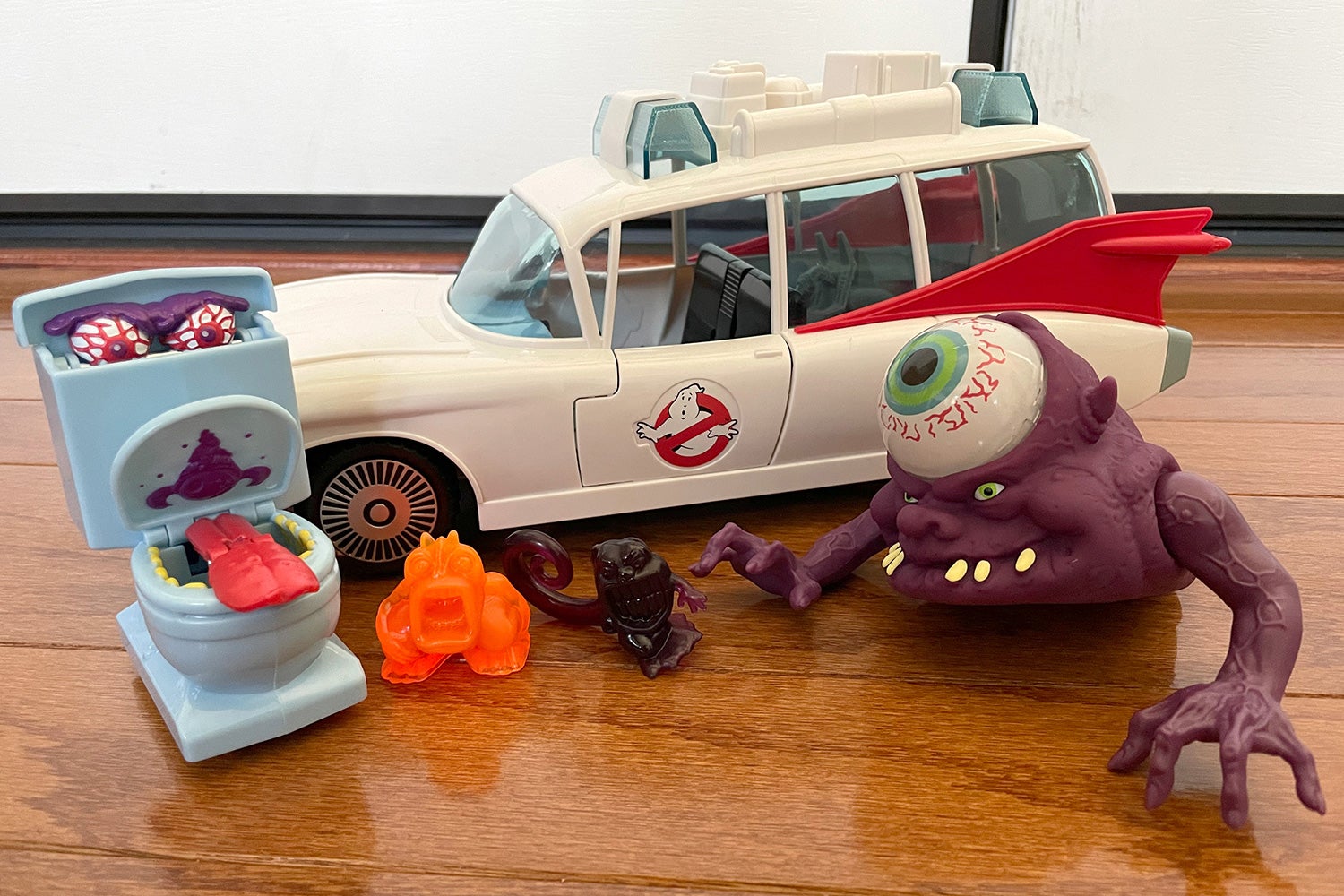 Obviously, if you're a Ghostbuster fan and collector, these retro-classic toys are already on your list. But everyone else, these are great throwback toys that serve as a great update to your collection or if you're like me, a new addition. The ghosts and Ecto-1 can be found at most Walmart stores and also online at walmart.com. The ghosts retail for around $15 and the Ecto-1 around $40. Not a bad deal for a trip down memory lane.
Jeff Saylor
Artist, writer, gamer and all around pop culture nerd.
Leave a Reply Cancel reply
© 2023 VerticalScope Inc. All rights reserved.
Theme by Anders Norén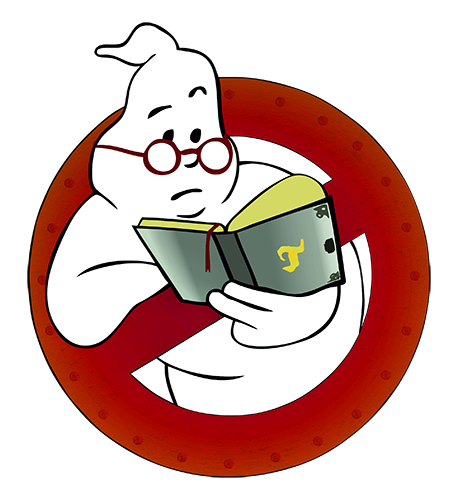 GB:2020 Classic Merchandise
RGB Merchandise
Classic Hero Figure: Egon Spengler
Classic Hero Figure: Egon Spengler an action figure which is part of Kenners The Real Ghostbusters Toy Line 's (Classic) Hero set. Based off The Real Ghostbusters animated series Egon Spengler . The toy went through three print runs in 1986/87, as well as a planned reissue in 2020 by Hasbro.
The Classic Heroes group also included Peter , Ray , and Winston .
1 Toy Descriptions
2 Front of Card Instruction
3 Promotional Description
4 Back of Card Instruction
5 Walmart Website 2020 Reissue
6 Variation Information
7 Mold Reused
9.1 Products
Toy Descriptions [ ]
Egon Spengler with Neutrona Blaster and Proton Pack (also has an red proton beam) and Gulper Ghost
Front of Card Instruction [ ]
Action Zapping Ray with Neutrona Blaster and Proton Pack Accessories
Promotional Description [ ]
The absent-minded electronic genius who is responsible for the group's zany ghost-chasing equipment.
Back of Card Instruction [ ]
1. Neutrona Blaster snaps on to side of Proton Pack for storage. 2. A. Press peg on Proton Pack into hole in body of action figure. (NOTE: back pack must be in upright position as shown.)     B. Slide Neutrona Blaster onto right arm as shown. 3. Twist handle on Neutrona Blaster for action zapping ray.
Walmart Website 2020 Reissue [ ]
Information gathered from Walmart-"Ghostbusters Kenner Classics Egon Spengler and Gulper Ghost" .
Walmart # 577315310
Arrives by Wed, Jun 3 (2020)
About This Item:
CLASSIC KENNER DESIGN: Created to replicate the original Kenner action figures of the 1980s, Kenner Classics brings old favorites back to shelves everywhere
EGON SPENGLER, THE BLONDE VERSION: As seen on the cartoon The Real Ghostbusters, with character design influenced by the figures from the 80s
DON'T CROSS THE STREAMS: Since 1984, Ghostbusters has brought spooky adventures and ghostbusting action to fans and collectors of all ages
INCLUDES GHOST AND GHOSTBUSTING ACCESSORIES: Comes with a Gulper Ghost toy, Proton pack, and Nutrona blaster accessories
When ghosts haunt the streets of New York, the Ghostbusters team up to stop them. Egon Spengler is the absent-minded electronic genius who is responsible for the group's zany ghost-chasing equipment. For those who want to relieve the glory days of Saturday morning cartoons and ghostly green juice boxes or introduce a new generation of fans to the Ghostbusters, Hasbro has you covered with Kenner Classics Ghostbusters figures. Featuring design intended to replicate the original action figures from the 1980s, along with the classic accessories and package art. Kenner Classics from Hasbro are a great addition to any collector's shelf or fan's playtime.
Includes: figure and 3 accessories
Figure scale: 5 inches
Variation Information [ ]
Second pressing (Proton packs had the hose to the proton gun connected to the bumper of the pack. The description text of the toy is white on the front, and the back card is a second wave design.)
Third pressing (Proton packs had the hose to the proton gun connected to the bumper of the pack. The description text of the toy is yellow on the front, and the back card is a second wave design.)
Canada Line: Based design based on American first pressing.
Brazilian Line: Standard version
Argentina Line: See "Classic Heroes Variations" on Jocsa article.
UK Line: Proton packs had the hose to the proton gun connected to the bumper of the pack. This is standard in all lines in UK Lineage.
Standard bilingual version
German Line: Standard version.
Mold Reused [ ]
The mold for this figure was later reused again for other lineup including the following:
Power Pack Heroes
Slimed Heroes (including proton packs)
ECTO-Glow Heroes (including proton packs)
Backpack Heroes
All six wave one toys saw a Diamond Select take on them including Egon .
The Gulper Ghost appears on the Second Printing cover of Ghostbusters Issue #2 .
On Cover RI of Ghostbusters Issue #15 , Gulper Ghost makes non-canon cameo.
On the subscription cover of Ghostbusters Volume 2 Issue #18 , Gulper Ghost makes a non-canon cameo.
On page 17 of Ghostbusters International #1 , in the observation tank is the Gulper Ghost from the Kenner Classic Hero Figure: Egon Spengler action figure.
In Ghostbusters International #3 , on page 19, in panel 3, still in the containment tank is the Gulper Ghost based on the figure in the Kenner Egon classic hero action figure.
On page 35 of Ghostbusters Annual 2018 , in panel 3, is a ghost based on the Gulper Ghost .
On page 36 of Annual 2018, in panel 1, on the left is the Gulper Ghost again.
Gallery [ ]
Products [ ].

We will keep fighting for all libraries - stand with us!
Internet Archive Audio
This Just In
Grateful Dead
Old Time Radio
78 RPMs and Cylinder Recordings
Audio Books & Poetry
Computers, Technology and Science
Music, Arts & Culture
News & Public Affairs
Spirituality & Religion
Radio News Archive
Flickr Commons
Occupy Wall Street Flickr
NASA Images
Solar System Collection
Ames Research Center
All Software
Old School Emulation
MS-DOS Games
Historical Software
Classic PC Games
Software Library
Kodi Archive and Support File
Vintage Software
CD-ROM Software
CD-ROM Software Library
Software Sites
Tucows Software Library
Shareware CD-ROMs
Software Capsules Compilation
CD-ROM Images
ZX Spectrum
DOOM Level CD
Smithsonian Libraries
FEDLINK (US)
Lincoln Collection
American Libraries
Canadian Libraries
Universal Library
Project Gutenberg
Children's Library
Biodiversity Heritage Library
Books by Language
Additional Collections
Prelinger Archives
Democracy Now!
Occupy Wall Street
TV NSA Clip Library
Animation & Cartoons
Arts & Music
Computers & Technology
Cultural & Academic Films
Ephemeral Films
Sports Videos
Videogame Videos
Youth Media
Search the history of over 835 billion web pages on the Internet.
Mobile Apps
Wayback Machine (iOS)
Wayback Machine (Android)
Browser Extensions
Archive-it subscription.
Explore the Collections
Build Collections
Save Page Now
Capture a web page as it appears now for use as a trusted citation in the future.
Please enter a valid web address
Donate Donate icon An illustration of a heart shape
The Real Ghostbusters toys at ASDA Advert (1988)
Item preview.
Share or Embed This Item
Flag this item for.
Graphic Violence
Explicit Sexual Content
Hate Speech
Misinformation/Disinformation
Marketing/Phishing/Advertising
Misleading/Inaccurate/Missing Metadata
plus-circle Add Review comment Reviews
1,165 Views
7 Favorites
DOWNLOAD OPTIONS
In collections.
Uploaded by sound.and.vision on February 7, 2021
SIMILAR ITEMS (based on metadata)
The Vintage Toy Advertiser
Showcasing 20th century print advertising and pop culture curiosities. specialities: toys, fashion, comics, movies, vinyl records and art. one of the most comprehensive archives you'll find on the net. established 2011., category archives: ghostbusters/the real ghostbusters, i ain't 'fraid of no ghost.
Ghostbusters and The Real Ghostbusters – Columbia Pictures. TVTA presents a number of product advertisements from comics, catalogues and magazines, plus other Ghostbusters related items.
For Filmation's The Ghost Busters and Filmation's Ghostbusters see here
US. Tales of the Teen Titans. 1985.
France. Pif Gadget. 1988.
UK. The Flintstones and Friends. 1988
Ghostbusters II Activity Book 1988 US.
The Real Ghostbusters in pack catalogue. Details.
Ecto 1. Wootbox exclusive. 2018.
In other Ghostbusters news…
Ecto-Plasma Saber. For Tyeth Editions. 2018.
Thanks for Stabilizing with us 🙂
Click to share on Twitter (Opens in new window)
Click to share on Pinterest (Opens in new window)
Click to share on Facebook (Opens in new window)
Click to share on LinkedIn (Opens in new window)
Click to share on WhatsApp (Opens in new window)
Click to email a link to a friend (Opens in new window)
Ecto-Plasma Saber – Inspired by the 1984 movie Ghostbusters
This gallery contains 9 photos .
Originally posted on FTSabersite : Helloooooo Everybodies!!!!!!!! It is getting near to that time of the year where the Ghouls and Ghosts, Spectres and Spooks all come out to play. And to help protect you all I have joined forces with…
Already have a WordPress.com account? Log in now.
Follow Following
Report this content
View site in Reader
Manage subscriptions
Collapse this bar
Did You Own It: Kenner's Real Ghostbusters Firehouse Playset
Share this:.
When it comes to classic toys from the 1980s, we know who we're gonna call.
That would be Kenner and its The Real Ghostbusters Firehouse Playset , that's who.
Released at the end of 1986, the playset was the centerpiece of Kenner's The Real Ghostbusters collection and one their most coveted toys through 1991.
The playset was based on both the movie and animated television series, stood 20 inches tall, and featured two walls and three levels.
The Ecto-1 could fit in the garage, while Egon , Ray , Venkman and Winston could access any floor via the automated firepole.
Its movable Ghost Trap could easily transfer a ghost into the Containment Unit with a simple slide.
But the best feature were the grates that aligned from each floor, starting from the roof.
That's where you poured the slime and watched it slowly make its way down the entire playset, coating anything in its path.
Which was not easy to clean…at all. But oh so satisfying to watch.
So we want to know, did you own it? Kudos to you if you did or still do. Even bigger kudos if yours still has the Ghostbusters Flag out front.
Tell us in the comments below!
Give it a look here via Pixel Dan –
Did You Own It?
My brother owned it, and as far as we know it is still at our parent's house.
When we played with our toys, this ended up being used for more characters than just Ghostbusters, our playing was a cross franchise style of play, all were included: 80s Batman, Robocop, Ninja Turtles and of course the Ghostbusters themselves.
Nothing was better than when action figures crossed franchises and play sets during play time, haha. Thanks for sharing.
Do all of these!
Why not subscribe?
Enter your email address if you like to receive notifications of new posts by email.
Email Address
Paid Content
hobbyDB is a participant in Amazon , eBay , Entertainment Earth , LEGO , and other affiliate advertising programs designed to provide a means for sites to earn advertising fees by advertising and linking to other websites.
We also occasionally accept consideration from Brands, Service Providers, or Retailers (which is then clearly marked as Sponsored Content ) all editorial opinions are our own.

Tag Archives: The Real Ghostbusters
Kenner's the real ghostbusters and rat fink mashup sculpture.
How cool is this?  If you're a fan of Kenner's The Real Ghostbusters toy line from the 1980's and the Rat Fink toy line from 1990, here is a mashup that will leave you begging for more.  Artist Paul E. … Continue reading →
Kenner The Real Ghostbusters ECTO-1A Box Original Artwork
This is the original artwork for the main box image on Kenner's The Real Ghostbusters ECTO-1A vehicle.  The art is a combination of air brushing, hand brush work, and marker.  The overall dimensions for the piece are 22″ wide x … Continue reading →
Ectocontainment.com Looking for Kenner The Real Ghostbusters Instructions
If you are a Kenner Ghostbusters fan, you need to head on over to Ectocontainment.com and see what they are up to.  Richard Roy (aka Spengs) is working on gathering all of the instruction sheets that were included in the … Continue reading →
A Look Back at Kenner's Toy Building History in Cincinnati
Cincinnati.com has posted a great slide show reminiscing about Kenner's toy building history in Cincinnati.  There are some amazing behind the scenes photos of toy production and testing.  Highly recommend checking it out here! Image property of Cincinnati.com.
The Real Ghostbusters Unproduced Egon's Lab Playset
It doesn't get much better than this for fans of Kenner's The Real Ghostbusters toy line.  Josh Blake, a Ghostbuster collector and friend of the site, recently acquired an unproduced Egon's Lab playset!  He has posted the details over on … Continue reading →
Kenner's The Real Ghostbusters Prototypes And Documents
Reader and fellow Kenner collector Josh Blake contacted us with some really neat The Real Ghostbusters items he wanted to share.  He sent in pictures of an unpainted first shot, a hand painted first shot, and some original sculpt pieces. … Continue reading →
Bionic Woman
Easy-Bake Oven
General Mills
Give-A-Show
Gooney Bird
Kenner Products
Littlest Pet Shop
Shelf Talker
Six Million Dollar Man
Starting Lineup
Store Display
Strawberry Shortcake
Stretch Armstrong
Super Powers
The Real Ghostbusters
tv commercial
Recent Comments
Teresa Goodman on Kenner Starting Lineup Store Display Find
Tank on About Us
Bill Wills on Toy Lines
Bill Wills on Kenner's Rex The Tyrannosaurus Toy
February 2017
January 2017
November 2016
October 2016
September 2016
February 2016
January 2016
December 2015
November 2015
October 2015
September 2015
August 2015
February 2015
January 2015
December 2014
November 2014
October 2014
September 2014
August 2014
February 2014
January 2014
December 2013
November 2013
October 2013
September 2013
August 2013
February 2013
January 2013
December 2012
November 2012
October 2012
September 2012
August 2012
February 2012
January 2012
December 2011
November 2011
October 2011
September 2011
August 2011
February 2011
January 2011
October 2010
THE ART OF THE REAL GHOSTBUSTERS
Promotional Artwork
Character Concepts
Model Sheets
Storyboards
Production Art & Cels
Ghosts & Monsters
Backgrounds
Action Figures
Control Drawings
Packaging Art
Proof Cards
3D Prototypes
Photography
Commercial Storyboards
Marvel & NOW
Marvel Covers
Marvel Pages
Story books
Food Packaging
Martin Griffiths
Jim O'Brien
Tony O'Donnell
Steve Smallwood
Brian Williamson
John Marshall
Phil Elliott
Andy Lanning
Richard Maurizio

Welcome to The Art of The Real Ghostbusters! A website dedicated to showcasing original pre-production art and design work for the animated series, toy line, comics and much more!
In September of 1986, over 30 years ago…" The Real Ghostbusters " cartoon first aired in America on the ABC network. The rest, as they say, is history.
The show was an instant hit and it's incredible success generated a huge demand for Real Ghostbusters merchandise.
Within months of the original air date, young Ghostbusters fans around the world were treated to a wonderfully designed line of toys produced by Kenner, comic books published by both Marvel in the UK and NOW comics in America and a whole host of story books, novels, stationery sets, posters, lunch boxes and other items.
Throughout this site you'll be able to view original artwork created for some of those products and read exclusive interviews with the artists & designers behind them.
Enjoy a rare look at previously unseen toy concept art and 3D prototypes, animation cels used in the production of the hit TV show through to original comic book art, covers and illustrations.
If it's original Real Ghostbusters art you are looking for, you'll find it here!
Do you have any original RGB artwork that might be of interest? Then please get in contact! Contact email: [email protected]
I'm always looking to add items to my personal collection, especially Kenner toy related 2D/3D pre-production items and NOW/Marvel comic book art.
Click HERE to follow me on Instagram!
October 2016
Uncategorized
Copyright © 2023, THE ART OF THE REAL GHOSTBUSTERS. Proudly powered by WordPress . Blackoot design by Iceable Themes .
5 Kenner Real Ghostbusters toys Hasbro NEEDS to bring back!
With Hasbro's newest wave of Real Ghostbusters Kenner Classics figures now hitting store shelves , we thought there was no better time than now to make up a wish list of more memorable toys that we feel should be brought back!
Be sure to give today's article a read, and if you'd like to give your input, let us know via the Ghostbusters News Facebook page .
#5 – Fright Features
Following the central four Ghostbusters figures, Ray Stantz, Peter Venkman, Egon Spengler, and Winston Zeddemore, the boys were brought back with a pretty big twist! Gone were the colored flight suits fans had come to know and love from the popular animated series. Instead, these new figures received new uniforms, all unique, and a new action feature that would reveal each Busters "Fright Feature."
Wait. A Fright Feature ? I mean, I know "I ain't afraid of no ghosts" is a double negative, but showcasing a Ghostbuster being frightened seems a bit backward, no?
Another interesting design choice was ditching the well-known blue proton packs that the first wave included. Instead, each figure came complete with a unique weapon that would strap onto their arm, interacting perfectly with a pack-in ghost.
The wave is also noteworthy as it brings us our very first Janine Melnitz figure. An odd tidbit to that figure is while the Fright Features figures were part of the third wave, Fright Features Janine came out a little later, making her part of the fourth wave.
The unique design, paired with the over-the-top, fun, action features, proved to be a hit for Kenner, making these some of the most easily recognizable figures you'd find in any toy box during the 1980s.
#4 – Ecto-Plazm
Real Ghostbusters Ecto-Plazm was released as part of the second wave to go along with the Gooper Ghosts. The Gooper Ghosts were a line of figures that play features centered around the slime, either oozing or bubbling out of them.
Originally released in just purple, the third wave of Real Ghostbusters would see the Ecto-Plazm line grow, adding red and yellow color variants.
Each 5 oz can of Ecto-Plazm also included a small mystery ghost that perfectly fit in with the line, with the majority of these sky rocketing in price over the years on the second-hand market.
Now for us, the most memorable aspect of Real Ghostbusters Ecto-Plazm was the smell! There's never been another container of slime that has been able to replicate that unique, pleasant odor that has seemed to have burned deep within my nostrils.
With Ghostbusters: Afterlife set to his theaters this November, it's already been confirmed that officially licensed slime is on the way , but I'd like to ask Hasbro to add Ecto-Plazm to their Kenner Classics collection!
#3 – Proton Pack
After watching the original Ghostbusters film, there's one thing children of the 1980s wanted more than anything, and that was their very own Proton Pack! As part of Kenner's Real Ghostbusters third wave, fans finally got their hands on their very own (un)licensed nuclear accelerator!
Cast in blue plastic, this hollow rendition of the Proton Pack was not at all screen accurate to what we saw in the film or even the animated series, instead of appearing more like what fans would later see in the Real Ghostbusters promo pilot .
Kenner's Proton Pack included not only the pack itself but also a Neutrona Blaster that featured loud, garbled noises that gave parents headaches for days on end. Also included inside the box was a PKE Meter, no-ghost logo armband, ID card, and a long piece of foam that would act as the proton stream.
While I'm sure we all have fond memories of this toy, this is likely the one item on the list that is least likely to see a rerelease. Why? Well, initially revealed a few years back, Hasbro is preparing some VERY SIMILAR-looking items as part of their upcoming Ghostbusters: Afterlife line. Still, Hasbro, if you release both, fans will buy both. You have our word on it!
#2 – Ecto-Glow Heroes
Released as part of Kenner's Real Ghostbusters tenth wave, this would turn out to be the final line for the original toyline.
The figures featured the same body molds from the first wave of figures that were also reused in earlier series; Screaming Heroes and Powerpack Heroes. Louis Tully was also included in this wave, who was first seen as part of Powerpack Heroes. To help give these figures a refresher, each Ghostbuster was cast in a glow-in-the-dark plastic body. They also came packed in with glow-in-the-dark proton packs with unique proton streams, ghosts, and masks.
Given that the Ecto-Glow Heroes turned out to be Kenner's final wave of Real Ghostbusters figures, they received a limited release that has made the toys a holy grail piece to many collectors.
Last year, I finally took the plunge on these figures. Be sure to check out that video below:
Considering carded figures are selling on eBay at prices many collectors can't just justify, we feel that Hasbro adding these into their Kenner Classics line would make a lot of sense. There would undoubtedly be demand within the fan community, and for us that already have the figures mint on card, it would give us an easy option to finally unbox these figures and not feel guilty about it.
#1 – Fire House Headquarters
When you stop and think about Kenner's Real Ghostbusters toyline, outside of the main four Ghostbusters and the Ecto-1, there's likely nothing more iconic than the Fire House Headquarters!
The three-floored rendition of the Real Ghostbusters Firehouse gave fans plenty of room to play with their figures. It included a "Ghost Pursuit Fire Pole," "Goop Grates" on the roof that you can poor Ecto-Plazm into (5 oz can included), and even a "Containment Unit" complete with a trap.
Was it perfect? No. The Ecto-1 barely fit inside the Firehouse, especially if you connected the roof swivel chair. There was also no basement, so the Containment Unit either had to rest on the first floor, roof or outside. There was also a lack of stairs of ladders, making an adult Ghostbusters fan question exactly how Ray, Peter, Winston, Egon, and Janine made their way to the higher floors.
Despite its faults, for us, this is THE item that Hasbro should bring back as part of their Real Ghostbusters Kenner Classics line! The fact their rendition of the Ecto-1 is about to hit store shelves without a Firehouse to call home is almost criminal.
Knowing that Mattel recently released a Castle Greyskull that is very similar to what fans remember from the 1980s, and with Hasbro already giving us the Ghost Popper and the upcoming Ecto-1, it gives us hope that we may eventually see the Real Ghostbusters Fire House Headquarters return to store shelves!
If you missed our look at Hasbro's new Real Ghostbusters Kenner Classics line, watch below:
REVIEW: New Ghostbusters Slimer mask and Terror Dog Jawesome hat | HALLOWEEN COUNTDOWN
Alamo Drafthouse to screen preview cut of original Ghostbusters
First look at Ghostbusters: Rise of the Ghost Lord DLC reveals 'Gold Rush' Proton Pack
NOW STREAMING: The Real Ghostbusters episode 'Busters In Toyland'
Extraplasm Podcast kicks off the Halloween season with artist John Yurcaba
Ghostbusters DVD collection receives a limited-time Halloween makeover
Jason Fitzsimmons
First in-hand look at Heroes of Goo Jit Zu's Ghostbusters Squishy Stay Puft toy
Early hands-on impressions of Ghostbusters: Rise of the Ghost Lord are here
Grand Theft Auto Online's 'Ghostbusters' event is live, letting players cruise around in a would-be Ecto-1
Ghostbusters: Afterlife's chase scene gets recreated as an interactive experience
Upcoming Fort Wayne Komets game announced as 'Ghostbusters Night'
Ghostbusters: Afterlife artist introduces fans to the Ecto-1X in new art series
Horror FX legend Steve Johnson is offering a limited run of light-up Ghostbusters Slimer statues
Episode 50 of Extraplasm Podcast is live with guest Craig Goldberg of Yes Have Some Podcast
Ghostbusters: Spirits Unleashed Ecto Edition comes to Nintendo Switch next month, pre-orders launch for glow-in-the-dark physical release
Proton Charging founder Chris Stewart joins this week's Halloween-fueled episode of Extraplasm Podcast
Follow ghostbusters news.
Disclaimer: This website receives compensation through the use of third-party affiliate links. "Ghostbusters" and "Ghost-Design" are registered Trademarks of Columbia Pictures Ghost Corps (Sony Pictures)
Collectibles and Vintage Toys
Shopping Cart
Chris Ingeldue, the Vintage Toy Expert
Contact Wheeljack's Lab
Media Relations
Vintage Toys Name and Identification Tool
Sell Vintage Prototype Toys
The Wheeljack's Lab Blog
Toy Fair Catalog Scans
'Vera and the Pleasure of Others,' Steamy Tale of Teenage Sex and Voyeurism, Debuts Trailer (EXCLUSIVE)
By Leo Barraclough
Leo Barraclough
International Features Editor
Canal+ Chief Maxime Saada on Why the Pay TV Pioneer Owes So Much to Netflix: 'They Showed Us the Way' 4 hours ago
Season 2 of Tropical Noir 'Troppo,' Starring Thomas Jane, Nicole Chamoun, Wraps in Australia, Leonine Selling at Mipcom 18 hours ago
'The Long Shadow,' About Serial Killer Peter Sutcliffe, Sells to Sundance Now in U.S., Buyers Worldwide 18 hours ago
Sales agent M-Appeal has released the trailer for coming-of-age title "Vera and the Pleasure of Others," which was written and directed by the Argentinian duo Romina Tamburello and Federico Actis. The film will have its world premiere at Black Nights Film Festival in Tallinn, Estonia, in the First Feature Competition, it was announced Friday.
"Vera and the Pleasure of Others" follows 17-year-old Vera (played by Luciana Grasso), who divides her days between volleyball, school and a secret hobby: she rents out an empty apartment to teenagers looking for a place to have sex.
"Vera and the Pleasure of Others" was presented at Ventana Sur's Primer Corte – Films in Progress in 2022.
The film was produced by Santiago King of Argentina's Pez Cine, with support from INCAA.
The cinematographer was Lucas Pérez, the editor was Danalí Riquelme, and the composer was Pablo Crespo.
The film is the debut feature from Tamburello and Actis.
Tamburello is the author of the plays "Black Eyed Women" and "Jet Lag." She is a scriptwriter for the fiction series "Round" and the director of the short film "Rage," which participated in the Short Film Corner at the Cannes Film Festival. She wrote and directed the documentary series "Catalina, the Woman with the Flag" for Encuentro Channel. She recently published her first novel, "The Devil's Widow," and is a showrunner for its television adaptation.
Actis directed the fiction short film "The Cable Cars" and the documentary feature "The Architecture of Crime." He has worked as a scriptwriter for the cultural television channels Santa Fe Signal and Encuentro. He is currently developing his next feature film, "The Men of the Plain." He is an alumnus of Berlinale Talents.
More From Our Brands
Stream live tv channels for $20 with sling's new half-price plan, the ritz-carlton is opening its first standalone residences in texas, miami marlins and gm kim ng part ways after team makes playoffs, the best fitness sales to shop during amazon's prime big deal days event, chrishell stause and diora baird are told you're not supposed to be here in lgbtq+ thriller trailer, verify it's you, please log in.