Thorpe Park's New Ghost Train is a Cute, If Underwhelming, VR Ride
Share to Twitter
Share to Reddit
Share to Facebook
Share on WhatsApp
It hasn't taken amusement parks long to catch on to the potential of VR roller coasters and rides. The UK's Alton Towers has its own VR coaster while Six Flags is rebranding its Superman rides across the globe with VR headsets and others have added virtual sci-fi and fantasy experiences to long-running attractions. It's a cheap and easy way to dress up something old in something new and draw in crowds by offering them the chance to experience a technology they've been hearing so much about but probably don't want to spend untold hundreds experiencing.
The UK's Thorpe Park, however, hasn't dressed anything up for its VR attraction; it's built something brand new.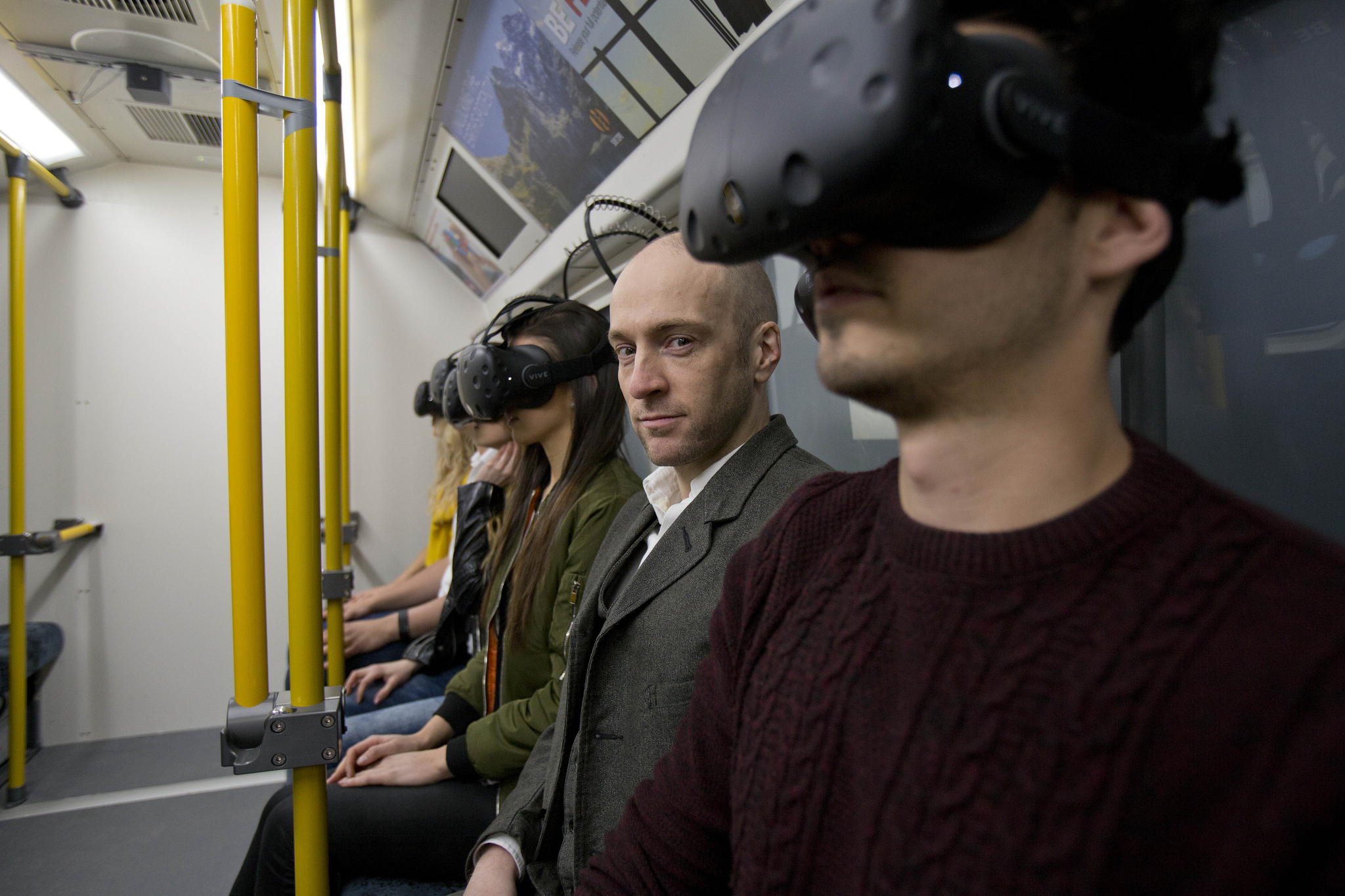 That would be Derren Brown's Ghost Train , a thirteen minute experience that's officially endorsed by the popular British illusionist. The park has suspended a London tube car, partly rebuilt as a Victorian-era carriage, in mid-air, housing 53 riders that will slip on an HTC Vive each. What follows is a cute, if underwhelming, VR experience that left something to be desired given the talent involved.
The Ghost Train spends a lot of time building atmosphere as you queue for the ride. Park staff will get you to press your face against glass to take a gruesome photo, a series of flashing lights will pretend to give you an eye scan, and then actors will do their best to get you in the mood with hyperbolic warnings always underlined with the statement that, whatever happens, you'll be safe. I'll admit to needing that reassurance somewhat; I don't cope well with horror of any kind, let alone in VR, and I'm sure many in the queue were the same.
After a group of passengers have been gathered you're led inside to hear some words from Brown himself. He appears, projected onto a glass wall, giving an admirable monologue on the nature of fear, doing his best to get you nervous. What he doesn't do is really tell you what's about to happen.
And so you're led onto the train and packed together, a bunch of Vives ready to be put on. It's a surreal experience to pull on a VR headset and find yourself in pretty much the same environment, albeit with everyone else around you suddenly vanishing.
Now, Mr. Brown requested that I keep much of the ride a secret for those that have yet to try it, and I think it's only fair that I do my best to adhere to that request. With that said, I don't feel that's a very hard rule to stick to when much of the ride is relatively uneventful and scare-free. The VR portion is split into two sections, the first of which simply has you sitting on a dark tube train with pre-recorded, live-action characters talking to you.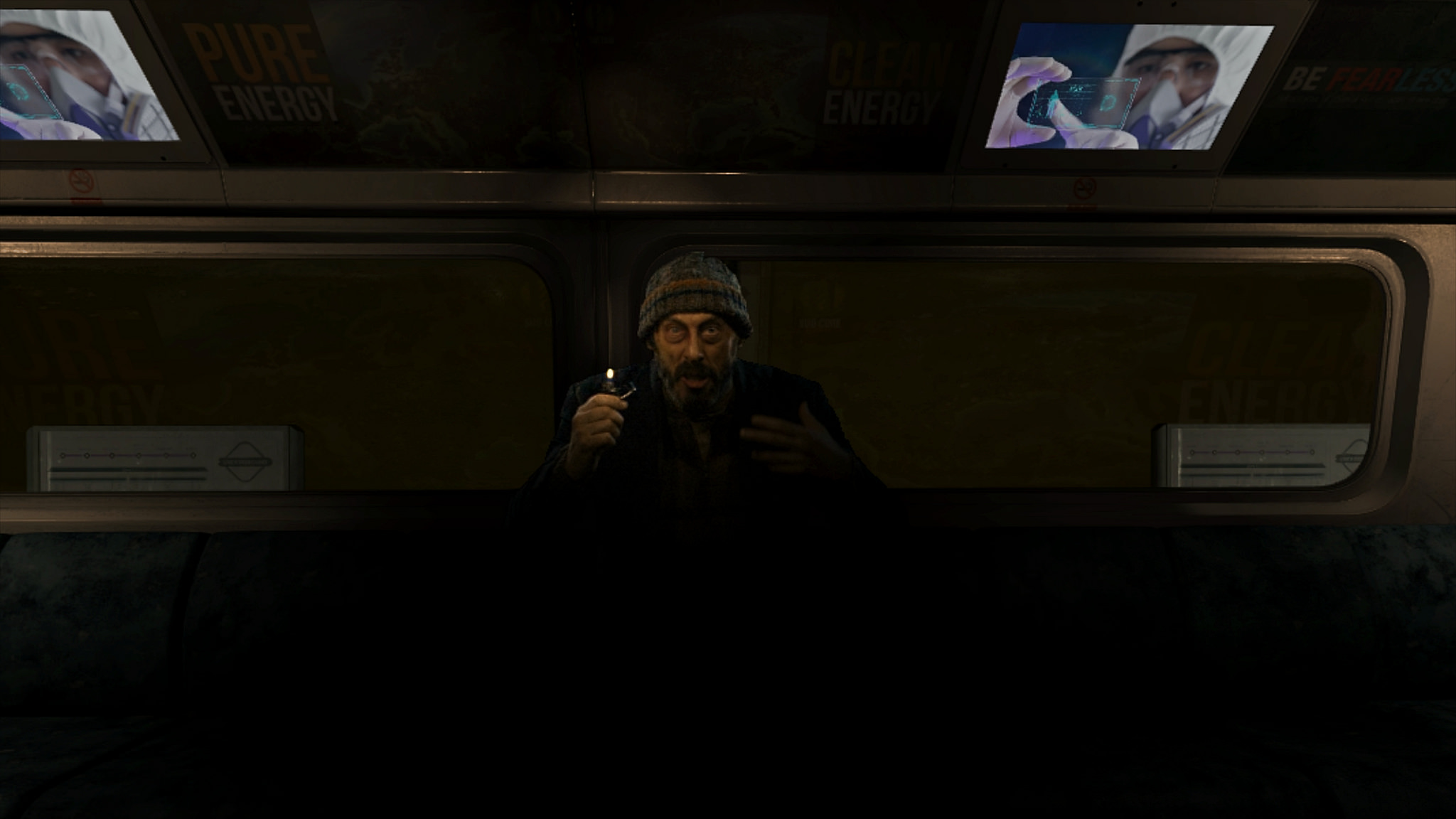 What's most impressive here is how the physical carriage tilts and sways as you move, which realistically replicates a real tube journey (this is coming from someone that practically lives in London). All of the various knocks and bangs you'll see within the headset are also solidly replicated in the real world, providing a welcome layer of unpredictability.
The live-action characters, however, don't gel well with the virtual environment, and feel rather flimsy. Even the CG elements were visually basic, sadly resembling the sort of cobbled together branded VR experience we've seen hashed out time and again over the past few years. For experiences that are meant to come and go as they advertise a product, that's forgivable. For a permanent fixture at one of the UK's top attractions? I expected better.
Granted this is coming from someone with plenty of VR experience and other passenger's shrieked right the way through, but there's an air of pantomime about the entire production that kept me from ever becoming truly immersed in it. Of course you can't make this too scary, but when you're substituting something grabbing you in the virtual world with staff you've already met quickly darting up and down the carriage and quickly snapping at your ankles with their hands, you end up laughing more than screaming. It comes off as rather lame, to be blunt.
The second portion of the experience, in which things get a little more apocalyptic, is better overall, though still lacking punch. There's a view of a London street to take in, but it looks compressed and doesn't stretch out like it should. You'll also meet some monsters that take swipes at you – the one genuinely engaging sequence I experienced – though, again, their muddy textures make them difficult to really fear.
I was also able to break the experience a couple of times without even trying. When I looked over my shoulder – which isn't ever actually required – I lost tracking for about 5 seconds and the screen stuck in place. I was also randomly transported back to the Vive's home screen at one point before it disappeared once more. I can't really fault the production for the notorious unpredictability of VR tech, though maybe it's a sign that this type of ride could have waited for more dependable hardware.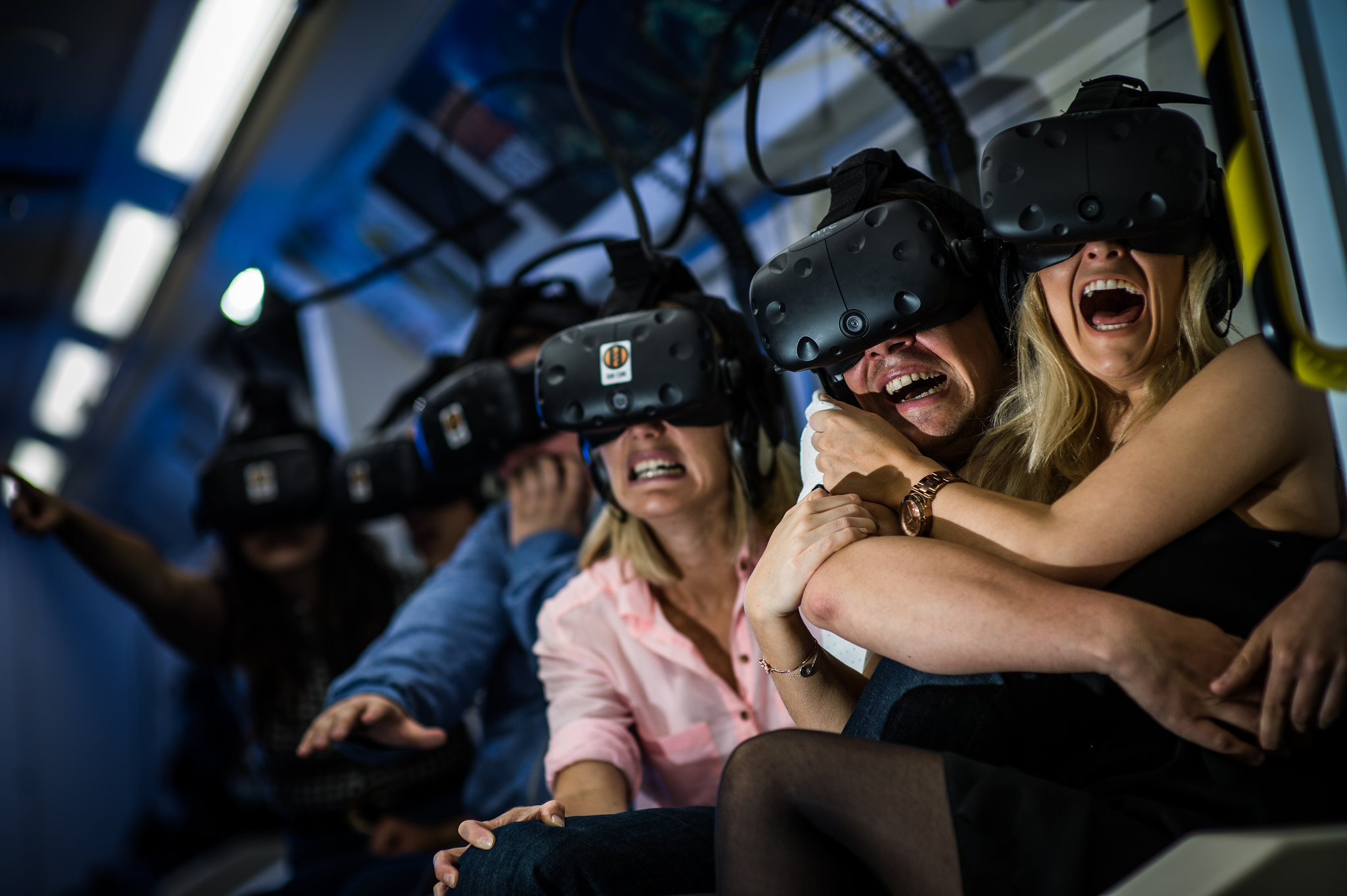 Obviously, you can't make this ride too scary, but I couldn't help but feel disappointed that the Ghost Train hadn't even troubled me, a man that often has to hold his breath, cover his ears and close his eyes when rewatching Aliens . After spending such a long time building up the experience I was left wishing it had made me laugh less and got my heart racing ever so slightly.
At least it did bring that smile to my face, though. There were glimpses of fun within the experience – ironically the best moment takes place in between the two VR segments – which ultimately gave the whole piece an amusing tone. It was cute, for lack of a better term, and it made me smile. That's better than nothing.
The important thing about the Ghost Train , however, is that it can be improved upon pretty easily. If the park were to ramp up the production values of the VR experience and make it a little more convincing – perhaps replace staff touching you with pressurized air jets? – then I could see this being worth the lengthy queue.
As it stands, though, this is one ghost train that's easy to forget.
A Week In Italy: Everything We Saw At Venice Immersive 2023
Weekly newsletter.
Get a weekly summary of the most important VR and AR news.
Check your inbox to confirm! (it might also be in your spam folder)
Hands-On: Empereur Shows Narrative VR's Emotive Potential
Venice immersive 2023: six projects we're looking forward to, uploadvr member takes.
Sign up to get a weekly summary of the most important VR and AR news, straight to your inbox.
More VR Experiences
Meta horizon worlds will receive dedicated ufc zone, latest articles, mythic realms turns your home into a mixed reality fantasy rpg on quest app lab, pavlov shack receives full launch next month on quest, hands-on: assassin's creed nexus promises an impressive vr spin-off, team beef's doom 3 vr mod adds dynamic shadows on quest 3, people are already using quest 3's passthrough in daily life, even outdoors, meta 'didn't want to pay the bill' alleges vr dev suing billionaire over yoga app, hands-on: tin hearts remains an enjoyable take on vr lemmings, breachers targets a psvr 2 release this november, tea is served entertains cryptids in a vr comedy horror, nfl pro era 2 huddles up today on quest & steamvr, chinese analyst: 'quest 3 lite' using fresnel lenses could arrive in h1 2024 at $200-300, cheaper apple vision headset could use iphone chip and lack eyesight external display.
Popular Searches

NEW! GHOST TRAIN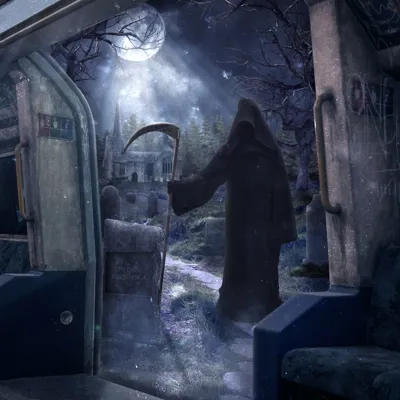 Say your final farewell...
Depart the mortal world on a one-way ticket beyond the veil into darkness on THORPE PARK Resort's newest immersive experience – Ghost Train. But watch your tracks, death is always one stop ahead.​​ ​​
This next generation of Ghost Train will take you on a harrowing journey into the realms beneath THORPE PARK Resort to where the supernatural believers call home. Ghost Train is one of the UK's longest ride experiences featuring live actors and multisensory effects to create a terrifying attraction like no other! ​​
There's nothing virtual about this petrifying experience, so prepare to meet your maker as you come face-to-face with horrors that dwell within.
Do you need a timed ticket? What time does the ride open?
Ghost Train open from 12pm each day. Timed tickets are not required, a live queue time will be displayed at the ride entrance and via our app.
What is the minimum height/age restriction?
Passengers must be a minimum of 1.3m tall to ride. Due to the intense nature of the experience, we advise riders to be aged 13 or over, this is at the rider/parent/guardian's discretion.
Does the ride feature VR?
No, there's nothing virtual about this petrifying experience!
Does the ride feature live actors?
Yes, live actors are featured throughout the experience.
Is this wheelchair accessible?
Wheelchairs may be taken into the ride; however, the user must be able to transfer onto a ride seat and be  able to walk unaided. We are constantly looking at ways to make our rides more accessible and we will  update via our website and app should any changes occur in the future.  ​
Can I buy Fastrack for Ghost Train?
You cannot currently purchase Fastrack for Ghost Train, should this become available in the future we'll update this section and make tickets available to buy. Please note, Island Unlimited Fastrack package does not include Ghost Train.   
Can I use my Ride Access Pass?
Yes, Ghost Train has a dedicated Ride Access Pass entry. You will need to present your ID card alongside your Timecard – this will be marked.  
Advance from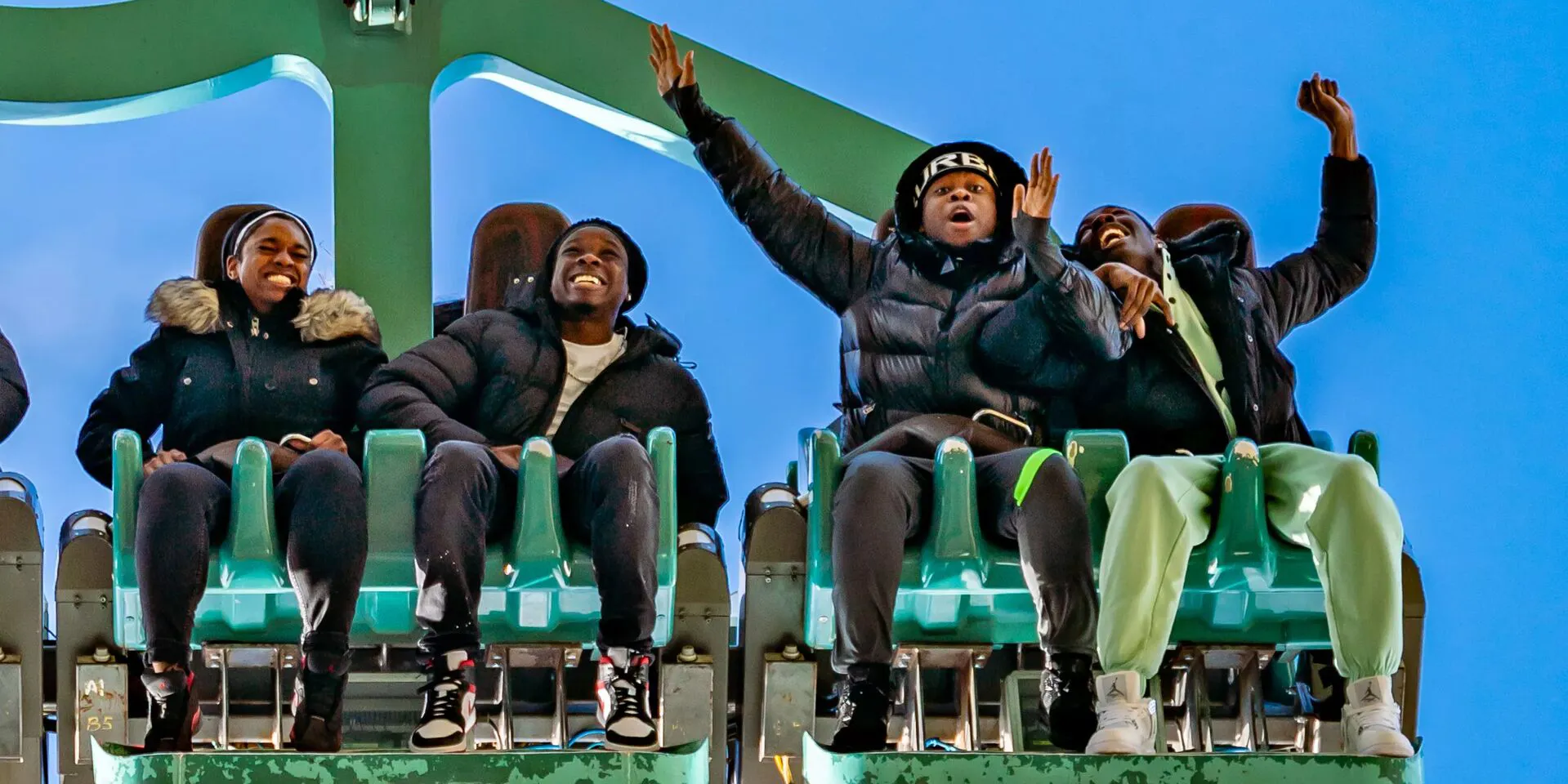 Save up to £31 online
Experience over 30 rides and attractions
Save up to £31pp when you book in advance
Children under 1.2m tall visit free
Island Return Guarantee – get a free return visit
Pre-book to guarantee entry
Access to events on selected dates
Online from
SALE NOW ON!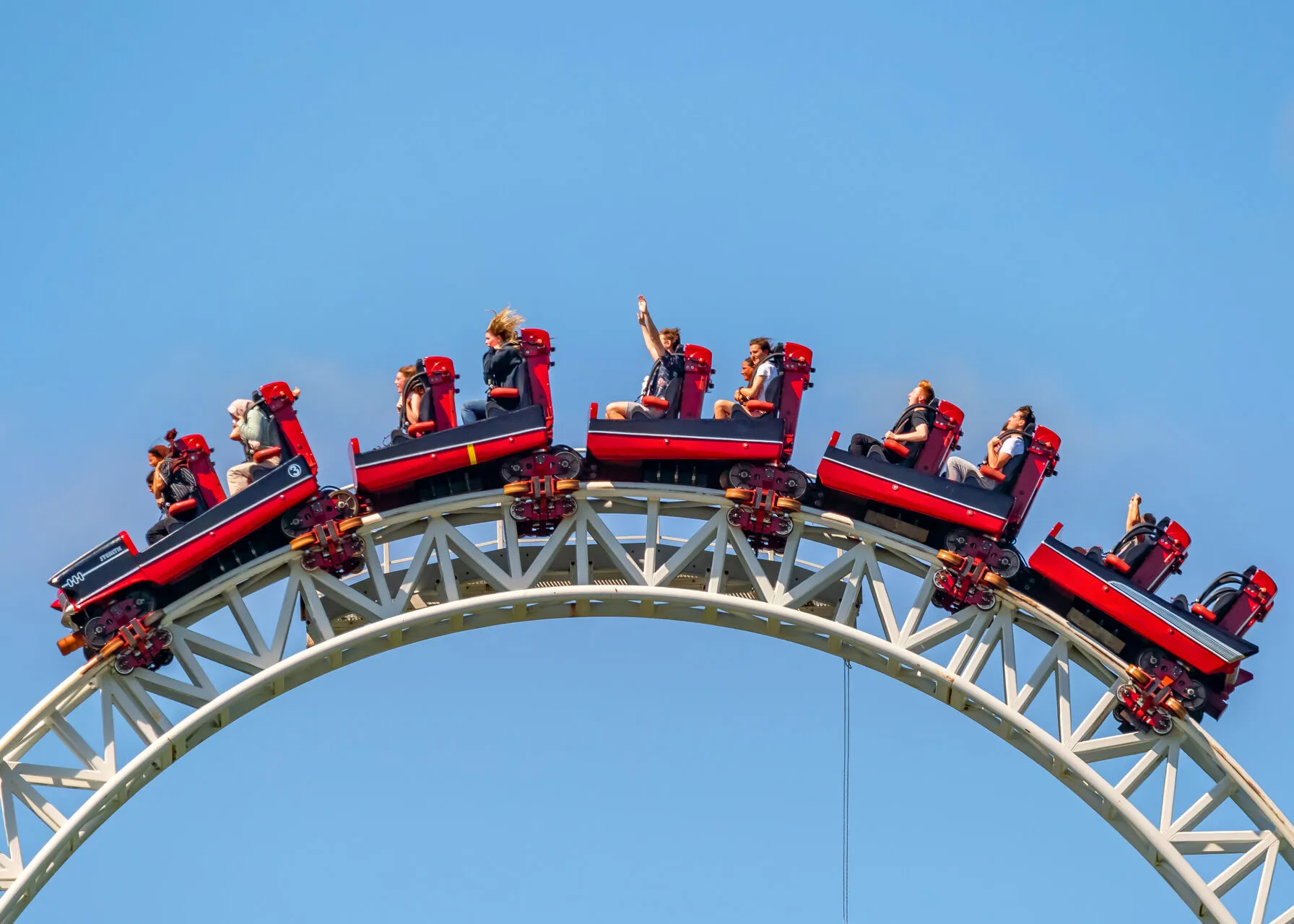 A Year of Thrilling Memories
Exclusion dates apply and vary by pass type chosen, please see Thorpe Annual Pass page for more information.
Fantastic discounts on overnight stays and Exclusive access to special offers and news
Plus extra perks
New Pass From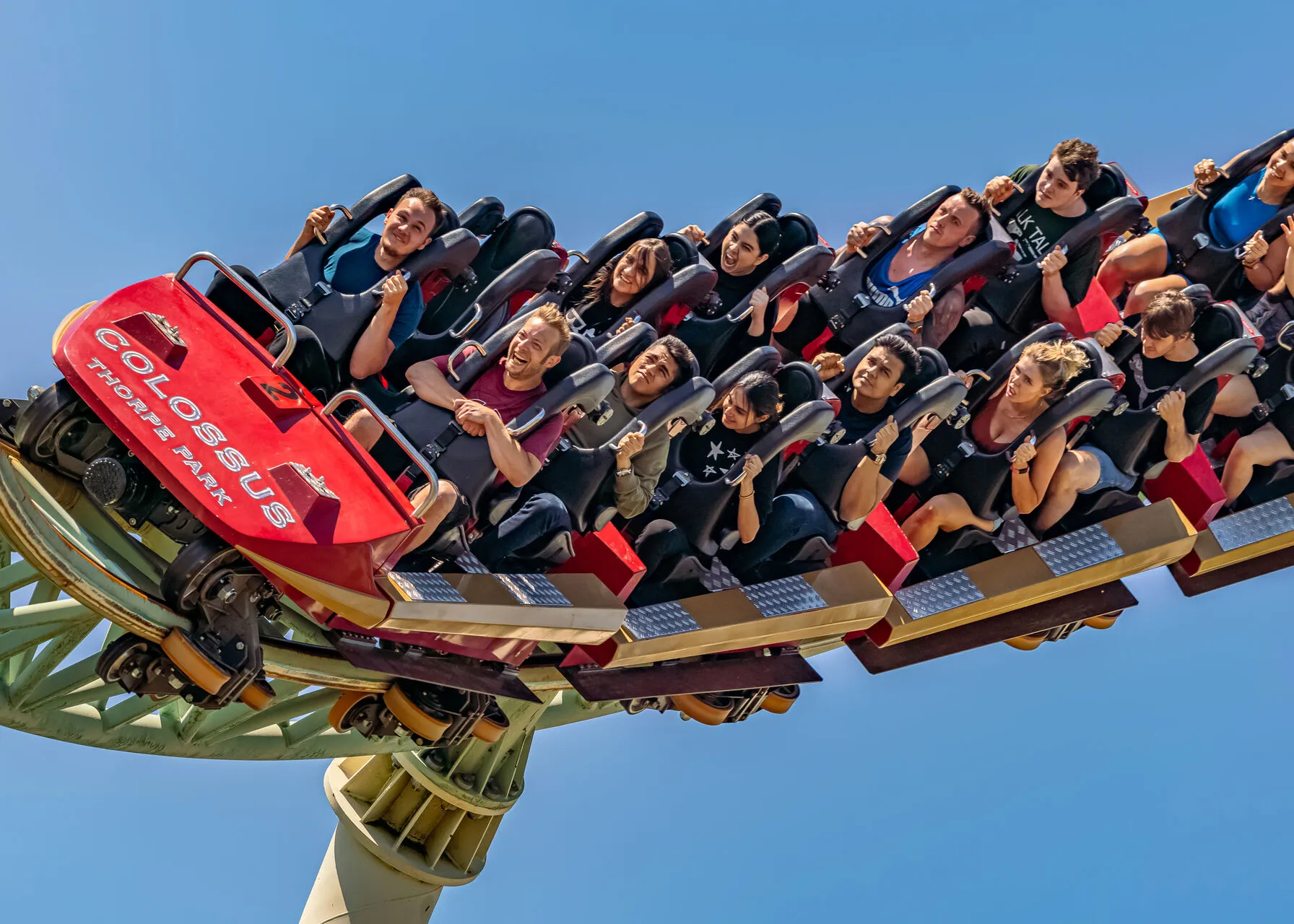 The UK's Best Attractions
Unlock a year's access to the UK's BIGGEST and best attractions
Passes available for every budget
Benefits and perks vary by pass type, please visit the Merlin Annual Pass page for more details.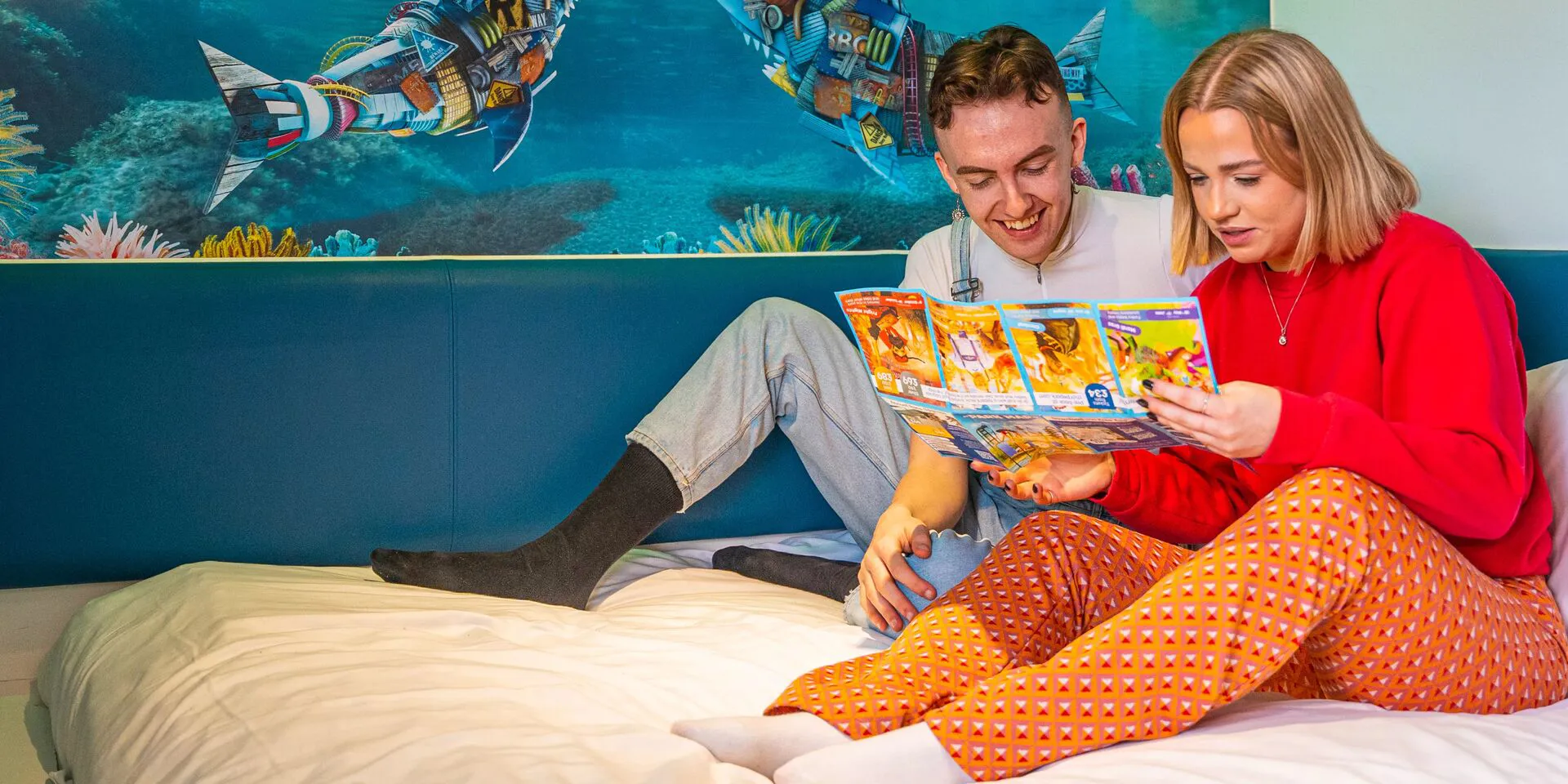 Stay in our on-site hotel
Overnight stay
Two days theme park entry
Fastrack until 11am on 2nd day
Buffet breakfast
Free parking
10% off in our gift shops
Book a short break
BOOK A SHORT BREAK
Park Guides
Queue Times
Hyperia Breaks Into The Thorpe Park Skyline
Frightmove: Horrifying Haunted Dolls House Hits Market
Hyperia Rises Into The Thorpe Park Skyline
Project Exodus / Hyperia Goes Vertical
New For 2024 Hyperia At Thorpe Park Resort
Supports Moved To Project Exodus Site Vertical Construc...
Chessington Howl'o'ween 2023 Preparation Continues
Alton Towers
Chessington World Of Adventures
Europa Park
Legoland Windsor
Thorpe Park
FrightNights
ClosedSeason
Adventure Island
Babylon Park Camden
Blackpool Pleasure Beach
Brean Theme Park
Drayton Manor
Dreamland Margate
Fantasy Island
Disneyland Paris
Energylandia
Kolmården Wildlife Park
Legoland Billund
Animal Kingdom
Busch Gardens Tampa
Disney's Hollywood Studios
Islands Of Adventure
Legoland Florida
Alton Towers Waterpark
Phantasialand
Alton Towers Spa
Extraordinary Golf
Enchanted Village Tree Top Quest
Chessington Go Ape
Savannah Splash Pool & Gym
LEGO® Pirate Themed Indoor Pool
Fright Nights 2023 Press Night
Alton Towers Oktoberfest 2023
Thorpe Park Oktoberfest 2023
Chessington Wilderfest 2023
Thorpe Park Ghost Train
World Of Jumanji Meet The Maker
Come Play With Me London Pop Up Event
Chessington Howl'o'ween 2023
Doncaster Fear Factory 2023 Press Night
Alton Towers Scarefest 2023 Live
Screamfest Burton 2023 Preview Night
Europa Park Traumatica 2023
Hyperia Construction
Waterpark Adventure
Legoland 2024 Coaster
Legoland Windsor Woodland Village
Drayton Manor 2024 Rollercoaster
Europa Park 2024
The Curse at Alton Manor
Behind The Scenes
Live Action Shows
Halloween Attractions
Bars & Restaurants
Chessington World of Adventures
Content Information
Ghost Train is back at Thorpe Park Resort and the ride is totally unrecognisable!  
A breath of fresh air has been pumped into the attraction. Reinvented with a new storyline and new set pieces Ghost Train will get your blood pumping, give you Goosebumps and make you feel part of the action.  
Once we go signed into the event we were walked down to Ghost Train by staff passing Thorpe Rail staff outside the dome who said the station is this way.  
Outside Ghost Train there were two different groups of actors roaming around the outside. One group was the CC Ghost Tours youtubers who where documenting the evening for their YouTube channel (we're big fans) and the others were "Believers" handing out leaflets with the word "Chapel Station Believe And Live Again" and "Credo, MORS NON EST FINIS BELIVE" written on them. Or maybe you should "JOIN THE EXODUS OF THOSE WHO BELIVE AND LIVE AGAIN ALIGHT AT CHAPEL STATION"  
Your journey beings in the queue line where you walk past posters of past and present. Old posters previously used to advertise Thorpe Park have been used in the queue line for the attraction along with some new "Train Times" board which warn you about not visiting Chapel Station with the name crossed out. Posters within the queue line warn you NOT to touch the actors and give glimpses at sections of the story for the attraction such as "MORS NON EST FINIS" and "JOIN US CHAPEL STATION" and where it says services at suspended being crossed out. From the second you enter the queue line the experience begins with music setting the scene and tension building up.  
Reading beyond here will contain spoilers of the attraction! Thorpe Rail have warned you…
Your experience on Ghost Train begins in the train waiting room where you're told not to take photos and videos of your journey into the unknown. Doing so may result in your devices not working! A new preshow has been built in the same room as before however, this new show contains new effects such as closing windows, time train boards clicking away whilst the room loads with passengers and a spot for an actor to interact with guests and state the rules of the attraction.  The pre-show beings with Delivies Mortous talking about how 5 witches started a seance and all "beautifully died" during the process. How does he know? Because he was their in spirit… The pre-show also sets the story for the whole attraction talking about the "Believers" Who are a group within the attraction that…….  
Towards the end of the pre-show, the Delivies Mortous gives you a chance to leave, however before anyone gets the chance to ask for forgiveness and leave the windows slam shut and you are stuck on the "last train"  
Making your way out of the "waiting room" your walk up the stairs past the lost property where there are some Derren Brown's Ghost Train easter eggs and a TV with the latest departures from Platform 13. You might recognise some of these station names as easter eggs from around Thorpe Park. There is also another TV where you watch the weather of Thorpe as a TV presenter entertains guests if there is a hold-up before boarding the train. We feel like certain situations have been thought of in this version of Ghost Train, if there's a delay a script has been thought of and prepared.  
Opening the door into the main part of Ghost Train we were shocked at the changes inside, the room with the floating train carriage has changed completely. The room has been transformed into a train platform. Platform 13 awaits you and your friends. New theming has been installed in the room with the mirrors removed, train tracked installed below, a platform 13 sign installed and other bits of new theming. Your group is divided into two, half of you enter via the left doors and the others via the right doors. When you board the train you're told to sit down, bags on laps and keep your feet behind the yellow line.  
The trains have received a major makeover over the past few months, the clean appearance of the trains is gone. The trains are now very dark and grungy with the lights replaced with colour-changing lights installed. These come into use more later in the journey! Posters seen within the queue line can be seen on the ceilings. The TVs and Virtual Reality headsets have also been removed.  
Before you know it, your train is moving to an unknown destination. Capel Station looks like it might be the next stop!? Our experience began with two actors on opposite sides of the train, one checking for tickets before being interrupted by the other shouting "You don't need tickets" This is where our journey took a turn. Both actors have microphones which transmit audio throughout the train so everyone can hear what's going on. A big improvement! Actors can be seen walking up and down the train during the journey contouring themselves as if they are possessed. Before the journey ends one asks the other where the train is stopping and they say "Chapel Station" before being irrupted by the other saying no that station is closed.  
However, the train doesn't listen and stops at… Chapel Station! One of the actors begs you not to get off at Chapel Station.  
The offload platform has received a minor facelift during the rethemed with new signs installed and the offload platform darkened. This is also our first look at the trains themselves which have also been painted darker and distressed.  
Walking into "scene 2" as it's called you enter the caves of the "Believers" with Skelton heads on the walls around you. You walk through a little maze with wraiths located throughout the maze. You don't know what's real and what's not.  
Entering the crypt you are told a story about Devin who even Queen Elizabeth didn't like. The story builds up until one of your hosts gets taken over by the spirits of the dead and starts talking through their body. The believers tried to raise the spirits of the dead however they went too far and raised death himself.  "Death is not the end" This is where the tour takes an evil turn, things in the room start to light up, statues start to rotate and a demon fly's over your head. The lights go out and the wraiths from the queue line appear behind and in-front of your group. Trying to reach out and bring the living back with them!  
In the nick of time, the doors open and you're rushed back onto the train, this is the last train.  
Sit down, bags on laps and feet behind the yellow line. This journey might get bumpy…  
As soon as the doors close and you start moving you can tell all is not well on Thorpe Rail. You pray for the bus replacement as your journey takes a dark and sinister turn. An announcement comes over the tannoy saying this is a Thorpe Rail announcement but before it can finish it gets interrupted by one of the actors shouting "cease". "Why go into the crypt" For some reason all of the staff call the passengers on the train typrus. "End of the line typrus"
"What does the station master want?" what he always wants… their souls!  
This is where the main character Delivies Mortous appears on the train in voice form saying "I Delivies Mortous demand the spirits to rise up" followed by heavy breathing the lights flickering off and on and then sudden darkness followed by heavy breathing. When the carriage goes dark you wonder what's about to happen.  
Suddenly two more actors dressed up as nuns appear out of nowhere. When we first boarded the train we noticed that at both ends the train has been shortened and a fake wall has been installed. The perfect place for two nuns to camp out. Scaring and interacting with guests they make their way down the train carriage taking no prisoners. They can taste fear! During this UV lights on the train activate UV paint with drawings on the train. With words such as "We're watching you" and "Believers" to name a few. We've even been told the Wicker Man logo can be seen on the train during this section.  
"It's only the curious like yourselves that take the last train"  
The room then returns back to normal with an announcement going off saying "If you see something that doesn't feel right report it to our staff. See it. Say it. Sort it" Definitely not a copy of what they would say on real trains. End of the line… all change!  
Walking off the train you return to where you started, the station of Platform 13. End of the line, your safe now? Wrong…  
Entering the Ghost Train Shop you see all of the merchandise from the attraction along with prints of the posters from the queue line. However, there's unfortunately been a spillage on the stairs and you have to stay in the shop and you will have to stay a little longer and look around the shop "See if you can see your photo on the screens"  
A call from IT comes through to try to fix the photos not working when the attendant behind the desk shouts "I believe" and disappears in a flash. The room then goes dark and comes alive, with things around the shop moving on their own. Everything then goes dark and the attendant that was behind the desk appears in the middle of the room on a platform processed trying to grab members of the audience. "This is no photo redemption this is soul redemption." The room then returns to normal for a split second before one last round of chaos with nuns on the wall being processed by spirits screaming.
You can now escape! Your journey is over. Exiting through the new Ghost Train Shop you can now legitly buy items of merchandise and if you need something strong you can get a coffee from The Last Call Café. Or if you need something stronger to sit down and work out what just happened the Camden Bar is always across the road.  
The merchandise for Ghost Train is very clever because if you've not ridden the attraction yet you won't know who the believers are. The items of merchandise remain very simple with embroidered logos on some items, but contain hints of some characters within the attraction.  
Overall we were really impressed by Ghost Train. We were never big fans of Derren Browns Ghost Train and this revamp and overhaul of the attraction has given us faith in the attraction's future. When we heard the attraction still relied on actors we were a bit concerned but the quality of acting being performed throughout the attraction was outstanding. The actors were moving and contouring themselves in shapes and ways we've never seen at Thorpe Park Resort. The removal of Virtual Reality headsets was the correct decision! This not only speeds up the throughput of the attraction but will almost defiantly improve people's views and experiences of the attraction. Sometimes you would come off hearing people going that was rubbish because their headset didn't work. We said a few years ago we wouldn't mind if the attraction became a Dungeons-style attraction and we feel like although the attraction is different to visiting the London Dungeons the storytelling and acting is very similar. Another great change is the fact the staff you start the journey with remain with you at all times.  
Although there are sections we would change and make darker and maybe install some more effects and music we really enjoyed our visit down the train tracks on the last train leaving Thorpe Junction.  
We would like to take a second and say a big well done and congratulations to those involved in reimagining the Ghost Train. It's a big hit and we cant wait to see how guests react to the attraction.  
It's worth noting that the attraction opens at 12pm each day and no longer requires a timed entry ticket.     
Thorpe Park Ghost Train Review: An Expensive Fail
We head down to Thorpe Park on the opening day of the reimagining of the Derren Brown's Ghost Train ride to bring you this Thorpe Park Ghost Train review.
Derren Brown's Ghost Train was one of the most expensive additions to Thorpe Park when it opened in 2016 and then further reworked 12 months later. The ride reportedly cost £13 million and after riding it over the years guests started to question just where on earth all of that money went.
The ride was introduced by Derren with a pepper's ghost effect as he describes his version of a ghost train before we see a floating Victorian carriage that was an impressive illusion created by mirrors.
You would then place on a VR headset (which was almost always blurry) and watch a show, step off the carriage which has now transformed into a tube train and follow an actor led sequence before heading back on the train popping on the headset and watching the rest of the show.
The ride would conclude in a fake shop holding area which would become the big finale (it wasn't that big whatsoever) and then you come out into the gift shop and away you go.
Mixed reviews is probably a kind way to describe Derren Brown's Ghost Train which many people enjoying the more actor scare maze type experience of the ride but absolutely hating the VR. There were constant questions on where the huge budget went for the ride and that the ride itself was nothing compared to a classic ghost train dark ride experience that has come before it.
It dared to be different which is commendable but it just didn't work (as a concept and over the years as a ride experience with many effects failing) and a change was sorely needed.
Fast forward to 2023 and the Derren Brown IP is no more and the Ghost Train has had a rebranded story a new protagonist in the pepper's ghost effect pre show and sadly, the best bits of the extremely poor first iteration of the ride have been taken away with very minimal improvements made.
The exterior of the building is very similar to the original version with the exception of a couple of new signs and posters dotted around this new train station paint scheme.
Each poster links to an old ride or attraction at Thorpe Park and has been aged rather wonderfully. These retro designs suit the queue line theming and have me intrigued about what I'm about to witness. There is also a train times list of stops and hints to a certain Chapel Station where the train does not stop anymore.
Roaming actors were interacting with the crowd which was great to see and Chapel Station was also mentioned in their dialogue. It was very clear that this station was going to play a major part in the new storyline of the ride.
The old storyline was rather confusing and leaned more towards the environment and its protection. I'm as tree huggy as the next guy…. said no one ever. I'm glad they've changed the story.
The new story revolves around a tribe called the Believers who wanted to become immortal and summoned an evil spirit to aid them in their quest but it went wrong and a demon consumed their souls. The ritual took place at a crypt within the St Giles Chapel near Chapel Station and as a result the Thorpe train doesn't stop there anymore.
Guests are greeted by Angelis Mortis the Station Master who appears in the pepper's ghost effect to tell the story above in a themed waiting room pre show area. You are given the option of leaving before the windows slam shut and it seems as though you have no choice but to board the last train.
There's flickering Final Destination style travel boards (I instantly got film flashbacks which is always nice) and I thought the pre show was greatly improved on the poor Derren Brown version.
The above is about as complimentary as I get with only a few minor improvements to follow thereafter.
Thorpe Park Ghost Train has kept it very close to the bone with this reimagining with the bare bones structure of the ride remaining the same. Pre show is the same process, boarding the train and offloading is the same, back on the train, fake shop, exit.
This formula hasn't been changed and in that regard it already feels similar yet different and any similarities should really be erased from our memory. Forever.
An old waiting area after the pre show we now walked straight past (there should be an interaction here with an actor) and we boarded the new train. Instead of the 'wow' moment of seeing a floating carriage suspended in midair we now have a run down tube train that whilst themed nicely just doesn't have that 'wow' factor anymore which was one of a very few redeeming characteristics of the ride.
It's understandable why it has been taken away as it doesn't contribute to the new storyline but at least replace it with another 'wow' moment because now you're just stripping the only salvageable things from the old ride from this new instalment and making it even worse!
The acting quality was spot on as we took our seats on the train and scenes played out infront of us whilst the ride system simulated our travel to the next destination.
With the removal of VR you are now relying on acting performances to keep you hooked and absolutely no screens have been placed on the windows to simulate train movement so they've turned it into a tube station entirely so you're underground and with the black windows it makes sense. A sneaky cost cutting decision but effective in delivering the underground tube experience.
We arrive at Chapel Station and enter a newly themed crypt scene but unfortunately cost cutting comes into play with only one wall out of 4 themed. Three black walls followed by a very well themed crypt staging area where we watch scenes unfold. The use of microphone audio effects throughout the ride are impressive but once again you're relying on good acting quality and this will differ on every run-through. On this occasion it was good.
I must say that the script was very repetitive when it comes to telling the story of the believers as we heard it three times throughout the run-through. In the pre show, on the train and then worked into the crypt segment. Fed the same story three times makes sense to our short attention span generation of Tik Tok junkies but it just felt unnecessary. The facts were quite simple. Chapel Station bad. Thorpe Junction good.
Some cool effects are in the crypt scene matched by some equally cheesy ones and by this point it didn't feel like a ride anymore. It felt like a dungeons theatrical experience but a very cheesy low budget theatre one at that. I was smiling throughout but not with happiness it was more of a oh dear kind of smile.
The building is huge and I mean huge and all it now houses is a simulated train ride, a cool looking crypt and a few actors. Whilst it's an upgrade from Derren Brown's at least that iteration of the ride felt like a ride. This just feels like cheap motion based location to location theatre.
We board the train and a scene plays out that feels ever so familiar from the Alton Towers Dungeons Molly Leigh end scene and then a UV effect taken straight from The Curse at Alton Manor makes for a quite eye-catching spectacle but fancy lighting sadly can't paper over the cracks of a dull experience.
The fake shop finale scene has somehow gotten worse and with the only wow moment (the floating carriage) removed there's nothing within the entire ride that feels like a wow moment anymore.
The merchandise in the Last Call Cafe (your final destination) is quite nice with the Believers ruins actually being one of the more standout designs of the entire ride. It reminds me of old school pop punk days where this pattern could be used on guitar straps and skateboards and clothing in this grungey punk style.
I will also go on record to say the Last Call Cafe being used as a coffee shop is genius. It's such a nice and inviting space and it looks great, arguably greater than 99% of what you see inside the ride.
Thorpe Park Ghost Train has highlights, for me those were the improved preshow, the detailing of that one wall in the crypt and the run down tube train and UV effect but it just feels like a lot of money has been invested, for nothing.
The revamp feels like it cost £10,000 (maximum) excluding the cost of the new cafe refurb and now you have this big building that is how to a moving theatre production that is underwhelming to say the least.
Whilst the Dungeons at Alton Towers feels like its slowly dying being an upcharge attraction within Alton Towers Resort seemingly costing more in staff wages to run than what it makes in return at least Ghost Train at Thorpe is included.
Is it an attraction you'll want to keep doing? No
Is it an attraction you can justify the size of the building its in? No
Was it worth the refurb? No
The positives I can take from this is that it's another experience for people to revisit Thorpe Park for, whether that's a positive or negative experience remains to be seen but it's a new dark ride back on the map at a Merlin park with Curse at Alton Manor and the upcoming Nemesis Sub Terra reopening driving a resurgent dark ride 2023 line-up.
Many people were praising this ride on a marketing early preview experience and I get it, it's new, it'x exciting but at the end of the day it's theatre, not a ride and £13 million for this… in addition to its running costs, actor wages and refurb cost… well… it all feels like an expensive fail.
Related Posts
Prop Culture Disney Plus Review: Take A Step Into Cinematic History
Tenet 4DX Review: I Should Have Stayed At Home
Chilling: Extremely Wicked, Shockingly Evil and Vile Review
The Old Guard Review: A Fun Watch But it Has Its Flaws
Bloody Good Fun! The Funhouse Massacre Review
Scream (1996) Review
Australia edition
International edition
Europe edition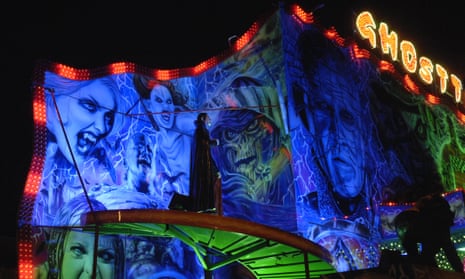 Thorpe Park apologises to locals after blaring Halloween sound effects all night
Theme park played wails, screams and spooky music for 12 hours, prompting one man to put ear defenders on his dog
Thorpe Park has been forced to apologise to nearby residents after it kept them awake all night by blaring Halloween sound effects – with one local putting ear defenders on his dog.
The theme park in Chertsey, Surrey , played wails, screams and spooky music for 12 hours straight after a technical glitch led to noise from its Fright Night event continuing into the early hours.
The eery racket prompted complaints from locals who said the "bloody annoying" clamour kept them from sleeping until the early hours of Monday morning.
"You could hear it all through the house and it kept waking me and my housemate," said Jonathan Tennant, a phone engineer who lives close by. He said he had to put ear defenders on his 12-year-old terrier, Shamus, to calm him down. He even went to the park gates in the early hours to complain – recording a video of the noise.
Tennant said: "I thought there would at least be security, maintenance staff or cleaners, but it was all shut up and empty."
Another local, who wished to remain anonymous, said: "It's ridiculous. The bass started at about 6pm and rattled on until 7am. I've barely slept a wink."
Thorpe Park is running its Fright Night events through most of October. A spokesperson said: "We would like to apologise for the noise disturbance that took place on the night of Sunday 8 October. We care about all of our local residents and do our utmost to ensure we are good neighbours.
"Our team worked hard to establish the root cause of the technical issue and worked as swiftly as possible to find a resolution.
after newsletter promotion
"We have since put in place preventative measures to ensure we can stop our sound systems from playing immediately in the event of a system malfunction. We are confident that with this new process and with our ongoing proactive sound checks, disturbance will be kept to a minimum during the final weeks of our fright night event."
More on this story

Britons rush to book last-minute August breaks after rainy July

Planning a UK mini-break? See how the price has gone up – from hotels to fish and chips

Three-hour delays at Dover as bad weather and train strikes hit summer getaway

Delays and jams expected as UK's great summer getaway reaches its peak

'A huge market going untapped': lack of visitors worries Wales

Prices of package holidays in popular Mediterranean destinations leap

Center Parcs UK owner seeks double what it paid with near-£5bn price tag

Package holiday demand dips as UK cost of living crisis hits budgets

Grey gap year: the over-60s with a taste for travel on a budget
Most viewed.
All aboard the Thorpe Park Ghost Train
May 28th, 2023 – As a frequent visitor to Thorpe Park, there's many attractions in the park I've had countless rides on. Derren Brown's Ghost Train, however, was not one of them. In fact, the only time I would ride DBGT was to show friends who had not experienced it how bad it was. From the glitchy headsets to the awkward plot, the VR experience was hardly a gem in Thorpe's solid ride line up.
It's always satisfying when a theme park acknowledges a weak spot and works to improve it. When Thorpe Park recently announced that DBGT would be re-themed to Ghost Train a wave of relief rushed through the enthusiast community. No more unreliable VR! But…how exactly do you re-imagine a ride that was built around those pesky headsets?
The intrigue built up over the closed season, until Thur 25th May when we were invited to preview the brand new Ghost Train.
***SPOILERS FROM HERE ON***
The ride is now an actor-led experience, but you're not simply walking into a building full of jump scares. The actors lean hard into storytelling, ensuring by the time guests disembark from the first train journey, they all know a couple of things:
– Who The Believers are – What happened at the seance – To be extremely wary of the ominous Chapel Station
Guess where the train stops.
The sense of dread created towards Chapel Station is impressive. Riders step off the train into dark corridors reminiscent of the Catacombs in Paris. Skulls line the walls as far as the eye can see, it's a suitably dark lead up to the rides most memorable scene: The Crypt.
The Crypt is huge dark room, full of wraiths, a coffin and skulls that flash dramatically. It's steeped in a demonic atmosphere.
Inside this room guests witness a train conductor become possessed, before the music crescendos and a wrath flies across the room above the heads of the crowd. This effect made me scream every single time we rode Ghost Train. It's very well executed.
Before you have time to recover from the overhead scare, more ground-based wraiths have surrounded you. They ominously appear, seemingly out of nowhere, and the impact is chilling to the bone.
Next we return on to the train for another journey, and here's where the jump scares kick in. At first I was taken aback by the erratic movements of two train conductors and the possessed sound effects that accompanied this. Then I noticed them. The nuns. Oh god. They appeared either end of the train, lights briefly flashing over them. My brain started to wonder if I had imagined that terrifying face. Nope. Not imaginary. They are most definitely there. And now they're fast approaching the middle of the carriage.
I adored this scare section. It was so much more than a person jumping out and screaming at you. It created a genuine knot of fear in my tummy. Before you even have time to recover from this, the train switches to black light, highlighting UV symbols about The Believers scrawled all over the train. Here's where Ghost Train reaches its dramatic climax, assuredly with all guests on board screaming. Those screams quickly turn to laughs as the lights snap back and a ' See it. Say it. Sorted. ' audio plays before you exit the train. It's not often you can go from screaming to giggling in a second but Ghost Train nails this dynamic perfectly.
The final scene takes place within the gift shop. At this point we need to discuss the abundance of easter eggs in this ride. From the moment you enter the queue line to the gift shop, there are so many little nods to the heritage of Thorpe Park – the train stops on the line named after areas in the park, the WWTP radio poster, the train itself is situated on Platform 13. If you know your Thorpe Park history, especially Fright Nights, you're going to find so many things in Ghost Train that make you smile and point excitedly.
With it's loving but subtle gaze towards Thorpe fandom, Ghost Train is self referential without feeling contrived.
Another improvement from DBGT to Ghost Train is the meta aspect where a ride acknowledges that it is a ride within its own storyline. DGBT positioned its riders as "thrill seekers at a theme park" from the start of its pre-show. A narrative, which in all honestly, did not aid immersion.
Ghost Train, however, saves the fourth wall breakage for the final scare in the fake gift shop, with Angelus bellowing:
" This isn't photo redemption, it's soul redemption! " It ties the final gift shop scene together neatly and once again brings a fun layer of humour to the ride.
It would be easy to reward Ghost Train on the merits of what it's not. It's not a VR ride. It's not an IP ride. It's not tied to a celebrity. It's not reliant on screens. And these are all very good things for a dark ride to NOT be.
However, Ghost Train goes far beyond 're-imagined ride' territory and soars into a merit all its own: worlds most unique and immersive Ghost Train. And easily one of the scariest too.
Written by Serena Cherry, CF Social Media Superstar & Goon.
Read more and discuss Ghost Train on our Forums .
Thorpe Park's website .

Thorpe Park confirms reimagined Ghost Train opening in 2023
Thorpe Park Resort has confirmed that the former Derren Brown's Ghost Train attraction will be reimagined in 2023, featuring a new storyline and special effects, live actors, the removal of VR and the Derren Brown IP.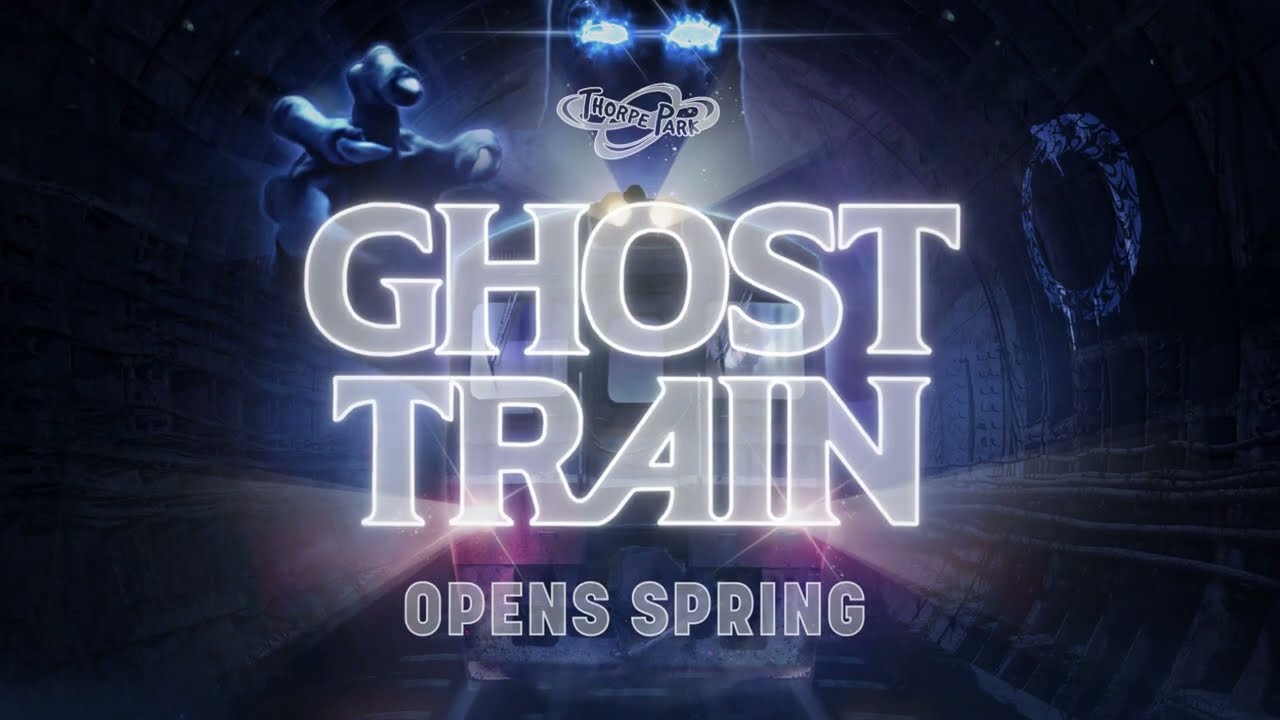 Depart the mortal world on a one-way ticket beyond the veil into darkness on Thorpe Park 's newest ride experience,  Ghost Train . But watch your tracks, death is always one stop ahead.​​
This next generation of  Ghost Train will take you on a harrowing ride into the realms beneath Thorpe Park to where the supernatural believers call home.
Ghost Train is one of the UK's longest ride experiences featuring live actors and multisensory effects to create a terrifying attraction like no other! ​​
There's nothing virtual about this petrifying experience, so prepare to meet your maker as you come face-to-face with horrors that dwell within.
Ghost Train opens spring 2023.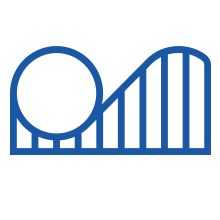 ThemeParks-UK
News, offers, tickets & breaks.
UK Theme Park News
UK Theme Park Offers
UK Theme Park Tickets
UK Theme Park Breaks
UK Theme Park Awards
The Top 10 Countdowns
The Top 10 Theme Parks in the UK
The Top 10 Roller Coasters in the UK
The Top 10 UK Theme Parks for Families
The Top 10 UK Theme Parks for Toddlers
The Top 10 UK Theme Parks for Thrills
The Top 10 Theme Parks in Britain
The Top 10 Best UK Theme Parks

Ghost Train launches at Thorpe Park Resort
Thorpe Park Resort have launched their new for 2023 attraction, Ghost Train. Attraction Source were invited to the VIP Preview Event to be amongst the first to depart on a one way ticket beyond the veil into darkness…
Please note that this article contains spoilers for Ghost Train – do not continue reading if you want to keep what lies in wait a surprise until you visit!
Ghost Train is of course a reimagining of what was formerly Derren Brown's Ghost Train, an attraction which originally opened in 2016 and then reworked in 2017, with the addition of the tagline, 'Rise of the Demon' . Other than the Resort confirming the removal of the virtual reality element, few details were given away about what the third iteration of the experience involved, and so we arrived excited and intrigued to discover what would await inside Thorpe Junction. Ahead of the attraction opening, Neil Poulter, Divisional Director for Thorpe Park Resort, and Kieron Smith, Global Artistic Director for The Dungeons who was the writer and director for Ghost Train, gave some short speeches before declaring Ghost Train open.
The first notable change upon arrival at the attraction is the new entrance signage. The queue line entrance itself features a new backlit sign (which we got to see in action as the sun began to set), with this complemented by a new Thorpe Junction signpost. There is also the standard ride restriction signage, featuring the minimum height restriction of 1.3m – a reduction on Derren Brown's Ghost Train's 1.4m restriction. Outside of the attraction were also roaming characters, which included a pair of vloggers as well as Believers, who were spreading word about catching the last train to Chapel Station, handing out leaflets to anyone interested. Hopefully these will remain a feature during normal operation, as seen with the roaming actors outside of The Curse at Alton Manor at Alton Towers .
The exterior appearance of the attraction building remains largely unchanged, although parts feature a new turquoise and white colour scheme, in line with the 'Thorpe Rail' branding. Throughout the exterior queue line can be found posters, depicting destinations that can be reached using Thorpe Rail. Each of these provides a nod to Thorpe Park's past, with many past attractions featured. Some of these posters have been graffitied with Latin phrases and a strange 'B' symbol. Additionally, there are signs which note that services to Chapel Station have been suspended. Guests are then batched into one of the two waiting areas, ahead of entering the pre-show.
The pre-show itself is now themed as a waiting room, but otherwise still utilises the same Pepper's Ghost effect, with a redressed physical set. There are some nice new theming additions in the room, including a split-flap board that conveys some of the restrictions (with no filming or photography allowed, including during the preview event) as well as train departure times. The pre-show starts with an actor addressing guests, before the Station Master, Angelis Mortis, appears (seemingly in a cloud of smoke) to welcome guests and tell the story of a group who called themselves the Believers. After alighting at Chapel Station, this group entered St Giles' Chapel where they participated in a ritual in the hope of gaining immortality. Unfortunately, they all met their death, with their souls torn from their bodies. Strangely the Station Master notes that he was also there in spirit… Although guests are given the option of leaving, with the windows to the outside world suddenly slamming shut, it seems as though there is little option but to board the last train.
Guests are then directed through what is now the lost property department. While on one of our run-throughs we walked straight through and into the main building, on the other we were required to wait in this area. Whilst waiting a weather report played on screens, although there were moments of interference where we're sure we spotted Angelis once again… Whilst it provides some filler if required, this was a somewhat strange change of tone from that of the more foreboding pre-show. We were then called through to the station area, where the last train awaited. Gone are the mirrors that provided the floating carriage illusion, with these replaced by brickwork forming a station platform. The carriage itself has also been given an overhaul to reflect the new theme, and there are other theming additions in this area to complete the train station look.
Once on-board the awaiting carriage, guests are directed to their seats and instructed to keep their feet behind a yellow line by two train attendants. There are of course no longer any VR headsets for guests to put on. Upon the train departing, the first actor-led show sequence of the main ride experience plays out. Despite the warnings, this sees the train stop at Chapel Station, with guests led by one of the attendants into the Crypt of St Giles' Chapel. There, they retell the story of the group of Believers who undertook the ritual in the place in which guests now find themselves. Our second run-through, saw an extended version of this scene, with more detail given about the members of this group. This sequence culminates with the train attendant opening up a tomb, unleashing the spirit of Angelis Mortis on guests, with the Angel of Death swooping overhead as hooded figures appear around the room, chasing guests back out onto the train.
Another actor-led sequence plays out on the return journey on board the carriage, with this combining strobe lighting, UV paint (à la The Curse of Alton Manor's pre-show) and some surprise scares, as Angelis Mortis takes control and seeks to claim guests' souls. Unfortunately, the full movement of the motion base no longer seems to be utilised for this scene, presumably because actors now move around the carriage. Guests are left in darkness as a 'See it. Say it. Sorted.' announcement plays – something that is sure to be familiar to anyone who has travelled on the London Underground. This leaves guests questioning what they have just experienced, and whether they have managed to successfully escape. However, upon exiting we found ourselves being held at what is now the on-ride photo redemption point due to a spillage on the stairs ahead – this was also a common occurrence during the attraction's time as Derren Brown's Ghost Train: Rise of the Demon, with guests discovering that the experience wasn't quite over! The replacement of the demon with the staff member actor is arguably not as effective for the final scare, which sees a final appearance of Angelis Mortis who reveals it to instead be 'soul redemption'.
Guests exit into what is actually the attraction's shop, where there is a range of Ghost Train merchandise on sale. Products include T-shirts, hoodies, pin badges, mugs and lanyards, with these featuring the ride's logo as well as the runes of the Believers. Although the space was previously entirely used for the retail outlet, with the opening of Ghost Train it has now been partially converted into the Last Call Café. This serves Costa Coffee, along with a selection of cold drinks and other snacks.
In summary, the Resort have delivered what is arguably the strongest iteration of the attraction. It certainly benefits from the removal of virtual reality, which should undoubtedly make the experience more consistent and reliable. There is also a clear narrative, with the story being relatively straightforward to understand, if not a little predictable as a result. Ultimately though, it is the talented cast of actors both inside and outside of Ghost Train that make the experience what it is. Having the same actors lead guests through the main experience and story, certainly helps the flow and coherence of the entire show.
The scariness of the experience will depend on each guest, with us not personally not finding it to be too terrifying or jumpy. However, that is not to say that there aren't more intense moments and jump scares, which are still well executed. In this respect, the sequences in the train carriage itself would benefit from louder audio and the interior of the train being completely dark in the black-out moments to enhance the scares which follow. We are also mindful that we experienced the attraction knowing what had come before, with the fundamental elements and sequencing of the attraction unchanged. Overall, the experience could be considered comparable to The Dungeons, both in terms of the level of scares and its theatrical nature.
Ghost Train remains a unique attraction, and this latest reimagining will help to extend its lifespan. Nonetheless, with the context of the amount that has ultimately been invested into the attraction from its initial creation to this latest incarnation, this will forever leave the question of what could have been if the budget was invested into a more traditional dark ride…
Thank you to Thorpe Park for inviting us to attend! Are you planning to catch the last train from Thorpe Junction? Let us know via the Attraction Source social media channels.
AttractionSource.com Theme parks and attractions from another point of view!
Attraction Source is one of the largest online communities for fans of theme parks and attractions in the UK and beyond. We aim to bring like-minded people together, whether that be via our website, social media or in person at one of our unforgettable events.
Get Social! For the latest news and updates like us on Facebook , follow us on Instagram , LinkedIn , TikTok and Twitter , and subscribe to our YouTube channel.
Share this news - choose your platform!
Related posts.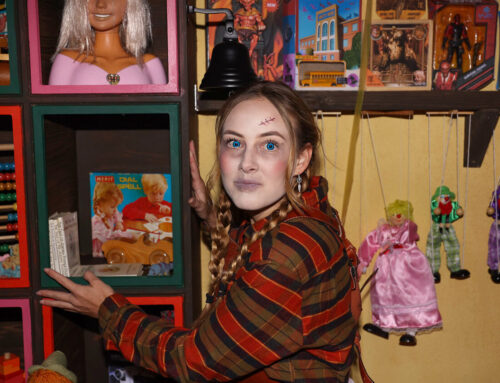 FRIGHT NIGHTS returns to Thorpe Park Resort for 2023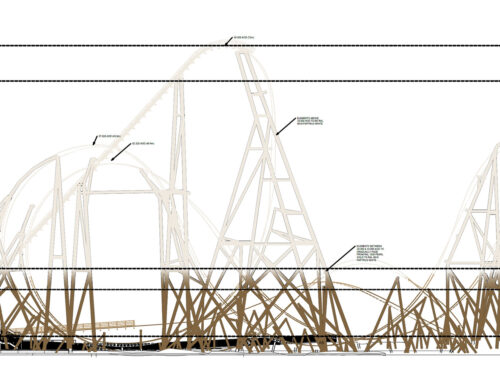 Thorpe Park Resort submit details of external materials for Project Exodus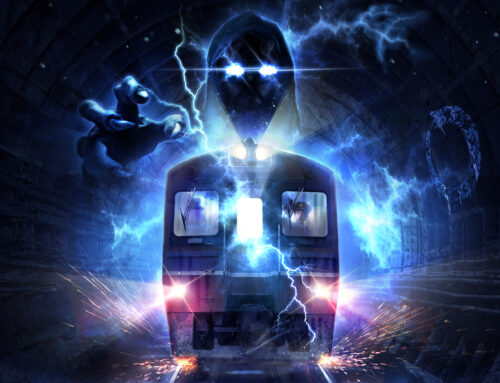 Derren Brown's Ghost Train to be replaced by Ghost Train for 2023 at Thorpe Park Resort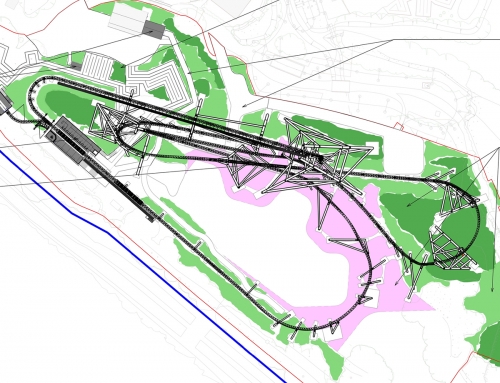 Thorpe Park Resort submit information to discharge Project Exodus planning conditions
Thorpe Park launches new ride and it promises to leave thrill seekers terrified
Ghost Train will be one of the UK's longest ride experiences featuring live actors and multisensory effects when it launches at Thorpe Park in Surrey in March this year
15:17, 2 Feb 2023
Updated 16:48, 2 Feb 2023
Visitors to Thorpe Park should prepare to have the fright of their lives when a new terrifying ghost train starts spooking.
On March 24 the Surrey amusement land will reopen for the year, shortly before a new ride opens which promises to plunge thrill seekers deep into the veil of darkness.
Ghost Train will deliver a harrowing ride into the realms beneath the resort to where the supernatural believers call home from late spring.
It is one of the UK's longest ride experiences featuring live actors and multisensory effects to create a terrifying concoction of thrills and horror.
Tickets for the 2023 season are now live and on sale on the Thorpe Park website, where you can save up to £30 when booking online in advance.
If a day's visit isn't enough then you can stay in the park's Shark cabins which are located just a stone's throw away from the thrills.
Thorpe Park is now selling 'Unlimited Fastrack breaks' from £129 for two people.
For that price you get an overnight stay, one day's entry into the theme park and unlimited fastrack worth, buffet breakfast, Wi-Fi, free parking and 10% off snacks and merchandise in the shops.
One of the first big events of the year at the park are its Mardi Gras celebrations, which run from May 18 to June 11.
"Delivering Louisiana vibes, world-class rides, authentic street food and more beads than Mr T has gold chains, Mardi Gras is set to be the most exhilarating, fun-filled celebration you'll attend this spring," a statement from the park promises.
"Turn up the temperature and endure the sizzling speeds of Nemesis Inferno as your legs dangle freely below 750 meters of twisted track!
"Then, take a break from the thrills and experience the flavours of mouth-watering Mardi Gras delights and be immersed in a variety of live entertainment excitement."
If you can wait until then, from July 21 until August 28 the park will be turned into a big carnival.
"Ride our world-class coasters and vibe with our awesome live entertainment including vibrant stage shows that are sure to have you watching in amazement," Thorpe Park entices.
"Home to some of the world's most thrilling coasters, we'll have you launching like a human cannonball as you accelerate to 80mph in under two seconds on Stealth, then take on the twisted Colossus boasting not one, not two, but ten acrobatic loops.
"Top-class rides, tasty sides and sweet summer vibes, Thorpe Park Resort is a must-visit for the ultimate day out."
Thorpe Park is open until 31 October 2023.
Park tickets cost from £34pp when booked in advance online , while on the day park ticket are priced from £64.
MORE ON Theme parks
Thorpe Park confirms reimagined Ghost Train for 2023
Thorpe Park Resort has confirmed that the former Derren Brown's Ghost Train attraction will be reimagined in 2023, featuring a new storyline and special effects, live actors, the removal of VR and the Derren Brown IP.
Depart the mortal world on a one-way ticket beyond the veil into darkness on Thorpe Park's newest ride experience, Ghost Train. But watch your tracks, death is always one stop ahead.​​
This next generation of Ghost Train will take you on a harrowing ride into the realms beneath Thorpe Park to where the supernatural believers call home.
Ghost Train is one of the UK's longest ride experiences featuring live actors and multisensory effects to create a terrifying attraction like no other! ​​
There's nothing virtual about this petrifying experience, so prepare to meet your maker as you come face-to-face with horrors that dwell within.
Ghost Train opens spring 2023.
Pipeline Coaster to open soon at SeaWorld Orlando
Gold Medal takes popcorn cashless
Brogent wins European Star award and teases release of 2024 film
Zamperla brings bigger fun for all ages
SeaWorld Orlando announces Penguin Trek
Convious now represents one tenth of all UK amusement parks
Brogent wins European Star award and teases release of 2024…
Wednesday 18th October 2023 05:51
ThemeParkRM
Theme park news and reviews, from Thorpe Park, Alton Towers, Universal Orlando and so much more!
NEW for 2023 – Ghost Train
Today, Thorpe Park has confirmed that Derren Brown Ghost Train has been replaced and will no longer be VR!
Thew new ride has a brand new storyline and special effects and will also feature live actors.
At the moment, Thorpe Park hasn't confirmed if time slots will need to be booke, but they have confirmed that Derren Brown is not involved in the project.
The ride will last around 15 minutes and due to be open in Spring but not yet known if it will be ready for passholders day.
Thorpe Park released the news on social media saying:
NEW FOR '23! Say your final farewell as you depart the mortal world on a one-way ticket beyond the veil into darkness on THORPE PARK Resort's newest ride experience – Ghost Train. But watch your tracks, death is always one stop ahead💀
This next generation of Ghost Train will take you on a harrowing ride into the realms beneath THORPE PARK Resort to where the supernatural believers call home👻
Ghost Train is one of the UK's longest ride experiences featuring live actors and multisensory effects to create a terrifying attraction like no other!
There's nothing virtual about this petrifying experience👀 So prepare to meet your maker as you come face-to-face with horrors that dwell within😱
NEW Ghost Train at THORPE PARK Resort, death is not the end. Opens Spring 2023.
Find out more👉 https://orlo.uk/GhostTrain_gZ4vS
Related Post
New logo coming to thorpe park, vip buckwheat brunch, hyperia more track arrival.
DIRECTORY MEMBRI
Leadership IAAPA
Membri del team IAAPA
Premi IAAPA
Volontariato con IAAPA
Ufficio Stampa IAAPA
Dai a Kids The World
Fondazione IAAPA
Carriere presso IAAPA
Prenota un incontro o un evento
IAAPA Asia Pacific
IAAPA Europa Medio Oriente Africa
IAAPA America Latina Caraibi
IAAPA Nord America
Tutte le novità
Ufficio stampa
Notizie IAAPA ogni giorno
Pubblicizza
eventi in città
Parchi di divertimento e attrazioni
Zoo e acquari
Centri di intrattenimento per famiglie
Produttori e fornitori
Musei e centri scientifici
Parchi acquatici e resort
Giovani professionisti
IAAPA Connetti+
Mercato IAAPA
Panoramica sull'istruzione
Corpo comune di conoscenza IAAPA
Valutazione delle competenze del settore delle attrazioni IAAPA
Certificazione IAAPA
Corsi/Webinar online
Apprendimento di persona
Sicurezza e protezione IAAPA
Partnership educative
Ricerca IAAPA
Libreria IAAPA
Affari pubblici dell'Asia Pacifico
Affari pubblici in Europa, Medio Oriente, Africa
America Latina, Affari Pubblici Caraibici
Affari pubblici in Nord America
Vantaggi Membership
Partner ufficiali IAAPA
Elenco membri
Bacheca dei lavori
Negozio membri
il Codice di condotta di LPI;
IAAPA Expo Europe
IAAPA Expo Asia
Sponsorizzazioni globali
Menu
Vecchi fantasmi, nuovi trucchi a Thorpe Park
In un'epoca in cui i cineasti possono spaventarci a morte con bambole psicotiche di intelligenza artificiale (AI), la realtà virtuale (VR) può trasportarci in regni paranormali e gli effetti speciali ingannano facilmente l'occhio, reinventare un vecchio treno fantasma per il pubblico moderno è una sfida -Ma Thorpe Parco Resort a Chertsey, in Inghilterra, ha apportato aggiornamenti ambiziosi per impressionare i visitatori di oggi.
Nel 2016, Thorpe Park ha collaborato con l'illusionista e mentalista Derren Brown per creare un viaggio coinvolgente e sconvolgente a bordo del treno fantasma di Derren Brown. L'attrazione combinava psicologia e spettacolo con visori VR, illusioni, transito fisico, attori dal vivo, walk-through ed effetti speciali. L'azione si è svolta in un magazzino vittoriano dove un vagone ferroviario d'epoca era appeso a catene.
Tuttavia, Thorpe Park aveva bisogno di rimanere aggiornato in un mercato in evoluzione, quindi è stato deciso che il Treno Fantasma avesse bisogno di un restyling. "Siamo sempre alla ricerca di qualcosa di nuovo e avvincente", afferma Neil Poulter, direttore di divisione del Thorpe Park Resort.
Le dimensioni, la complessità e la durata dell'esperienza dell'attrazione al coperto hanno reso il rinnovamento un compito enorme per il team dietro di essa. Ghost Train dura 17-20 minuti, richiedendo ai designer di creare un'esperienza che catturi l'attenzione del pubblico per molto più tempo rispetto a una tradizionale corsa in un parco a tema.
Originariamente, il treno fantasma ruotava attorno a un'esperienza di realtà virtuale, con gli ospiti che indossavano visori VR per la maggior parte del tempo. Ora, Thorpe Park ha messo i suoi attori al centro della scena, ha rinnovato la trama e i set teatrali e ha abbandonato la realtà virtuale.
"Sapevamo di aver fatto davvero bene le esperienze guidate dagli attori", spiega Poulter. "Abbiamo così tanta conoscenza di Merlin Entertainments attraverso il nostro marchio Dungeons. E abbiamo un fantastico team di animazione interno qui a Thorpe Park. Abbiamo fatto particolarmente bene con il nostro evento di Halloween Fright Nights."
Il parco ha affinato le abilità agghiaccianti dei suoi attori con zone spaventose, spettacoli dal vivo e labirinti spaventosi, incluso uno nuovo per il 2023 chiamato Stitches. "Portare questa esperienza nell'intera stagione operativa con Ghost Train aveva senso", afferma.
Gli attori dal vivo che interagiscono con gli ospiti possono mantenere l'esperienza sempre fresca. "Con i visori VR, c'erano momenti in cui i problemi tecnici potevano influire sull'esperienza degli ospiti", afferma.
Il team di Thorpe Park desiderava migliorare l'affidabilità e la produttività. Ora, Ghost Train è un'operazione più snella. "Possiamo aprirlo in modo coerente e puntuale ai nostri ospiti e il 100% di loro avrà la stessa esperienza", afferma Poulter.
"Utilizziamo sempre le informazioni e il feedback dei consumatori quando prendiamo decisioni sui prodotti", aggiunge. "Quando lavori con una proprietà intellettuale, non puoi essere così agile riguardo ai cambiamenti che potresti voler apportare. Sembrava che ci fosse una buona opportunità per noi di avere la nostra attrazione. Creando una nuova storia e riproponendo gli elementi dell'esperienza, potremmo offrire agli ospiti un'attrazione di nuova generazione senza il significativo esborso di capitale di un nuovo progetto".
Il team ha creato una leggenda locale per la trama. Nelle profondità della squallida stazione ferroviaria di Thorpe Junction, gli ospiti incontrano il capostazione Angelus Mortis. Spiega che una setta vittoriana, i Credenti, una volta si incontrò nella Chapel Station, ora abbandonata, e non furono mai più visti. L'illusione di Pepper's Ghost, gli effetti audiovisivi e un salto spaventoso danno vita alla storia spettrale nel pre-spettacolo.
Gli ospiti si dirigono quindi verso una piattaforma 13 buia e squallida dove li attende un trasandato treno della metropolitana al posto della carrozza vittoriana sospesa. I passeggeri si ritrovano presto intrappolati da guardie ferroviarie possedute. Raggiungono la Chapel Station e una cripta dove Angelus Mortis, l'Angelo della Morte, si rivela.
Le persone scappano sul treno, solo per rendersi conto che suore senza volto sono in agguato. "Abbiamo ridisegnato le estremità dei treni per inserirli in scompartimenti nascosti e hanno avuto un grande successo", afferma Smith. L'illuminazione UV rivela anche messaggi sorprendenti all'interno del treno.
Dopo che gli ospiti scendono dal treno, c'è un ultimo spavento nel (falso) negozio di souvenir. A causa della natura intensa dell'esperienza, Thorpe Park consiglia ai ciclisti di avere almeno 13 anni.
Il team del parco ha intensificato la teatralità e la narrazione per creare drammaticità, atmosfera e tensione all'interno dell'edificio esistente.
"Il team dei temi ha fatto un lavoro incredibile reinventandolo in modo che sembrasse uno spazio completamente diverso", secondo Poulter. "Il realismo di tutto questo è molto diverso da quello di molte giostre nei parchi a tema", afferma Smith.
Sono state apportate modifiche anche a Ghost Train per risolvere problemi tecnici e il backup del flusso degli ospiti. I membri del team ora possono incanalare le persone attraverso una sala d'attesa se l'esperienza non procede secondo i piani. "L'abbiamo trasformata in una stanza per gli oggetti smarriti", afferma Smith dell'utile aggiunta.
Per garantire una narrazione forte, Smith ha pensato attentamente a dove posizionare gli attori nel treno a forma di sigaro per ottenere il massimo effetto. "Inoltre, abbiamo ridotto il viaggio in treno da quattro minuti a due minuti e mezzo. Con la realtà virtuale va bene: puoi sederti lì e guardare tutto. Ma per un'esibizione dal vivo, è necessario che sia più veloce".
Il team ha reso più semplice per gli attori esibirsi in modo coerente. "Nei parchi a tema lavori con cast diversi. Gli ospiti incontrano circa 10 personaggi nell'attrazione, ma all'inizio ne stiamo provando 35", dice Smith.
Crede che gli operatori debbano considerare il comfort del cast, distribuire il dialogo e le interazioni e dare varietà agli artisti e agli ospiti. Nel reinventare le attrazioni, Smith ritiene che i parchi debbano mantenere le cose semplici pur mantenendo standard elevati. "Devi chiederti: 'È possibile farlo sette giorni su sette, ogni 10 minuti o qualunque cosa sia?"
Con le nuove montagne russe Hyperia di Mack Rides, precedentemente note come Project Exodus, all'orizzonte, si temeva che le persone potessero aspettare fino al 2024 per visitare Thorpe Park. Il rilancio di Ghost Train faceva parte della strategia del parco per prevenire un periodo di inattività.
"A un anno di distanza da un progetto così grande, per noi era importante avere qualcosa di avvincente per convincere la gente a visitare Thorpe Park", afferma Poulter. "Nuove notizie e nuovi motivi per visitare sono importanti. Stiamo riscontrando buone risposte a Ghost Train. Il giorno del lancio, gli ospiti hanno pensato che fosse un notevole miglioramento rispetto a prima. Ha riacceso l'amore per Ghost Train a Thorpe Park".
Thorpe Park's VR ghost train will open on May 6th
It'll use the htc vive in some capacity..
Derren Brown's new ghost train attraction for Thorpe Park is still wrapped in secrecy. We know visitors will sit in a suspended carriage and that the experience will feature multiple HTC Vive headsets. We know that it's a "multi-sensory" ride combining live-action and special effects. But otherwise, the details are scarce. What we have been told today is that the ride will open to the public on May 6th. Better mark those calendars.
Derren Brown is a master of illusion and psychological manipulation. He's earned a reputation through a number of live shows and TV specials that challenge what people think is humanly possible. Guessing the UK's National Lottery numbers , beating ( at least some ) chess champions, sticking people to their chairs at home -- you get the picture. The ride at Thorpe Park seems equally mysterious and unique, promising a 10 to 15 minute ride "the like of which guests will never have taken before." Visitors will apparently play a part in the proceedings, pushing the creaky train through one of 12 possible journeys and two distinct endings.
HTC's VR headset is involved in some capacity, but based on the early trailers it's difficult to discern how they'll be implemented. Like everyone else, we'll just have to wait until the ride opens in May.
Latest Stories
X is starting to charge new users $1 per year to send tweets.
X has confirmed its plans to charge new users for the service previously known as Twitter.
X now requires community fact checks to include sources
X will now require its volunteer contributors to include sources on every community note they write.
Engadget Podcast: Max Evry on his oral history of David Lynch's Dune
In this bonus episode, Devindra chats with film journalist Max Evry, author of A Masterpiece in Disarray: David Lynch's Dune.
Elgato's new teleprompter is designed for streamers
Elgato, maker of the Stream Deck, just announced a teleprompter gadget. The Elgato Prompter connects to a camera or webcam and displays scrolling video scripts.
Latest Xbox accessibility features include controller pairing without touching the console
Microsoft announced a slew of accessibility updates for Xbox players on consoles and PCs, including a way to pair a new controller without touching the console.
MiCreator Studio hands-on: A $199 portable recording studio worth more than its price tag
Austrian Audio's MiCreator Studio is a excellent condenser mic and an audio interface crammed into a tiny package that's better than it has any right being at $199.
Google rolls out more accessibility features for Maps, Search and Assistant
Google has unveiled several more accessibility minded features for Maps, Search and Assistant.
YouTube is rolling out a new 'You' section as part of a substantial update
YouTube just unveiled a spate of new tools to improve the experience for average users. These features include a lock screen for mobile devices, an updated library and much more.
Could MEMS be the next big leap in headphone technology?
California-based xMEMS is one of a small handful of companies pushing the new, solid-state technology. It promises high fidelity with a tiny footprint, but will listeners be convinced?
Study: Wearable sensors more accurately track Parkinson's disease progression than traditional observation
Oxford University researchers found that by using a combination of wearable sensor data and machine learning algorithms, the progression of Parkinson's disease can be monitored more accurately than in traditional clinical observation.
Baidu's CEO says its ERNIE AI 'is not inferior in any aspect to GPT-4'
The chatbot has "achieved a full upgrade," company CEO Robin Li told the assembled crowd at the Baidu World 2023 showcase.
Netflix's first live sports event is a golf tournament featuring F1 drivers and PGA Tour pros
Netflix's first live sports event is a golf tournament that features F1 drivers and PGA Tour pros. You can watch The Netflix Cup live on November 14.
Alan Wake brings his flashlight to Fortnite
Alan Wake is coming to Fortnite in a cross-promotional event ahead of the game's long-awaited sequel, launching on October 26.
The Stream Deck MK.2 is on sale for just $130
Elgato's Stream Deck MK.2 is on sale for $130, which beats the discount found during the recent Prime Day event. The Stream Deck is a beloved piece of gear to assist with game streamers and podcasters.
Honda to test its Autonomous Work Vehicle at Toronto's Pearson Airport
Honda's electric cargo hauler, the Autonomous Work Vehicle (AWV), could soon find work at airports as the robotic EV trundles towards commercial operations.
The best Android phones for 2023
If you're looking for a new Android phone, check out our guide to the best handsets on the market from budget to flagship and everything in between.
The new $79 Apple Pencil has a USB-C charging port
The new Apple Pencil is the most budget-friendly yet at $79. It has a USB-C port, but no wireless charging or pressure sensitivity support.
Bandcamp loses half its staff after being bought by Songtradr
Songtradr spokesperson Lindsay Nahmiache has admitted to SFGate that only 58 of Bandcamp's 118 employees received an offer during the transition.
All the gear you need to game-stream like a pro
Find the latest and best list of game streaming equipment, from webcams, microphone, capture cards, and more from experts at Engadget.
Microsoft Copilot: Here's everything you need to know about the company's AI assistant
Microsoft's Copilot AI has officially launched for Windows 11 devices. Here's everything you need to know about enabling and disabling the feature suite.