Bourbon Experience
Arts & Entertainment
History & Culture
Spas & Wellness
Daily Tours & Exhibits
Restaurant Listings
Top Restaurants
Top Breakfast & Brunch Spots
Lou's Brews
Regional Foods
Urban Bourbon Trail
Coffee & Tea Shops
Hotels & Motels
Bed & Breakfasts
Short Term Rentals
Book a Room
Annual Festivals & Events
Butchertown
Clifton & Crescent Hill
East Louisville
The Highlands
Old Louisville
Shelby Park & Smoketown
South Louisville
Southern Indiana
West Louisville
Visitor Guide
Newsletter Signup
Visitor Center
Louisville Transportation
Weather & What to Pack
Relocating?
Online Reservations
Destination Services
Sports Events
Group Travel Planning Toolkit
International Travel
Travel Advisors
Contact Tourism Development
Get Involved
Stay in Touch
Rose Awards
Partner Login
Media Requests
Story Ideas
Development Projects
Filming in Louisville
Marketing Plan
Diversity & Inclusion
Destination Strategic Plan
Research & Publications
Volunteer Opportunities
Privacy Policy
Loading your recommendations…
Calendar Of Events
Where to Stay
Attraction Tickets
October 20th
Victorian ghost walk.
Admission: $34.99
Location: Conrad-Caldwell House Museum
1402 St. James Court
Louisville, Kentucky 40208
Time: 6:00 PM to 11:00 PM
Contact: David John Domine
Phone: (502) 718-2764
David Dominé's Victorian Ghost Walk ® celebrates  America's Most Haunted Neighborhood  with a cast of real-life characters who return from the grave to tell their stories.
Simon Kracht, the infamous resurrectionist who stole just-buried corpses for the city medical college; millionaire Alfred Victor DuPont, who died at the hands of a scorned mistress; Lucinda, the grief-stricken lunatic who proclaimed herself "Queen of America" in 1885 – these are just some of the ghosts waiting to entertain you this year.
Tours start at 6PM and depart every 15 minutes, for two-hours.
Part walking tour, part porch play, David Dominé's Victorian Ghost Walk ® brings together local acting talent to showcase the Old Louisville Preservation District and raise funds for neighborhood organizations.
Tours last under two hours and start and end at the  Conrad-Caldwell House Museum  on St. James Court at Magnolia Ave.
Upcoming Dates For This Event:
Saturday, October 21
Sunday, October 22
Related Partners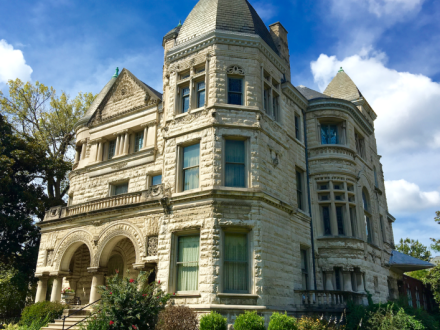 Conrad-Caldwell House Museum
The Conrad-Caldwell House Museum is one of the finest examples of Richardsonian Romanesque...
301 South 4th Street Louisville, Kentucky 40202
1.888.LOUISVILLE (1.888.568.4784)