Scream VI Ending Explained: Who's The New Ghostface?
Ok, who saw this coming?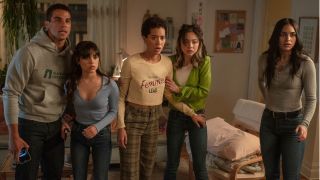 Warning: spoilers for Scream VI are in play. If you haven't seen Ghostface slay Manhattan just yet, you've been warned.
Scream VI has arrived to deliver yet another twisted entry in the canon of the Ghostface mythos. So of course, with this 2023 new movie release set to cut up the competition this weekend, there are a lot of questions that are about to be asked and answered by time Scream VI's ending plays out. The most important of which being, "who's the new Ghostface?"
The answer to that question is, of course, the skeleton key to a bunch of other answers that follow closely behind it. We're about to unravel the mystery of Scream VI's killer finale, so if you haven't seen the movie yet, consider this your final warning. The knives are out, and the guns are loaded, so let's unmask the latest perpetrator to wear the face of Woodsboro's infamous killer.
Scream VI's Ghostface Unmasked
In yet another mind bending third act reveal, Paramount's Scream VI has proven that this franchise is still all about family. This time, it's not one, not two, but three Ghostfaces that are roaming around, and all of them are from the same bloodline! Detective Wayne Bailey ( Dermot Mulroney ), his daughter Quinn (Liana Liberato), and his son Ethan Landry (Jack Champion) were all Ghostface killers this time out, inspired by vengeance over the death of another family member.
As it turns out, Samantha Carpenter (Melissa Barrera) killed Wayne's other son last year: previous Ghostface Ritchie Kirsch (Jack Quaid), who was revealed in the ending of Scream (2022) . Revenge was only part of the game though, as this trio of terror were hoping to finish Ritchie's movie, by driving Samantha to embrace her own killer lineage.
Through a showdown that takes place in a shrine to the collective Ghostface legacy , Scream VI sees the Bailey family square off against the Carpenter sisters. Samantha and Tara (Jenna Ortega) wipe out their latest foes, surviving alongside fellow Core Four members Mindy Meeks-Martin (Jasmin Savoy Brown) and her twin brother Chad (Mason Gooding), as well as legacy characters Special Agent Kirby Reed ( Hayden Panettiere ) and journalist Gale Weathers (Courteney Cox).
The Clues That Revealed Detective Wayne Bailey, And How He Died
While the Bailey family was pretty well concealed, partially because Wayne was a detective with police access, there was a trail of clues that hinted towards Scream VI's killers. Which, amazingly, started off with Detective Wayne admitting that he was given the case by a friend when questioned by Samantha as to whether he'd asked to be assigned or not.
By putting himself at the head of the investigation into Scream VI's Ghostface killings, Wayne Bailey is able to help coordinate and control the frame job on Samantha Carpenter. Also, with his police connections, Ritchie Kirsch was able to collect the Ghostface artifacts from throughout the franchise's killings thanks to his dad.
The final finishing touch was, of course, the final act misdirect that suggested Kirby Reed was suspended from the FBI, due to her past traumas from the events of Scream 4 allegedly being stirred up.
Detective Wayne Bailey was careful with his killings, but Scream VI saw him killed by Samantha, who not only plunged a knife into his head through his eye, and finished him off by slitting his throat.
How Quinn Bailey's Involvement Was Hinted, And Her Death
Quinn Bailey's connection to the Ghostface killings had possibly one of the best Scream misdirects. Towards the middle of the movie we're meant to think that she's been killed, along with a gentleman caller. Quinn's "death" is atypical of what you'd expect in something like Scream VI , as it happens mostly off screen and we only see her body very briefly after the fact.
Thanks to having a stalker cop dad in Detective Wayne Bailey, Quinn's body is subbed for a fresh corpse, allowing her to walk free. Speaking of her dad, the Bailey daughter lays her cards on the table when she tells Samantha that he transferred to New York after the death of her brother. It's all true, save for the omission of the fact that Ritchie Kirsch was her brother.
Ms. Quinn Bailey eventually did die, as she faced off against Samantha Carpenter in the mezzanine of the Ghostface shrine. Stalking her prey inch by inch, Samantha puts an end to her menace through a single headshot; which is one of the only methods to ensure your would-be killer is no more.
The Clues That Connected Ethan Landry As Ghostface
Ethan Landry is the most concealed threat in Scream VI , especially when he deftly defies the deduction powers of Mindy Meeks-Martin. She correctly predicted that Ethan rigged the roommate lottery to room with Chad, thus putting him in close proximity to the Core Four. Which explains another major scene in hindsight.
Mindy's hunch that Ethan was Ghostface was absolutely correct! Hanging back to take care of Mindy, who was separated from the rest of the group in the subway, Ethan Landry even lends a helping hand in getting Mindy help. We don't see too many other threads poking out, except Ms. Meeks-Martin's detective work, and her arrival after the final fight to inform the group of her findings.
Getting the "superhuman" jump scare of Scream VI , Ethan survives through Tara literally gets the drop on him, eventually stabbing him through his mouth. Ethan rises, only to be ultimately crushed by the TV that killed Stu Macher, courtesy of the similarly superhuman Kirby Reed. Turns out, Detective Wayne Bailey's aim wasn't as deadly as he'd hoped when he tried to exterminate the woman he was trying to incriminate.
Could Samantha Carpenter Become The Next Ghostface?
The very end of Scream VI could be a discussion piece in itself. Throughout the scenes where Samantha Carpenter visits the Ghostface shrine, she's yet again visited by the mental force ghost of her father Billy Loomis (Skeet Ulrich). Coming face to face with his mask, cloak, and knife from the killings in Scream , she's intrigued and urged by her father to make the Bailey family history.
After all is said and done, we actually see Samantha holding Billy's mask in her purse, intrigued by it for a brief moment. She ditches it in the street, and that seems to be a sign that she's chosen a path different from that of her father, making Scream VI's ending a happy one. But is it really?
Is Samantha Carpenter really giving up her mantle, or will daddy pop up in her head again and finally make her crack? Could Scream VII see Samantha become the next Ghostface, and act as the only threat that could truly kill the Core Four? This is all speculation at this point, but it'd be foolish not to keep in mind one of the key rules to survival in the Scream franchise? Trust no one.
Should you have read this rundown of the ending to Scream VI without seeing the movie, you can always head to a theater near you and see all the bloody details unfold. Or, if you have seen this chapter already, you can read our To 3D or Not To 3D review of Scream VI , to see if you should consider revisiting this case in the third dimension. Last, but not least, if you've got the urge to relive all of the Scream franchise's crazy twists and turns, each of the previous movies are currently available for streaming through a Paramount+ subscription .
CINEMABLEND NEWSLETTER
Your Daily Blend of Entertainment News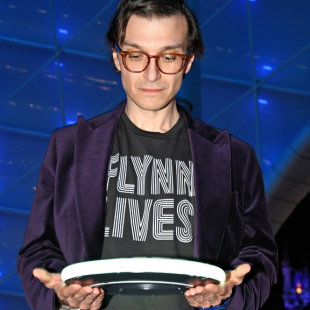 CinemaBlend's James Bond (expert). Also versed in Large Scale Aggressors, time travel, and Guillermo del Toro. He fights for The User.
Shaft Actor Richard Roundtree Is Dead At 81
Vin Diesel Allegedly Shot Down A Major '90s Action Star For The Fast And Furious Movies
NBC's Found Added Twisted New Layers To Gabi And Sir's Relationship, And Shanola Hampton Crushed It
Most Popular
By Alexandra Ramos October 24, 2023
By Rich Knight October 23, 2023
By Eric Eisenberg October 23, 2023
By Jerrica Tisdale October 23, 2023
By Philip Sledge October 23, 2023
By Jason Wiese October 22, 2023
By Corey Chichizola October 22, 2023
By Eric Eisenberg October 22, 2023
By Alexandra Ramos October 22, 2023
By Erik Swann October 22, 2023
By Philip Sledge October 22, 2023
2 If Bachelor Nation Fans Aren't Already Watching Charity Lawson On DWTS, They Need To Start After Her Gravity-Defying Dance
3 James Wan Talks Aquaman 3 Possibility In New DCU
4 As CBS' FBI Fans Wait For Season 6, Creator Reflects On Hitting A Major Milestone
5 Stranger Things Season 2 Is Turning 6, And It's Time We Talk About Why The Underrated Season Deserves More Love
By providing your information, you agree to our Terms of Use and our Privacy Policy . We use vendors that may also process your information to help provide our services. This site is protected by reCAPTCHA Enterprise and the Google Privacy Policy and Terms of Service apply.
Who Is Ghostface in 'Scream 6'? The Killer Is the 1st For the Franchise & Someone Fans Won't Expect
Share on Facebook
Share to Flipboard
Show more sharing options
Post to Tumblr
Submit to Reddit
Share on LinkedIn
Share on WhatsApp
Print This Page
Warning: Scream 6 spoilers ahead. If you can't wait until the end of the movie (or want to know if your suspicions are correct), you may be wondering: Who is Ghostface in Scream 6 and which character is the killer?
The Scream franchise, created by direct Wes Craven, in 1996 with the original Scream . The movie followed Sidney Prescott, a high school senior in the fictional town of Woodsboro, California, who becomes the target of a mysterious killer in a Halloween costume known as Ghostface. The film—which sees Sidney investigate the murders with the help of town police officer Dewey Riley and local reporter Gale Weathers—went on to gross more than $173 million worldwide and is the second highest-grossing slasher movie of all time after 2018's Halloween . The movie—which is based on The Gainesville Ripper, a.k.a. Danny Rolling, a serial killer who murdered five students in Gainesville, Florida, over the four days in August 1990—also went led to the release of five sequels: 1997's Scream 2 , 2000's Scream 3 , 2011's Scream 4 , 2022's Scream 5 (also known as Scream) , and 2023's Scream 6 .
Watch 'Scream'
Scream 6 is the first movie without Neve Campbell, who exited the film in 2022 over a pay dispute with the franchise. "The offer that was presented to me did not equate to the value I have brought to the franchise," she said in a statement at the time. "Sadly, I won't be making the next Scream film. As a woman I have had to work extremely hard in my career to establish my value, especially when it comes to Scream . I felt the offer that was presented to me did not equate to the value I have brought to the franchise. It's been a very difficult decision to move on. To all my Scream fans, I love you. You've always been so incredibly supportive to me. I'm forever grateful to you and to what this franchise has given me over the past 25 years."
Campbell also confirmed to People that she wasn't "done for good" with Scream after her exit from Scream 6 . "I don't know that I'm done for good," she said. "It would really depend on what they came to me with next. It would have to be different. It would have to be a different attitude, and I'm not sure that's going to happen." She continued, "If they came to me with a number that felt right, that felt respectful, that felt in keeping with my value that I brought to the franchise, I'd be willing to consider [returning in the future]." She added, "I don't believe it's dead in the water, but we'll see. But honestly, I'm really okay. I've been able to let it go. I wish them well. I'm doing three different shows right now. I'm very, very grateful that I'm working. I'm happy. So all is good."
But back to who Ghostface is in Scream 6 . So…who is Ghostface in Scream 6 and which character (or characters) is the killer? Read on for what we know about who Ghostface is in Scream 6 and the identity of the main killer.
Who is Ghostface in Scream 6 ?
Who is Ghostface in Scream 6 ? There are three Ghostface killers in Scream 6 : Wayne Bailey, a detective investigating the Ghostface murders in New York City; Quinn Bailey, Sam and Tara's roommate and a student at Blackmore University; and Ethan Landry, Chad's roommate and also a student at Blackmore University.
At the end of Scream 6 , Sam, Tara, Chad, Mindy, Ethan, Kirby and Wayne agree to meet at Ghostface's lair—an empty New York City movie theater transformed into a shrine to past Ghostfaces—where they planned to trap and kill him. When Sam, Tara, Chad and Kirby arrive at the theater (Mindy was attacked by Ghostface on the subway with Ethan on the way to the theater), Wayne calls Sam to tell her that Kirby was fired from the FBI months prior after she was determine to be mentally unstable and warns her and the group to leave the theater immediately. Before they can leave, Sam, Tara and Chad are attacked by two Ghostfaces, who seemingly kill Chad. As Sam and Tara try to escape, Kirby and Wayne both arrive with their guns drawn. Wayne shoots Kirby, revealing himself to be the first Ghostface. The other two Ghostfaces reveal themselves to be Wayne's children: Ethan, who lied about his last name and rigged Blackmore University's roommate system to be roommates with Chad; and Quinn, who faked her death by Ghostface earlier in the movie with the help of her father. The scene made Scream 6 the first Scream movie to have three Ghostfaces.
Wayne, Ethan and Quinn reveal themselves to be the father, brother and sister of Richie Kirsch, Sam's ex-boyfriend and the most recent Ghostface who she killed in season 5. The Bailey family tell Sam and Tara that they plan to avenge Richie's death and finish his movie on the Ghostface murders. During their fight with the Bailey family, Tara seemingly kills Ethan by stabbing him through the mouth, while Tara kills Quinn by shooting her in the head with a bullet. Sam then puts on her father Billy Loomis' Ghostface costume and calls Wayne using the Ghostface voice to taunt him before stabbing and killing him. Ethan, still alive, then tries to attack Sam and Tara before Kirby reappears and smashes the television set that killed Stu Macher over Ethan's head to kill him. Scream 6 ends with Tara staring at her father's Ghostface mask before leaving it behind in the street outside the theater.
Will there be a Scream 7 ?
Will there be a Scream 7? In an interview with Dexerto in March 2023, Scream 6 's directors Tyler Gillett and Matt Bettinelli-Olpin revealed that they would be open to making a seventh Scream movie."We don't know about a Scream 7 yet, we'd of course love to see a million more Screams. "We don't know what's next, but we hope that the Scream franchise just lives on and on, because it can, because it's a franchise that reinvents itself every time anyways, so there's something just built into it that allows it to just continue," Bettinelli-Olpin said. He continued, "We do always joke about a spin-off of the Stab series, that would be really fun for us. We would be, just call and we'll do it, it'd be so fun."
Gillett and Bettinelli-Olpin also teased a Scream 7 in an interview with Deadline in March 2023. "We hope," Bettinelli-Olpin said. "We want to be watching Scream movies whether we're involved or not for the rest of our lives." Gillett added, "We're so happy it's back." Creator Kevin Williamson also told Deadline about why the franchise decided to set Scream 6 in New York City. "I was a little hesitant because I was like, 'How do you make it scary in New York City?'" Williamson said. "Well, they figured it out, they knew exactly how to do it. I didn't realize how scary New York City can be and then you go back and say, 'Well, I used to live here.' And there's so many times you walk down the street and there's nobody there. And you get on the subway and there's one or two people, and you're unnerved. It's scary to think how scary New York City can be because I used to live here … but I think they milked it and they managed to figure out how to make it really scary."
The Scream movies are available to stream on Paramount Plus . Here's how to watch them for free .
Our mission at STYLECASTER is to bring style to the people, and we only feature products we think you'll love as much as we do. Please note that if you purchase something by clicking on a link within this story, we may receive a small commission of the sale.
Most Popular
You may also like.
Latest News
Transfer News
Premier League
Champions League
SPOILERS: Who is Ghostface in Scream 6 and what's the motive?
Who is the Ghostface killer in Scream 6? HITC explains with full Scream 6 spoilers.
Do you like scary movies? Horror movies are an acquired taste but once you're in you'll find yourself obsessed with seeking out more and more sub-genres. For slasher fans, in particular, the big event of 2023 is undoubtedly Scream 6 .
While franchise veterans like Courteney Cox reprise their roles, Scream 5's Jenna Ortega is back as Tara Carpenter too.
Blending both fresh and iconic characters, directors Matt Bettinelli-Olpin and Tyler Gillett transport audiences to New York City, marking a radical departure from the Woodsboro setting of the five previous installments despite some tricker with filming locations .
Of course, that's not the only new thing to appreciate… we have a new Ghostface stalking the streets. Indeed, now that the sequel has arrived, we have answers. Who is the Ghostface killer in Scream 6?
WARNING: MAJOR SCREAM 6 SPOILERS AHEAD
MORE : DOES DAVID ARQUETTE CAMEO IN SCREAM 6?
Who is the Ghostface killer in Scream 6?
It turns out there is not one, not two, not three, but four Ghostface killers that are unmasked in Scream 6. These are Jason Carvey (played by Tony Revolori ), Ethan Landry (Jack Champion), Quinn Bailey (Liana Liberato), and Detective Wayne Bailey (Dermot Mulroney).
The opening sequence shows Jason donning the Ghostface costume to murder his Film Studies teacher, Laura ( Samara Weaving ). He then heads home and it's revealed that he is working with fellow Blackmore University student Greg. They plan to murder the Carpenter sisters but Jason receives a Ghostface phone call of his own and the pair are killed.
Throughout the movie, it's established that there is another Ghostface out there totally separate from Jason who similarly targets the Carpenter sisters.
Fortunately, they have help from Gale Weathers, Kirby Reed ( Hayden Panettiere ), and, as it turns out, the Ghostface killers themselves who have been deceiving the innocents along the way.
Although Quinn appeared to die in an earlier scene, it's revealed in the final act that they faked her death and the trio has been working together, orchestrating the Carpenter sisters' moves.
MORE : DOES GALE WEATHERS DIE IN SCREAM 6?
What is Ghostface's motive in Scream 6?
Quinn and Ethan are Wayne's children and it turns out that they're family members of Richie, one of the two killers from Scream 5.
When Wayne's first son died, he became infatuated with getting revenge against everybody involved in his son's death. So, he recruited his other kids to join him in his bloodthirsty quest to avenge Richie's death.
Although his main target is Sam (Melissa Barrera), who killed Richie, they want to murder her loved ones too; anybody who was entangled in the events of Scream 5.
As Richie was obsessed with the Stab movies, the shrine that the group visit throughout Scream 6 is actually a memorial to Richie that Wayne assembled.
Hello, Gale. The wait is over. #ScreamVI is NOW PLAYING in theatres. Get your tickets now: https://t.co/8wq978Y3Cr pic.twitter.com/INjZ00N3h6 — Scream (@ScreamMovies) March 10, 2023
'We had to take a really hard left turn'
Co-director Tyler was previously interviewed by Collider and addressed deviating from Scream 5 when helming the sixth entry:
"I think it was such a surprise to have Scream come back, to be involved in it, and I think we just knew that for as warm and comforting and as homage-y as the last one was, we had to take a really hard left turn for the next one, just to keep ourselves interested, right?"
He continued: "To keep ourselves engaged and surprised. That's always been the compass; what is thrilling and fun and exciting to us? And hopefully people love the same thing."
Scream 6 is now in theaters.
MORE: How to get a Hello Ghostface phone call in UK to celebrate Scream 6
Related Topics
Related posts, more in movies.
All the Ghostface killers in the 'Scream' movies so far
Warning: Spoilers ahead for every single "Scream" movie, including "Scream 6."
There have been 13 killers in the "Scream" movies so far.
Most installments feature more than one Ghostface.
Billy Loomis and Stu Macher, "Scream" (1996)
Cast your mind back to 1996, it's the year of "The Craft" and "Independence Day" — and Wes Craven's first "Scream" movie .
It's the one that introduced the world to Ghostface, Sidney Prescott (Neve Campbell) , and the franchise's signature meta-take on horror movies.
"Scream" took the horror rule book and ripped it up, with the characters aware of what would happen if they were in a horror movie, which they were (unfortunately).
But because it seems so predictable for Sidney's boyfriend, Billy Loomis (Skeet Ulrich) , to be the killer, he gets a pass for quite some time in "Scream."
But when that final act comes around, and Billy unmasks himself as the killer, it's a brilliant twist, especially when the wacky Stu Macher (Matthew Lillard) is revealed as his accomplice.
Billy's murder spree all stems from the fact that his mother abandoned him when she discovered that Sidney's mother, Maureen Prescott, was having an affair with his father.
Billy and Stu brutally killed Maureen and framed her other lover, Cotton Weary (Liev Schreiber), for her death. But when Billy targets Sidney and her friends, the plan is to frame her father for Ghostface's murder and mayhem in Woodsboro.
Thankfully, Sidney, Dewey Riley (David Arquette), and Gale Weathers (Courtney Cox) put a stop to that.
But the Ghostface mantle would live on.
Nancy Loomis and Mickey Altieri, "Scream 2" (1997)
In Stu Macher's own words, "Ya gotta have a sequel!"
Just over a year after the first film, "Scream 2" arrived in theaters with its scathing take on sequels and how they can ruin a franchise by attempting to go bigger and better — so what does Craven do? He goes bigger and better.
Yes, this one may as well be called "Scream 2: Ghostface Goes to College," but it keeps things fresh rather than constantly having the action take place in Woodsboro.
Here, Sidney tries to move on and have a normal life with a normal boyfriend, Derek (Jerry O'Connell), and fellow survivor, Randy Meeks (Jamie Kennedy).
Unfortunately, a new Ghostface surfaces and causes havoc on campus, even killing fan-favorite hero Randy.
In the movie's dramatic climax, the new killer is revealed as film geek Mickey Altieri (Timothy Olyphant), who actually wants to get caught so that he can blame horror movies for his crimes at trial.
But he isn't alone in the killings, as the mastermind this time was actually Billy's mother, Nancy Loomis (Laurie Metcalf). She wants revenge on Sidney for killing her son — even though she left him in the first place, which ultimately turned him into a murderer.
Roman Bridger, "Scream 3" (2000)
After "Scream 2," Ghostface tried to make it big in Hollywood with "Scream 3."
The franchise got even more self-referential by the third film, leaning harder into the movie-within-a-movie idea with the in-universe "Stab" franchise.
While it takes shots at movie trilogies (thanks to a posthumous video tape from Randy), the film sees the production of "Stab 3" plagued by a new Ghostface who kills various cast members and people involved with making the sequel.
As with all the "Scream" films, it's always the last person you'd suspect because the culprit is "Stab 3" director Roman Bridger. So, why is he offing his own cast members? Unsurprisingly, it all comes back to Sidney, because he's her long-lost brother!
Blimey. He was born after Sidney's mother tried to make it big in Hollywood, but was raped by producer John Milton (Lance Henriksen), and she gave Roman up due to the trauma of the incident and went home to Woodsboro.
When Roman tried to reconnect with Maureen, she rejected him, which is when he filmed her having affairs with Cotton Weary and Harold Loomis — showing the footage to Billy Loomis and persuading him to get his own revenge on Sidney's mother. Yes, Roman is secretly the mastermind behind the original trilogy!
Jill Roberts and Charlie Walker, "Scream 4" (2011)
Like any good slasher villain, the franchise rose from the dead in 2011 with "Scream 4," which sees Sidney return to Woodsboro on a book tour after a decade away from her hometown. She takes the opportunity to reconnect with her aunt Kate (Mary McDonnell) and cousin Jill Roberts (Emma Roberts).
Predictably, a brand new Ghostface rears its hooded head to make the most of Sidney's return and kicks off a new wave of murder in Woodsboro — upping the mayhem by filming each kill.
"Scream 4" rewrites the horror rule book for a new era with the finale taking place at the after-party of a "Stabathon" movie marathon. There, Jill and resident movie expert friend Charlie Walker (Rory Culkin) unmask themselves as Ghostface.
Jill's motivation stems from feeling like Sidney stole her childhood because the focus and attention was always on what she went through.
So, with a bit of movie-inspired mania, she and Charlie devised a plan where they would be the new survivors of the Ghostface killings — and get all the fame that comes along with that. But then Jill kills her accomplice in a genuinely surprising second twist because she knows that everyone loves a "sole survivor."
Ultimately, the carnage continues in the hospital when Jill discovers that Sidney survived the chaos of the after-party. Jill tries to finish the job but is killed by the hero with a defibrillator to the head, as well as a gunshot to the heart (just to be safe).
Richie Kirsch and Amber Freeman, "Scream 5" (2022)
A decade after fans last saw Ghostface in theaters, he returned in 2022's "Scream" to hunt a whole new class of teens.
"Scream 5" introduces Sam (Melissa Barerra) and Tara Carpenter (Jenna Ortega), who are at the center of the new spate of murders, largely because Sam is the illegitimate daughter of Billy Loomis.
No, she's not the one carrying out all the killings — it's actually her boyfriend, nice guy Richie Kirsch (Jack Quaid), and Tara's best friend, Amber Freeman (Mikey Madison). Their motive?
They're furious that "Stab 8" was a disaster, and want to give the writers of the movie franchise better material for the next movie. Oh yes, this one's all about toxic fandom.
Because Mindy Meeks-Martin (Jasmin Savoy Brown) dubs these events a "requel" (remake and a sequel), the film pays homage to the original by having the final climax place in the same place as the first "Scream" movie: Stu Macher's house.
Sidney and Gale get revenge on Amber for killing Dewey in the hospital by burning her alive, while Tara puts her down with a headshot. But Sam's the one to put an end to the whole thing by stabbing her now ex-boyfriend Richie over 20 times before slitting his throat.
Like father, like daughter.
Bonus round: Jason Carvey and Greg, "Scream 6" (2023)
"Scream 6" kept things fresh by reinvigorating its opening kill, which instantly set the tone for the sequel.
The opening sees Laura Crane (Samara Weaving) waiting for her date in a bar, only to get lured out to a dingy alleyway by Ghostface before being brutally carved up.
But in a "Scream" first, Ghostface immediately unmasks himself after Crane's death, revealing himself as film student Jason Carvey (Tony Revolori).
Jason goes back to his apartment and chats with his roommate Greg about their plot to kill Sam and Tara, only to find Greg's body stuffed in the fridge.
Unsurprisingly, he's murdered by the film's main Ghostface moments later. It's a truly fun way to keep audiences on their toes, that's for sure.
Detective Bailey, Ethan, and Quinn, "Scream 6" (2023)
This brings us to 2023's "Scream 6," which is basically Ghostface takes New York.
Yes, the killer makes his way to the Big Apple alongside Sam and Tara, who try to get a fresh start at college one year after their ordeal. They live with their close friend Quinn Bailey (Liana Liberato) whose father, Wayne Bailey, is a detective.
Unfortunately for the gang, the online discourse surrounding Richie and Amber has led many online to believe that Sam was actually the real Ghostface killer and framed Richie. Oh, dear.
So when a vicious new Ghostface starts slaughtering people close to Sam, she's at the top of the suspects' list.
But by the time the final showdown takes place in Richie's shrine to all things Ghostface, Woodsboro, and the "Stab" movies, it's revealed that Detective Bailey is actually Richie's father .
Not only was Bailey the one who circulated the rumor that Sam framed Richie, he even convinced his children to join him in becoming Ghostface.
Both Quinn and friend of the gang Ethan (Jack Champion) are Richie's siblings, and they're just as twisted as he is.
Tara gets in touch with her inner killer and stabs Ethan to death, while Sam executes Quinn with a headshot. But Wayne gets the special treatment.
Sam follows in her father's footsteps and dons the Ghostface robe herself, hunting the detective through the building before brutally stabbing him around 37 times — including once in the eyeball. Ouch. To be fair, he deserved it.
Search Please fill out this field.
Manage Your Subscription
Give a Gift Subscription
Sweepstakes
Entertainment
Who Is Ghostface in 'Scream' ? A Guide to All the Killers in the Franchise
Here's a look back at every identity that has been revealed behind the infamous black-and-white, rubber mask since the first Scream premiered in 1996
Everyone's familiar with the infamous Ghostface mask, but who's behind it is the constant question at the heart of the Scream franchise.
Since the widely-successful slasher film debuted in 1996, the five installments that followed kept its classic whodunnit format. In Scream 's case — that is — a plot that chronicles a murder mystery surrounding a disguised killer who causes havoc in the California town of Woodsboro.
While the murderer identities behind the mask are different in each film, there are a few factors that always remain the same. Notably, Ghostface's black-hooded-cloak ensemble paired with its synonymous rubber white mask with blacked-out facial features.
In addition to Ghostface's ghoulish garb, the creepy voice also remains a constant. Voice actor Roger L. Jackson has been the man behind the murdering monster in every film within the Scream franchise, despite the revolving actors physically playing the character on screen.
The horror franchise released its fifth installment in 2022, marking the first movie in the Scream series to be directed by someone other than Wes Craven , who died in 2015. Filmmakers Matt Bettinelli-Olpin and Tyler Gillett were tasked with reinventing the franchise.
Most recently, the duo have teamed up once again to bring Ghostface to Manhattan for Scream VI — who "isn't like any other Ghostface," according to a new trailer released on Jan. 19. Jenna Ortega and Melissa Barrera are reprising their roles in the upcoming film, while Scream staple Courteney Cox also makes her return.
Here's a look back at every Ghostface killer revealed to date.
Warning: This post contains spoilers for the entire 'Scream' franchise, including the sixth installment .
Scream 1 (1996)
1996's Scream , notoriously known as one of the bloodiest films of all time, features two killers: Billy Loomis played by Skeet Ulrich and Stu Macher played by Matthew Lillard . Billy is regarded as the original Ghostface, followed by Stu who is revealed as the second.
Billy is the main antagonist of the first Scream film. A horror film fanatic, he recruits his teenage best friend Stu to assist him on his killing spree in the small fictional town of Woodsboro, California. Despite Billy's admittance that it's "scarier when there is no motive" to kill, his intent ultimately becomes clear.
The reason? Billy reveals that he wants to get revenge on Maureen Prescott for causing his parents to separate. Maureen is the mother of Sidney Prescott (played by Lynn McRee) and had an affair with Billy's father, Henry "Hank," resulting in his mother Nancy Loomis to leave their family.
Maureen is the first Ghostface kill of the Scream franchise and the only murder to take place off screen. While both Billy and Stu were involved in this death, it remains a mystery as to who's responsible for the six other murders in the first film of the franchise.
Scream 2 (1997)
Two killers are revealed as Ghostface in Scream 2 : Mickey Altieri played by Timothy Olyphant and Nancy Loomis played by Laurie Metcalf . The franchise's second installment is the first time Mrs. Loomis makes an appearance, despite being mentioned in the original Scream .
Mickey, a film student and Sidney's best friend at Windsor College, is the first killer revealed in Scream 2 . Unlike the rest of the murderers in the Scream franchise, Mickey is the only killer who turns himself in with the intent of getting caught and gaining infamy.
He was recruited by Nancy (also known as "Debbie Salt") who is coping with grief after leaving her family and learning of her son Billy's involvement in the Woodsboro Murders in 1996, which ultimately resulted in his death.
In a copycat Ghostface killing spree, Nancy and Mickey target two of the Woodsboro survivors (Billy's former girlfriend Sidney and author Gale Weathers) and torment them in Ohio. Her intent was to seek revenge for the death of her son, in addition to frame Mickey as the sole murderer.
Scream 3 (2000)
Scream 3 is the only film in the franchise where only one identity is revealed as Ghostface: Roman Bridger played by Scott Foley . Roman is the main antagonist of the third installment and the fifth Ghostface murderer unmasked overall.
Roman is a music video director, tasked with the gig of helming Stab 3: Return to Woodsboro . The fictional film is the concluding film in the trilogy and is based on the true events of the 1996 Woodsboro and 1998 Windsor College Murders that went down in the Scream franchise's first two installments.
It is revealed that Roman is Sidney's older half-brother, first born of Maureen Prescott. Not only is he her secret maternal sibling, but he is her arch-nemesis. Jealous of her successes, he seeks revenge against her.
Additionally, it is revealed that Roman was the architect behind the aforementioned killing sprees. He wanted to avenge those who wronged him, like his mother who rejected him and her secret affair with Hank.
Thus, he is indirectly responsible for the previous Ghostface murders, despite only appearing in Scream 3 . Also, Roman holds the record for the most kills in the franchise to date.
Scream 4 (2011)
Scream 4 saw the return of two identities under the infamous Ghostface mask: Charlie Walker played by Rory Culkin and Jill Roberts played by Emma Roberts . With respective underlying intents, Charlie and Jill teamed up to cause havoc on the town of Woodsboro.
A film student and horror movie buff, Charlie was unknowngly a pawn in Jill's concocted plan. He was also her secret girlfriend, a relationship that started after she was cheated on by her ex-boyfriend Trevor Sheldon.
As for Jill, her jealousy of Sidney's fame as the survivor of the 1996 Woodsboro Murders and her successes that followed were among her leading causes to kill. In honor of the 15th anniversary of the Woodsboro Murders, she teamed up with Charlie to recreate the harrowing happenings in a real-life film.
Jill and Charlie would play the millennial counterparts to Sidney and Randy Meeks in the killing spree that Billy and Stu started. Their plan was to kill and frame her ex-boyfriend, Trevor, for the murders. But Jill secretly intended on framing Charlie as an accomplice, and she would come out on top as the sole survivor.
Meanwhile, Jill's goal of gaining fame ultimately turned into infamy in the end with seven kills to her name. As for Charlie, his kill game was weak from the start, ultimately leading to his demise far sooner than Jill's.
Scream 5 (2022)
In typical Scream fashion, the film's fifth installment also saw two killers behind the Ghostface mask: Amber Freeman played by Mikey Madison and Richie Kirsch played by Jack Quaid .
Amber was a super fan of the Stab films, though she didn't care for its sequels, particularly the eighth installment. She took her opinions to subreddit where she met Richie. They decided to recreate Stab 8 themselves, calling it a "requel" (a reboot sequel).
Their intent is to kill sisters Sam and Tara Carpenter, using them as basis of the film. Sam is the long-lost daughter of Billy, who Richie attempts to cozy up as part of his plan before ultimately turning on her in the end. Meanwhile, Amber gets Tara to become her best friend.
Amber's most notable claim to fame is slashing the long-lasting Dewey Riley, who she murders in self defense. As for Richie, he falls victim to Sam, nearly 25 years after the original massacre.
Scream 6 (2023)
There's no denying that the horror franchise follows a trend of having more than one killer behind the Ghostface mask (with the exception of Scream 3 ) — and Scream 6 is no different. In fact, the latest installment is even more ruthless than its predecessors.
Why? Because not two, but three murderers are revealed! The unmasked identities include Wayne Bailey, Quinn Bailey and Ethan Landry.
Wayne is a detective who is investigating the Ghostface murders in New York City, an essential part of the sixth installment's plot which picks up where Scream 5 left off. It follows Tara, Mindy and Chad as they head to N.Y.C. to attend the fictional Blackmore University with Sam tagging along to protect her younger sister. In New York, the gang adds three new members to their crew: Tara's roommate Quinn, Mindy's girlfriend Anika and Chad's roommate Ethan.
The group spends most of the film trying to track down the new Ghostface killer, who seems to be even more ruthless than some of their predecessors. Several characters are killed off before the final showdown, which sees Sam, Tara, Chad, Mindy, Ethan, Kirby and Wayne head to Ghostface's lair (an empty movie theater, to be exact) where they plan to corner and kill him. Before they even get there, not everyone makes it: Mindy is attacked on the train ride over after she and Ethan got separated from the group.
Once they arrive at the lair, Sam receives a call from Wayne, who claims that Kirby is the killer — but before they get the chance to escape, Sam, Tara and Chad are jumped by two Ghostfaces. Sam and Tara try to make a run for it, but Kirby and Wayne appear with guns in hand. Wayne shoots Kirby, revealing himself to be the first of three Ghostfaces, with Quinn and Ethan exposing themselves to be the other two.
Oh, and to further blow viewers' minds, Quinn and Ethan reveal themselves to be Wayne's children. It turns out Quinn, who was seemingly killed by Ghostface during an earlier scene, had faked her death with the help of her father, while Ethan had schemed his way into being Chad's roommate to get close to the Carpenter sisters. The trio's motivation? To get revenge on Sam for killing their son and brother, Richie Kirsch, in the previous film after he orchestrated his own series of Ghostface slayings.
The family of killers marked the first time the Scream franchise unveiled a trifecta of Ghostface identities — but like the murderers who came before them, none of the three made it out of the film alive.
By clicking "Accept All Cookies", you agree to the storing of cookies on your device to enhance site navigation, analyze site usage, and assist in our marketing efforts.
'Scream VI' Ending Explained: Who Is Ghostface and What Do They Want?
The new installment of the 'Scream' franchise takes things to a new bloody level while discussing family and legacy.
Editor's note: The following article contains spoilers for Scream VI . Scream VI is finally in theaters, bringing a brand new Ghostface to New York City in the killer's big city debut. The sequel also amps up the violence by delivering the biggest body count of any Scream movie, all while it gives Ghostface a raw fury unlike anything we've ever seen. Finally, Scream VI tries to redefine the franchise's rules by bringing back multiple survivors from the previous installments and a new cast of suspects and potential victims. The sequel to the requel is overflowing with nostalgia, but it also keeps fans guessing for almost two hours until the villain is unmasked and their motivation revealed. There's a lot to unpack in Scream VI 's ending, so let's slash the movie's secrets, one piece at a time.
Setting a Trap in Ghostface's Shrine
Set approximately one year after the event of 2022's SCREAM , Scream VI follows the main survivors of the latest Woodsboro massacre as they try to build a new life in New York City. Each "Core Four" member is trying to cope with what they went through differently. Siblings Chad ( Mason Gooding ) and Mindy Meeks-Martin ( Jasmin Savoy Brown ) remain passionate about cinema and enrolled in college to study film. Tara Carpenter ( Jenna Ortega ) wants to pretend nothing happened, while Tara's sister, Sam ( Melissa Barrera ), is still struggling with the fact she's the daughter of the original Ghostface, Billy Loomis ( Skeet Ulrich ).
Since SCREAM , Sam is haunted by visions of Billy and fears becoming a killer like her father. As she confesses during a therapy session, Sam felt it was right to stab her ex-boyfriend, Richie Kirsch ( Jack Quaid ), the last man to don the Ghostface mask. Sam had to kill Richie to protect her sister and friends, but she's still shocked by how easy it was to take another person's life. To complicate matters, a series of online rumors turned Sam into a pariah since many people now think she was responsible for SCREAM 's Woodsboro massacre. According to these conspiracy theories, Sam killed everyone and pinned the blame on Richie, who's actually innocent.
RELATED: 'Scream VI' Review: Ghostface Slices Through NYC in This Nostalgia-Filled Blast
A few months after arriving in New York City, the Core Four is targeted by a new Ghostface. As the killer tells Sam through an ominous phone call, they are after the truth and want to expose how Sam is a murderer. It seems like the new Ghostface bought into the conspiracy theories that circle online and is determined to make Sam suffer. Unfortunately, anyone who gets between Ghostface and his primary target is slashed away with no remorse.
While investigating the new Ghostface attacks, the Core Four get the help of police detective Bailey ( Dermot Mulroney ), the father of the Carpenter sisters' new roommate, Quinn ( Liana Liberato ). Chad also got a new roommate, Ethan ( Jack Champion ), while Mindy is now dating a girl named Anika ( Devyn Nekoda ). Finally, Sam is also dating Danny ( Josh Segarra ), a man who lives across her hallway. The Core Four can also count on the backup of Scream 4 's Kirby ( Hayden Panettiere ), who became an FBI agent, and Gale Weathers ( Courteney Cox ).
Thanks to Gale's investigative skills, the group discovers a sanctuary the new Ghostface is using as a lair, where the costumes and weapons of every previous killer are exposed as collector's items. The shrine contains a lot of police evidence, and it's clear the owners were wealthy or well-connected. The building apparently belonged to Jason ( Tony Revolori ) and Greg, two Ghostface copycats who died at the hands of the new killer. It seems like the place was overtaken by the new Ghostface, who's been leaving the masks belonging to previous killers in each murder scene. The whole site is also secured with magnetic locks and security cameras, making it an impenetrable fortress.
After Quinn and Anika are murdered, and Gale is sent to the hospital in critical condition, the survivors decide to turn the tables and use Ghostface's shrine as a cage to trap the killer and take him down. The group is split on the subway, leading to Mindy being stabbed and sent to the hospital while Ethan stays behind to care for her. Then, Sam also decides to ditch Danny since she doesn't really know him. That means only Tara, Sam, and Chad get to the shrine, where Kirby awaits them. However, as soon as they get to the place, Detective Bailey gives Sam a distressing call, revealing Kirby has been dismissed from the FBI after a mental breakdown caused by the last Woodsboro murders. Kirby seems to be the new Ghostface, and the survivors have locked themselves inside the shrine with the killer.
Scream VI Is All About Legacy
From the moment she first arrives in Ghostface's shrine, Sam starts to have visions of Billy. The ghost of her father pushes her to embrace her killing nature. After she gets a phone call from Detective Bailey, Sam is attacked and stabbed by a person wearing Ghostface's costume, who she assumes is Kirby. Sam manages to escape and encounters Tara and Chad, who just shared their first kiss. The trio fights off Ghostface until a second killer shows up, overpowering Chad. There are always two killers, with the exception of Scream 3 , so it makes sense for Kirby to have some backup.
Things heat up once Detective Bailey gets to the shrine. At the exact same moment, Kirby shows up, covered in blood, claiming to have been attacked by Ghostface. Consumed by his grief and convinced Kirby is lying, Detective Bailey shoots the FBI agent. That's all a ruse, as Bailey is the mastermind behind the latest Ghostface attacks. And for the first time in the franchise, there are three killers around. Bailey, Ethan, and Quinn—who is alive after all. Bailey fathered three children, Ethan, Quinn, and Richie. And now, the whole family wants revenge on the people who murdered Richie. That's why they started the online rumors against Sam, planning to blame her for the New York Ghostface killing spree.
Bailey explains how the shrine was actually Richie, who managed to get his hands on police evidence thanks to his father being a detective. Bailey only changed the ownership register to lure everyone there while investigating the dead Ghostface copycats. Bailey also wants Sam to wear the Ghostface mask that belonged to Billy so that he can show the world she's a murderer.
Sam starts to tease Bailey and his family, telling them how Richie was a coward who let his girlfriend, Amber ( Mikey Madison ), make all the killings. When Bailey seems distracted enough, Tara and Sam use bricks to attack the killers. Kirby also wakes up and joins the fight, shooting in Bailey's direction. Unfortunately, Ethan stabs Kirby; fortunately, Sam pulls the knife from Kirby's belly to use it to stab Ethan.
Tara and Sam try to run away from the killers, changing blows and stabs while looking for a way out of the Ghostface shrine. Tara faces Ethan and sticks a knife in the boy's eye. Sam also manages to put a bullet in Quinn's forehead, leaving only Bailey alive. Fulfilling Bailey's wish, Sam puts on the costume of Billy and calls the detective. She uses an app to emulate Ghostface's voice and teases Bailey until she can surprise and stab him multiple times. At first, Sam doesn't want to kill Bailey since she feels she has to prove she's not a murderer like her father. However, after getting Tara's support, Sam ends Bailey's life.
It wouldn't be a Scream movie without a final jump scare, and Ethan rises from death just to be killed once again. Both Tara and Sam are murderers, but contrary to the Ghostfaces of the past, they only kill to protect their family, not to fulfill selfish desires. That's also why Sam drops Billy's mask on the floor at the movie ends, as she's finally at peace with her legacy.
After everything is said and done, Danny brings the police to the shrine, proving he was really trying to help. Chad is also sent to the hospital, and while he's in terrible shape, he'll probably survive. Kirby, Mindy, and Gale are scarred for life after being attacked again by different Ghostfaces, but shockingly, all the legacy characters made it to the credits. So, while Scream VI is the bloodiest movie in the franchise, the biggest surprise is how many people remain alive. Especially since there were three killers this time around.
'Scream VI' spoilers! Sorry, Ghostface, this character is the franchise's best killer
Spoiler alert! The following post discusses the ending of the new movie "Scream VI," so beware if you haven't seen it yet.
Another Ghostface has been unmasked in "Scream VI" (in theaters now), but it's becoming clear that, at least right now in the meta horror franchise, the best killer is actually a heroine with an intriguing dark side.
Sam Carpenter (Melissa Barrera) is targeted for death by a vengeful family in the new sixth film after moving from Woodsboro to New York City with sister Tara ( Jenna Ortega ). But while Ghostface left a bloody trail, it was Sam who had the last gnarly kill. 
Who was behind the Ghostface mask in 'Scream VI'?
In the "requel" 2022 "Scream," two psychopaths on a murderous spree wearing the Ghostface masks were revealed as Sam's boyfriend Richie (Jack Quaid) and his partner Amber (Mikey Madison), crazed fans of the movie-within-the-movie "Stab" series who wanted to be the inspiration for a new reboot. Sam stopped Richie's carnage by killing him while Tara took out her ex-best friend Amber.
And like the sequel to the original 1996 "Scream," the villains of "Scream VI" are related to the one before it: This time, Richie's cop dad Bailey (Dermot Mulroney) was the mastermind and his kids Quinn (Liana Liberato) and Ethan (Jack Champion) – who worked their way into Sam and Tara's friend group – were under the mask wanting revenge for their sibling's death. 
But the new baddies aren't the greatest at completing a task
Just like the Ghostfaces before them, the "Scream VI" antagonists are dangerous yet eventually get their comeuppance. This new crew, in one of the most brutal films in the franchise, takes out a copycat killer (Tony Revolori), Mindy's girlfriend (Devyn Nekoda) and others during their reign of terror.
However, when it comes to eliminating main characters they're … not great. They attack, stab viciously and leave for dead twins Mindy (Jasmin Savoy Brown) and Chad (Mason Gooding), FBI agent Kirby Reed ("Scream 4" returnee Hayden Panettiere) and newswoman Gale Weathers (original "Scream" star Courteney Cox) but their victims all survive in the end, so they get an F for execution. And although they trap Sam and Tara in a shrine to all things Ghostface, the fighting siblings aren't easily dispatched and instead eliminate their assailants.
Melissa Barrera's character is a 'Scream' queen John Wick
OG franchise heroine Sidney Prescott (Neve Campbell) shot and even electrocuted some Ghostfaces in her day, though Sam has her beat. In the 2022 film, she stabs Richie several times and, having apparently attended the John Wick School for Making Sure People Die, shoots him in the head so he doesn't get up again. Sam outdoes herself in "Scream VI," donning a Ghostface mask and robe to toy with Bailey before ultimately driving a knife into his eye.
That last bit ties into what makes Sam so intriguing in the "Scream" universe: She's the illegitimate daughter of Billy Loomis (Skeet Ulrich), Sidney's boyfriend and one of the original Ghostfaces in the '96 film, and while she protects her sister and friends, there does definitely seem to be something sinister roiling inside her.
Might the good girl go bad in future 'Scream' movies?
Sam has a talk with her shrink about how she really felt about stabbing her evil boyfriend – "It felt right ," she admits – and often sees visions of her dad, who eggs her on to embrace that side of herself. And Barrera tells USA TODAY that she purposely leans into that duality in her performance: "I like to play into that mystery so that I plant seeds of doubt in the audience. They don't know what's going to happen. I think it's fun."
After surviving the epic finale of "Scream VI," Sam looks longingly at Billy's original Ghostface mask in her hands before dropping it on the street. But what if she's pulled to it just like her dear ol' dad? That would be a most killer reveal, if she truly breaks bad and is found to be under the infamous headwear in the future as a villainous Ghostface. It could be the franchise's greatest meta twist ever.
Read more about scary movies:
'Scream VI' review:  Ghostface takes Manhattan in a solid but familiar stab-filled outing
More 'Scream VI': How the new Ghostface matches the bloody 'brutality' of New York City
'M3GAN' review: You'll love the mean-girl robot in this darkly funny, cautionary tale
Oh, bother!  5 gory 'Winnie-the-Pooh: Blood and Honey' moments that will ruin your childhood
From 'The Shining' to 'The Birds': 25 horror films to watch before you DIIIIIIIIIIIIE
No products in the cart.
Lee Waddell – Stuntman/Actor – The Original Ghostface in SCREAM & SCREAM 2
The Original Ghostface
Stunt coordinator of horror, Tony Cecere (Scream, Scream 2, The Hills Have Eyes, The People under the Stairs, Shocker, just to name a few) is a good friend and mentor of mine. He helped me out a lot when I was coming up as a stunt performer.
He asked to me come and work for him and Wes Craven on a production on called 'Scream'. I was blown away! It was scary, funny and celebrated the love of scary films while absolutely destroying all the tropes and clichés that horror movies had become. Wes was wicked in his approach to horror.
When it came time to put on the Ghostface mask and wardrobe for the opening scene with Drew Barrymore, Tony cast me to do it. As good as I knew the film was going to be…I never imagined that we'd be seeing sequels 30 years later.
Honestly, I'm as big a fan of this film and all the classic slasher movies as you are. That's why I enjoy interacting with the fans that come out to the conventions. I've done a lot of movies, but the fanbase of the Scream franchise is really something special.
I hope you like the site. I would love to see you folks at the next convention. If you like, look in my shop. I'm working to develop some one-of-a-kind and very limited-edition collectibles and other fun stuff.
As the saying goes!
 "What's your favorite scary movie?"
 I know what mine is.
Lee Waddell appearing as the original Ghost Face®  in Scream  and  Scream II
2023 APPEARANCES
Flashback weekend – august 4, 5 & 6 2023.
——————————–
Houston Horror Film Festival – August 11, 12 & 13 2023
Crypticon denver – august 18-20, 2023, haunted screams expo – september 16-17, 2023.
Virginia's Ultimate Horror Convention SATURDAY & SUNDAY Hampton Roads Convention Center Hampton, Virginia
creepIEcon Ontario, CA September 24, 2023
Mad monster party – atlanta – nov. 17th-19th 2023.
Crowne Plaza Perimeter at Ravinia Atlanta, Georgia
Get Tickets
Spookala – Tampa, FL  – October 6-8
Florida State Fairgrounds Tampa, FL
© Miramax Film Corp. 1997. All Rights Reserved.
Privacy Overview
Content is protected. Right-click function is disabled.
'Scream': All 14 Ghostface Reveals Ranked From Worst to Best
in Movies & TV
Scream is unlike any other slasher. Where the likes of Halloween and A Nightmare on Elm Street have the same killer who just won't die, in Scream , Ghostface's identity changes from film to film, while each film tends to have at least two Ghostface reveals.
In many ways, he's more invincible than Michael Myers and Freddy Krueger! And now that Scream VI (2023) has already unmasked the latest Ghostface killer, it's time to rank all the Ghostface reveals in the Scream film series.
We think the quality of a Ghostface reveal is a combination of the surprise of the reveal itself, as well as the way in which they're unmasked to both the characters and the audience. So, here are all 14 Ghostface reveals, ranked from worst to best!
WARNING: There are HUGE spoilers ahead for  Scream VI  from the get-go!
14. Greg Bruckner
There's not much to say about the character of Greg Bruckner, seeing as we never actually meet him! Partner to Jason Carvey (Tony Revolori), who's revealed as a Ghostface in the first few minutes of Scream VI , the only time we see Greg is in pieces in the refrigerator! One of the most bizarre Ghostface reveals for sure, but no points for one that doesn't really count.
13. Ethan Landry (one of five Ghostface reveals in Scream VI )
Ethan Landry (Jack Champion) is one of the three main Ghostface killers in Scream VI . Not only does Ethan share the exact same motive as his two accomplices, his "Looney Tune" persona, which emerges as soon as the mask is off, means he's the most cliché of the three.
Perhaps the worst thing about this unmasking, though, is the fact that film buff Mindy Meeks (Jasmin Savoy Brown) repeatedly tells her friends she thinks Ethan is one of the killers, so much, in fact, that it becomes increasingly obvious that he is.
Related: 5 Things In 'Scream VI' That Make ZERO Sense
12. Wayne Bailey
Father to Ethan Landry and the deceased Ritchie Kirsch (Jack Quaid), one of the killers in Scream (2022), detective Wayne Bailey (Dermot Mulroney) makes up another third of the Ghostface trio in Scream VI . Unfortunately, his reveal is about as surprising as Ethan's.
Perhaps it's because Mulroney's acting just seems off up until that point, particularly when he's supposed to be grieving over his dead daughter. As for the reveal itself, Bailey takes the whole " I would've gotten away with it if it wasn't for you pesky kids " thing a little too far.
11. Quinn Bailey
Of course, it turns out that Bailey's daughter wasn't dead the whole time in Scream VI ! We haven't seen that before (here's looking at you Scream and Scream 3 ). Although, for that reason, this is at least more surprising than the other two Ghostface reveals.
But while this reveal is a huge copout given the fact we were led to believe she'd been killed earlier in the film, Quinn Bailey (Liana Liberato) isn't quite as wacky as her father and brother. With that said, she's utterly insane, nonetheless.
Related: 'Scream' (1996) Reveals Billy Loomis Is Ghostface BEFORE the Third Act
10. Roman Bridger (the loneliest of Ghostface reveals)
Scream 3 (2000) certainly has its haters, which is largely because it becomes too fourth-wall in its meta commentary and humor for its own good. In short, it just feels too silly at times, although, to give credit where its due, it does wrap up the first three films perfectly.
As for its Ghostface reveal, the fact that Sidney Prescott (Neve Campbell) didn't even know her half-brother Roman Bridger (Scott Foley) beforehand takes away any shock the audience feels on behalf of the character. Also, his fake-out death was a cheap parlor trick.
9. Amber Freeman
In ranking Ghostface reveals, it's all too easy to get confused with which killer is better than the next, but this is based purely on the surprise of the reveal itself, and we consider Amber Freeman (Mikey Madison) in Scream (2022) to be a pretty solid Ghostface reveal.
Deep down, we all knew Amber was one of the killers — there was just something slightly off about her the whole time — but the way she's "unmasked" is unforgettable, as she executes Woodsboro teen Liv McKenzie (Sonia Ammar) while in non-Ghostface attire.
Related: Every 'Halloween' Movie Ranked Worst to Best
8. Charlie Walker
Charlie Walker (Rory Culkin) might not be one of the most memorable killers — after all, alongside main Ghostface killer Emma Roberts (Jill Roberts) in Scream 4 (2011), Charlie serves as something of a sidekick, like many others in the Scream film series .
However, when we finally learn that he's part of the deadly duo, it comes as a bit of a shock. After being (supposedly) tied to a chair by Ghostface, Kirby Reed (Hayden Panettiere) comes to his rescue, only for Charlie to stab her in the stomach, leaving her for dead!
7. Ritchie Kirsch
Ritchie Kirsch is yet another killer who isn't all that memorable, even if his motive (toxic fandom) is one of the best in the entire series . But his Ghostface reveal in Scream (2022) is very memorable, which sees him turn out to be the mastermind, alongside "sidekick"-killer Amber Freeman.
The film spends a lot of time trying to convince us that, like Billy Loomis (Skeet Ulrich), Ritchie is another "boyfriend/killer", to the point that it couldn't possibly be him. But when he stabs Sam Carpenter (Melissa Barrera) in the gut, well, like Sam, we didn't see it coming.
Related: Every Version of Michael Myers Ranked From Worst to Best
6. Billy Loomis
The original Scream (1996) plays with the idea that Billy Loomis is the killer so much, that you're left almost knowing it isn't him. And this is cemented when he gets fake-killed by Ghostface in front of Sidney (which was pretty convincing at the time, at least).
Later on, a bloodied Billy comes tumbling down the stairs in front of Sidney, where he suddenly shoots Randy Meeks (Jamie Kennedy). In hindsight, though, it's pretty obvious Billy was the killer — there's even a song in the film that contains a huge clue !
5. Stu Macher
Despite being something of a sidekick-killer himself, Stu Macher (Matthew Lillard) has become one of the most beloved characters in the entire Scream franchise, so much so that many fans expected him to come back from the dead in Scream VI  — which unfortunately isn't the case.
Nevertheless, Stu has one of the best Ghostface reveals. After Sidney learns Billy is a killer, Stu appears, pulls out a voice changer — which, up until this point, we didn't even know was a thing — and says, "Surprise, Sidney!", revealing himself as the second Ghostface, something we also didn't expect.
Related:  Every Ghostface Killer In the 'Scream' Movies Ranked
4. Mickey Altieri
Much like Billy Loomis, in hindsight, it's plain to see that "the creepy Tarantino film student" Mickey Altieri (Timothy Olyphant) in Scream 2 (1998) was a killer. That crazy hair, creepy smile, and the almost sly way he speaks to Sidney during the hospital scene.
But, at the time, of course, we had no idea, and when he unmasks himself in front of Sidney, we can't say we weren't surprised. Mickey remains one of the best Ghostface killers to date, not only because he has the "look", but also because of his desire to get caught!
3. Jason Carvey (one of the most unique Ghostface reveals)
Jason Carvey is the most unique entry on this list, and the most unique Ghostface in the entire franchise, for that matter. Why? Well, because he reveals himself before the Scream VI title card even appears on the screen, just a few minutes into the film!
Jason also breaks the record for being the most short-lived killer, as he's taken out minutes later by the film's "main" Ghostface. It's tempting to put him even higher, but the fact that we had never met his character before does take away from the reveal.
Related: Every 'Scream' Movie Ranked From Worst to Best
2. Debbie Loomis
Many fans probably don't consider Debbie Loomis (Laurie Metcalf), vengeful mother of Billy Loomis, to have one of the best Ghostface reveals, which is understandable given the fact she's not in Scream 2 all that much, save for a few scenes with Gale Weathers (Courteney Cox).
Not only that, but we'd never even met Billy's mother before — at least not without knowing it at the time. What's particularly great about her reveal, though, is that for a brief moment we actually think it's Gale, who Mickey has seemingly introduced as the second killer! But it quickly turns out that Debbie is hiding behind Gale with a gun to her back. Genius .
1. Jill Roberts
Though far from the strongest film in the series (we happen to think it's the weakest), Scream 4 does have one of the most surprising Ghostface reveals in Jill Roberts, who, up until removing the mask in front of Sidney, is played as the series' new "final girl".
What also works in the character's favor up until the reveal is the fact that Emma Roberts is only 5′ 2″, so it's hard to imagine that she'd be able to pass as Ghostface. But when she beats herself to a pulp during the third act, she certainly proves she has what it takes!
Related: 'Scream VI' Slashes Its Way Through the Box Office AND the Fanbase
Check out the official Scream VI  trailer below:
Related: The Most Iconic Slasher Movie Villains Ranked
As per Wikipedia , here's the official synopsis for Scream VI :
The film continues with the survivors of the latest Ghostface killings, sisters Samantha and Tara Carpenter and twins Chad and Mindy Meeks, leaving Woodsboro behind and starting a new chapter of their lives in New York City only to again be plagued by a streak of murders by a new Ghostface killer.
Scream VI stars Jenna Ortega (Tara Carpenter), Melissa Barrera (Sam Carpenter), Jasmin Savoy Brown (Mindy Meeks), Mason Gooding (Chad Meeks), Courteney Cox (Gale Weathers), Hayden Panettiere (Kirby Reed),  Roger L Jackson (the voice of Ghostface), Dermot Mulroney (Wayne Bailey), Henry Czerny (Christopher Stone), Tony Revolori (Jason Carvey), Jack Champion (Ethan Landry), Devyn Nekoda (Anika Kayoko), Liana Liberato (Quinn Bailey), Josh Segarra (Danny Brackett), Samara Weaving (Laura Crane) and Skeet Ulrich (Billy Loomis).
Related: 'Scream' and 'Friday the 13th' Will Cross Paths In New Slasher Series
How would you rank all the Ghostface reveals? And what's your favorite scary movie? Let Inside the Magic know in the comments below!
Comments Off on 'Scream': All 14 Ghostface Reveals Ranked From Worst to Best
Win a Trip to See T-Swift in Paris!
All Things Halloween
Weird Stuff
Famous Real Estate
Viral Stories
Love + Relationships
PopCrush Nights

Who Is the Killer in 'Scream VI'? (SPOILERS INSIDE)
Wondering who the killer is in Scream VI ? We've got you covered.
The sixth entry in the popular Scream horror movie series opened in theaters March 9, inviting fans of the franchise to a new location for Ghostface to terrorize his (or her) victims: New York City.
A far cry from the cozy suburbs of Woodsboro — or the glitz of Hollywood featured in Scream 3 — Manhattan provides a unique new hunting ground for the series' iconic masked villain. This Ghostface is particularly brutal and unforgiving as he (or she) stalks Scream 5 survivors Sam (Melissa Barrera ), Tara (Jenna Ortega), Mindy (Jasmin Savoy Brown) and Chad (Mason Gooding).
If you're dying to find out who Ghostface is in Scream VI , scroll down. But beware...
***Spoilers below!***
Who Is Ghostface in Scream VI ?
After sisters Sam and Tara Carpenter and their friends are terrorized over the course of the Halloween season in Manhattan — Sam, Tara, Mindy and Chad have relocated to New York City from Woodsboro for the latter three's college career — it's revealed that there are not one, not two, but three Ghostface killers, marking a first for the series.
READ MORE: 'Scream' Star Neve Campbell Details On-Set Bear Attack
The killers are revealed to be Detective Bailey (Dermot Mulroney), the police officer on Sam's case; his daughter Quinn (Liana Liberato), who seemingly died earlier in the film and was Sam and Tara's roommate; and Ethan (Jack Champion), one of Sam, Tara, Mindy and Chad's new friends.
Detective Bailey is also revealed to be Ethan's father. In another twist, it's revealed that all three are the family members of Scream 5 killer Richie, who Sam killed in the previous film. Their motive is, of course, to avenge the Stab -obsessed Richie and complete his twisted vision.
Why Isn't Sidney Prescott in Scream VI ?
Unfortunately, Sidney Prescott, played by Neve Campbell, who has appeared in every other Scream film and is the series' original Final Girl, does not appear in Scream VI .
In the film, when Ghostface begins terrorizing New York City, Gale Weathers tells Sam and Tara that Sidney sends them her best but is going "out of town" with her husband and children to protect them, and that she "deserves her happy ending."
However, the real reason Sidney does not appear in the movie is due to failed contact negotiations between Campbell and Paramount Pictures.
In June 2022, after starring in the Scream series for 25 years, Campbell announced she would not be returning as Sidney for the sixth film in the franchise due to stalled salary negotiations and implied the studio was unwilling to pay her what she believed she is worth.
"As a woman I have had to work extremely hard in my career to establish my value, especially when it comes to Scream . I felt the offer that was presented to me did not equate to the value I have brought to the franchise. It's been a very difficult decision to move on. To all my Scream fans, I love you. You've always been so incredibly supportive to me. I'm forever grateful to you and to what this franchise has given me over the past 25 years," the actress said in a statement.
Super Scary Horror Films That Will Keep You Up at Night
Call of Duty
Legend of Zelda
About Us & Contact
Privacy Policy
Review Policy
Who Dies In Scream VI? Answered
The new Ghostface has quite the body count to his name.
Ghostface is back and this time he's stalking the streets of New York in Scream VI, further increasing the killer's collective body count. As expected not everyone makes it out alive by the time the credits roll but just how daring do the directing team of Tyler Gillet and Matt Bittinelli-Olpin go with this one? Are the legacy characters safe this time around? Do the new "core four" make it out unscathed? Here's everything we know about who dies in Scream VI .
**It goes without saying, but there will be major spoilers in this article.**
Who Dies In Scream VI?
There are a number of gruesome kills throughout Scream VI which features a particularly bloodthirsty iteration of Ghostface. There are some close calls for the new core four who are beaten, shot, and stabbed, but all manage to survive another encounter with the killer. Gale Weathers and Kirby Reed also outlast the new baddie but Gale is left in a particularly bad way. While there are no major character deaths, Ghostface leaves a bloody trail of destruction in his wake. Here's the full list of characters that meet their end at the hands of the killer.
Laura Crane
Samara Weaving plays film lecturer Laura Crane and is seen in the movie's opening sequence. If you know this franchise then you're familiar with its long-held tradition. Characters seen in the intro don't make it far and Laura is the next unfortunate soul to be added to the ranks of the series' opening kills. She tries to organize a date with a stranger she met online when she's lured into an alley and stabbed to death by Ghostface, but there's a twist…
Jason Carvey and Greg
Scream VI breaks tradition by having the killer unmask in the opening where he's revealed to be film student Jason Carvey, played by none other than Spider-Man: No Way Home's Tony Revolori. Jason is a fanatic of the Stab franchise and hopes to start a new massacre and take revenge on the Carpenter sisters with his roommate Greg. Jason rushes home to let Greg know about his first kill before he finds his chopped-up body in the fridge. He's then murdered by the film's real Ghostface who terrorizes the rest of the cast throughout.
Dr. Stone is introduced in the film as Sam's psychiatrist and tries to help the troubled teen come to terms with her heritage as the illegitimate daughter of the original Scream villain, Billy Loomis. The new movies have teased a more sinister element to Sam's character which is more or less confirmed when she confides in Dr. Stone and tells him she enjoyed killing Richie at the end of Scream 2022.
The psychiatrist is disturbed by this revelation and stops seeing her, but this doesn't save him from Ghostface who is targeting everyone close to Sam. Dr. Stone's head is violently bashed against his front door before he is killed with a knife through the face. This is the first indication that this version of the killer is particularly brutal.
Bodega Civilians
This scene is featured heavily in the trailers and is notable for being the first time in the franchise's history that Ghostface has wielded a firearm. After finally tracking down the Carpenter sisters, he corners them in a bodega. Two civilians attempt to thwart him but both are mercilessly stabbed before the bodega owner attempts to shoot the killer dead with a shotgun. He misses his shot and is disarmed by Ghostface who retaliates with a bullet at point-blank range.
Anika Kyoko
Anika is introduced as the sweet and kind girlfriend of Mindy Meeks before meeting a particularly grim demise. Ghostface breaks into Sam and Tara's apartment and attacks the group, attempting to disembowel Anika. Mindy and Sam are able to save her and retreat to the bedroom where they're met with a rescue attempt by Sam's neighbor Danny. A ladder is placed for the trio to climb to safety through Danny's window, but Anika insists that Mindy go first. She is last to make her way across the ladder just as Ghostface breaks into the room and begins to shake the ladder. Due to her injuries, Anika is unable to hold on and falls from the ladder with her head colliding with a dumpster on the way down.
Ethan Landry
Throughout Scream VI Ethan is singled out as a prime suspect in the Ghostface killings by Mindy Meeks whose assumptions prove correct. Ethan unveils himself as one of three Ghostface killers alongside his father and sister as they attempt to avenge the death of Richie Kirsch. In the final confrontation, Ethan is violently stabbed by Sam in a frenzied attack before having a knife shoved into his mouth by Tara. That's not enough to keep him down though as he briefly revives before having his head crushed by Kirby using the same TV that killed Stu Macher.
Wayne Bailey
Wayne initially presents himself as an ally to the group but is the true mastermind behind the Ghostface killings this time around, deadset on revenge against Sam for killing his eldest son, Richie. Once again, the end goal is to frame Sam for the Ghostface killings, but the leader of the trio of killers is savagely stabbed to death by Sam decked out in the original costume worn by Billy Loomis.
Quinn Bailey
Quinn is introduced as the roommate of Sam and Tara who initially appears to be one of the killer's first victims before being revealed as the final member of the Ghostface Family. Her death is by far the least gratuitous as she is simply felled by a gunshot to the head.
That's everything we know about who dies in Scream VI . Be sure to check out our review and guides below. As for us, we'll be right back!
10 Horror Icons Who Would Make Terrifying Dead By Daylight Killers
Best Sims 4 Mods (2023)
10 Horror Icons Who Deserve Their Own Game
10 Anime Like Death Note if You're Looking for Something Similar
Top 10 Best Games in TV Shows & Movies We'd Love to Play
About the author
Bobby Houston
Bobby is a games journalist with two years of experience and a former freelance news writer for Twinfinite. He covered all things gaming for Twinfinite from July 2022 until March 2023. After spending some time writing news for smaller sites and getting his journalism qualification Bobby joined the team at Twinfinite. He is largely known for his love of Like A Dragon and is usually considered the default Spider-Man fanboy wherever he goes.
More Stories by Bobby Houston
Scream: 10 Characters Who Could be the Next Ghostface
With Scream 7 most likely on the way, let's take a look at 10 potential Ghostface killers.
This article contains spoilers for Scream VI (2023) Whether you want it or not, it seems that Scream 7 is inevitable. After the success of Scream 6 and audiences taking a liking to the "core four", it makes sense that they would continue this franchise. If you're not aware, the Ghostface killer(s) change through each movie, and through each storyline, they've kept it fresh and interesting.
Usually, there are two Ghostfaces, but in Scream 3, there was just Roman Bridger, and in Scream 6 , there was the trio of Wayne, Quinn, and Ethan. Scream 7 isn't confirmed yet, and we'll most likely be waiting a while before a trailer drops and the cast is revealed, but it's still fun to think about whom the next Ghostface could be. Here's a list of ten potential Ghostface killers that consist of familiar faces.
Related: Exclusive: Scream VI Creative Team Talks Rebooting the Classic Franchise
Chad Meeks-Martin
Chad Meeks-Martin wasn't supposed to live after being stabbed multiple times, but the writers decided to save him. In Scream 6 , Tara asks, bewildered, "How are you still alive?" Because, genuinely, Chad was stabbed so many times by Ethan and Quinn that he shouldn't have even been able to talk! Despite that, let's imagine Chad is sick of being targeted and instead becomes the killer. The betrayal between him and Mindy would be utterly fantastic, unless they decided to start working together.
Mindy Meeks-Martin
That takes us to the potential of Mindy being the next Ghostface. Like her deceased uncle, Randy, Mindy is really smart and well-versed when it comes to the horror genre. In the two movies she's appeared in so far, she's been overly suspicious of just about everyone. What happens when no one expects her because of her history and also because of how knowledgeable she is? It truly would be a wicked sight if Chad and Mindy teamed up as the next Ghostface duo. Maybe it'd be a bit predictable, but if done right, they could really pull it off well.
Mark Kincaid
Mark Kincaid is assumed to be Sidney's husband since, at the end of Scream 3 , he's shown at her house just casually hanging out. In Scream (2022) and Scream 6 , he's once again mentioned, so it would be really interesting to see if Kincaid came back to the franchise for sinister reasons. Maybe his kids start to become targeted, or Sidney gets hurt, and he's sick of running whenever danger comes around. Patrick Dempsey would make a compelling Ghostface , especially since his character was a suspect in Scream 3 .
Sidney's Kids
Speaking of Sidney's kids, how fun is it to think of them becoming evil and following in the footsteps of every Ghostface before them? The plot could literally go in any direction, and the motives are filled to the brim because they're Sidney Prescott's kids! They are legacy babies! Maybe they feel a certain pull to defy their mother, or maybe something happens to both Mark and Sidney, and they get revenge. Whatever the case may be, it would be really interesting to see Sidney's kids introduced.
Related: Scream: Why the Horror Franchise Needs to Bring Back Sidney Prescott for One Final Showdown
One of the most popular arguments among Scream fans is the theory that Stu Macher is alive . Sure, he was stabbed and then electrocuted, but is he really dead? Is the possibility of him returning completely out of the question? The franchise has yet to bring someone back from the dead, but they do love bringing legacy characters back, so why not?
Stu Macher's return to the franchise would be welcomed and a bit anticipated, given how much he's glorified in the Scream universe. Would he be a one-man show, or would he team up with someone? Only time will tell.
Gale Weathers
In Scream 6 , Gale Weathers and Ghostface have their first-ever conversation on the phone, and he tells her she could have made a great killer. And that's exactly right. She seemingly has unlimited resources, and she's been stabbed and targeted so many times that it's almost unbelievable. She has enough motive to snap and go a bit nuts since she lost Dewey , and her writing has taken a turn for the worst. If she teamed up with someone, Gale could do some serious damage as the next Ghostface.
Martha Meeks
Now, stay with us on this pick. It's always the one you don't expect, and Martha Meeks is the definition of unsuspecting. She was in Scream 3 for a brief moment as she offered insight from her older brother Randy. She didn't make her return until Scream (2022) , as the mother of Chad and Mindy. It would be fantastic to see her team up with someone after her children were targeted a second time. Chad nearly died in Scream 6 , and a mother's love and protectiveness run deep.
As we saw in Scream 6, Kirby really hasn't accepted what happened to her. She was brutally stabbed in Scream 4 and has the scar to prove it, but that's not all the baggage she carries from that. Charlie Walker attacking her made her angry and scared, so she joined the FBI to become powerful.
Then, in Scream 6 , Ethan Landry stabs her in the same spot as before, really rubbing it in her face that she's not as powerful as she thinks she is. Kirby becoming Ghostface could be potentially very great because the motive is right there . She's mad and craves power, so Kirby putting on the iconic mask and black robes is entirely possible.
Sam and Tara's Mother
We all know that just because people are related (looking at you, Jill Roberts), it won't stop them from going after their own blood. Tara and Sam's mom is mentioned in Scream 6 as having cut off Sam for all that has happened, and in return, Tara is also not speaking to their mother. Something we have also learned is that random facts like that aren't really said just because. Gale calls their mother out for being a bad parent, so could we potentially see Mother Carpenter put on the black robes? Possibly.
Someone Entirely New
While it's fun to guess who could return as a new and fresh Ghostface from the well-established franchise, it does seem likely that it could be someone entirely new. A fresh-faced actor or actress that hasn't been in a single Scream movie, taking over as the new Ghostface to startle them and stir things up.
It's a way to introduce new characters to the franchise in order to continue the story if need be, but it seems as if Scream 7 is going to have to really come up with something sinister to keep the audience from growing bored and the story from becoming stale.
by Kara Hedash
ScreenRant.com
Similar News
by Colin McCormick, Alex Wyse
by Reyna Cervantes
bloody-disgusting.com
by Frank Scheck
The Hollywood Reporter - Movie News
Neve Campbell (I)
by Alan Kelly
Collider.com
by Maggie Dela Paz
Comic Book Resources
More to explore
Recently viewed.
Screen Rant
Scream 2022 ending & ghostface killer identity explained.
Matt Bettinelli-Olpin and Tyler Gillett's Scream brings new twists to the beloved series. Here's a breakdown of the ending and Ghostface's identity.
Warning: Major spoilers ahead for Scream !
Matt Bettinelli-Olpin and Tyler Gillett's Scream added a new chapter to the hit slasher franchise, but the movie's ending was full of gore-filled twists. Nearly 25 years after Wes Craven launched the first Scream movie, the city of Woodsboro became the site of another massacre, bringing together Sidney Prescott (Neve Campbell), Dewey Riley (David Arquette), and Gale Weathers (Courteney Cox). However, at the center of 2022's Scream was newcomer Sam Carpenter (Melissa Barrera).
In a sequence that paid homage to Casey Becker's (Drew Barrymore) death scene  in 1996's Scream , Sam's sister, Tara (Jenna Ortega) is attacked by Ghostface while home alone. This leads to Sam, Sam's boyfriend, Richie (Jack Quaid), and Tara's circle of friends to become the latest Woodsboro targets. Sidney, Dewey, and Gale are also brought into the fold when it's made clear that the new Ghostface slayings are directly connected to the original massacre at the hands of Billy Loomis (Skeet Ulrich) and Stu Macher (Matthew Lillard) over two decades prior.
Related:  Why Scream 2022's Reviews Are So Good
Scream 's legacy characters had moved on since Scream 4 , believing the threat was over, but deep down, they all knew otherwise. Bettinelli-Olpin and Gillett were tasked with taking over a beloved franchise with a huge fan-following. Not only did they make sure to ramp up the gore through a campy lens, but the duo also used the element of fandom to introduce a new twist to the series, specifically in Scream 's Ghostface identity and ending.
What Happens In Scream 2022's Ending
The third act of Scream returned to a familiar location: Stu Macher's house. What seemed to be a memorial house party in honor of Wes Hicks (Dylan Minnette), who fell victim to Ghostface, was actually a planned gathering to bring together Sam and the remaining legacy characters, Sidney and Gale. Richie, Sam, and Tara arrived at the home, which now belonged to Amber Freeman's (Mikey Madison) family, to retrieve Tara's emergency inhaler. As Tara's friends continued to get picked off by Ghostface, Amber revealed herself to be the first killer by shooting Liv McKenzie (Sonia Ben Ammar) in the head. After tracking Richie's car, Sidney and Gale weren't far behind, leading to the latter being shot by Liv as Sidney entered the same house that held the showdown between her, Billy, and Stu.
Shortly after Sidney bravely faced the terror again, Richie revealed himself as the second Ghostface killer . Amber and Richie had planned the "third act" as a way to pin the latest Woodsboro killings on Sam, claiming the legacy characters, especially Sidney needed to die. Tara briefly thwarted their plan, forcing the killers to split up with Amber dealing with Sidney and Gale while Richie set his sights on Sam. Following a scuffle in the kitchen, Sidney and Gale bested Amber, shooting her as she burst into flames from the oven after being drenched in hand sanitizer. Meanwhile, Sam, who suffered a stab wound like Sidney, faced off against Richie. After envisioning her father, Sam got hold of a knife and uncontrollably stabbed Richie to death. As another nod to the first Scream , Amber jumped back to life, forcing Sam to put a few more bullets in her.
Amber & Richie's Motivations For Being Ghostface Explained
Similar to Scream 4 , 2022's Scream used the concept of fandoms in the motivation for the Ghostface killers. However, unlike Jill Roberts (Emma Roberts) , who wanted to be the sole survivor of her own real-life movie to gather her own fan following, Amber and Richie were on the other side. Amber became obsessed with Sidney's story and the Stab franchise after her family moved into the old Macher house. Her sick obsession led her to Richie through a subreddit, a superfan who was tired of being put down for his love of the Stab movies, especially the original.
Unhappy with the evolution of the horror genre in the present day and the direction of recent Stab sequels, Amber and Richie needed the "movie" to return to its roots, so they took it upon themselves to "save the franchise." To do so, they needed to inspire a new story. Reuniting Scream legacy characters was key, but the new Ghostface killers also needed to implement a twist, which led to pinning the murders on Sam. Though the duo failed, the hope was to blame Sam, the secret child of psycho-killer Billy Loomis. Amber and Richie thought the child of an infamous killer returning to kill originals and those connected to legacy figures would be the perfect way to connect the past for a new for Stab to focus on.
Related:  How The Scream Movies Avoided Nightmare On Elm Street's Sequel Disaster
Why Dewey Needed To Die In Scream
Sadly, not all of the legacy characters made it out alive in Scream . Dewey was living a hardened life without his career as a sheriff and his wife by his side. Initially reluctant, Dewey agreed to help Sam find and stop Ghostface because that's the caring guy he was since the first Scream movie. During his journey, Dewey has learned the rules that follow Ghostface , including making sure the killer was certainly dead. This meant turning around in the hospital hallway after a Ghostface attack. Dewey shot Ghostface multiple times, but the killer popped back up thanks to a bulletproof vest. This led to Dewey's tragic demise after various near-death run-ins over the past few decades. Though some predicted that not all of the legacy characters would live after surviving Scream 4 , Dewey's death made sense from a story standpoint.
Despite their separation, Gale returned to Woodsboro even though Dewey told his former wife to stay away. She may have needed to cover the story as a journalist, but Gale also knew her husband needed her. That said, Sidney listened to Dewey and stayed away from her hometown of Woodsboro . That was, until Dewey's tragic death, one of the only events that would have brought Sidney back to the mayhem. Without Dewey, there was nobody else to take control of the situation to truly stop what was going on. Amber and Richie must have known that the death of someone like Dewey wouldn't be able to keep Sidney away, which helped them set up the showdown at Stu's house.
Sam's Billy Loomis Visions & Richie's Death Explained
Before it was revealed that Sam was the daughter of Billy Loomis, she saw a vision of Skeet Ulrich's blood-drenched character, hinting at some kind of an unsettling connection. Many of Scream 2022's characters had links to characters from the original, but Sam's link to Billy goes deeper. Being the daughter of a serial killer wouldn't be easy, but the struggle was heightened by Sam's recurring visions of Billy baiting her. Sam may have made mistakes in her past, but she was nothing like her true father, or so she thought.
During the final fight with Richie in almost the same spot Billy died, Sam envisioned her dad encouraging her to fight. She then found a knife on the floor before turning the tables on her attacker and viciously stabbing him. Granted, it wasn't one or two stabs; Sam repeatedly forced the knife in and out of Richie. The scene was meant to hint that some of that serial killer sense may run in Melissa Barrera's Sam , implying that she might not be as innocent as she seemed. The way she cleaned the blood from the knife was eerily Ghostface-like. Then again, it made sense that she lost control while getting revenge on the person that nearly killed her and her sister.
Related:  Scream: A Deleted Scream 3 Role Reveals Stu Survived
Scream 2022's Survivors (& How They Set Up Scream 6)
Sidney, Gale, Sam, and Tara make it out of the former Macher house alive. Tara wanted out of Woodsboro, and Sam would surely be in agreement. However, before the sisters left, Sam made sure to ask Sidney and Gale if they would be okay. She also asked about her own fate as Sidney reassured Sam that there's still life to live. When Sam walked back to her sister, she got a glimpse of Billy one last time, serving as another hint that Sam might have some violent struggles ahead . She may have been the victim, but she might have enjoyed killing Richie a little too much. She could very well appear in a future Scream installment, but she could truly be on either side of the chaos.
After receiving care for yet another stab wound or two, Sidney will return to her husband and kids in the hope the terror will be over for good. As for Gale, she planned to get back to writing, but rather than make Amber and Richie famous; she wanted to write about her hero, Dewey. Aside from Sidney, Gale, Sam, and Tara, the twins, Mindy (Jasmin Savoy Brown) and Chad Meeks-Martin (Mason Gooding), survived, throwing out a thumbs up to each other before being put in ambulances. A few  Scream legacy characters are around, but the future of Scream would likely focus on the younger characters like Sam.
The Real Meaning Of Scream 2022's Ending
The latest Scream , which was often referred to as a "requel," poked fun at itself while also bringing into focus the notion of toxic fandoms. Craven's initial trilogy was self-aware and campy, targeting cliches and tropes often used in horror movies. Scream 4 took that up a notch by adding a meta element. The 2011 movie also attempted to use a new generation of characters to serve as copycats with ulterior motives. Since then, the universe within the franchise got out of control through Stab movies. The sequels fell off track, like many long-running franchises do, leading hardcore "true fans" like Amber and Richie needing the story they loved to go back to what made it so meaningful in the first place.
There were a lot of expectations leading into the new Scream , especially with it being the first movie without Wes Craven . Fandoms often have a handle in steering those expectations, and the toxic side of those fandoms has a way of crucifying sequels, reboots, and revivals if they don't live up to originals. Amber and Richie personified the toxicity of those who can't separate movies and real-life as Sidney, Gale, and Sam struck down their skewed viewpoints. Stab may have been a movie franchise, but those like Sidney lived through the terror, and she was quick to reiterate that truth. In doing so, Scream presented another self-aware discussion about the genre it has been an influential part of for over 25 years.
More:  Every Major Horror Movie Upcoming In 2022

'Scream' Cast and Creators on Honoring Wes Craven and Working with Ghostface
Scream  is back! The beloved original film recently celebrated its 25th anniversary , and now a fifth installment in the franchise has arrived via  Scream  (yes, it's a sequel that has the same title as the original, a la recent  Halloween  and  Candyman  films).
With the acclaimed  Wes Craven , director of the first four films, having sadly passed away in 2015, things are a bit different behind the scenes this time out though.  Scream 2022 is guided by the trio known as Radio Silence –  Matt Bettinelli-Olpin ,  Tyler Gillett , and Chad Villella – with Bettinelli-Olpin and Gillett serving as directors and Villella as Executive Producer, as they did on their 2019 breakout film, the terrific Ready or Not .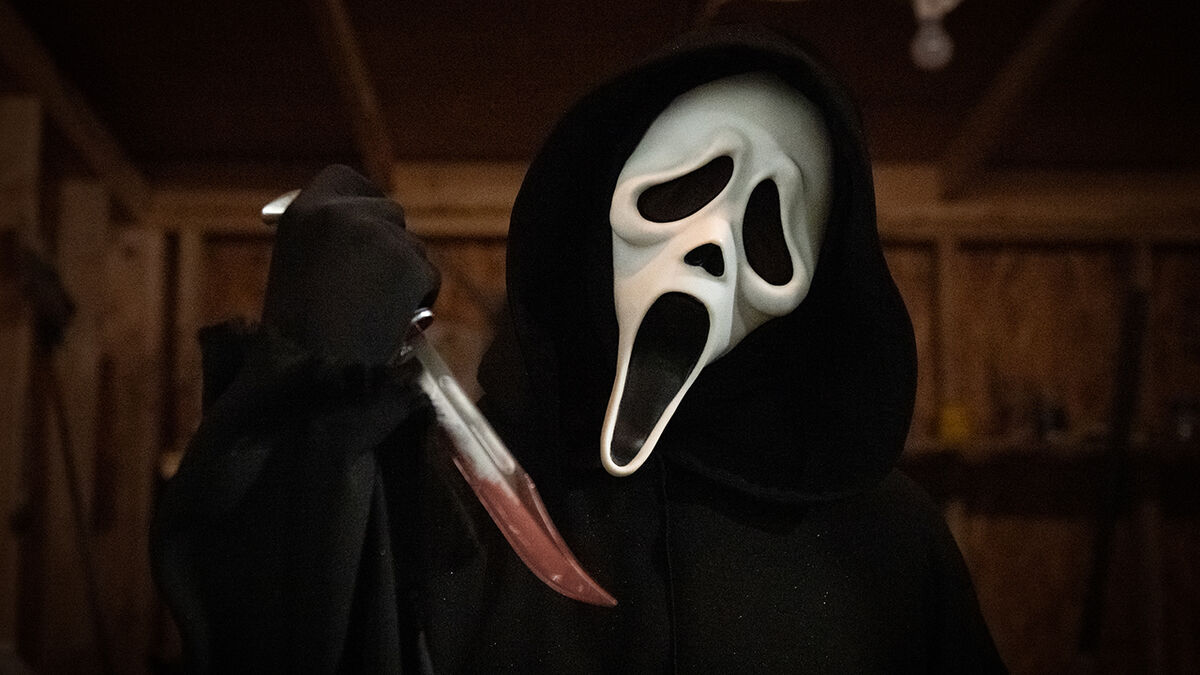 Kevin Williamson , who wrote the original  Scream  and both its second and fourth installments, is onboard as an Executive Producer, with the script written by two more Ready or Not alums,  James Vanderbilt  and  Guy Busick  (Vanderbilt was a producer on  Ready or No t and Bisick co-wrote that film's screenplay). Once more,  Neve Campbell ,  David Arquette , and  Courteney Cox  play major roles as  Sidney Prescott , Dewey Riley , and Gale Weathers , but the story centers around  Samantha Carpenter  ( Melissa Barrera ), who returns to her hometown of  Woodsboro  with her boyfriend,  Richie Kirsch  ( Jack Quaid ), after her sister  Tara  ( Jenna Ortega ) is attacked by someone with a familiar love of creepy phone calls and ghost-faced masks…
Radio Silence and the cast of Scream spoke to Fandom about what it was like to continue the story (and tone) Craven and Williamson created, working with Ghostface, connecting to the past, and what could be next…
HONORING WES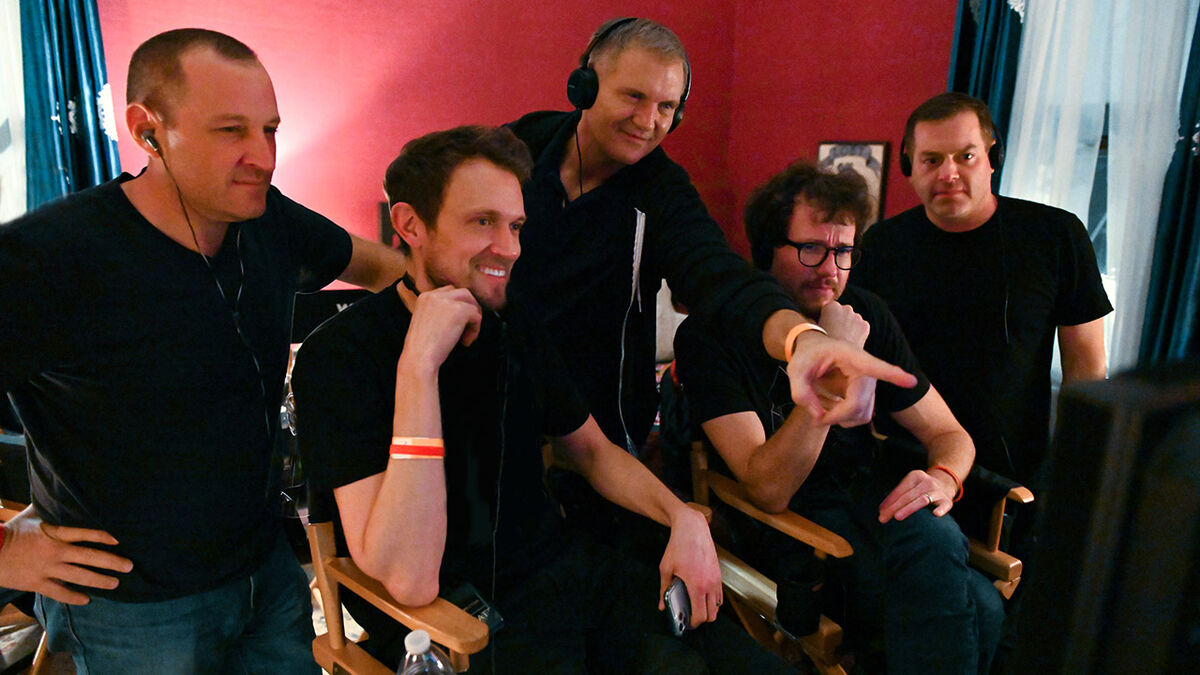 Radio Silence recalled how, following meetings about potentially directing the film, they were quickly excited by the possibility. Ultimately, it was Kevin Williamson giving the project his blessing and joining as an Executive Producer that really cemented things, with Chad Villella recalling, "Once we found out that Kevin said yes, we're like, 'Alright, sign us up! Let's go!' And the script was just so fantastic. Jamie and Guy wrote just a love letter to all things  Scream  and Wes Craven and we knew we had to be a part of it."
For Radio Silence, taking on   Scream  meant a lot, with Tyler Gillett explaining, "So much of what we love about watching movies and about making movies, and I think so much about how we define our voice and vision, was influenced by Wes and his work. And so there was something about not only feeling 'Wow, this is 100% a   Scream  movie,' but also, 'Wow, this feels so much like the next perfect thing for us to do.' And really, that is just a testament to how influential Wes and Kevin's work has been on us over the years and how formative it's been in developing our creative voice and our creative vision."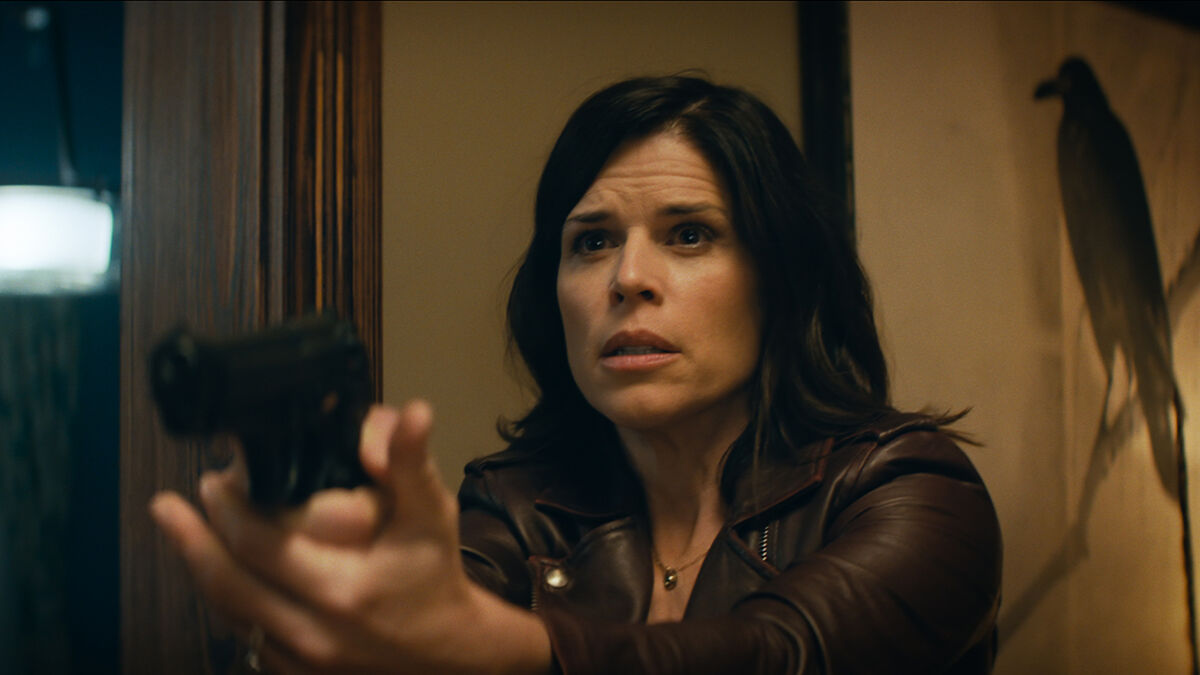 Of course, a crucial step was then securing the original cast to return, who all noted they felt they were in good hands. Said Campbell, "I knew  Ready or Not  was amazing. I'd seen that before I even knew these guys were coming on to this film and I was so impressed with that movie. And then to hear that they became directors because of Wes and that they made  Ready or Not , basically, because of their love for  Scream , it really lent itself to understanding that they could really honor these movies and this franchise and also sort of bring something else to it as well. Obviously, we'd been a little apprehensive about making a film without Wes, because he was such a master. But I think these guys have done an amazing job."
Williamson offered his thoughts along the way on how to make sure elements in the film felt at home in the  Scream universe, though Radio Silence explained there was also a crucial point where he had another take on it.
Said Matt Bettinelli-Olpin, "There's a big swing that we take in the movie that feels like it's on the outer edges of what  Scream  is and there was a lot of conversation [about it]. Does it stay in the movie? Should it not be in the movie? We loved it and Kevin's take was, 'It does feel like it's maybe not in the world of  Scream … and that's exactly the reason I think that you guys should keep it in the movie. I think it's important to do that.'"
As Bettinelli-Olpin put it, "What Kevin and what Wes created gives us permission to push boundaries, to subvert expectations, and to not just get stuck in homage land and get stuck in the past. And the only way to really do justice to it is to move the franchise forward."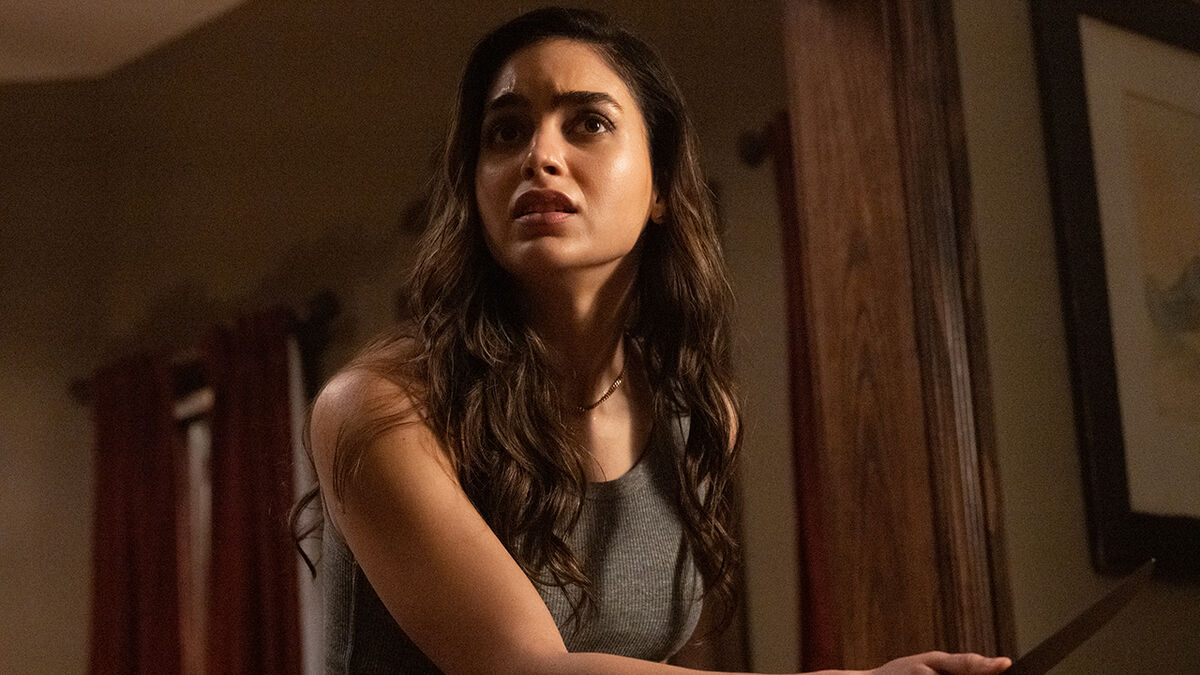 The new cast meanwhile felt the pressure of joining such a beloved franchise, with Melissa Barrera telling Fandom, "You do want to do right by Wes Craven, who's no longer with us, and you want to do right by Neve and Courteney and David and that them coming back is a big deal. You want to show them that there's a good reason for them to have come back and to trust us with these new characters. And also, the fans, they've been waiting for 10 years for another movie. There's a lot of expectations in that, but we just did it with so much love, and had so much fun making it that transcends the screen."
Said Jack Quaid, "Whether they've been a  Scream  fan all their life, or they were just kind of getting into it to prep for the movie, everyone brought their A game to this. And I have to just shout out Matt and Tyler, who pulled off this monumental task of taking this franchise and bringing it into a new era and doing it with love and respect for what came before but also trying to bring something new to it."
Scream  has a very specific vibe to it, where yes, it's meta and jokey, but it's not a wacky parody, and the deaths are played as true horror. When it came to retaining the vibe,  Mikey Madison  (" Amber Freeman ") said, "Matt and Tyler are very intelligent filmmakers and really big fans of the original. So I think they just wanted to preserve the tone and I think everyone, all the actors, just came in and were very grounded. I think that's what makes movies like this work. You ground the scenes and I think the comedy or the scariness comes from there."
GHOSTFACE TO FACE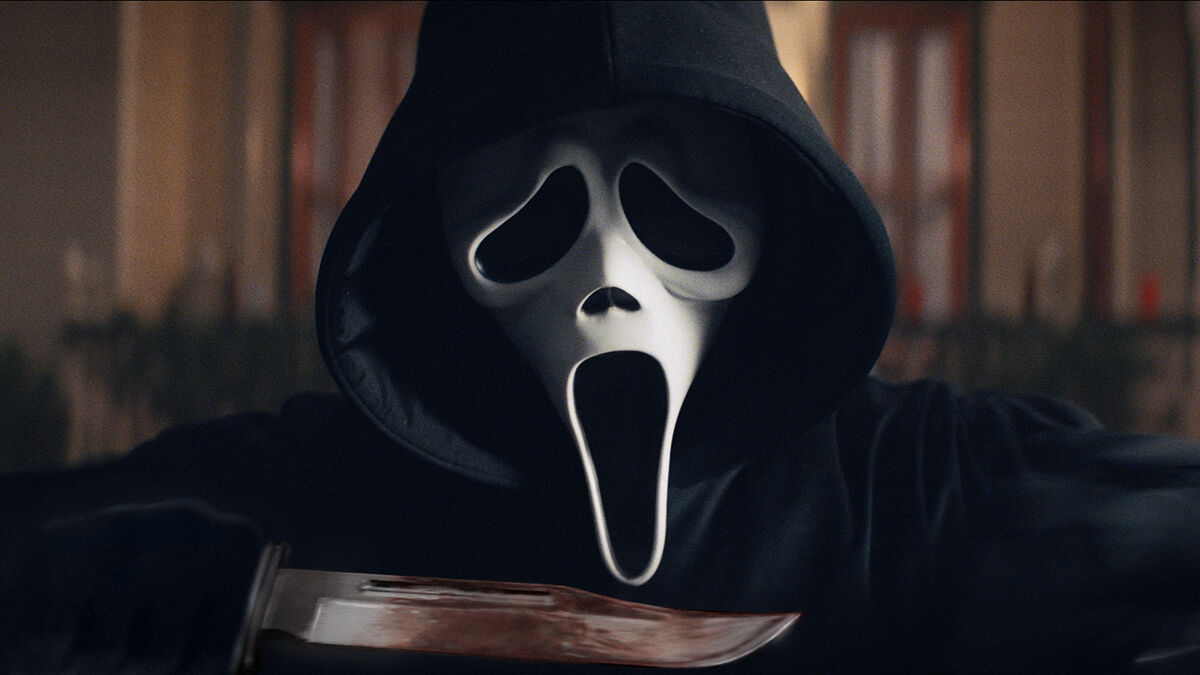 A very pivotal image from the  Scream  series is the  Ghostface  mask worn by the killer in each film. So what was it like actually directing scenes with Ghostface? Said Bettinelli-Olpin, "Completely surreal! I think that was that was one of probably a dozen moments in this entire process that we all kind of turned to each other and went 'Oh, holy s**t, we're really making the new  Scream ."
He added, with a laugh, "It was just like meeting Neve or Courteney or David for the first time, where you're like, 'Oh, these are like our idols.'
Said Gillett, "I also don't think we were expecting to be as scared by what the costume looks like in person. Obviously, some of that is that we've all lived with that iconography of Ghostface in our lives for such a long time, but hopping into the costume fitting and seeing that costume on somebody for the first time, it's chilling It is a very terrifying slasher villain and you can see why and feel why it has remained so iconic over the years."
The new cast felt similarly, with Quaid stating, "I've never been more terrified and starstruck at the same time," and Jasmin Savoy Brown ("Mindy Meeks-Martin") saying, "Ghostface on set at all – whether it's in a scene or whether it's walking to the bathroom or walking to the Crafty – is terrifying."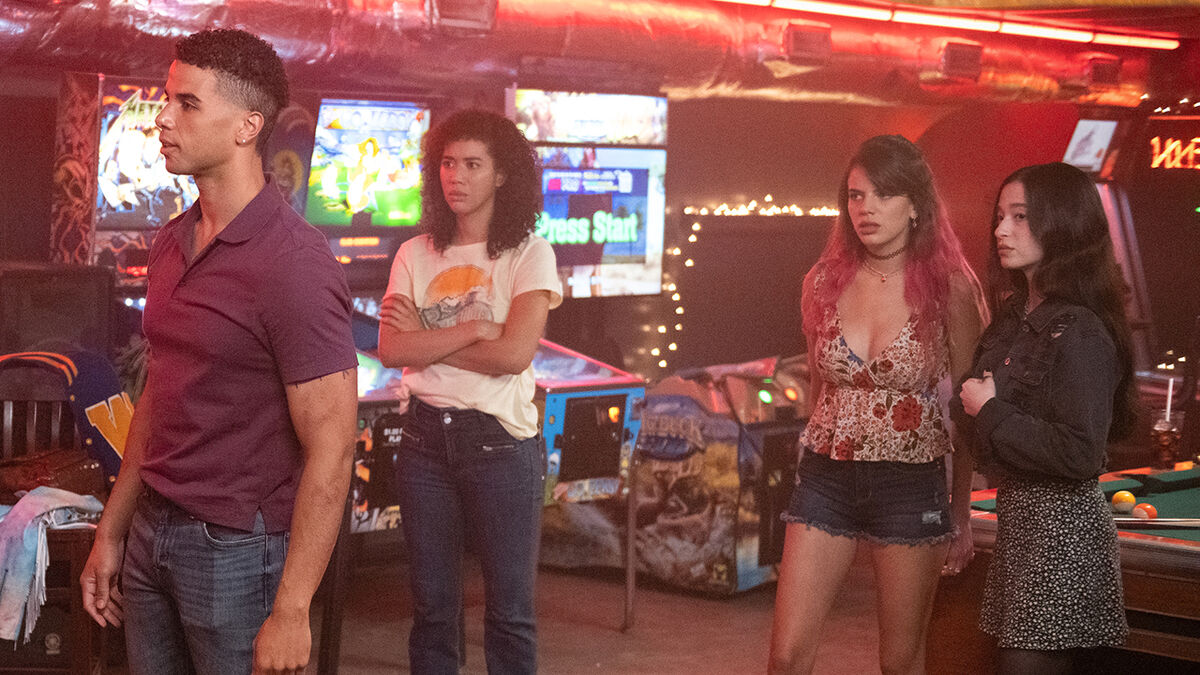 Sonia Ben Ammar  (" Liv McKenzie ") was a big Scream fan before she was cast and noted, "Just to be in a film with Ghostface is crazy because Ghostface is an iconic figure and symbol that everybody has seen. Regardless of whether they've seen the film or not, it's just iconically instantly recognizable. So to be a part of that is pretty insane and surreal."
Despite this being her second Scream film,  Marley Shelton  (" Judy Hicks ") agreed. "You can't really believe you're staring at Ghostface who's this iconic movie star in the franchise. I keep saying I get a little tongue tied, a little awestruck. I'm in the presence of greatness!"
Shelton's onscreen son,  Dylan Minnette  (" Wes Hicks ") did note though that Ghostface has one unlikely trait, as he explained, "The masks we were working with smell really good. Like they literally smelled like vanilla! They're intentionally vanilla scented," adding, "At least when people are dying, they die with a pleasant scent!"
Or as Shelton put it, "Ghostface likes aroma therapy. The cat's out of the bag"
CONNECTIONS TO THE PAST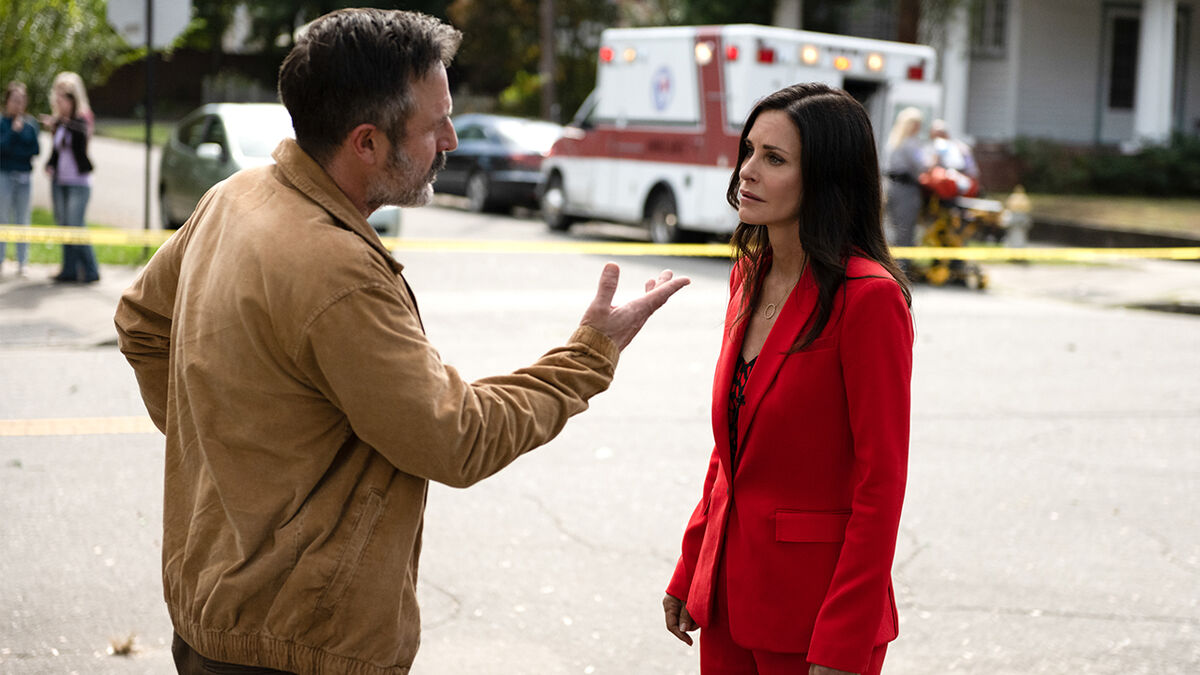 There are a ton of notable connections and callbacks to previous films in the new  Scream  – some overt, some quite subtle.
The filmmakers had a blast with this, with Bettinelli-Olpin recalling, "A lot of that was in the scripts, and then as we got on set, we would find little places we could place things or little moments we could create. We really just immersed ourselves wholly in the world of Scream,  so that every time there was an opening for some fun kind of nod or homage or an Easter egg, we just took advantage. We're hoping that people will have fun trying to find them all. "
The cast were quite impressed by all of the connections, with Barrera saying, "When I read the script, I was like, wait a minute, how did they… that one comment that was said in the first movie, they brought it back and they made it a whole storyline! It was amazing the homework that they did and the research to really try and do right by Kevin."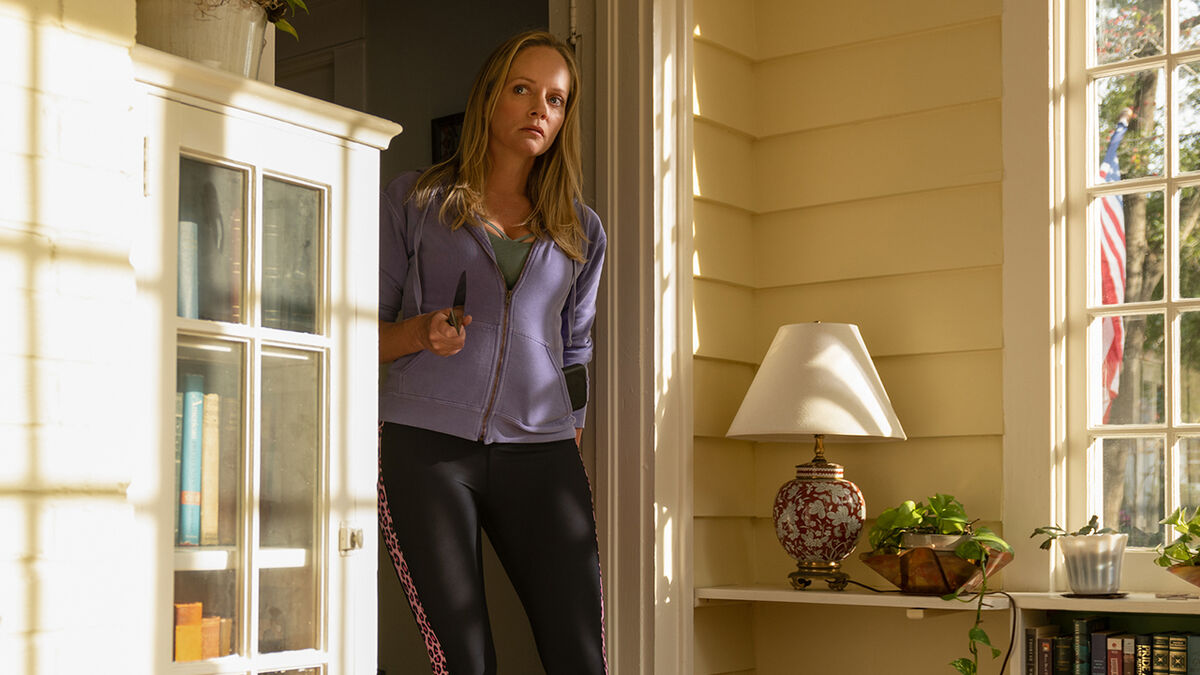 A nice surprise for fans when Scream 's cast was announced was the return of Marley Shelton as Judy Hicks from  Scream 4 , given this series had never been one to bring back any new characters introduced in the sequels until now. Said Shelton, about receiving the offer to return, "I was elated! I couldn't believe it, especially since we shot  Scream 4  10 years ago. So it was just out of the blue I got a call that they're relaunching the franchise and that Judy was coming back and I was so excited."
Another big connection to the past going into the film is the presence of twins  Mindy Meeks-Martin  ( Jasmin Savoy Brown ) and  Chad Meeks-Martin  ( Mason Gooding ) – the niece and nephew of  Randy Meeks  ( Jamie Kennedy ), who was so memorable in the first two  Scream  films, before his unfortunate demise at  Windsor College  during Scream 2 .
Said Gooding, "I think as actors It was nice to have the freedom to play off one another while also keeping in mind obviously being related to Randy, who's such a specific character. You keep those Randy tendencies in mind while also letting yourself find the creative liberties where they're appropriate"
Mindy truly carries her uncle's torch as a huge film geek in the film, even getting to deliver a Randy-type monologue about the current state of cinema. Said Brown, "It's super cool and exciting and humbling and this feeling of 'I really hope I do a good job because I want the fans to be proud!' But also, it's just brilliant writing. It's really well written so it's fun and easy to just kind of get lost in it in the best way. I had a lot of fun with my material and with my monologue."
THE SECRET TO SCREAM 'S SUCCESS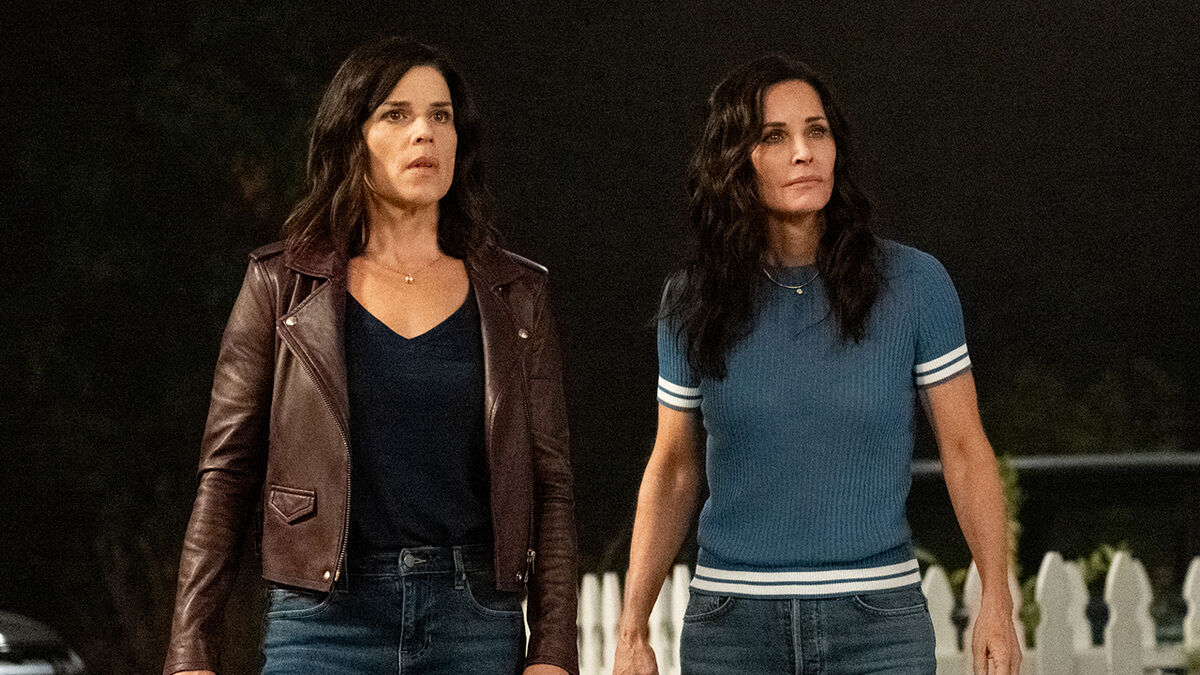 Scream  is unusual for a long running horror series in that, familiar mask aside, the killer is someone different in each film, and it's instead Sidney, Dewey, and Gale who are the returning characters each time out.
The last two films have had long decade-plus breaks in-between, allowing the actors the unique opportunity to come back and check in on how their characters' lives have changed since we last saw them, something the original trio relished.
Said David Arquette, "I love playing this role. And it's just sort of tracked the course of our lives. It was 25 years ago! When we met, it was this whole thing and we've experienced life throughout," noting that for him and Cox, who were married for several years, "We have a kid together!"
Added Arquette, "It's been quite a joy to be able to play these characters. I love Dewey and Gale's relationship, so it's fun to see their arcs."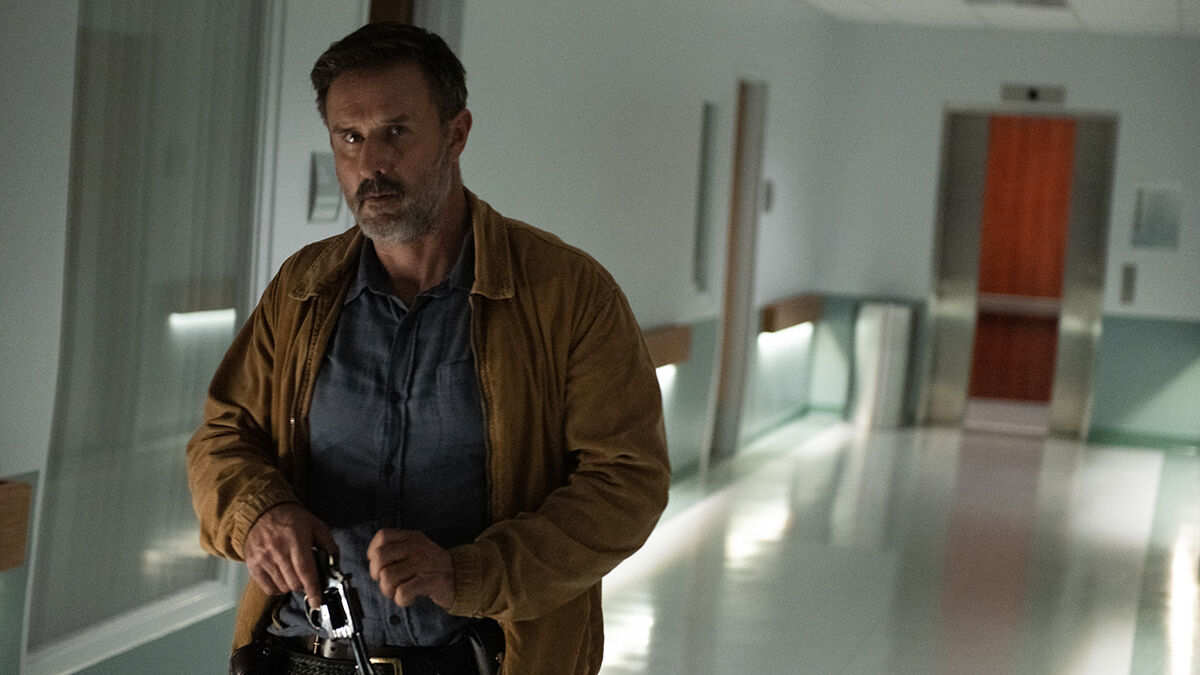 In the new Scream , Cox noted, "[Gale] now has what she wants, which is fame, and to be respected and recognized. And that's been fun because she's been so relentless with her need to be noticed. But also, I just love playing the character. I loved working with Wes for all those years; he was incredible. And I've liked changing my hair!"
As to finding themselves becoming horror royalty, Campbell said she and her fellow returning cast members have happily embraced it, remarking, "It's kind of the dream, isn't it, to get to be in a film that's successful enough and loved enough that it becomes a franchise and it carries on and people get to revisit you in these characters, and you get to revisit these characters and see where your character grows. I mean, come on, to be called an iconic character is, yeah, you've done something right!"
When it comes to the franchise's longevity, Bettinelli-Olpin said, "I think the top answer is they're great characters, and they have a great, constantly evolving relationship between the three of them. I think it's really one of the main reasons that Scream means so much to so many people. While all the other stuff around it is fun, I think we all love watching Sidney overcome obstacles and we love watching Dewey and Gale fall in and out of love. And then beyond that, I think it's the tone. I think the ability to do all of those things in one movie that has a cohesive tone is just such a feat. What Craven was able to pull off and do it over four movies is just incredible."
Villella also said a strength of the series is that the characters "Are also mini- Benoit Blanc s, trying to figure out a murder mystery as they go. So it's a whole other layer that has something to add to these characters."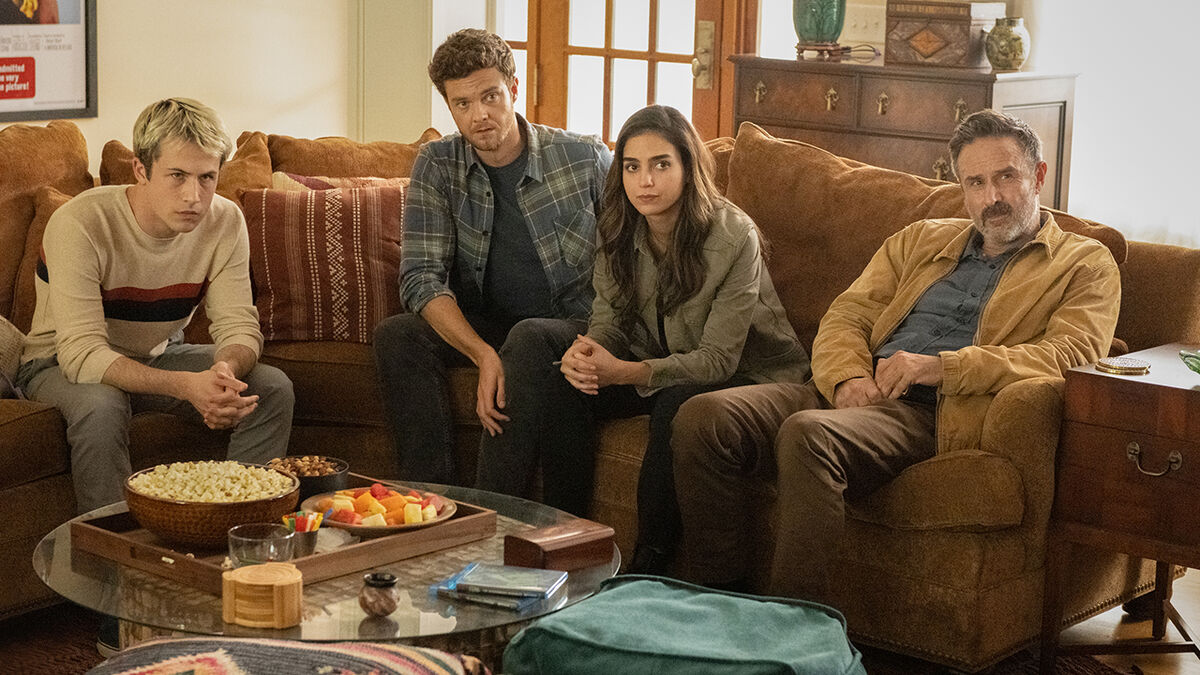 Said Gillett, "What's unique about Ghostface is that it can be anyone that can put the mask on. And what's so scary is that the motive changes. That's a huge part right of what's fun about watching these movies, and certainly of being on the kind of detective case with the rest of the characters, is trying to parse out the why of it."
The new cast said they all felt the legacy Scream begins at this point, with Minette admitting when he was first cast, "I didn't realize how devoted and hardcore the fan base is. And it's really awesome! It feels like you're in a Marvel movie or something in that way. People really really care about the quality of this franchise and these movies and these characters."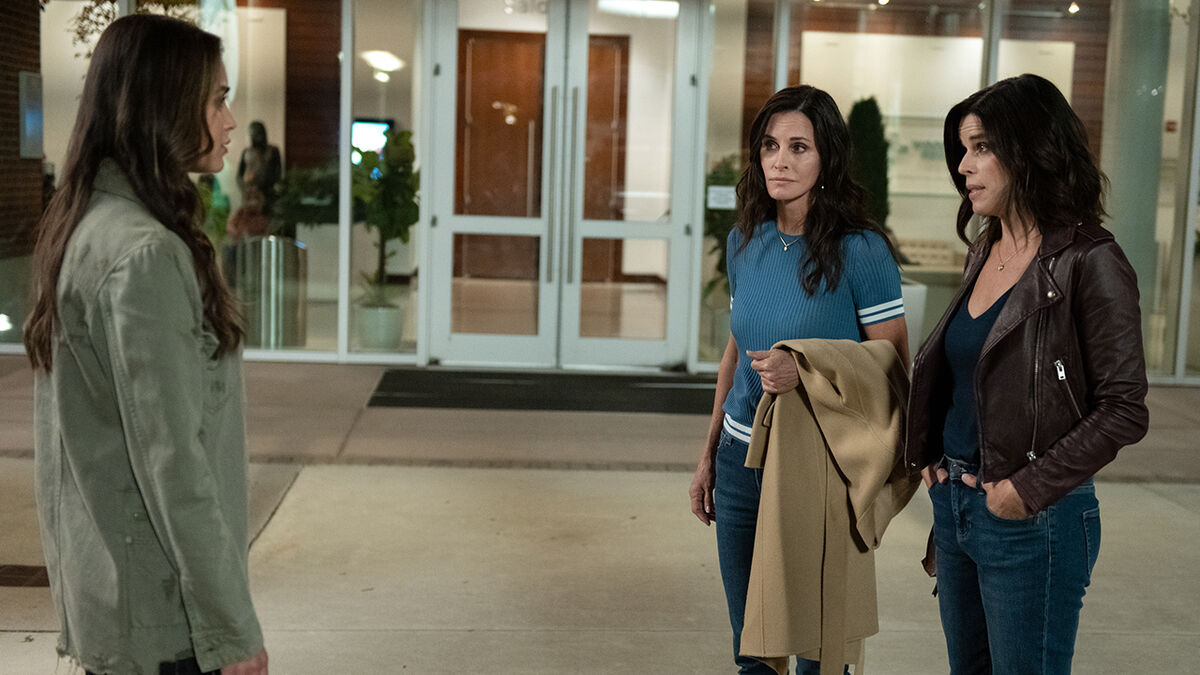 So what's next for Scream and might the Radio Silence guys continue to guide the series?
Cox certainly thinks so, telling Fandom, "I think it should continue no matter what. They're so talented and I think this Scream is incredible," with Campbell adding, "Yeah, and I think the intent was to carry this on for sure."
When I asked Radio Silence if they'd been thinking about what could come next for the series, Bettinelli-Olpin joked, "We're hoping that they let us make the next Stab movie," referring to the fictional slasher series within the Scream films that has helped fuel a lot of its meta commentary, with Villella suggesting, " Stab in Space !"
More seriously, Bettinelli-Olpin said, "We would love nothing more than to go make another one. This kind of family that we've built over the last couple years has just been really incredible and to be able to continue that would just be wonderful."
Without revealing any specific spoilers, suffice to say that in the new Scream , as in the other films in the series, the killer has some reasons for doing what they're doing that very smartly reflects our modern times and how people are absorbing media. Said Gillett, regarding potential future stories and new killers, "You could tell a million stories with that [Ghostface] villain, because that's an ever-evolving idea, and we think it's so unique to the DNA of what a Scream movie is."
For more on Scream , click the image below to see what  Skeet Ulrich (" Billy Loomis ") and Matthew Lillard (" Stu Macher ") had to say about the original film's 25th anniversary.
The Scream Cast Was Really Kept in the Dark About the Killer's Identity: "It's So Meta"
Published on 1/6/2022 at 6:00 PM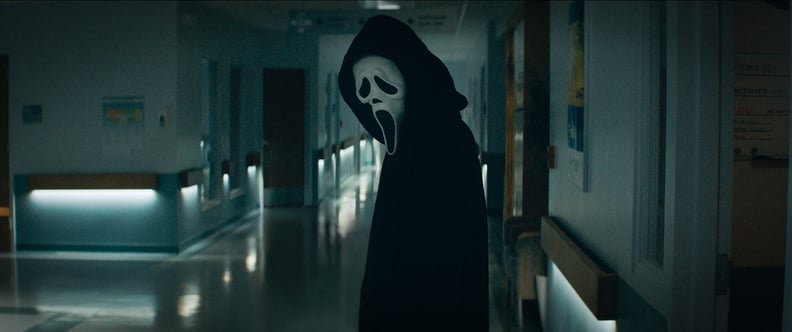 Despite several films spanning several decades, the central question of Scream remains quite simple: who's behind the mask? In each installment, the answer is complicated and typically involves an unforeseeable twist. (It's the boyfriend! And the boyfriend's friend! It's the deceased boyfriend's scorned mom!) But over time, audiences got savvier, and for their upcoming fifth film , directors Matt Bettinelli-Olpin and Tyler Gillett came up with a solution.
In virtual interviews last year, several cast members confirmed that the killer's identity had been concealed even to them. Marley Shelton, who first appeared as Deputy Judy Hicks in Scream 4 , said they were initially given the script "up to page 77," while newcomer Sonia Ammar (Liv McKenzie) spoke about the existence of scripts with different endings.
"The cardinal rule in when making a Scream is everyone is a suspect. Everybody is capable," Shelton said, before noting that only at the very end of filming would Ghostface be revealed, and only to those involved in that particular shoot. "It's an experiment, but I think the idea is to kind of maintain that truly for all of us actors. Are we guilty? Are we innocent? Everyone's a suspect."
An experiment, it was. "It's interesting how it affects the performance and the dynamic, both in a scene and around it," Mason Gooding (Chad Meeks-Martin) said. "We are just like our characters, that some of us know, some of us don't. We're all sussing each other out and figuring out who's telling the truth," Jasmin Savoy Brown (Mindy Meeks-Martin) added. "It's so meta."
The decision to conceal the killer's identity faintly parallels the filming of the first Scream , which had stunt performers behind the mask, and so Skeet Ulrich (Billy Loomis) and Matthew Lillard (Stu Macher) never knew which character was responsible for each kill . "There were no conversations about it," Ulrich recently told Collider . "I guess that kind of speaks a little bit to the genius of Wes [Craven], that people feel like they have clues in there as to who was who. And I think some are more obvious than others in hindsight, obviously. If I'm appearing right after, it's clearly not me."
"Literally anybody could be lying."
The unknown wasn't exactly embraced by every actor. "Honestly, it's fun," Melissa Barrera (Sam Carpenter) said. Jenna Ortega (Tara Carpenter) replied, "Yeah, it's fun. But then it isn't." She added, "Literally anybody could be lying. We all get along so well but then as soon as you get on that topic, everybody turns so awkward and starts to isolate themselves." Ortega said it also made filming scarier: "Because you never know who's under that mask, it's the most eerie uneasy feeling that I get in my throat every time I see his face on our production list."
Jack Quaid (Richie Kirsch) also said the cast made it a point to not discuss the twist. "We really have stayed away from that topic." If that all wasn't enough, during their free time, the cast also played board games involving deception. Quaid said, "What I've realized is I'm working with a bunch of liars, a lot of very good liars."
Celebrity Interviews
Mason Gooding
Jasmin Savoy Brown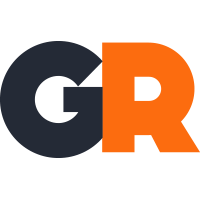 The Best Horror Movies To Watch In 2023
Posted: October 24, 2023 | Last updated: October 24, 2023
Evil Dead Rise delivers the gore and dark comedy that fans of the series expect, making it a gripping and claustrophobic horror movie.
Scream 6 offers unique twists and keeps viewers guessing about the killer's identity, while featuring brutal Ghostface scenes and tons of fun.
Smile is a must-watch for fans of creepy and bizarre horror movies, featuring haunting smiling figures and a storyline that will keep you on the edge of your seat.
There is just something magical about the horror genre. Each movie goes as far as it can to creep out its audience as much as possible, delivering an unforgettable and haunting story. 2023 has seen a whole host of critically lauded horror movies, so far, and they range from those that lean into jump scares and gore to the more psychological storylines.
RELATED: The Star Behind Freddy Krueger Directed This Forgotten Horror Film When it comes to the best horror movies of 2023, there are the iconic series that are still running, recent surprise hits, and even completely new features just waiting to be discovered the next time you're looking for the best horror movies to watch this year.
Evil Dead Rise (2023)
While some have mixed opinions on this film, Evil Dead Rise proved that the Evil Dead series was back in a big way . This claustrophobic movie will have you cringing in horror the entire time thanks to the brand of gore and dark comedy that fans of the series have come to expect.
The movie focuses on a small family who finds themselves trapped in an apartment building after the mother is taken over by the forces of evil. It really is that simple of a setup, but the movie stays gripping from start to finish, making it a great watch, even if you still have to buy or rent it on most streaming services.
Barbarian (2022)
This 2022 horror film might just be one of the best of the year and so many people completely missed it. Barbarian stars some heavy hitters like Bill Skarsgard, Justin Long, and Georgina Campbell, and it will keep you on the edge of your seat the entire time.
You won't know what to expect throughout much of the movie, as it keeps you guessing about what the true evil might be. Cutting away from the action during what could be considered a high point was a bold choice, but a brilliant decision in the long run for this strange horror movie that begins in a rented house .
Scream 6 (2023)
While some people take issue with how the killer reveal went down in this latest entry of the Scream franchise, that doesn't mean that the movie isn't still enjoyable. There are a lot of the Scream tropes everyone knows and loves, but this movie, and likely the next Scream 7 movie , offers plenty of its own unique twists.
RELATED: This Clive Barker Adaptation Is An Underrated Torture Horror Story Many viewers think they know exactly who Ghostface is the entire time throughout Scream 6 , but each scene will have most people thinking the culprit is an entirely different person. Featuring the most brutal Ghostface the series has seen to date, Scream 6 is a ton of fun as the core four try to survive in the Big Apple.
Terrifier 2 (2022)
Those who were able to stomach the gore of the first Terrifier film will be in for a twisted treat with Terrifier 2, all the way to its ending . Art the Clown is back, and he's doing what he does at his absolute bloody best.
The movie will feel a bit long for some, and the storyline isn't really the focus here, but those who love gorey movies are going to feel right at home. Art the Clown is as legendary as ever, solidifying his new place among the top icons of the horror genre.
The Menu (2022)
While it does exist much more firmly in the thriller genre, The Menu, particularly as it nears its ending , does have some horrific aspects to it. The film sees a group of people trapped on a remote island during a famous chef's final night of service, which sounds a bit tame, at first.
The deeper viewers get into the film, the more unsettled they'll feel, as all the little clues dropped throughout the movie begin to make sense. The Menu is filled with twists and turns, and pretty much all of them are horrible, but in the best way possible.
Resident Evil: Death Island (2023)
If you're a fan of the bonkers action-horror combination that comes with the Resident Evil game and movie series , you'll enjoy Resident Evil: Death Island . Offering tons of action and many of the fan-favorite characters from the series, this film manages to feel almost like a horror-based Avengers movie.
The storyline itself isn't the best in the series, but fans of the franchise will still be able to have fun. The action is top-notch, and the classic Resident Evil horror that everyone expects is still in there.
Smile (2022)
Those who somehow still haven't seen one of the most talked about films of 2022 will have, at least, seen some of the viral marketing. Smile stands out as one of the creepiest and most bizarre horror movies in recent years, making it a must-watch for fans of the genre.
Fans of supernatural horror need to be capable of stomaching some of the darker aspects of life to enjoy the film, but it's well worth the turmoil for those who can get through it. The story follows a therapist as her life suddenly becomes haunted by horrific smiling figures , and that's all anyone needs to know in advance.
Beau Is Afraid (2023)
A24 has been on an absolute roll over the last few years, and Beau Is Afraid is not different. Anyone who thinks they've seen all the strangest horror movies out there hasn't watched this horrific dark comedy yet.
RELATED: This Hilarious Horror Sequel Has A 0% On Rotten Tomatoes The whole film is about Beau trying to get home to his mother, but despite how simple this sounds, the story is still shockingly complex, both literally and emotionally. It may be far from the typical horror, but it's a movie everyone should experience once.
Cocaine Bear (2023)
While it's far from the most amazing horror film of 2023, Cocaine Bear is one that every fan of the genre needs to watch as soon as possible. The fact that the story is at least partially based on a true event is absolutely wild, but the movie goes so much farther than anyone could expect.
It's almost like a creature-feature film, except that the creature is a bear absolutely blasted on elicit drugs. Anyone who loves bizarre stories and plenty of violent kills, take note.
Bodies Bodies Bodies (2022)
This surprise delight from 2022 came out of nowhere and became an instant modern classic of the slasher genre. Bodies Bodies Bodies tells the story of a group enjoying a night of partying that quickly turns into a night of horror.
Thanks to the ridiculous yet somehow believable performances of the cast, this horror movie is filled with great moments of humor and satire. Viewers will be wondering who the killer is throughout the entire movie, and the way it closes will have everyone massaging their temples while the credits roll.
MORE: 10 Horror Movies That Would Make Great Video Games
More for You
A CEO resigned after making remarks on Israel. He's a case study in failing to read the room.
The 5 Most Haunted Places In Arizona
50 Christmas Decorating Ideas for the Happiest Holiday
Airship half the length of Hindenburg cleared to fly
The best miter saws for 2023, according to experts
6 Paint Colors That Will Make Your House Sell for More Money
CNN issues correction after pushing Hamas narrative: We 'did not clearly attribute claims' to terror group
Rare lake forms in Death Valley
Travel Experts Name the Most Historic Hotel in Every State
Southwest Airlines Ups Boeing 737 MAX Order With 108 More Planes
This Is the Best Candle Scent for Your Zodiac Sign, According to Astrologers
These Totally Chic Top Home Decor Trends For 2024 Will Inspire Your Next Makeover
John Kennedy: Unless you think there is an award for being stupid, you know this doesn't work
George Santos Faces Expulsion Vote in US House Next Week
The 7 Best Sale Items at Costco in November
United Airlines reveals a major change for transatlantic flights
Skeletons found in "incredibly rare" 5,000-year-old Scotland tomb
The Full Moon in Taurus brings good things your way – what your sign can expect
Daily horoscope today: October 26, 2023 astrological predictions for your star sign
Mike Johnson Sparks 'Handmaid's Tale' Comparisons After Becoming Speaker
We Finally Know The Origin Of The Ghostface Mask In Scream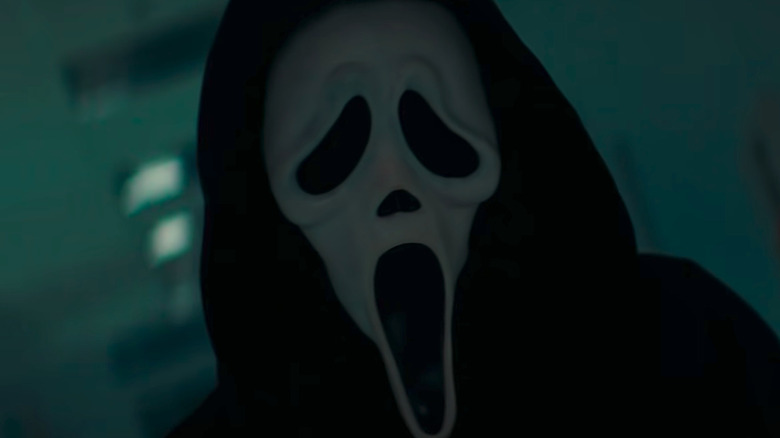 When "Scream" first tore its way into theaters back in 1996, it instantly immortalized Ghostface in pop culture, and the villain became a modern horror icon. He stands next to the likes of Michael Myers and Jason Voorhees as a mask-wearing psychopath (or psychopaths, as the case may be) who isn't afraid to brutalize his victims. His popularity largely comes down to the simplicity of the outfit, which is made up of the white face mask and a black cloak. And of course it lends itself to the central mystery in the "Scream" series, because it's an outfit which completely hides the killer's identity. 
The costume itself creates a legacy throughout the franchise, as several killers all don the Ghostface identity to hunt Sidney Prescott (Neve Campbell) for one reason or another. It all starts when Billy Loomis (Skeet Ulrich) decides to dismantle Sidney's family, because her mother has an affair with Mr. Loomis — ultimately driving Billy's mother away. He plans his killing spree with Stu Macher (Matthew Lillard) and the pair use their horror obsession to create an iconic costume which would mask their faces as well as striking sheer terror in their victims.
In real life, though, where did the Ghostface mask come from? It is very similar to the painting by famed artist Edvard Munch's "The Scream," obviously — but ultimately Wes Craven found it when he was working on pre-production for the 1996 movie.
They got the rights for the mask
Because the mask is such an important visual in "Scream" there was obviously a lot of pressure during pre-production to get the right look for Billy and Stu. And in a recent IGN featurette which celebrates the film's 25th anniversary, screenwriter Kevin Williamson revealed that the crew stumbled onto the mask when they were looking at filming locations. "No one could agree on a mask and I remember we were in a location scout, and we found Ghostface ... in a box of stuff in a garage ..." he said.
The writer went on to say that director Wes Craven spotted the mask's similarity to Munch's iconic painting, saying that he "immediately looked at it and said, 'This is like the famous Scream painting.' And so we took that to our production and we said, 'Riff on this... make something like this.'" Although that didn't solve the problem straight away, because the studio kept rejecting the numerous designs that were similar to the iconic mask. "They must've done 20 different designs. Every one of them was rejected by the studio."
But the team finally settled on a brilliant solution, "and finally we were like, why don't we just get the rights to this mask?" So the original Ghostface mask was easily marketable because it was already an established mask, and it added a real-world level of terror since it's something that teenagers can easily get hold of. 
Hopefully the mask is still just as scary when the fifth "Scream" film arrives in theaters on January 14, 2022.