Subscribe (Opens in new window)
Subscriber Services (Opens in new window)
Report an error (Opens in new window)
Contact Us (Opens in new window)
Tribune Archives
eNewspaper (Opens in new window)
Breaking News
Sports (Opens in new window)
Request a photo or reprint (Opens in new window)
Newsletters & Alerts (Opens in new window)
BIKERS FOUND GUILTY 3 CONVICTED OF MURDER AND ARSON
MADISON, WIS. — The national president of the Ghost Riders motorcycle club and two other club members have been convicted of first degree murder, arson and insurance fraud in a fatal tavern fire near here in 1983.
Convicted Wednesday were Alvin Hegge, 45, president of the club, based in Washington state; Scott Howard, 30; and Will Highfill, 41. Howard and Highfill also were convicted of endangering safety.
A Dane County Circuit Court jury deliberated for nine hours before delivering the verdict.
The men were sentenced to life imprisonment on the murder charge. They will be sentenced on the other charges later.
Catherine Christian, 22, died in the March, 1983, fire at Rosa`s Cantina, five miles southeast of Madison. Prosecutors contend the men planned to set the fire at the financially troubled tavern to collect insurance money and kill Christian, who the prosecutors say the three men believed to be a police informant.
Defense attorneys contend the fire was accidental, caused by faulty wiring.
Rosa`s Cantina became a hangout for the Ghost Riders when they tried to establish a chapter in Madison during 1982 and 1983, but those plans were abandoned shortly after the fire, according to court records.
Dane County Assistant District Atty. Robert DeChambeau, one of three prosecutors, said the verdict will significantly hurt the club.
''The Ghost Riders are pretty much through,'' he said.
Hegge`s lawyer, Ralph Kalal, criticized the prosecutors for using convicted criminals to testify against Hegge. Kalal said the prosecution`s case was built ''on a foundation of shifting sand. Yet the prosecution makes Mr. Hegge out to be the kingpin who ran the entire operation. It doesn`t make sense.''
Two other members of the bikers group were convicted last spring on lesser charges in the case.
Washington state officials say they have waited for the trial here to end and will now extradite Hegge and Howard to face federal and state charges in Spokane.
An arrest warrant has been issued for Hegge in connection with the shooting death of a Spokane police officer in 1983, according to the Spokane County Prosecutor`s Office. Officer Brian Orchard was killed during a police stakeout of Ghost Riders suspected of selling stolen weapons. Two club associates have been convicted of the murder.
Hegge also has been indicted in Spokane on a charge of conspiracy to possess with intent to deliver cocaine, according to the U.S. attorney`s office in Spokane.
Howard also was indicted on federal charges of conspiracy to possess with intent to deliver cocaine, unlawful transport of fire arms and use of a fire arm in a felony, according to the U.S. attorney`s office in Spokane. Both men will stand trial Dec. 9 on the federal charges.
Law enforcement officials who track the Ghost Riders in Washington state say the club has been one of the fastest growing groups in the country, but will be hurt by Hegge`s conviction.
Brent Pfundheller, a detective with the Washington State Patrol in Olympia, said Hegge was a strong group leader. ''He was definitely in control of the Ghost Riders,'' he said. ''If he said to do something, it was done. You didn`t cross Al Hegge.''
The Ghost Riders are considered to be very dangerous and are monitored closely by law officials, said Larry Boyd, chief sheriff`s deputy in Grant County, Wash., where the group was formed in the mid-1960s.
With chapters in Washington state, Billings, Mont., British Columbia and Alberta, Canada, police estimate the group has between 75 and 150 members.
Featured Lawyers
Featured Decisions
Latest Decisions
Browse Decisions
Advanced Search
631 F.Supp. 512 (1986)
UNITED STATES v. HEGGE
UNITED STATES of America, Plaintiff, v. Alvin HEGGE, Defendant.
United States District Court, E.D. Washington. https://leagle.com/images/logo.png
April 1, 1986.
Attorney(s) appearing for the Case
Sid Wurzburg, Spokane, Wash., for plaintiff.
James B. Crum, Asst. U.S. Atty., Spokane, Wash., for defendant.
MEMORANDUM OPINION RE: CLOSURE OF PRETRIAL HEARING ON MARCH 26, 1986
QUACKENBUSH, District Judge.
On March 26, 1986, on motion of Sid Wurzburg, attorney for the defendant, this court ordered that the pretrial hearing of that morning be closed to the public and the press. Prior to that Order, the court afforded members of the press the opportunity to be heard on the proposed closure and the court further advised members of the press that it would be available...
NEVER MISS A DECISION. START YOUR SUBSCRIPTION.
Uncompromising quality. enduring impact. your support ensures a bright future for independent legal reporting..
As you are aware we have offered this as a free subscription over the past years and we have now made it a paid service.Look forward to your continued patronage.
GET STARTED
Read it with your leagle account. sign in to continue.
Listed below are the cases that are cited in this Featured Case. Click the citation to see the full text of the cited case. Citations are also linked in the body of the Featured Case.
Cited Cases
Listed below are those cases in which this Featured Case is cited. Click on the case name to see the full text of the citing case.
Citing Cases
Terms of Use
Privacy Statement
Corporate Social Responsibility
You are using an outdated browser. Please upgrade your browser to improve your experience.
Find Posts By Topic
East Precinct
North Precinct
Southwest Precinct
South Precinct
West Precinct
Data and Crime Trends
2018 Homicides
2019 Homicides
2020 Homicides
Chief of Police
News Releases
Community Outreach
Traffic and Collisions
Significant Incident Reports
Leader of "Ghost Riders" Motorcycle Gang Sentenced to Prison for Illegal Weapons Possession
A leader of the Ghost Riders motorcycle gang in Pierce County was sentenced today in U.S. District Court in Tacoma to five years in prison for possession of an unregistered short-barreled shotgun and being a felon in possession of explosives, announced U.S. Attorney Jenny A. Durkan. The 66-year-old male suspect, of Spanaway, Washington, has been in custody since his property was searched on June 13, 2013 and the weapons were discovered. The explosives were being stored for a retaliatory attack on a rival gang. U.S. District Judge Ronald B. Leighton imposed the sentence.
"The possession of illegal firearms and explosives by violent felons endangers a whole community," said U.S. Attorney Jenny A. Durkan. "This defendant and his gang planned a violent attack on rivals that could have caused serious injuries or deaths. Innocent bystanders could have been caught up in the carnage. The very act of storing those explosives illegally in the storage locker posed risks to the community should they be stolen or ignite accidently."
According to the plea agreement signed in September 2013, ATF agents searched a Spanaway storage locker belonging to the suspect and found more than two sticks of Emulsion explosives and four blasting caps. They also recovered six firearms, including three rifles, two shotguns, and a handgun, as well as additional ammunition. Two days later they searched the suspect's home and a shed on the property that was used as the Ghost Rider's clubhouse. They seized ammunition and six more firearms, including four handguns, a rifle, and a 12-gauge short-barreled shotgun with no serial number.
The suspect was convicted of second degree murder in Grant County, Washington in 1994 and is therefore prohibited from possessing firearms and explosives.
In asking for a five year sentence, prosecutors noted that the Ghost Riders motorcycle gang was preparing for a violent attack.
"The government believes that the gel explosives and at least some of the firearms were gathered for the purpose of a planned violent attack on 'Uncle Sam's Bar and Grill' in Spanaway, known to be a favored hangout of a rival motorcycle gang, the Bandidos. This attack was to be in retaliation for the suspect and about eight of his "brother" Ghost Riders having been tricked and assaulted at that very location on June 2, 2012 (almost exactly a year earlier)," prosecutors wrote in their sentencing memo.
The case was investigated by the Bureau of Alcohol, Tobacco, Firearms & Explosives (ATF), with assistance from the Pierce County Sheriff's Office Bomb Squad, the Washington State Patrol SWAT Team, the South Sound Gang Task Force, and the Seattle Police Department, and was prosecuted by Assistant United States Attorney Gregory A. Gruber.
All media inquiries should be directed to Emily Langlie at the U.S. Attorney's Office at (206) 553-4110 or [email protected] .
You might also like...
Browse the Archive
Every Ghost Rider Ever
Johnny blaze, danny ketch, robbie reyes, and so many more. beware the spirits of vengeance….
Have you tried Marvel Unlimited yet? It's your all-access pass to over 30,000 Marvel comics at your fingertips. Start your 7-day free trial, or sign up with plans as low as $9.99 a month.
Just how many Ghost Riders are there in the Marvel Universe?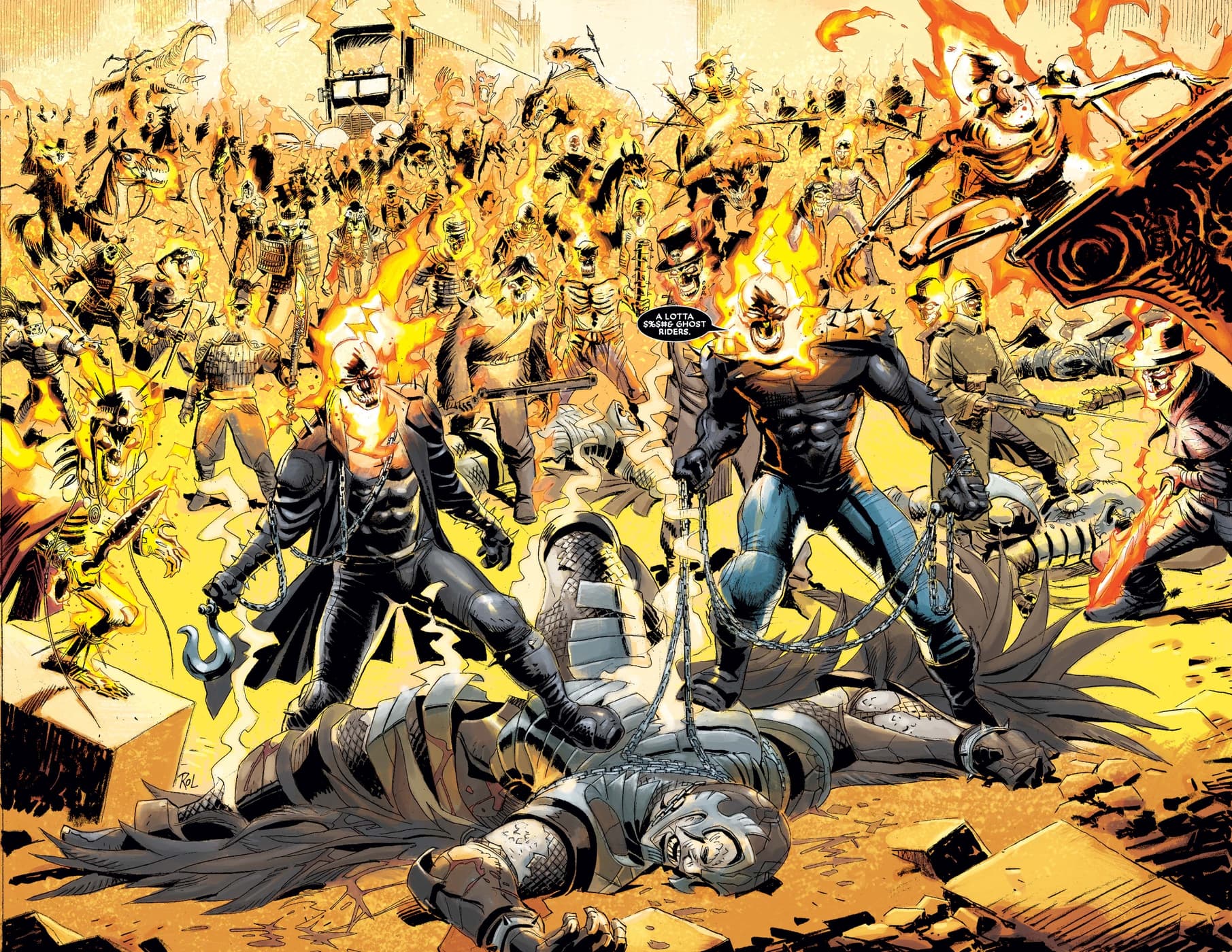 They are the Spirits of Vengeance. Fiery, angelic beings. "Heaven's Black Ops." They were, as told in a flashback from GHOST RIDER (2006) #33 , born out of a supreme being's will to keep depravity and wickedness in check. They weren't native to America but spanned countless countries, cultures, and eras. And, one Ghost Rider is bad enough, but to face a whole army of them? GHOST RIDER: HEAVEN'S ON FIRE (2009) #6 and DOCTOR STRANGE: DAMNATION (2018) #4 showed that it was a fate worse than death.
It was once believed that Hell-lord Mephisto was the creator of the Ghost Riders. Sell your soul, become a cursed, flaming skull with immense power. But it's a little more complicated than that. According to GHOST RIDER (2006) #18 , the rogue archangel Zadkiel bonded the Sprits of Vengeance to the chosen, as he was in charge of maintaining them. This spirit, an "entity of heaven," would be connected to a targeted human host, like stunt motorcyclist Johnny Blaze , whose purpose was to purify sins through fighting. Whereas the Spirits of Vengeance that served Mephisto directly were demonic entities, as portrayed in DOCTOR STRANGE: DAMNATION (2018) #1 .
Regardless of their origin, one thing is for certain. The legacy of the Ghost Rider is filled with "pain, punishment, and vengeance." So, hop on your preferred Hell-Vehicle of choice, and let's take a fiendish ride down this hair-raising highway of history.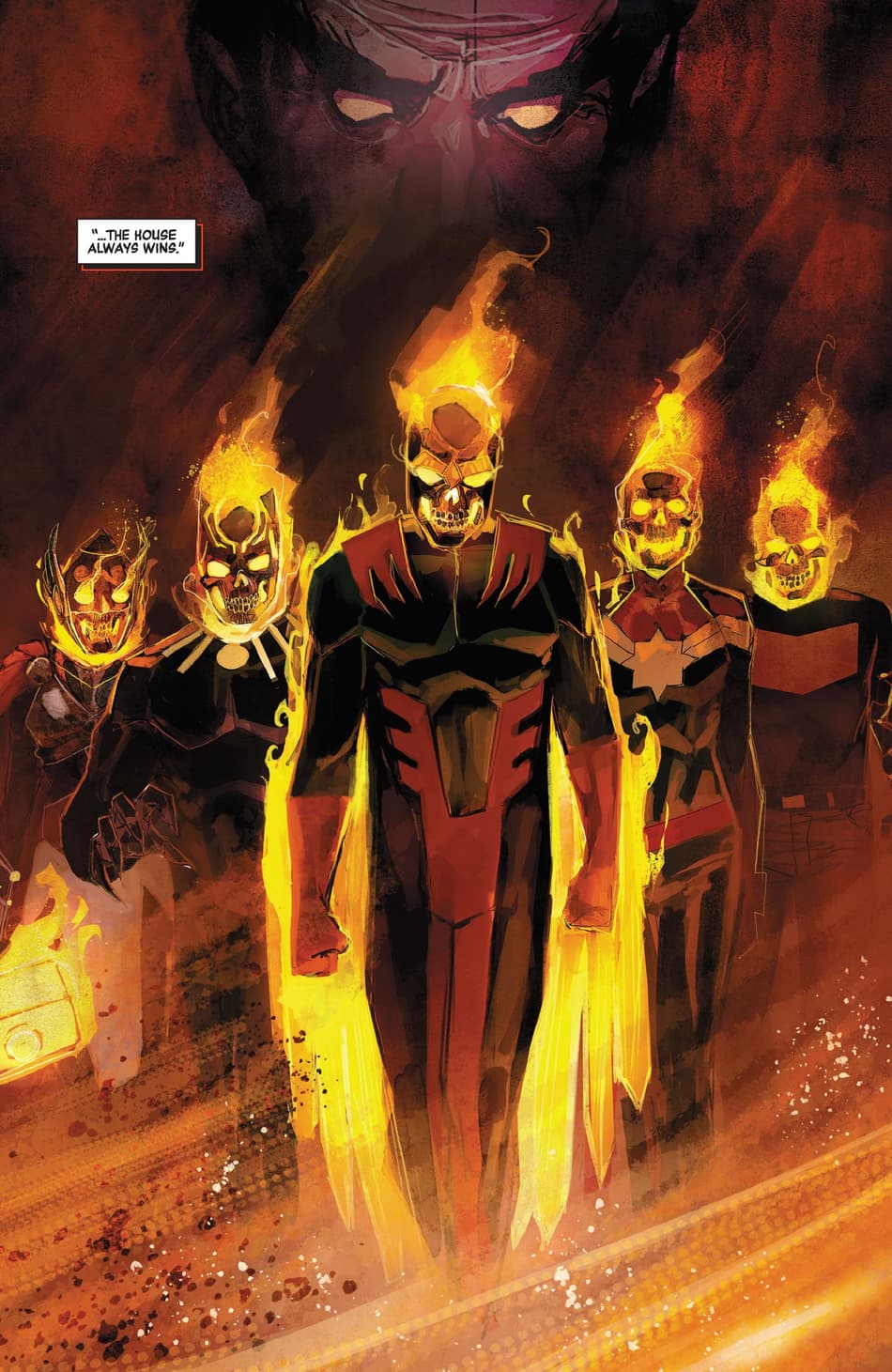 In AVENGERS (2018) #7 , an intelligent caveman from 1,000,000 B.C. was the lone survivor of a Wendigo attack. The monster named the caveman "Ghost" and challenged him to find them. It was during this journey that Ghost was approached by a snake and was given a Spirit of Vengeance, thus making him the 1,000,000 B. C. Ghost Rider . Although he loses the battle and his Hell Mammoth to the Wendigo, B.C. Ghost Rider would later join the Stone Age Avengers, such as 1,000,000 B. C. Black Panther, to battle the Fallen in MARVEL LEGACY (2017) #1 and the First Host in the pages of AVENGERS (2018) .
The following Ghost Rider was Hellhawk , a Sioux chieftain during the 11th century. First appearing in GHOST RIDER (2006) #33, he was part of the 1,000 A. D. Avengers, and, according to some dialogue in AVENGERS (2018) #24 , had a rivalry with the Puritan Avenger/Ghost Rider Noble Kale . (Kale is also the ancestor of two other Ghost Riders, Johnny Blaze and Danny Ketch ). Hellhawk was killed by Necrosis, on orders by Belasco of the Corrupted as a threat to Mephisto to keep all Spirits of Vengeance out of Limbo. The message was definitely received.
The next prominent Ghost Rider was Kushala , AKA the Spirit Rider. An Apache woman from the 19th century, her parents and her tribe were killed by the United States Army. She prayed for help from the Creator but instead received an answer from Leviathan, a Spirit of Vengeance. During that time, she was known as the Demon Rider and was even the Sorcerer Supreme. She would be transported to the modern era with other Sorcerers Supreme to fight the Forgotten in DOCTOR STRANGE AND THE SORCERERS SUPREME (2016) and starred in her own vertical series on the Marvel Unlimited app, GHOST RIDER: KUSHALA INFINITY COMIC (2021) .
[ RELATED :  The History of Kushala: Who Is the Spirit Rider? ]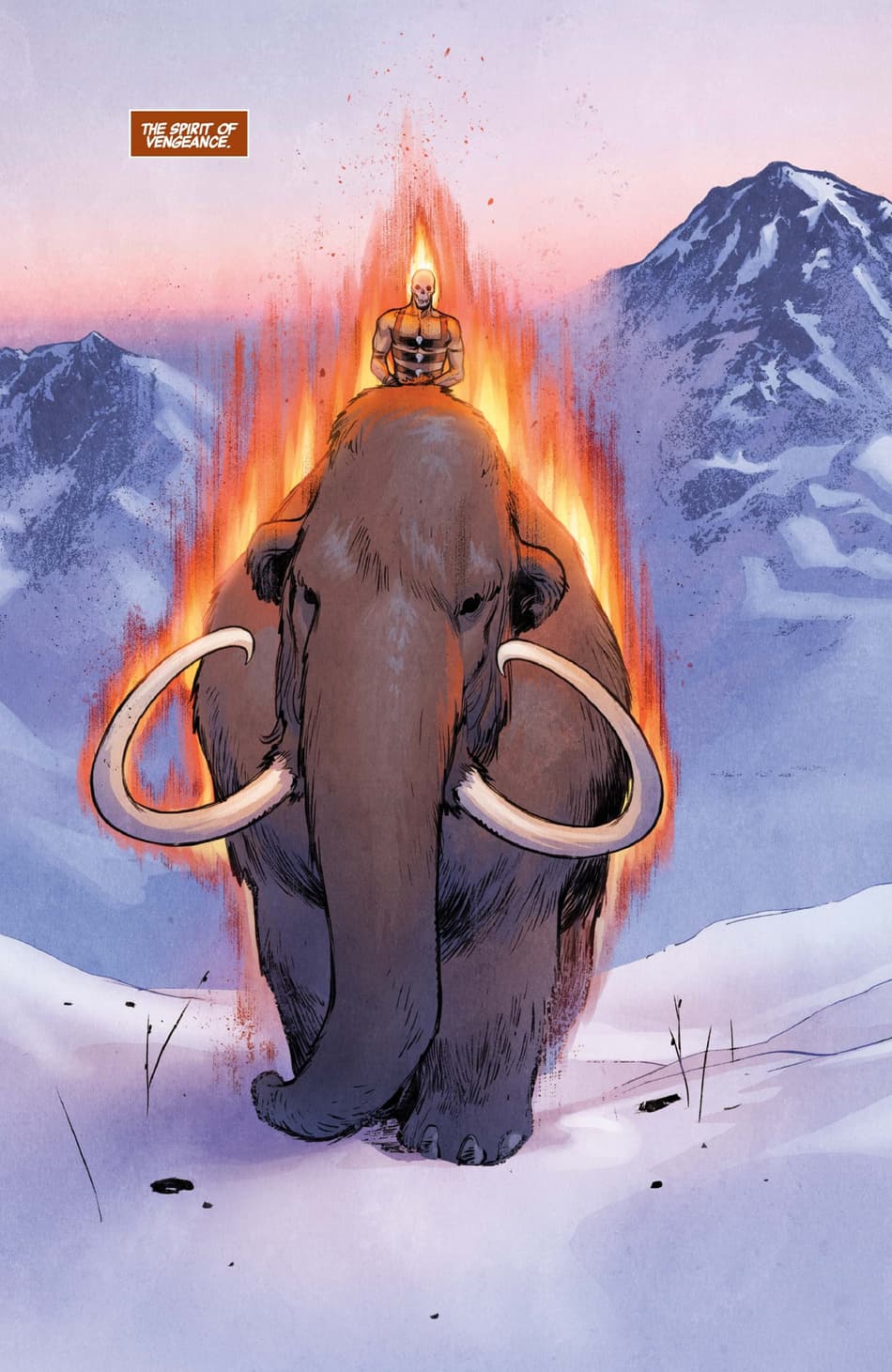 THE PRESENT
Debuting in MARVEL SPOTLIGHT (1971) #5 , Johnny Blaze was the first Ghost Rider in Marvel Comics history and the second character to use the name; Carter Slade, the Phantom Rider , has the honor of using the name first. Blaze was a motorcycle stuntman who bonded with the Spirit of Vengeance named Zarathos to save his surrogate father from death. Of course, Mephisto couldn't just stand by when such a deal was forged. Since this pivotal life choice, Blaze has been on tons of teams including the Legion of Monsters and most notably the Midnight Sons . Oh, and he was also the King of Hell for a few years . Talk about a promotion!
Blaze hasn't always been the Ghost Rider in the present era. He actually gave up his powers in 1983, and it wouldn't be until GHOST RIDER (1990) #1 when a new person stepped in to fill the Ghost Rider vacuum. Danny Ketch is Blaze's long-lost, younger brother, and unlike his predecessor, would get along well with his Spirit, the Marvel Universe's iteration of the Angel of Death. It was assumed Ketch died at the end of his series, until he was seen alive and well. In addition to being a Ghost Rider, Ketch was the host of Noble Kale, a knight of Zadkiel, and the Death Rider. Adding to his ever-growing resume, Ketch was also one-fourth of the NEW FANTASTIC FOUR , along with Gray Hulk Joe Fixit , Spider-Man , and Wolverine .
After the FEAR ITSELF event, a Central American woman named Alejandra Jones was introduced as the new Ghost Rider. One difference between her and her fellow Ghost Riders was that she trained for the role; when the time came, her mentor, Adam, performed the ritual to transform Jones into the formidable being. She would later be trained by Blaze, but after some wild occurrences, he would take most of his powers back from her. Furious, Jones used her remaining powers to protect her village as the Guardian Fantasma, but it would be short-lived as maniacal symbiote Carnage killed her in ABSOLUTE CARNAGE: SYMBIOTE OF VENGEANCE (2019) #1 .
One of the latest Ghost Riders is Robbie Reyes , introduced in ALL-NEW GHOST RIDER (2014) #1 . A young man from East Los Angeles, Reyes was a high school student and auto body mechanic. He wanted to move him and his younger brother Gabe into a safer neighborhood, but didn't have the money, so Reyes entered a street race to win $50,000. All did not go to plan. Reyes was shot—and then revived—by the spirit of Eli Morrow (his estranged uncle who was also a satanic serial killer). While fending off his uncle's urges to kill indiscriminately, Ghost Rider: Reyes became an Avenger and would eventually be freed of Eli's influence in AVENGERS (2018) #25 .
The next character to become a Ghost Rider is a bit of a detour, as he didn't become one in the "traditional" sense. During Mephisto's takeover of Las Vegas, Doctor Strange —yes, that Doctor Strange —was a Ghost Rider in DOCTOR STRANGE: DAMNATION (2018) #2 . How did it happen? Strange's consciousness was tricked by letting him believe that "Loki," "Scarlet Witch, and "Clea" helped him escape from his cell, when in reality, he was attacking his rescuers while his soul was in Hell. Fortunately, with help from some Avengers, Bats the Bassett Hound, and even Dormammu , Strange was able to escape Hell and return to his "normal" state in DOCTOR STRANGE (2015) #389 .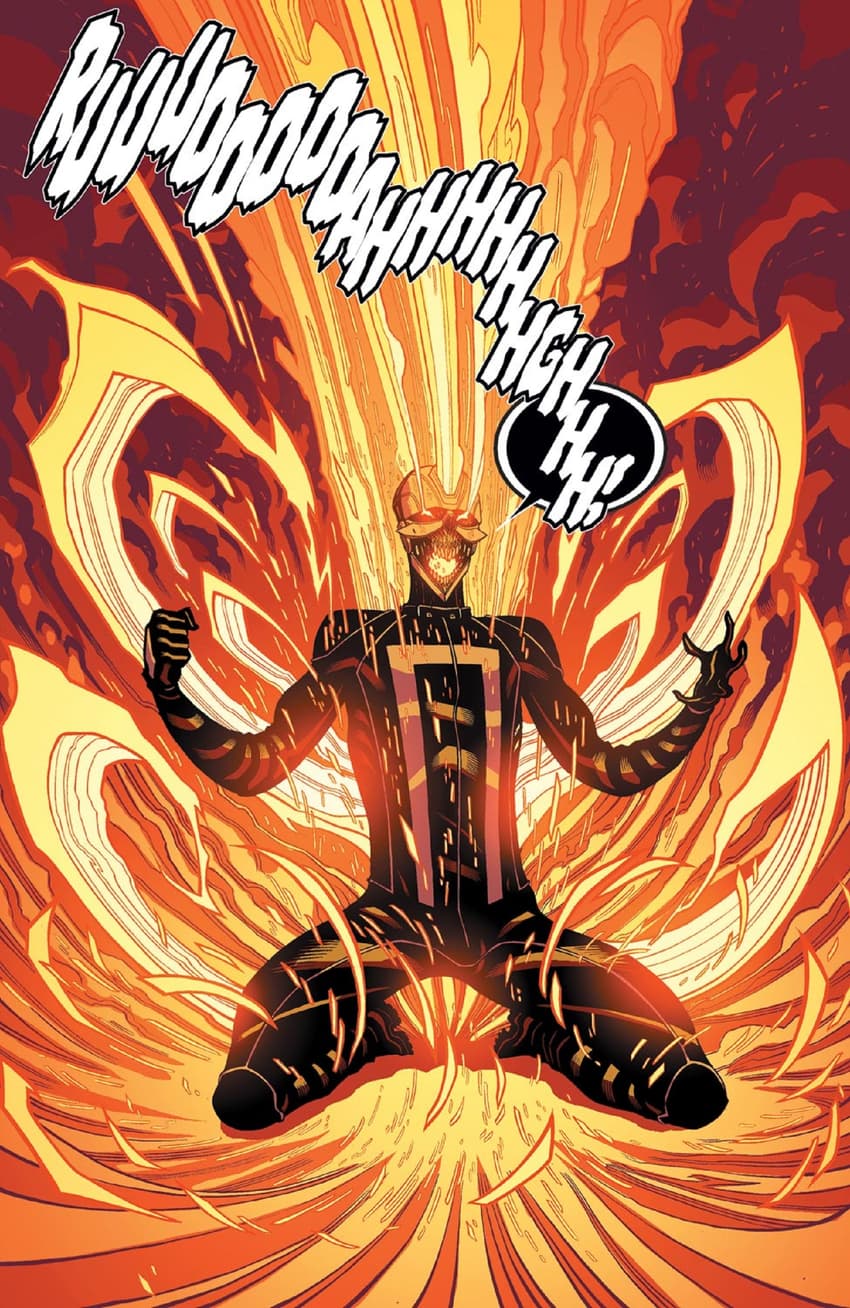 Kenshiro "Zero" Cochrane was an anarchist hacker in a gang called the Hotwire Martyrs in the year 2099. Shot by a rival gang and on the brink of death, he transferred his consciousness to cyberspace, where he was discovered by an AI collective named Ghostworks. When asked to become their avatar of change, Cochrane obviously said yes and was downloaded into a Cybertek 101 warbot. He made it his mission to avenge his and his fallen friends' deaths, but the rest of his story would remain unwritten. He would, however, reappear in GHOST RIDER 2099 (2019) #1 and SPIDER-MAN 2099: EXODUS ALPHA (2022) , the latter of which celebrated the 30th anniversary of the 2099 universe. Maybe his story isn't done after all…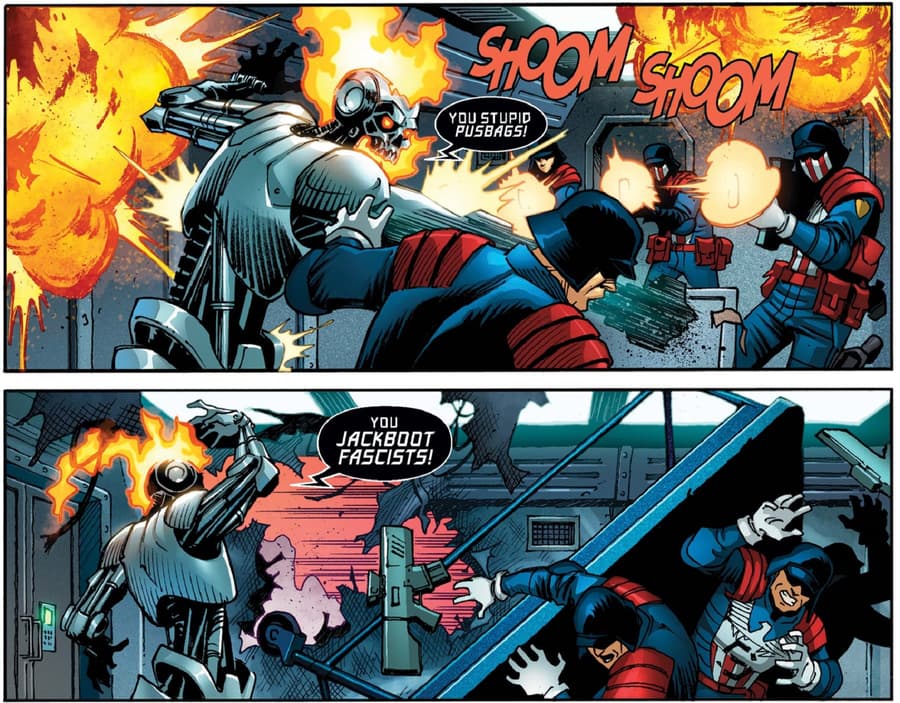 THE MULTIVERSE
What happens when you combine the Punisher , Ghost Rider, and awesome cosmic might? You get Frank Castle as the Cosmic Ghost Rider ! This version of Castle was from an alternate universe in which Thanos conquered everything . After making a deal with Mephisto to become the Ghost Rider (and receiving an upgrade from the Power Cosmic), Castle would end up as a servant of Thanos after spending centuries trying to kill him. In COSMIC GHOST RIDER (2018) , Castle traveled through time and attempted to raise baby Thanos to be a better person, but unfortunately this plan had the exact opposite effect. Post- INFINITY WARS (2018) , he spent time with the Guardians of the Galaxy for a bit, destroyed Marvel history in a series of the same name , and was last seen seeking revenge on Mephisto in REVENGE OF THE COSMIC GHOST RIDER (2019) #5 .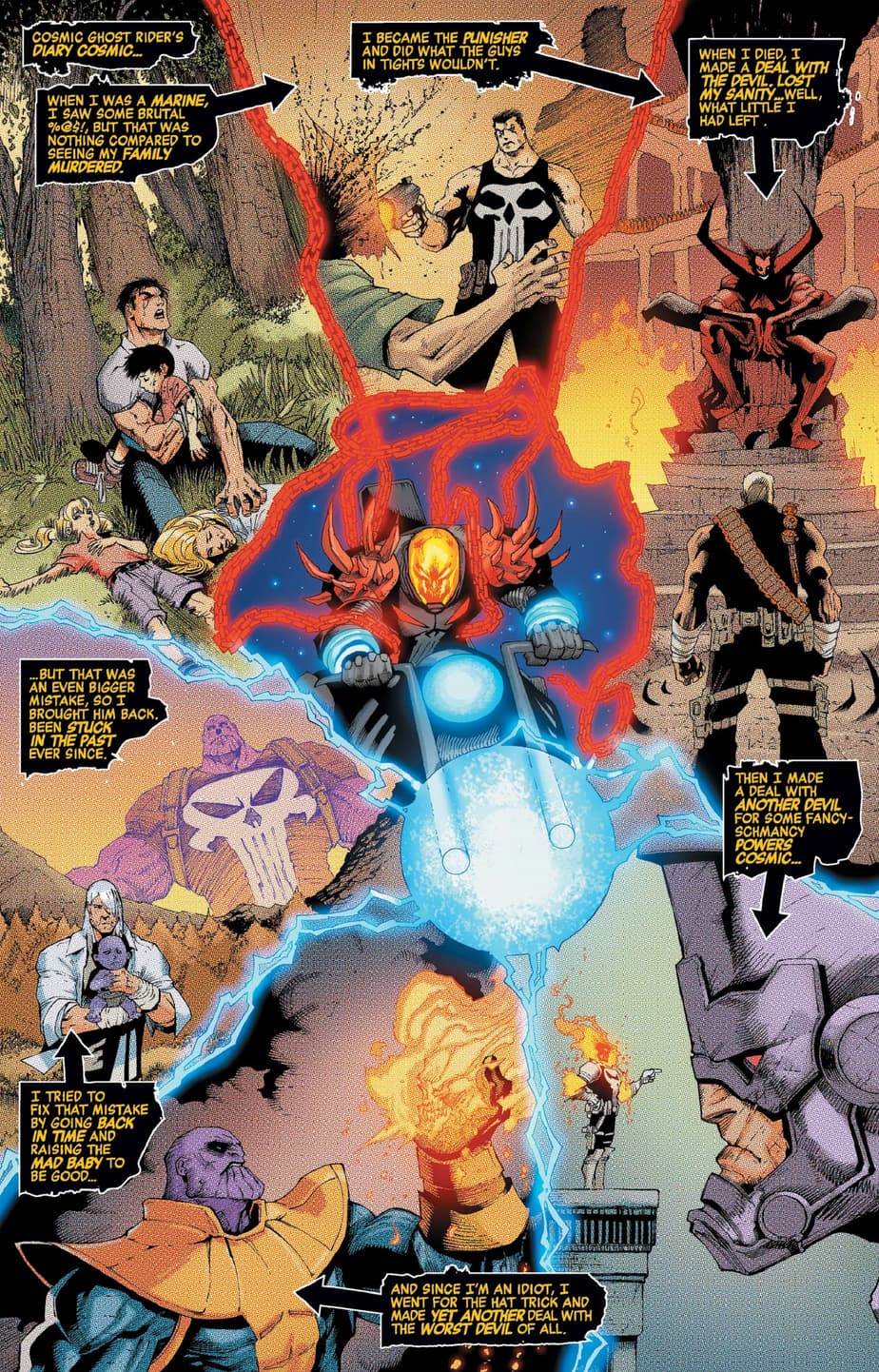 In short, Marvel history has always had its Ghost Riders. Just make sure you're not on the wrong side of them. Especially if your name is Mephisto .
All comics mentioned here can be found and read on Marvel Unlimited!
Read the complete history of the Spirit of Vengeance on Marvel Unlimited , and choose from a catalog of over 30,000 digital comics spanning over 80 years of Marvel Comics.
The Hype Box
Can't-miss news and updates from across the Marvel Universe!
'Loki': Uncovering Miss Minutes' Deeper Motivation for Season 2
'Marvel's Spider-Man 2' Star Tony Todd Explains Why He Roots for Venom
Remembering Keith Giffen, 1952-2023
'Marvel's Voices: Legends' Celebrates Black History Month with Misty Knight, Patriot, and More
'Spider-Gwen: Smash' #1 First Look Introduces Earth-65's Dazzler
Assemble this Friday on Disney+!
Get a first look at Tom DeFalco and Pat Olliffe's MARVEL SUPER HEROES SECRET WARS: BATTLEWORLD, on sale November 22.
Ahead of the highly anticipated video game, dig into these exclusive vertical Infinity Comics on Marvel Unlimited!
Launching in January, the recently announced limited series introduces a startling new vision of Marvel's tomorrow.
Reviewmotors.co
Ghost riders motorcycle club washington state.
Since its inception in the late 1950s, the Ghost Riders Motorcycle Club of Washington State has been a force to be reckoned with in the world of motorcycling. Boasting a wide variety of members from all walks of life, the club's mission is to promote the love of motorcycling and the camaraderie that comes with it. Whether you're a pro rider or just learning the ropes, the Ghost Riders have something for everyone. From the annual summer bash to its many charity rides, the Ghost Riders Motorcycle Club of Washington State is an organization that truly puts its money where its mouth is. Since its founding, the club has made significant contributions to local charities and organizations throughout the state, such as the Make-A-Wish Foundation and the American Red Cross. It has also held numerous events and rallies that help to raise awareness of the importance of motorcycle safety and the need for greater rider education. The Ghost Riders Motorcycle Club is a place where riders of all experience levels can come together and share their love of motorcycles and the open road. Founded in the late 1950s in Washington State, the club has since grown to become one of the largest and most active clubs in the state. With over 500 members, the club offers a variety of activities and events to fit every rider's needs. At its core, the Ghost Riders Motorcycle Club is a tight-knit family that values friendship and respect above all else. The members are all passionate about the club and its mission to promote motorcycling in a safe and responsible manner, and they work hard to ensure that each member feels like a part of the family. From organized rides to charity fundraisers and even impromptu get-togethers, the Ghost Riders provide a great sense of community for its members. The club also provides a great platform for experienced riders to share their knowledge with those who are just starting out. Newcomers can gain valuable tips and advice from those who have been riding for years, while those with more experience can help to teach riders the basics of the sport and help to mentor them through the early stages of their riding career. The Ghost Riders Motorcycle Club of Washington State is more than just a club; it's a family. With a strong focus on safety, education, and camaraderie, the club provides a great environment for riders of all ages and skill levels to come together and enjoy their passion for motorcycling.
Ghost Ryderz Exteme Mc Los Angeles
Steven Phillips Small Engine Department Service Manager C N Tractors Linkedin
Tennessee Local Motorcycle Club Teams With Housing Authority To Raise Funds Collect Coats For Children Biker News
Kansas Bikers Lobby For Safer Riding Conditions
Georgia Outcast Biker War Mug Shots Alias Names Released In State S Largest Motorcycle Gang Bust Fox News
These Guys Are My Brothers Madison S C Riders Have Bonded For 50 Years Over Motorcycles And Friendship Local News Captimes Com
Cosmic Ghost Rider Destroys Marvel History Vol 1 3 Database Fandom
Local Motorcycle Club Helps Avery Kids Community Averyjournal Com
Ghost Ryderz Extreme Motorcycle Club Atlanta Chapter
Local Motorcycle Club Hosts Cookout For Johnson City Police Wjhl Tri Cities News Weather
Ghost Riders Motorcycle Club Presents Money To With A Cop Program Avery Averyjournal Com
Washington State Proposes Comprehensive Civil Rights Protection For Motorcyclists Russ Brown Motorcycle Attorneys
Ghost Rider Bilder Durchsuchen 167 Archivfotos Vrgrafiken Und S Adobe Stock
Share this:
Click to share on Twitter (Opens in new window)
Click to share on Facebook (Opens in new window)
About The Author
Save my name, email, and website in this browser for the next time I comment.
Notify me of follow-up comments by email.
Notify me of new posts by email.
Privacy Overview
Ghost Rider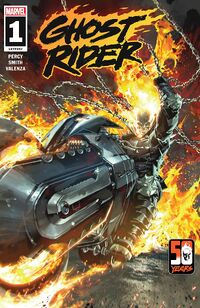 Cover to Ghost Rider #1
Ghost Rider is published by Marvel Comics . Current price per issue is $3.99.
Publication Dates [ ]
Last issue [ ], current issue [ ], next issue [ ], characters [ ], main characters [ ].
Ghost Rider (Johnny Blaze)
Gabriel Reyes
Daniel Wakeford
Enemies [ ]
Minor characters [ ].
Other Characters/Places/Things [ ]
101 Freeway
Hillrock Heights
Camelo's Auto and Body
Recent Storylines [ ]
Ghost rider #19/262 [ ].
This is the current issue, and therefore no story information will be posted about this issue. Please check your local comic shop for copies of this issue.
Ghost Rider Annual #1 [ ]
Ghost rider #18/261 [ ], ghost rider #17/260 [ ], ghost rider #16/259 [ ], ghost rider #15/258 [ ], ghost rider #14/257 [ ], ghost rider #13/256 [ ], ghost rider #12/255 [ ], ghost rider #11/254 [ ], ghost rider #10/253 [ ], ghost rider #9/252 [ ], ghost rider #8/251 [ ], ghost rider #7/250 [ ], ghost rider #6/249 [ ], ghost rider: vengeance forever #1 [ ], ghost rider #5/248 [ ], ghost rider #4/247 [ ], ghost rider #3/246 [ ], ghost rider #2/248 [ ], ghost rider #1/247 [ ], king in black: ghost rider #1 [ ], ghost rider: return of vengeance #1 [ ], ghost rider #7/243 [ ], ghost rider #6/242 [ ], ghost rider #5/241 [ ], spirits of ghost rider: mother of demons #1 [ ], ghost rider #4/240 [ ], ghost rider #3/239 [ ], ghost rider #2/238 [ ], ghost rider #1/237 [ ], damnation: johnny blaze ghost rider #1 [ ], ghost rider #5 [ ], collections [ ], hardcovers [ ].
Marvel Masterworks: Ghost Rider, vol. 1 - Collects vol. 1 #1-5, plus Marvel Spotlight #5-12. - WorldCat - ISBN 9781302918170
Marvel Masterworks: Ghost Rider, vol. 2 - Collects vol. 1 #6-20, plus Marvel Two-In-One vol. 1 #8 & Daredevil vol. 1 #138. - WorldCat - ISBN 9781302922146
Marvel Masterworks: Ghost Rider, vol. 3 - Collects vol. 1 #21-35, plus Marvel Premiere #28. - WorldCat - ISBN 9781302929299
Marvel Masterworks: Ghost Rider, vol. 4 - Collects vol. 1 #36-50. - WorldCat - ISBN 9781302933227
Marvel Masterworks: Ghost Rider, vol. 5 - Collects vol. 1 #51-62. - JAN231009 - WorldCat - ISBN 9781302949358
Trade Paperbacks [ ]
Ghost Rider Epic Collection, vol. 1: Hell on Wheels - Collects vol. 1 #1-11, plus Marvel Spotlight #5-12 & Marvel Team-Up vol. 1 #15. - WorldCat - ISBN 9781302946111
Ghost Rider Epic Collection, vol. 6: Vengeance Reborn - Collects vol. 2 #1-12, plus Marc Spector: Moon Knight #25, Doctor Strange vol. 3 #28, and the Ghost Rider stories from Marvel Comics Presents vol. 1 #64-71. - JUN231119 - WorldCat - ISBN 9781302954055
Ghost Rider Danny Ketch: Marvel Tales - Collects vol. 2 #1-3. - SEP221021
Ghost Rider by Daniel Way Complete Collection - Collects vol. 5 #1-19. "Once upon a time, Johnny Blaze made a deal with the Devil - and to no one's surprise but his own, he got shafted. Now trapped in hell, with the Spirit of Vengeance bonded to his immortal soul and weighing him down, Johnny may have finally found a way out. But at what cost?" - WorldCat - ISBN 9781302908089
Ghost Rider: The War for Heaven - Collects vol. 5 #20-32 & Annual #1-2. "Over the years, Johnny Blaze has lost everything to his curse: his family, his life — even his soul. But now he finally knows who's responsible for turning him into a flaming-skulled horror show — and he's out for vengeance! But when fellow Ghost Rider Danny Ketch returns, whose side is he on? What familiar faces has Ketch brought to the party? And who's about to get shot in the head with a hellfire shotgun?" - WorldCat - ISBN 9781302916251
Ghost Rider: The War for Heaven, Book 2 - Collects vol. 5 #33-35, Ghost Rider: Danny Ketch #1-5 & Ghost Rider: Heaven's On Fire #1-6. - WorldCat - ISBN 9781302923419
All-New Ghost Rider, vol. 1: Engines of Vengeance - Collects vol. 7 #1-5. "Amid an East Los Angeles neighborhood running wild with gang violence and drug trafficking, Robbie Reyes has been given an awesome new power! But can the teen handle it, or will it drive him to a path of destruction? As a war brews in the criminal underworld, the streets of East L.A. flare up with drug-fueled gang violence from Dr. Zabo's power-enhancing narcotics — and Mr. Hyde launches a diabolical plan to expand his underground empire. Robbie meets the mysterious entity behind his possession, but will he submit to the sprit inside him and go too far in protecting his neighborhood?" - WorldCat - ISBN 0785154558
All-New Ghost Rider, vol. 2: Legend - Collects vol. 7 #6-12. "The all-new Ghost Rider has become a local hero! Can Robbie Reyes resist the call of street racing, or is he speeding towards eternal damnation? The Blue Hyde Brigade is born…but who is the mysterious figure taking an interest in the new Ghost Rider? When the original Ghost Rider, Johnny Blaze, shows up, hellfire sparks will fly as the legend comes face-to-face with the reality!" - WorldCat - ISBN 9780785154563
Ghost Rider, vol. 1: Four on the Floor - Collects vol. 8 #1-5. "When a mysterious object from space crash-lands in southern California, some of the brightest minds in the Marvel Universe are drawn to Robbie's backyard - including Amadeus Cho, the Totally Awesome Hulk! What mayhem will be unleashed as the high-octane hothead comes face-to-face with the jade genius? And with Robbie still possessed by the ghost of his evil uncle Eli…who's really in the Ghost Rider's driver's seat?" - WorldCat - ISBN 9780785196648
Ghost Rider, vol. 1: King of Hell - Collects vol. 9 #1-4, plus Absolute Carnage: Symbiote of Vengeance . "Johnny Blaze is the king of Hell, its first line of defense against demonic hordes trying to escape and lords of other infernal regions making a play for his throne — including a certain evil queen from his past! Meanwhile, Danny Ketch never wanted to be a Ghost Rider. But with his brother in charge downstairs, Ketch must become Earth's Spirit of Vengeance full-time — no matter how much he'd rather be doing anything else." - WorldCat - ISBN 9781302920050
Ghost Rider, vol. 2: Hearts of Darkness II - Collects vol. 9 #5-7, plus Spirits of Ghost Rider: Mother of Demons & Ghost Rider 2099 vol. 2 #1. "Just when Dan Ketch thought he was out, he finds himself back in — and way over his head! Empowered by the Spirit of Corruption, what will Ketch's new status quo mean when he encounters Wolverine and the Punisher? Meanwhile, Johnny Blaze targets the man who had the power to free him from Hell, but chose not to lift a finger. Ghost Rider is out for revenge on Doctor Strange!" - WorldCat - ISBN 9781302920067 - Kindle - Kindle
Ghost Rider: The Return of Blaze - Collects Spirits of Ghost Rider: Mother of Demons , Ghost Rider: Return of Vengeance , & King in Black: Ghost Rider . "Since the dawn of man, she has birthed the worst of humanity's ills. Her kin call her Mama while men curse her name: Lilith! But when the thrones of every netherworld are united as one, they shall soon call her by a new name: Queen! Meanwhile, all Johnny Blaze wants is to destroy Mephisto. But when the King in Black throws the world into chaos, some of Johnny's oldest friends arrive to ask for his help. It may take everything they've got to stop Knull's madness. Maybe even…the devil himself? And as the battle for control of Hell heats up, Michael Badilino seizes his opportunity to ride again — as Vengeance!" - WorldCat - ISBN 9781302944995
Ghost Rider, vol. 1: Unchained - Collects vol. 10 #1-5. "Ghost Rider goes back to flaming-skulled basics! Johnny Blaze is in a haze. He has the perfect life: idyllic small town, wife and kids, dog - the American dream. Except for the nightmares. Blaze is having terrifying visions and has a constant, pounding headache - like something inside is trying to get out. This world he's living in is too good to be true. In fact, it's more like a prison. But who would purposely be keeping the Spirit of Vengeance on the sidelines - and how? Meanwhile, the FBI has recently discovered a frightening and unexplained surge in supernatural activity. And that can mean only one thing: It's time for Blaze to hit the dark roads of the Marvel Universe once more, confronting its monsters and battling his demons. Let's ride!" - MAY221026 - WorldCat - ISBN 9781302927820
Ghost Rider, vol. 2: Shadow Country - Collects vol. 10 #6-10 & Vengeance Forever . "There's somebody else out there like Johnny Blaze, somebody who knows what it means to suffer – to feel sickened by the pain they've inflicted on the world. His name is Logan. After the motorcycle rally at Hell's Backbone, Wolverine and Ghost Rider are brought together – but are they enemies or allies in the war against the shadow country? Meanwhile, there's a new splinter group within the F.B.I. charged with quelling the rise in supernatural activity, helmed by Agent Talia Warroad. And she's aiming to enlist the dangerous power of the Spirit of Vengeance!" - DEC220920 - WorldCat - ISBN 9781302927820
Ghost Rider: Robbie Reyes – The Complete Collection - Collects vol. 7 #1-12 & vol. 8 #1-5, plus What If? Ghost Rider #1. - WorldCat - ISBN 9781302925345
Ghost Rider by Ed Bisson - Collects vol. 9 #1-7, plus Absolute Carnage: Symbiote of Vengeance , Spirits of Ghost Rider: Mother of Demons , King in Black: Ghost Rider , & Ghost Rider 2099 vol. 2 #1. - JUN231122 - WorldCat - ISBN 9781302953317
History [ ]
Leftover useful information [ ], creative team [ ], volume 7 [ ].
Writer: Felipe Smith. Artist/Covers (#1-5): Tradd Moore.
Volume 9 [ ]
Writer: Ed Brisson. Artist/Covers: Aaron Kuder.
Volume 10 [ ]
Writer: Benjamin Percy. Artist: Cory Smith. Covers: Kael Ngu.
Publishing History [ ]
Volume 1: #1-81, 1973-1983
Volume 2: #1-93, 1990-1998
Volume 3: #1-6, 2001-2002 (Marvel Knights)
Volume 4: #1-6, 2005-2006 (Marvel Knights)
Volume 5: #1-35, 2006-2009
Volume 6: #1-9, 2011-2012
Volume 7: #1-12, 2014-2015 ( All-New Ghost Rider )
Volume 8: #1-5, 2016-2017
Volume 9: #1-7, 2019-2020 (Legacy #237-243)
Volume 10: #1-, 2022-present (Legacy #244- ; legacy numbering on issues #1 & 2 wrongly given as #247 & 248)
Future Publication Dates [ ]
Dates subject to change at the whims of the publisher or distributor. Please see the Diamond Shipping Lists for current information.
News & Features [ ]
Marvel Comics - Publisher's Website
2 Invincible
3 The Department of Truth
Category : Al Hodge
Media in category "al hodge".
The following 9 files are in this category, out of 9 total.
Hodge (surname)
Al (given name)
1912 births
1979 deaths
Male actors from the United States born in the 1910s
Radio personalities from the United States
Alumni of Miami University
Burials at Kensico Cemetery
Uses of Wikidata Infobox
Men of the United States by name
Men by name
People by name
Deceased people by name
Navigation menu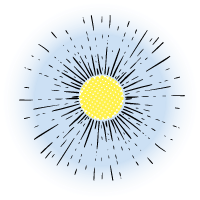 2023 Election Center: See the latest headlines from the 2023 general election here
Biker in fatal crash had killed two.
Fraser, 51, captured years after 1982 tavern shooting
The biker killed in a crash Wednesday had been a member of the Ghost Riders motorcycle gang and served time in prison for killing two people.
Michael W. Fraser, 51, died when his bike slid more than 200 feet into an oncoming car on North Market Street, according to the Spokane County Sheriff's Office.
Fraser was southbound on Market when he tried to pass another vehicle in a no-pass zone just south of Hawthorne Road about 5:15 p.m., according to a news release.
He lost control of his rebuilt 1985 motorcycle and tipped over, hitting a 1994 Mercury Sable driven by a Mead man who had braked "to almost a complete stop," the Sheriff's Office said.
"The motorcycle went under the front of the Sable, trapping its rider beneath the car and killing him almost instantly," according to the news release. The Sable's driver was not injured.
Deputies said Fraser was traveling about 70 mph in the 45 mph zone.
Fraser, whose nickname among fellow bikers was Herpes, spent several years on the lam after the 1982 shooting death of Ben S. Lawson, 32, at the old Red Robin tavern on North Monroe Street, according to news archives. He was captured in 1989 and spent a year in prison on a second-degree manslaughter conviction before being paroled, according to the state Corrections Department.
News articles say he also was named as one of 11 defendants in a 1983 arson murder of a Wisconsin woman, for which Ghost Rider leader Al Hegge and three others were convicted in 1985. Hegge is serving life in prison for murdering a Spokane police officer in 1983.
Fraser returned to prison in 1992 after a customer was shot twice in the back and killed during a barroom brawl in Arlington, Wash., that involved several other members of the Ghost Riders, according to a 1996 Seattle Times article.
Fraser was then convicted of second-degree murder and released in 2005, state records show. He wasn't on probation when he died.
Sgt. Dave Reagan said Fraser was still affiliated with an outlaw motorcycle gang but declined to say which one.
More health care happening outside the doctor's office
Technology is redefining health care and it's not only cutting-edge surgical treatments and advances in important routine screenings like mammograms.