HAUNTED HILL 21+ HALLOWEEN PARTY FREE W/ RSVP @ LIT LA NIGHTCLUB
Sat Oct 28 2023 at 09:00 pm to Sun Oct 29 2023 at 02:00 am
901 Via San Clemente | Montebello, CA
Halloween Weekend 2023
Saturday October 28th
*** HAUNTED HILL COSTUME PARTY ***
LIT LA NIGHTCLUB
21+ Only / Valid ID Required for Entry
*** EVERYONE FREE BEFORE 9:30PM with Eventbrite RSVP ***
Ladies and Gents come in your best costumes AND READY TO PARTY!
(COSTUMES ARE NOT MANDATORY BUT HIGHLY SUGGESTED)
FOR BOTTLE SERVICE ONLY - Text "HAUNTED HILL" to 323.492.0569
Hip Hop + Top 40's + Reggaeton Music by So-Cal's Best DJ's!
LIT LA Nightclub features a newly remodeled large venue with dance floor, and outdoor patio, along with state of the art sound and light system!
FOLLOW US ON INSTAGRAM:
Where is it happening?
Event Location & Nearby Stays:
USD 0.00 to USD 40.00
Host or Publisher Privilege Nightlife
It's more fun with friends. share with friends, discover more events in montebello.
1345 N. Montebello Boulevard, Montebello (L.A.)
Montebello Boulevard
Recommended scavenger starting point or other city spot of your choice! (YOU MUST USE PDF TICKETS EMAILED FOR EVENT- NO MOBILE APP OR QR CODES ACCEPTED)
1401 W Whittier Blvd, Montebello, CA 90640-4602, United States
What's Happening Next in Montebello?
HAUNTED HILL 21+ HALLOWEEN PARTY FREE W/ RSVP @ LIT LA NIGHTCLUB
Sat oct 28 2023 at 09:00 pm to mon oct 30 2023 at 02:00 am utc-07:00, lit la nightclub | montebello.
Halloween Weekend 2023
Saturday October 28th
*** HAUNTED HILL COSTUME PARTY ***
LIT LA NIGHTCLUB
21+ Only / Valid ID Required for Entry
*** EVERYONE FREE BEFORE 9:30PM with Eventbrite RSVP ***
Ladies and Gents come in your best costumes AND READY TO PARTY!
(COSTUMES ARE NOT MANDATORY BUT HIGHLY SUGGESTED)
FOR BOTTLE SERVICE ONLY - Text "HAUNTED HILL" to 323.492.0569
Hip Hop + Top 40's + Reggaeton Music by So-Cal's Best DJ's!
LIT LA Nightclub features a newly remodeled large venue with dance floor, and outdoor patio, along with state of the art sound and light system!
FOLLOW US ON INSTAGRAM: @
Event Venue & Nearby Stays
Lit LA Nightclub, 901 Via San Clemente, Montebello, United States
USD 0.00 to USD 40.00
Discover more events by tags:
Sharing is caring:.
Haunted Places in Montebello, California
Doubletree Hotel - Rosemead
Rosemead, california.
Reportedly haunted by a ghost who likes to play with the lights. Bad wiring or a haunting? You decide.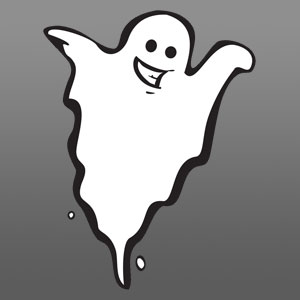 Franks Liquor
East los angeles, california.
Frank's Liquor in East Los Angeles is haunted by the ghost of a gang member that was killed during a robbery attempt at the store in the 70's. It is said the ghost walks up and down the beer aisle late at night. (Submitted by TB)
Veterans Memorial Park
Commerce, california.
The ghost who resides here is called Martin, and in life, he was a janitor at this park. Reports say folks who have called the park before opening hours spoke to a man who answered the phone, and his name was Martin. Lights turn on and off and doors open ...
Founder's Memorial Park - Dead Man's Park
Whittier, california.
A ghostly fog is said to cover Dead Man's Park, which reportedly was once an Old Quaker cemetery. The headstones were removed when the park was built and a marker now lists the names of those who were buried here. The fog is believed to be a spiritual representation of ...
King Richard's Antique Center
King Richards Antique Center is housed in a structure that was built in 1903 and was once an old citrus packing house. Two workers reportedly have died here: One who was closed into a freezer in the basement and another who was crushed by falling machinery. Witnesses have reported black ...
Phoenix Inn
Alhambra, california.
At this Chinese restaurant, you may find more than fried wontons. There is said to be a very observant ghost here. She walks in and out of the kitchen and around the tables, observes as diners place their orders, and then sits and watches them eat.
John F Kennedy Memorial Library
Los angeles, california.
A story is told about some people experimenting with drugs in the third-floor bathroom, then going crazy and bludgeoning people to death there. Now, witnesses say faucets turn on and off, locked doors pop open, cold spots are felt and eerie laughter is sometimes heard.
Savannah Memorial Park Pioneer Cemetery
During the daylight hours, apparitions have been caught on photo. During the night, the sounds of people conversing can be heard. Children can be heard playing at night. This place is filled with the bodies of orphaned children. Their graves state "baby" or the child's first name only. A woman told ...
East Whittier Women's Club
A benign spirit is supposed to haunt this historic women's club, where members have reported report feeling an unseen entity brush past them and try to hold their hand. The identity of the spirit is unknown. (Submitted by Callum Swift)
Casa de Mexicano
According to a report from a caretaker, nine ghosts reside here. The witness has heard knocking and footsteps and seen lights turn on by themselves. Some witnesses have seen the apparition of a Mexican man in jeans, boots and a checkered shirt and felt cold spots.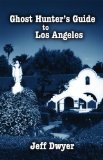 At the laser tag facility Ultrazone, employees say they have heard whistling and seen unexplained fog after closing time, when the fog machines have been shut off. And, mysteriously, the light near the back exit has been known to change colors.
Turner and Stevens Mortuary
Employees at the Turner & Stevens Mortuary say it is haunted by the spirits of an elderly woman who is chasing a little boy, and a man who is trying to protect him. Doors slam, books fly across the room, and footsteps are heard all over. The woman's and man's ...
San Gabriel Mission Playhouse
San gabriel, california.
San Gabriel Mission Playhouse, aka San Gabriel Civic Auditorium has tunnels underground that are believed to be haunted. The tunnels were built so that the owner, Uncle John, could quickly go from backstage to the foyer. Reports say that during the Depression, the tunnels were used to house dead bodies, ...
Rancho Los Amigos Hospital
Downey, california.
The Southern Campus here is abandoned, but was once a recovery center for people with the Spanish Flu. Victims were buried in a nearby field and said to still be as well as victims of polio, the 1933 Long Beach earthquake, a flood in the 1930's, and a secretary who ...
Linda Vista Community Hospital
Seen on the TV show Ghost Adventures, the historic hospital is said to be haunted by many patients who died traumatically here. The site has been used as a setting for a great number of films including Outbreak, To Live and Die in L.A., and Day of the Dead 2: ...
Hollydale Insane Asylum
Abandoned decades ago, the Hollydale Mental Hospital was originally a facility for TB and polio patients. Many rumors surround the place, such as one that tells of a mental patient who slashed the throat of a priest in the building. According to witnesses, there are many unhappy spirits here, and ...
Lambert Park Gymnasium
El monte, california.
The ghost of a little girl has been reported in the gymnasium's attic, and a man's apparition has been seen inside the locker room.
Templo De La Santa Muerte
Huntington park, california.
This place is a church for La Santa Muerte. My mother worked here for a year and we lived in the apartment upstairs of it. We moved out a year ago because my mother got a new job, i was 12 years old and i had cats and we had ...
Bellflower, California
The apparition of a woman is said to appear in the Kmart stockroom, working. Her identity is unknown.
Garibaldi and Baldwin Intersection
Temple city, california.
On the Southwest corner a couple years ago, a memorial stood for a Motorcycle crash. A young man died in this crash. We went to this corner with all of our gear and caught a few images of what appeared to be apparitions walking and standing on the corner by ...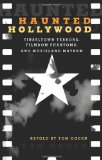 Rialto Theatre
South pasadena, california.
Urban legends are told about a girl who committed suicide by slitting her wrists in the bathroom and then going up to the balcony to bleed to death. Another legend tells of a man who went mad in the projector booth. Witnesses say bathroom stall doors shake and apparitions have ...
One-Eyed Gypsy
Before it closed, guests would be touched or even fondled by an unseen man. One rumor is that this place was built on the site of a brothel that burned down; the lady who ran it is believed to be here. The male ghost is thought to be that of ...
El Campo Santo Cemetery
City of industry, california.
El Campo Santo Cemetery, aka Old Town Cemetery, is believed to be haunted by the spirit of a gravedigger who was himself buried at the cemetery's southeast corner. Also, apparitions have been seen crossing the section of road that was paved over a portion of the cemetery.
Avila Adobe
Francisco Avila, former owner of the house has been seen and heard here. His second wife, Encarnacion, has also been seen in the master bedroom. (Submitted by Chris Berglund)
La Golondrina Cafe
A ghost nicknamed "La Consuela" walks the stairs and is sometimes seen on the balcony. Items also move by themselves or are hidden elsewhere in the building. (Submitted by Chris Berglund)
Lincoln Heights Jail - Bilingual Foundation of the Arts
The Bilingual Foundation of the Arts occupies a building that was once the Lincoln Heights Jail. In 1951, the unprovoked beating of seven prisoners (known as "Bloody Christmas") occurred here, and the spooky setting has led to its use in many films and music videos. Among them, "L.A. Confidential" (whose ...
This historic residence is said to be the home of lingering spirits of those who were killed in the Chinese massacre. Pio Pico's apparition also has been seen here. The house was featured on the TV show Ghost Adventures.
Los Angeles City Hall
According to reports, the second, third, fourth, 27th and 28th floors of City Hall are haunted by ghosts who make themselves known during the overnight hours. On the second floor folks report noises and the feeling of being watched; on the third and fourth, an unseen presence follows you as ...
Plum Tree Inn
One former owner was murdered here Halloween night of 1974 and another victim was forced to dig his own grave. Some believe that the property itself is cursed and others have reported seeing one of the former employees here long after his death. (Submitted by Chris Berglund)
King Eddy Saloon
A form of the vanishing hitchhiker story exists here involving an inebriated woman who demands people pull over at Evergreen Cemetery only for people to discover her grave. Another possible ghost here is Benjamin E. Smith who went on a suicidal drinking binge before shooting himself nearby. (Submitted by Chris Berglund)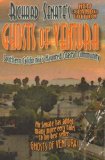 Stay on Main Hotel
Formerly the Cecil Hotel, this location has been a site of murder, suicide, and once even housed serial killers Richard Ramirez and Jack Unterweger; the last infamous case involved that of Elisa Lam who was last seen on security cameras hiding from an unseen force in the elevator before her ...
Hotel Alexandria
The 9th, 11th, and 12th floors are said to have the most activity. Two Mafiosos are also said to be here in the basement of this location. The elevators here also have a knack to go to floors that aren't selected (usually it's the 3rd floor). (Submitted by Chris Berglund)
Dodger Stadium
A screaming woman dressed in white has been seen by employees. According to legend, it's a mother who killed her children. (Submitted by Chris Berglund)
Millennium Biltmore Hotel
The hotel gives off an eerie feeling all around. Guests experience weird noises, being pushed or shaken, and seeing light anomalies. Ghosts of a little girl, nurse, and a woman in a black dress have been reported. (Submitted by Chris)
Hilton Checkers Los Angeles
A woman identified as Teresa Brauden jumped to her death here and two other suicides have taken place here. One of those three may very well be responsible for the sudden chills guests feel or a CCTV recording of a door opening and closing by itself. (Submitted by Chris Berglund)
Elysian Park
The White Lady of Elysian Park is said to be the ghost of a woman who drowned her children in the river and now wanders the park crying. In some versions of her tale, headless dogs appear along with her apparition. Some say apparitions also have been seen entering the ...
Figueroa Hotel
Haunted, or merely bad wiring? Elevators that stop on random floors, lights that flicker and TVs that come on of their own accord, most of the reports of hauntings seem to involve the electric grid. No way of knowing unless you go and check it out for yourself. ...
Arcadia, California
At Taco Lita, witnesses have seen the apparition of an elderly man in a yellow sweater walk in the men's restroom door. No one inside the restroom has seen him, as he seems to vanish after walking in.
Green Street Hotel
Pasadena, california.
This building is apartments now, but it used to be a hotel with a live-in ghost. It is unclear whether she now still lives in the apartments, but reports say she would roam the top floor of the hotel wearing her white nightgown.
Suicide Bridge - Colorado Street Bridge
Colorado Street Bridge, constructed over the Arroyo Seco River in 1912, is also known as Suicide Bridge. The nickname was acquired because of the around 100 folks said to have committed suicide by jumping from it, starting in 1919. Reports say that almost 50 of the jumpers died during the ...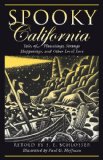 Famous jockey George Woolf, aka "The Iceman," bought the Derby Restaurant in 1938 but died 8 years later when he was thrown off a horse. Employees say they feel Woolf's presence and hear his footsteps heading up the stairs to his living quarters above the restaurant.
Occidental College
Two spots at Occidental College are rumored to be haunted. Erdman Hall is said to be haunted by two spirits: a young person who plays tricks like turning water faucets or lights on and off or writes messages on the walls, and a dark entity that inhabits a closet. Newcomb ...
AMC Puente Hills 20
Rowland heights, california.
AMC Puente Hills 20 movie theater is rumored to be haunted, and apparitions of children have been seen running around the theater. The cinema is on the site of the former Broadway Department Store, which also was said to be haunted, as witnesses reported music coming from locked storerooms, clothes ...
Cerritos Crash Site
Cerritos, california.
In 1986, two airplanes collided, one of which crashed into a neighborhood killing 82 altogether. At night and early in the morning, apparitions can be seen walking around and there's an overall eerie feeling as if you aren't alone. (Submitted by Chris)
Corralitas Red Car Trail
It is said that the remains of former railway workers and people who died during the creation of this pathway are buried here. Hikers sometimes catch a glimpse of these spirits while taking this road. Submitted by Chris Berglund
Kmart #7625
Many employee rumors surround this Kmart. Among them are a double murder/suicide that took place within a love triangle in a stockroom. All three spirits are said to haunt the store. A fourth apparition of an unknown man is said to walk in a stockroom.
DeForest Park
Long beach, california.
People have seen shadows floating and running about. It's common to feel like someone is following you, hear disembodied voices, or feel sudden cold gusts. (Submitted by Chris Berglund)
Bullocks Wilshire Building
Bullocks Wilshire Building is an Art Deco building that was built in 1929 as a department store. Many famous folks shopped here in its day, including Walt Disney, Mae West, John Wayne, Marlene Dietrich, Alfred Hitchcock, Greta Garbo and Clark Gable. The ending of 1984's hit film "Ghostbusters" was shot ...
The Old Spaghetti Factory
Duarte, california.
Reports (and an emblem on the building's front) say that this strucure housed a high school in the early 1900s, and employees say they have heard the ghostly sounds of children playing in the basement and in the restrooms. Dishes also have been known to fall on the floor for ...
Dominguez Rancho Adobe Museum
Compton, california.
At the historic Rancho Dominguez Adobe Ranch House museum, witnesses have seen orbs and flashes of light move around late at night. The hauntings are believed to stem from a man who was staying at the place when it was a hotel. He was beaten, robbed and left to die ...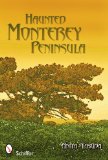 » Cemeteries near Montebello, CA » Find museums in Montebello, CA
Here are haunted houses around the Milwaukee area and beyond for 2023
Tis the season for jump scares, creepy characters and sets that look straight out of horror films. 
From Wisconsin Feargrounds to the Abandoned Haunted House Complex in Mount Pleasant, here are some haunted houses around the Milwaukee area and beyond. 
Many of the adventures listed below feature multiple haunted houses on their premises.
For dates, pricing, age requirements — and warnings/waivers, in some cases — be sure to visit each attraction's website.  
Wisconsin Feargrounds, Waukesha 
Waukesha County Expo Center Grounds, 1000 Northview Road, Waukesha
Wisconsin Feargrounds is celebrating its 20th anniversary . This year's attraction has two haunted houses: "The Compound" and "Sketchy's Chambers."
"The Compound" is a sprawling "sinister and foreboding" complex where malevolent creatures and nightmarish beings live, the attraction's website said. The tormented souls who dwell there unleash their twisted desires upon visitors.
Sketchy's Chambers is a "nightmarish" abode where Sketchy, a former circus clown from the 1970s, resides. He found solace at the grounds after becoming disfigured in a tragic Big Top fire, according to the website.
Since Wisconsin Feargrounds owners Chad and Brenda Franks start from scratch when converting two long expo center buildings into the attraction, what's presented each year is fresh, even if the theme remains similar, according to a Journal Sentinel report .
MORE INFO: wisconsinfeargrounds.com
The Hill Has Eyes, Franklin
The Rock Sports Complex at Ballpark Commons, 7005 S. Ballpark Drive, Franklin
The Hill Has Eyes includes four haunts that span 45 acres. 
According to the attraction's website, during "Failed Escape," extended exposure to toxic waste turned people into mutant freaks. They formed a new society centered around Junkyard Ray, AKA "The One with Many Faces." "The mutants fear and hate him as much as they fear and hate themselves, but they know he watches over them," the website said.
The mutants share a ravenous hunger for flesh. In "Hunger Hollow," visitors see captured victims skinned alive, butchered and eaten, the website said. The butcher is always experimenting with new ways to serve up dessert. "All souls are offered to The Demon, and all exits lead to his realm."
"Carnivore" is "the devil's carnival," per the website. Hell's carnival barker leads visitors through a freak show with fire breathers and the spawn of Satan himself.
As visitors approach what seems to be refuge, they enter a space "dictated by judgment and torture," called "Dead End," the website said. They encounter a "twisted haven" of medical tests and experiments.
On Sundays, the venue is also offering a "Not So Scary Halloween Party" in which actors take visitors on a guided tour through the attractions, and kids get to trick-or-treat along the way, the website said. Kids are encouraged to dress up for that.
MORE INFO: hillhaseyes.com/home
Abandoned Haunted House Complex, Mount Pleasant
2825 SE Frontage Road, Mount Pleasant
Abandoned Haunted House Complex features three haunted houses.
According to the complex's website , "Ambush" is an intense startle-scare haunted house with loud noises, actors popping out of unexpected places and bright lighting effects.
"Hysteria" features visual and audible scares, confusion, misdirection, illusion and actor interactions.
"Stalker" is an interactive startle-scare haunted walking experience with characters lurking throughout, the website said. 
Abandoned's sister haunted house complex is Burial Chamber Haunted House Complex in Neenah. The complex, 500 N. Lake St., has four haunted attractions, including one that gives guests the experience of feeling like they're being buried alive.
MORE INFO: abandonedhauntedhouse.com
The Dark Side Haunted Adventure, Ixonia
N1255 Hoard Road, Ixonia
The Dark Side Haunted Adventure features several haunts, including "The Descent," "Twilight Nightmare," "Backwoods Revenge," "Mephistopheles Lair," "Schizophrenia" and "Foxglove Nursery," as well as Zombie Expedition paintball,  according to the attraction's website . 
MORE INFO: thedarksidehaunt.com
The Haunt, Cedarburg
Ozaukee County Fairgrounds, W67 N866 Washington Ave., Cedarburg
The Haunt strives to be terrifying, but "on a scale of 1 to 10 (1 being a pumpkin patch and 10 being pee-your-pants-scary), we are about a 6,"  the attraction's website said.
The Haunt, a volunteer-run operation, lasts between 20 and 25 minutes and is mainly indoors. It's been put on for 16 years, the website said, and is a fundraiser for  Ozaukee County 4-H . 
MORE INFO: cedarburghaunt.com
Screamin' Acres, Stoughton
3865 State Road 138, Stoughton
Screamin' Acres features several attractions, including "Slaughterhaus," "Lockup: Under No Management," "The Last Resort" and "Side Effects." 
In "Slaughterhaus," a plastic chemical tote filled with an odorous liquid was discovered when a meat processing facility was undergoing an expansion,  according to the attraction's website . While hoisting the tote out of the ground, it fell and its contents spilled everywhere — including onto the butchers. They were transformed into vicious, bloodthirsty killers.
"Lockup: Under No Management" features a forgotten prison where inmates began escaping. Inside the winding prison, local adventurers discovered a laboratory, the website said. "Large barrels of toxic goo were found stacked to the ceiling with an 'experiment' still locked up in a cage begging to be released,' " the website said. Inmates inside the building chased the group to a sewer pipe "that proved to be the final journey out of the horrendous facility." 
"The Last Resort" is about Herman Von Richtmyer, a chemist who was involved in chemical warfare and orchestrated some of the most gruesome experiments in human history at the discretion of the governments who hired him, per the website. In his old age, he lived alone in a house in the countryside. He began to hallucinate the victims he tortured: people he cut open, poisoned and distorted. He was found dead, but his voice is still heard chaotically yelling throughout the house.
"Side Effects: Recharged!" is a mind-numbing maze in which attendees will lose touch with reality. This attraction has all-new twists and turns, according to the website.
"Deathtrap," an evolving sideshow, is designed to target natural human reactions, the website said. It's again featuring "Shock Therapy" in 2023, with more and new ways to be shocked. It's primarily fueled by static shocks, and nearly everything in the attraction is designed to target that fear.
MORE INFO: screaminacres.com
Terror on Rural Street, Hartford
147 N. Rural St., Hartford
The Terror on Rural Street Haunted House features 17 rooms with "high tech effects" and more than 30 costumed actors,  according to the attraction's website .
The haunted house was started in the late '90s by the Hartford Community Service Inc. nonprofit to raise money for the community.
"What the organizers didn't plan on was that their efforts would draw the attention of actual spirits that haunt the old Libby's Canning Factory that Terror on Rural Street calls home," the website said. "It wasn't long after construction started on the new haunted attraction that strange and unusual events started to befall the workers." 
MORE INFO: terroronruralstreet.com
Six Flags Great America Fright Fest, Gurnee, Illinois
1 Great America Parkway, Gurnee, Illinois
Fright Fest at Six Flags Great America features numerous haunted houses, scare zones, shows and more,  according to its website . 
There are two new haunted houses this year: "Saw X" and "The Estate of Wretched Meadows," the website said.
During "Saw X," which is inspired the new film, attendees attempt to survive Jigsaw's "ingenious and terrifying" traps.
The story behind "The Estate of Wretched Meadows" is that, while the estate was being built in the '60s, a ceiling collapse killed a workman and his apprentice — and several others since then. During the experience, guests discover those spirits.
The park's other haunted houses are: "13th Order," "Big Top Terror," "Bloodshed" and "Gates of Hell."
In "Scare Zones" — where a zombie, witch or other terrifying ghoul could be lurking — include "Wretched Meadows," "Demon Lair," "Henchmen Alley," "Nightmares," "Underworld," "Forbidden Forest," "Lost Souls," "Lost Circus" and "Ride Cemetery." 
During "The Uprising Parade: Nightly Call of the Dead," an evil army comes out and begins their nightlong torture of guests. "The Witching Hour" is when the monsters convene at the front of the park to terrorize guests one last time. 
There are multiple shows, including: "The Ringmaster's Cabaret," featuring illusions, music and "freakish" acts, and "Love at First Fright," classic music, singing and dancing to Halloween favorites, the website said.
By day, there's Kids Boo Fest, which is for all ages and includes a "BOO-Yeah! Parade," "Not-So-Scary Story Time," a "Monster Bash Dance Party," "Patch's Hay Maze," and trick-or-treating on Candy Corn Lane, according to the website.
MORE INFO: sixflags.com/greatamerica/events/fright-fest-2023
BONUS: Nine Below's Haunted Mini Golf, Milwaukee
1905 E. North Ave., Milwaukee
Nine Below is putting on a "thrilling and eerie" haunted mini golf experience, according to a news release. The course features haunted graveyards, foggy mazes and treacherous dungeons. Visitors will come across ghoulish traps and "hair-raising" creatures along the way. On-theme cocktails and snacks are available. The experience is suitable for attendees at least 16 years old, the release noted.
"We've created a one-of-a-kind, heart-pounding adventure that combines the fun of mini golf with the excitement of a haunted house in the heart of Milwaukee's East Side," Izzy Santiago, experience and operations manager at Bars and Recreation, said in a news release. Bars and Rec is the parent company of Nine Below, as well as five other Milwaukee entertainment brands.
The Haunted Mini Golf experience runs from 5 to 11 p.m. Oct. 19-22 and Oct. 26-31.
"Family Trick-or-Treat Haunted Mini Golf," suitable for ages 10 and up, will take place from 2 to 9 p.m. Oct. 22 and 29.
MORE INFO: ninebelowmke.com/haunted-mini-golf.html
This isn't a comprehensive list. If your favorite haunt wasn't included, please let us know. Contact Hannah Kirby at  [email protected] .
Fright nights offer thrills and chills at Peoria-area haunted attractions
Thrill seekers in the Peoria area can choose from a fearsome foursome of haunted attractions this Halloween season:
Aura Haunted House
About: The indoor attraction is located in a building at the former Peoria State Hospital.
Address: 4500 Enterprise Drive, Bartonville
Hours: The event is open Friday and Saturday evenings in October, Oct. 31, and Nov. 3-4.
Admission: $30 and up
Tickets: Available at the box office or online at hauntedpeoria.com.
Facebook: facebook.com/aurahauntedhouse
Old State Mine Haunted Trail
About: The fictionalized event explores the "legend of an old mining village that was overtaken by an evil entity." The trail begins in a former Peoria State Hospital building and continues along a wooded hillside on the former asylum grounds.
Address: 4400 Industry Drive, Bartonville
Hours: Open Friday and Saturday evenings in October, as well as Nov. 4.
Admission: $15 and up
Tickets: Available at the gate or online at oldstatemine.com.
Facebook: facebook.com/OldStateMine
Spider Hill Haunted Attractions
About: Spider Hill offers several tours. Massacre Mansion includes 8,000 square feet of "frightful occurrences." The Trail of Terror is set in a "haunted forest" at Three Sisters Park. A Paranormal Investigations event is set in a historical building at the park.
Address: Three Sisters Park, 17189 N. Illinois Route 29, Chillicothe
Hours: Open Friday and Saturday evenings in October.
Admission: $23 and up
Tickets: Available at the gate and at spider-hill.com.
Facebook: facebook.com/spiderhillhauntedattractions
Spook Hollow Haunted House
About: Dating to 1979, Spook Hollow bills itself as the longest running outdoor haunted attraction in Illinois. The community fundraiser is presented by the Marquette Heights Men's Club of Central Illinois. Admission includes three attractions: Spook Hollow Trail, M.C. Manor, and M.C. Nightmare. The Spook Hollow website cautions that the "high level intensity scares" are not recommended for children under 13.
Address: 613 Lasalle Blvd., Marquette Heights
Hours: Open the last three Friday and Saturday evenings in October.
Tickets: Available at the gate or at spook-hollow.com.
Facebook: facebook.com/worldfamousspookhollow
Also: A free "not-so-scary" version of Spook Hollow suitable for children 10 and under is scheduled for 6 p.m. Saturday, Oct. 28. For information, visit facebook.com/events/993155155288217?ref=newsfeed .
Bizarre and Grotesque
The albino ghost of montebello castle.
Azzurrina is the nickname of an albino ghost girl who's said to haunt Italy's Montebello Castle.
"Azzurrina", an Italian word meaning "little blue", is the nickname of a young girl who's said to haunt the Castle of Montebello in Emilia-Romagna, Italy. According to legend, Azzurrina was born Guendalina Malatesta, the daughter of a 14th century nobleman. Unlike the rest of her dark-haired family, Guendalina was an albino who had white hair and pale skin. Since albinos were widely feared and hated during the time, Guendalina's mother tried dyeing her daughter's hair black. The herbs she used didn't work very well, however, and instead gave Guendalina's hair a bluish tint, hence her nickname Azzurrina.
Because of her condition, Azzurrina's parents were very protective of her. They kept her in the castle at all times, where she was guarded by two men, Domenico and Ruggero. As the story goes, there was a big storm on June 21, 1375. That night, Azzurrina was playing with a rag ball in a room in the castle. While Domenico and Ruggero were standing off somewhere else, they suddenly heard Azzurrina let out a terrible scream. The two guards then rushed to her room, but found no trace of the girl or the ball. Although they searched all over the castle and its grounds, nobody ever found Azzurrina's body. It was as though she had vanished into thin air.
The area in Montebello Castle where Azzurrina disappeared.
One variant of the story says that Azzurrina had accidentally thrown her ball down into a open cellar where ice was stored. Another version claims that some invisible force grabbed the ball out of her hands and rolled it down into the cellar by itself. Regardless of what exactly happened, Azzurrina's body and ball were never found. Her father, who was away in a battle during the time, had Domenico and Ruggero executed after he found out what happened. On the fifth anniversary of her disappearance, Azzurrina returned to the castle as a ghost. She has since re-appeared every five years.
Azzurrina's bizarre story was passed down as an oral legend for more than 250 years before somebody decided to write it down. In 1620, it was recorded by a parish priest in a book about local legends and folklore. No copy of this book has survived to modern times, and some believe that the book might not exist at all. There is, in fact, no evidence that the story ever happened. Unless that priest's book ever turns up, it wouldn't be too far of a stretch to doubt that Azzurrina's story originated as an authentic medieval legend either. Some have traced the appearance of the story only as far back as the 20th century.
A picture of Montebello Castle.
Still, whatever its lack of authenticity, psychics and TV producers know a good ghost story when they hear one. On the anniversary of Azzurrina's disappearance in 1990 and 1995, television crews allegedly captured the voice of a crying little girl  on their recording equipment. In 2000, the child's voice was heard again, this time crying and possibly calling for her mamma . A 2005 recording captured a single voice saying the name "Alosio", and a group of voices chanting an old Hebrew word for the devil, "belial". Another investigation in 2010 apparently captured nothing.
I'm not sure whether anybody tried recording Azzurrina on June 21, 2015, but Rimini Today posted a pretty interesting article about the case the day before the anniversary that year. According to Leo Farinelli, a man who spent 20 years researching the story and contacting Azzurrina through psychics, Guendalina was actually born in 1375 to Uguccione Della Faggiola and Costanza Malatesta. She was not actually albino, but blonde-haired and Nordic-looking. This made Uguccione suspect that the girl wasn't his. Although Costanza insisted that she never cheated on her husband, there was a blonde-haired French guard in the castle who resembled Azzurrina. At the age of 8, Azzurrina disappeared from the castle in December 1383.
If Farinelli's research is correct, perhaps the story got twisted and spiced up a bit over the hundreds of years it was passed down. The albino element, which Farinelli claimed was added by the priest who allegedly wrote the story down in 1620, might have covered up the real cause of Azzurrina's disappearance: murder. Some have suggested that the palace guard was Azzurrina's real father, and Uguccione arranged for her to "disappear" to save himself embarrassment. For those curious enough to investigate the story themselves, Montebello Castle is open to visitors for a slight fee nearly all-year round.
Share this:
4 thoughts on " the albino ghost of montebello castle ".
Reblogged this on Kerberos616 .
Pingback: The Man Who Talked To Monkeys – Haunted Ohio | We Seek the Truth!
Pingback: The Albino Ghost of Montebello Castle | Bizarre and Grotesque – Small Town Haunts
I visited the castle myself on a night tour in 2005. Another story was that the maid pushed Azzurrina (as far as I know, Azzurrina came from the colour of her eye, azzurro=light blue, as she was born albino: pale skin, white hair and blue eyes) down the ice cellar because she was believed to be the daughter of the devil, a sort of punishment for her family's sins. That place still gives me shivers. Loads of negative vibes in there. When the Italian national broadcaster (RAI) went over there with mediums and psychics they recorded the sound of a young little girl cry coming from the cellar. They play it when you go for a visit. Whether it's true or not, I felt sick as I know how closeminded and bigot people of the time were and they didn't care to kill a child just because she looked different. On another point, still on the topic of the time of the castle, there are lots of paintings representing immeasurable tortures on human beings, mostly women. Won't visit it again, but definitely can't forget that place.
Leave a Reply Cancel reply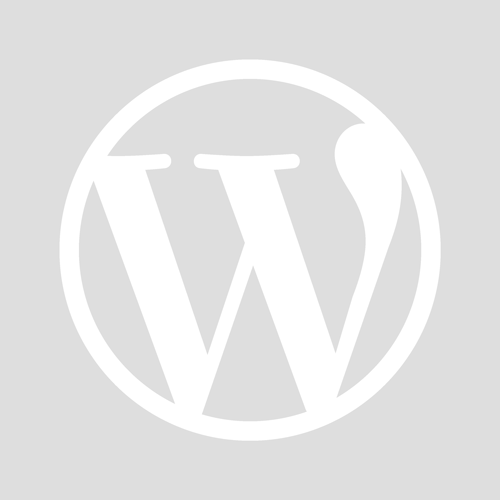 Already have a WordPress.com account? Log in now.
Follow Following
Copy shortlink
Report this content
View post in Reader
Manage subscriptions
Collapse this bar
Opinion The haunting of Capitol Hill House
No political organism can continue for long to exist sanely under conditions of having to deal with the Freedom Caucus; even John Boehner was supposed, by some, to dream. Capitol Hill House, not sane, stood by itself between Independence and Constitution, holding speaker votes within; it had stood so for three failed Jim Jordan votes this month and might stand for 80 more. Within, walls continued upright, conferences met messily, floors were empty and cloakroom doors were sensibly shut; reason lay stealthily against the grain of Capitol Hill House and whatever ran there, ran alone.
What I am trying to say, with apologies to Shirley Jackson, is that something was very wrong in Capitol Hill House.
The October chill had descended, and atop Capitol Hill the figures mingled and loomed. They hovered in cloakrooms and they howled in conference. They were incensed against one another. Madness reigned. I am speaking, of course, of the GOP caucus; the ominous moans and groans seemed to emanate entirely from that region of the House. On the Democratic side, you could still hear birdsong.
Alexandra Petri: This is why I hate elections, by Jim Jordan
Amid it all, Capitol Hill House stood speakerless! There was no one in charge. The votes were cast, yet it did not change. Something sinister wrote "The best lack a quorum and the worst are full of passionate intensity" over the entrance to the Republican cloakroom, yet it did not change.
And the question echoed through its marble halls: Where was the adult who was supposed to come into the room? Where was the promised leadership? But the leadership was a ghost ship, and the figure of the adult remained absent from the chair. There was a bow tie there, but that was all.
We did not know how bad it was, at first. We had been pleased and proud to send representatives there, to pass laws and generally help keep the country running . But after 17 days passed with no sign of leadership, we started to worry. What was going on? Where was the legislation that was ordinarily emitted from this building? What were they doing in there?
Alexandra Petri: Help wanted: Speaker needed in the House of Representatives
When it appeared on C-SPAN, it seemed too terrible to be believed. A ghoulish parody of their appointed work!
They were voting, it appeared. At least, it looked like voting. But they were trying to elect Jim Jordan speaker. Jim Jordan! A man who had never drafted legislation that became law in 16 years in the House; a man who had striven mightily to deny the results of the 2020 election; a man who never wore a jacket! What had happened? And then they voted again, and again. Each time, he won fewer votes.
For days they stood on the House floor, trying again and again to choose a speaker. For a while it seemed likely to continue forever, repeating and repeating and wearing down the caucus with threats and badgering until Jordan might receive no votes at all.
What had brought this nightmare to Capitol Hill House? What had brought this lumbering thing that lurked and cast its shadow over the marble floors? What was this thing that telephoned the members at night? Who had unearthed it and brought it to malignant life? And, oh, who would bottle it again?
Was it Kevin McCarthy who had unleashed the curse? Could it be that McCarthy, signing his devil's bargain with Matt Gaetz in the woods in the dead of night, had invoked more than a motion to vacate ? That in seeking to herd cats he had gambled perhaps too much of his soul?
Alexandra Petri: I, Matt Gaetz, have done everything right!
Or had it long lurked within the Republican caucus, small but intransigent, like a tumor?
It had long been maintained that there was a curse there, on the Hill; some said it was bodied forth in the spectral figure of Matt Gaetz, but too many people could see him. Something was rotten on the Hill. They were all trapped there and the numbers were dwindling.
We had not known the place was cursed, when we sent representatives there! It had seemed goodly enough, a place fit to serve as a cradle for new laws, one where a committee might sit and go about business in good order. We did not suspect it, then! Some said it was haunted, that it was tainted by fumes of the swamp on which it sat — but we did not listen. The House had functioned for 200-odd years — very odd, indeed! — and it would function for as many more. And yet — there is a subtle influence that passes from mind to mind. Enough people were sent to Congress who believed it was not possible to govern … and by their very belief, they made it impossible !
Some said it was the swamp on which the House was built, but most knew better. They said that those who blamed the swamp had brought something with them, something that made it impossible to govern, because they simply did not care to.
Alexandra Petri: I am having the government shutdown nightmare again
And now they were trapped there, headless. Nothing sat in the chair, no one wielded the gavel and no law could be passed, and all the time the shutdown was creeping closer and closer . Some said that there were evil clowns, too, though others said that was only Matt Gaetz . And as they bickered and squabbled the clock ticked down, down.
Yet they did not care. And all the while the chair sat empty and the clock ticked down, and the horror was not what was in the House. It was what would happen outside it.
Opinion | What 'Killers of the Flower Moon' taught my Oklahoma town October 17, 2023 Opinion | What 'Killers of the Flower Moon' taught my Oklahoma town October 17, 2023
Opinion | Pulled into darkness, turning toward the light is our responsibility October 15, 2023 Opinion | Pulled into darkness, turning toward the light is our responsibility October 15, 2023
Opinion | Who hacked our DNA — and why? October 13, 2023 Opinion | Who hacked our DNA — and why? October 13, 2023
Nearby Communities
Pleasanton, CA
San Ramon, CA
Fremont, CA
Union City, CA
Danville, CA
Castro Valley, CA
Milpitas, CA
Walnut Creek, CA
State Edition
National edition.
Top National News
See All Communities
Pleasant Hill, CA | Featured Event
'haunted trail' halloween trick-or-treat 2023: pleasant hill.
Event Details
Haunted Trail
Friday, Oct. 27, 2023 - 6 p.m. - 8 p.m.
Pleasant Hill Park, 147 Gregory Lane, Pleasant Hill, CA
From  Pleasant Hill Recreation & Park District :
"Spine-tingling sights and sounds await you on the Haunted Trail in Pleasant Hill Park! 
"This Halloween-themed stroll is a frightfully fun trick-or-treating park-in-the-dark adventure that you and your family will not soon forget. 
"All ages are welcome. 
"Costumes are strongly encouraged. Not too scary!
"Calling all Halloween Fans & Local Businesses!
"If you would like to create a not-too-scary Halloween display or decorate your car trunk (limited space) to have along the trail (park path), please complete the participation form here: bit.ly/phhauntedtrail2023
"FREE to participate!
"Event sponsorships and craft/vendor sales (fee applies) are also available. Contact Liz Harrison at (925)682-0896
"Sealed bags of candy donations are most welcome. Drop off at the District office at 147 Gregory Lane in Pleasant Hill (M-F, 9 am - 5 pm).
"Thank you to our event sponsors, the City of Pleasant Hill and Laura Wucher Real Estate."
MORE INFO & REGISTRATION LINKS HERE
--Image via Kathleen Culliton/Patch 
More Upcoming Events
Featured event, 'res run for education' reservoir 5k, 10k & fun run 2023: lafayette.
Sunday, 8:00 am Lamorinda, CA
Local Event
Classic car & bike show.
Sunday, 10:00 am Livermore, CA
Halloween Carnival 2023: Union City
Sunday, 1:00 pm Union City, CA
Live at Longevity: Mambo Soul
Sunday, 1:00 pm Livermore, CA
USS Potomac 'Music On The Bay' Cruise & Concert 2023: Oakland
Sunday, 3:00 pm Alameda, CA
John Tesh – Big Band Live
Sunday, 3:00 pm Livermore, CA
TASTE | Community Table Wine-Down at Locanda Wine Bar
Sunday, 4:00 pm Livermore, CA
Novotel Moscow City Reserve now
Lock in a great price for Novotel Moscow City – rated 8.4 by recent guests!
Enter dates to get started.
How guest reviews work
Each review score is between 1 and 10. To get the overall score, we add up all the review scores and divide that total by the number of review scores we received. Guests can also give separate subscores in crucial areas, such as location, cleanliness, staff, comfort, facilities, value, and free WiFi. Guests submit their subscores and their overall scores independently – there's no direct link between them.
You can review an accommodation that you booked through our platform if you stayed there, or if you got to the property but didn't actually stay there. To edit a review you've already submitted, contact our Customer Service team.
We have people and automated systems that specialize in detecting fake reviews submitted to our platform. If we find any, we delete them and, if necessary, take action against whoever is responsible.
Anyone who spots something suspicious can always report it to our Customer Service team so that our fraud team can investigate.
Ideally, we'd publish every review we get, positive and negative. However, we won't display any reviews that include or refer to (among other things):
Politically sensitive comments
Promotional content
Illegal activities
Personal or sensitive info (e.g. emails, phone numbers, credit card info)
Swear words, sexual references, hate speech, discriminatory remarks, threats, or references to violence
Spam and fake content
Animal cruelty
Impersonation (i.e. if the writer is claiming to be someone else)
Any violation of our review guidelines.
To make sure reviews are relevant, we may only accept reviews that are submitted within 3 months of checking out. We may stop showing reviews once they're 36 months old, or if the accommodation has a change of ownership.
An accommodation can reply to a review.
When you see multiple reviews, the most recent ones will be at the top, subject to a few other factors (e.g. language, whether it's just a rating or contains comments as well, etc.). You can sort and/or filter them by time of year, review score, and more.
Sometimes we show external review scores from other well-known travel websites, but make it clear when we do this.
Guidelines and Standards for Reviews
These guidelines and standards aim to keep the content on Booking.com relevant and family-friendly, without limiting expression or strong opinions. They're also applicable regardless of the comment's tone.
Contributions should be travel related. The most helpful contributions are detailed and help others make better decisions. Please don't include personal, political, ethical, or religious commentary. Promotional content will be removed and issues concerning Booking.com's services should be routed to our Customer Service or Accommodation Service teams.
Contributions should be appropriate for a global audience. Please avoid using profanity or attempts to approximate profanity with creative spelling, in any language. Comments and media that include hate speech, discriminatory remarks, threats, sexually explicit remarks, violence, or the promotion of illegal activity are not permitted.
All content should be genuine and unique to the guest. Reviews are most valuable when they are original and unbiased. Your contribution should be yours. Booking.com property partners should not post on behalf of guests or offer incentives in exchange for reviews. Attempts to bring down the rating of a competitor by submitting a negative review will not be tolerated.
Respect the privacy of others. Booking.com will make an effort to obscure email addresses, telephone numbers, website addresses, social media accounts, and other similar details.
The opinions expressed in contributions are those of Booking.com customers and properties, and not of Booking.com. Booking.com does not accept responsibility or liability for any reviews or responses. Booking.com is a distributor (without any obligation to verify) and not a publisher of these comments and responses.
By default, reviews are sorted based on the date of the review and on additional criteria to display the most relevant reviews, including but not limited to: your language, reviews with text, and non-anonymous reviews. Additional sorting options might be available (by type of traveler, by score, etc...).
Translations disclaimer
This service may contain translations powered by Google. Google disclaims all warranties related to the translations, express or implied, including any warranties of accuracy, reliability, and any implied warranties of merchantability, fitness for a particular purpose, and non-infringement.
Wonderful: 9+
Good: 7 – 9
Fair: 5 – 7
Poor: 3 – 5
Very Poor: 1 – 3
Categories:
There was a problem loading the reviews. Try again
Families (764)
Couples (741)
Groups of friends (172)
Solo travelers (797)
Business travelers (1055)
Wonderful: 9+ (1649)
Good: 7 – 9 (660)
Fair: 5 – 7 (220)
Poor: 3 – 5 (127)
Very Poor: 1 – 3 (64)

Mar–May
Jun–Aug
Sep–Nov
Dec–Feb
Pet friendly
Air conditioning
24-hour front desk
Key card access
Daily housekeeping
Non-smoking rooms
This modern hotel is conveniently located in Moscow City Business Center, a 5-minute walk from ExpoCenter. A spa center, a gym, free Wi-Fi and a 24-hour reception are featured at Novotel Moscow City. The spacious, air-conditioned rooms offer pastel-colored interiors and elegant décor. Each room comes with a flat-screen TV, a mini-bar and a private bathroom with a hairdryer. MC Traders Restaurant serves international and Russian cuisine, and MC Traders Lounge Bar offers a variety of drinks and light snacks. Guests are welcome to relax in the Turkish steam bath or sauna, and visit the on-site massage room. Afimall Shopping Center is located in the same building, and Moscow sky deck is located nearby. The Kremlin and the Red Square are 3.1 mi away. Delovoy Tsentr Metro Station is just a minute's walk from Novotel Moscow City. Belorussky Train Station is 2.8 mi away, and Sheremetyevo International Airport is a 35-minute express train ride from this station.
Couples in particular like the location – they rated it 9.1 for a two-person trip.
Hotel chain/brand: Novotel
Private Parking
Family rooms
Airport shuttle (free)
Fitness center
Excellent Breakfast

Property Highlights
Located in the best-rated area in Moscow, this hotel has an excellent location score of 9.2
Want a great night's sleep? This hotel was highly-rated for its very comfy beds.
Private parking at the hotel
Loyal Customers
끖 There are more repeat guests here than most other properties.
Saved to 28431 lists
Availability
Select dates to see this property's availability and prices
See what guests loved the most:

Hotel area info *
Restaurants 1 restaurant on site.
Cuisine American • Italian • Russian • Local • Asian • European
Ambience Modern
Amenities of Novotel Moscow City Great facilities! Review score, 8.4
Live sports events (broadcast)
Cooking class Additional charge
Themed dinners Additional charge
Temporary art galleries
Fruit Additional charge
Wine/Champagne Additional charge
Kid-friendly buffet
Kids' meals Additional charge
Special diet meals (on request)
Breakfast in the room
Parking garage
Accessible parking
Private check-in/out
ATM on site
Baggage storage
Express check-in/out
Indoor play area
Board games/Puzzles
Ironing service Additional charge
Dry cleaning Additional charge
Laundry Additional charge
Fax/Photocopying
Business center
Meeting/Banquet facilities Additional charge
Fire extinguishers
CCTV outside property
CCTV in common areas
Smoke alarms
Security alarm
24-hour security
Shuttle service Additional charge
Shared lounge/TV area
Designated smoking area
Smoke-free property
Packed lunches
Soundproof rooms
Facilities for disabled guests
Airport shuttle
Room service
Bathroom emergency cord
Lowered sink
Toilet with grab rails
Wheelchair accessible
Locker rooms
Spa lounge/Relaxation area
Spa facilities
Body treatments
Facial treatments
Beauty services
Turkish/Steam Bath
See availability House rules
From 3:00 PM
Until 12:00 PM
Cancellation/ prepayment
Cancellation and prepayment policies vary according to accommodations type. Please enter the dates of your stay and check what conditions apply to your preferred room.
Children & Beds
Child policies
Children of all ages are welcome.
Children 16 and above are considered adults at this property.
To see correct prices and occupancy info, add the number and ages of children in your group to your search.
Crib and extra bed policies
The number of cribs allowed depends on the option you choose. Check your selected option for more info.
There are no extra beds available at this property.
All cribs are subject to availability.
No age restriction
There's no age requirement for check-in
Pets are allowed on request. Charges may apply.
When booking more than 7 rooms, different policies and additional supplements may apply.
Accepted payment methods
Cash Novotel Moscow City accepts these cards and reserves the right to temporarily hold an amount prior to arrival.
Novotel Moscow City accepts these cards and reserves the right to temporarily hold an amount prior to arrival.
Billing/invoices
Official invoices (for tax/billing purposes) are available at this property for business travelers.
See availability The fine print
Faqs about novotel moscow city, what is there to do at novotel moscow city.
Themed dinners
Cooking class
What are the check-in and check-out times at Novotel Moscow City?
Check-in at Novotel Moscow City is from 3:00 PM, and check-out is until 12:00 PM.
What type of room can I book at Novotel Moscow City?
Does novotel moscow city have a restaurant on site, how much does it cost to stay at novotel moscow city.
The prices at Novotel Moscow City may vary depending on your stay (e.g. dates, hotel's policy etc.). To see prices, enter your dates.
How far is Novotel Moscow City from the center of Moscow?
Novotel Moscow City is 3.1 miles from the center of Moscow. All distances are measured in straight lines. Actual travel distances may vary.
The Best of Moscow
The Kremlin
Cathedral of Christ the Saviour
Lenin Mausoleum
Saint Basil's Cathedral
Donskoi Monastery
Tretyakov Gallery
Victor Vasnetsov House Museum
Museum of Traditional Russian Beverages Ochakovo
State Historical Museum
Pushkin Museum of Fine Arts
Neskuchny Garden
Zaryadye Park
Kolomenskoye Park
Botanical Garden of Academy of Sciences
Popular Areas
Arbat Street
Izmaylovsky Kremlin
Shopping Areas
Stadiums or Arenas
Luzhniki Stadium
VTB Arena - Dinamo Stadium
Spartak Stadium
Sport complex Snezh.com
Bolshoi Theater

Save time, save money!
Error: Please enter a valid email address.
Error: Oops! An error has occurred.
Thanks! We've sent you an email so you can confirm your subscription
Personalized recommendations
We provide personalized recommendations based on your activity on our platform. If you prefer, you can opt out of this option. Opting-out only affects your current device. Adjust this setting to your preference on other devices as well.
Verified reviews from real guests.
We have more than 70 million property reviews, all from real, verified guests .
How does it work?
It starts with a booking.
The only way to leave a review is to first make a booking. That's how we know our reviews come from real guests who have stayed at the property.
Followed by a trip
When guests stay at the property, they check out how quiet the room is, how friendly the staff is, and more.
And finally, a review
After their trip, guests tell us about their stay. We check for naughty words and verify the authenticity of all guest reviews before adding them to our site.
If you booked through us and want to leave a review, please sign in first.
Check-in date
Check-out date
Save big in Moscow
Get exclusive Booker deals by email
For a limited time only
Awesome! You're now subscribed
Vacation Rentals
Restaurants
Things to do
Moscow Tourism
Moscow Hotels
Moscow Bed and Breakfast
Moscow Vacation Rentals
Flights to Moscow
Moscow Restaurants
Things to Do in Moscow
Moscow Travel Forum
Moscow Photos
Moscow Travel Guide
Where to Stay in Moscow
All Moscow Hotels
Moscow Hotel Deals
Moscow Motels
Moscow Campgrounds
Moscow Hostels
Moscow Family Hotels
Moscow Ski-In / Ski-Out Hotels
Moscow Spa Resorts
Moscow Luxury Hotels
Moscow Green Hotels
Romantic Hotels in Moscow
Moscow Business Hotels
Moscow Resorts
5-Star Hotels in Moscow
3-Star Hotels in Moscow
4-Star Hotels in Moscow
Accor Hotels in Moscow
Holiday Inns in Moscow
Crowne Plaza Hotels in Moscow
InterContinental (IHG) Hotels in Moscow
Radisson Hotels in Moscow
Hilton Hotels in Moscow
AZIMUT Hotels in Moscow
Radisson Blu Hotels in Moscow
Hampton by Hilton Hotels in Moscow
ibis Hotels in Moscow
Marriott Hotels in Moscow
Novotel Hotels in Moscow
Pet Friendly Hotels in Moscow
Moscow Hotels with Free Parking
Moscow Hotels with Pools
Otradnoe Hotels
Negatino-Sadovniki Hotels
Kurkino Hotels
Strogino Hotels
District South-Eastern (YuVAO) Hotels
Obruchevskiy Hotels
Rostokino Hotels
Serebryaniy Bor Hotels
Moscow Cheap Hotels
Boutique Hotels in Moscow
Moscow Heritage Hotels
Hotels with Nightclubs in Moscow
Moscow Modern Hotels
Moscow Hotels with Kitchenette
Moscow Clean Hotels
Moscow Hotels with Hot Tubs
Quiet Hotels in Moscow
Moscow Hotels with Balconies
Moscow Horseback Riding Hotels
Moscow Hotels with Heated Pool
Moscow Hotels with Bridal Suite
Moscow Hotels with Allergy-free rooms
Moscow Hotels with Soundproof rooms
Moscow Exotic Hotels
Moscow Hotels with Laundry Facilities
Moscow Hotels with Saltwater Pool
Moscow Non-Smoking Hotels
Moscow Hotels with Bike Rentals
Moscow Hotels with Gym
Moscow Adventure Hotels
Moscow Hotels with Air Conditioning
Hotels near Red Square
Hotels near Moscow Metro
Hotels near Saint Basil's Cathedral
Hotels near Moscow Kremlin
Hotels near High-Speed Train Sapsan
Hotels near GUM
Hotels near State Tretyakov Gallery
Hotels near Tsaritsyno Museum-Reserve
Hotels near Armoury Chamber
Hotels near Bolshoi Theatre
Hotels near Polyanka Station
Hotels near Tretyakovskaya Station
Hotels near Kitay-gorod Station
Hotels near Biblioteka Imeni Lenina Station
Hotels near Lenin Library Station
Hotels near Aleksandrovsky Sad Station
Hotels near Alexander Garden Station
Hotels near Borovitskaya Station
Hotels near Arbatskaya Station
Hotels near Kropotkinskaya Station
Hotels near Zhukovsky International Airport (ZIA)
Hotels near Vnukovo Airport (VKO)
Hotels near Domodedovo Airport (DME)
Motels near Vnukovo Airport (VKO)
Motels near Domodedovo Airport (DME)
Motels near Zhukovsky International Airport (ZIA)
Hotels near Moscow P. I. Tchaikovsky Conservatory
Hotels near Russian Academy of Theatre Arts
Hotels near Institute for the Economy in Transition
Hotels near Gnesins Russian Academy of Music
Hotels near Moscow International Higher Business School (MIRBIS)
Hotels near Turo Moskovskiy Universitet, NOU
Hotels near Maxim Gorky Literature Institute
Hotels near Moscow State University of Railway Transport
Hotels near Bauman Moscow State Technical University
Hotels near Russian Academy of Arts
The Westin Charlotte
Lough Eske Castle
Moevenpick Resort El Quseir
Hollywood Casino & Resort Gulf Coast
Hotel Royal Victoria
Holiday Inn Express Monterey-Cannery Row, an IHG Hotel
Pegasos Club Hotel
Comfort Inn Splash Harbor
Hotel Plaza Venice
Anantara Vilamoura Algarve Resort
Golden Nugget Biloxi Casino & Resort
Iberostar Selection Albufera Park
Ajman Saray, a Luxury Collection Resort, Ajman
JW Marriott Phoenix Desert Ridge Resort & Spa
Starr Pass Golf Suites
Popular All-Inclusive Resorts
Popular Beach Resorts
Popular Family Resorts
Popular All-Inclusive Hotels
Popular Hotels With Waterparks
Popular Honeymoon Resorts
Popular Luxury Resorts
Popular All-Inclusive Family Resorts
Popular Golf Resorts
Popular Spa Resorts
Popular Cheap Resorts
Add a Place
Travel Forum
Travel Guides
Help Center
Things to Do
Travel Stories
Rental Cars
Travelers' Choice
THE 10 BEST Moscow City Center Hotels
Europe
Russia
Central Russia
Moscow
Moscow Hotels
Downtown Moscow Hotels

Property types
Neighborhoods, hotel class.
Hotels & Motels
City Center
Popular destinations for Downtown Hotels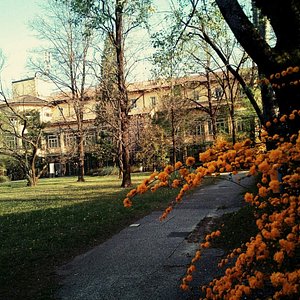 Popular Moscow Categories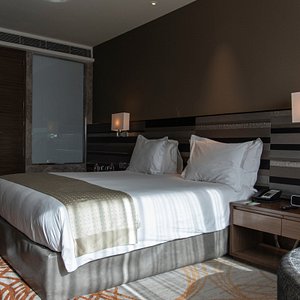 Downtown Hotels information
What are the best downtown hotels near Moscow Metro? Some of the more popular downtown hotels near Moscow Metro include: Four Seasons Hotel Moscow - Traveler rating: 4.5/5 Hotel Metropol Moscow - Traveler rating: 4.5/5 Kamergersky Hotel - Traveler rating: 4.0/5
Do any downtown hotels in Moscow have a pool? Popular downtown hotels in Moscow that have a pool include: Ararat Park Hotel Moscow - Traveler rating: 5.0/5 Lotte Hotel Moscow - Traveler rating: 5.0/5 Four Seasons Hotel Moscow - Traveler rating: 4.5/5
What are the best downtown hotels in Moscow? Some of the best downtown hotels in Moscow are: Ararat Park Hotel Moscow - Traveler rating: 5.0/5 Lotte Hotel Moscow - Traveler rating: 5.0/5 Mercure Moscow Baumanskaya - Traveler rating: 4.5/5
Which downtown hotels in Moscow offer a gym? A gym is available to guests at the following downtown hotels in Moscow: Ararat Park Hotel Moscow - Traveler rating: 5.0/5 Lotte Hotel Moscow - Traveler rating: 5.0/5 Four Seasons Hotel Moscow - Traveler rating: 4.5/5
Which downtown hotels in Moscow have rooms with a private balcony? A private balcony can be enjoyed by guests at the following downtown hotels in Moscow: Four Seasons Hotel Moscow - Traveler rating: 4.5/5 Bega Hotel - Traveler rating: 4.0/5 Arbat Hotel - Traveler rating: 4.0/5
Which downtown hotels in Moscow have rooms with great views? These downtown hotels in Moscow have great views and are well-liked by travelers: Ararat Park Hotel Moscow - Traveler rating: 5.0/5 Lotte Hotel Moscow - Traveler rating: 5.0/5 Four Seasons Hotel Moscow - Traveler rating: 4.5/5
Which downtown hotels in Moscow are romantic? These downtown hotels in Moscow have been described as romantic by other travelers: Ararat Park Hotel Moscow - Traveler rating: 5.0/5 Lotte Hotel Moscow - Traveler rating: 5.0/5 Four Seasons Hotel Moscow - Traveler rating: 4.5/5
Which downtown hotels in Moscow are good for families? Families traveling in Moscow enjoyed their stay at the following downtown hotels: Four Seasons Hotel Moscow - Traveler rating: 4.5/5 Hotel Metropol Moscow - Traveler rating: 4.5/5 InterContinental Moscow - Tverskaya, an IHG Hotel - Traveler rating: 4.5/5
Which downtown hotels in Moscow allow pets? These downtown hotels in Moscow generally allow pets: Ararat Park Hotel Moscow - Traveler rating: 5.0/5 Lotte Hotel Moscow - Traveler rating: 5.0/5 Mamaison All Suites Spa Hotel Pokrovka - Traveler rating: 4.5/5 It is always best to call ahead and confirm specific pet policies before your stay.
Do any downtown hotels in Moscow offer free breakfast? Free breakfast can be enjoyed at the following downtown hotels in Moscow: Lotte Hotel Moscow - Traveler rating: 5.0/5 Hotel De Paris - Traveler rating: 4.5/5 President Hotel - Traveler rating: 4.0/5
2018 Primetime Emmy & James Beard Award Winner
R&K Insider
Join our newsletter to get exclusives on where our correspondents travel, what they eat, where they stay. Free to sign up.
A History of Moscow in 13 Dishes
Featured city guides.
You will be redirected to your dashboard shortly. We will also call you back in 24 hrs .
Russia Circle Trip: 20 Places To Visit In Moscow And St. Petersburg In 2023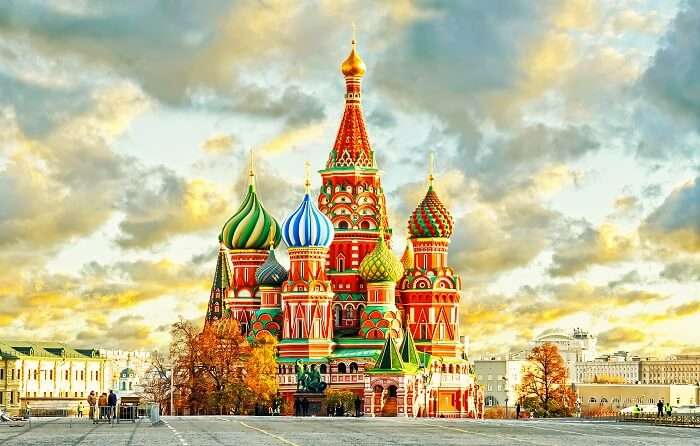 23 Mar 2023
Comprising of palaces, monasteries, cathedrals, museum's, parks, hills, towers, and galleries, travelers must include these places to visit in Moscow and St. Petersburg in their itinerary for a complete travel experience. Taking you through its modern culture, ancient traditions, and rich historical past, these places to see in Moscow are not just interesting, but are beyond magical.
20 Places To Visit In Moscow And St. Petersburg
Here is a list of places to explore in the beautiful city of Moscow and St. Petersburg on your trip that you might not want to miss. Keep scrolling down and read along:
Hermitage Museum
Krestovsky Stadium
Peterhof Palace
Pushkin Museum
Kolomenskoye
Novospassky Monastery
Kremlin Armoury
Sparrow Hills
Cathedral Of The Archangel
Diamond Fund
Losiny Ostrov National Park
Ostankino Tower
Grand Kremlin Palace
Bolshoi Theatre
Memorial Museum Of Cosmonautics
Saint Basil's Cathedral
Moscow Kremlin
20. Hermitage Museum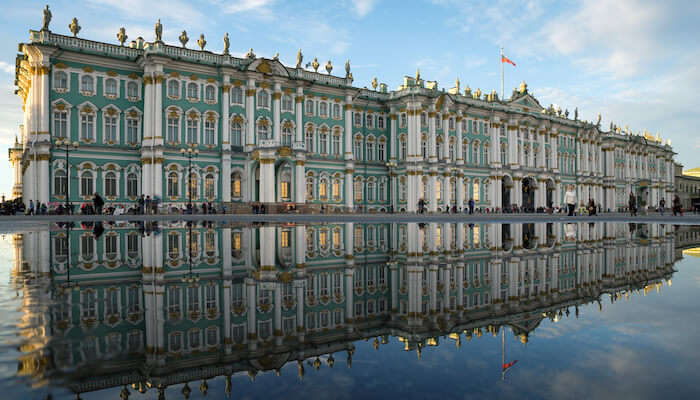 Hermitage Museum at St Petersburg is the second-largest art museum in the world, after The Louvre in Paris, France. The establishment was founded in 1764 by Empress Catherine the Great. From Egyptian antiquities, Renaissance art, Dutch and Flemish Baroque art to Neoclassical, Impressionist, Post-Impressionist and modern European fine art – Hermitage Museum artworks are any art-enthusiast's paradise.
Location: Palace Square, 2, Sankt-Peterburg, Russia, 190000 Timings: 10:30 am – 6:00 pm (Monday closed)
19. Krestovsky Stadium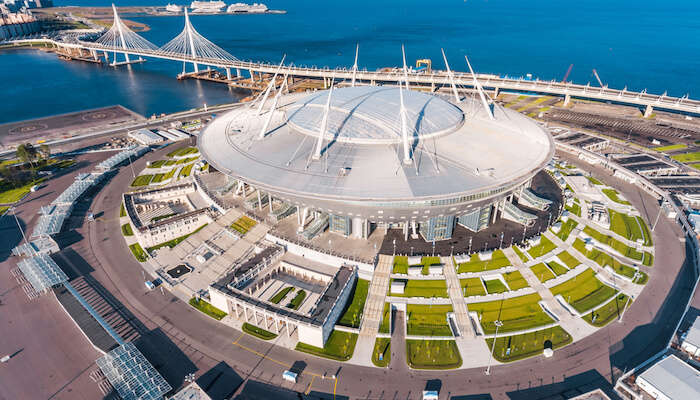 Named after Sergey Kirov, the stadium was also home to the Zenit Football Club for certain periods in the 1900's. The Fifa Confederations Cup took place in the Krestovsky Stadium, with several group matches and the final between Germany and Chile taking place at the stadium. The 2018 Fifa World Cup also took place there, when Russia hosted the competition.
Location: Futbol'naya Alleya, 1, Sankt-Peterburg, Russia, 197110 Timings: 9:00 am – 6:00 pm
18. Peterhof Palace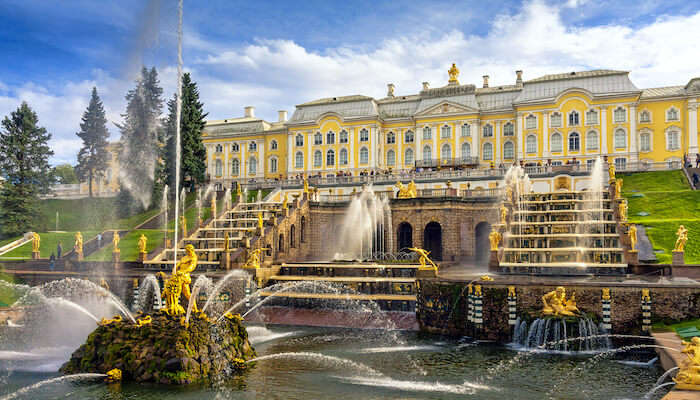 One of the most important sites of cultural importance in Russia is the Peterhof Palace. It is a series of palaces and gardens which are located in Peterhof, St Petersburg. One of the best features of the area that catches the eyes of the many tourists who come to visit the area is a 16-metre high cliff. One of the best features of the Palace is the Chesma Hall. The Hall is decorated with painting from the Battle of Chesma, where Russia won a naval victory during the Russo-Turkish war.
Location: Razvodnaya Ulitsa, 2, Sankt-Peterburg, Russia Timings: 9:00 am – 7:00 pm
17. Pushkin Museum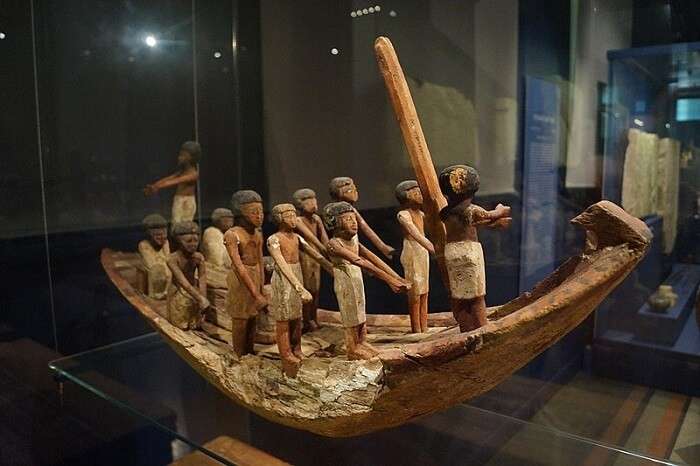 Image Source
If you want to visit one of the best tourist places in Moscow to explore a wide selection of European masterpieces, then you must visit the Pushkin Museum. Here, you can explore The museum is divided into three sections which cover the themes: Byzantine art, the Renaissance, and the Dutch Golden Age. For a collection donated by individuals, you can also visit the Museum of Private Collections.
Location: Ulitsa Volkhonka, 12, Moskva, Russia, 119019 Timings: 11:00 am – 8:00 pm
Must Read: Villas In Moscow: 7 Places That Offer Unparalleled Luxury In The Heart Of Russia
16. Kolomenskoye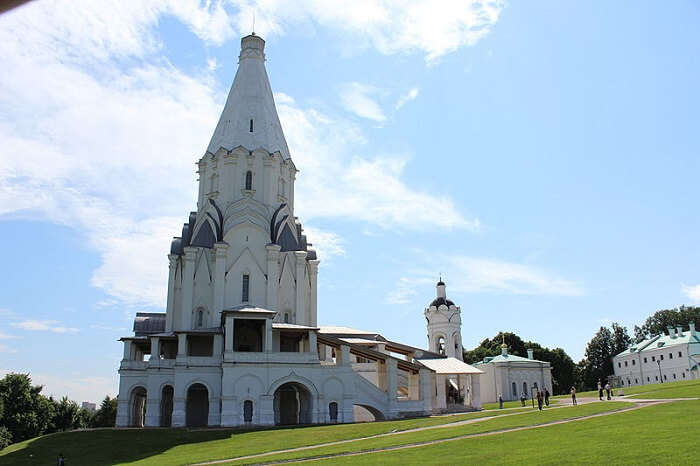 Nestled just a few kilometers outside of the city center, Kolomenskoye was once a royal estate which is now converted into a museum-reserve. Overlooking the Moskva River, you will get to gain a plethora of history from this museum. You can take a stroll in the garden at this museum which is one of the top places to visit in Moscow, Russia.
Location: Andropova Ave, 39, Moskva, Russia, 115487 Timings: 9:00 am – 8:00 pm
15. Novospassky Monastery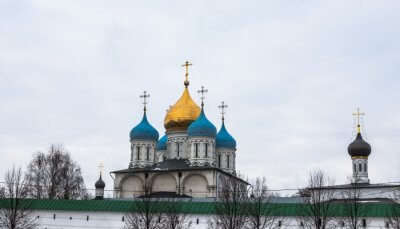 With attractions like Novospassky Monastery, there is no need to worry as to what to see in Moscow . Dating back to the times of the 14th century, Novospassky Monastery happens to be the first monastery established in the heart of Moscow. Located in the southeastern region, it is one of the must-visit places in Moscow.
Location: Krest'yanskaya Ploshchad', 10, Moskva, Russia, 115172
Suggested Read: Russia Plans To Open A Luxury Hotel In Space By 2022 Since Earth Is Too Mainstream!
14. Kremlin Armoury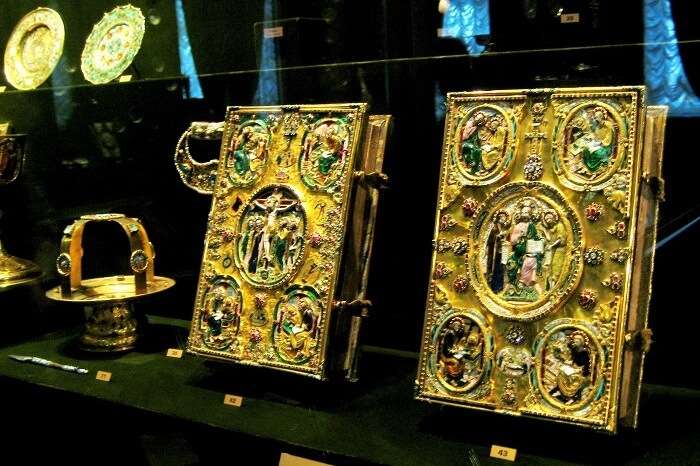 Kremlin Armoury is one of the most fascinating places to visit in Moscow which is located within the premises of Moscow Kremlin. A treasure house in the heart of Moscow, Kremlin Armoury is a unique museum that has put up about 4000 unique and precious belongings from 1851 on display.
Location: The Moscow Kremlin, Moskva, Russia, 125009 Timings: Monday to Sunday – 10 AM to 6 PM (Closed on all public holidays)
Suggested Read: 8 Cities With Best Russia Nightlife; Say It Aloud, "Lights, Vodka, & Russians!"
13. Sparrow Hills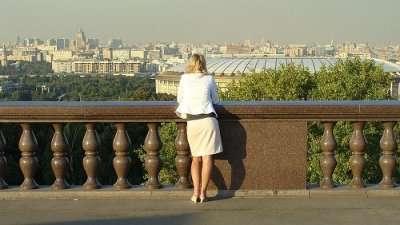 Much famed as the Lenin Hills until 1999, it is a must for every traveler to include a visit to the Sparrow Hills on their Moscow city tour . Standing tall at an elevation of 220 meters, it is the highest viewpoints in the city that rises above the Moskva River. Get atop the hills to enjoy breathtaking views of the Moscow skyline.
Location: Moscow, Russia, 119270
Suggested Read: 15 Interesting Things To Do In Moscow: Trekking, Opera, And More
12. Cathedral Of The Archangel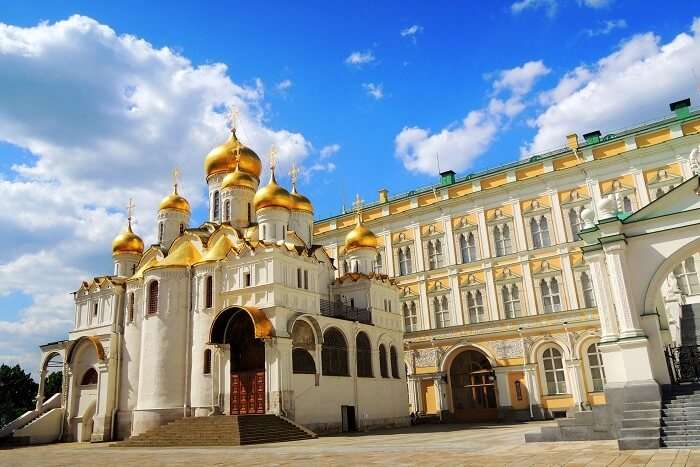 Perched in between the attractions of Ivan the Great Bell Tower and the great Great Kremlin Palace, this orthodox cathedral in the heart of Moscow and the mighty Archangel Michael is the patron saint of the cathedral. Reflecting the charm of the Italian Renaissance architectural style, this cathedral is built on the site of the original structure which dates back to 1333.
Location: Cathedral Square, Moscow Kremlin, Moscow, Russia, 103073 Timings: Monday to Sunday – 10 AM to 5 PM (Closed on all public holidays)
Suggested Read: The Glass Beach In Russia Turns Empty Beer Bottles Into A Stunning Kaleidoscope Of Colourful Pebbles!
10. Diamond Fund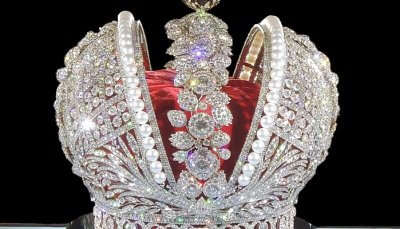 Image Credit: Shakko for wikipedia
A mine of precious stones, jewelry, Diamond Fund is one of the most fascinating places to visit in Moscow for those whose love for diamonds is limitless. Established by Emperor Peter I of Russia in the year of 1719, this gem of a place resides within the premises of the famous Moscow Kremlin.
Location: Proyezd Proyektiruyemyy 813, Moskva, Russia, 125009 Timings: Friday to Wednesday – 10 AM to 1 PM, and 2 PM to 5:20 PM (Closed on Thursdays)
9. Losiny Ostrov National Park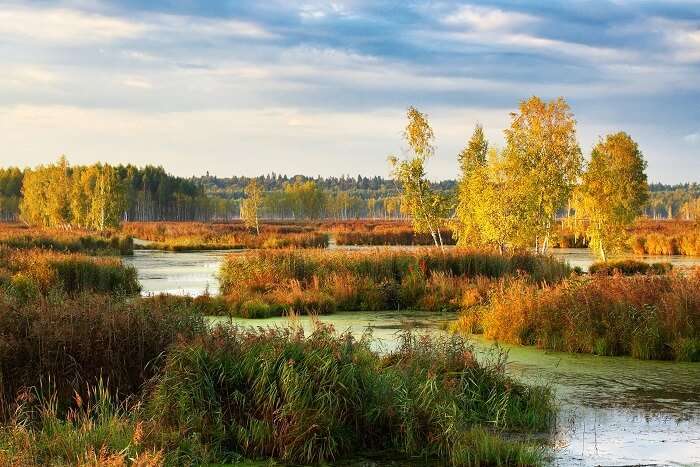 Of all the Moscow points of interest , Losiny Ostrov National Park offers a perfect amalgamation of nature and wildlife. Often compared to the Pedra Branca State Park in Rio de Janeiro, and the Table Mountain National Park of Cape Town, in terms of its size and grandeur, it is the first-ever national park of the Russian capital wherein one can witness many species of birds, mammals, amphibians, and reptiles.
Location: Poperechny Prosek, 1G, Moscow 107014, Russia
Suggested Read: Trans Siberian Railway: World's Longest Rail Network That Crosses 8 Time Zones Across 9300 Kms!
8. Ostankino Tower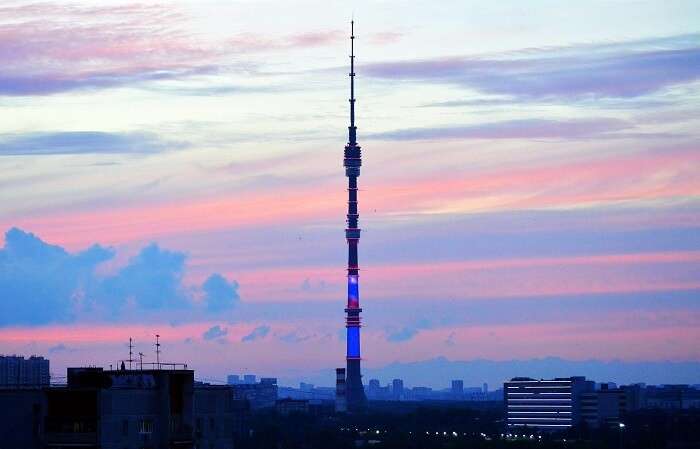 Standing tall at a height of 1,772 feet, Ostankino Tower is famous for being the only free-standing structure in the whole of Europe. Apart from being the eleventh high-rising structures of the world, the observation deck at Ostankino Tower is the place to be for those who wish to relish the best views of Moscow's skyline.
Location: Akademika Koroleva St, 15, Moskva, Russia, 127427 Timings: Monday to Sunday – 10 AM to 9 PM
7. Grand Kremlin Palace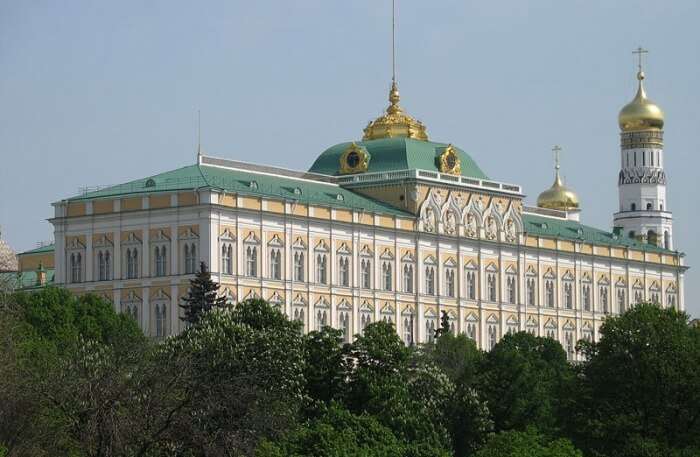 Established in the year of 1849, Great or Grand Kremlin Palace is one of those places to visit in Moscow that will leave you beyond astonished. Constructed beautifully and with a great eye for detail, the intricate decor inside the Grand Kremlin Palace reflects the pure charm of the Revival architecture in Russian that blends perfectly with the architectural style of Byzantine Revival.
Location: Moscow Kremlin, Moscow 103073, Russia
Suggested Read: 19 Cool And Unusual Things To Do In Russia That You've Never Heard Before!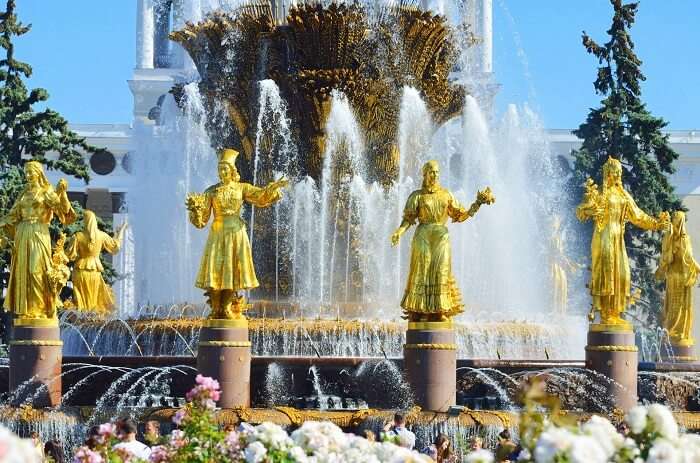 Image Courtesy: publicdomainpictures.net
What Pragati Maidan is to Delhi, VDNKh is for Moscow. Being one of the popular Moscow sightseeing places , VDNKh or Vystavka Dostizheniy Narodnogo Khozyaystva is a grand trade and exhibition center in Moscow that assures the travelers an experience like none other. Home to numerous palaces, fountains, architectural marvels, arches, and pavilions, there will never be a dull moment on your visit to VDNKh during your trip to Moscow .
Location: Prospekt Mira, 119, Moskva, Russia, 129223 Timings: Monday to Sunday – 24 Hours
5. Bolshoi Theatre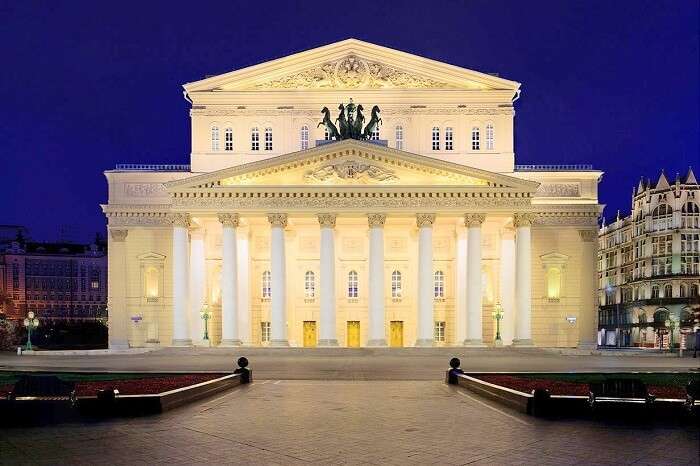 Image Credit: DmitriyGuryanov for wikipedia
For the lovers of art, and culture, Bolshoi Theatre is the place to be for them to witness one of the finest live performances of opera and ballet performances. Famous for featuring a neoclassical facade, Bolshoi Theatre is one of the renowned landmarks of the city.
Location: Theatre Square, 1, Moskva, Russia, 125009
Suggested Read: Moscow In Winter: 10 Things To Do In The City That Holds To The Key To Russia's Past
4. Memorial Museum Of Cosmonautics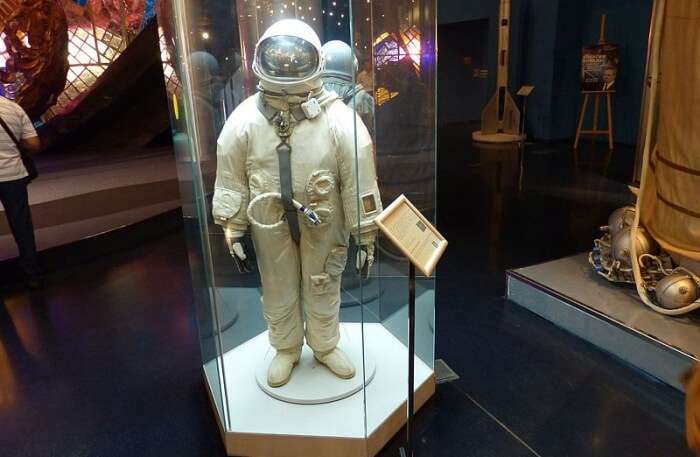 Striking, unique, and aiming to touch the sky, the Memorial Museum of Cosmonautics is one of the best Moscow tourist sites which the travelers cannot afford to miss. Educating the visitors about the significant part of Russia's history in the domain of space, it is a strict no-no to miss out on visiting the Museum of Cosmonautics when in the city.
Location: Prospekt Mira, 111, Moskva, Russia, 129223 Timings: Thursdays & Saturdays – 10 AM to 9 PM; Tuesdays, Wednesdays, Fridays, & Sundays – 10 AM to 7 PM; Closed on Mondays
3. Saint Basil's Cathedral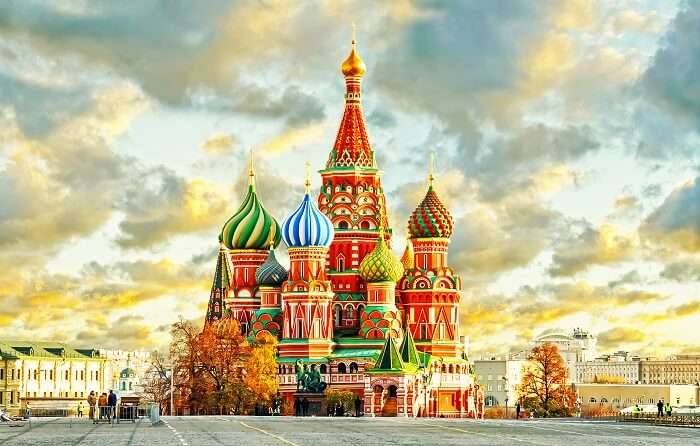 Considered to be one of the top places to visit in Moscow , Saint Basil's Cathedral is also famed as the Cathedral of Vasily the Blessed amongst the locals. Being one of the crucial landmarks of Moscow located in the heart of Red Square, the cathedral dates back to the times of 16th century. Serving as a visual treat to the travelers, it happens to be one of the most-captured attractions in Moscow.
Location: Krasnaya Square, 2, Moscow 109012, Russia
Suggested Read: The List Of Top 10 Places Travelers Are Eager To Visit Is Out!
2. Red Square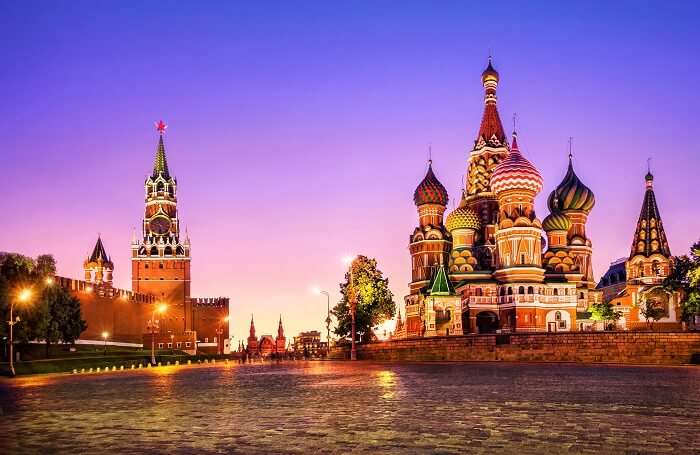 Separating the royal citadel of Kremlin from the ancient merchant quarter of Kitai-gorod, Red Square is one of the most interesting places in Moscow . Bearing the weight of Russia's history to a great extent, Red Square serves not just as an attraction but as the heart, soul, and symbol of the whole country.
Location: Krasnaya Ploshchad, Moscow, Russia
1. Moscow Kremlin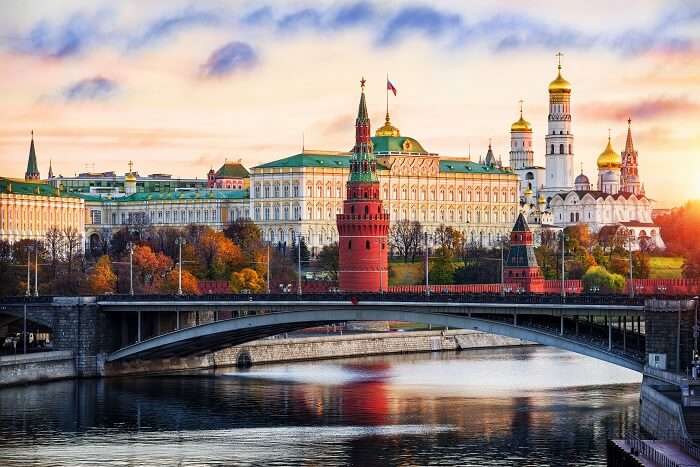 If all the attractions serve as members of the city, then Moscow Kremlin serves as the home in which all these tourist sites reside. Encompassing of almost all the famous sightseeing attractions, the royal residence of the President of Russia, the Moscow Kremlin is undoubtedly one of the best places to visit in Moscow . Offering breathtaking views of River Moskva and located at the heart of the city, it is a must for everyone to explore this fortified complex once in their lifetime.
Location: Moscow, Russia, 103073 Timings: Friday to Wednesday – 10 AM to 5 PM; Closed on Thursday
How To Get There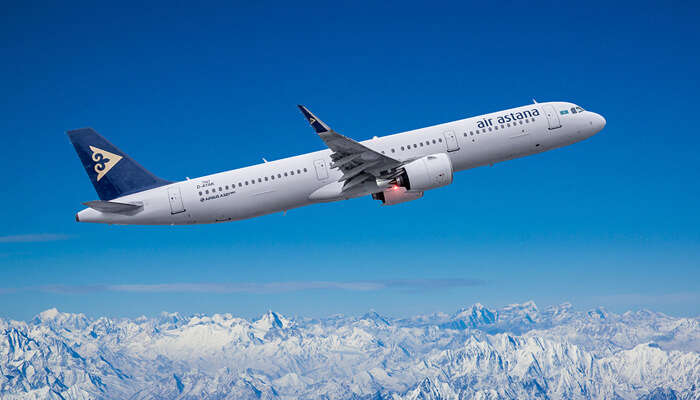 Air Astana has resumed daily operations, and with the launch of 2 additional flights starting 2nd September 2019, they will now be operating 11 times a week offering even more onward connections. You can now make the most of this special offer by Air Astana and plan your trip to the biggest metropolitan city of Kazakhstan. Transit passengers can also visit Nur – Sultan and Almaty hassle – free in their journey with Kazakhstan's 72-hour transit visa-free regime . You can now also apply for an e-visa before traveling to Kazakhstan. The process is very simple!
Explore Two Countries In One Trip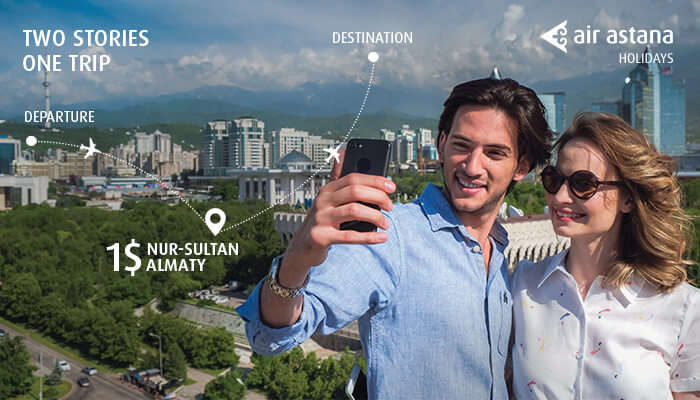 There is good news for all transiting passengers. With Air Astana's 1$ Stopover Holiday Package, you can enjoy a one-night stay in Almaty or Astana starting at just 1$ for the first night. Simply pay online and you will receive instant confirmation for your Stopover Holiday Package with Air Astana . The package includes a one-night stay in 3-4 star hotel, buffet breakfast, and airport transfers. What more could you possibly need!
Further Read: 101 Places To Visit In India Before You Turn 30
While these are some of the famous places to visit in Moscow and St.Petersburg, this is just the beginning of what this incredible city has to offer. Hence, make sure you include these Moscow attractions and St. Petersburg sights to your bucket list while you gear up to fulfill your dream on your sojourn to Russia !
Disclaimer: TravelTriangle claims no credit for images featured on our blog site unless otherwise noted. All visual content is copyrighted to its respectful owners. We try to link back to original sources whenever possible. If you own rights to any of the images, and do not wish them to appear on TravelTriangle, please contact us and they will be promptly removed. We believe in providing proper attribution to the original author, artist or photographer.
Please Note: Any information published by TravelTriangle in any form of content is not intended to be a substitute for any kind of medical advice, and one must not take any action before consulting a professional medical expert of their own choice.
Frequently Asked Questions About Places To Visit In Moscow
What is the best time to visit Moscow?
April to August happens to be the best time to visit Moscow when the summer season lets the tourists make the most of their journey.
What is that one experience that one must not miss out when planning a trip to Russia?
A ride on the Trans-Siberian Railway that crosses eight time zones across 9300 kms is one of the most unique experiences that one should not miss out on their trip to Moscow!
What are some of the must-visit attractions in Moscow?
Moscow Kremlin, Saint Basil's Cathedral, Red Square, and Bolshoi Theatre are some of the famous must visit attractions in Moscow.
People Also Read:
Places To Visit In Ireland Places To Visit In Milan Places To Visit In Germany
Recent Posts
35 meilleurs endroits à visiter au Japon qui donnent l'impression d'être tout droit sorti d'un livre d'histoires en 2023
6 Intriguing Places To Visit In Burhanpur In 2023
7 Places To Visit In Avadi That Tell The Tales Of Its Heritage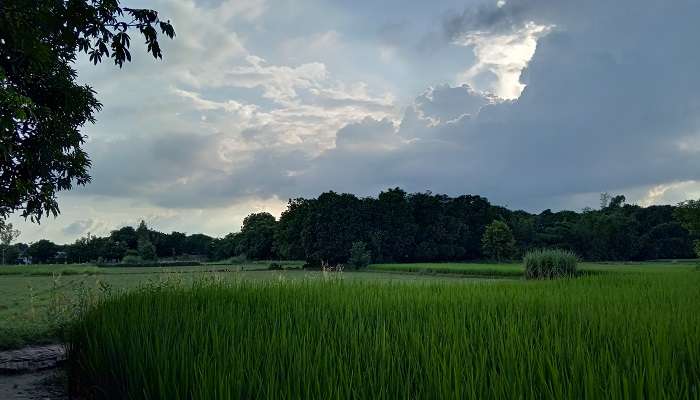 8 Places To Visit In Jaunpur For A Memorable Trip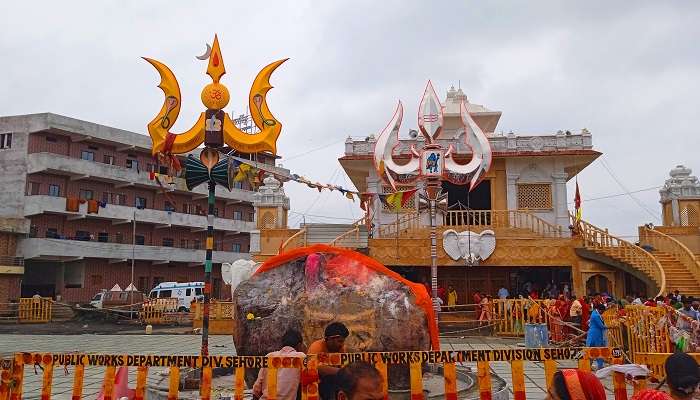 4 Places To Visit In Sehore On A Short Trip From Madhya Pradesh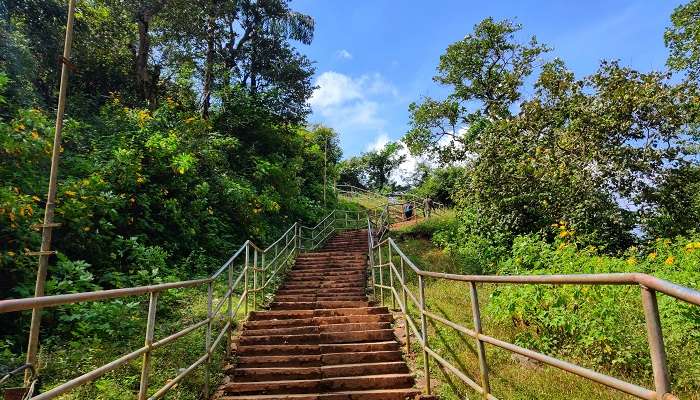 18 lieux à visiter à Sakleshpur pour un voyage rempli de nature
Trending Blogs
20 Mysterious Places In India To Visit In 2023 More Bizarre Than The Bermuda Triangle
10 Scariest Roads In India That Are A Driver's Nightmare
101 Places To Visit In India Before You Turn 30 in 2023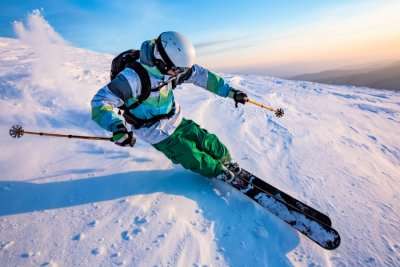 35 Exotic Places To Visit In December In India 2023 To Enjoy A Surreal Vacation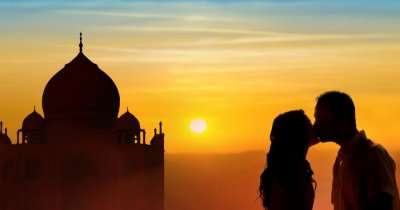 60 Best Honeymoon Destinations In India In 2023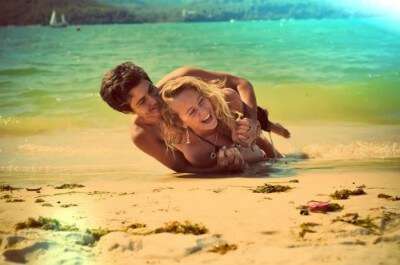 95 Best Honeymoon Destinations In The World In 2023 For A Romantic Escape!
Best Places To Visit In India By Month
Best places to visit outside india by month.
TravelTriangle
Destinations » Russia »
Tour Packages
Honeymoon Packages
Family Packages
Budget Tour Packages
Luxury Tour Packages
Adventure Tour Packages
Group Tour Packages
Kerala Tour Packages
Goa Tour Packages
Andaman Tour Packages
Sikkim Tour Packages
Himachal Tour Packages
Uttarakhand Tour Packages
Rajasthan Tour Packages
Tour Packages From Delhi
Tour Packages From Mumbai
Tour Packages From Bangalore
Tour Packages From Chennai
Tour Packages From Kolkata
Tour Packages From Hyderabad
Tour Packages From Ahmedabad
Kerala Tourism
Goa Tourism
Sikkim Tourism
Andaman Tourism
Himachal Tourism
Uttarakhand Tourism
Rajasthan Tourism
Hotels in Kerala
Hotels in Goa
Hotels in Sikkim
Hotels in Andaman
Hotels in Himachal
Hotels in Uttarakhand
Hotels in Rajasthan