Create a free profile to get unlimited access to exclusive videos, sweepstakes, and more!
The Fascinating Real Story Behind the Winchester Mystery House
The true story behind the movie Winchester is one of the greatest haunted house legends ever. 
If you've visited San Jose, California , one of the first things you'll probably hear about from locals and tourists alike is the story of the Winchester Mystery House. Today, the Victorian and Gothic styled mansion can be found smack in the middle of one of the busiest areas of the city. But back when it was purchased in 1886 by the Winchester rifle heiress, Sarah Winchester, the original home was the only building of note on the 45-acre ranch.
In the hands of Winchester, the modest two-story, eight-room farmhouse was renovated into a 24,000-square-foot, sprawling property containing 160 rooms, 2,000 doors,10,000 windows, 47 stairways and fireplaces, 13 bathrooms, and six kitchens. And when it was made public why Winchester was continuously revising the house until her death in 1922, it was also dubbed one of the "most haunted places in the world."
Fact Versus Fiction Regarding Sarah Winchester
In 2018, Hollywood finally brought some parts of Winchester's tragic story to screen in the horror mystery, Winchester  ( now streaming on Peacock ). Oscar-winning actress  Helen Mirren  ( The Queen ) played Sarah Winchester, and the film focused primarily on one infamous day in the house's history: the 1906 earthquake that destroyed large sections of the property she named Llanada Villa. The film places Sarah in the home at the time of the quake, but in reality that was never verified, nor was there any documentation that she was injured on the day of the event, as subsequent stories have spun.
RELATED:  Unpacking the "Hardcore" Haunted Houses & Heartbreak in SurrealEstate Season 2
In fact, history and urban legends have often portrayed Winchester as a mentally disturbed woman who was obsessed with ghosts that she believed were the vengeful souls killed by the guns made by her late husband, William Wirt Winchester's gun company. In reality, Sarah was certainly an eccentric and deeply saddened by tragedies in her life. But she was also an incredible architectural designer, real estate investor, and empathetic small business woman. 
It is true that she married Wirt in 1862 and four years later gave birth to a daughter, Annie Pardee Winchester, who died a month later.  They never had another child, and just 15 years later, Sarah lost her husband, her mother, and her father-in-law to the plague of her time, tuberculosis. She inherited $20 million, but that didn't make her heart any less broken. Lonely and looking to start anew, she packed up her things in Connecticut and moved to San Jose, California, where she bought the aforementioned ranch. 
Was Sarah Winchester a Creative Genius or Just Dodging Ghosts?
Sarah was an amateur architect and loved to design extensions and remodel the properties she owned with her husband. She carried that through with Llanada Villa. According to author Colin Dickey's book,  Ghostland: An American History in Haunted Places , she was an accomplished designer who worked with her carpenters closely to bring her ideas and designs to life. She was exacting, and by all accounts, a serial builder and rebuilder when something did not meet her expectations.
Sometimes, her erratic choices created design problems, like walled-off windows or staircases that were cut off by new construction. From 1890 to 1900, Llanada Villa expanded to seven stories. When the earthquake struck six years later, the fourth floor and the seven-story tower was destroyed. But she picked up building once again, which continued until her death in 1922, ceasing 36 years of constant construction. 
RELATED:  The True Story of The Amityville Horror
In 1922, Winchester's story and subsequent legacy starts to take on a new life. John and Mayme Brown leased Llanada Villa and opened the doors to the public as a tourist attraction. In order to add a hook to tourists, Mayme became the property's first guide, and created stories about Winchester's mental state and reasons for her incessant building that painted her as an unstable figure, when she was likely the exact opposite. Spreading stories of hauntings , they invited Harry Houdini to visit Halloween night 1924 to investigate the home. He visited, but did not have time to hold a seance or conduct research. However, he suggested the houses tourist tagline: "The Winchester Mystery House." 
The property then continued with some construction projects and restoration work to make it more of a cultural and tourist destination. In 1970, major restoration to bring the mansion back to its heyday began, and then in 1974, the Winchester Mystery House was granted state historic landmark status.
How Sarah Winchester's Story Got So Twisted
By all documented accounts made by actual historians and researchers who have studied Winchester's life, her story went into pure fiction with the release of author Susy Smith's 1967 book,  Prominent American Ghosts .  In it, she describes a meeting between a grieving Sarah Winchester and Boston medium, Adam Coons. The book reports as fact that Coons told Winchester, "The Winchester family were being haunted by the ghosts of people killed by Winchester rifles," and the only remedy was to build a home for them to wander. That account was then cited as the real reason for her ongoing, and often baffling, constant construction. She was somehow trying to trick or confuse the ghosts away from her, and that it was protection from their vengeance. In truth, there was no documentation of Winchester meeting any psychic medium, and furthermore, there were no Boston spiritualist named Adam Coons. 
RELATED:  That Time Kevin Bacon Was Contractually Obligated To Demolish Real-Life Haunted House
That false narrative was stitched together with a  San Jose Daily News  story from March 29, 1895 that reported that the private woman who owned Llanada Villa and was constantly expanding the property "believes that when it is entirely completed, she will die. This superstition has resulted in the construction of a maze of domes, turrets, cupolas and towers, covering territory enough for a castle." Despite a close friend of Winchester's refuting that reporting in a  San Jose Evening News story in 1897, the superstitions stuck like glue to her legacy and became local lore and "fact" that was even incorrectly recorded by the Historic American Buildings Survey (HABS) in 1981. 
Supporting Winchester's actual competency were all of her friends, family, and even the builders on her property who defended her as a independent woman and a loyal widow who dressed in black to honor her losses. They also explained that she was reclusive due to poor health. Winchester died in 1922 and willed her fortune to her employees. Nine months later, the house became a tourist attraction.
A century or so later, it also became the basis for a perfect October movie;  Winchester is now streaming on Peacock. 
Related Stories
How E.T. the Extra-Terrestrial Imagined a Kinder First Contact
Why We Never Got a Ghostbusters 3, According to Bill Murray
Wildest Five Nights at Freddy's Merchandise
What's Markiplier's Connection to Five Nights at Freddy's?
Survive the Night: 5 Scariest Real-Life Places You Can Spend a Night
The Overlooked Beauty of Son of Frankenstein
Horror Starter Movies to Watch with Five Nights at Freddy's
The Faculty Was Jon Stewart's Greatest Acting Achievement
Jeffrey Combs in The Frighteners is the Weirdest Thing
Halloween's Original Michael Myers Reveals 'Most Painful' Moment
Five Nights at Freddy's Creators on Bringing Video Games to Life
Spielberg: The First Ten Years Excerpt Reveals E.T. Secrets
Colin Dickey Explores America's Haunted History in 'Ghostland'
Ghostland has its own unique history as a book, originating in lectures at Machine Project, Acme Studio, Odd Salon and Death Salon as well as essays in the Paris Review and the Virginia Quarterly Review. Dickey, who holds a PhD in comparative literature from USC, leaves no gravestone unturned and no trapdoor unopened. Each chapter is an amalgamation of vivid sightseer descriptions, interviews, and the kind of folklore only a local could know. His occasional first-person accounts affirm he's combed asylum halls and grave markers as thoroughly as the research archives.
Throughout, Dickey connects themes in each story to literature, philosophy, psychiatry, or sociology, making for a deceptive, albeit entertaining, way to eat your vegetables. Case in point: the historic Shockoe Bottom neighborhood of Richmond, Virginia, where one can throw a stone and hit six haunted buildings. It was one of the most heavily trafficked slave trading areas in the U.S., second only to New Orleans. Why then are all its stories about white ghosts? New Orleans, meanwhile, markets the mysterious allure of its French Quarter through ghost tours while deliberately hiding its racist past. "Because ghost sightings are so ephemeral, and so vague," Dickey writes, "they can easily be attached to the dominant narrative and only that narrative."
Portland, Oregon doesn't hold an overtly racist history, but it's still guilty of embellishment. Cathedral Park beneath the St. Johns Bridge is allegedly haunted by the ghost of abducted and murdered teenager Thelma Taylor. The legend acts as a springboard for Dickey to introduce a phenomenon called residual haunting: the belief that certain inanimate objects (in this case the St. Johns Bridge limestone) are primed to record imprints of certain actions that they then play back later. Whether one believes in residual haunting proves mute. Taylor didn't die under the bridge, she died eight blocks away.
Dickey has a knack for breathing life into an urban legend and then letting the air out, making Ghostland satiating for skeptics. One would have difficulty denouncing the book for pandering to pseudoscience. Dickey is astutely self-aware, carefully avoiding embellishing his own ideas. In fact, it may be easier to argue Ghostland is too conservative : some ghost stories might be convincing enough to make the most hardened skeptics think twice.
LA's Cecil Hotel was home to the likes of Night Stalker Richard Ramirez and Austrian killer Jack Unterweger, but its calling card may be Elisa Lam, whose mysterious death in 2013 was beyond any conventional explanation. An elevator security video of Lam before her disappearance depicts her acting in what can only be called strange: for several minutes she exits and re-enters the elevator, at one point appears to hide in a corner, then talks and gestures in the hallway while contorting her arms and hands. Three weeks later her body was found in the hotel's rooftop water tank. Dickey glosses over much of the story (the full video is online) and (in a rare moment for the book) fails to convincingly debunk it or connect it to a darker narrative. The Elisa Lam story is simply hard to explain.
Polonaise-Fantaisie: Desiring the Divine in "The Pole"
One can't also read Ghostland and not notice a west-coast bias (Dickey grew up in San Jose, California, near the Winchester Mystery House). California locales seem overly represented while Illinois, for example, receives one mention despite boasting a legendary list of haunted places. Bachelor's Grove, just an hour southwest of Chicago, is one of the most haunted cemeteries in the U.S., yet it isn't mentioned. Nor is the famous Resurrection Mary. Chicago alone has enough haunted history to fill several books: the Jane Adams Hull house, the murder castle of H.H. Holmes, the Eastland River disaster site, the site of the St. Valentines Day Massacre in 1929, the Congress Hotel—the list goes on. For an artist's take on Illinois, namely John Wayne Gacy and the ghost of Carl Sandberg, musician Sufjan Stevens' Illinois  is unparalleled.
Granted qualms could be had by all 50 states, and it's easy to see how Ghostland might have grown to double, even triple in size. Dickey's take on America's haunted history may not be comprehensive, but at its core Ghostland is as informative as it is entertaining, a rare balance of the supernatural and the academic. It's a must-read this Halloween and worth revisiting many times after.
NONFICTION – HISTORY Ghostland: An American History in Haunted Places by Colin Dickey Viking Press Published October 4, 2016 ISBN 9781101980217
Writer, Journalist and Editor. Find me at Kevinsterne.com or @kevinsterne
Leave a Reply Cancel reply
© 2021 All Rights Reserved.
Skip to main content
Keyboard shortcuts for audio player
Author Interviews
Skeletons in the closet: what ghost stories reveal about america's past.
After losing her family, Sarah Winchester became convinced that ghosts were haunting her; so she built an enormous, maze-like mansion — now known as the Winchester Mystery House — to ward them off. (At least that's how the story goes.) HarshLight/Flickr hide caption
After losing her family, Sarah Winchester became convinced that ghosts were haunting her; so she built an enormous, maze-like mansion — now known as the Winchester Mystery House — to ward them off. (At least that's how the story goes.)
If you really want to understand a place, writer Colin Dickey has some advice: "Ignore the boastful monuments and landmarks, and go straight to the haunted houses. Look for the darkened graveyards, the derelict hotels, the emptied and decaying old hospitals."
Dickey has spent a lot of time traveling the country searching for places that go bump in the night. The result is a new book called Ghostland: An American History in Haunted Places .
Code Switch
The creepiest ghost and monster stories from around the world.
He tells NPR's Audie Cornish that a lot of the places he visited had one thing in common — strange construction: "There's the Winchester [Mystery] House , of course, which is this maze-like structure that goes on forever. There is the House of [the] Seven Gables in Salem, Mass., which has this creepy hidden staircase that winds up around the chimney, and it's not entirely clear where that staircase came from or what its purpose was. And so a lot of these places I think get haunted — or become known as haunted — because of the way in which they literally feel strange to us as we walk through them. ... And you look around for a way to describe it and you end up talking about ghosts."
Interview Highlights
On the Winchester Mystery House and the spinster trope in ghost stories
I grew up near the Winchester Mystery House in San Jose, Calif., and I think from when I was a young kid I was really fascinated by this story that some of your listeners may know. That Sarah Winchester, the daughter-in-law of the man who founded the Winchester rifle company — the story was that she had lost her husband and her infant daughter ... and became convinced that she was being haunted by the ghosts of anyone who had ever been killed by a Winchester rifle, and built this insanely large labyrinth-like 160 room Victorian mansion to ward off these spirits.
Around the Nation
The truth that creeps beneath our spooky ghost stories.
And when I dug into the story, first of all, that legend is not, as it turns out, entirely accurate. But what I found more fascinating was the idea that here was a woman who was both a woman of means and a widow who had decided for whatever reason never to remarry. And in many ways I think the ghost stories that grew up around Sarah Winchester had as much to do with our fascination/apprehension towards women who choose not to remarry, choose not to have children again. ... You see it in New York in the Merchant's House Museum with another old spinster lady. And, you know, it draws a lot from the Charles Dickens' Miss Havisham character [in Great Expectations ] — this woman who's sort of trapped, frozen in time.
On the glaring omission in ghost stories about Richmond, Va.
Richmond came up as having a particularly haunted downtown. It's an area called Shockoe Bottom, which is the sort of depression in the city that was used for a lot of unloading of ships in the 19th century. And Shockoe Bottom is often labeled to be one of the most haunted places, but when I looked into the kinds of stories that get told there, something jumped out at me right away, and that is nearly all the stories of ghosts in Shockoe Bottom are white ghosts. They are, you know, Confederate soldiers and ... women who worked in brothels and, you know, miners who were trapped in landfills and disasters.
There seem to be ghosts everywhere in Richmond's Shockoe Bottom neighborhood (if you believe the stories). But the city's countless hauntings rarely acknowledge Richmond's history with slavery. Pat (Clench) Williams/Flickr hide caption
There seem to be ghosts everywhere in Richmond's Shockoe Bottom neighborhood (if you believe the stories). But the city's countless hauntings rarely acknowledge Richmond's history with slavery.
But Shockoe Bottom has this other history, which is, outside of New Orleans, it was the most heavily populated slave trading market. And it was fascinating to see the way that when Richmond sort of tells the stories about all of the tragedies that have taken place in Shockoe Bottom — at least as far as the ghost stories go — they seem to leave kind of the most glaring example out. And there's really not a lot of ghost stories about the slave trading markets that enter into the folklore of Richmond despite the fact that untold cruelties happened there. ... It's not that it's like some deep, dark secret. I mean, obviously, there's great historical work being done, there's great archaeological work that's being done. ... There are monuments and there's a trail you can walk.
But what seemed to me really fascinating is that I went into this book thinking that ghost stories would express the kind of unspeakable things we might not otherwise say, and Richmond has sort of turned out to be the opposite — that the ghost stories in Richmond kind of construct a more genteel vision of the past where terrible things happened but they were often accidents and, you know, things that didn't reflect, say, poorly on the history of the city as a whole.
Buy Featured Book
Your purchase helps support NPR programming. How?
On the origin of the Native American burial ground trope in ghost stories
Particularly as a child of the '80s, I really grew up with that narrative almost to the level of a cliché in things like horror movies like The Amityville Horror and Pet Sematary . ... But what I found when I actually started doing the work is that this is actually — the sort of stereotypical version — is pretty recent and it doesn't start really until the late '70s and the early '80s. And it happens around the same time that there is a fairly large court case involving the Passamaquoddy Indians in Maine. And they're suing the federal government for large tracts of land in Maine and New England.
And so this idea of the [American] Indian burial ground, this idea that the house that you bought that you think you own that you have a property deed to is actually not entirely yours — that there might be somebody with an earlier, older claim to the land who might be now haunting your idyllic suburban home — that has a certain kind of truth in the sense that there were actual legal court cases when these stories first got popular that involved, you know, white Americans who had bought property that now were potentially going to be turned over to Native American tribes who had earlier valid legal claims to them.
On how a ghost story can evolve
Book News & Features
Spine-tingling with a twang: great alabama ghost stories.
So there's a story of a woman who appears being dragged down the middle of the main street in Leeds, N.Y., by a horse. She's sort of tied to a horse being dragged down. And this story has evolved over the years to sort of suit different purposes. It was retold by an abolitionist in the mid-19th century where the woman in question was a slave and the story was slanted so that — you know, obviously it was to show the horrors of slavery — that her master had punished her in this awful way. And then it later showed up about 40 years later by somebody who was far more interested in class warfare, and she had gone from being a slave to being a European immigrant who was sort of working poor and who was being beaten by her master. And so the story seems to sort of evolve through the years depending on what kind of morality tale the teller wants to tell.
On the craziest story heard while researching the book
One of my favorite stories was about a town in Bedford, N.Y. I was told that if you go to the center of town, there's this great old oak tree. And if you, on Halloween, walk backwards around the tree three times with a dead cat on your shoulder, ghosts will appear. ... And it begs the question: who was the first person who figured that out?
Where Was Incident in a Ghostland Filmed?

'Incident in a Ghostland' is a 2018 psychological horror film that follows two teenaged sisters that are held captive and tortured in a sinister house . What starts off as their new home soon turns into a deadly prison as the girls and their mother find themselves viciously attacked by intruders soon after moving into their late aunt's home.
Through dual perspectives of the two girls, the film weaves a surreal story where one soon loses track of which character is seeing reality and which one is hallucinating. The stark rural surroundings add to the film's ominous feel as the girls find themselves completely at the mercy of their tormentors with no hope of getting help. Are you curious about where 'Incident in a Ghostland' was filmed? We've got the story!
Incident in a Ghostland Filming Locations
The film is set in Illinois but was actually shot almost entirely in Manitoba. The intentional lack of details made it easy to use one location as a stand-in for another, and most of the film's exterior scenes were seemingly filmed on location. Principal photography reportedly began in August 2016 and continued through December. Now let's take a look at the specific locations used to bring the movie to life.
Winnipeg, Manitoba
The film was shot predominantly in the provincial capital city of Winnipeg, where filming seemingly took place both indoors and outdoors. A large portion of the film is set indoors, and most of these scenes were likely filmed on elaborate sets depicting the dilapidated house the sisters move into.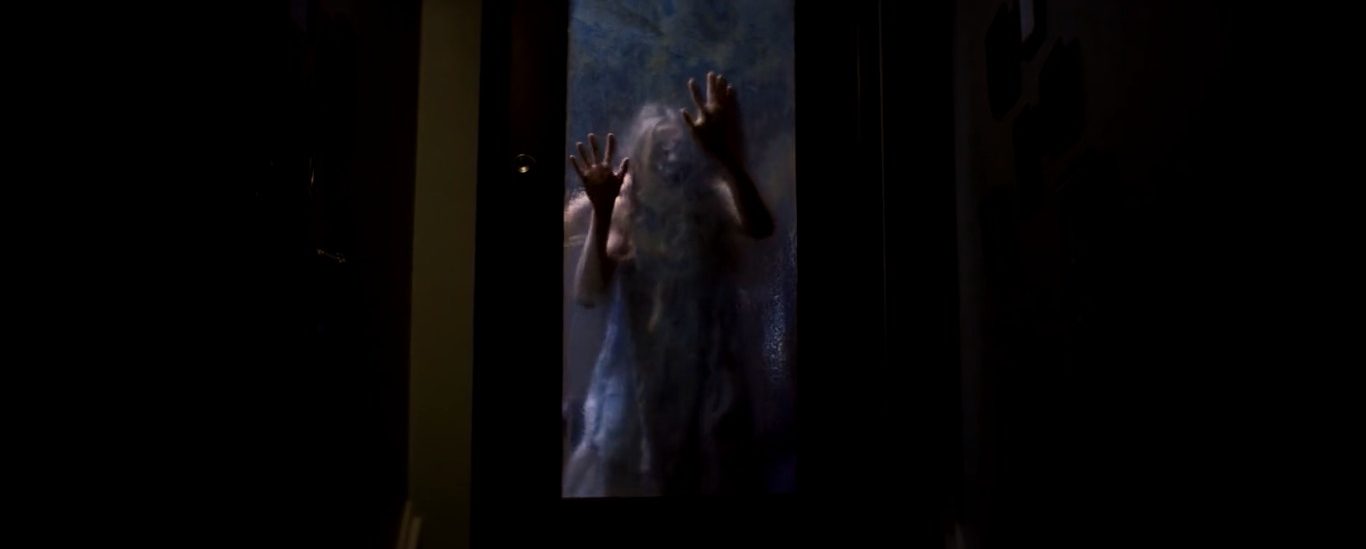 Actress Taylor Hickson reportedly sustained a serious injury while filming in Winnipeg when she accidentally partly fell through a glass pane on a door while filming an emotionally charged scene.

Perhaps one of the most recognizable parts of the city to be used in the film is the Arlington Steel Through Truss Bridge on Arlington Street which spans over the Canadian Pacific Railway yards in North Winnipeg. A brief automobile scene was seemingly filmed on the bridge.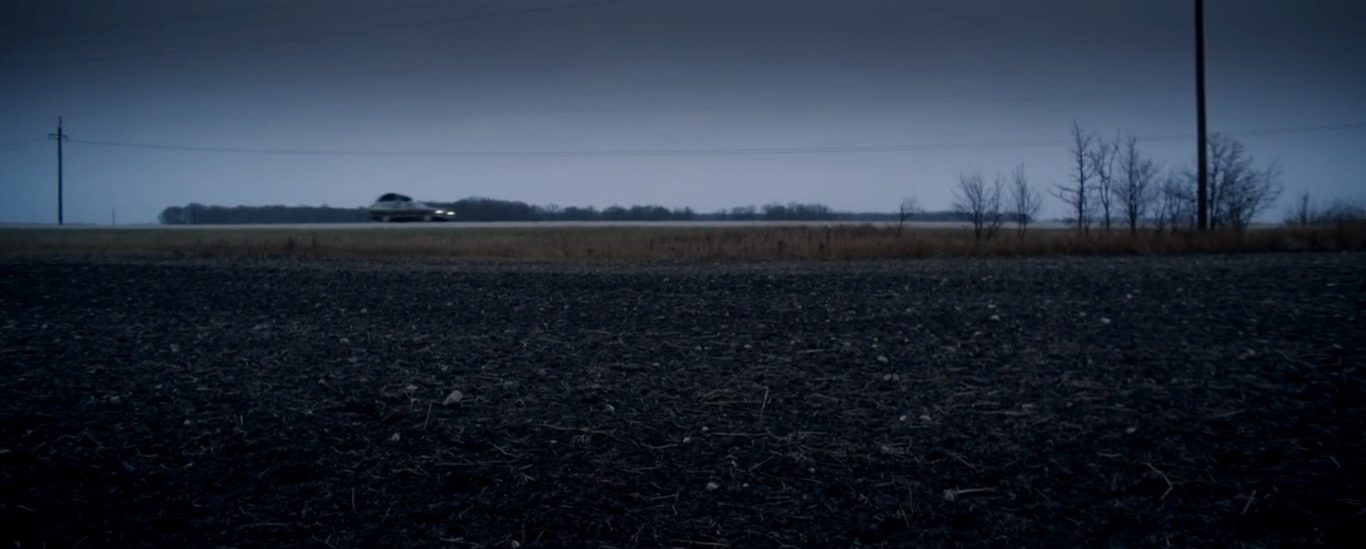 The flat topography of the region provides the backdrop for multiple scenes near the beginning of the film where the family makes its way to their new home. The surrounding rural area was also seemingly used for exterior establishing shots to depict how isolated the house is where the girls are held captive.
Toronto, Ontario
It seems the production crew also spent some time filming in Toronto. This likely included studio filming of sequences requiring special effects' facilities not available elsewhere. Scenes depicting Beth's life as a successful writer in the city were also most likely filmed in Toronto.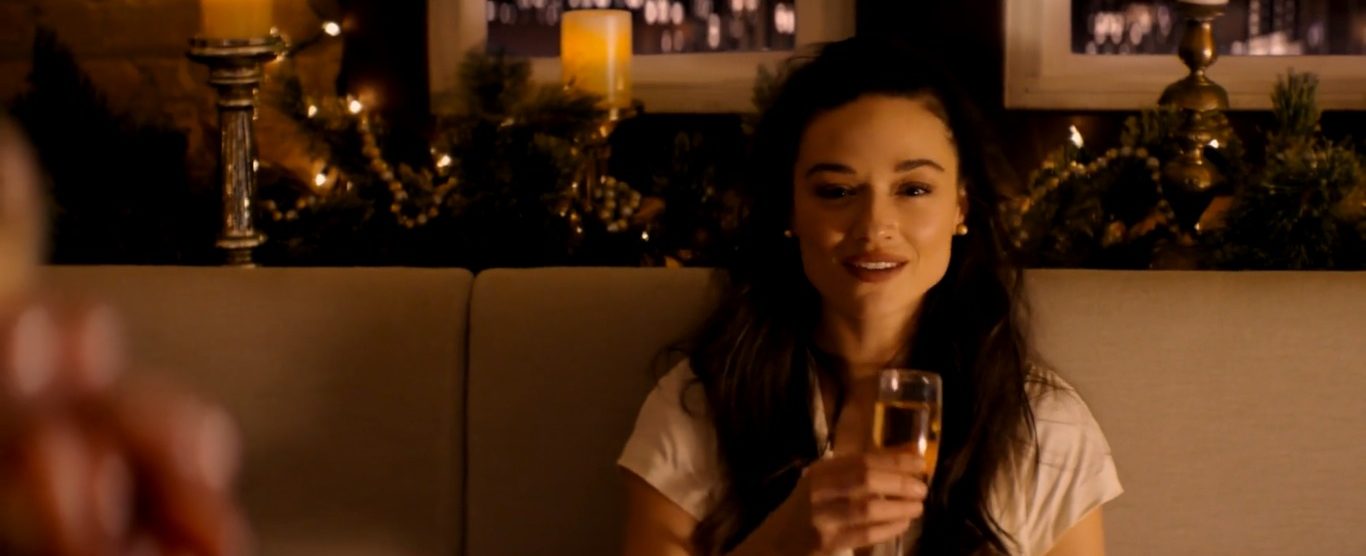 New York City, New York
New York City was also reportedly used for filming a few scenes of the movie which could include, once again, those depicting Beth's time in the city as a famous author. Scenes depicting her opulent home, workplace, and, later in the film, the party in her honor where she chats with author H.P. Lovecraft were likely filmed in the Big Apple.
Read More: Is Incident in a Ghostland Based on a True Story?
SPONSORED LINKS
Movie Explainers
TV Explainers
About The Cinemaholic
Incident in a Ghostland
A mother of two who inherits a house is confronted with murderous intruders on the first night in their new home and fights for her daughters' lives. Sixteen years later when the daughters reunite at the house, things get really strange.
When the aunt of Pauline dies, she inherits the lonely house in the countryside and travels with her two teenage daughters to the place. While driving to the house, her daughter and aspirant writer of horror genre Beth reads her last novel to her mother and the rebel Vera criticizes her sister, and a candy truck driver overtakes their car. When they stop at a convenience store in a gas station, Beth learns that the police is hunting down criminals that kill the parents and abuse their daughters. They arrive at the house that looks like an old bazaar with many dolls. Vera does not close the front door and soon they are assaulted by driver and a fat man that were in the candy truck. Years later, Beth is a famous writer married with a baby boy and has just released a novel about their attack. Out of the blue, she receives a phone call from Vera asking for help and she leaves her husband and son to visit her mother and her sister. Soon she learns that weird and mysterious things are happening in the old house. What could it be? — Claudio Carvalho, Rio de Janeiro, Brazil
Pauline and her two daughters, Beth and Vera, inherit the house of their recently deceased aunt. However, during the first night in their new home, some psychopaths enter the house causing the mother to go to the extreme to save the lives of her daughters. Sixteen years later, Beth has become a famous horror author who has a perfect life. For her part, Vera is now a woman who does not know how to cope alone and has a continuous sense of paranoia. Mother and daughters will meet again in the family home and a series of strange events will begin to take place.
Sixteen years after that soul-scathing incident at their late aunt's dilapidated mansion in the middle of nowhere, traumatised sisters, Beth and Vera, and their single mother, Pauline, have somewhat managed to put the past behind them. However, one delirious call from the frail and mentally unstable Vera will drag the now flourishing horror novelist Beth back to the old place of torment, as recurring visions of the past's unfathomable horrors still haunt the family. But, are the butchers in the siblings' nightmares real in the first place, or is this frenzied plunge into the uncharted waters of the human psyche what pure paranoia looks like? — Nick Riganas
It looks like we don't have any synopsis for this title yet. Be the first to contribute.
Contribute to this page
See more gaps
Learn more about contributing
More from this title
More to explore.
Recently viewed

Incident In A Ghost Land review: a terrific, traumatic and troubled horror flick
Incident In A Ghost Land is a masterclass in mounting tension, which deserves to be a Hereditary-sized horror hit...
Share on Facebook (opens in a new tab)
Share on Twitter (opens in a new tab)
Share on Linkedin (opens in a new tab)
Share on email (opens in a new tab)
When you're settling in for your fifth horror film in a 36-hour period, it's easy to feel like nothing could scare you anymore. I thought I was a jaded cynic when I sat down to watch Incident In A Ghost Land , on the second night of FrightFest, but by the time the end credits rolled… well, I'm not ashamed to admit that I'd been reduced to a blubbering wreck.   
The warning signs were there, to be fair: writer-director Pascal Laugier scared cinemagoers senseless with last outing, the much-loved Martyrs , but still I thought I could handle his latest effort. Even as the eerie opening scenes of Ghost Land set up an uneasy family dynamic in a suitably sinister location, I was hitting the heighest heights of my horror hubris. My mind, so convinced that I was impervious to fear after binge-watching back-to-back bloodbaths, was even wandering towards the overpriced refreshments I could nip out and nab. 
Now, with the benefit of hindsight and a puddle of cold sweat in my wake, I thank the film gods that I didn't step out for Coke Zero and mixed popcorn combo. If I had answered the siren song of the snack stand, I would've missed Laugier's intricate unpicking of early expectations: the foreshadowing here is made of subtle stuff, and the scares never crop up quite where you'd predict.
Ghost Land opens in a flashback of sorts, with single mum Pauline (played with quiet charm by French pop star Mylène Farmer) relocating her two daughters into a rickety old house. This creaky, creepy home was recently bequeathed by a dearly departed relative, who clearly had a penchant for collecting old dolls.
Ad – content continues below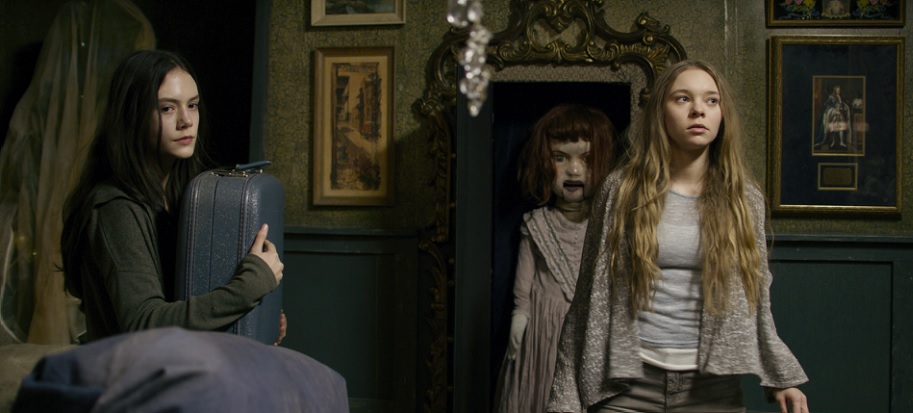 If you're expecting another spin on the Annabel/Chucky/[terrifying toy of your choice] formula, or perhaps a family-goes-nuts thrill fest akin to Hereditary , you'll want to reset those expectations, let go of the wheel and Ghost Land take you where it wants to go. I knew, going in, that there was a home invasion story in the film, but even that foreknowledge didn't protect me from the many horrors in store.
To save you from knowing too much and having the scares spoilt, this review won't delve any deeper into plot specifics. Instead, some thoughts on how  Ghost Land made us feel: in just 91 minutes, there was paralysing dread, hand-on-mouth gasps, and plentiful moments of pure silence among the audience. A mountain of tension has mounted by the film's midway point, and it stays at nerve-jangling levels all the way to the end. We've not witnessed such a nervously inaudible audience since A Quiet Place .
Laugier orchestrates every element of Ghost Land to achieve this anxious atmosphere: the set design constantly unveils unnerving new corners, Todd Bryanton's score shifts on a sixpence between plonky pianos and palpable parps of ominous bass, the camerawork never lets you sit still, and the core action is jumpy in every sense of the word. There are jump scares, jump cuts, jumps in time and even a logical leap or two to keep you on your terrified toes.
To stop us slumping to the floor or storming off because we evidently can't handle terror as well as we thought, Laugier sticks to his core cast like glue and uses their raw emotional performances to keep us entrenched in the experience. We only know a select few details about the family members on display – one of them is a huge H.P. Lovecraft geek, for example – but there's something universal in their panicked survival attempts and relatable family squabbles that makes it impossible to disengage from their story. Special mention should go to Emilia Jones and Taylor Hickson, who make emotional heavy lifting look easy in their sisterly central roles.
Its villainous presence is the only area in which Ghost Land really falls down. The evildoers of the movie don't feel like particularly woke choices in 2018, and it's a shame that conscious script decisions must have been made in order to bring these baddies to life. They're scary, sure, but we felt a bit uneasy at times watching these characters – who are very specific sorts of people – being presented as demented foes, without any explanation being given regarding their backstories or motivations. Thankfully, this uneasy feeling doesn't detract from the frightfulness on display; if anything, it throws another hard-to-handle emotion into a cocktail of fear and dread.
When Incident In A Ghost Land comes to its close, you'll feel like you've battled through the longest 91 minutes of your life (or at least the longest 91 minutes in recent memory). Rarely does a running time so short feel this emotionally exhausting, which is all down to the Laugier's masterful knack for cranking up the tension at all times while pulling in ever-closer to the trauma on display. It may have its troubles, and it will surely leave you terrified, but mostly this is just terrific filmmaking.
The full FrightFest schedule is avaiable online .
Get the best of Den of Geek delivered right to your inbox!
Rob Leane | @robleane
Rob Leane has written for this loveable website for over five years. In his spare time, he's caught hundreds of Pokémon and sunk days of his…
Your Home for Horror
Content Contributors
Contributor Needs
Sponsored Posts
Mission Statement
Solidarity Statement
Submissions
Around the World in 80 Films (Foreign Horror)
Ask Us Anything
Reel Review: Incident in a Ghostland (2018)
"Incident in a Ghostland" is a beautiful, violent, and heart wrenching film from the creator of MARTYRS; a difficult watch but one that needs to be seen.
I was not in the greatest mental place to watch INCIDENT IN A GHOSTLAND for this review. Over the past couple of weeks I had watched MARTYRS (2008) for the first time, and watched EUTHANIZER for this site (review here ). Both MARTYRS and EUTHANIZER are punches to the emotional gut and left me drained after watching them. They are both fantastic movies, but are difficult to watch because of the on-screen violence and the feelings the characters and story evoke.
To be fair, the Editor-In-Chief of Morbidly Beautiful gave me a warning about INCIDENT IN A GHOSTLAND when I requested the opportunity to review this movie, but I wanted to watch it anyway and figured that, like celebrity deaths, misery comes in threes.
A single mother of two daughters, Pauline (Mylene Farmer), is moving her family into a house she inherited from an eccentric aunt. The house is on farmland that is well isolated. The aunt was a collector of antiques and odd dolls. On the drive to the house, the women are passed on the road by a candy truck which ends up following them to their new home.
The daughters, Beth (Emilia Jones) and Vera (Taylor Hickson), are very different. Beth is a bit of introvert and a writer. Vera is more of a rebellious figure, and more willing to talk back to her mother when warranted or flip a passing candy truck the finger.
As the family settles in for the night, the candy truck pulls into the driveway. Soon after, hell is unleashed onto the family. A hulking man (Rob Archer) is first inside the home, attacking Pauline before turning his attention to Beth and Vera. As the violence dies down, a second person enters the home. Listed in the credits as Candy Truck Woman (Kevin Power), a man dressed as a woman darkly whispers that they are here to play with some dolls.
Pauline, Vera, and Beth survive the attack, and the story fast forwards to 16 years later. Beth has moved to Chicago, gotten married, had a son, and is a successful horror author. Her latest book, and her most successful, is titled "Incident In A Ghostland" and is based on the attack on her family so many years ago. As Beth is celebrating her success, she receives a call from her sister Vera who is in an agitated state. Beth then decides to return to the farmhouse where her real horror happened.
Writer/Director Pascal Laugier does an amazing job evoking brutal physical horror, as evidenced in MARTYRS, but in INCIDENT IN A GHOSTLAND, Laugier emphasizes the emotional and mental toll that violence takes, especially on Beth. As a writer with a vivid imagination, her escape from the invasion isn't always a literal escape as she, at times, burrows into her own mind to avoid the reality of her situation.
The brilliance in INCIDENT IN A GHOSTLAND isn't just in the attack and violence, but in the way Laugier brilliantly merges reality and the fantasy of Beth's mind until, like Beth, we do not know what the real story is and what Beth is making up.
The ending of INCIDENT IN A GHOSTLAND is, perhaps, a happy ending. But Laugier continues to muddy the water and leaves a final shot that is open to a multitude of different interpretations.
The movie is beautifully shot, the colors are muted, and Laugier knows how to ramp up tension and horror in a scene. The villains, one being a slow-thinking brute and the other a man dressing as woman, will be problematic to some. The focus on the brutalization of women can come across as misogynistic, especially when MARTYRS is taken into account. But that may be the point as well.
I believe Laugier is making a statement about movies like HOSTEL or Rob Zombie's 31, and the stereotypes of violence and caricatures of villains used to carry out that violence. Is there a message or not in this film? Your answer will depend upon your interpretation of the final shot.
INCIDENT IN A GHOSTLAND is one of the finest horror movies of 2018, but it won't have the same impact on audiences as something like HEREDITARY or GET OUT. The so-called mainstream movie audience will not accept a movie like INCIDENT IN A GHOSTLAND because of its subject matter and violence.
But don't let that stop you from watching this incredible film when you have the first opportunity.
INCIDENT IN A GHOSTLAND is currently available to rent or buy on VOD and Amazon Prime.
Related Posts:
Amber wrote:
I loved this movie. It really messed with my head!!!! But it pisses me off that you can't rent the shit anywhere. Now how dumb is that??
The Angry Princess wrote:
Hello. It's available for rent on major platforms like Amazon Prime, YouTube, and Vudu. But it's also streaming right now on Shudder if you happen to have that service. If not, there is a free trial available to see if you like it. I highly recommend it!
Leave a Reply Cancel reply
This site uses Akismet to reduce spam. Learn how your comment data is processed .
Author Spotlight
Patrick krause.
Email Notifications
Sign up to receive weekly recaps of all Morbidly Beautiful posts
Guilty Pleasures
She's a lover, he's a fighter. Together, they're CHEER AND LOATHING. Tune in to hear your hosts, Stephanie (Cheer) and Casey (Loathing), clash over the films they love — and the ones they love to hate.
Welcome to NO NOTES, the show where three cerebral cinephiles take a break from chatting guilty pleasures to discuss cinematic treasures. Each month, we'll take turns selecting a film we believe to be virtually flawless, one that had a significant impact on our lives and/or helped shape the film lover we became. 
For our third episode, it was Jack's pick. He picked a film thundering with two-person tension, one that fills in the blockbuster gaps with small-stakes storytelling, and one that proves that sticks and stones may NOT be the only harmful things, after all.
Whether you've been keeping time with this podcast from the very beginning or are just now finding the tempo, we are happy to have you with us as we strike the gong and focus our percussive pontification on this No Notes pick, featuring a decidedly un-Christmas-like little drummer boy, 2014's WHIPLASH.
Send in a voice message: https://podcasters.spotify.com/pod/show/guilty-pleasures-film/message Support this podcast: https://podcasters.spotify.com/pod/show/guilty-pleasures-film/support
Popular Posts
Recent posts.
Recent Comments
K on Reel Review: Subject (2023)
Candace on The Real Life Horror of "Mandy"
Big Bren on Artist Spotlight: The Grimm-Life Collective (Interview)
Stephanie Malone on Video Rewind: Toy Soldiers (1991)
Chuck Driskell on Video Rewind: Toy Soldiers (1991)
[email protected]
Stephanie Malone, PO Box 152721, Austin, TX 78715
Hungry for more killer content? Sign up for our FREE weekly newsletter to ensure you never miss a thing.
You'll never receive more than one email per week, and you can unsubscribe anytime.  
What Ghost Stories and Haunted Houses Tell Us About American History
T he U.S. may be a relatively young country, but it has its fair share of ghost stories and haunted houses . And according to Colin Dickey, author of Ghostland: An American History in Haunted Places , most of those myths tells us something about our society's fears and anxieties.
Dickey toured America's most famously creepy buildings to research his book, and found that people often use "the language of ghosts and the language of hauntings to get at other aspects of culture in American society," he tells TIME. "When there's something curious that doesn't belong, that nobody has an explanation for, the language of ghosts becomes a way of giving that place a sense of history."
Take the Winchester Mystery House in San Jose, Calif., the residence of the widow Sarah Winchester. Sarah married into the Winchester Rifle Company family and lost both an infant and her husband early in her marriage. Legend has it she became convinced her house was haunted by everyone ever killed with a Winchester rifle, and her house became an unfinished project of complicated architecture meant to keep those spirits at bay, based on advice she received from a psychic.
When Dickey looked into it, he found that a lot of the so-called legend was actually true. But he also found that the part people tend to focus on—her idea that the house was haunted—was not the most significant element of the story.
"Here was a woman who was living alone, who never remarried and thus was living outside of the cultural norm of what would be expected of her particularly in the second half of the 19th and early 20th centuries. This figure of a kind of anomalous spinster who didn't go out as much, who had a lot of wealth but spent it somewhat idiosyncratically—these are the kind of factors that will often feed a ghost story," he says. "I think a story like that often reflects more of our attitudes about single women, towards the wealthy, and in Sarah Winchester's case our attitudes towards our anxiety about guns and the 'winning of the west.'"
Get your history fix in one place: sign up for the weekly TIME History newsletter
A similar Freudian displacement takes place at Lemp Mansion in St. Louis, home to a German-American family whose beer brand, Falstaff, was a rival to Pabst and Anheuser-Busch. After a series of financial and personal setbacks in the early 20th century, several members of the family committed suicide—leading onlookers to believe the house must have been haunted by spirits that drove them to their deaths.
"From the non-paranormal perspective," Dickey says, "here is a family that may very well have been suffering from undiagnosed depression or other medical ailments that went untreated. It manifested itself in this way that people seize upon for its supernatural aspect as a way of sidestepping these concerns about depression and mental health."
Though Dickey also writes about hotels, abandoned asylums and prisons that are rumored to have spirits hanging about, houses are the focus for a reason.
"The home represents safety, it symbolizes achieving the American dream, it symbolizes wealth and affluence," Dickey says. "And so the haunted house is kind of the inversion of all that. It's the place that should be safe and welcoming and warm, but it's become scary and terrifying. It's become uncanny in the literal German sense of the word, which is unheimlich , or unhomely, not home-like."
Ghostland approaches phantoms as metaphors for what ails our society, but of course many people actually believe that ghosts are real—polling hovers around a third of Americans who say they believe. But Dickey pleads the Fifth on his own belief.
"What I realized really early on," he says, "is that if somebody believes in ghosts and you try to disprove that to them, it's not going to work."
The Families of Israelis Held Hostage By Hamas Speak Out
As War Rages in Gaza, Violence Surges in the West Bank
The Human Toll of Poland's Strict Abortion Laws
How Giant Corporations Can Still Get Out of Paying Taxes
The Ending of  Killers of the Flower Moon  Is Astonishing
The Best Inventions of 2023
The 100 Best Mystery and Thriller Books of All Time
Want Weekly Recs on What to Watch, Read, and More? Sign Up for Worth Your Time
Contact us at [email protected] .
Explained movies
Explained Songs
Meaning Books
Selection Movies
Movie Meaning
Ghostland Explained: What's Up With the Ending?
The Mission Is To Get Out Of Ghostland (also known as Incident in a Ghostland) (2018): The Solution To The Popular Thriller.
Country: Canada, France
Genre: horror, thriller, drama
Year of production: 2018
Directed by: Pascal Laugier
Cast: Crystal Reed, Mylene Farmer, Anastasia Phillips, Emilia Jones, Taylor Hickson
tagline: "Did you really think you were scared?"
Awards and nominations: "Grand Prix 2018", audience award, 25th place at the International Fantastic Film Festival.
Ghostland is a spectacular horror film that has many moments that make even horror fans shudder. The premiere went off with a bang, but at the same time, many viewers left a feeling of understatement after watching. Let's try to figure out what the meaning of the film "Ghostland" is.
Plot Analysis
Let's start the description with the first frames. Ghostland begins with Pauline Keller, along with her daughters Beth and Vera, going to the house they inherited after the death of their aunt Clarissa. This is an old mansion located in a sparsely populated area. On the way, the family catches up with a white van, and Vera, inflamed after a skirmish with her sister, shows the driver the middle finger.
At the gas station where the family is staying, Beth reads a newspaper that reports on unknown people who kill parents and spend the night with their children.
The new house has a lot of dolls that Clarisse collected. The family is just laying out things, when suddenly a couple of maniacs appear in their house: a crazy fat man and an equally crazy woman (or a man dressed as a lady). The fat man drags the girls into the basement, but Pauline, protecting the children, kills both maniacs.
Then the content of the film takes the viewer several years ahead. Beth, who has been writing horror stories since childhood, has become a well-known writer. She is successful and rich, she has a loving husband and son. One day Beth's world collapses. She receives a call from her sister Vera, who continues to live with her mother in the old house, but has not been able to recover from her encounter with the criminals. Beth drives home, where she witnesses a horrifying sight. Pauline takes care of the house and often drinks cheap beer. Vera lives in the basement and injures herself, believing that the ghosts of maniacs are punishing her.
Soon, Beth notices strange things. These are incomprehensible sounds and the inscription on the mirror "Help me!". She hears voices, and one day she sees a fat man in the house. Then the second maniac grabs her, who says that they have already broken her sister and now it's Beth's turn.
From the blow, the girl loses consciousness and comes to her senses already badly beaten. She cannot find her mother and does not believe her sister, who is trying to explain to her the real state of affairs. It turns out that adulthood is just a figment of her imagination. In reality, she continues to live in the house. The girls' mother, who tried to fight back the maniacs, died. The sisters hide in the basement of an old mansion, and the criminals visit them, subjecting them to various bullying.
Beth is destined to be a fat man's doll. He is absolutely abnormal, but at the same time he loves to play with dolls. A man does not see the difference between a toy and a living person, loves to twist the fingers of his victims and burn the skin with a lighter. At the same time, he becomes furious if the doll tries to talk to him or cries. Taking advantage of the mental retardation of the madman, she manages to escape and even save her sister. The girls wander across the field and out to the highway. Here the police try to help them, but the maniac in the form of a woman kills the patrolmen, again pushes the girls into the van and brings them back to the house.
The consciousness of Vera again transfers her to an imaginary world, where she is an adult and successful. However, she sees her sister and decides to return to help her. At the end of Ghostland, a policeman appears to save the girls. As the victims are being loaded into the ambulance, Beth sees the ghost of her mother in the second floor window. Finale, credits.
Ending explanation
"Ghostland" ends with a happy ending, so in general, additional explanations are unnecessary here. However, there is one point that deserves attention. This is the scene where Beth is talking to the ER doctor. The guy asks what the girl is doing. She replies that she writes stories.
This is the key idea of ​​the whole story. Thanks to this scene, the meaning of the ending of the film "Ghostland" changes somewhat. The girl is a writer with a well-developed imagination. Moreover, in her fictional world, her most successful book was Ghostland. In this interpretation, the explanation of the ending can be as follows. Beth will write her book based on the events that really happened in her life, she will become the most successful lady that the audience saw in the film.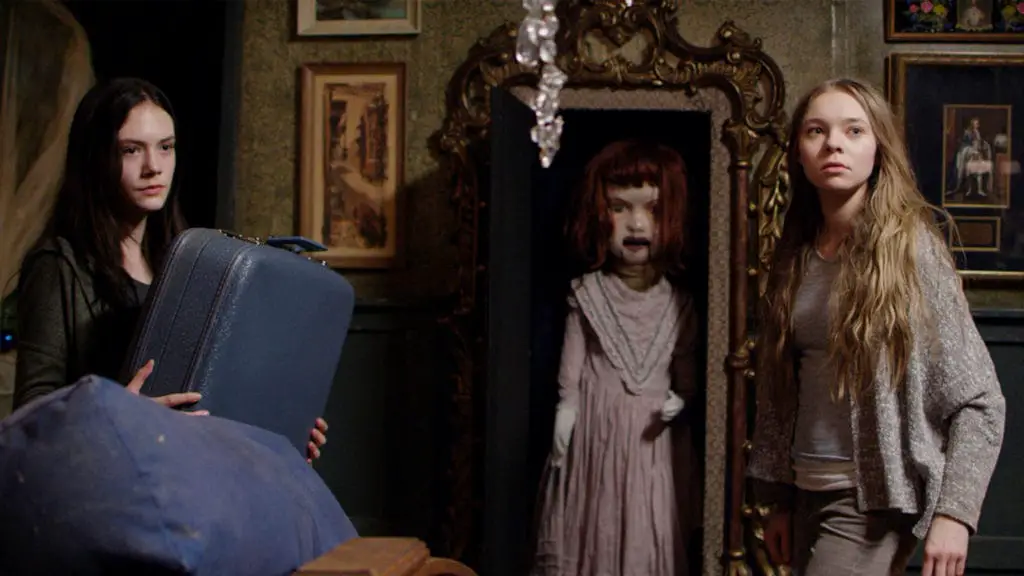 The meaning of the film
The essence of the film is as clear as the ending. Beth fancies herself a writer, and even gives herself interviews. This entry was found in her diary by her sister. At the same time, the girl's psyche is unable to cope with the stress that she experienced as a result of the attack of maniacs.
Her consciousness turned off, and her imagination created a cozy little world where Beth hid from the terrible reality. In the middle of Ghostland, Beth is normal and Vera is insane. In reality, it's the other way around. Beth has abstracted from reality, and events begin with Vera's attempts to return her. This concerns the phone call that brought the girl home, the inscriptions on the mirror.
When Beth falls into the imaginary world again, she quite meaningfully returns back. The girl makes a choice in favor of her sister. She understands that she is scared and lonely, so she leaves her cozy little world where she is comfortable and safe, returns to a reality filled with pain and fear.
However, in the film "Ghostland" there is a hidden meaning. It consists in the fact that you should not commit thoughtless acts. Perhaps the whole story would not have happened if Vera had not given the van driver the middle finger. This definitely hooked the maniac who brought the fat man to this particular house. At the same time, according to the meaning of the film, Vera paid in full for her recklessness.
She was left alone with her fears, endured a lot of bullying and humiliation before she managed to bring her sister back to reality. It is in this reckless gesture of Vera that the main clue of the film lies. We are always responsible for our actions, but sometimes we pay a very high price for them.
Is Incident in a Ghostland Based on a True Story? The Shocking Truth Behind the Horror Film
Introduction.
Incident in a Ghostland is a 2018 horror film that follows a mother and her two daughters who are brutally attacked by intruders in their new home. The film explores the psychological effects of trauma and the power of imagination as the sisters cope with their horrific ordeal in different ways. But is Incident in a Ghostland based on a true story? Is there any real-life inspiration behind the film's disturbing plot and characters? In this article, we will try to answer these questions and reveal the shocking truth behind the horror film.
The Film's Plot
The film begins with Colleen and her teenage daughters Beth and Vera moving into their recently inherited house from their aunt Clarisse. The house is filled with creepy dolls and antiques that make the girls uneasy. Beth, an aspiring horror writer, reads an article about a series of home invasions where parents are killed and daughters are spared. Soon after they arrive, they are attacked by two intruders: a large mentally impaired man known as the Fat Man and a cross-dressing woman known as the Candy Truck Woman. They torture and abuse the family, killing Colleen and leaving the sisters traumatized.
The film then jumps to 16 years later, where Beth is now a successful horror author living in Chicago with her husband and son. She has written a novel called Incident in a Ghostland, based on her experience that night. She receives a phone call from Vera, who still lives in the house with their mother, who survived the attack. Vera begs Beth to come back, claiming that their tormentors are still after them. Beth returns to the house, where she finds Vera locked in a padded room in the basement, suffering from delusions. Beth begins to experience strange dreams and visions, and Vera tells her to face the truth.
It is then revealed that Beth has been imagining her adult life all this time, as a way of escaping from the reality of her captivity. In fact, she and Vera are still teenagers, and the Fat Man and Candy Truck Woman have been holding them hostage in the house for 16 years, making them look like dolls and abusing them regularly. Beth realizes that she has been writing stories in her diary as a coping mechanism, and that Vera has been trying to wake her up from her fantasy. The film ends with Beth managing to kill the intruders and free herself and Vera from their nightmare.
Is It Based on a True Story?
No, Incident in a Ghostland is not based on a true story. The film is written and directed by Pascal Laugier, a French filmmaker known for his extreme and violent horror films, such as Martyrs (2008). Laugier has stated that he was influenced by various horror genre tropes, such as the haunted house, the creepy dolls, and the twisted villains. He also said that he wanted to explore the theme of trauma and how it affects people differently.
However, some aspects of the film may have been inspired by real-life events or cases. For example, the home invasion scenario may have been influenced by the infamous Manson Family murders of 1969, where Charles Manson and his followers broke into several houses in Los Angeles and killed nine people, including actress Sharon Tate. The Manson Family also left messages on the walls with blood, similar to how the Candy Truck Woman writes "I love you" on the mirror in the film.
Another possible inspiration for the film may be the case of Colleen Stan, also known as "the Girl in the Box". Stan was kidnapped by Cameron Hooker and his wife Janice in 1977, when she was hitchhiking in California. She was held captive for seven years, during which she was tortured, raped, and forced to live in a wooden box under Hooker's bed. She was also brainwashed into believing that Hooker was part of a secret organization that would kill her if she tried to escape. Stan eventually managed to escape with the help of Janice, who turned against her husband.
The film's villains may also have some resemblance to real-life serial killers or criminals. For instance, the Fat Man may be based on Ed Gein, who was notorious for killing women and making trophies out of their skin and bones. Gein also had a fascination with female anatomy and cross-dressing, similar to how the Fat Man wears women's clothes and makeup. The Candy Truck Woman may be based on Dean Corll, who was known as "the Candy Man" because he lured young boys with candy before killing them with his accomplices. Corll also had a candy truck that he used to transport his victims.
Incident in a Ghostland is a horror film that depicts the horrific ordeal of two sisters who are attacked by intruders in their new home. The film is not based on a true story, but it may have some elements that are inspired by real-life events or cases. The film is a psychological thriller that explores the theme of trauma and how it affects people differently. It also challenges the viewers to question what is real and what is imagined, as the film switches between different perspectives and timelines. Incident in a Ghostland is a film that will leave you shocked and disturbed, but also intrigued and fascinated.
Leave a Reply Cancel reply
Your email address will not be published. Required fields are marked *
Save my name, email, and website in this browser for the next time I comment.
The Definitive Voice of Entertainment News
Subscribe for full access to The Hollywood Reporter
site categories
'ghostland': film review.
French director Pascal Laugier ('Martyrs') takes another stab — make that multiple stabs — at the horror genre in 'Ghostland,' an English-language feature co-starring Mylene Farmer.
By Jordan Mintzer
Jordan Mintzer
Share this article on Facebook
Share this article on Twitter
Share this article on Flipboard
Share this article on Email
Show additional share options
Share this article on Linkedin
Share this article on Pinit
Share this article on Reddit
Share this article on Tumblr
Share this article on Whatsapp
Share this article on Print
Share this article on Comment
Just when you thought it was safe to move to an isolated country house filled with creepy antique dolls, dead bugs and way too much floral wallpaper, in comes Ghostland , a violently twisted take on the home invasion tale from French horror junkie Pascal Laugier .
Like the director's gory debut, Martyrs , which took the torture porn genre to untold levels of unpleasantness, this taut — if somewhat corny — slasher flick once again features two young women subjected to all kinds of abuse both real and imaginary (though mostly the former) as they're locked inside by a pair of first-rate psychopaths. Why any of this happens remains unclear, although Laugier does make some inventive narrative moves to render his Franco-Canadian, English-language effort more interesting than it should be. Still, it's neither for the faint of heart nor the sharp of mind, which should turn it into perfect VOD fodder for most territories.
Related Stories
Wme owner endeavor looking at "strategic alternatives" for company assets, in the midst of war, this israeli-palestinian couple is turning their relationship into a tv series.
Following in the footsteps of fellow Frenchies Alexandre Aja ( High Tension ), David Moreau and Xavier Palud ( Them ), and Alexandre Bustillo ( Inside ), Laugier tackles the well worn trapped indoors scenario with a considerable amount of carnage, trailing teenage sisters Beth (Emilia Jones) and Vera (Taylor Hickson ) as they move out to the boondocks with their single mom, Pauline (Gallic pop star Mylene Farmer).
With news reports of killings in the region, and an extremely menacing candy truck roaming the neighborhood (because, why not?), it doesn't take long for the girls to fall victim to a prolonged and vicious attack right at their doorstep. After their mother is brutally sacrificed on the kitchen table, Beth and Vera hide down in the basement as a mentally handicapped ogre (Rob Archer, credited as "Fat Man") and his witch-like guardian with an Iggy Pop vibe (Angela Asher) subject them to an array of cruel and usual punishment.
But wait — was it all just a nightmare? That's what we're led to believe when Beth (Crystal Reed) wakes up screaming a decade or so later in a comfy Chicago highrise . Not only is she a happily married mother, but she's also a bestselling macabre author whose latest book (entitled "Incident in a Ghostland" ) details the very incident seen at the start of the film. No sooner is this made clear then she receives a terrifying call from her sister, Vera (Anastasia Phillips), who still lives in that haunted house with their mom, prompting Beth to go back and visit the source of her trauma.
Another major twist is still in store, with Laugier jumping between past and present, dream and reality, to keep catching the viewer by surprise. The structure feels fairly novel for such a B-grade fright-fest — call it Last Year at Amityville — but it's soon outdone by the litany of torturous scenes that the director piles on one after the other.
Like Martyrs , though with less gore, Ghostland seems single-mindedly obsessed with the idea of making young women suffer. In this case, Laugier subjects Beth and Vera to the ogre's pedophilic sadism, which includes dressing them up like dolls, stroking them, smelling their vaginas to see if they are menstruating, then savagely beating and raping them on the floor. It's all rather painful to sit through, with each scene teased out for maximum stomach-churning tension.
Laugier tries to frame — perhaps even justify — the nonstop nastiness through Beth's obsession with the great early 20 th century horror writer H.P. Lovecraft, who even makes a cameo appearance. But while the latter conveyed fear in his stories through suggestion and cultish fantasy, Laugier can only double down on the violence at every step, tossing in tons of prosthetics to show in sinister detail what a grown man's fist can do to a girl's face. You can't exactly call that "Lovecraftian."
Still, the director deserves a bit of credit for trying something different here — even if, for his second film in English after 2012's The Tall Men , he could have brushed up more on his dialogue, which rings awfully flat. In terms of chills, Ghostland does however deliver a few good ones in the jump scare mode, with DP Danny Nowak and production designer Gordon Wilding contributing to the atmosphere of sustained dread.
Fans of Farmer, who was the Gallic equivalent of Madonna in the late '80s and throughout the 1990s , may be either amused or appalled to see their favorite singer beaten to a pulp, stabbed repeatedly and pronouncing her lines with an unruly French accent.
Production companies: 5656 Films, Mars Films, Logical Pictures Cast: Crystal Reed, Anastasia Phillips, Emilia Jones, Taylor Hickson , Mylene Farmer Director, screenwriter: Pascal Laugier Producers: Clement Miserez , Jean-Charles Levy, Matthieu Warter , Nicolas Manuel, Ian Dimerman , Scott Kennedy, Sami Tesfazghi , Brendon Sawatzky Executive producers: Stephane Celerier , Gregoire Melin , Frederic Fiore Director of photography: Danny Nowak Production designer: Gordon Wilding Costume designer: Brenda Shenher Editor: Dev Singh Composer: Todd Bryanton Casting director: Carmen Kotyk Sales: Kinology
THR Newsletters
Sign up for THR news straight to your inbox every day
More from The Hollywood Reporter
'leave the world behind' review: julia roberts and mahershala ali in sam esmail's not quite satisfying dystopian vision, david fincher says canceled 'world war z' sequel would have been a "little like 'the last of us'", what the 'leave the world behind' adaptation (and a julia roberts-starring role) means to rumaan alam, 'suitable flesh' director joe lynch talks his lovecraft adaptation and bringing eroticism back to movies, anthony hopkins, matthew goode debate the existence of god as sigmund freud and c.s. lewis in 'freud's last session' trailer, 'perfect days' star koji yakusho on the making of wim wenders' oscar contender.
Advertisement
Supported by
Haunted Houses Are About More Than Just Ghosts
Apple Books
Barnes and Noble
Books-A-Million
When you purchase an independently reviewed book through our site, we earn an affiliate commission.
By Tiya Miles
GHOSTLAND An American History in Haunted Places By Colin Dickey 320 pp. Viking. $27.
Whether or not ghosts are real is beside the point, Colin Dickey tells us in the first lines of "Ghostland." Rather, what compels him in this appealing book is the meaning of haunted places in contemporary American culture. "How do we deal with stories about the dead and their ghosts?" Dickey asks. "How do we inhabit and move through spaces that we have deemed haunted?"
To answer those questions, Dickey, a writer who has produced eerie studies of historical and anatomical oddities, turns his ever curious eye to the widespread phenomenon of hauntings — to the lure of ghostly places for visitors and the impact of these places on local communities. The spectral map Dickey creates is as broad and packed as his book's title implies. He visits haunted houses (the most prevalent of spooky places, he explains with a fascinating aside about memory palaces), haunted businesses, prisons, asylums and cemeteries across the contiguous United States — from New England, New York, the South and Midwest to the Rocky Mountains, Southwest and Pacific Coast. As he interweaves a series of perceptive insights on architecture and human psychology, technology and ghost hunts, not to mention haunting as social control, Dickey shows how haunted places reveal what troubled us before and what troubles us now.
Dickey concludes that ghost stories attached to particular places often contain social anxieties and unsettled issues from the past. Although these ghost stories recall difficult realities — like the wrongful execution of minorities in the case of the Salem "witches," the physical and emotional abuses of slavery, resistance to women's independence, and tensions between the rich and the poor — they fail to achieve a public reckoning with historical injustice. Ghosts, Dickey asserts, are a "convenient metaphor for a whole host of problems not connected to the supernatural," and talking about them "becomes a means to process or make sense of experiences that can otherwise seem overwhelming or mystifying."
"Ghostland" amounts to a lively assemblage and smart analysis of dozens of haunting stories, some better known than others. In each chapter, Dickey spins riveting tales and then carefully unwinds these narratives, exposing the materials and motivations of their construction. At the House of the Seven Gables in Salem, Mass., made famous by Nathaniel Hawthorne, Dickey learns that the haunted hidden staircase that has long enthralled tourists was never even seen by Hawthorne; it was added by restorers more than half a century later. At the Mustang Ranch, a brothel near Reno, Nev., which Dickey describes as the site with the "strongest evidence of the paranormal" of all the places he visited, he nevertheless hypothesizes that the propensity for female employees to witness ghosts stems from the extreme stress of their work lives.
The most fascinating moments in "Ghostland" are Dickey's etymological musings (on terms like "haunt," "cemetery," "ruin porn" and "ghost town") and his many turns down unusual paths of American history. His discussion of the links between 19th-century Spiritualism, the early feminist movement and contemporary New Age beliefs; his account of the red dwarf who is said to have haunted Detroit since the city's founding, in 1701; and his recognition that ghost stories can aid the work of historic preservation: All of these are absorbing. While many of the ghost stories he recounts can be found in academic treatments as well as lighthearted local guides, with "Ghostland," Dickey achieves a capacious geographical synthesis that is both intellectually intriguing and politically instructive.
Tiya Miles's most recent books are "Tales From the Haunted South: Dark Tourism and Memories of Slavery From the Civil War Era" and "The Cherokee Rose: A Novel of Gardens and Ghosts."
Explore More in Books
Want to know about the best books to read and the latest news start here..
In "Romney: A Reckoning," the journalist McKay Coppins takes stock of Senator Mitt Romney's career  as the politician prepares to retire from elective office.
In a new memoir, the actor John Stamos talks about honesty, sobriety and his grief  over Bob Saget's death.
The novelist Jesmyn Ward is mapping new territory in an effort to reimagine Southern literature .
Do you want to be a better reader?   Here's some helpful advice to show you how to get the most out of your literary endeavor .
Each week, top authors and critics join the Book Review's podcast to talk about the latest news in the literary world. Listen here .
Uh-oh, it looks like your Internet Explorer is out of date. For a better shopping experience, please upgrade now.
Javascript is not enabled in your browser. Enabling JavaScript in your browser will allow you to experience all the features of our site. Learn how to enable JavaScript on your browser
Ghostland: An American History in Haunted Places
$15.99 $18.00 Save 11% Current price is $15.99, Original price is $18. You Save 11%.
SHIP THIS ITEM Qualifies for Free Shipping Choose Expedited Shipping at checkout for delivery by Monday, October 30 Instant Purchase
Available within 2 business hours
Want it Today? Check Store Availability
Related collections and offers
Product details, about the author, read an excerpt, table of contents.
Excerpted from "Ghostland" by . Copyright &copy 2017 Colin Dickey. Excerpted by permission of Penguin Publishing Group. All rights reserved. No part of this excerpt may be reproduced or reprinted without permission in writing from the publisher. Excerpts are provided by Dial-A-Book Inc. solely for the personal use of visitors to this web site.
Related Subjects
Customer reviews, related searches, explore more items.
The mainstream media has misinformed us for years about UFO studies conducted by highly regarded scientists associated with some of the
Do you believe in ghosts? From incubi in Sumatra to exorcism in Sudan to spirits in our own backyard, The Dead Roam the Earth
Are you afraid of the dark? You should be. Terrifying True Stories features real ghost stories, truly haunted places, and creepy paranormal experiences told by the actual person who lived through it! You'll be transported to an immersive world of evil spirits, supernatural creatures, and true horror. Hosted by award-winning documentary filmmaker Ryan Azevedo. These are more than just "scary stories." These stories will haunt your dreams. For a more extreme experience, listen with the lights off.
Terrifying True Stories Terrifying True Stories
Society & Culture
5.0 • 7 Ratings
SEP 30, 2023
My Haunted Childhood
What do you do when the ghost that haunted your childhood home follows you to your new house halfway across the country? That is exactly what happened to the person in tonight's story. Terrifying True Stories podcast features REAL ghost stories about haunted places and creepy paranormal experiences told by the actual person. Terrifying True Stories delivers you to an immersive world of evil spirits, supernatural creatures and true horror. These are more than just "scary stories" these are terrifying true stories that will make you feel like you are there.
Can't Get Out
Meet a man that lived in a historic bank building that was robbed by the notorious American bank robber Jesse James in 1876 where he encountered a tenacious entity that physically wouldn't let him leave. Terrifying True Stories podcast features REAL ghost stories about haunted places and creepy paranormal experiences told by the actual person. Terrifying True Stories delivers you to an immersive world of evil spirits, supernatural creatures and true horror. These are more than just "scary stories" these are terrifying true stories that will make you feel like you are there.
Cat From Hell
So who do you call when the sweet cat you raise from a kitten becomes possessed by something truly evil? Then it starts yelling at you in human voices. Then it tries to kill you. Tonight's guest called in the church when it happened to her and blood was spilled when they encountered the cat from hell. Terrifying True Stories podcast features REAL ghost stories about haunted places and creepy paranormal experiences told by the actual person. Terrifying True Stories delivers you to an immersive world of evil spirits, supernatural creatures and true horror. These are more than just "scary stories" these are terrifying true stories that will make you feel like you are there.
The Soul Sucker
What do you do when there is something evil in your partner's house that is actively trying to steal your soul while you sleep?!? That's what tonight's guest experienced when she met "The Soul Sucker." Terrifying True Stories podcast features REAL ghost stories about haunted places and creepy paranormal experiences told by the actual person. Terrifying True Stories delivers you to an immersive world of evil spirits, supernatural creatures and true horror. These are more than just "scary stories" these are terrifying true stories that will make you feel like you are there.
005: LA's Haunted Globe Theater
A photographer who is clairvoyant encounters a spirit "mid-torture" at one of the most haunted theaters in Los Angeles underneath the stage at LA's haunted Globe Theater. Daniel was a photographer at one of the most haunted theaters in Los Angeles. He also happens to be clairvoyant. Tonight's story is about the entity he encountered underneath the stage at LA's haunted Globe Theater. DANIEL: My name is Daniel and I'm a multimedia designer and photographer. What that equates to is I'll go around and shoot a lot of nightlife photography videography for different groups across Los Angeles. At the time, this was pre pandemic, I think it was the fall of 2017. I was one of the Globe's lead photographers in the sense, I would go into their spaces and shoot different nightlife like dance, burlesque shows, golf shows, dance parties, LGBT plus anything of that nature. So this whole experience happened on one of the nights in which I was there and photographing a friend's burlesque group Cherry Poppins, at their Game of Thrones parody show.  Growing up, my mom probably came out to me at about the age of 13, or 14, that in her own words, she was a clairvoyant, the way she described at the time when she saw or sensed certain things. She had it very young, she always had it at the age of I think she said, seven or eight, she was actually getting a lot of just flack from her mother because at the age of seven, and eight, she was basically having dreams of like people dying, but she would recognize something about them, and then it would actually come true. And it got I think, as freaky as my mom predicted the death of one of her mom's closest friends, because she saw in a dream and she predicted exactly how it happened.  So the interesting thing going into it was my mom always said that she has three kids. The universe speaks in threes, three different energy levels and stuff. My brother, who's the oldest, he doesn't like any of it. My sister who's the middle child who's three years older than me, she would always try very hard to have the certain ability or whatever, but she just doesn't for whatever reason, not that mean, okay against it.  But then me. I would not even try but I was a natural sensor for things. So the Globe Theater, the idea of different I guess you'd say spaces or locations housing certain energies, theaters, in particular in Los Angeles are very fascinating, because theater, in that sense involves a lot of drama, there's a lot of performance going on a lot of flair, things of that nature. So when you combine certain energies with it, and just over time, things can get a bit murkier. On the Globe's history's like, a bit dark, I would say dark in terms of I don't, I haven't dived in the history, like in full myself. But what I least perceived is a sense of like a certain I would say like a typical like mob or like a different organized crime like nature, fall 2017 to spring of 2018.  In this period of time, my friends will put on different shows. They had a Game of Thrones burlesque parody show. Dduring the show, there's a certain jump that you have to do. By jump I mean, during the show, there's a certain ground that you have to pretty much hop across to get from one photography vantage point to the other photography vantage point in the Globe. What's hard about it is it's built in a way that whatever renovations they did, it's almost like it was built on a different foundation or there's an under space in...
Terrifying True Stories - New Trailer
Are you afraid of the dark? You should be. Terrifying True Stories features real ghost stories, truly haunted places, and creepy paranormal experiences told by the actual person who lived through it! You'll be transported to an immersive world of evil spirits, supernatural creatures, and true horror. These are more than just "scary stories" - they are truly terrifying stories that will haunt your dreams. For a more extreme experience, listen with the lights off.
© Copyright 2023. Terrifying True Stories. All rights reserved.
Customer Reviews
Spooktacular.
This is one of the best podcasts I've heard in a while, and it came at the perfect time. Halloween! I love that I can experience all things halloween and spooky through the podcast even when Halloween has passed. Who needs Christmas and the other holidays when you can have Halloween every day?! The first episode is a great way to start this podcast off. I loved the detail and I actually got pretty scared for a moment! Don't listen by yourself like I did, get a friend or two and experience this creepy and scare-tastic podcast with others!
Top Podcasts In Society & Culture