Our <a href="/studio/">Watch Discovery Studio</a> is open --> THE HOME OF WATCH CULTURE
INTRODUCING: The TAG Heuer Carrera Heuer-02T Tourbillon
The TAG Heuer Heuer-02T Tourbillon has been one of the worst kept secrets of the watch industry for the past 12 months. We saw pictures of it on the walls of TAG's Baselworld booth, and every so often CEO Jean-Claude Biver posts a picture of himself wearing one on Instagram .
In case you haven't been keeping up with the buzz, the Heuer-02T is a big deal for several reasons. Firstly, it adds a flying tourbillon to the hugely popular Heuer-01, with the same 45mm case (now in titanium) as last year's release. That's newsworthy in and of itself – but wait, there's more. The Heuer-02T movement is actually a rebranded version of the infamous on-again off-again CH80 calibre, modified to include the flying tourbillon at six. TAG Heuer are releasing two versions of the Heuer-02T, a regular production piece, and a Black Phantom version with titanium carbide coating and grey Super Luminova, limited to 250 pieces.
Already the Heuer-02T is shaping up to be an important watch, a high-end expression of TAG Heuer's new creative direction, powered by the brand's most significant in-house movement of recent years. But the most astonishing thing about this watch is the price. The regular production version has an RRP of 14,900 CHF, and the phantom is priced at 19,900 CHF. Based on current exchange rates, we expect the regular version will retail for around $20,000 AUD. This is the cheapest Swiss-made, COSC certified automatic tourbillon chronograph ever produced.
There's been a lot of scepticism from the watch-loving community surrounding this, as the usual starting price for a Swiss tourbillon is around the 50,000 CHF mark, and many have asserted that the movement components must have been sourced from Asia. In an (excellent) interview with Calibre 11, Jean-Claude Biver directly responds to this speculation: "I'm ready to show numbers, prices, but then it will hurt the whole industry when you start to show prices! The industry has no other way to fight and find excuses than saying some parts are made in China, which is totally stupid. Nothing is made in China on the movement, of course not. The movement is 100 per cent made in our own company. It's just that we have an organisation, people, an internal productivity that enables us with a normal margin — the usual margins we take on the Formula 1 or the margins we take on the Carrera, the same margins are applied to the cost of the Tourbillon."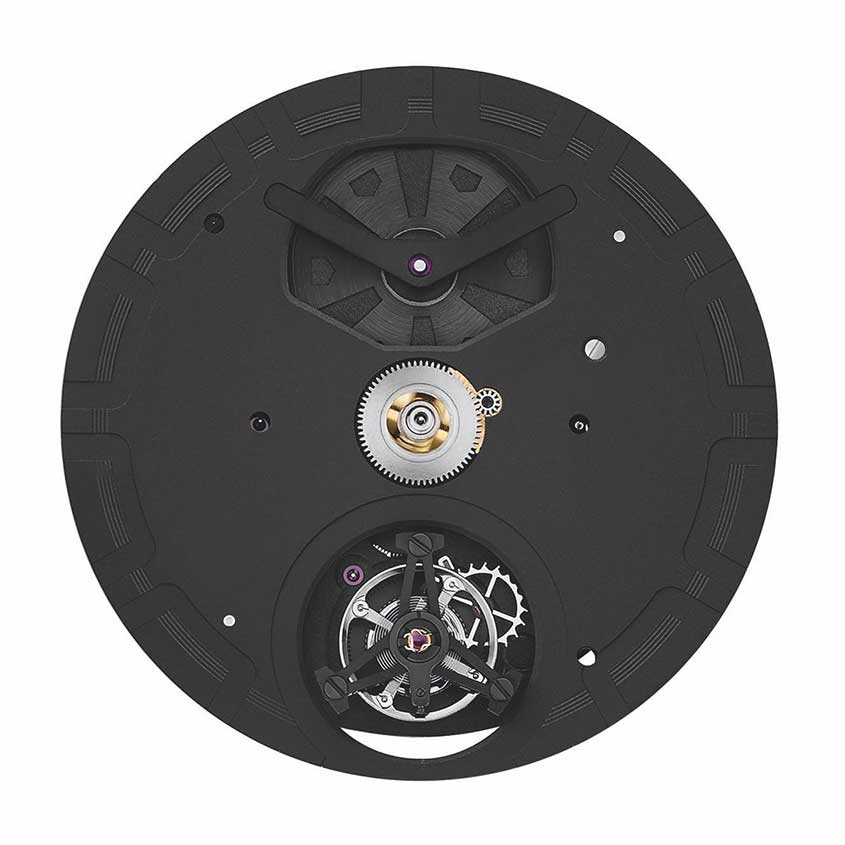 Biver's statement is a shot across the bow of the Swiss industry – an industry he claims is more than comfortable with adding hefty premiums to high complications. Though it lacks the hand-finishing traditionally associated with a tourbillon, there's no denying that this watch, with its COSC certification and TAG's formidable production capacity, is anything but a well-made, reliable watch – just one that's been shifted into a different price-point and perhaps, a different paradigm.
Reframing the tourbillon is a very savvy move; it makes good business sense to release an accessible tourbillon in the current precarious luxury market. But more importantly the Heuer-02 continues to bolster TAG's persona as an aggressively avant-garde game changer.
aBlogtoWatch Monthly Giveaway
Win: Bausele Royal Australian Air Force Centenary 2021
Ulysse Nardin Freak Phantom Watch
This year Ulysse Nardin  changes the name of its Freak Diavolo watch to the "Freak Phantom." I can't say why that is, but I suspect it has to do with conservative types who take issue with the fact that a watch is called "devil." That is the watch industry for you… What else has changed? Well the Diavolo was previously offered only in 18k white gold, and now we have it in 18k rose gold. Still probably one of the coolest tourbillon watches available when you want something that's not standard fare.
The Ulysse Nardin Freak is an extremely important watch in the modern luxury watch landscape. Ulysse Nardin defied much of the industry when it was released in the early 2000s with a movement that used many silicon parts – it was the first. Since then even the most conservative brands such as Breguet and Patek Philippe have decided that silicon (silicium) parts are indeed an upgrade in many instances when it comes to increasing the performance and longevity of a mechanical watch. Today Ulysse Nardin makes both a tourbillon and standard version of the Freak, and it continues to be such cool timepieces.
In the past we offered a full aBlogtoWatch review of the Ulysse Nardin Freak Diavolo here . It was a very positive experience because the Freak deliciously retains the utility and interest of a luxury watch while at the same time being something totally different. How? Well the watch has no crown, uses much of the movement as the minute hand, and somehow seems to be weird yet wonderful at the same time. There is a little tab under 6 o'clock that you lift up while turning the bezel to adjust the time. To wind the Freak you turn the case back. There is even an open window for the large mainspring barrel which allows you to see how tightly wound it is. Fully wound, the Freak has eight days of power reserve.
What the Freak Diavolo, now Phantom adds to the mix is a tourbillon. Where the escapement is normally placed on the Freak, the Freak Phantom has a tourbillon. This is at the non-indicating end of the minute hand. To technically describe it, it is a sort of tourbillon placed in a secondary orbiting carousel-style tourbillon as the entire system moves… as it is part of the minute hand. The Phantom's tourbillon is flying, and uses a sapphire crystal indicator plate for the seconds, which is attractively done.
In the same vein as something like the Corum Golden Bridge, the Freak Phantom gives you an expansive view of the movement. Of course silicon parts (such as the escapement) add to the mix offering lovely shades of blue and purple depending on the light. Once you get used to the Freak dial, it is surprisingly easy to read, though the hour hand can get a bit hidden at times.
The Ulysse Nardin Calibre UN-208 is entirely made in-house and further benefits from operating at a modern 4Hz. We like it a lot, and even if you don't like the look of the Freak it is a mechanism worth respecting. The Freak Phantom watch itself comes in a 45mm wide 18k rose gold case with a strip of vulcanized rubber on the bezel. Note that unlike some of the original Freak models you can finally allow these to be exposed to a bit of water as they are water resistant to 30 meters. Still a beautiful model, the combination of a touribllon and the unique look of the Freak makes it a must-have item for many watch lovers. Ulysse Nardin will produce just 99 piece of the limited edition Freak Phantom ref. 2086-115 watch at a price of $137,000 . ulysse-nardin.com
Tech specs from Ulysse Nardin:
Freak Phantom Reference 2086-115 Limited Edition of 99 pieces Movement: caliber UN-208 – movement indicates the time – 8-day Carrousel – Tourbillon -Small seconds on flying tourbillon (60 Seconds) Power Reserve: more than 8 days, slip-spring Frequency: 4Hz (28'800 v/h) Moment of inertia: 8 mg*cm2, adjusting over 4 screws Hairspring: Silicium 1.1.1.,exclusive Ulysse Nardin design Escapement: Silicium, non lubricated Tourbillon: 1 revolution in 1 minute Orbit: 1 revolution in one hour Winding: manual winding over the back of the case 1 full rotation is equivalent to 12 hours of power reserve Functions: Hour and minutes displayed by the rotation of the movement. Small seconds on flying tourbillon Time setting: unlock device and turn bezel Case: 18 – karat rose gold Diameter: 45 mm
New PHANTOMS LAB APOCALYPTIC FORCE FLYING TOURBILLON Limited Edition Manual Wind
$ 2,295.00
Out of stock
We take trades against any of our watches!!! We also buy watch packages!!
Wow! What a Cool Looking watch! Brand New PHANTOMS LAB APOCALYPTIC FORCE FLYING TOURBILLON with Mechanical Wind TOURBILLON movement! This watch is a true work of art! Brand New condition and a 100% Complete Set with 2 additional Brand New Black Rubber straps! Limited Edition of 100 pieces and this is #18/100!
BRAND: Phantoms Lab
MODEL: Apoctalyptic Force Flying TOURBILLON #18/100
MOVEMENT: Manual Wind TOURBILLON 
CASE: PVD Coated Stainless Steel
CROWN: Screw Down Crown
SIZE: 42mm x 50mm
LUGS: Fitted
DIAL: Blue TOURBILLON Dial
BEZEL: Non-rotating
CONDITION: Brand New
BOXES/PAPERS:  100% Complete Set plus 2 additional black rubber straps! – Everything as shown in pictures!
WATER RESISTANCE: – 50m
STRAP/BRACELET: – 3 – Original Phantoms Lab Blue Rubber Strap with folding Black steel deployment buckle & 2 Additional Brand New black rubber straps.
Let us know what you have in your collection!! I consider all watches in trade! Please upload pictures.
and include details of your trades through my Trade/Buy tab at the top of my homepage.
Brand Spotlight
--> --> Brand Spotlight
Care Guides
--> --> --> -->