INVEST IN WNFC. CLICK TO LEARN MORE
WOMEN'S NATIONAL FOOTBALL CONFERENCE
Team Logo Die Cut Decals
2023 ALL PRO Merch
Pajama Pants
2022 Official WNFC Team Big Face Shorts
adidas Team Logo Shorts
Her Game Tank
Her Game Tee
Her Game Cropped Long Sleeve
Her Game Hoodie
her game beanie
COLOR BLOCK SHORTS
Football Fan Shirt
Long Sleeve Team Logo T-Shirt
WNFC Team Logo Socks
HER  league x HER team Logo Tee
HERstory Tee
adidas Clima Tech Tee (white/black)
Star Wright and the Philadelphia Phantomz make a place for hard-hitting women
For this women's football team and its founder, the motto is 'I can play'
But she had a feeling. The damage to her liver and spleen where the helmet had hit was too great, and the Women's World Championship was too soon. She had bounced back from injuries before, though: a car accident that fractured her skull and crushed her ankle, a shoulder broken during her stint in the Lingerie League, a torn MCL.
The World Championship only comes around every four years, and at 34, this could be her last chance. "I feel like I can play," she told the doctor.
Philadelphia Phantomz founder Star Wright waits nervously as a University of Pennsylvania doctor reviews her charts during an appointment in West Philadelphia.
"I can play." It's a phrase that sums up the determination and athleticism that define Wright's life. It's why she founded the Philadelphia Phantomz, a professional women's tackle football team based in North Philadelphia.
Finishing their second season in June with a record of 4-4, the Phantomz are one of the newer additions to the Women's Football Alliance , which now boasts 65 teams in the United States and Canada and is the largest of three women's tackle leagues in the country, along with the Independent Women's Football League and the United States Women's Football League . They play their home games at Simon Gratz High School in North Philadelphia, where Wright lettered in swimming, basketball and track. Admission is $15, although the players aren't paid.
Most of the women on the Phantomz were standout athletes in their youth. Some turned to football as a new opportunity for competitive play in their 20s and 30s. Others heard about the team from friends and decided to try out, seeking the camaraderie and motivational environment of the team. The 36 women on the Phantomz, who range in age from 18 to 51, often describe the team as a sisterhood.
"We teach women who've never played football, who know nothing about football," said Wright, who plays linebacker and is the team's president. "We teach them the ins and outs, how to compete and how to be players. And I think that contributes to becoming a family, too, like we're friends where we care about each other."
Many team members say that playing football is a chance for women to finally get the recognition they deserve, to prove they don't need to play with men to compete at the highest level.
And let there be no doubt: These women hit hard.
"It's very, very physical," said running back Angie Wells, 30, who led the team in touchdowns this year despite constant knee pain from a previous surgery. "We don't have a lot of subs. You get tired and it's like the 12th round in a boxing match."
"We're trying to make a point here," said linebacker Ebony Fowlkes, 30, an assistant basketball coach at Harcum College in nearby Bryn Mawr and its assistant director of residence life. "We're trying to say that women can do anything."
Members of the Philadelphia Phantoms women's tackle football team practice in Hunting Park in Philadelphia, PA.
Philadelphia Phantomz coaches look on as defensive back Sade "Murda" Buie runs drills at Hunting Park in North Philadelphia, May 31, 2017.
Members of the Philadelphia Phantomz suit up for practice as family members and girlfriends hang out beside them at Hunting Park in North Philadelphia.
Teammates attend to Shantia Creech after she injured her foot during practice at Hunting Park in North Philadelphia.
Star Wright, her children Kyla, 10, Kion, 13, and team manager Robert "Bam" Flood grab slices of pizza for dinner before an administrative team meeting at Wright's home in North Philadelphia.
Ebony Fowlkes, center, jokes around with Kia Ivery, right, and Angela Sherman, left, before piling into a rental van for a five-hour drive to Boston play the Boston Renegades, in Philadelphia, PA
The Philadelphia Phantomz practice offensive plays in the parking lot of their hotel shortly before an away game against the Boston Renegades in Boston, MA.
Sade "Murda" Buie applies green-colored eye black to her face before an away game against the Boston Renegades, in Boston, MA.
Star Wright, coaching instead of playing due to an injury, gives advice to her teammates before playing the top-rated Boston Renegades in Boston, MA.
Jacque Dorsey, center, makes a big tackle during an away game against the Boston Renegades, in Boston, MA.
Philadelphia Phantomz founder Star Wright drives to a doctors appointment from North Philly with downtown Philadelphia in the distance.
Philadelphia Phantomz quarterback Satoria Bell, center, and teammates during practice in Hunting Park in North Philadelphia.
Friends and family members meet members of the Phantomz at the gates to wish them luck before their game against the New York Sharks.
North Philadelphia residents watch the Philadelphia Phantomz play against the New York Sharks from a pavilion in Hunting Park in North Philadelphia.
Star Wright on the field before the start of the Philadelphia Phantomz game against the New York Sharks in Hunting Park in North Philadelphia.
Members of the Philadelphia Phantomz hold hands before the start of their game against the New York Sharks in North Philadelphia.
Charles Mostoller is a photojournalist, writer, and licensed drone pilot based in Philadelphia, Pennsylvania where he focuses on immigration and environmental issues.
Get your daily rundown of Philly happenings in less than 10 minutes
Billy Penn at WHYY
Philadelphia local news: Neighborhoods, politics, food, and fun
Meet Star and Kion Wright: For this Philly mother-son duo, football is life
❤️ Love Philly? ❤️ Us too — let's be friends.
Catch the Billy Penn newsletter in your inbox 6 days a week for need-to-know Philadelphia news.
For Star Wright, football is all-consuming. Her son Kion is a three-star defensive lineman for Cheltenham High School, a rising senior who's fielding offers from Division 1 schools. Meanwhile, Wright is the founding owner and coach of the Philadelphia Phantomz , part of the Women's National Football Conference.
"The time and energy she puts in — I have no idea," Cheltenham football coach Troy Gore said. "She needs to write a book on how she balances that."
Wright's journey began on the sidelines of her son's games over a decade ago in Northeast Philly.
"Most people would just sit down in their chairs, but she would be right there almost on the field with me, cheering me on if I was to make a play, jumping up and down, or talking trash right with me," Kion told Billy Penn. "She almost had more energy than the football players."
That energy prompted his coach to inquire if Wright had ever played before herself — and if she had interest in tryouts happening for a nearby women's team. Having grown up an avid Eagles fan and a three-sport athlete, Star tried out.
Thirteen years later, she's a professional player, coach, owner, and one of the leading advocates in making the game accessible to people everywhere.
"The goal of the Phantomz is, of course, to win a national championship," Wright said about her team, which is in its second year as part of the WNFC . "But more importantly, it's to inspire young girls with football dreams because now they can have football dreams. It was never like that before because we were always told, 'No, we couldn't.'"
Wright toggles between being coaching the Phantomz and being one of the nine players on the field. Last season, the team's entire roster made the WNFC's All-Pro list, and two years ago, the organization won "Fan Base of the Year."
💌 Love Philly? Sign up for the free Billy Penn newsletter to get everything you need to know about Philadelphia, every day.
The work stretches beyond the league via the Star Wright Foundation , founded in 2020.
"My foundation, where I go to Africa and teach football, that's really my passion," Wright said. "That's really what I want to do forever: Go to Africa and build up the sport … That's what feeds my soul out of the whole process of football."
View this post on Instagram A post shared by Star Wright (@thestarwrightfoundation)
Her travels have shown several other countries further along in opening football up to women than the United States, she said. When the foundation goes to Egypt and Tunisia, for example, the focus is on building skills for already-established players and teams.
Elsewhere, foundation works from the ground up, providing equipment and basic training for absolute beginners. It was most recently in Ghana this February, where Wright hosted a football camp and donated laptops to three different schools. There are dual goals, she said: make the game seem fun, and let people see the opportunities it could provide.
"It just all depends on the needs of the community," Wright said. "I assess the need, and then use my resources here in the states to be able to help them get what they need."
When Wright isn't throwing drills on fields in Philadelphia or Morocco, she and her son Kion are best friends. While they never fully turn football off, Kion said the two bond by trying new restaurants and together. But when Wright steps on the field at Cheltenham High as assistant coach, that love turns tough.
"She doesn't take it easy on him," Gore, the team's head coach and Wright's boss, said. "She really puts her all into coaching all of those kids and she doesn't treat Kion special."
Wright still deals with the anxieties of many Philadelphia area parents, and she cited a surge in gun violence as one of reasons for transferring her son from Northeast Philadelphia High School to Cheltenham. During the summer of 2021, Kion lost one of his best friends to a shooting.
"It's really hard raising an African-American teenager in the city with all the things that's going on in this world," Wright said.
For Kion, the loss of his friend became a motivator. "It really hit hard. It had my mind going to all types of places," he said. "I played with a lot of aggression last season and [the thought of],'I have to get out of this city. I have to get out of Philadelphia.' That played a huge part in my success last season."
Kion has received more than a dozen Division 1 offers from schools like West Virginia, Penn State and Texas A&M. He said his final decision will take into account not just the school's reputation for winning, but its ability to provide players with a sense of purpose beyond scoring touchdowns.
"I want to be a part of a family," he said. Because for the Wrights, family and football have always been inseparable.
"We just bounce off each other's knowledge," Kion said of his mom. "If she says something, I agree with it because I know it's the right thing to do. And I say something, she has trusted me to believe that I know what I'm talking about as well."
With an immersive performance in Old City, 'Les Blancs' takes on African colonization
A Philly mom and her two daughters are writing books to help reduce bullying
One Philadelphia ball club already shined in a World Series this year
Sculptor John Rhoden's work is gone from a Center City hotel, but on proud display at PAFA
We surveyed tasters of Wawa pizza, with surprising results
Philadelphia author decodes the century-old disappearance of the Diesel engine's inventor
How to make sure your Pa. mail ballot is filled out properly
Should a public school be a vanity project? MCS Charter shutdown raises concerning questions | Opinion
List of candidate forums and debates in Philadelphia leading up to the November election
What to know about the Bellwether District, the giant complex now rising in South Philly
Something went wrong. Please refresh the page and/or try again.
4¢ a day for 4 months
Philly has a professional women's football team, the Philadelphia Phantomz
5:12 The Philadelphia Phantomz are Philly's all-women tackle football team and they want the same respect given to men's professional football.
Team USA – Qiana Wright, Philadelphia Phantomz
Family: Single with a son, Kion, 13, and a daughter, Kyla, 10 Two Truths & A LIE! I competed in the Junior Olympics for swimming I studied one year abroad in Finland I worked in a mechanic shop
Bio: Qiana Wright, who goes by the name Star has been playing football for 8 years. Prior to football, she started her athletic career as a competitive swimmer. Star swam competitively for 13 years. In high school she ran track and played basketball. She would go to swimming practice in the morning before school then after school she would go to track practice then basketball. She ultimately lettered in all 3 sports. She went on to college where she continued to flourish in her athletics.
Star was raised by her mother and step father. She has one sister/3 step-brothers and 1-step sister. Star has 2 children: one son 13 years old and one daughter 10 years old who also both plays football.
Star hopes that women's football get the recognition and respect it deserves. She feels the amount of time commitment and dedication that the women put in without pay is not only a slap in the face but a sign of disrespect to women's sports. So instead of complaining about the injustice she has decided to do everything she can in the city of Philadelphia and the tri-state area to bring awareness to women's tackle football as a whole. The Phantomz averages about 600 people a game and is involved in many charity events as they can get their hands on.
Star is also the founder and CEO of A.G.S.C. an all girls sports camp that brings in professional and Division 1 athletes each week to teach the children a different sport each week. The camp also teaches young girls, teamwork, self-esteem, empowerment, character, goal setting, confidence, leadership, and responsibility all through the power of sports.
Star wishes to expand on her summer camp by adding a new location each year. She also wishes to inspire young girls who love football so she will be starting her all girls flag league this fall.
Team USA – Sa'toria Bell, Philadelphia Phantomz
Team usa – lauren ferragonio, pittsburgh passion, support our sponsors.
At Cheltenham High School, football is everything for this mother and son duo
Star Wright is a star linebacker and TE for the Philadelphia Phantomz. At Cheltenham High School, she gets to coach her son Kion.
On the field, Star Wright is a star linebacker and tight end for the Philadelphia Phantomz. At Cheltenham High School, she coaches her son Kion -- a star in his own right.
WYNCOTE, Pennsylvania (WPVI) -- On the field, Star Wright is a star linebacker and tight end for the Philadelphia Phantomz , a team she found out about a dozen years ago.
Wright spoke to Action News about the moment she first heard about the team.
"(Someone said,) 'There's a women's professional football team.' I'm like, 'Never heard of it.' He's like, 'You should try out.' I'm like, 'When are tryouts?' He says, 'Tomorrow!' So I tried out and I've been playing ever since," recalled Wright.
And she's not just playing.
On the sideline at Cheltenham High School, you can call Star Wright coach. She coaches a team of aspiring players, including her son Kion Wright.
That's right, Kion is a star in his own right. He's a decorated defensive end for the Panthers, and his mom is his position coach.
"I don't know any other recruit who has their mom coaching them," said Kion.
"When I first came here to Cheltenham, even before Kion got here, Coach Troy introduced me as the new coach, and they're all looking at me like 'coach what? Cheerleading?'" recalled Star. "And then I had to run down my credentials."
Under his mom's tutelage, Kion has garnered 20 Division I scholarship offers from schools like Penn State, Ole Miss, and Virginia Tech, among others. But don't think this will be the end for this dynamic duo.
"So, our new goal? It's to coach him at every level he plays. So (in) college, I'll be creeping around seeing where I can get in where I fit in. And even at the next level after that. That's my plan," said Star.
Kion says he dreams of playing on Sundays with the pros with his mom right by his side.
MONTGOMERY COUNTY
FAMILY & PARENTING
HIGH SCHOOL SPORTS
A day in the life of a Phillies groundskeeper
Philadelphia rapper giving back to at-risk kids in the community
Meet 'Maggie,' the service dog who comforts staff at Jefferson Health
Phillies longtime PA announcer energizes team, fans for half-century
Top Stories
2 dead after fiery crash involving tanker truck on Pa. Turnpike
Diamondbacks host the Phillies in NLCS Game 5 with series tied
17 injured after party bus overturns on Schuylkill Expressway
Egypt border crossing opens to let humanitarian aid into besieged Gaza
AccuWeather: Wind and cool this weekend
Multiple suspects sought after shooting near King of Prussia Mall
UK Women's Football
Unemployment, isolation, no insurance – the real impact of ACL injuries in women's football
There is no consensus on how to remedy the anterior cruciate ligament (ACL) knee injury crisis in women's football . Maybe because there is no obvious solution. What exactly do we attribute the Rolodex-worth of 2023 World Cup absentees — England duo Leah Williamson and Beth Mead, Canada's Janine Beckie and Vivianne Miedema of the Netherlands to name a few — to?
Advertisement
The ACL Club has gained six new British members over the past month alone: Arsenal's Teyah Goldie, Faye Kirby of Liverpool, Manchester United pair Emma Watson and Gabby George, Caroline Weir of Real Madrid and Aberdeen's Laura Holden.
Manchester United defender George suffers ACL injury
How big a role does the menstrual cycle — 2017 research suggests that ACL laxity and risk of injury may increase in the ovulatory phase — have to play?
Do the environments female players grow up in, forging careers on subpar pitches, supported by skeletal medical teams with sometimes scant knowledge of female physiology, mean every player is living on borrowed time in terms of an ACL injury?
What about a rammed fixture list, including an international calendar, condensed by the pandemic years, that will see top players contest five major tournaments ( Olympics , Euros, World Cup, Olympics, Euros) in as many years from 2021-25?
It is difficult to escape the feeling that football would have found a solution by now were this crisis affecting male players to the same extent. Sports science continues to research the mechanics of the female body but that field remains grossly underfunded. It is not hyperbolic to describe this generation of women footballers as guinea pigs.
No wonder so many female players feel like the true mental cost of the game's ACL crisis is being ignored.
Three of them have spoken to The Athletic in the hope that someone will listen — and that, if the powers that be will not protect them, their fellow players can take measures to protect themselves.
What is an ACL tear and how long does it take to recover?
"Every time I see another (ACL injury), I go through a period of being angry. My heart goes out to that player. I know exactly what they're going to go through," says Birmingham City's Remi Allen, who fully ruptured an ACL for the second time in her career in May 2022 while playing for Aston Villa. The first came at 18 when playing for England, years before the 2018 advent of a professional domestic women's league. The FA helped to facilitate her recovery then.
"I see the messages players post on social media: 'I'm going to get my head down, work for this rehab and be really positive'. When I read the messages, I'm like, 'What's coming for you is so hard'," Allen says.
"We're being let down by the system. If you're going to keep piling on these games, expect the load of games and training to be sky-high. We don't have the research. We don't have enough medical support. We don't have enough physical performance coaches to support and facilitate it all. We're being put at risk."
Almost 14 years on from that first ACL injury, Allen recalls how, in the third-last match of Villa's 2021-22 season, history repeated itself.
In the 81st minute at home to Manchester United, she lunged for the ball and her "knee went one way whilst my body weight went the other. I felt like both parts of my legs weren't attached to each other. The rest of my body spasmed. I had a lot of morphine to try and calm my body down".
"When you go down with a knee injury, (an ACL) is what you fear the most," she says.
Confirmation arrived the following Wednesday. With it came the doubts. It was hard enough to come back as an 18-year-old with time on her side. What hope did she have at 31, with just a year left on her contract at Villa? Even if she did make it through, who would offer her a deal?
ACL injuries in women's football: Why the high risk and can they be prevented?
"I thought, 'Is it worth it? Will my body allow it? Mentally, will I cope again?'," Allen explains. "It was difficult the first time and I felt isolated. In the days and weeks afterwards, I didn't feel like I could go through with it. I didn't know if I'd get back."
Overnight, Allen flipped from being Villa's ever-present captain to facing 13 months out, her recovery complicated by a second procedure to allow her knee to fully extend again. The laborious process began with basic joint exercises — trying to bend and straighten the affected knee — four to five times a day, before moving on to weight-bearing gym exercises for weeks three to 12.
The more demanding period between months three to eight is, by Allen's measure, "physically, one of the hardest things ever".
Team-mates would walk through the gym after their sessions incredulous that Allen was still going. Allen admits her heart would sink each day when she saw the list of exercises she had to re-learn: jogging, changing direction, running at speed.
"I spent the first six months in a daze," she says. "I was doing everything — but in my head, I wasn't committed to it. I felt so numb and lost with the process. Every time you hit a goal or a target, I struggled to feel positive about it because I knew how much there was more to come. I spent the first six months having a daily battle in my head. But I was able to just sort of survive."
Attending Villa matches took an understandable mental toll as Allen reconfigured her identity: who was she without football? Playing for Villa had given her a sense of belonging. "To sit in the stands, watch them play and know that you're not being a part of it — I felt so disconnected and useless," Allen says.
When Villa declined to renew her contract, she found herself a free agent, for the first time in her career, at age 32.
"A huge part of me felt like a failure and a reject," Allen says. "That I probably wasn't good enough anymore. I had a huge debate about whether I should carry on playing or would it be the right time to retire. I wasn't sure if I was going to get a contract anywhere else. It was a lonely, isolated place."
Allen's fears are typical of women's football outside the top four clubs, where one and two-year contracts are commonplace. The Women's Super League remains the only full-time league in England. A number of lower-division clubs operate full-time or hybrid models, with many players working outside of football. There are few lucrative contracts to go around. Players are asked to gamble on the slim chance of success in the game — sometimes without a net to catch them if it goes wrong.
Now 20, former Birmingham City defender Lily Simkin made her WSL debut aged 16 but is now without a contract having been released at the end of last season.
Simkin was poised to sign a full-time contract with a Championship club this summer, having spent three weeks on trial during pre-season. But in the final minutes of a friendly, an opponent caught her knee with a high tackle, the force pushing the joint inwards.
"Straight away, because I wasn't contracted with anyone, I thought, 'What does this mean now?'," Simkin recalls. "'I can't get off the pitch. I'm not going to be able to play football in the next couple of weeks'."
In the physio room the following day, her agent called to tell her that the club were no longer interested in signing her. Then Simkin discovered that none of the club's female players had insurance.
"I had no idea that was the case," she says. "They said, 'You're going to have to be referred by your GP (regular doctor)'. I'd heard the stories about waiting times (for surgery). It can be years. I haven't got that time, because I'm unemployed. I don't go to uni because I was full-time at Birmingham for two years. I've gone from being full-time and really excited about joining this new club to suddenly being left with a serious injury and not knowing where to go from it."
Other clubs withdrew their interest after learning of her injury. "No one's going to sign a player that's going to be out for 12 months," Simkin admits.
Simkin initially used the free National Health Service (NHS) but six weeks of consultations did not result in even a diagnosis.
Her family eventually paid for a private scan and it was discovered the reason she did not hear the popping sound that often accompanies an ACL injury was because the ligament had been ripped completely from her femur (thigh bone). Given the risks to Simkin's career, she was bumped to the top of the NHS waiting list and had her operation on October 18.
While players with whom she moved up through England youth ranks played an under-23s match in Norway last month, Simkin was preparing for a job interview and researching university courses. Now she is recovering from surgery without a club. "It's all so new," she says. "I left school and went into full-time football. I didn't have a CV. I didn't have experience in jobs."
Simkin is speaking out in the hope that players will take out insurance to mitigate the risks they face when playing for or on trial with lower-league teams. "One of the quotes we got for surgery was £15,000," Simkin says.
She remains a member of the Professional Footballers' Association (PFA) from her time at Birmingham but those who have never played professionally (in the second-tier WSL Championship or below) are not been eligible for membership of the union. "Women (are) working a full-time job alongside being a footballer to make ends meet because the pay's not good enough (at those lower levels)," Simkin says.
"This injury could take them out of work. The younger girls are scared to do it and you shouldn't be scared to play football."
Hannah Godfrey was the fourth of six Charlton Athletic women's players to suffer an ACL injury between January 2022 and February 2023. The first had sent shockwaves throughout the squad.
"'It's happened at our club' ," Godfrey, now 26, remembers. "That's when it hits you. You see it happen. You hear the scream. You see when she finds out. It's honestly heartbreaking. You're scared it could happen."
Then another two players were sidelined with the same injury.
"All these people are so different. One of them is 30 and one is 19. One of them was in training and one was in a game. There's no correlation. Then my world came crashing down."
Defender Godfrey had been playing at The Valley, Charlton's main stadium, in September last year when she became tangled with a Birmingham City striker and her planted foot refused to move. She felt the jerking motion, that telltale pop. "I didn't want to believe it," she says. "I was holding my team-mate's hand, going, 'I've done my ACL'. She kept saying, 'You're fine'."
Days later, the club doctor confirmed that Godfrey had fully ruptured her ACL.
"The tears came straight away," she says. "I'll never forget it. The doctor was talking for a good minute, but I didn't hear anything. I handed the phone to my team-mate and she said, 'I'm so sorry, can you repeat it all?''. People will never understand until you hear those words. Football's all I've ever known."
Initial consultations revealed that Godfrey's knee was too swollen for immediate surgery. That remained the case for six weeks. "I'd be ready, get my hopes up, go in and the surgeon would shoot me down in seconds," says Godfrey.
"After surgery, when you're bedbound and you can't even get up to go to the toilet without being in pain, it's mentally tough. I had days spent emotional, crying. I questioned, 'Why did I go and tackle her?'. 'Did (the injury happen) because I was on my period? Was it because I had a cold? Had I slept right?'."
Her lifeline came in the form of the football academy, Pro 2 Pro, Godfrey built with her team-mate Lois Roche, who was also recovering from an ACL. Between rehab sessions, the pair devised coaching and business plans, and now coach more than 360 players. "It gave me a purpose," Godfrey says. "We always had something to look forward to, because I no longer had a gameday. I no longer had goals. I had nothing.
"I used to think, 'If I ever did my ACL, I'm not sure I'd be able to handle it'. I don't give myself enough credit of how mentally tough and strong I am.
"We need to do more. That's our livelihood. We give ourselves to the game and it gets taken away in the blink of an eye."
(Top photos: Getty Images; design: Sam Richardson)
Get all-access to exclusive stories.
Subscribe to The Athletic for in-depth coverage of your favorite players, teams, leagues and clubs. Try a week on us.
Katie Whyatt is a UK-based women's football correspondent for The Athletic. She was previously the women's football reporter for The Daily Telegraph, where she was the first full-time women's football reporter on a national paper. Follow Katie on Twitter @ KatieWhyatt
International edition
Australia edition
Europe edition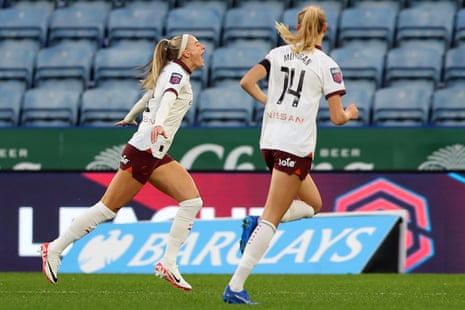 Chloe Kelly strikes to sink Leicester and take Manchester City top of WSL
Women's Super League: Leicester 0-1 Man City (Kelly 10)
Early strike lifts visitors to top of the WSL table
Manchester City continued their unbeaten start to the season after edging past a courageous Leicester in a competitive, high-octane encounter. Chloe Kelly's first-half strike was enough to give them the three points in an end-to-end game in front of an expectant crowd.
The result left the City manager, Gareth Taylor, satisfied with his team's early form. "I can imagine it was a good game to watch – really high tempo, lots of energy, lots of commitment," he said. "I'm absolutely delighted with the win. It was difficult. We knew that they would come out and engage the way they did, but probably not as aggressive. I think that left a lot of space and we should have exploited it better."
The visitors were looking for an immediate return to the top of the table after a whirlwind start to the season. They have caught the eye with their clinical attack, spearheaded by the goalscoring prowess of Khadija Shaw and Jill Roord. The latter has made an impressive impact since arriving in the summer, with three goals in as many games before this contest.
Taylor favours stability and he named the same lineup that had served him so well in the 5-0 win over Bristol City, with Lauren Hemp and Leila Ouahabi returning to the bench from injury and suspension respectively.
The challenge was to get past a buoyant Leicester. Willie Kirk's side have also enjoyed an eye-catching start and he made three changes to the team that earned a hard-fought draw last weekend at Manchester United. Julie Thibaud started in a back three, while Hannah Cain and Jutta Rantala came in to boost the attack.
The hosts lined up in a narrow 3-2-2-3 formation – a high-risk, high-reward strategy. It is a system that offers potential in attack and they started strongly, finding spaces as Manchester City pushed forward. However, when the visitors were able break the press Leicester's defence was left exposed, with the direct distribution from the goalkeeper Khiara Keating a key weapon.
It was through this that the opener came after a series of warning signs. England's Kelly was full of energy and in the 10th minute broke with Roord to turn a low shot through the legs of Janina Leitzig. The German keeper slammed the ground in frustration, clearly feeling that she should have done better.
WSL: Tottenham fight back to win thriller at Villa
Martha Thomas fired a superb hat-trick for Tottenham as they came from a goal down to beat Aston Villa 4-2 and continue their impressive start to the new season.
Rachel Daly put Villa ahead from the penalty spot in the fifth minute before Thomas levelled with a superb long-range chip, and Ashleigh Neville then headed home to send Spurs in 2-1 up at half-time.
Thomas added two further goals with excellent strikes from the edge of the box after the break, with Lucy Parker grabbing a second for Villa deep into second-half stoppage time as the game finished 4-2.
Spurs' third win in four games puts them on nine points, one behind leaders Manchester City, who won 1-0 at Leicester. Reuters
Leicester persisted and created chances of their own. Lena Petermann had an effort blocked well by Keating. The young goalkeeper, who received her first England call-up this week, was also on hand to deny Rantala.
The players returned after the break to a raucous reception. Shannon O'Brien was denied a leveller by Esme Morgan while Shaw was becoming increasingly frustrated with Sophie Howard constantly tracking her.
The introduction of Hemp added a new dimension to City's play with her speed on the break. Leitzig was required to make another strong save, proving once again why Kirk was so eager to secure her signature permanently.
Both sides traded chances in the latter stages but the hosts were unable to make them count.
Kirk has called for his side to be bold and, despite defeat, was encouraged by the character on display. "We're all disappointed, which probably shows you how far we've come," he said. "I think over the four games, we've made a statement that it's not little Leicester any more. We need to be taken seriously."
Taylor, meanwhile, was pragmatic in victory. "It's a good start but that's all it is," he said. "It allows us to build confidence from that." His team return to Manchester comfortable in the knowledge that they will go into the international break top, unless Chelsea rack up a high-scoring victory at home to Brighton on Sunday.
Women's Super League
The Observer
Women's football
Manchester City Women
Leicester City Women
match reports
Most viewed
Caitlin Clark, Iowa draw huge crowd to football stadium: 'For little girls, this is normal'
Just before the Iowa women's basketball team tipped off in an exhibition game against DePaul in Kinnick Stadium, 55,646 fans, many of them young kids , roared for Caitlin Clark and the Hawkeyes as Big Ten Network analyst Christy Winters-Scott made a comment that perfectly speaks to this moment, when women's sports are exploding and taking over every corner of the sports world . 
"For these little girls," Winters-Scott said, as the camera panned to a crowd packed with young girls bundled up in sweatshirts and Clark jerseys, "this is normal."
Surely Winters-Scott, who played at Maryland from 1986-90, knows that playing basketball in a football stadium in November, when it's 54 degrees with the wind blowing at 14 mph, isn't normal. Or at least, it didn't used to be.
But in the Hawkeye State, which has long been a women's basketball hotbed, filling a football stadium with hoops junkies has become, if not normal, at least not surprising. That's because Clark, the reigning national player of the year , the darling of the 2023 NCAA Tournament and the best passer in college basketball regardless of gender, continues to draw fans to the game. Last season, Iowa finished second in overall women's attendance, behind only South Carolina and the house Dawn Staley built.
But Clark's far from the only one putting behinds in seats. 
The idea of sellouts for women's sporting events, whether they're at Kinnick or elsewhere — like maybe Barclays Center, where Game 3 of the WNBA Finals was going on at the same time as Iowa-DePaul — are becoming increasingly common. In Brooklyn, 17,143 hungry fans witnessed the New York Liberty upend the Las Vegas Aces for their first playoff win since 1999  
It's more than just packed areas though: It's the energy in those arenas. It's rabid fans waving fat heads of their favorite players, women and men dressed in women's jerseys, little kids demanding more women's players have their own signature shoe (and in Las Vegas last week, at least one young fan offering to trade her sibling for a pair of signature shoes .) 
Scroll through the uglier parts of social media and you might think "no one cares about women's sports." That's what the trolls say anyway, and they say it repeatedly. But no matter how loud they shout, the numbers simply don't back up that unoriginal, dated argument. 
On Sunday — an NFL Sunday, no less — two rabid crowds showed up in two very different parts of the country to cheer for their favorite women athletes. Iowa and its 55,656 fans shattered the previous all-time women's basketball attendance record (29,619, set during the 2002 NCAA Tournament) as the Hawkeyes won 94-72 behind 34 points, 11 rebounds and 10 assists from Clark, who recently became the first college athlete to secure an NIL deal with State Farm .
Meanwhile, Brooklyn and its sellout crowd lifted the Liberty to a much-needed 87-73 Finals win, staving off elimination for at least three more days.
This comes just six weeks after Nebraska, a powerhouse in NCAA women's volleyball, held an outdoor match at its football stadium, as 92,003 screaming fans set the record for the largest crowd to ever watch a women's sporting event in the United States. 
It's not only on-court events bringing in spectators, either: Big crowds were expected for numerous NWSL regular season finales on Sunday as playoff spots were solidified. 
Talk to players, coaches and executives around women's sports and they'll tell you these crowds don't just need to become normal, but necessary. They're starting to be expected and demanded. After decades of ignoring women's sports — which isn't just sexist, but a short-sighted business decision — people are at last recognizing the power and pull of female athletes.
When Breanna Stewart, the 2023 WNBA MVP , walked into the postgame press conference following Sunday's win, she was holding Ruby, her 2-year-old toddler whose stolen hearts, and attention, all season. At her MVP acceptance speech a couple weeks ago, Stewart talked about how much it meant to her to be a role model for Ruby and that "it keeps me going." 
Asked why people are finally now getting on board and supporting women's games in droves, Stewart, who tallied 20 points, 12 rebounds and four assists in New York's win, joked, "I don't know. We've been telling them the whole time they should get behind us." 
The moment isn't lost on her, no matter how long it took everyone else to catch up. 
"Seeing people showing up, it's unbelievable," Stewart said. "We're just going to continue to be role models, continue to be great, and continue to demand more. We're just continuing to show young kids, and a lot of others, the potential and possible of making this normal.
"Ruby expects this (crowd) every time she walks into a WNBA arena … Ruby's gonna see everything we see, and that's what I hope all these other kids see too. And we're going to make sure we keep raising the bar." 
In one or two years, depending on which WNBA draft she decides to declare for , Clark will bring even more fans to the league, which is set to expand in 2025 . The timing couldn't be better for her, for women's basketball or for the thousands of women athletes who sweat and sacrificed, often in empty arenas, for decades. Finally, people are paying attention and finally, women's sports are being given a platform that allows them to prove what many women, and some men, have known for years: these athletes and these games are more than worthy of your time.
After Iowa's win, Hawkeyes coach Lisa Bluder took the microphone to thank the crowd, remarking that "nowhere in the country could this happen except at the University of Iowa." 
Maybe that's true for now. Or maybe some other school watched what transpired in Iowa City and said, 'we can top that.' Maybe, before we know it, setting attendance records in women's sports, whether it's at football stadiums or basketball arenas, will be normal — at Iowa and everywhere else. 
Japan's unique combination of football and education
Find out how some of the Samurai Blue's biggest names reached the pinnacle of sport via university.
Japanese schools and universities have always helped nurture future stars
They have become more of a talent factory in recent years
FIFA goes behind the scenes to find out how
The Samurai Blue successes of the past quarter-century are even more impressive when measured against the mediocrity that preceded it. Before the national team made their FIFA World Cup™ debut in 1998, Japanese football was more of an also-ran in Asia and still a world away from superpowers like the leading teams in Europe and South America. Fast forward to the present day, and Japan have cemented their World Cup pedigree. As well as appearing at the last seven editions, unforgettable triumphs over Germany and Spain at Qatar 2022 remain fresh in the mind. The memorable performances of the women's team at Australia & New Zealand 2023 were no less notable, in a tournament which Japan won in 2011. Just around the corner is November's second round of AFC qualifying for the FIFA World Cup 26™ and the chance of an eighth consecutive appearance for the Samurai Blue , who have won their last six internationals. FIFA takes a closer look at how the nation is thriving and the key role of education in making it happen.
Japan's high school and grassroots game Japan's high school and grassroots game
One of the pivotal moments in Japanese football arrived in 1993, as the J-League finally came into being. After years spent pondering how best to counter international stagnation, efforts to professionalise the sport finally came to fruition. But despite three decades of the J-League and professional football teams in almost every prefecture, amateur football retains a special place in the country's heart. And never more so than the cherished tradition of year-end high school football, which draws fans young and old. Few nations can match this level of engagement in grassroots tournaments, underlining what makes Japanese football so unique.
These extra-curricular club activities tend to be less well known and often more recreational than competitive. There are no major inter-school tournaments, so those seeking competitive play find it representing local youth or grassroots teams. Of course, Japan has youth academies too. But although playing at school was long seen as the default alternative for academy cast-offs, it has now become a go-to option for more and more players. What the most popular schools tend to have in common is a more rounded environment, to which the best coaches and players gravitate. This, alongside the footballing philosophy, is what dictates the choice of many students. Some schools have more than 100 members on their books and competition is always intense.
One of the best and most surprising examples is Japan legend Keisuke Honda, who actually came to the fore in high school rather than academy football. Unable to break into Gamba Osaka's U-18 team, he opted to play at Seiryo High School in Ishikawa Prefecture instead. Once there, he honed the skills that would enable him to forge a spectacular career and attain iconic status.
University football at the highest level University football at the highest level
While high school football underlines what makes the Japanese football system unique, university football elevates it even further. In fact, the competitive bar is set so high, it is almost semi-professional. Testament to this are household names like Kaoru Mitoma (Brighton) and Kyogu Furuhashi (Celtic), who both took the university route and are now playing in Europe and for the national team.
Another notable fact is that nine of the Qatar 2022 squad emerged from academia. And Junya Ito, now a Samurai Blue stalwart, experienced both high school and university football. Opting to join his school's club instead of a youth academy while in high school, followed by a university team, he signed with the J-League's Ventforet Kofu to kickstart his professional career. For players, one key advantage of this higher education experience is having more official games than J-League rookies. And this experience becomes even more valuable, given a playing level almost on a par with top J-2 and J-3 league teams. This has been borne out by numerous giant-killing episodes, where university teams have come out on top against J-1 teams in the Emperor's Cup.
Small wonder then that Japan has also won the Universiade, organised by the International University Sports Federation (FISU), a total of seven times, including the 2017 and 2019 tournaments, further highlighting the very high level of Japanese university football. Competition among universities at this level is friendly, but the intensity and skill on show are comparable to professional standards. It is a serious official competition, purposely designed to nurture players, who end up with more practical experience than their rookie J-League peers. Unsurprisingly, many aspiring players in Japan consider university football a solid stepping stone in their quest to become professional.
Taking the longer route to the top Taking the longer route to the top
It is clear that in Japan's unique system for football development, the link between learning and sport is a key component. Whether at high school or university level, education remains a crucial cornerstone to the country's sporting success. Perhaps the single greatest impetus, however, is the national emphasis on nurturing human character. University footballers, for example, enjoy more scope to broaden their personal horizons than their professional peers, for whom only results matter. Against an academic backdrop, they have time to reflect on their lives, set goals and areas to improve, and then achieve their goals in a more holistic way. And it is precisely these advantages that explain why some Japanese players opt for university first, even if offered a professional contract. One prime example is the aforementioned Mitoma. After graduating from high school, he turned down a top-flight contract offer from Kawasaki Frontale and chose instead to go to Tsukuba University.
Many would see such a decision like as a backward step. Mitoma, however, felt that a more circuitous route would give him the time and space to perfect his dribbling – already his signature skill. Playing at university let him pursue this aspect in depth, both on and off the pitch. It even spawned a paper on dribbling that became a real talking point at the time. Ultimately, he seized the opportunity to hone his skill and gain an advantage over his peers, something that would end up enhancing his professional career down the line. Examples like this are numerous. Players have often gone from virtual unknowns at the age of 18 to burgeoning talents, thanks to the time and space they were given to develop in the university system. Indeed, this practice of detouring off the road to professionalism is a major advantage of Japanese football. So much so, in fact, that calling it a detour may no longer apply. Japanese university football has gone beyond the realms of amateurism. It has become an ecosystem within which many of the brightest talents can seek out opportunities to grow and reach their full potential on the professional stage. Despite room to improve and inherent challenges, it remains a key component in the production line of Japanese football talent.