USER GUIDE & SUPPORT
The NT1-A is a large-diaphragm studio condenser microphone that delivers incredible warmth and clarity on a wide variety of sound sources, from vocals to guitars, drums, piano and more.
Discover everything you need to know about using your NT1-A here.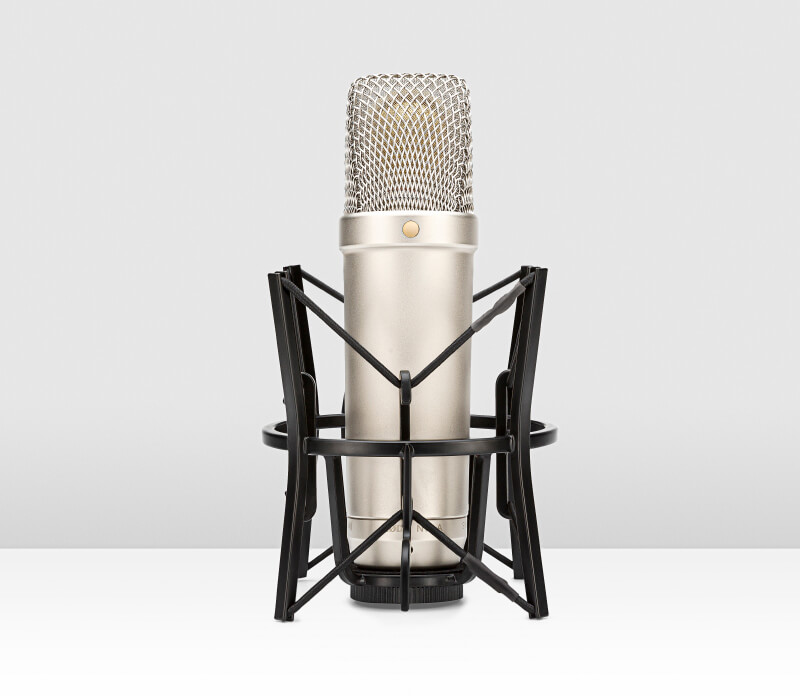 1 Large-diaphragm (1") Gold-sputtered Capsule
2 Gold Dot Indicating Front of Microphone
3 Screw Thread
4 XLR Connector
5 Pop Filter
6 SM6 Shock Mount
7 Pop Filter Mounting Arm
8 Microphone Stand Mount
Studio Workhorse
The NT1-A is an incredibly versatile microphone for studio recording and other applications. It features a 1-inch gold-sputtered capsule and delivers a wide frequency response with rich bass articulation and sparkling top end, high SPL (sound pressure level) handling capabilities, and ultra-low self-noise (just 5dBA) making it a true studio workhorse.
Pickup Pattern and Placement
The NT1-A is a side-address microphone and features a tight cardioid polar pattern. This means it will pick up sound perpendicular to, and in front of, the body of the microphone, while rejecting sounds behind it. The gold dot on the body of the NT1-A indicates the front of the microphone. Always make sure that this is pointed towards your sound source.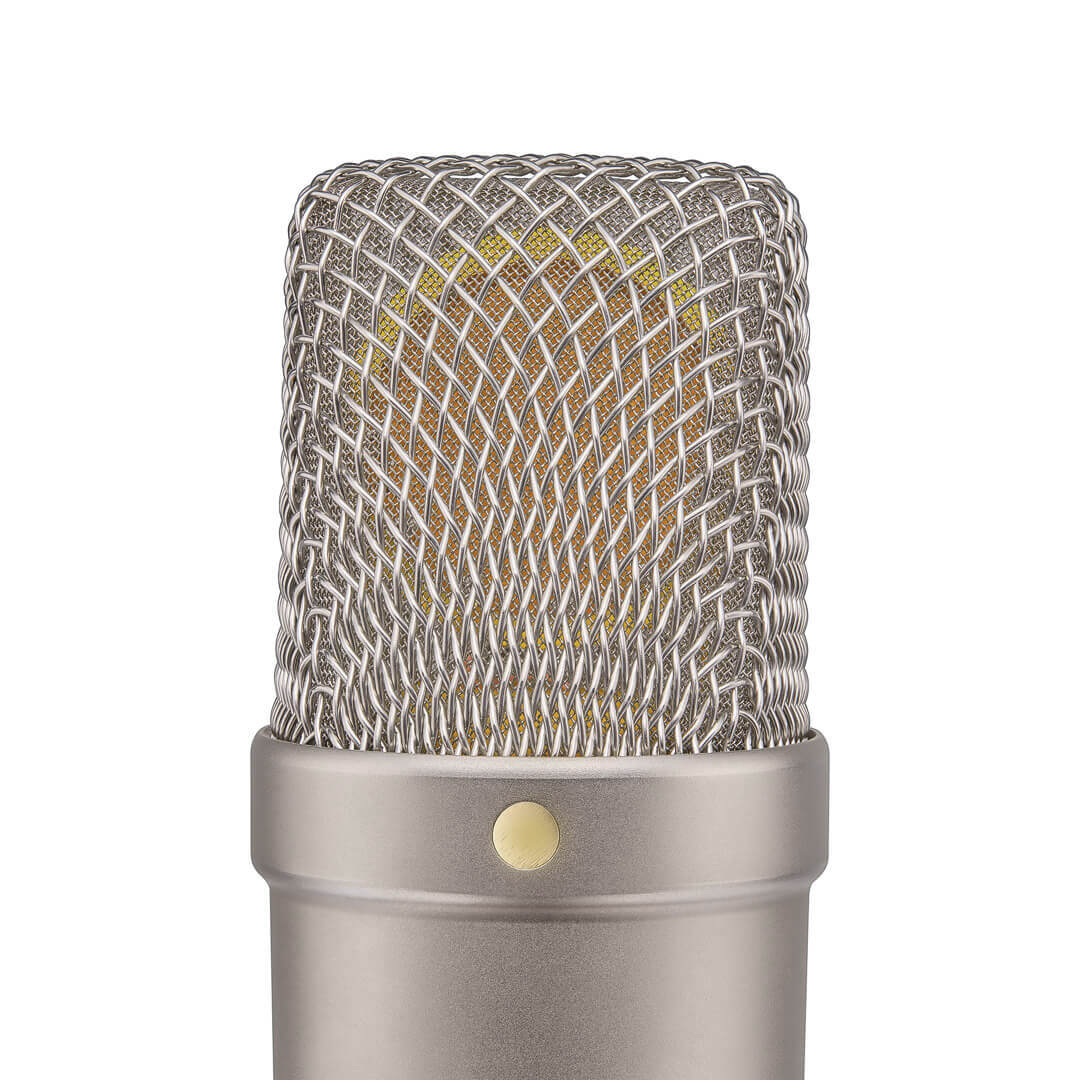 Getting Set Up
The NT1-A comes with all the accessories you need to get recording, including a studio-quality shock mount, pop filter, XLR cable and dust cover.
Using the Shock Mount
The SM6 shock mount and pop filter provides excellent isolation from unwanted sounds produced by external bumps and other movement, as well as plosives (puffs of air from your mouth that can overload the capsule). It can be attached to any standard microphone stand or studio arm, either upright or upside down. The mount features both 5/8" and 3/8" thread sizes.
Attaching the Pop Filter
To place the pop filter on the shock mount, loosen the joint on the 'L'-shaped bracket with the rounded base so that its threaded socket faces up. Screw the pop filter into this socket until firmly secured. Once in place, the height of the pop filter can be adjusted using the telescopic arm, as well as its left-to-right orientation and back-and-forth tilt.
Mounting the NT1-A
Place the NT1-A inside the SM6 shock mount and rotate the microphone clockwise to screw it loosely into the base of the mount. Adjust the orientation of the microphone so that the gold dot faces the pop filter, and then tighten the ring beneath the mount while holding the microphone to secure it in place.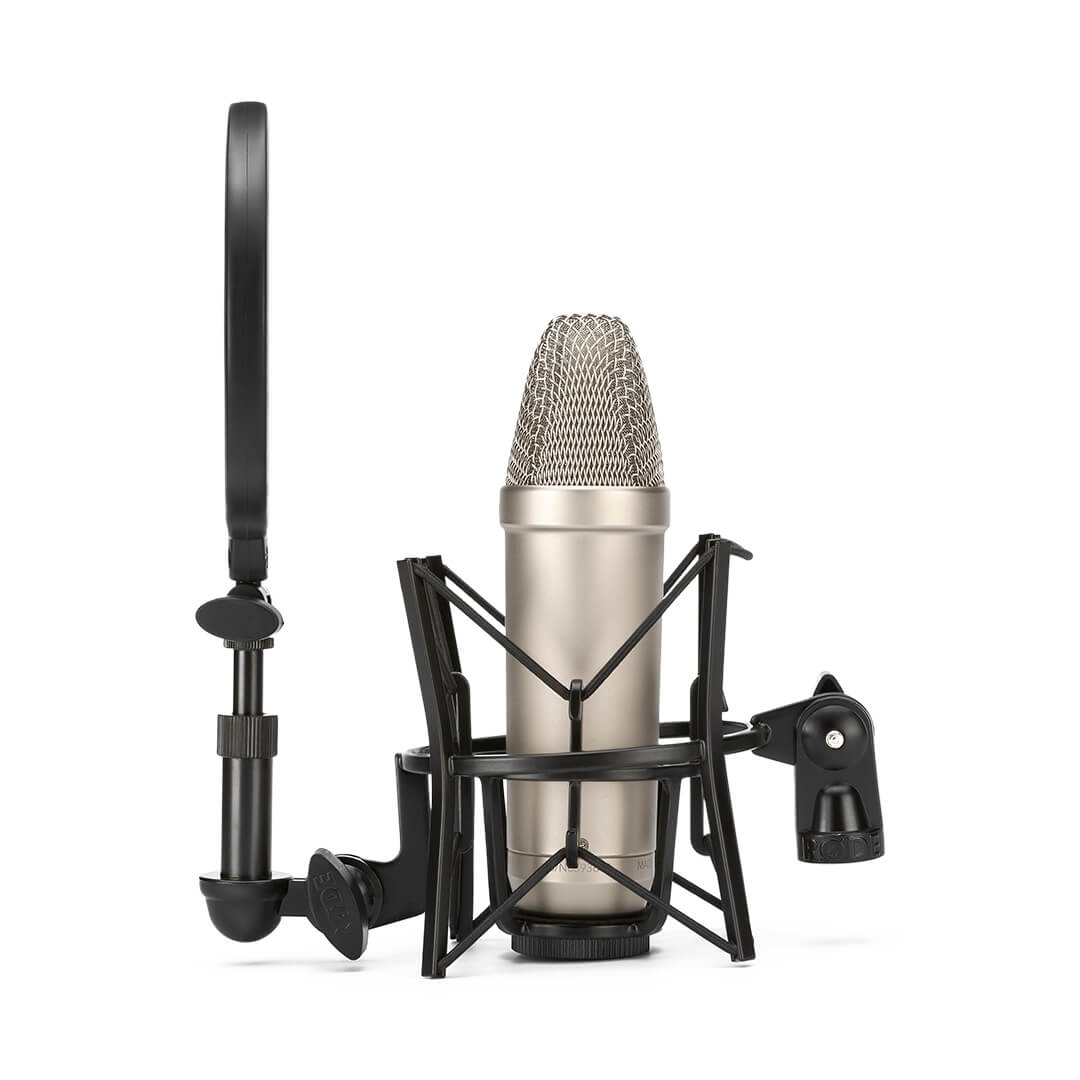 Connecting Your NT1-A
Once you've mounted your NT1-A, plug the female end of your XLR cable (three holes) into the base of the microphone (three pins). Before connecting the other end of the cable to your mixer, audio interface or similar device, ensure the input volume is fully down to avoid unexpected feedback or loud sounds.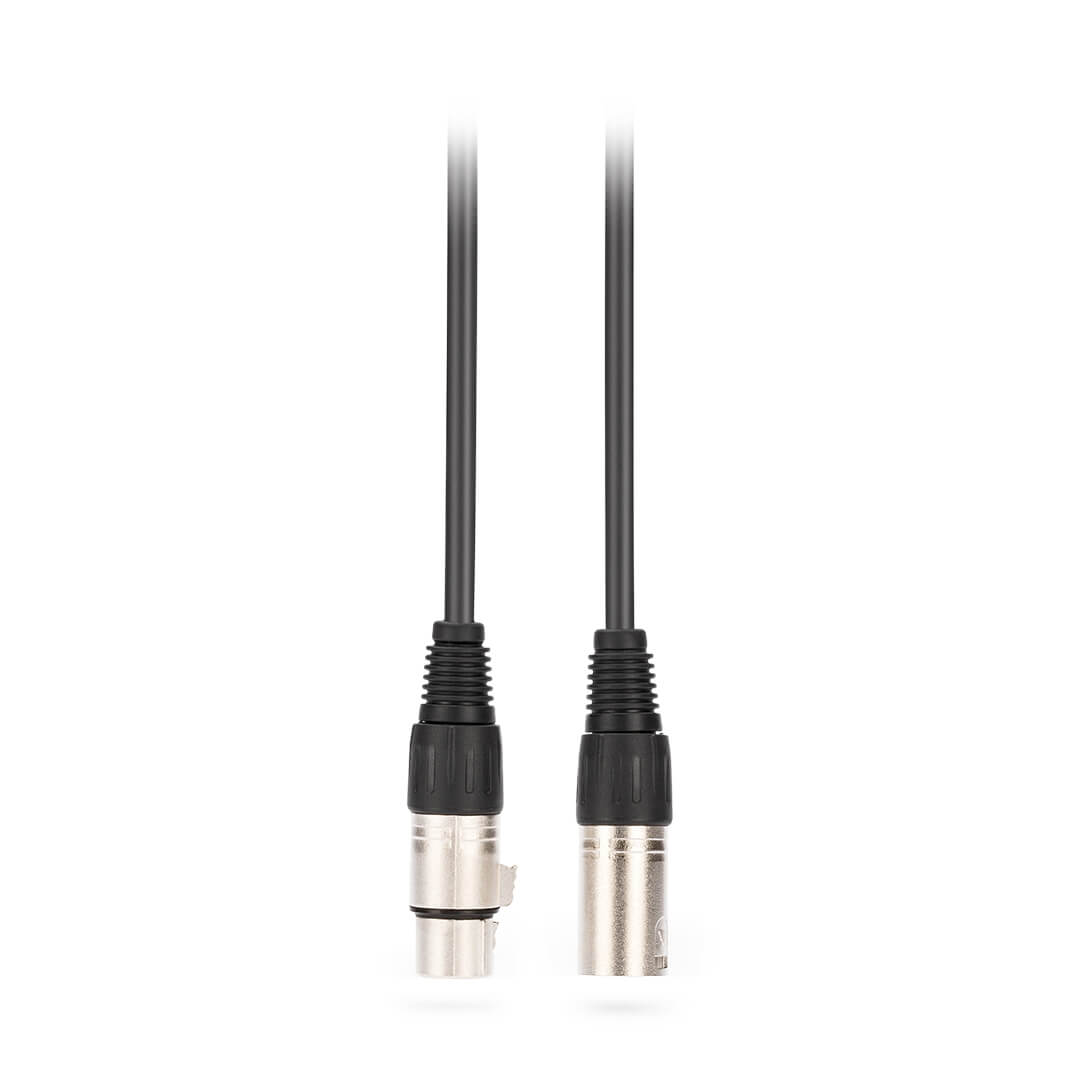 Powering Your NT1-A
For the NT1-A to function, you'll need to supply 48V phantom power. This provides power to components inside the microphone. Most mixers, audio consoles and audio interfaces like the AI-1 (pictured) are capable of providing phantom power, which is supplied to the mic via an XLR cable. In most cases, you will need to activate it via your device, as not all microphones require this power.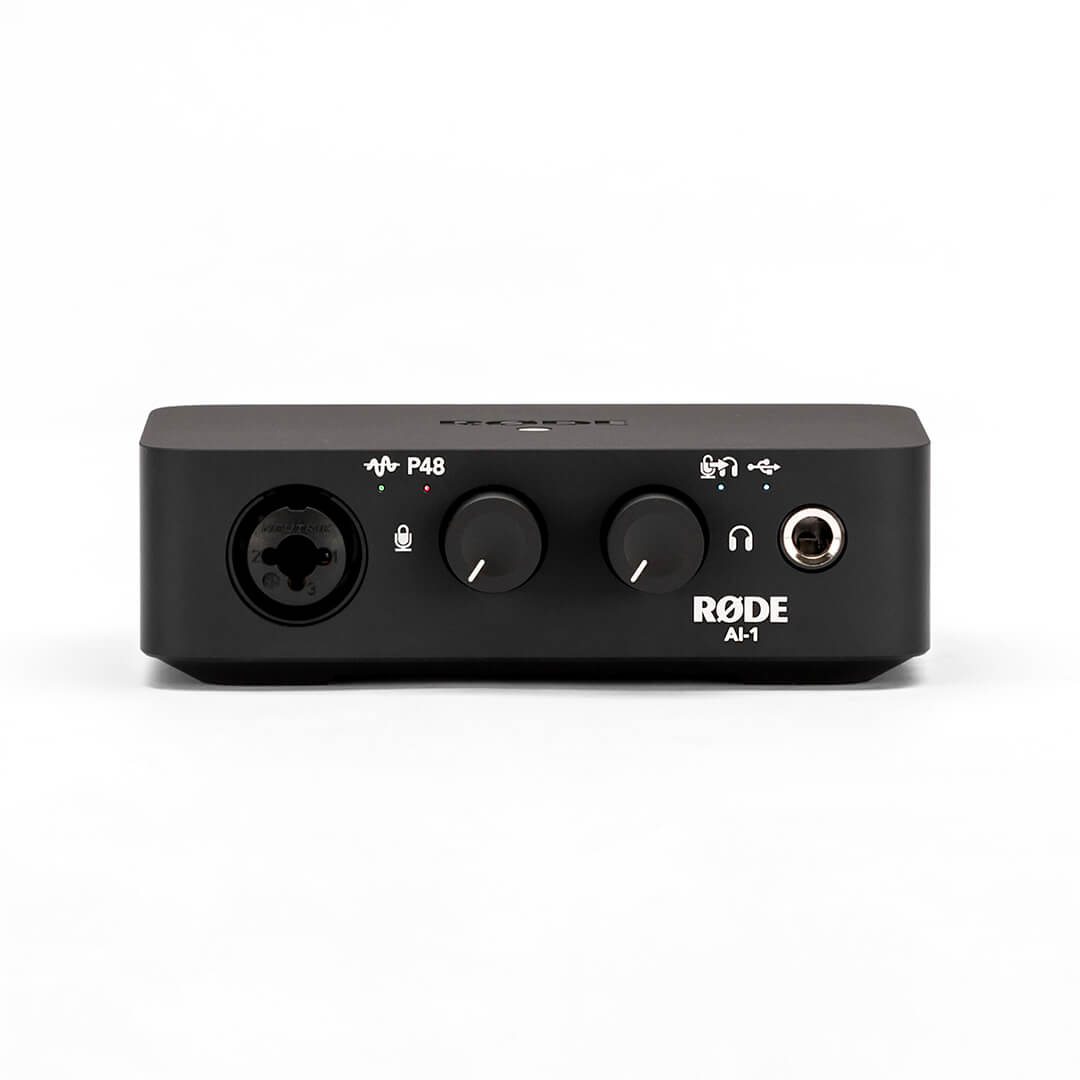 Using the Blue Ring
The NT1-A comes with a small blue rubber plastic ring. This is useful when using a microphone cable that doesn't snugly fit into the XLR connector. Simply place the ring into the XLR socket, then push it into place with a cable. This will ensure a tight fit with any cable.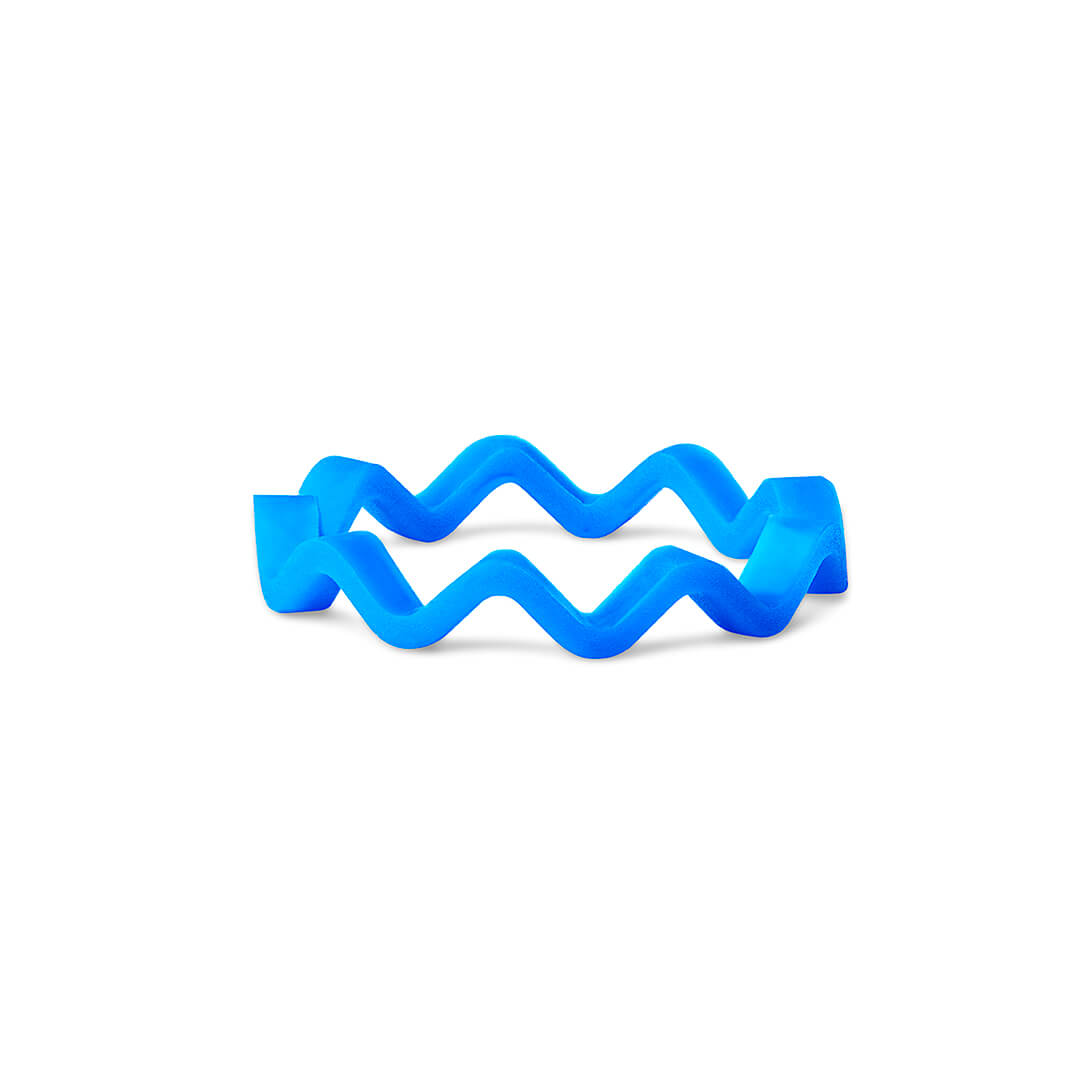 Does Rode NT1 Need Phantom Power?
Does the Rode NT1 need phantom power? What is it, and where can you find 48v of phantom power? You'll have your answers below and more.
Quick Answer: Yes, the Rode NT1 is a condenser microphone. All condenser microphones require 48v of phantom power to operate. Without phantom power, the microphone will not work.
The Rode NT1 Condenser Microphone
The Rode NT1 is a popular condenser microphone that boasts of its innovative design and incredible sound signature. This is best used for home recordings, voiceovers, and even by professional studios because of smooth frequencies and accuracy and response.
It does need a phantom power supply to work, but this is not a big deal if you know where or how to find phantom power.
Where do you find phantom power?
Most audio interfaces and audio mixers are able to supply 48v of phantom power to any microphone that requires it.
Some mixers have a global phantom power source that provides 48v to all the XLR microphones attached to them. It's indicated by either a lightning bolt sign or a +48 near the button. You press it, and your phantom power supply is on.
Other audio mixers have individual phantom power, per channel. Each audio channel has a +48V button above it to toggle and supply to the XLR microphone plugged into that channel.
Warning About Phantom Power
Phantom power can damage some types of microphones.
As explained earlier, condenser microphones require phantom power to work, so it is important and safe to turn them on when using them.
However, ribbon microphones (rare), and unbalanced dynamic (very rare) microphones can be damaged by the extra voltage.
While phantom power does not damage most (99%) of dynamic microphones, it also does not benefit them. On the other hand, using phantom power on ribbon microphones and unbalanced dynamic microphones will give you horrible sound or audio and can damage the microphone in the long run.
The Bottom Line
You need 48v of Phantom Power for the Rode NT1 to work correctly, but we recommend turning the phantom power off when you're not using a condenser microphone.
 Rode NT1 Microphone Pricing
Rode NT1 Condenser Microphone: https://currentprice.io/rode_nt1_kit
Solid State Logic SSL2+ Audio Interface: https://currentprice.io/ssl2_plus
Beyerdynamic DT990 Pro Headphones: https://currentprice.io/beyer_dt_990
XLR Cable: https://currentprice.io/xlr_cable
Mic Stand: https://currentprice.io/desk_stand
Rode PSA1 Boom Arm: https://currentprice.io/boom_arm
Rode NT1 Phantom Power Topics
0:00 – Introduction
0:20 – Pricing & Specs
0:41 – Quick Answer
0:55 – Condenser Microphone Basics
1:16 – Battery Supply?
1:30 – Audio Interface & Audio Mixer Power Supply
2:25 – Phantom Power Risks
2:55 – NT1 Without Phantom Power
3:30 – Summary
3:57 – Final Thoughts
You may also like
5 best asmr microphones: capture every tingle and whisper.
ASMR, or Autonomous Sensory Meridian Response, has taken the internet by storm, offering viewers a relaxing and often tingling sensation through carefully crafted audio...
5 Best USB Microphones For Podcasting | Complete Guide 2023
Let's take a look at the top 5 USB microphones for podcasting. Podcasting has become an increasingly popular medium for expressing opinions and sharing information...
Best Streaming Microphone for GoXLR Audio Mixer
We're comparing the 7 best microphones that we recommend pairing with the GoXLR audio mixer for live streaming. We'll also quickly look at the two types of microphones...
Shure SM7B vs Rode NT1 Comparison | Which Is Better?
Let's compare the Shure SM7B dynamic microphone to the Rode NT1 condenser microphone. These are two microphones from very different neighbourhoods, but are often in the...
Yamaha MG10XU and Rode NT1 | Setup & Test
In this tutorial we show you how to setup and connect the Rode NT1 Condenser Microphone to the Yamaha MG10XU Audio Mixer. At 3:41 you can hear how this setup sounds when...
The Definitive Rode NT1-A Review
There's a reason it's the most popular vocal mic for home studios.
Reviewed by: Paul Narang Review date: November 2022 Current price: Under $250
Rode NT-1A Review
Rode nt1-a review.
A best-selling condenser mic for the home studio market. This mic delivers a bright, detailed and authentic sound which is great for recording vocals and acoustic guitar.
The Rode NT1A is a hit for a reason – it delivers studio quality sound at an affordable price. A firm favourite of DIY musicians and podcasters alike.
What is it?
The Rode NT1-A is a large diaphragm studio condenser mic with a cardioid pickup pattern.
The Australian electronics company Rode developed their first microphone, the NT1, in the early 1990s. And in 1995 the company gave the mic a redesign, resulting in the NT1-A. It quickly gained a reputation as one of the cheapest, best studio condensers on the market. And t's now a staple of home studios and podcast studios around the world.
The NT1-A boasts a wide frequency range, an internal shock mount, and high sensitivity. According to Rode, the NT1-A is also one of the world's quietest studio microphones, with a low self-noise of just 5dBA.
Other mics in the same range include the updated NT1, and another large diaphragm condenser, the Rode NT1000. All three mics have a similar design and price range, but each have their own individual sound.
Other comparable mics from Rodes
The original Rode NT1 is a large diaphragm condenser mic with a slightly warmer sound
A similar mic to the Rode NT1-A, with cardioid, omni and figure-8 options, 2 -dB pads and 2 high pass filters
The Rode NT1000 is a large condenser with a sound which falls in between the NT1 and the NT1-A
A similar mic to the Rode NT1000, with cardioid, omni and figure-8 options, a -10dB pad and 2 high pass filters
As well as the microphone, the Rode NT1-A also comes with a:
SM6 Shock mount with integrated pop shield
6m (20') high quality XLR cable
Microphone dust cover
Rode NT1-A Polar pattern
Like many vocal microphones the Rode NT1-A uses a cardioid pickup pattern, which is a heart shape. It picks up sound from the front, but rejects sound from the back and sides.
The cardioid pattern is also well suited to a home studio where the acoustics are less than ideal. It will pick up the sound of the vocalist in front of the mic, while rejecting the sound of the room.
No on/off switch on the Rode NT1-A?
There's no on/off switch on the NT1A or any of the Rode NT range.
Pro-level mics often don't have on/off switches, because it make it less likely that the singer will accidentally turn off the mic mid performance. The recording engineer can easily mute the mic from the mixing desk if needed.
It also means there's less to go wrong the mic. Part of the NT1-A's attraction is just how simple it is.
Phantom power for the Rode NT1-A?
As a condenser mic, the Rode NT1A requires phantom power. This is a small, low voltage current sent to the microphone from a microphone preamp, mixing desk, or audio interface.
Most industry standard desks or interfaces are capable of providing phantom power, which is sent through the XLR cable to the microphone. If your audio interface or mixer doesn't provide phantom power, there is a solution: You can connect your mic to an external 48 volt phantom supply. Then connect the output of the phantom supply to the mixer, or audio interface.
Connecting the Rode NT1-A
The NT1-A comes with an XLR cable, which connects the mic directly to the audio interface or mixer. XLR are the standard connectors on all professional studio equipment. They're 'balanced', which means the cables are shielded from interference and carry a higher signal than unbalanced cables.
XLR cables are the only cables capable of carrying phantom power to the mic.
More about cables here
Rode NT1-A Design and Build
The Rode NT1-A has a sleek and durable design. It has a pleasingly rounded metal casing with a metal grille over the diaphragm. It's a 'side-address' microphone, meaning it picks up sound from the side rather than the end.
A small gold dot indicates the direction of the cardioid mic pattern. Sing into the gold dot and you can't go wrong!
Inside the microphone is a 1-inch gold-sputtered capsule. An internal shock-mount protects the capsule and counteracts any stand or handling noise. The capsule is 'true-condenser' meaning it's externally polarised, and will draw 48v of phantom power.
At the bottom of the microphone is an XLR socket, as well as a screw thread used for attaching the mic to the shock mount. There's a shock mount and integrated pop filter included with the mic.
You can use this to reduce unwanted noise and plosives while mounting the mic on a stand
Rode NT1-A Dimensions and Weight
At 190mm (7.48") x 50 mm (1.96"), the Rode NT1-A follows the standard weight and size of a typical large diaphragm condenser mic. It's a little wider than most live microphones, but considering it's not meant to be handheld, this won't be an issue.
At 326g (11.5oz) it has a nicely reassuring weight to it, but not so heavy that you can't travel with it, or it brings the mic stand down.
Rode NT1-A Frequency response
The Rode NT1-A has an extremely wide frequency range. Stretching from 20Hz up to 20kHz, it covers the whole range of human hearing.
Beginning at the low end, there's a very slight upwards curve from 20-100Hz, followed by a small low-range boost from 100-200Hz. This provides some valuable depth and weight to lower voices.
Above 200 Hz, the Rode NT1-A reproduces a very flat midrange, before a series of small peaks upwards of 3kHz. The largest peak in the chart is ataround 10kHz.
These peaks have the effect of boosting the 'presence' – extra air and sparkle in the top-end.
The frequency chart of the NT1-A is a little more coloured than it's sibling, the Rode NT-1, which has an extremely flat response. But the colouration of the NT1-A is pleasing, especially if you record vocals and acoustic guitars.
Rode NT1-A Sensitivity and Impedance
Looking at the specs of the Rode NT1-A, one thing that stands out is it's sensitivity. At 25 mV (-32 dBV)/Pa, it's clearly far too sensitive for live performance. However, in the studio, sensitivity is everything.
Highly sensitive mics pick up sound easily without the need for a lot of extra gain. They're also very good at picking up fine detail. The sensitivity of the Rode NT1-A, combined with it's extremely low self-noise, means you'll get some very clean and clear recordings.
The NT1A has a max SPL of 137dB. Whilst this isn't as high as many dynamic vocal microphones (the Shure SM58 has a max SPL of around 150-160db), studio mics are used in a different way.
As condenser mics are more sensitive, you don't need to speak or sing so close to the microphone. This means even the loudest performances shouldn't hit such a high SPL.
The only time this lower SPL might be limiting is if you're miking up very loud guitar amps. But in reality, most engineers use quieter volumes in the studio than a band would use live.
The Rode NT1-A has a low impedance of 100 ohms. This ensures a high quality signal from microphone to preamp.
Rode NT1-A Sound quality
Rode have been bringing high quality condenser microphones to the home studio market for years. The NT1-A is no exception and has become a favourite of the NT range.
Despite the affordable price, this microphone offers high-quality sound that you can rely on for home recording. The extremely low noise makes it possible to capture the quietest sound sources. And the high sensitivity ensures you'll capture all the details and nuance of the most subtle performance.
The lows and mid range sound smooth and even, whilst the slightly boosted top-end provides a little air and sparkle.
Every voice is different, so no mic is perfect for every singer. Those with more deep or rounded tones should find this microphone offers a lot of depth and richness. Whereas those with slightly higher or harsher voices might find the NT1-A a little bright.
But these are small differences, and EQ adjustments can always be made in post. It's much easier to cut the high end of a recording than it is to add more high end. The slight presence boost also means this mic is great on acoustic guitars, capturing a lot of detail and shimmer.
Ultimately, the clear, detailed sound of this mic makes it a great all-rounder, and will be a valuable addition to any home-studio.
Rode NT1-A in Use
The cardioid polar pattern of the Rode NT1-A is well suited to vocal recording. It does a good job of rejecting noise from the rear or elsewhere in the room, while still offering enough width for recording guitars and other instruments.
Handling noise isn't an issue with a studio mic as it will be placed on a mic stand. But it's still necessary to reject any vibrations picked up through the stand or the floor.
The NT1-A does handles this noise rejection well, through a combination of the built-in internal shock mount and the external shock mount supplied with the mic.
One thing to bear in mind is the increased sensitivity of a condenser mic, which will pick up more background noise and room reflections than a dynamic mic. So make sure to use it in a recording environment which is as dry and quiet as possible.
The presence peak in the EQ curve will bring a natural brightness to your recordings, but in some voices, it might also increase sibilance. It's something you'll only know once you try it out.
Like many large diaphragm condensers the Rode NT1-A is a little sensitive to plosives. But with the included pop filter, this shouldn't present any problems at all.
Dynamic vs condenser microphones
Condenser and Dynamic microphones are the two most common types of microphone design. You may have heard a lot about them, but whats the difference?
Condensers and dynamics function in a slightly different way, and have their own strengths and weaknesses.
Dynamic microphones are "passive" meaning they don't need an electrical power source. The signal is produced by a diaphragm which is attached to an electrical coil wound around a magnet. As the diaphragm vibrates, this produces an AC current.
Condenser mics are a little more complex. They're "active" meaning they need electrical power to operate. There's a metal diaphragm placed next to a metal backplate. Both the diaphragm and the backplate are polarised with an electrical charge.
As the diaphragm vibrates, and the distance between the two plates varies, this produces a small electrical current. Power is then needed to step up the voltage of the microphone to a usable signal-level.
The differences in design means each type of mic has its own pros and cons.
Dynamic mics are extremely durable, and can withstand a lot of rough and tumble. They're also less sensitive to distortion from high sound levels. However, the weight of the coil limits how responsive the mic can be, and it tends to struggle to replicate high frequencies and dynamic detail.
Condenser mics are less limited, and can provide a lot of detail and clarity. Their ability to reproduce sound so accurately is the reason they're used so much in studio recordings. They also offer a higher output level than dynamic mics.
But on the downside, the delicate mechanism of condenser mics means they can get damaged more easily. So they're best kept within the safety of the studio, where' they're particularly well suited to vocal recordings. Studio engineers love their clear, bright and detailed sound.
More about the different types of microphones here
Rode NT1-A vs Rode NT-1
The older version of the Rode NT1A is the Rode NT1. This was the very first mic manufactured by Rode in the early 90s.
The company was originally called Freedman Electronics. But this microphone was so popular on its release that the sales guys compared it to a 'rat up a drainpipe'. This earned the mic the nickname, 'Rodent-1, later abbreviated to Rode NT1. This is how both the company and the mic got their names!
The Rode NT1-A was originally an adaptation of the NT1. However, in the last decade or so the NT1 has undergone a complete ground-up redesign. The two microphones now have different components and circuitry, despite being remarkably similar in many ways.
The NT1 is a little more sensitive, and has a slightly lower max SPL, but in practice the effect is negligible.
The real differences are in the frequency response. Whilst the NT1-A has various boosts and peaks, the NT1 is remarkably flat. Between 40Hz and 4kHz there's almost no variation in the frequency response of the NT1 with only the smallest boost north of 5kHz.
As they're such similar mics, the right choice for you will come down to personal preference. The flat response of the NT1 makes it good for a variety of uses in the studio.
But you may prefer the extra depth and natural presence, characteristic of the NT1-A. It's for this reason I find the NT1-A to be a better fit for vocals and acoustic guitars.
Rode NT1-A vs Shure SM7B
Another popular mic for the home studio is the Shure SM7B. You may recognise this mic – it's used a lot by podcasters and vloggers. And you'll often see it on youtube tutorials or live radio streams.
Unlike the Rode NT1-A, the Shure SM7B is a dynamic mic, meaning it doesn't require phantom power. The design has its own specialised mount, as well as switches to engage an optional high boost or low-cut.
One of the advantages of using a dynamic mic in the studio is that the lower sensitivity will pick up less room noise. If you're working in an imperfect environment this can be really helpful. The SM7B also has a slightly higher max SPL than the Rode, meaning it can withstand louder input sounds.
However the Shure has its downsides – it has a much quieter signal, meaning you'll probably need a pre-amp to boost it up to line level. If you don't have a high quality pre-amp then you could end up with quite a noisy signal. By contrast the NT1-A's higher sensitivity and low self-noise will make for consistantly quiet recordings.
The two mics sound different too. The SM7B has a slightly warmer, rounder sound with more pronounced lows and mids. If you need to beef up your voice, or you're working with spoken word, it could be a good fit.
As a dynamic mic, the Shure SM7B lacks the crisp top end detail that you'll only find with a condenser mic. If you need a bright, open and natural sound for singing and talking, the NT1-A might be a better option.
Despite being a dynamic mic, the Shure SM7B is considerably more expensive than the Rode NT1-A. So if you're on a budget, and need value for money, the Rode would be my choice between the two.
Read the full Shure SM7B review here
Rode NT1-A vs Audio Technica AT2020
A similar mic to the NT1-A, at the budget end of the spectrum is the Audio Technica AT2020. This is another side address condenser designed for the home studio, with a smaller diaphragm than the Rode.
The AT2020 is less sensitive than the NT1-A, but has the same frequency range and a similar impedance. There's also some subtle differences. The Audio Technica AT2020 doesn't have an internal shock mount, but it does have a slightly louder SPL of 144dB, making it more useful for miking loud sound sources.
There's some differences in the frequency chart too – the AT2020 has a small cut in the lows and mids, whereas the NT1 has a boost. I think this makes it sound a little less full and rich.
Ultimately the differences between the NT1-A and the AT2020 only really become apparent when you hear them. For my money, the Rode has a little more detail and clarity, as well as more air and sparkle at the top end.
If you're really on a budget, the Audio Technica AT2020 is a great microphone.  But if you can stretch your budget a little, the Rode NT1-A might give you the sound you're really looking for.
Read the full Audio Technica AT2020 review here
Mic Placement for the Rode NT1-A
Where you position your mouth in relation to the microphone can make a big difference in sound. Professional vocalists are always playing with the distance between themselves and the mic to change the tone and add expression to their performance.
The Rode NT1-A should be placed on a mic stand in the studio, to avoid rumble and handling noise. If there's too much sibilance, try singing into it slightly from the side.
When you have other instruments in close proximity and you just want the sound of the voice, it's best to sing or speak directly into the mic. This will add more bass to the sound, due to the 'proximity effect'. It's an effect used by radio presenters to give them very deep voices.
For a more natural, balanced sound, hold the mic between 5 and 10 cm away from your mouth. There'll be less of the proximity effect, and the mic will pick up more sounds from other instruments, and the acoustics of the room.
To bring in more of the room sound, and the instruments around you, hold the mic 10 cm or more away from your mouth. This is also a good position for any sudden loud notes, or to shape, and tail off a long note.
What else do you need?
The NT1-A comes with a suspension cradle, pop filter and high quality XLR cable. If you don't have one yet, you'll need a mic stand to mount it on. Mic stands stop the possibility of any handling noise in the studio, and reduce vibrations from the floor.
Try a good quality boom stand, with a tripod base like the K&M 210/2
The best-selling Rode NT1-A is an affordable, well designed, and great sounding studio condenser. The build quality is excellent, and a 10 year manufacturer warranty shows just how much confidence Rode has in it.
The low noise combined with high sensitivity give you the capability of making clean and detailed broadcast quality recordings. A frequency response which boosts in all the right places means you can have that sparkling, clear sound that only a condenser mic can deliver.
At this price-point, the Rode NT1-A is a great budget choice for anyone requiring premium sound in their home studio.
Rode NT1-A Frequently Asked Questions
Does the rode nt1-a need phantom power.
The Rode NT1-A is a condenser microphone, so it does require phantom power. You can receive power from the mixing desk, audio interface or a stand-alone unit
Can you use condenser mics on stage?
Condenser mics are a great choice for stage use as long, but only if they've been designed specifically for live use. The Rode NT1-A is more suited to a recording studio.
Which artists use the Rode NT1-A?
Artists spotted using the Neumann KMS 105 include Avicii, Nicky Romero and Madeon.
What are the best mics for recording vocals?
Other recommended studio vocal mics
What else do you need for your home recording studio?
Do All Condenser Mics Need Phantom Power? – nt1a, AT2020
This is a question I get asked a lot, people will often email me asking if a specific model of condenser microphone, for example the Rode nt1a, the Rode nt1 or the Audio Technica AT2020 need phantom power to work. Well I thought I would do one article which answers this question for every single condenser microphone out there because the answer is always the same:
All condenser microphones need phantom power to function. A small amount of electrical charge is required to charge a thin metal diaphragm and backplate so when a soundwave hits it produces a small electrical current which is boosted and sent back along the audio cable to the interface, mixer or amplifier.
That summary is very brief and if you want a more detailed explanation of exactly how condenser microphones work, why phantom power is needed and finally how you get phantom power then please read on.
How Do Condenser Microphones Work?
So the best way to understand why phantom power is required in all condenser microphones such as the Rode nt1a is to understand how they function.
All microphones, regardless of type are what are known as 'transducers'. This sounds really technical, but really all that means is they convert one form of energy (mechanical) into another form of energy (electrical). Which allows physical sound waves to be translated into audio signals for you to hear through speakers or an amp for example.
The way different types of microphones perform this task though varies depending on the microphone design.
There are two main types of microphone you are likely to come across in your musical journey (there are of course other types but they are less common). These are dynamic microphones and condenser microphones. If you would like a detailed description of the difference between these two types of microphone, check out this detailed article I wrote .
A dynamic microphone, you may associate most with the type of microphone singers use in a live setting. They are an older, simpler design which contains a thin piece of material known as a 'diaphragm' which is attached to a metal coil suspended between two magnets that moves when a sound wave hits it. This creates a small AC current and that passes down a cable and into an amp where is converted back into an audio signal for you to hear. As simple as that.
A condenser microphone such as the Rode nt1a, nt1 or Audio Technica AT2020 is a more intricate piece of kit, and that is usually reflected in a higher average price.
In a condenser mic the diaphragm is usually a very thin piece of conductive metal (this is often a very long lasting corrosion resistant metal such as gold. Then there is a second thin piece of metal known as the 'backplate'. A small amount of power is applied to these pieces of metal causing a static charge between them. This means when a soundwave hits the diaphragm it begins to move ever so slightly, when that happens the 'capacitance' of the circuit changes ever so slightly and it creates a tiny electrical output.
As I say, that electrical output caused by these minute changes in capacitance is very small indeed and therefore condenser microphones also contain a small amplifier, known as an FET amplifier. This boosts the signal and means you will have an audible signal with enough juice to travel down whatever cables you are using to your audio interface, mixer or amplifier.
What is Phantom Power?
Phantom power is the source of that small electrical charge required to make your condenser microphone work.
It is a D/C (direct current) voltage that is transmitted over an audio cable.
The reason for the spooky name is because the power is transmitted down the same cable audio cable that you will be using to end audio signals down from the microphone. So there is no need for a separate plug or cable to provide power to the microphone. It is effectively invisible, 'piggybacking' on the A/C current and so hence the name 'phantom power'.
Most of the time for microphones you will be using an XLR cable. The 48v D/C current is supplied through pins number 2 and 3 of the 3 pins, whilst pin number 1 is the ground.
Where Can I Get Phantom Power From?
So now you know that you need to get phantom power to your condenser microphone for it to work, how do you do this? What equipment is needed?
In the home studio, the most common source of phantom power will be an audio interface. This is a small, but essential, piece of kit that is essentially an external soundcard and translates the audio signal from the microphone into a digital signal your computer can understand.
On virtually all audio interfaces you will see a button either marked "phantom power" or more commonly '+48v' such as on my Focusrite interface shown below. The 48v is the industry standard amount of phantom power that is supplied by an audio interface to your microphone.
You will also find phantom power on most modern mixers. So if you are looking to use your condenser microphone in more of a live setting and want to connect it to a PA system or amp, it will need to go through a mixer which has phantom power abilities. Once again have a look for a button or switch marked '+48v' or something similar. If you are unsure the manual should tell you whether or not it has it.
In reality though, you are much better using a dynamic microphone when not in the studio. Dynamic microphones do not require phantom power, but also have a more robust, rugged design, better suited for louder sounds and being knocked about. Because of their intricate designs, condenser microphones are much more delicate and prone to damage.
Do USB Condenser Microphones Need Phantom Power
USB condenser microphones have become very common in recent years. In fact, many of the models mentioned here such as the Audio Technica AT2020 have a USB version of the same mic.
Well yes, these microphones do still require phantom power. As I already mentioned this is due to how the mechanism functions. However, you do not need to worry about having a special interface or mixer for this, the phantom power is supplied to the microphone through the USB connection.
This is what makes them a very popular choice for many as they can just be plugged in an used, making them super portable and easy to use.
Can Phantom Power Damage My Microphone?
This is a common question. The idea of applying an electrical current to your brand new piece of equipment can seem a bit daunting but trust me in most case it should be ok.
Even if your microphone does not require phantom power, if you try to use it the current will simply travel to the ground pin on the XLR connection and will bypass the microphone. For more detail on why dynamic mics don't need phantom power check out this article .
The only time you need to be careful is if you have a ribbon microphone. These special microphones have a very thin 'ribbon' element which can be damaged by phantom power. But let's be honest the chances of you accidentally having a ribbon microphone without realising it are slim to non.
Yes phantom power is required for any condenser microphone, including the Rode nt1a, the Rode nt1 and the Audio Technica AT2020, in order for them to function correctly.
But this isn't something you need to worry about. When buying any XLR microphone you will need to buy and audio interface or mixer to connect it to you laptop or computer to record and with virtually all modern interfaces, even cheap ones, phantom power comes as standard.
If you are undecided which microphone to buy still, check out this review of the nt1a I did and hopefully that will help you decide.
Rob Wreglesworth
Rob has come to terms with the fact he will probably never be a famous rock star....but that hasn't stopped him from writing and recording music in his home studio. Rob has over 15 years experience of recording music at home.
Recent Posts
3,457 Best Free Trance Sample Packs & Loops 2023
Since the 1990s, trance music has remained a mainstay in electronic dance music (EDM). And EDM, of course, succeeded in a full-on takeover of the pop charts in preceding years. Its popularity has...
1,996 Best Free Hip Hop Sample Packs & Loops 2023
Are you getting ready to crank out some fire beats? When inspiration strikes, it strikes hard. And you've got to take advantage of it because you never know when it will come around again. To...
Rode NT1-A Large Diaphragm Condenser Microphone (Single)
- Cardioid Polar Pattern
- 1" Diaphragm
- Transformerless Output Stage
- 48V Phantom Power
- Included Shielded XLR Cable
- Included Shockmount & Pop Filter
- Included Dust Cover
- Included Instructional DVD
The NT1-A Large Diaphragm Condenser Microphone from RODE is a 1" cardioid condenser microphone. It has a self-noise level of 5 dB-A, making it a great choice for vocal microphones, as well as for recording guitars and percussion instruments.
A studio-grade pop shield and shockmount is included, along with a 20' microphone cable, dust cover, and an instructional DVD with recording tips.
Large Diaphragm
The 1" diaphragm provides a wide frequency response and excellent signal-to-noise ratio
Cardioid Polar Pattern
The cardioid polar pattern of the NT1-A effectively minimizes off-axis noises such as room ambiance,
monitors, and off-axis instruments
Transformerless Output
The transformerless output electronics result in quiet, noise-free output while maintaining maximum signal gain
48V Phantom Power
The microphone uses standard 48V phantom power, which is supplied through the standard XLR connector
Accessory Package
The accessory package includes a studio-grade shock mount with an integrated pop filter, a premium 20' cable, a dust cover, and a bonus DVD with microphone tips and techniques
Something went wrong. Wait a moment and try again.