DeAgostini Fanhome Build The Ghostbusters Ecto-1 Model Subscription Review - Issue #30
Read more »
We Can Just Put it Right Back in There: A Ghostbusters Reconstruction Review
Deagostini fanhome build the ghostbusters ecto-1 model subscription review - issue #29, ghostbusters honors... the mask (1994), ghostbusters: answer the call 2016 call sheets & script pages - plus transcript, ghostbusters: afterlife sequel ("firehouse") delayed until march 2024, deagostini fanhome build the ghostbusters ecto-1 model subscription review - issue #28, ghostbusters: afterlife sequel ("firehouse") june 2023 new york city filming rundown, ghostbusters: spirits unleashed (original game soundtrack) review, eaglemoss ghostbusters ecto-1 model subscription - fanhome relaunch is live.
:: Next >>
Search (Articles Only)
Afterlife Sequel/Firehouse
Cast & Crew
Extreme Ghostbusters
Filming Locations
Ghostbusters 1
Ghostbusters 2
Ghostbusters: Afterlife
Miscellaneous
Preservation
Real Ghostbusters
Spook Central
The 2016 Parody Remake
VIP Exclusives
XML Feeds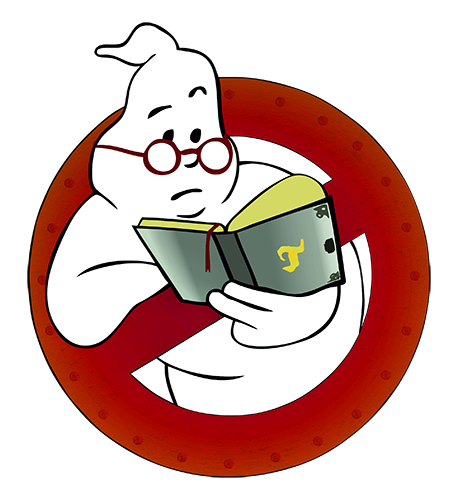 Spook Central (Fan Site)
Spook Central is one of the oldest of the Ghostbuster fan sites, well known for coverage of deleted scenes in the films and archived scripts. The site's webmaster is Paul Rudoff , who was a design consultant and a contributor of research and art materials for the The Real Ghostbusters DVD Box Set . The Real Ghostbusters scripts and equipment designs featured on Spook Central were used in the for the box set. [2] [3]
4 External links
5 References
History [ ]
Currently this history is quite incomplete. So we encourage visiting Paul's Website Archives page.
Spook Central was started in August 1996 at the url http://www.geocities.com/Hollywood/7218/. [4]
Egon's Workshop, a separate project between Paul and Ghostbusters Headquarters webmaster Troy Benjmain, was opened in 1999. [5] It only stayed open for a couple of years.
At some point the site moved to http://www.realghostbusters.com/. The site itself was at http://prudoff.hispeed.com and also could be accessed at http://www.spookcentral.cjb.net.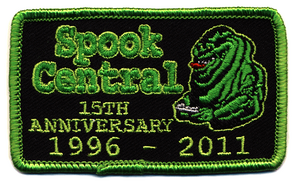 The Patch made for the 15th Anniversary which was promoted Blog Page
On August 12, 2010 for the 14th anniversary the site premiered a new site design by Tristan Jones , which featured seven site headers. Also Gozer temple as a background image was added. [6]
On August 1, 2011 the site offered for the 15th Anniversary an embroidered sew-on patch of the Logo design. On October 5, 2022, Spook Central offically moved to www.SpookCentral.tk. [7] The site has been using this domain name since 2003, but only as a forwarding address.
Features [ ]
44 Screencaps + 6 newspaper/mag covers shown in montage in film
36 audio clips
Many video clips
Deleted Scenes (Major feature)
Storyboards from six scenes (In all cases from scenes that were deleted or changed)
Scripts (includes 1 pdf)
64 Screencaps
20 audio clips
Ghostbusters III: Hellbent / Ghostbusters III News Archive (starts in 1993)
Episode Call Sheets
(For Extreme Ghostbusters )
Miscellaneous Section
A Spook Central variant is one of the official Tristan Jones hand-drawn variant covers for IDW's Ghostbusters #9 comic book .
External links [ ]
Spook Central
Spook Central-Website Archives - Paul's Sites
Spook Central at Wayback Machine (April 06, 2001 version)
References [ ]
↑ Spook Central: Website Archives - Paul's Sites
↑ Ghostbusters Wiki: RGB Box Set Image
↑ Spook Central: Real Ghostbusters Box Set
↑ Ghostbusters Fan's Spook Central Page
↑ Egon's Workshop archived in the Internet Archive's Wayback Machine
↑ Spook Central Finally Has a Real Domain Name - SpookCentral.tk
Gallery [ ]

Explore the Many Hidden Messages of 'Ghostbusters' in 'Spook Central' Trailer (Video)
Or enjoy the gentle mockery of "The Shining" documentary "Room 237"
It's not that sequel Dan Aykroyd keeps talking about, but a new about "Ghostbusters" is being released in September.
"Spook Central" is a documentary which explores the many hidden messages that, apparently, exist within the subtext of director Ivan Reitman 's 1984 comedy starring Aykroyd, Bill Murray , Harold Ramis and Sigourney Weaver .
Also read: 'The Shining': 33 Years Later, 'Room 237' Asks Why Moviegoers Can't Leave the Overlook
Theories discussed in the trailer, include the invisible Coca-Cola product placement, as well as the film's comment on sexuality, attention deficit hyperactivity disorder, and smoking.
As one would expect, the serious conclusions drawn from the comedic story about three grown men using proton packs to capture ghosts sound pretty ridiculous. But after looking at the trailer for "Room 237," a documentary released earlier this year that similarly explored obsessive analysis of Stanley Kubrick's horror classic, "The Shining," it appears that the theories are supposed to sound ridiculous.
In fact, the entire presentation — especially the on-screen text — gently mocks "Room 237" and cinephiles' habits, in general, of digging way too deep into movies, resulting in interpretations that are way more intellectual than the filmmakers may have intended.
Is "Spook Central" designed to take its subject seriously, watch the trailer and decide:
For comparison, here's the trailer for "Room 237":