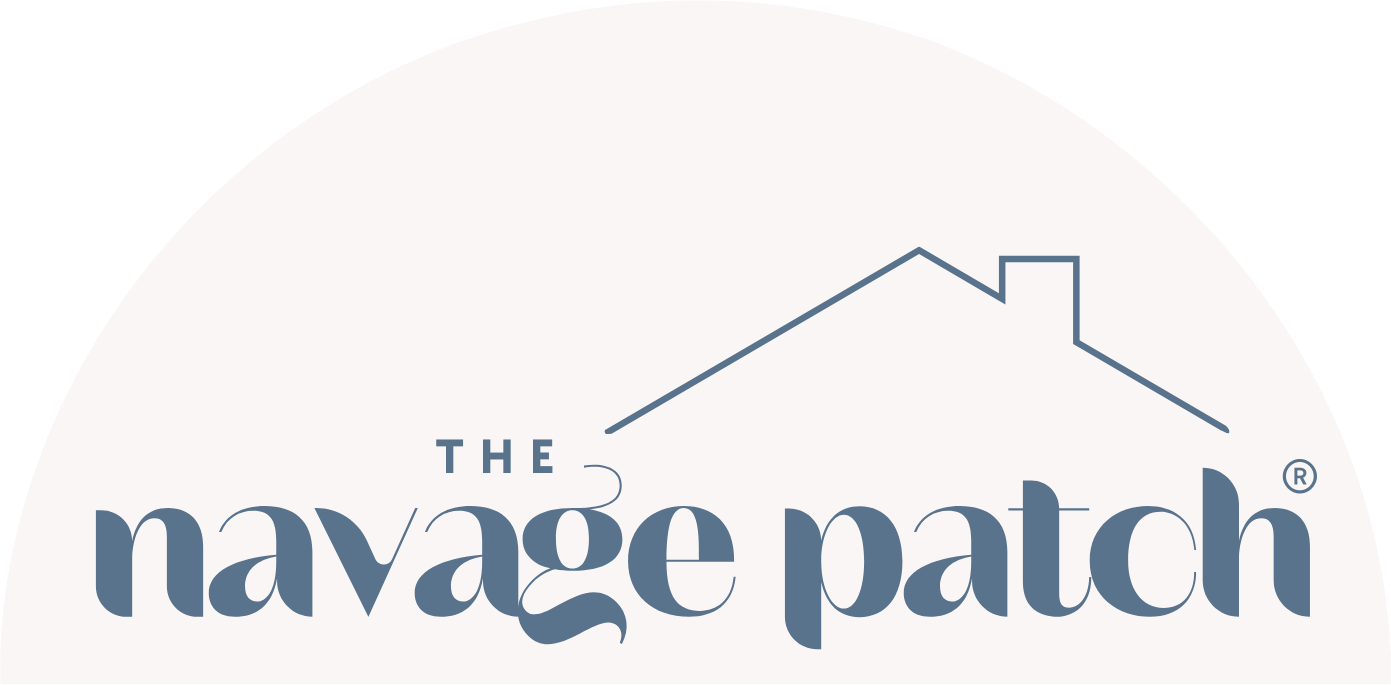 Easy Lighted Hanging Ghosts
Hanging ghosts are a cheap & easy dollar store Halloween DIY that look awesome without breaking the bank. Add some lights, and they're even better!
So my wife has been acting like a ghost lately.
Not the Dickens-style apparition with dragging chains and ominous warnings.
Neither the Poltergeist type that floats and snarls and startles.
Nor is she partially see-through, prone to floating through walls nor causing any mischief and mayhem at all.
But ever since I made her a bunch of pom pom ghosts , every time she walks by them, she throws her hands in the air, waves them around and lets out a great wavering, "WooOOOooo! WoooOOOOOoooo!"
And then she breaks up into laughter and carries on with whatever the heck it was she was doing before she passed the ghosts.
At first I figured she'd just gone nuts, and that was okay – I could live with a nut.
But then I realized that the cute little ghosts just made her happy, and she's never shy about showing her enthusiasm for things that make her happy.
So then I started to look forward to her little ghostly arm wavings and wavering "woooos."
If I didn't hear "woooOOOOooooo!" at least once each day, I'd ask her to give me one, and she'd toss her arms in the air and do her best ghost impression, and then I'd start cracking up, and she'd start laughing, and the dogs would start howling and Barish would roll his eyes and start counting the days until college when he could escape this loony bin.
Ghosts make my babes happy. [Only cute ghosts! I don't like those jerk scary ones! -Handan]
And if something makes my babes happy, it has been my long-standing belief that we need to have more of it!
In other words – if my babes wants ghosts, my babes is gonna get ghosts!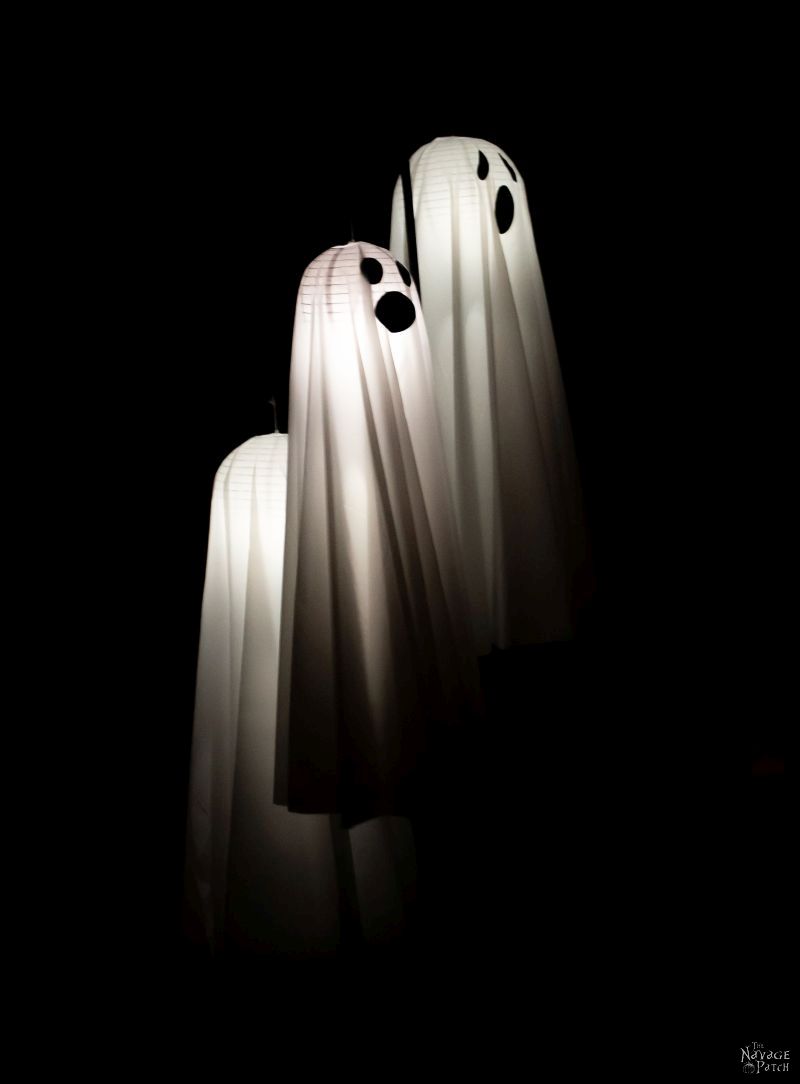 Fortunately for everyone, Handan already had a plan for more ghosts – lighted hanging ghosts for our front yard, to be precise – and she'd been collecting the materials from the dollar store since summer!
I must admit, though, when she told me the plan, I didn't think they would turn out nearly as good as they did!
She tells me a lot of ideas, and usually I'm all in from the start, but this one made me raise my brow and give her a little side eye.
Dollar store hanging ghosts made from paper lanterns and table covers?
The idea didn't sound very promising.
Actually, it sounded kinda lame.
It also sounded like the whole thing would disintegrate in the first rain.
But I kept my suspicions to myself. It wasn't the first time I'd doubted my wife's sanity, only to learn that she was right all along.
There was that time I thought she was a certified crackpot for suggesting that I document and write about a shed cleanout and reorganization .
(You guys loved it.)
Then there was that time way back in 2015 that I thought she'd gone bananas for insisting I photograph and write about how to make a cutting board .
(Our 11th best post of all time.)
And even for Halloween, there was that time I nearly called the paddy wagon when she insisted that I make a hanging cage Halloween prop out of some dollar store laundry baskets!
(Not only is it our 10th best post of all time, but it was one of my top 5 most enjoyable posts to write, and it is one of my favorite posts to revisit and re-read.)
JOIN OUR COMMUNITY AND GET THE LATEST CREATIVE IDEAS AND DIY TUTORIALS RIGHT TO YOUR INBOX!
So, yeah, I have a long history of thinking my wife is nuttier than a half-baked fruitcake, when in fact she's a creative genius who is so far ahead of me that I may as well be a thumb-sucking toddler in a playpen.
And I'll tell you, these hanging ghosts are awesome, and dammit, as much as I hate to say it, they're " cute! "
And they're cheap—only a few bucks per ghost!
But the best part of all is that every time we leave the house or return home, and every time Handan walks by the front door, she throws her arms up high, waves them around and goes, "WoooooooooooOOOOOOOOOOOooooooooo!"
And wherever I am…I laugh.
Then she laughs.
And the dogs howl and The Boy smiles and shakes his head and wonders how in the world he wound up in a family like ours.
Lighted Hanging Ghost SUPPLIES LIST
Affiliate links are provided below. Full disclosure  here .
Paper lanterns (8 or 10 inch) or Dollar Tree plastic bell cloche (pictured below)
Dollar Tree round plastic table covers ( also on Amazon )
LED remote controlled tea light candles
Packing tape (Dollar Tree has the Jot brand)
String or twine
Black adhesive vinyl (Dollar Tree carries adhesive vinyl, but you could also use a black garbage bag or color in the eyes and mouth with a Sharpie)
Double-sided tape (if using a black garbage bag for eyes and mouth)
Garden shepherd's hooks or a tree with branches you can reach (or you can hang them indoors)
More Easy DIY Halloween Decor Ideas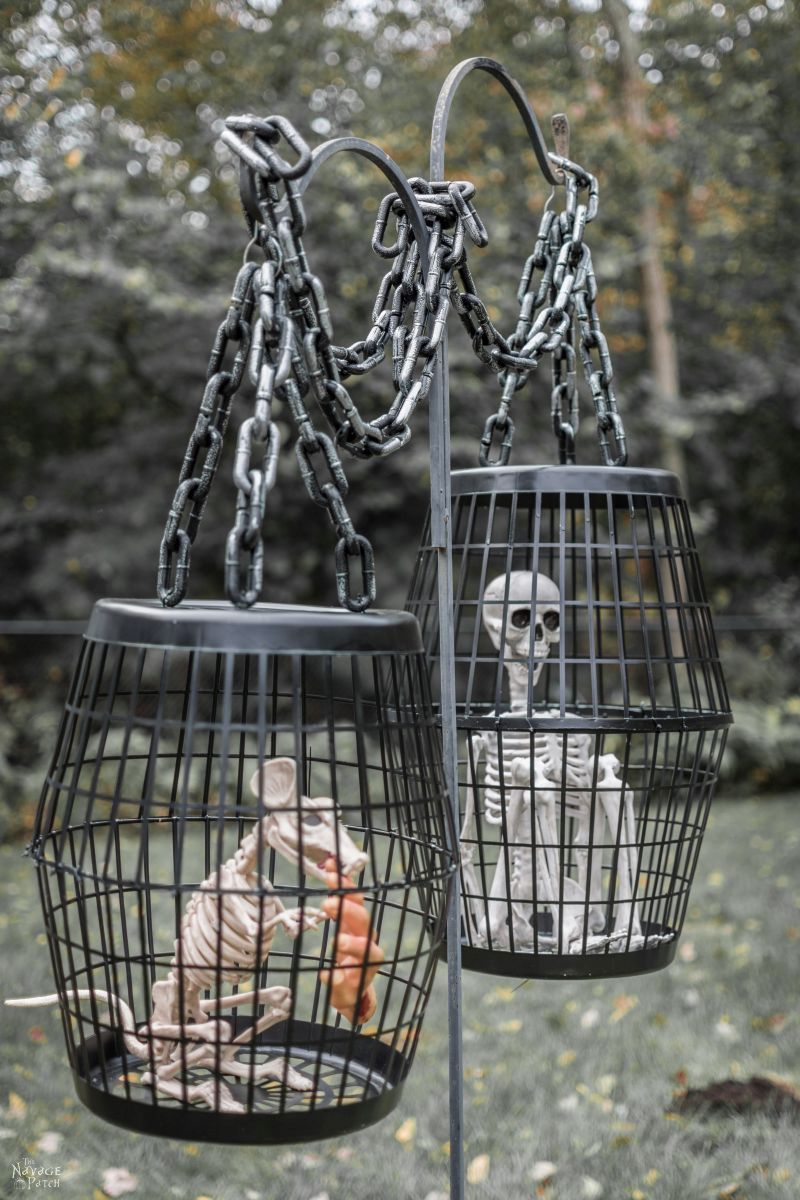 Hanging Cage Halloween Prop
Halloween Fire Wreath
DIY Cousin Itt Pathway Light
Free Vintage Movie Monster Printables
DIY Dollar Tree Halloween Lights
Gallery Of The Faceless – Easy Halloween Wall Decor
DIY Lighted Witch Hat (Grandin Road Inspired)
Free Vintage Witch Printables
DIY Witch Legs (Grandin Road Inspired)
Floating Potion Bottle
Apothecary Jars And Free Printable Labels
Dishes Of Darkness: Pottery Barn Inspired Halloween Plates
Easy Lighted Hanging Ghosts VIDEO TUTORIAL
You may want to watch our short video below for an overview of our easy lighted hanging ghosts before you read the detailed step-by-step tutorial.
View this post on Instagram A post shared by The Navage Patch (@thenavagepatch)
Easy Lighted Hanging Ghosts TUTORIAL
Okay, are you ready? Look I wasn't joking when I said these were easy, so don't blink, or you might miss the tutorial!
Believe it or not, Handan had to show me how to do this first step of assembling the lanterns.
What? Don't judge! I've never built a damn paper lantern before, okay? It's not exactly intuitive for dumbos like me!
So anyway, the wire thingy goes into the paper thingy and… oh what's the point? I'm sure you've built a paper lantern before! You don't need me telling you how to do it!
…And then those round wire things go over the…. ah, forget it! Just build it, already!
If you can't find paper lanterns dollar store also carried bell cloches. That might be easier since all you need to do is cut the rim of cloches.
Okay, now that that's out of the way….
If you'd like to light your ghost, now's the time to put in the lantern light. First let me model it for you.
I know, I know, I missed my true calling. I should have been a hand model.
Look, full disclosure here – the lantern lights pictured above don't last long. I mean, if you leave it on overnight and all the next day, you may— may— get one more night out of the thing. If you'd like to enjoy them throughout October you can use these battery operated remote controlled tea light candles which will last longer and they are only about 2 dollars each.
They work so much better than those cruddy old ones back in the stone ages when we first did this post! Just check out the Instagram Reel below to see them in action! They are amazing!
But, hey, these guys look great in the daytime, too, so it's not all bad if you don't want to light them!
Okay, now that we've all agreed that you will be adding lantern lights, you'll hang it from the middle of the wire support.
Next, open the table cover package. This is complicated. Lemme show you how to do it.
There's a more advanced method involving teeth that I won't get into today.
Unfold the table cover until you find the middle. Doesn't my body language just scream enthusiasm in this picture? I was doing my best teenager impression.
I'm holding it along the midline. The center of the table cover is halfway between my hands. I'm clearly so excited in this picture. I was barely able to contain myself!
Get yourself a couple of inches of packing tape and fold it around the center point. This is going to make your hanging ghost stronger, so the wind won't tear him apart.
Fold the taped part over and cut off just a tiny bit of the corner.
Now fully open the table cover and find the center.
Hey, look! There it is!
Hook the top of the lantern through the hole you made in the table cover. Stay with me, now! We're almost there!
Congratulations! You've built your hanging ghost body!
Next, tie a piece of string to hang your ghost.
The last step is to stick on the adhesive vinyl eyes and mouth. Choose any or all of the designs at the end of this post. You can cut them out with a Cricut if you have one, or trace them and cut out with scissors. If you'd rather not buy a roll of adhesive vinyl just for this project, you can also cut the eyes and mouth from a black garbage bag and stick them on with double-sided tape. Alternatively, you could draw them right onto the hanging ghost with a Sharpie. There are solutions for every budget!
Update October 2021: Dollar Tree now carries adhesive vinyl! 12″ x 48″ for a dollar!
And that's it! Your hanging ghosts are ready for action!
I told you that these came out much better than I ever would have guessed. Just have a look at these pics!
They're pretty damn cute, I have to admit.
And yes, these little guys can handle almost anything Mother Nature throws at them. They've already survived two rainstorms and non-stop windy days with absolutely no issues.
Can you hear it?
Can you hear my babes?
WoooooooooOOOOOOOOOOOOooooooooOOOOOOOOOooooo!
As promised, here are the ghost faces. Just right click on each image and select "Save Image As" to save the ghost faces full size. Or CLICK HERE to download the PDF versions of them!
We love it when you share our posts on Pinterest!
Leave a Reply Cancel reply
Your email address will not be published. Required fields are marked *
48 Comments
Another great and easy idea. Love the photos, Greg. You're the headless crafter. And those of the ghosts blowing sideways makes them look like the ghosts of windsocks past.
Whoooooo whooooooo
LOL! Trust me, it's better if my enormous head isn't clogging up everyone's computer screen! You should have seen me trying to take pictures on that windy day – I was running in circles around the ghosts trying to catch their faces as they twisted in the wind! 😀
Another idea for the eyes and mouth . . . cut them out of black duct tape.
Great idea, Ruth!
Another easy DIY project that I can do. Thank you. Granddaughter is looking forward to creating a bit of spookiness on our front porch. Just wondering about the lights you used in your ghosts. I would want to use lights that could be controlled with a remote. Any suggestions? The ones you have a link to only last 72 hours.
Thank you, Jennifer! Have a look here for some remote controlled lights: https://amzn.to/2ImOqMp
These are pretty darn cute alright. I think I can do this one. You two are my favorite crafters and favorite blogger. Nothing wrong with laughing while you are working …. or reading your blog.
Thank you so much, Jan! I'm always so happy to hear that I make people laugh! 🙂
Love these! We decorate our office and these ghosts would be a lot of fun hanging around in here. I got my waterslide paper yesterday! Off to the Dollar Store to hopefully find some candles. 🙂 I told our UPS guy yesterday about your site. He loves to make things, too. He said he was going to check it out last night. Hope he did! 🙂 Jana
Awesome! Thank you, Jana!! 😀
What a great idea! Thanks for sharing!
Thanks, Andi! You're welcome! 🙂
Love, love LOVE the idea! Reading your blog always makes me smile 🙂 Thank for sharing!
Thank you, Karen! 🙂
Thanks Greg and Handan for all the amazing projects you post. I love the humor, you guys are hilarious and inspirational!
Thank you so much, Janine! We're always so happy to hear that we inspire others, and of course, if I can make you laugh, then all the better! 🙂
Love these! What diameter are the lanterns you used? There are several sizes available on Amazon but yours look just right with the length of the tablecloths. Thanks.
Hi Pamela, thank you! The two big ones are 10″ and the little one is 8″
Greg I just love reading your blogs. You always have a positive, upbeat attitude. I think it would be great fun to be a fly on the wall to spend time with your creative genius. Even in the event of a mistake(?) somehow you make it seem part of the process. Thank you so much for providing laughter and sunshine along with practical information. It's always such a joy.
Aww, thank you so much, Ronna! I'll tell you something – with me, mistakes ARE part of the process, because I don't think I've ever completed a project without one! 😀
Oh My! This is adorable and cheap, I love it! Running to the dollar store now. And I may just use the dollar store battery tea lights and see if they will work! Thanks!
Oh, yeah! That's a good idea about the dollar store lights, Breanna! Let us know how they work!
Love these!!! What about using glow-in-the-dark paint on the ghosts?? If they make glow-in-the-dark thread for quilting, someone has to make glow-in-the-dark paint!! You could put a fabric medium in the paint and then your ghosts would not get stiff. Using the battery-operated fairy lights would be a great idea as well. Definitely sharing this idea on Facebook!!
Oh yeah, they certainly make glow in the dark paint, and that's a great idea you have! 🙂
A great fun idea, I love it.
Thank you, Claire! 🙂
These are absolutely adorable. Or adooooooooorable~
Wooooooooooo! LOL!
Ghosts are awesome! Also love the Halloween plates !
Thank you so much, Janis!
Love this , Thank you for sharing
Thank you, Myra!
Just found this post looking up Halloween ideas on Pinterest. Was reading while chatting with my son and was laughing so much that he had me read it to him out loud. His first comment was that he wants this kind of fun comeraderie in a relationship! LOL I will definitely be wrangling my hubby into helping me do this. LOVE how they came out. And I'll be reading your blog further. Thanks for the ideas and the laughter.
So awesome to hear! Thank you so much, Shannon and welcome to The Navage Patch! We're happy you found us – yeesh, what took you so long??? 😀
Thank you for this idea! 6 ghosts are glowing in my garden graveyard tonight. I can't seem to post a photo here, but they're on my Twitter: @AliceLoweecey
I didn't light them from within. Rather I chose to drape orange mini-lights around them. They look a bit like ghosts from hell. Since I write horror, it's entirely appropriate!
Hi Alice, you're welcome! I just checked your Twitter, and those ghosts look fantastic with the orange lights. Great job!
I LOVE these! Any unique Halloween decorations, and Im in. Im pretty sure that you have way better dollar stores than we do, though. You seem to find things that I've never seen at ours. Keep up the great work!
Thank you, Serene! It's weird how variable DTs can be from state to state!
Greg would you be interested in selling one?
Hi Gina, unfortunately I don't have the time to make and sell our creations, but they really are so easy to make!
Love these, what size lantern did you use please?
Thanks, Jany. We use 8, 10 and 12 inch lanterns for our ghost. Having different sizes gives a much better look than if they're all the same!
These turned out great. Thank you!
Glad to hear it, Jessie!
Awesome post
They are really cute! Whoooooo
Thank you, Debbie!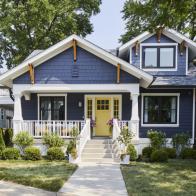 100 Day Dream Home
Barbie Dreamhouse Challenge
Bargain Block
Battle on the Beach
Brother Vs. Brother
Building Roots
Celebrity I.O.U.
Christina on the Coast
Down Home Fab
Farmhouse Fixer
Fix My Flip
Fixer to Fabulous
Flip the Strip
Help! I Wrecked My House
Holmes Family Rescue
Home in a Heartbeat with Galey Alix
Houses With History
Lil Jon Wants to Do What?
Love It or List It
Married to Real Estate
My Lottery Dream Home
Property Brothers: Forever Home
Tough Love With Hilary Farr
Unsellable Houses
Vacation House Rules
Windy City Rehab
See Full Schedule
Stream Full Seasons
Sign Up for Our Newsletters
Ideas by Room
Design Styles
HGTV Magazine
HGTV Newsletters
Flowers and Plants
Landscaping and Hardscaping
Outdoor Spaces
Curb Appeal
Cleaning and Organizing
Entertaining
Health and Wellness
Real Estate
Home Improvement
DIY Projects
HGTV Handmade
$10K to Holiday Giveaway
HGTV Urban Oasis 2023: Enter the Sweepstakes
HGTV Dream Home
HGTV Smart Home
Product Reviews
Gift Guides
Sales and Deals
News and Trends
Newsletters
TV Schedule
Get inspired! Sign up for our newsletters for the latest ideas, products and projects.
By entering your email address, you agree to our Terms of Use and acknowledge the Privacy Policy . HGTV and its affiliates may use your email address to provide updates, ads, and offers.
Want even more inspiration?
HGTV Shopping
HGTV Makeovers
HGTV This Week
HGTV Gardens and Outdoors
HGTV Weekend Projects
Make and Celebrate
Outdoor Halloween Decoration: Hanging Ghosts
Haunt your front yard with these easy-to-craft floating fabric ghosts. Hang them from a tree or light post to give Halloween guests a fright.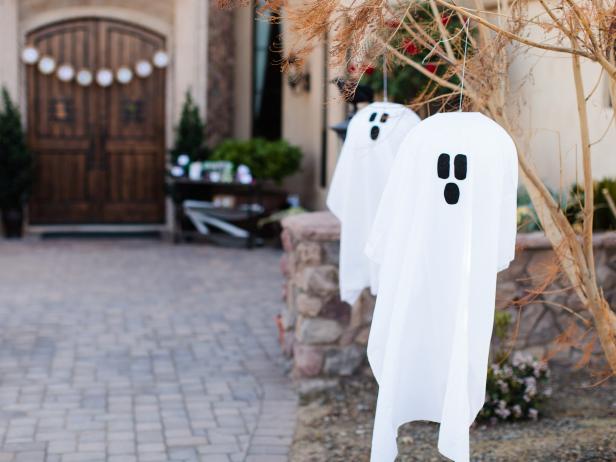 Hanging Halloween Ghosts

Related To:
Materials needed:.
white paper lantern (without lighting kit)
white fabric
black felt or foam sheet
fabric glue or hot glue gun and glue sticks
shepherd's hooks for hanging (optional)
string or twine
Assemble Lantern and Drape Fabric
Gather supplies; be sure to get enough white fabric to cover the size lantern you're using so it drapes nicely (Image 1). Assemble paper lantern, then drape fabric over it. Cut a slit in the top of the fabric to allow the lantern's metal hanging hook to pop through. Tie a piece of string or twine to the hook for hanging ghost. Trim fabric as needed along the bottom to create ghost shape.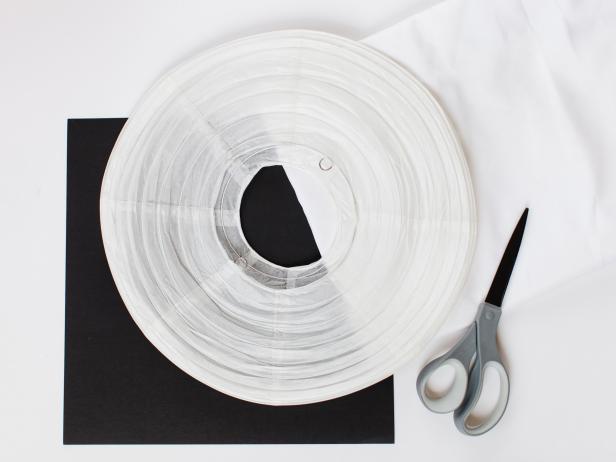 Paper Lantern for Ghost Shape
Assemble paper lantern, then drape fabric over it. Cut a slit in the top of the fabric to allow the lantern's metal hanging hook to pop through.
Add Felt Face
Cut three oval shapes from a piece of black felt or foam to use as the eyes and mouth (Image 1). Attach them with hot glue or fabric glue then hang your ghost from a low tree limb, light post or shepherd's hook (Image 2).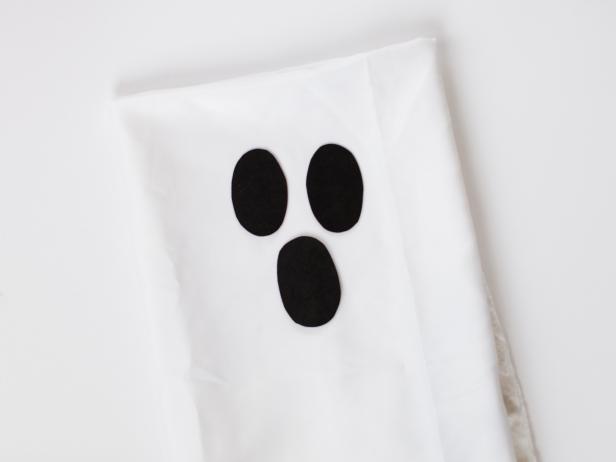 Add Eyes and Mouth to Ghost
Cut three oval shapes from a piece of black felt or foam to use as the eyes and mouth. Attach them with hot glue or fabric glue
Hanging Ghost Craft
Attach your ghosts with hot glue or fabric glue then hang your ghost from a low tree limb, light post or shepherd's hook.
More Ghostly DIYs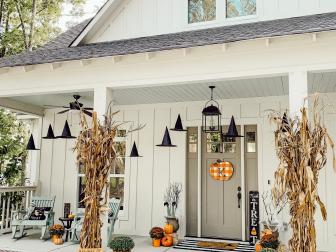 70 Front Porch Decorating Ideas for Halloween 75 Photos
Add frightful fun to your front porch on All Hallow's Eve with our easy-to-craft outdoor decorating ideas.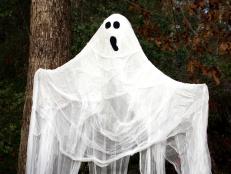 How to Make a Life-Size Halloween Ghost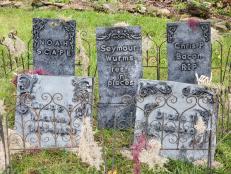 How to Make Halloween Tombstones From Upcycled Styrofoam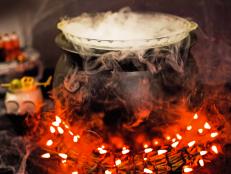 Halloween Party Magic: Make a Wicked Wine Cauldron + Ghostly Garnishes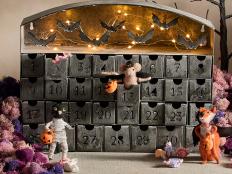 20 Best Halloween Countdown Calendars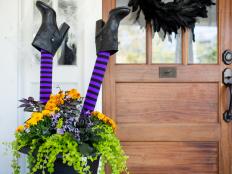 3 Ways to Put Outdoor Planters to Good Use This Halloween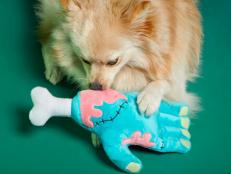 10 Fun Ways to Treat Your Favorite Pup This Halloween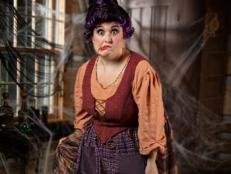 40+ Last-Minute Halloween Costumes You Can Order Online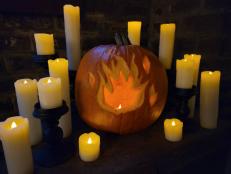 How to Shave a Pumpkin Design for Halloween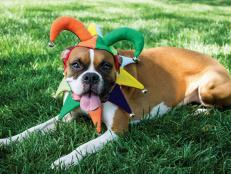 Halloween Pet Costume: Court Jester
PSA: Target's Hyde & EEK! Boutique Is Back and We Want Everything
Halloween ideas, hgtv handmade newsletter.
Subscribe now to get our latest craft projects and DIYs delivered to your inbox.
To withdraw your consent or learn more about your rights, see the Privacy Policy .
HGTV Insider
HGTV Inspiration
What's New in Handmade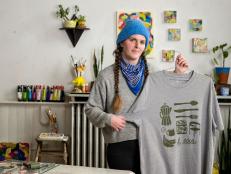 Block Print Like a Pro: How to Carve Rubber Stamps for Fabric Printing Oct 17, 2023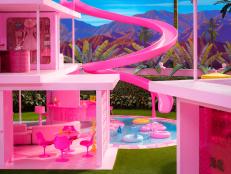 Here's How the Barbie Movie Team Created All Those Fantastic Spaces Jul 21, 2023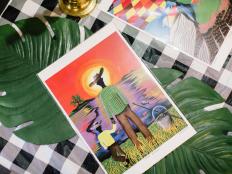 Gullah Gift Guide: 12 Gullah Artists, Makers and Brands You Should Follow Jun 13, 2023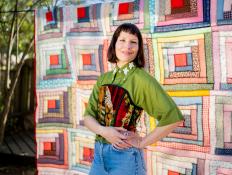 Meet the Austin-Based Clothier Who Upcycles Vintage Quilts and Fabrics Into Custom Clothing Apr 20, 2023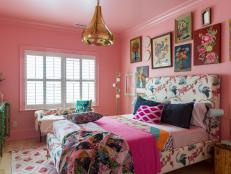 This North Carolina Artist and Interior Decorator Has Her Own Fabric Line and Home Decor Collection Mar 28, 2023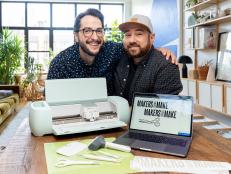 How to Start Using Your Cutting Machine Dec 19, 2022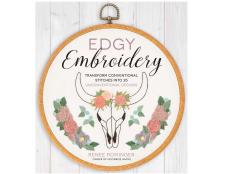 The Best Crafting, DIY and Hobby Books to Buy or Gift Dec 19, 2022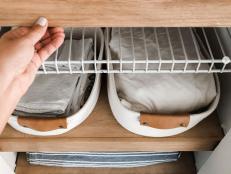 How to Make Wire Shelf Covers That Look Just Like Floating Shelves Mar 1, 2023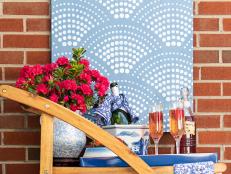 Turn a Plywood Board Into Easy DIY Outdoor Art Jun 7, 2022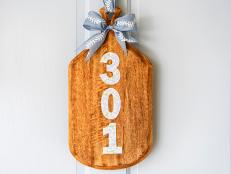 How to Upcycle a Cutting Board Into an Address Plaque Jun 17, 2022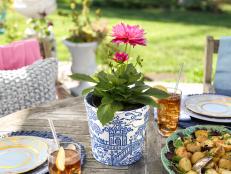 How to Decoupage a Chinoiserie-Style Planter Pot Jun 17, 2022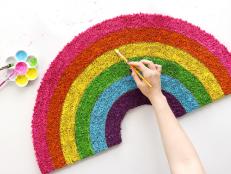 DIY Rainbow Doormat May 12, 2022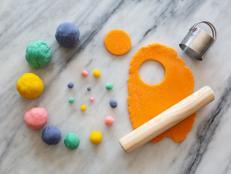 Make Homemade Play Dough May 12, 2022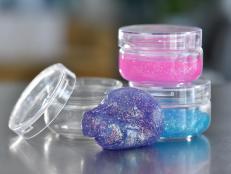 How to Make Stress-Relieving Glitter Slime May 9, 2022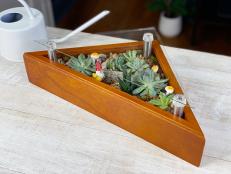 Make a Mini Blooming Garden Table to Showcase Your Favorite Succulents Mar 22, 2022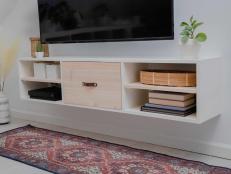 How to Build a Floating Shelf With Hidden Charging Station Apr 7, 2022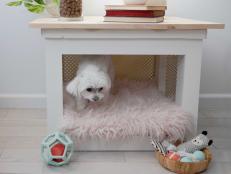 Upcycle an End Table Into a Cute and Cozy Dog Bed Apr 7, 2022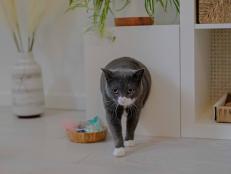 How to Build a Cozy Cat Hideaway Apr 7, 2022
Upgrade a Bookshelf With Cane Webbing Apr 7, 2022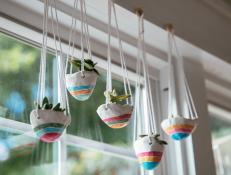 Make Clay Pinch Pot Hanging Planters to Display Your Fave Succulents May 9, 2022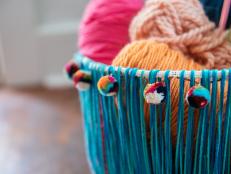 Turn an Old Tomato Cage Into a Storage Basket May 9, 2022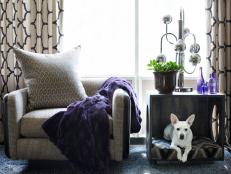 How to Build an End Table With a Built-in Pet Bed Feb 17, 2022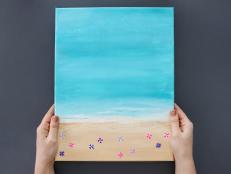 Easy-to-Make DIY Beach Scene Painting May 9, 2022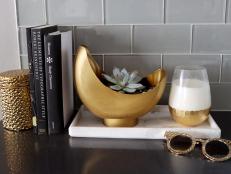 Turn an Old Laundry Detergent Pod Container Into a Moon Planter for Succulents May 9, 2022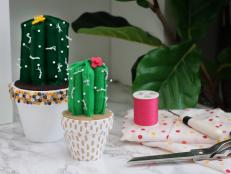 How to Make a Cactus Pincushion May 9, 2022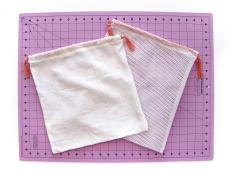 How to Make DIY Reusable Produce Bags Aug 17, 2022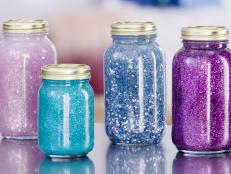 How to Make Calming DIY Glitter Jars May 9, 2022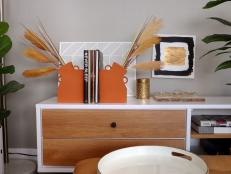 How to Make a DIY Upcycled Bookend Vase From an Old Cereal Box May 9, 2022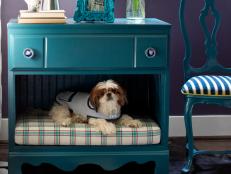 How to Turn a Dresser Into a Combination Pet Bed and Nightstand Jan 12, 2022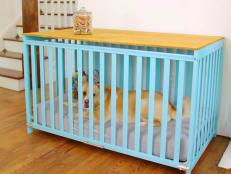 How to Turn an Old Crib Into a Dog Crate Jan 12, 2022
House hunters, house hunters international, follow us everywhere.
Join the party! Don't miss HGTV in your favorite social media feeds.
Related Pages
Halloween Kids' Craft: Hanging Foam Bats
Flying Bats
String Light Solution: Hang Patio Lights Using...
How to Make a Tree Swing
29 Whimsical Ways to Decorate a Halloween Tree
How to Make a Spooky Ghost Tree
Let's make the house as spooky as we can for Halloween, with this step-by-step tutorial on making your very own spooky ghosts to hang on a mini tree.
With only a few essential components (which you might already have around the house) let's make some foulish ghosts, which you can hang from anywhere. You can either hang them from a mini tree, or you can even hang them from the windows and cupboards for an unexpected fright!
Discover more Halloween projects here >
Share on Pinterest
Share on Facebook
Share on Twitter
Copy this idea
You will need
Decorative White Twig Tree 76cm
Is £16.00
White Cotton Homespun Fabric Pack 112cm x 2m
Is £15.00
Out of stock
Sharpie Black Ultra Fine Point Permanent Marker Set 2 Pack
Is £4.00
Invisible Thread 200m
Is £1.80
You've viewed 2 of 4 products
How to make
* Decorative White Twig Tree
* 6mm Cotton Ball
* White Cotton Fabric
* Black Sharpie Pen
* Invisible Thread
* Embroidery Needle
Cut a 24 centimetre square of muslin or similar lightweight material. Note: the size of the material you use will need to vary depending on the size of cotton ball – It's a good idea to carry out a trial run before starting your ghost.
Wrap the material around the cotton ball, tying matching embroidery thread around the base of the ball to secure in place. (Alternatively, if you're not handy with needle and thread, you could use a rubber band.)
Using a black felt tip pen draw your ghost face.
To hang the ghosts use a needle and invisible thread to run a loop of thread on the top of the ghosts head.
bvseo_sdk, dw_cartridge, 18.2.0, p_sdk_3.2.0
CLOUD, getReviews, 7ms
reviews, product
bvseo-msg: Unsuccessful GET. status = 'ERROR', msg = 'Not Found.'; Unsuccessful GET. status = 'ERROR', msg = 'Not Found.';
Craft with us at our workshops
In-Store Workshops
Online Workshops
Cricut Workshops