Take a Class
We offer a variety of classes and workshops for all skill levels.  Our class formats have been designed with careful consideration of your safety, what makes a fun experience and a realistic understanding of what is achievable with little to no experience.
♦ TASTE OF GLASSBLOWING: This is our "crash course" to check glassblowing off of your bucketlist.  You'll be paired with an experienced instructor for 20 minutes who will acquaint you with the studio, teach you about the material and guide you through making a small souvenir of your own. Click here to learn more about Taste of Glassblowing. ($75/person)
♦ PRIVATE LESSONS: For a more in-depth lesson in glassblowing, 1-2 participants can engage in a private lesson for 2 hours.  Your instructor will still help you with the fundamentals but don't expect her to make the piece for you.  Your skills or lack-there-of will be on display so we encourage you to work within some manageable boundaries.  Click here to learn more about our private lessons.  ($350/session)
♦ PRIVATE WORKSHOPS: Groups of 6 or more can book a private workshop in the style of our Taste of Glassblowing classes.  Click here to learn more about our private workshops. ($75/person)
♦ MULTI-WEEK COURSE: Those seeking complete independence in glassblowing should jump right into our multi-week courses.  These classes start from square one and build you towards renting our studio equipment to practice or make your own work, independent of an instructor.  Glassmaking takes years to master so don't expect to be cranking out masterpieces in your first few months.  Click here to learn more about our multi-week courses. ($600/four 4-hr sessions. 16hrs total.)
All Ages ** Currently Suspended Until Fall **
♦ SAND CASTING: This class is one of our family-friendly offerings but it is loads of fun for adults, too!  Learn all about glass casting in this workshop where you will make a "negative" impression in sand using all sorts of toys, letters, and critters.  Then watch as your instructors ladle molten glass into the void to create a unique glass tile or sculpture for you to keep. Click here to learn more about sandcasting.
♦ Fun With Fusing: This class is for ages 5+ (due to broken glass being a material used) and can be lots of fun for adults, too!  This alternative style of glassmaking involves layering sheets of glass to construct your design.  Once assembled, your instructor will place inside of a kiln to fuse overnight.  Final projects can be "2D" such as magnets, pet portraits or jewelry or 3D items such as spoon rests or hanging mobiles.  Click here to learn more about glass fusing.
Ghost Pepper Glass
Hours updated 2 weeks ago
Services Offered
Verified by Business
Virtual Consultations
Review Highlights
" The staff was friendly and flexible both with scheduling and during our private lesson . " in 4 reviews
" Super easy to talk to and learn from, she was hilarious and made it relaxed but also put safety and knowledge first. " in 4 reviews
" Did n't feel rushed and was able to make several neat pieces to ship home. " in 3 reviews
Location & Hours
979 Springdale Rd
Austin, TX 78702
East Austin
You Might Also Consider
3.0 miles away from Ghost Pepper Glass
Monika Z. said "Legit my go to place. They always make me feel welcome and they're 24/7 and so like if I'm ever needing anything I can go in there. They're always down to share info too. Super great place!" read more
in Vape Shops, Tobacco Shops, Head Shops
in Art Classes
Texas Allstar Cheer and Dance
17.2 miles away from Ghost Pepper Glass
Kayla I. said "We are loving it at TAC, this is our first season in cheer and I have a feeling this is going to be our life for the next 15 years. They do offer tumbling classes even if you aren't on a cheer team and the pricing is very…" read more
in Summer Camps, Cheerleading, Preschools
Amenities and More
8 More Attributes
About the Business
Business owner information
Ghost Pepper Glass is a public glass studio created to provide a turn-key space for the most skilled glass artisan while inviting the most novice enthusiast. We offer demonstrations, classes, events, equipment rental and retail. …
Ask the Community
Ask a question
Hi! I want to take a class with you guys. When is your next opening?
Our schedule and the ability to book a class can be found on our website www.ghostpepperglass.com
Recommended Reviews
1 star rating Not good
2 star rating Could've been better
3 star rating OK
4 star rating Good
5 star rating Great
Select your rating
Overall rating
Did an intro to glassmaking class here. I can't draw a stick figure yet tomorrow I'll own a glass paperweight I made, assisted by a very patient instructor. Great date night!
My friends and I did a group class at Ghost Pepper and it was such a fun Saturday activity to do together, especially on a cold day with the garage door open letting the chill in but the warm furnaces keeping it cozy. Our instructors were super helpful and friendly, letting us control many parts of the making of the glass pieces, but also correcting along the way to fix our mess ups! They really prioritize safety which I appreciate and also will give you tips on colors that will look good and tips on technique as well. You get to stand and take videos of each other and watch friends create really cool things with their own touches of personality. Pick up of your item is usually by the next day once it has cooled which is really nice. The only thing I will note is that finding the actual place and finding the parking lot can be challenging, even though there is a lot of parking space open but the nearby streets are often very backed up and confusing to get to. Notably, they don't have a big sign, but their facility is the light blue building at the corner and has an inlet to the parking lot right before the streetlight on Springdale, and no entry from the Airport side so you have to go around as far as I could tell. Totally worth checking out at least once if not multiple times to make some different things!
Amazing, amazing one time glass blowing experience. I went with a friend we both learned so much about glass blowing. Our instructor Cory was great at explaining every step of the process. It was a very hands on experience but I felt safe and confident in my tasks every step of the way. I really appreciated the ample parking they have and their cute dogs which were the cherries on top of an already great experience.
My boyfriend and I did a beginning glass blowing experience here and had the best time! The people are awesome and I ended up not only making something cool, but getting dish ware as Christmas gifts for my family too!
Had a great time! Keith was my instructor and was fantastic. He took me through the process and was very helpful! Katie showed us around and explained things before we started. I would recommend it to anyone who wants a new experience.
Best. Date. Everrrrr. If you are thinking about the 2 hour private class, stop thinking and BOOK IT!!! We seriously had the best time ever AND got to make 3 pieces each (most places usually stop after one I feel like). Another thing that really sets them apart is the amount of glass blowing YOU actually get to do- instead of just watching the instructor, which is what I was fully expecting. Love love loved our time here- thank y'all so much!
See all photos from Alysha M. for Ghost Pepper Glass
Great experience! We went for a bachelorette party and they were super accommodating and excited to have us.
This is a fabulous Austin experience. Whether you live here or are visiting, Ghost Pepper Glass is a fun and informative experience. The instructors are all pros. We even took my mom for her 80th birthday and she made a glass bowl that she treasures
My girlfriend and I had a blast here doing the taste of glass class. Cory, our instructor was great! We did the first class time on a Saturday morning.
Had an amazing private lesson with Keith! We learned a ton and he let us be creative and make a multitude of items within our time period!
4 other reviews that are not currently recommended
The Spinning Wheel Atx
21.6 miles away from Ghost Pepper Glass
The Spinning Wheel is an art and craft studio with a focus on recycling. At The Spinning Wheel ATX, we offer kids birthday parties, Paint and Sip, corporate workshops and one on one customized art and craft sessions. Grand opening… read more
FastFrame - North Austin
9.1 miles away from Ghost Pepper Glass
Jeanne G. said "I brought in a piece of artwork with four layers of glass, each one painted. Originally, about 15 years ago, it shimmered and was very three-dimensional. Despite an "air-tight" case, a faint glaze of dust settled inside on each…" read more
Collections Including Ghost Pepper Glass
Austin Date Ideas
By Katie B.
Butter Half🧈
By Alanna J.
By Laura H.
By Mary Grace S.
By Daniela G.
By Crystal Y.
By Diamond G.
Austin Things To Do
By Jordan W.
People Also Viewed
Painting with a Twist
Austin Pottery Studio & Gallery
Urban Axes - Austin
Painting With A Twist
Blue Moon Glassworks
The Art Garage
Dougherty Arts Center
Best of Austin
Things to do in Austin
Other Places Nearby
Find more Glass Blowing near Ghost Pepper Glass
Find more Team Building Activities near Ghost Pepper Glass
People found Ghost Pepper Glass by searching for…
Activities In Austin Austin
Activities Near Austin Austin
Corporate Events Austin
Couples Classes Austin
Fun Classes Austin
Fun Group Outings Austin
Glass Blowing Classes Austin
Large Group Activities Austin
Night Activities Austin
Public Spaces Austin
Stuff To Do Austin
Team Building Activities Austin
Browse Nearby
Art Galleries
Things to Do
Summer Camps
Paint & Sip
Art Galleries Near Me
Glass Blowing Near Me
Team Building Activities Near Me
Service Offerings in Austin
Related cost guides.
Boat Charters
Event Photography
Karaoke Rental
Party & Event Planning
Party Bike Rentals
Photographers
Session Photography

Ghost Pepper Glass
For the hottest date in austin, what makes it fun.
Want to try your hand at glassblowing? Check out Ghost Pepper Glass, a public glassblowing facility. As the area's sole glassblowing studio, we strive to establish an environment that caters to both the most talented glass artist and the most inexperienced hobbyist. Ghost Pepper Glass is first and foremost a place for artists and craftspeople to dream big and collaborate to create something that can only be manufactured by hand. We provide seminars for complete novices, equipment rental for seasoned pros, a retail space for present givers, and everything in between. If nothing else, we invite you to come in, say hello, and watch us play with molten glass for a while--but we cannot guarantee you won't become addicted!
Google Reviews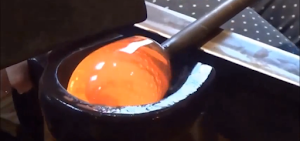 979 Springdale Road, Austin, Texas 78702, United States
Contact Information
Website https://ghostpepperglass.com/
You May Also Be Interested In
Texas toy museum, museum of illusions.
Trick your eyes. Mesmerize your mind!
Spare Birdie
Connect With Us
Ideas in Your Inbox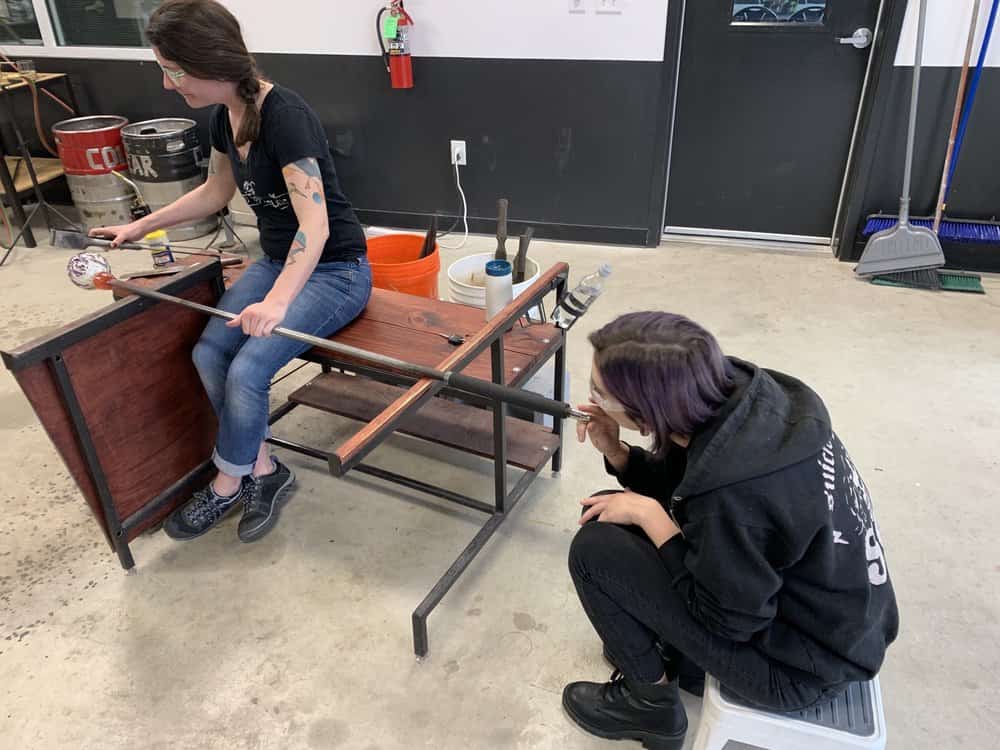 photo by Bret Brookshire
Best place to learn the art of glassmaking, ghost pepper glass.
Glassblowing and other ancient ways of working with molten, malleable silicates: not the sort of delicate art you can teach yourself, really, no matter how many YouTube instructionals you binge. Besides, Austin's own Ghost Pepper Glass professionals – working, award-winning artists in their own right – welcome students at all levels of proficiency, glad to share their sandbending skills and passion, to help you achieve your most inspired, light-shifting, amorphous-solid dreams in their fully equipped Eastside studio.
Ghost Pepper Glass 979 Springdale #100 , 512/766-5897 ghostpepperglass.com
Information is power. Support the free press, so we can support Austin. Support the Chronicle
UpCup Glass by Ghost Pepper Glass
Ghost Pepper Glass
Write a Review
Product Overview
UpCup
Molten Glass blown & molded
Holds ~16 oz
Zero Waste Glass! Upcycled colorful glass shards are thoughtfully arranged into dynamic patterns and hand blown into glassware. UpCups are handmade, each will have slight variances in size and color.
Pint glass holds 16 oz.
Get to Know Ghost Pepper Glass:
Ghost Pepper Glass is a public glassblowing studio on the near east side of Austin, Texas. As the only glassblowing studio of its kind in the Austin area, we seek to create an environment that caters to both the most skilled glass artisan while inviting the most novice enthusiast. Ghost Pepper Glass is, first and foremost, a space for artists and craftspeople to dream big and work together to create that which can only be made by hand.
Related Products
Customers Also Viewed
UpCup - Stemless by Ghost Pepper Glass
Gorgeous Glass Bowls by Ghost Pepper Glass
Reusable Glass Straws by Ghost Pepper Glass
Peacock Feather Glasses - 4 Colors by Ghost Pepper Glass
Confetti Glass Bowl by Shara Funari
Robots in Rowboats, Art by Lauren Briére
Robin Bot - Robots in Rowboats by Lauren Briere + Print On Wood "Brick"
Hector Kriete
Wine Cups by Hector Kriete
Maridad Studio
Pastel Pride Clouds Print by Maridad Studio
Phillip Seymour
1110 Guadalupe by Phillip Seymour
Casey Craig
Butterfly Bliss Print by Casey Craig
Hoya Rope Print by Maridad Studio
KintsugiGrace®
Treasured Journey Shell by KintsugiGrace®
Grace Under Fire Shell by KintsugiGrace®
Ghost Pepper Glass offers Halloween workshops
Ghost Pepper Glass is ready for the Halloween season with an upcoming pumpkin patch and themed workshops at the glassblowing studio in East Austin.